Some of the most amazing baby shower decorating ideas recently haven't been in pink and blue but yellow and gray. This color scheme is perfect for mothers who want a break from the traditional colors or when the gender of the baby is going to be a surprise. Instead of princesses and adventurous little boys, think ducks and elephants. (Just don't call the mother an elephant!)
The yellow and gray color scheme provides the opportunity to use unique decorating ideas while still incorporating pink and blue if you want to. All four colors coordinate nicely. And your guests will appreciate the break in pace with this different but proven color choice.
Gray and Yellow Cake Ideas
A baby shower isn't complete without the perfect cake. The cake will serve as the main attraction for the party and will showcase the theme better than any other décor. Gray and yellow aren't as restrictive as other colors, so you can choose to feature almost anything on the cake; babies, animals, cartoon characters, a simple message written on the cake? The choice is yours, but if you do have an overall theme other than the colors, feature it on the cake. Likewise, if you feature something on the cake, incorporate that idea into the rest of your decorating.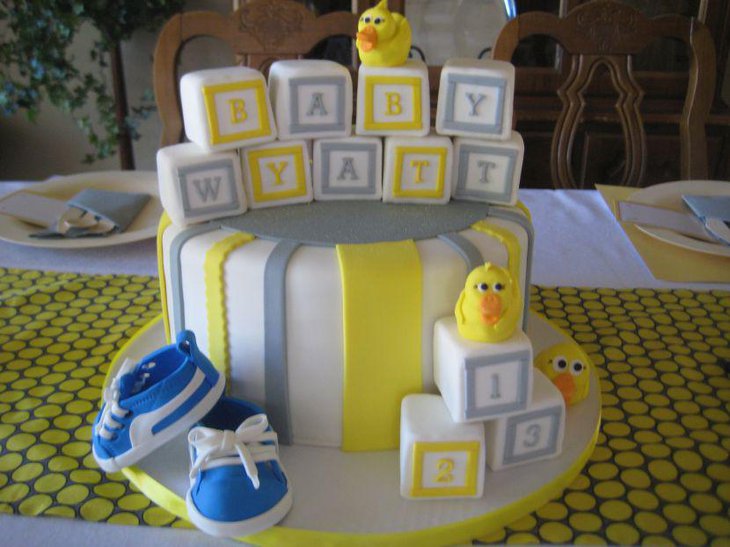 Ducks and Baby Boy Tennis Shoes with Blocks
Image Credit: wordpress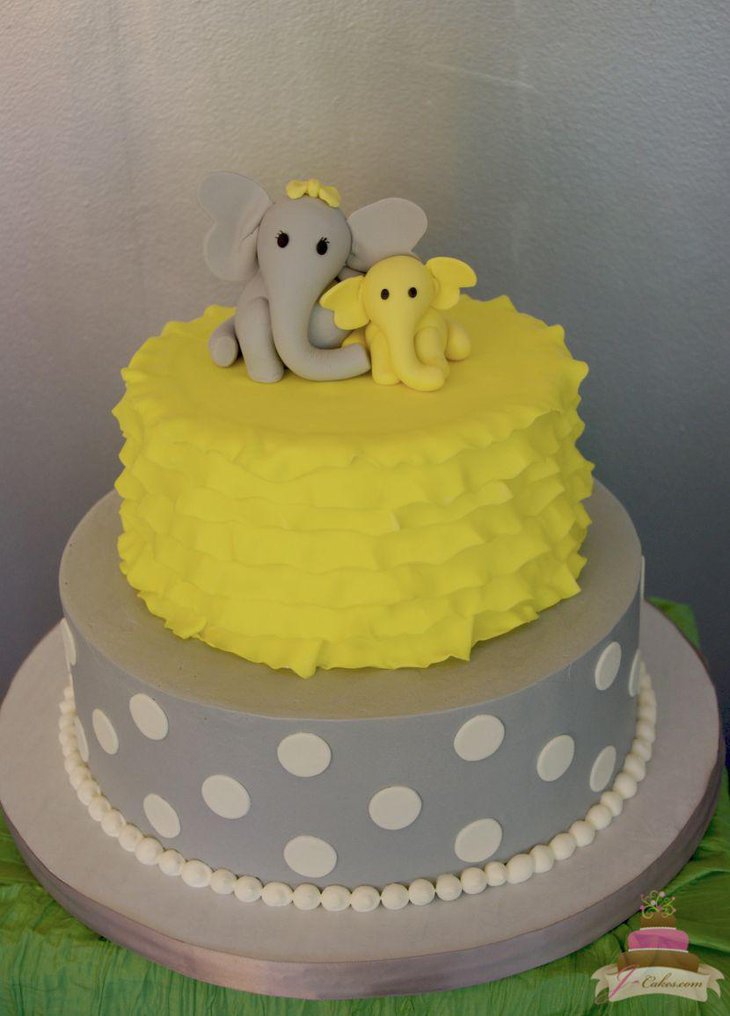 Elephant and Baby
Image Credit: j-cakes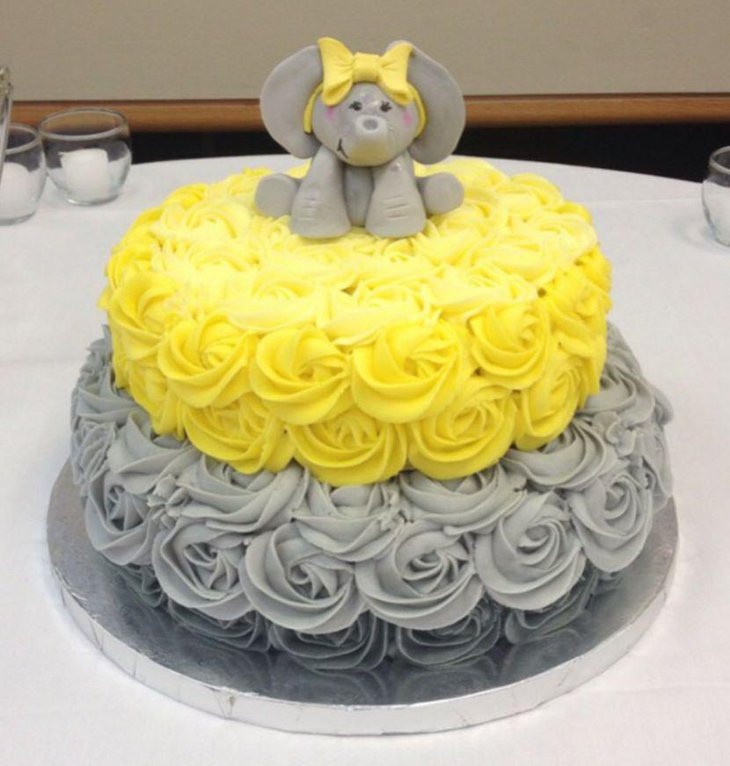 Baby Girl Elephant Cake
Image Credit: cakecentral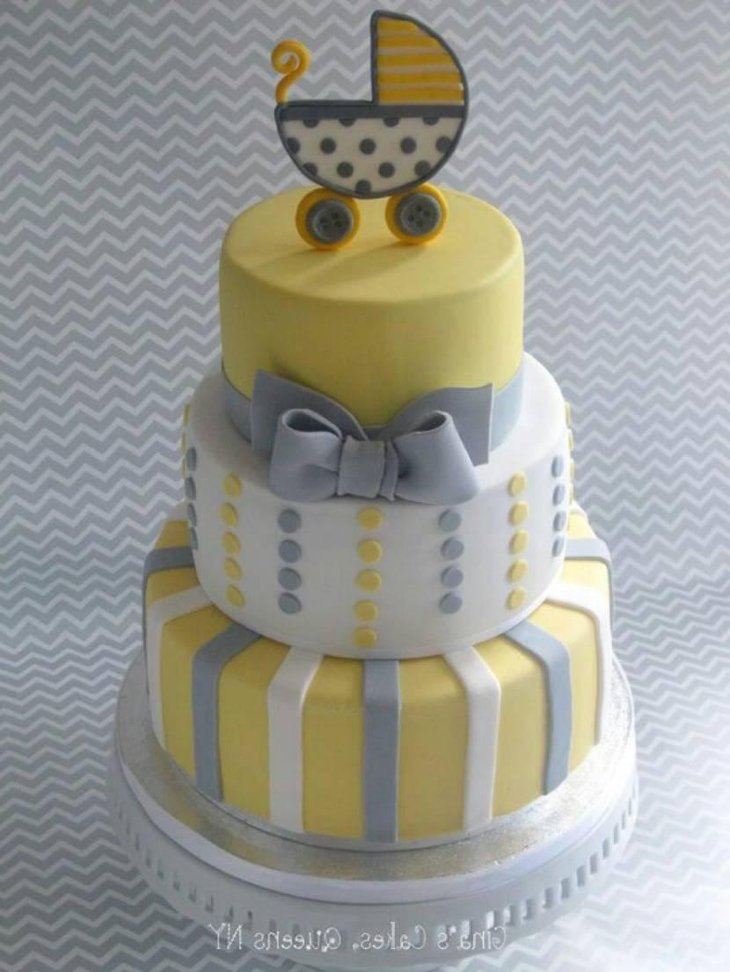 Stroller Topper
Image Credit: cutebabyshower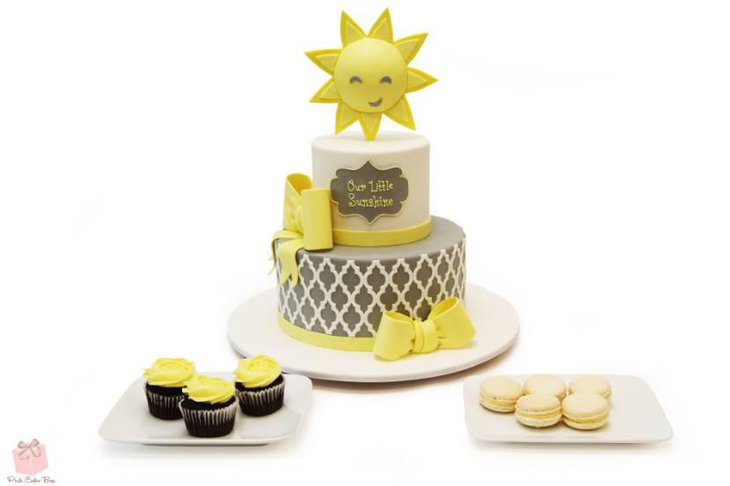 Little Sunshine Baby Shower Cake
Image Credit: pinkcakebox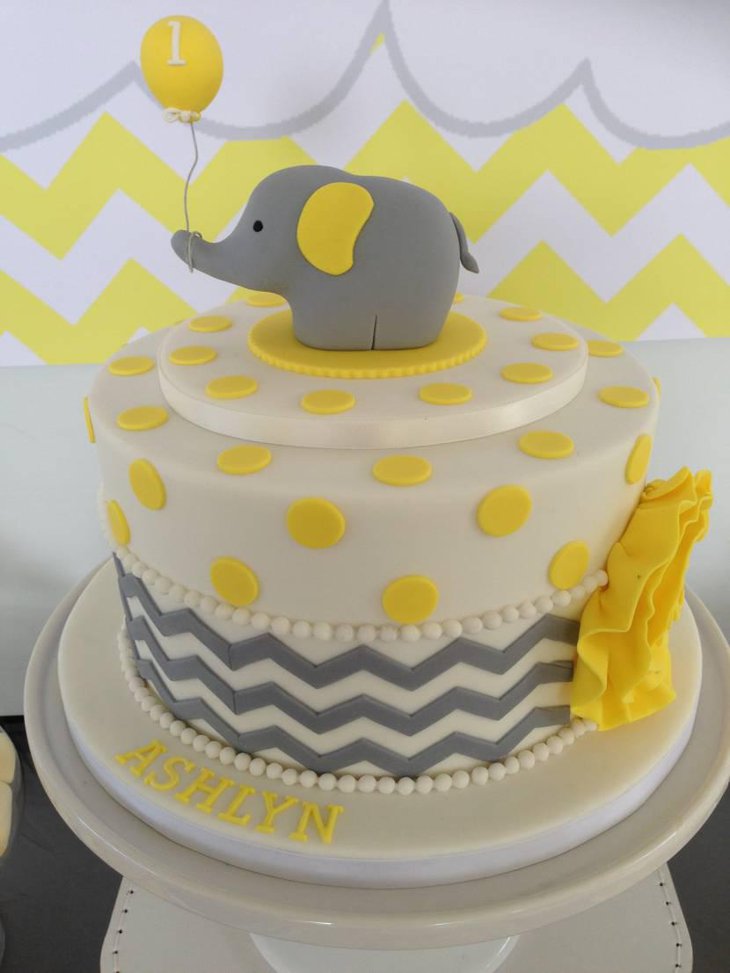 Elephant and Balloon Baby Shower Cake Idea
Image Credit: ohitsperfect
Yellow and Gray Buffet Tables
If you're going to serve food or even just the cake, make a grey and yellow themed buffet table where you can display food in flat platters and trays. Serve golden yellow breads or pastas and gussy up the presentation with different height stands. Add streamers and balloons around your baby shower buffet table and serve with yellow or gray plates, napkins, cups, and plastic ware.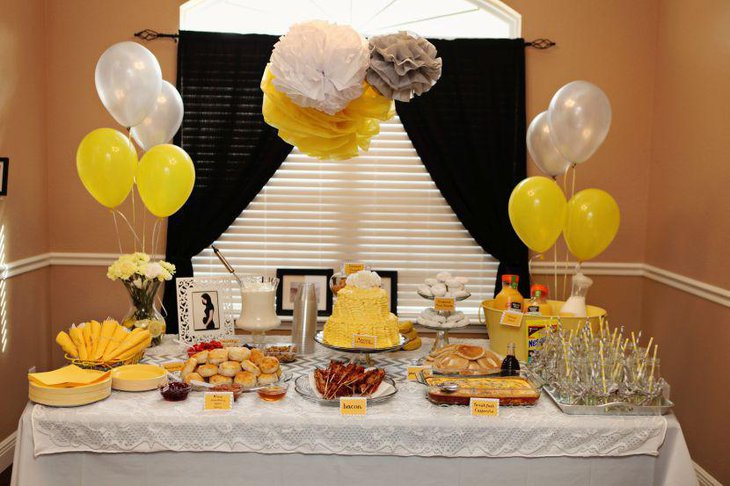 Delectable Yellow and Gray Table Spread with Balloons and Pompoms
Image Credit: pinimg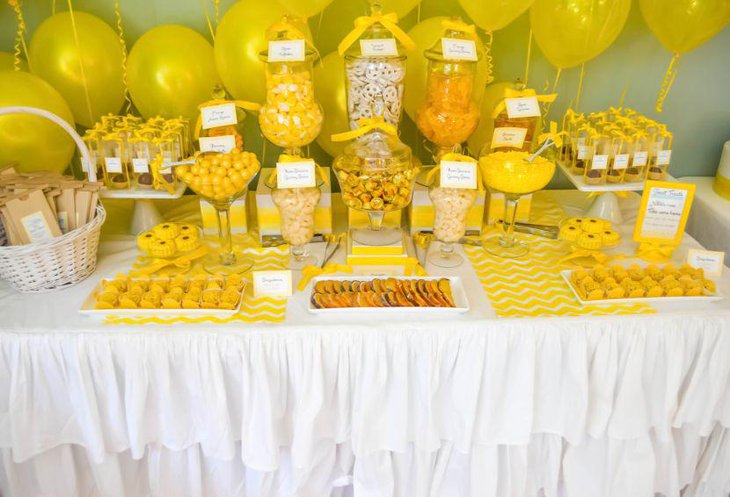 Yellow and White Dessert Table
Image Credit:  wp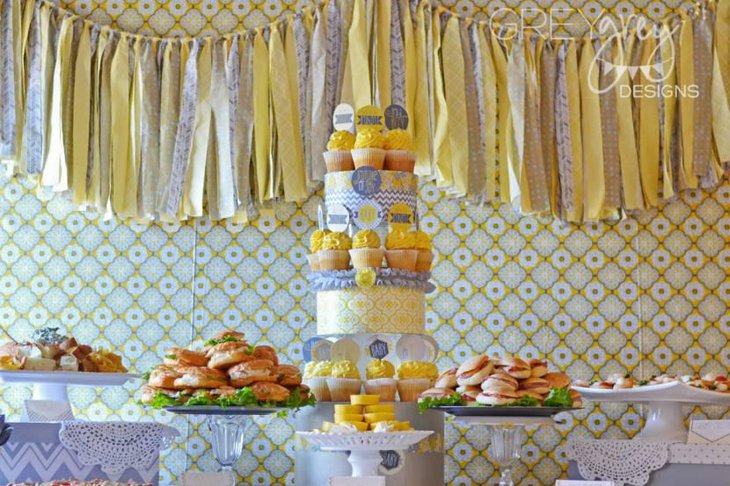 Yellow and Gray Buffet Table with Wall Paper Backdrop and Banner
Image Credit: designdazzle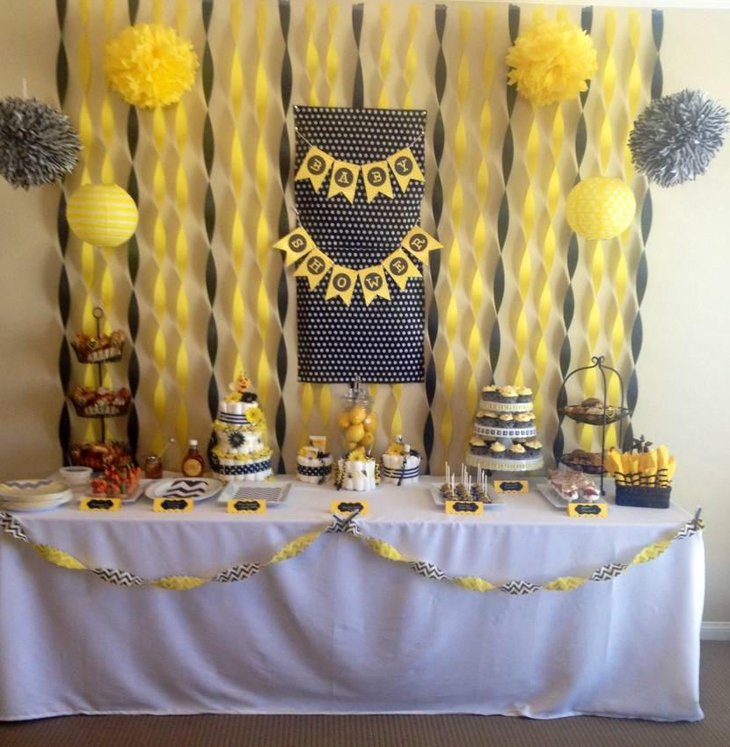 Yellow and Gray Dessert Table with Streamers
Image Credit: babyideas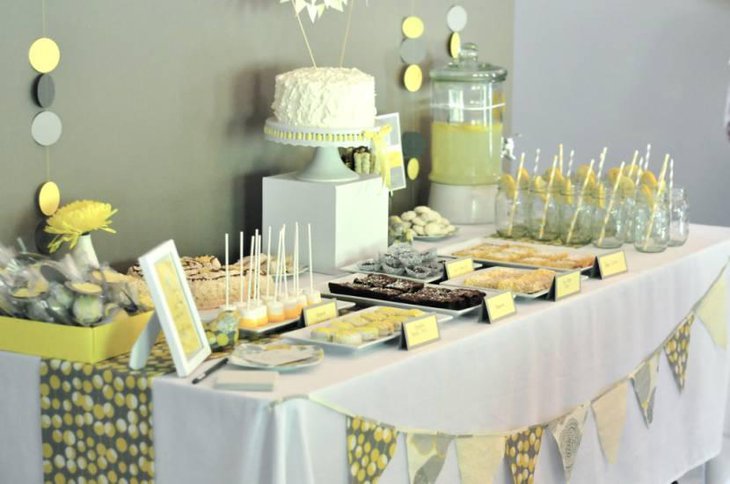 Gray and Yellow Table Runner and Pendant Banner
Image Credit: projectnursery
Yellow and Grey Flowers
Add beauty, sophistication, and a sense of lightness to your baby shower with fresh flowers. There are many options for yellow flowers: sunflowers, tulips, roses. For gray, use gray stones, embellishments, such as ribbons or butterflies, or substitute light blue or white flowers.
Yellow and Blue Baby Shower Centerpiece
Image Credit: blogspot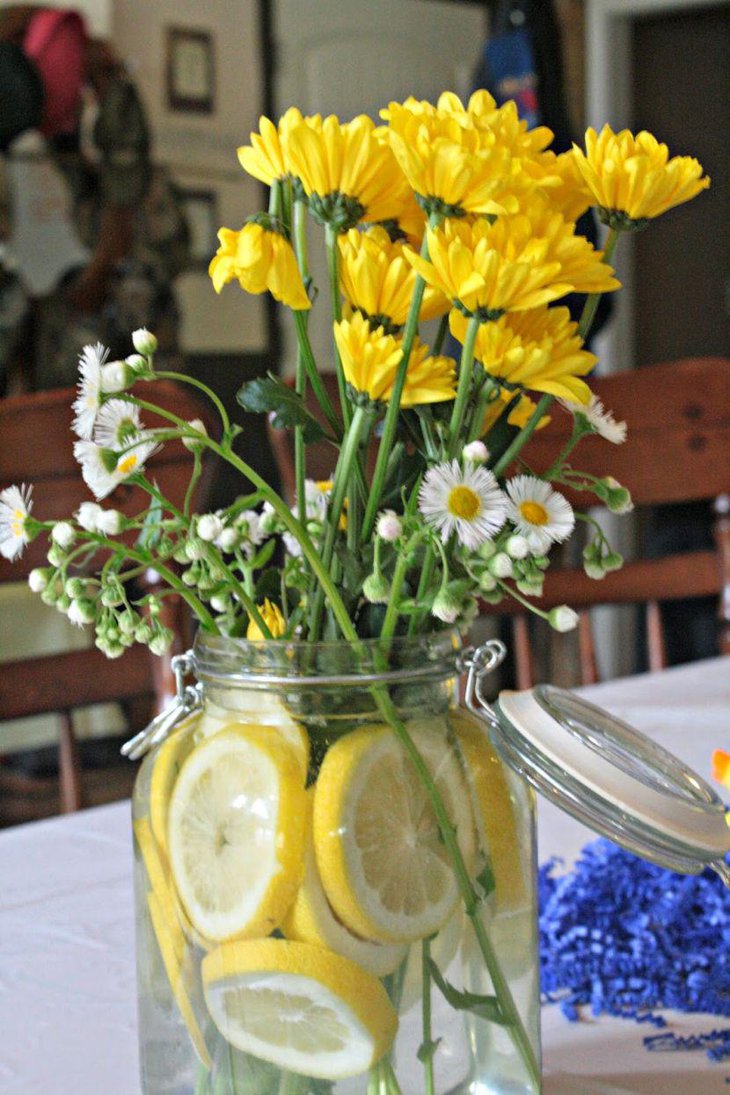 Yellow and White Flowers with Lemon
Image Credit: blogspot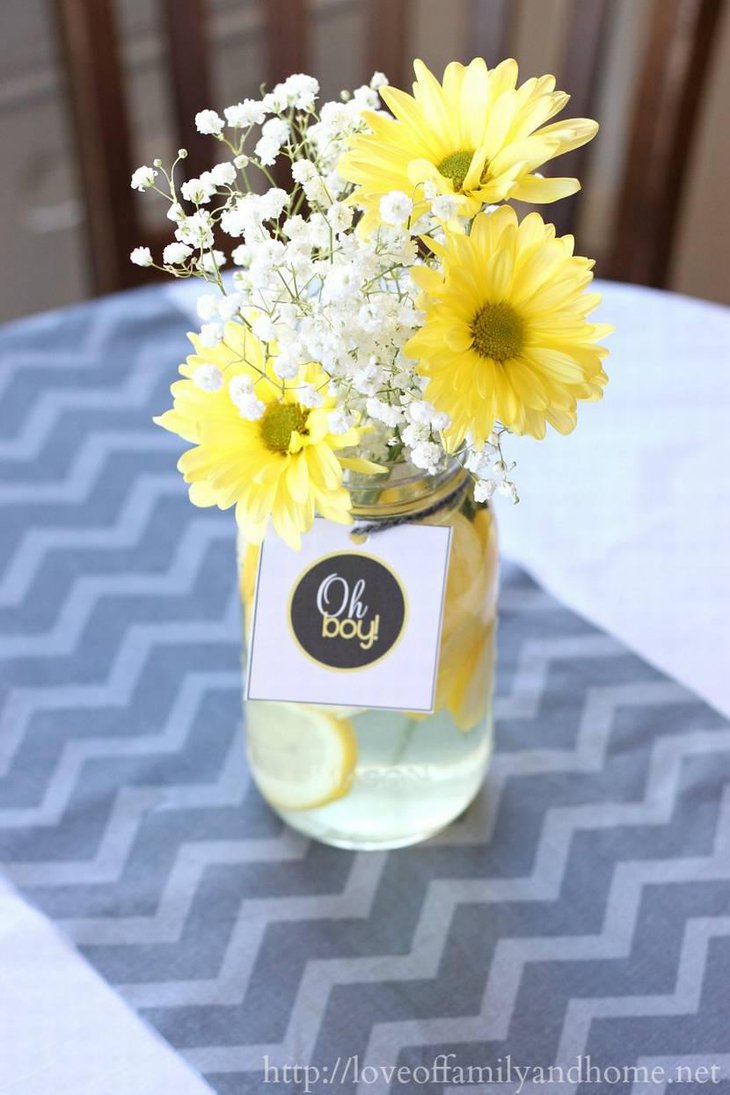 Yellow and White Flowers on Gray Runner
Image Credit: loveoffamilyandhome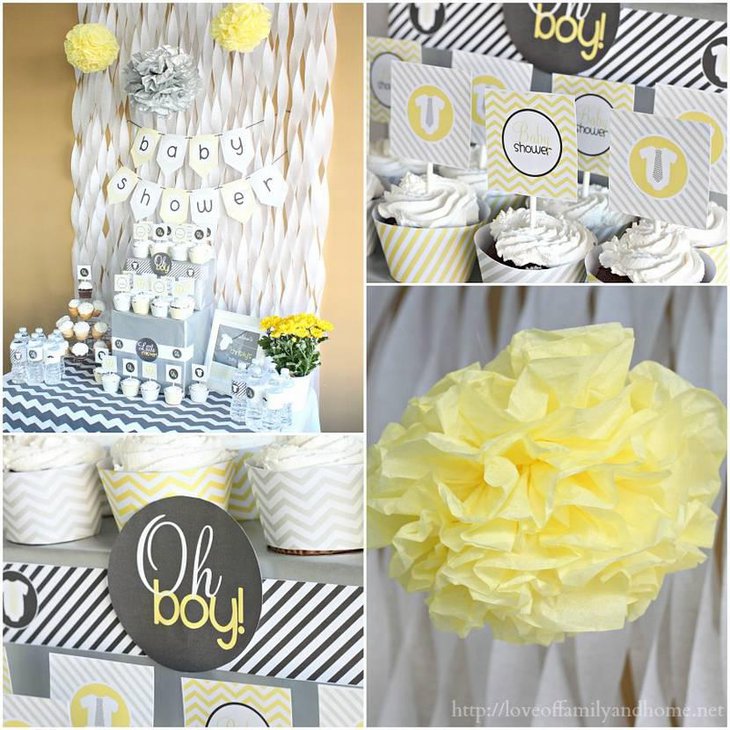 Yellow Pompom on Gray Background
Image Credit: loveoffamilyandhome
Yellow and Gray Table Settings
If you're going to have a larger or more formal baby shower, you'll need place settings for each of your guests. Lay down yellow or gray tablecloths, runners, and placemats and use yellow and gray serving ware as much as possible. Substitute white if needed. For centerpieces, use balloons, flowers, or candle arrangements.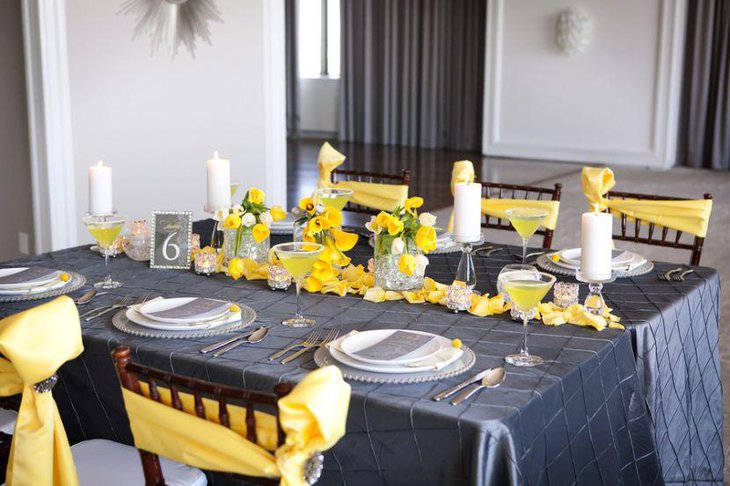 Color Coordinated Tablecloth, Place Settings, Centerpiece, Chair Tie, and Drink
Image Credit:  eefurnish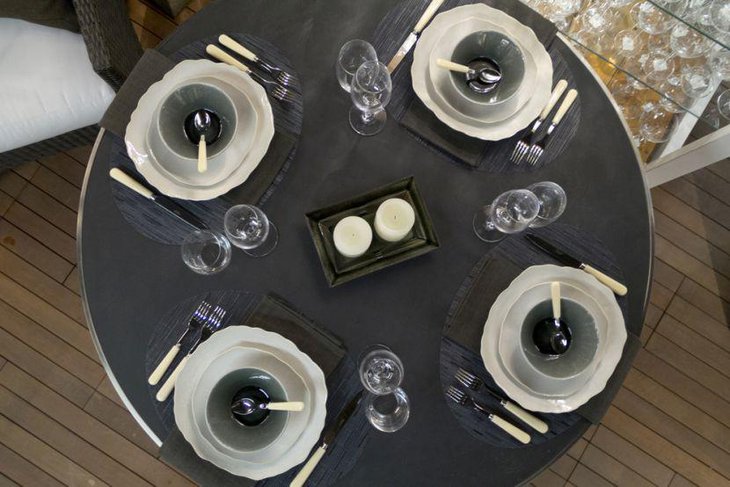 Gray Table with Gray and White Dishes and Yellow-tint Silverware Handles
Image Credit: squarespace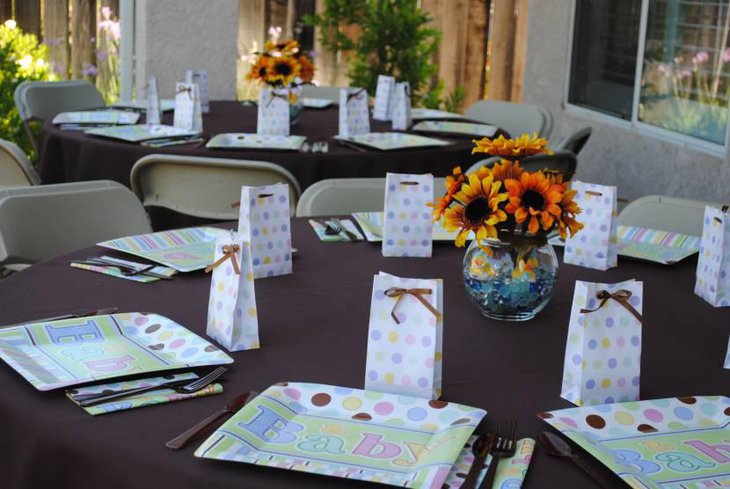 Baby Shower Table Setting Ideas that Work Well with Gray and Yellow
Image Credit: saseso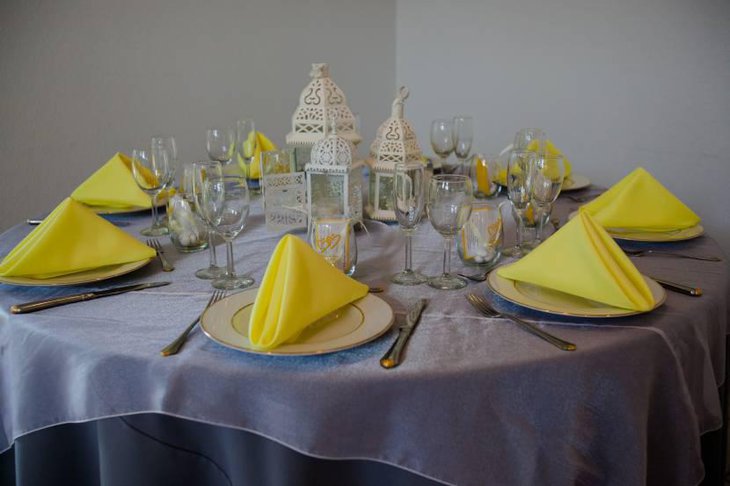 Gray Tablecloth with Yellow Napkins
Image Credit: waplag
Yellow and Gray Inexpensive and DIY Decorations
Add charm and artistry with personally made centerpieces and decorations. Or, if not personally made, inexpensively gathered.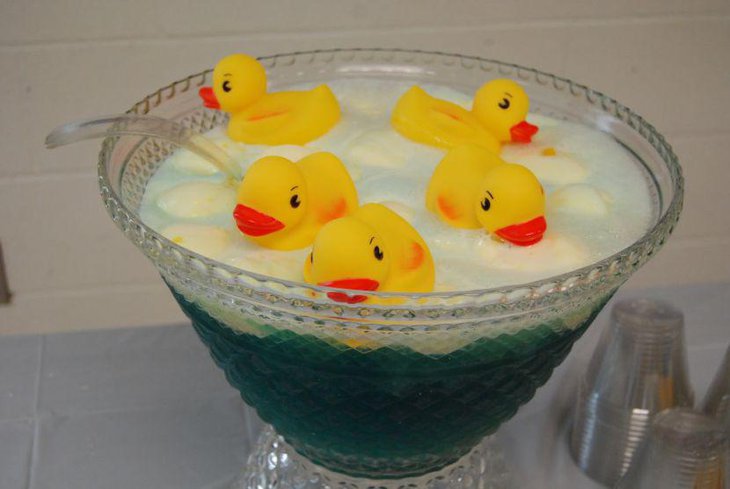 Rubber Duckies Floating in Punch Bowl
Image Credit: blogspot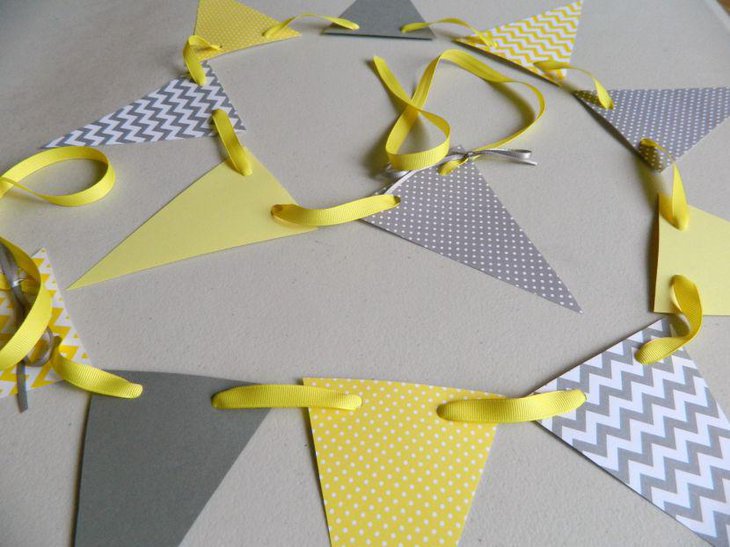 Homemade Pendant Banner
Image Credit: etsystatic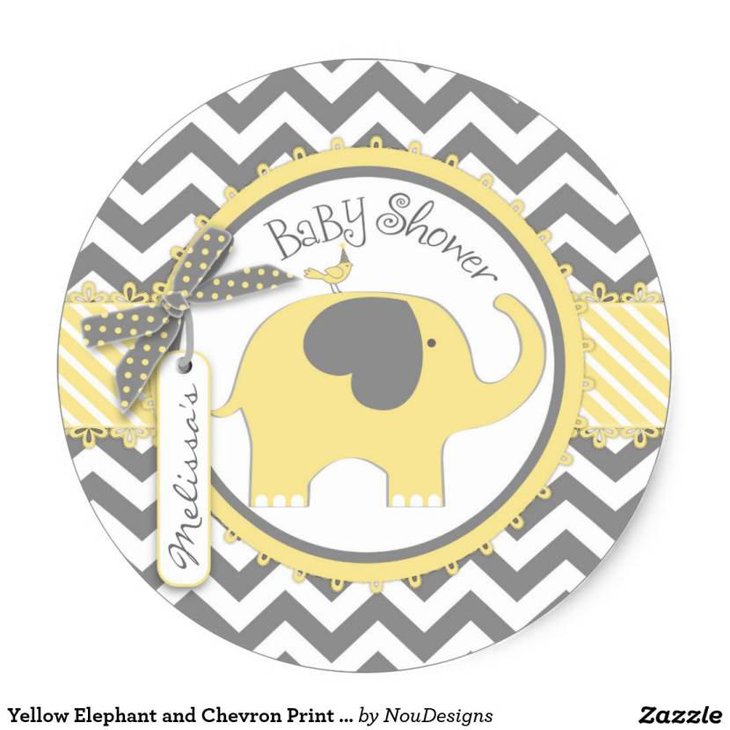 Custom Sticker Designs
Image Credit: zcache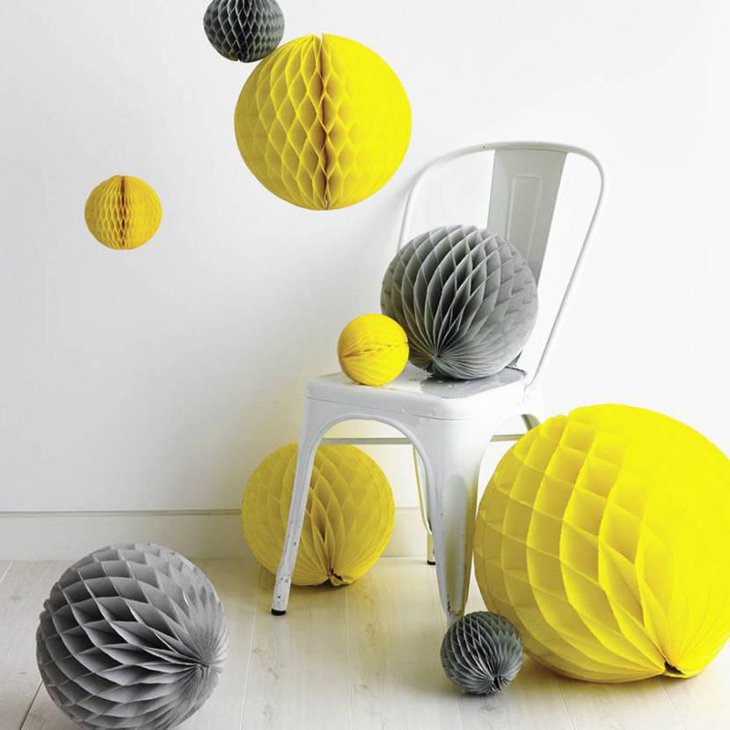 Paper Crafts
Image Credit: alicdn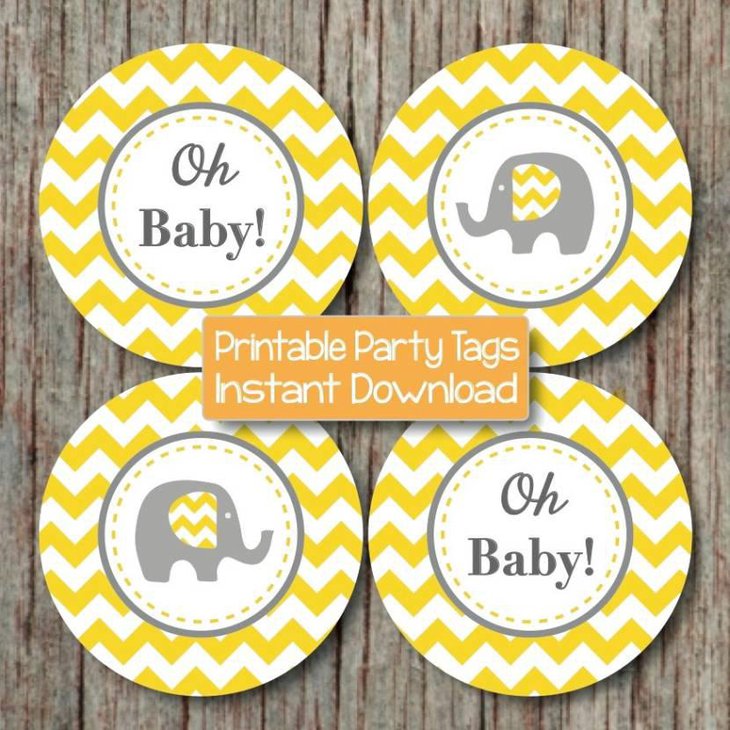 Printout Decorations
Image Credit: etsystatic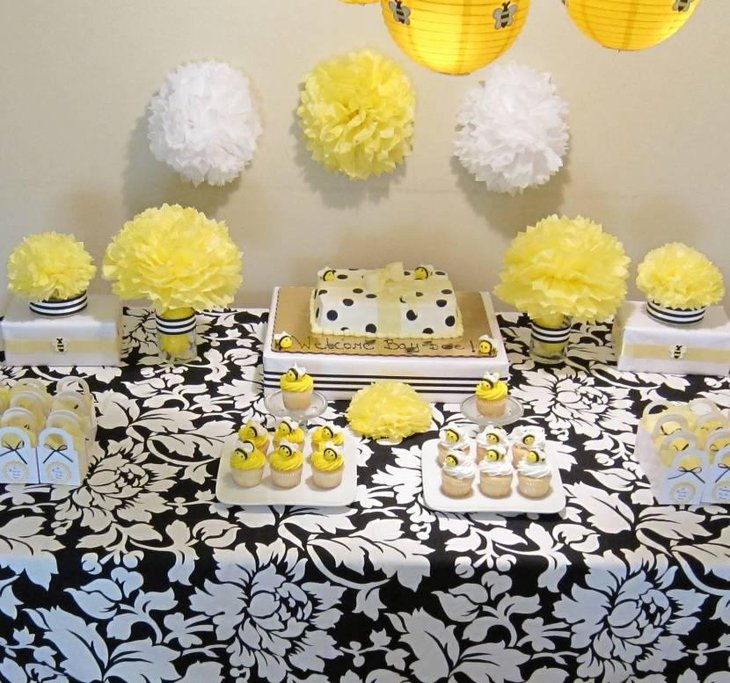 Flower Pompoms
Image Credit: shapecolorfont
Dessert Table Decoration Ideas
Set up a delicious looking dessert table to add to the delectability of your baby shower event. Display an array of color coordinated tarts and candies, cupcakes and cookies against a themed backdrop or on a printed tablecloth. Craft labels and pepper the display with gray and yellow embellishments.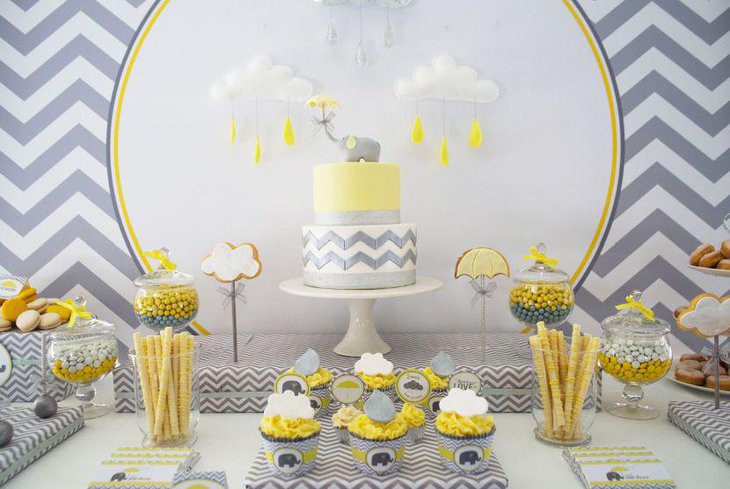 Delicious Desserts and Color Coordinated Candies with Backdrop and Printed Labels
Image Credit: andersruff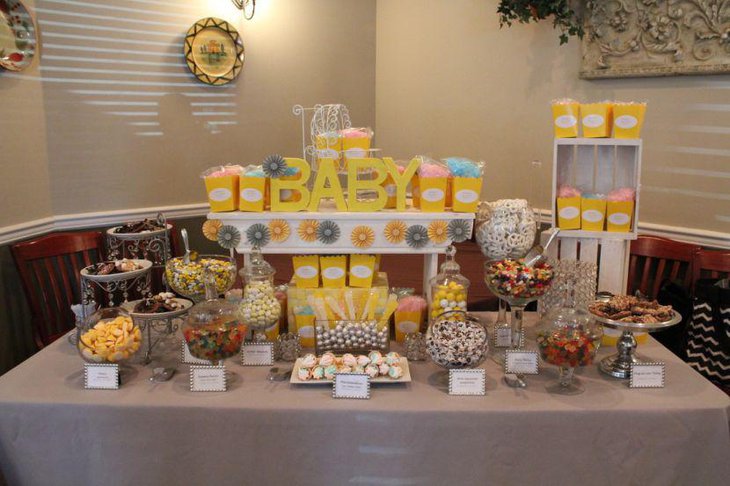 Four Color Dessert and Favor Table
Image Credit: candyliciousnj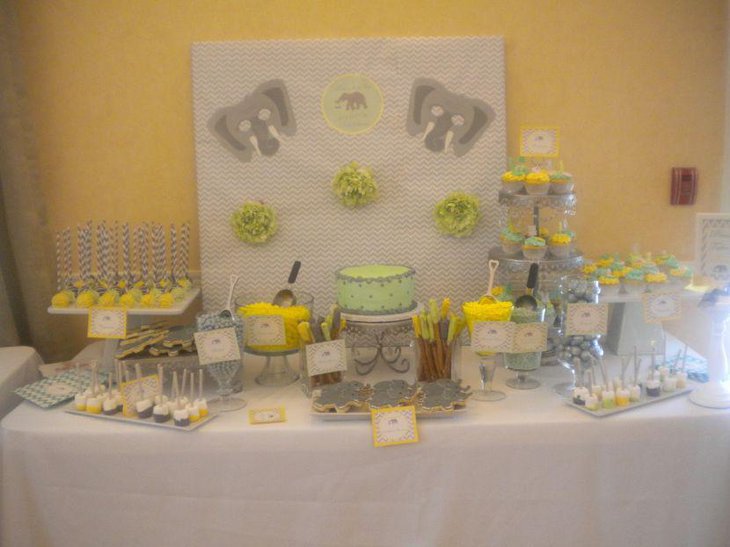 Yellow and Gray Tablescape with Green Accents
Image Credit: blogspot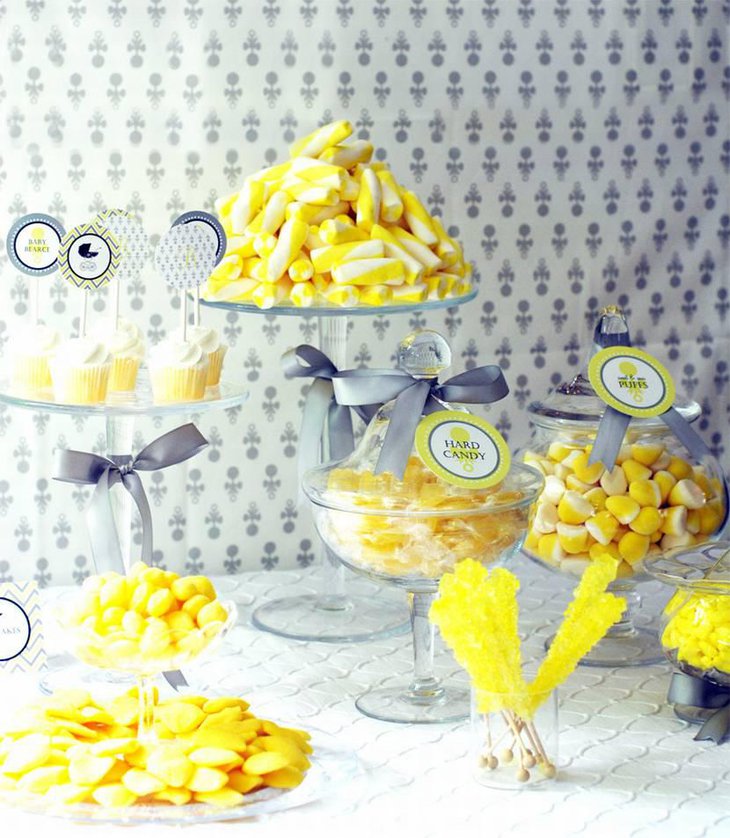 Yellow Candy Presentation with Gray Backdrop, Ribbons, and Labels
Image Credit: thepartydress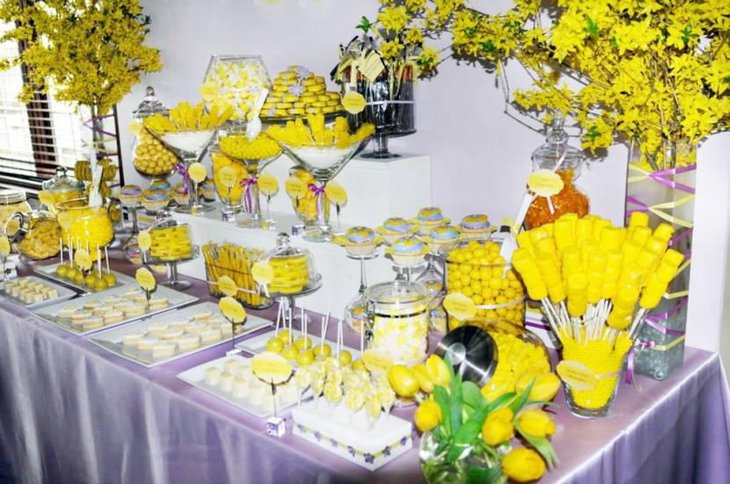 Yellow and Shimmering Purple Dessert Spread
Image Credit: writespell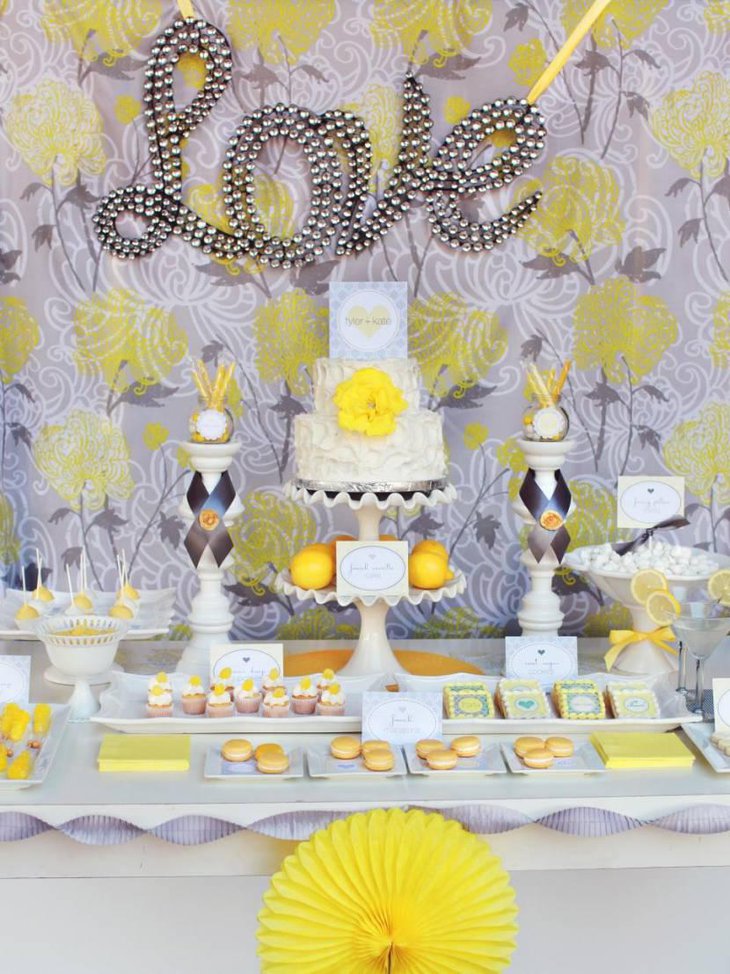 Elegant Yellow and Gray Dessert Buffet
Image Credit: hgtvhome
These innovative baby shower decorating ideas in yellow and gray are sure to be a hit at your baby shower event for their sheer uniqueness. Add cuteness to this sophisticated color mix with baby ducks or elephants. And one of the best parts about this color combination is that your men won't object if you want to keep and use the decorations in your home afterward. They are perfectly neutral colors that everyone can enjoy!