A baby shower is one of the most important events in a woman's life. When planning the baby shower, you want it to be a memorable event. Even if it is the mother's 4th or 5th shower, she still needs to feel special, and this can be achieved with the use of fantastic centerpiece ideas. Baby shower centerpiece ideas have been used to make the day special for many decades now. Baby shower centerpieces are the first thing friends will see on arrival. They need to be selected and chosen carefully, ensuring that they capture the theme and significance of the event.
Consider the different aspects of the centerpiece, including the mother's love for particular colors, flowers, or even candles. Knowing these specific details about the mom-to-be makes it easy to settle on the centerpiece. It also ensures that the centerpieces are completely personalized to give the mother an extra special feeling of being cared for.
Traditional DIY Baby Shower Decorations with Balloons and Floral Centerpieces
This is a centerpiece idea that never disappoints. If working under a budget, DIY baby shower decorations are the way to go. They are easy to design and all of the supplies you'll need are readily available. You can also easily match the colors to your party's theme. Balloons are a valuable time-saver. All you need to do is purchase them and arrange. On the downside, they may look unoriginal, so use balloons only when it fits your guest of honor's personality.
Floral arrangements create a lively but peaceful atmosphere. They remain a classic and life-centered decor option. You can also shape them to fit your needs. Use colors that complement your theme. Freshly picked flowers will add to the feminine ambience of the party with their sweet aromas. Synthetic floral arrangements may also be used if the mother is sensitive to scents. They may not give any aroma, but they will definitely prove to be good baby shower centerpieces. Arrange the flowers in a vase or a basket. Add some ribbons that bring out the theme colors.
Animal Print and Monkeys Baby Shower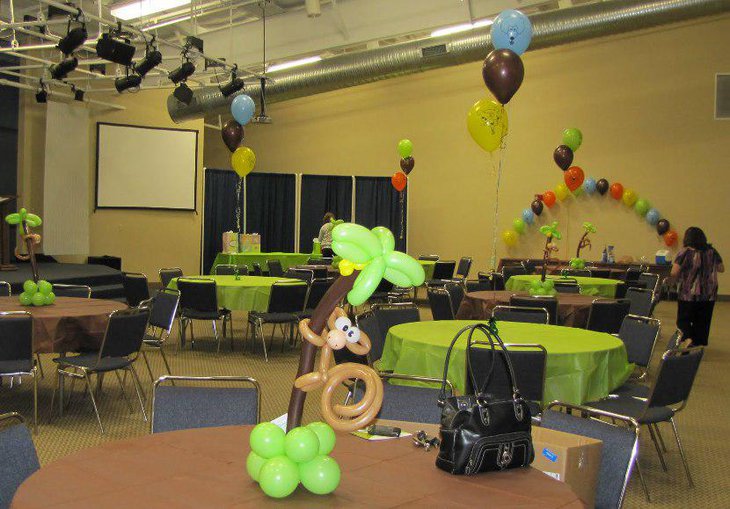 Image Credit: Blogspot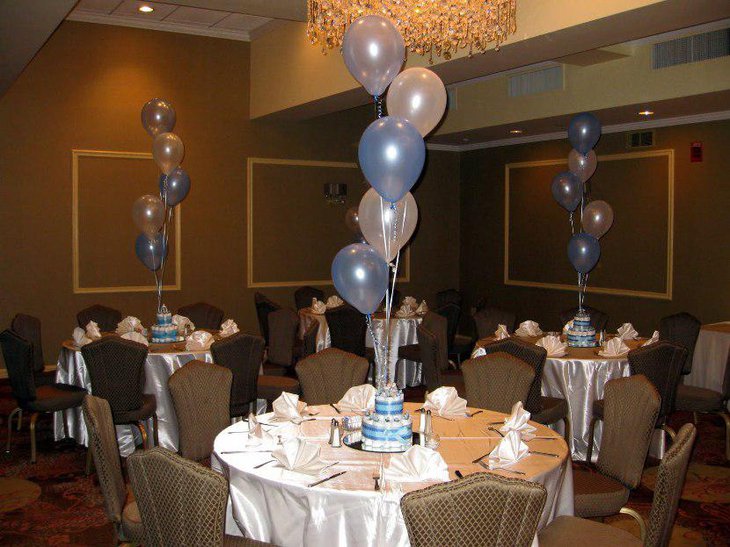 Baby Shower Centerpiece Ideas for Boys
Image Credit: Lilipip
Balloon Arch Connecting Centerpieces
Image Credit: Festiveaffairsny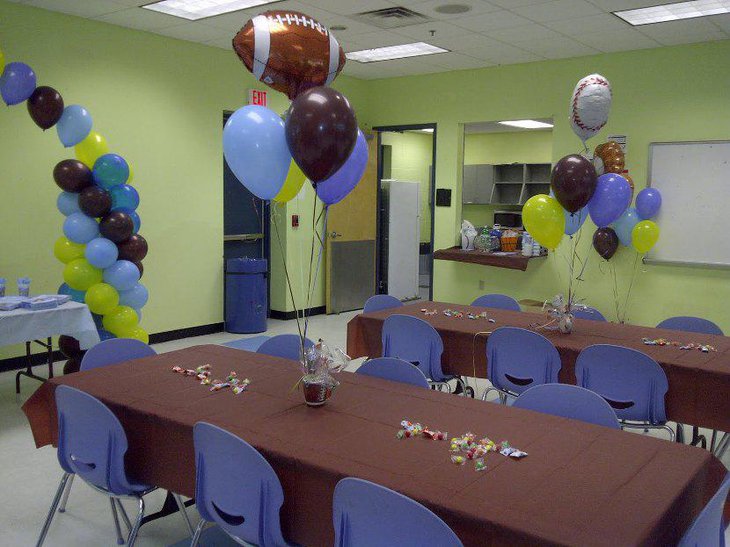 Sports Theme Baby Shower
Image Credit: Pinimg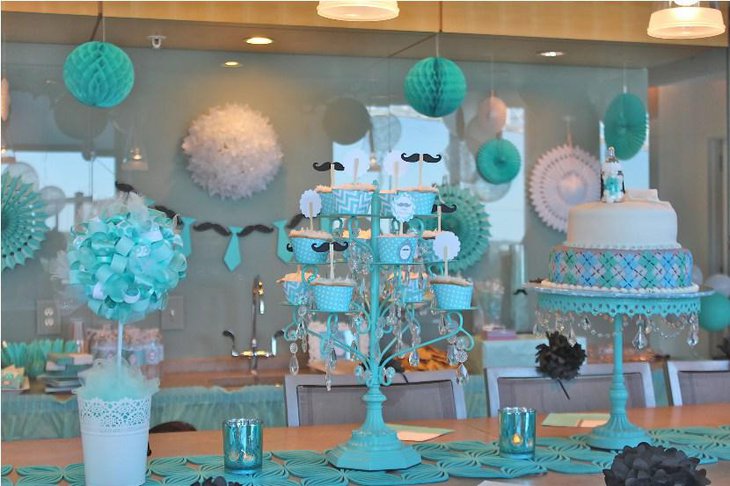 Baby Shower Table Decorations
Image Credit: Curricublog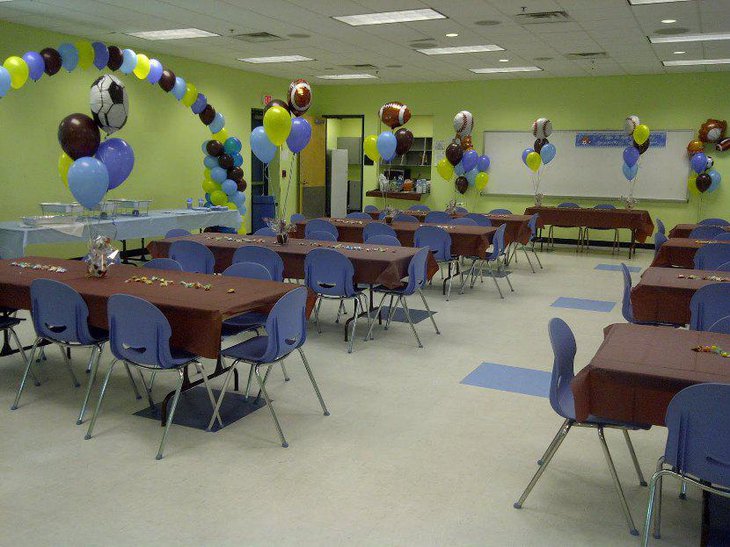 Cakes with Sport-themed Centerpieces
Image Credit: Babiys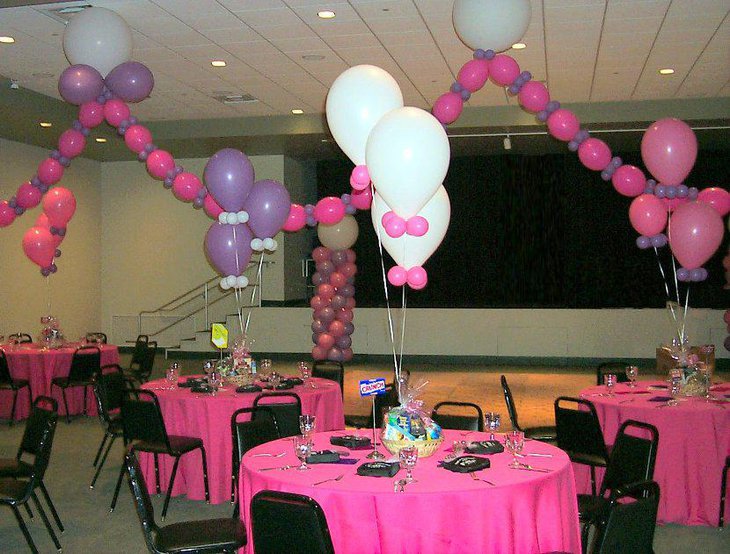 Wedding Balloon Table Decorations
Image Credit: Balloonexpressionssite
Candy for Your Baby Shower Centerpieces
Centerpiece ideas range from flowers to foods to ornaments. You are limited only by your creativity. Candy has been used as a centerpiece in recent years. The fun flavors fit perfectly with any celebration, including weddings, baby showers, and birthdays. Not only is it decorative but guests can enjoy eating it as well. Topiaries are creative centerpiece ideas for displaying candy. You can perfect this creation by using a pot, long cinnamon sticks, and a Styrofoam ball instead of spending money on a topiary frame. You can also buy or gather tall clear glass jars or vases and fill them with candy. Arrange the vases in different heights, filling them with different colors of candy to create a fun, appealing atmosphere.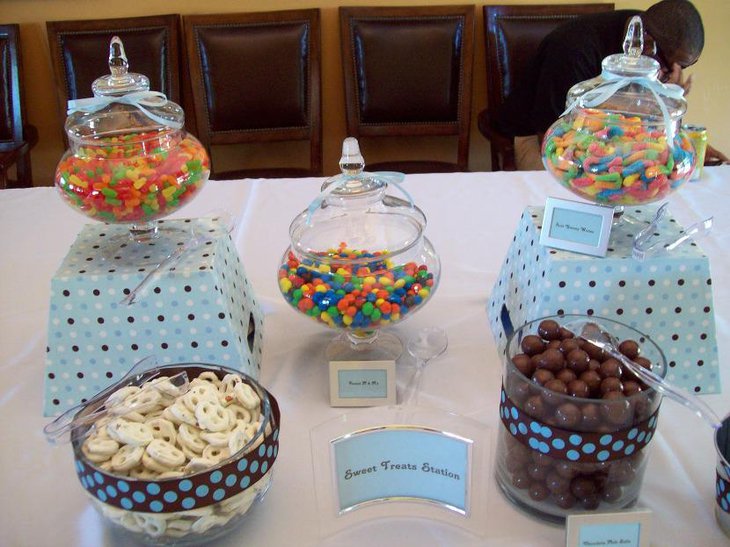 Appetizing Baby Shower Candy
Image Credit: Babiys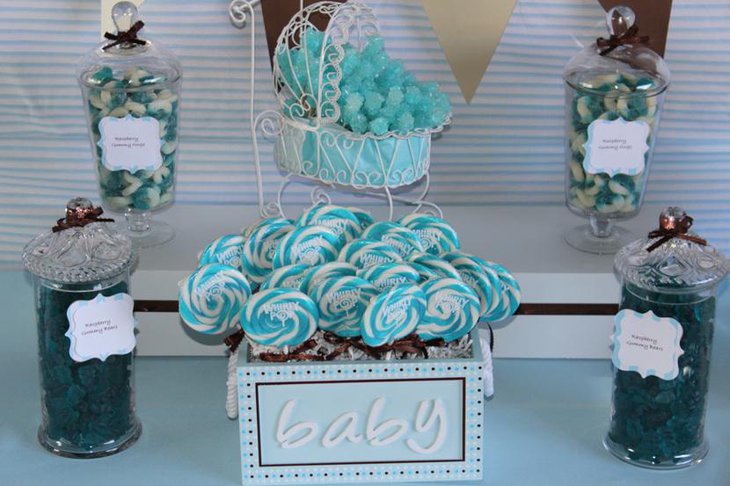 Fascinating Baby Shower Candy Game
Image Credit: Babiys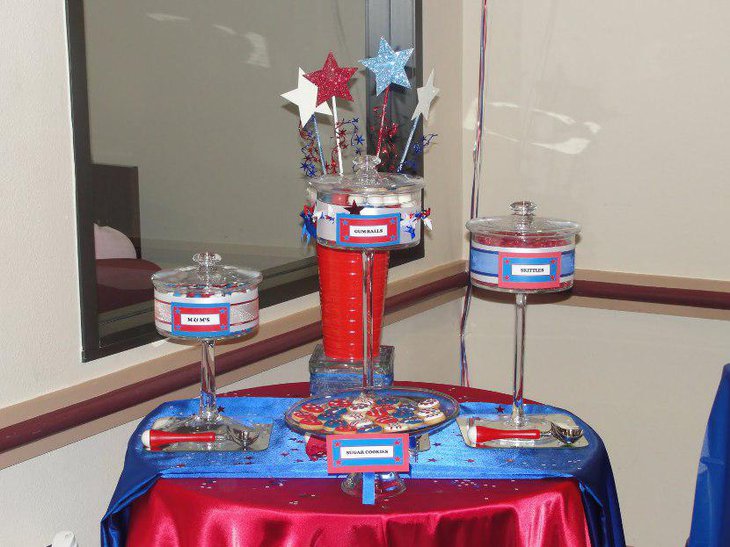 Superhero Baby Shower Candy Buffet
Image Credit: Babiys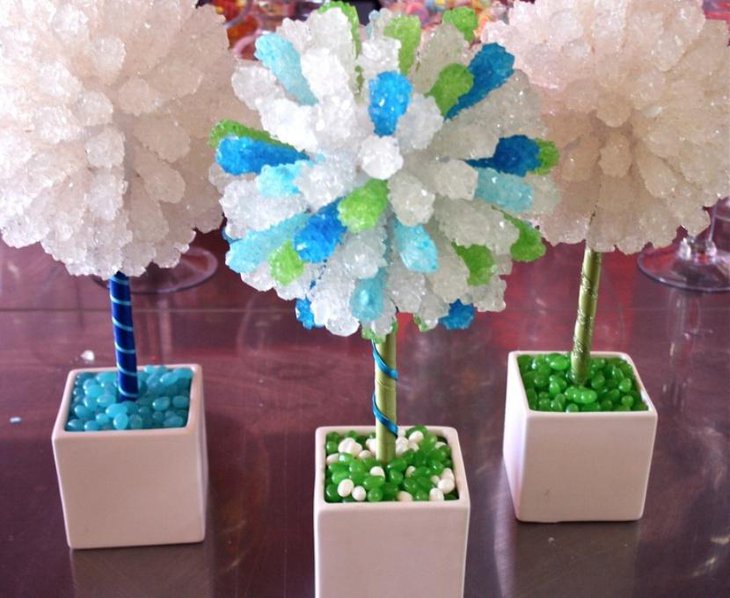 Creative Blue and White Candy Centerpieces
Image Credit: Coachspartyrentals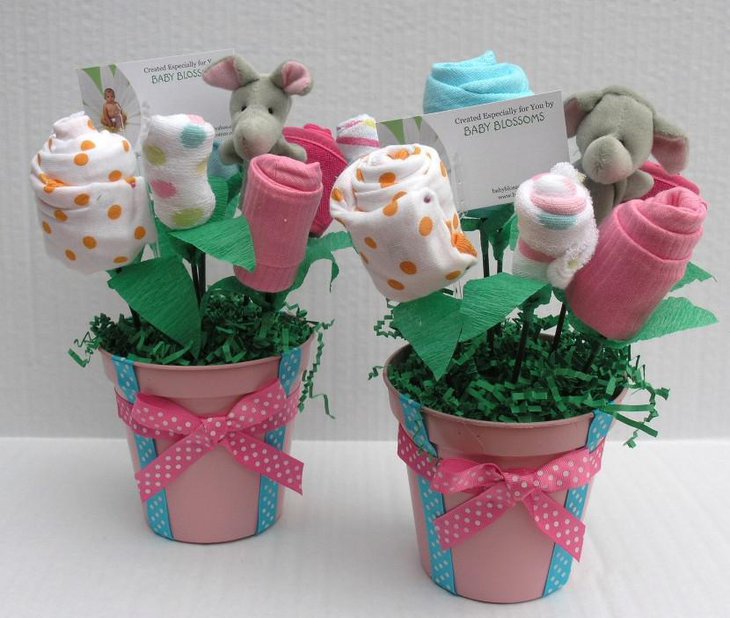 Practical and Pretty Baby Shower Centerpieces
Image Credit: Playimmersion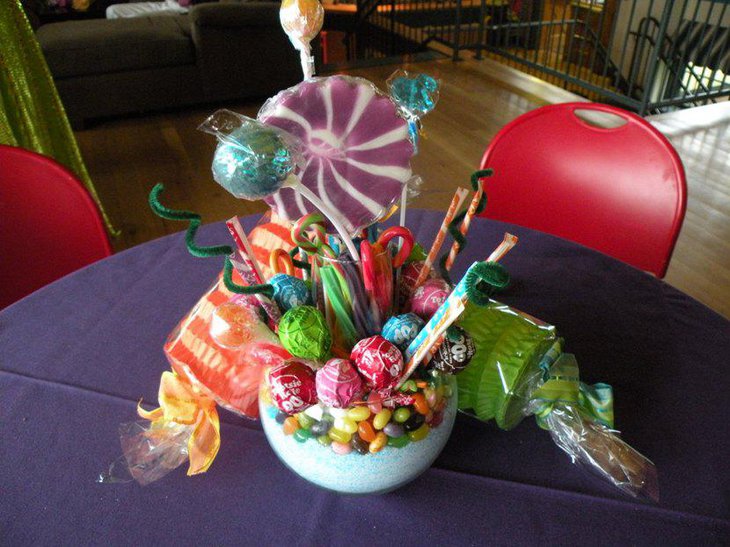 Colorful Candy Baby Shower Centerpiece
Image Credit: wordpress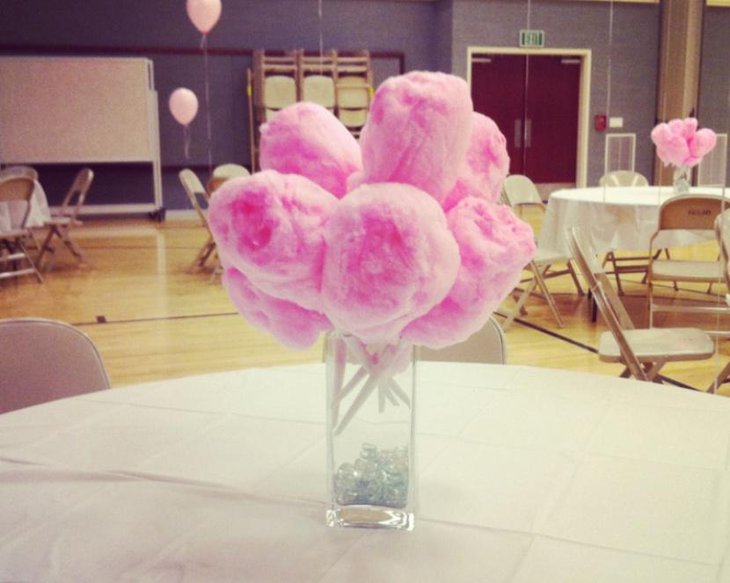 Cotton Candy Centerpiece
Image Credit: Pinimg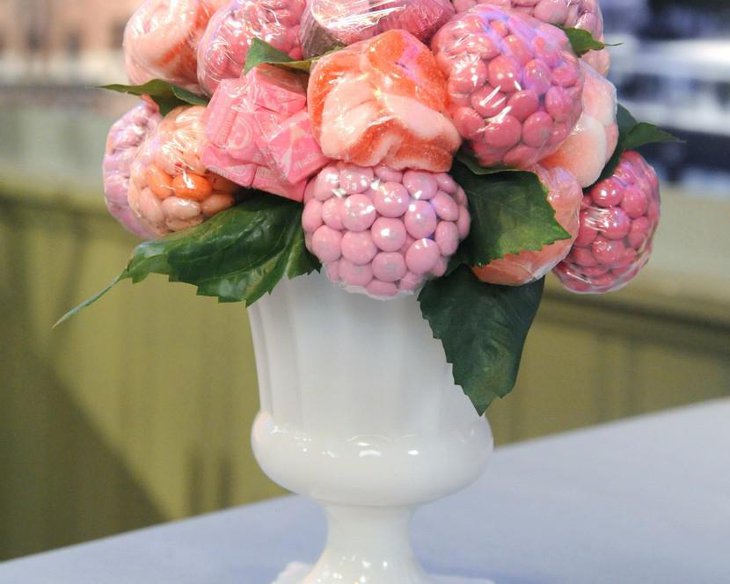 Packaged Candy "Floral"Centerpiece
Image Credit: Marthastewart
Edible and Practical Baby Shower Centerpieces
Why not design centerpieces that meet more than one purpose? Edible cakes serve as a delicious dessert and also make great table decorations! Diaper "cakes" fill that unique need every mother and baby can appreciate. Always make a point of shopping ahead. This gives you ample time to purchase or prepare the cakes that will best fit your event theme. If you enjoy baking, you can make beautiful cakes at home. There are books, magazines, and websites to help you choose your design and decorate your centerpiece ideas to the best of your artistic ability.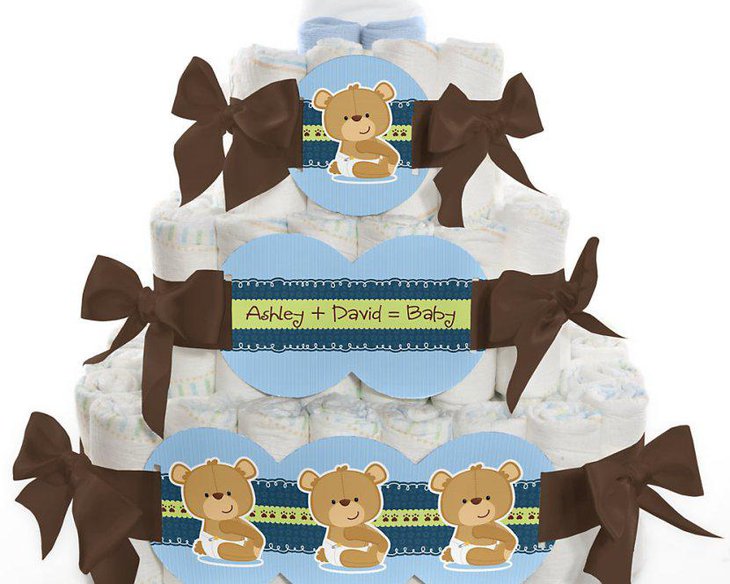 A Real Teddy Bear with other Baby-inspired Décor
Image Credit: Justbakedlkn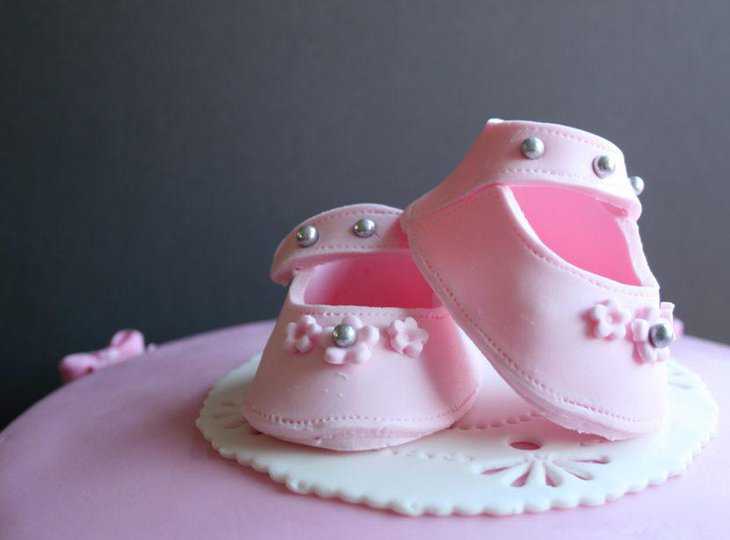 Pink Baby Booties Cake
Image Credit: wordpress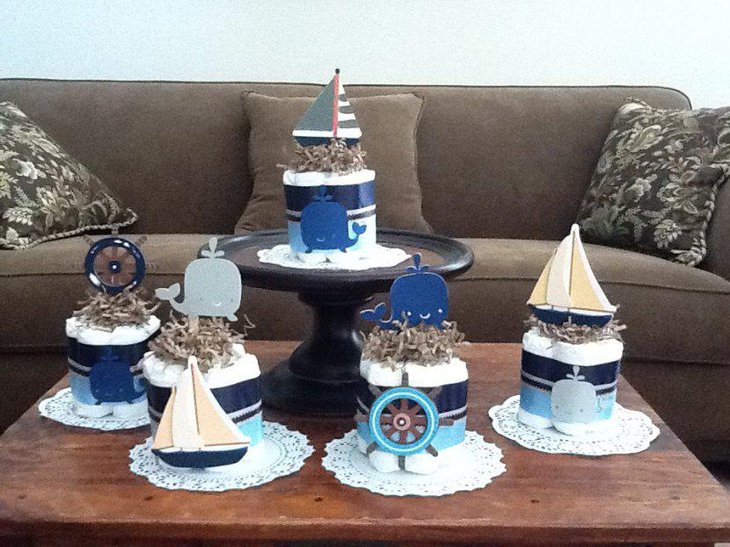 Nautical Baby Shower Centerpieces
Image Credit: Etsystatic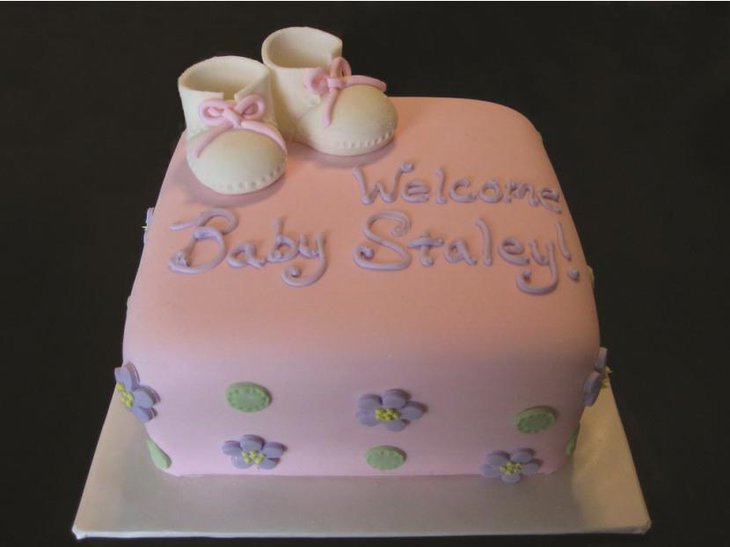 Cake with Edible Booties
Image Credit: wordpress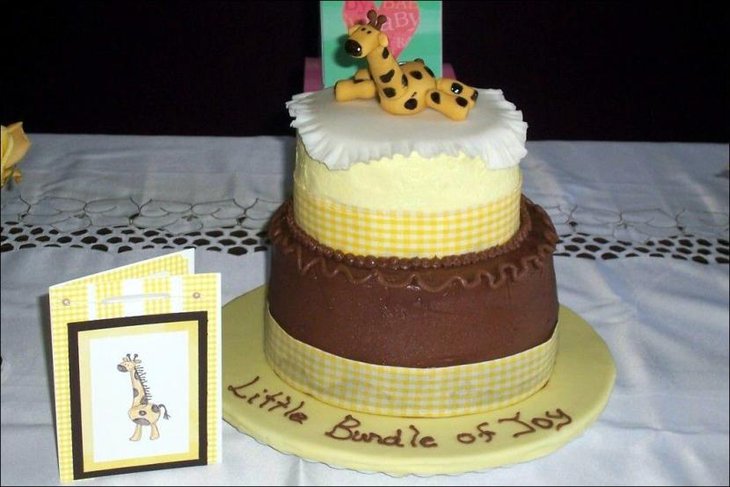 Giraffe-themed Decoration and Cake Topper
Image Credit: Moviesfriend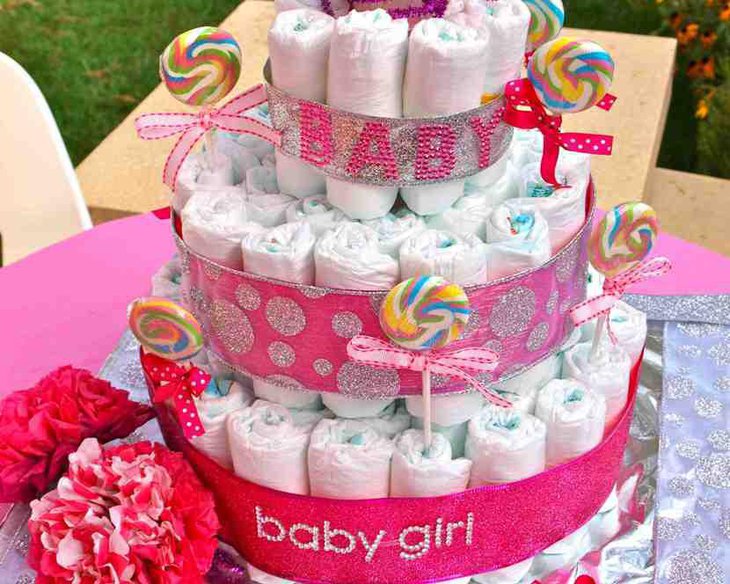 Pink & Bling Diaper Cake
Image Credit: Theoutlawmom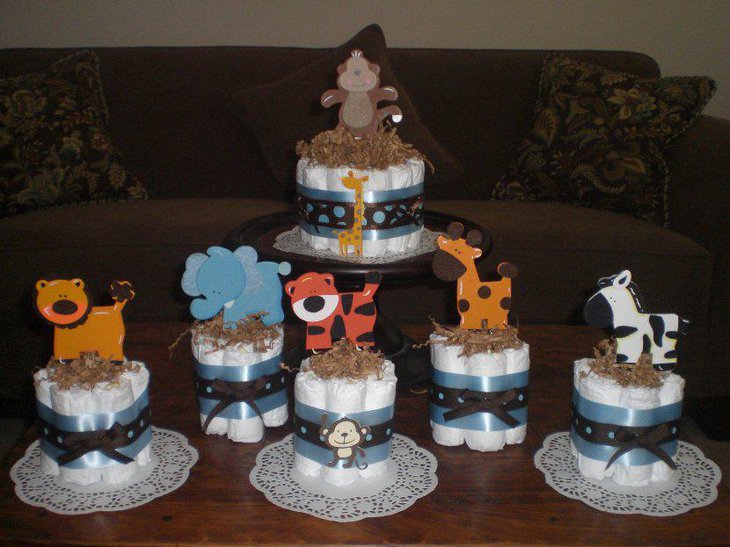 Animal Safari Diaper Cakes
Image Credit: Etsystatic
Delicious Fruit Arrangements
Visit your grocer for colorful and delicious fruits. Your friends will appreciate having something healthy but sweet for their centerpiece. The use of fruits in baby shower decorations is an inexpensive idea. Fruits come in naturally bright colors that catch everyone's attention. When arranged in a clear bowl or basket, you can be sure they will serve as fresh, appealing centerpiece. Use bananas, grapes, apples, pineapple, or oranges. If you don't want to use real fruit, consider displaying fruit models. These plastic replicas will still provide amazing color combinations and add to your celebrations theme of life and growth.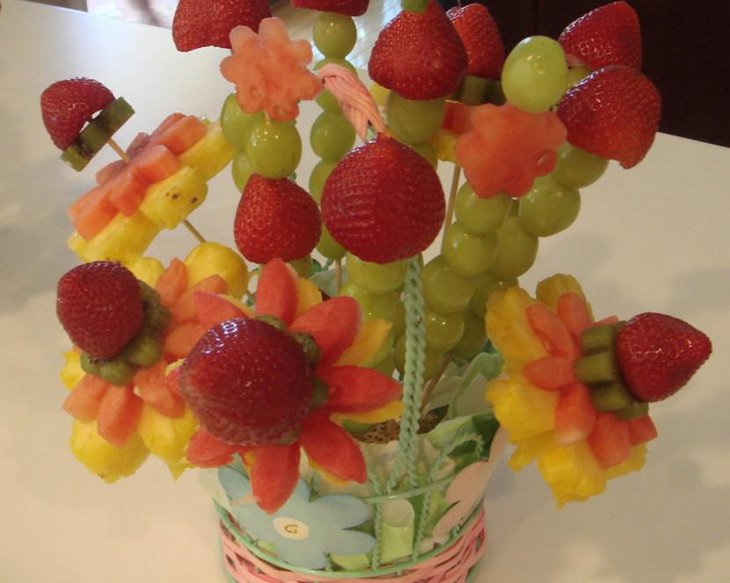 Colorful "Floral" Fruit Bouquet
Image Credit: Blogspot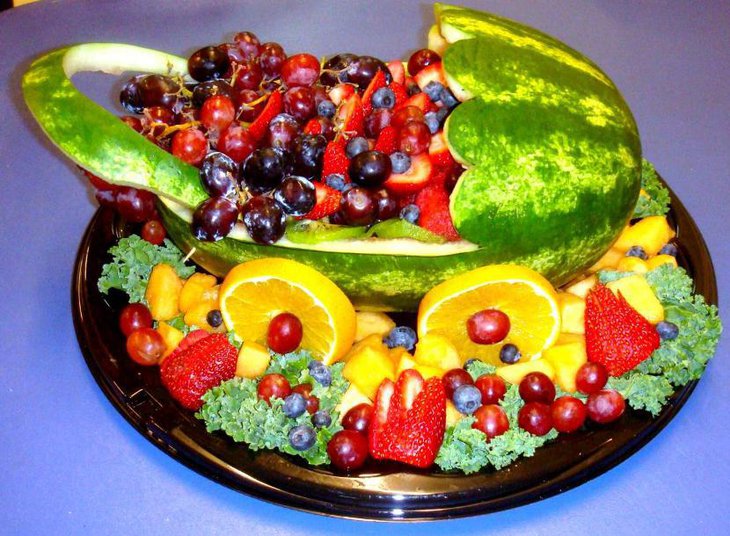 Fruit Stroller Centerpiece
Image Credit: Toulastrailsidecafe
Baby Shower Fruit Centerpiece with Strawberries, Pawpaws, Grapes, and Pineapple
Image Credit: Shailenefan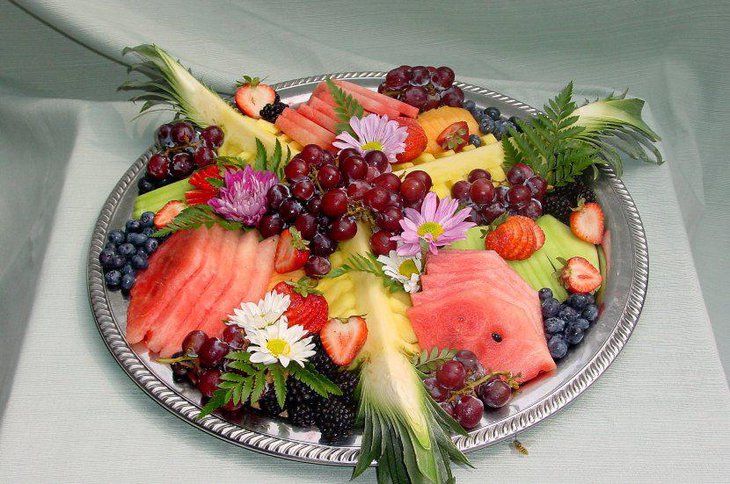 Party Platter Fruit Tray
Image Credit: Montereymetshops
Carved Fruit Art Centerpiece
Image Credit: Groupleme
Popular Baby Shower Favors Centerpiece Ideas
Baby shower party favors can be used as centerpieces as well. Make the best use of the favors by placing them in a basket to make a layer of favors. Always use favors that guests can help themselves to. Some people prefer having mounted baby shower centerpiece ideas. This can be done by using favor boxes. Favor boxes can be purchased from craft stores or can be made at home. You can buy or create these boxes and paint them to fit your event theme colors.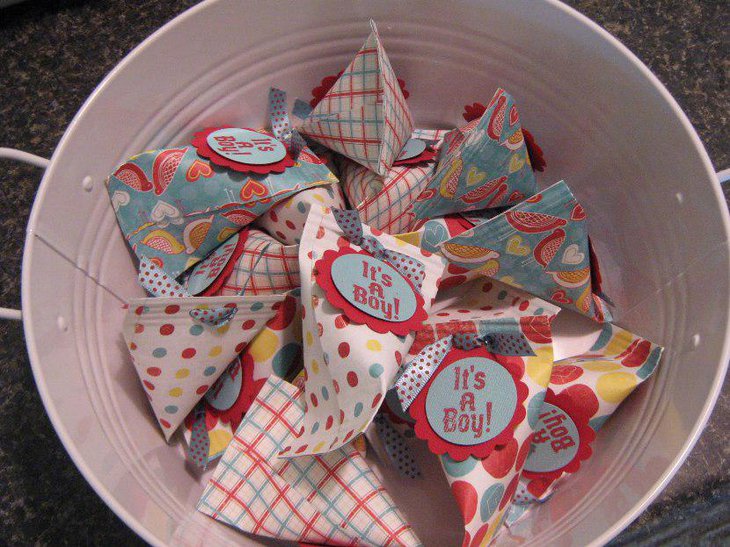 Beautiful Baby Shower Favor Ideas
Image Credit: Kidsroomedea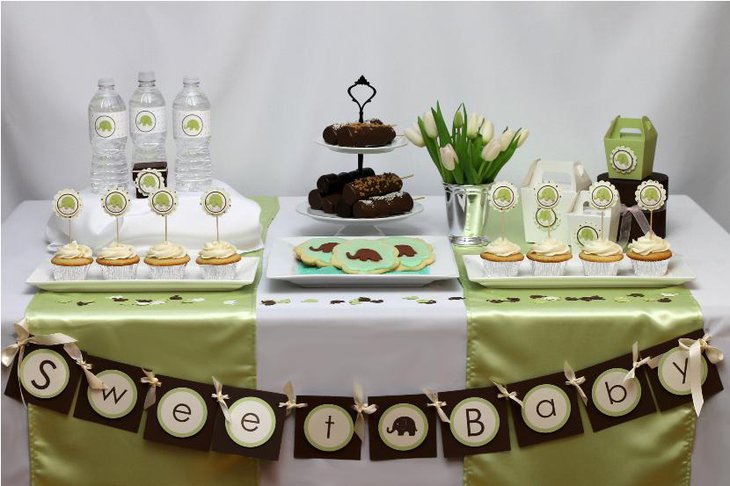 Elephant-Themed Baby Shower Decorations
Image Credit: Beeshower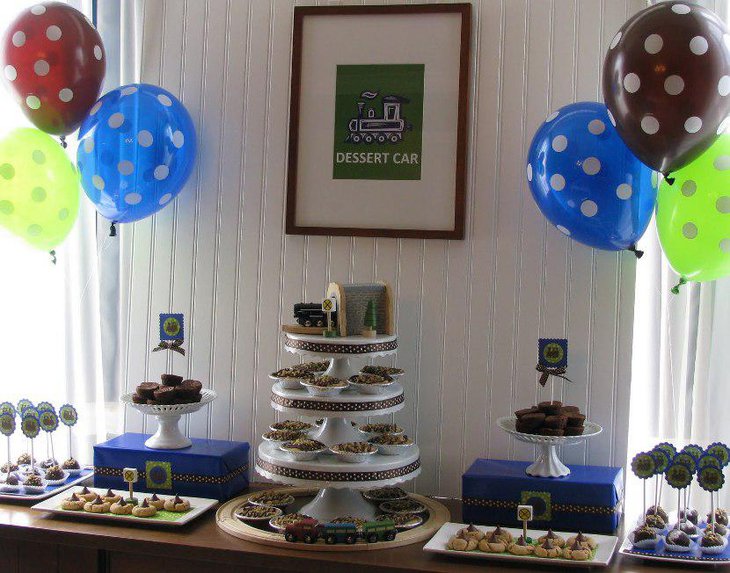 Train-themed Baby Shower Décor
Image Credit: Dogwoodmanorapts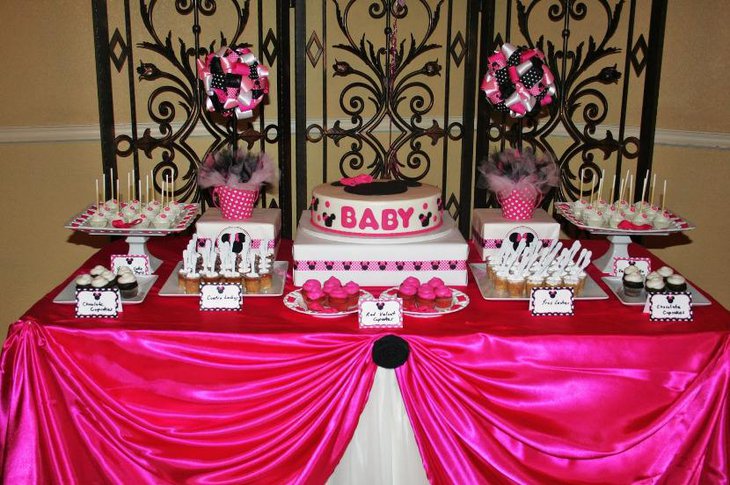 Minnie Mouse Theme
Image Credit: Babyshowerdecorideas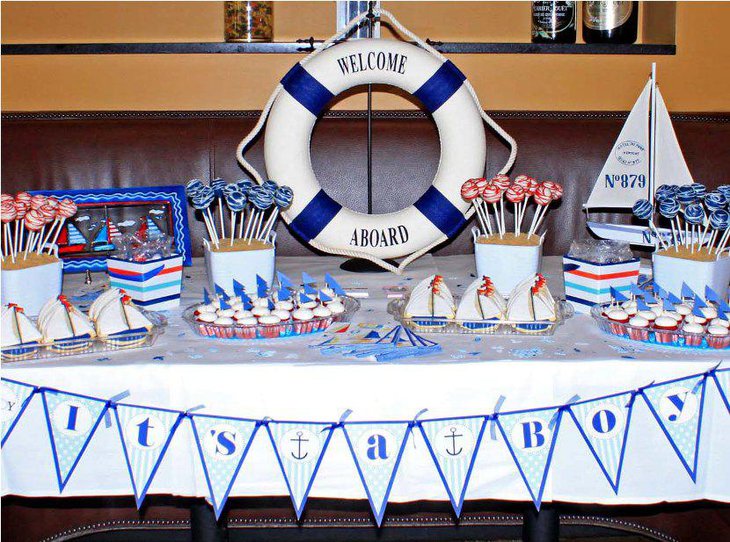 Nautical Themed
Image Credit: Beeshower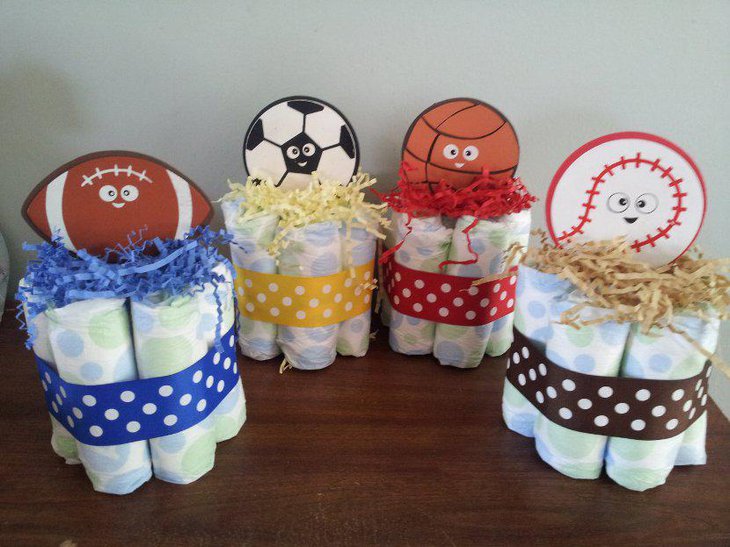 Sports-Themed Centerpieces
Image Credit: Babyshowerideas
Different centerpiece ideas will work well according to the mother's personality. The above baby shower ideas hopefully gave you some ideas on how to make her day extra special.