A dessert table can be usually seen at parties or events, such as weddings, birthdays, baby showers, receptions, or festive events like Christmas, Halloween, or Thanksgiving. You can see sumptuously laid out dessert tables at cocktail parties or bachelorette parties as well. Dessert tables sweeten up any party mood more than anything else and so we are presenting some of our favorite ways and means of decorating these tables with 30 awesome dessert table ideas that are available any and everywhere.
We are showcasing 30 examples, some of which include cool ideas for a wedding dessert table as well as baby shower dessert table ideas. Also, you will be delighted to spot some creative and fabulous ideas for Christmas, Halloween, and Thanksgiving. Do take a look at these cute and creative dessert tables and set up your own sweets table to add that special chutzpah to your party!
Wedding Dessert Table Décor with Greens and Flowers
Nothing looks more gorgeous than setting up your sweets table with cute accompaniments, such as flowers and plants. Fresh blooms in vases add a refreshing touch to your sweets table. You can play with different colors and shades when you choose flowers as the main accessories to adorn your dessert tables. The wedding dessert table shown in the first picture is styled on a theme that is dominated by white, but its beauty is that much more magnified by the green accents seen on the plant decorations placed at the table. Similarly, the yellow floral arrangements on another sweets table look fabulous and are just perfect for a wedding reception.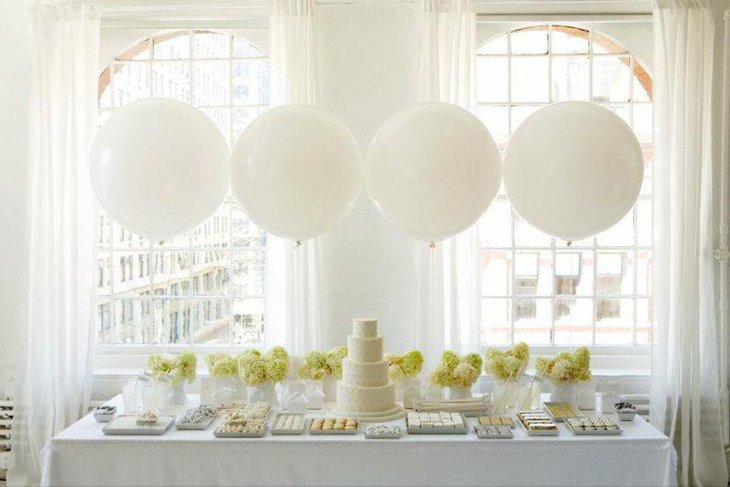 Elegant wedding dessert table décor with green plants and an assortment of sweets
Image Credit: weddingforpeople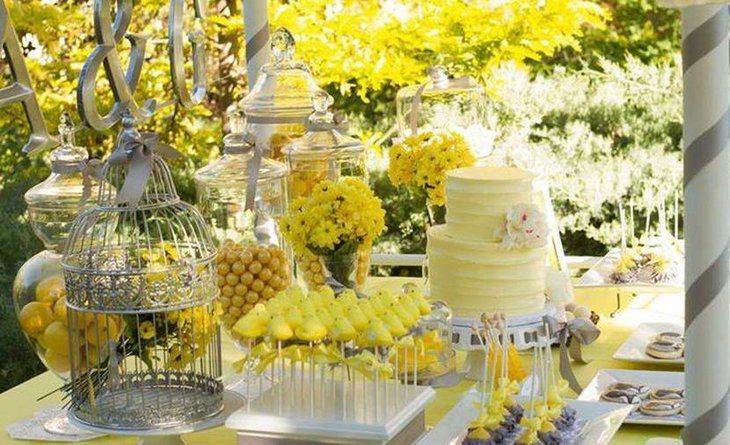 Wedding dessert table décor with bright yellow flowers
Image Credit: karaspartyideas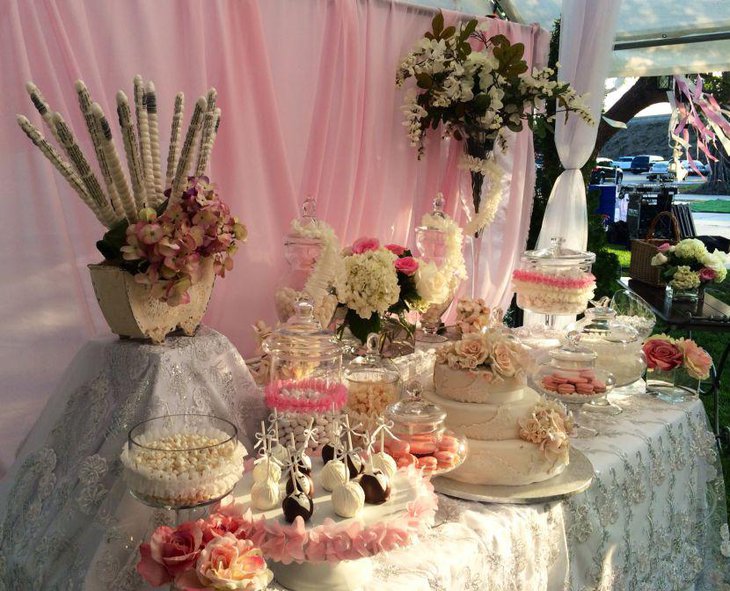 Wedding dessert table with roses and hydrangeas
Image Credit: seshalynspartyideas
Wedding Dessert Table Ideas with Chocolates and Other Savories
If you wish to give your guests a very sweet experience that they are certain to cherish, going with a chocolaty theme is the prefect idea. Yes, chocolates and other goodies like cupcakes, candies and cookies can all be used to deck out your sweets table. These days, many decorators are crafting designer chocolate fountains and eatables that are not just yummy to eat but are also used as decorative accessories. You can simply keep a chocolate fondue station on the sweets table and surround it with cake pops or candies, or can fill up a bowl or tray with colorful chocolate sticks as seen below. Another way to dress up your sweets table is to embellish it with heart shaped cookies kept in designer boxes. Glass jars in varying shapes and sizes too can be placed on tables, filled with candies and cookies.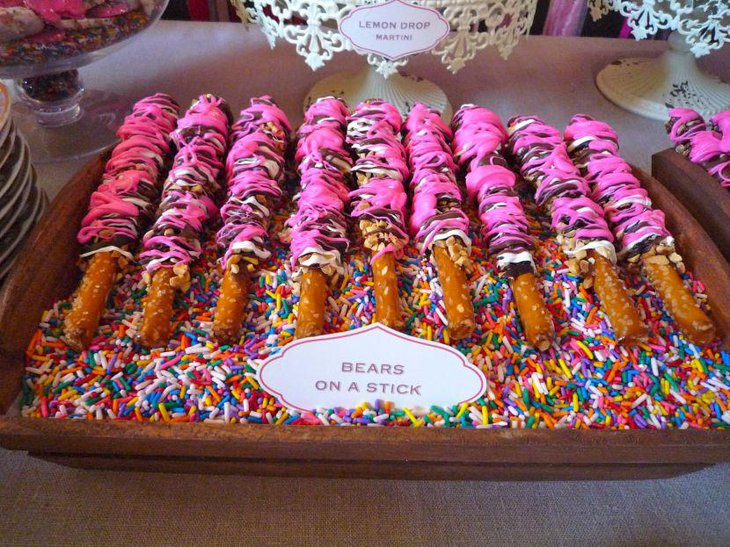 Gorgeous wedding dessert table décor with pink chocolate sticks and colorful candies
Image Credit: dessertdarling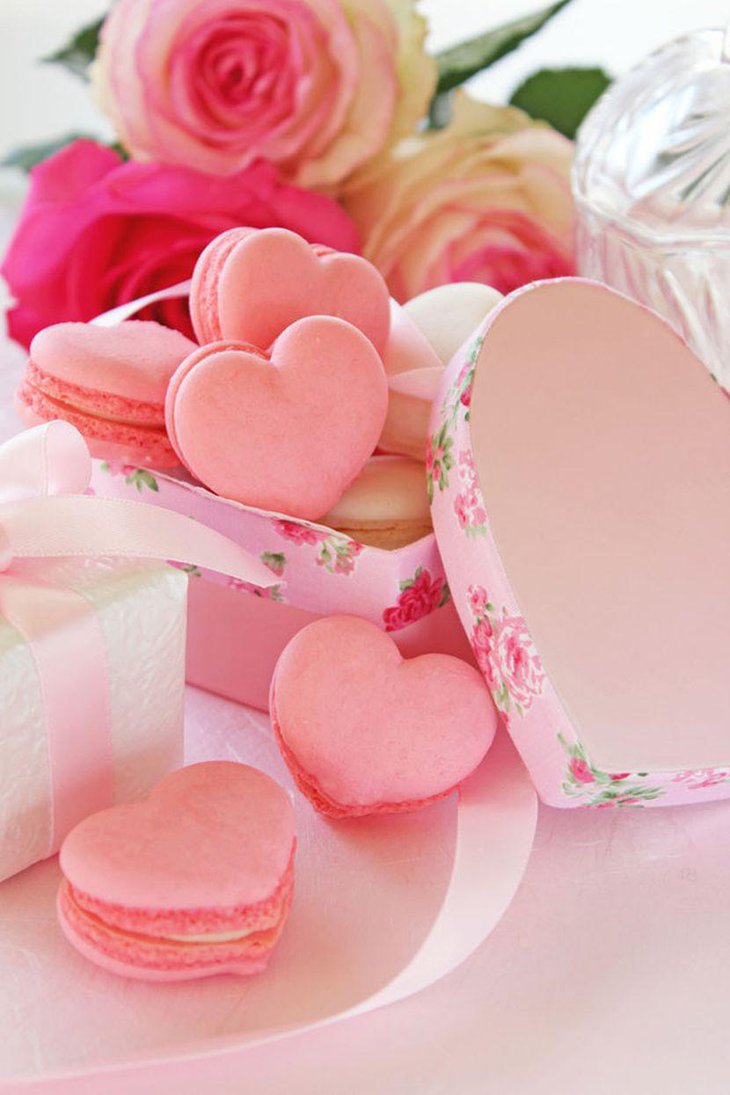 Wedding dessert table decorations with pink heart shaped cookies in a box
Image Credit: weddingforpeople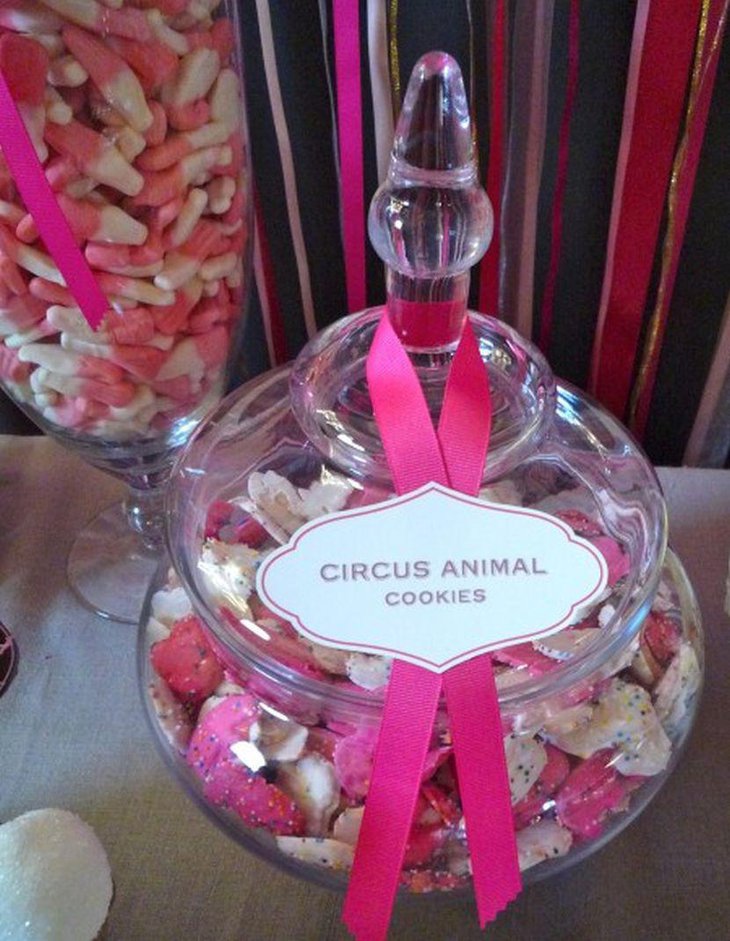 Wedding dessert table décor with a glass jar filled with circus animal shaped cookies
Image Credit: dessertdarling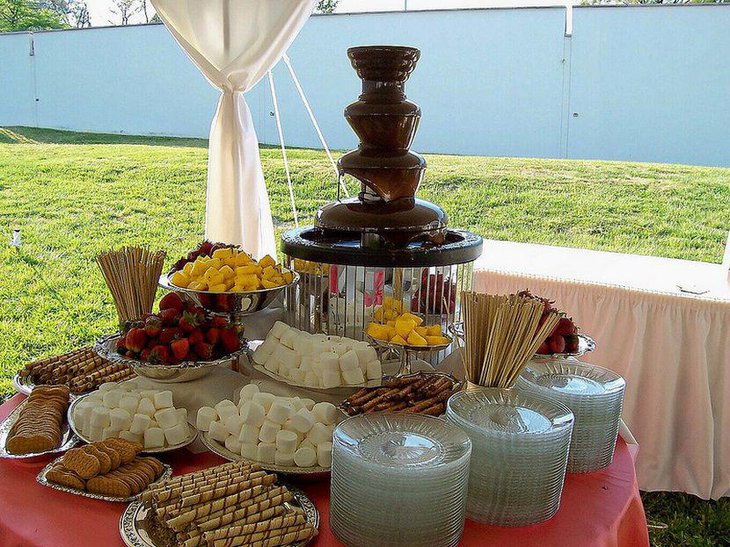 Wedding dessert table with a chocolate fondue station and savories
Image Credit: bradfordevents
Party Dessert Table Décor Ideas with Cakes and Cake Stands
Designer cakes and cake stands are making headway as far as decorating dessert tables are concerned. A designer cake is one that is custom made by famous decorators and often includes the use of expensive frosting and cream. You can deck your sweets tables with such gorgeous looking cakes on designer cake stands or pedestals. In the images that relate to wedding dessert table ideas, you might be surprised as to how astonishing a sweets table can look when it's embellished with decorative cakes and stands. You can arrange a two or three tiered cake with silver toned cream frosting and set fresh hydrangea arrangements next to it for adding a dash of style to your table's décor. Cupcake stands in polka dots or other colors too look awesome. For a kid's birthday party sweets table, you can opt for fairy tale themed birthday cakes.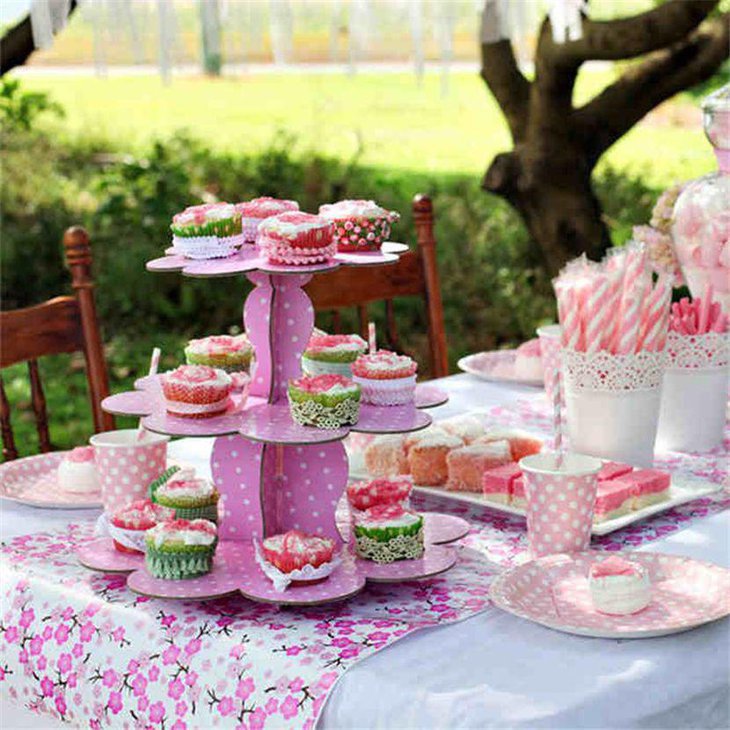 Cute pink cupcake stand for party dessert table décor
Image Credit: alicdn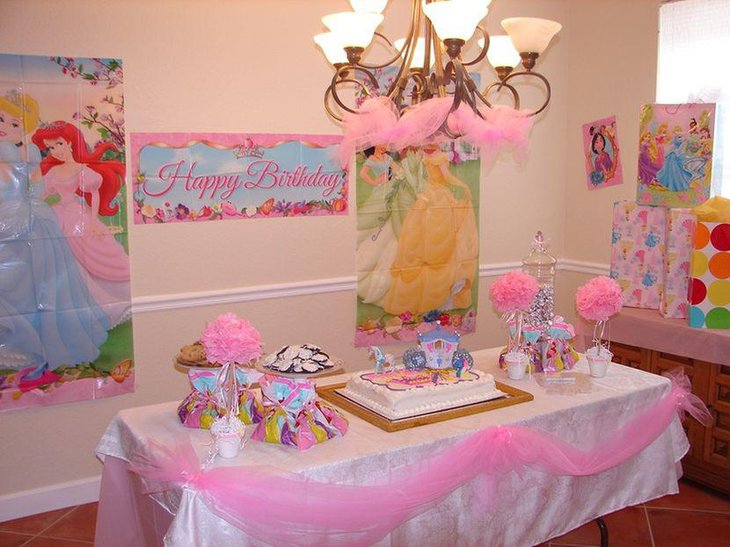 Birthday party dessert table with blue fairytale carriage cake
Image Credit: cahomepro
Baby Shower Dessert Table Décor in Pink
A baby shower is a very special occasion for a mommy to be, and the sweets table for such an occasion needs to be more than just standard fare. With the below showcased ideas for baby shower dessert tables, we are sure your baby shower will remain a much talked about event for years to come. Pink accents look amazing, especially the pink frill framed cake and the cream sundaes in goblets. Apart from cakes and cake stands in pink, you can also add hints of this cute color on candies, lollipops, table runners, and other decorations. Pink flowers in vases too can be placed on the table, either freshly picked or of the craft variety.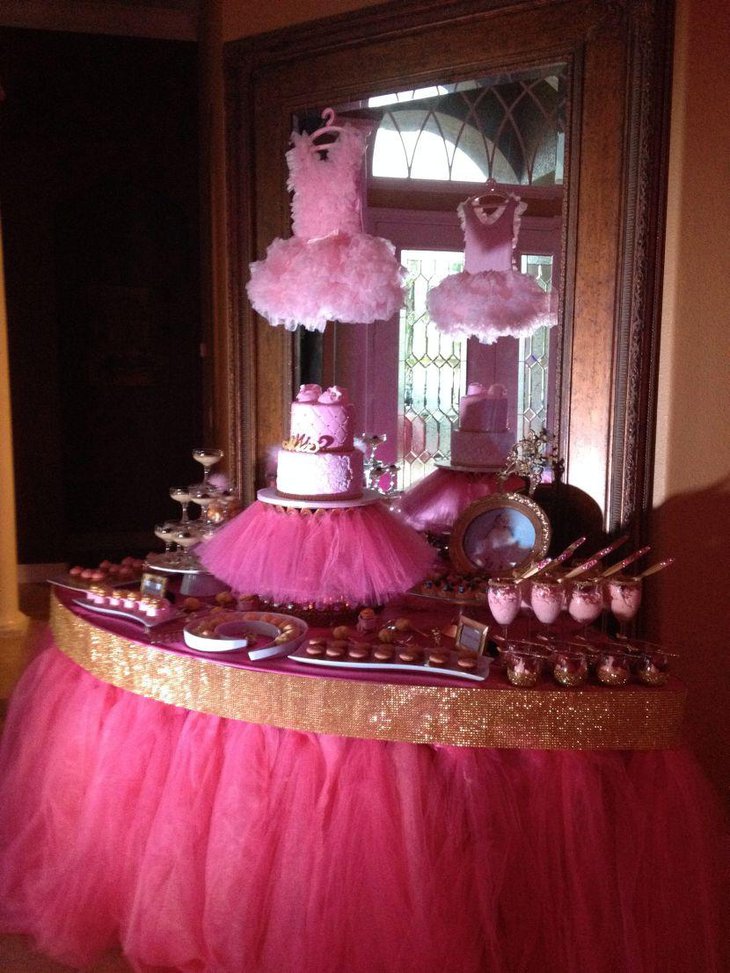 Pretty baby shower dessert table décor with pink cake and frilly cake stand
Image Credit: pinimg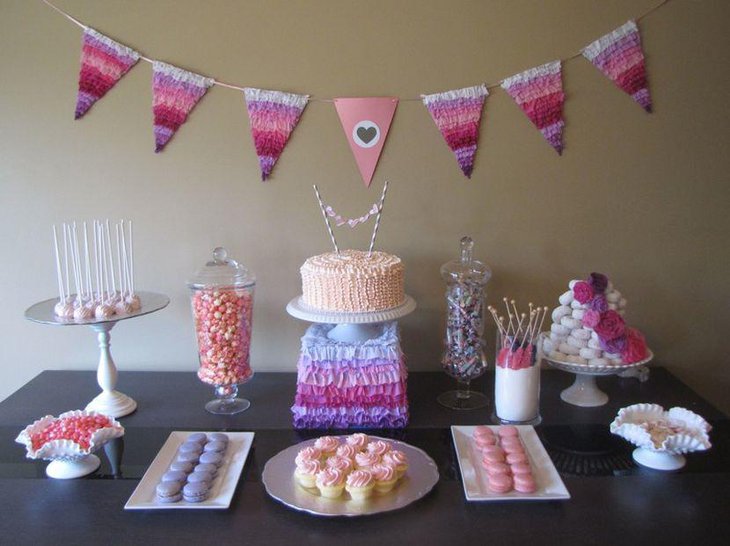 Baby shower dessert table decorations with pink decorations, frilly cake stand, flowers, and cupcakes
Image Credit: wordpress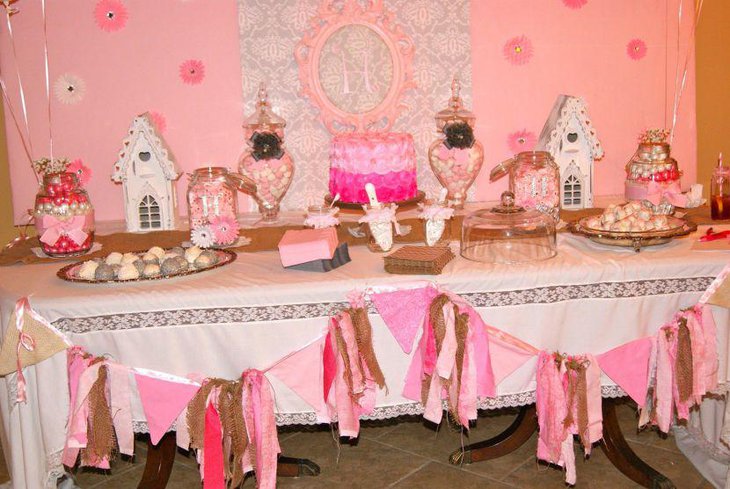 Baby shower dessert table idea with pink accents on cake, bows, and candies
Image Credit: whimsicalprintables
Blue Baby Shower Dessert Table Décor
If you are hosting a baby shower for your friend or relative who is soon going to welcome a baby boy, take these blue decorating ideas where the sweets tables have been embellished with features all involving this masculine color. From tablecloths to backdrops to candies to balloons to lollipops, blue can be seen splashed everywhere, either in brighter, bolder tones or in lighter accents. Blue can be tried in any shade as per your liking. All the showcased pictures below look great and serve well for inspirational purposes.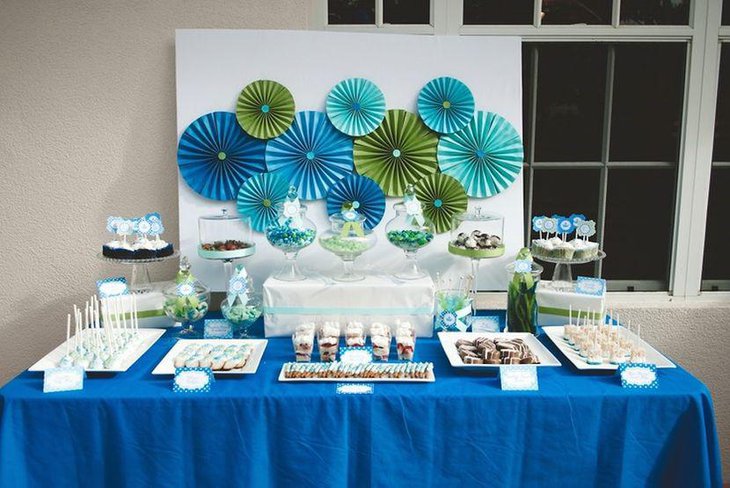 Boy baby shower dessert table idea with blue pinwheels, tablecloth, and cupcake toppers
Image Credit: pinimg
Boy baby shower dessert table with blue balloons, cake, and lollipops
Image Credit: cakecentral
Birthday Party Dessert Table Ideas
Birthday parties are fun occasions when every kid looks forward to enjoying yummy sweets from the dessert buffet table. As such, these tables must appear engaging and attractive so that the goodies can be devoured by all, leaving no space for leftovers! Birthday dessert tables can be embellished with colorful cakes, attractive frosting, pinwheel decorations, candies placed on cute trays or pedestals, balloons, and specific themes. If you have a boy, opt for blue accents, and in case you are throwing a party for your girl, have lots of girly colors like pastels and pinks.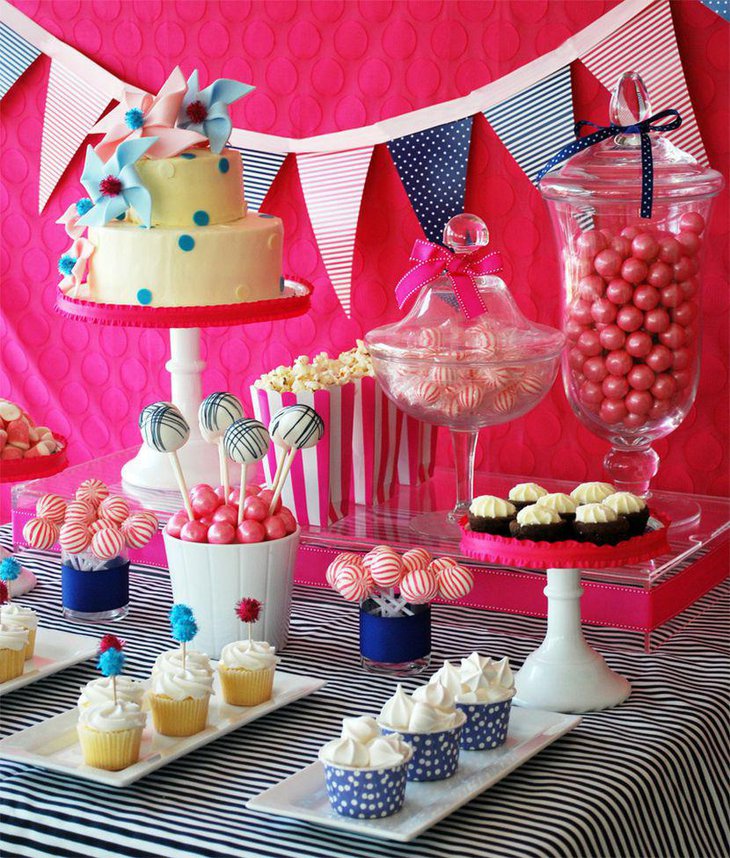 Birthday party dessert table décor with a cake decorated with pinwheels, and cupcakes
Image Credit: projectnursery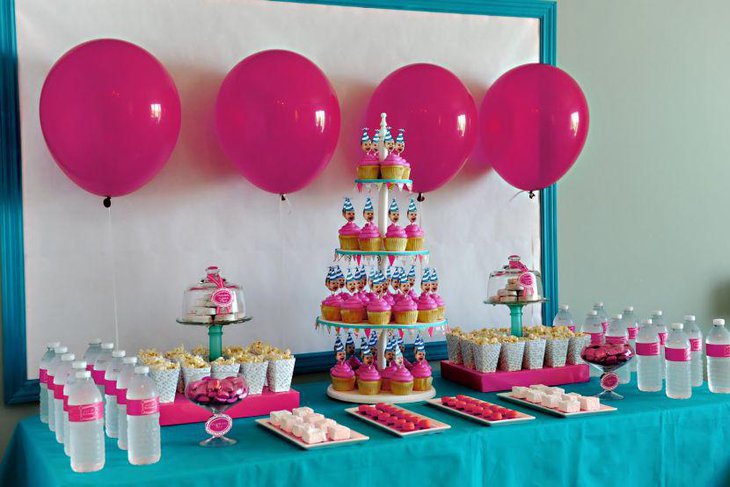 Blue and pink accented birthday party dessert table décor
Image Credit: blogspot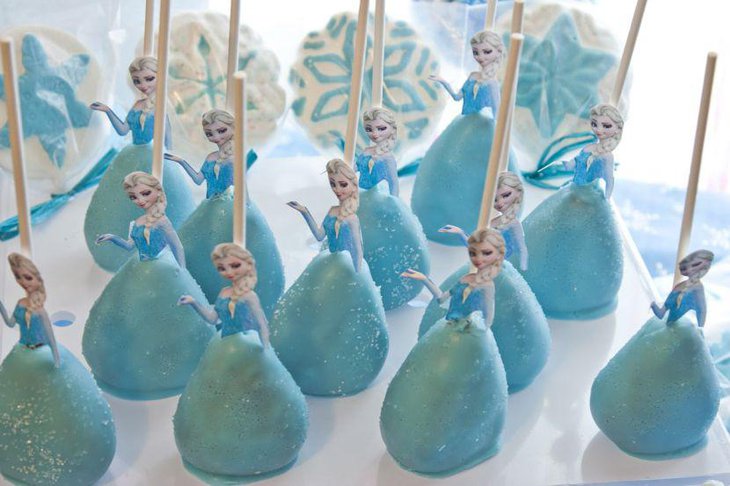 Frozen themed birthday party dessert table ideas
Image Credit: chicaandjo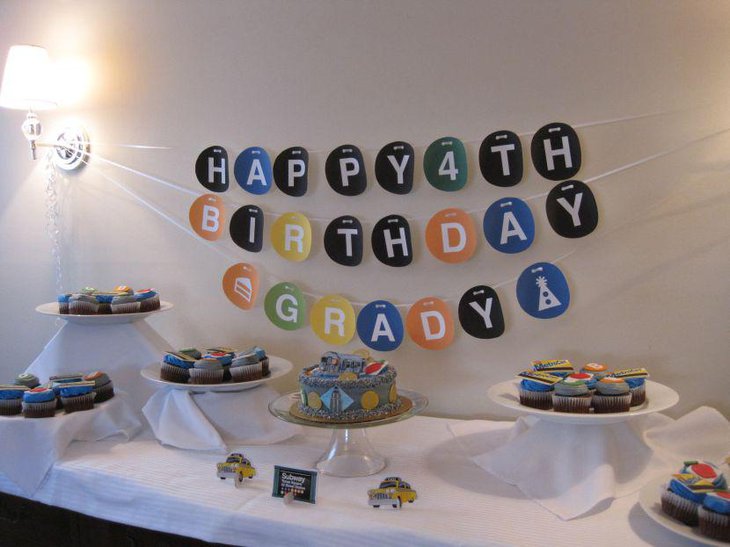 Traffic themed boys birthday party dessert table
Image Credit: wordpress
Dessert Table Ideas for a Thanksgiving Gathering
Since pumpkins and corncobs form an essential feature of Thanksgiving, let these be used to adorn sweets tables when you host a Thanksgiving party for your friends and family. From arranging pumpkin filled vases to laying out arrangements of corncobs to having an assorted table of mixed decorated goodies like cookies and cakes, there are many different ways of decking out your Thanksgiving sweets table.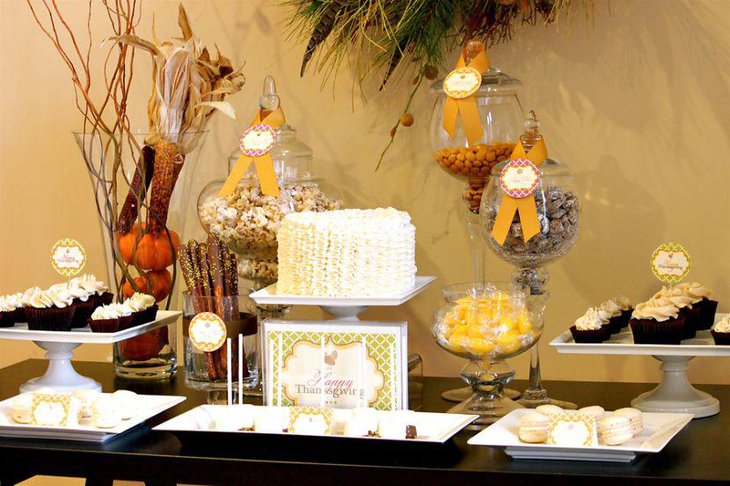 Thanksgiving dessert table decor with elegant cake and vases filled with dry corncobs and pumpkins
Image Credit: pinimg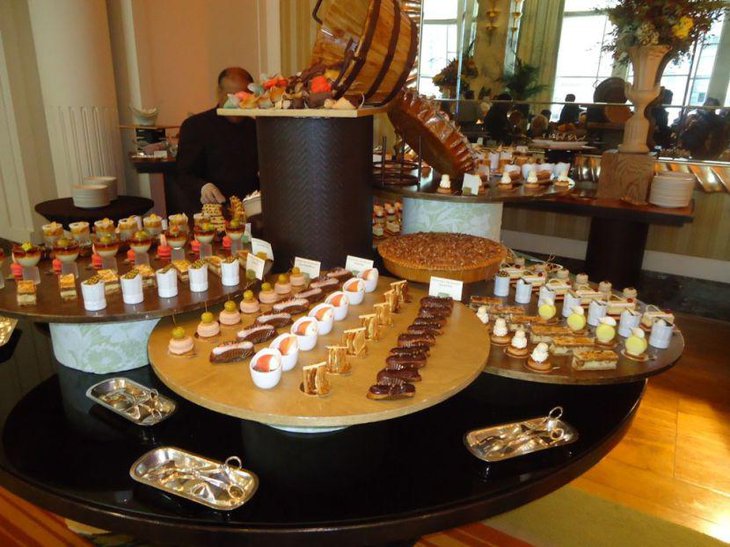 Thanksgiving dessert table setting with pie and sweets
Image Credit: aveitech
Christmas Party Dessert Table Ideas
Christmas sweets tables have to be decorated extensively as it's a time when people allow themselves to feast and indulge in gobbling sweets. Adornments in the form of plaid runners, tablecloths in bright red, floral arrangements on vases, and candy cones are all means of styling your sweets table. The whole table can be adorned with red, green, or white accents with figurines of Santa and Rudolph if you wish to add these two iconic mascots to your sweets buffet table.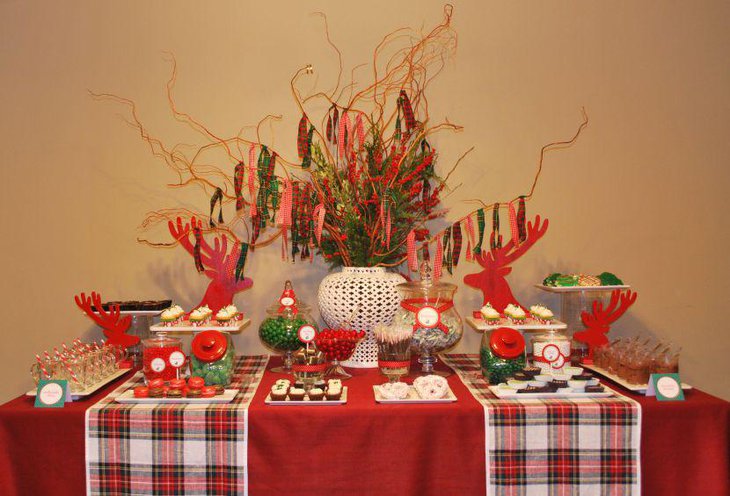 Gorgeous Christmas party dessert table with plaid runners and red and green candies
Image Credit: thepartydress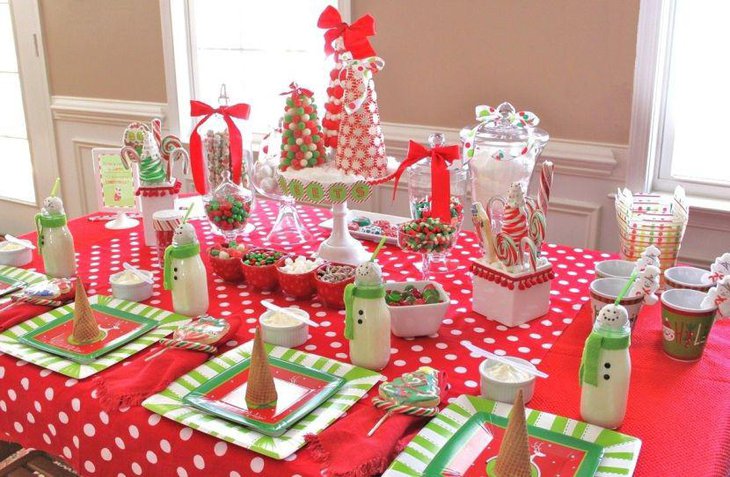 Christmas dessert table decor with candy cones and bottles
Image Credit: thegamez
Halloween Party Dessert Table Ideas
For Halloween, your sweets tables must look spooky and by no means appear bland. The spook element can be added to your Halloween sweets table in the form of spider shaped cakes, candies, or cupcakes with spiders latched onto them, party favors with skeleton imprints, or black and white cream biscuits arranged on stands. Jack-O-Lantern cakes too can be laid out as a main sweets table adornment.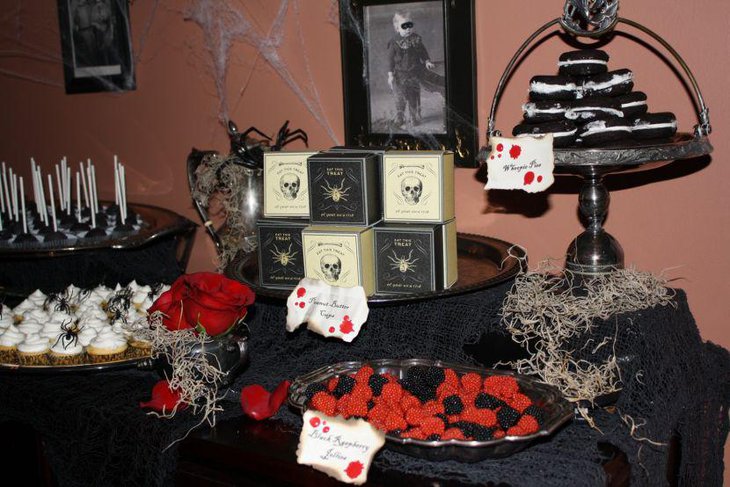 Spooky Halloween party dessert table decor with spider cupcakes and raspberries
Image Credit: lovefromtheoven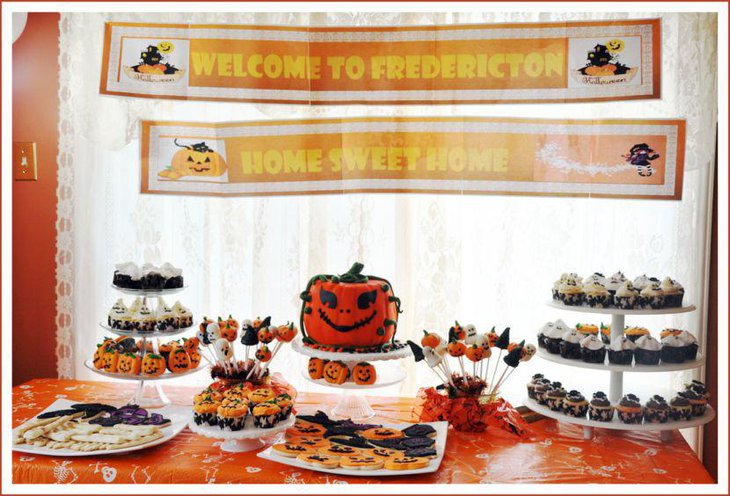 Halloween party dessert table with Jack-O-Lantern cake and goodies
Image Credit: bmtcakedesigns
Engagement Party Dessert Table Ideas
An engagement party is the first event in the line-up for a wedding celebration and is perhaps the most enjoyed by friends. Since a wedding is the beginning of everything sweet in a person's married life, the sweets table at the engagement party must look grand and exciting. From having vintage styled decor to adorning your sweets tables with colorful flowers, you can try out hundreds of styles. White and pink shades look very romantic and so you can include these accents in your vases or candies.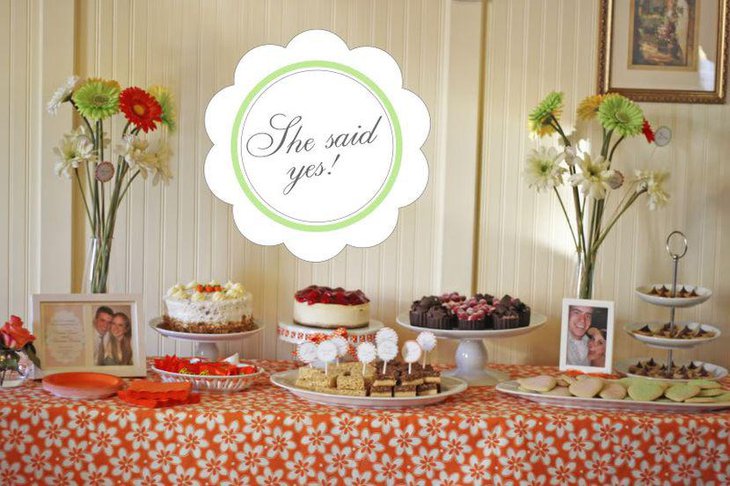 Sweet engagement party dessert table décor with fresh floral arrangements and assorted sweets
Image Credit: photobucket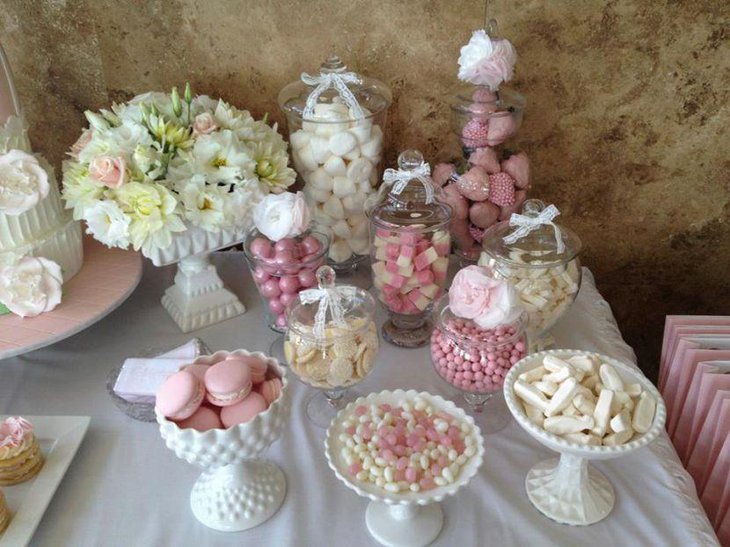 Pink and white dessert table décor for an engagement party
Image Credit: seshalynspartyideas
DIY Dessert Table Ideas
Do you want to save money while adding a sparking touch to your sweets table? If so, you can try out these awesome DIY dessert table ideas that are inexpensive and lend a unique touch to your party tables. Take for example the handmade frames that you could place on the sweets tables. Along with handmade frames, you can embellish the table with paper crafts like pinwheels either on the table or in the backdrop. Fresh floral bouquets or vases can be laid out to spread a feeling of happiness. For the goodie bags, you can use paper bags decorated at home instead of designer ones from the store. Cake pedestals too can be made using boxes and cardboard.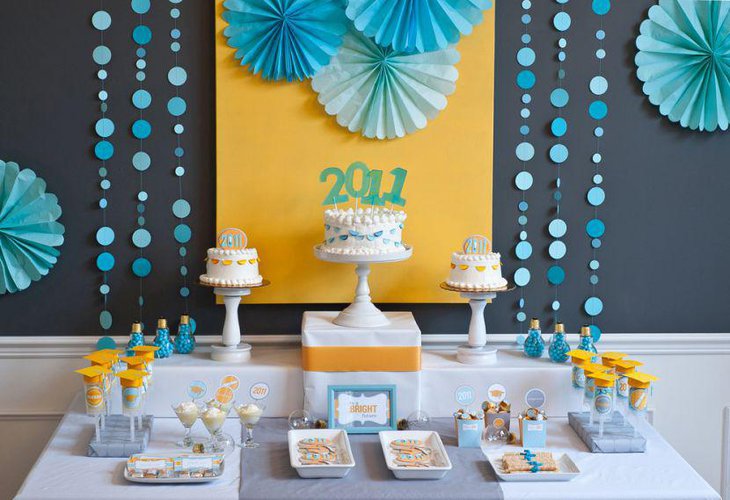 DIY dessert table party setting
Image Credit: frogprincepaperie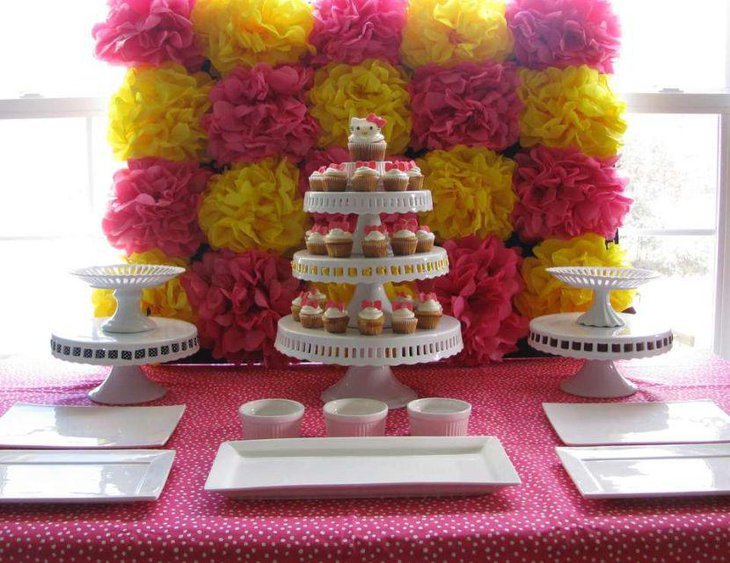 Cute DIY dessert table décor with artificial ruffled flowers
Image Credit: catchmyparty-cdn
Vintage Wedding Dessert Table Ideas
Vintage means high class, and now, you too can bring this feel to your dessert tables when you try out some of these awesome wedding dessert table ideas that look chic and classy. Sweets tables can be adorned with pastels and shades of cream and brown for you to achieve a vintage feel. The vintage blue truck used for hauling candies looks amazing in one of the pictures shown below. Similarly, vintage colored cakes and cookies can be used as temporary on dessert tables.
Vintage wedding dessert table décor with white cake and pastel accents
Image Credit: sweettablechicago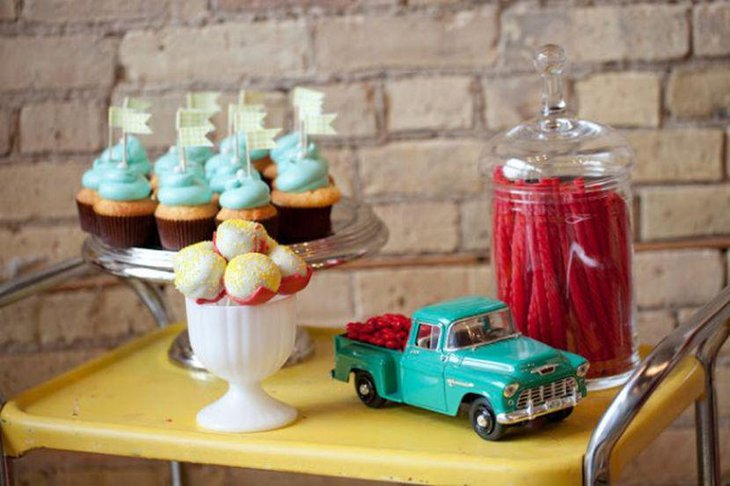 Classy wedding dessert table décor with vintage truck model holding candies
Image Credit: societybride
No matter what your event, these dessert table ideas will inspire you to decorate in new ways. Scroll back up through the list and take notes on your favorites!