Looking for cool and unique ideas for hosting an adult birthday party? These tasteful themes and birthday decorations are fun for men and women without appearing trite or immature.
From cool and stylish wine bottle centerpieces to Prince purple party, to garage and James Bond themes, these ideas will inspire you to go all out for your birthday guy or gal.
Decorations with Wine Glasses
Celebrate with glitz and glamour with decorative wine glasses in various forms and hues. Personalize them with the birthday girl's name or fill them with delicacies on the dessert table. Turn them upside down as floral and candle holders or fill them with colored stones and floating candles.
Personalized Wine Glass Favor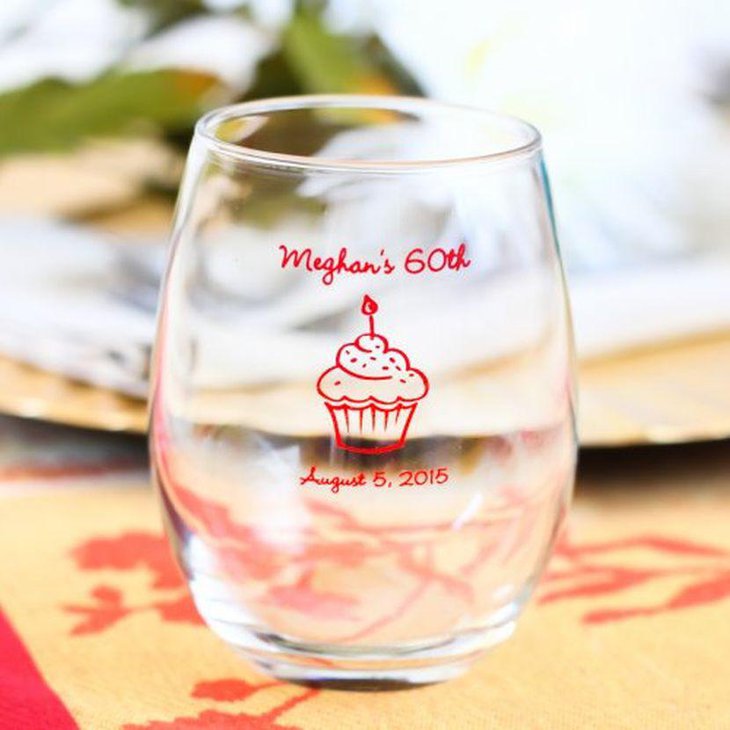 Image Credit: beau-coup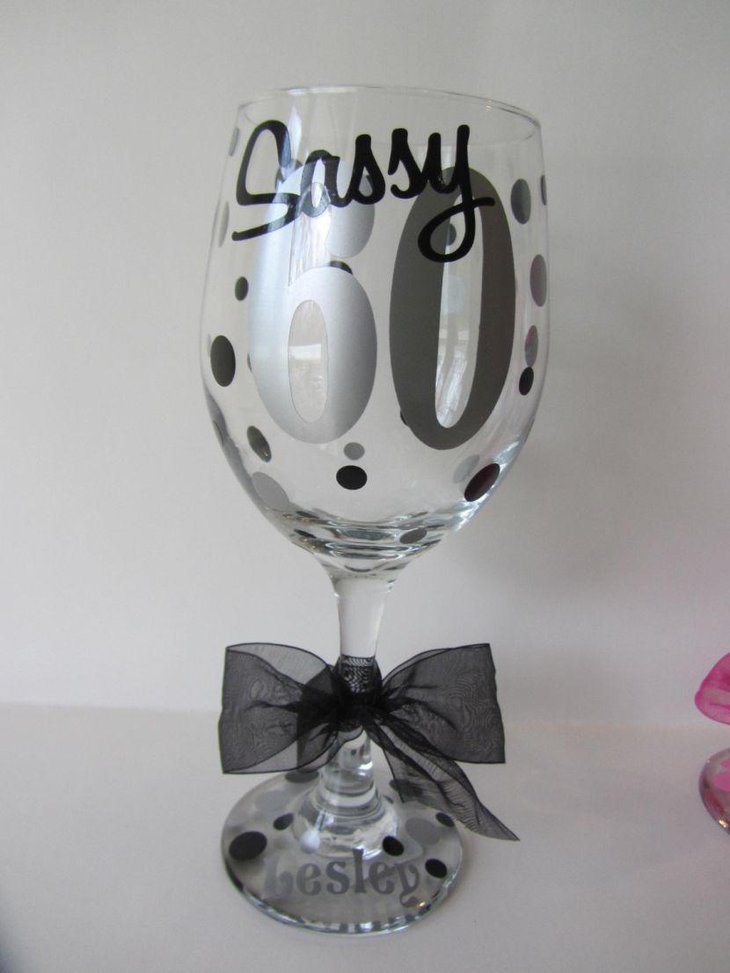 Decorated and Personalized Wine Glass
Image Credit: etsystatic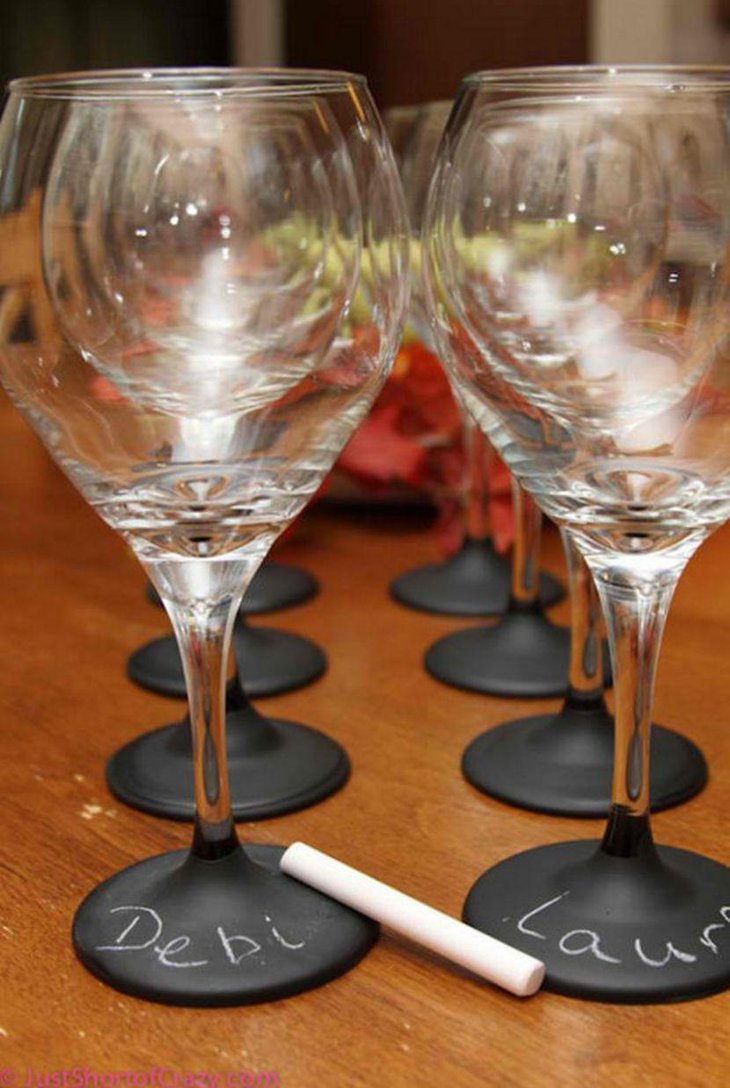 Chalkboard Base Wine Glasses
Image Credit: diyready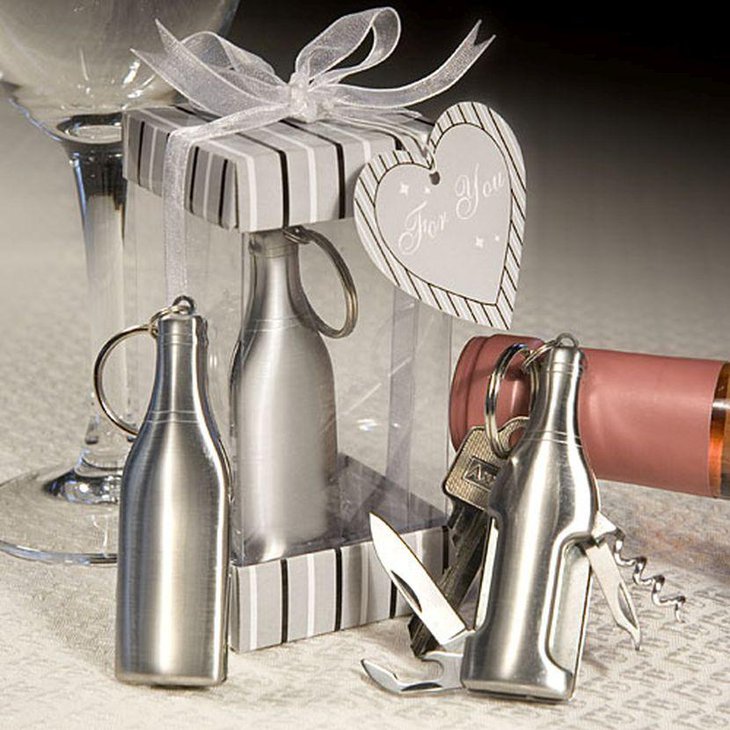 Wine Bottle Decorations and Favors
Image Credit: yimg
Decorative Candles
A tasteful candle arrangement brings class to any adult gathering. Choose pillar candles, votive, floating, or tea lights to set the mood for your get-together.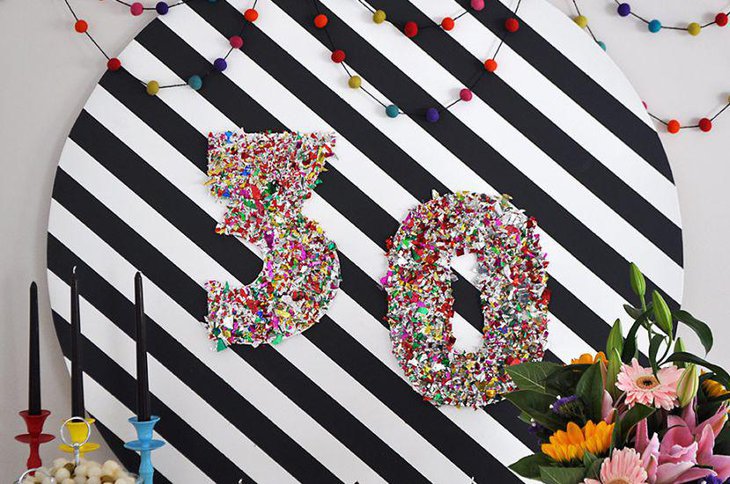 Colored Candle Holders for Birthday Celebration
Image Credit: southernbelle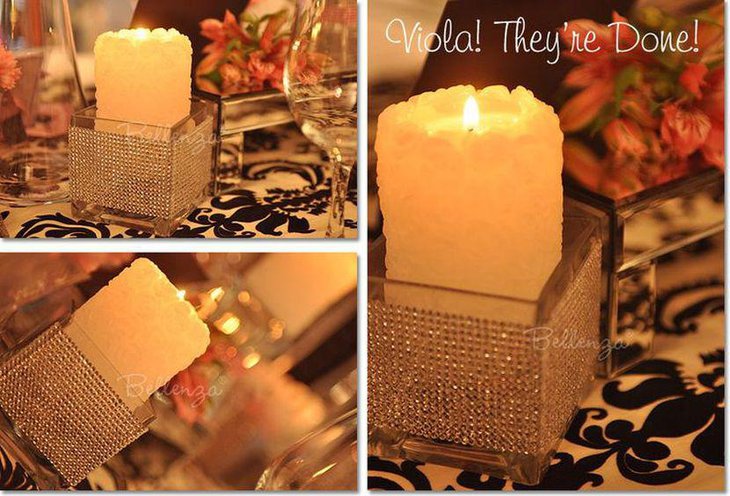 Glitzy Candle Holders for Adult Dinner Party
Image Credit: pinimg
Personalized Photo Candle Holders
Image Credit: cool-party-favors
Floral Décor
If there is one accessory that can add razzmatazz to a table, it's flowers. Appreciated my women and men alike, fresh flowers can add the color you're looking for brighten the room. They are suitable for any season, and you can find varieties to match anyone's favorite color.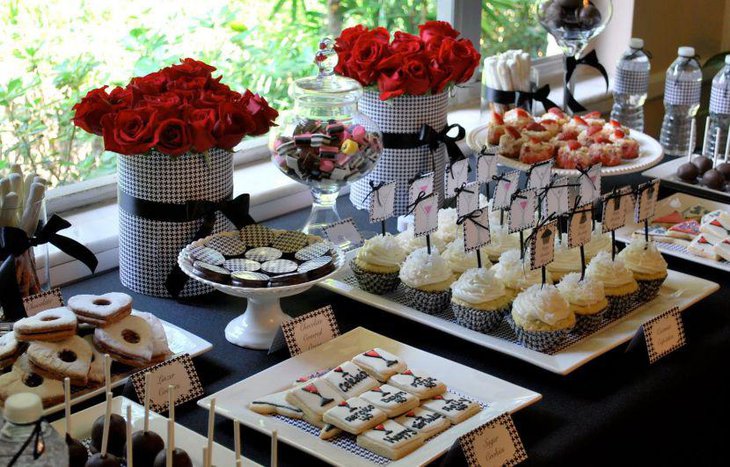 Red Roses on Adult Birthday Dessert Table
Image Credit: blogspot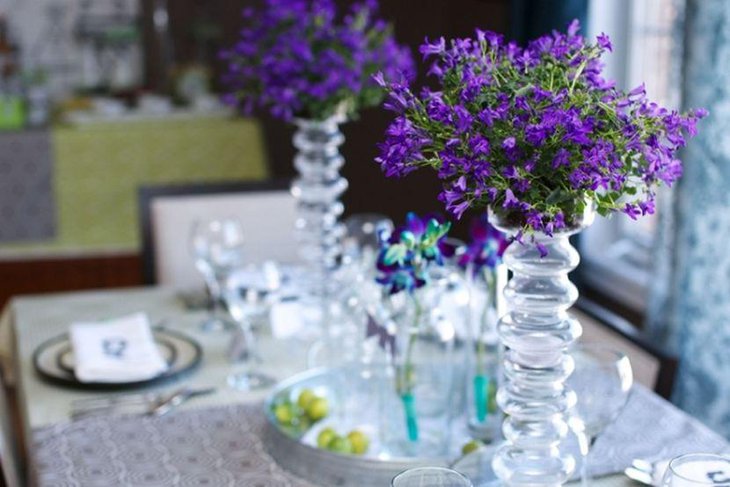 Floral Arrangement in Stylish Vases
Image Credit: spaceshipsandlaserbeams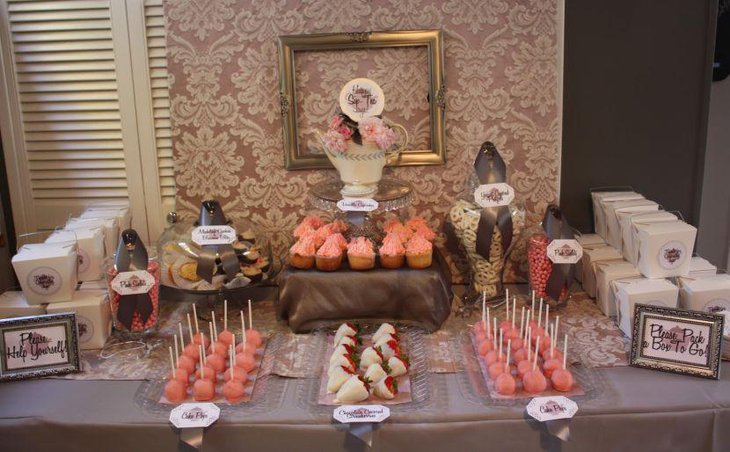 Pastel Teapot Floral Décor on Adult Birthday Table
Image Credit: blogspot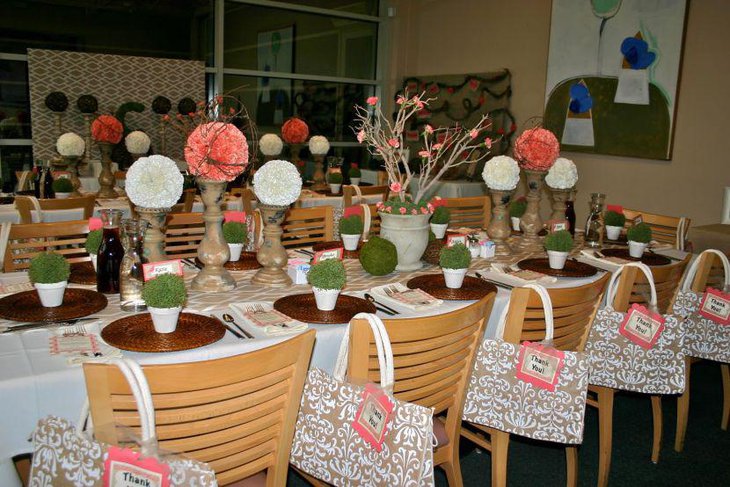 Floral Pompoms in Vases and Potted Flower Favors
Image Credit: blogspot
Garage Theme Birthday Table Decorations for Adults
Do you have a man who's always in the garage tinkering with their car? Is he a professional mechanic? Take the party to the garage or bring some pieces inside to celebrate his hobby. Use tires as table pedestals or seats. Decorate with model cars or Hot Wheels. Make labels or signs for the dessert table in the form of road signs or license plates. Showcase his age with a homemade speed limit sign. Decorate the cake with a toolbox or truck. He'll be delighted with anything you do to incorporate his pastime into the party.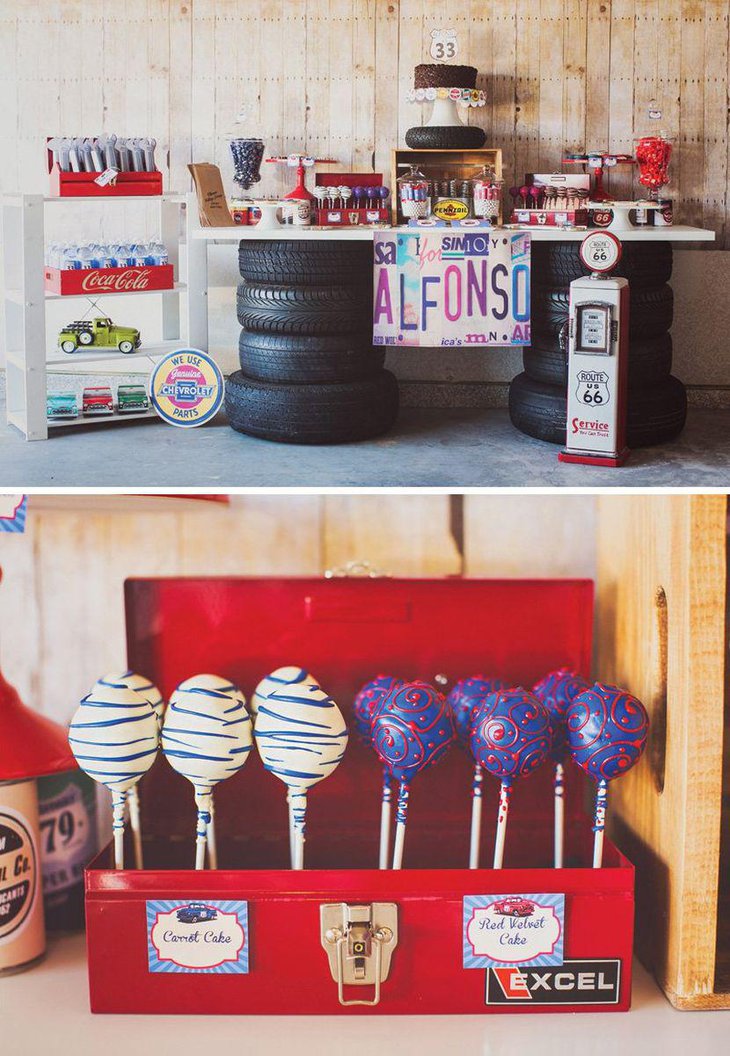 Vintage Garage and Tool Theme
Image Credit: hwtm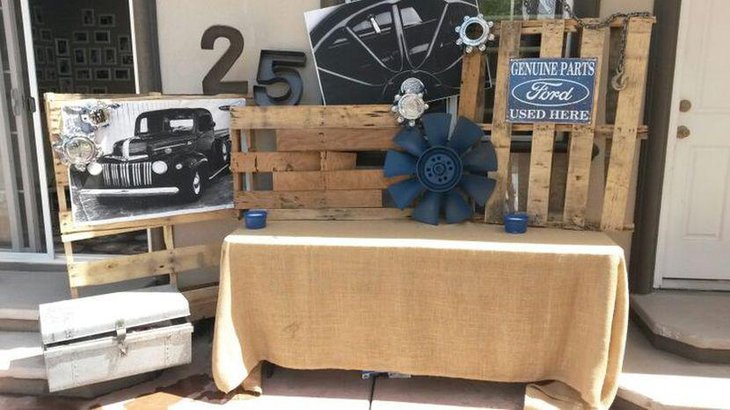 Model-T Adult Birthday Party
Image Credit: pinimg
Beach Theme
Coastal and beach themes are popular the world over and are great for birthday parties. There aren't many adults who don't love relaxing at the beach. You can decorate in seashells, sand, colored sand, driftwood, leis, grass skirts, starfish, sand dollars, coral, and coconuts, and play ocean sounds in the background.
Sand and Seashell Centerpiece
Grass Skirt Table Rimmer and Lei Party Favors with Coconut Cups and Tropical Floral Plates
Image Credit: enkivillage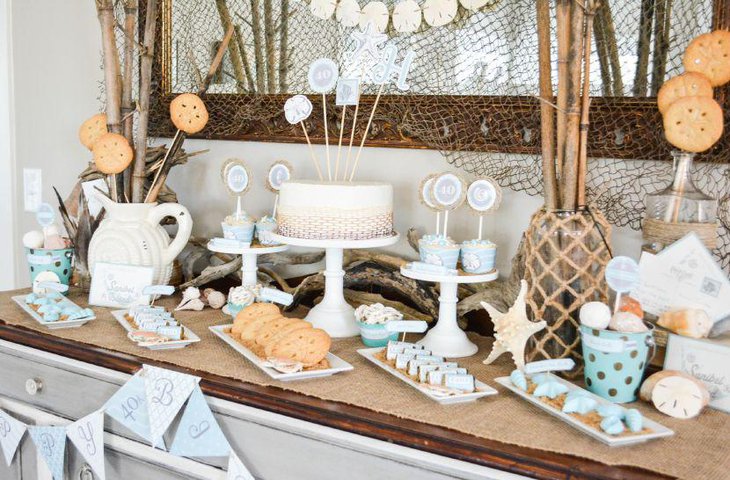 Sand Dollar and Starfish with Netting Table Décor
Image Credit: andersruff
Pink and Black
If you are hosting a birthday bash for a female friend, add liveliness to the party décor with a pink and black color scheme. Pink and black is a glamorous combo for stylish young women.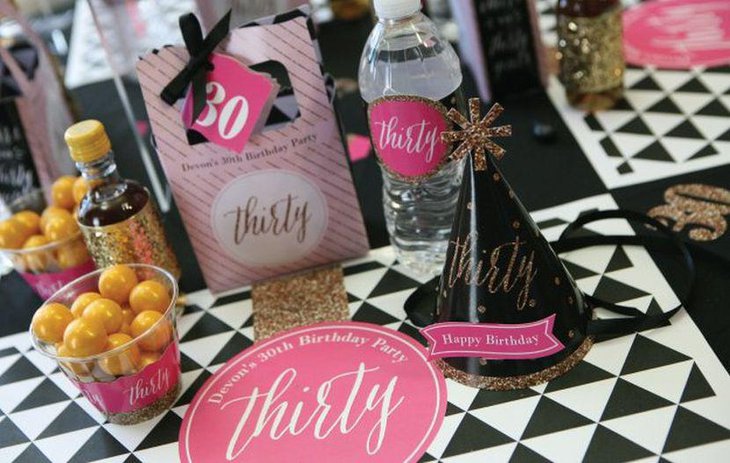 Pink, Black, and White Adult Birthday Décor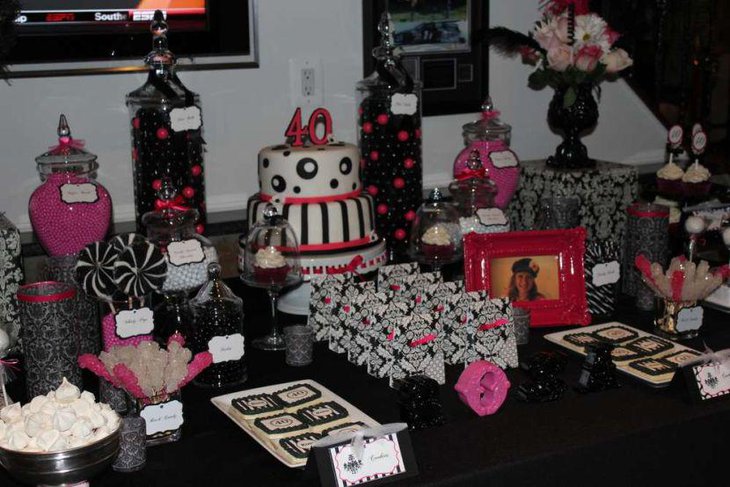 Pink, Black, and White Dessert Table for Adult Birthday Party
Image Credit: cool-party-favors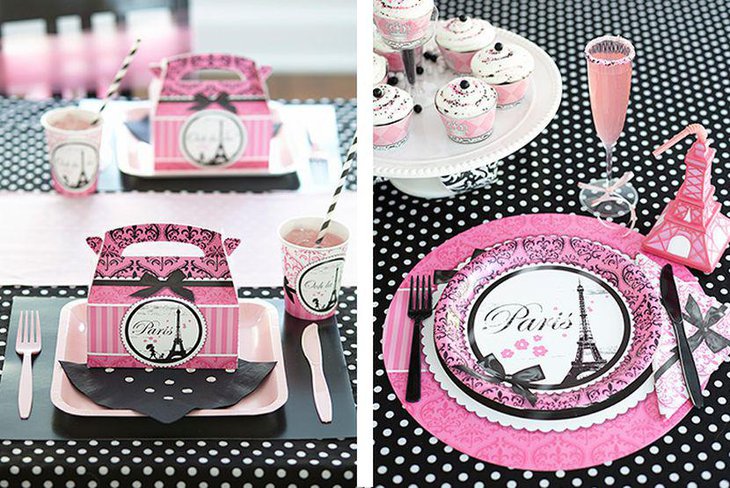 Parisian Pink and Black Table Setting
Image Credit: birthdayexpress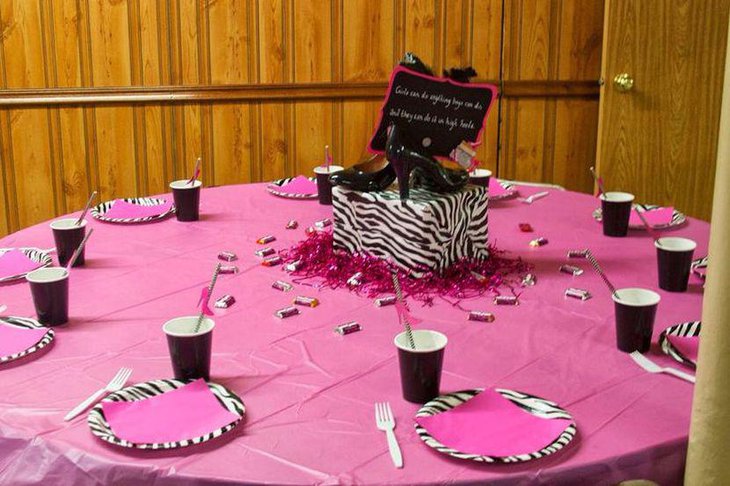 Pink and Zebra Print Birthday Table
Image Credit: pinimg
Black and White
Like pink and black, your birthday table can wear a black and white theme that looks classy and chic. Choosing cakes, sweets, and accessories that are black and white, you can stylize your whole décor based on these two simple shades. Below, you will see feathers, cakes, tablecloths, candies, and vases wearing this lethal combo.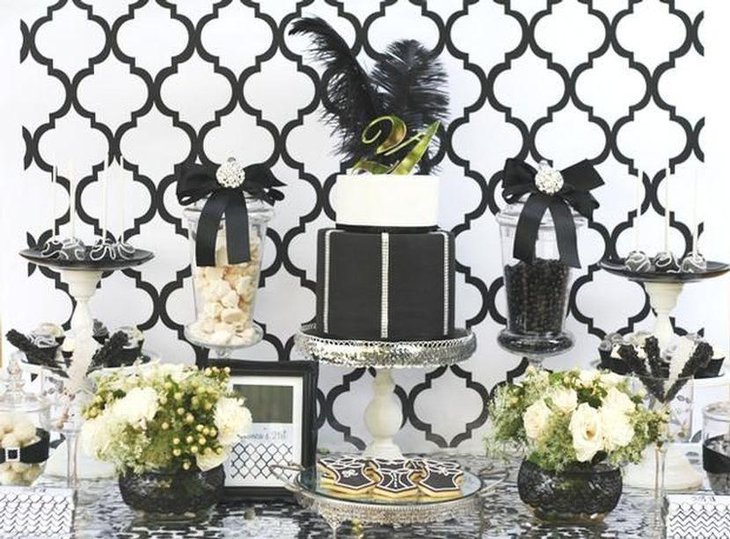 Stylish Black and White Adult Birthday Table Décor
Image Credit: pinimg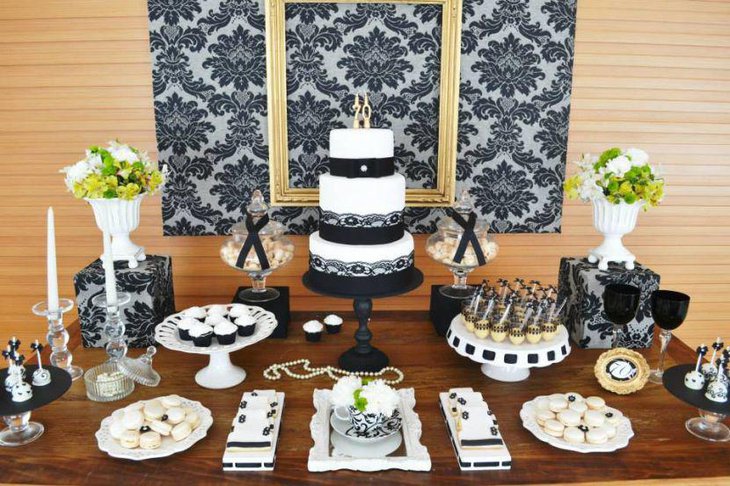 Classy Black and White Damask Theme
Image Credit: birthdaypartyideas4u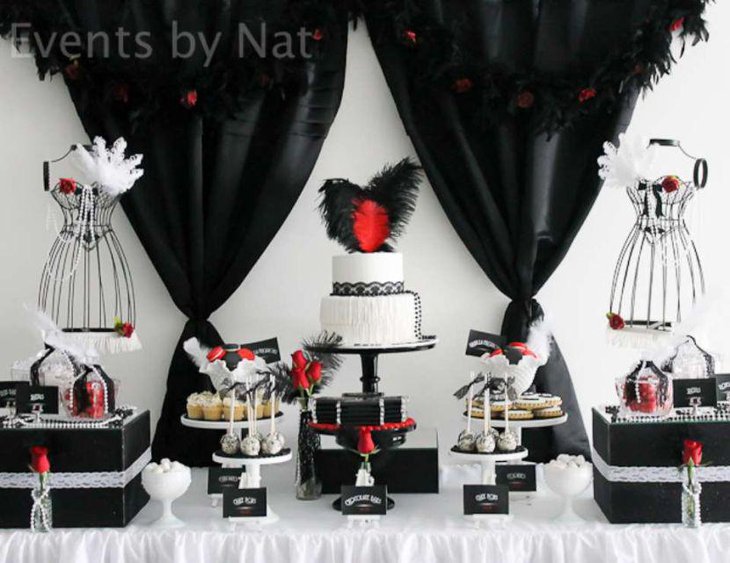 Roaring 20's Black and White Dessert Table
Image Credit: catchmyparty-cdn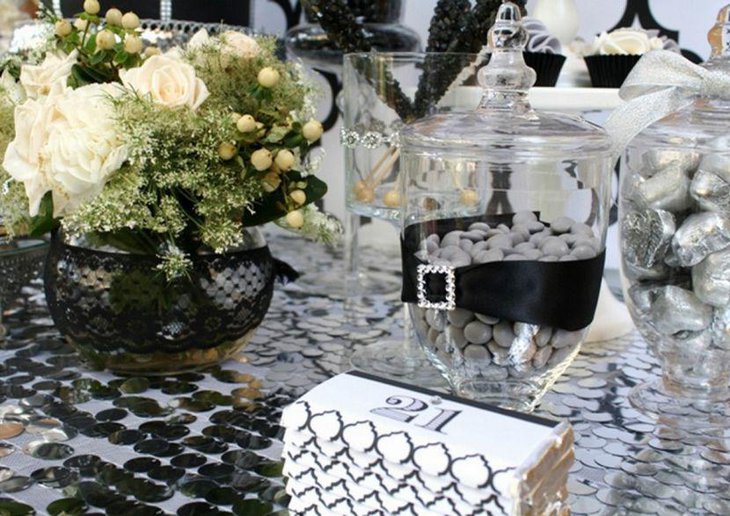 Chic Black and White Décor with a Little Bling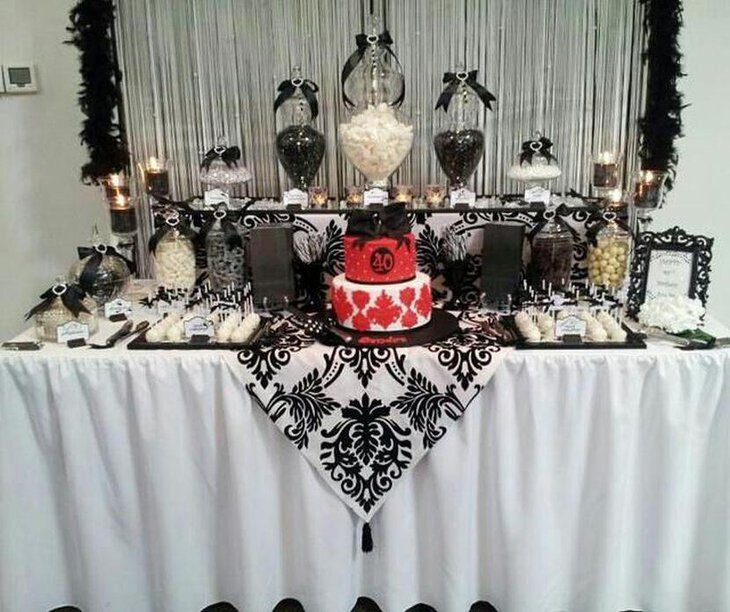 Glamorous Black and White Dessert Table with Red Accent
Image Credit: pinimg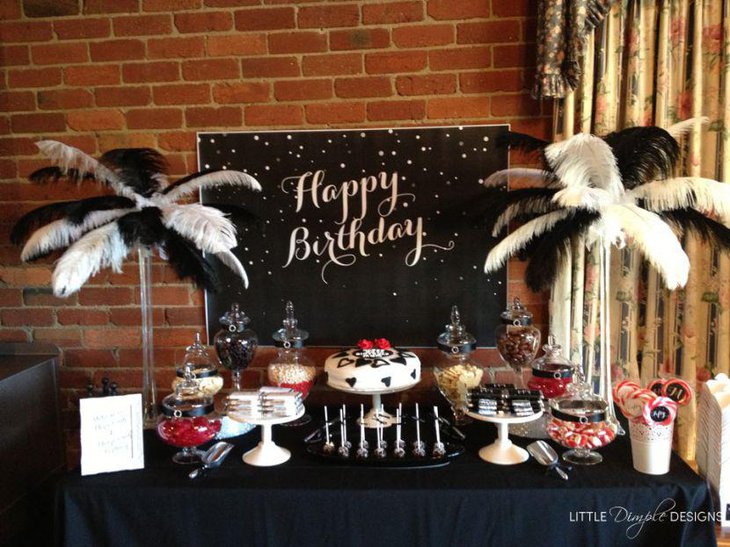 Black and White Feather Décor with Red Accents
Image Credit: littledimpledesigns
Golden Accented Decor
Golden tones can be used everywhere on a party table: golden rimmed plates, glasses, candy jars, vases, table runners, cake décor. Gold is ideal for highlighting a life well lived or for adding opulence to the ambiance.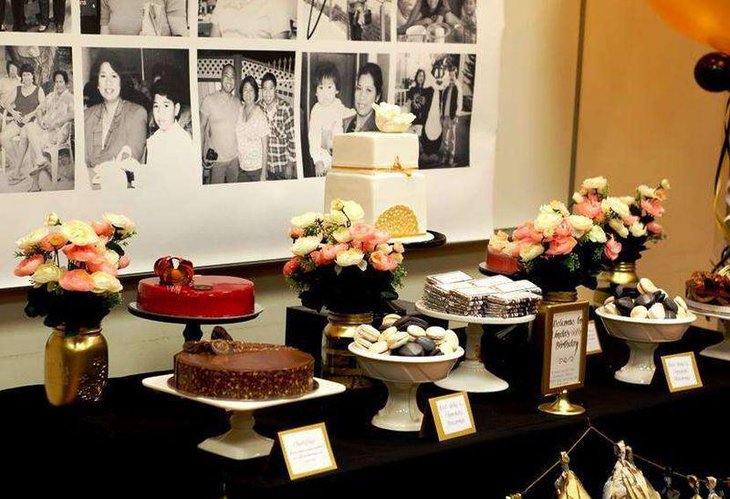 Gold Accents on Vases and Cake with Complementary Floral Arrangements
Image Credit: cool-party-favors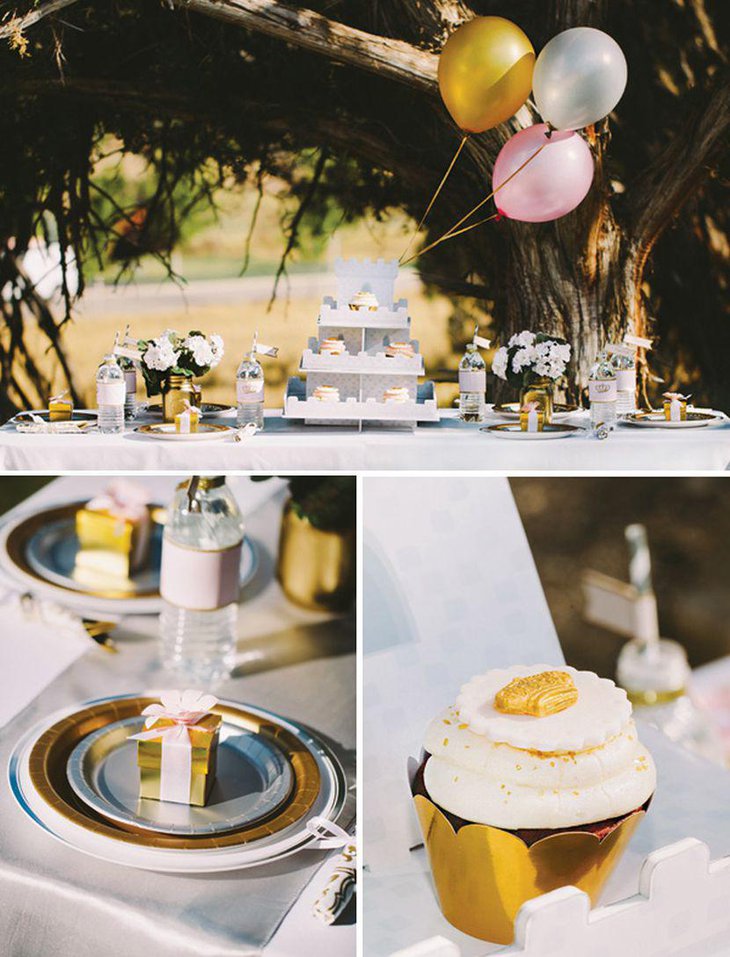 Elegant Gold Décor
Image Credit: hwtm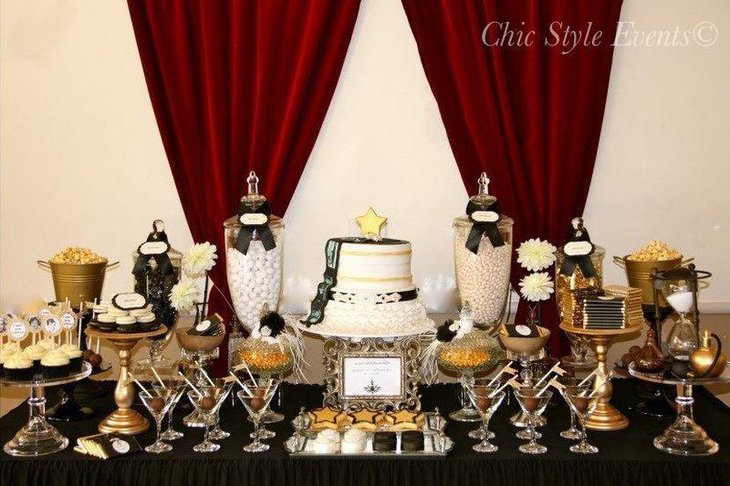 Opulent Gold, Black, White, and Red Dessert Table
Image Credit: birthdaypartyideas4u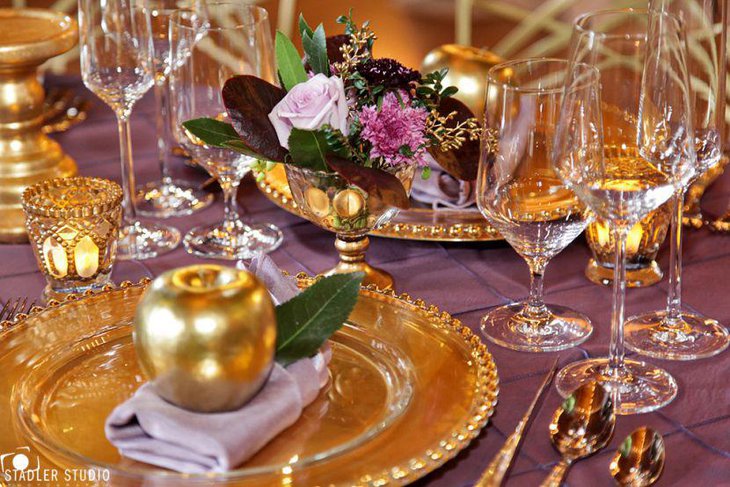 Gold and Purple Color Scheme
Image Credit: vaseswild
Pink and Purple
Combine pink with mauve and lavender for a beautiful woman's birthday party. Add color coordinated feathery decorations, floral arrangements, or ribbon adornments, and desserts. Embellish your cake or cupcakes with pink and purple butterflies or hummingbirds.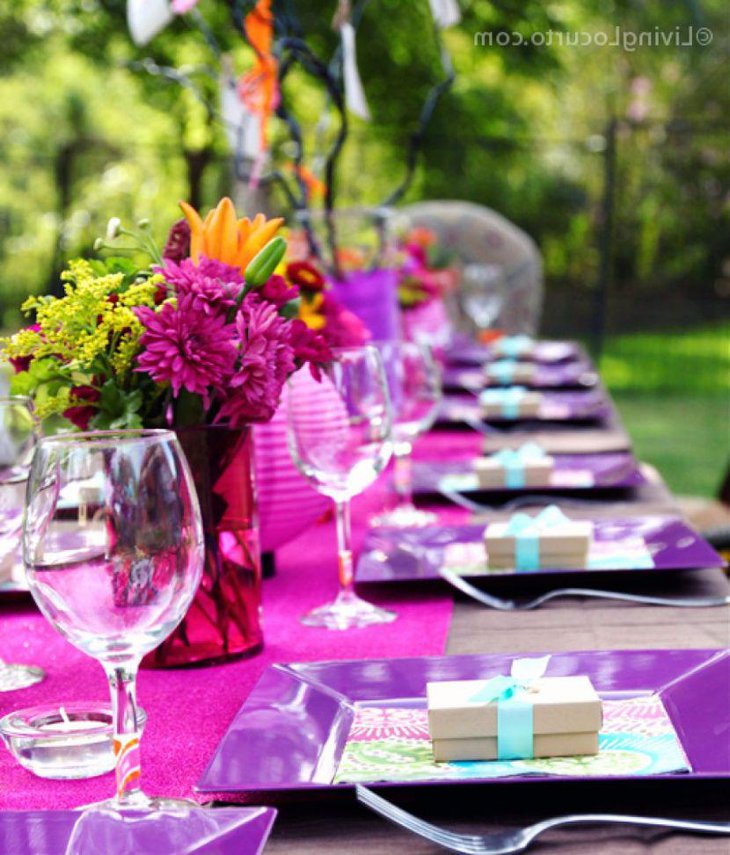 Adult Birthday Table Décor in Pink and Purple
Image Credit: babyshowerpins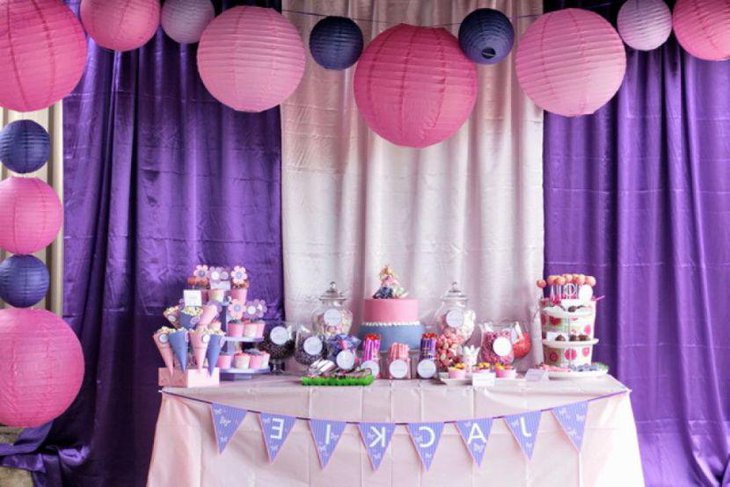 Pink and Purple Dessert Table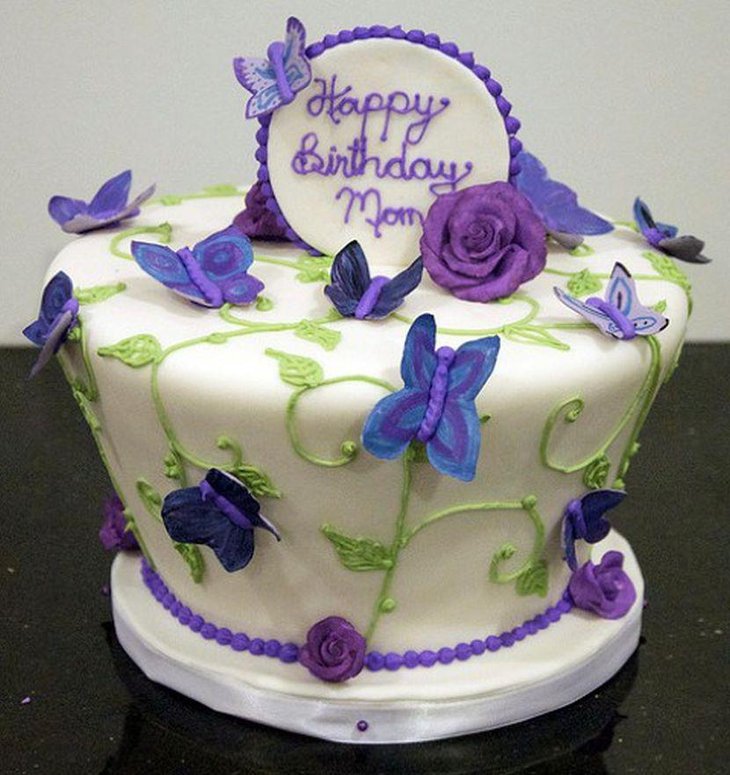 Classy Fondant Cake with Floral and Butterfly Decorations
Image Credit: 1st-birthday-cakes
Birthday Decorations for Men
Besides the garage theme, you can choose any hobby that men enjoy to theme their party: football, movies, hunting, home improvement, video games, woodworking… There are hundreds of birthday themes to choose from. The two we are featuring here are the Scotch and James Bond theme. The scotch theme fits gentlemen with a more refined taste and a penchant for booze while the James Bond theme is for actions lovers or a guy who sees himself as a man of mystery. Both are very eye catching and work well for hosting a man's birthday bash where you can stylize the birthday tables with bottles of scotch, glasses, or martini's – shaken, not stirred!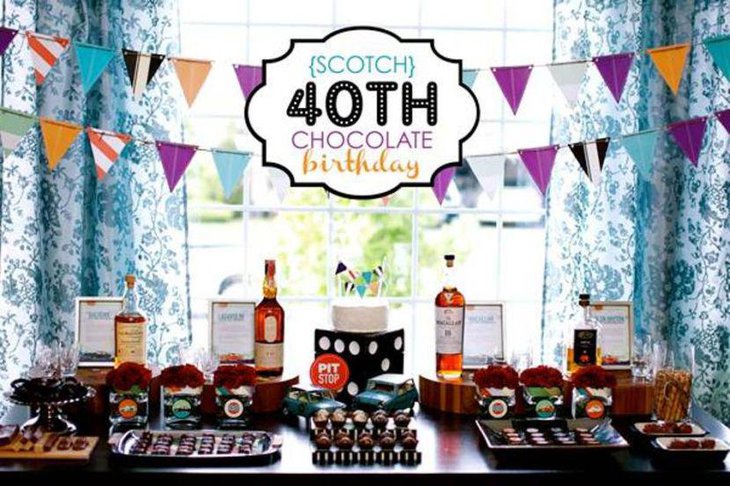 Scotch and Chocolate Man's Birthday Party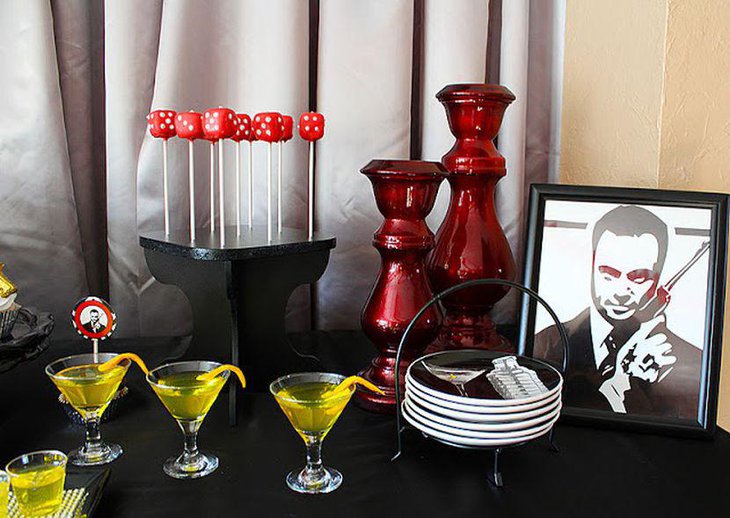 James Bond Themed Birthday Décor
Image Credit: cool-party-favors
From tropical beach to sassy pink and black, Model T to Agent Bond, we hope these birthday table decoration ideas for adults have inspired your planning. Go back through and decide how you will incorporate one of these themes into your birthday celebration!