For those who are looking to buy coffee tables, here is our roundup of the best coffee tables of 2018. You're sure to see a piece that would fit perfectly with your decorating style. Your coffee table is an essential piece of furniture for your remote controls, reading materials, snacks, and beverages. It's a prominent piece in your collection that you use every day, so you deserve to have one that you're absolutely happy with.
You can choose low, high, wooden, metallic, traditional, contemporary, chic, or vintage. For every kind of buyer, sellers offer different styles that are customized and tailor-made to suit their needs. Some coffee tables come with inbuilt storage options in the form of cabinets, drawers, or trunk space. These tables solve the problem of clutter as they allow you to hide away frequent items.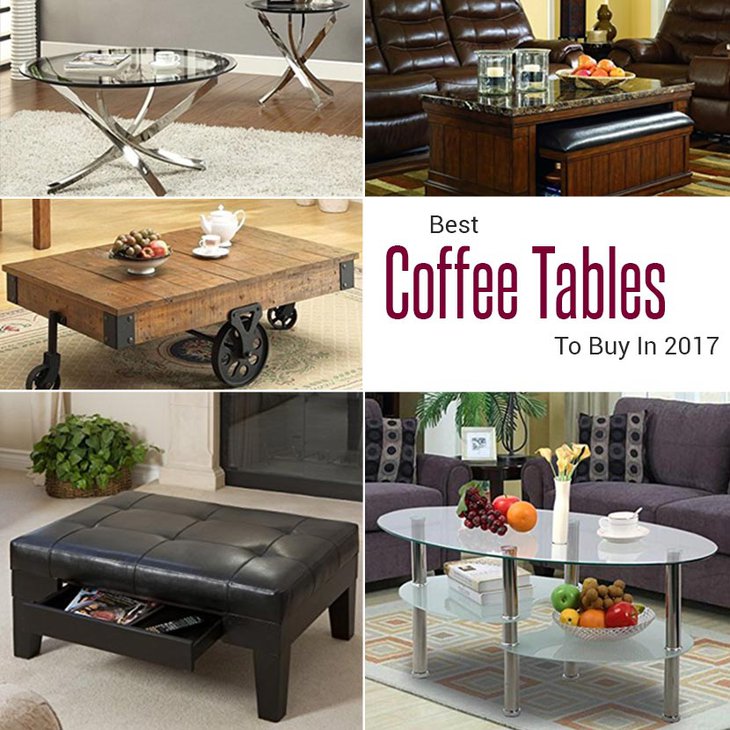 Best Coffee Tables 2017 – Comparison Chart
A living room can only look complete with matching or coordinating furniture. After your television and seating, your coffee table is the most important item in your living room as it offers style and functionality. And holding such a central position in the room, your coffee table design is sure to make a lasting impression on all your guests.
You'll want to note the size, shape, cost, material, and even weight of the models you're interested in as they all play a part in how well they will fit your décor, furniture arrangement, and durability needs. In our opinion, here are the best coffee tables we have reviewed. They range in style, price, size, and material, so you can choose one that will fit your preferences.
1. Emerald Home T100-0 Chandler Cocktail Table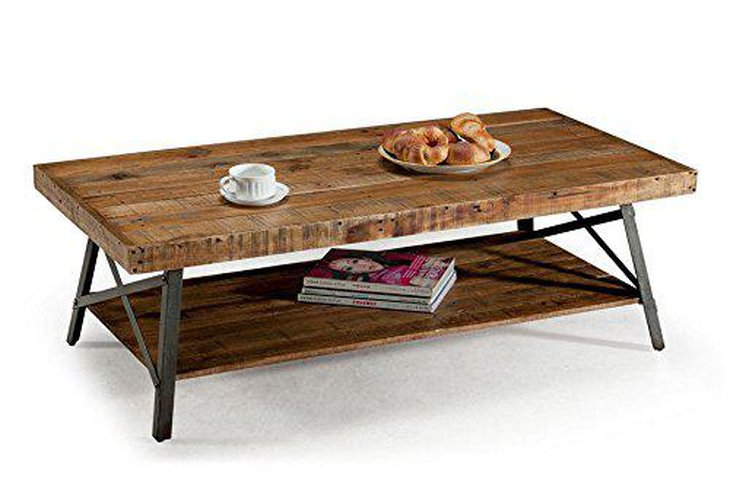 The T100 is a perfect piece of furniture for a contemporary living room. The table is a visual treat for any eco-friendly living area and is crafted out of natural wood for a stylish and timeless rustic appeal. The designers have utilized wrought iron for the legs, adding an industrial accent to the piece. As a whole, the table concept carries the sense of reusable materials, a fashionable trend in modern homes.
2. Coaster Home Furnishings 702588 Contemporary Coffee Table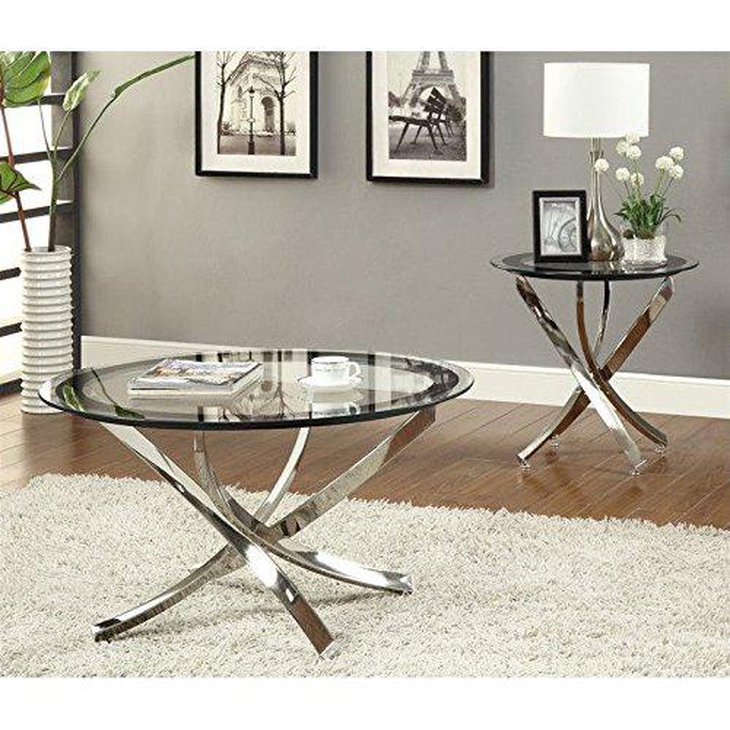 A rather contemporary piece, this coffee table will certainly bring style to your living area. With a glam tempered glass top and curvaceous chrome base, it appears modern and sturdy. To complement its chrome base, the designers have used nickel finishing which blends seamlessly with the black ring around the table's edge. Coming to the table's glass top, it is made of thick, solid glass that won't break or chip with normal use. It rests comfortably over a black round metal ring. It is is a stylish piece of furniture that assures its buyers they are receiving high quality and durability.
3. Tucson Espresso Leather Tufted Top Coffee Table with Drawer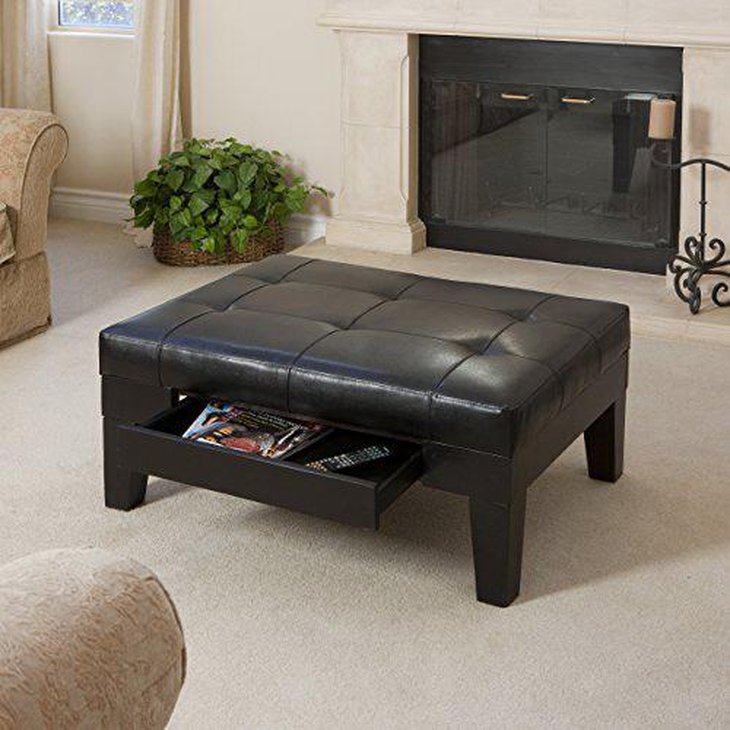 This small ottoman/coffee table combo has a shallow drawer for hiding away reading material or remote controls. The bonded leather top and dark hardwood frame exude a rich look, perfect for a modern living area. Place a cup and saucer on the cushion or use a tray for setting down your beverages. The appeal of this piece is its low, compact size and functionality as a footrest.
4. Sauder Carson Forge Lift-Top Coffee Table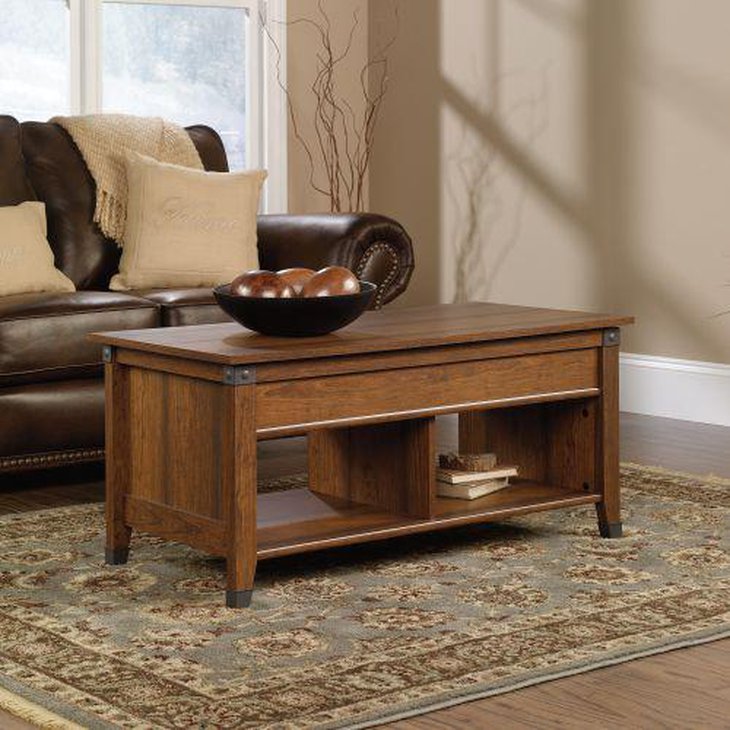 Image Credit: sauder
This classic coffee table provides ample storage under the top and large shelves beneath. The wrought iron corner and foot embellishments give it a stylish and durable appeal.
5. T838-1 Merihill Collection Coffee Table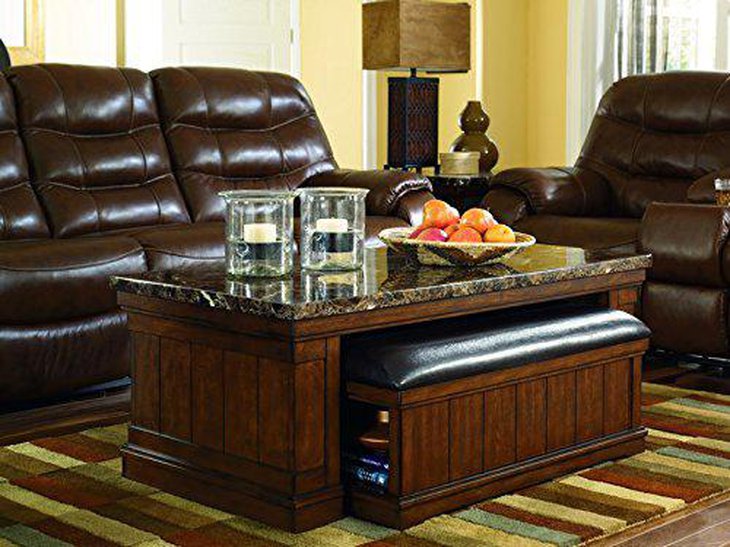 Customers will fall head over heels with this mixture of luxury and affordability. With a faux marble top sliding pleather foot rest and dark wood finish, the Merihill is an elegant addition to any living room.
6. Monarch Metal Cocktail Table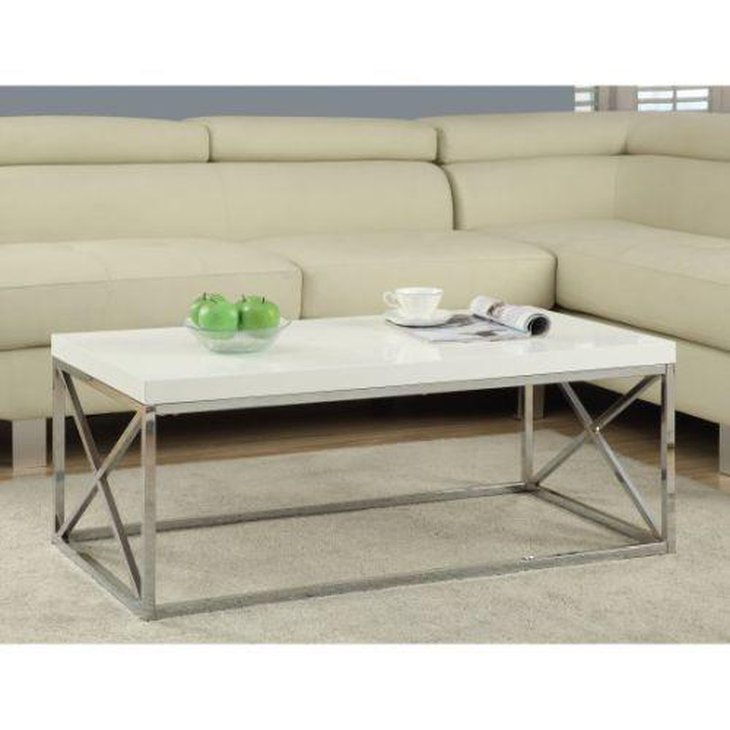 Image Credit: hayneedle
The Monarch is crafted out of hollow-cored fiberboard of medium density. With a sturdy base made of chrome, the table balances well and will never tip or turn over. With its crisscross design, white top, and chrome base, it is a simple and attractive piece for modern living areas.
7. Stelar White Lacquer Lift-Top Coffee Table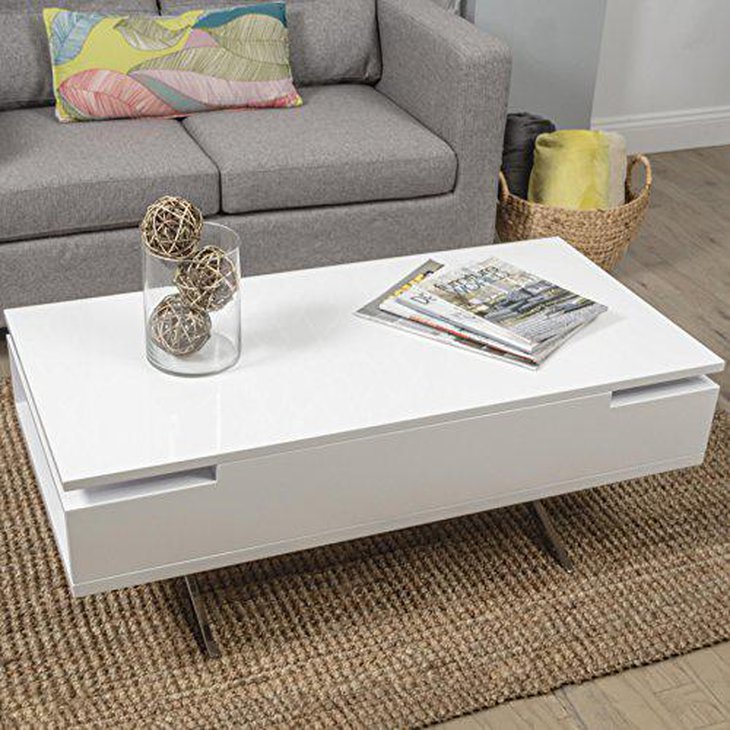 The geometric design of this lacquer coffee table draws your attention instantly. The lift top is an added attractive feature convenient for small living rooms. When you are not entertaining, the top can raise as a food tray or laptop desk. The high gloss finish is very pleasing to the eye and perfectly fits any modern sitting area. The coffee table comes with hidden storage compartments and slide out shelves for ultimate functionality. The legs are made of stainless steel and are cross-shaped with a chrome finish. We recommend this Stelar model for use in homes using an abstract art style and frequent living room use.
8. Coaster Country Style Coffee Table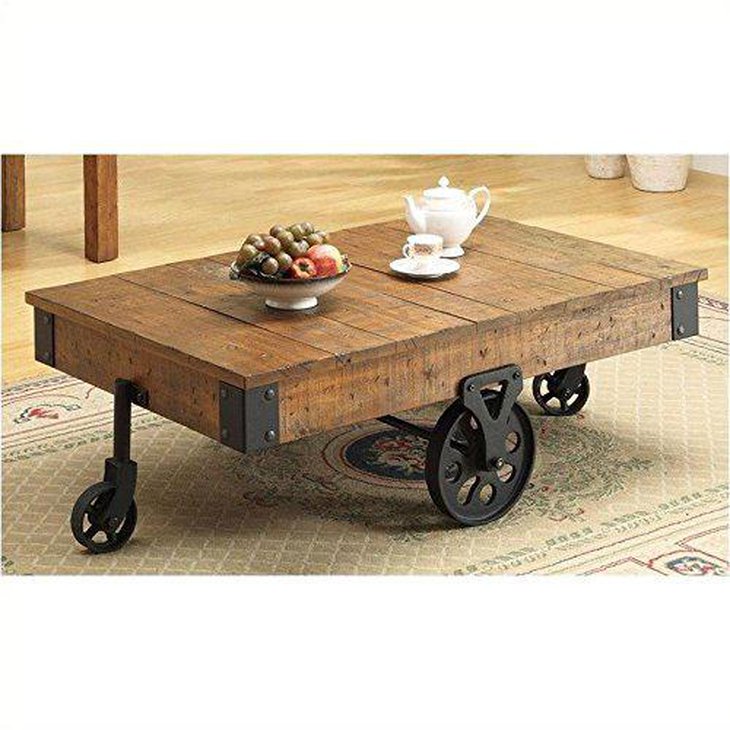 This is a must-have piece for country-styled homes. Appearing as a reclaimed wooden carriage or cart, this low, portable table is classy and practical. Its mix of wooden boards and wrought iron corners and wheels give it a rugged antique appeal that no other table can match.
9. Yaheetech 3 Tier Modern Living Room Oval Glass Coffee Table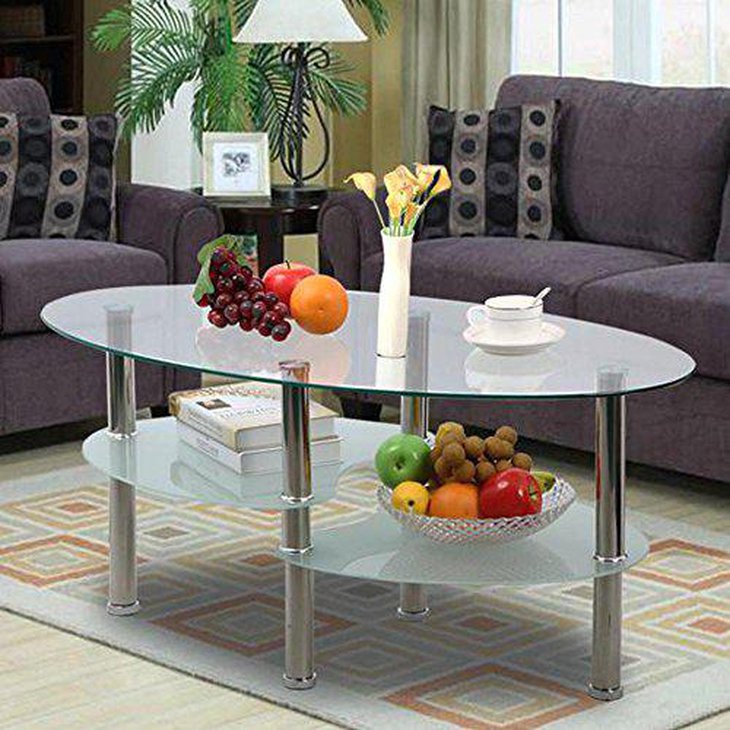 The three tiered Yaheetech coffee table would look elegant in almost any modern living room. The top and shelves are made of tempered and frosted glass and the legs of stainless steel. The primary appeal is the offset, shaped lower shelves that turn this table from simple to stunning.
10. Sauder Boone Mountain Coffee Table in Craftsman Oak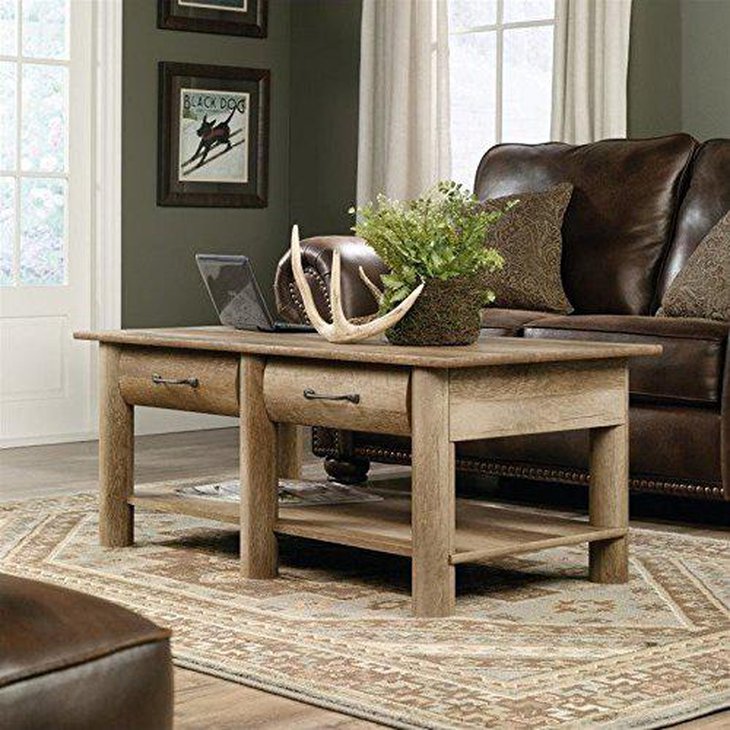 This amazingly designed coffee table draws inspiration from hand-hewn log furniture and boasts of warm accents that will impress anyone with an eco-friendly or rustic taste. The sturdy build of the coffee table is an attractive feature that will make it a lasting piece. Also, the table comes equipped with two drawers with safety stops and metal runners. There is an open shelf for storage and display. The edges are well chiseled, and the whole table comes in oak-wood finish. Place this table in homes with hunting or woodworking décor.
Related Resources:
Why do You Need a Coffee Table?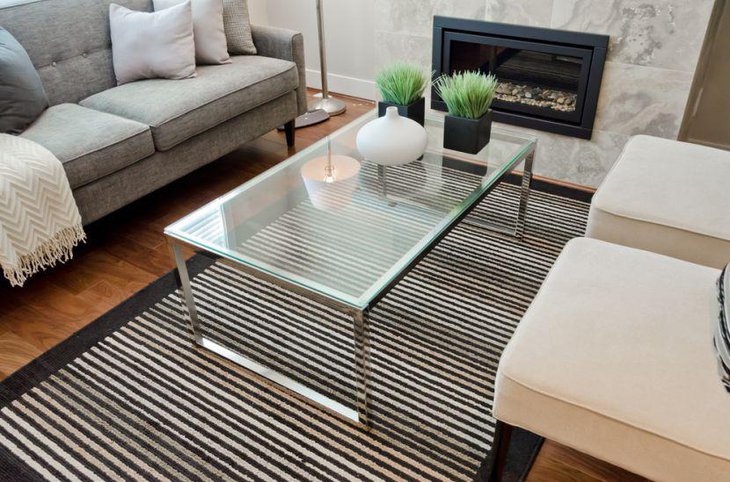 To live in your living room, you need a surface near at hand to set things down. And a coffee table often utilizes space better than an end table. Being centered in front of a couch or sofa, the surface is accessible in front of everyone, not only the persons on the ends as when using an end table.
What are the Most Important Features to Consider before Buying a Coffee Table?
The market is with endless coffee table models and designs, from manufactured box products to hand-crafted furniture stores. Before you got out sifting through your options, consider the following.
1. Price: What are you willing to pay for a coffee table? Pre-planning your budget will help you narrow your options dramatically. You'll have an idea of the materials and durability you can expect or demand, and whether it's would be more practical to visit a department store, specialty store, or hardware store to craft your own design.
2. Storage: Are storage coffee tables a must? What do you want to be able to store in your table? Reading material and remotes or throw pillows and blankets? Deciding the function will narrow the available sizes and styles.
3. The prevailing décor of the living room: With so many coffee table designs available, this can be one of the last factors to consider. Decide budget, desired durability, and functionality; then narrow your options further by selecting which tables will match or complement your existing décor. If you choose for style first, you might be disappointed later when your chosen table doesn't offer the functionality that you need.
4. Size: Another factor to consider before selecting a coffee table model is the size of your space. If you have a large sitting area, choosing a sleek, small design will not do your area much justice, and an oversized table will simply get in your way and look garish. Plan your seating arrangement and spacing ratio carefully.
5. Kid friendly: Delicate ornamentation, softwood, or glass tops might not be the best choice for families with young children. Look for such that have smooth or soft edges or cushioned tops for the child's protection.
Final Thoughts
Price, function, style, size, lifestyle. Considering each factor for your home and we're sure one of the above mentioned best coffee tables of 2017 will help you increase aesthetics of your living area. All these models are classic examples of beauty and functionality and are a mix of modern, rustic, and traditional styles.
That said, our overall winner for the best coffee table of 2017 is the Emerald Home T100-0 Chandler Cocktail Table. If you are looking for the best affordable coffee table, however, our pick is the Yaheetech 3 Tier Oval Glass Coffee Table.