The post of today that covers the cutest 37 kids birthday party ideas is a must read for all the parents that are soon going to make their kids blow the candles, make wishes and open presents. Yes, by now, you must have guessed we are speaking of birthdays that are so very special occasions for all folks with young kiddos. When it comes to planning for a cute birthday party, mothers, specially go over the hill to make their child's party a memorable one. Today, you can pick from a wide collection of birthday party ideas that we have tried showing so that you can select the best themes and kids party ideas without getting drained. From planning kids birthday parties involving decorations in pink and white accents, to planning those that involve the use of owl props, DIY accessories, flowers to cones, the choice is vast. Do take a look fast!
Kids birthday party ideas with vintage accents
Vintage means high class and now you can lend this quality to your kid's birthday table as well by using vintage accessories like hangings, tablecloth, decorative pieces and flowers. When you adorn your birthday tables on vintage lines, you can play around with pastel palettes all throughout your birthday table. This includes pretty pink tones, peach and other sublime accents that offer a soothing touch to the decor. If you want your kid's candy table to be dressed in vintage style, go in for a pastel colored decor that would use lots of pink or peach toned accessories like floral arrangements, paper crafts like pinwheels and ruffles, baskets tied with balloons and candy jars filled with pastel colored candies. The white hues too accentuate a vintage look such as the white ruffled tablecloths seen in the first picture of party table decorations shown below.
Vintage birthday candy table decor for kids
Image Credit: partydecoratingdecor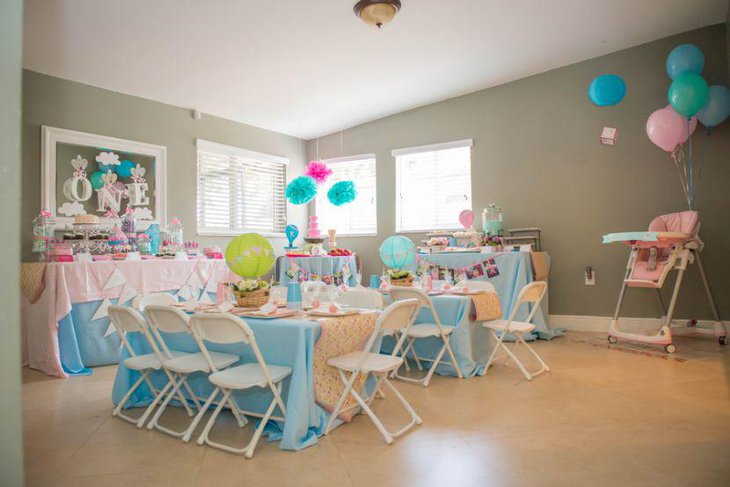 Cute vintage birthday party table for kids
Image Credit: occasionsonline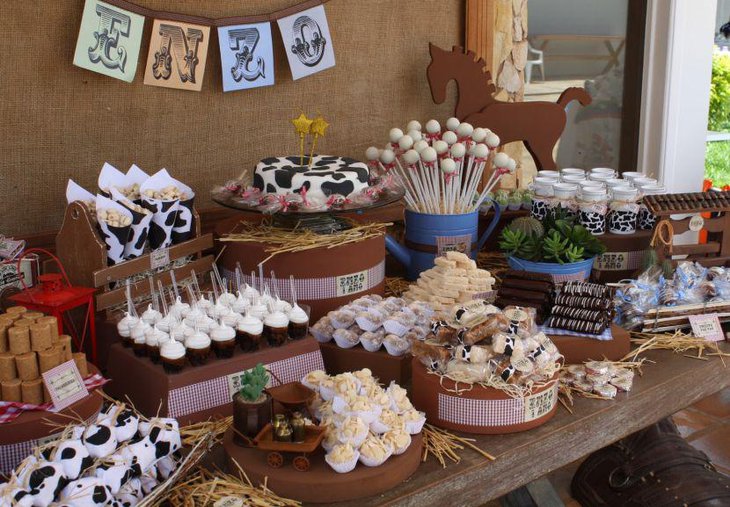 Vintage cowboy birthday table decor
Image Credit: amazonaws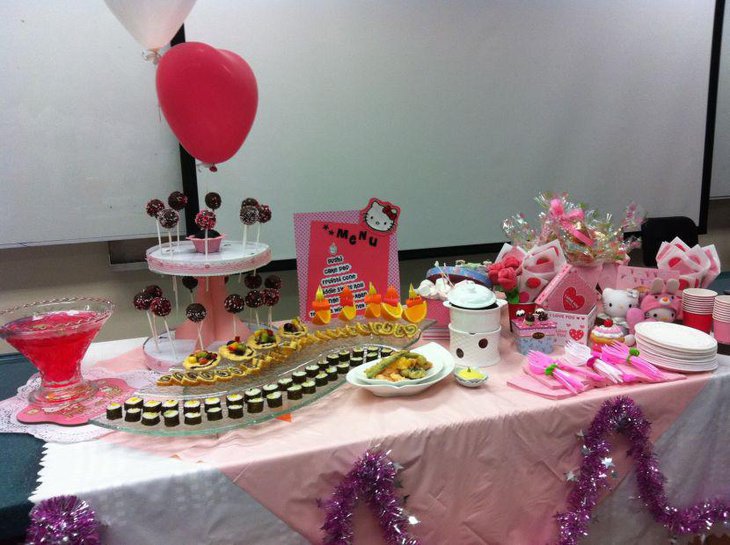 Cute vintage heart kids birthday table decor
Image Credit: partydecoratingdecor
Pink themed kids birthday party ideas
A small girl's happiness knows no bounds when her birthday is themed on the most loved color – pink. Pink is one shade that can enhance a table's decor in an instant, and it is also loved and adored by girls of all age brackets. Be it weddings, birthdays, or baby showers, you will always spot pink accents on table decorations. Kids birthday party ideas with pink tones make use of decor accessories in various hues of it that can also include shades of dark pink and lavender. If your gal likes a pink decorative cake to be placed on the dessert table, go in for any theme cake with accessories, all in pink, like princess figurines with pink dresses, pink or fuchsia toned flowers or even candy or gems encrusted that have pink as the main color. The party favors like goody bags or paper candy packs can have pink polka dots all over for a decorative feel. There are other ways you can create a pink palette on the birthday table like embellishing it with pink feathery centerpieces, pink balloon flowers, pink paper crafts and a whole lot of other things. Kids birthday party ideas with pink are always in demand, and you won't be surprised if your boy too wants this as his birthday party theme!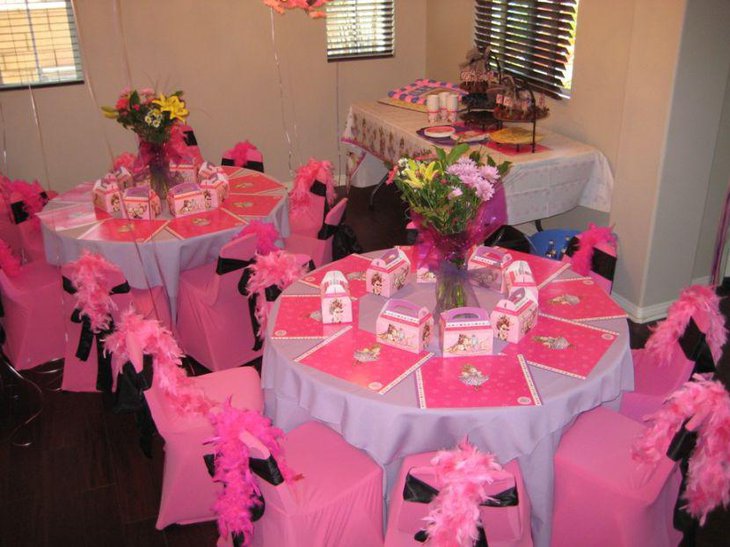 Cute pink birthday party tablescape
Image Credit: wvayc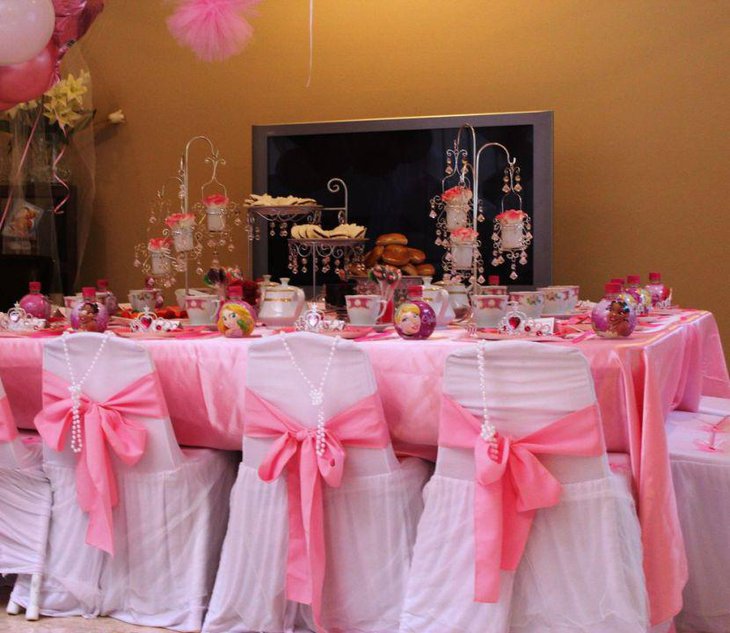 Pink tea party themed birthday party table decor
Image Credit: yelpcdn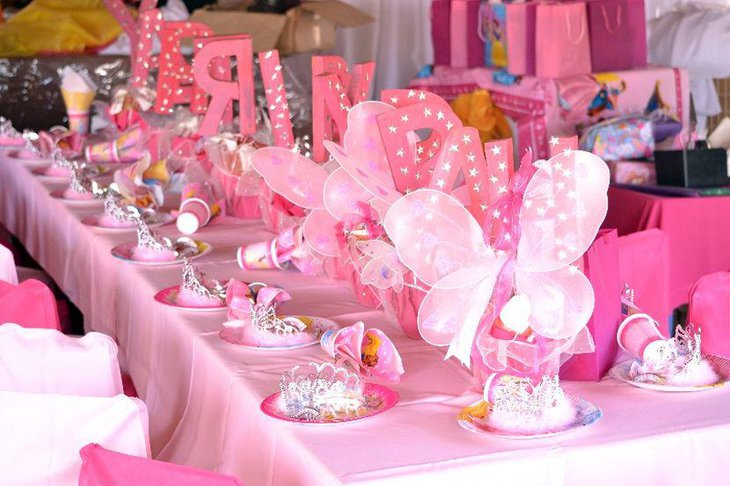 Kids pink butterfly birthday table decor
Image Credit: donnaclick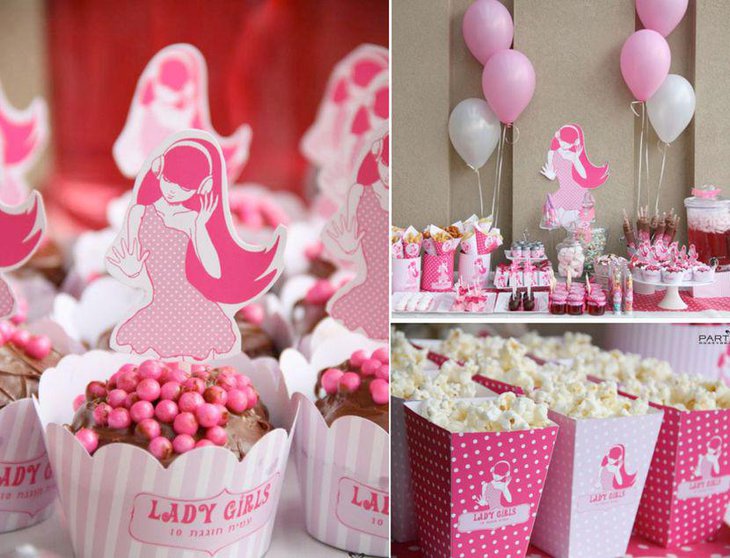 Pink girl's birthday table decor
Image Credit:decoritem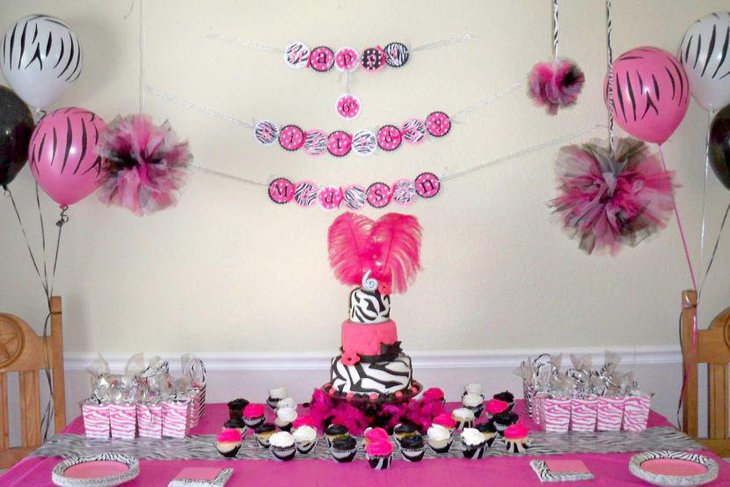 Birthday table decor in dark pink accented
Image Credit: invitationcity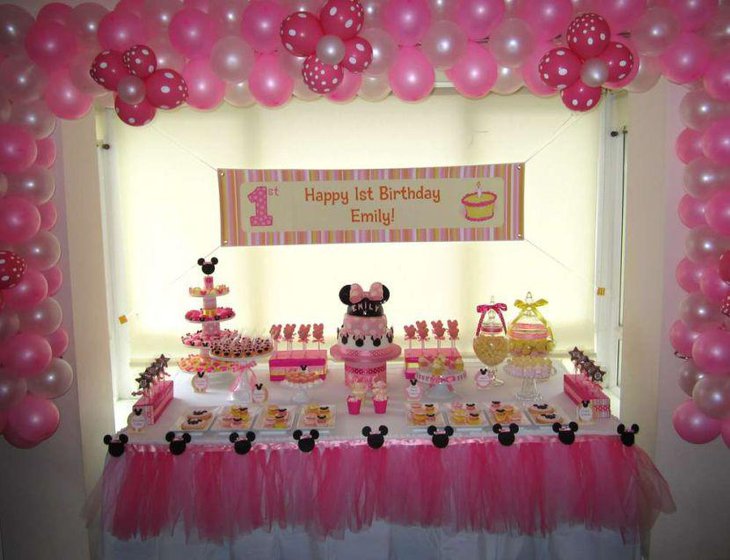 Mini mouse pink birthday table decor
Image Credit: designpursuit
Mickey and Mini Mouse themed birthday party ideas
Be it your child's first, second or fourteenth birthday, and no matter if its a boy or a girl, Mickey and Minnie Mouse will always remain the top picks when you think of birthday party decorations and themes. From buffet, to candy table, to cupcakes, cakes, cards, invites, to centerpieces, you can have the Disney characters anywhere on the table and in any way you like. Here, we have zeroed in on a few cute looking Mickey and Minnie Mouse themed birthday table decorations that you must check out if you want to make your child's birthday fun and lively. Party table decorations centered around these two cute mice must include two tones like red and black that are mandatory. But, you can play around or combine these by adding other accents like pink, tones of yellow or white as you like. A Mickey Mouse theme works best for all age groups and there are plenty of things to be done at the tables to make them look lively. Try placing mickey figurines or toys at random places on the birthday table, or else, order a Minnie Mouse themed cake for an ultimate fun birthday party for your kiddo. You can also place gloves that the mouse wears right next to the cake, or stick Mickey Mouse straws inside the cupcakes or bottles. There is lot of freedom you can exercise when going with this cute theme.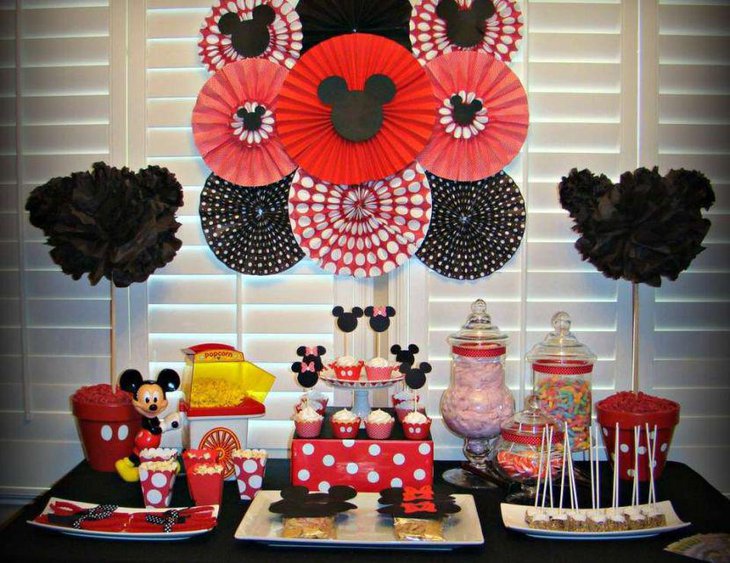 Cute Mickey Mouse birthday table decorations
Image Credit: catchmyparty-cdn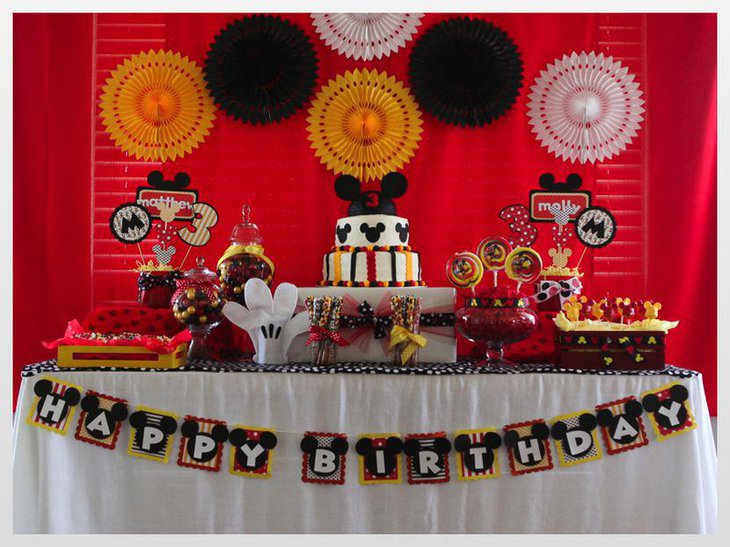 DIY Mickey Mouse birthday table decor
Image Credit: booeep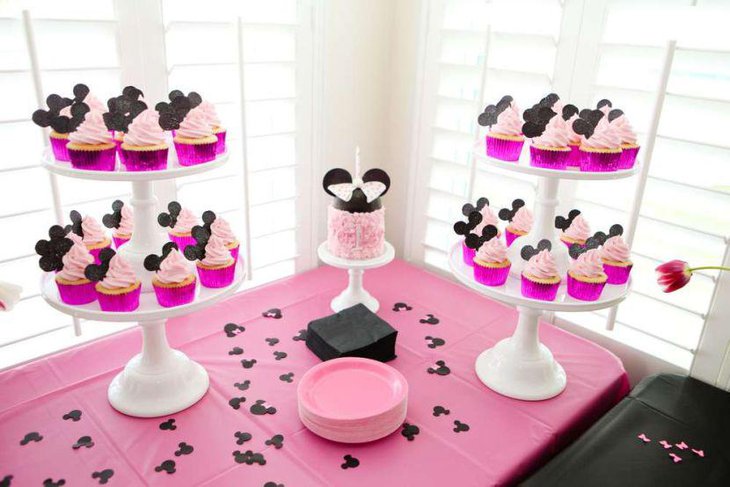 Pink and black Minie Mouse birthday table setting
Image Credit: catchmyparty-cdn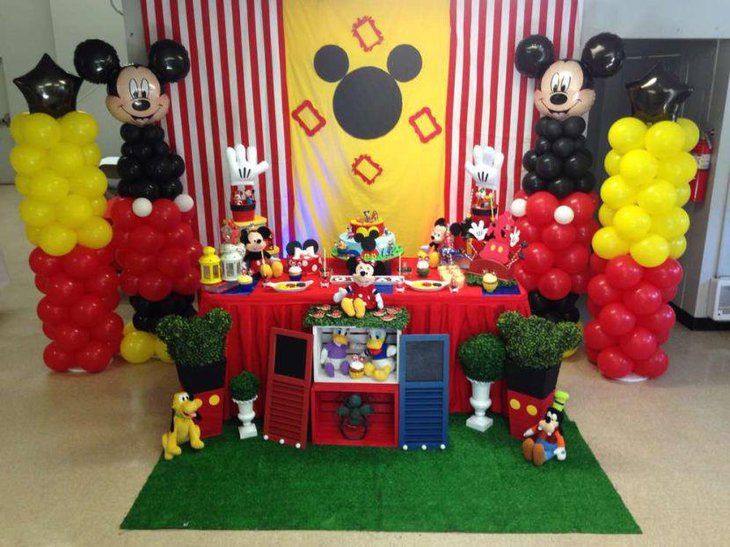 Birthday tablescape with Mickey Mouse decorations
Image Credit: catchmyparty-cdn
Kids birthday party ideas with tea party theme
Here is a cool little theme that you can plan for your young girl's birthday party this year. It is the tea party theme, a popular choice with many moms that have young daughters. The tea party theme, like the name suggests, has to have such decorations on the party table that replicate a scene from a formal tea party hosted outside in the gardens for aristocratic ladies that come attired in dreamy dresses with flowing silks, high heels, glamorous hats, and eat the most delicious of spreads like yummy cupcakes, pastries and croissants, sipping hot tea from Bone China cups. As such, go in for accessories like vintage cups, kettle, and saucers to be placed on birthday tables along with other decor ideas like flowers, ribbons, ruffles and paper pinwheels. For throwing a vintage tea party themed birthday, you may have to run to the next thrift store to lay your hands on antique cups and lacy doilies. Believe us, the decorations used on such a birthday table will make your guests never forget your kiddo's party!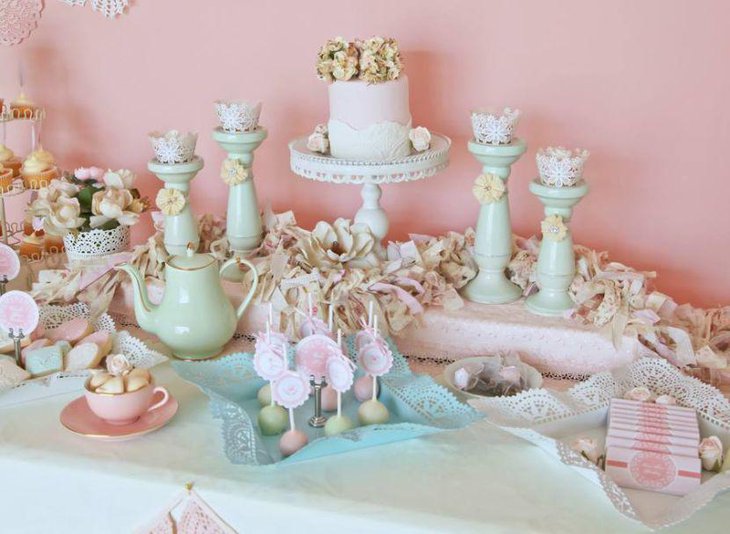 Vintage tea party birthday table decor
Image Credit: whicdn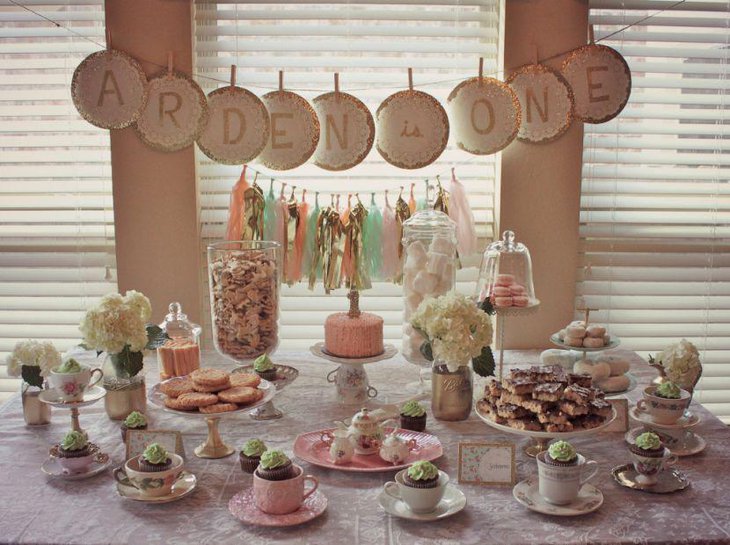 1st birthday tea party themed table decor
Image Credit: projectnursery
Birthday party table decorations with Princess Theme
Gone are the days and times when birthday table decorations centered around simple flower arrangements and a few plates filled with cupcakes and treats. These days, a birthday party is hosted only after parents have given a proper thought as to the type of theme they want for their children. The themes are varied and you will get a headache once you see the brochures given by event planners that range from simple, to elaborate to the opulent. But, right now, you can feel relaxed as we have showcased a few very sweet Princess kids party ideas – ideas that will make your little girls jump with joy. Every little sweety likes Cinderella to be her birthday theme and for this you may adorn her table with Cinderella figurines, magic wand centerpieces, and a cake in the shape of a carriage and so on. Other princess themes include Disney's 'Elsa', Ariel-The Mermaid or even castles that can be embellished on the backdrop. You can also keep glass slipper shoe centerpieces that can be filled with flowers, candies or pebbles. If your girl's birthday falls in Autumn, try using pumpkins in the table decor in the form of pumpkin carriage centerpieces. Other accessories to bear this princess theme includes gumballs, lollipop sticks, candies, paper straws, ribbons, and molds, all of which can be used as decor elements.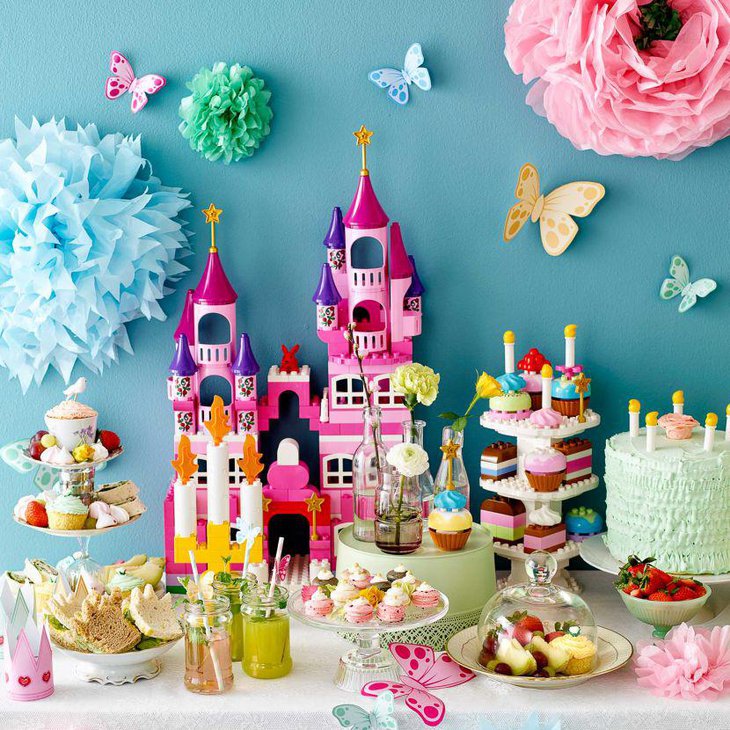 Cute Princess themed birthday tablescape
Image Credit: lego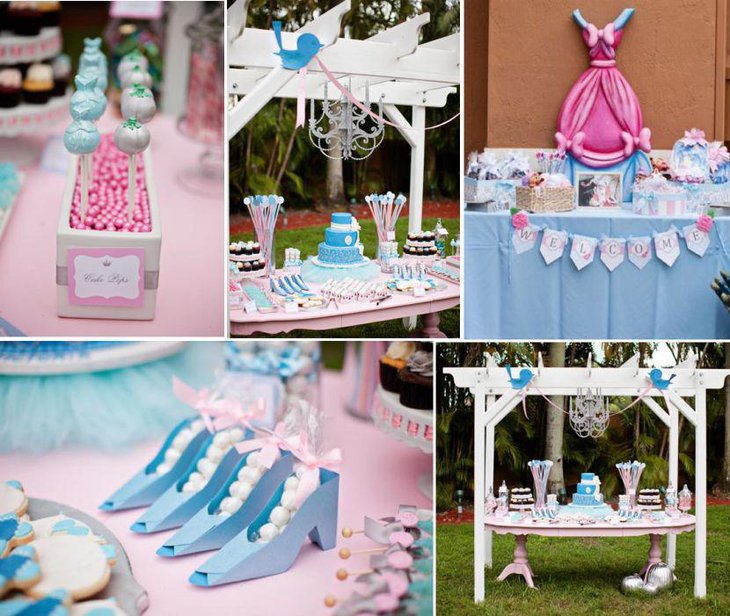 Cinderella princess themed birthday table decor
Image Credit: wordpress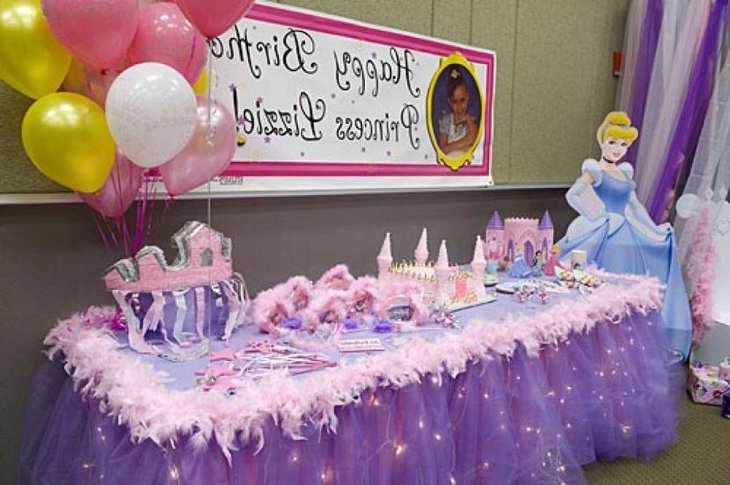 Cute purple Princess birthday table decor
Image Credit: partythemedecorations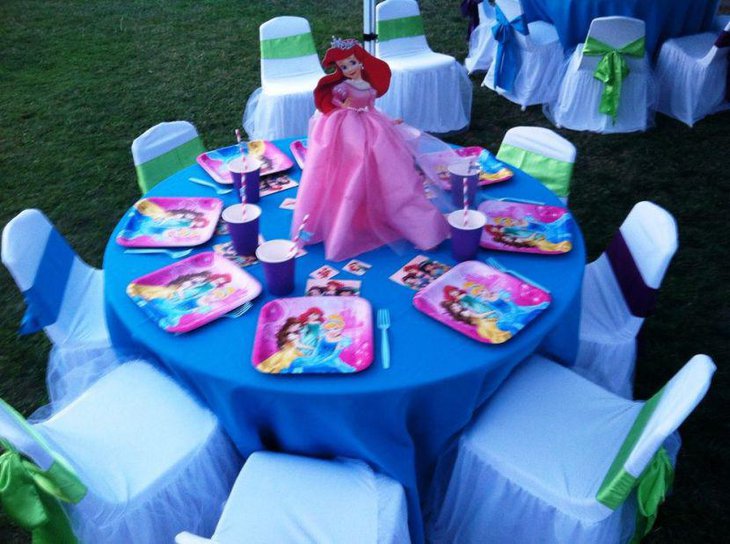 Ariel Princess birthday party table decor
Image Credit: yelpcdn
Boy's birthday table decorations
In this category, we will be speaking about how to deck up birthday tables for young boys. When it comes to gussying up a boy's birthday table, those that are not net savvy often come to the point of saying 'I am done for the day' and huh..time is running out….but no ideas'!! Hey, get hooked to the internet ASAP as there is a vast collection of kids birthday parties that will help you chalk out a proper plan for hosting your boy's birthday party with style. Boy's decor ideas are not restricted to pretty pinks and florals. Rather you can get the freedom to play around with dark tones as well. Every boy loves trucks, cars, superheros and aero-planes. So, theme his birthday party on these lines by incorporating birthday party ideas that make use of similar accessories. His birthday table can be adorned with a truck centerpiece filled with candies or cookies, or, have a superhero spread on everyone's table in the form of plates bearing images of any superhero, or, placing cars and other vehicles associated with such a hero. Many folks love to theme their tables on Pirates, and the scope of decorations here is humongous. From pirate flags with skeleton and bones, to a treasure box filled with faux coins, to keeping a ship replica, there are many things that can be done. For boys that love the sea, a nautical table is the best way to make them feel happy. Lego inspired birthday party ideas too are very popular with boys.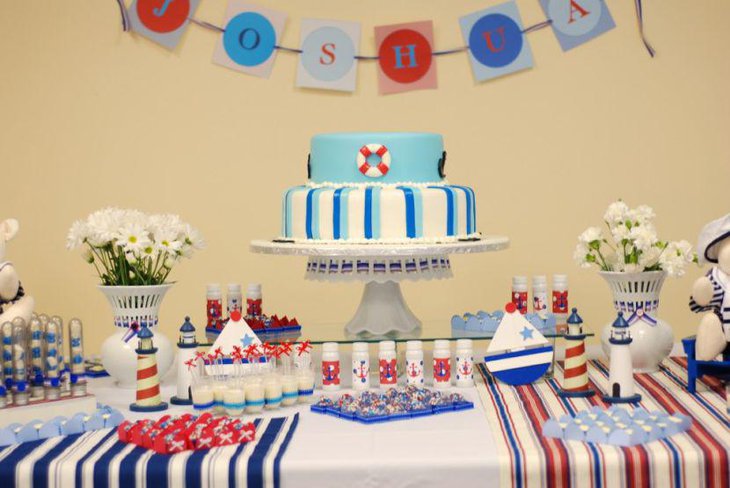 Nautical birthday table decor for boys
Image Credit: partydecoratingdecor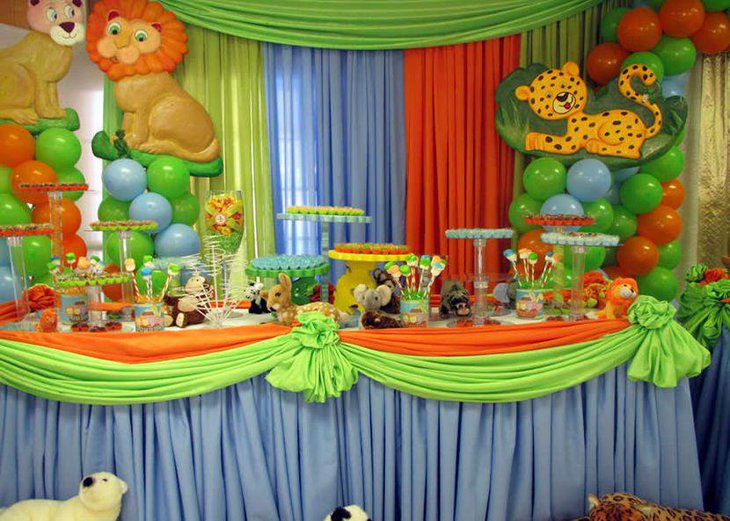 Jungle birthday table settings for boy's birthday party
Image Credit: hostingessence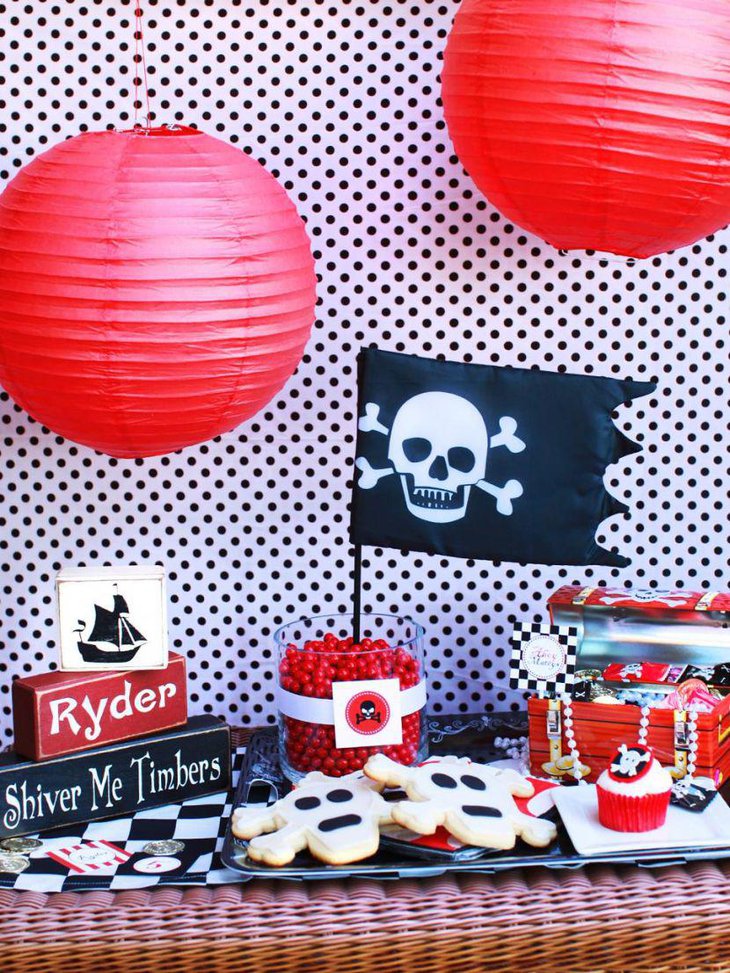 Boy's birthday table decor with Pirate decorations
Image Credit: sndimg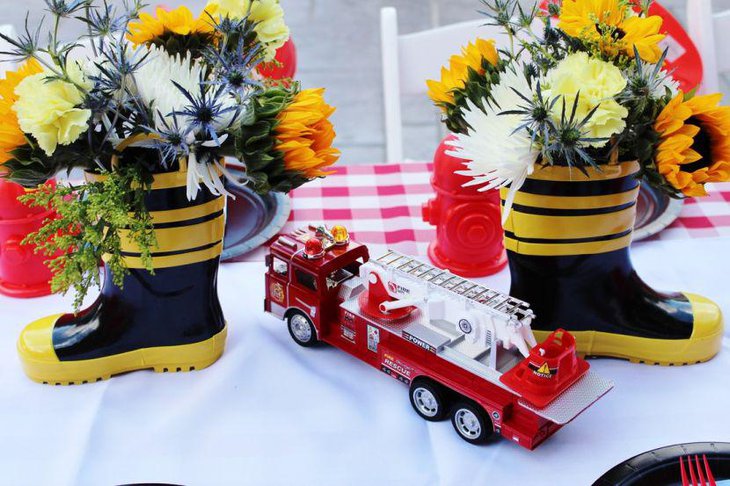 Firetruck decor on boy's birthday table
Image Credit: spaceshipsandlaserbeams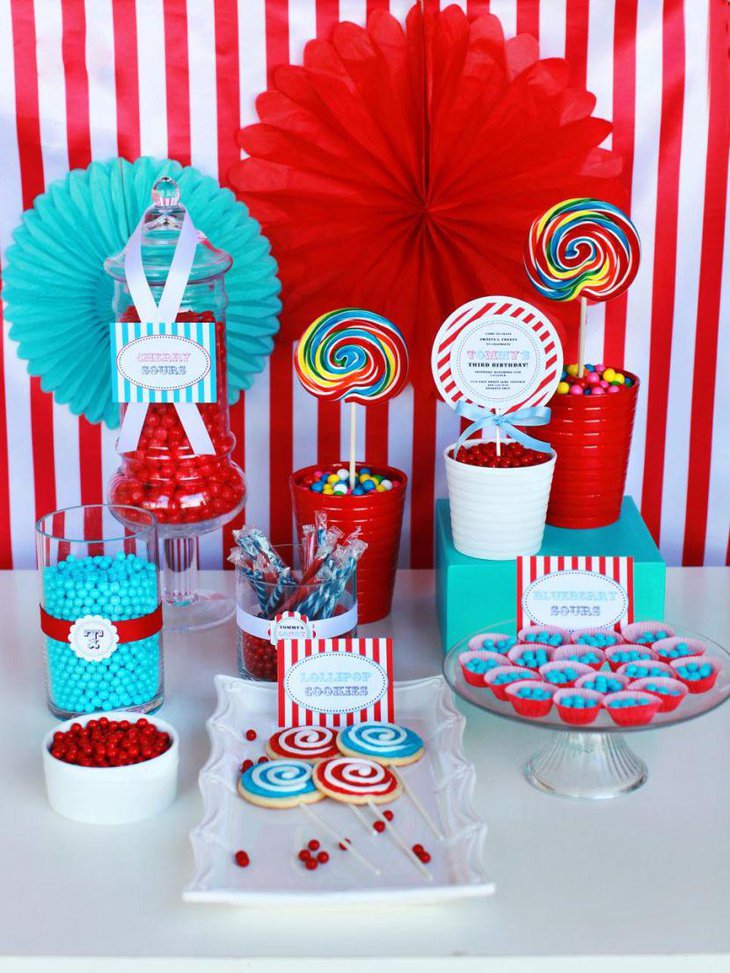 Sweet candy theme for a boy's birthday table
Image Credit: sndimg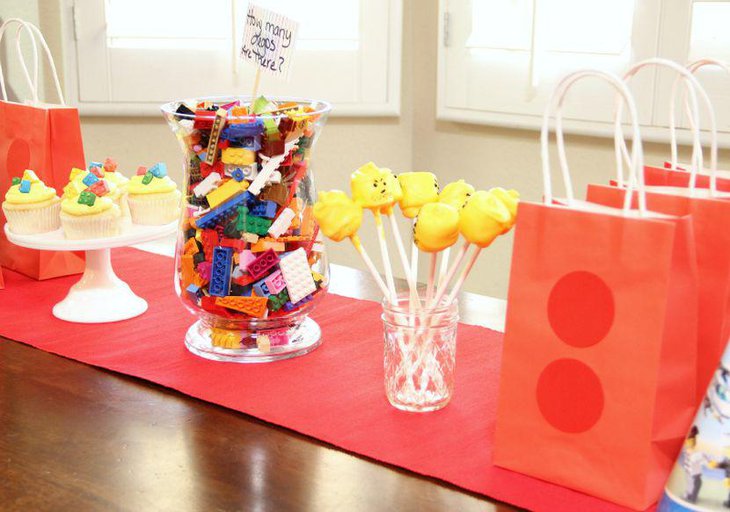 Lego birthday party table decorations
Image Credit: aroundmyfamilytable
Kids birthday party ideas with pinwheels
Have you ever noticed how cute a pinwheel decor looks on a kid's birthday table? Well, we are in love with pinwheel theme and now are showing some very cute party table decorations that involve these colorful decorative accessories. All of the birthday tables here look glamorous with colorful pinwheel deco seen in the form of pinwheel straws or sticks, pinwheel backdrop, and on the birthday cake. This theme is very popular with girls and folks that love to DIY. For these decorations, you will have to buy some tissue or crepe paper, and then, taking help from tutorials, craft out pinwheels in various colors as shown below. Birthday table decorations like these will prove to be delightful for the little guests and make your kiddo feel on top of his or her world!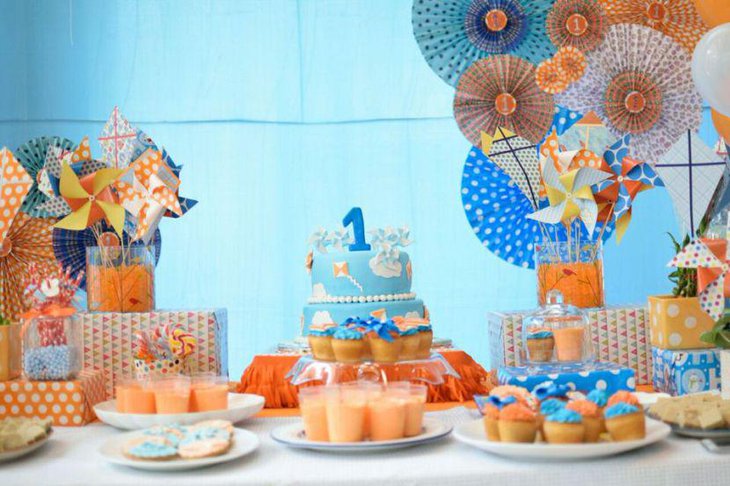 Pinwheel decor on birthday table
Image Credit: buzzingbubs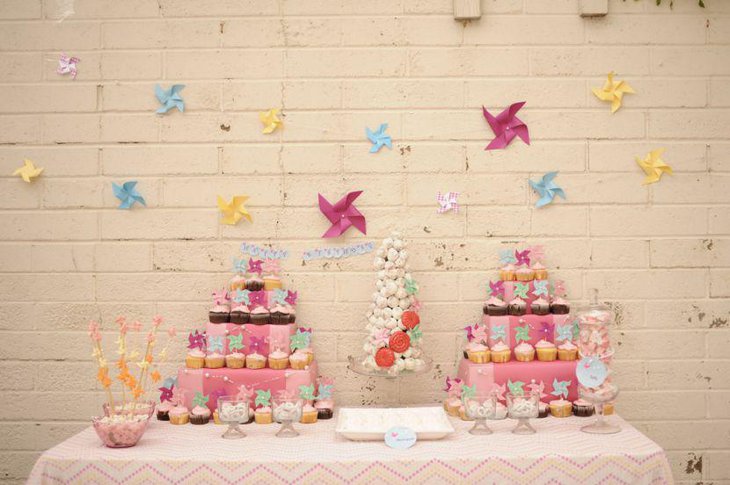 Pinwheel themed birthday table decor
Image Credit: thesweetestoccasion
Kids party ideas with floral decor
A floral themed birthday table is a feminine choice among other kids birthday parties, and as such will be adored by little girls that want to celebrate their birthdays with aromatic feel of flowers. When speaking of flowers, you don't necessarily include just fresh or seasonal flowers, but also faux flowers made of felt, fabric or paper. If you want a stylish birthday bash for your little gal, choose the wild flower themed birthday party, the decor of which is dominated by flowers of varying colors. In one of the images of kids party ideas shown here, you would spot a wildflower themed party where the decorations look simply awesome and spread a cheerful vibe among kids. The wildflower birthday party can be chosen for three or five year old girls wherein they come dressed up with pretty floral frocks or costumes with floral headgear. As such, the tables too bear floral prints all over. Floral decorations can be done in flower pots centerpieces, vases or you can stitch paper flowers on the border of the table cloth spread over the birthday tables. Even the cakes and cupcakes too can have floral decorations.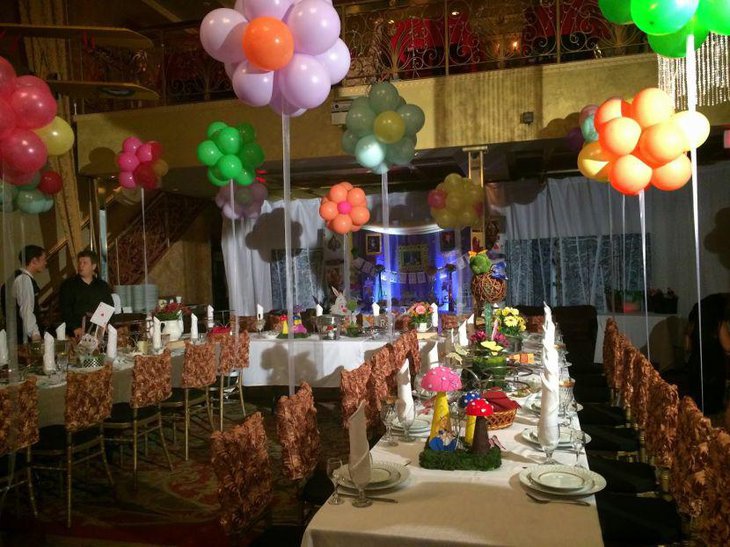 Birthday party table decor with flowers and mushroom
Image Credit: blogspot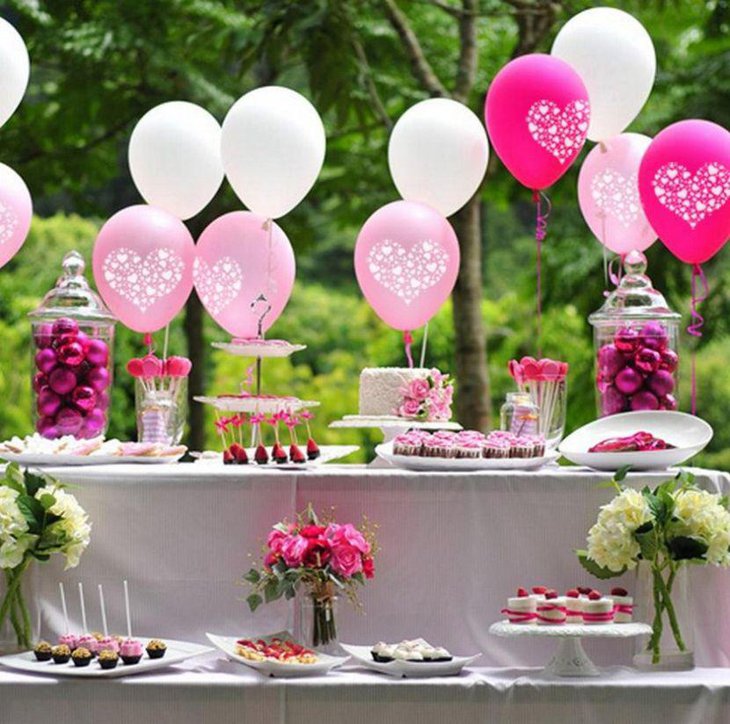 Floral arrangements on birthday table
Image Credit: orchardspy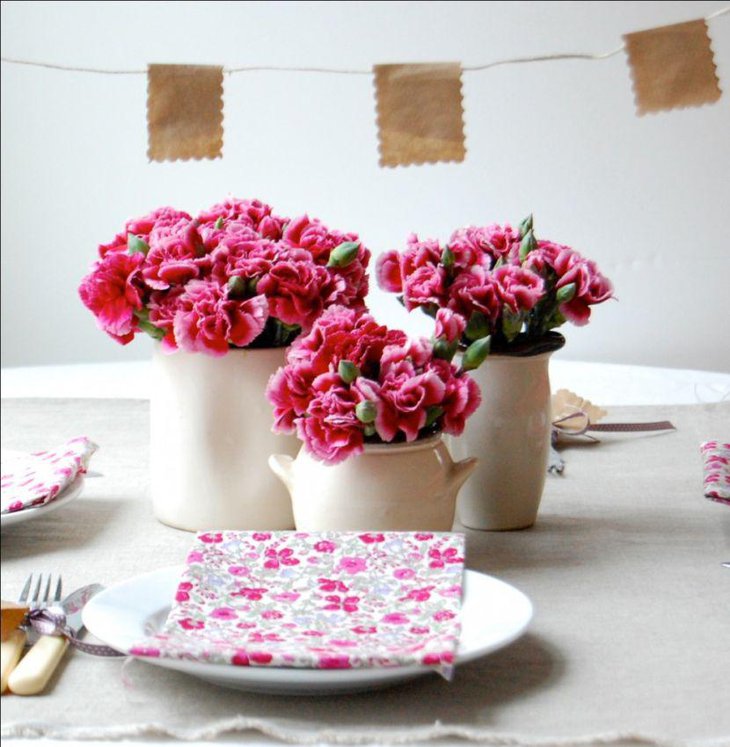 Pink flower decor on kids birthday table
Image Credit: lespetitesexcuses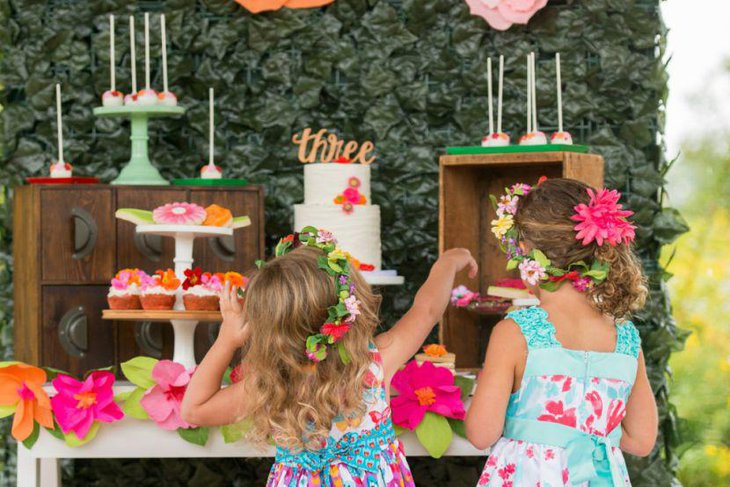 Wildflower themed floral birthday table decorations
Image Credit: landofnod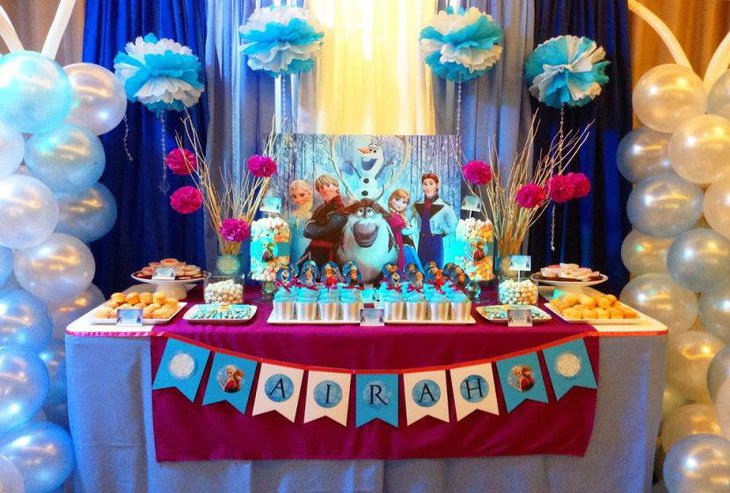 Floral decor on Frozen themed birthday table for kids
Image Credit: kidspartyhubph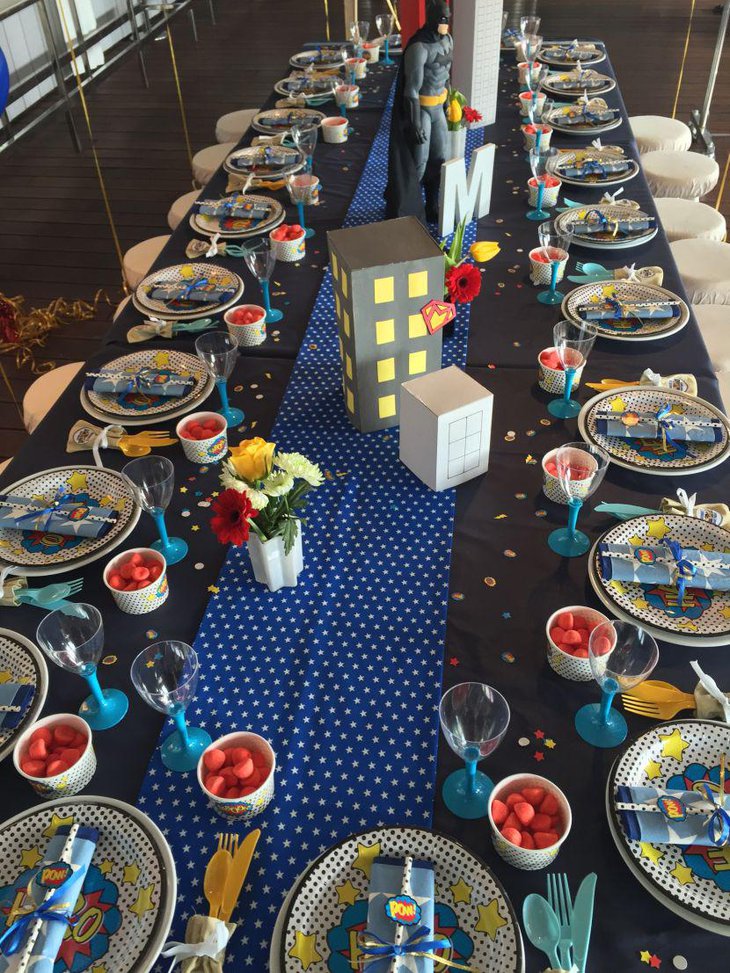 Superhero birthday table decor with flowers
Image Credit: mybestbirthday
Owl themed kids birthday parties
Kids and owls have a special connection, so much so that these wise birds see themselves adorning the birthday tables as well. An owl themed birthday table looks cuter than cute with a whole range of owl decorations embellishing the tabletops and even backdrops. An owl theme works well, both with girls as well as boys, and are popular all over. From cakes fancied up with owl straws or owl props, to owl centerpieces, you can decorate your tables with many owl ideas. Kids birthday party ideas shown below look extremely sweet. On one of the tables, you will see owl printed buckets filled with owl straws, looking very stylish. Even the cookies too can bear the images of owls for a more ornamental look.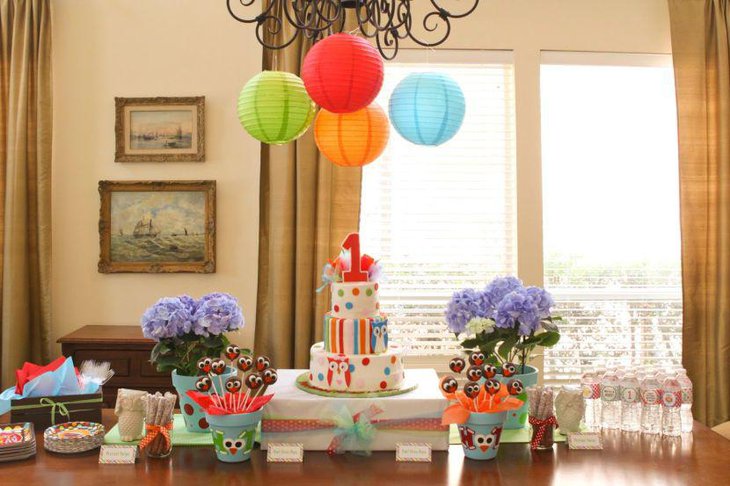 Cute owl decor on birthday table
Image Credit: blogspot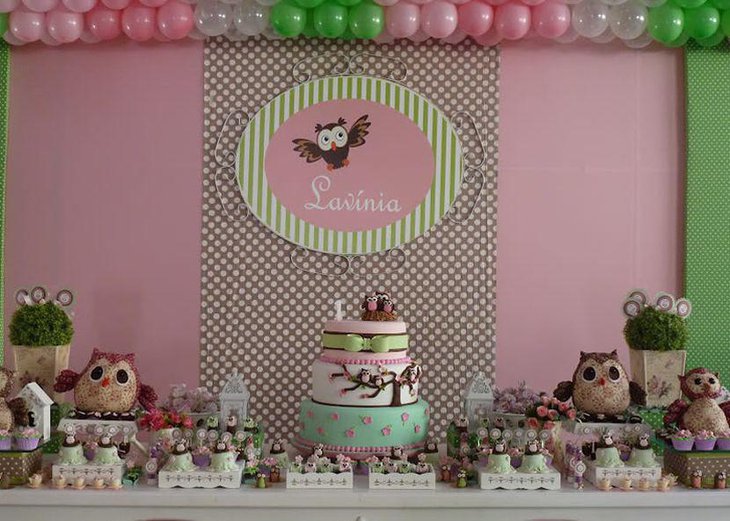 Cute owls on a girl's birthday table
Image Credit: hostingessence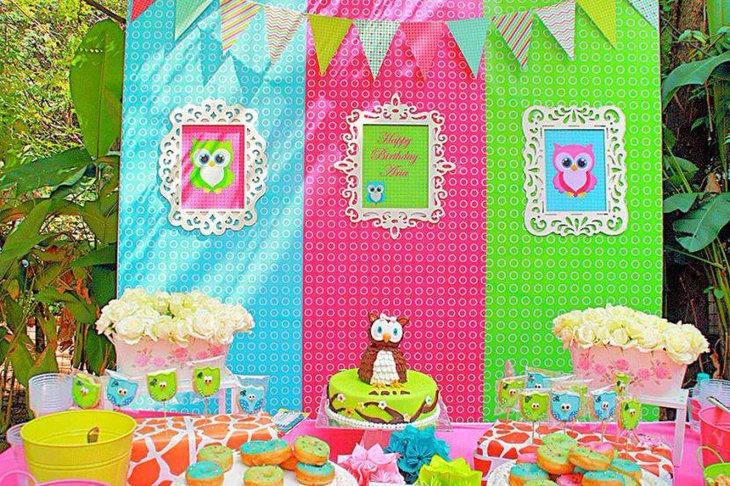 Colorful owl birthday table decor
Image Credit: buzzingbubs
If you feel that these above showcased party decor ideas hook your attention, try these out when you are planning your kid's birthday party. From many themes to choose, like Princess theme, jungle theme, superhero theme to decorations that involve the use of various accents like pinks and pastels, you have an unlimited buffet of cool ideas now. The 37 *kids birthday party ideas* will be adored by your little ones and are a must that for you to try them!