Summer birthday party ideas like those that we are about to present before you will help you plan a fun birthday party for your kiddo or yourself and will make the event a memorable one. Summer birthdays are fun as you have the freedom to make use of your garden and backyard to the fullest, and can plan for a number of entertaining activities like pool jumps, projects involving mud, water sports and what not! As far as decorating the birthday tables are concerned, you can take help of various cool party table ideas that you come face to face in many magazines and sites. From using simple accessories like home grown daisies, to summery decorations like coconut shells, parasols, pots, and stuff available at home, the kaleidoscope of decor ideas is huge. Take a look at the 35 cool summer party ideas that add a fun element to your birthday tables.
Summer birthday party ideas in neons
There is a certain uniqueness in neon decorations that attracts you the moment you glance upon their electric glaze and look. Yes, summer is all about showcasing how cool he or she is, and neons are the best way to project your coolness. When celebrating birthdays in the hot months, try decorating your tables with as many neon accents as possible on anything and everything. You can use neons in your choice of floral arrangements, or on the table cloth, or in the choice of food and desserts too. Neons and fluorescents work very well in summer and you can get a contrasting effect once you combine these with neutral accents on your table. Brown or earthy tones gel well with fluorescents like pink and green and lend a very refreshing touch to a party table decor. Neon birthday party ideas showcased below look very beautiful, like the pink cupcake and polka dots decor in the first image. The neutral earthy backdrop offered by the paper bags looks astounding. Similarly, you can play around with neon shades in your cake, candies and other features.
Cute neon accented summer birthday party table decor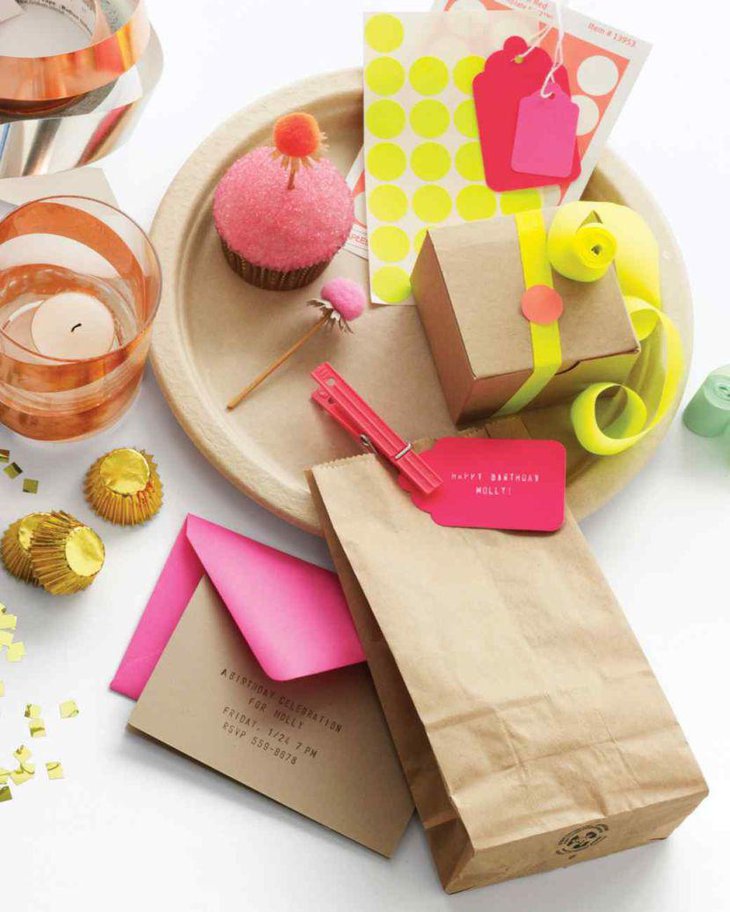 Image Credit: marthastewart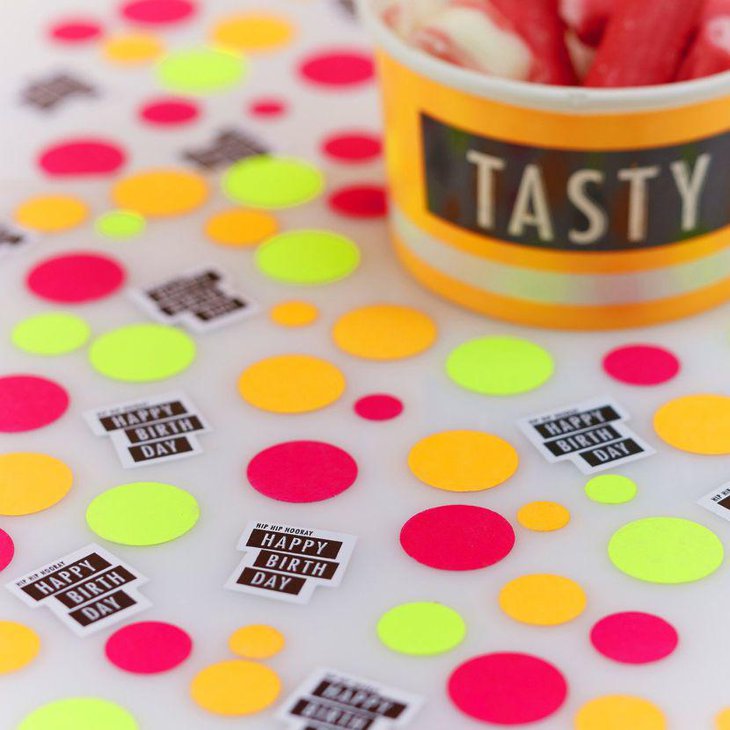 Neon themed birthday table decor with confetti
Image Credit: images-amazon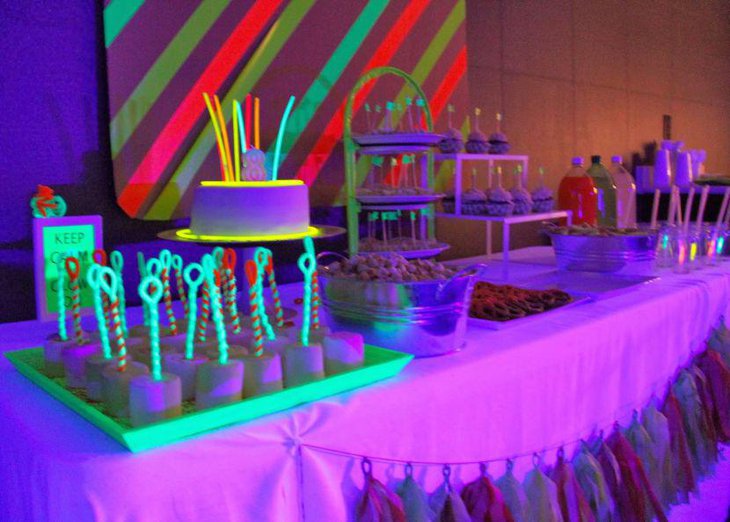 Fluorescent summer birthday table idea
Image Credit: blogspot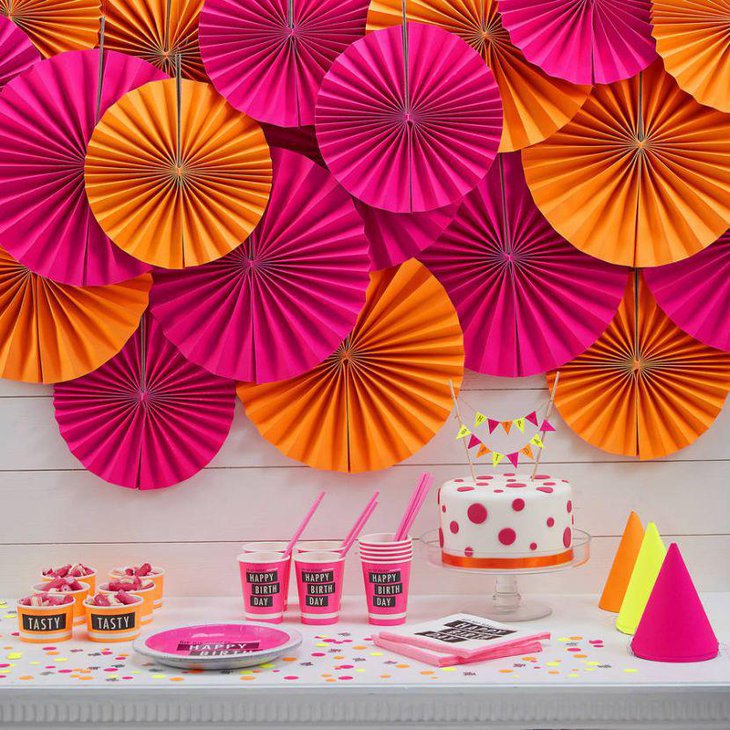 Stunning neon birthday table decor
Image Credit: notonthehighstreet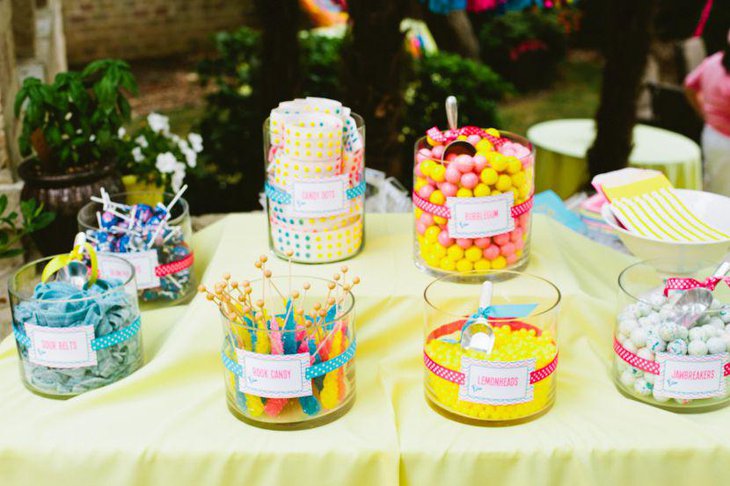 Neon accented candy decor on summer birthday table
Image Credit: ohgoodiedesigns
Summer birthday party ideas with flowers
Beautiful…glamorous…natural and aromatic….these are a few of the many qualities of a flower that often finds itself adorning tables at birthdays or weddings. Summer is a month when a number of fresh blooms come out in your gardens and you cannot help but make use of these on your tables as decor accessories. So, we are bringing a few very pleasing floral birthday table decorations that you can do on your birthday tables. Flowers suit every age and can be used either for a 1st birthday party, or for the party hosted for an 80 year old. The beauty of flowers like daisies and peonies comes out best when arranged in vases, or inside cups if you are having a tea garden themed birthday. Floral bouquets too look wonderful and charming. Tables can also be embellished with cake stands, each layer of which can be gussied up with different colored flowers. The pink flamingo themed birthday table seen below looks charming with pink accented flowers seen splashed all over the table.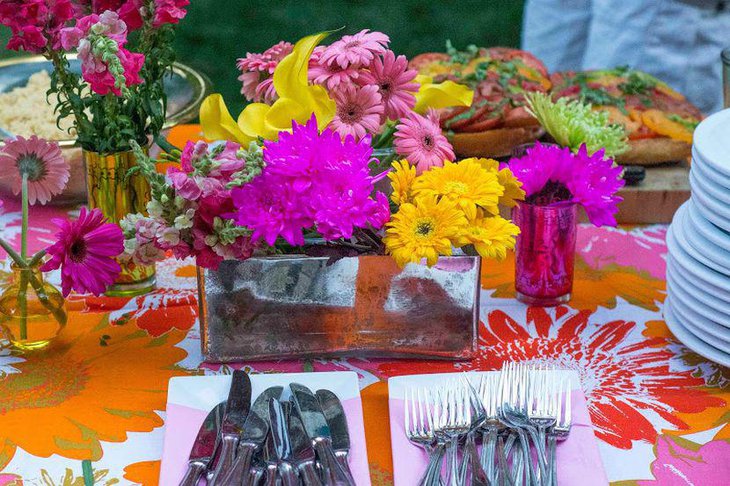 Colorful floral birthday table decor
Image Credit: blogspot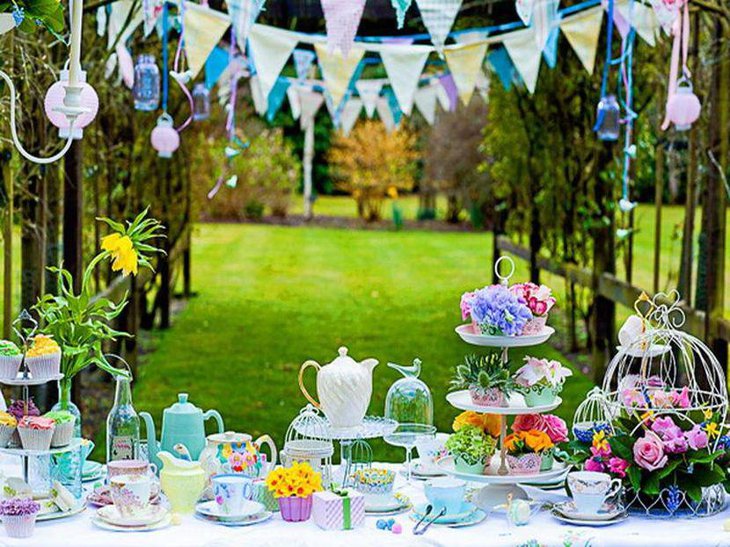 Refreshing birthday table decor with flowers
Image Credit: ghar360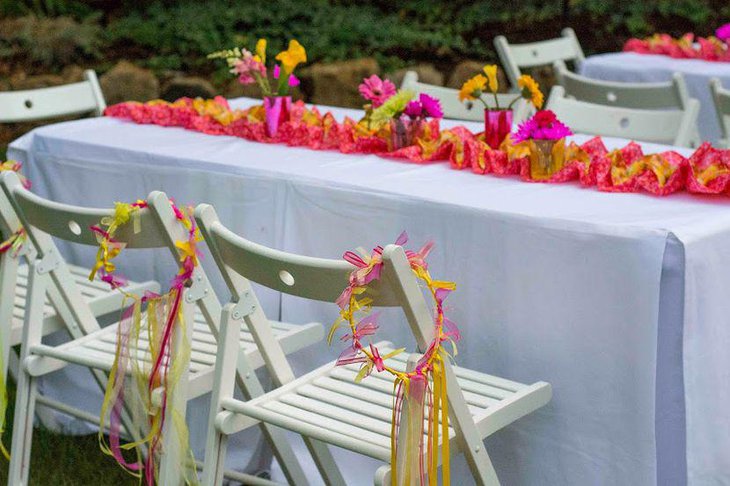 Orange and fuchsia summer birthday table decor
Image Credit: blogspot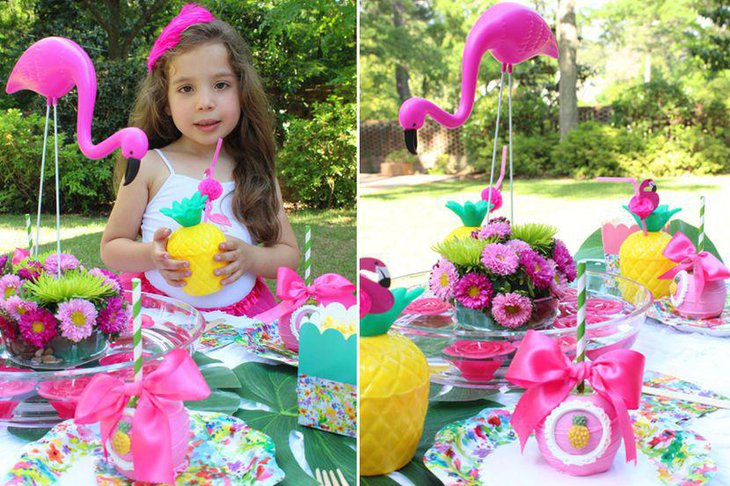 Pink floral centerpiece on summer birthday table
Image Credit: viablossom
Birthday party ideas with summary centerpieces
A summer birthday party table will in no way look refreshing and fun if you place dull party table decorations on it that is devoid of any vibrant color palette. If you think, the task of finding such awesome summer party ideas is a difficult job, then just don't ponder over the issue, instead, look below as we are showcasing cool summary centerpieces that will make your guests swoon and enjoy every bit of the occasion. In case you like coconuts to be adorned on tables, go in for real coconut shells that could be placed as party table centerpieces and filled with fresh daisies or orchids, if you have extra money! Since summer is a scorcherer, you can craft old bottles and fill them up with colored water or drinks to be served chilled to guests. These bottles add to the style of the decor too. Polka dotted paper centerpieces like vases also look very pleasing. For a cow girl or cow boy themed summer birthday, place real boots and fill these up with big dahlias or daises. Even a fruity table centerpiece looks rather amazing. Birthday table decorations of summer need to project a rejuvenating look and the ones shown below definitely do the job!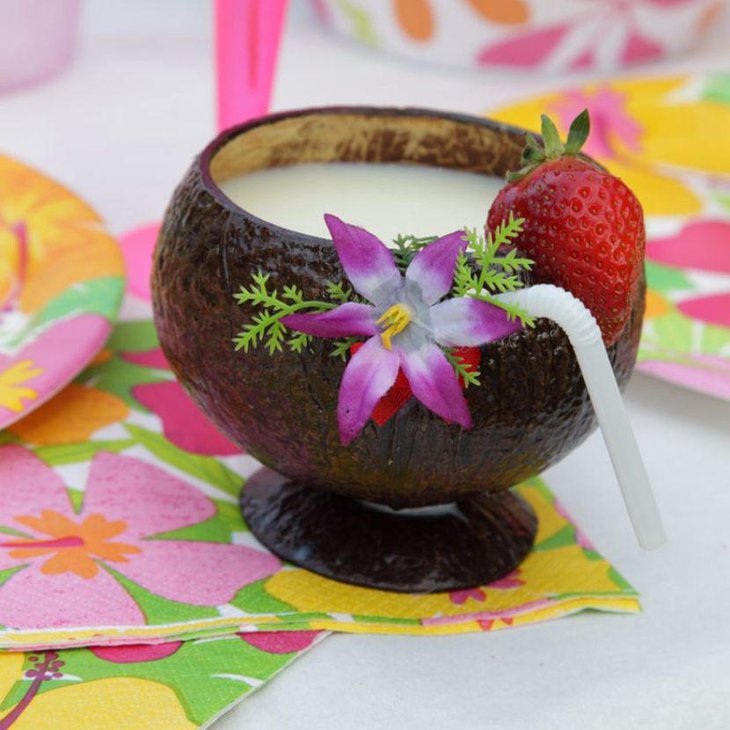 Fun coconut cup decor for summer birthday tables
Image Credit: partypieces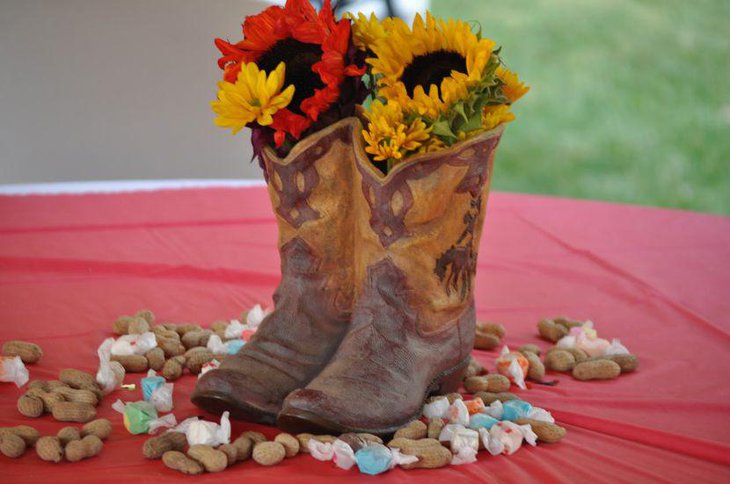 Summary boots with flowers birthday table centerpiece
Image Credit: eventstocelebrate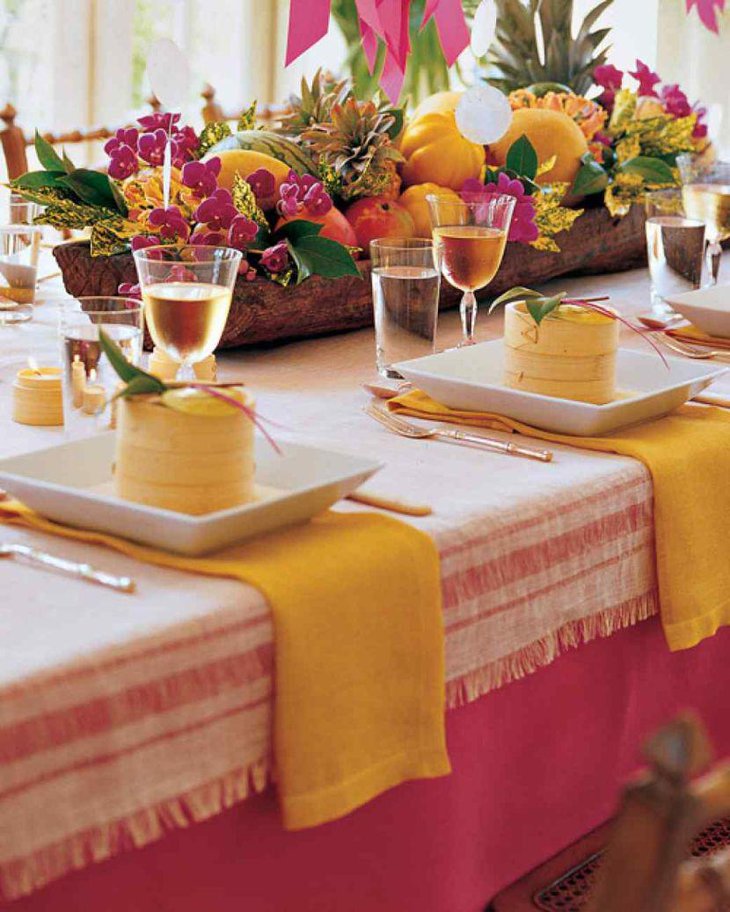 Floral and veggy summer birthday table decor
Image Credit: marthastewart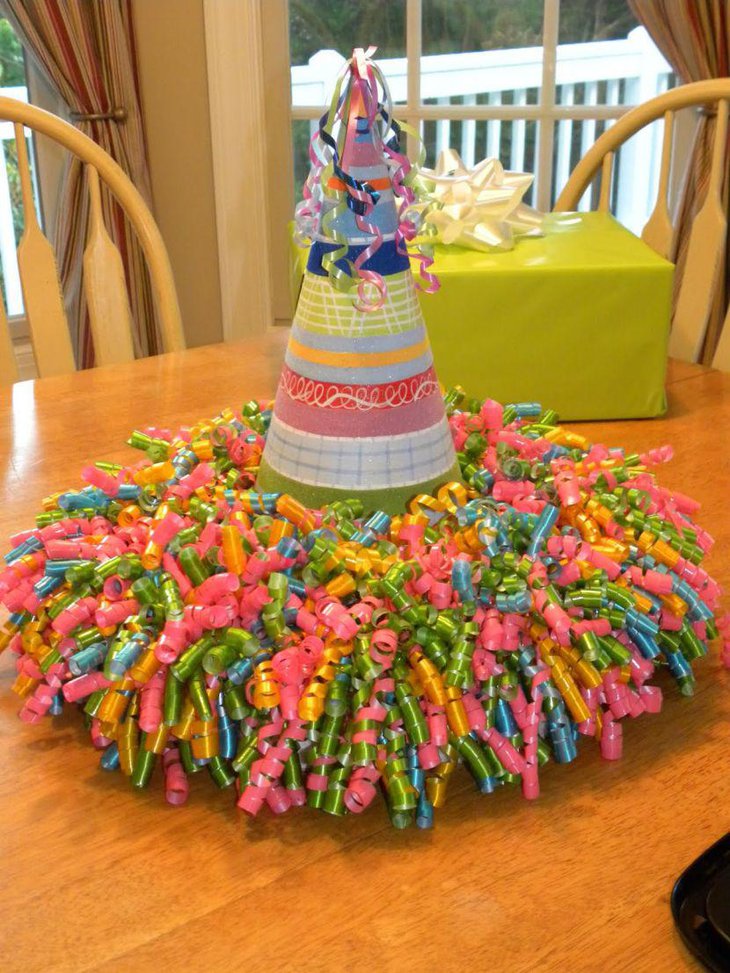 Birthday cap and buntings summer birthday table centerpiece
Image Credit: partydecoratingdecor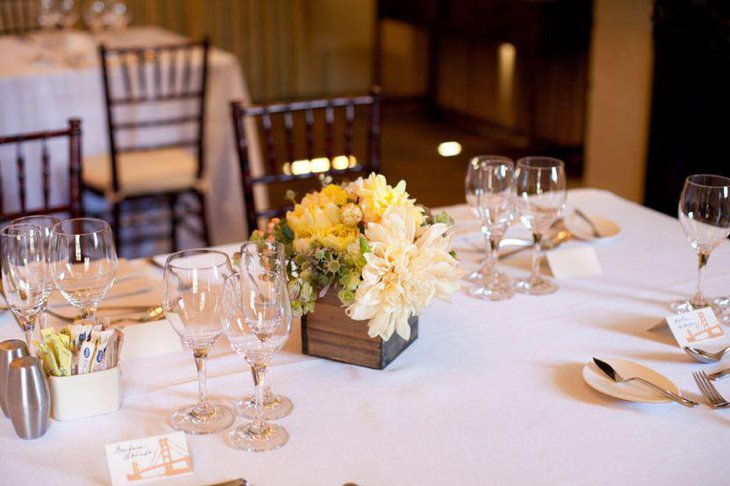 Stunning white and yellow floral centerpiece on birthday table
Image Credit: wordpress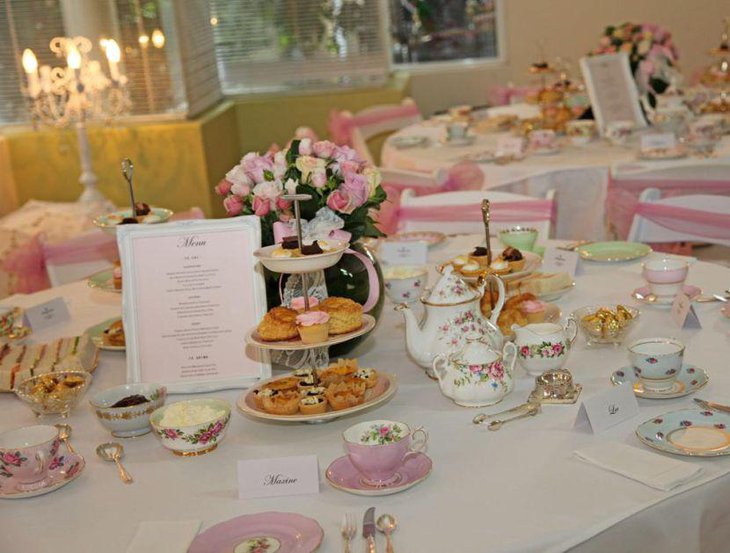 Appealing birthday table decor with pink accented flowers and cups
Image Credit: happybeancoffee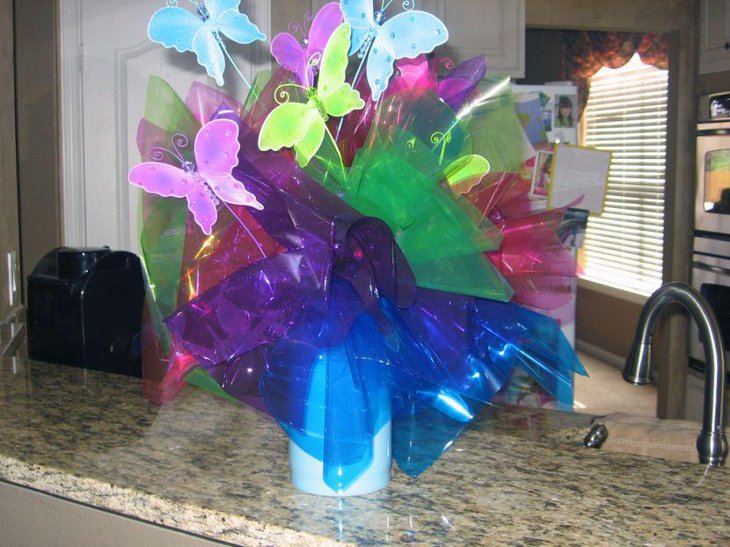 Cute butterfly centerpiece for summer birthday table
Image Credit: wordpress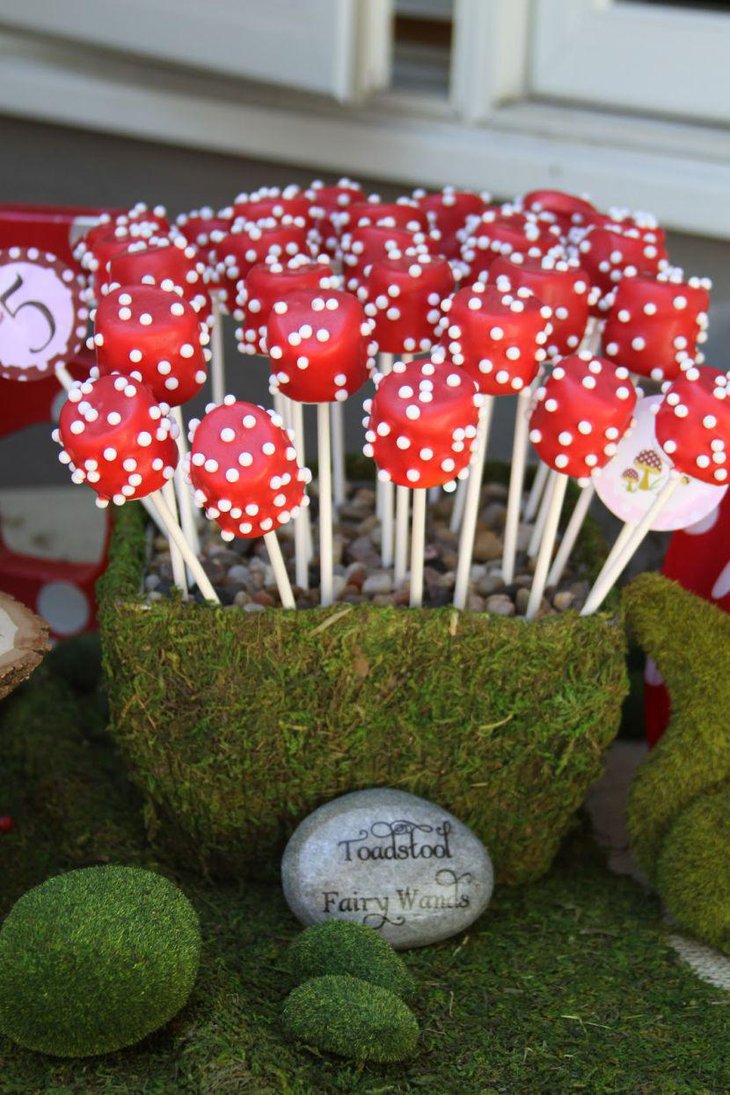 Moss birthday table centerpiece for summer
Image Credit: blogspot
Birthday table decorations with butterflies
Why always go for such party table decorations that are mundane and repetitively seen over and over again? If your or your child's birthday falls in summer, opt to go the 'butterfly' way as these lovely winged creatures appear in plenty this time and are seen hovering over daisies blooming in your gardens. Butterfly themed summer birthdays are the best for this season when you can device your own butterfly crafts and do many things to your table decor. Many moms, specially of girls, often go for this theme as it looks very feminine and charming. If you are the DIY kinds, make cute paper butterflies and hang them over your tables, or place them as decorative accessories in between plates, cakes or over the floral vases. Your tablecloth can be made to look cuter with butterfly paper butterflies stuck to it. Table embellishments can look pleasing with butterfly goody bags made of paper like in one of the images shown below. Summer birthday party ideas with this winged creature look extremely feminine and a must for all the girls that will be celebrating their birthdays in the coming hot months.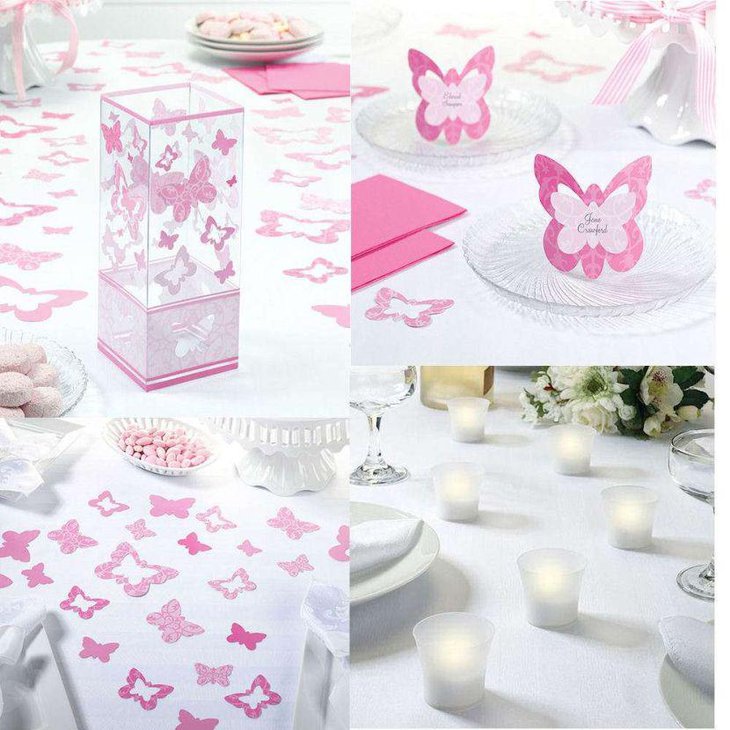 Pink and white butterfly decor on summer birthday table
Image Credit: design-inspired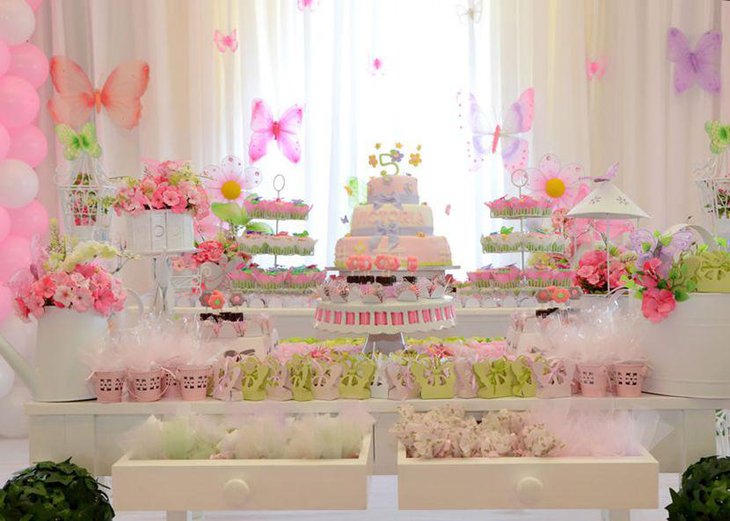 Soothing summer birthday table with butterfly decor
Image Credit: partydecoratingdecor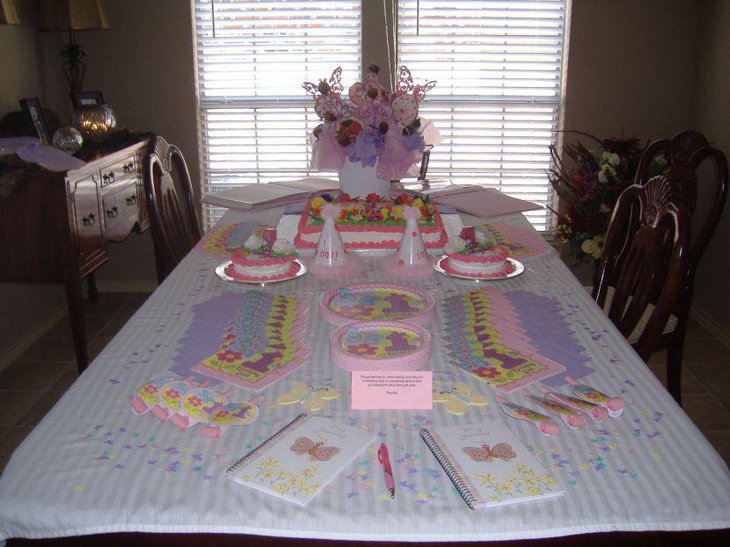 Feminine butterfly decor on summer birthday table
Image Credit: themedparty
Summer birthday party ideas for 1st birthday
A 1st birthday is a very cherishable and an overwhelming occasion for all parents, and hence, it must be celebrated with joy and pomp. If your kid is turning one in any of the months that fall in summer, go in for the below showcased birthday table decorations. For decoration ideas, just scroll through these cool decor ideas and get to see a varied collection. If hosting the bash for your one year old baby boy, you can adorn your tables on any boyish theme like cowboy, Lego or coastal. For example, if your boy's birthday is themed on coastal lines, adorn the table with sand tool boxes, sprinkle some sand around the main centerpiece or cake and place shells and starfish as decor accessories. Even the backdrop can bear a coastal scene involving the sea, beach volleyball and sand.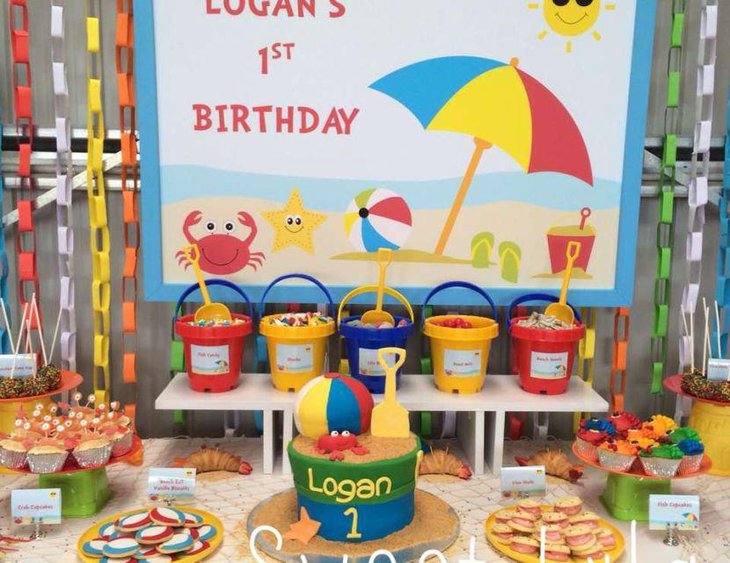 A beach themed summer birthday party table for 1st birthday
Image Credit: catchmyparty-cdn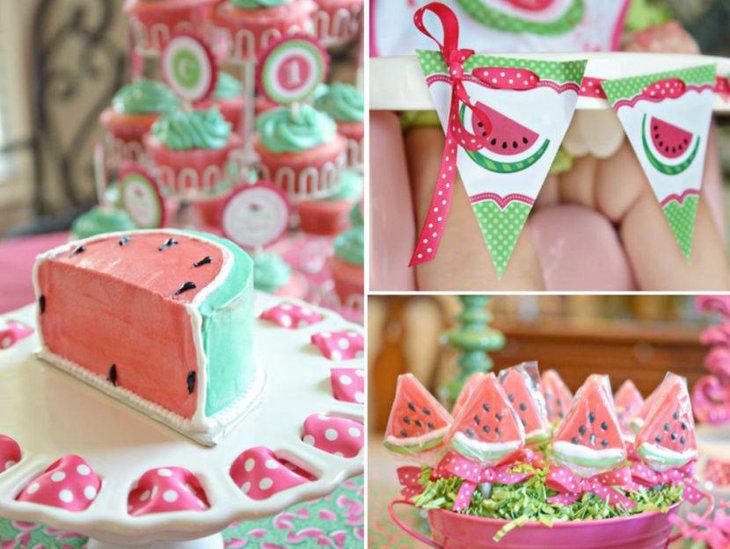 Summer watermelon themed 1st birthday table decor
Image Credit: ewoodys
Hawaiian themed summer birthday party table decorations
Summer is the best time when you can theme your birthday decor on Hawaiian decor lines or Luau, as the very mention of Hawaii brings images of tropical forests, sea, sand and pineapples. For a memorable birthday party, stylize your tables with Hawaiian birthday party ideas that are shown under. All of these ideas are super fun and spread cheer among your guests. You can start by making grass skirts, a dress that's typically seen on the women of the island, and drape these around your birthday tables. Cut pineapples and shape these into vases to be filled with tropical flowers. A pineapple centerpiece surely would add to the Hawaiian fun for sure. For a more colorful party table, arrange paper flowers all around, and bake cookies with 'aloha' imprinted on their tops. Even traditional Hawaiian masks can be put up on the table, either in the backdrop, or near the cake stand.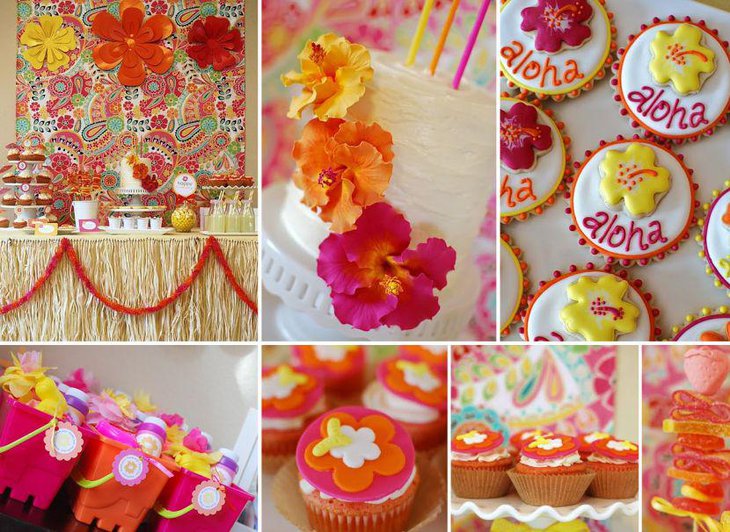 Colorful Hawaiian birthday party table decor
Image Credit: cygnedefantaisie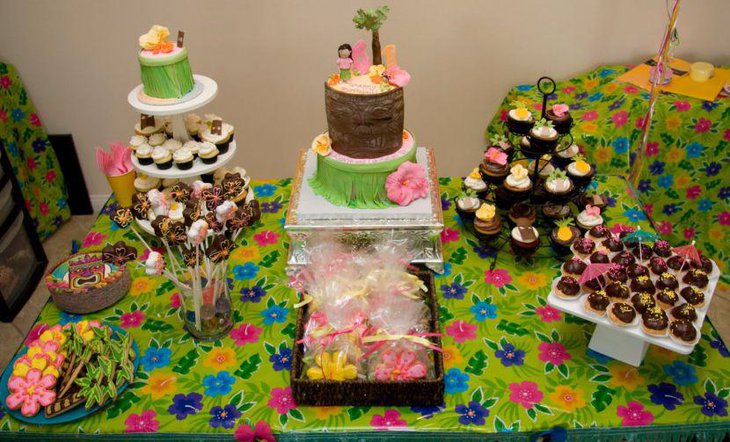 Floral Lau Hawaiian birthday table decor
Image Credit: lewismoten
Summer birthday party ideas using colorful umbrellas
Parasols or paper umbrellas that we see sticking out of our beverage glasses can be used as decorative accessories to stylize your birthday tables. Since, the month of summer brings to our mind flashes of scorching heat and sweat, and also the cool drinks one can sip to get rid of the heat, the only way to bring an element of freshness to your tables is to place colorful paper umbrellas all through the tablescape. For the cupcake stand and for the pretty little yummy cupcakes, craft or buy as many parasols and stick it on top of each cupcake. This will create a very cheerful look for the table. You can also have your beverage bottles adorned with these parasols in any number of colors that you want.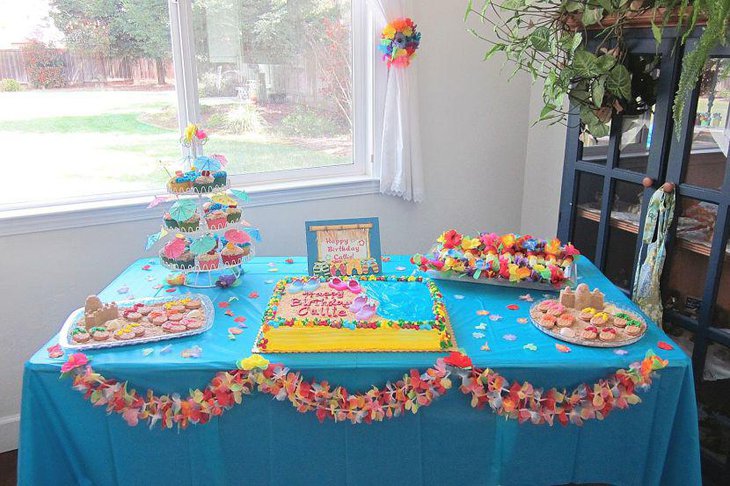 Beautiful pink and blue umbrella decorations on summer birthday table
Image Credit: lewismoten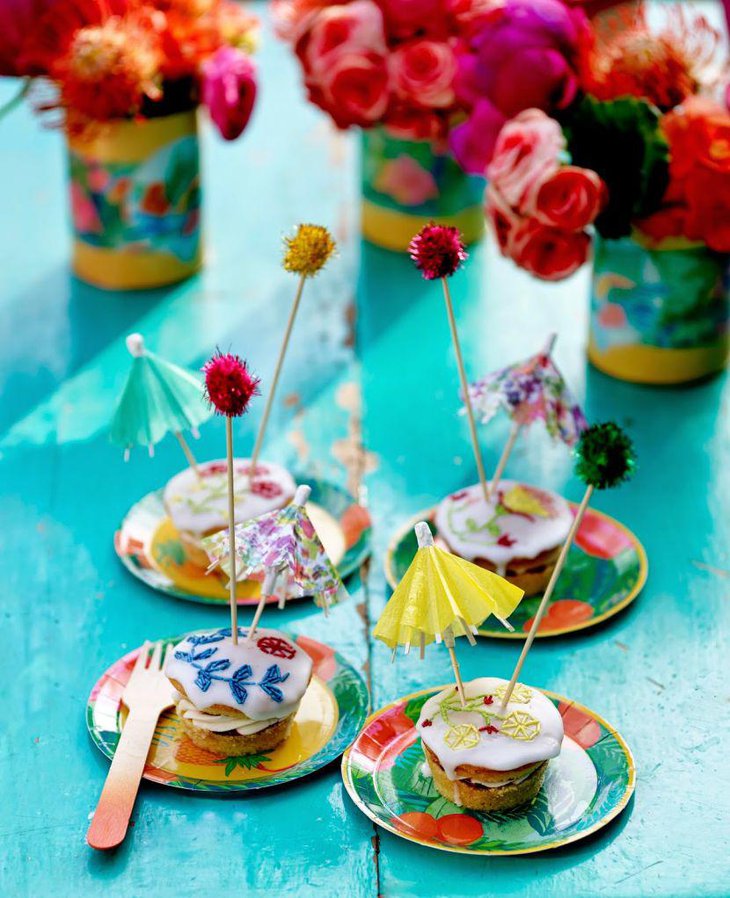 Cute umbrella decorations on summer birthday table
Image Credit: ideen
Summer birthday party ideas with fruits
If you want your birthday table to appear appetizing to your guests, and want to add fun, go for fruits as table decor ideas. A fruity tablescape looks not just beautiful but is also loved by kids of all ages. Since watermelons grow in plenty during this month, you can have a number of different types of watermelon centerpieces for your tables like the one seen below that looks chic. You can cut the watermelon into a half and scoop out its innards, filling it up with small melon balls and sticks of pineapples and cheese. Apart from adding to the look of the table, it can also be eaten with much joy. Other fruits like pineapples too look very stylish and suit such tables that are themed on Hawaiian lines. For a striking tablescape, mix and match using fruits and flowers and create a centerpiece that will become the highlight of your birthday party.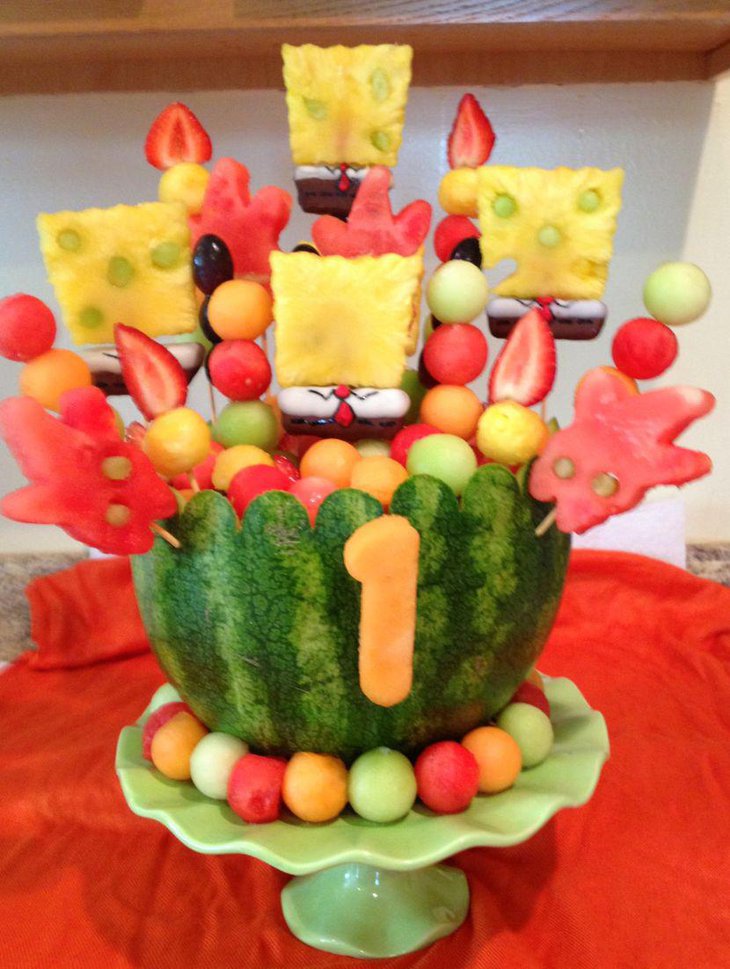 Watermelon centerpiece on summer birthday table
Image Credit: pinimg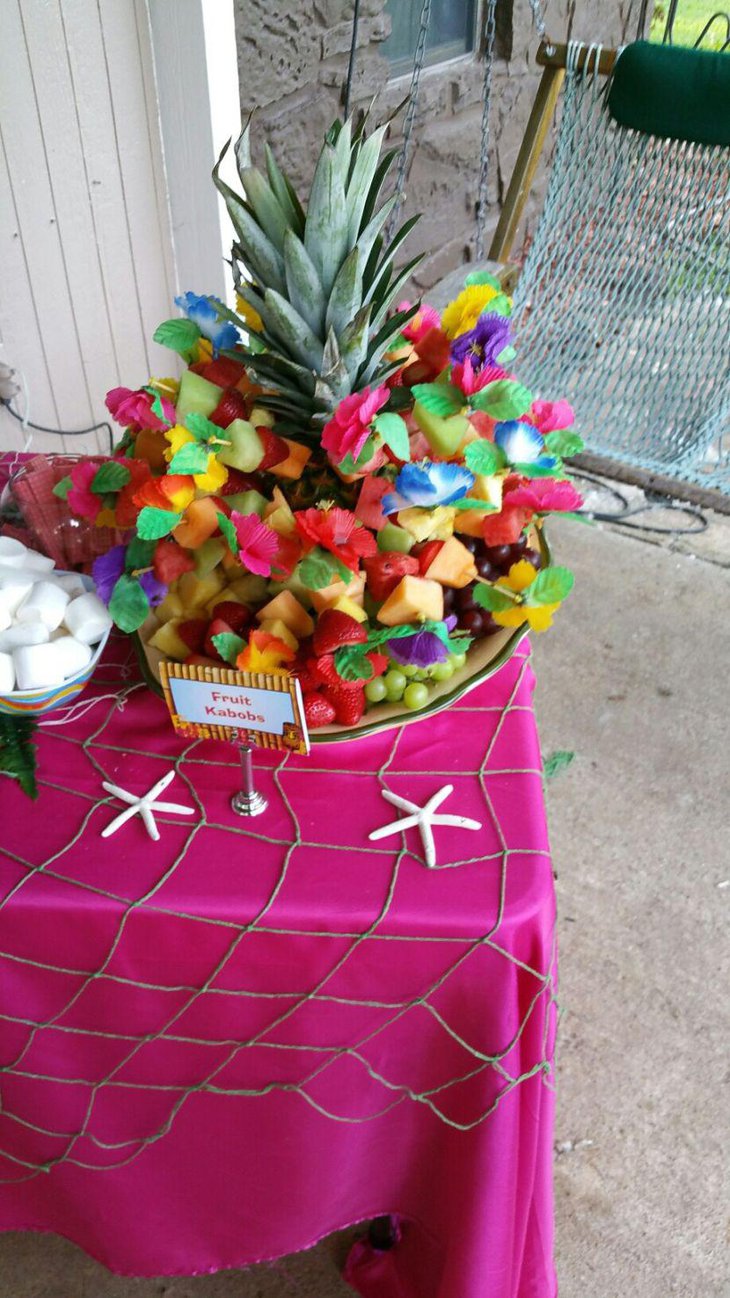 Summary fruit birthday table decor
Image Credit: wordpress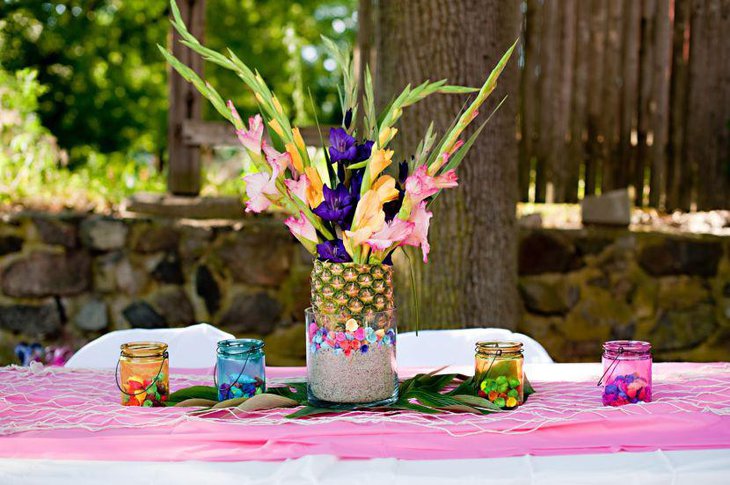 Kid's summer birthday pineapple centerpiece with flowers
Image Credit: pinimg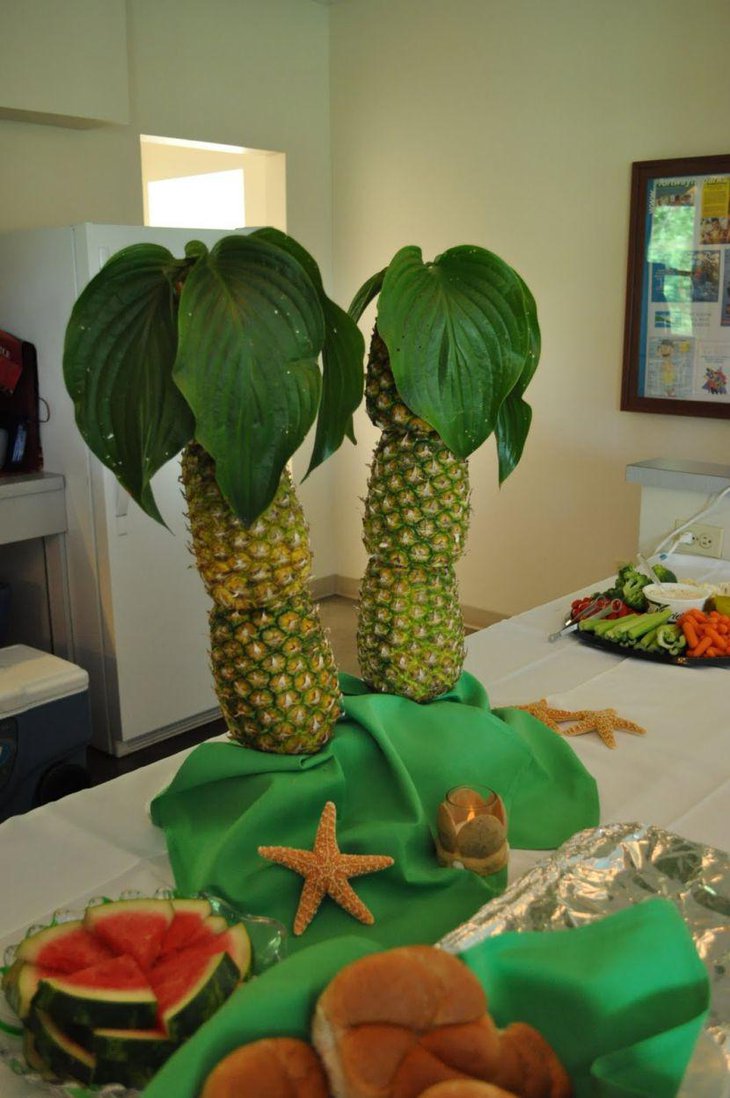 Summer birthday table decor with pineapples
Image Credit: pinimg
DIY summer party ideas
DIY is all about crafting things yourself and feeling proud that you did it! Yes, DIY is the new age decor phenomenon to have hit most people as it gives them the scope to decorate using their own minds and styles. Birthday tablescape too can get a stylish look with many different kinds of DIY summer birthday party ideas that are offered by many decorators of today. There are many benefits of using DIY accessories for your table. Firstly, you end up saving a great deal of money. Secondly, you can craft any thing that comes out from your own creativity. Items like paper, ribbon, cups, fabric, buttons and jars can be put to use for this purpose. If you are planning to host a little dress up party for your young gal, make small fabric dresses and stick all over or around the table in pretty pinks and pastels. Polka dotted cups, paper ruffled flowers and tutu dresses too look very glamorous. For an adult birthday table, you can use burlaps and wooden accessories.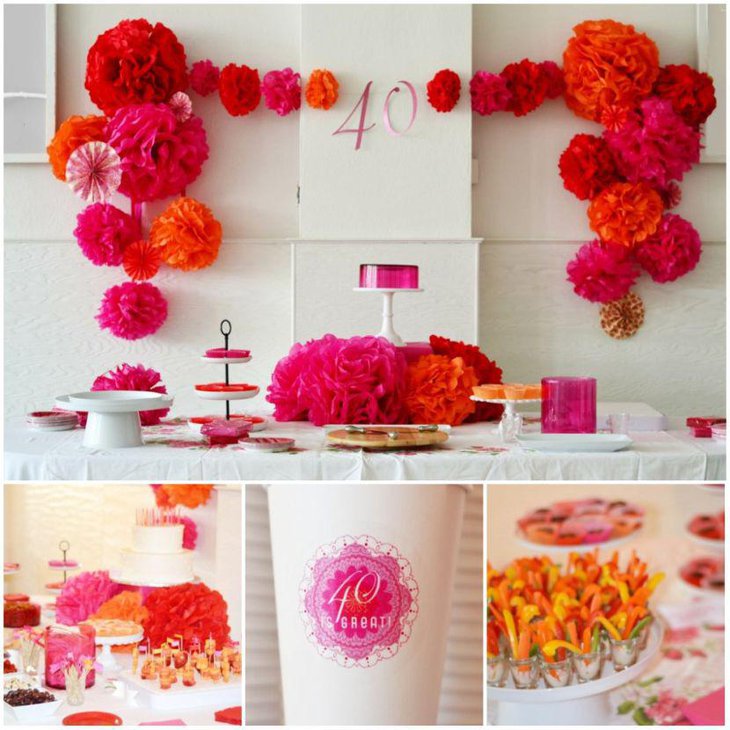 DIY summer birthday table decor with pink accents
Image Credit: bhelas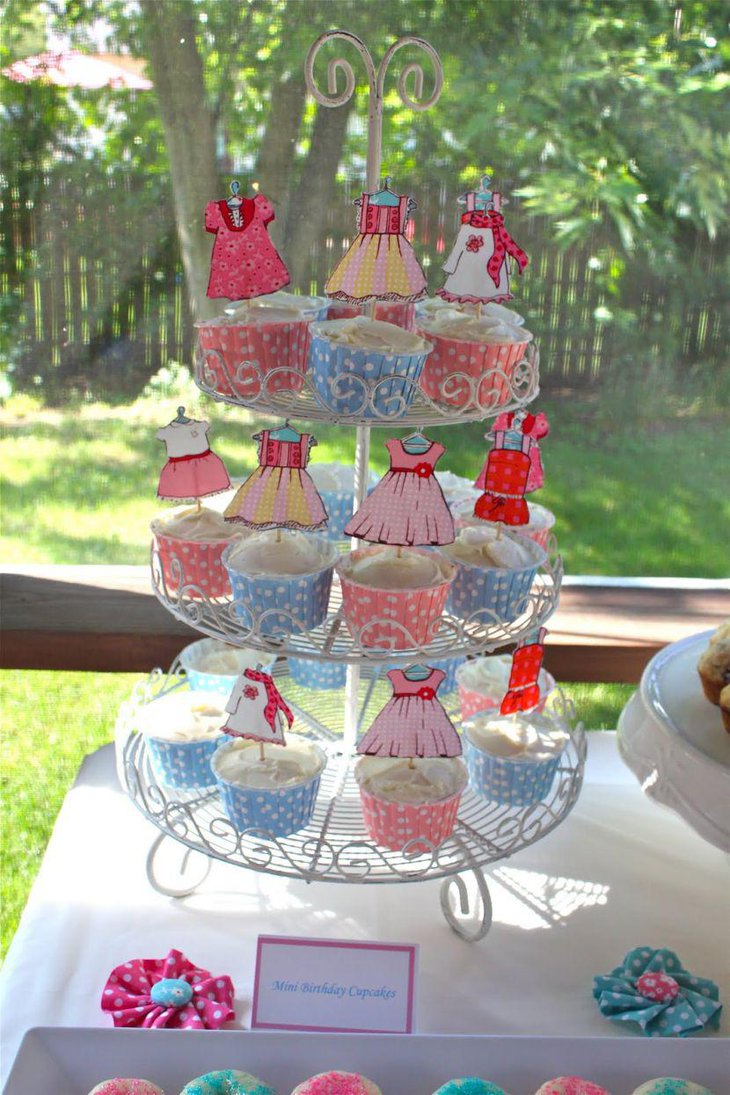 Cute DIY little dress up summer birthday table decor
Image Credit: blogspot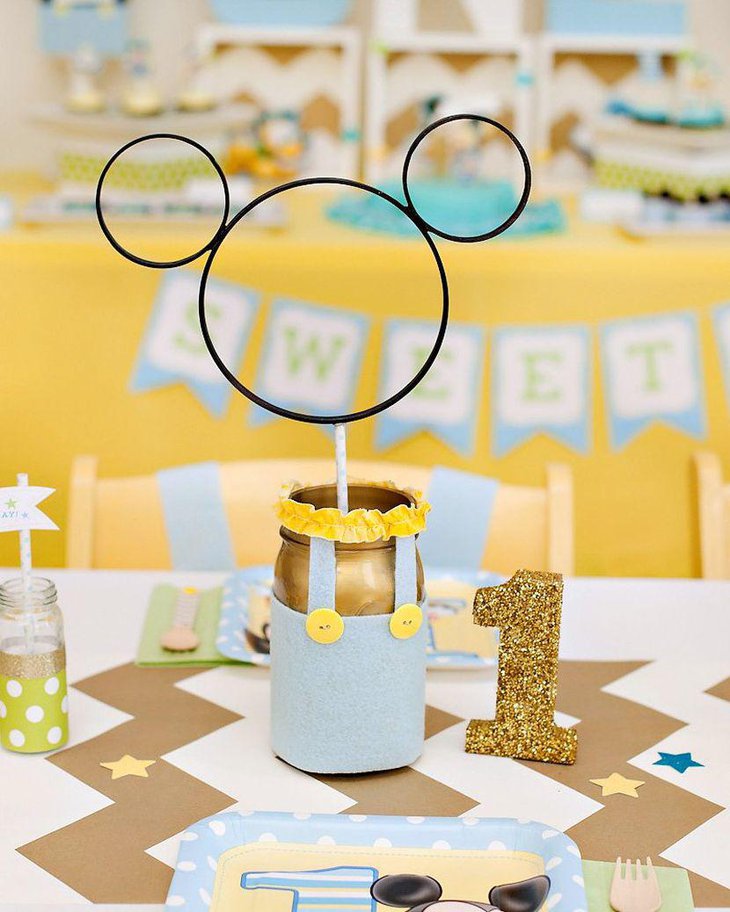 DIY summer birthday tablescape with buttons and jars
Image Credit: hwtm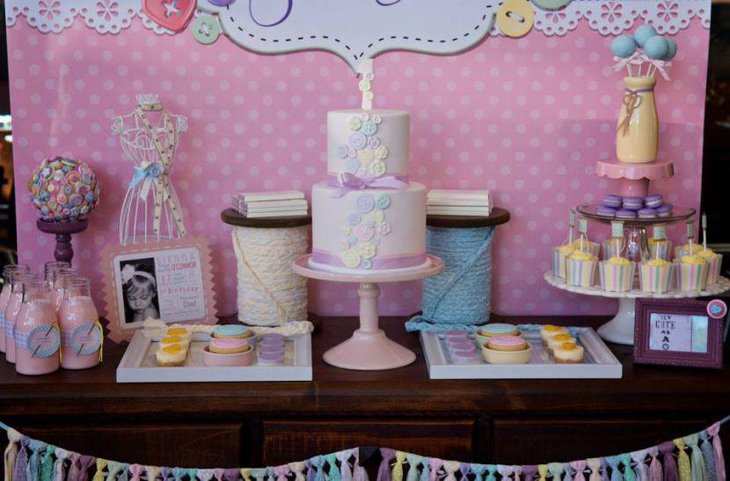 Pastel accented DIY summer birthday table setting
Image Credit: designdazzle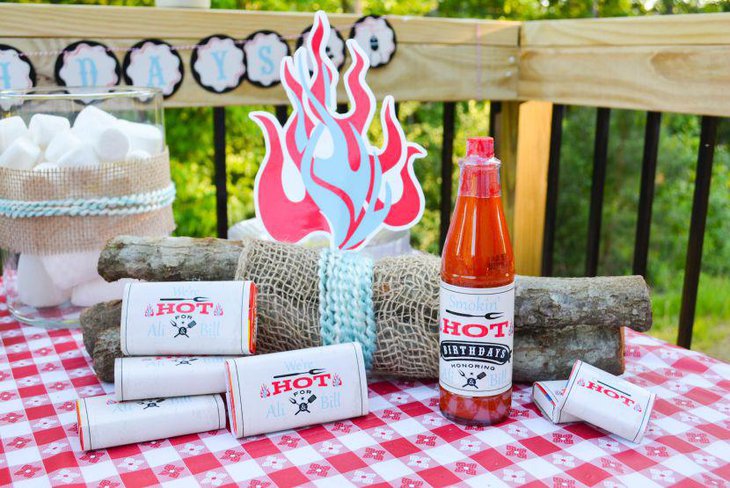 DIY barbeque themed adult birthday table decor
Image Credit: andersruff
Have you yet chosen any of the summer party ideas? Since summer is almost here, you must plan in advance the type of tablescape you would want to flaunt on your birthday table. Birthday tables, either for adults, or for kids should always carry a stylish look, and more so in summer when your minds are scorched by the excessive heat and need a refreshing touch, a touch of calm that can be lent by a cool and colorfully decorated table. The 35 *summer birthday party ideas* shown today are too good to be missed, so, pick one now!