The 35 Lego theme party table decoration ideas showcased in today's post will prove to be a blessing for families with young builders. Any enthusiast for Lego construction will love having their birthday tables decked with colorful Lego creations.
To make the most of a Lego theme party, you need to make it a surprise to the guest of honor. You can borrow their creations to decorate the room, or you can construct new models made from their materials or the kits that you intend to give them as gifts after the party.
These Lego party table decorations are mind blowing and are sure to help your child have a blast of a time on his or her birthday. From fun theme party ideas to creative table decorations, we have gathered an awesome list of ideas that will bring hurrahs from your guests' mouths! Here, take a look!
Ninjago Inspired Birthday Party Table Decoration Ideas
For the young and young at heart who love the Ninjago characters, these ideas are for you! The images below have one theme in common, and that is the ninjas who never stop fighting! You can use bright colors (green, white, yellow, blue, and red) for almost every accessory, such as streamers, balloons, and party favors and the cupcake or cake icing.
From Ninjago inspired lollipops to gift bags bearing the fierce eyes of the ninja, you can try out various innovative ways to decorate your child's birthday table.
Image Credit: blogspot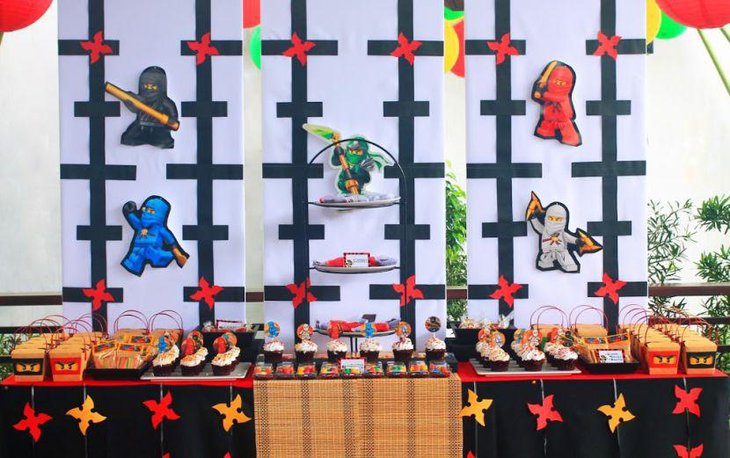 Colorful Ninjago Dessert and Party Favor Table
Image Credit: kidspartyhubph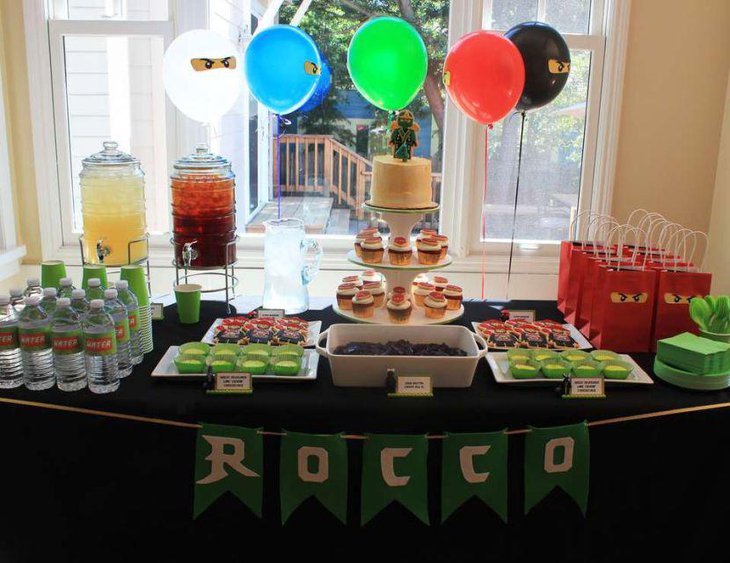 Birthday Cake with Ninjago Figurine Topper, Balloons, Gift Bags, and Themed Snacks
Image Credit: catchmyparty-cdn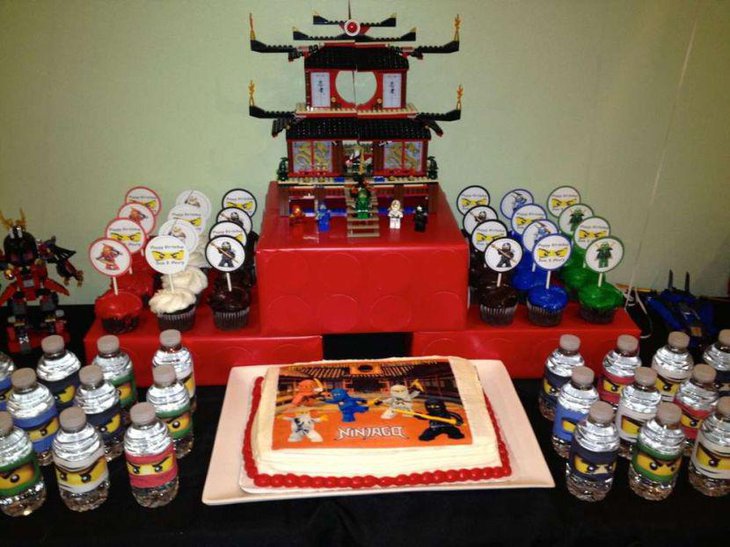 Ninjago Lego Creation, Photo Cake, and Printed Labels for Cupcakes and Water Bottles
Image Credit: catchmyparty-cdn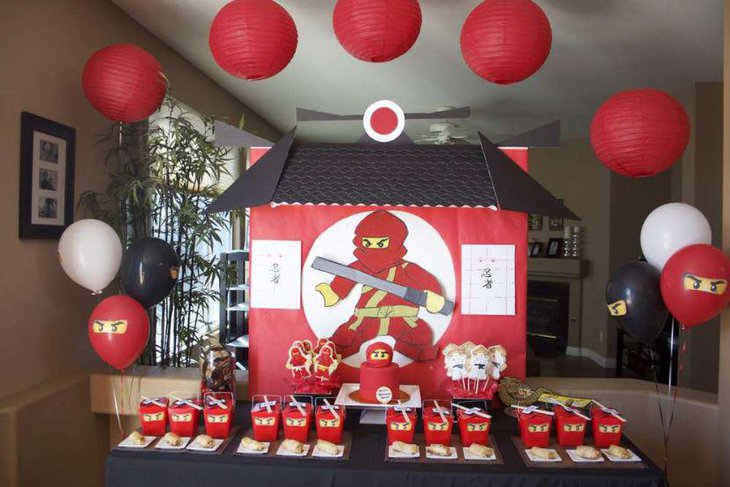 Ninjago Paper Craft, Balloons, Gift Boxes, and Candy
Image Credit: catchmyparty-cdn
The Lego Movie "Emmet" Inspired Ideas
Emmet is one famous Lego 'toy man' who is a courageous human being ready to save the world from evil, even though he is just a normal man who finds himself in hilarious situations. Bring back memories of the hilarious Lego Movie with these Emmet inspirations.
Decorations with Emmet and other Lego features can add fun to an already enjoyable birthday party. The below ideas will make your child or enthusiast laugh with joy, and the very first decoration idea we have for you is Emmet laughing on a birthday cake. You can use Lego figurines or creations as your centerpiece along with jars filled with random Lego blocks.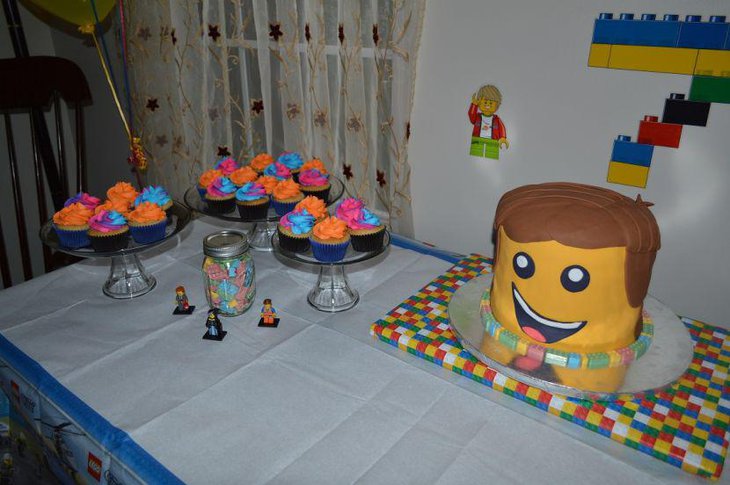 Emmet Cake on a Bed of Blocks with Lego Figurines and Wall Art
Image Credit: oneartsymama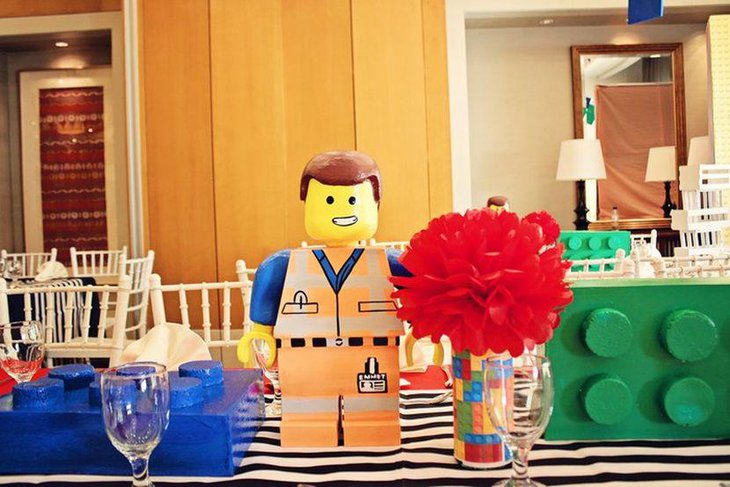 Large Emmet and Lego Block Foam Creations
Image Credit: michellelao
Lego Block and Creation Centerpieces
If you need an easy to incorporate Lego blocks into your décor, try these ideas. With such colorful blocks that are fun to play with as materials or as finished creations, you can't go wrong with these fast table decorations. Be as creative or as innovative as you like. You decide how much time you have to create!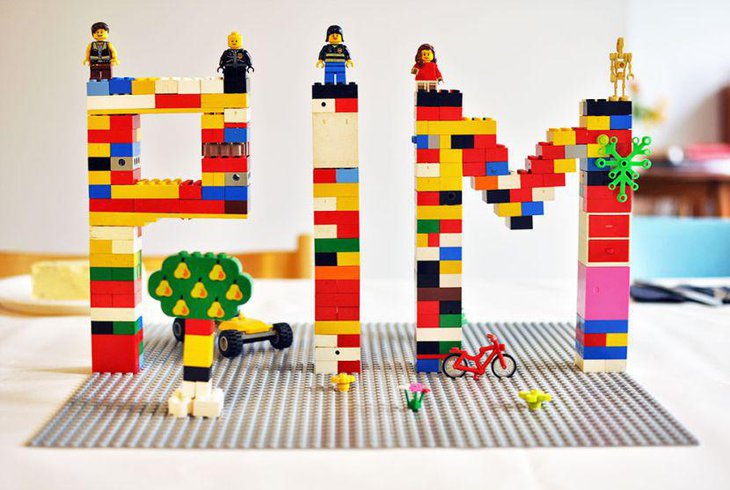 Lego Block Initials and Decoration
Image Credit: babyccinokids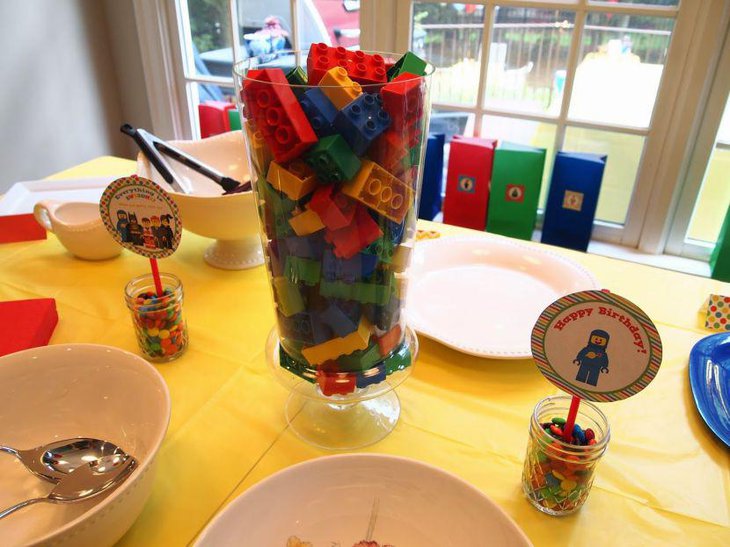 Lego Block Jar and Colorful Candies
Image Credit: blogspot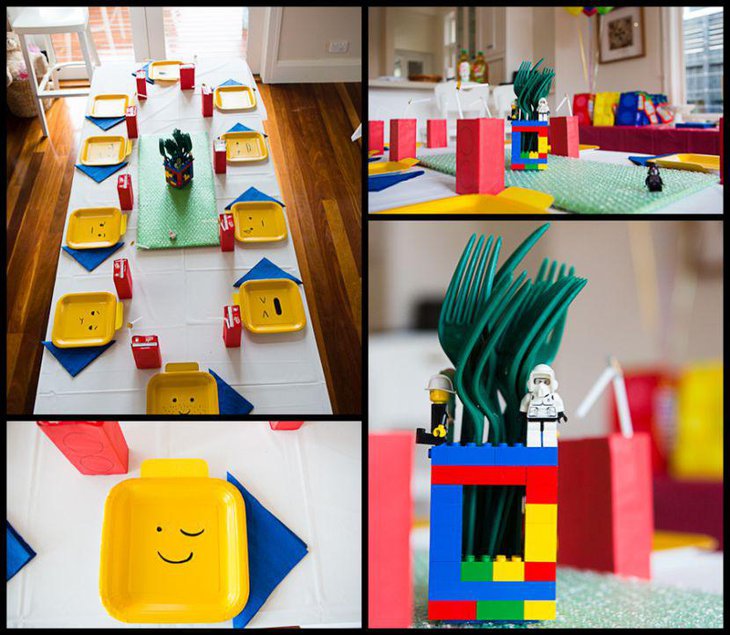 Lego Creation Silverware Holder with Themed Plastic Plates
Image Credit: simplygray
Displayed Lego Creations of the Child's Handiwork
Image Credit: blogspot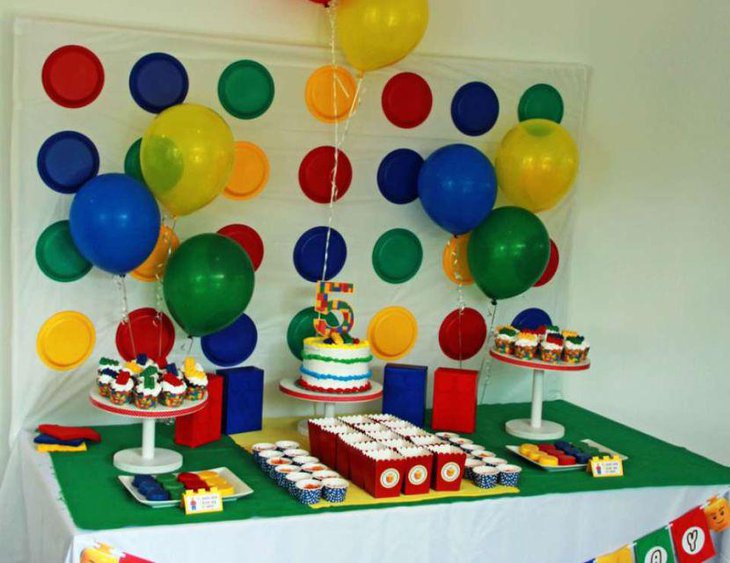 Lego Color Table Décor and Themed Banner
Image Credit: catchmyparty-cdn
Lego Head Block Container and Themed Tableware
Image Credit: blogspot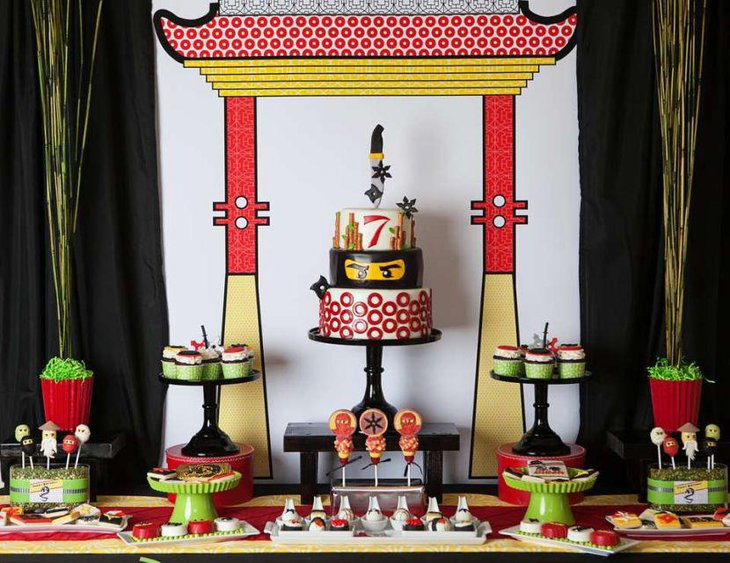 Ninjago Food Stands and Displays
Image Credit: catchmyparty-cdn
Cute Lego Fire Station and Themed Snacks
Image Credit: blogspot
Lego Star Wars Table Decorations
With so many Lego properties, there are a plethora of excellent theme party ideas to make sure that your kid's birthday table doesn't look boring at all. Lego Star Wars parties offer the fun of Lego coupled with the epic story and characters of the movie and cartoon franchise. Use Jedi or Darth Vader figurines along with other Star Wars memorabilia to add to your Lego Star Wars party. Star Wars, in any style, is always in fashion.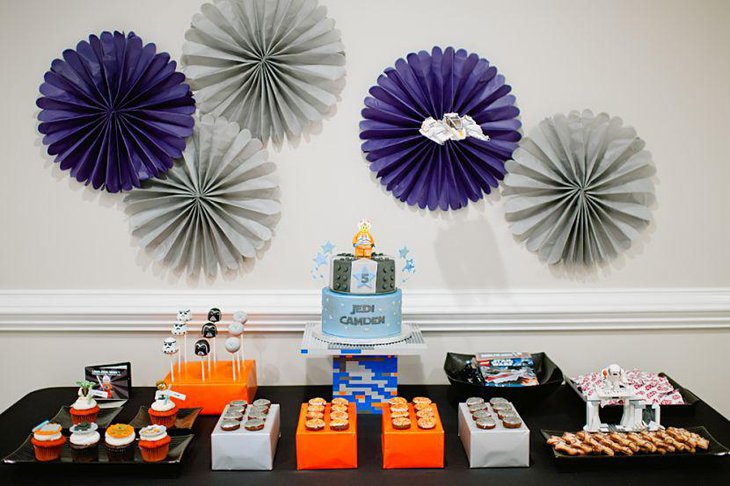 Lego Star Wars Inspired Table Décor
Image Credit: amyspartyideas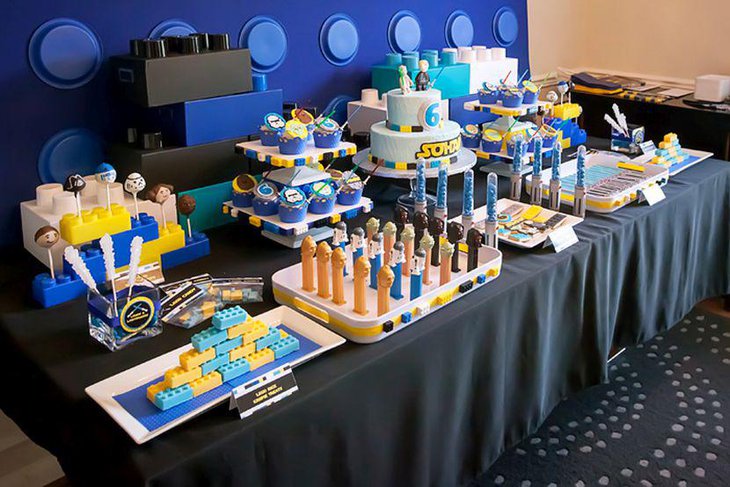 Lego Star Wars Snacks and Party Favors
Image Credit: amyatlas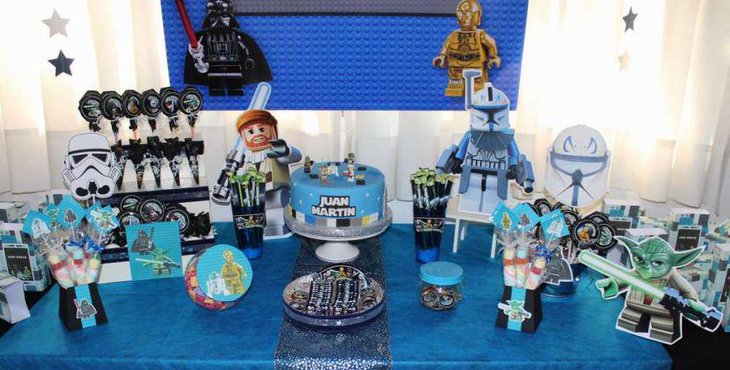 Lego Star Wars Cutouts, Party Favors, and Cake Toppers
Image Credit: catchmyparty-cdn
DIY Lego Theme Party Table Decorations
DIY is the key to having a fun birthday party that doesn't pinch your pockets too much! Take a look at these fabulous Lego party ideas and get your creativity jumpstarted. DIY table decorations for a birthday party can be simple or, if you have enough time, you can create extravagant features. You can decorate your party table with Lego colored paper or plastic plates, or customize paper bags in Lego shapes and colors. These bags can be used for party favors and as accessories to your table decoration. You can decorate cups or glasses with Lego faces, or draw Lego creations on a paper banner.
Drawn Lego Faces and Home-decorated Gift Bags with Balloons and Streamer
Image Credit: pinimg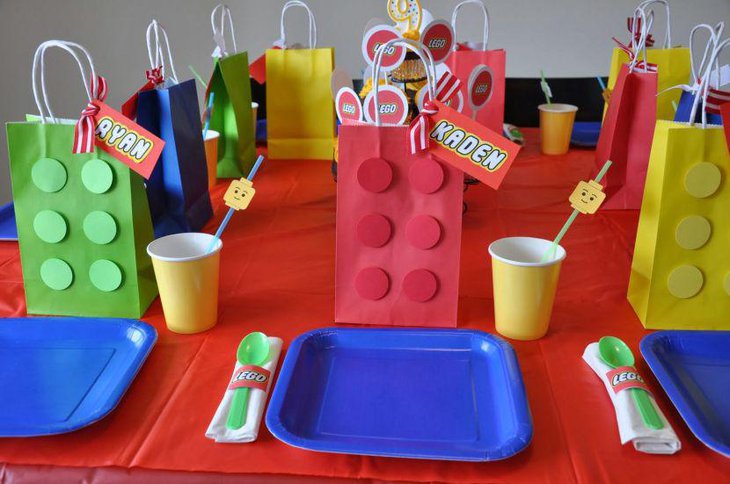 Embellished Gift Bags and Printed Labels with Colorful Tableware
Image Credit: blogspot
Hand-drawn Lego Faces on Drink Glasses
Image Credit: babyccinokids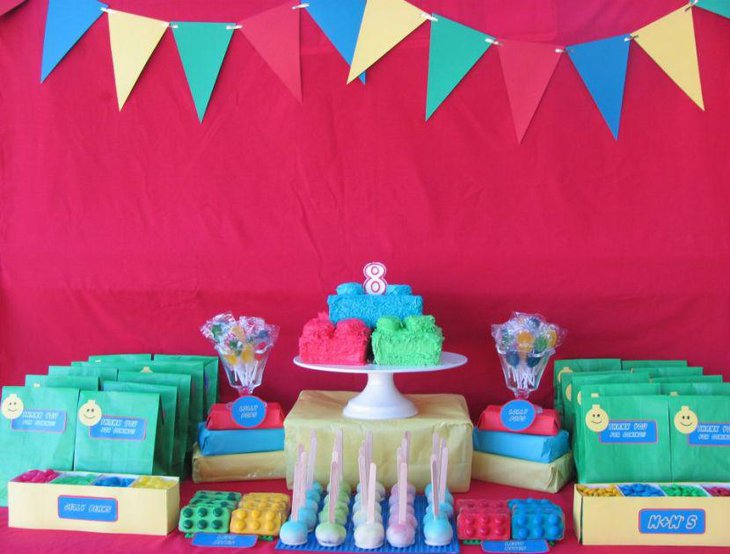 Lego Block Cake and Cookies with Colorful Candies and Decorated Gift Bags
Image Credit: blogspot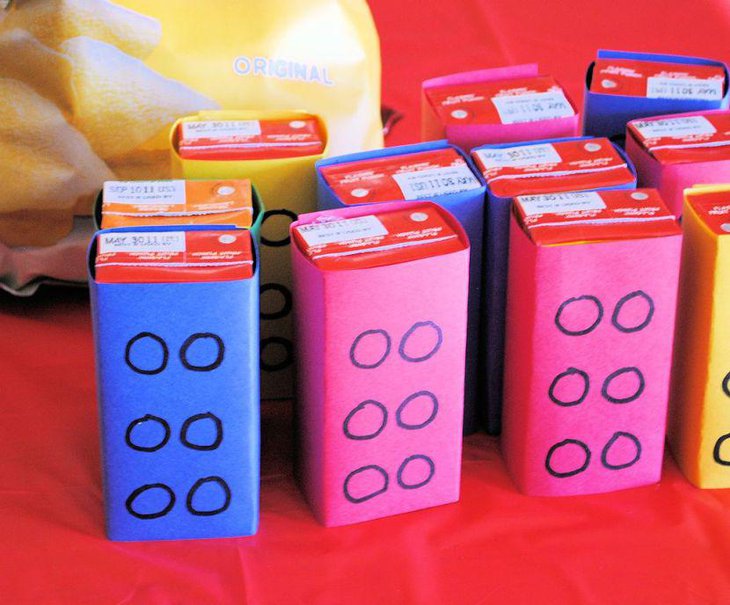 Construction Paper Wrapped Juice Boxes
Image Credit: blogspot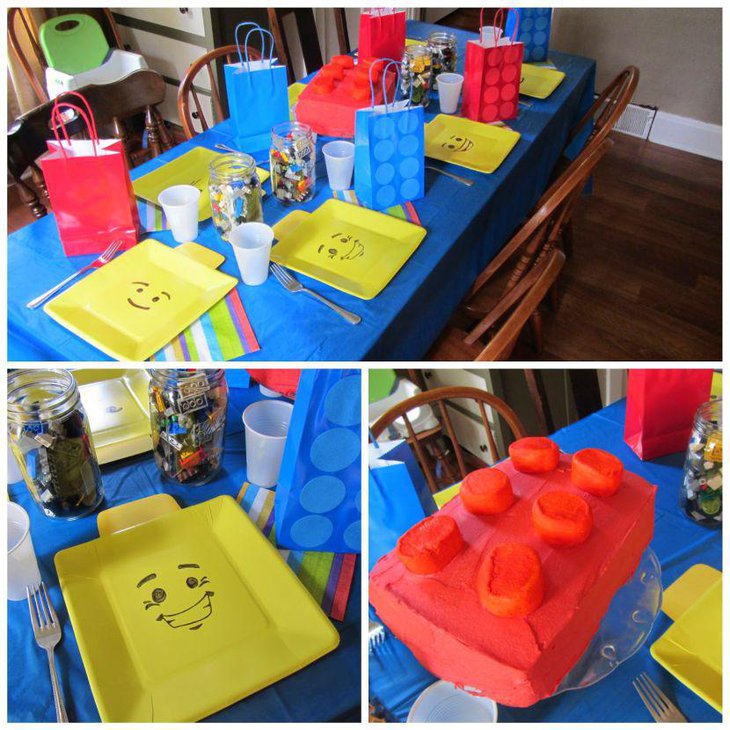 Lego Block Cake, Decorated Gift Bags, and Hand-drawn Plates
Image Credit: blogspot
Colorful Lego Table Decorations
Lego party tables need to be colorful. You can be creative in mixing styles and materials as long as the Lego theme is evident in your choices. You can arrange red and blue colored bowls that have Lego imprints, or you can DIY your juice boxes with Lego colored paper wraps for a quick table décor addition. The party table decoration ideas in these photos will give you many wonderful ideas to add more cheer to your Lego birthday table.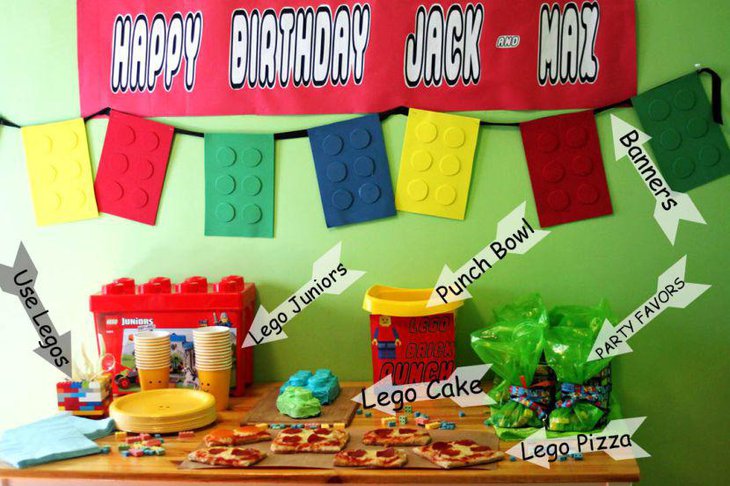 Ensemble of Lego Inspired Decorations and Foods
Image Credit: nap-timecreations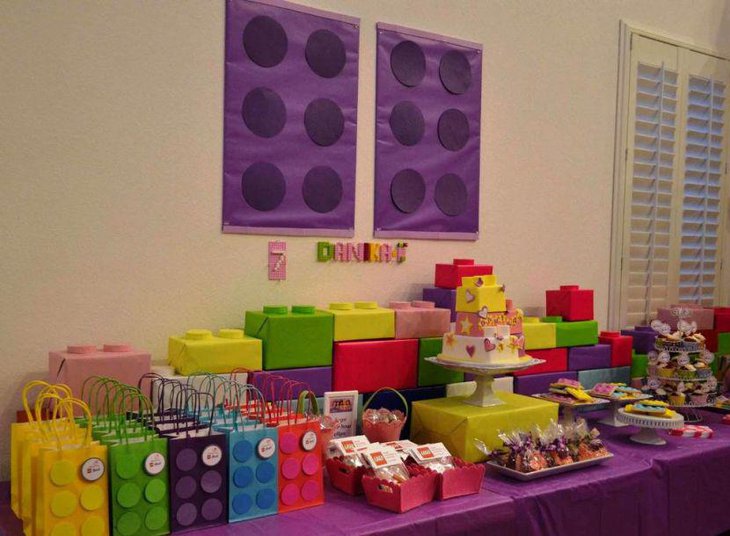 Decorated Banner and Gift Bags, Wrapped Blocks, and Lego Treats
Image Credit: eagletitleco
Lego Masks, Juice Boxes, and Colorful Tableware
Image Credit: moviepilot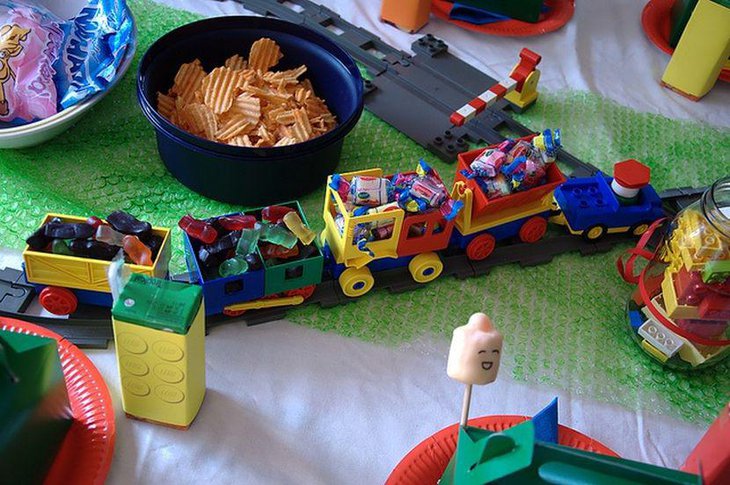 Labeled Juice Boxes, Lego Blocks in Jars, and Train Set with Candy
Image Credit: pinimg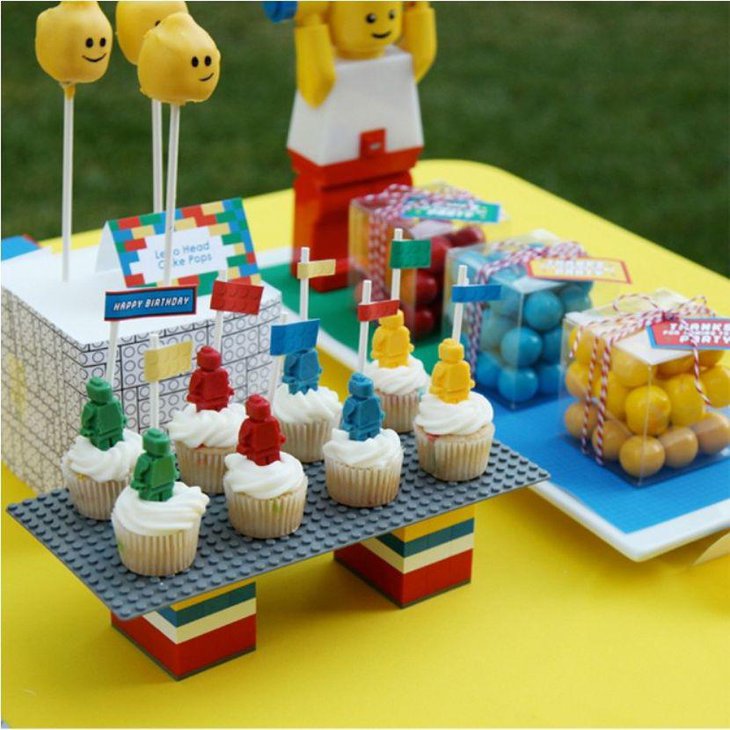 Lego Head Cake Pops, Lego Creation Cupcake Stand with Toppers, Colorful Candy, and Lego Model
Image Credit: sarahpartydecor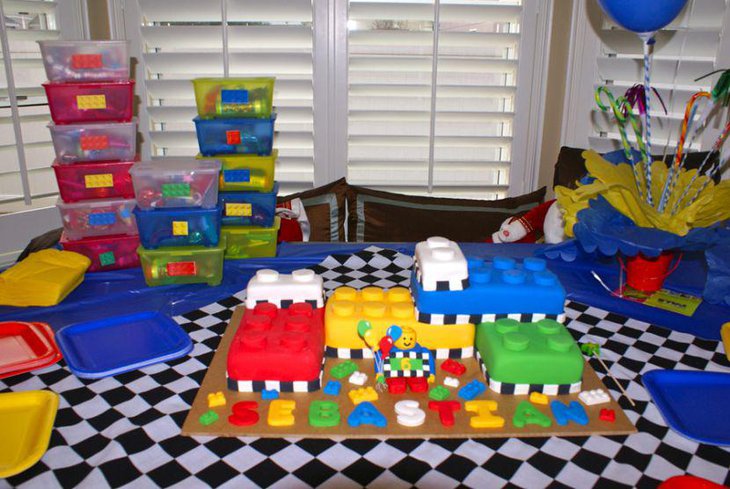 Lego Blocks, Colored Plates, and Shaped Cake
Image Credit: wordpress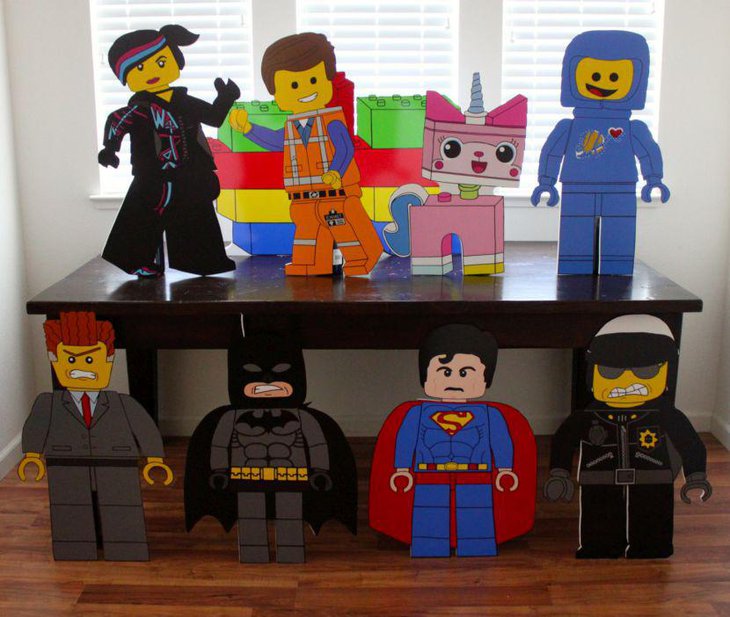 Lego Character Cutout Decorations
Image Credit: etsystatic
Lego Block Silverware Holder
Image Credit: vaughanmoms
Lego Police and Construction Party Decorations
Every child has something they want to be when they grow up, or they have a hero in their life. Here we present some of our favorite Lego police theme party ideas. On the tables below, you'll see Lego blocks and busts of Lego police. Various other features can be added, like colorful cupcakes in shades. In one of the images, the table frame has been decorated with a caution banner, while, for the other table, a baker shaped a cake into a police car and used it as the table centerpiece.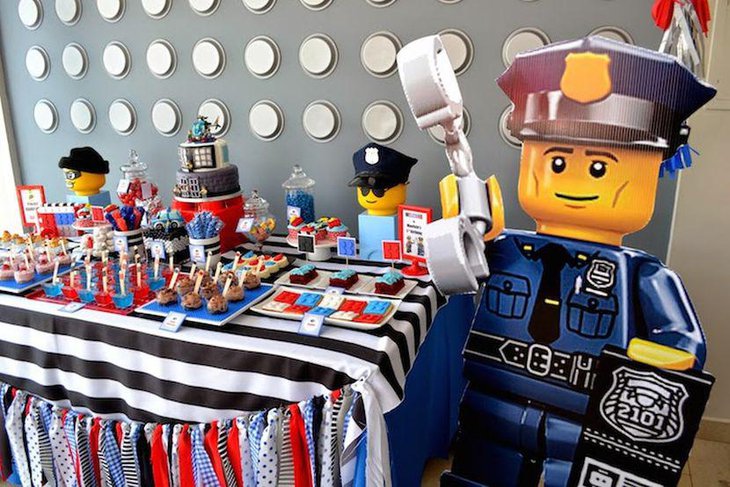 Lego City Police and Robber Décor with Themed Snacks
Image Credit: karaspartyideas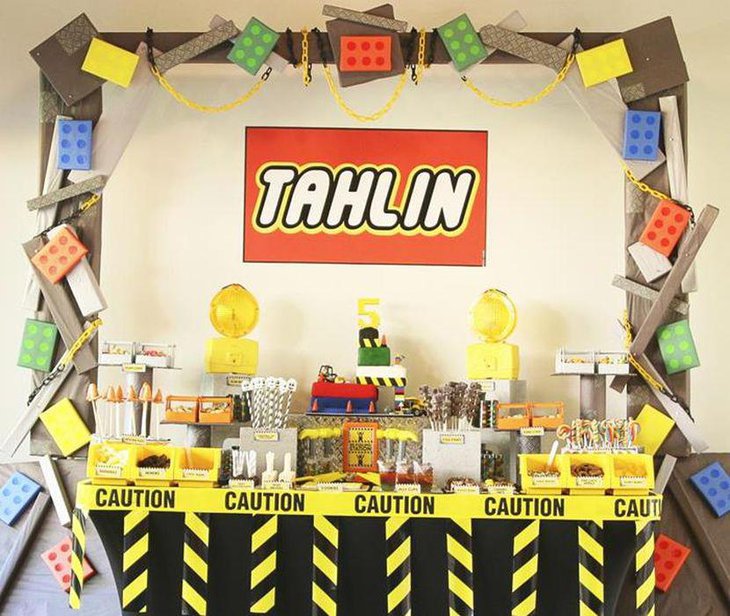 Lego Construction Table Theme
Image Credit: burntapple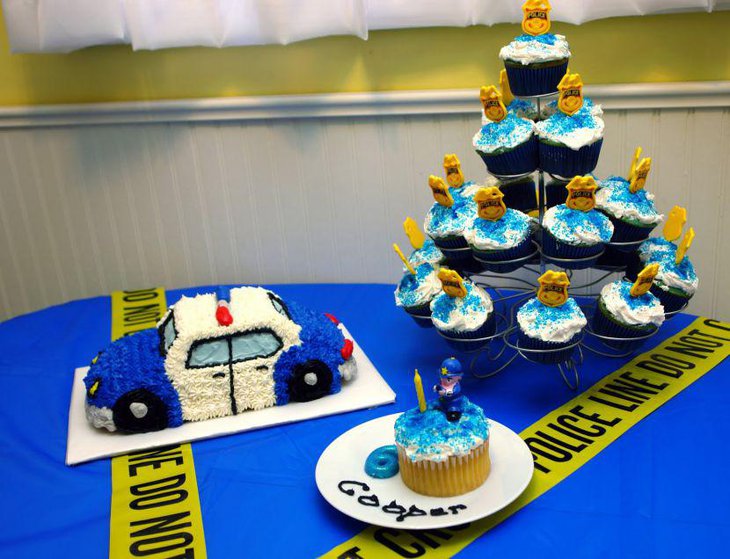 Lego Police Car Cake and Cupcake Toppers
Image Credit: blogspot
With these 35 imaginative Lego party ideas, you're sure to find one that will help you to host a fabulous birthday party that your guest of honor will remember for a long time to come! Just like the building blocks, you can get as simple or as intricate in your designs as you want. And with Lego blocks or DIY materials readily at hand, you can most likely save some money on your decorations too! Enjoy creating your next party!