Weddings are always fun, but can you have country and classy? Of course! For all those country gentlemen and ladies, we proudly present our 37 favorite country wedding table decorations. These selections that will make you fall in love with wood, natural elements, and burlap! A country wedding is typically characterized by elements that lend a rustic touch to the venue and include features like birch wood slabs, burlap runners, twine wrapped candles and holders, and natural floral decorations. So, if you think you need some ideas for country table decorations, please do take a look below to get your creativity started!
Rustic Themed Country Wedding Table Decorations
Country table decorations in rustic tones have always been a favorite for lovers of nature. Rustic themed country weddings are in fashion and so you must take a look at some of the gorgeous table décor ideas others have employed for their big day. If you want to bring rustic accents to your wedding table, think first of burlap and twine. These two elements will definitely help you in achieving a cozy rustic look for your wedding tables.
Burlap and lace go hand in hand and there are numerous ways to deck tables using these two materials. You could wrap the candle holders in burlap and lace, or place burlap runners on the table and then finish the sides with lace. Wooden planter boxes too work wonders for creating a rustic appeal. You can put fresh flowers in these planters and use them as centerpieces. There are other rustic elements to add to the table, such as logs and slabs of natural wood or bark. Birch wood centerpieces can add to the fun and create a warm, elegant ambiance for the wedding tables.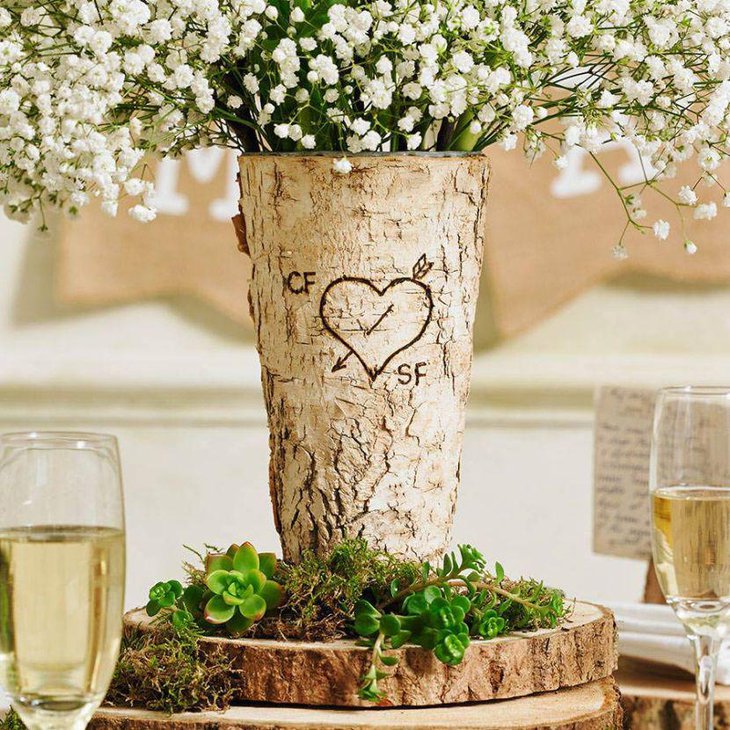 A Rustic Carved Birchwood Vase on a Log Planter Bottom
Image Credit: hitched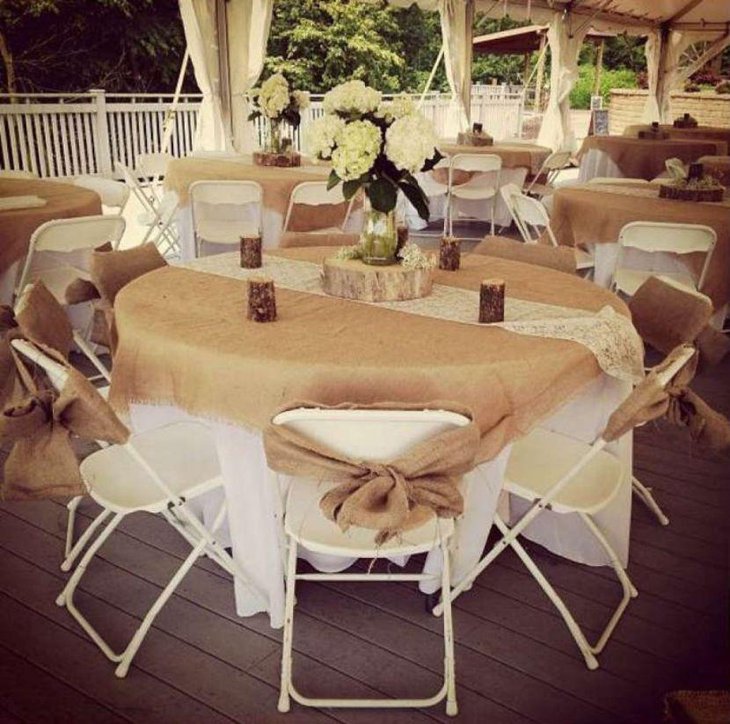 Burlap Tablecloth, Lace Runner, Log Section, and Bark Candles with Fresh Floral Arrangement
Image Credit: wikiembassy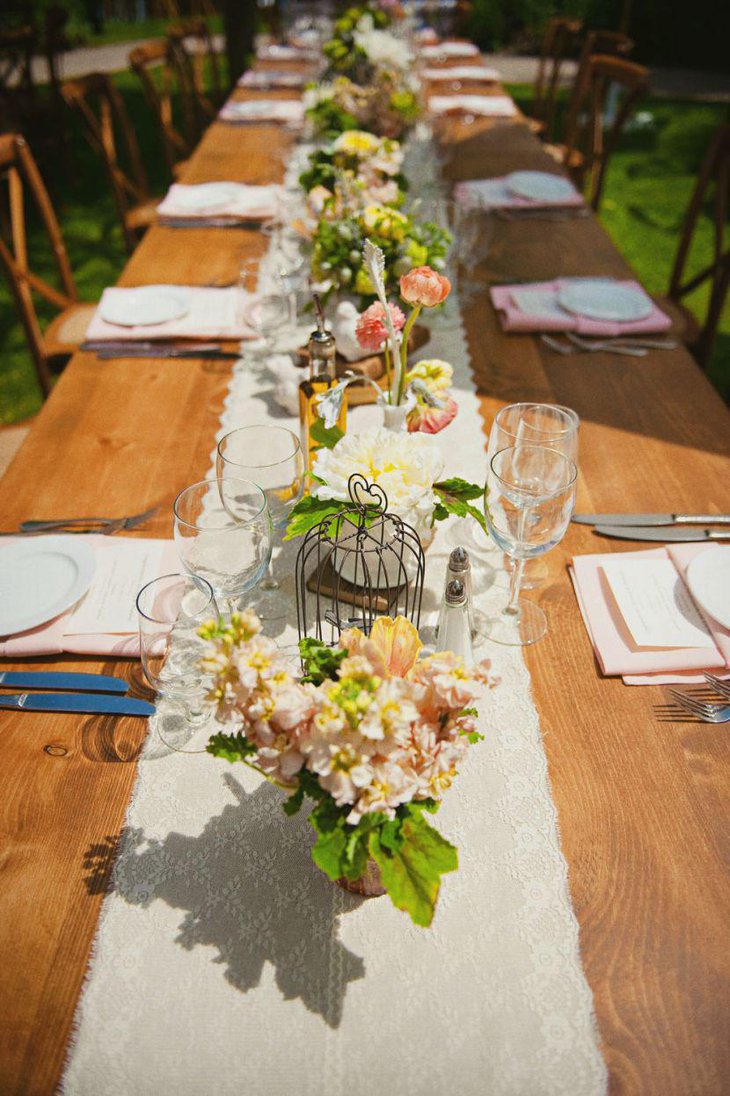 Patterned Burlap Table Runner with Birdcage and Floral Centerpieces
Image Credit: grandcentralparty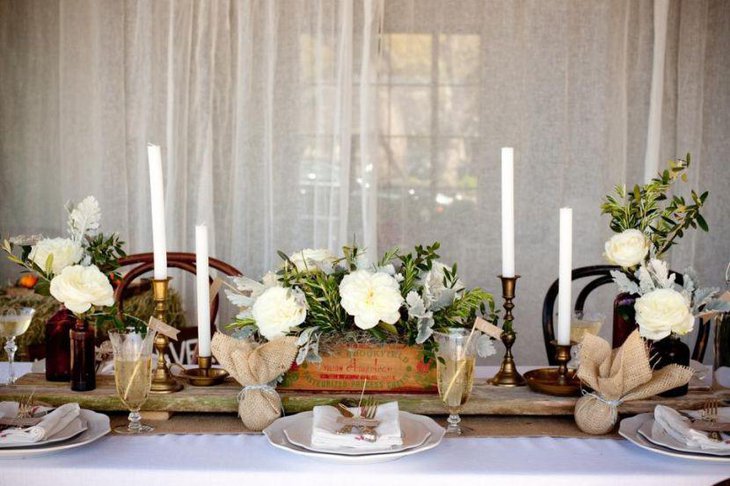 Natural Wood Slab with Wood Box Planter, Bottle Vases, and Decorative Candleholders
Image Credit: sndimg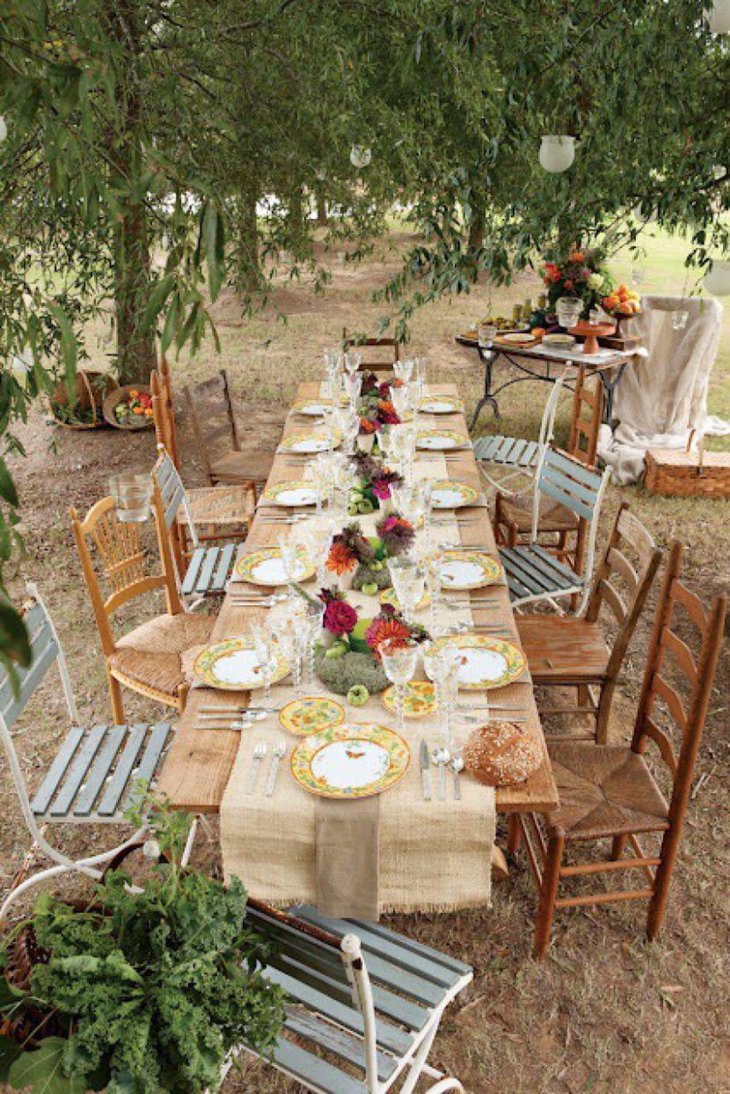 Smooth Wood Table with Burlap Table Runner and Floral and Gourd Centerpieces
Image Credit: frokenturko
Stunning Country Wedding Table Decorations with Flowers
Country table decorations look authentic if you use wild or fresh cut flowers. Flowers form an essential part of any outdoor country wedding. Most weddings themed on the country or homestead farmland will often involve the use of flowers of various kinds. However, it's not just placing a group of flowers together on tables that will do the trick. For a country themed wedding table, you need to combine and mix other elements in as well. These include wooden slabs, twine, candles, and lanterns.
If you look closely, you will see this host of images all bear an exclusive country look. All the wedding tables here are bedecked with lovely arrangements of flowers, wooden planters, slabs, and burlap. You can have orchids as your showstopper and can combine them with rustic wooden slabs and candle votive holders. Similarly, there are many other unique ways to spruce up your country wedding tables, such as using Mason jars, moss covered rocks, or farming supplies.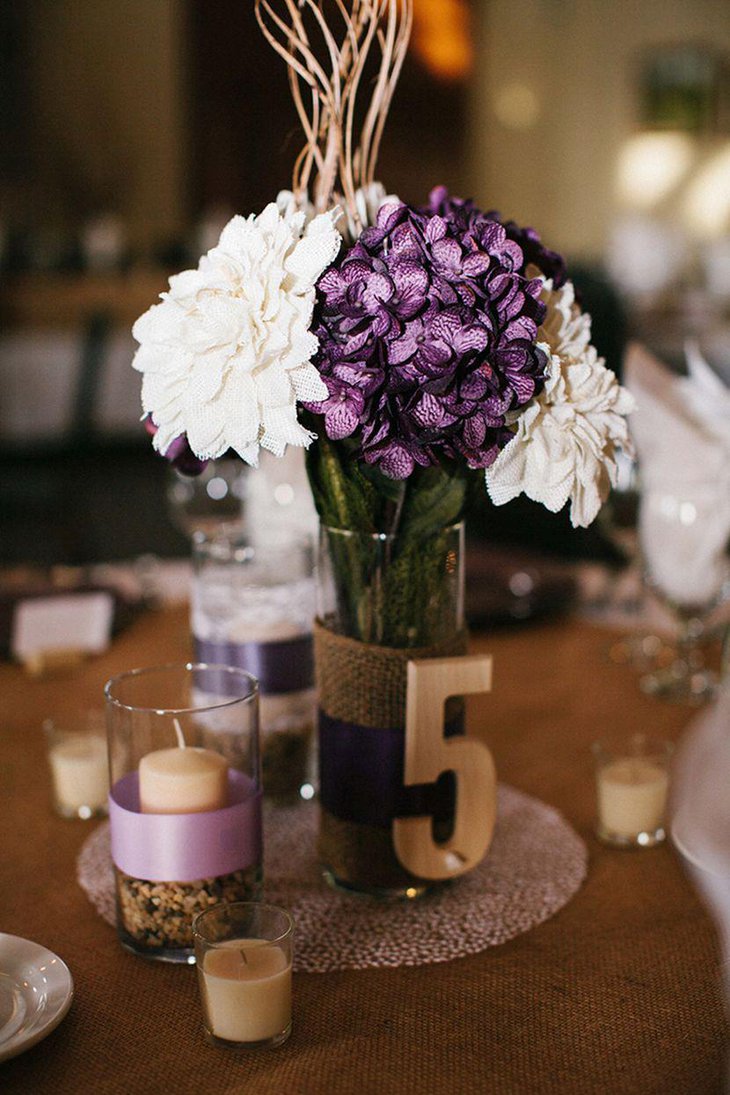 Cloth Flowers on Classy Country Wedding Table
Image Credit: casarurallietor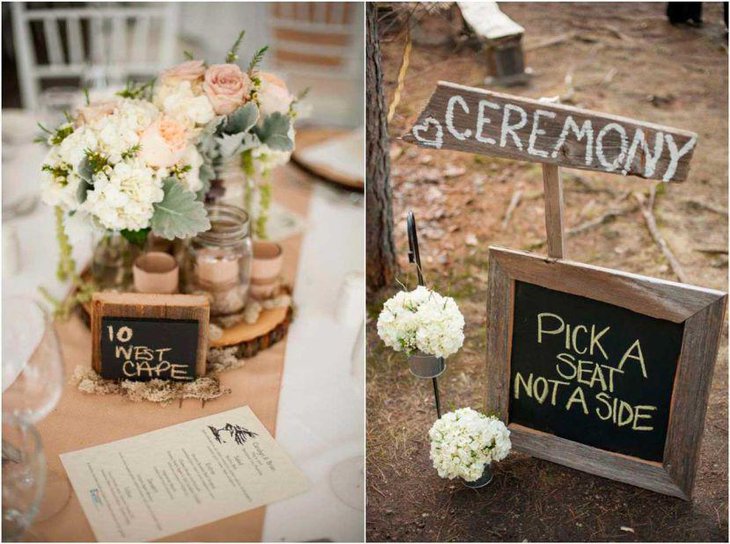 Flowers and Chalkboard Signage at an Outdoor Country Wedding
Image Credit: homedit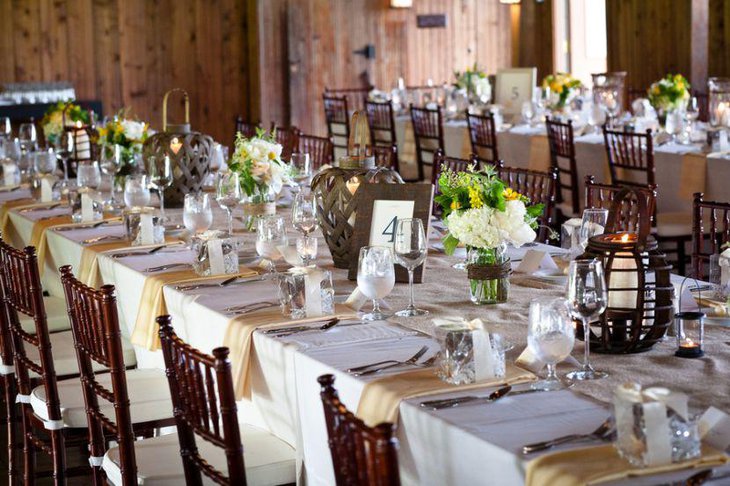 Beautiful Floral Décor and Wooden Candle Lanterns on a Burlap Table Runner
Image Credit: agavedream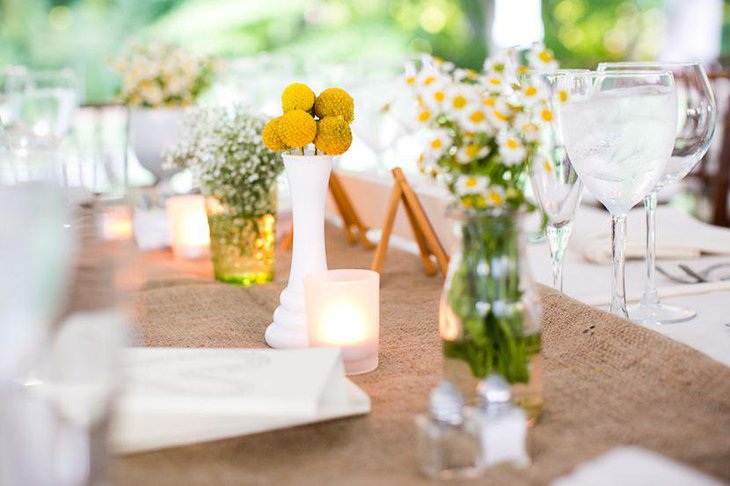 Wild Flowers in Varied Vases and Votive Candles on a Burlap Table Runner
Image Credit: decoratethetable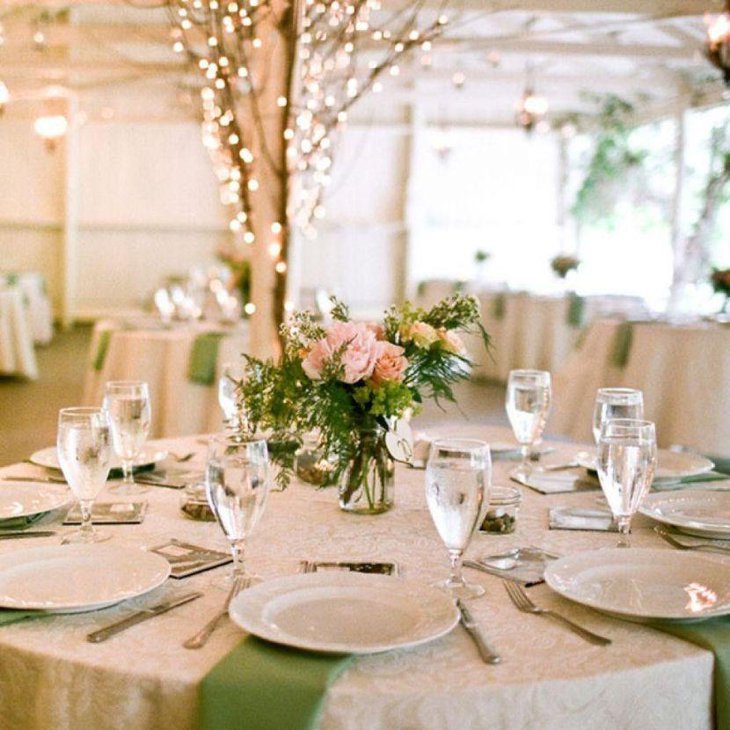 Romantic Country Wedding Reception Table Decked with Fresh Cut Flowers, Lit Tree Branches on Pole in Background
Image Credit: lalunarural
Exquisite Wooden Centerpieces
Here is an awesome collection of stylish wooden wedding centerpieces that you can try this wedding season. Wood is a universally loved feature at any country celebration. You can use slabs, log slices, pallets, or even single planks. Your country wedding tables can also feature carved or exotic wooden centerpieces like some of the ones we are showcasing below. Notice how unique each one of these pieces are.
For a nature themed country wedding table, try arranging flowers in wooden vases made by hand and without any finish. You can also arrange candles in Mason jars over wooden slabs and tie burlap or twine around them. Wooden planter centerpieces too look very warm, and there are numerous ways to decorate them. Wooden candle holders with tea lights will illuminate any corner of your table and look gorgeous.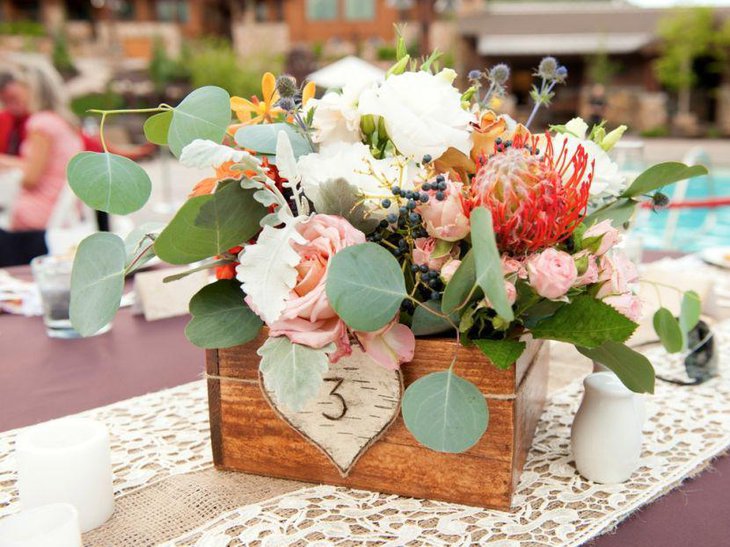 Finished Wooden Planter Box on Lace and Burlap Runner
Image Credit: calierose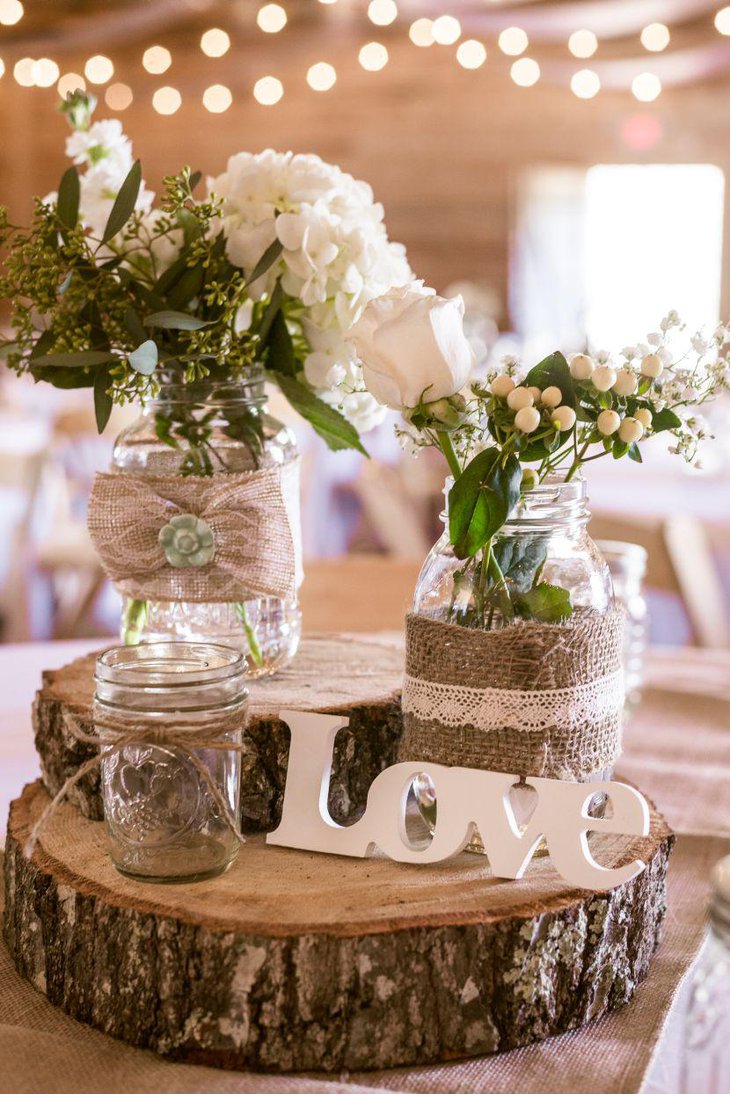 Burlap, Lace, and Twine Wrapped Mason Jar Vases and Log Sections on Burlap Runner
Image Credit: xogrp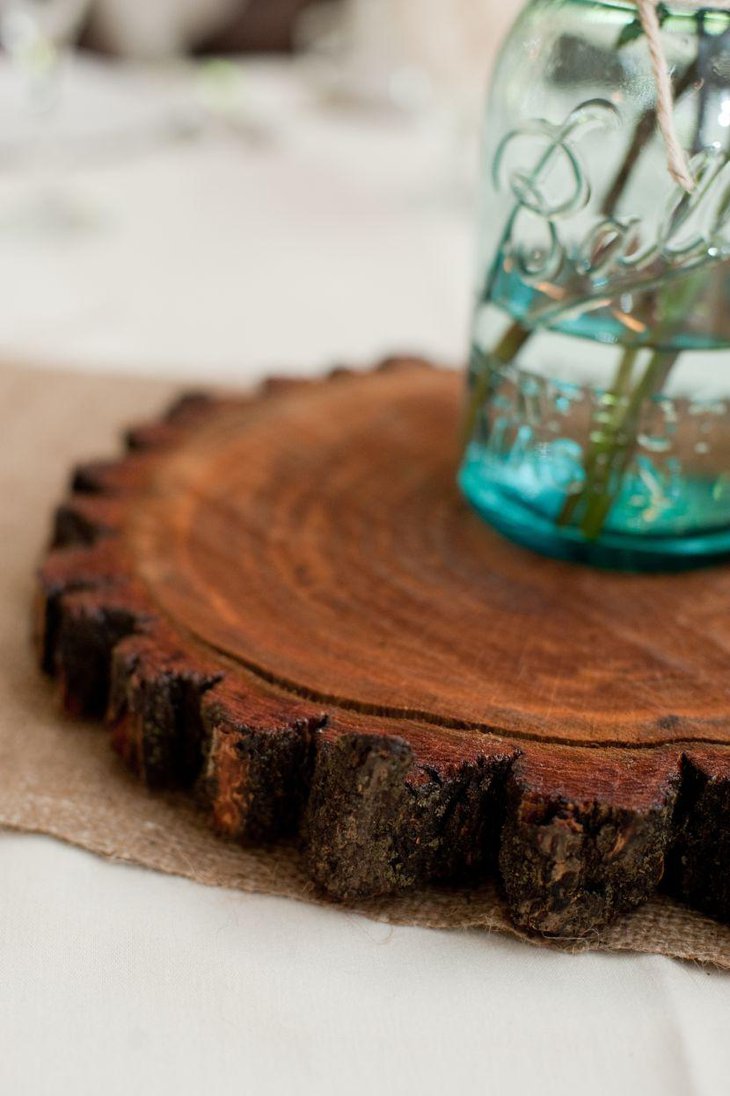 Mason Jar Vase on Wooden Log Section on Burlap Runner
Image Credit: thefirstyearblog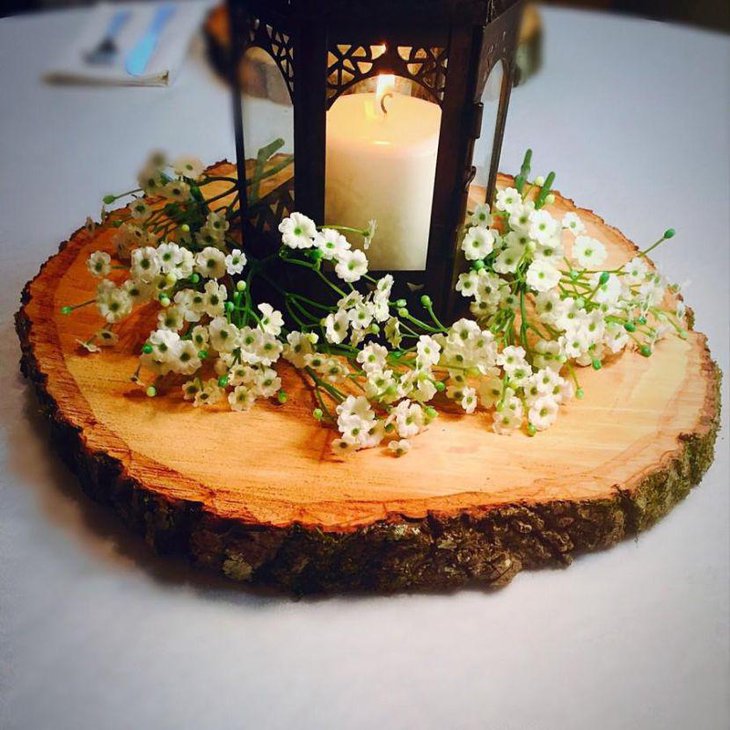 Candle Lantern and Wild Flowers on Log Section
Image Credit: weddbook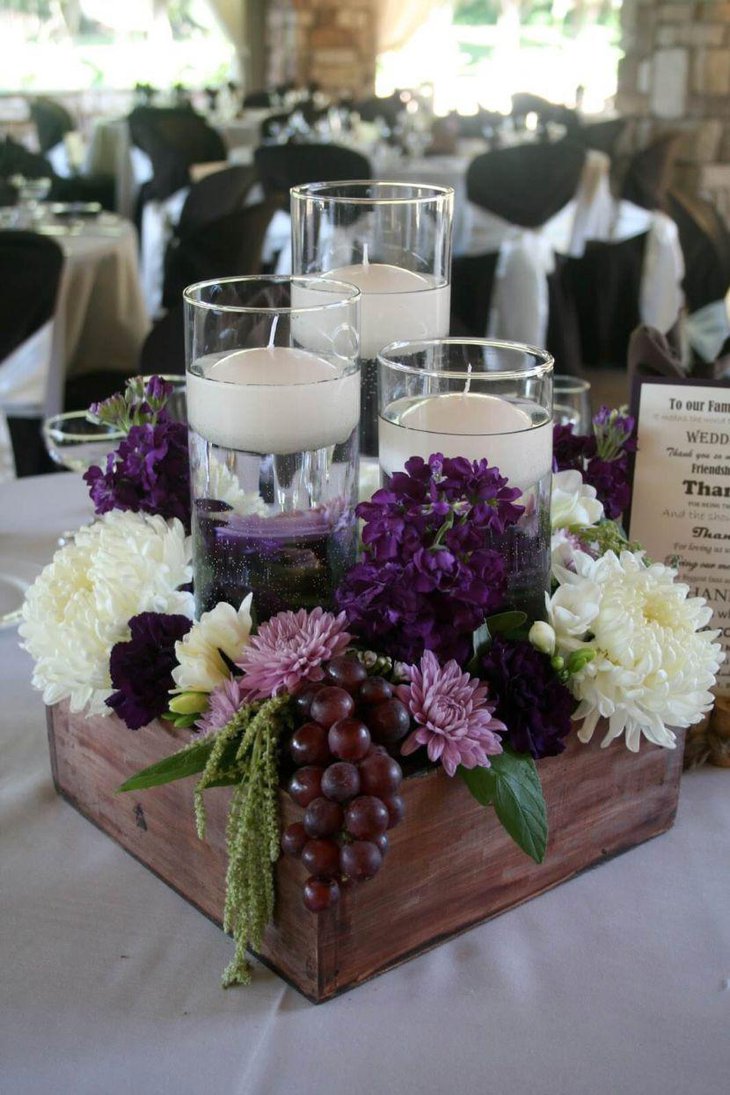 Rustic Wooden Box Centerpiece
Image Credit: homebnc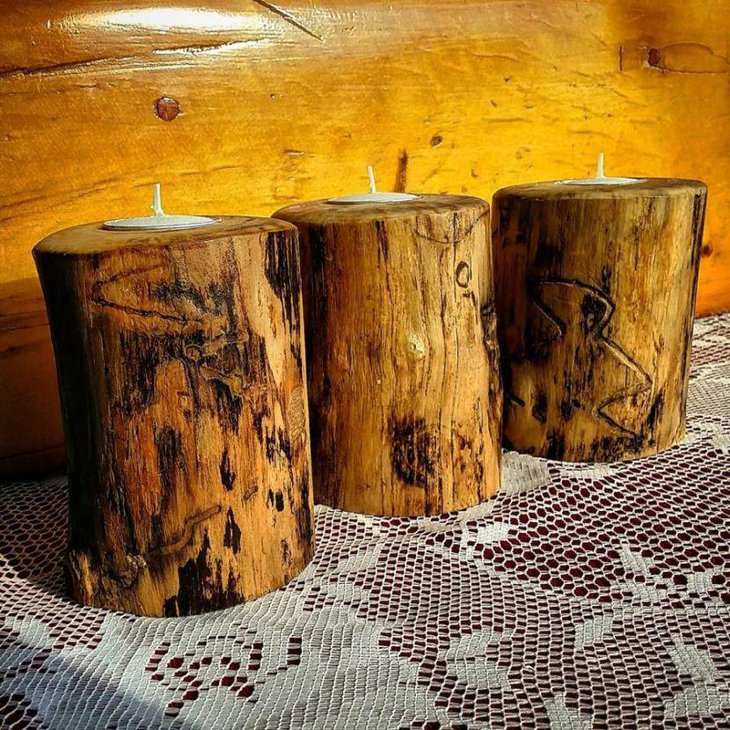 Wooden Log Candle Holder Centerpieces on Lace Runner
Image Credit: weddbook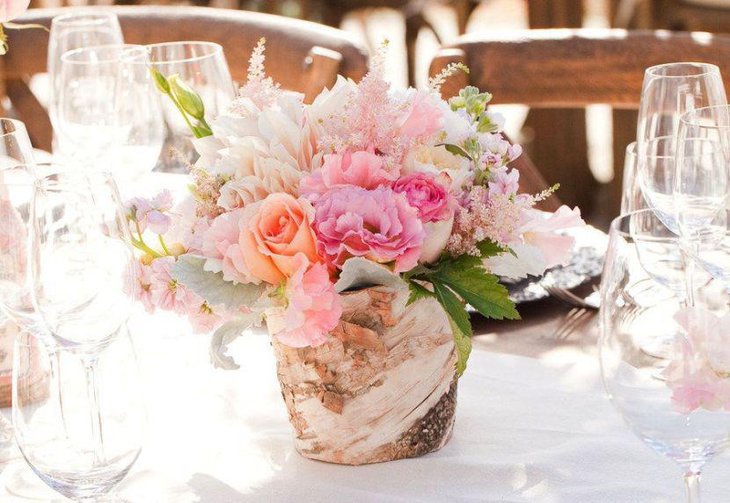 Rough, Unfinished Wooden Vase
Image Credit: onewed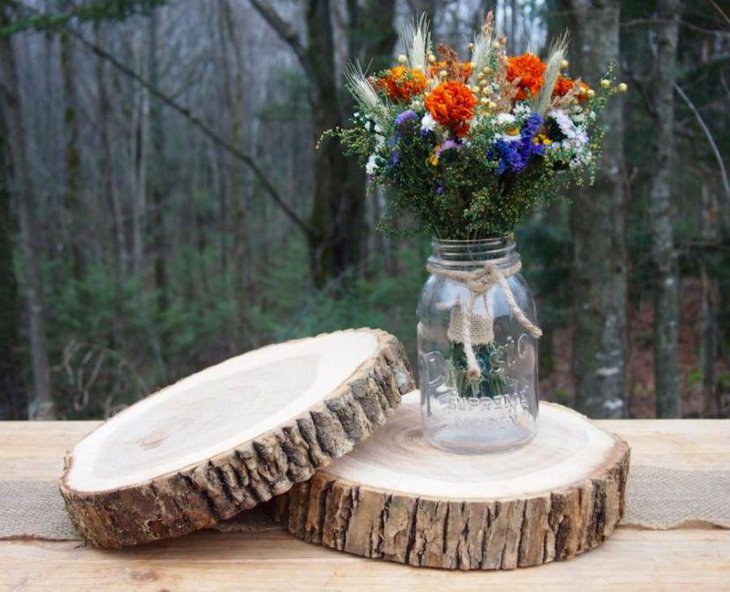 Mason Jar with Floral Bouquet and Log Sections on Burlap Table Runner
Image Credit: weddbook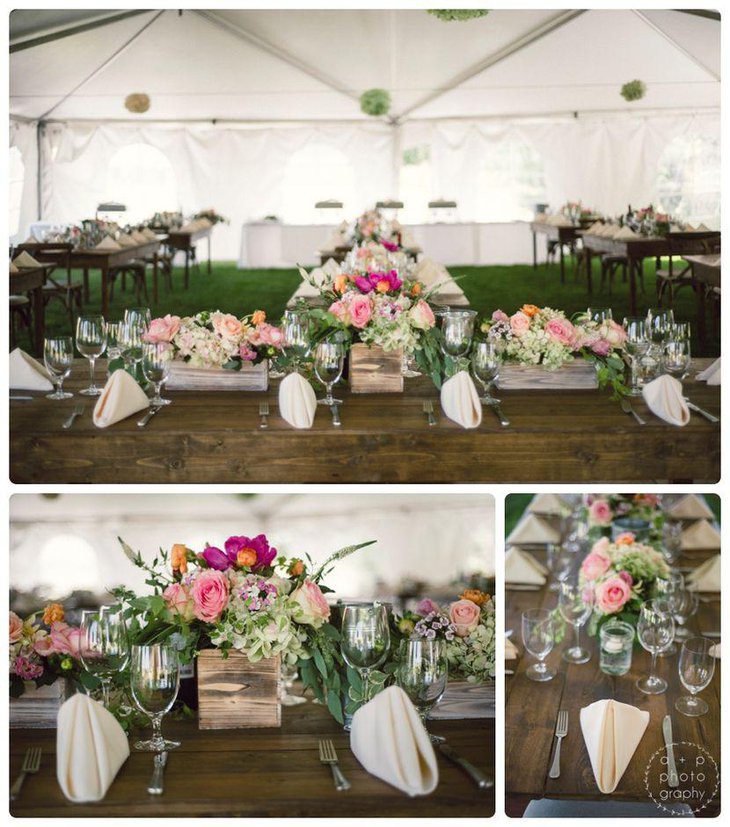 Country Wedding Reception Table with Wooden Planters, Mason Jar Floating Candle Holders, and Fresh Flowers
Image Credit: squarespace
Appealing Country Wedding Table Decorations
These appealing wedding tables feature an artistic representation of various elements and features. All of these decorations can give you an earthly feel and help you feel closer to nature.
If you want to create a special feeling at the wedding table, make use of wood in unique ways rather than just as slabs or candle holders. For example, you can craft small wooden ring holders for the bride and her groom and place these as decorative features right next to your flowers or candles. A wooden chocolate box with heart shaped chocolates will also add a romantic touch to a wedding table.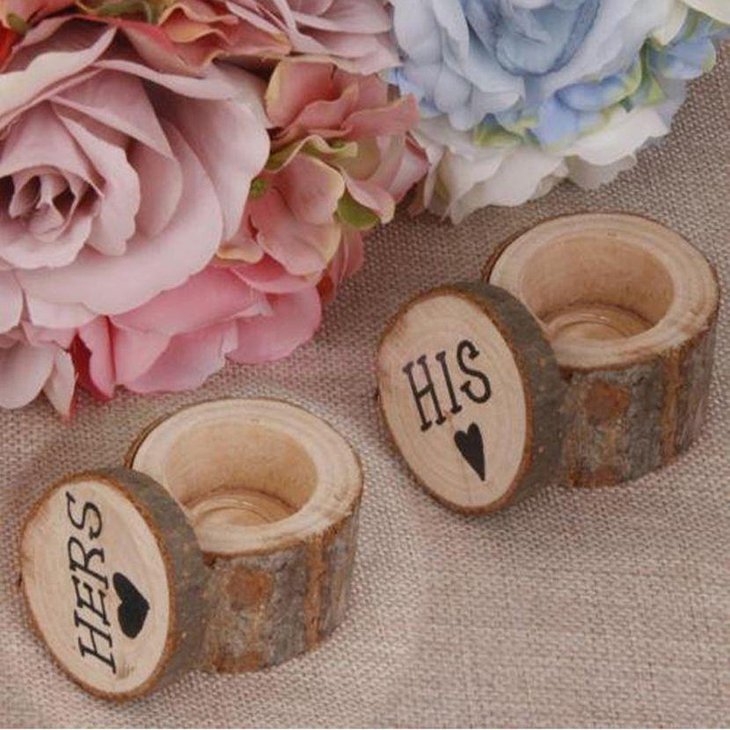 Wooden Ring Boxes for the Bride and Groom
Image Credit: alicdn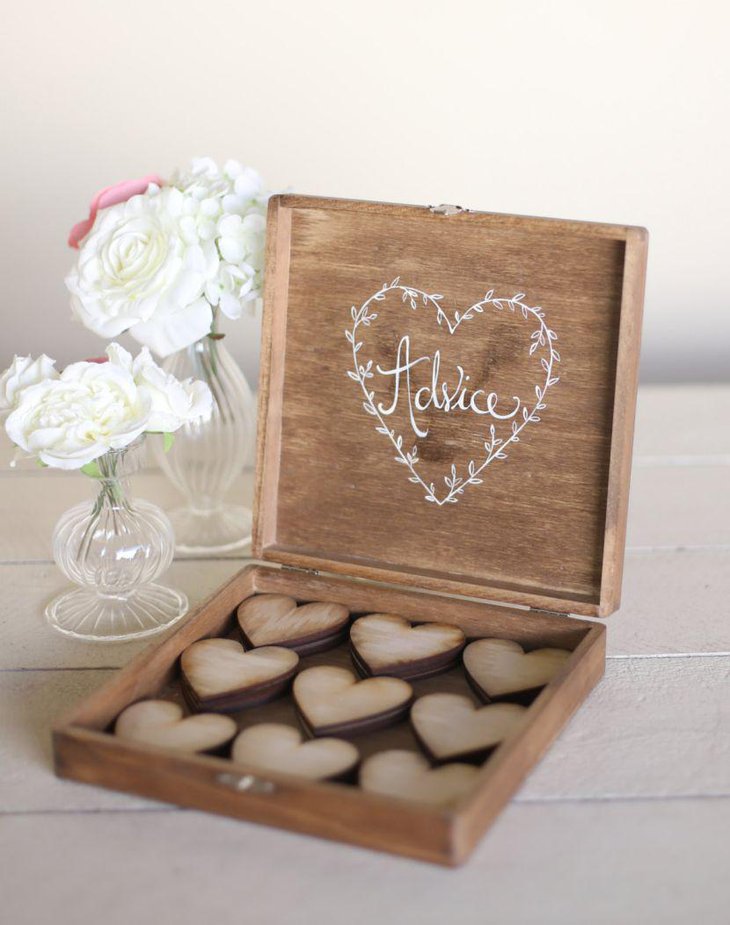 Wooden Box with Shaped Notepads for Giving Advice to the Bride and Groom
Image Credit: modwedding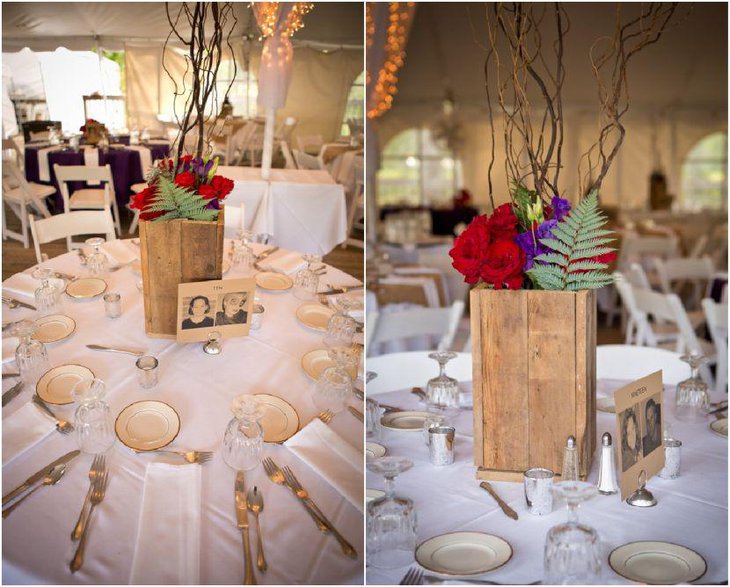 Charming Plank Vase Photos of the Bride and Groom
Image Credit: artegrandeguerra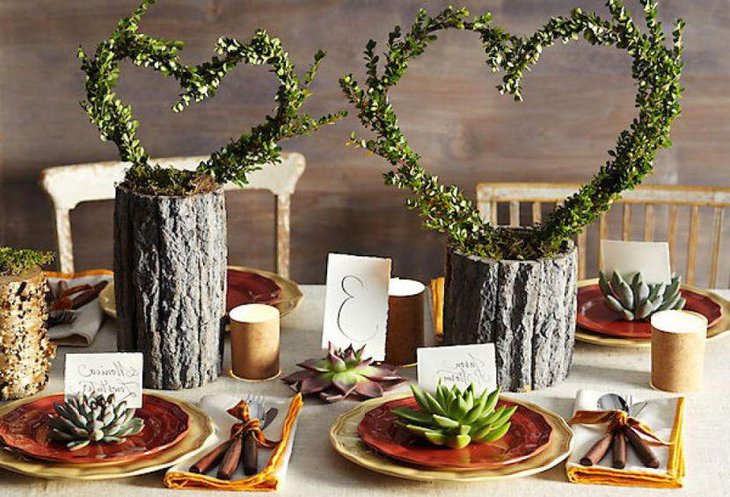 Log and Heart Greenery Centerpieces
Image Credit: agavedream
Country Table Decorations Using Burlap
Burlap fits well in any country decorating scheme. It helps in lending a country feel to a wedding and can be used in different styles. If you love rustic, then combine burlap with wood in the form of burlap runners and wooden slab centerpieces. Or else, wrap candle holders or Mason jar centerpieces with burlap and twine. If you have a party favors table at your wedding, you can wrap planters in burlap and gift them as thank you favors to your guests.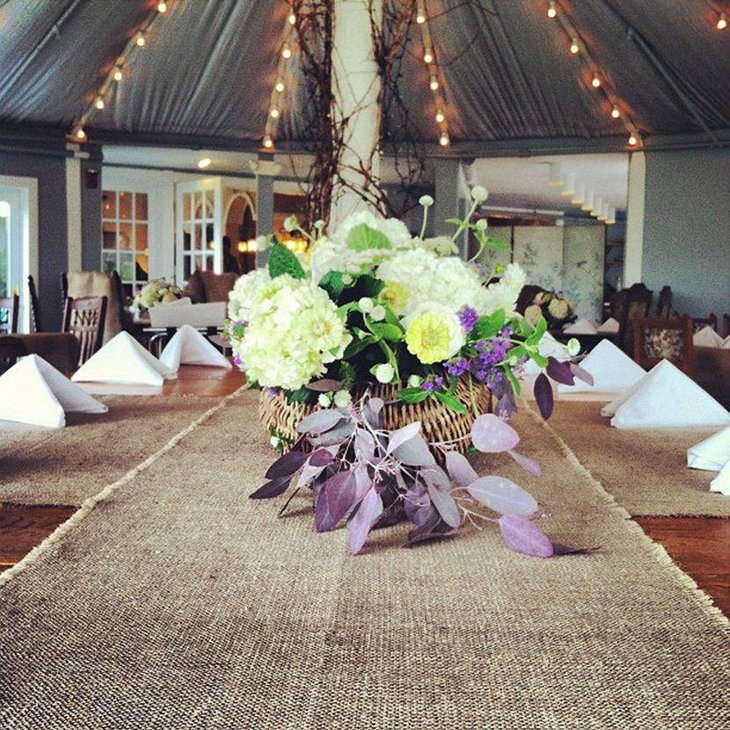 Flowers in Rattan Basket on a Burlap Table Runner
Image Credit: wikiembassy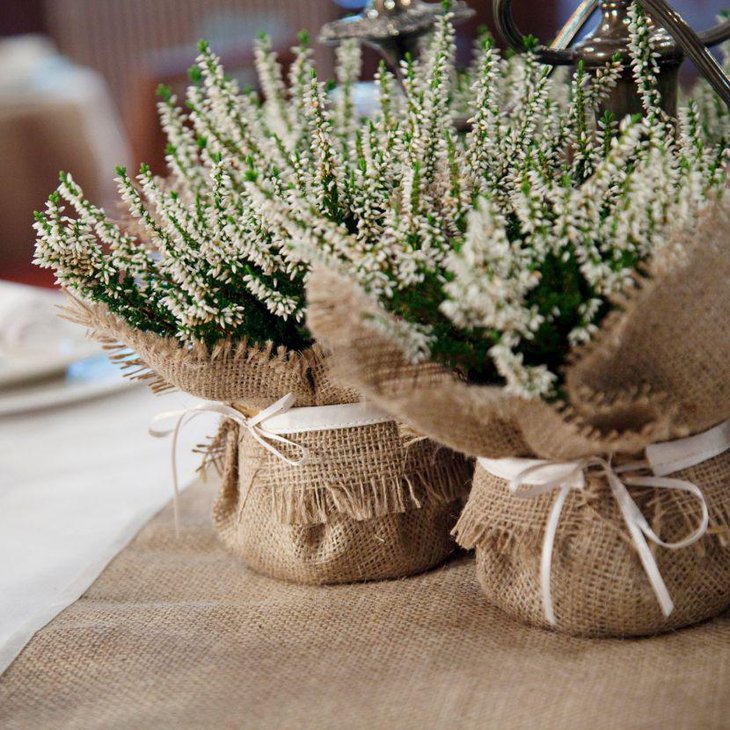 Burlap Wrapped Wild Flowers
Image Credit: etsystatic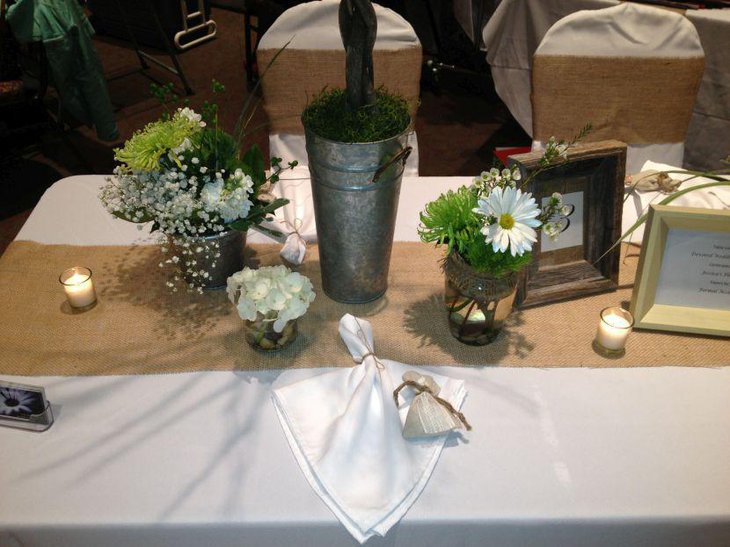 A Myriad of Table Decorations on a Burlap Runner
Image Credit: devotedweddings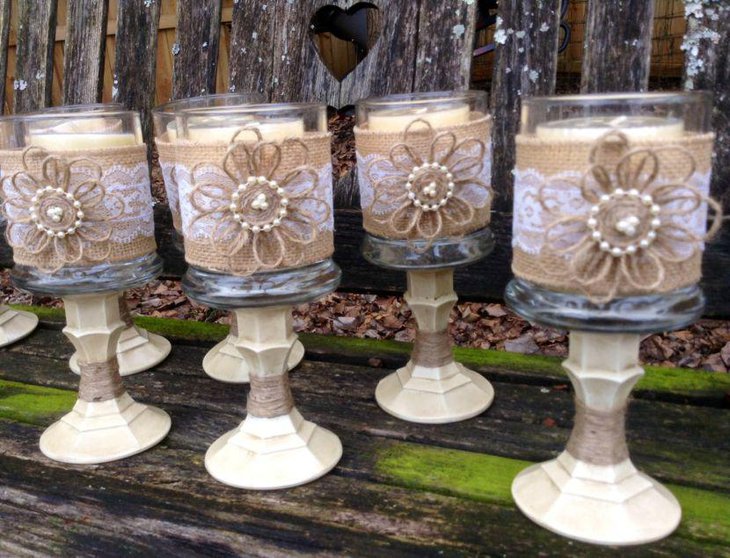 Candle Holders Wrapped in Burlap and Lace with Twine Embellishments
Image Credit: pinimg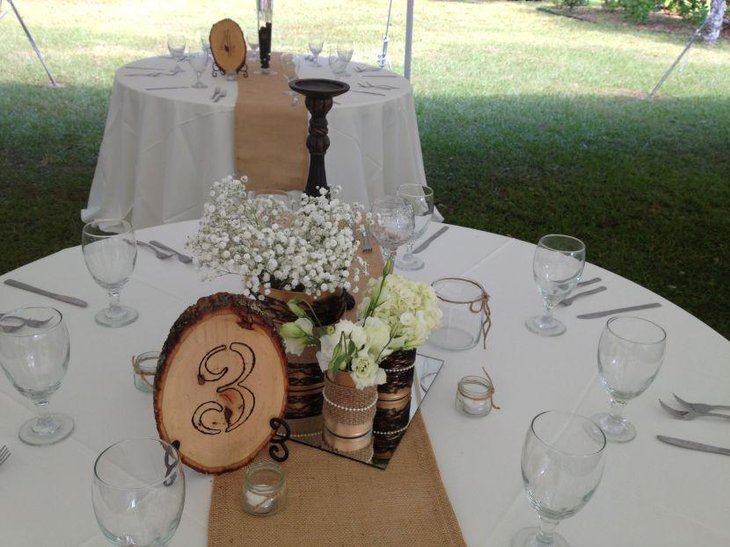 Wood Table Marker and Floral Arrangements on a Burlap Table Runner
Image Credit: allaboutweddings9
Country Wedding Table Decorations with Unique Centerpieces
Here are a few gorgeous country table centerpiece ideas that will make any country themed wedding a hit with guests. Centerpieces come in different styles, and when we are speaking about the country, it's all about showcasing nature. For example, Mason jars can be used as lovely centerpieces when you decorate them with burlap and tie satin ribbons or twine around them. You can also have a variety of items, such as candles, votive holders and wooden pieces formed into attractive centerpieces for tables.
If you have a birch tree, you can make nice wooden vases out of the branches or trunk and use them as centerpieces filled with fresh flowers. You can also use old and rustic lanterns and fill them up with candles or tea lights. Iron candelabras on burlap can work well for a country theme.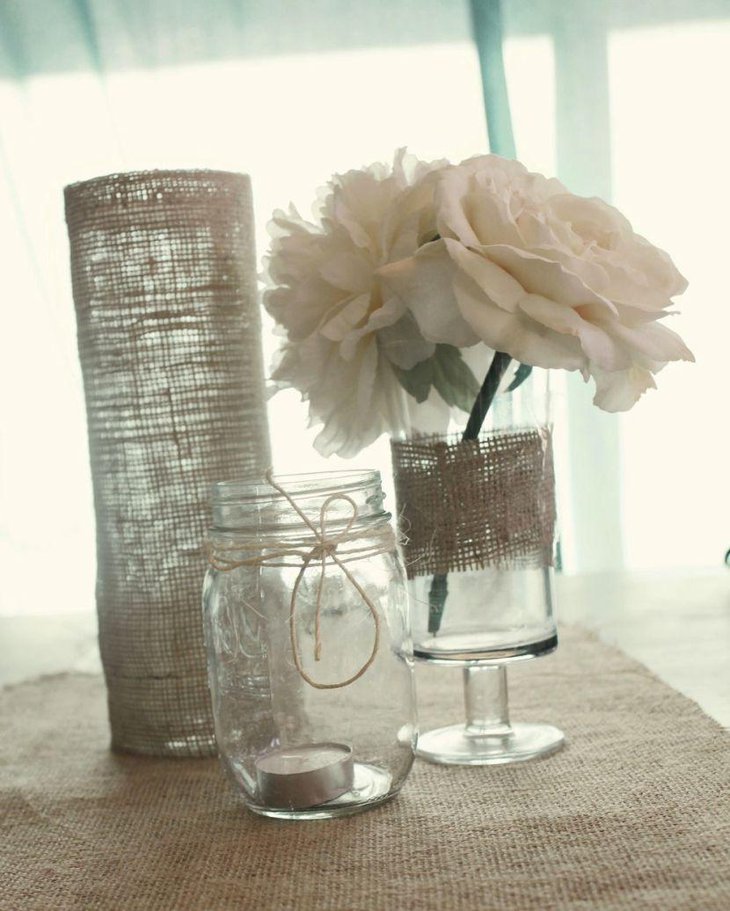 Unique Burlap and Twine Wrapped Flower Vase Centerpieces
Image Credit: onewed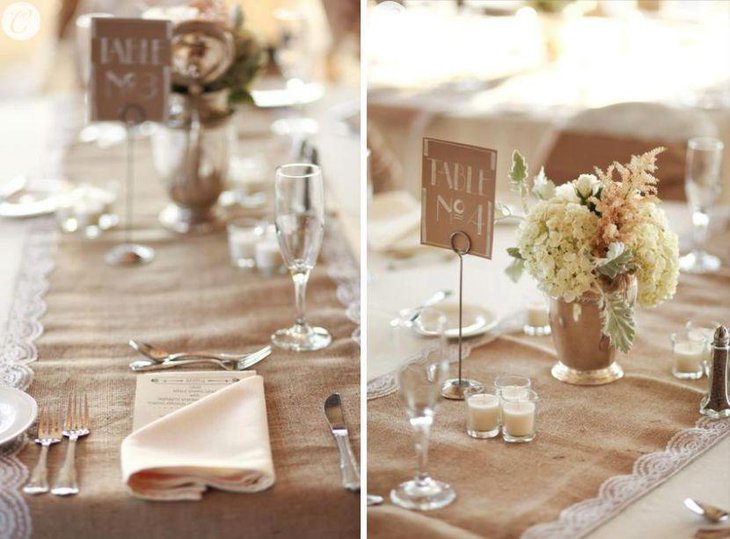 Burlap Table Runner Finished with Lace
Image Credit: pinimg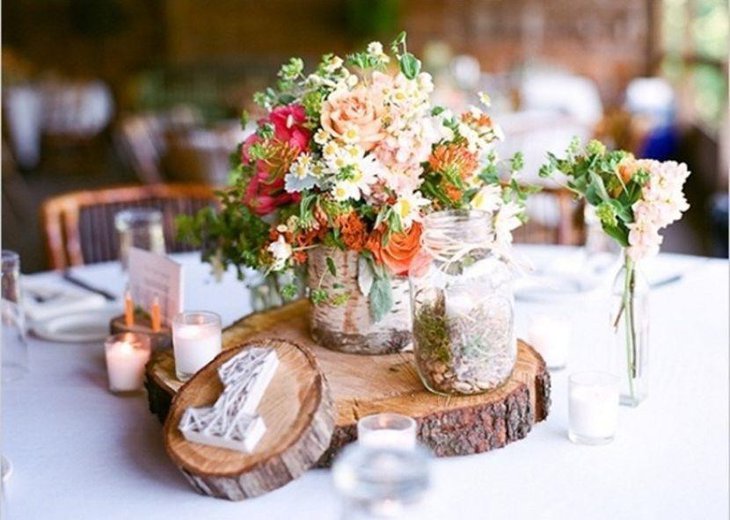 Unfinished Wooden Vase with Clippings in Mason Jar on a Log Section
Image Credit: weddingguideus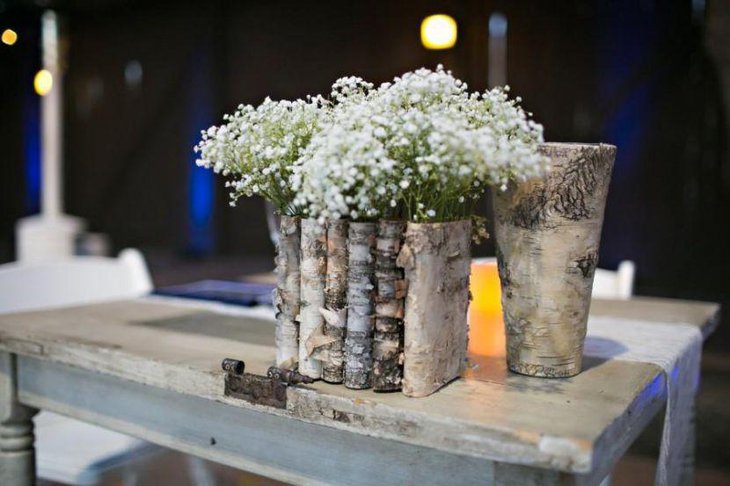 Birch Bark Flower Vases on a Reclaimed Wooden Door Table
Image Credit: weddbook
Country Wedding Table Decorations Using Candles
Candles provide a warm and romantic feel to any country wedding reception decorations. For a country themed wedding table, you must think of unique ways to add candle décor instead of relying solely on time-tested placement ideas. Use your own creativity and think of innovative ways to incorporate candles, such as in the images shown below.
You can set tea lights in wooden slabs or cylinders as centerpieces. If you have wooden boxes, then you could arrange tea lights or small candles in them. Candles can also be arranged inside lanterns or Mason jars wrapped with burlap and lace. These jars can become charming table decorations for your country themed weddings.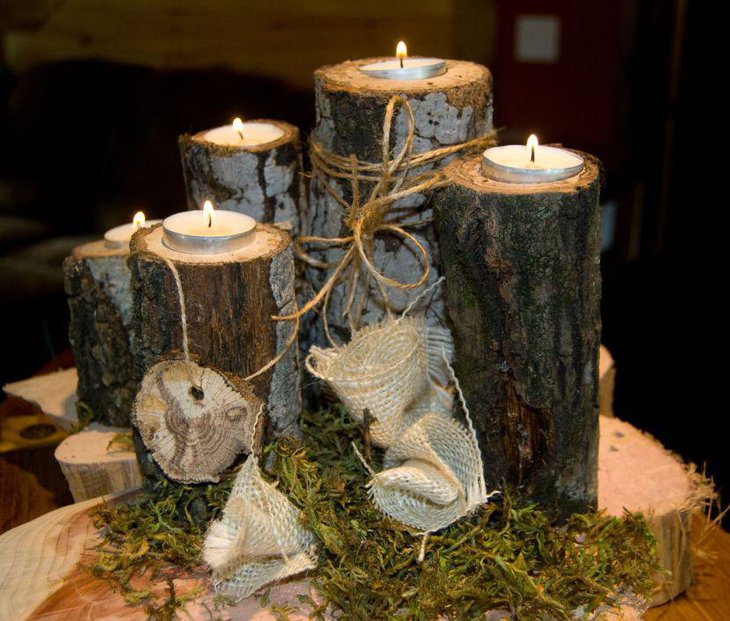 Tea Lights in Wooden Logs with Burlap, Twine, and Moss
Image Credit: insomniacattery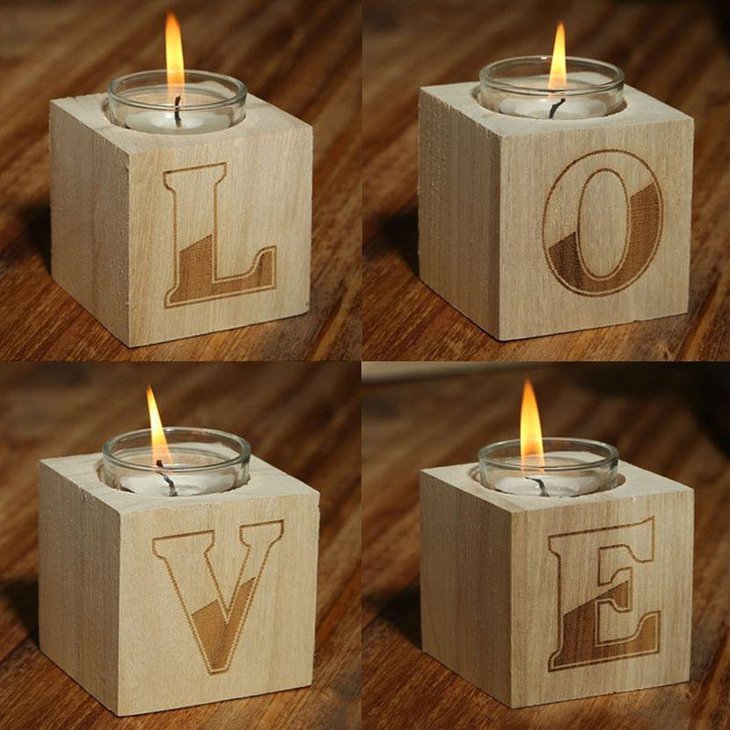 Tea Light Candle Holders in Decorative Wooden Blocks
Image Credit: alicdn
Outdoor Wedding Table Ideas
Outdoor country wedding ideas such as these will make anyone fall in love with the countryside and all things that are close to Mother Nature. This includes flowers, greens, and wood. For any outdoor wedding that's themed on country living, using flowers in various colors is a must as floral décor provides freshness and a feel of tranquility. You can arrange floral vases on top of burlap or lace runners for a vintage feel.
Iron lanterns filled with flowers or candles can help in creating a romantic feel all around the wedding venue. You can place these lanterns over tablecloths draped with burlap and lace. There is always the option of using wood as a décor element on your wedding tables. This is one option that will never fail and will always be admired by all.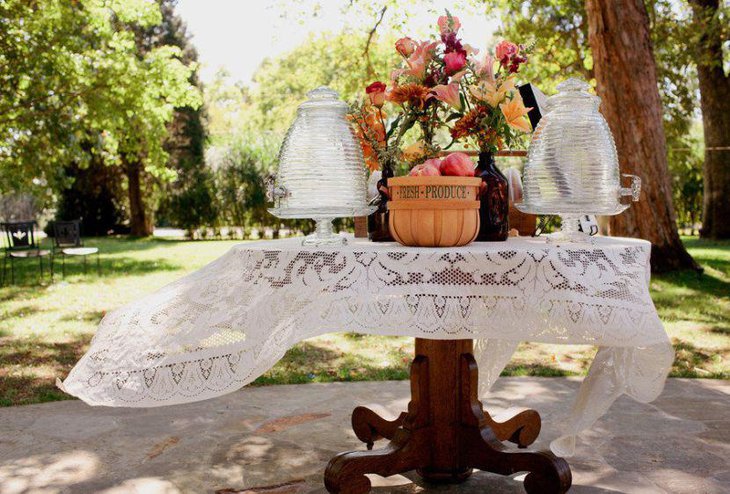 Outdoor Country Wedding Table in Lace, Produce Basket, Beehive Decanters, and Bottle Vases
Image Credit: cedarwoodweddings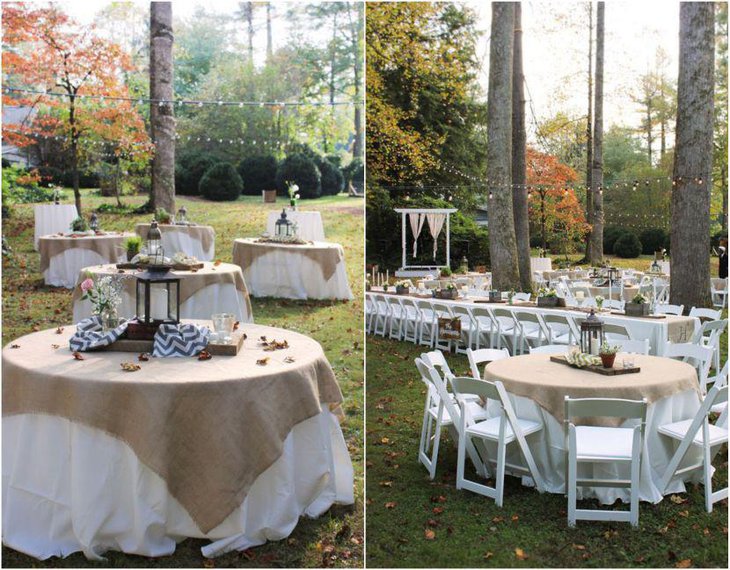 Gorgeous Outdoor Country Wedding Table Décor with Lanterns, Wooden Planks, Fresh Flowers, and Burlap Tablecloths
Image Credit: pinimg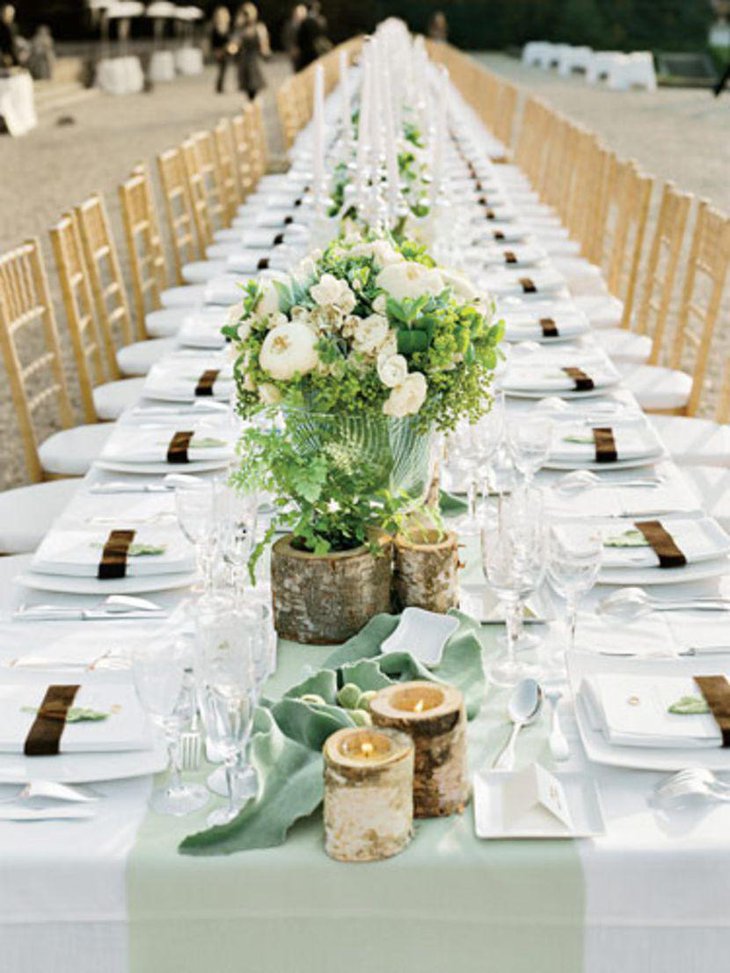 A Romantic Outdoor Country Wedding Table with Bark Vases and Candle Holders
Image Credit: localbprintingandgraphicdesign
We hope these country wedding table decorations have provided some inspiration for your special event. Remember, natural is charming! You can't go wrong with nature, and if you're a homesteader or farmer, incorporate the lifestyle into your décor.