Mason jars are extremely popular in the crafting world. You can decorate these simple yet highly functional jars with a range of décor elements in any design you can think of. Today, we are happy to give you some great ideas on using Mason jars for weddings. Yes, Mason jars can be one of the most beautiful and useful décor elements at your wedding! Read ahead to find out some extraordinary Mason jar wedding ideas!
Whimsical Mason Jar Wedding Favors
Don your creative hats and create an awesome favor table for your lovely guests. Mason jar wedding favors are a remarkable idea we came across. You can fill them with anything from cookies to chocolates to essential oils or perfumed herbal soaps as a token of love for your esteemed guests. And with the beautiful crafting job that you will do, your guests will love to take home such gifts as a special memento of your special day.
Decorated Mason Jar with Fruit Trifle Dessert
Image Credit: acakelife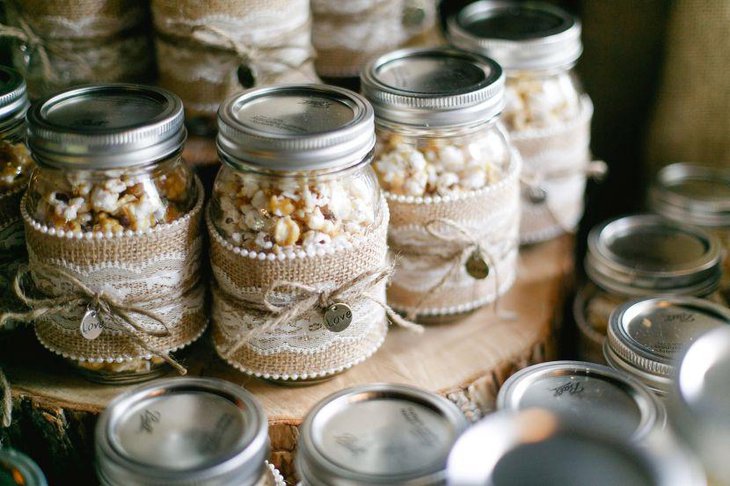 Decorated Jar Filled with Nuts and Popcorn
Image Credit: xogrp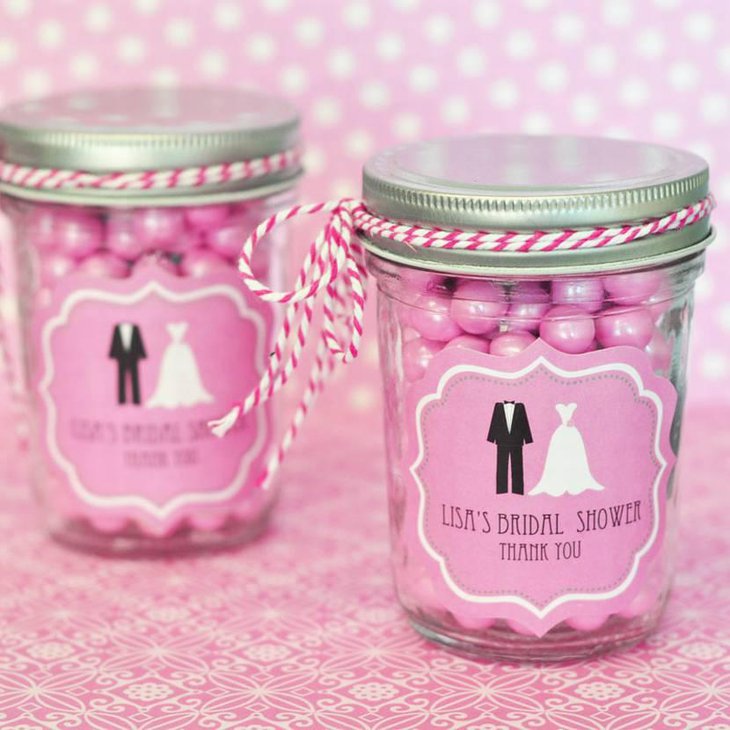 Mason Jar with Printed Label and Candy
Image Credit: hotref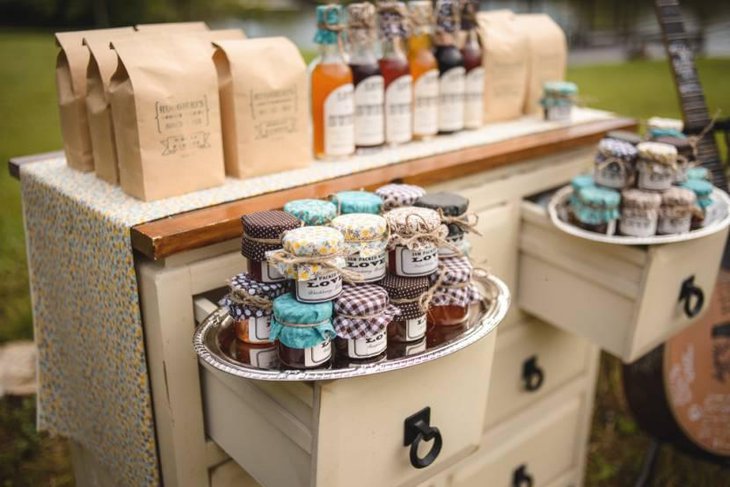 Filled with Homemade Jams
Image Credit: thebridelink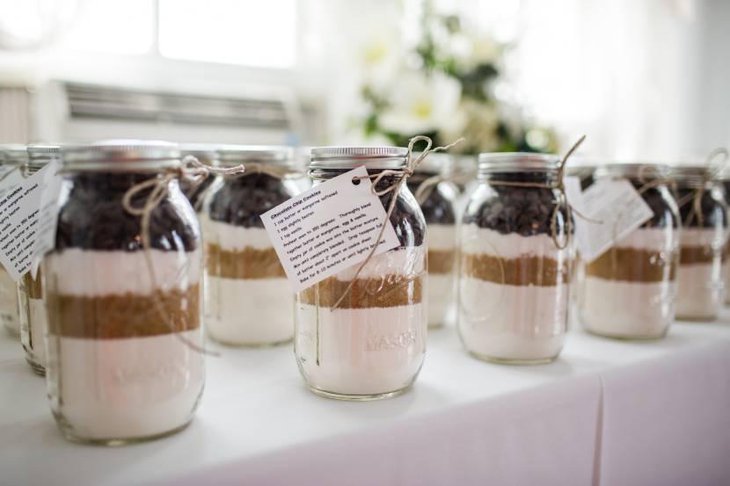 Cookie Dough Mix and Recipe Wedding Favor
Image Credit: xogrp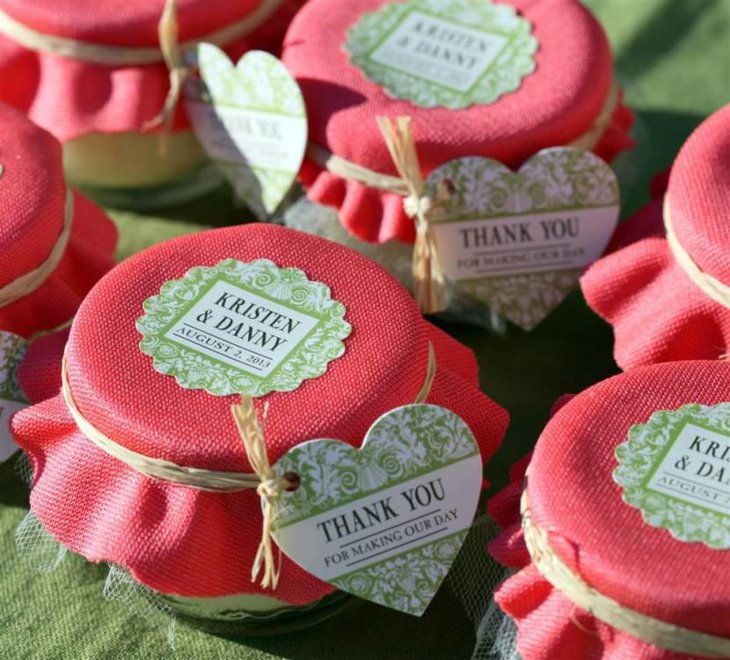 Small Jar with Printed Tags and Candle Inside
Image Credit: gardentherapy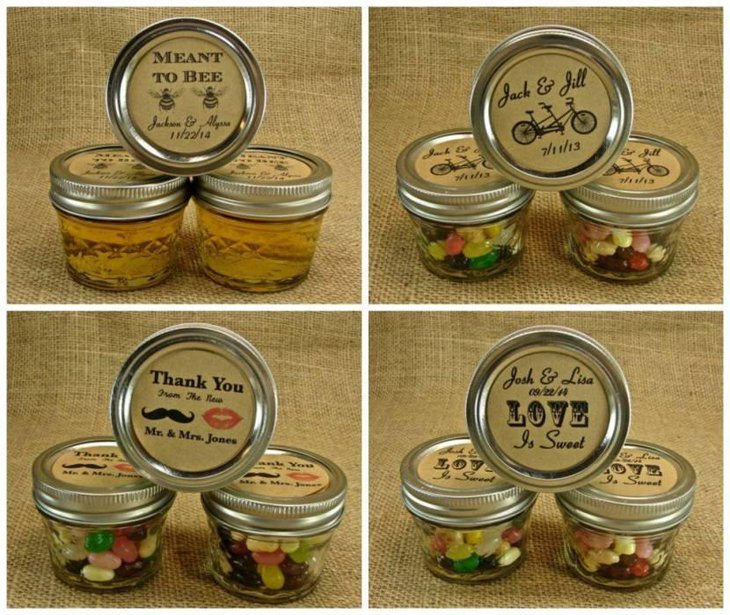 Small Mason Jar with Candy and Personalized Inserts
Image Credit: weddingware
Interesting Mason Jar Table Settings
Mason jars are so versatile that you don't need to be afraid to think outside of the box. Try using them for your guest table settings as not only a cute but practical application. Fill them with silverware and use smaller jars for glasses. Your guests will be delighted with the informal feel of your décor. Decorate each jar with different with ribbons or lace. Use wider mouthed jars to hold flowers or candles as your centerpieces.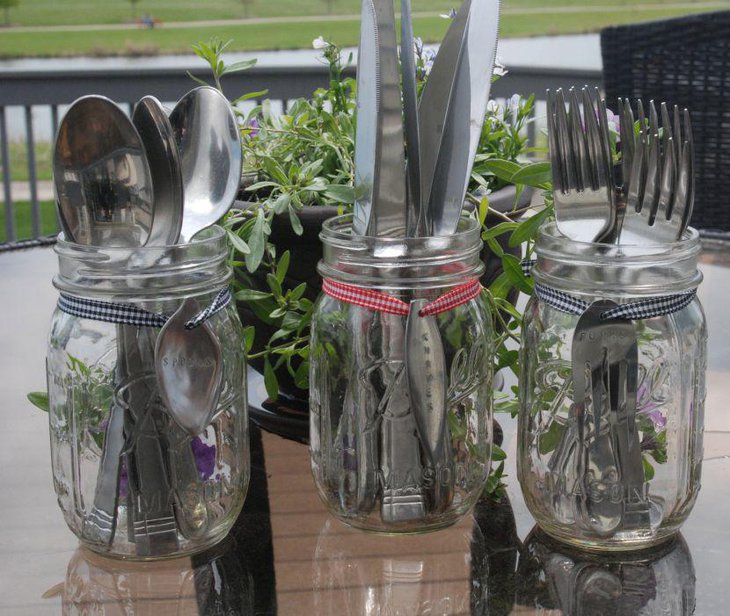 Mason Jar Cutlery Holder
Image Credit: etsystatic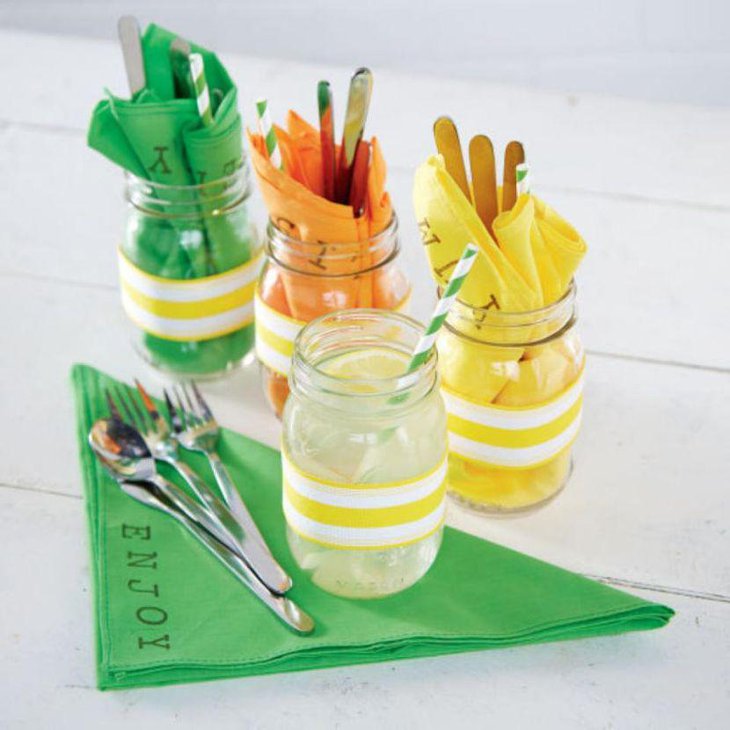 Bright Tableware and Glass Idea
Image Credit: brightsettings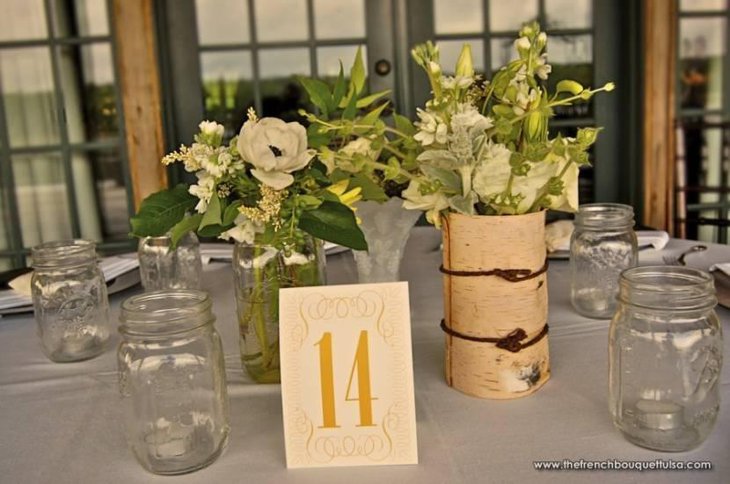 Elegant Candle Votive and Floral Centerpieces
Image Credit: thefrenchbouquettulsa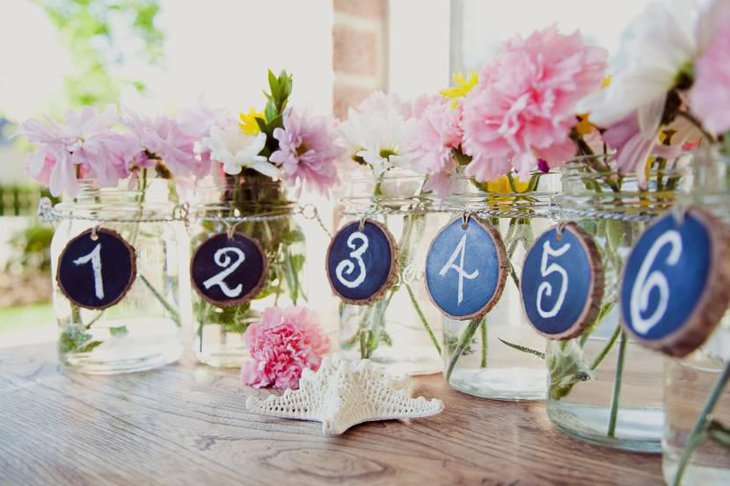 Tropical Wedding Bouquets
Image Credit: onewed
Mason Jar Candle Holders
You can decorate your Mason jars as simply or as extravagantly as you want. Depending on what you fill them with, they might not need any decoration at all. An exceedingly lovely idea is to use these jars as candle holders. Simply place jars on the guest tables with a lit candle inside it. The glow of the candle beaming through the glass exterior of these jars will exhibit a heavenly look. You can also opt for filling the jars with water halfway and placing floating candles inside.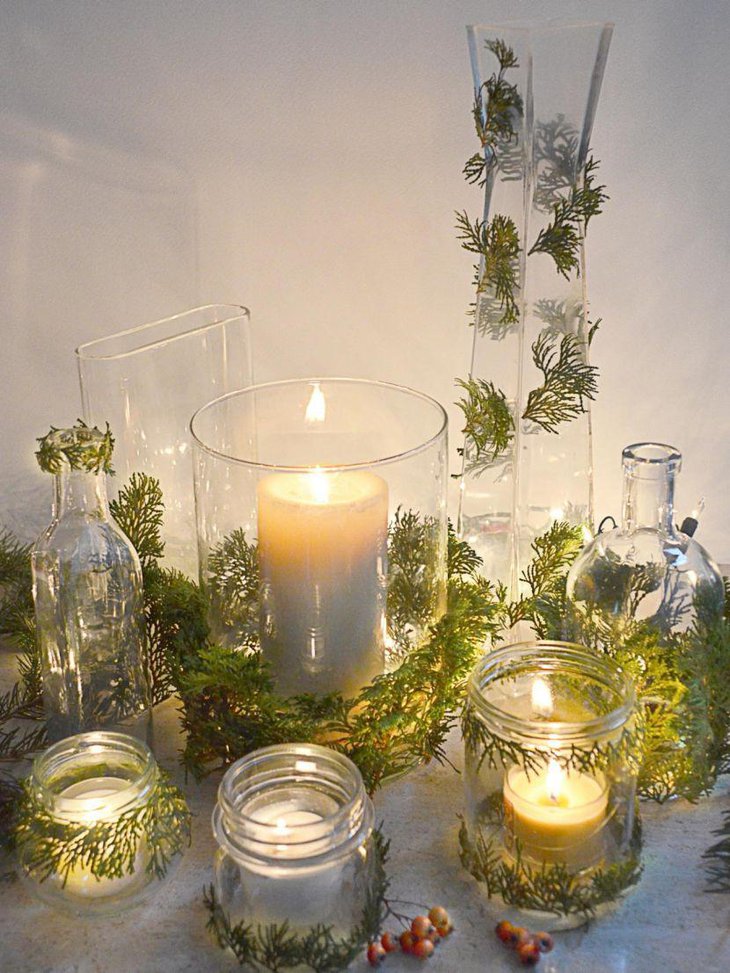 Glowing Candles in Variously Sized Mason Jars
Image Credit: hgtvhome
Candles in Naked Mason Jars for a Classy, Rustic Ambiance
Image Credit: blogspot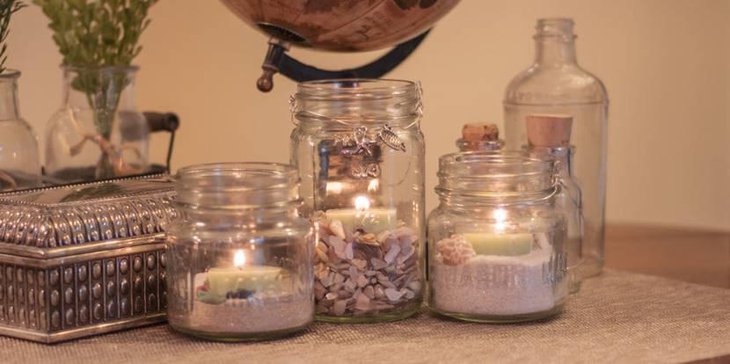 Candles on Sand and Seashells
Image Credit: guidepatterns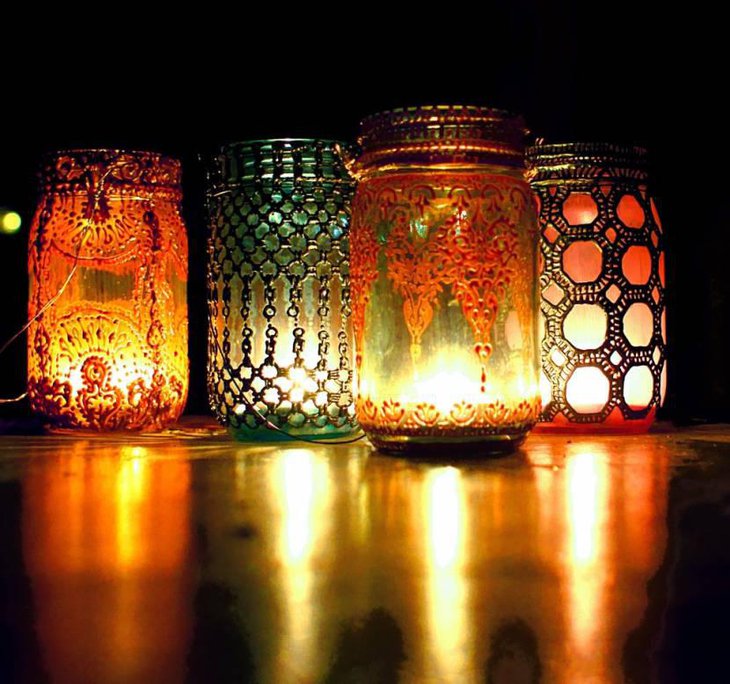 Candles in Tinted Glass Mason Jars
Image Credit: etsystatic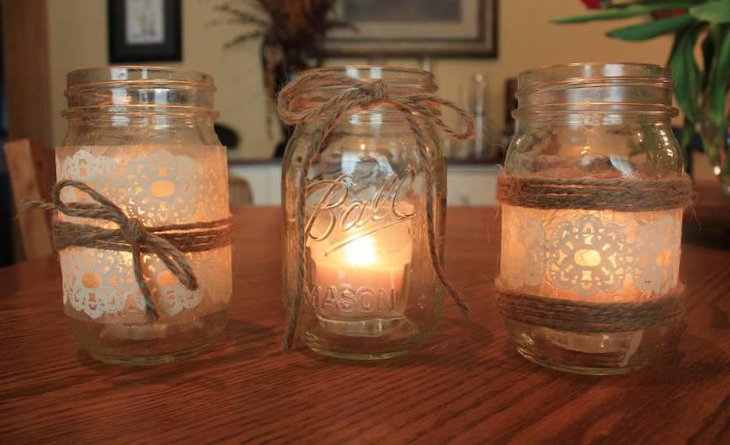 Decorated Votive Candle Holder
Image Credit: modpodgeanddessert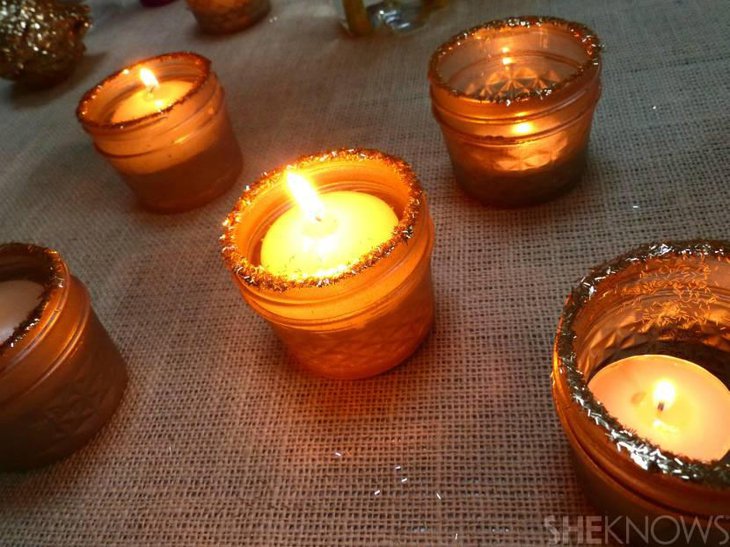 DIY Sparkling Candle Holders
Image Credit: skim
Appealing Mason Jar Centerpieces
You can decorate your Mason jars in a slightly more intricate fashion to create beautiful centerpieces for your wedding event. Fill a couple of demure Mason jars with glass beads, colorful rocks, flower petals, sand, glitter, or any other accessory that fits the theme of your wedding. You can use a contrast of small, medium, and large sized jars for artistic effect and let your creativity flow to the brim.
Battery Powered Lights and Ornamental Straw
Image Credit: etsystatic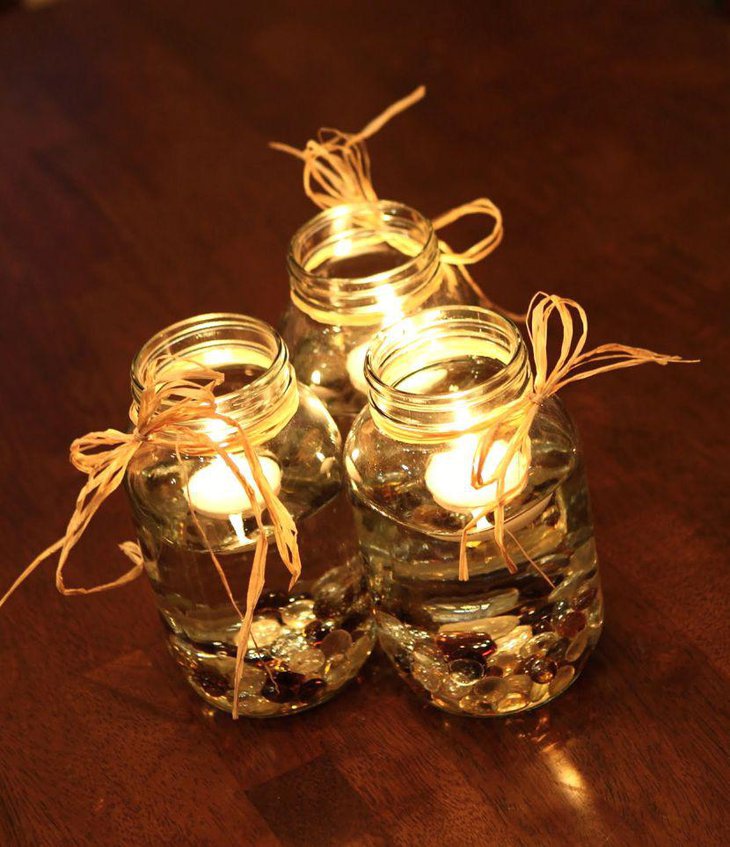 Stones and Floating Candle
Image Credit: melindasweddings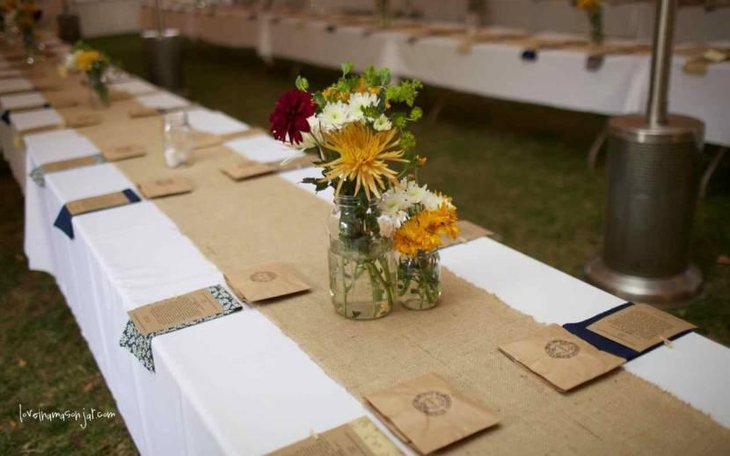 Floral Arrangements in Differently-sized Jars
Image Credit: loveinaMasonjar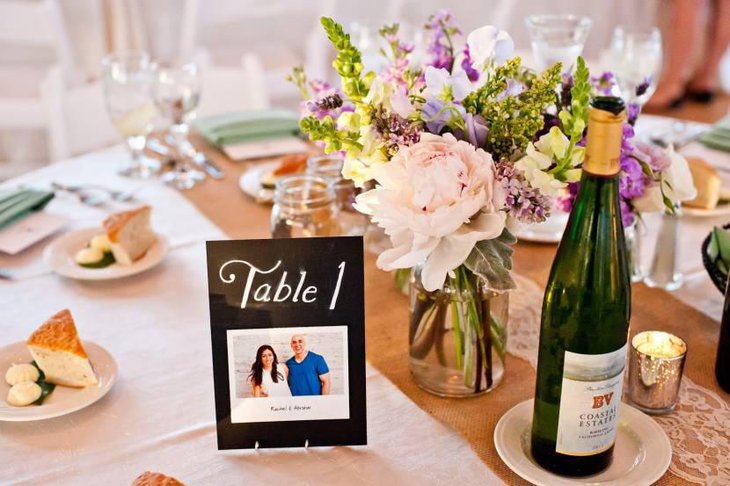 Floral Bouquet and Candles
Image Credit: decorcraze
Beautiful Mason Jar Flower Arrangements
Make beautifully quaint flower arrangements with the help of Mason jars. They can rightly serve as simple vases to showcase subtle or enormously dramatic floral arrangements. You can make use of single Mason jars or gather a couple of different sizes for a classy ensemble. Fill them with a single flower or a bouquet of blossoms, such as lilies, sunflowers, orchids, or wildflowers to add a dash of rustic charm to your celebration. Try anything, and it will most likely look fitting in Mason jar! There are no special rules or formula, so you are free to pepper the wedding decorations in any way you like. Your filled jars will be a delight!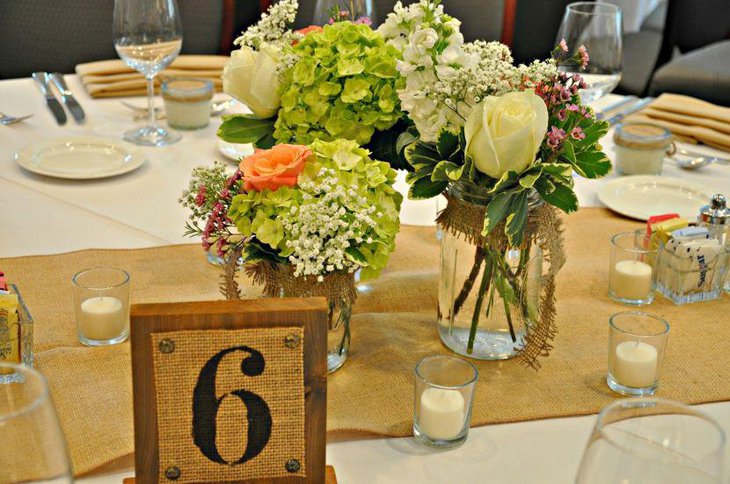 Varied Flower Arrangements and Jars
Image Credit: Masonjarcraftsblog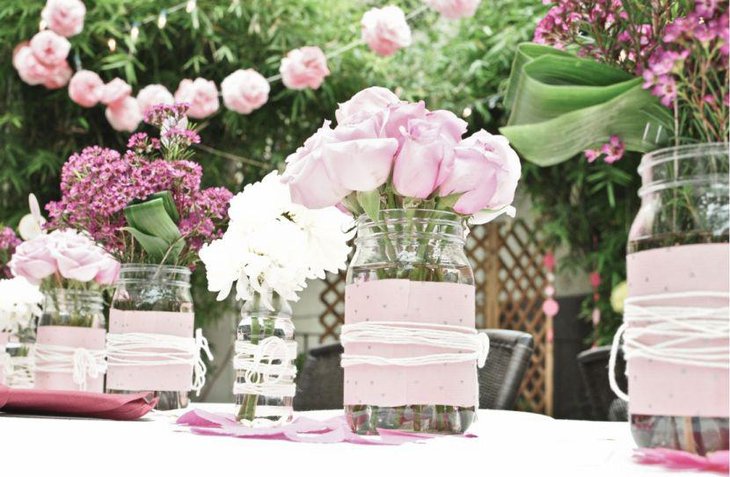 Pink and White Flower Varieties Alternating in Center of Table
Image Credit:  simpleflowerarrangements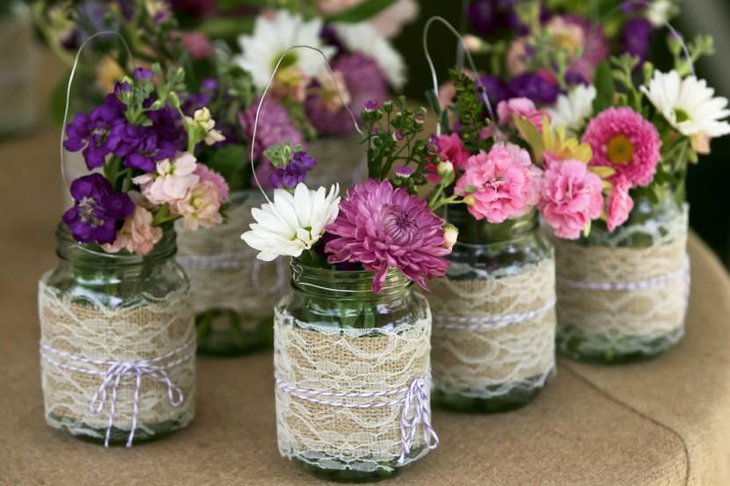 Flowers and Burlap Lace
Image Credit: weddingware
Mason Jar Dessert Holders
Serve your wedding treat in style! Mason jars are used to store food, but they won't store your desserts for long once your guests spot your appetizing display! Play the perfect host by serving delicious desserts in the most capricious way possible. Whether it is a lip-smacking fruit sundae, a yummy strawberry cheesecake, a sweet and flaky blueberry pie, or a creamy chocolate mousse, everything looks scrumptious in a Mason jar. Add to the charisma and fun of your event with these ideas!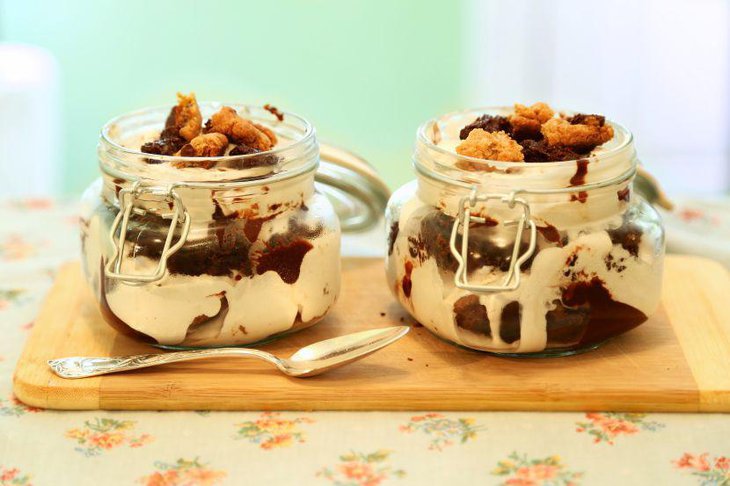 Delectable Desserts Served in Mason Jars for Wedding Buffet
Image Credit: wordpress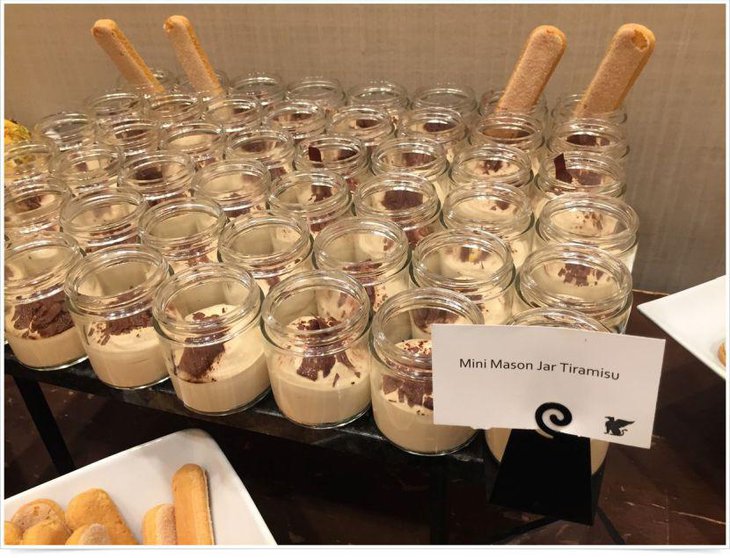 Homemade Mason Jar Desserts
Image Credit: meetingsimagined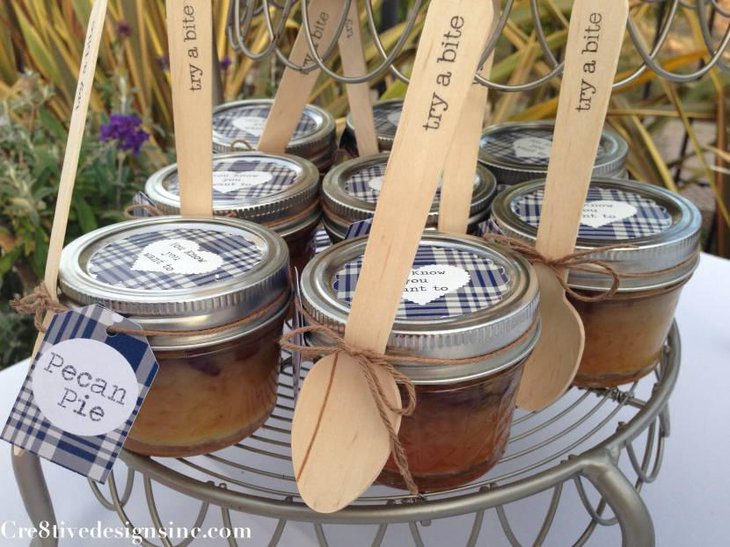 Mini Pies
Image Credit: cre8tivedesignsinc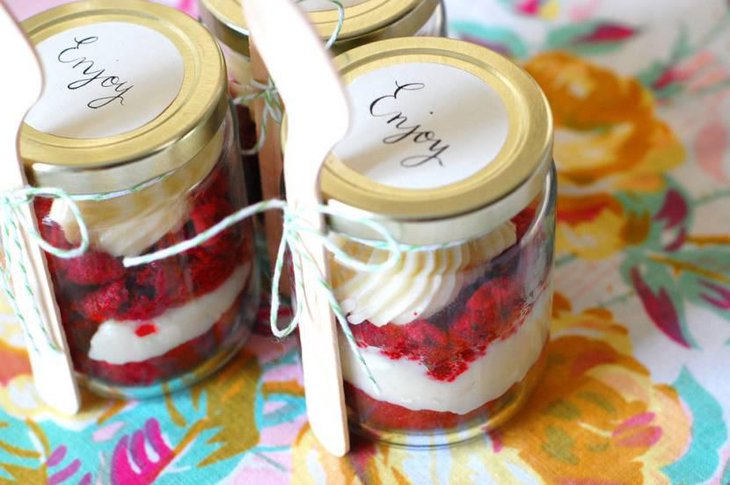 Red Velvet Cheesecake
Image Credit: venuelust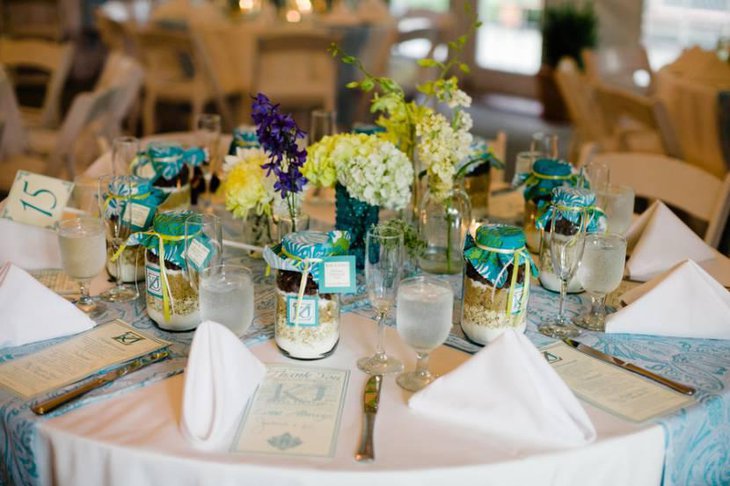 Cookie Dough and Recipe
Image Credit: unitedwithlove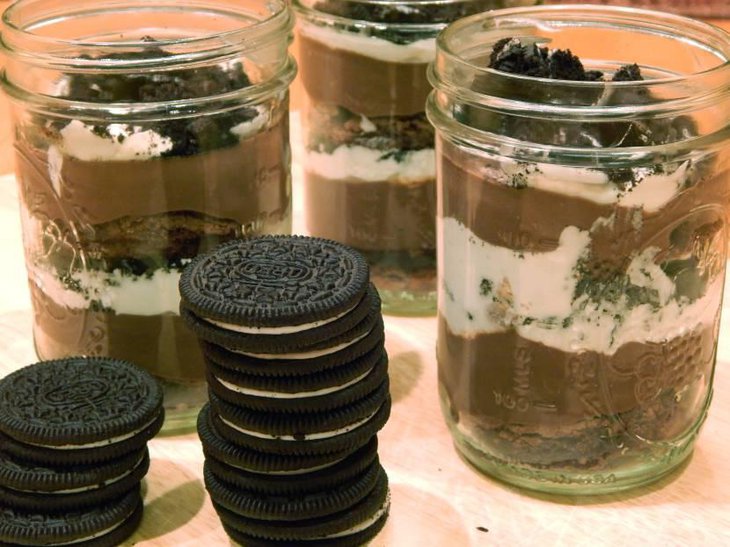 Cookie and Pudding Trifle
Image Credit: thedessertchronicles
Simple but Stylish Drink Holders
Mason jars bring the refreshing feel of the open-air country to complement any drinks table. You can use them as a perfect beverage, mocktail, or milkshake holder. Dress them up with ribbons, lace, or even tied flowers. And what better way to serve a drink than by fixing a lemon slice or a fruit slice at the brim of the container? Fill them with anything you like and add your flair with a unique decoration.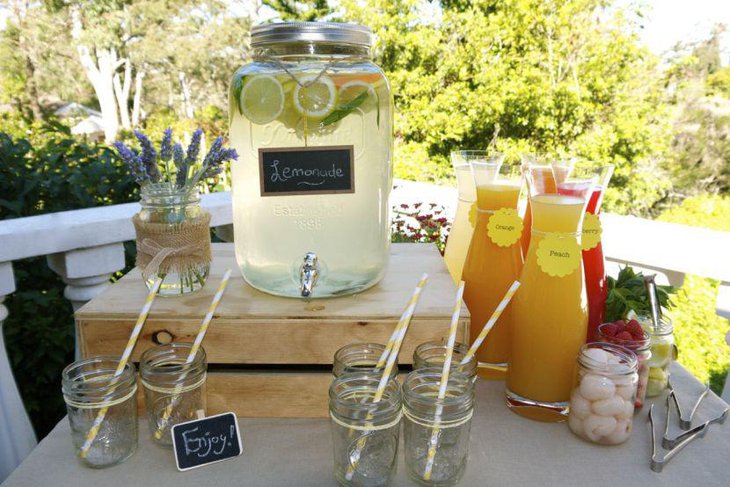 Refreshing Drinks Table with Flavor Additives
Image Credit: partypalette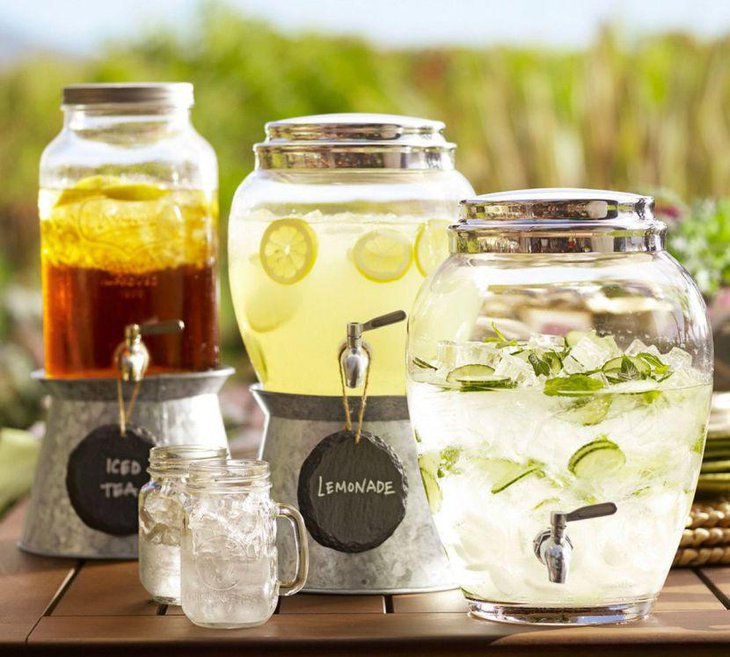 Mason Mugs for Refreshing Country Beverages
Image Credit: potterybarn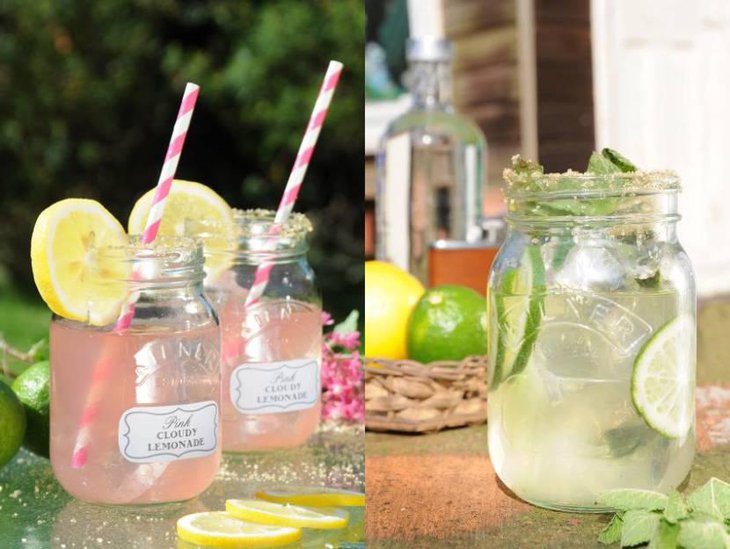 Fun Cocktail Drinks
Image Credit: drinkstuff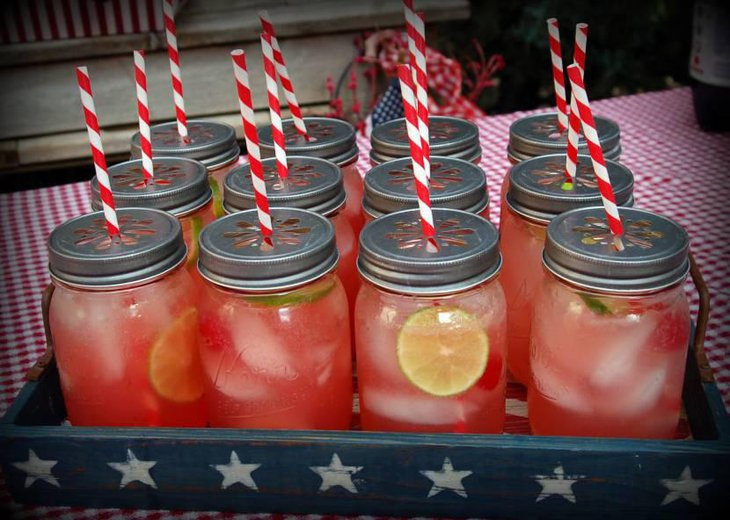 Mason Jars with Lids and Straws
Image Credit: pinkpolkadotcreations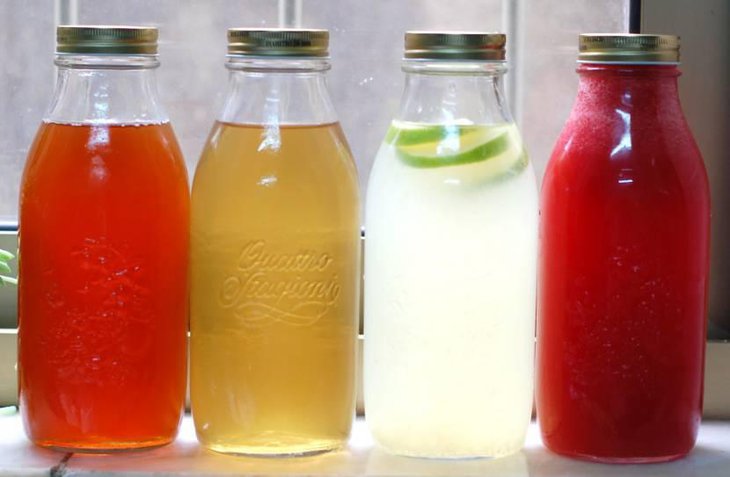 Bottled Drinks for Grab n' Go Service
Image Credit: blogspot
With these practical and appealing Mason jar ideas for your centerpieces, table settings, wedding favors, and drink and dessert service, you're sure to set the mood for a fun, extraordinary wedding celebration! Mason jars are inexpensive and can be put to good use by you or your guests for years.