With Christmas around the corner, it is time to think about decorations, and Mason jar Christmas centerpieces are an all-time favorite not only for appearance but also for cost. Mason jars a country staple for Christmas decorations, and you can use them in a variety of ways to turn your table from drab to fab.
These humble looking jars can double as eye-catching works of art using a little imagination and thoughtfulness. Whether you want to make Mason jar Christmas lights or Christmas gifts, there is no dearth of ideas to put these jars to good use.
Here we provide our list of unique ideas that will inspire you to put on your creative cap and turn ordinary looking jars into exquisite Christmas creations. Choose an idea from this list of 37 inspirations to make this year's holiday season even more memorable for your family and friends.
Beautiful Table Decorations
Keeping the festive fervor in mind, your table decorations for Christmas should be lively as well as functional. Choose a color theme to make the table appear more elegant. Cover the table with plain or patterned linen depending upon the mood you want to create. Use Santa or reindeer printed linen if you enjoy a more whimsical celebration. For an elegant and sophisticated appearance, use plain linen in light shades.
Variously Sized Mason Jars with Candles on Table Runner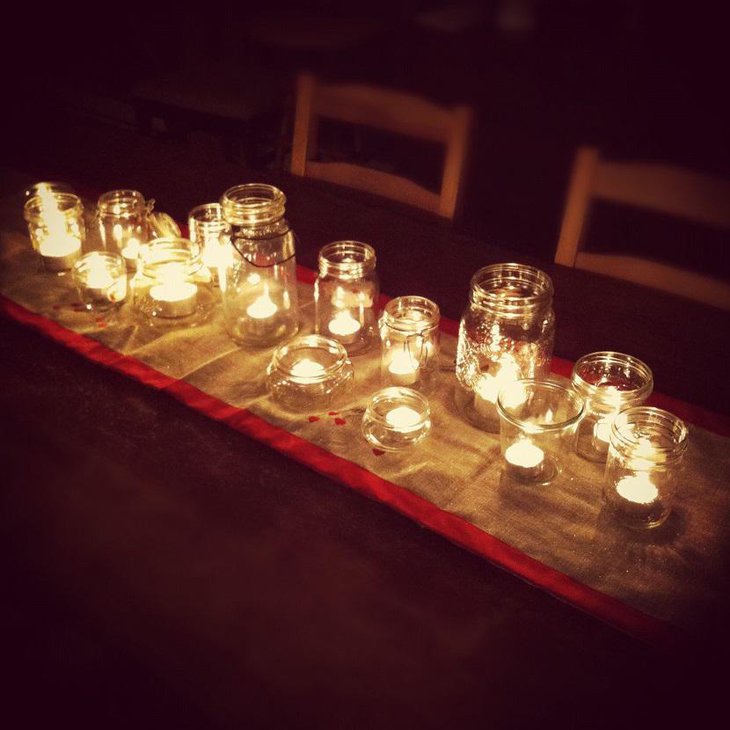 Image Credit: nanobuffet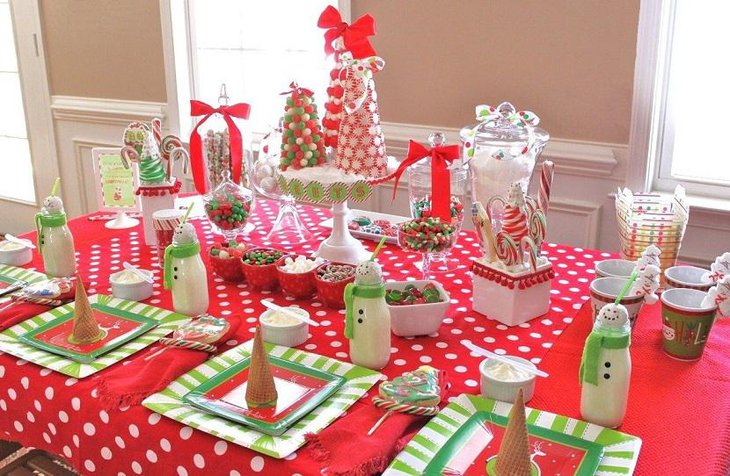 Dessert Settings with Snowman Decorated Beverage Jars
Image Credit: mytechref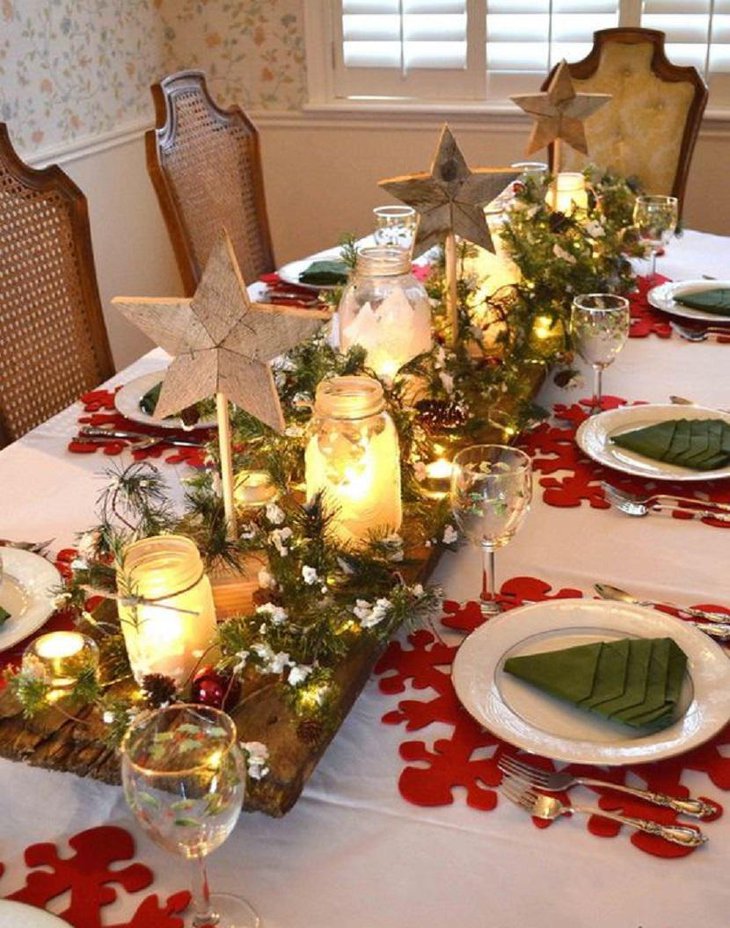 A Wonderful Christmas Tablescape with Frosted Mason Jars and Candles
Image Credit: hertoolbelt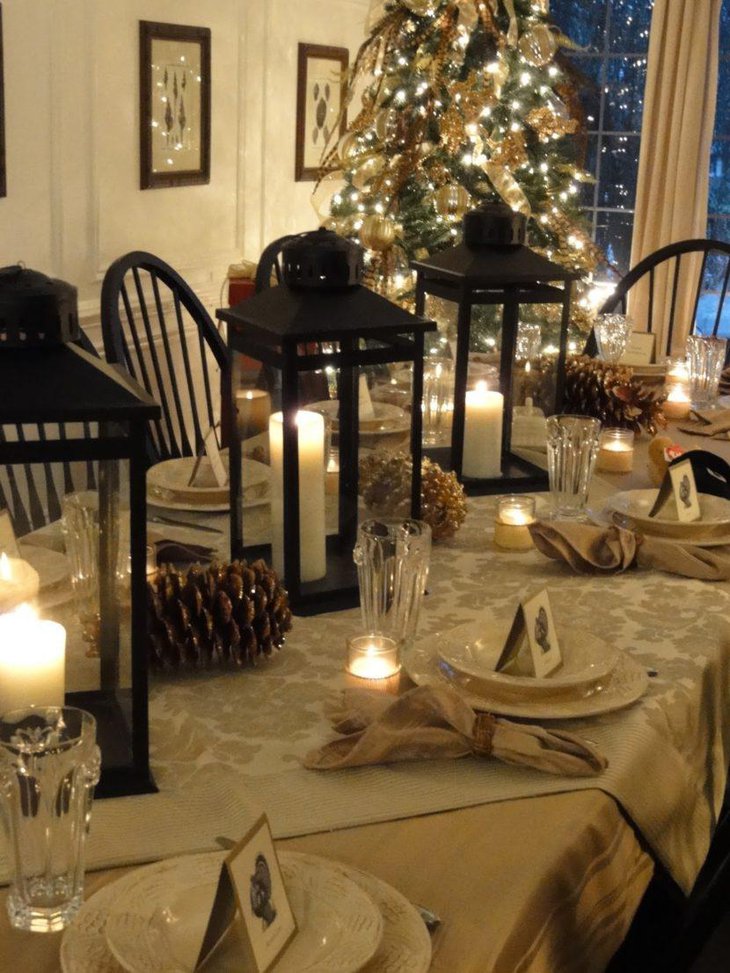 Candle-lit Mason Jar Place Decorations
Image Credit: craftshub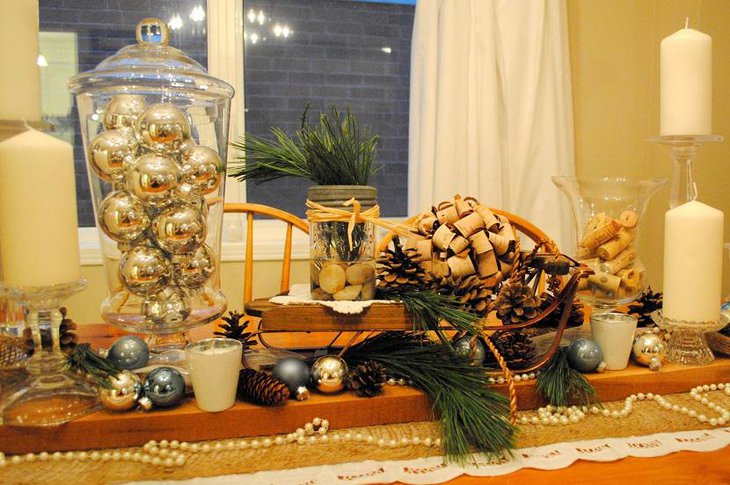 Mason Jar Décor Display
Image Credit: annsatic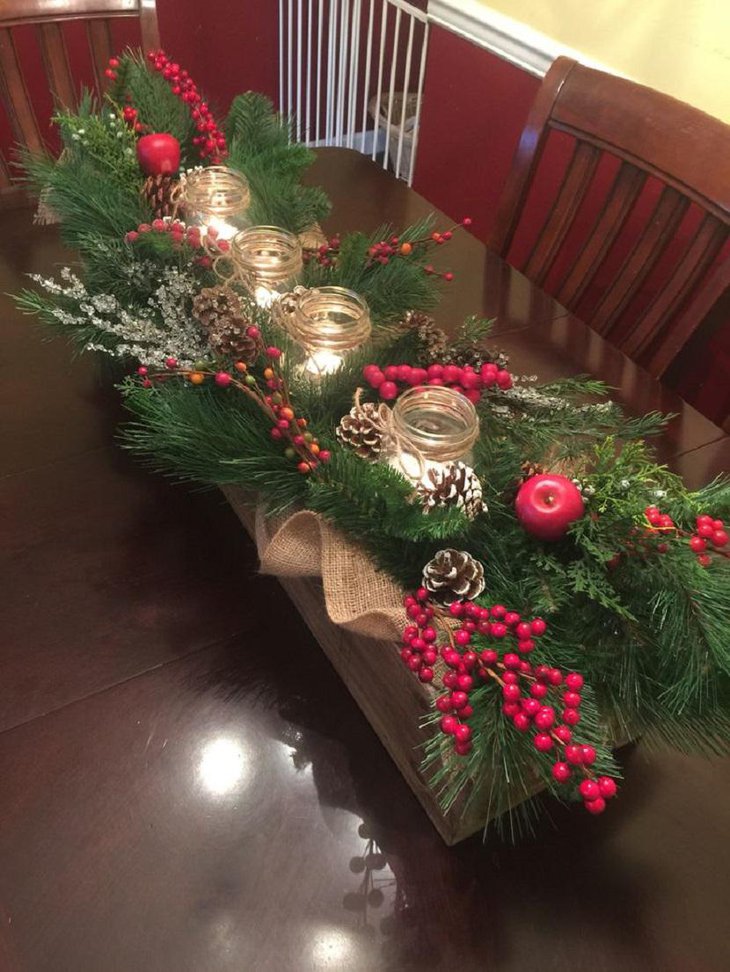 Candles in Mason Jars Nestled in Bed of Greens
Image Credit: pinterest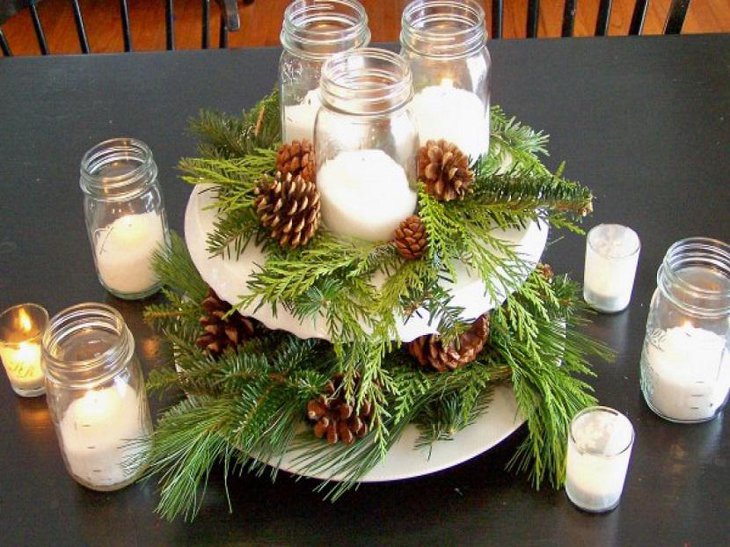 Two-tier Jar Candles and Greens Centerpiece
Image Credit: mytechref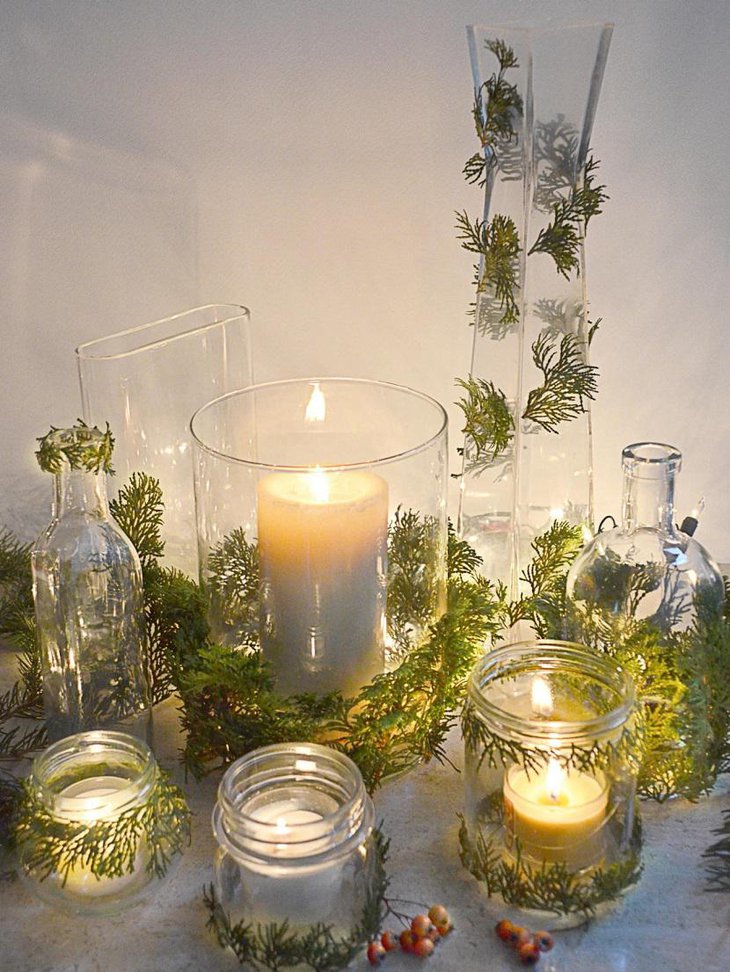 Candle-lit Jars with Accent Greenery
Image Credit: hometiles
Easy DIY Centerpieces
An assortment of filled jars of different sizes is a great idea for beautiful centerpieces. You can place them on a glass or wooden tray depending on the overall look of your table. Use stars, mistletoe, or other miniature decorations to make the centerpiece more attractive. If your table is large enough, lay a wreath or pine branch bed down and place candle-lit jars in the center of it.
After your finished browsing this list, you might want to view our 33 Red and Silver Table Setting Ideas For Christmas.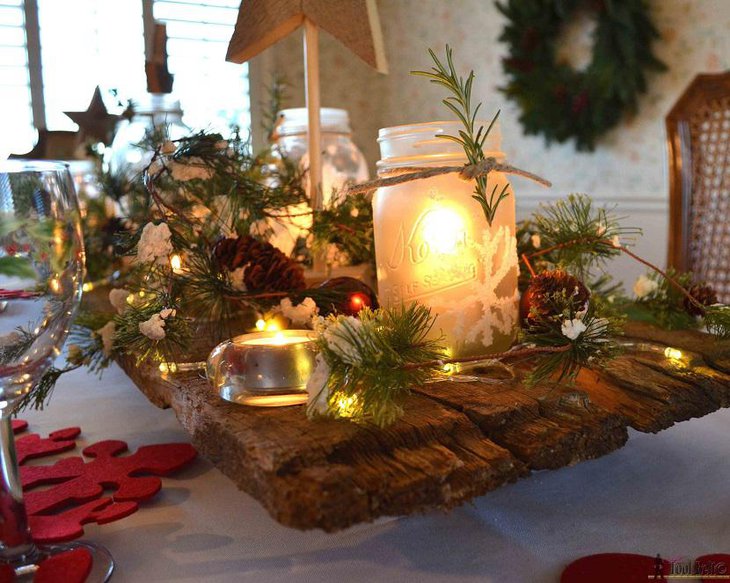 Decorated Candle-lit Jars with Décor on a Bed of Bark
Image Credit: bendut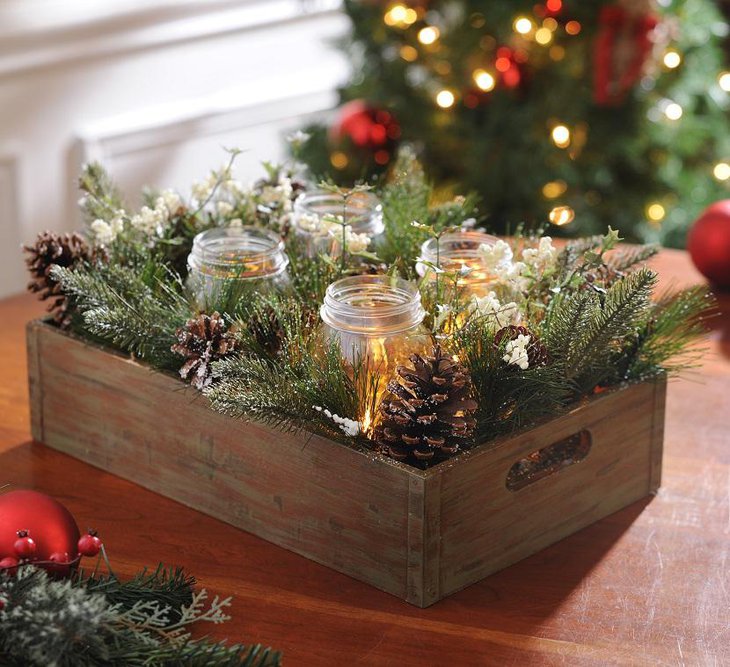 Jar Candles and Winter Greens in Decorative Wood Box
Image Credit: kirklands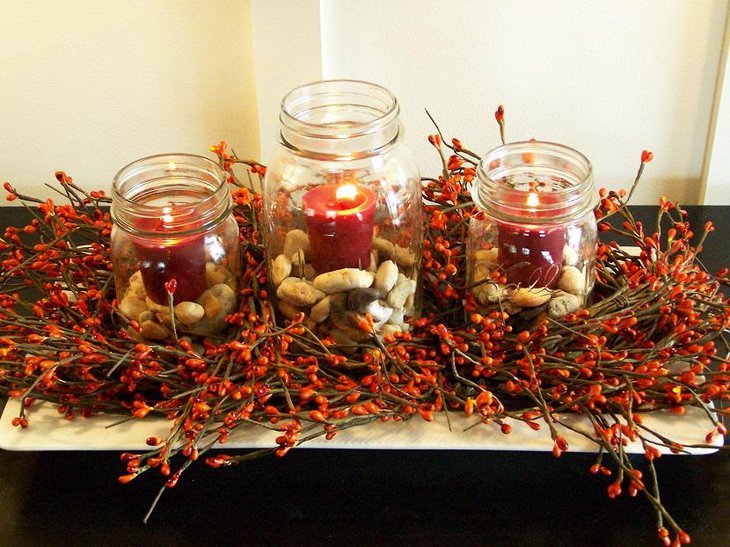 Stone and Candle Filled Jars on a Bed of Faux Twigs
Image Credit: jacarandaliving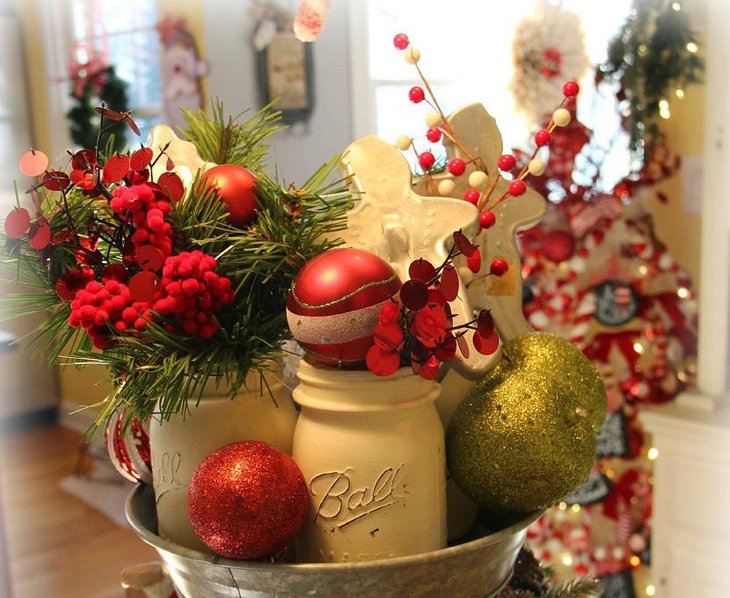 Painted Jars with Christmas Décor
Image Credit: blogspot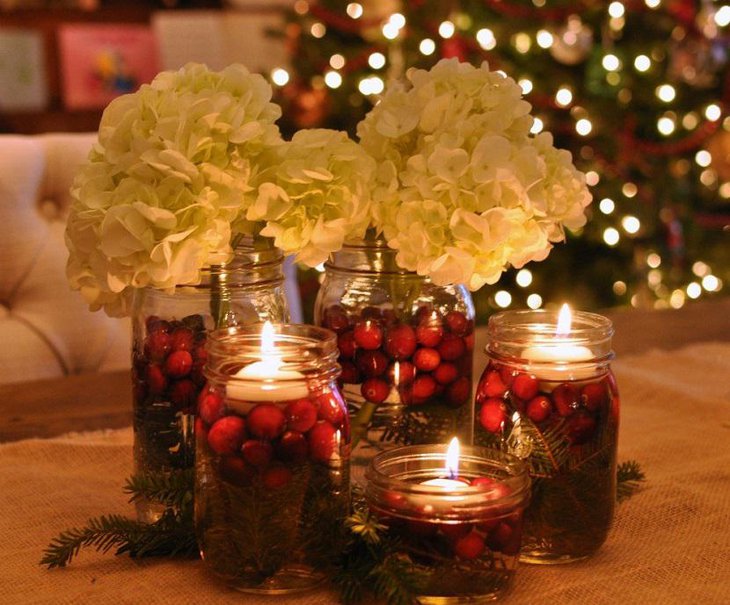 Red and White Centerpiece Ensemble
Image Credit: mommyinsports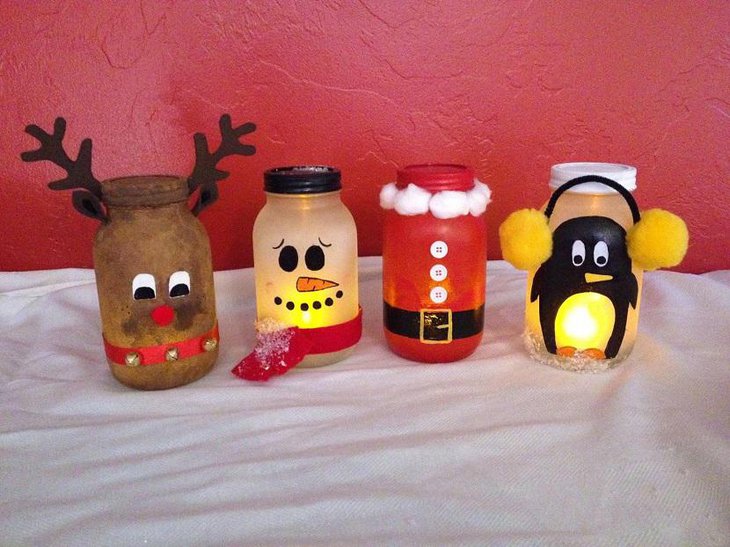 Character Painted and Decorated Centerpiece Gifts
Image Credit: bauergathering
Mason Jar Candle Lamps
While candles have their unique appeal as a decoration and lighting means, placing it in a Mason jar will enhance its charm even more. You can paint the jar with Christmas inspired patterns or tie a ribbon or wrap around it to lend it a unique look. No time to paint? Decoupage leaves or tissue paper along the walls of the jar! Maple leaves would look just lovely, depending on your climate.
Another idea for Mason jar centerpieces is to fill the jar halfway with water and light a floating candle in it. Don't forget to add rose petals around the candle for added charm. Remember to bunch of two or three jars together for maximum effect.
Also Read: 36 Christmas Dessert Table Ideas For Kids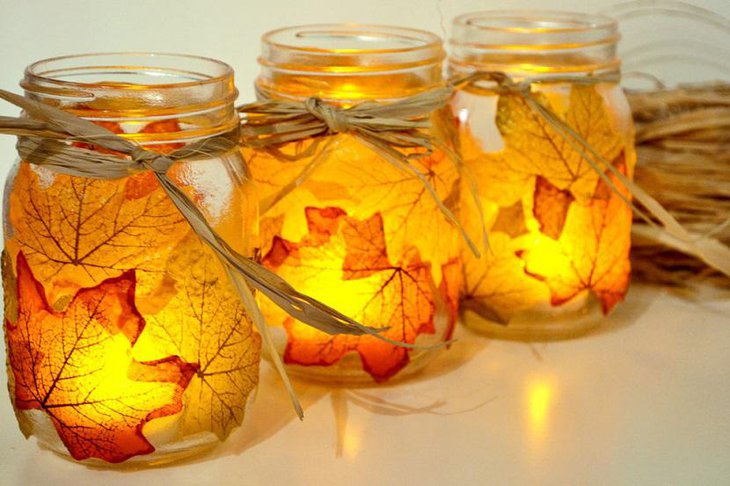 Maple Leaf Lined Jars with Candles
Image Credit: sparkandchemistry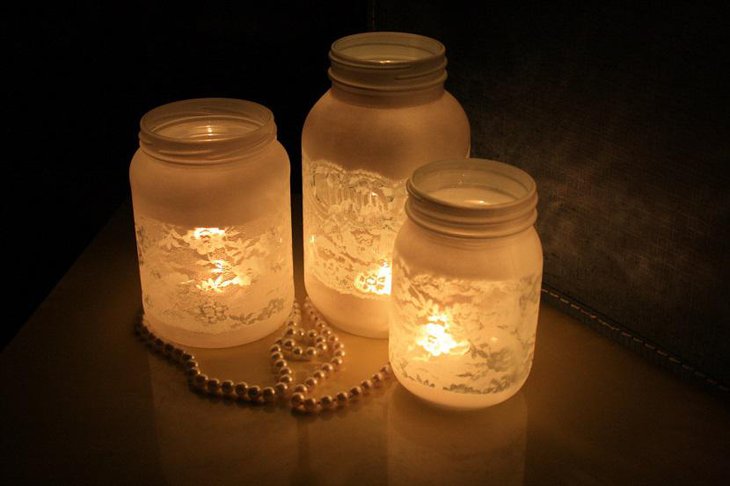 Frosted Glass and Lace Jar Candles
Image Credit: konstadin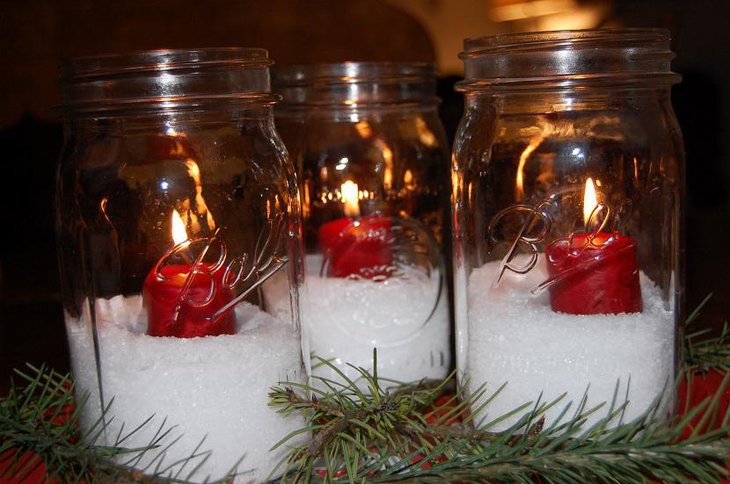 Fake Snow and Candle Jars
Image Credit: blogspot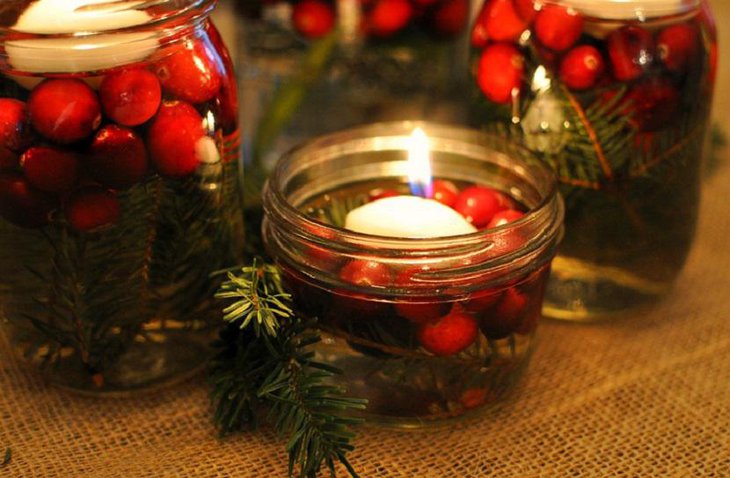 Floating Candle and Fruit
Image Credit: mommyinsports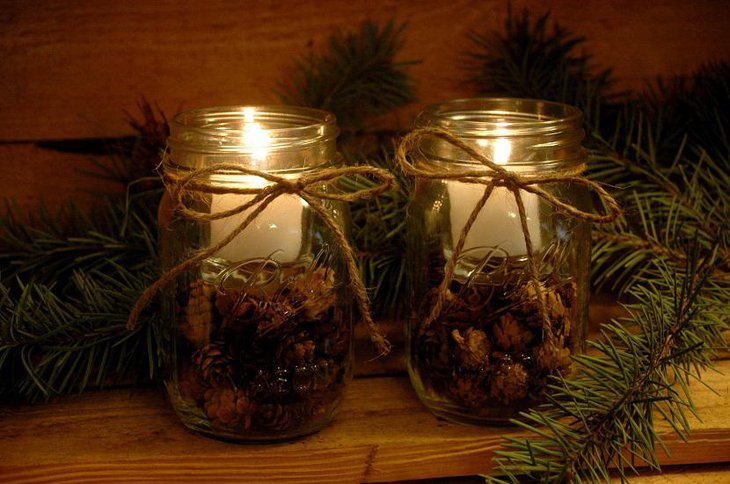 Pine Cone and Candles with Jute Bow
Image Credit: diychristmasdecorations
String Jar Lights
Mason jar Christmas lights can add a touch of warmth to any space. The soft glow of string lights goes a long way in creating an enchanting ambiance. Choose between single colored lights or multi-colored strings according to your style. Here are some ideas for setting up the effect.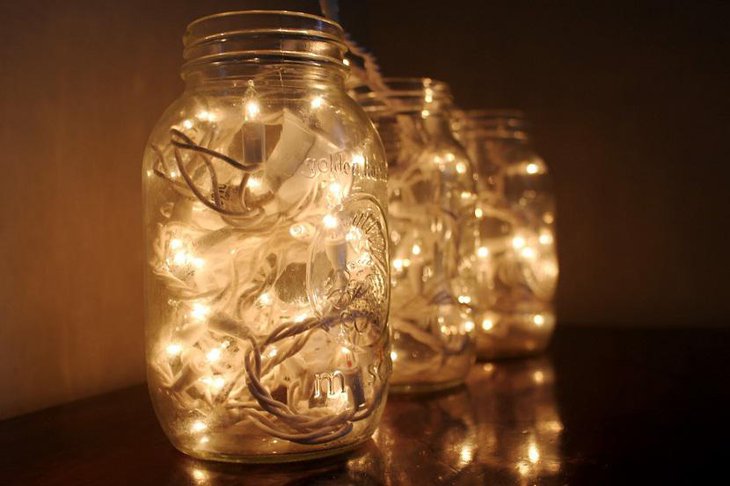 String Lights Flowing Down Row of Jars
Image Credit: snydle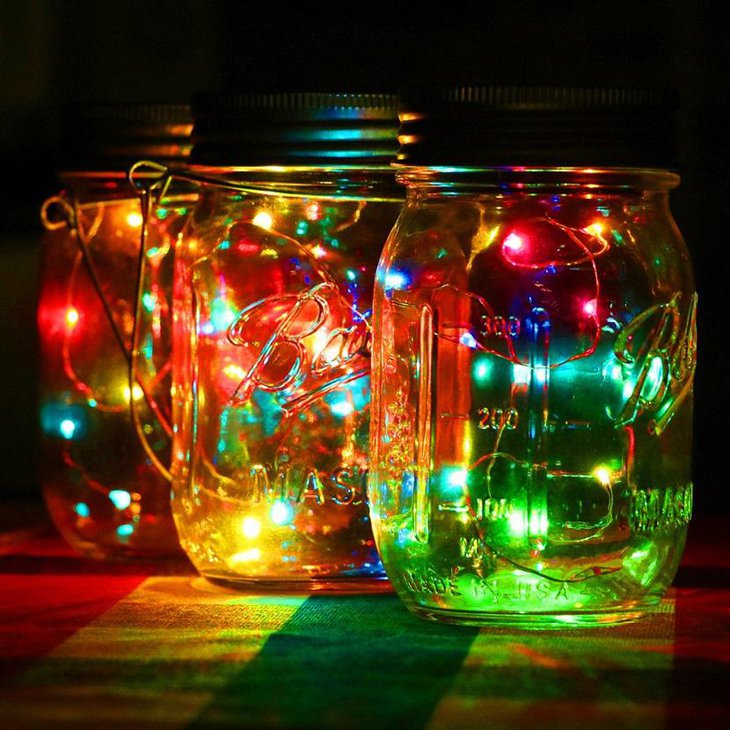 Battery-powered Mini Strings
Image Credit: aliexpress
Mason Jar Flower Vases
Arranging flowers in jars is an obvious but still uncommon option. You can go with traditional seasonal blooms like green ivy, red poinsettia, pink hyacinth, or tulips in accordance with your color scheme. A combination of red roses and fresh white Freesia will certainly stand out with Christmas cheer. Use red painted jars with green leaves for an easy arrangement. To give a more classy impression with Mason jar table decorations, paint them in metallic colors.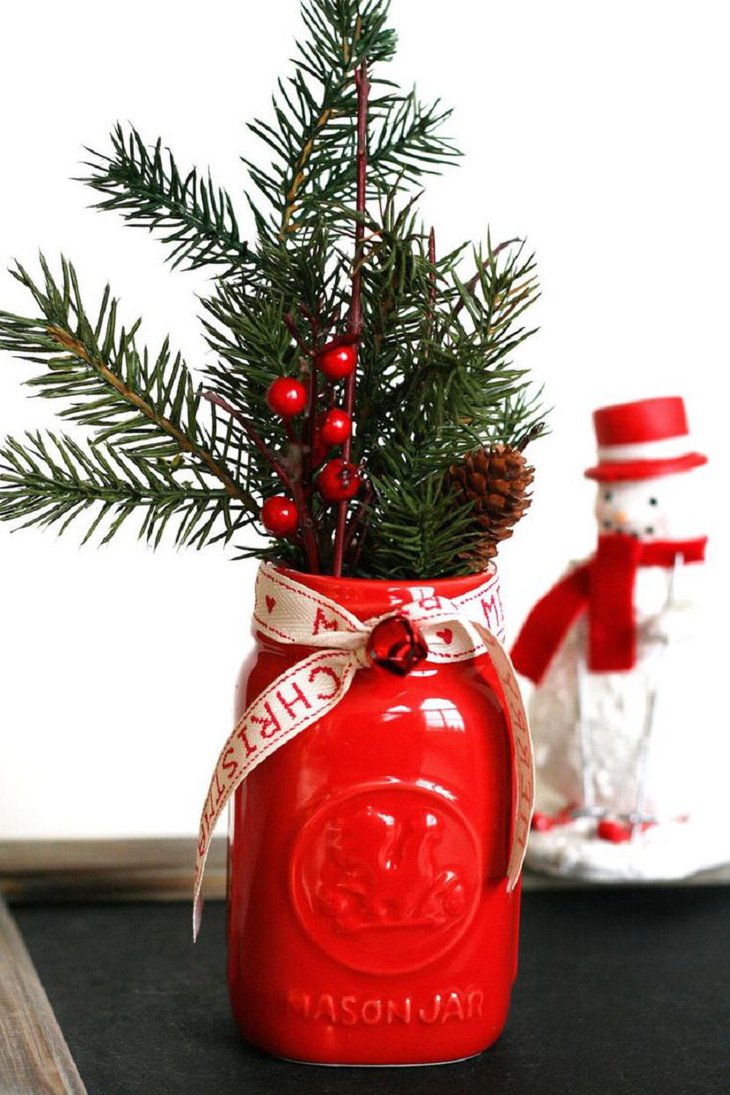 Painted Gloss Red with Ribbon and Traditional Flora
Image Credit: pinterest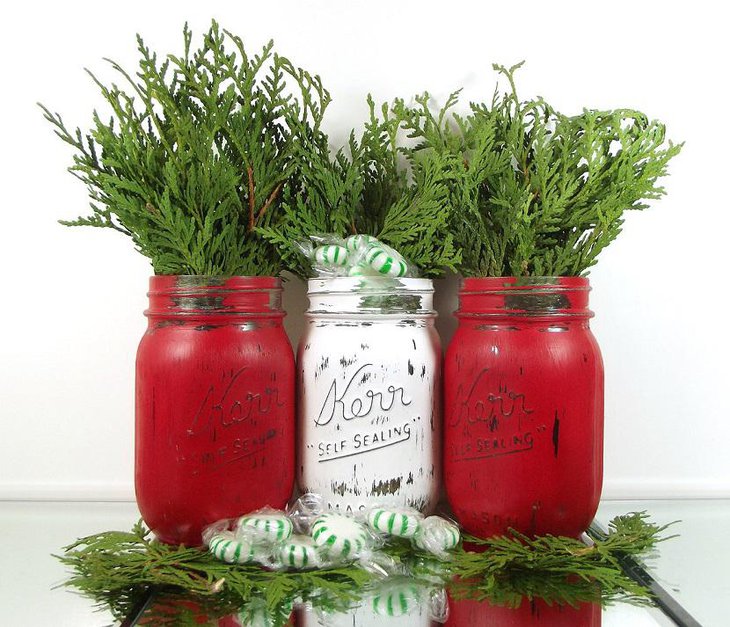 Christmas Colors and Candies
Image Credit: etsy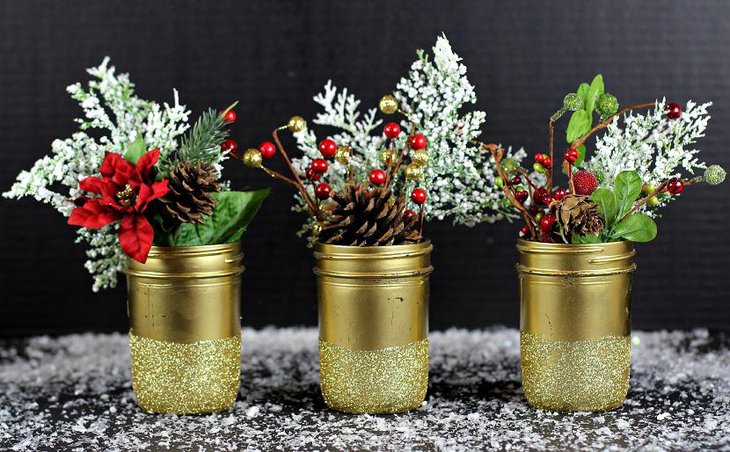 Painted and Glittered Flower Jars
Image Credit: classyclutter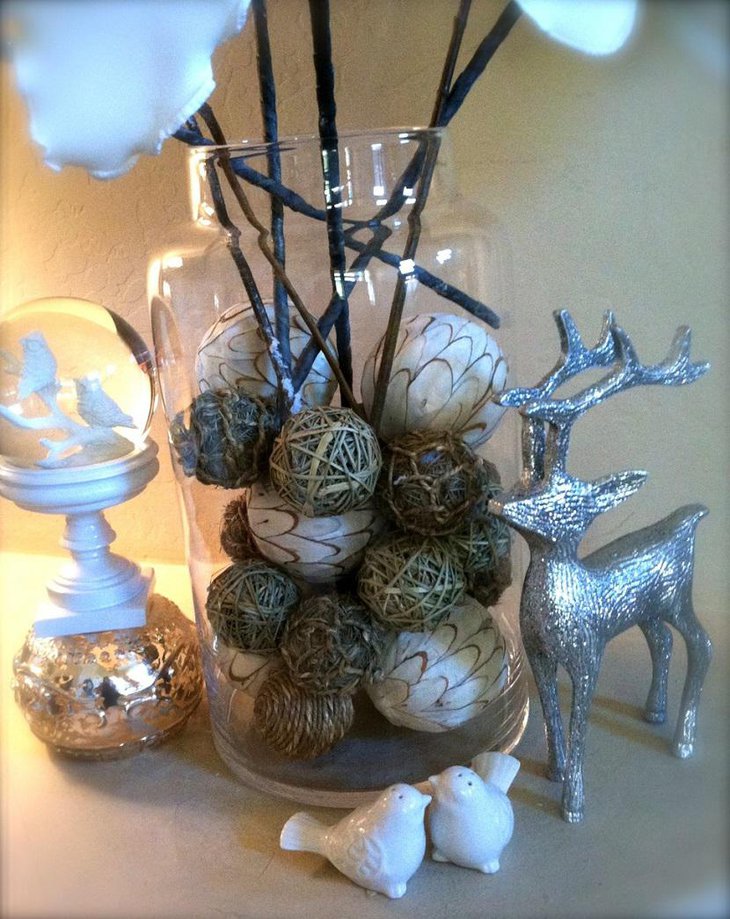 Plain Jar Showcasing Decorations and Faux Flowers
Image Credit: imanada
Christmas Scene Decorations and Gifts
Make your snow globes or Christmas scene models. They are easy to make, and your guests will love studying the miniatures you place inside. Consider making them as personalized gifts for friends or extended family. You'll have fun creating them, and your loved ones will cherish them every year they decorate their own homes. To make a snow globe, fill the jars with a miniature Christmas tree or snowman and add white glitter to a mixture of water and glycerin.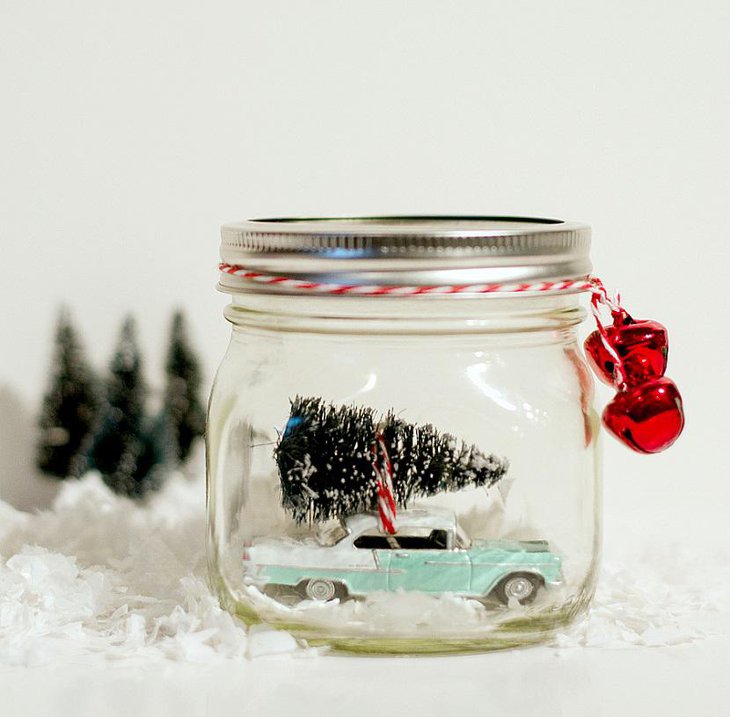 Miniature Nostalgic Christmas Scene
Image Credit: itallstartedwithpaint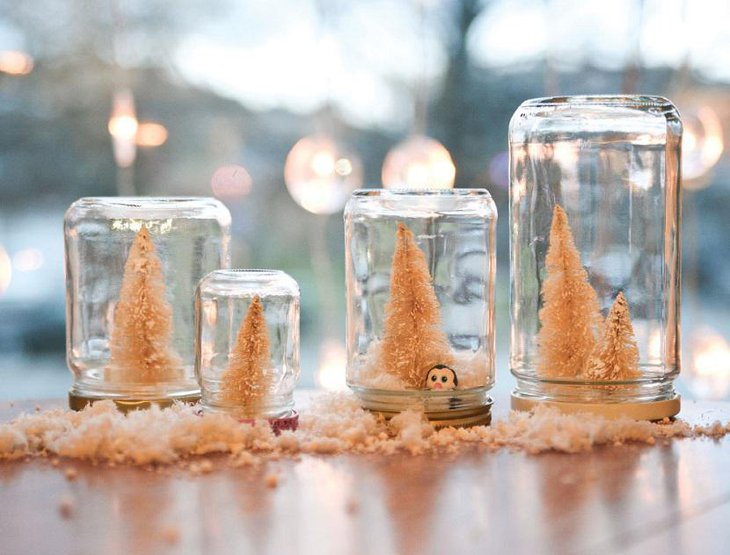 Upside Down Winter Scenes
Image Credit: pureella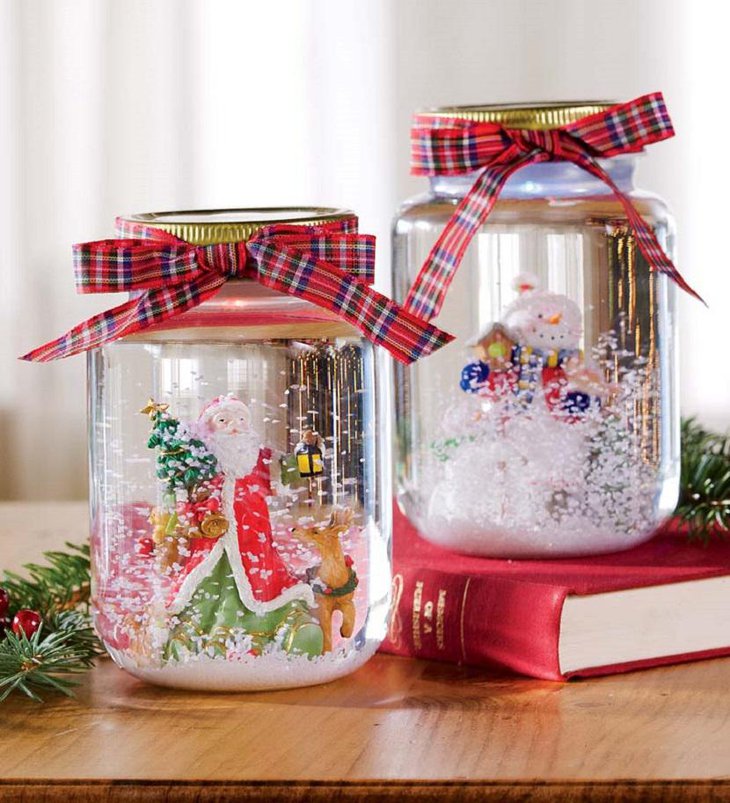 Snowman and Santa Mason Jar Snow Globes
Image Credit: annsatic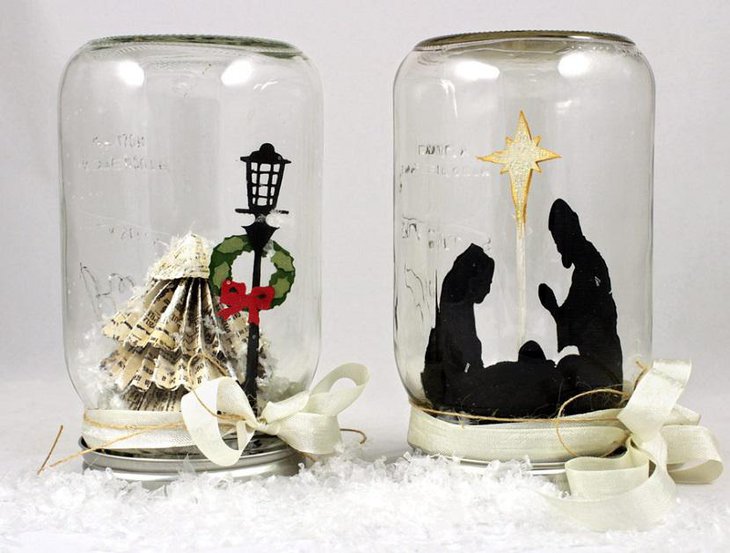 Nativity and Nostalgic Scenes with Images Pasted to Jar Walls and 3D Miniatures
Image Credit: pazzles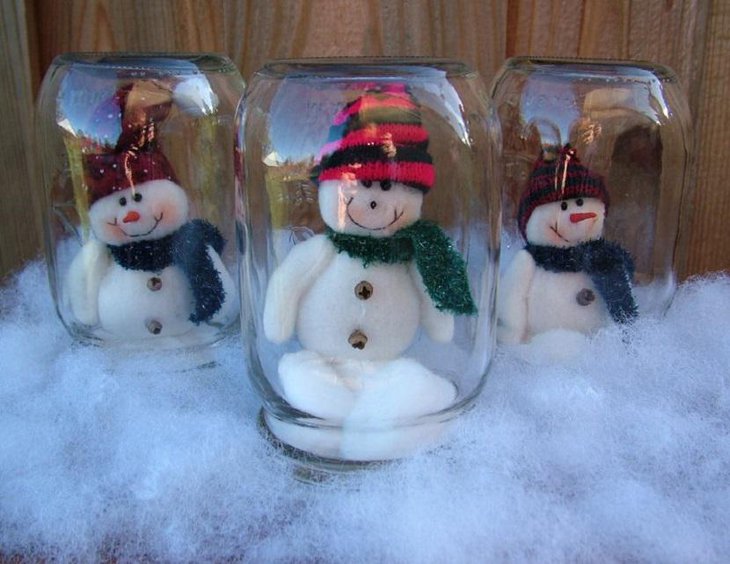 Stuffed Snowmen in Fake Snow
Image Credit: annsatic
Gift Ideas
You can create magnificent Mason jar Christmas gifts on a modest budget. Make them in bulk for easy gifting. Fill the jars with chocolates, candies, cookies, marshmallows, or soup and baking mixes. You can also exhibit your cooking skills and churn out jams or pickles as gifts. Add personalized labels to the jars describing its contents and decorate them as much as you like.
Apart from eatables, you can fill your gift jars with homemade scrubs, bath salts, or potpourri blends. With these ideas, your loved ones can enjoy the scents of the season all year round.
Also Read: 37 Silver and Gold Christmas Decorations Ideas.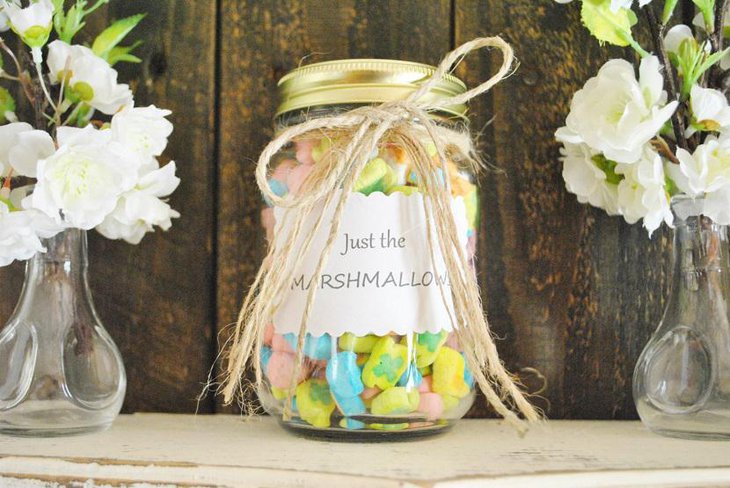 Colorful Marshmallow Gift
Image Credit: rusticweddingsupply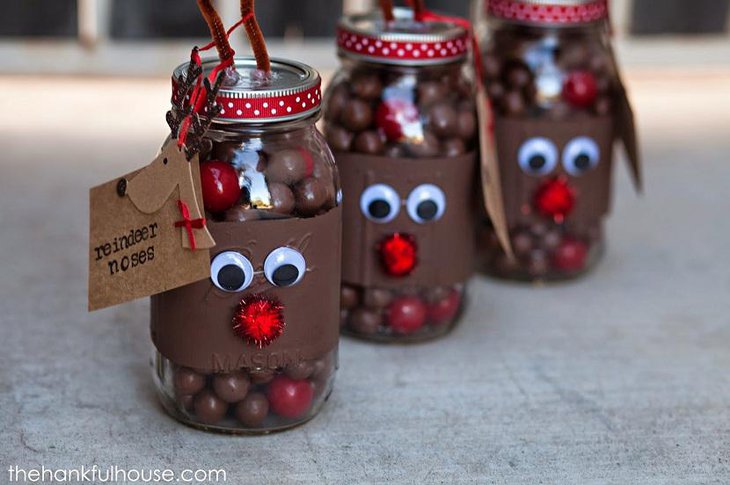 Reindeer-themed Milk Balls
Image Credit: blogspot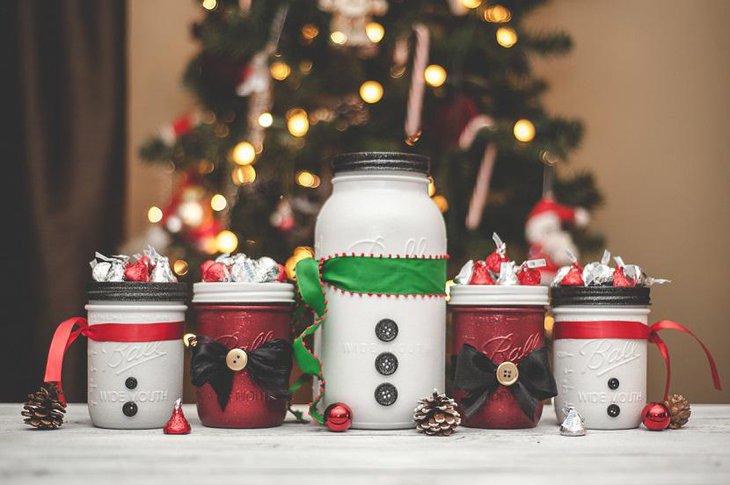 Painted and Decorated Candy Jars
Image Credit: kastyles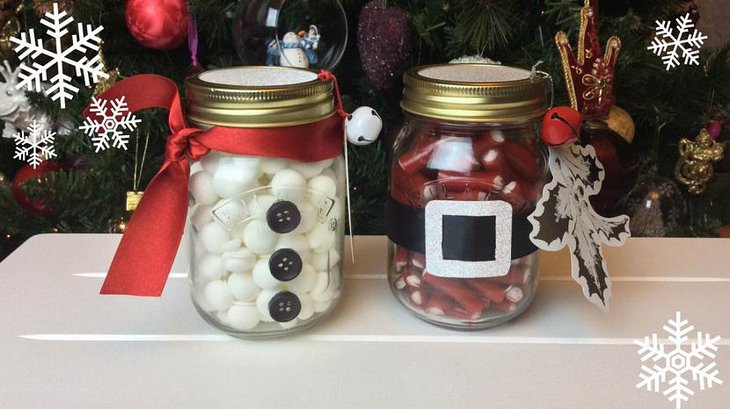 Coordinating Decorations and Fillings
Image Credit: youtube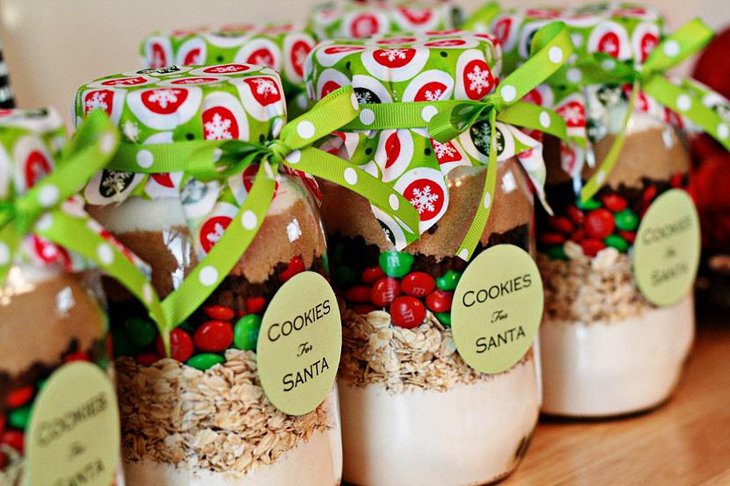 Cookie Mix Gifts
Image Credit: blogspot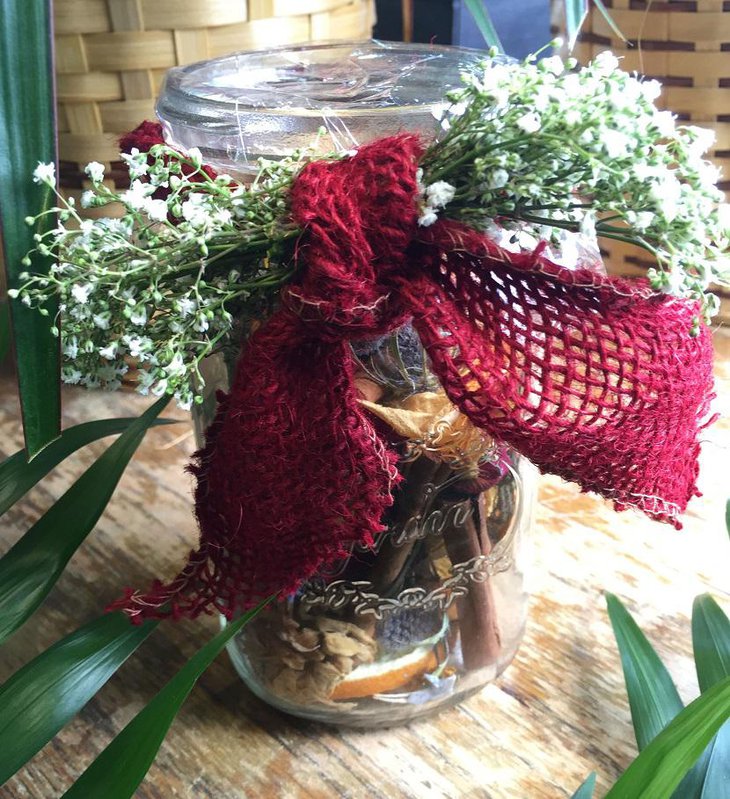 Potpourri Blend
Image Credit: flowermanager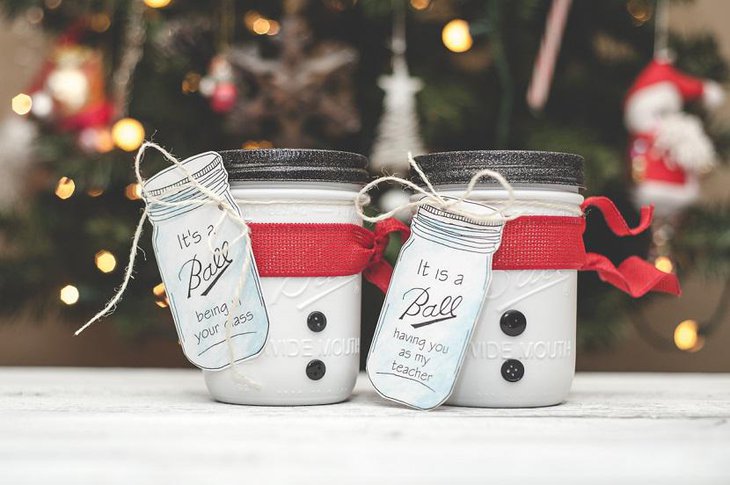 Filled Snowman Jar
Image Credit: kastyles
These creative Mason jar Christmas centerpiece, decoration, and gift ideas are very simple to execute but extremely eye-appealing. Try out any of these ideas this Christmas and delve into the festive spirit!
You might also enjoy reading our 30 Eye Catching Christmas Table Centerpieces Ideas.