Looking forward to decorating your coffee tables with the most creative coffee table decor ideas? If so, you have arrived at the correct spot as we are presenting a roundup of the most stunning coffee table ideas that will set your coffee tables in the limelight. Coffee tables are often the central focal point of the living room, and that makes it essential that we decorate them with the utmost style.
Coffee Table Décor Ideas with Candlesticks and Trays
If you ask the pros they will always suggest you to go in for such coffee table decor ideas that make use of candles, candlesticks, and trays, either by themselves or in combination with one another. The reason? Well, these accessories are the easiest ways to add a stylish look to your coffee table decor wherein you can play around with different mixes and matches, colors and textures. In order to add an especially charming effect to your coffee table, simply place a few silver or golden accented candlesticks or holders while you also make a complementary setting composed of a simple elegant tray to bring out a delightful balance. If you want a more opulent tablescape, try mixing lots of ornamental candlesticks, baubles, and flowers on a tray, and for a simpler version, merely arranging a few candles on a wooden tray will do the trick. There are a number of different types of trays that you can use, such as wooden trays, rattan, roundel, and metal.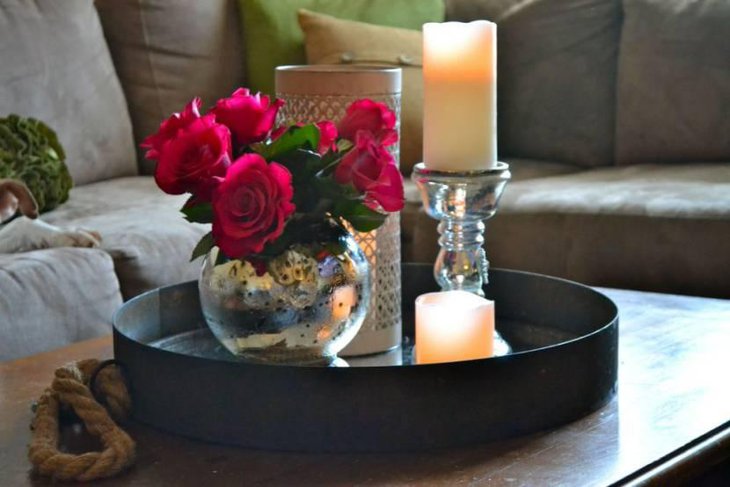 Roundel Tray Holding Metal Vase and an Arrangement of Candle Holders
Image Credit: dizhomes
Chic Contemporary Coffee Table Setting with Decorative Candlestick, Flowers, and Ornaments
Image Credit: sndimg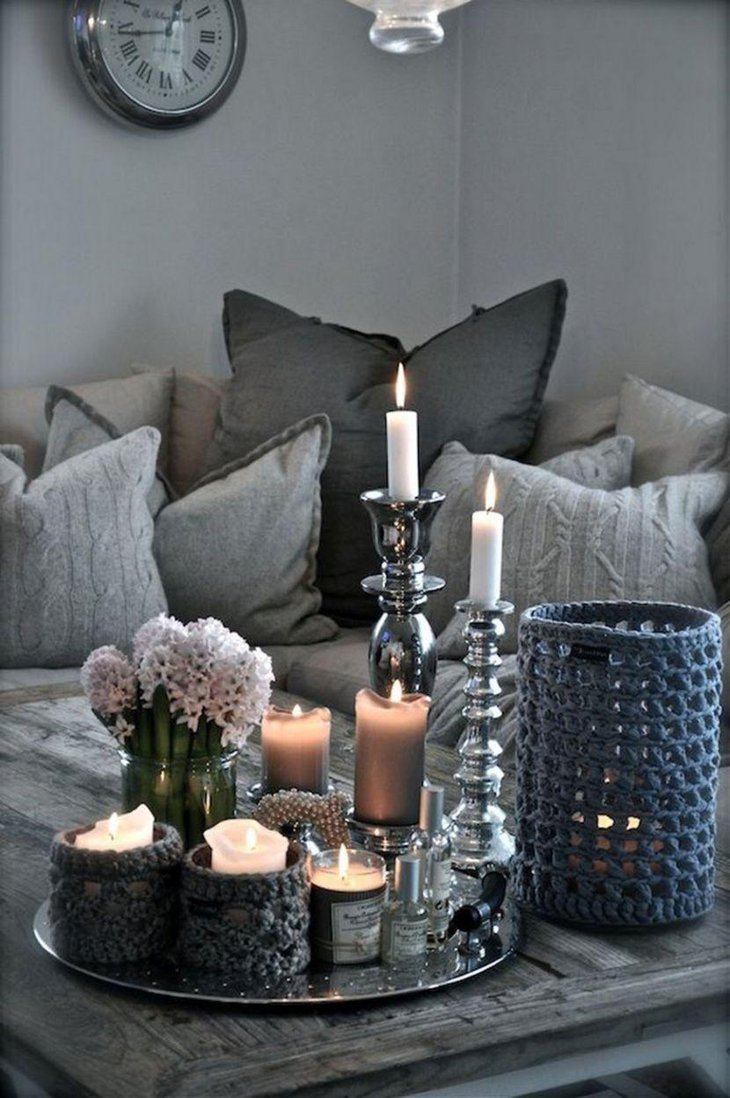 Silver Candlesticks and Gray Candleholders on a Reflective Metal Tray
Image Credit: womenofwootown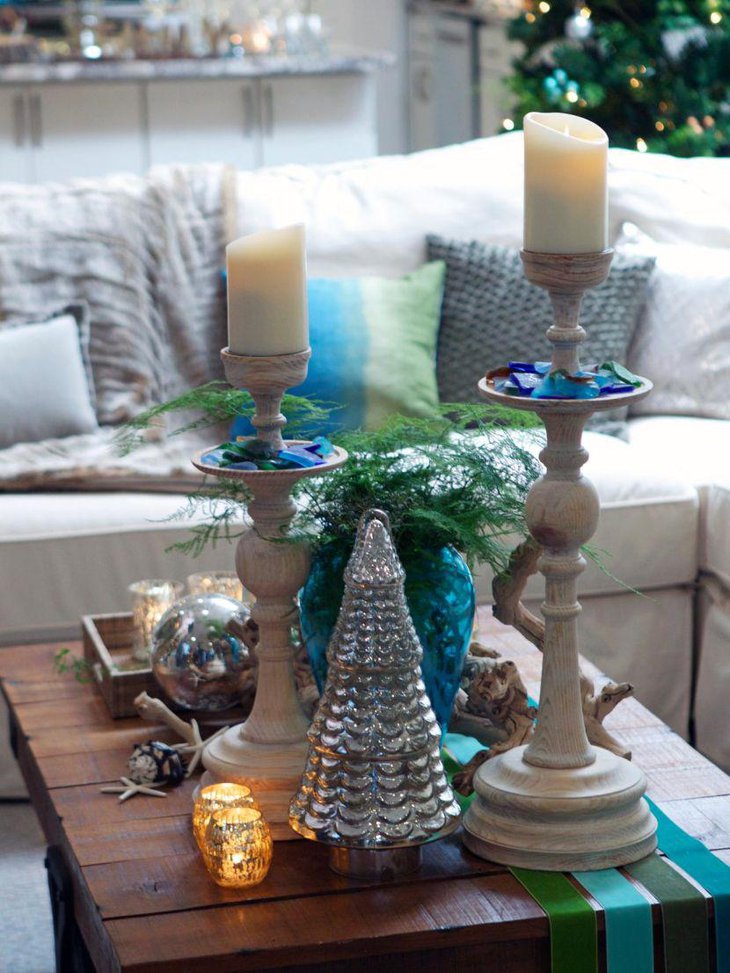 Festive Coffee Table Décor with Carved Wooden Candlesticks
Image Credit: sndimg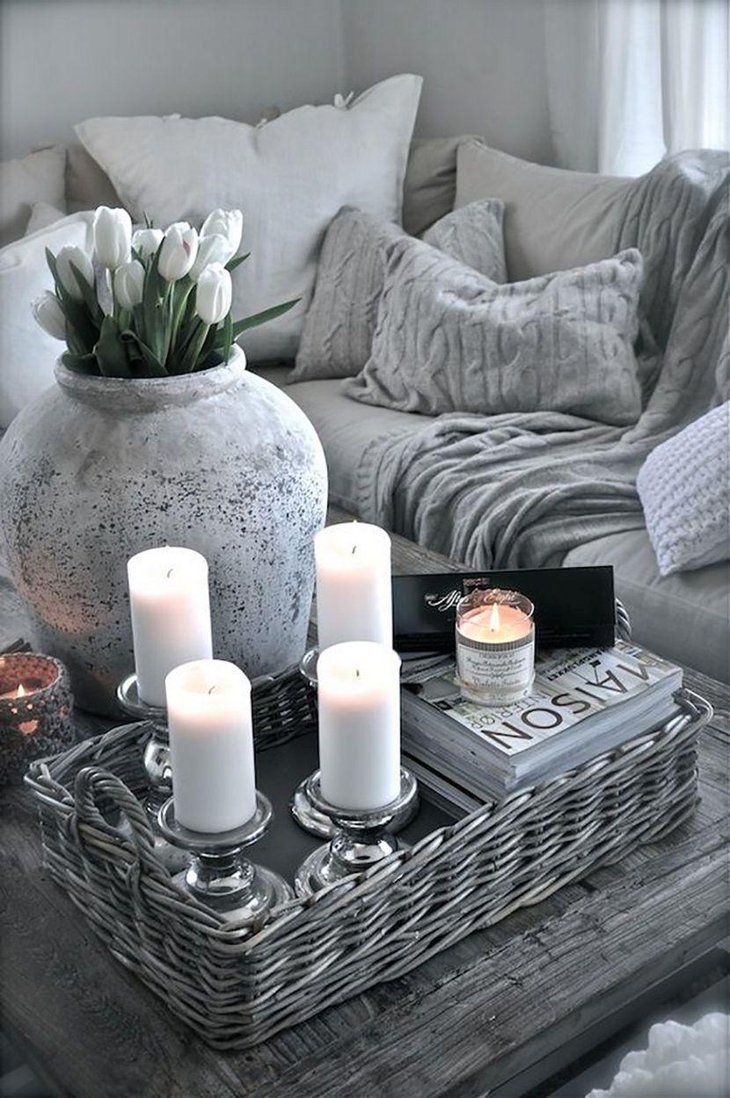 Elegant Candle Holders in Rattan Basket on Natural Wood Coffee Table
Image Credit: brabbu
Trendy White Coffee Table with Sleek Metal Candlesticks
Image Credit: yacineaziz
Chic Coffee Table Décor Ideas with Flowers
For an inviting coffee table décor, flowers are the most chosen accessory as they are feminine and fresh. Below, we have showcased a few images where coffee tables have been embellished using floral arrangements. Flowers, either fresh or artificial, help in adding a cheerful ambiance to your tables and also bring in a sense of fun and romance. Here, you can always pick and choose the kind of flowers that you wish to pick or purchase for stylizing your tables. These can range from roses to hydrangeas to lilies to poppies to mums. Keeping a pot of fresh, live flowers enlivens the room and spreads positive vibes to all who see it. A few coffee table centerpieces shown below are made up of flowers paired with complementary books, candles, trays, and other kinds of accessories.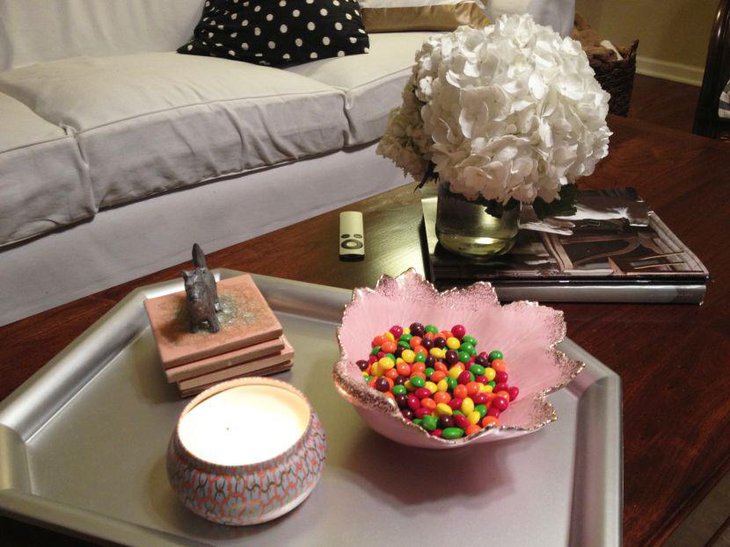 Gorgeous, Full Floral Arrangement on Coffee Table with Accompanying Books, Candy Dish, Candle, and Coasters on Tray
Image Credit: lindaberner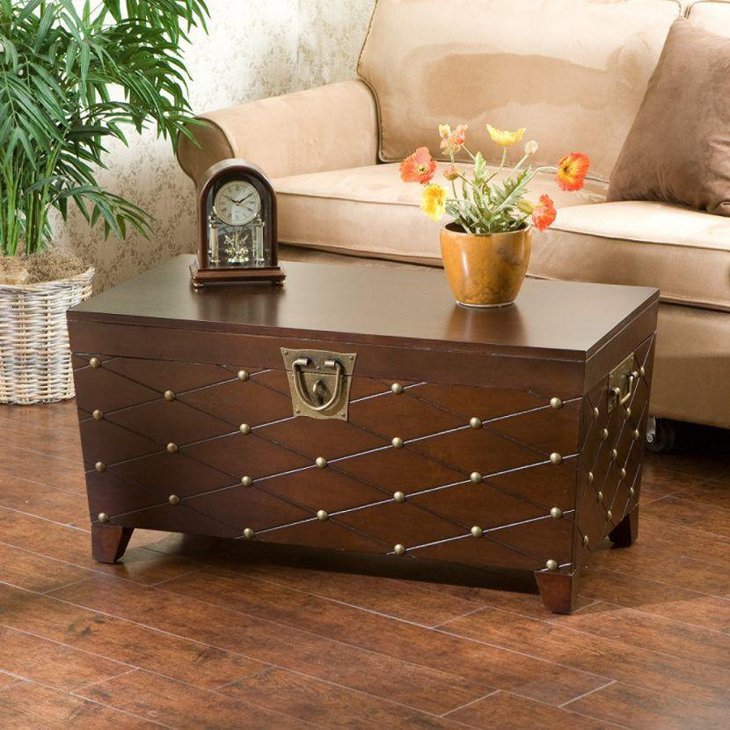 Contemporary Coffee Tablescape with Potted Flowers and Decorative Clock
Image Credit: quickhomesforsale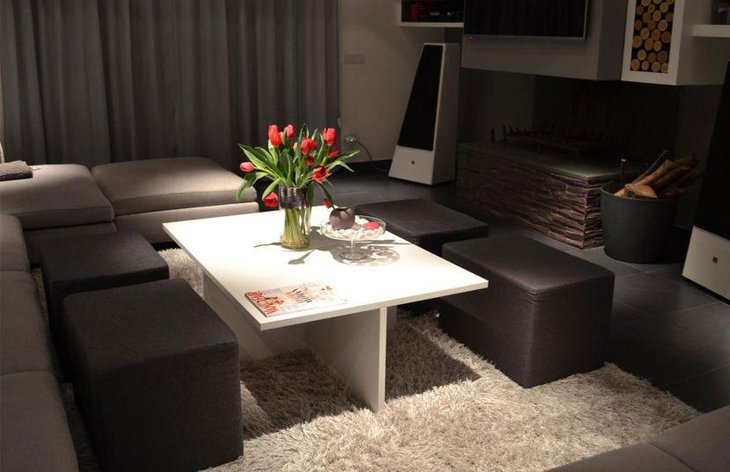 Fresh Flowers in a Vase on Chic White Coffee Table
Image Credit: luxurybusla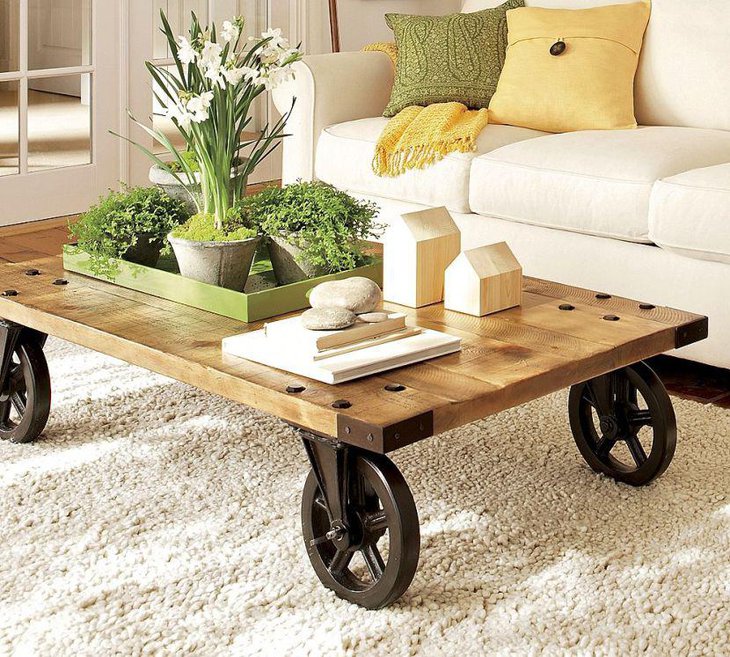 Rustic Wagon Style Coffee Table with Growing Greenery, Stones, and Wood Carvings
Image Credit: slimnewedit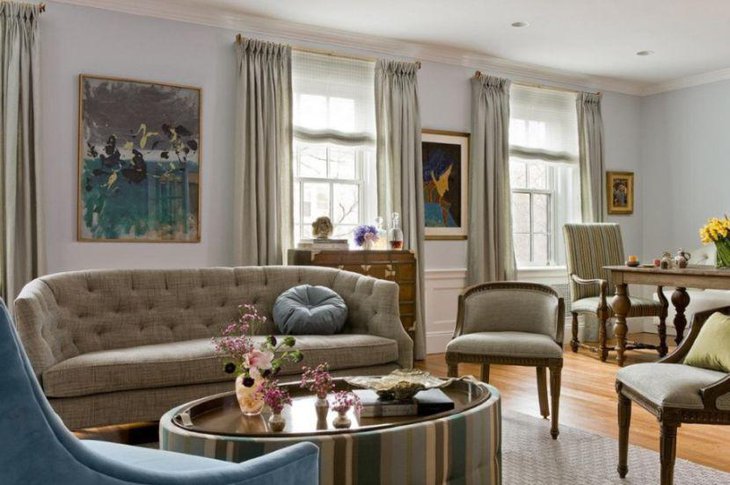 Upholstered Coffee Table with Variously Sized Vases and Fresh Flowers
Image Credit: backalleyjohn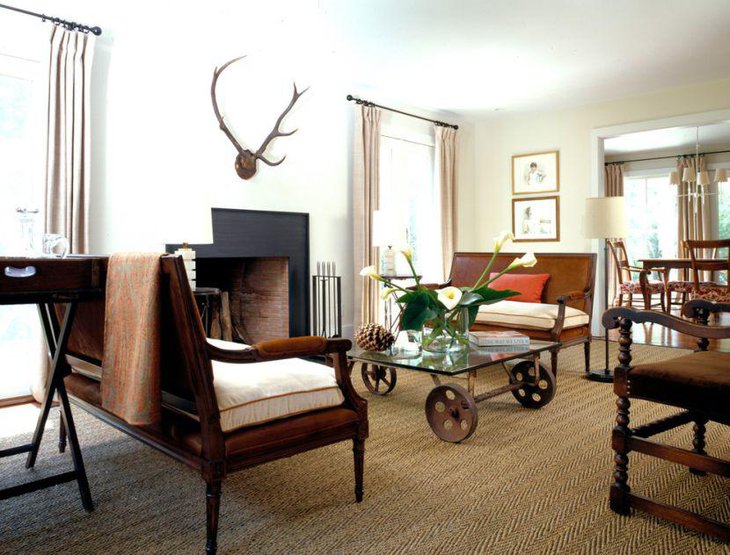 Glass Topped Wagon Coffee Table with Fresh Lilies and Pinecone
Image Credit: memorabledecor
Contemporary Ottoman Coffee Table Décor Ideas
An ottoman coffee table is the space-saving take on the coffee table concept wherein you can use it as a table as well as a seat or footrest, with cushioned upholstery made either of leather or fabric. The ottoman coffee table ideas shown below will inspire you with easy decorating ideas for these versatile pieces. Your ottoman coffee table can be embellished with a multitude of accessories, such as flowers, candelabras, trays, decorative figurines, colorful pots, and bottles. Each accessory has its own distinct charm and you can choose the type that suits your living room décor the best. The pictures below are beautiful examples of how ottoman coffee tables can look. Go ahead and try them!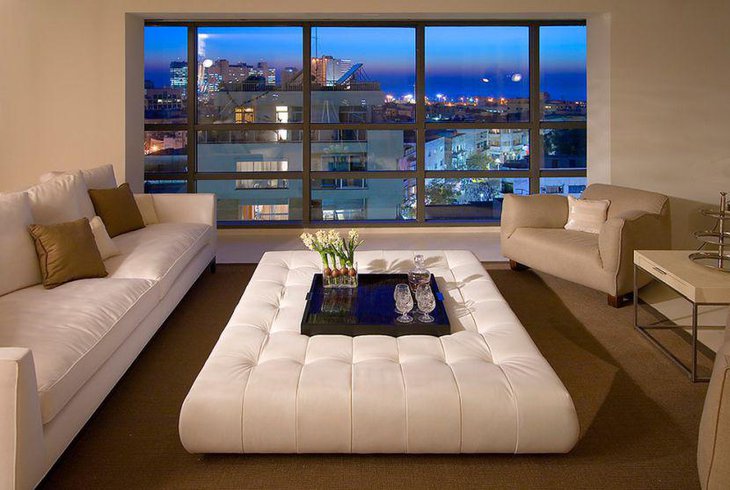 Large White Ottoman Coffee Table with Floral Arrangement and Glasses on Black Tray
Image Credit: yacineaziz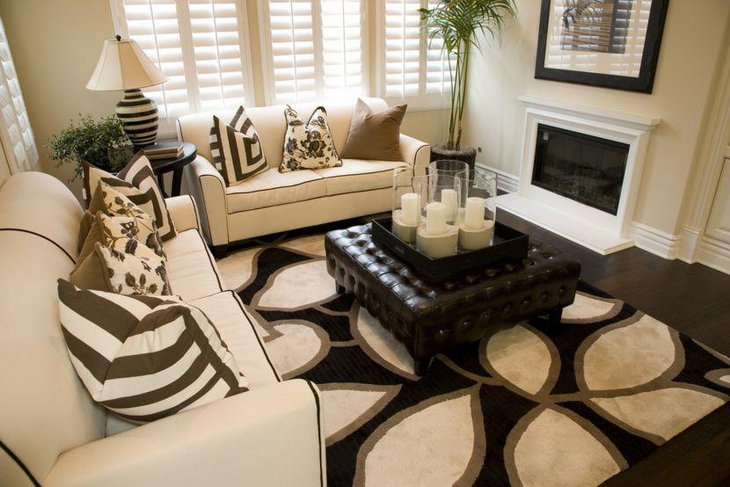 Gorgeous Ottoman Coffee Table with Candle Holders in Tray
Image Credit: homideas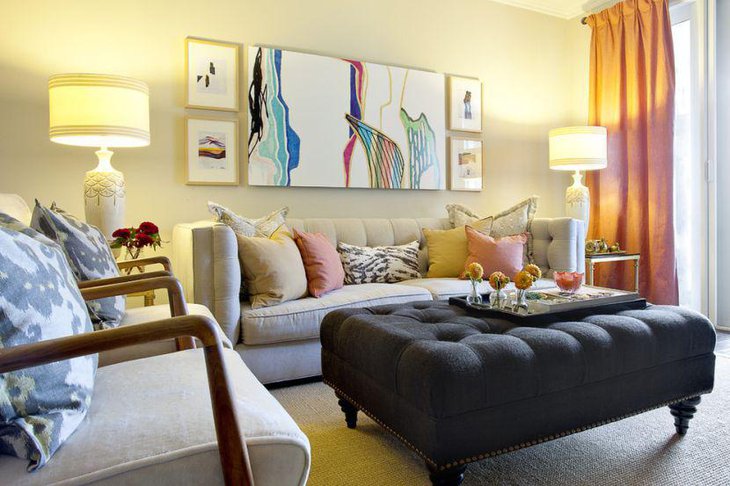 Mini Floral Arrangements and Candleholder on Magazines in Tray
Image Credit: memorabledecor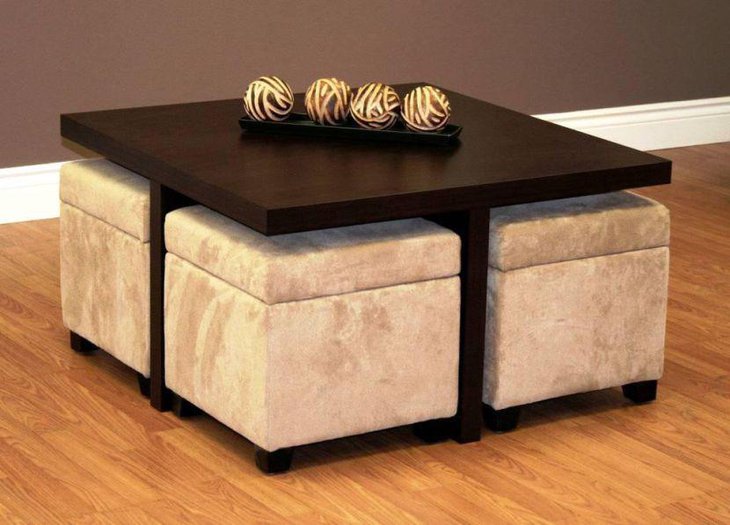 Coffee Table / Ottoman Combo with Decorative Balls
Image Credit: eastsidehomelink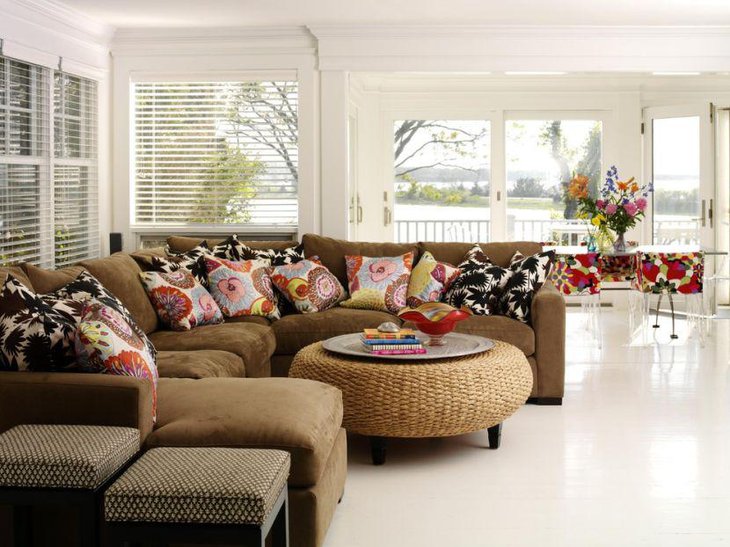 Round Rope Knitted Ottoman Coffee Table with Books and Dish on Metal Tray
Image Credit: debmoe
Trendy Coffee Table Décor with Books
After adorning the coffee table with flowers, candlesticks, and trays, we are turning our attention now toward books. Books are not new to the world of table decor ideas but have always been popular accessories to showcase your personal interests or classic literature. There are plenty of ways to stylize your coffee tables using books other than simply stacking them neatly on the sides of the table. Now, with these cool table décor pictures, you can get some new ideas that will see you placing books either randomly all across the coffee table while you put objects on top, or place them in a neat arrangement but complement their beauty by adding other accessories like votive candle holders, bowls, or decorative figurines. For a natural feel in your living room, try placing a small colorful pot of fresh flowers or planters, and for a vintage look, put a small gift box filled with jewelry on top of the books.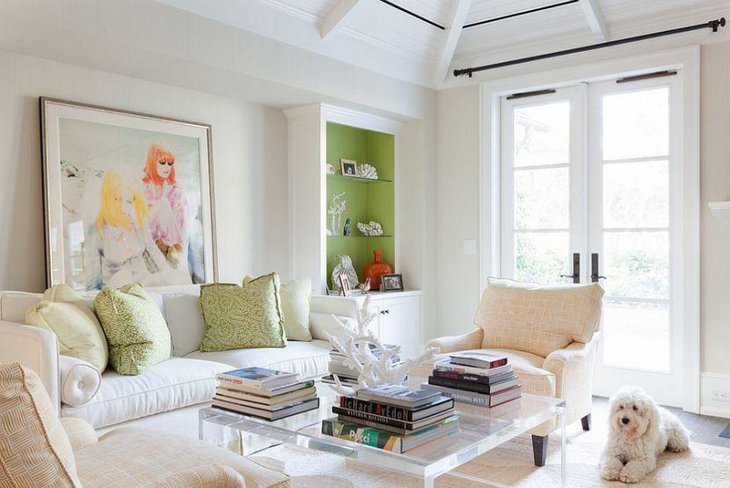 Stacked Books and Antler Decoration on Modern Glass Coffee Table
Image Credit: useif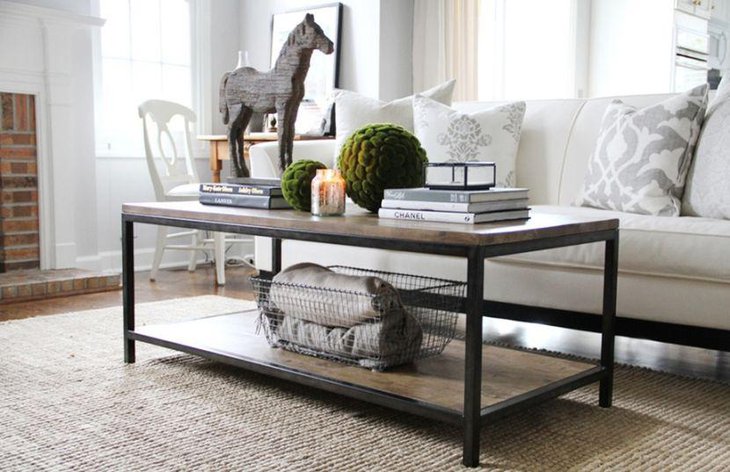 Neatly Stacked Books Accompanying Candle, Moss Balls, and Wooden Horse Figurine
Image Credit: theeverygirl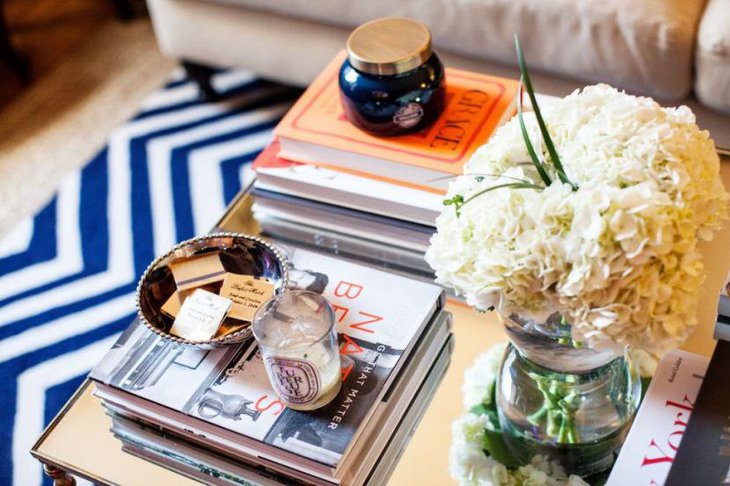 Book Collection with Candles and Floral Arrangement
Image Credit: ghk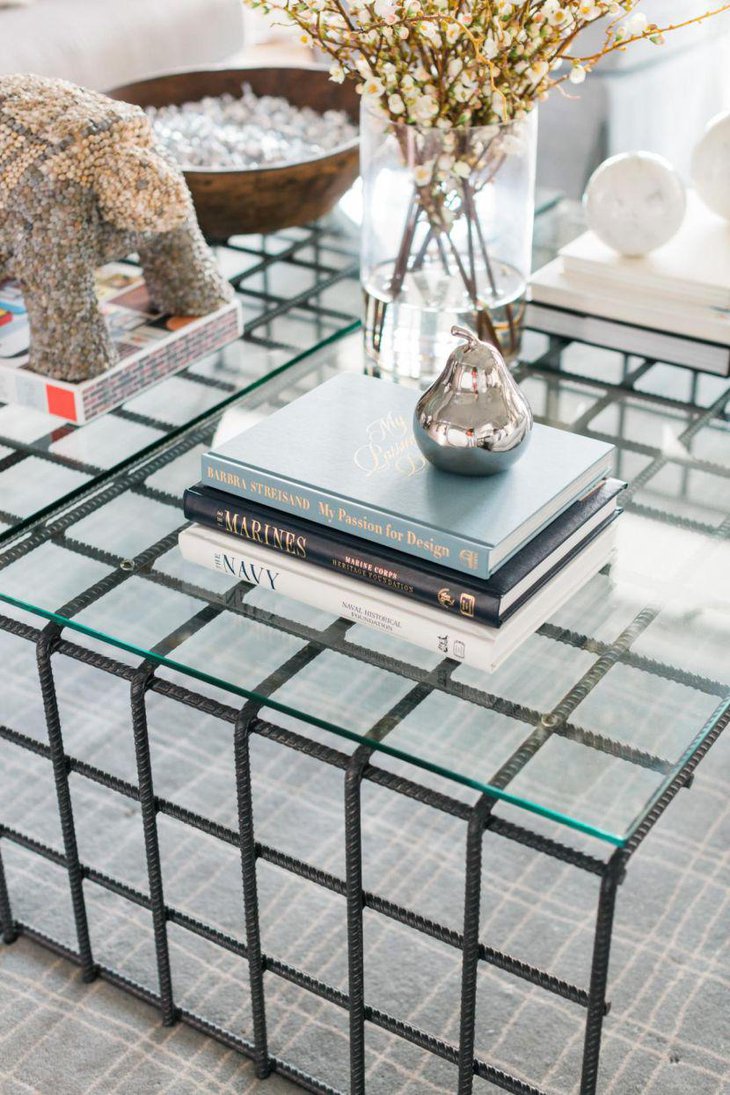 Wire Coffee Table with Glass Top Featuring Books, Figurines, and Fresh Flowers
Image Credit: sndimg
Modern Terrarium and Succulent Coffee Table Centerpieces
Terrariums and succulents make excellent coffee table centerpieces as they look serene and bring natural accents to your living area. There are some people who do not like to place floral arrangements on their coffee tables but still want to feature natural growth. Terrariums or succulents suit these souls nicely. They are easy to maintain as you do not have to water succulents everyday unlike flowers that need daily care. Unlike flowers that can sometimes cause allergies in people, terrarium centerpieces with succulents are completely allergen free. You can place a terrarium filled with artificial rocks, sand, and other accessories or opt for succulent types by themselves to add an organic feel. Let's look at some of these gorgeously green succulent arrangements and terrariums to get some refreshing inspiration!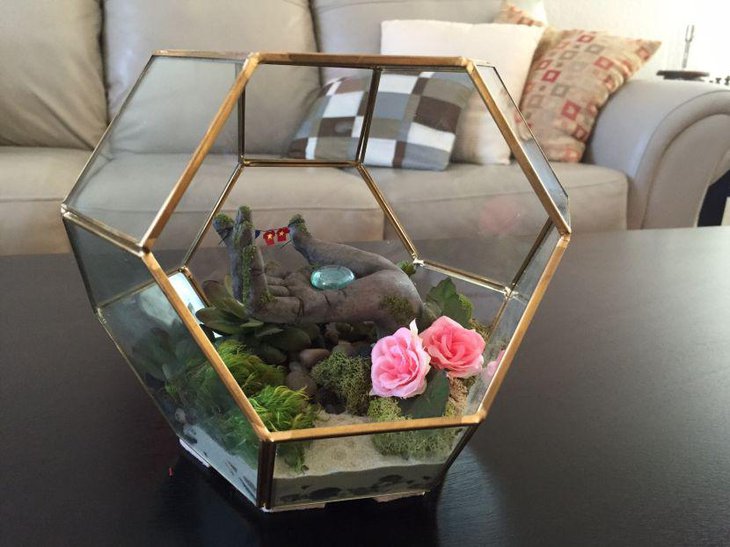 Unique Terrarium Centerpiece with Sculpted Hand, Sand, and Succulents
Image Credit: imgur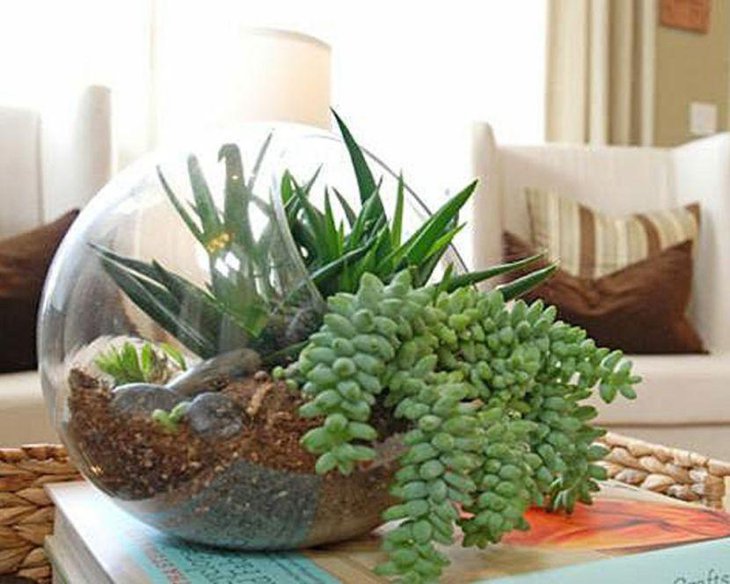 Open Display Bowl with Growing Succulents and Stone Accents
Image Credit: gardenloversclub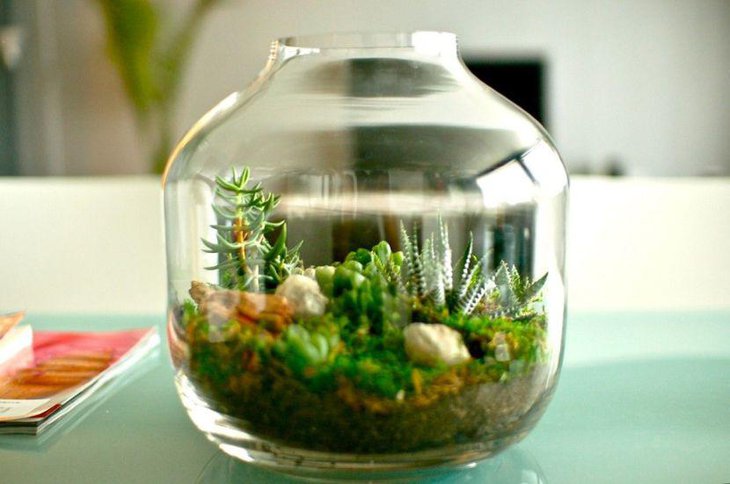 Succulent Terrarium Centerpiece with Multiple Varieties
Image Credit: homedit
Outdoor Coffee Table Décor with Full Succulent Planter
Image Credit: homedit
Modern Silver Coffee Table Décor Ideas
The silver accented coffee table decorations shown below will show you what a drastic change silver can make to the way a table looks. The elements of décor shown below have silver finishes and look simply elegant when laid out ornately over your coffee table. For a chic look, try using a variety of accessories together, such as candlesticks, candelabras, trays, baubles, figurines, and pots. The one decor idea that will really add a swinging touch to your living area would be a silver crafted coffee table that's adorned with a silver planter vase and some books. Like this, there are tons of decoration ideas that involve classy blends of this amazing metallic tone with other accessories.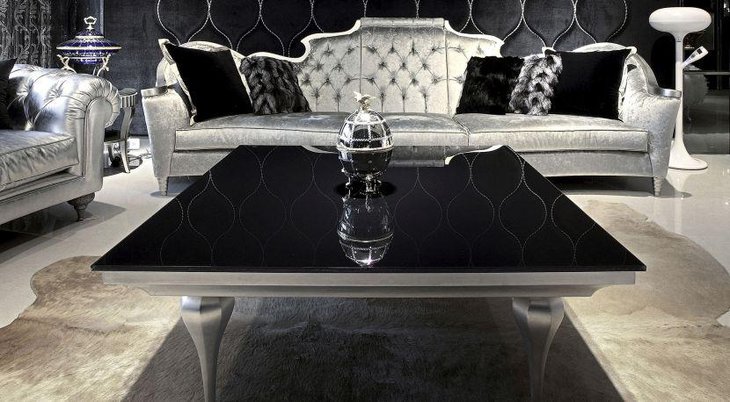 Stunning Silver Egg Centerpiece on Black Glass Topped Silver Coffee Table
Image Credit: lindaberner
White and Wood Dual Coffee Table Set with Silver Dish and Ornaments
Image Credit: decowans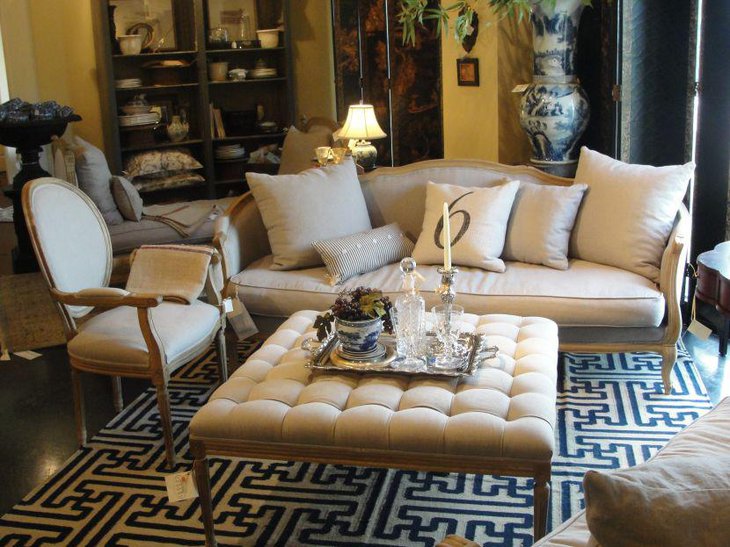 Alluring Coffee Table Décor with Silver Candlestick on a Silver Tray
Image Credit: cutenareta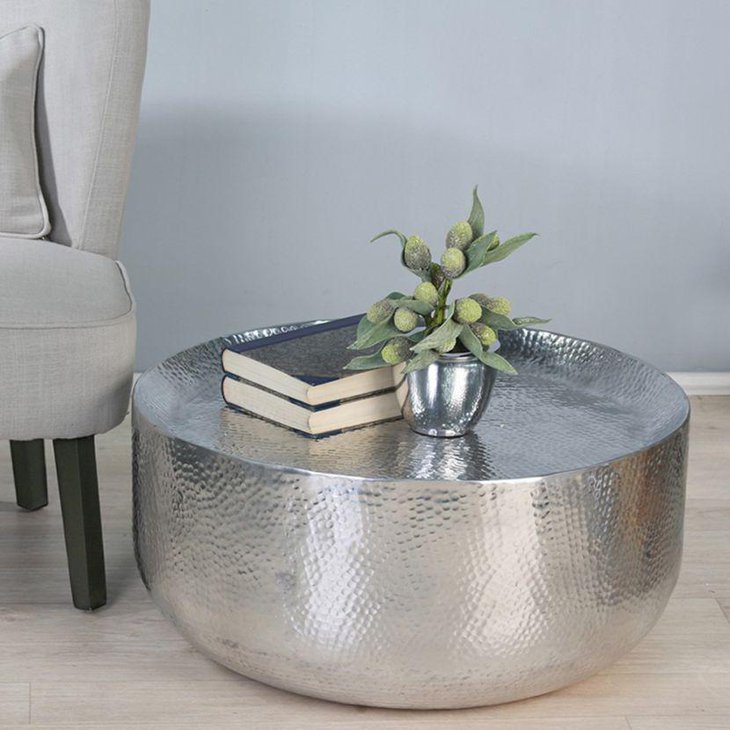 Silver Coffee Table with Silver Pot and Books
Image Credit: bvenues
Modern Gold Coffee Table Ideas
If you are not into silver but wish to go metallic when decorating coffee tables, try using golden accents. The soft glowing tints of gold always add a chic look to your décor. For a modish look on your coffee table, you can opt for a tray embellishment that's stylized with golden rimmed goblets and glasses with other barware. Contemporary settings on the coffee table can be created by mixing books and pots along with golden accented decorative pieces, such as stars and balls. Likewise, placing a golden replica of an elephant or other figure will help in adding a sophisticated touch to your living room. Golden accented décor matches almost any color scheme, including pastels.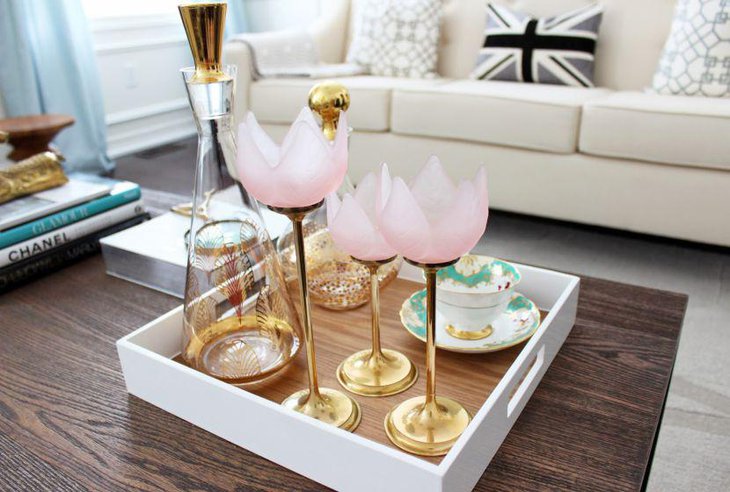 Stylish Golden Decanters and Candle Holders in a Wooden Tray
Image Credit: lindaberner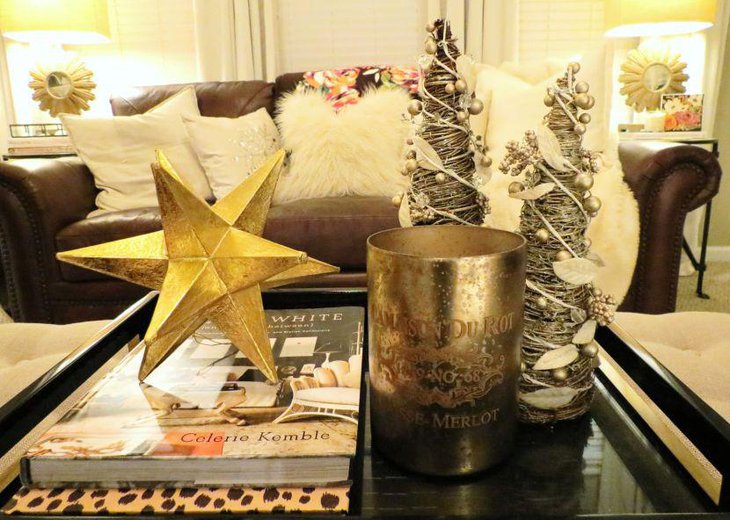 Golden Pot and Star Figurine with Silver Wire Christmas Tree Decorations
Image Credit: annsatic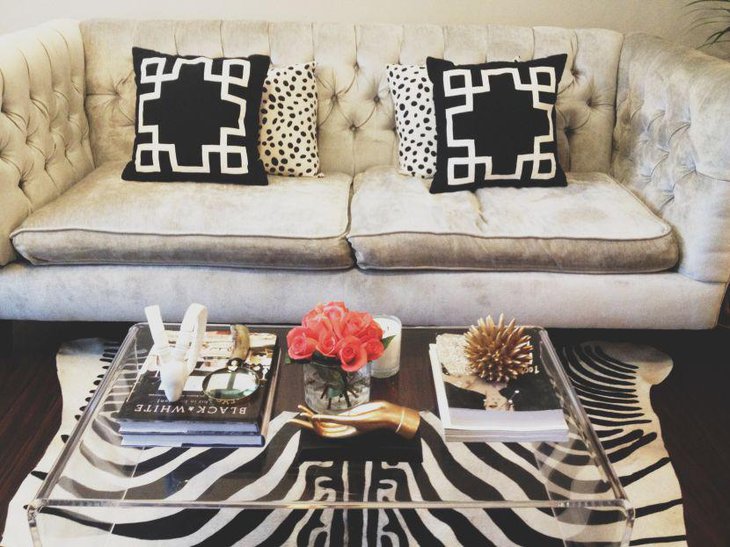 Golden Sculpted Hand Centerpiece with Assorted Accessories
Image Credit: kelseydesign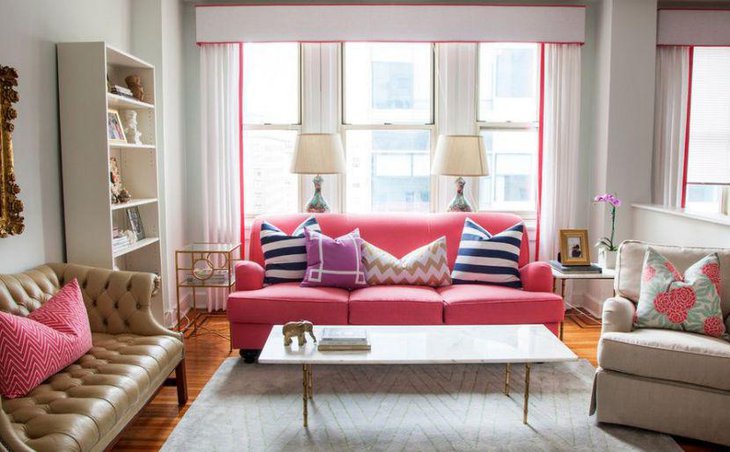 Marble Coffee Table with Books and Golden Elephant Figurine
Image Credit: homedit
Beautiful DIY Coffee Table Ideas
The coffee table decor ideas that we have showcased until now must have made a significant impact on your minds, but the ones that we are about to show now will inspire you to create your own centerpieces! These are DIY décor ideas that can make your coffee tables look awesomely handcrafted. Doing it yourself means you can craft out new and better decorative ideas and make use of inexpensive accessories in ways that you never imagined were possible. For a fancy look on your coffee table, try crafting out a table vignette comprised of a handmade cardboard box tray that's filled with personal items, such as tea cups, flowers, perfume bottles, and pots. Another pleasant tablescape to create when you are taking things into your own hands is to place a planter pot along with a few books, vases and wooden tray filled with moss. Scroll down and see for yourselves how cool and pretty these DIY coffee tables look!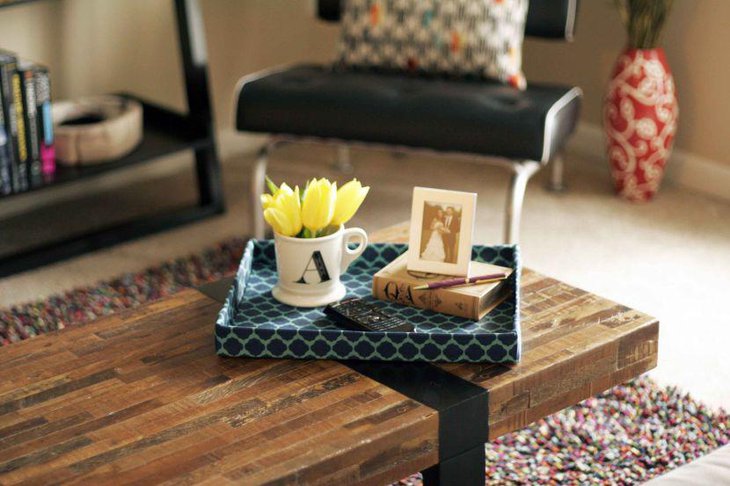 Modern Natural Wood Coffee Table with Decorative Cardboard Tray, Mug Vase, Photo, and Book
Image Credit: lindaberner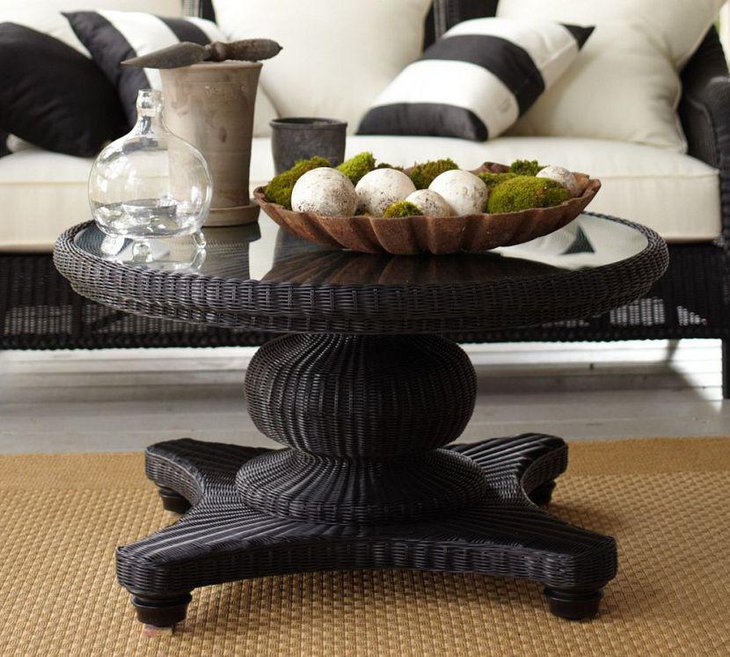 Round Rattan Coffee Table with Glass Top Featuring Wooden Bowl with Moss Covered Balls
Image Credit: avvs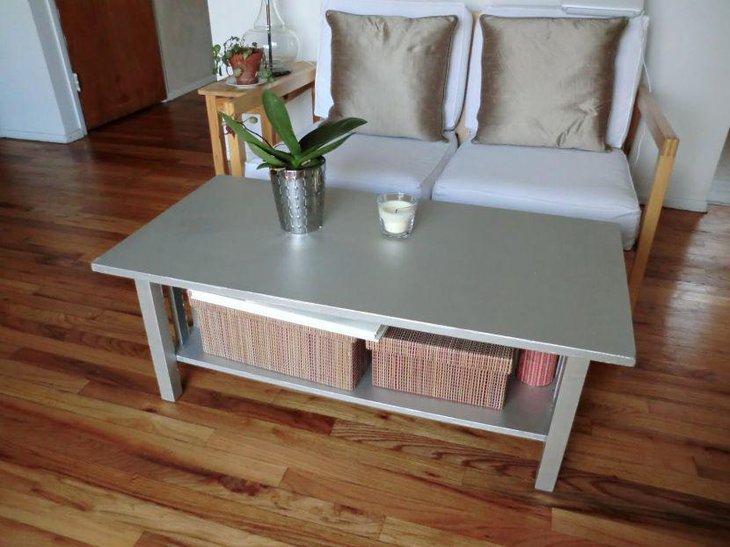 Chic Metal Planter and Small Glass Candle Holder on Modern Coffee Table
Image Credit: niufurniture
Stylish Coastal Inspired Coffee Table Décor
Your living room may have been themed around nautical or coastal elements, which makes it essential that your coffee tables too project the same look for a balanced appearance. The coastal theme looks refreshing and very serene to the eyes, and if you look below, you will spot a few modern coastal themed coffee tables that have been gussied up with beach accessories, such as sea shells, sand, fish replicas, and coral. A rattan basket arrangement with jars filled with shells and sand looks very attractive and can be tried as a simple table décor idea. You can also fill candy jars with sand for an authentic 'beachy' feel.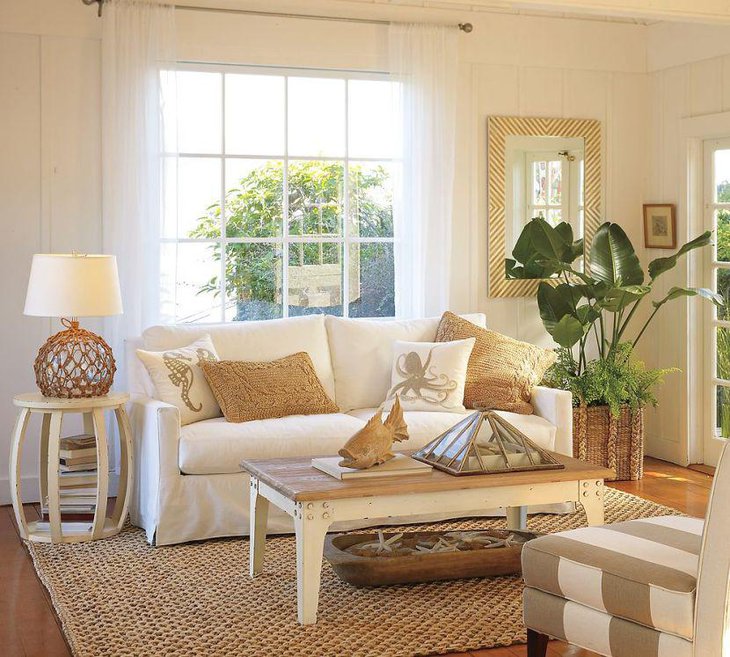 Cozy Beach Themed Table Décor with Sand Terrarium and Fish Replica
Image Credit: wakecares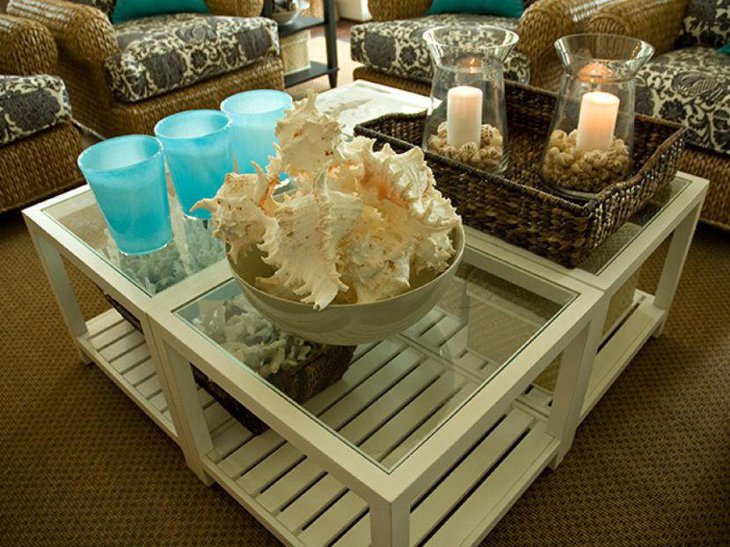 Coastal Themed Coffee Table Décor with Large Shells in Basket and Small Shells in Candleholders
Image Credit: sndimg
Amazing Fruit Bowl Coffee Table Centerpieces
If you think flowers are passé but still want to add a fresh element to your decorating style, you can try using rotating fruit bowl centerpieces. Fruits arranged in wooden bowls or on trays lend a rustic modern touch to a table's décor, unlike flowers that are usually seen as elements of femininity. For a simple masculine tablescape, place some dark toned fruits on a wooden tray, or, if you want a more luxurious appearance on your table, go in for an ornate ceramic bowl filled with colorful fruit arrangements of water melons, apples, and berries. Dried fruits too can be used as decor elements on a coffee table.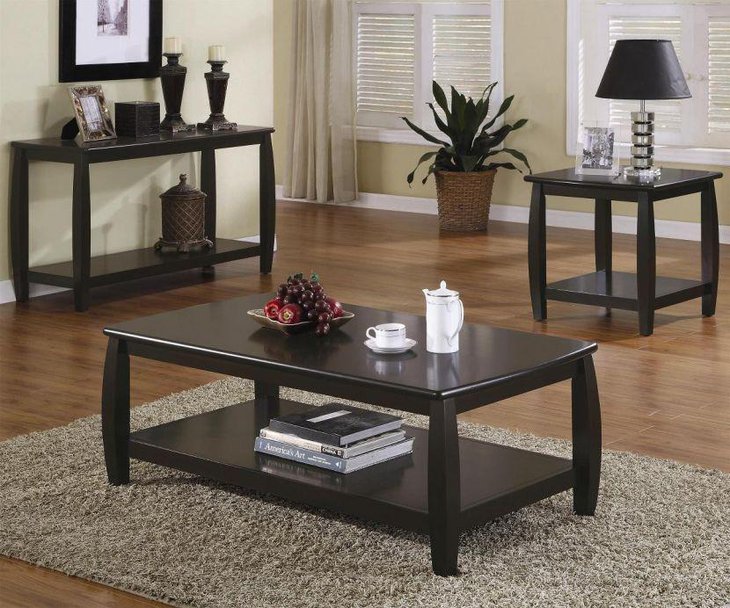 Modern Wood Coffee Table with Apples, Grapes, and Tea Setting
Image Credit: oduow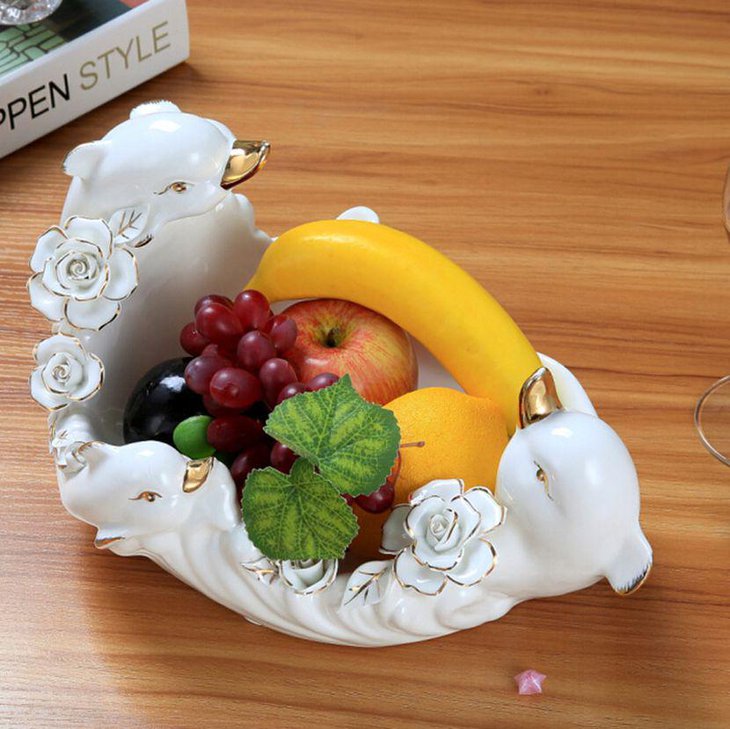 Decorative Ceramic Fruit Bowl with Colorful Varieties
Image Credit: alicdn
Your coffee table should match your style and the décor of the rest of your living room. A living room is the central area where family and friends gather together, and the coffee table is usually in the center of the room. Make it stand out in style with your favorite of our 39 coffee table decorating deas!