No home is complete without a beautiful and trendy coffee table. There are many sizes and styles, shapes and functions. But such a prominent, frequently-used piece of furniture deserves to be a little unique. Here are our 33 favorite antique DIY coffee table ideas. Each of these coffee tables will complement your home's luxurious, modern, or urban interior.
DIY Coffee Tables with Casters
A coffee table with casters adds a rustic and updated style to your living room space. Coffee table ideas with casters are easy on the pocket and give you a classy surface to entertain your guests. All you need are some pine boards for an opulent wooden top and your choice of casters. You can finish the coffee table by polishing and painting it or simply sand it for a traditional and rustic appeal.
Black Frame and Casters with Sanded Wood Top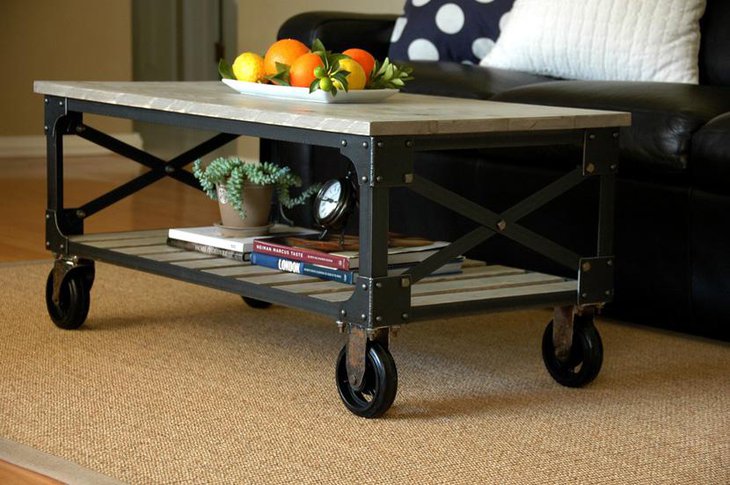 Image Credit: Furniphoto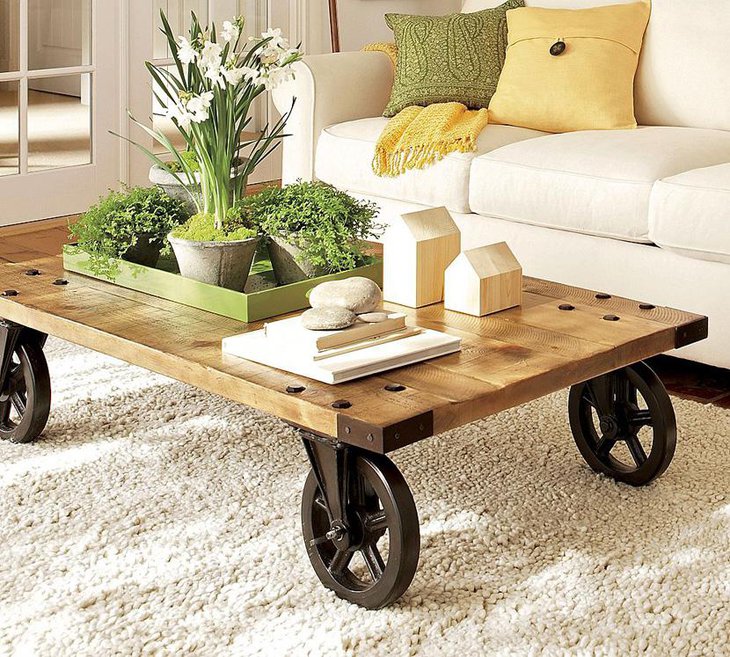 Rustic Plank Top and Wagon Casters
Image Credit: Saturdayhouse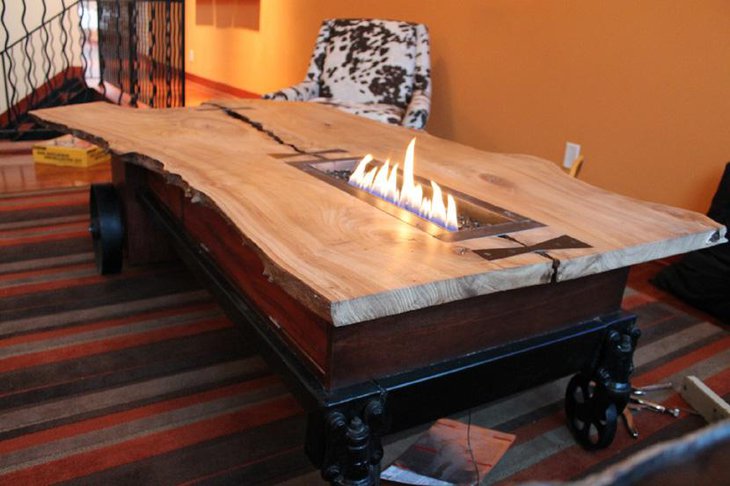 Amazing Wheeled Tree Trunk Table with Built-in Fire Pit
Image Credit: Furnizzy
Stained Board and Caster Coffee Table with Shelf
Image Credit: HGTV Home
Window Pane Coffee Tables
Old window panes are excellent tops for your tables. Give your table a unique refurbished look by incorporating other home elements. Complete the effect by having your window open into a storage compartment inside your table.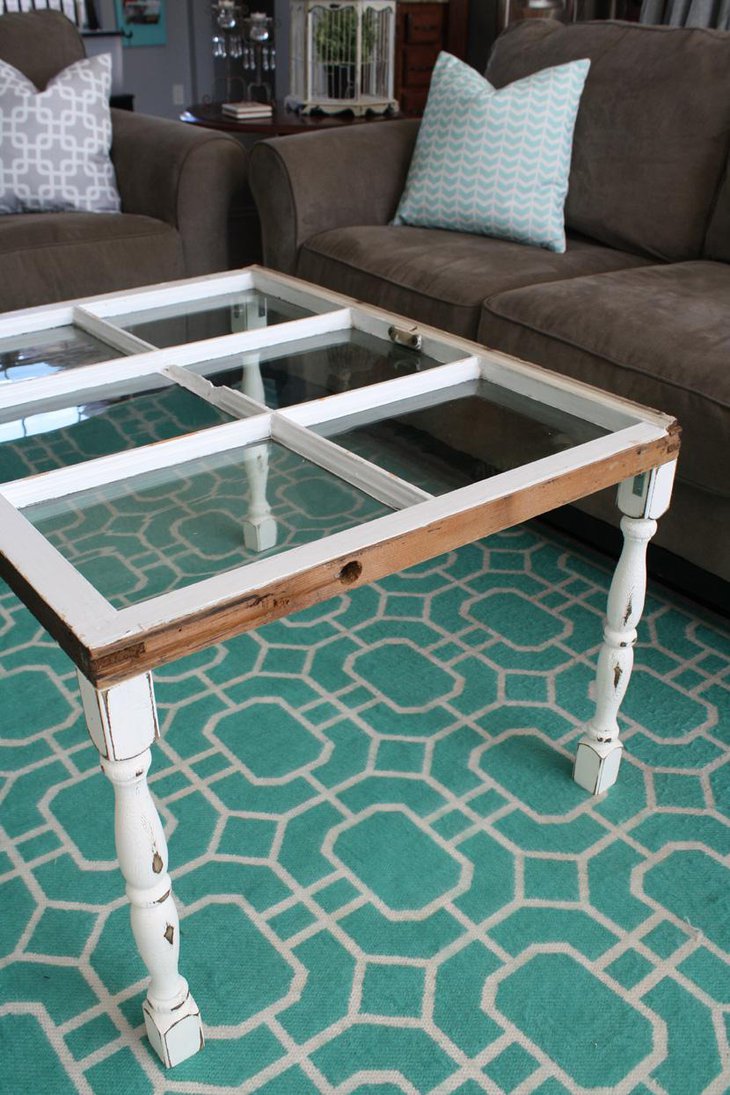 Window Pane and Rail Legs
Image Credit: Adiamondinthestuff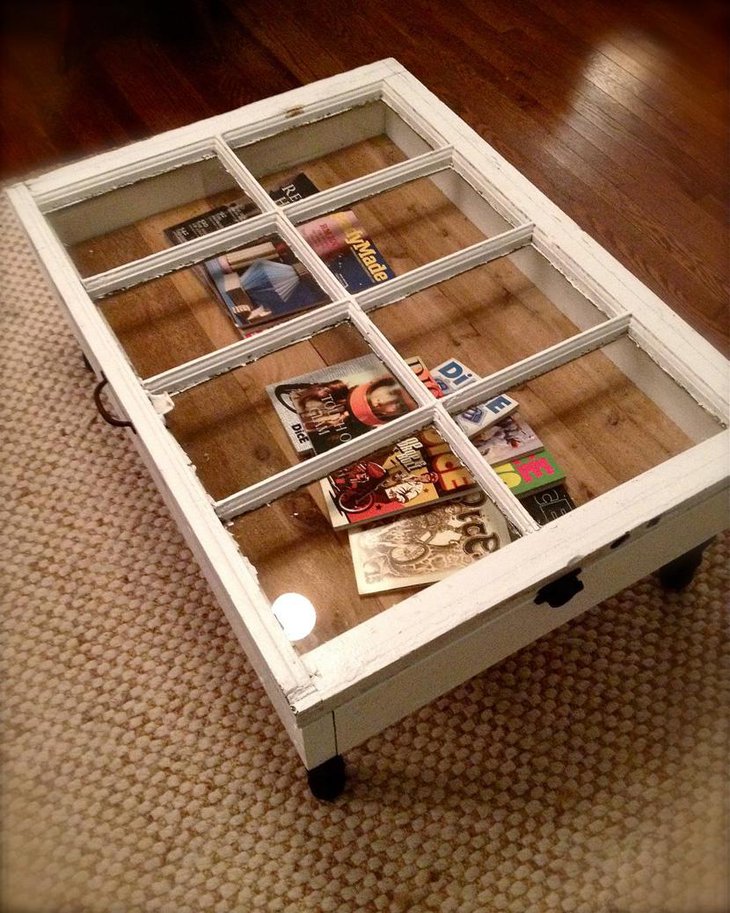 Shallow Storage Table with Window Pane Top
Image Credit: Etsystatic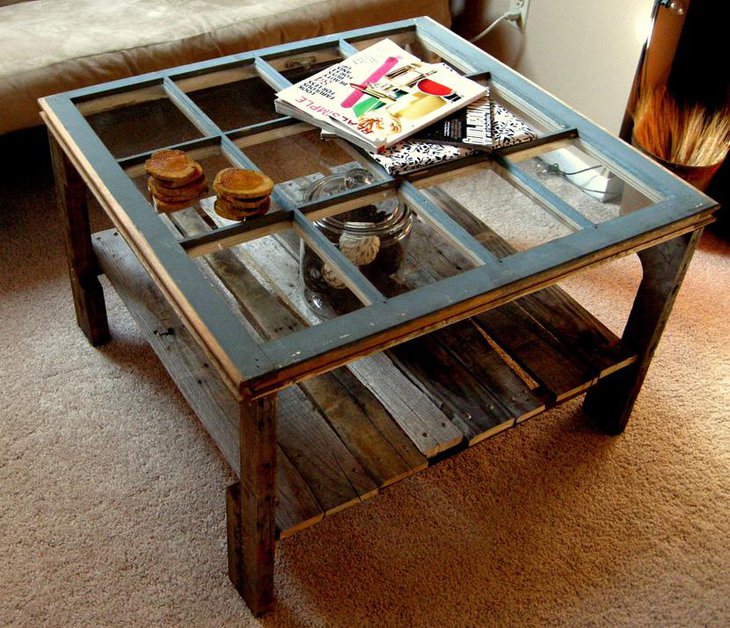 Rustic Window Pane Coffee Table
Image Credit: Remodelaholic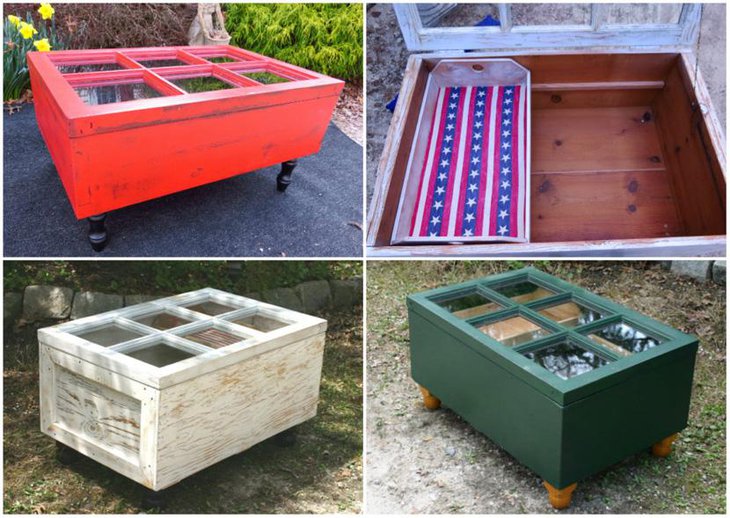 Reclaimed Outdoor Window Tables and Display Cases
Image Credit: Etsystatic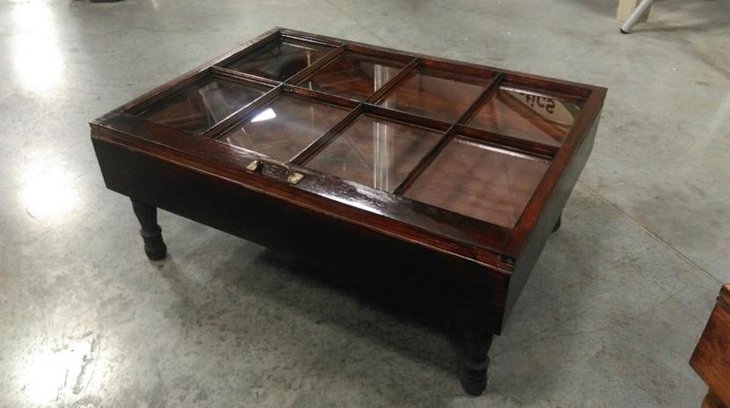 Elegant Window Pane Display Table
Image Credit: Etsystatic
DIY Cushioned Coffee Tables
Enhance your home's luxurious and lavish appeal with a cushion-top coffee table. They are easy to construct and will your apartment or house a chic and modern look. Use printed or velvet upholstery and embellish the edges of the table with silver or antique push pins to complete the vintage effect.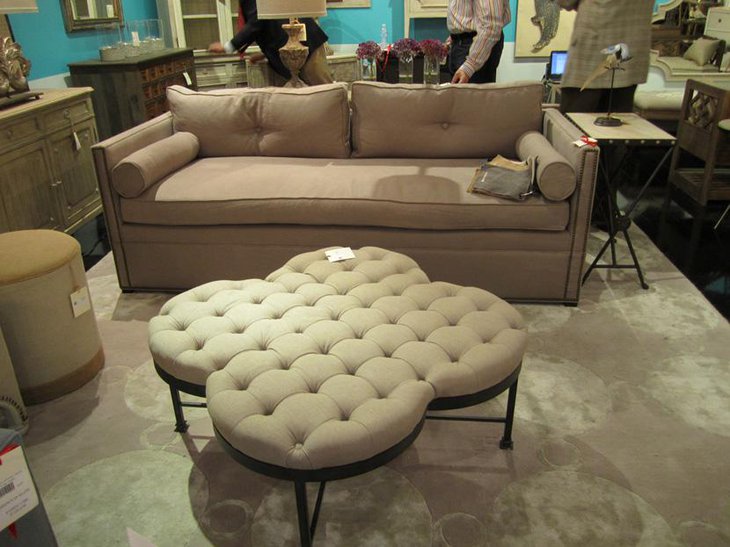 Uniquely Shaped Cushion Top with Metal Stand
Image Credit: Furnizzy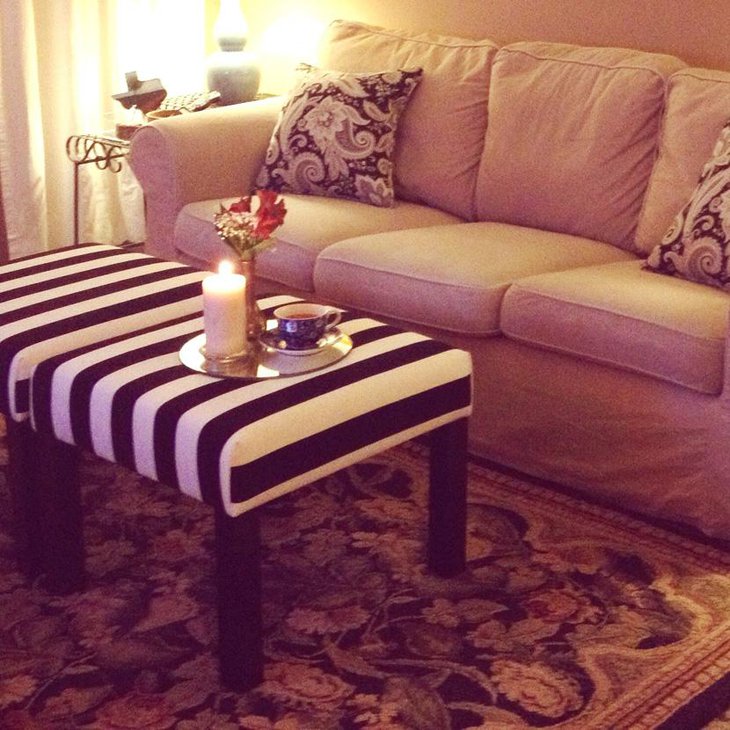 Black and White Cushion with Black Wood Legs
Image Credit: Coathangr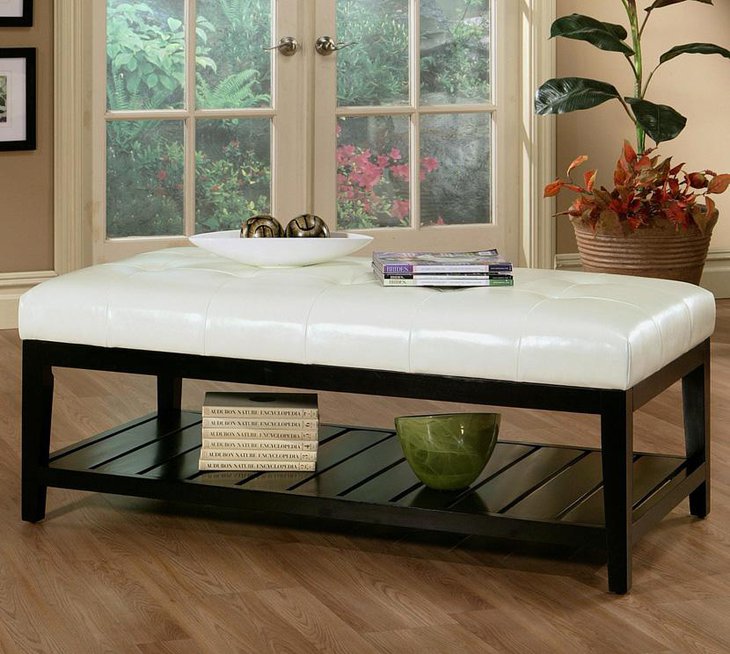 Modern White Cushion with Slat Wood Undershelving
Image Credit: Furnizzy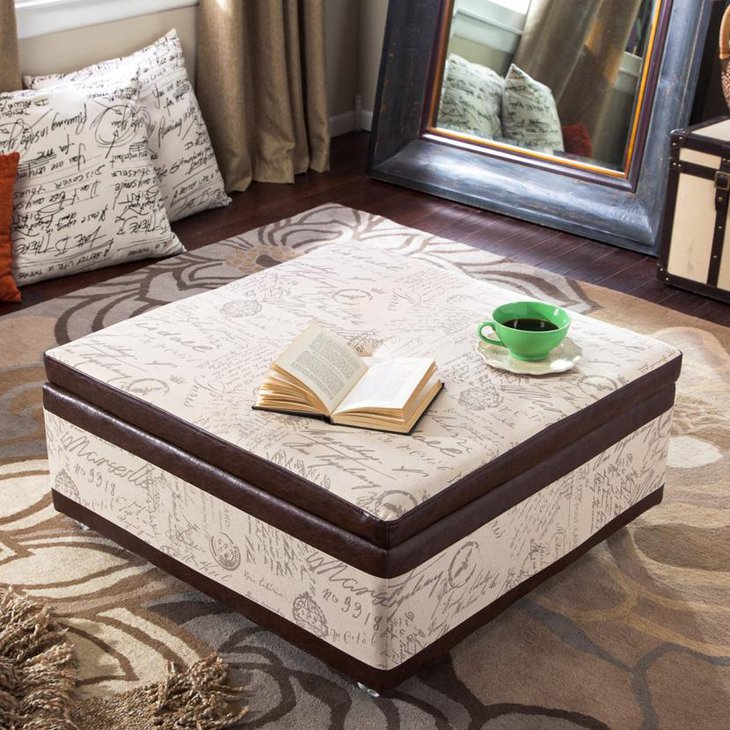 Stylish Coffee Table/Ottoman
Image Credit: Coathangr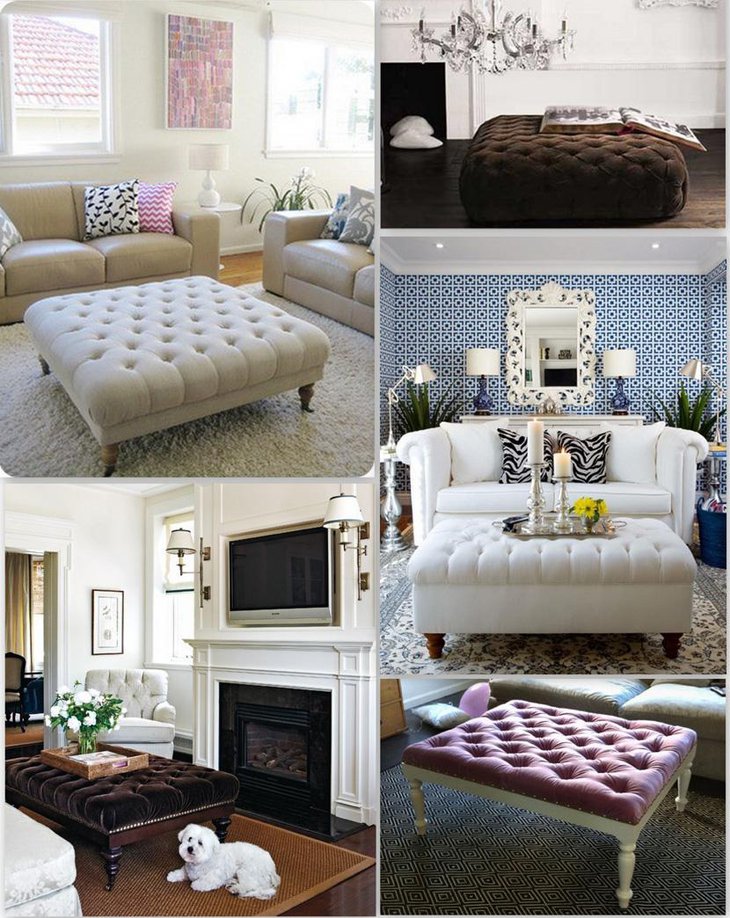 Elegant Cushioned Ottoman DIY Coffee Tables
Image Credit: Furnizzy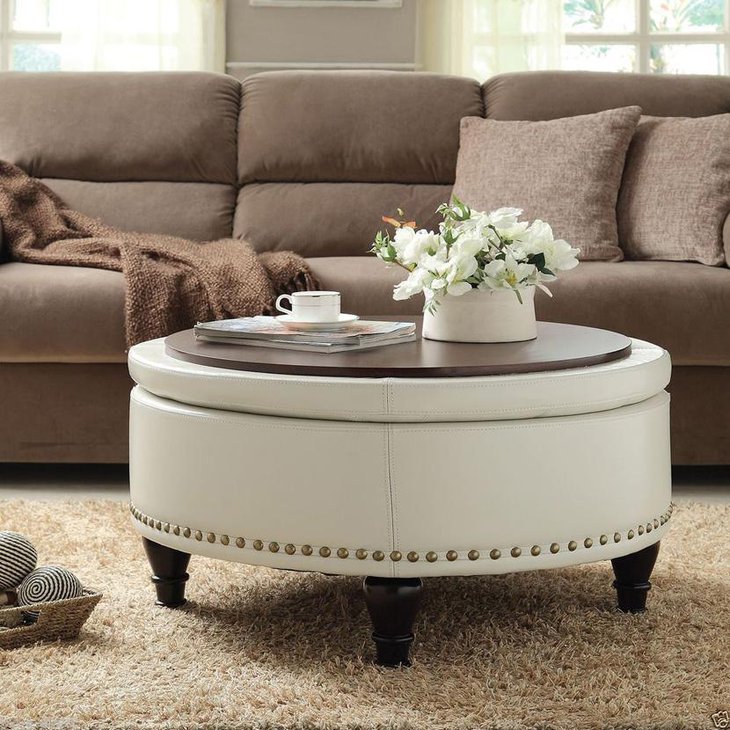 Round Cushioned Ottoman with Optional Wood Tray Coffee Table
Image Credit: Bobreuterstl
Tree Trunk and Raw Wood Tables
Coffee tables in the form of wooden logs or reclaimed wood planks provide a look of refined ruggedness, or rustic modernity. Use the wooden logs as the surface or the legs. Craft tops with old pallets or doors.
Polished Tree Trunk Table
Image Credit: DIYnetwork
Wooden Wheel and Plank Spinning Bookshelf Table
Image Credit: Etsystatic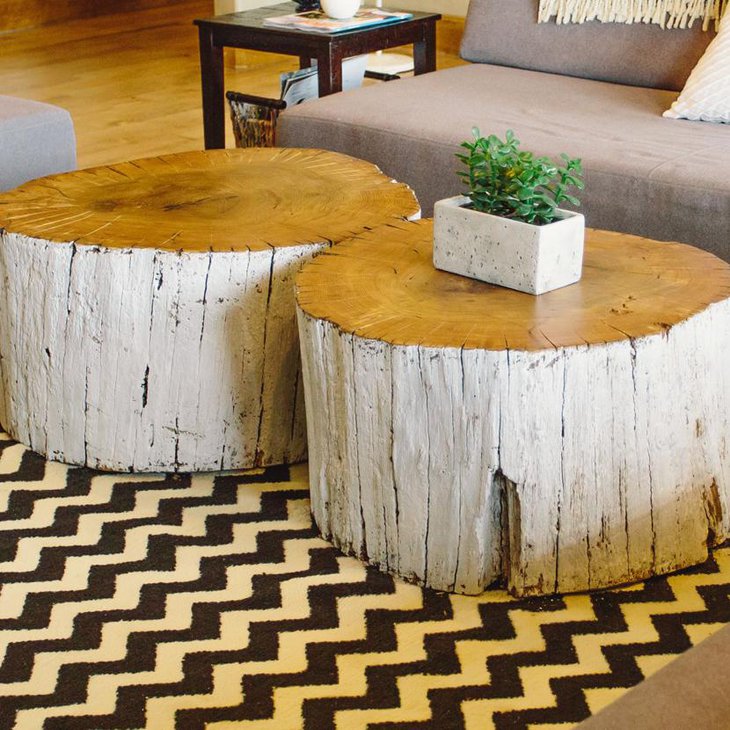 Painted and Polished Tree Trunk Sections
Image Credit: Fumachine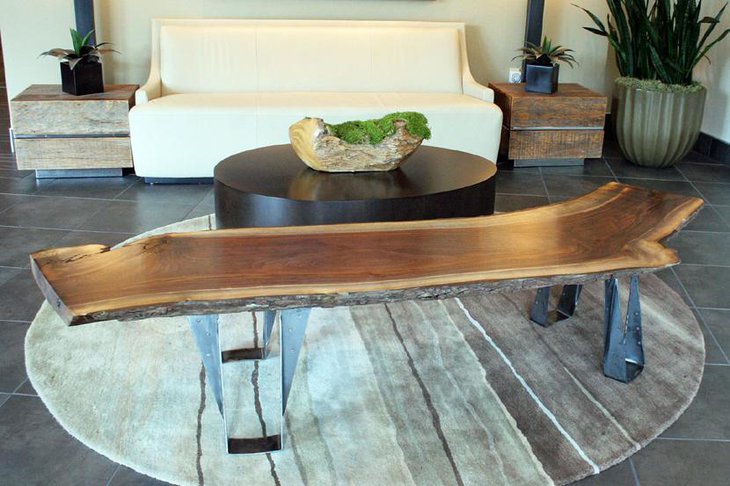 Split Tree Trunk with Metal Bracket Legs
Image Credit: Jimnastikhareketleri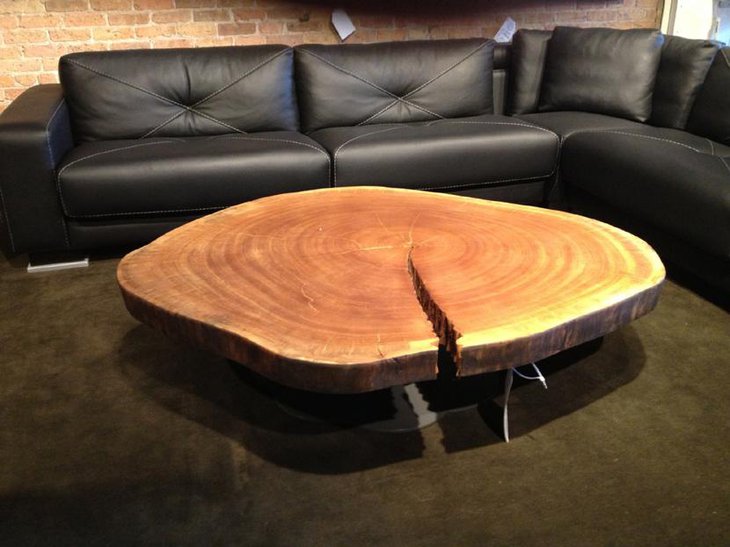 Large Tree Trunk Section with Attention-arresting Split
Image Credit: Jimnastikhareketleri
Suitcase Coffee Tables
If you love to travel and want an economical, trendy storage table, use a suitcase! Vintage and leather suitcases work well. Also look for large, patterned suitcases that complement your décor. The vintage or personalized style along with trouble-free construction make these tables one of the best options for beginning DIY-ers. In most cases, just drill holes in the bottom and bolt on legs, and you're done!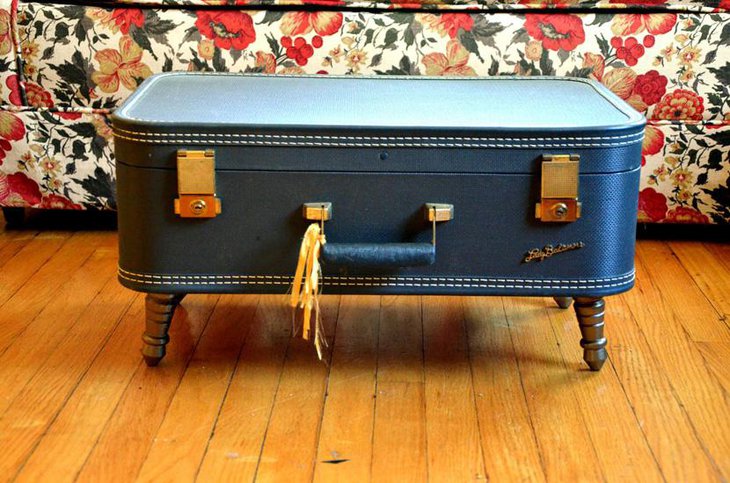 Striking Blue Suitcase Table
Image Credit: Blogspot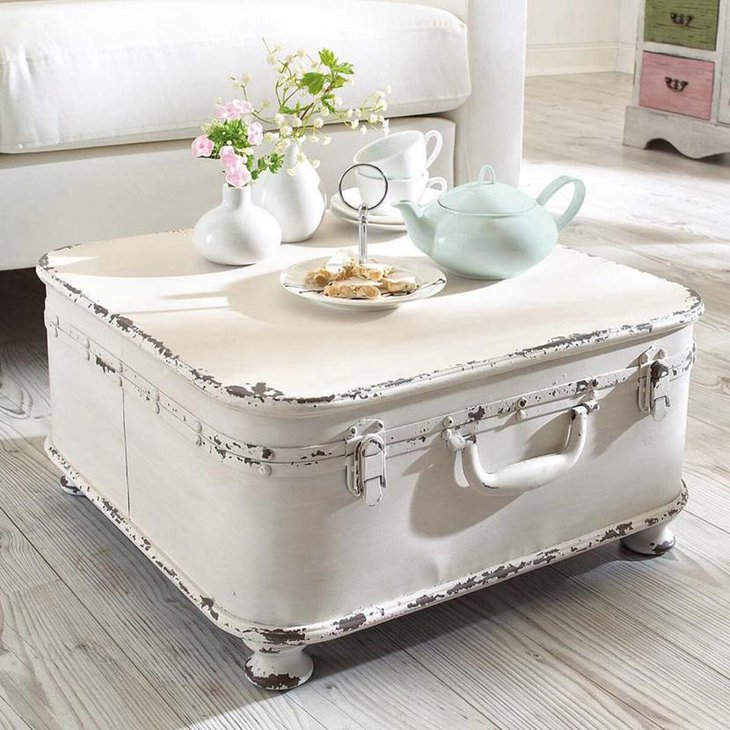 Painted Suitcase Table
Image Credit: Mylifeinthecountryside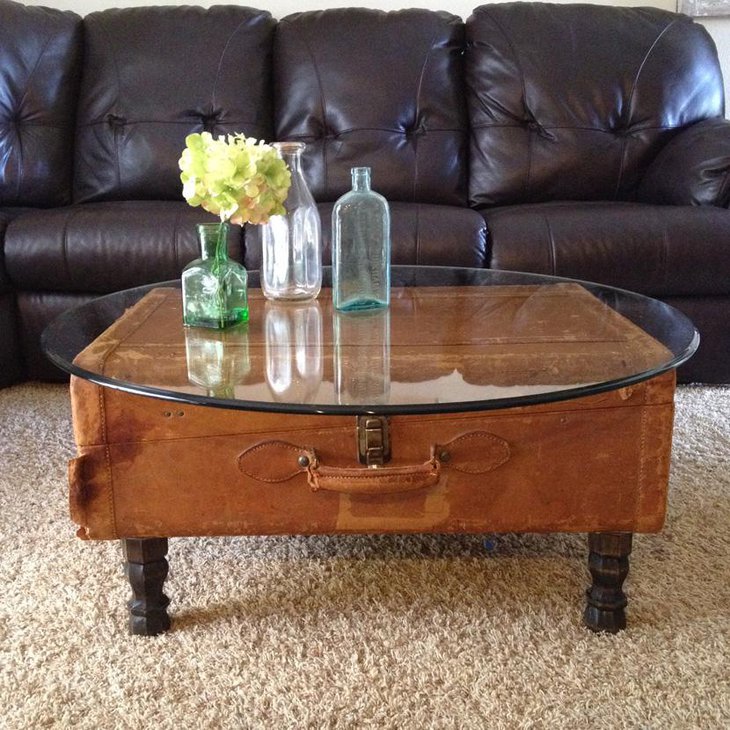 Vintage Leather with Glass Top
Image Credit: WordPress
Crate Coffee Tables
A well-constructed coffee table makes an impressive centerpiece for any room. Its presence enhances the entire setting. If sleek isn't your style, then the tables showcased below are just the option for you. These storage coffee tables are easy to make and look great for their unique simplicity. Construct them using wine bottle crates or empty chicken crates. Make them as large or as small as you like and enjoy the ample storage they provide.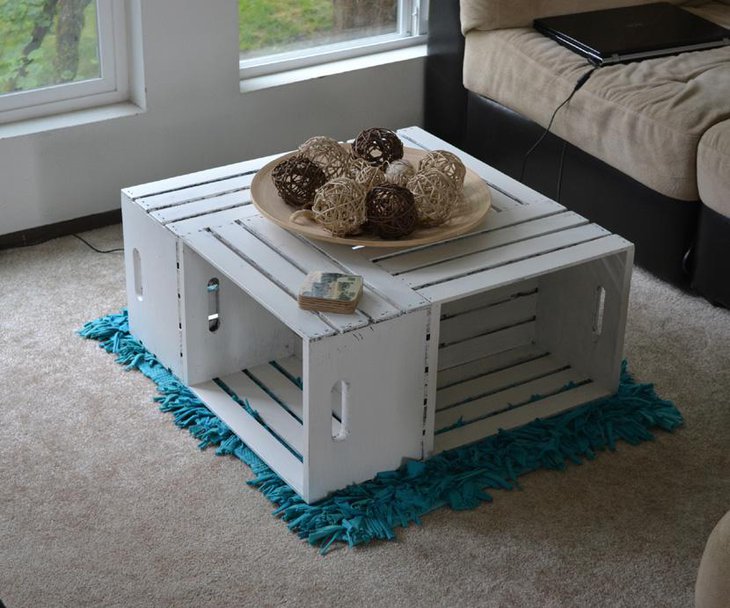 Painted Wine Crate Table
Image Credit: Instructables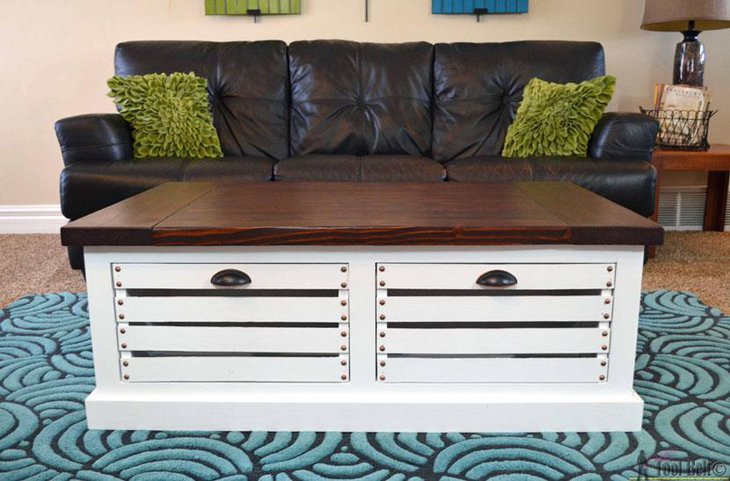 Crate Table with Added Drawers and Wood Top
Image Credit: Hertoolbelt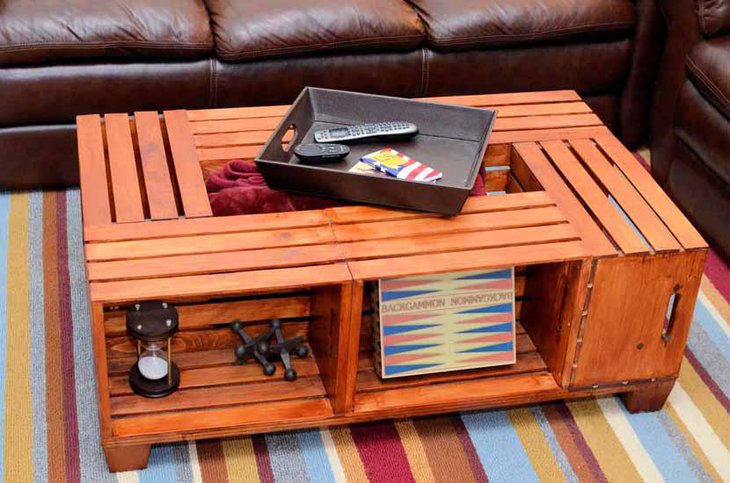 Large Crate Table with Outfacing Displays and Center Storage
Image Credit: Bhelas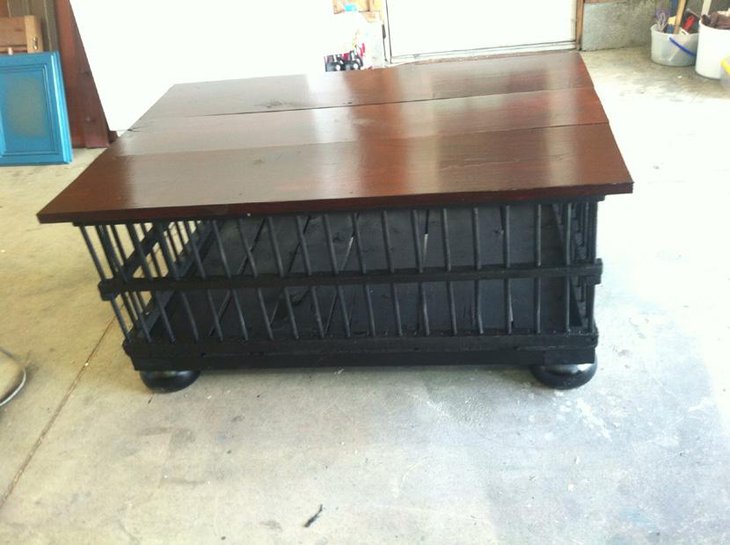 Black Painted Chicken Crate Base with Polished Wood Top
Image Credit: Pinimg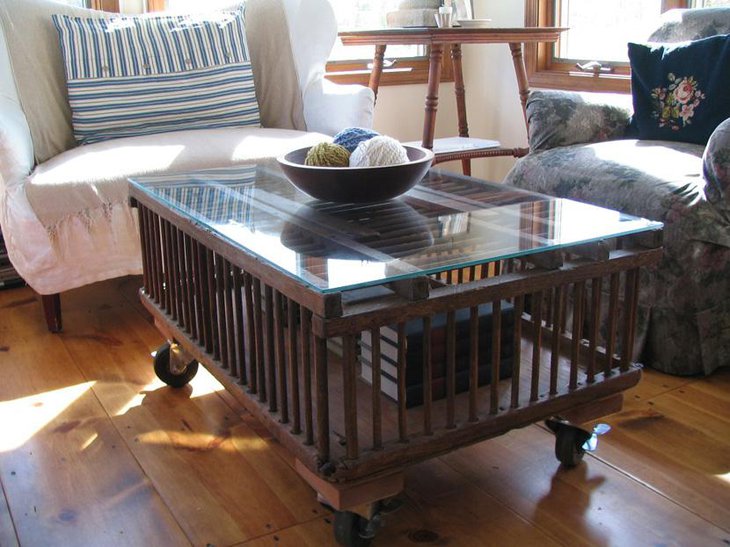 Classy Wood Chicken Crate on Casters with Glass Top
Image Credit: Blogspot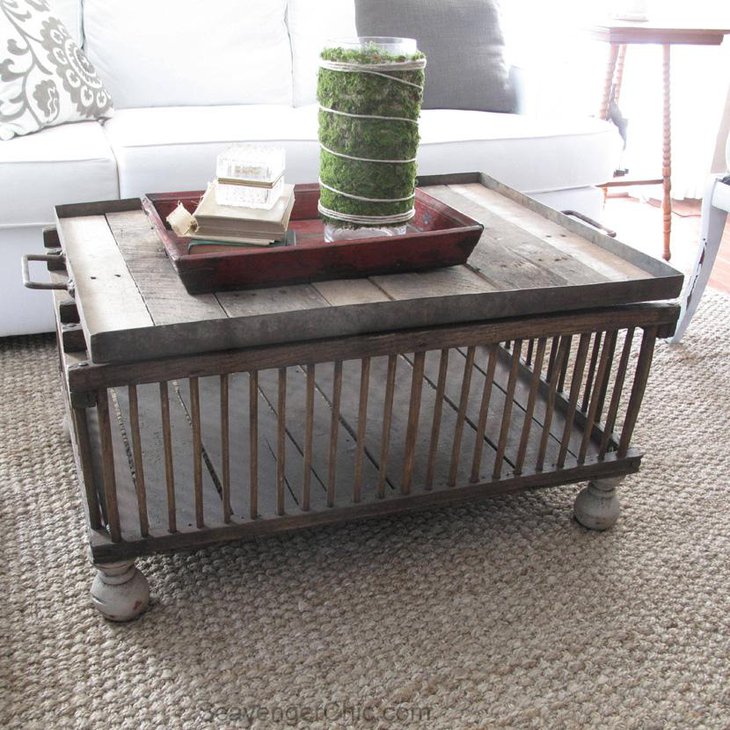 Chicken Crate on Refurbished Legs and with Wood Plank Tray Top
Image Credit: Hometalk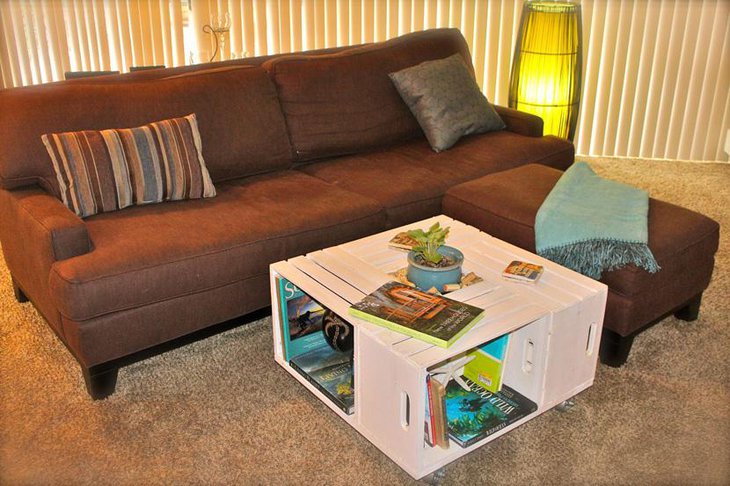 Painted Square Crate Coffee Table
Image Credit: Lidowoodcraft
Trunk Coffee Tables
Just as suitcases make excellent storage tables, so do old trunks. Refinish it for a contemporary look or leave it as is for the vintage feel.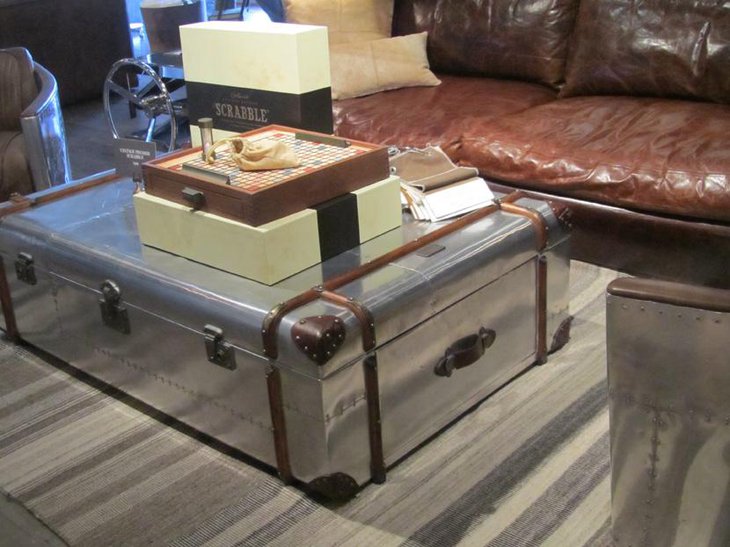 Contemporary Metal Storage Trunk
Image Credit: Lindaberner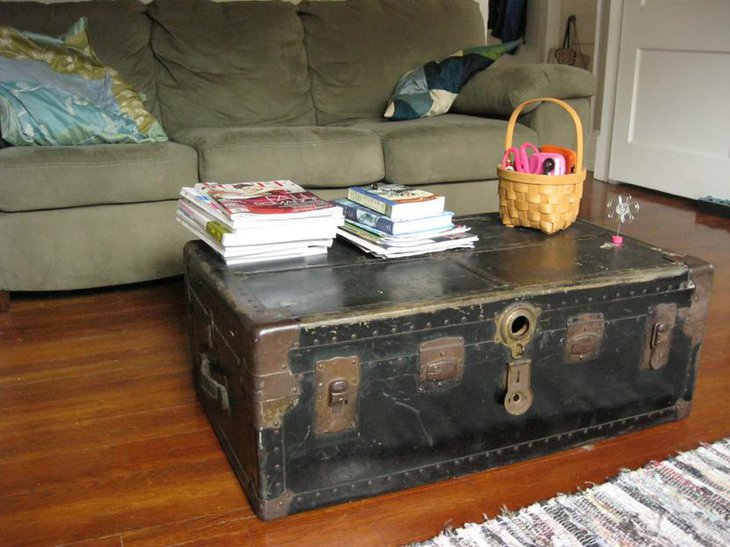 Worn Leather Trunk
Image Credit: Designdes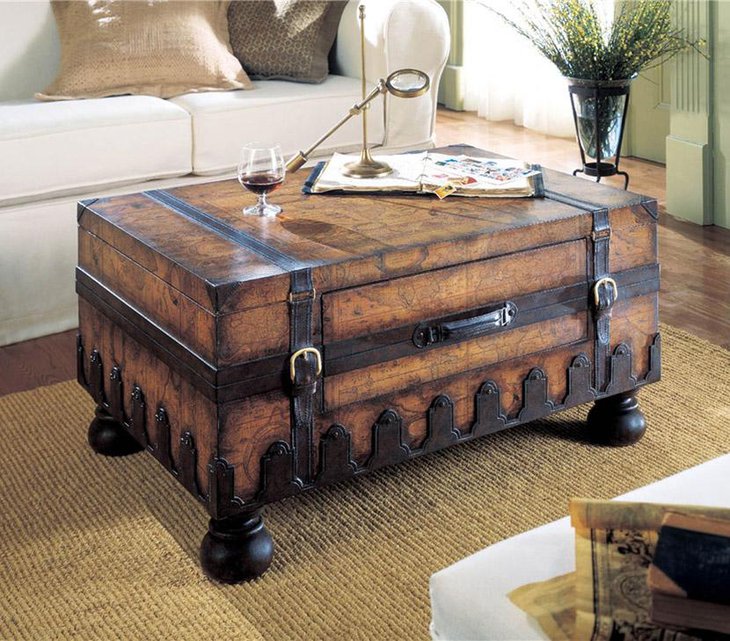 Stylish Storage Trunk Table
Image Credit: Decordesignshow
From windowpane to chicken crates to suitcases to tree trunks, we hope one of these ideas has caught your attention. And with so many options, you're sure to have the skills and tools at hand to create your own new coffee table. So get started and then enjoy a cup of coffee with your friends and family and show off your handiwork. You'll enjoy the trendy, antique, or classy appeal, especially knowing that you made it.