Tea party decorations are perfect for birthdays, baby showers, open houses, reunions, Easter celebrations, or friendly get-togethers. You can follow a garden party theme, a ladies-in-waiting theme, or an Alice in Wonderland Mad Hatter theme. Play yard games or simply chat around the table while you enjoy a cup of freshly brewed tea and cookies. For children's parties, invite little girls and boys to dress up in their frilliest of dresses and most handsome of suits or supply costume jewelry, boas, and clip-on ties.
Tea Part Dessert Stands
A tea party is a classy affair and presentation is almost everything. You'll need a dessert table is adorned and well laden with a sumptuous fare of cookies, cakes, pastries, fruits, and other sweets. Arrange them neatly on a stand to show the gravity of the tea-drinking occasion.
Dress up your dessert tables with pastels or china prints. Couple the look with ceramic vases filled with seasonal flowers, and ice the cupcakes or cookies with the creamiest, tallest dollops possible.
Tasteful Tea Party Décor with Colored Stands
Image Credit: homeshoppingspy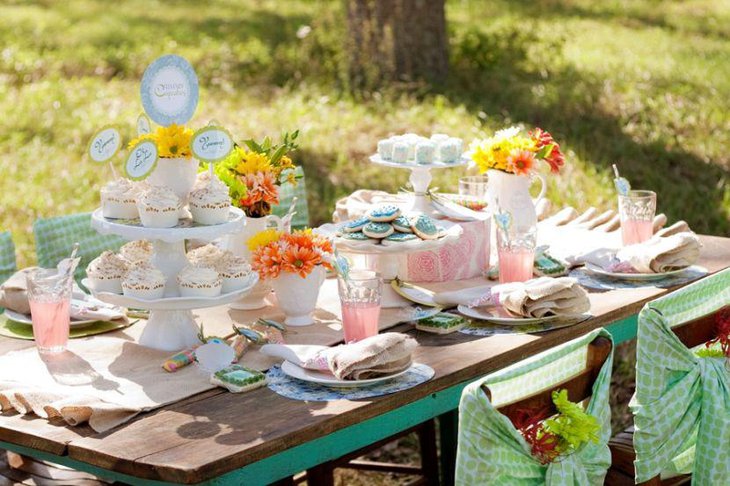 Garden Tea Party with Dessert Stands
Image Credit: snazzysoiree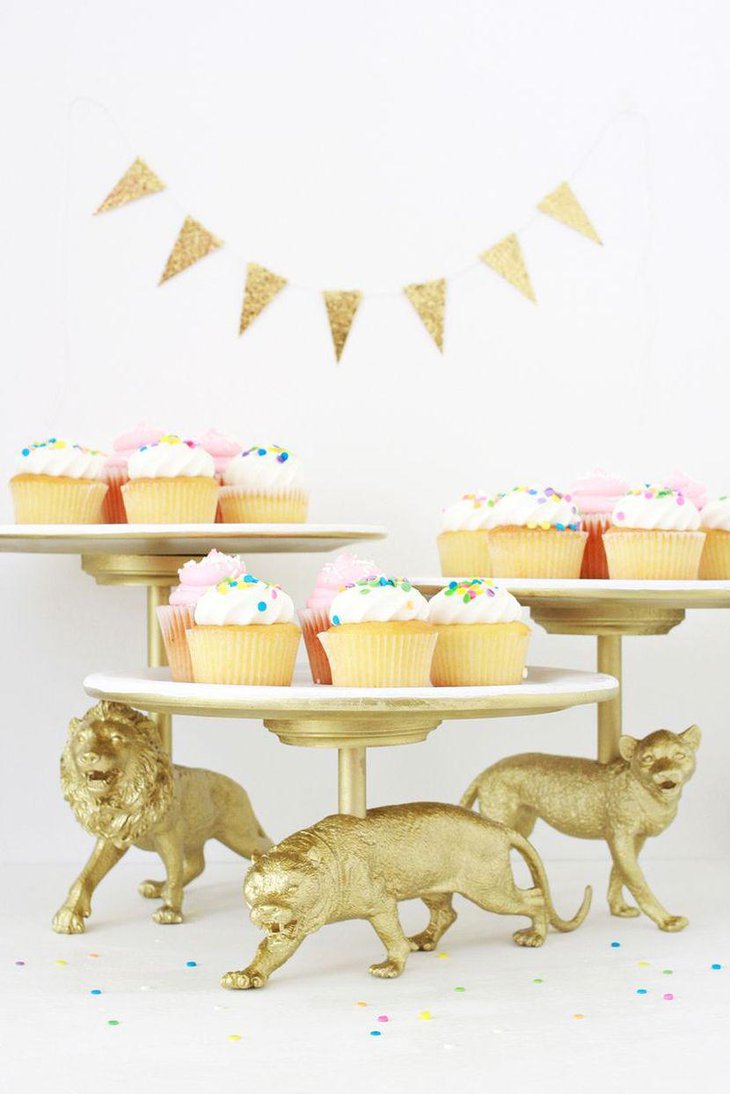 Fabulous Golden Big Cat Dessert Stands
Image Credit: homedit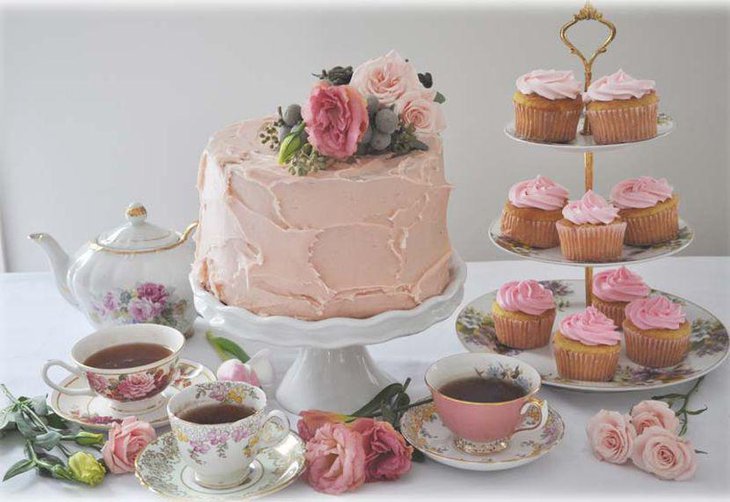 Cake and Cupcake China Stands
Image Credit: romanticrusticweddingrentals
Stunning tea party ideas with Alice in Wonderland theme
Lewis Carroll redefined how we think about tea parties. His Alice in Wonderland characters put the party in tea party. And one of the most fun experiences you can have with a children's tea party is replicate the zany table of the Mad Hatter. You don't need to follow any certain theme or include Carroll's characters. Simply dress up with your table with as much flamboyance as you can muster.
Use toys, ribbons, oversized cups, plates, and plastic ware. Use random, colorful decorations. The wilder and more haphazard you can be, the better! On the downside, you probably don't have much of these items around the house. On the upside, you can buy random décor for bargain prices!
And you don't even need to serve tea if you think the children won't like it. Serve hot chocolate or juice drinks out of a tea kettle into teacups all the same!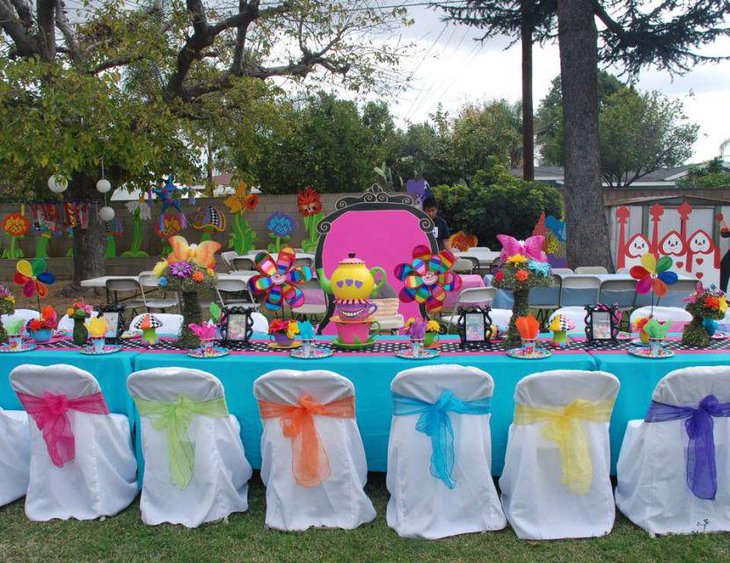 DIY Alice in Wonderland Tea Party Table
Image Credit: catchmyparty-cdn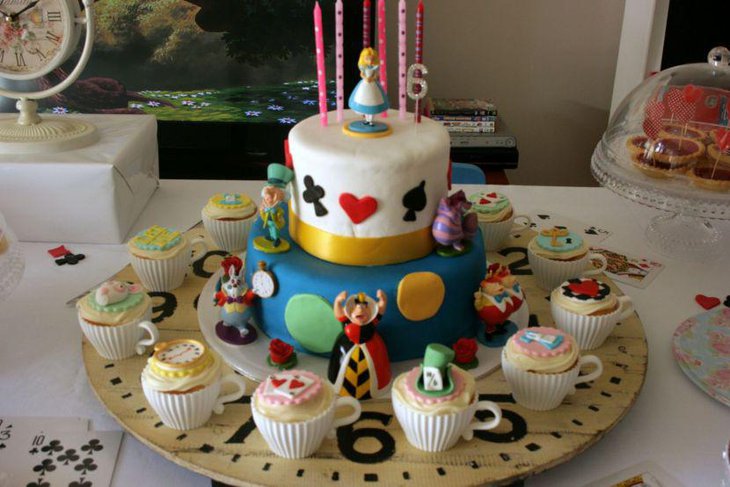 Excellent Alice Cake and Cupcakes
Image Credit: encorekidsparties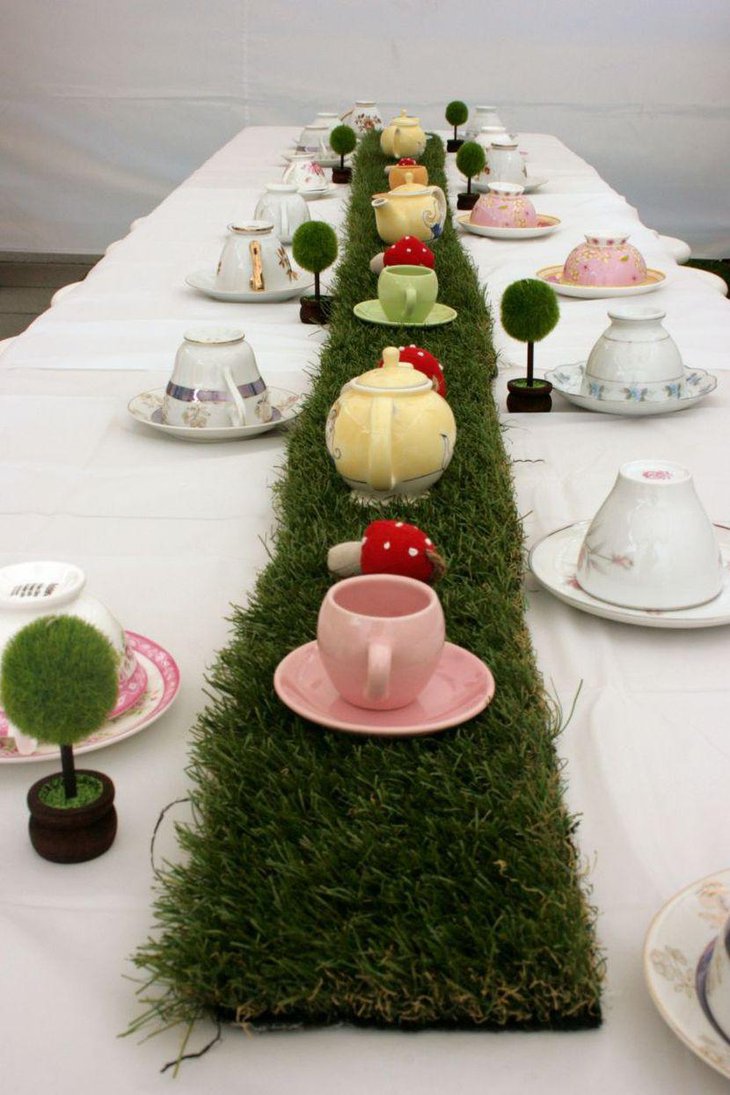 Subtle Wonderland Theme with Sod Runner and Colorful Tea Centerpieces
Image Credit: encorekidsparties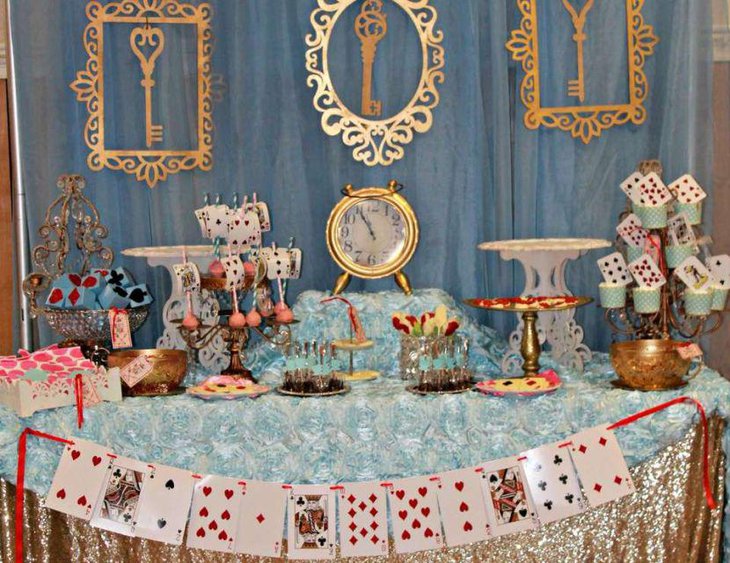 Alice Dessert Table Featuring Queen of Hearts
Image Credit: catchmyparty-cdn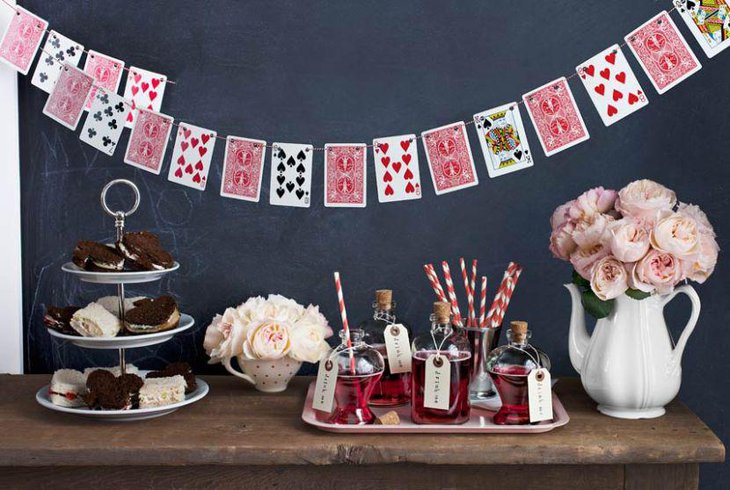 Queen of Hearts Décor with Labeled Beverages
Image Credit: photobucket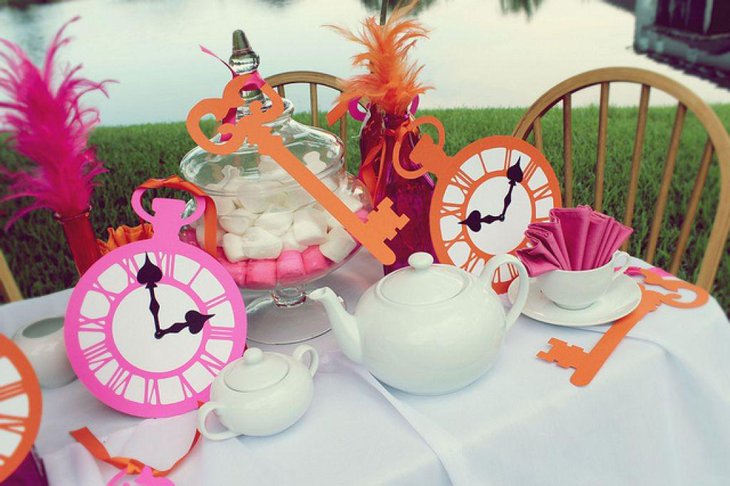 Alice Tea Table with DIY Cutout Decorations
Image Credit: allnitegraphics
Tea Party Centerpieces
Tea party centerpiece ideas include in teapots, decorative tea cups, tea tins, and tea leaves. Place your floral arrangement in a teapot as a vase. Or line the table with colorful tea cups. Allow your guests to choose their favorite to use, and the rest stay in the middle as the centerpiece. Arrange flowers or teacups in a tray with crushed tea leaves as the base. Add a vintage feel with a stack of worn classic novels or books of poetry. Read a passage for fun and see if your guests can guess the author.
Flowers in Tea Pot
Image Credit: photobucket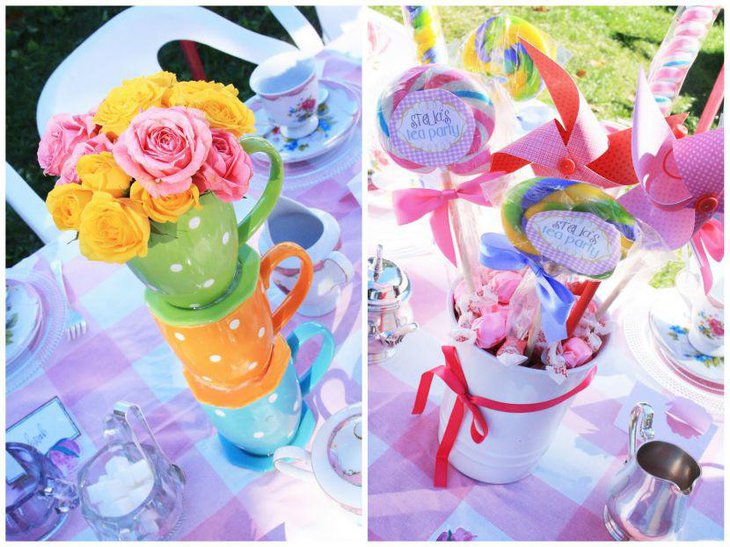 Polka Dot Tea Cups and Floral Arrangement
Image Credit: doublescribble
Antique Tea Set with Floral Arrangements in Pots and Pitchers
Image Credit: wordpress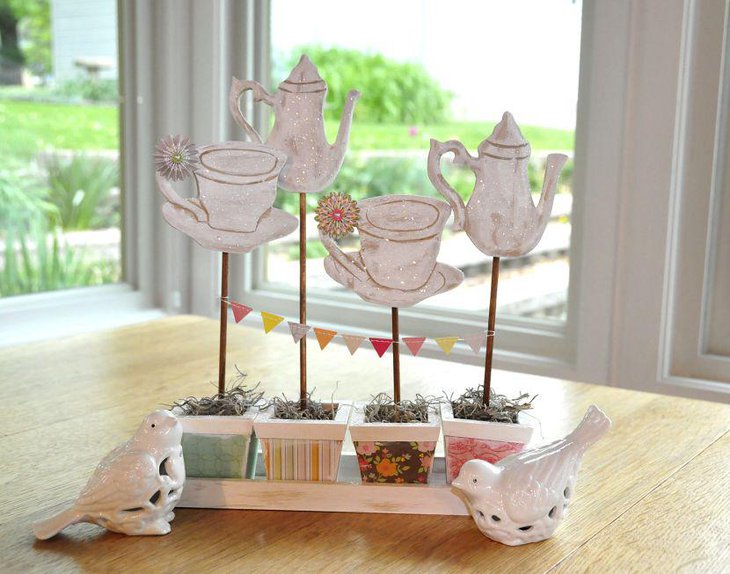 Artistic Tea Party Cutouts
Image Credit: blogspot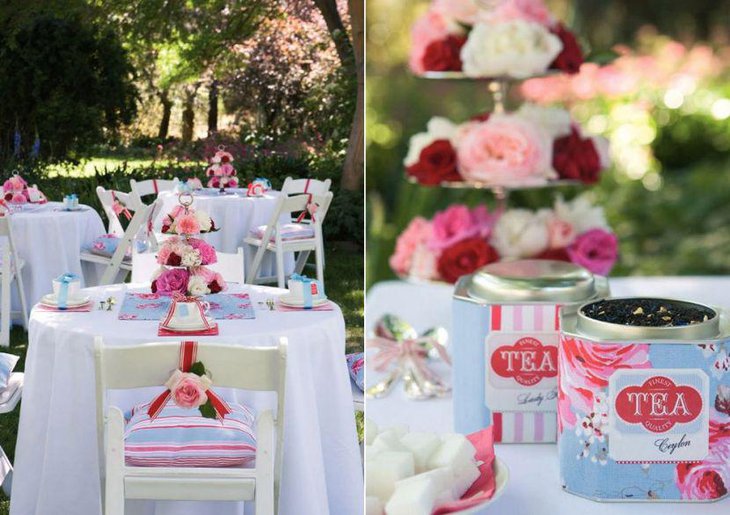 Decorative Tea Tins with Tea Leaves
Image Credit: thesweetestoccasion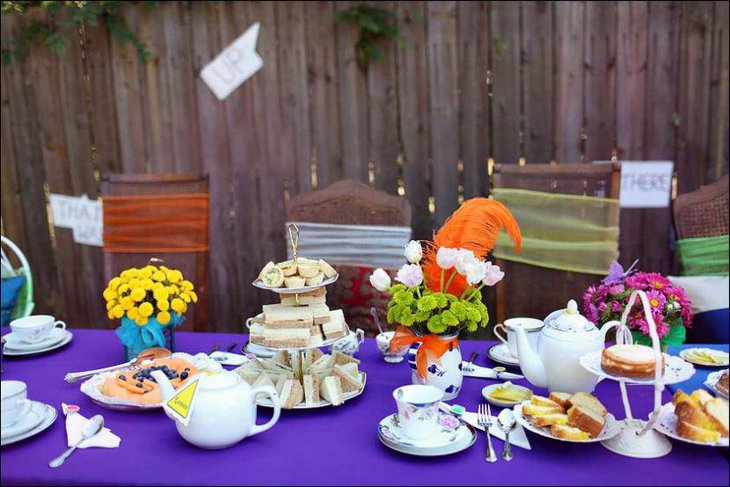 Wonderland Party with Faux Flowers
Image Credit: decorationideas
Tea Party Favors
Whatever the occasion, make the party extra special with a gift for your guests. For children, send them home with a piece of costume jewelry or a silly teacup and saucer. For adults, present them with a handful of tea mixtures or a small tin of cookies. If you baked the cookies for the party or made your own teas, all the better. Personalize your packaging with printed or hand-drawn labels for the most charming appeal.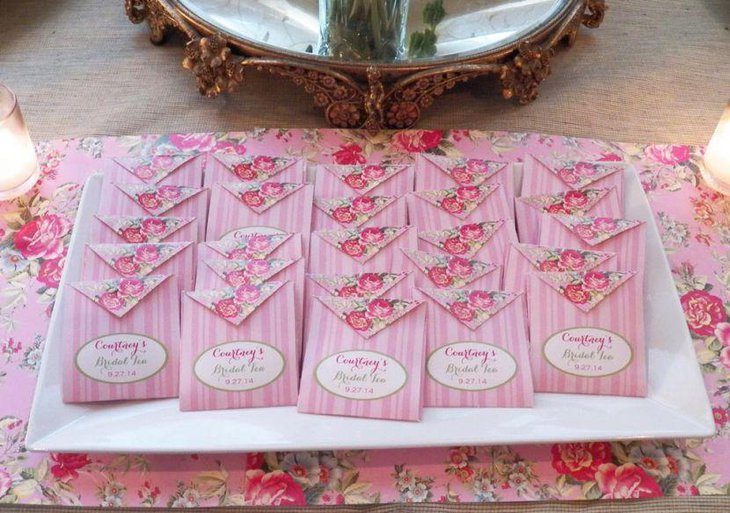 Personalized Tea Packet Favors
Image Credit: allhomeparty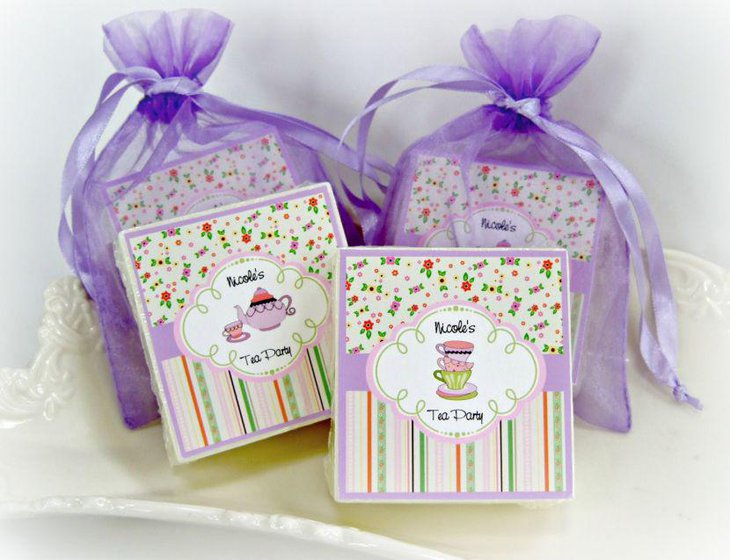 Tea and Cookie Box Favors
Image Credit: etsystatic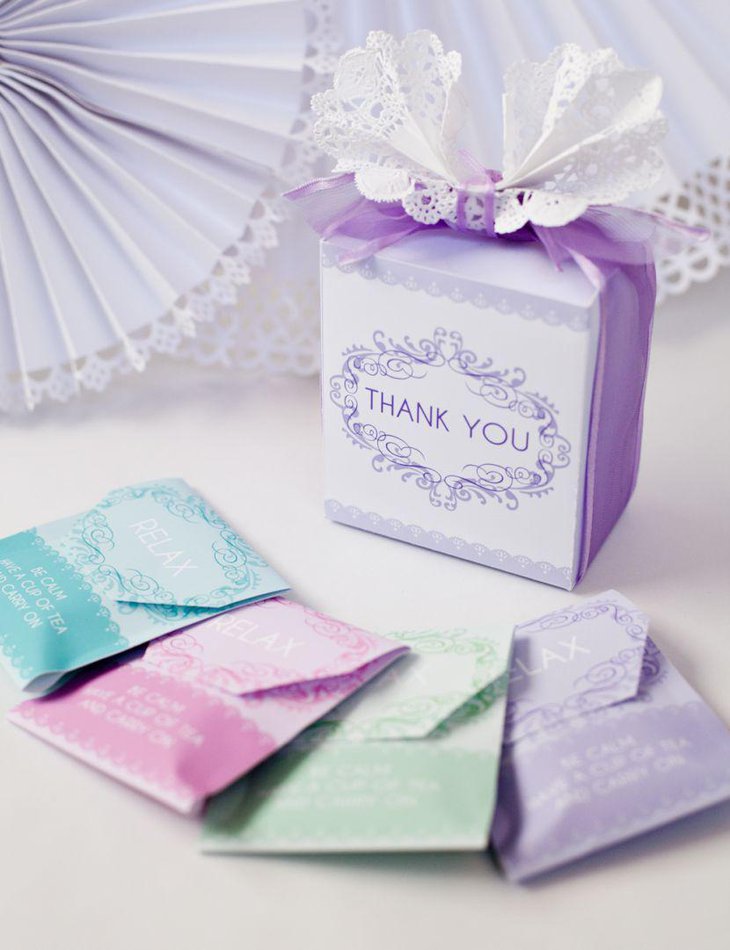 Mixed Tea Box
Image Credit: projectnursery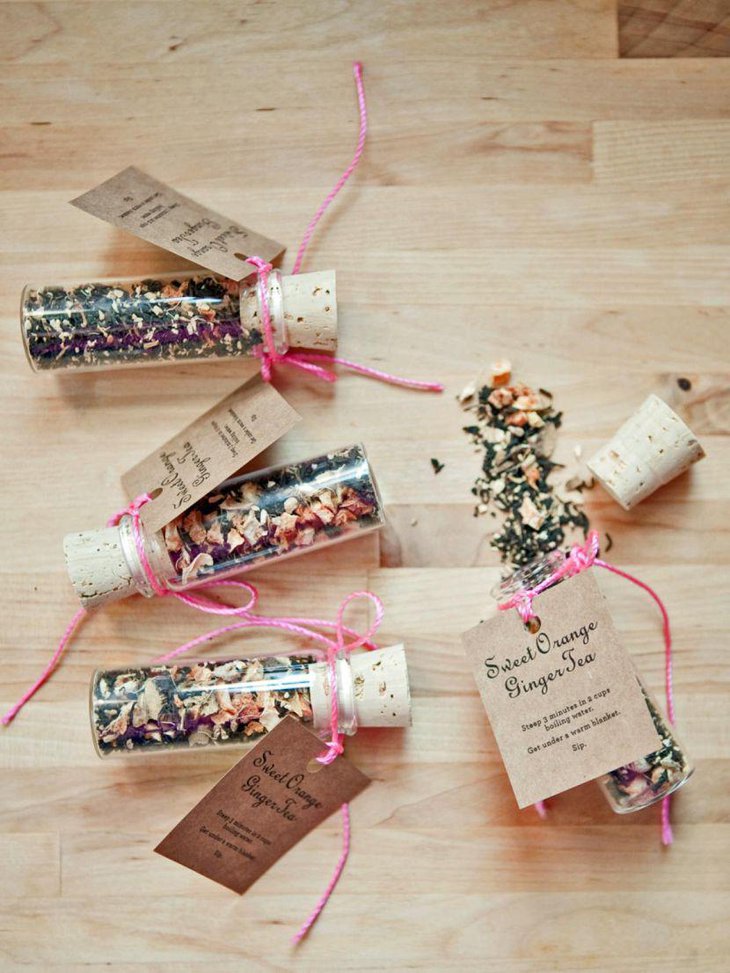 Tea Vials
Image Credit: hgtvhome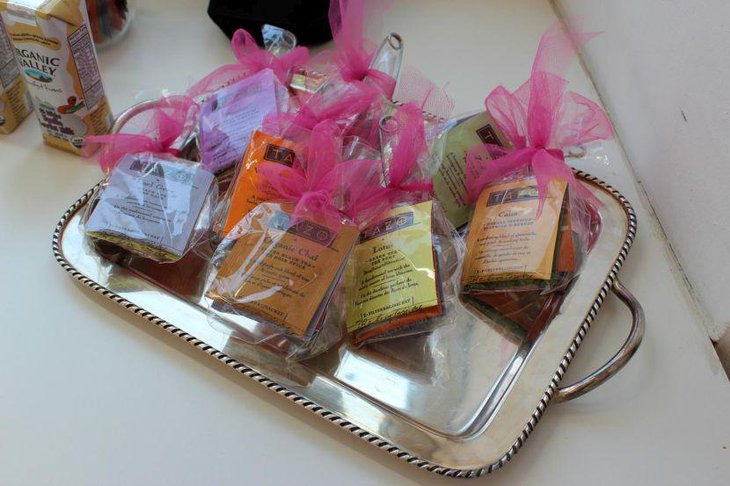 Homemade Tea Mixture
Image Credit: allhomeparty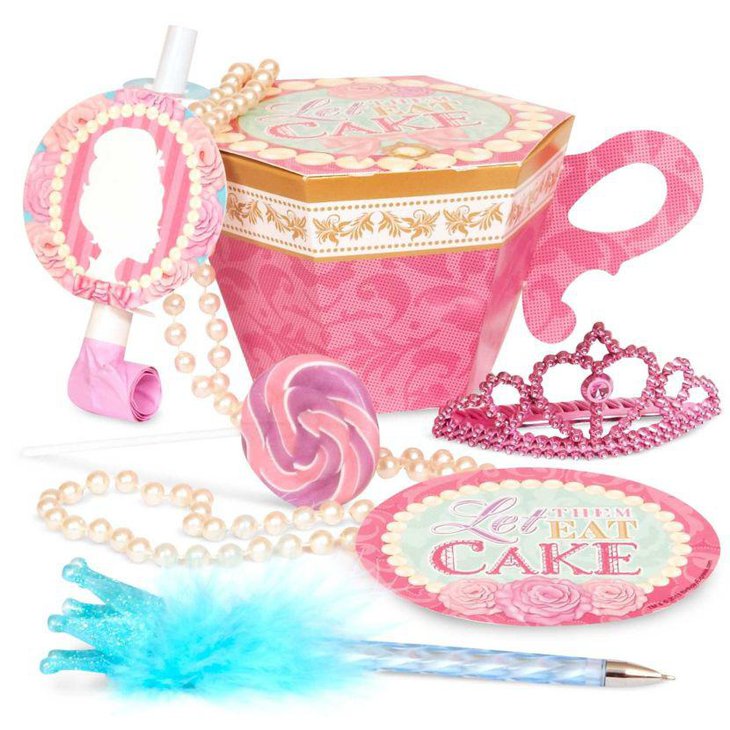 Tea Party Princess Kit
Image Credit: birthdayexpress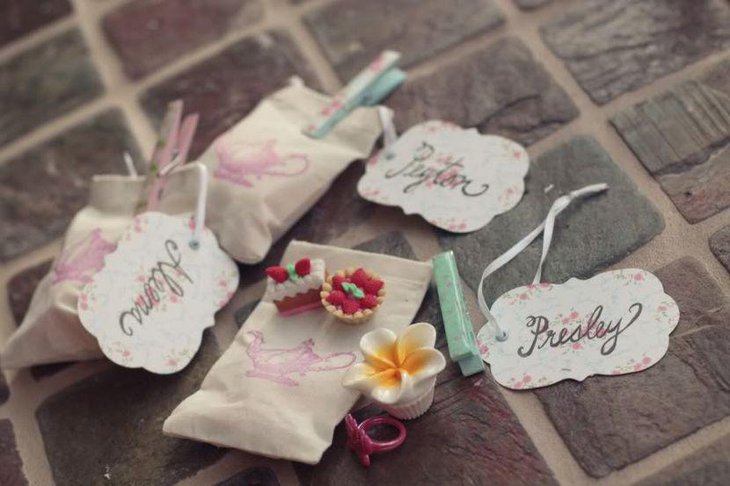 Personalized Tea Pouches
Image Credit: photobucket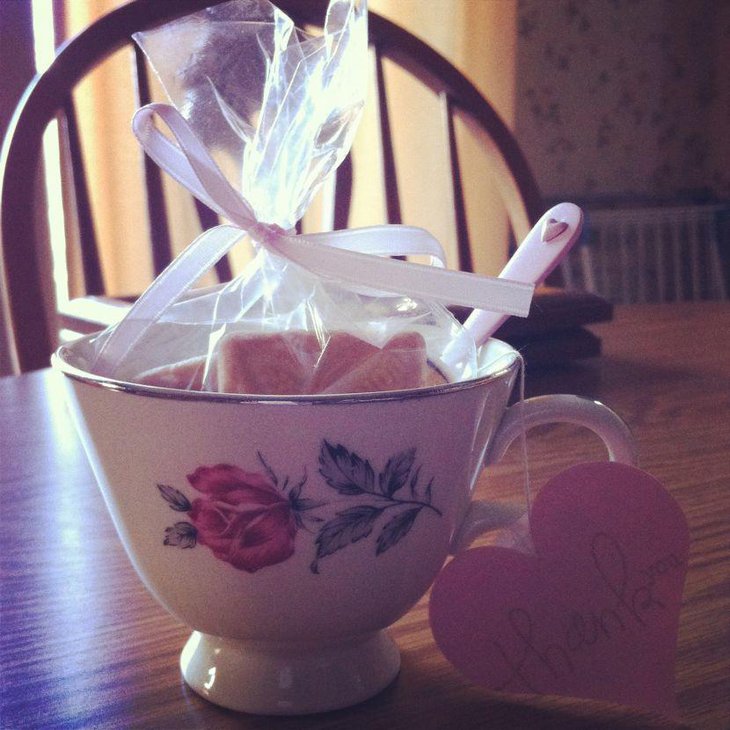 Tea Cup with Tea, Cookies, and Teaspoon
Image Credit: wordpress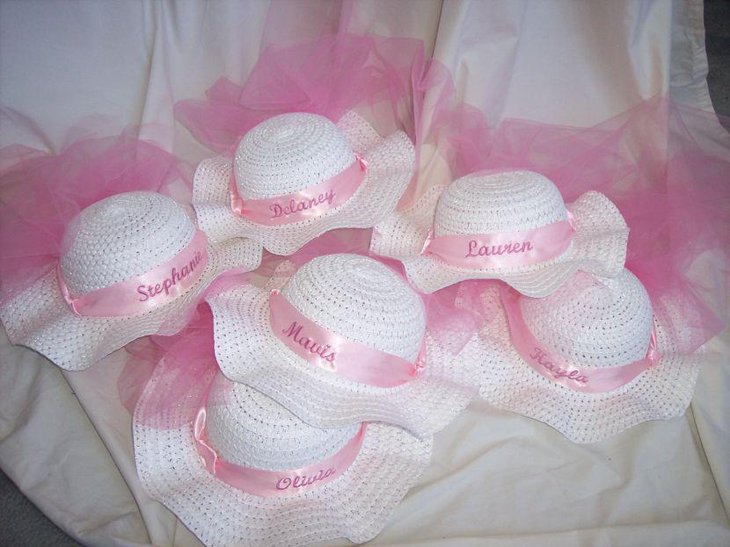 Children's Tea Party Hats
Image Credit: allhomeparty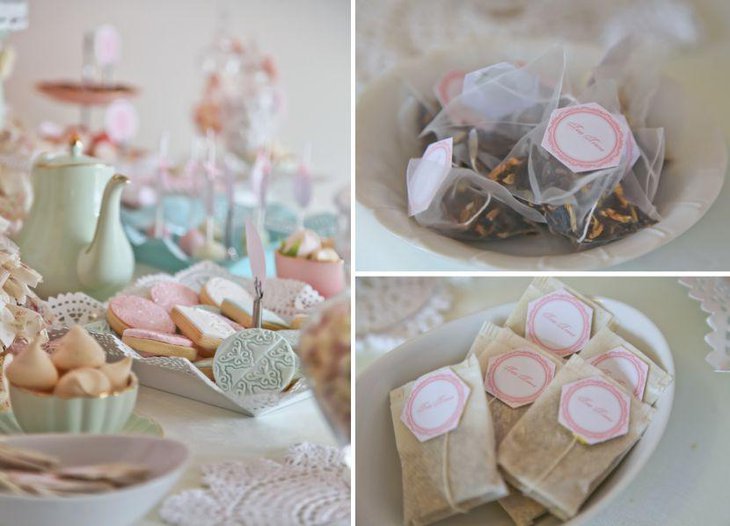 Homemade Tea Bags
Image Credit: andersruff
Tea Party Invitations
Inform your intended guests and get them enthused for your party with a beautifully crafted or wild n' crazy card. Decorate the card or flyer according to your party's style. If you're having a Mad Hatter party, let your guests know with a zany hat and oversized teacup pictured on the card. If it's going to be a dress-up party, feature boas, pearls, and fancy teapots. A garden party could show fairies or butterflies, and an adult party could depict a steaming cup of tea with a simple floral pattern. Use a stylized font for your script and choose color coordinating envelopes.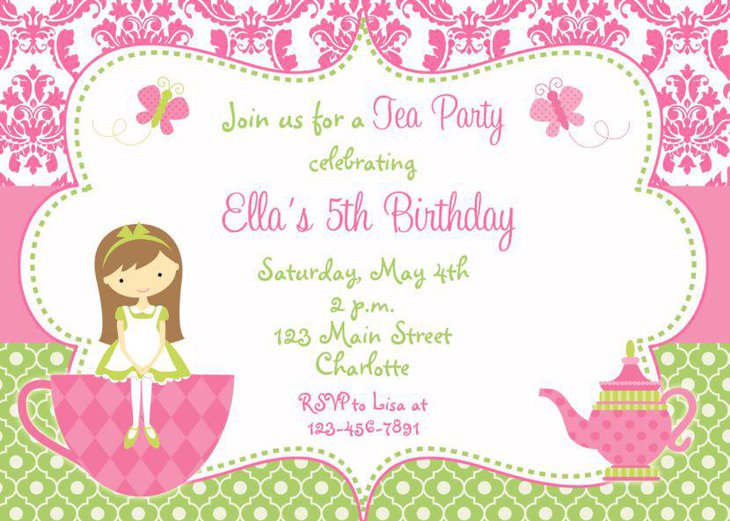 Sweet Tea Party Invitation
Image Credit: etsystatic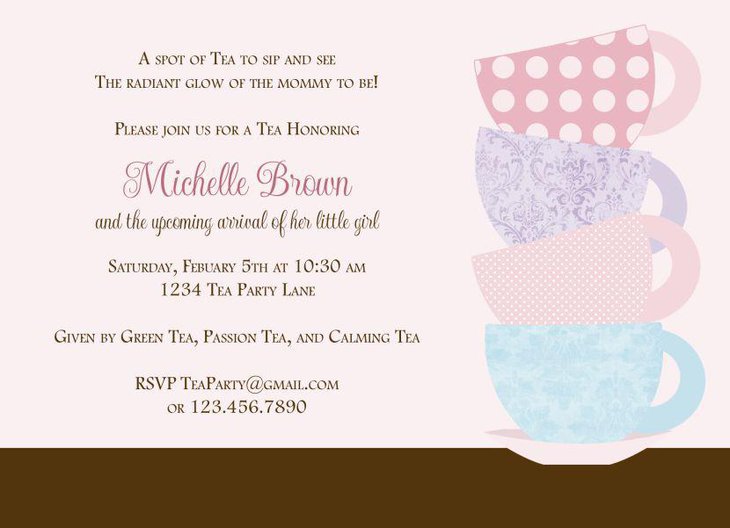 Tasteful Tea Party Invite
Image Credit: 1yeshipin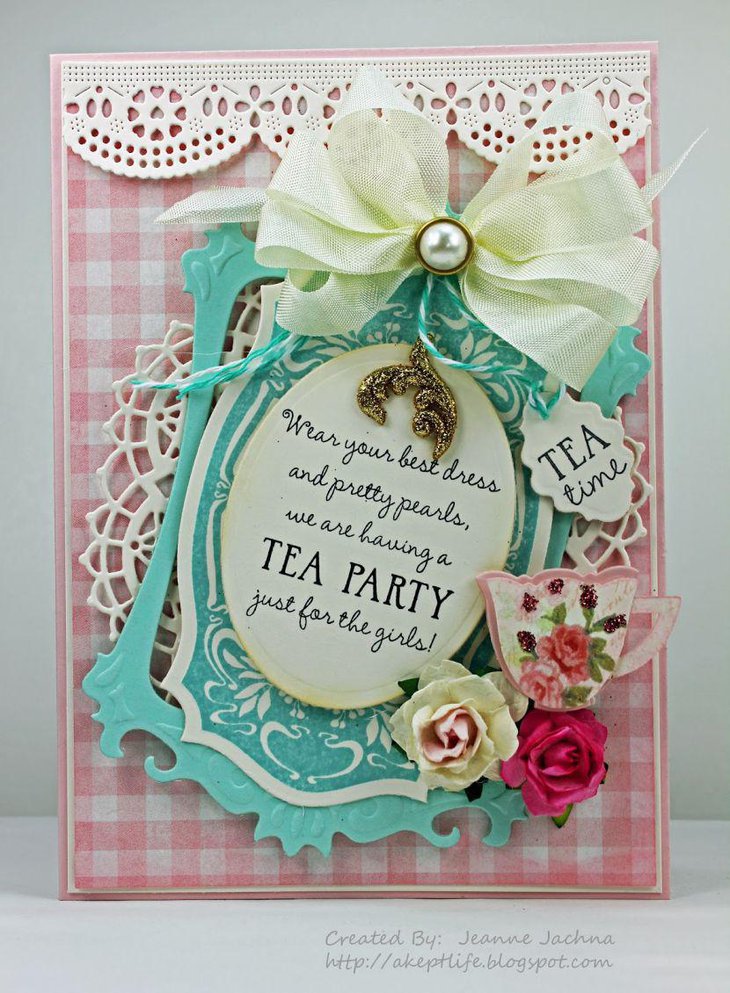 Embellished Invite
Image Credit: blogspot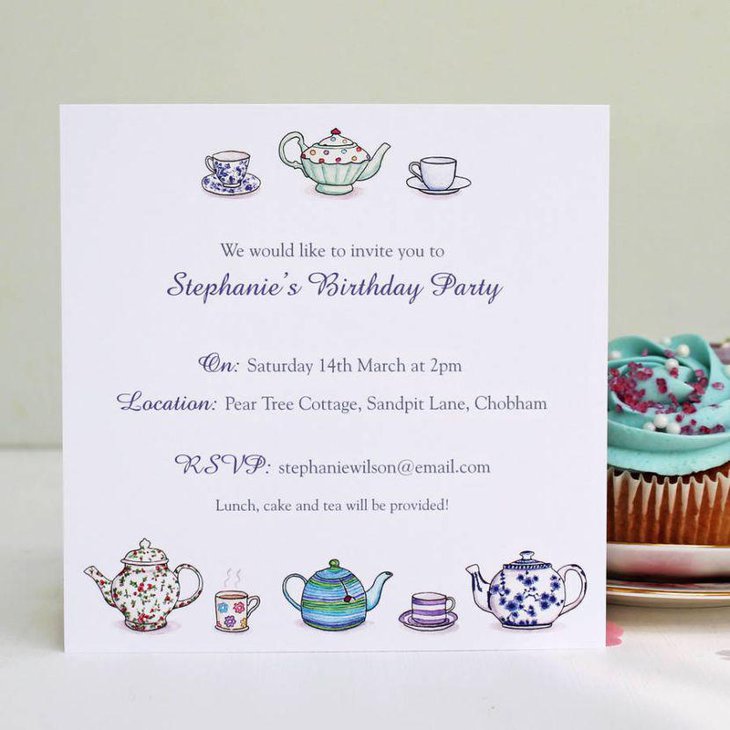 Simple Tea Part Invitation with Hand-drawn Illustrations
Image Credit: notonthehighstreet
Cute Kids Tea Party Ideas
Little girls love to have tea parties. It's the perfect role-playing experience for combining regality and hospitality. They are the "princess" with fancy tableware, treats, costumes, and décor and they're the hostess courteously caring the needs of her guests.
Tea parties are perfect for girls' birthday parties, sleepovers, or playdates. The mommies will enjoy taking part too! Dress up the tables in pink and purple, provide plastic tea cups, a tasty beverage, and some cookies or cupcakes, and watch your daughters amuse themselves all afternoon.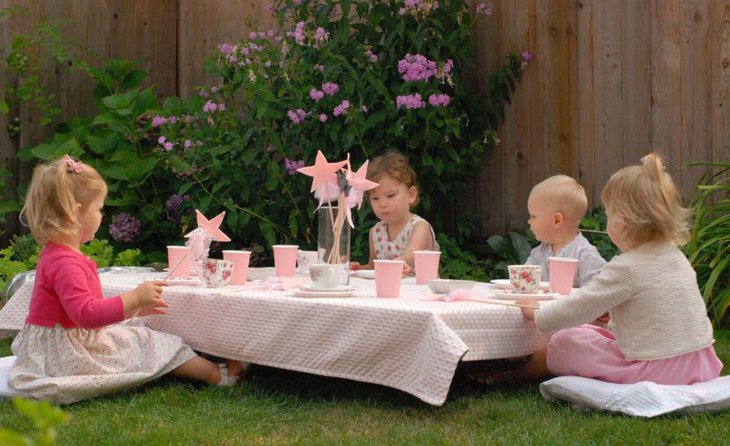 Kids' Tea Party with Blanket Tablecloth, Fairy Wand Crafts, and Plastic Cups
Image Credit: squarespace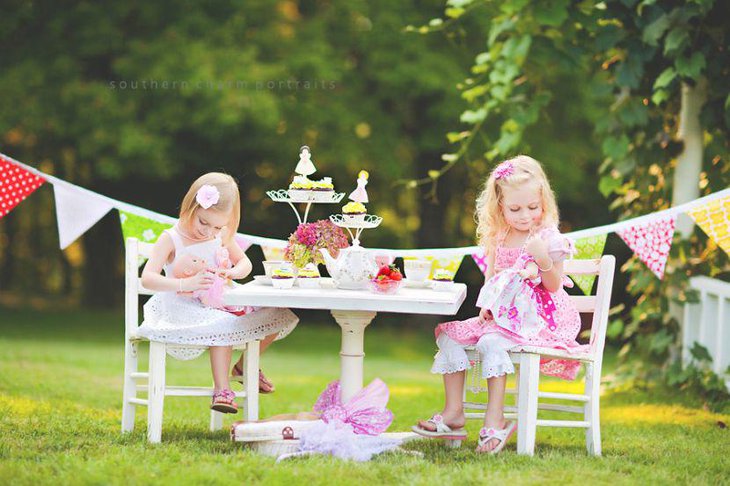 Girls' Tea Party with Decorations, Desserts, Ceramic Tea Set, and Dolls
Image Credit: southerncharmportraits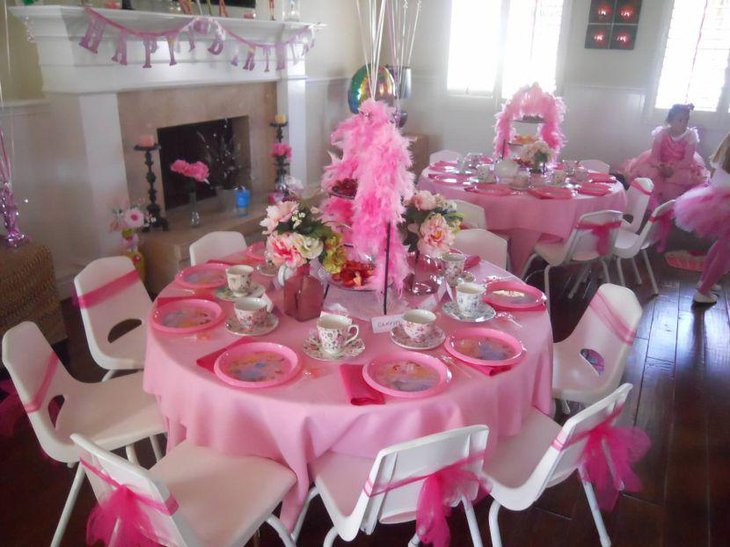 Princess Tea Party with Boas, Flowers, Tulle, Real Tea Cups, and Printed Plates
Image Credit: travelingtea
For girls or adults, a tea party is always a great opportunity for spending time together. Use these ideas for tea party decorations for your next event or friend night! Send out the invitations, assemble the centerpiece, personalize the favors, and put the tea on!