Easter centerpieces have three related but distinct themes to draw on: the Resurrection of Jesus, the spring season, and traditional children's festivities.
Easter is one of two pinnacle holy days (holidays) celebrated by Christians worldwide. Without the arrival of Christ as celebrated on Christmas, Jesus couldn't have died and been raised for the forgiveness of our sins. Without His resurrection as celebrated on Easter, His coming would have been near meaningless. By rising from the dead, Christ defeated death and allowed our spirits to enter Heaven when we pass.
And though it sounds like a grim affair, Christians acknowledge this day as a victory for all humanity. The timing of Easter is also fortuitous as spring is the season in which nature rises from its winter sleep and blossoms into new joy and victory.
Along with the spring season comes baby bunnies and chics, the source of our famous Easter bunny and Easter eggs.
With so many joyous themes in mind, let's see what creations we can craft for our centerpieces.
Peeps Centerpieces
You either love these marshmallowy candy treats or you hate them. But no one can deny how cute they are. And they'll look wonderful as a part of your centerpiece. As Peeps come in different shapes, you can use a variety of the little animals to create a scene on your table. Or arrange them in different colors in a jar for a colorful display or bunnies or ducks.
Peeps, Jelly Beans, and Flowers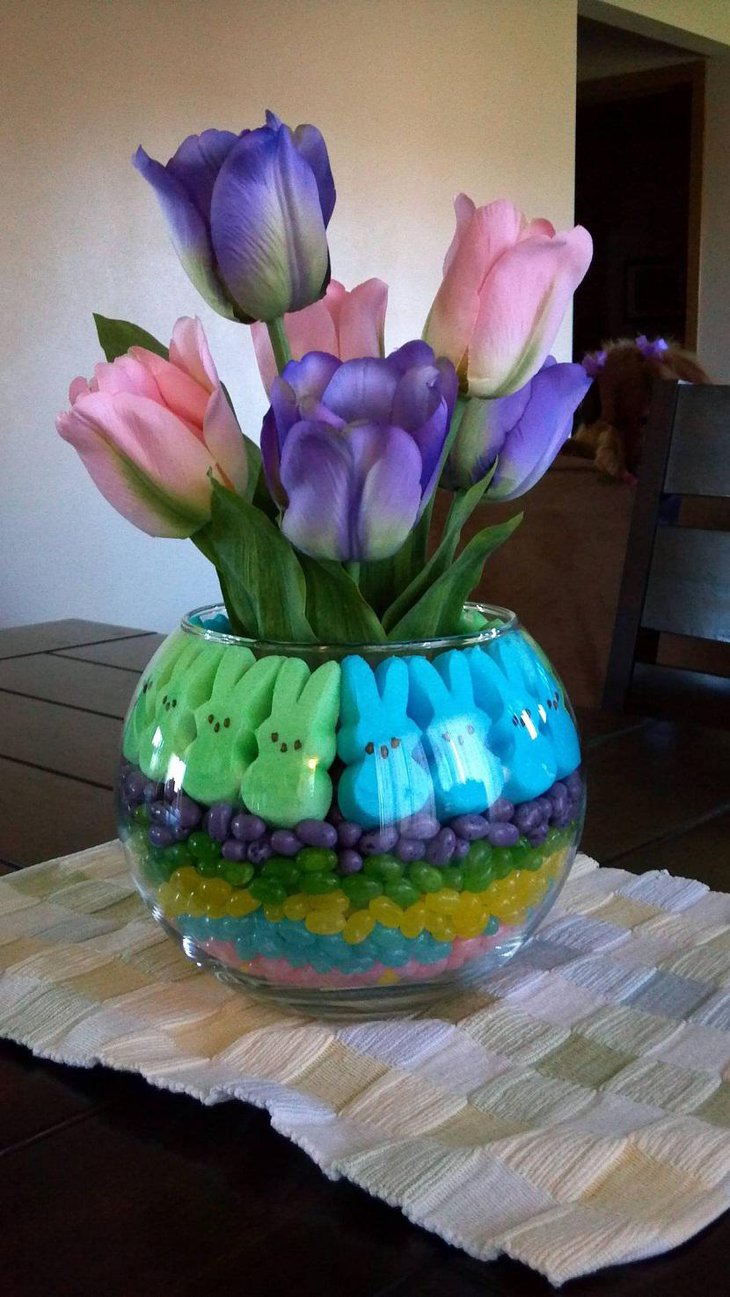 Image Credit: pinterest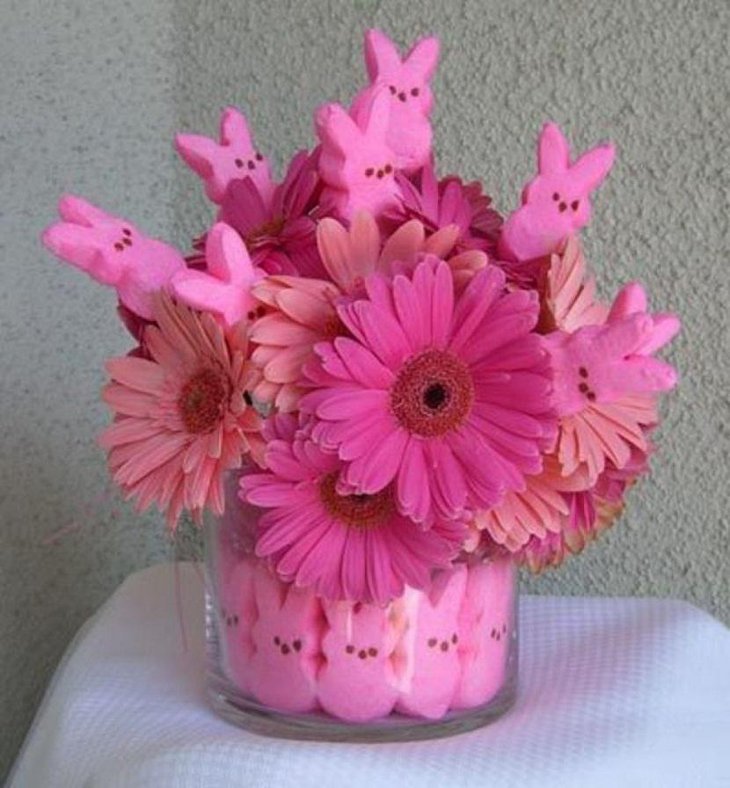 Flowers and Matching Peep Embellishments
Image Credit: funtime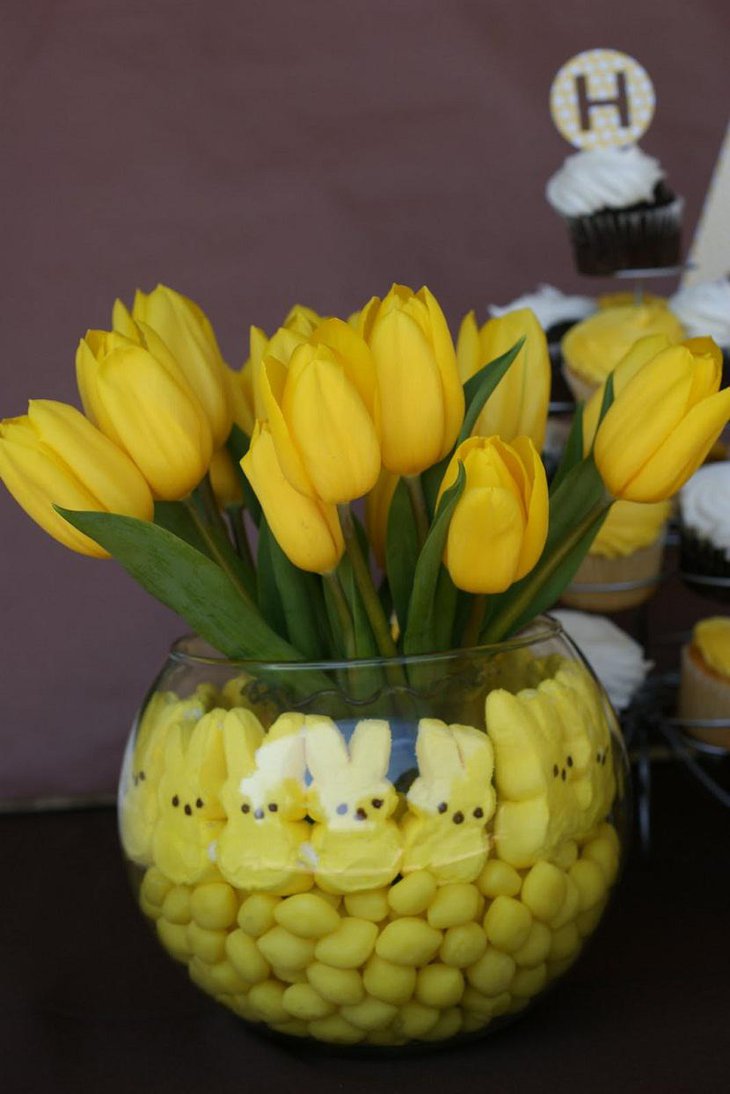 Peeps and Lemonhead Floral Centerpiece
Image Credit: stylenotes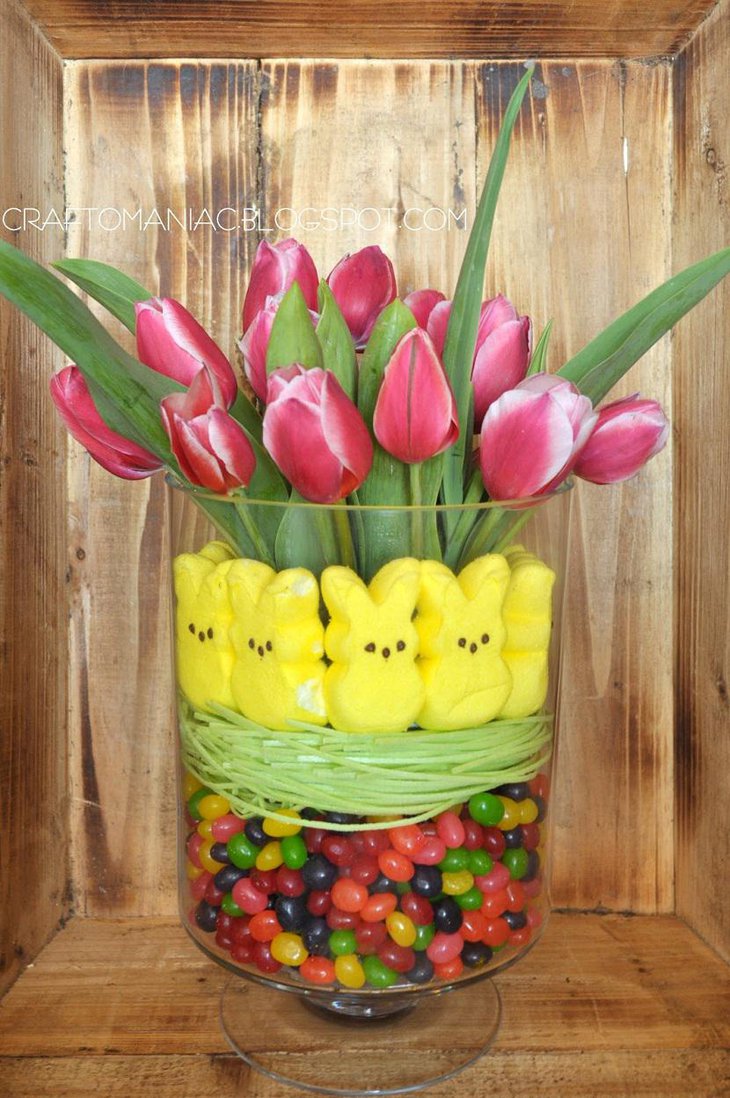 Colorful Floral and Candy Display
Image Credit: blogspotc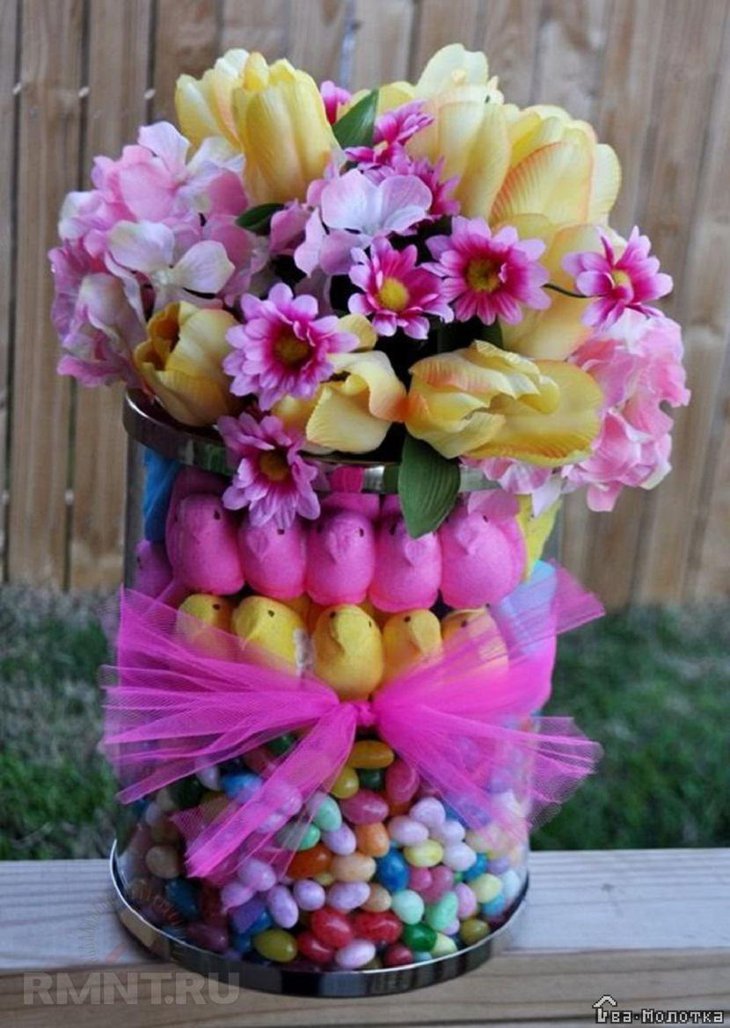 Candy and Flowers
Image Credit: dvamolotka
Chocolate Centerpieces
Chocolate centerpieces are a little more difficult. They might get eaten! But if you can ward off your family and guests – not to mention yourself! – you can create some amazingly cute displays with chocolate bunnies and mini eggs. Create a scene of bunnies gathering eggs, smelling spring flowers, or nuzzling noses. They'll be a hit! And after dinner, you can allow them to be a part of the dessert.
Chocolate Bunnies and Eggs
Image Credit: crnobelo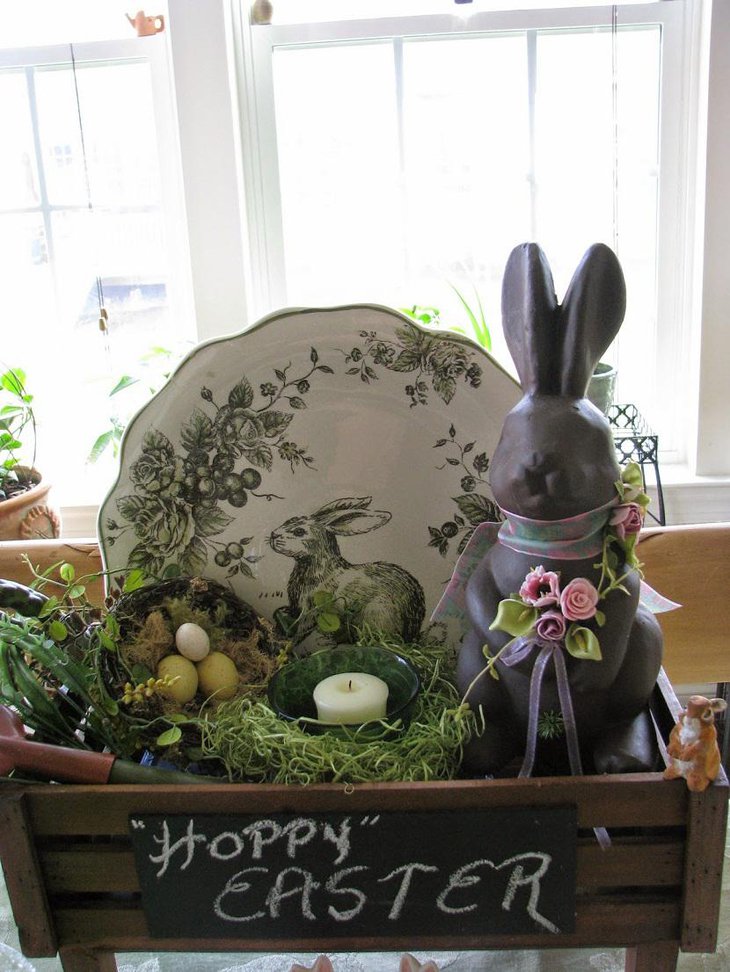 Decorated Chocolate Bunny in Gardening Theme Centerpiece
Image Credit: blogspot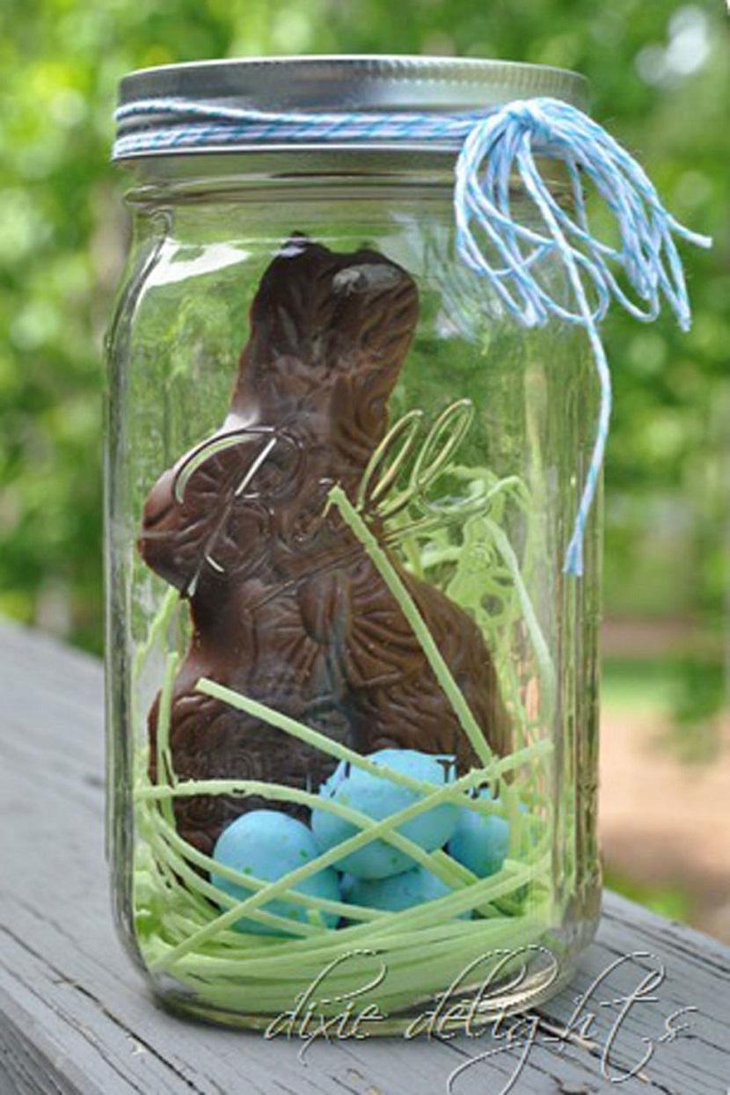 Mason Jar and Chocolate Bunny Easter Centerpiece Idea
Image Credit: countryliving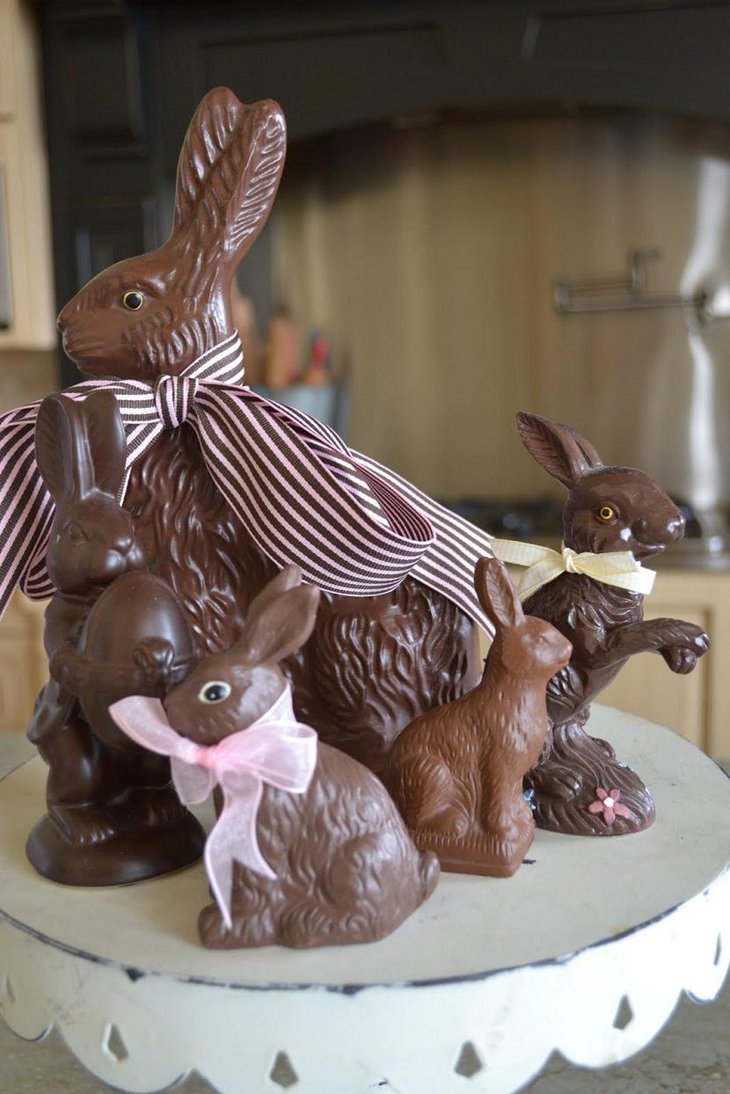 A Chocolate Bunny Family
Image Credit: blogspot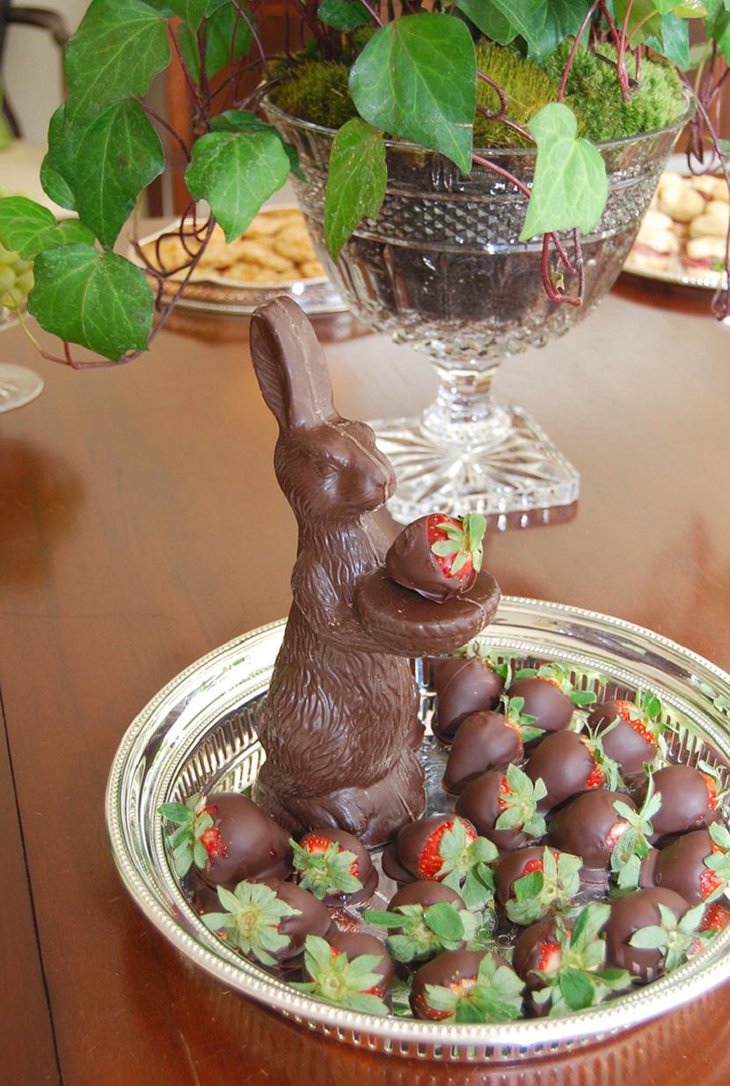 Chocolate Bunny and Strawberry Edible Centerpiece
Image Credit: pinterest
Decoration Arrangements
These singular Easter table centerpieces feature elements of spring nature: nests, eggs, young flowers, and greenery. Don't be afraid to bring the outside inside, and open the windows for a light, fresh ambiance.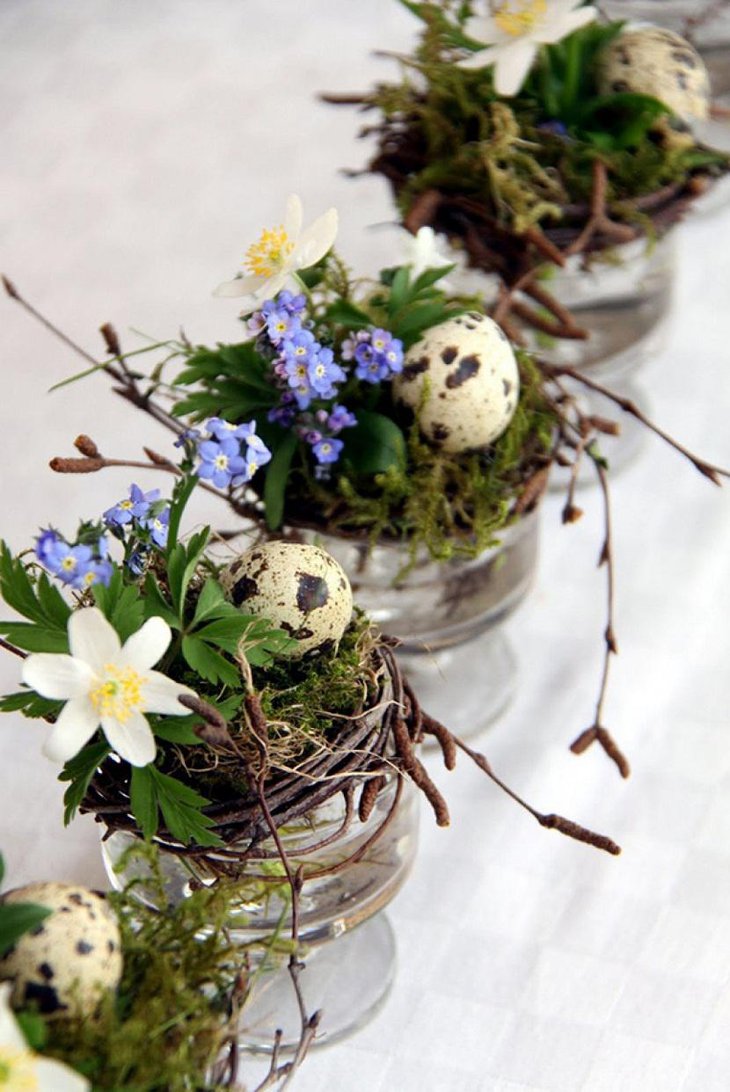 Floral Nest in Vase Centerpieces
Image Credit: blogspot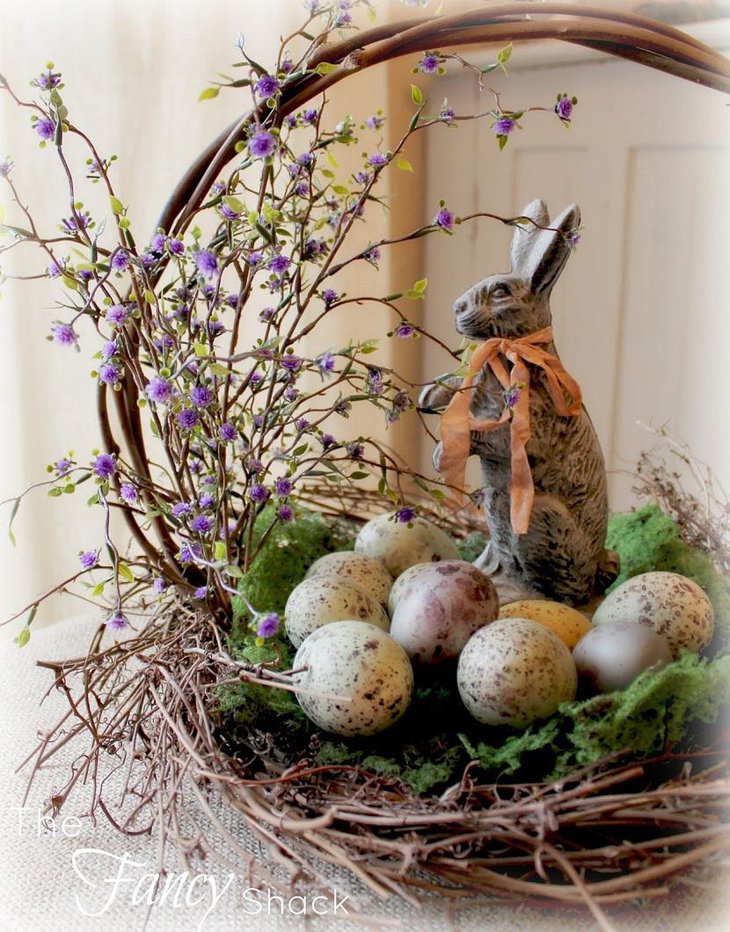 Naturally Decorated Eggs and Detailed Bunny in Natural Basket with Fresh Sprigs
Image Credit: fashionguide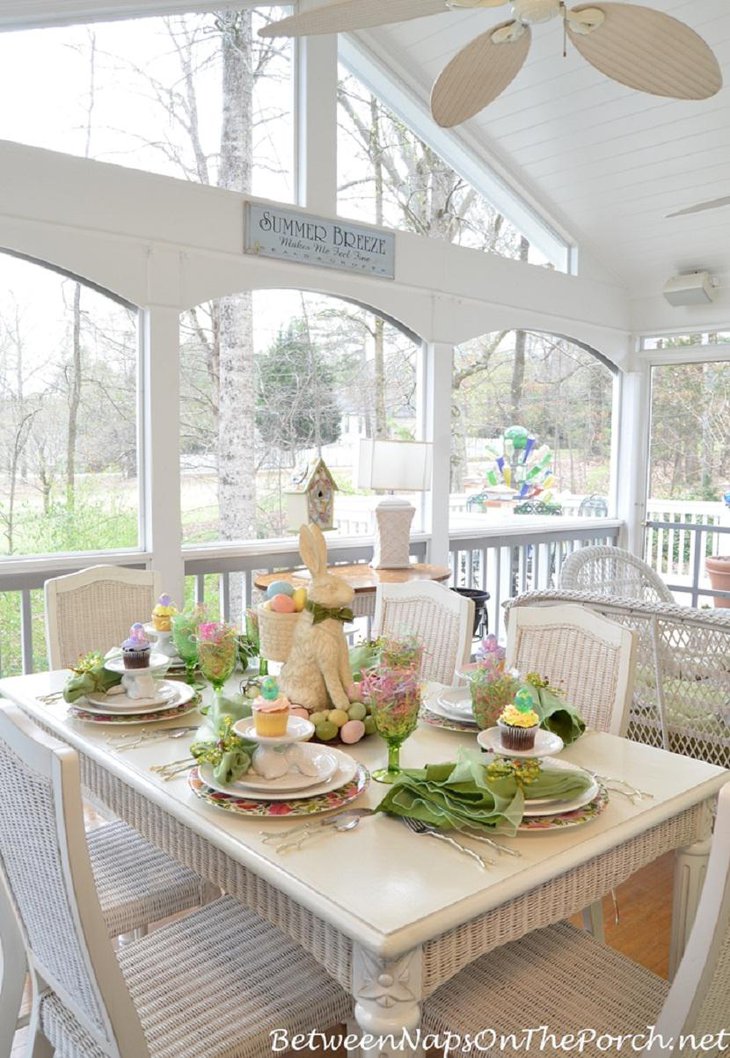 White Centerpiece with Fresh Floral Table Settings
Image Credit: betweennapsontheporch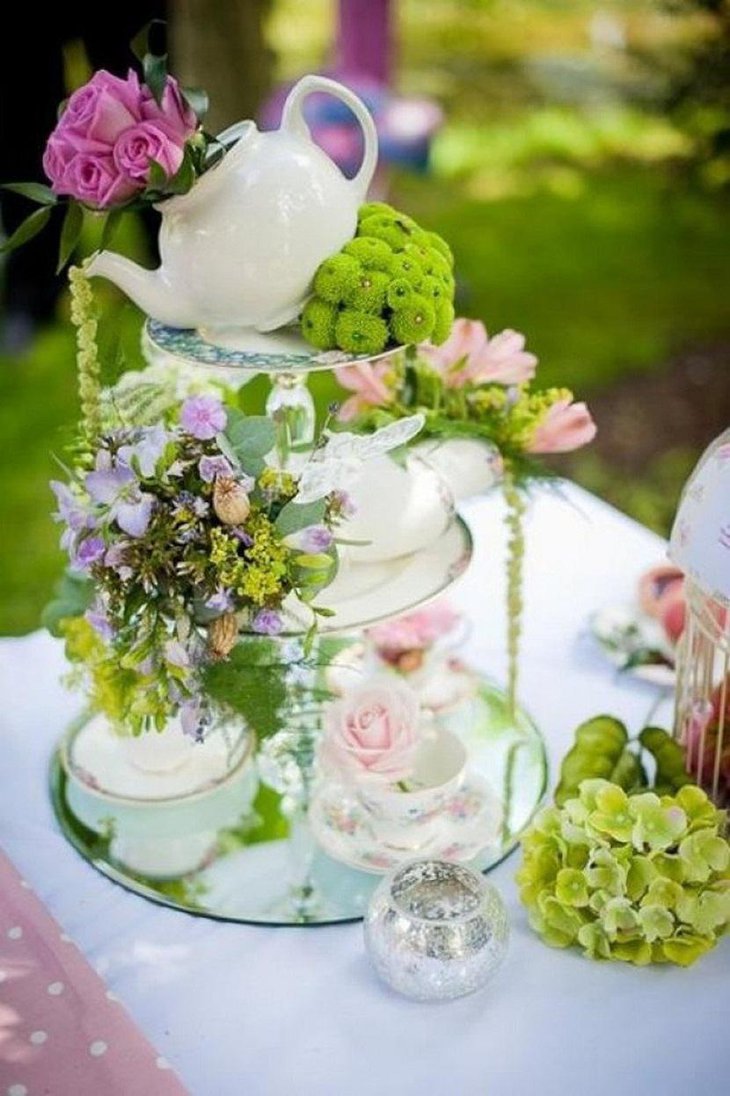 Fresh Flora Tea Party Centerpiece
Image Credit: dreamies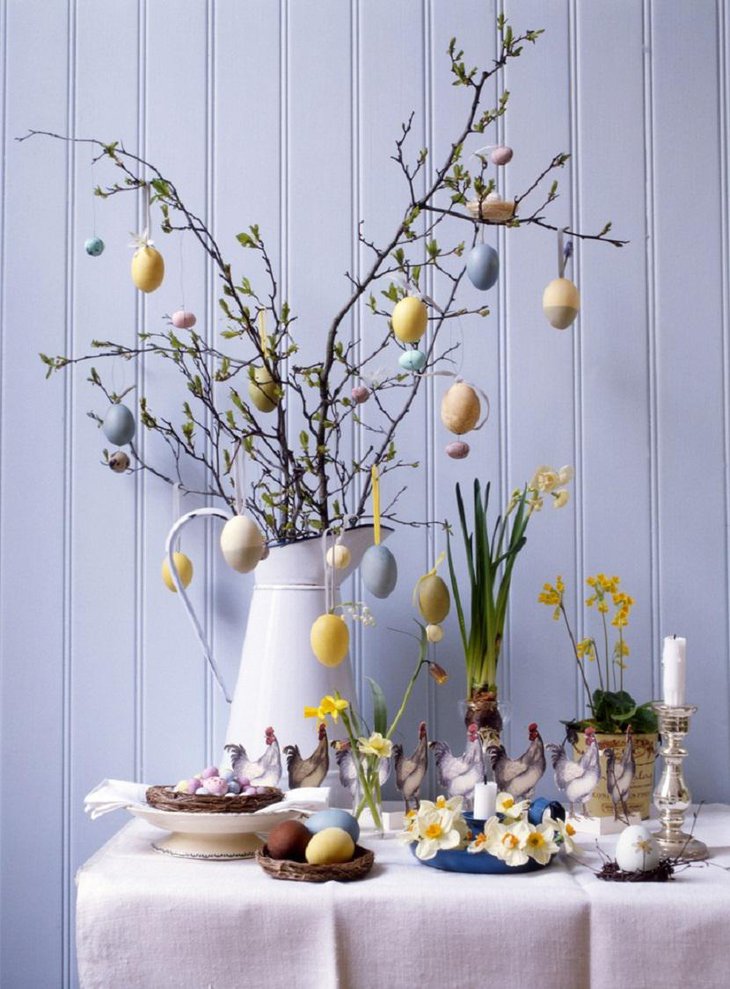 Live Branch and Tastefully Decorated Egg Ornaments
Image Credit: trendnet
Easter Table Centerpieces with Candles
As Christ and the sunshine light up the season, a beautiful centerpiece can light up your table. Surround the candles with bunnies, eggs, or fresh flowers to fully express the season's festivity.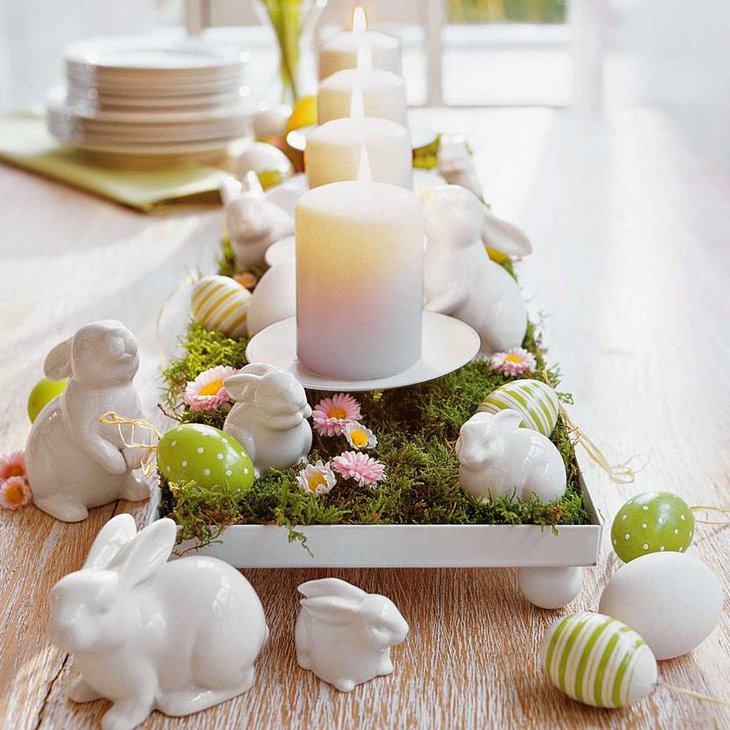 Candle Centerpiece with Miniature Flowers, Bunnies, and Eggs on a Bed of Green Growth
Image Credit: quotesgreetings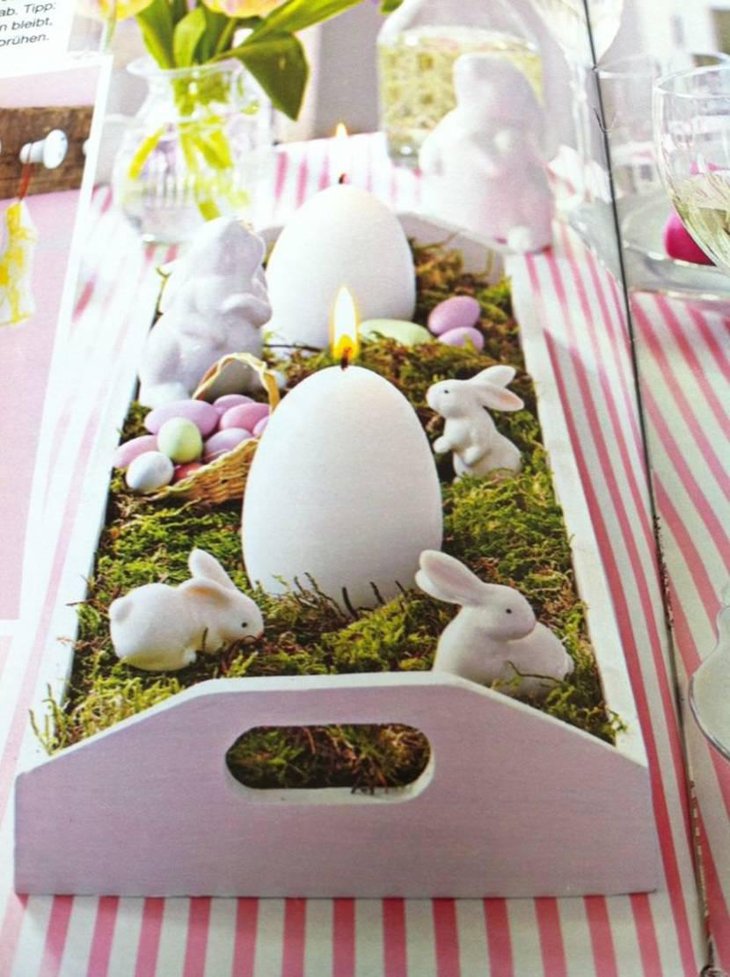 Egg Candles and Easter Bunnies on Greens
Image Credit: crisvallias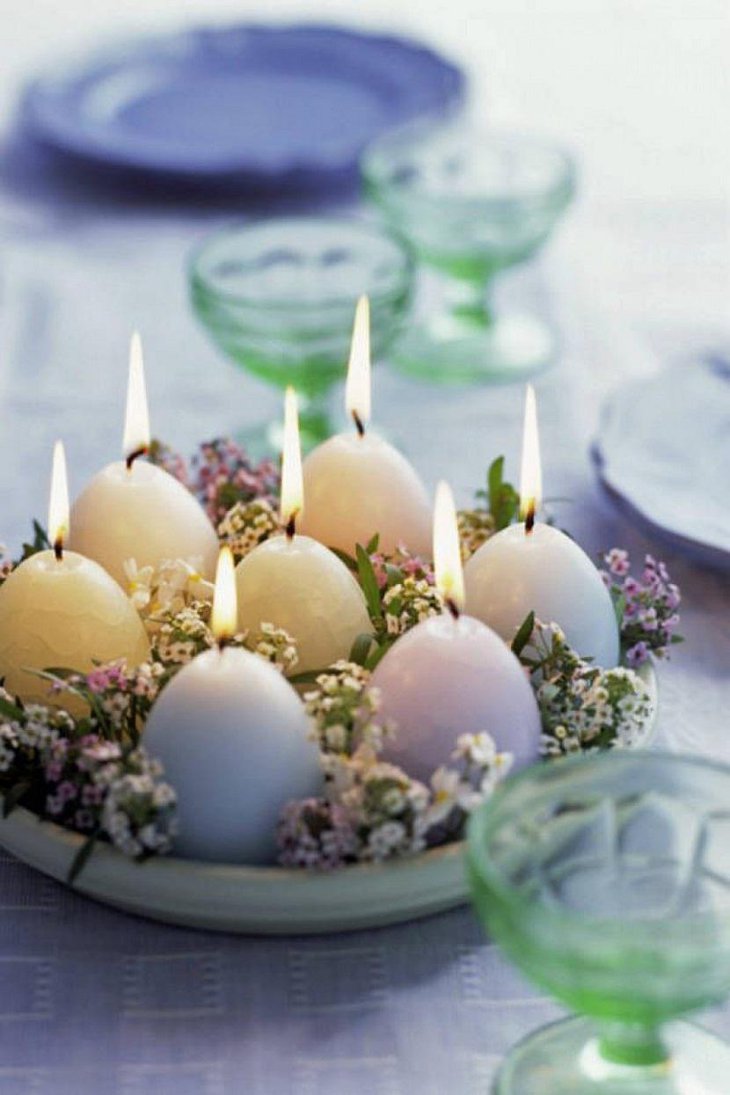 Candle Eggs and Fresh Flowers
Image Credit: vcvetah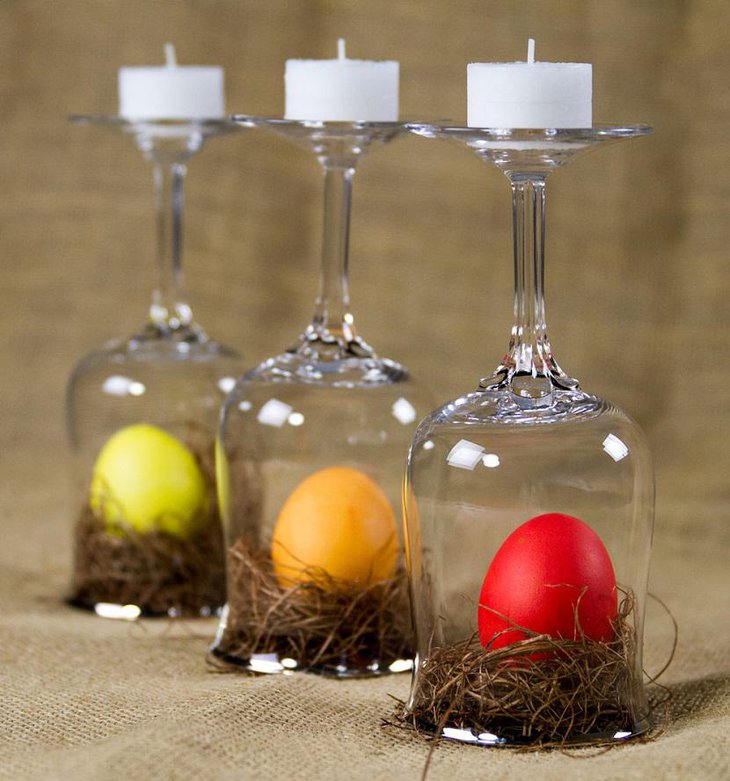 Upside Down Wine Glasses with Nested Easter Eggs and Candles
Image Credit: paaseastereggs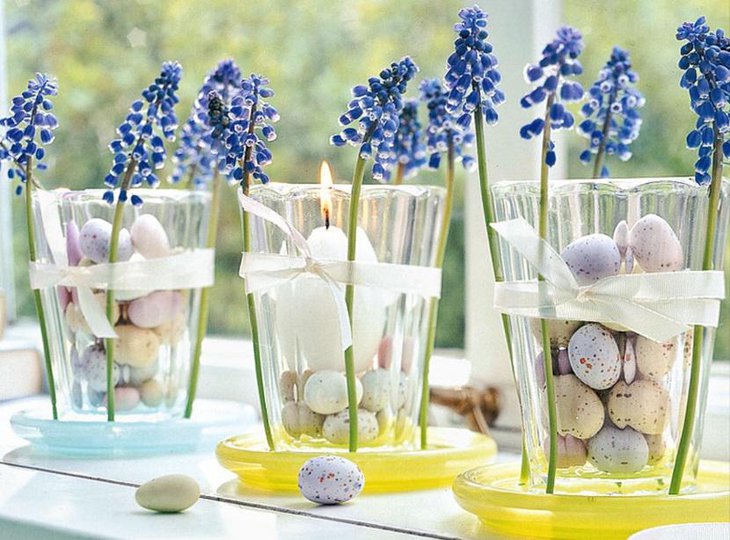 Egg Candle Centerpiece with Candy Eggs and Flowers
Image Credit: wordpress
Natural Easter Decorating Ideas
Here are more exquisitely natural spring spring centerpieces using broken eggs, carrots, branches, and nests. Remember that even broken eggs and chewed burlap or fencing can make great decorating pieces as they show signs of spring life.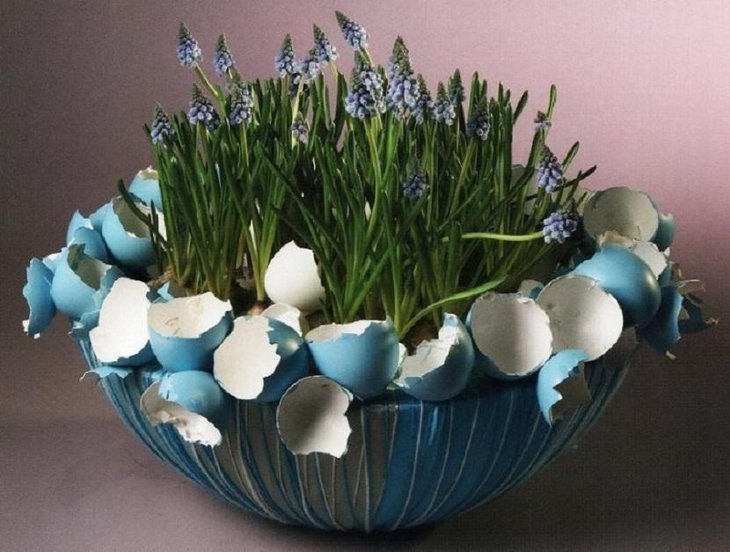 Eggshell and Floral Centerpiece
Image Credit: deavita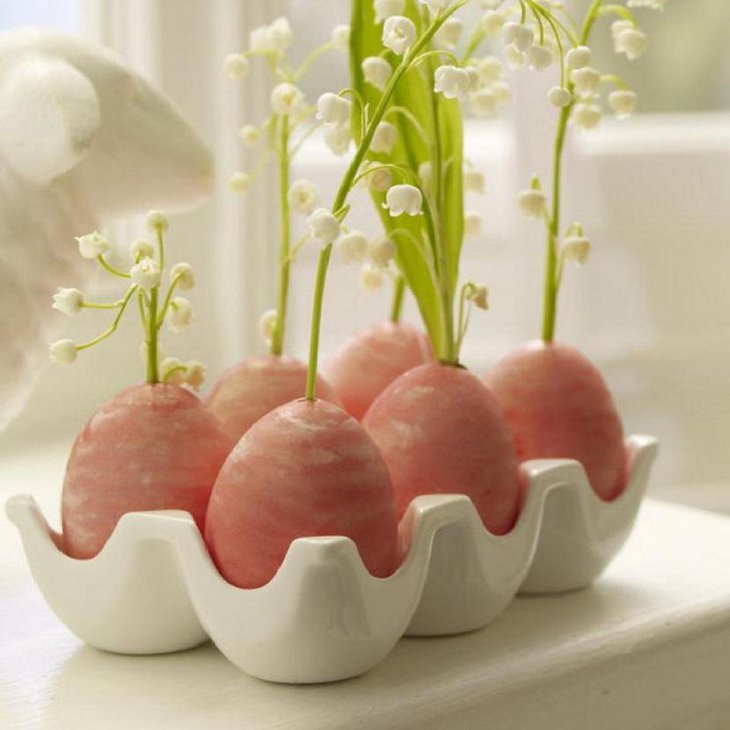 Colored Eggs with Sprouting Blossoms
Image Credit: homeest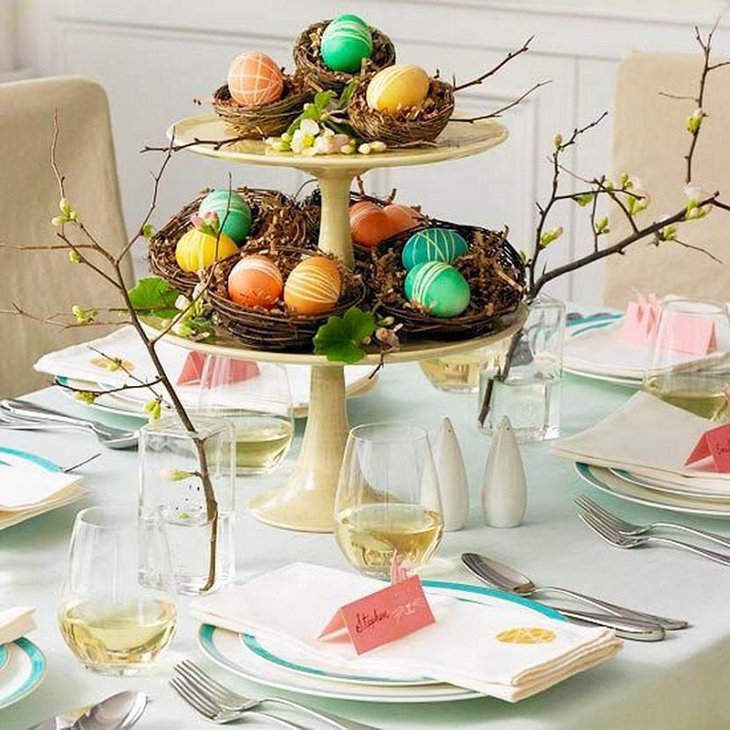 Decorative Egg Nests with Live Branch Accompaniments
Image Credit: crnobelo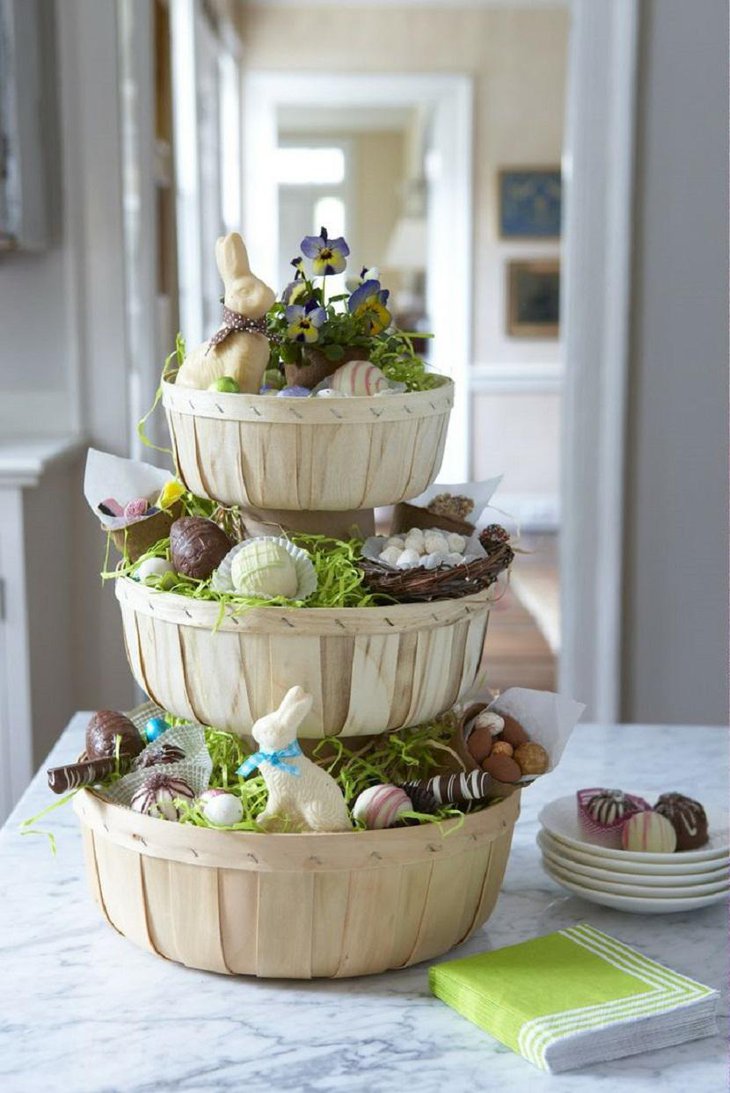 Candy Basket Centerpiece with Real Nest and Flowers
Image Credit: lauravirginia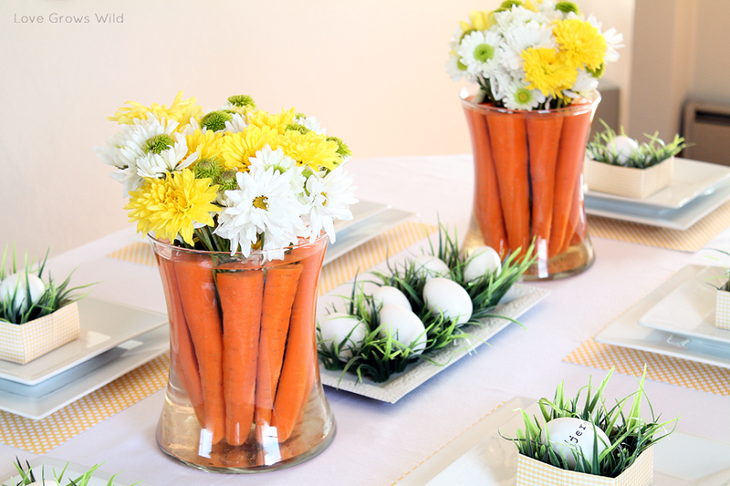 Carrot and Flower Vase with Real Eggs and Greens
Image Credit: blogspot
Easy Centerpieces for Easter
Most of the centerpieces so far have been DIY-friendly, but these are especially so. You can even allow your children to participate in the creation for authentic charm. These ideas involve gathering flowers or decorating your own Easter eggs. Be as simple or as elaborate as you want!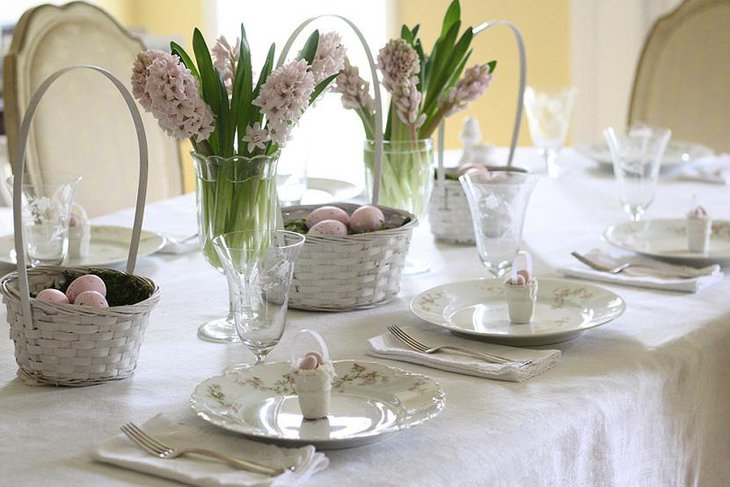 Fresh Flowers in Vases with Dyed Easter Eggs in Baskets
Image Credit: wenderly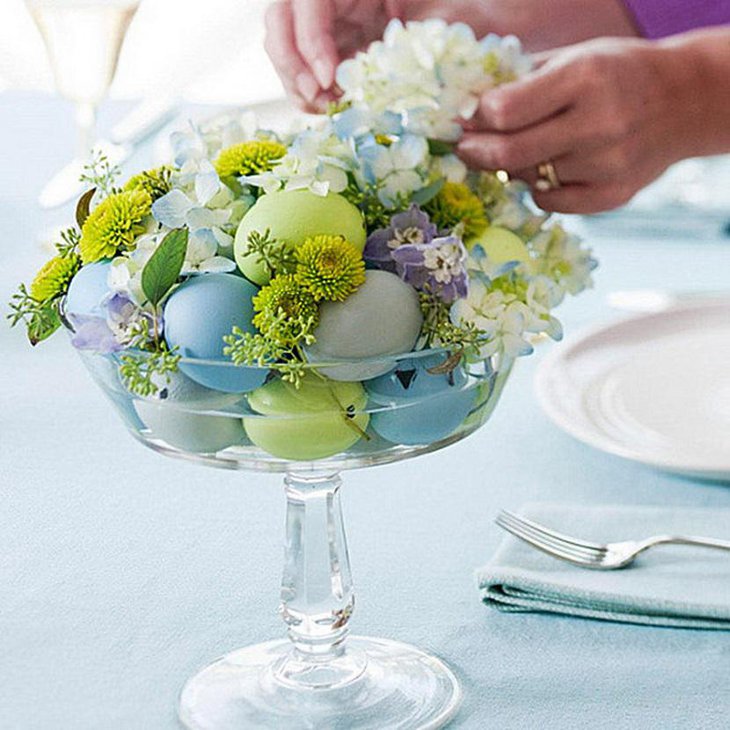 Dyed Easter Eggs and Floral Arrangement
Image Credit: crnobelo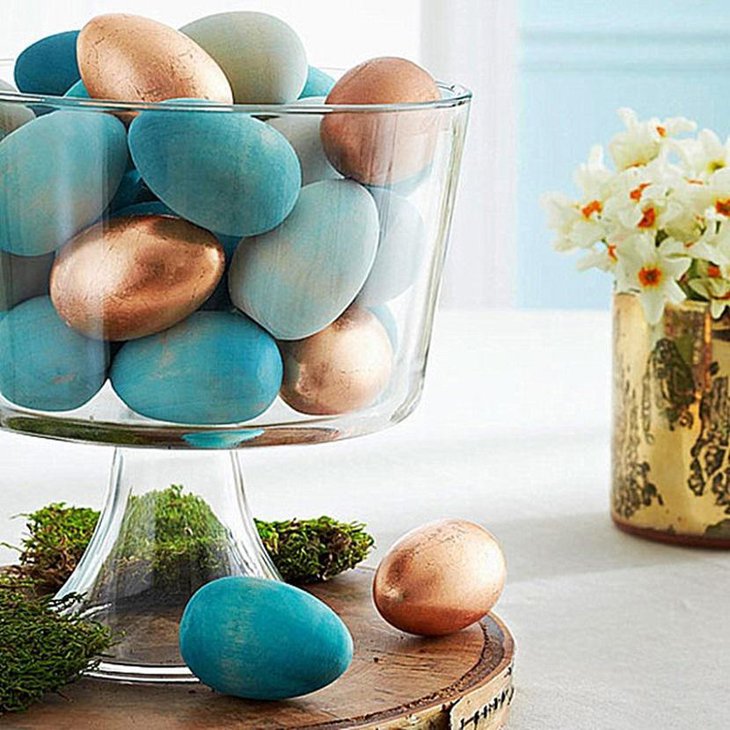 Dyed and Spray Painted Easter Eggs
Image Credit: crisvallias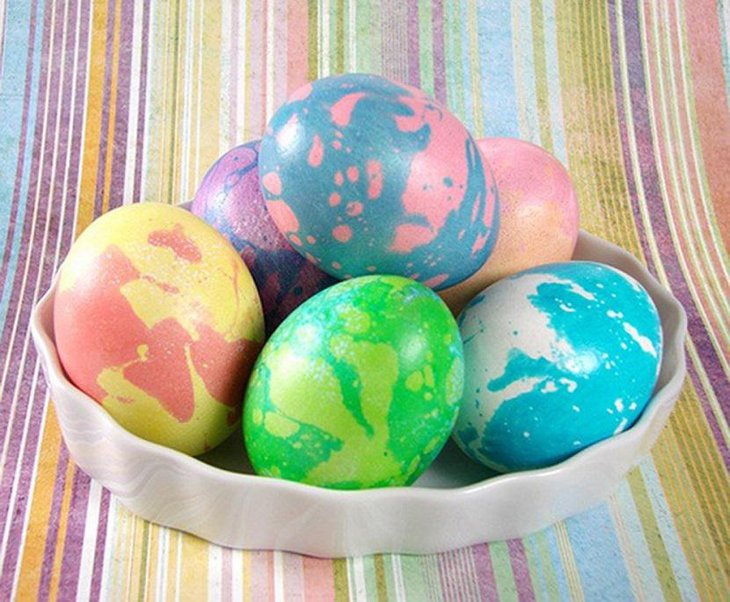 Multi-colored Dyed Easter Eggs
Image Credit: images-amazon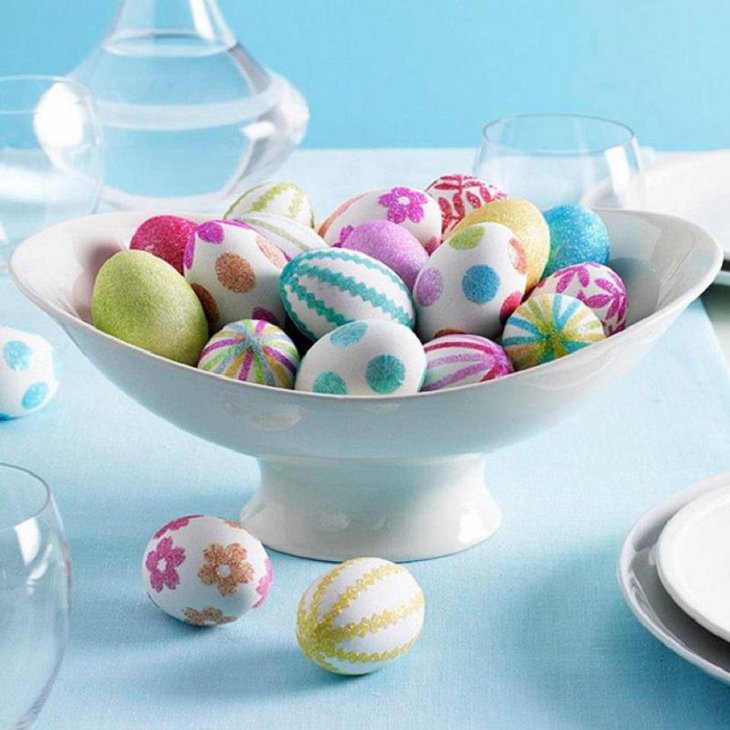 Patterned Easter Eggs
Image Credit: spatrendonline
Colorful Easter Centerpieces
Even the classiest of homes deserves colorful spring centerpieces for Easter. Bring in the cheer with at least one vibrant color and watch your family light up with excitement.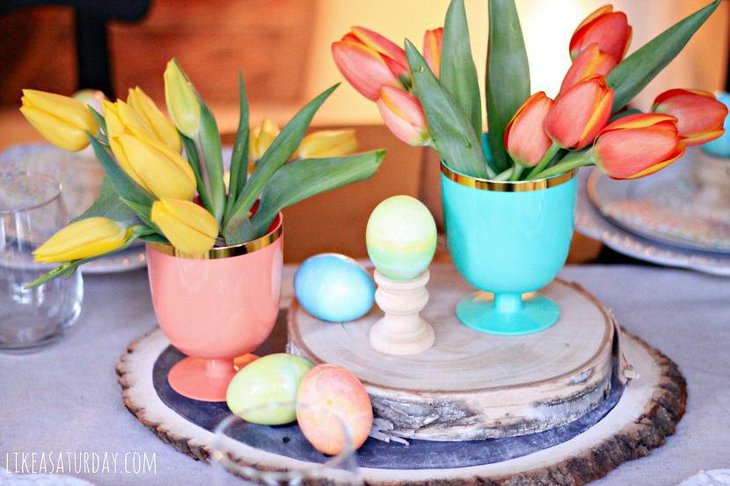 Colorful Eggs and Flowers Centerpiece
Image Credit: likeasaturday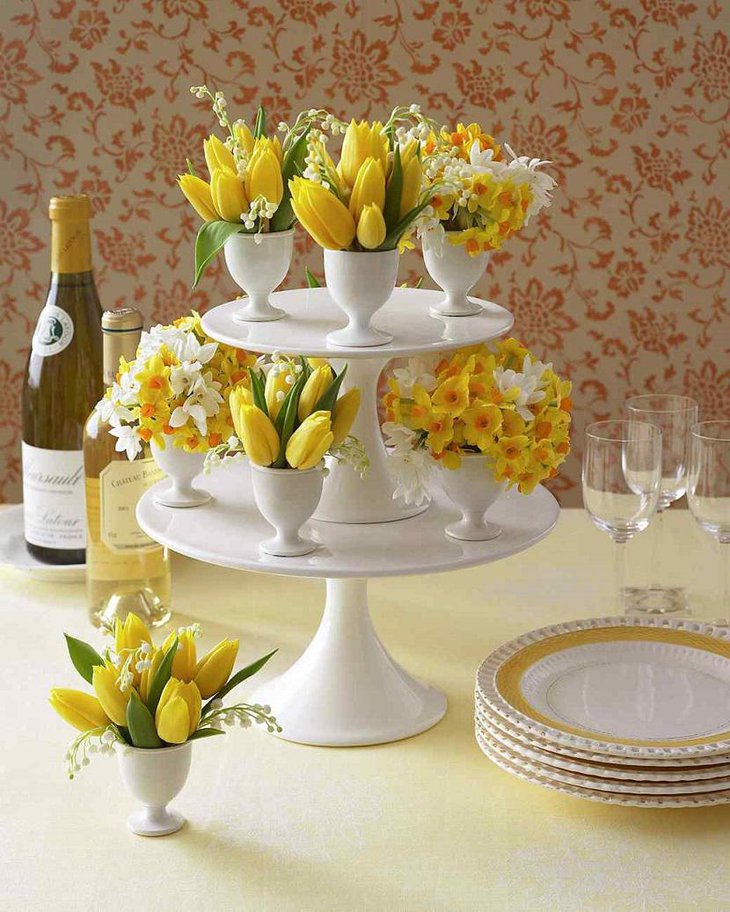 Bright Yellow Floral Arrangements
Image Credit: marthastewart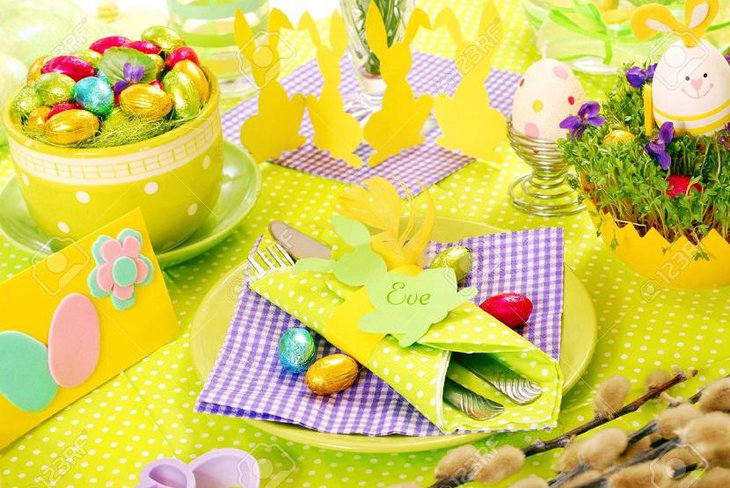 Kid's Place Setting with Decorations, Gifts, Candies, and Colored Tableware
Image Credit: 123rf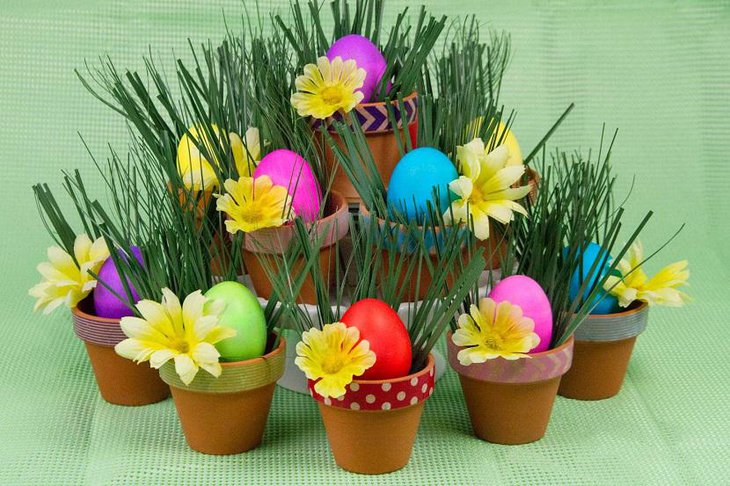 Dyed Eggs in Flower Pots
Image Credit: paaseastereggs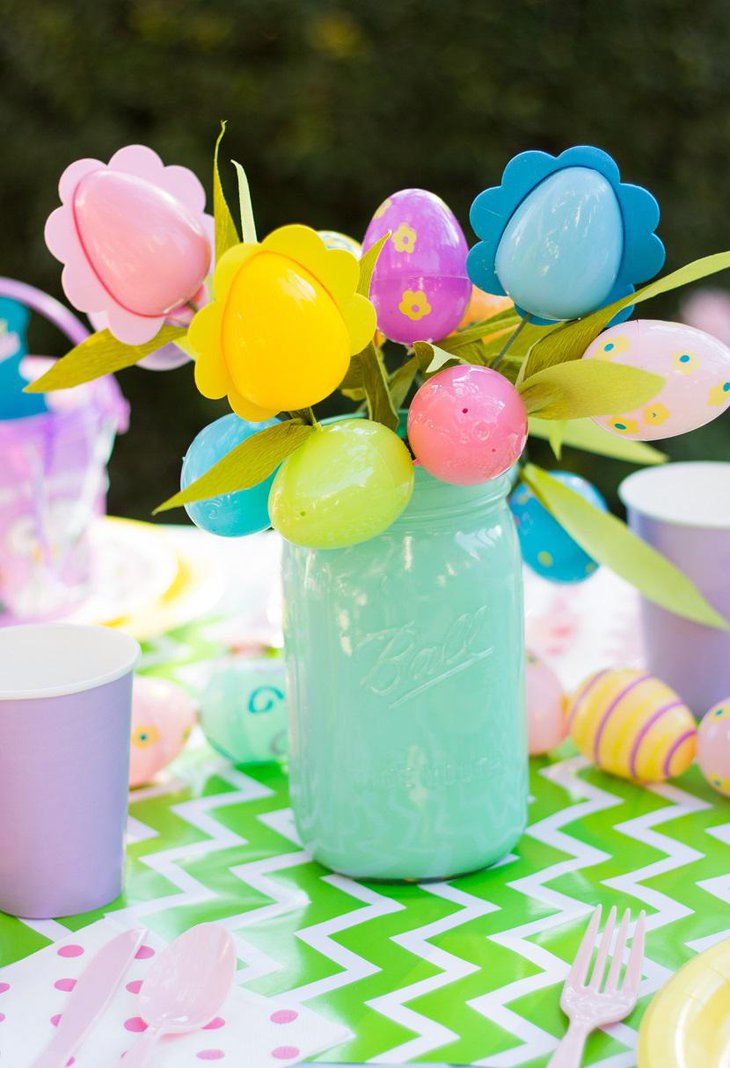 Plastic Egg Flowers in Painted Mason Jar with Colorful Tablecloth and Ware
Image Credit: orientaltrading
Celebrate the holy day holiday extravagantly with one of these spectacular Easter centerpiece ideas. From natural décor to plastic eggs and Peeps, you have your choice of style. Try your hand at making your favorite idea above, and we're sure you'll be victorious!