These baby shower ideas for boys will inspire you to create a high-flying aviation, seafaring nautical, root n' tooting cowboy, quirky robot, or wild n' crazy animal party for your special mom-to-be and expected baby.
Aviation Theme
Use this unique, adventurous theme when a baby boy is coming in for a landing. With vintage airplane figurines, pilot accessories, and cloud decorations, your party is sure to soar with cuteness. You can decorate your tables with printed tablecloths, quilted table runners, of course, airplane cakes. Add airplane shaped cookies or Rice Crispies treats at the dessert table and aviator sunglasses as party favors to complete the effect.
Precious Cargo Vintage Airplane Theme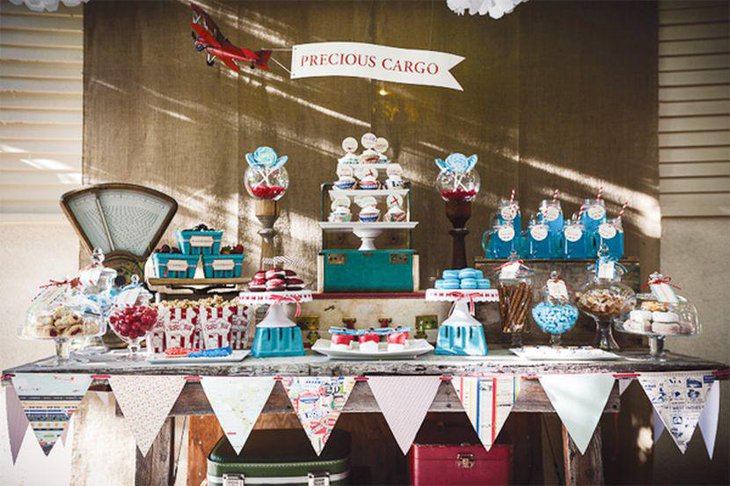 Image Credit: brightsettings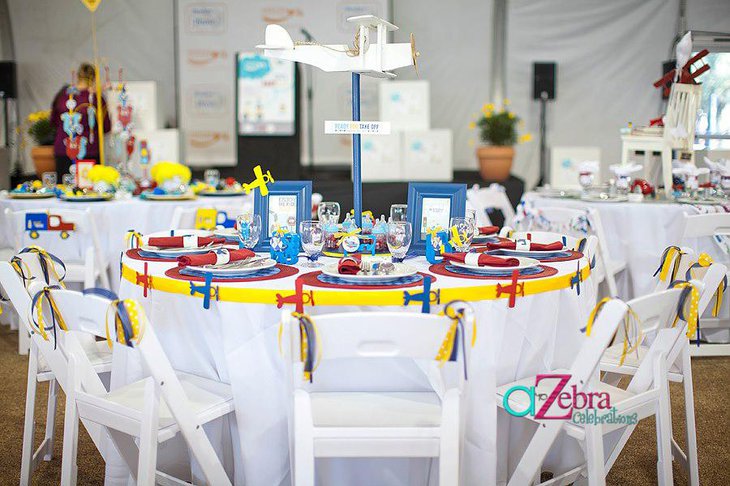 Colorful Tablecloth and Airplane Centerpiece
Image Credit: babyshowerideas4u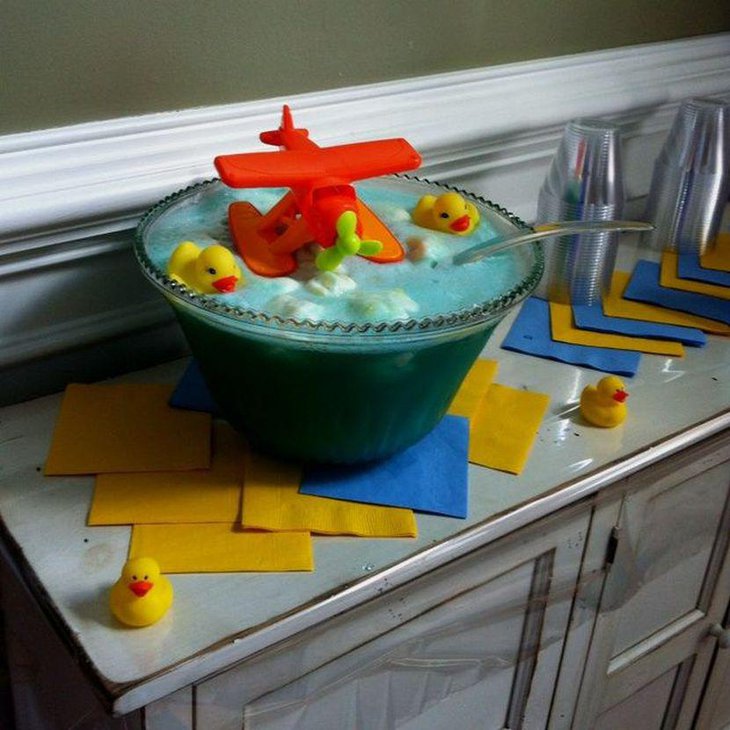 Rubber Airplane in Punchbowl
Image Credit: pinimg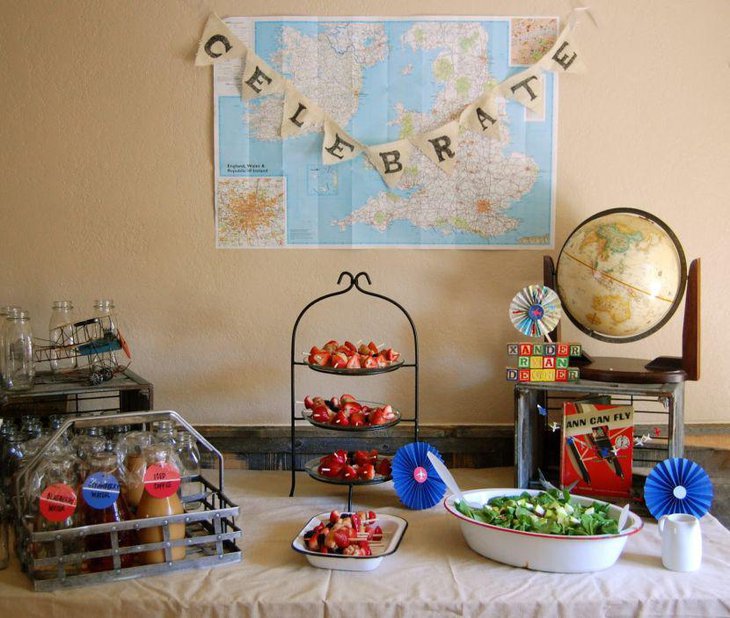 Aviation and Travel Theme
Image Credit: blogspot
Nautical Baby Shower Ideas
A nautical theme is perfect for a baby boy about to sail the high seas of life. Decorate with sailboats, steamboats, anchors, waves, whales, and dolphins. Use blue, white, sea green, gray, yellow, and other vibrant hues.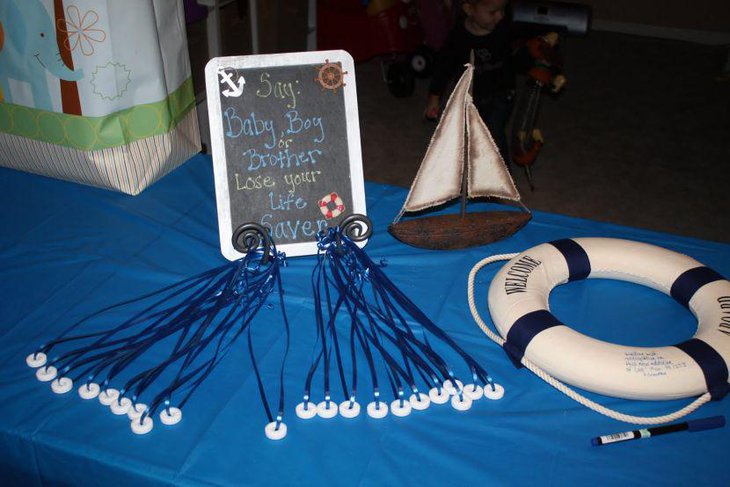 Nautical Décor with Life Raft Game
Image Credit: blogspot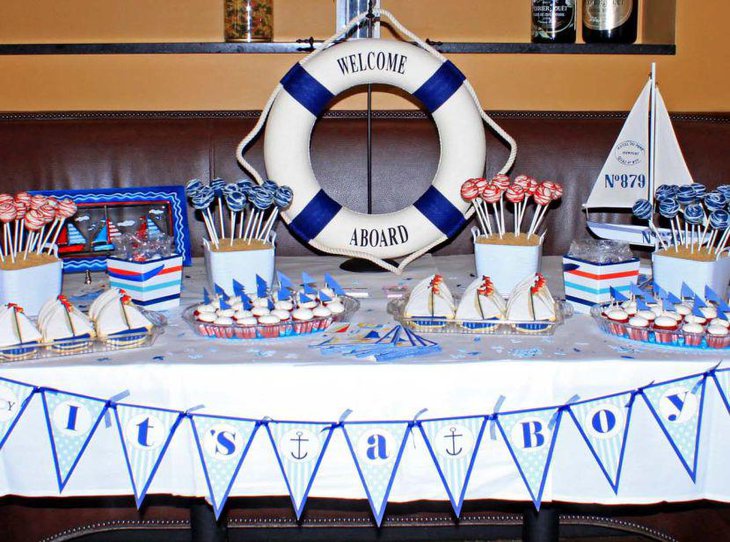 Sailboat Dessert Table
Image Credit: beeshower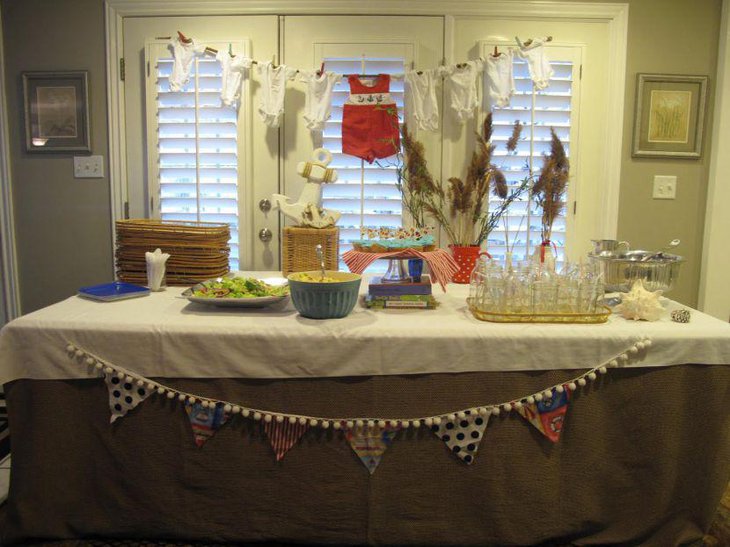 Anchor and Creative Onesie Sails
Image Credit: justbakedlkn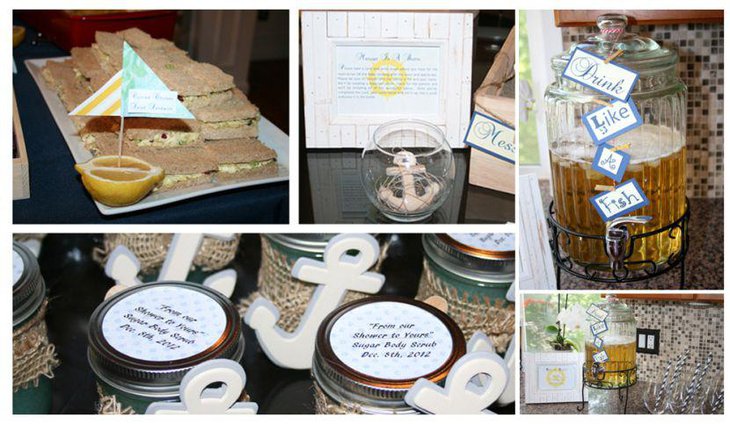 Nautical-themed Snacks, Pitcher, and Party Favors
Image Credit: diy-babyshower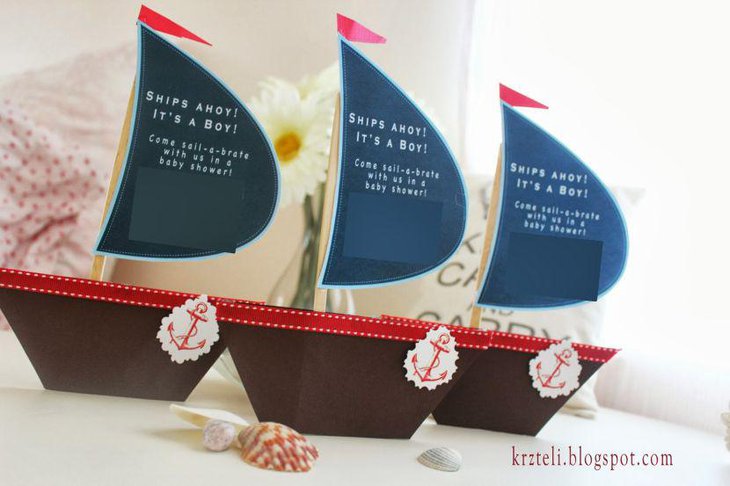 Sailboat Invitations
Image Credit: blogspot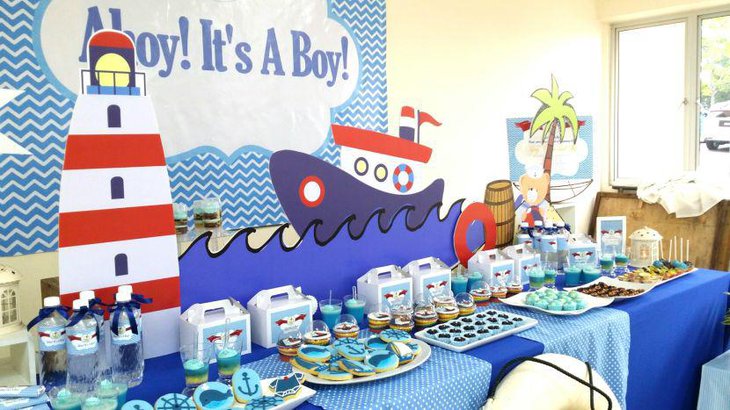 Steamboat on the Waves and Lighthouse Backdrop with Decorated Drink Bottles, Favor Boxes, and Desserts
Image Credit: wordpress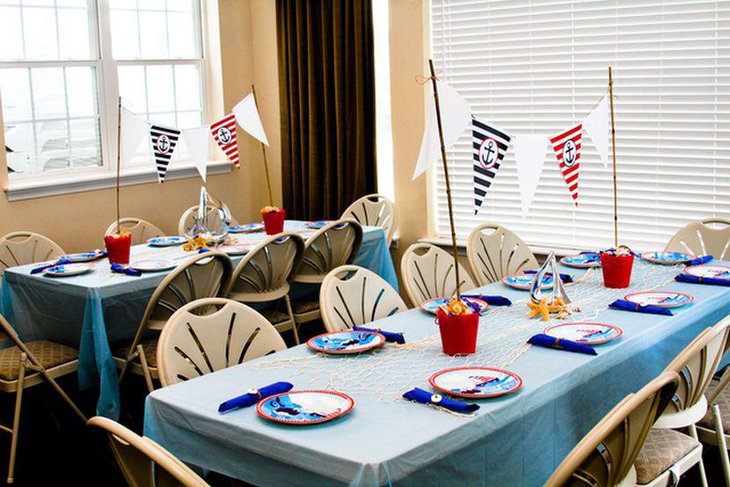 Nautical Banner and Plates with Blue Tablecloth
Image Credit: catchmyparty-cdn
Cowboy Baby Shower Ideas
Cowboys are the perfect answer for a country girl. With a unique style and sense of joy, the Wild West or frontier themes bring a ton of fun ideas for decorations and favors? You can even theme your snacks around the cowboy theme. Buy felt cowboy hats or craft paper hats for your guests to wear. Make a sheriff's badge for the guest of honor. Include cattle, horses, lassos, cowboy boots, stirrups, tassels, and guitars or banjos in your decorating scheme. Take the party outside or inside with bright colors in red, yellow, and brown.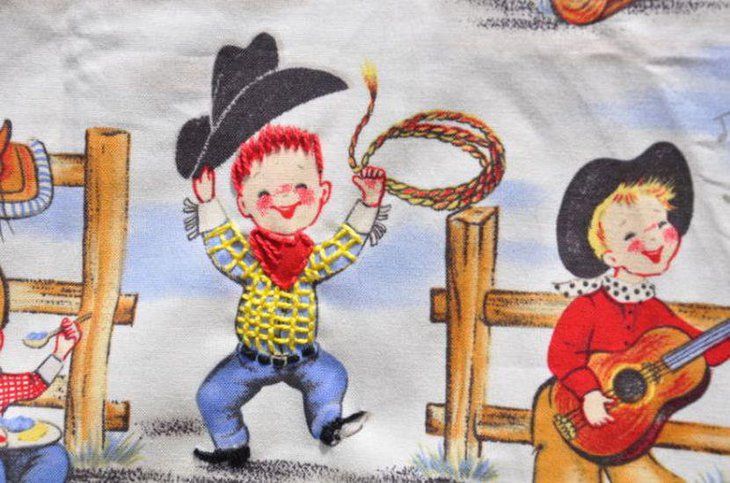 Cowboy Tablecloth or Backdrop Print
Image Credit: yankov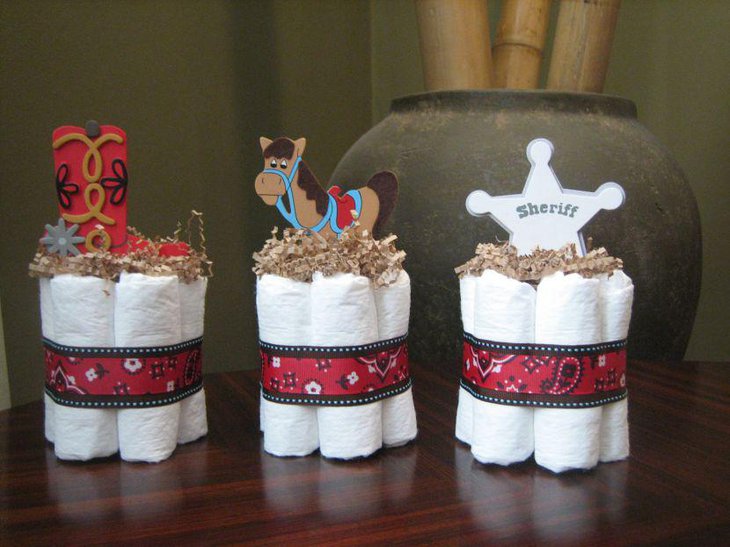 Cowboy Cutouts and Bandana Ribbon for Diaper Cakes
Image Credit: etsystatic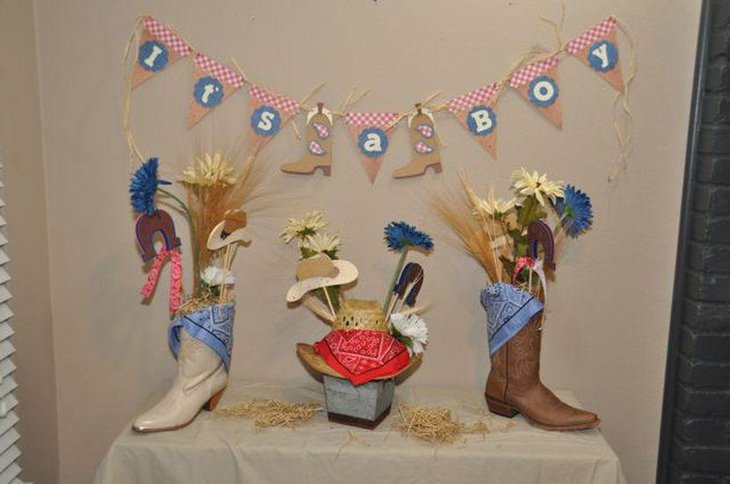 Cowboy Boots, Hats, Bandanas, Horseshoes, and Straw
Image Credit: blogspot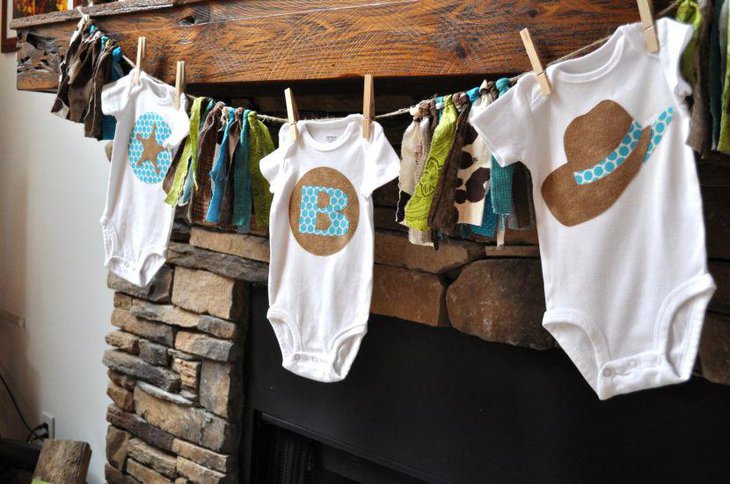 Blue and Brown Cowboy Onesies on Banner
Image Credit: ablissfulnest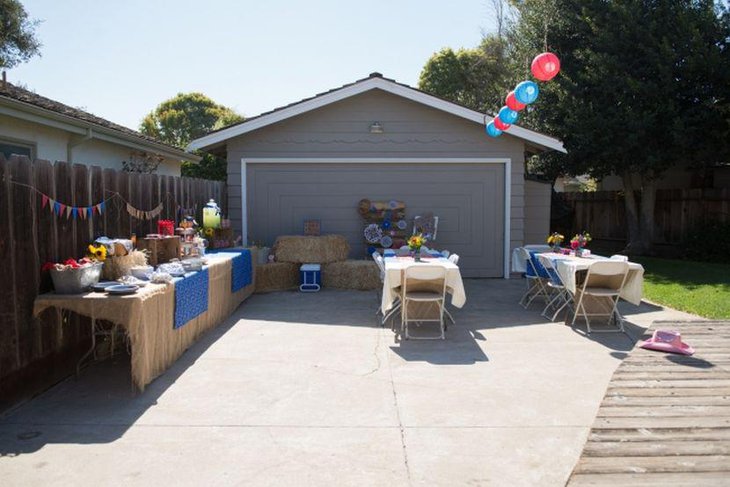 Outdoor Stray and Hay Bales Décor
Image Credit: spaceshipsandlaserbeams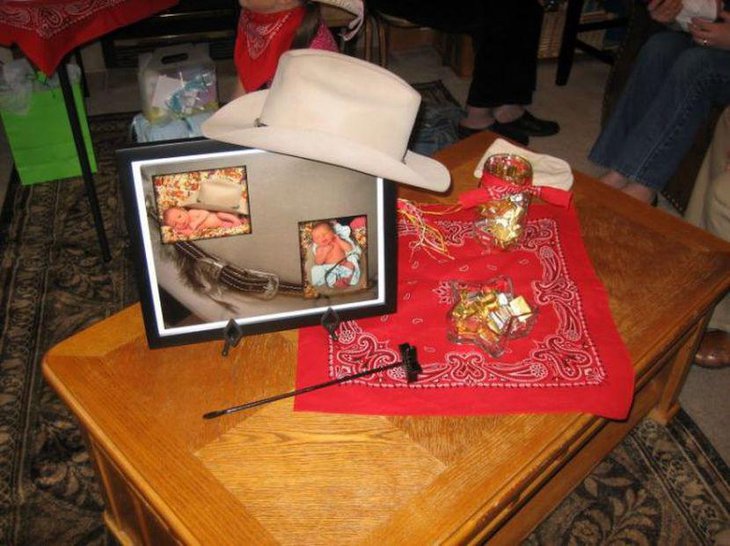 Cowboy Hat and Bandana Centerpiece
Image Credit: yankov
Robot-themed Baby Shower Ideas
Adorable robots, computers, and machines with smiling faces, or cartoon cars and dump trucks are all winners for little boys. Make them cute enough for the ladies to enjoy and you have the perfect party for your soon-arriving little man. For a personal touch, make your decorations out of foam or construction paper and then use them to adorn the baby's room so that he can enjoy looking at them as he grows.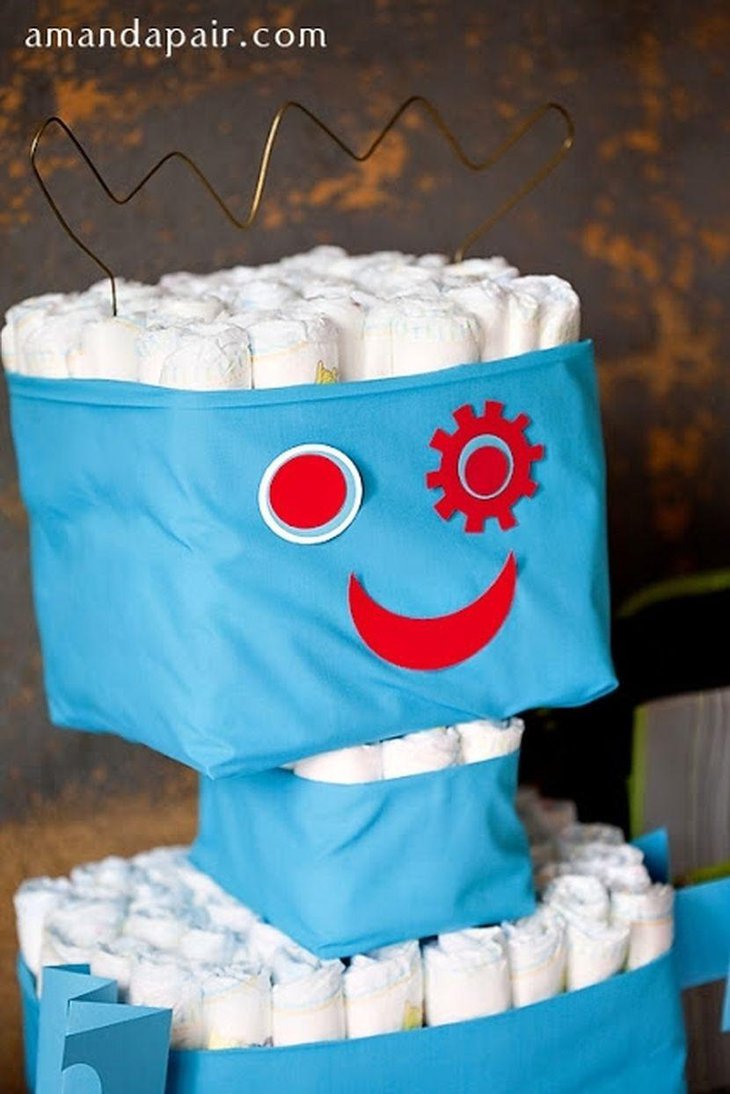 Robot Diaper Cake
Image Credit: spaceshipsandlaserbeams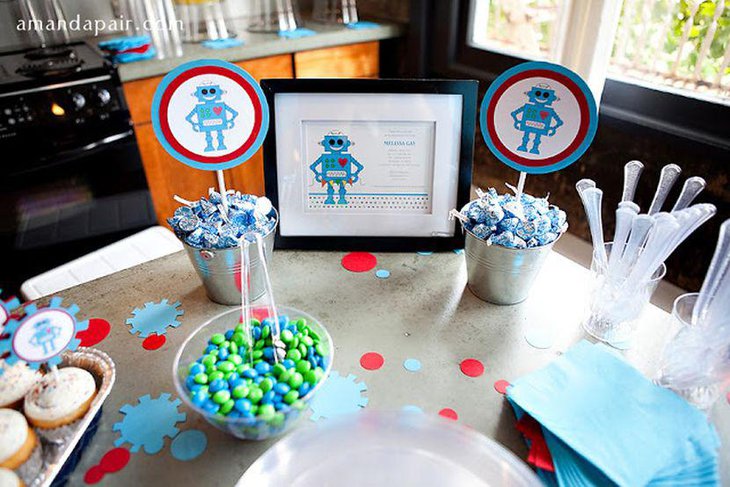 Robot and Gear Printouts
Image Credit: amandapair
Rain Shower Baby Shower
For a neutral baby shower theme, try theming the party theme on the party itself! Decorate with rain boots, raincoats, umbrellas, clouds, and raindrops. Decorate Raindrop-shaped cookies for your dessert table and invite guests to add whip cream "clouds" to their punch or cappuccinos. Use blues, grays, and yellows for a beautiful and uniquely themed rain shower baby shower.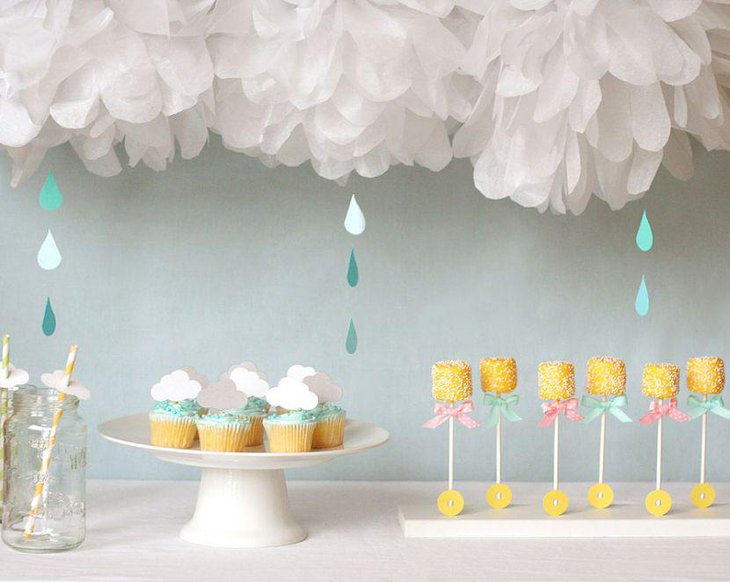 Raindrops and Clouds
Image Credit: fiskars
Umbrella and Raindrops
Image Credit: spaceshipsandlaserbeams
Animal Safari Theme
As your guest of honor begins the wild adventure of raising a little boy, help her prepare with an animal safari theme. From cute cutouts of giraffes, lions, and monkeys to trees, balloons, and even circus tents, you have a plethora of inspirational ideas to draw from. Craft your animals out of construction paper or foam and use animal print tablecloths or backdrops.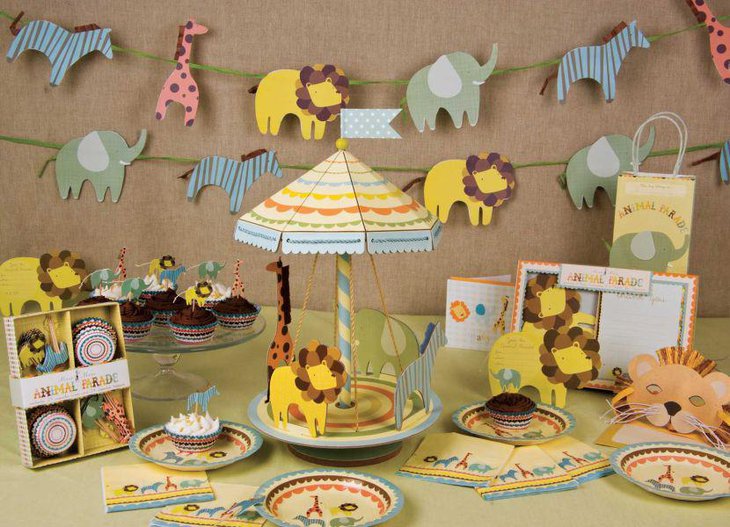 DIY Animal Decorations and Themed Plates and Napkins
Image Credit: wordpress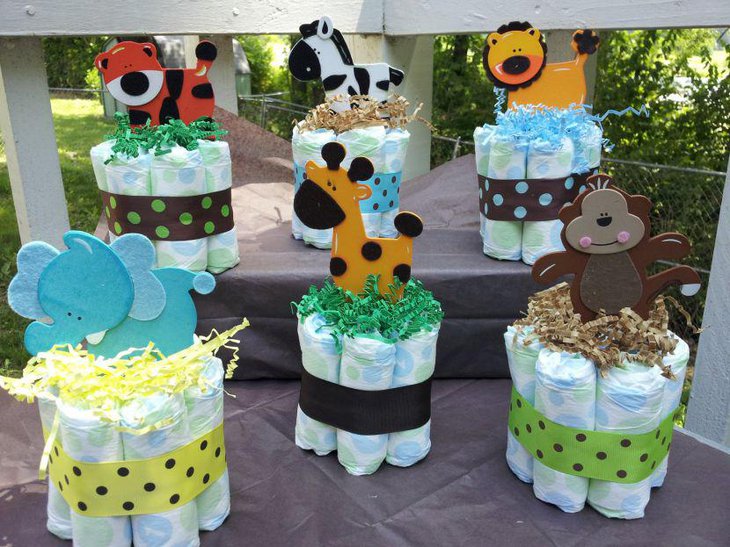 Foam Animal Diaper Cakes
Image Credit: luxtica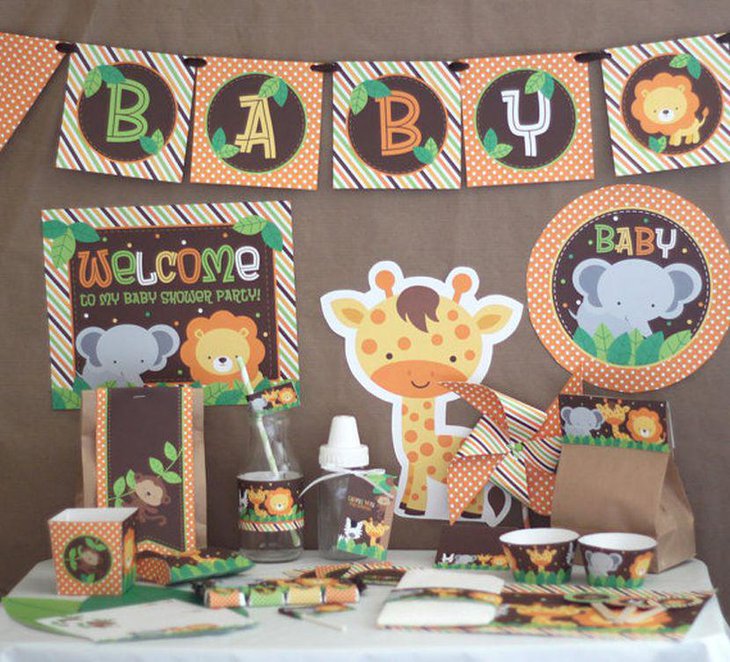 Baby Animal Table Décor
Image Credit: etsystatic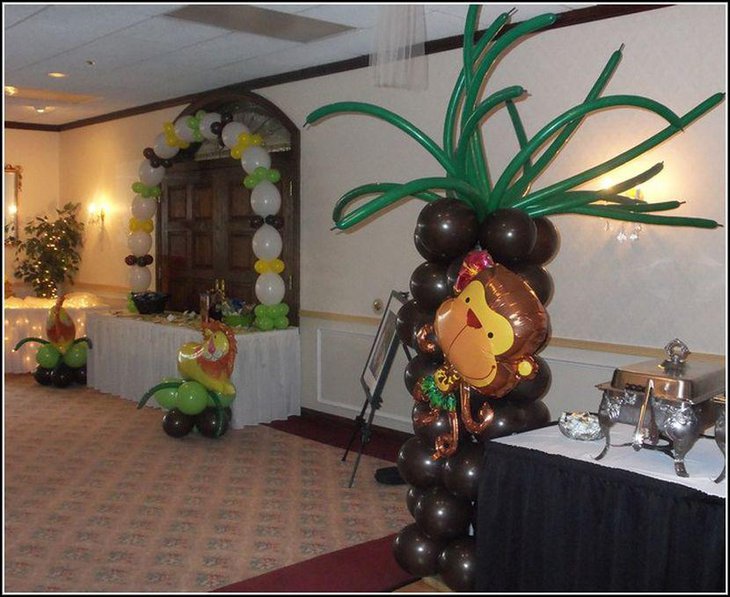 Printed Animal Balloons and Balloon Shapes
Image Credit: wabrownrealtors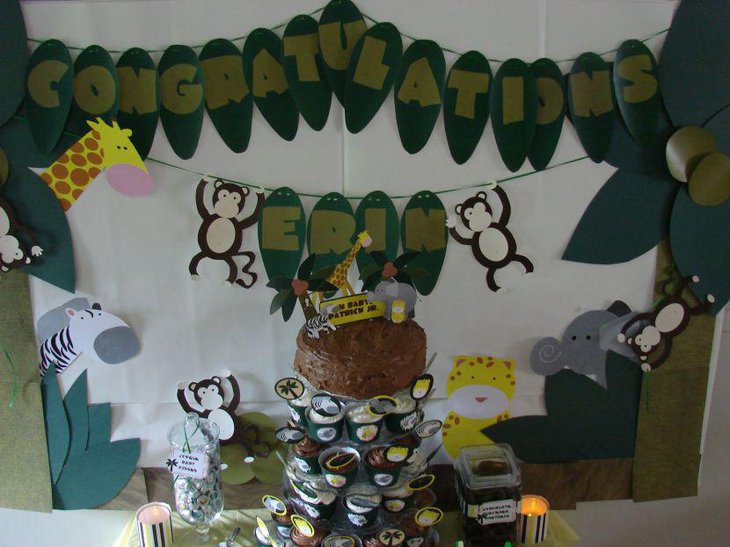 Homemade Animal Backdrop and Banner
Image Credit: justbakedlkn
Owl-themed Baby Showers
Wooooo-hoooo, it's a baby boy! Owl baby showers are another theme based on the occasion itself. And these cutest of birds can be done up in any style with a wide range of crafting supplies. Follow any color scheme you want and the owl will fit right in. Purple and white foam owls? Perfect! Yellow and green polka dot paper owls? Wonderful! And keep the cuties to watch over your son in the baby room later.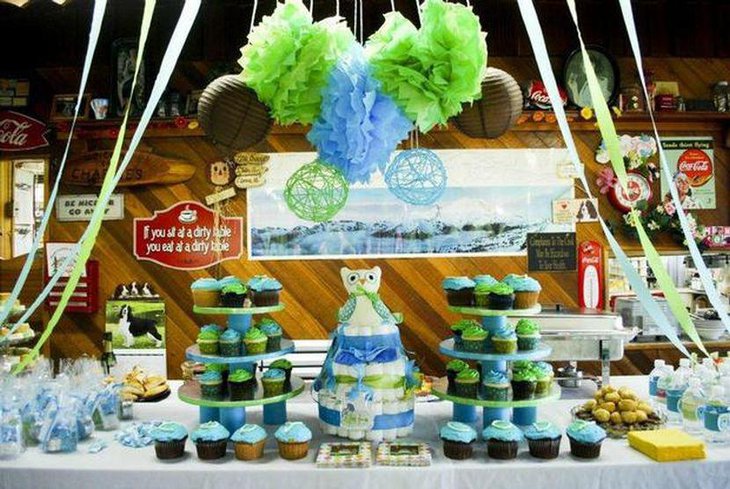 Green and Blue Owl Décor
Image Credit: babyshowerideas4u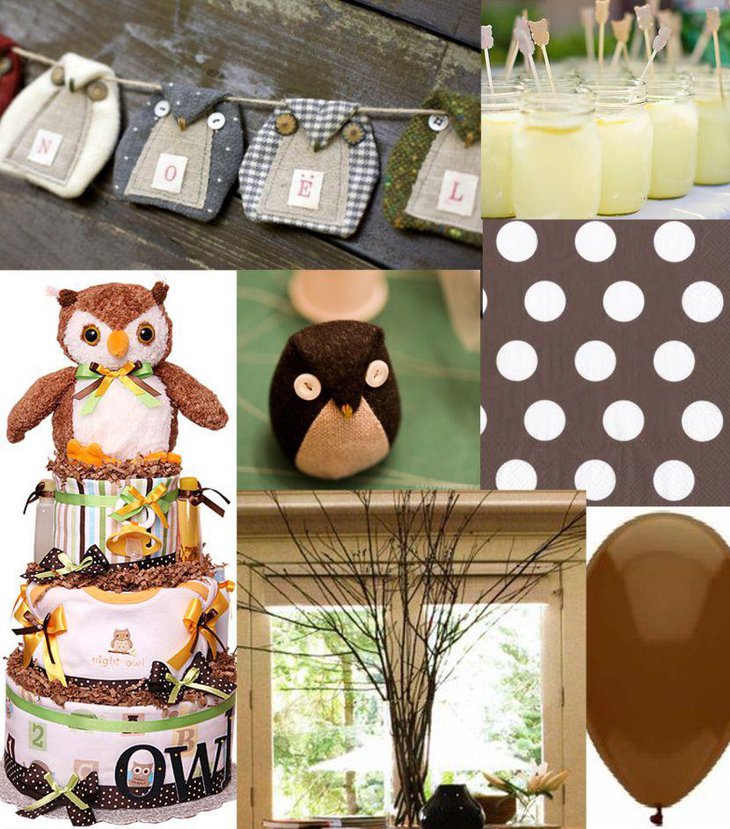 Owl Decorating Ideas
Image Credit: republicanhour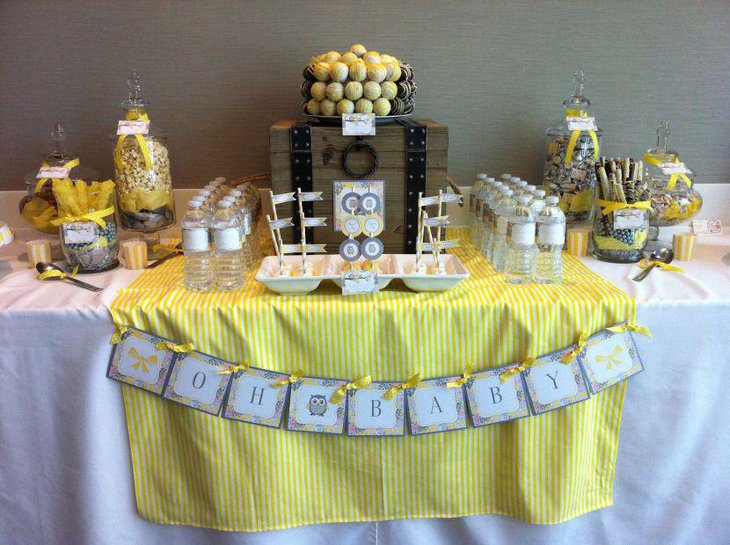 Owl Banner and Labels
Image Credit: blogspot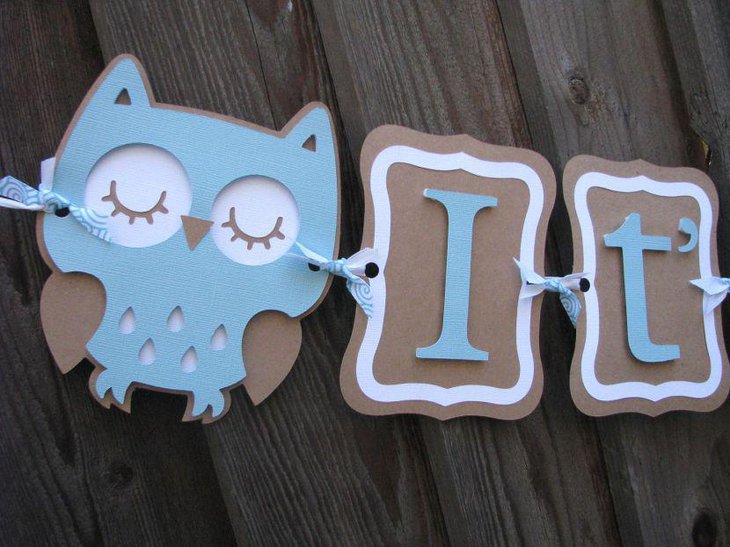 Foam Owl Banner
Image Credit: etsystatic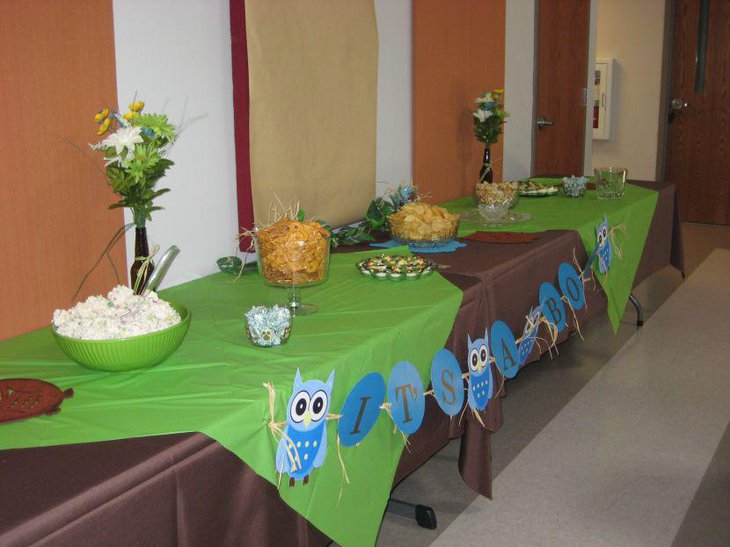 Homemade Owl Cutout Banner
Image Credit: pinimg
So, have you decided on a theme? With so many baby shower ideas for boys, it might be hard to choose. Browse back through and narrow it down according to what you would like to craft or themes that the mother might want to use in the baby's room afterward.