Love will be in the air in only a few days' time, and for celebrating this special day, here are 35 Valentine centerpieces to get you inspired. For most of us, Valentine's is the day when we can shower all our affection on our loved ones, and it shouldn't stop when setting the table. For inspiration, browse through this collection of ideas we have gathered. From glam floral to simple paper decorations to candle vignettes, there are a multitude of romantic table settings you can add to create more of a spark in the heart of your Valentine this year. And don't forget to add one of these Valentine table decorations!!
Impressive Floral Valentine Centerpieces
Imagine Valentine's without flowers Dull, boring, and unromantic, right? If you want to take your sweetheart on a fragrant journey while you sit cozily, savoring champagne and your favorite treats, then flowers are a must. When setting a romantic dinner, flowers set the stage and, therefore, are included first in our list. But don't limit yourself to the arrangements here; we also have inspirational resources for floral centerpieces that you can adapt for this Valentine's. Flowers, whether roses or lilies, look extremely elegant and can be used as main centerpieces on your Valentine's table. You can arrange a variety of flowers together in a simple mason jar or in the form of a bouquet. Vases can be used to create something vibrant or simple, depending on your tastes.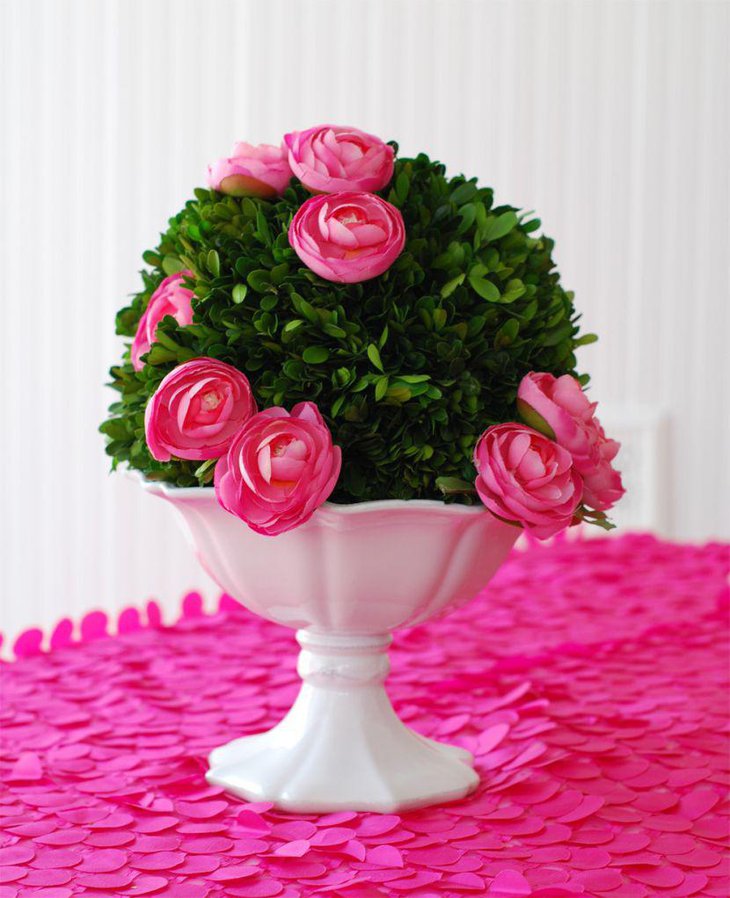 Image Credit: trendymods
Discreet Pink Flowers and Greens on a Bed of Petals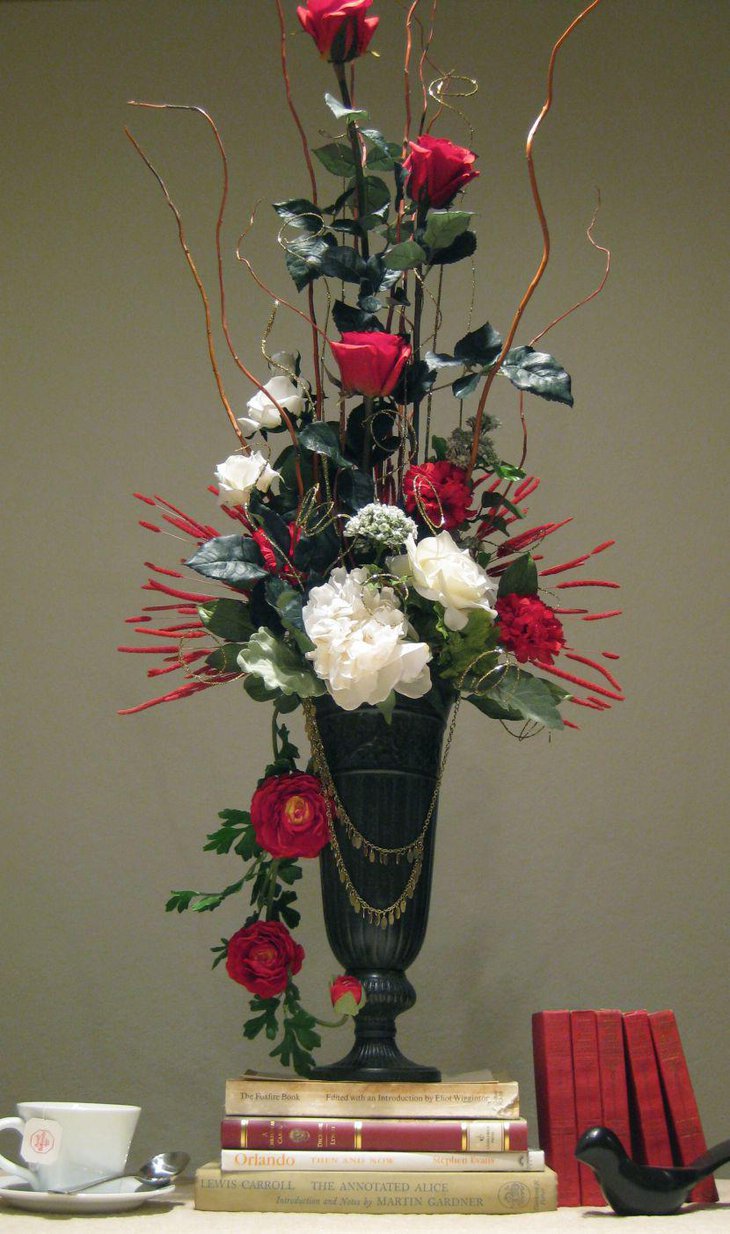 Wild and Passionate Valentine's Centerpiece
Image Credit: katienormalgirl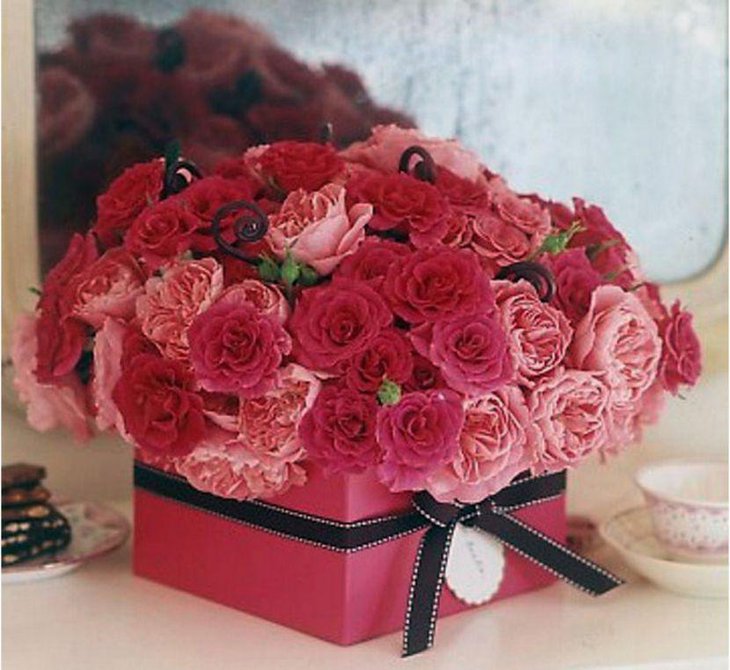 Explosive Bouquet of Love
Image Credit: wordpress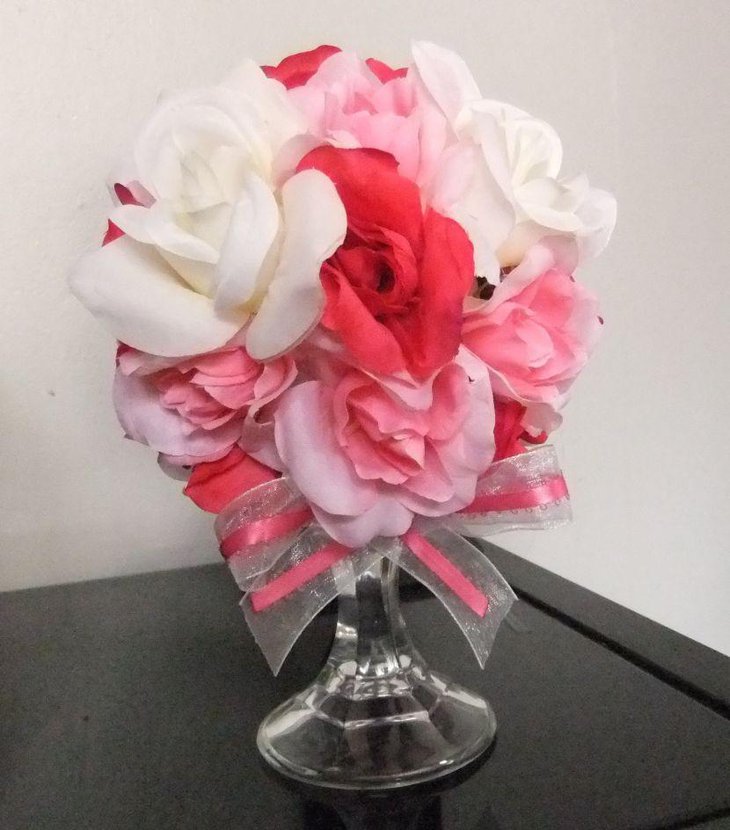 Simple Pomander Flower Ball
Image Credit: ytimg
Impressive Homemade Ideas
When we want touch the heart of the most important person in our life and brings tears of joy to their eyes, the best way to celebrate Valentine's Day is with homemade decorations and delicious foods made with love. With hundreds of ideas published on the internet, it can sometimes be hard to narrow down the options to something that you and your romantic partner will most like. The images we are presenting below show a number of items that can all be crafted at home and are actually very simple.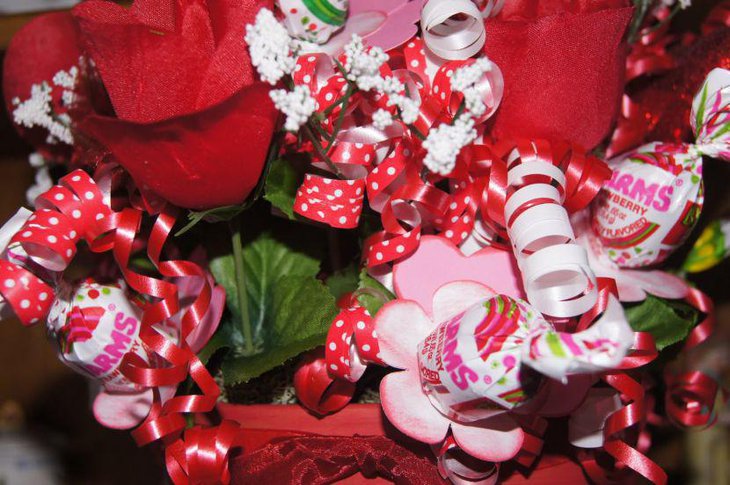 Homemade Floral Valentine's Centerpiece with Ribbons and Candies
Image Credit: girlsonit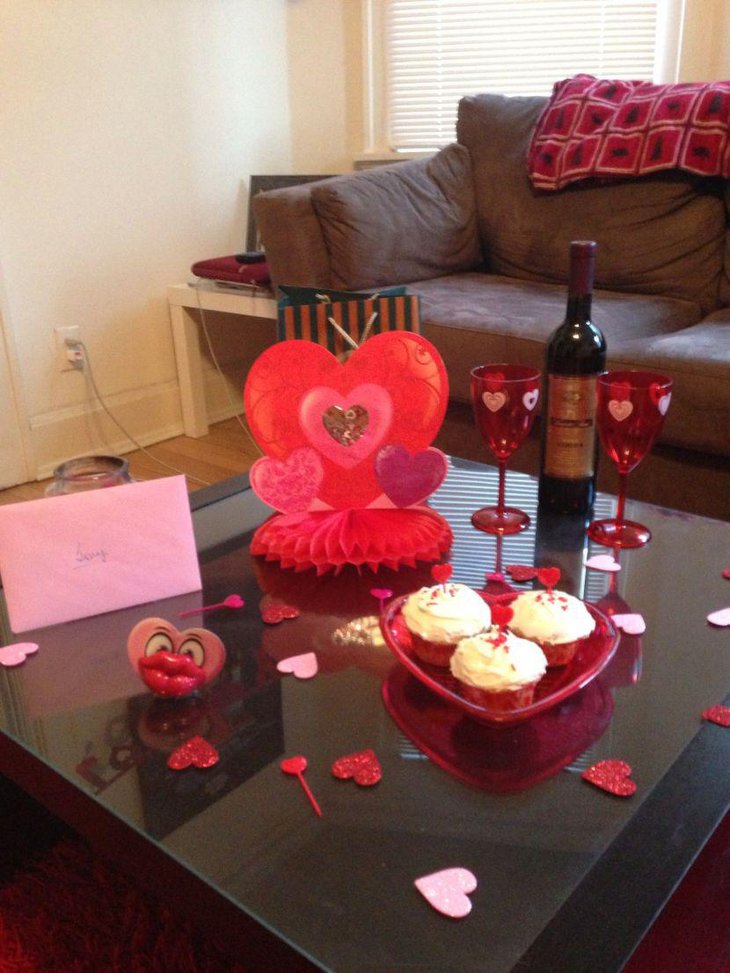 Easy Decorated Pop-up Heart
Image Credit: goplilu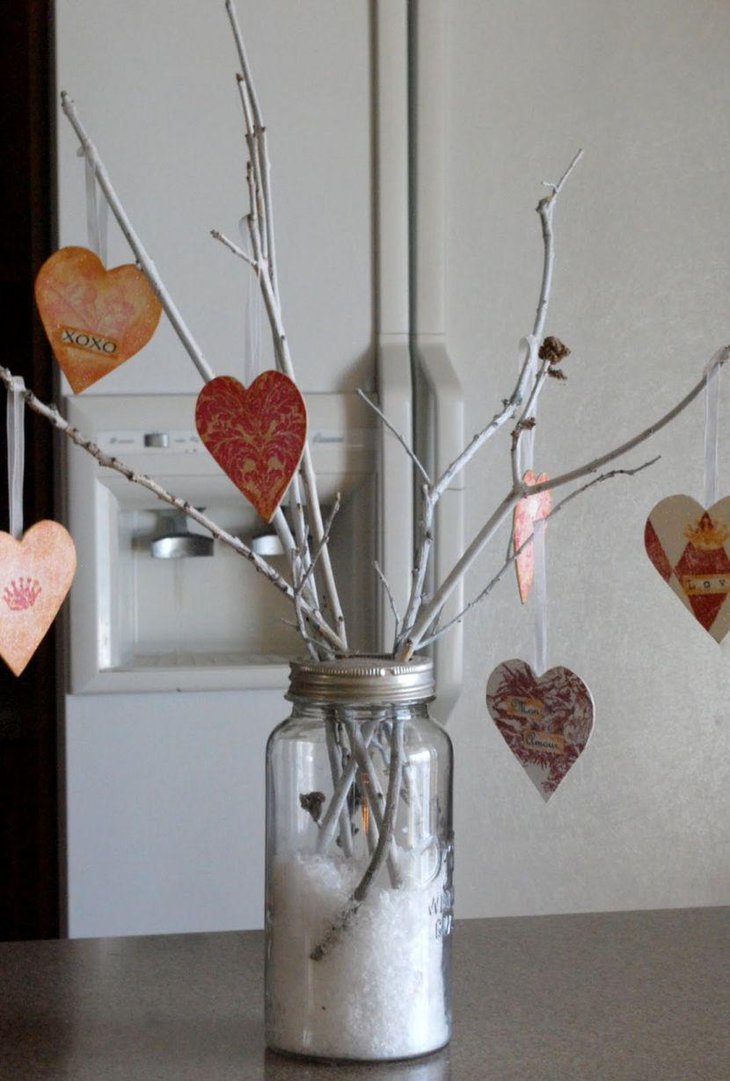 Natural Love Branches and Paper Heart Ornaments
Image Credit: shelterness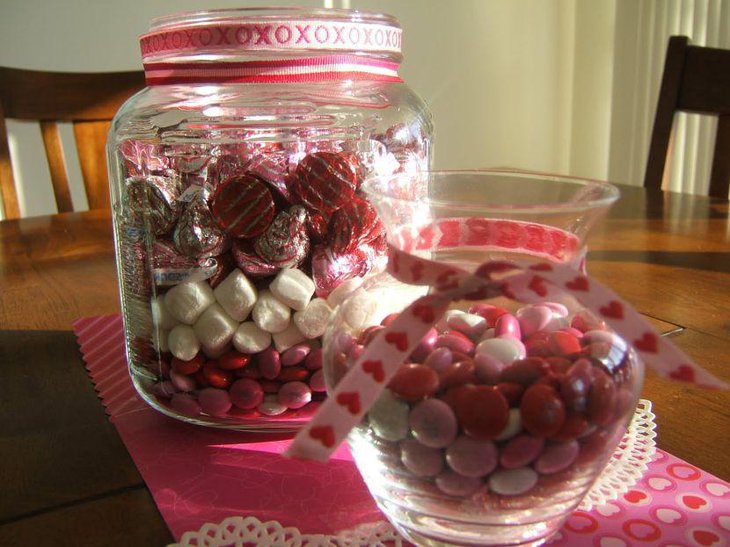 Sweetly Decorated Candy Jars
Image Credit: blogspot
Valentine centerpieces with hearts
When celebrating the day of love, hearts are a natural theme, both in the choice of decor as well as dessert. Heart decorations are popular for adorning not only dinner tables, but console tables and mantles for a full-room ensemble. Heart centerpieces can be made of foam, paper, or cardboard. You can arrange twigs in a jar and attach heart cutouts on them as seen above. For a more glamorous look, try spreading your tables with ruffled or paper hearts. Any homemade heart centerpieces you create will impress your loved one with your thought and care.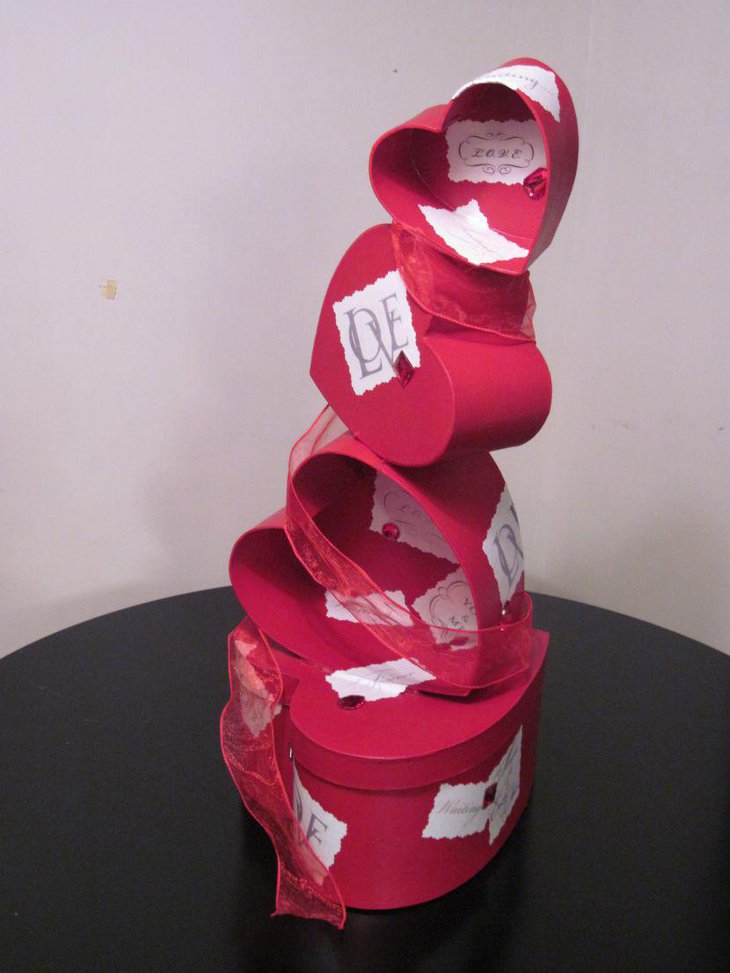 Tower of Cardboard Hearts
Image Credit: consumercrafts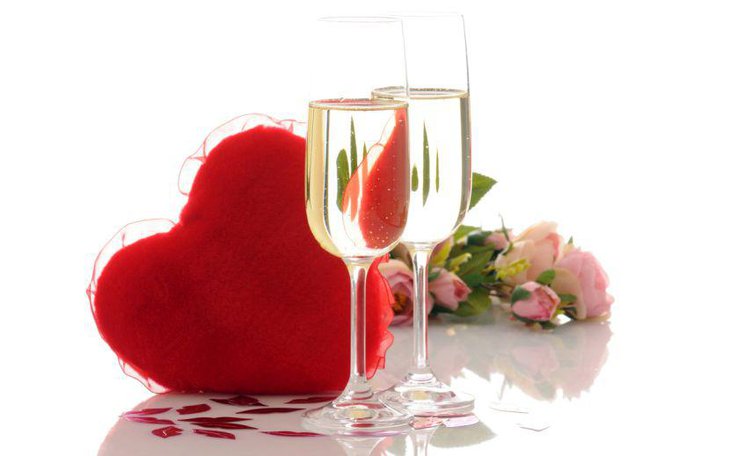 Stuffed Heart and Lace Centerpiece
Image Credit: picofile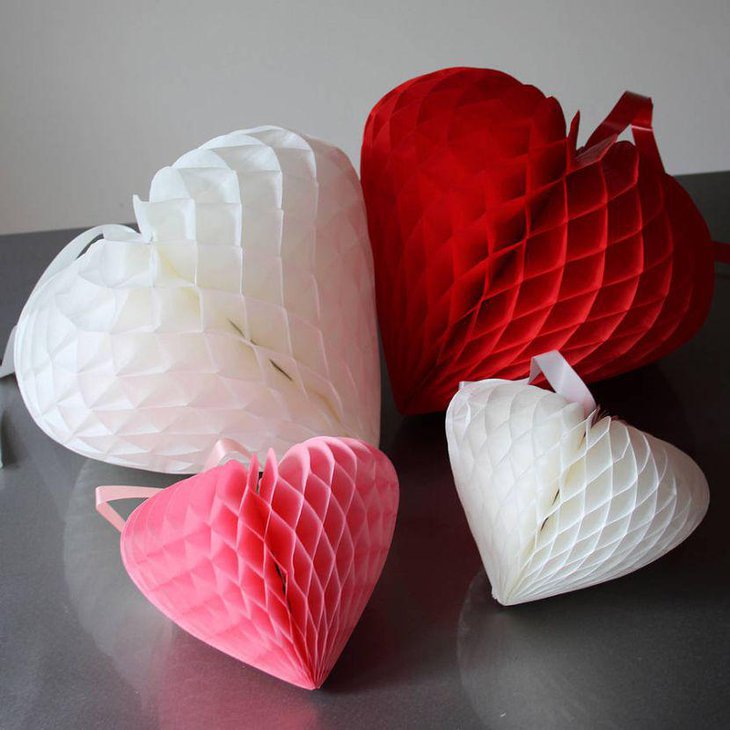 Paper Heart Decorations with Ribbons for Hanging or Table Décor
Image Credit: notonthehighstreet
Queen of Hearts Tablescape
Image Credit: catchmyparty-cdn
Valentine's Centerpieces with Balloons
Balloons are not meant only for kiddos! You can use balloon decorations as part of your Valentine's gifts or on your party tables. Printed balloons add a sense of fun to your event and can express your meaning just as well as a card. Imagine tying a balloon to a basket filled with a soft teddy bear or tied to a decorated jar of chocolates. Tie a balloon around your wine or champagne bottle to signify how your Valentine lifts your spirits. Shiny balloon bouquets in red, pink, silver, and black also look very appealing and can be a tasteful substitute for flowers or crafted items. For additional decoration ideas, view all of our Table Decoration Ideas.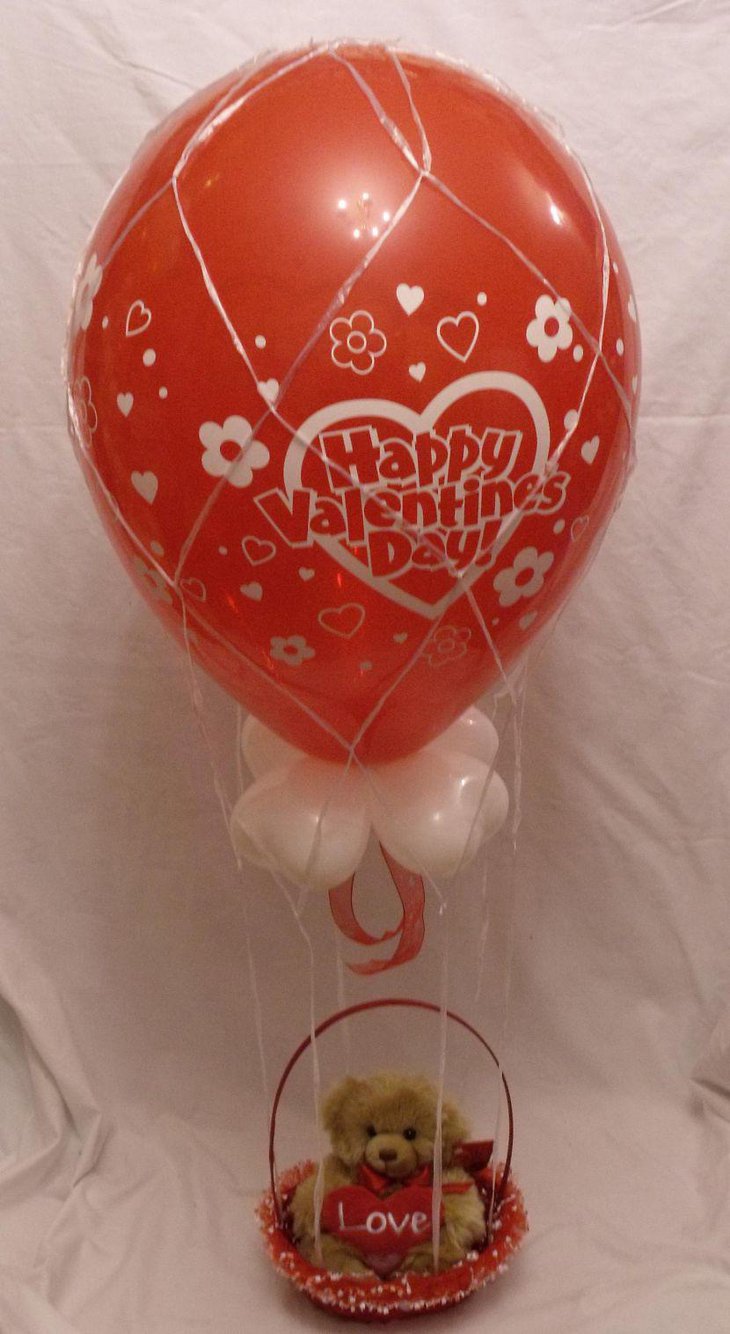 Cute Teddy and Balloon Valentine's Centerpiece
Image Credit: party-balloons4you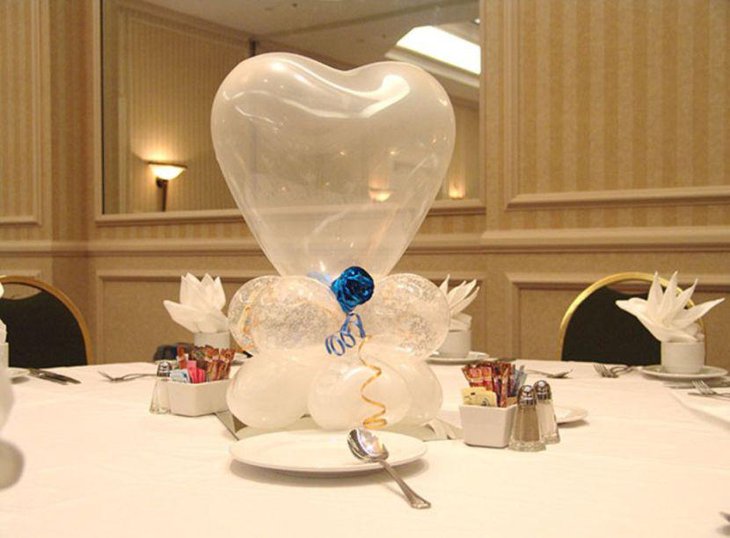 White Heart Balloon Formal Party Centerpiece
Image Credit: vcmedia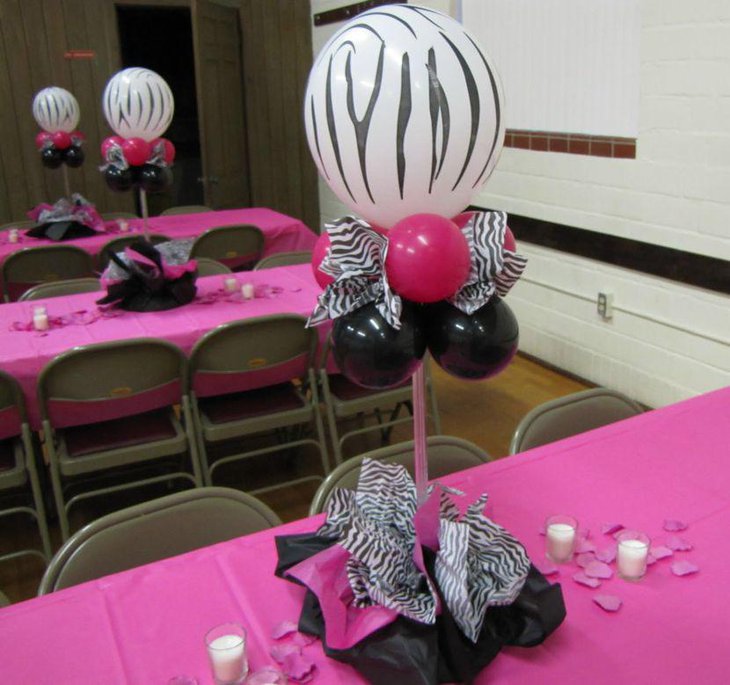 Zebra Balloon Centerpieces for Valentine's Party
Image Credit: pourfemme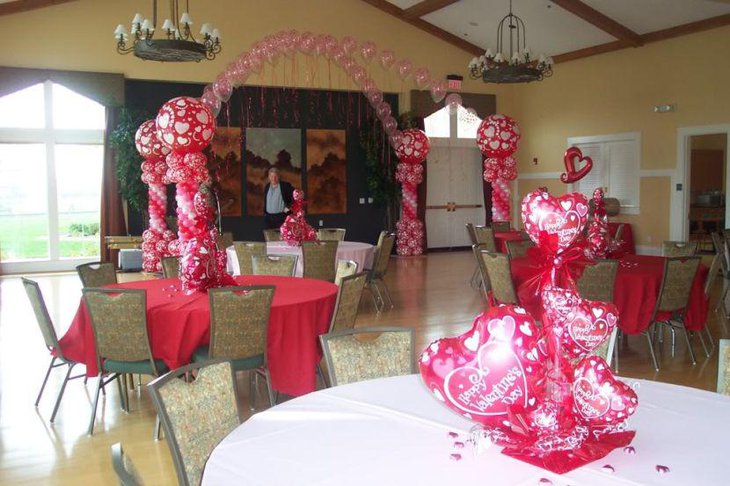 Red and Pink Valentine's Bouquet Centerpieces
Image Credit: photobucket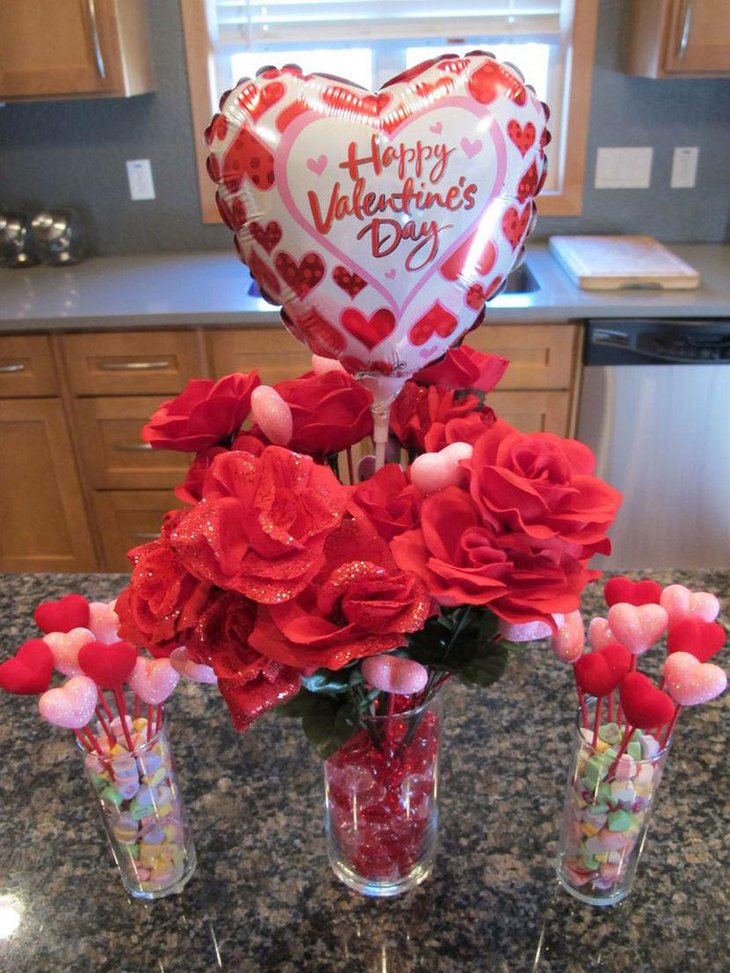 Flowers and Balloon Centerpiece with Decorated Candy Jar Accents
Image Credit: mobtada
Floating Flowers and Candles
Floating candles are an elegant touch for your Valentine's décor. Such candles are classy, subtle, and bathe your Valentine's event in a warm glow. Floating candles in glass bottomed jars or bowls, coupled with colorful flowers look astonishing but discreet. For a simple yet stylish Valentine's table décor, place red or white floating candles in a flat glass dish peppered with a few rose petals. However, if you want to show a little more extravagance, you can arrange heart shaped floating candles in exotic orchids and lilies. The centerpieces showcased below will make you want to experiment with your own pairings!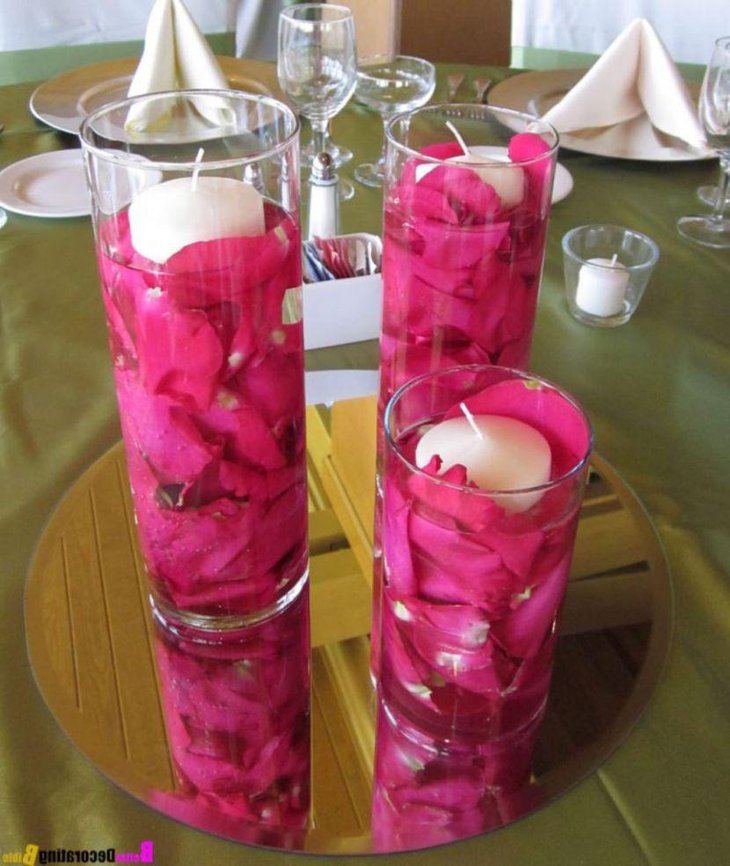 Tall Glass Floating Candle Centerpiece.
Image Credit: weddingparty99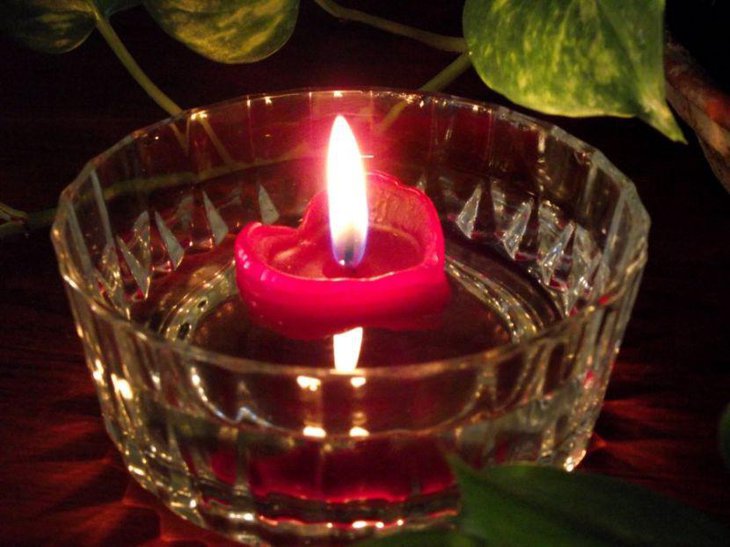 Heart-Shaped Floating Candle in Glass Dish
Image Credit: lunalucerna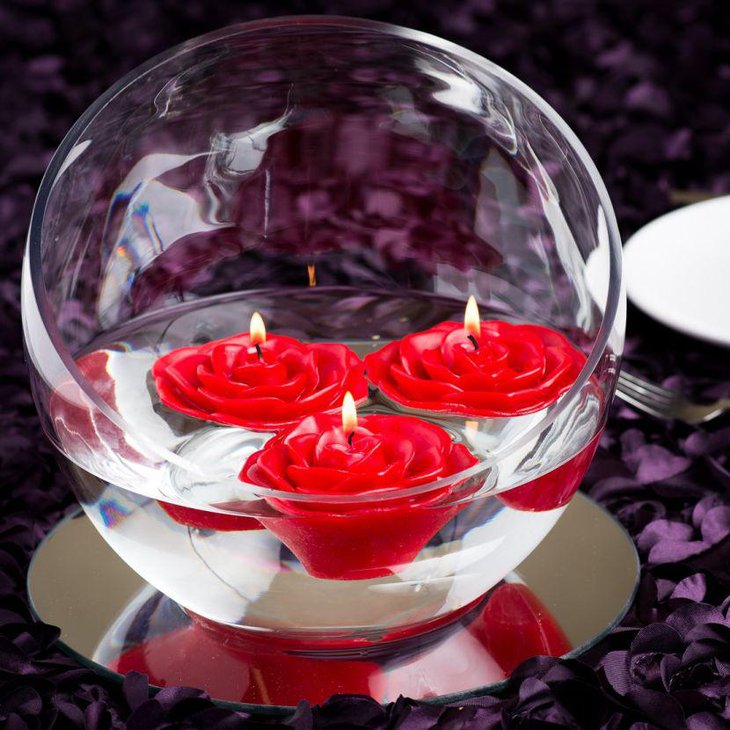 Red Rose Floating Candles in a Glass Display Bowl
Image Credit: wpengine
Valentine Decorations with Candles
There is something romantic about the dim flickering light that comes from a candle, and you can place them almost anywhere. They can be arranged in a holder or in glass jars, as a centerpiece or as random points of light throughout the room. Candles can be used in so many different ways, they are only limited by your imagination. And, of course, you can't have a candlelit dinner without candles!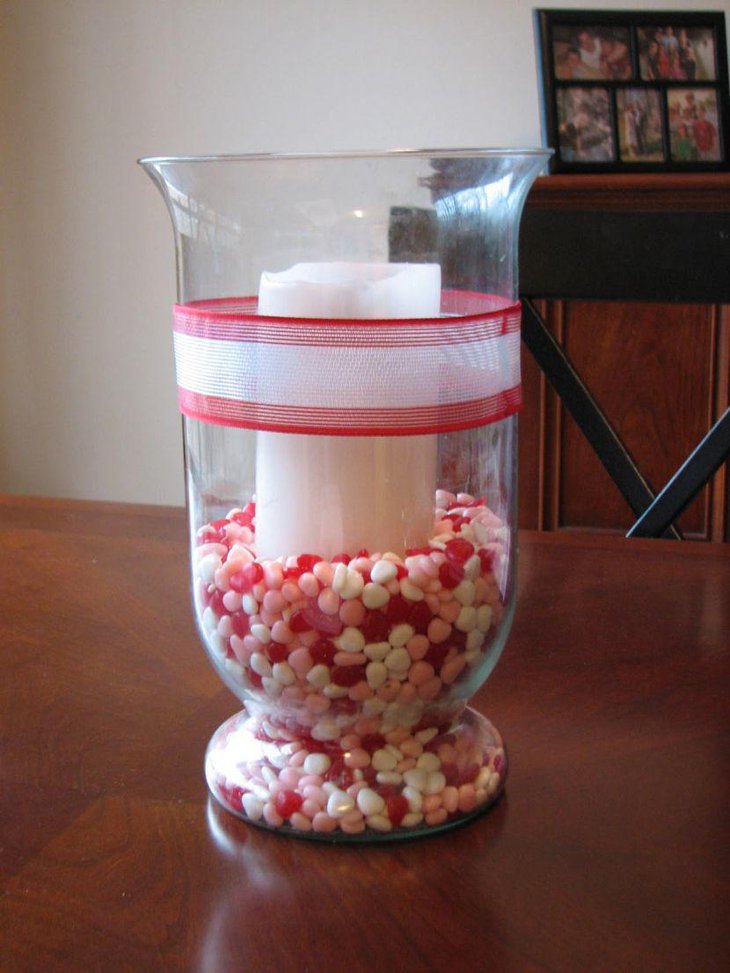 Candle and Candy Centerpiece
Image Credit: girlsonit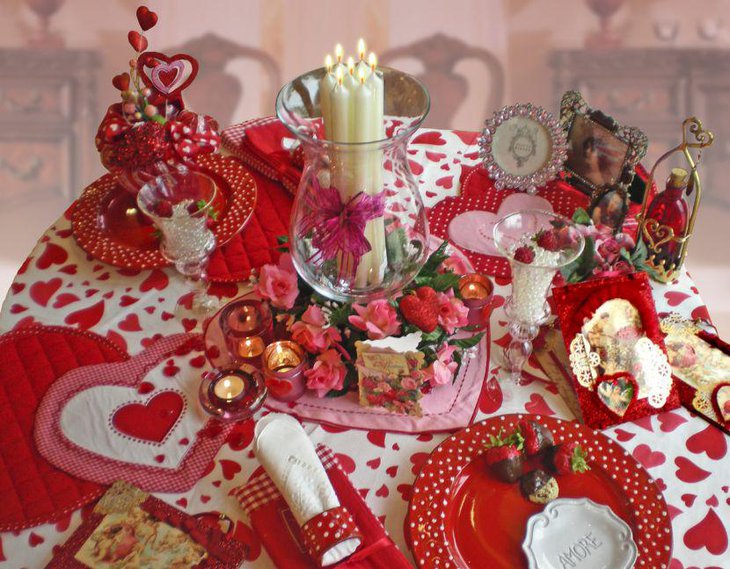 White Candles in Vase Centerpiece
Image Credit: homegalgen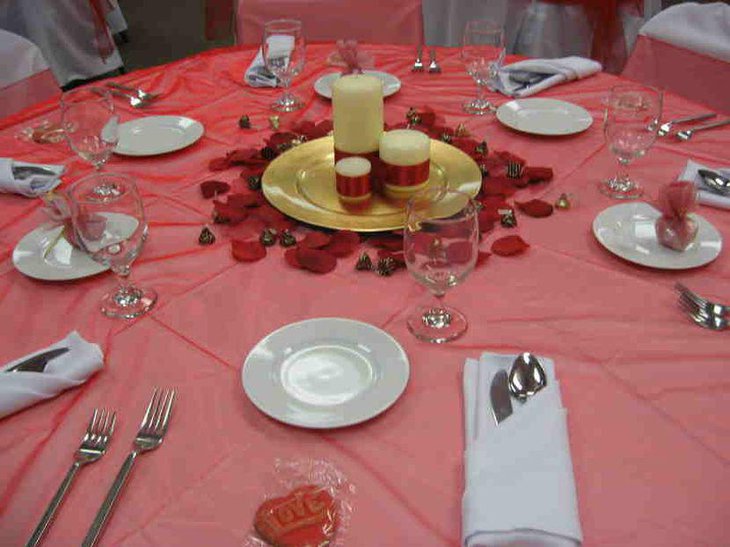 Candles on Golden Tray and Rose Petal Bed
Image Credit: bryllupsklar
Valentine Chocolates and Cupcakes
Valentine table centerpieces can also be made of yummy chocolates and cupcakes. Here are some very appetizing ideas that use real chocolates as decorations. For a gorgeous Valentine's table, you can also arrange a bouquet of embellished cupcakes or simply drizzle fresh strawberries and fruits with chocolate and arrange them in a bowl or tray as centerpiece. You can arrange wrapped chocolates as decorative pieces all over the table to add fun to the décor. A chocolate fondue station with fruit or other candies is another sure hit.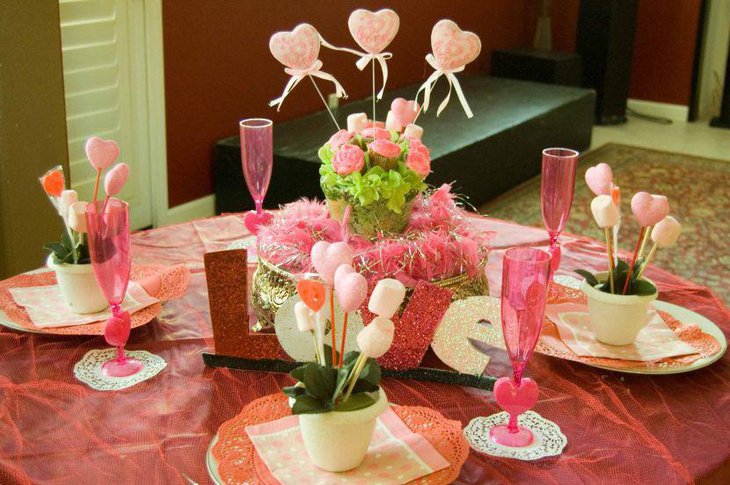 Cute Cupcake and Candy Bouquet
Image Credit: wordpress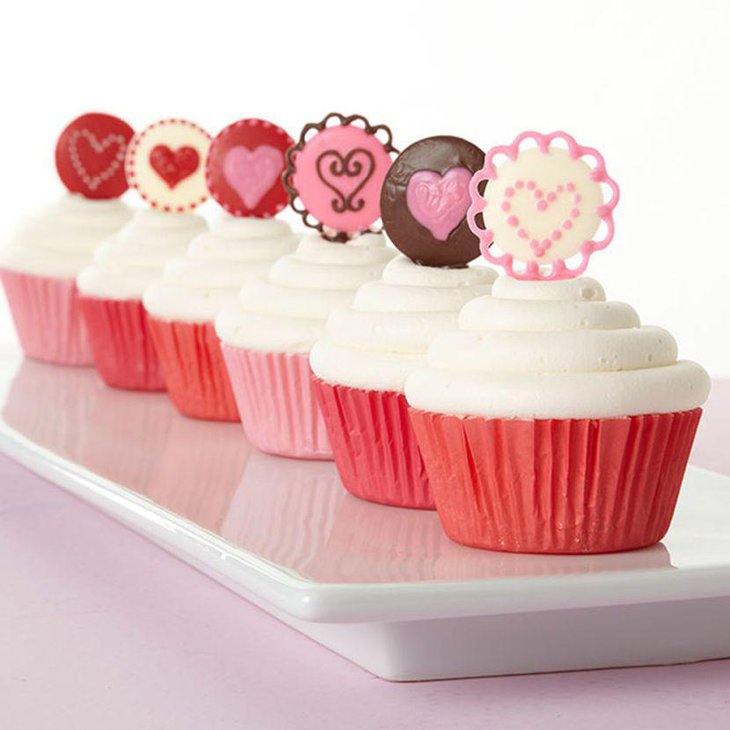 Heart-topped Cupcakes
Image Credit: edgesuite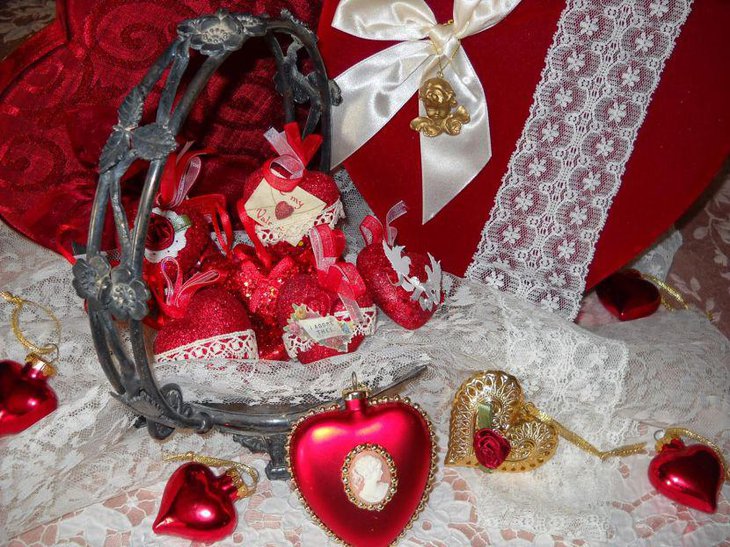 Extravagant Heart-shaped Chocolate Décor
Image Credit: houzmagz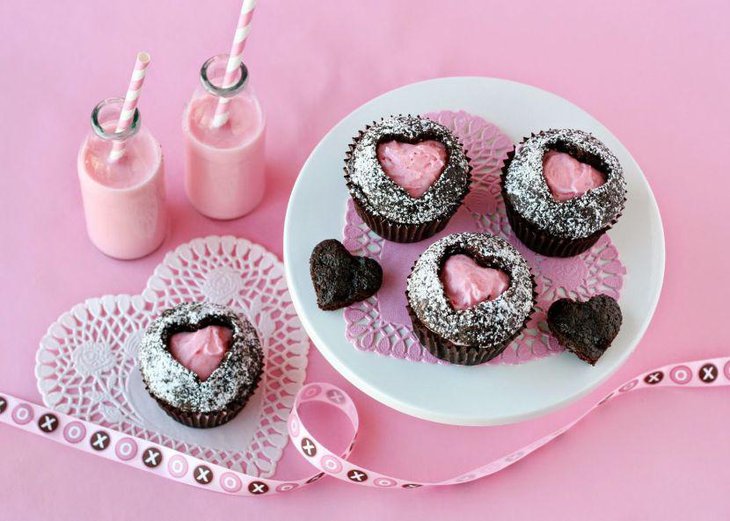 Cupcake Heart Cutouts and Milkshakes
Image Credit: googleusercontent
Charming Decorations
You can find inspiration anywhere, and we have scoured the internet for only the best ideas out there. In this section, we look at vignettes. A vignette is a small collection of personalized items such as books, novels, personal journals, perfumes, candies, and flowers that are arranged together to display a theme. For example, if you want to add a vintage theme to your Valentine's table décor, make a vignette in of white roses, a pearl necklace, vintage bracelets from your jewelry collection, and a ceramic vase on a tray or a wooden box. For a romantic evening, vignettes with champagne glasses, bottles, and floral arrangements look wonderful. Vignettes can be personalized absolute stunners that will make your special person's heart flutter!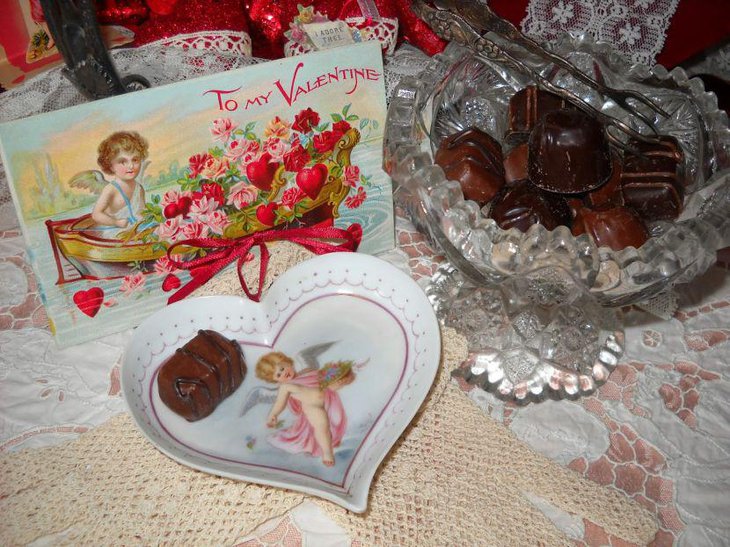 Chocolate and Card Vignette Centerpiece
Image Credit: blogspot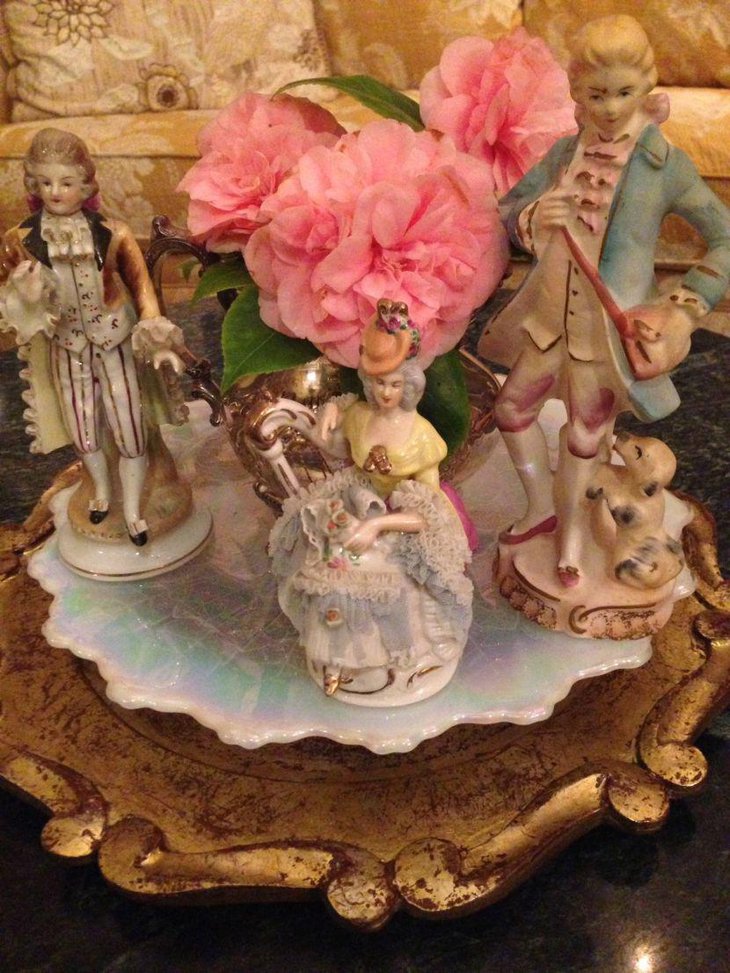 Ceramic Figurine and Floral Vignette
Image Credit: whim-inspired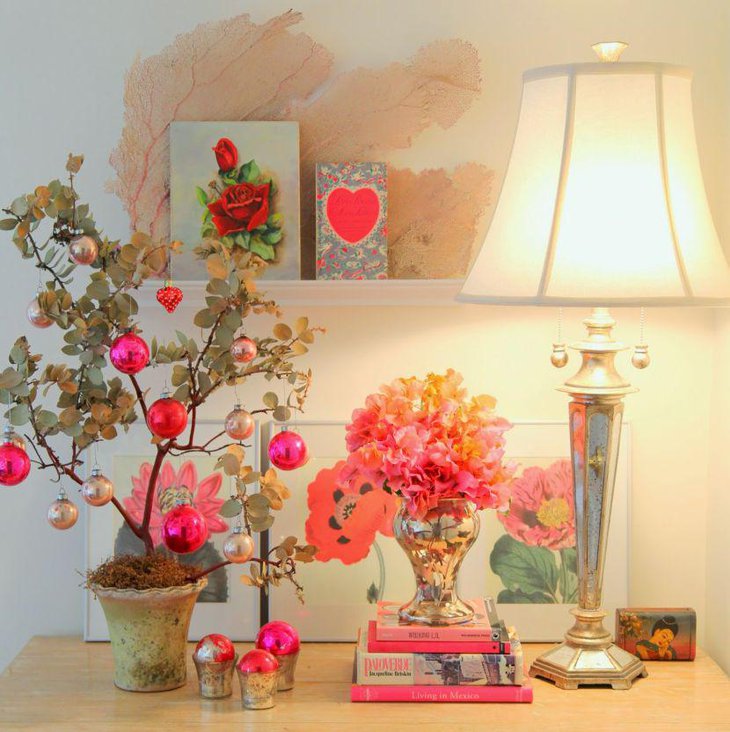 Decorated Floral, Art, and Literature Vignette
Image Credit: blogspot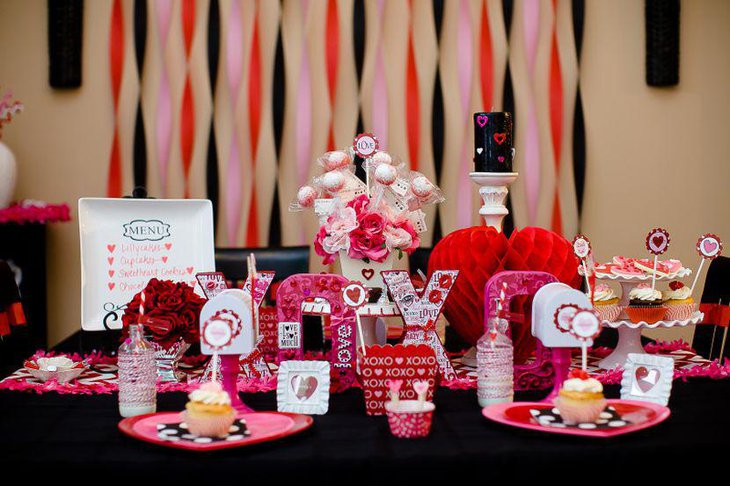 Valentine's Vignette with Full Décor and Desserts
Image Credit: ellerydesigns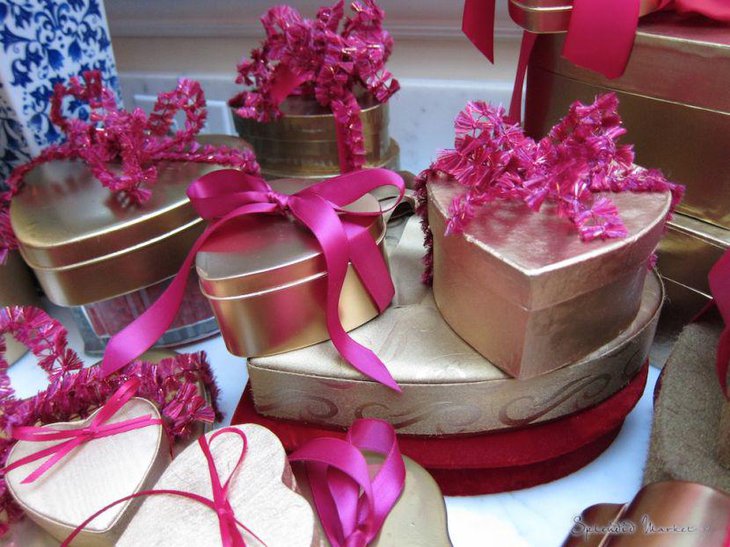 Heart-shaped Gift Box Vignette
Image Credit: blogspot
Trees and Branches
Branches and miniature trees look very chic as decorations. For a very stylish look this Valentine's Day, try using real branches or twigs and decorate them with homemade or decorations or hanging candies. You can also buy faux trees or branches and decorate them with red ribbon, heart ornaments, or other accessories that portray your feelings of love and care. You can also carve your names in a larger branch and keep it as a reminder of your year together.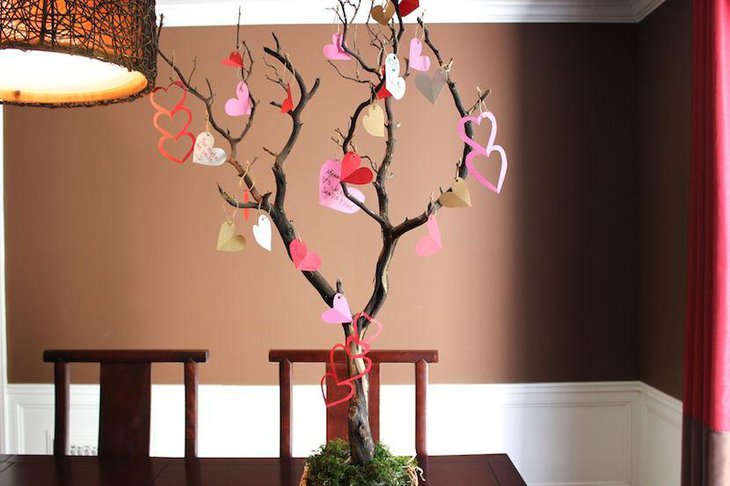 Miniature Tree Decorated with Paper Craft
Image Credit: thechicsite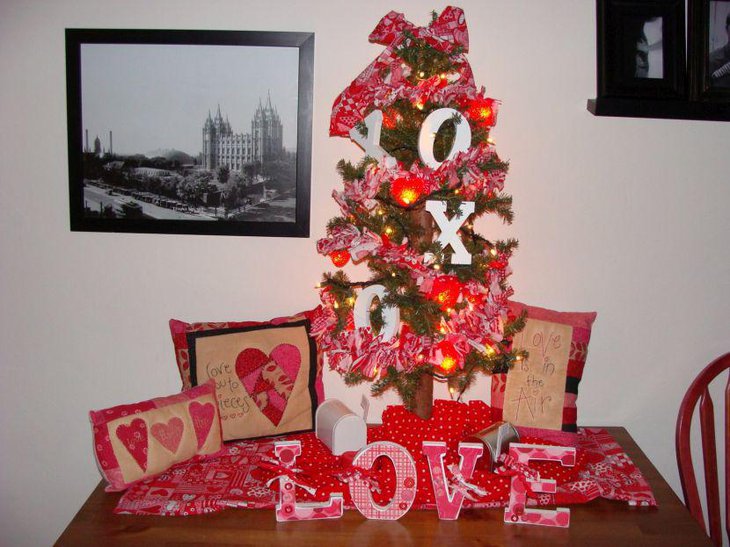 Decorated Valentine's Mini Tree
Image Credit: rushdelivery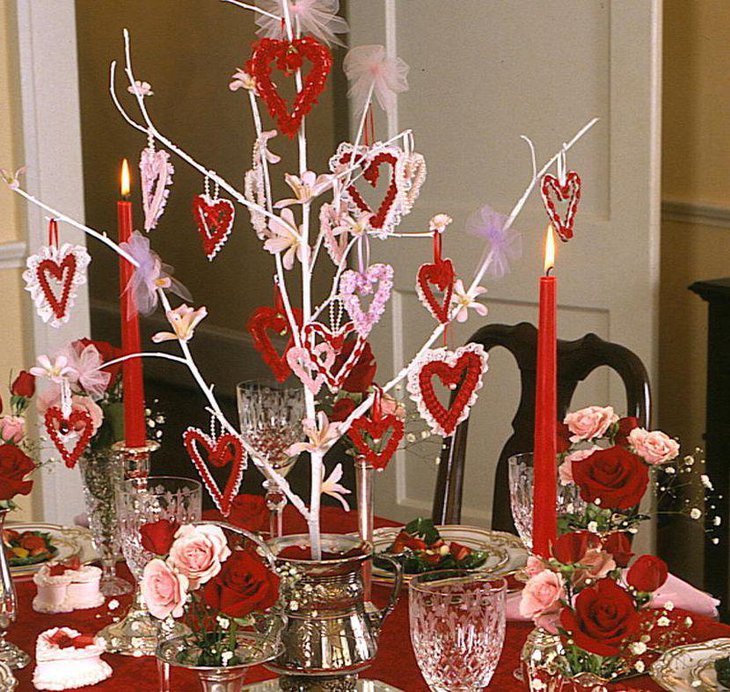 White Branch Centerpiece with Homemade Ornaments
Image Credit: stylishtrendy
Your Valentine's Day centerpiece can't look ordinary if you're trying to cast your love spell on that someone special! Make the day or evening worth remembering with your own take on the inspirational examples above!