Try these romantic and stylish Valentine table decorations that we are showcasing today to bring sensuousness to your Valentines Day table this Valentine's Day. This special day of love is fast approaching and many of you would have already thought of ways and means to decorate your homes. If home decor planning is over, lets just turn our attention to table settings that are equally important for any occasion.
Valentine's Day means cozy dinners with your loved ones or 'special someone' at gorgeously decorated tables that set the mood ringing! How about trying any one of the below presented Valentine decorations and create a relaxed ambiance for setting hearts ablaze? Well, well….take a look below and start making preparations!
Valentine table decorations with candles
Valentine's Day decorations on table have to include one accessory that is regarded as 'the father of all romantic decorations'…yes…the ever charming candle! Candles help in spreading a feeling of love and joy wherever these are displayed on a table. And if its Valentine's Day, your tables must feature candle decorations in what ever manner you wish. Valentine decorations with candles and candelabras are popular and very commonly seen, but, nevertheless, these look extremely sexy and add a dash of chicness to any table decor. Candles can be arranged alone or with beautiful floral vases or lanterns, and can also form an integral part of any table vignette.
Valentine table decorations with white candles and silver holders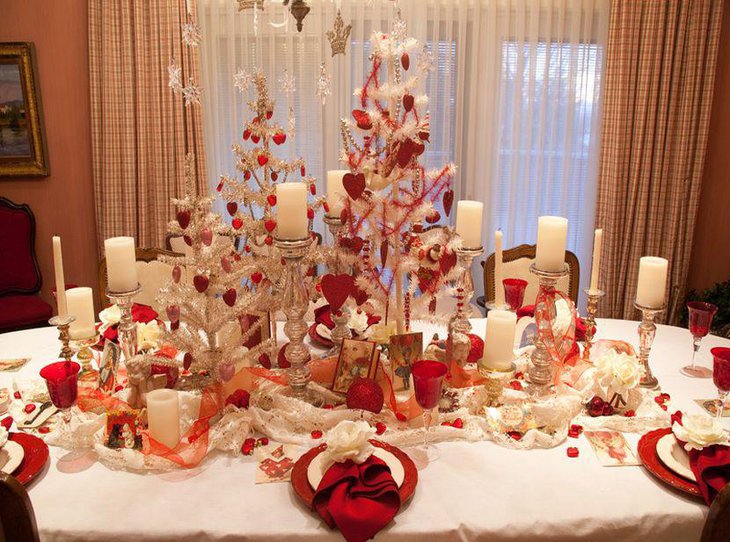 Image Credit: blissfullydomestic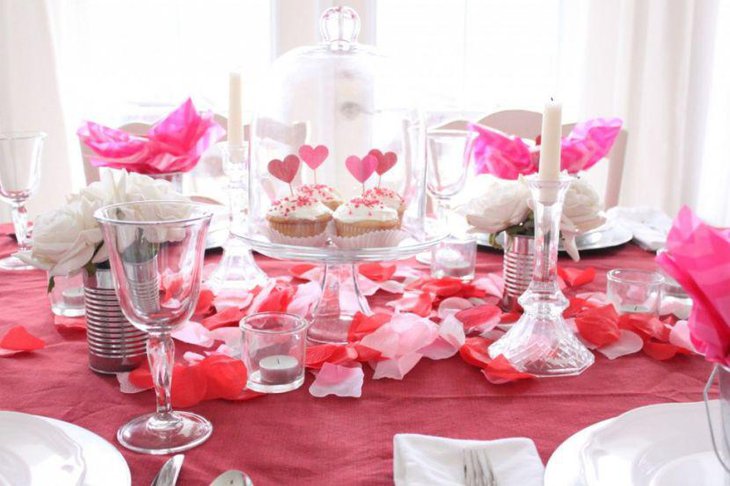 Gorgeous white candle decor on Valentine table
Image Credit: designmag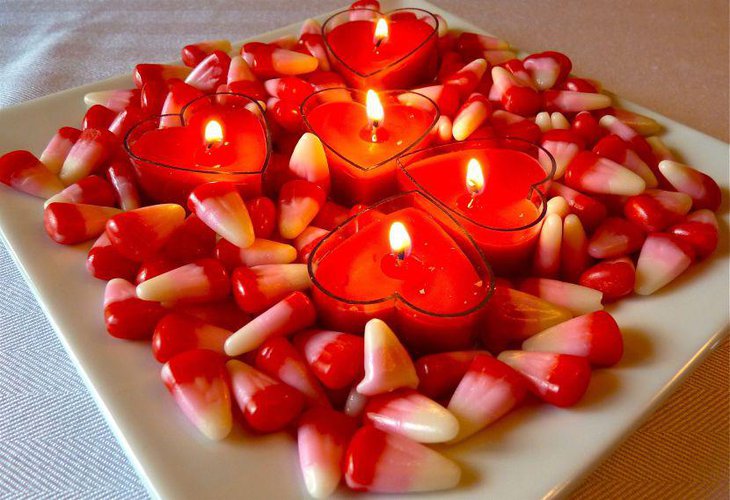 Red heart candles with candy cane decor on Valentines table
Image Credit: decoritem
Romantic candle decorations on Valentine's Table
Image Credit: groupleme
Floral decorations on Valentines tables
If you like the fragrance of fresh flowers to titillate your senses while you are celebrating the day of love with loved ones, decorate tables with different kinds of floral vase centerpieces. Use roses, hydrangeas, lilies or others and arrange these in big glass bowls or vases. Either go in for a big floral centerpiece on the tables or arrange a row of flower vases. In any case, make sure your flowers stay fresh. Look at the following decor ideas and enjoy!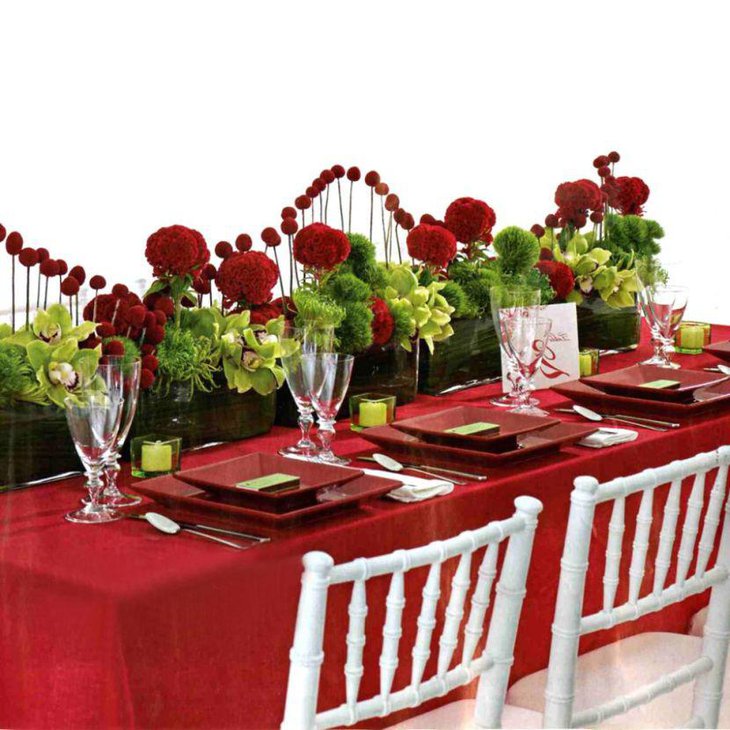 Special floral decor on Valentines table
Image Credit: inmyinterior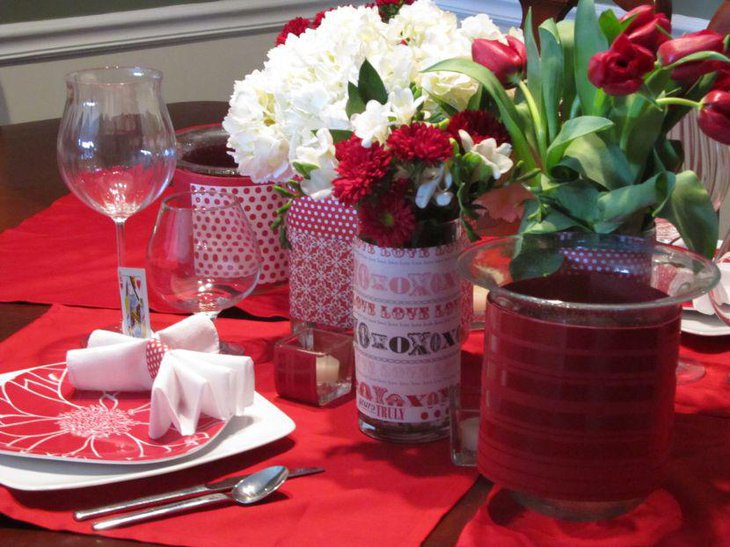 Stunning Valentine table decorations with white roses and red tulips
Image Credit: bayfeed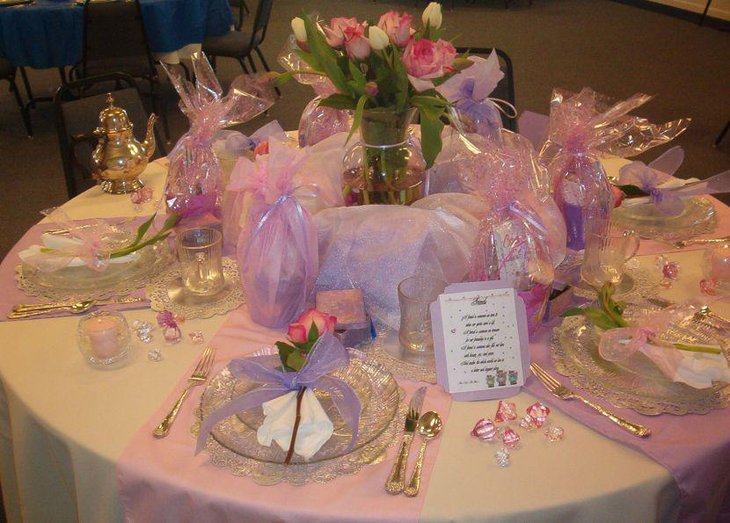 Pink floral centerpiece on Valentines Table
Image Credit: decorateyourtable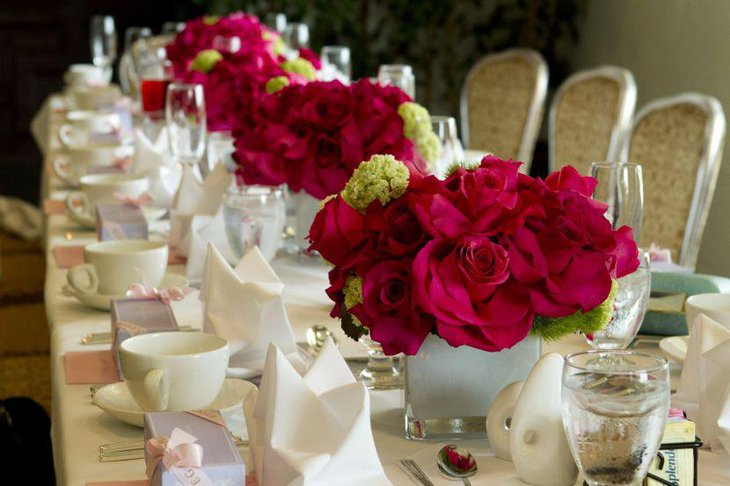 Luxury red floral centerpieces on Valentines table
Image Credit: groupleme
Valentines Day table decor with hearts
Heart shaped Valentines day decorations that we are about to show you are bound to make your sweetheart's heart flutter with ecstasy and will make your tables glimmer with style. When it comes to heart decor, there is no dearth of options you can choose to adorn your Valentine tables. From placing heart shaped ornaments along with floral vases or candles, to decorating the table with heart wrapped candies and cookies, to spreading heart embossed runners, there are many ways where you can bring hearts to your love table. A Valentines Day table sans heart decorations looks plain and very unromantic, but, we all hope you would surprise your sweetheart with these heart decorations that will make him or her fall head over heels in love with your all over again!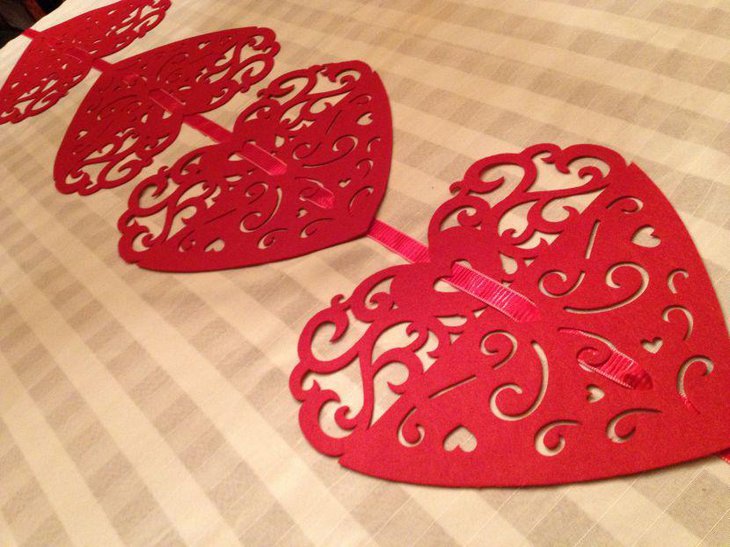 Red heart shaped table mats as Valentines table decor
Image Credit: wordpress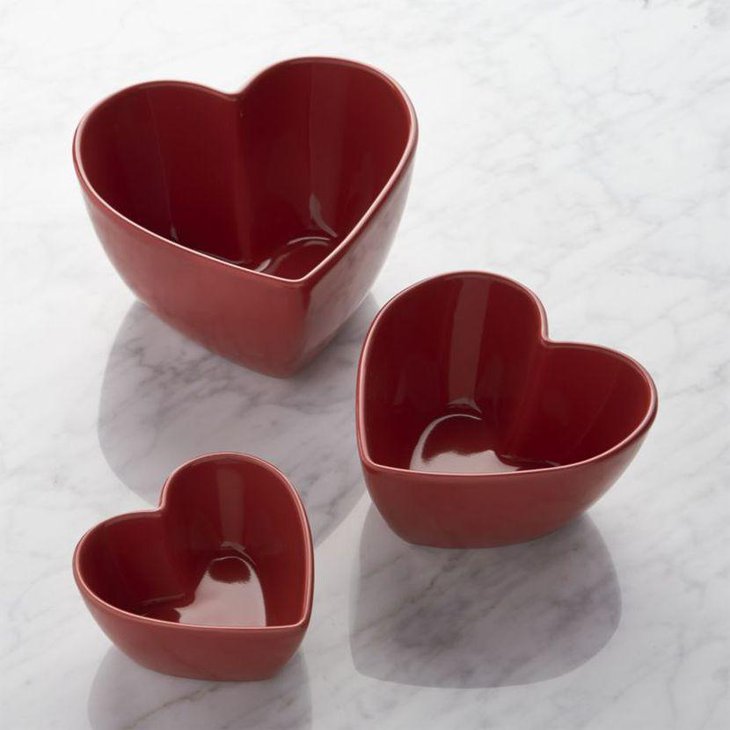 Pleasing heart shaped red bowl decorations for Valentines
Image Credit: crateandbarrel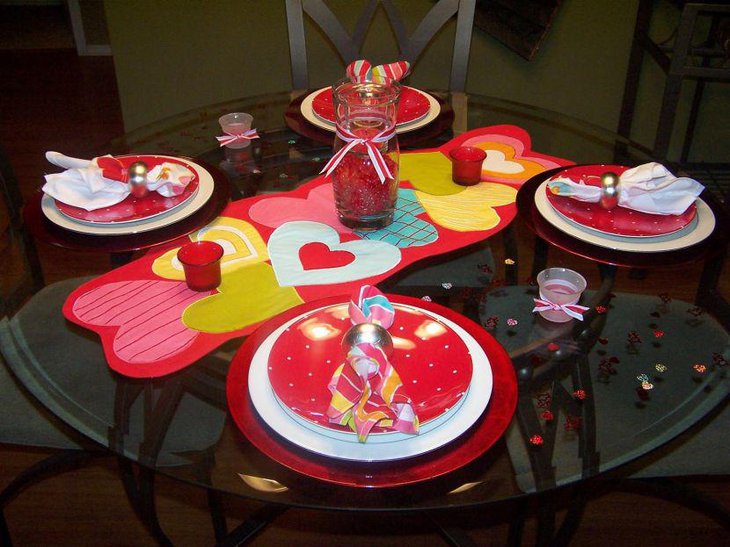 Valentines table setting with cute heart imprinted table runner
Image Credit: willa-holland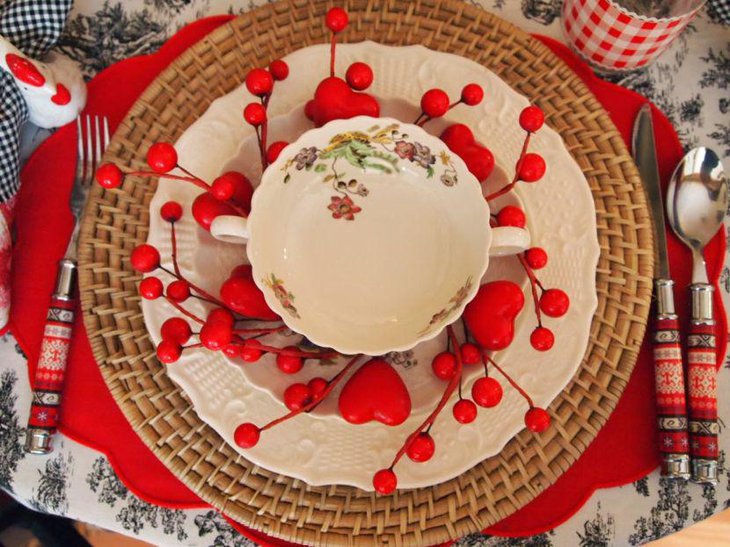 Red hearts and cherry decorations on Valentines table
Image Credit: blogspot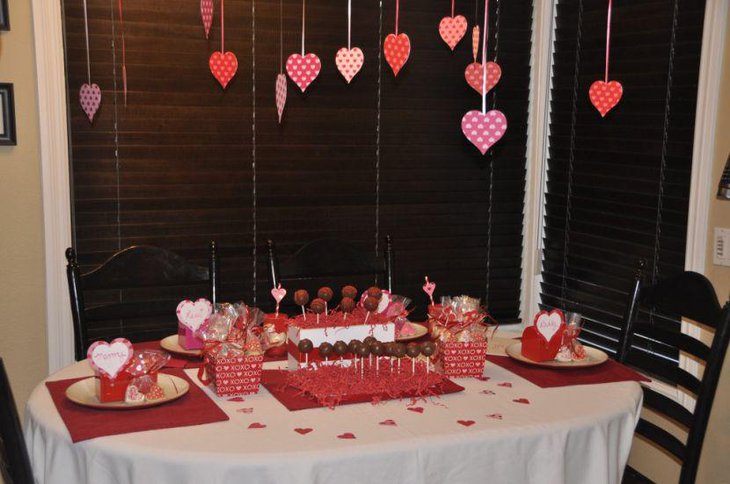 Cute heart decorations on Valentines table
Image Credit: orset-sk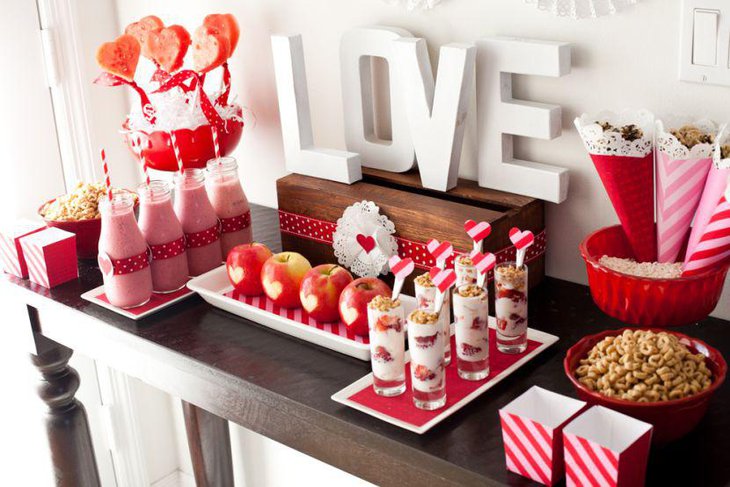 Valentines dessert table decor with heart lollipops
Image Credit: projectnursery
DIY Valentines Day decorations
What can be more romantic than setting your Valentine's table using DIY Valentine Day table decorations? DIY is the one and only way you can lend your own personal touch, or as we say 'Midas Touch' to your love table. There are hundreds of accessories and things that you could use in order to make lovely awesome decorative pieces to be showcased on your Valentines table such as the stunning Valentine table decorations that we have brought for you all. All these can be handcrafted at home or are sold at stores at cheap prices. Now a days, you also get heavy discounts when buying DIY Valentine decorations like balloons, paper and cardboard decorative pieces, votives, vases, flowers and a whole lot of other things. With some creative ideas, you can create your very own Valentine's Day tablescape using own jewelry pieces like pearl strings, bangles, or you can use foam to cut out heart shapes and wrap theses up with glittery paper. For the napkin holders, you could use satin ribbon or crystal strings to be tied or simply place a few roses over your favorite novel that you often read at times you feel romantic.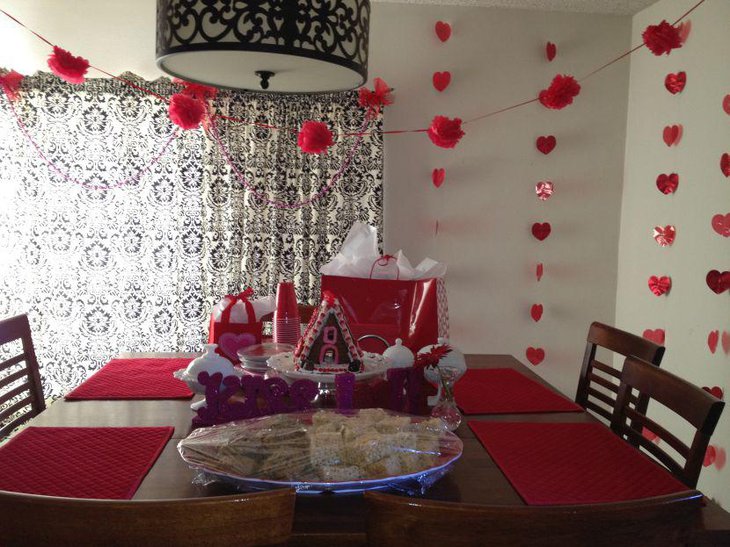 DIY Valentines table with house
Image Credit: flowbluehunters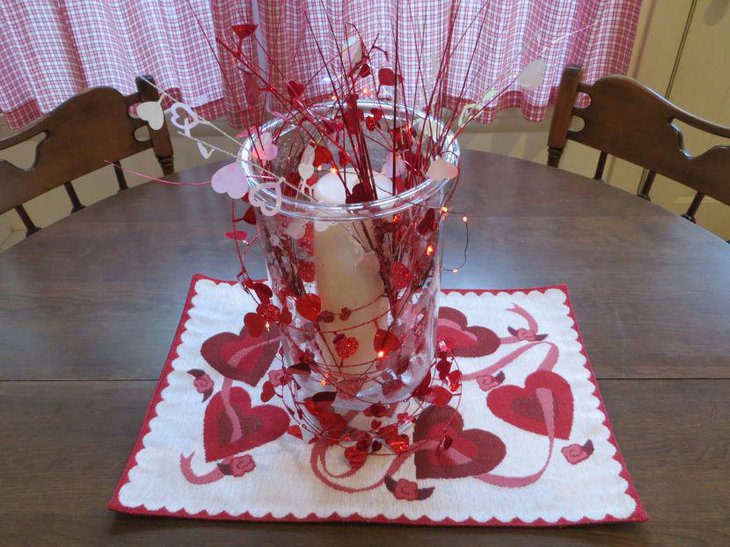 Fancy DIY vase decor on Valentines table
Image Credit: girlsonit
Red DIY Valentines table centerpiece
Image Credit: groupleme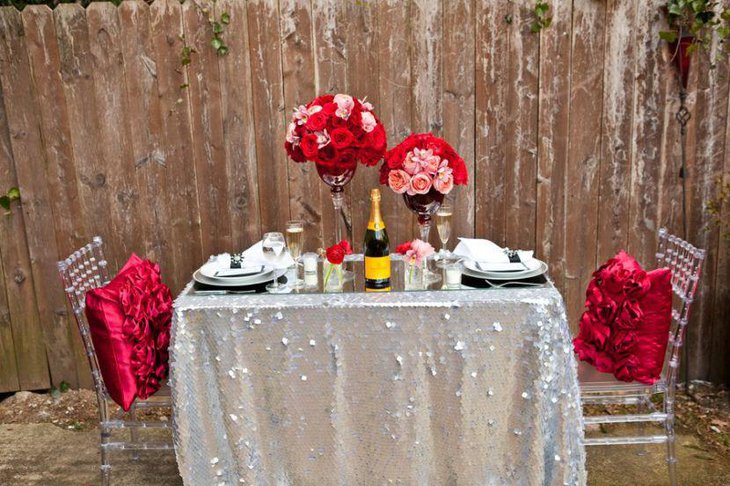 Stunning DIY Valentines table decor with flowers and bottle
Image Credit: architectureartdesigns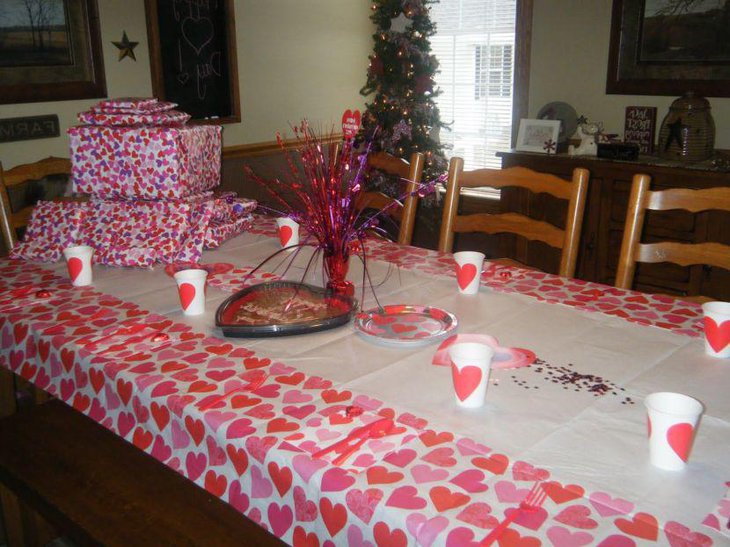 DIY tablecloth and centerpiece on Valentines table
Image Credit: groupleme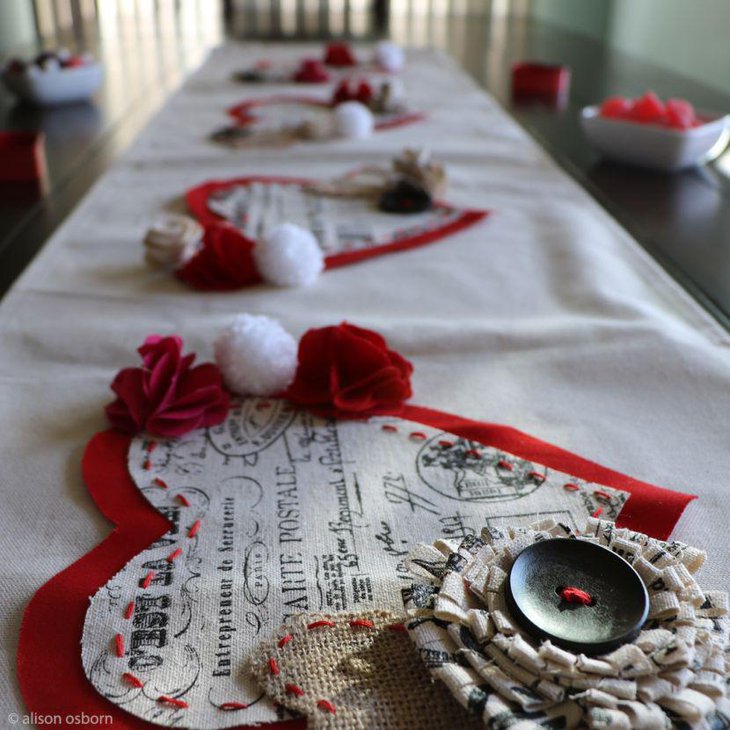 DIY heart shaped fabric mats on Valentines table
Image Credit: canvascorpbrands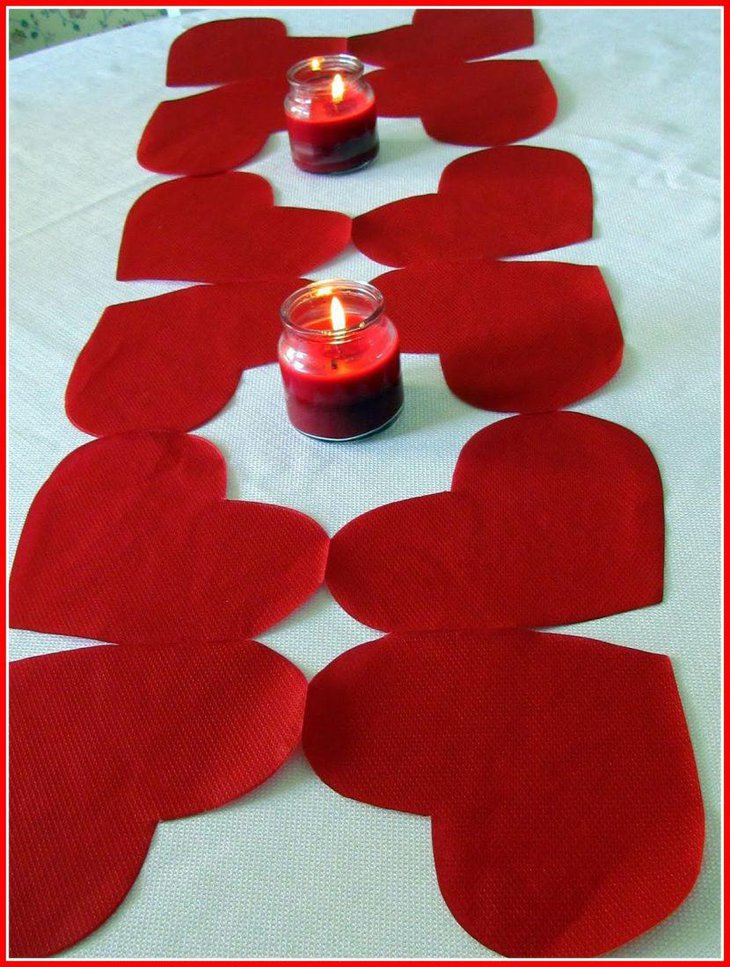 DIY mason jar candle holder dec
Image Credit: blogspot
Red Valentine table decorations
We always have a few color combos that we reserve for special occasions, and when speaking of Valentines' Day, the color red simply outsmarts any other shade or accent as this color stands for love and pleasure. Your Valentines table will look extremely sassy and seductive with a red themed decor that uses loads of red accented decorative pieces like red rose bouquets, floral vases with red pebbles or candies, or lanterns filled with red candles. Your cutlery too can have red accents. You can enhance this look by involving other color palettes like white, silver and golden. If you like, you could have small red hearts imprinted on your table cloth or candles, or can also keep centerpieces that are adorned with candies in red wrappings.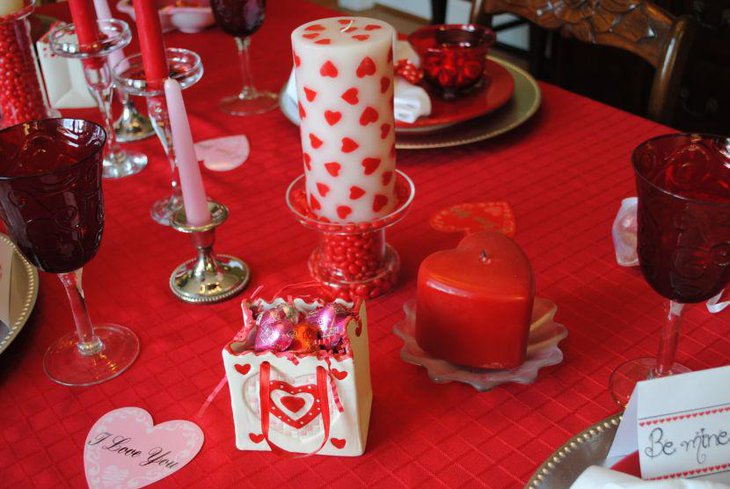 Chic red heart candle and tablecloth decor on Valentines table
Image Credit: annsatic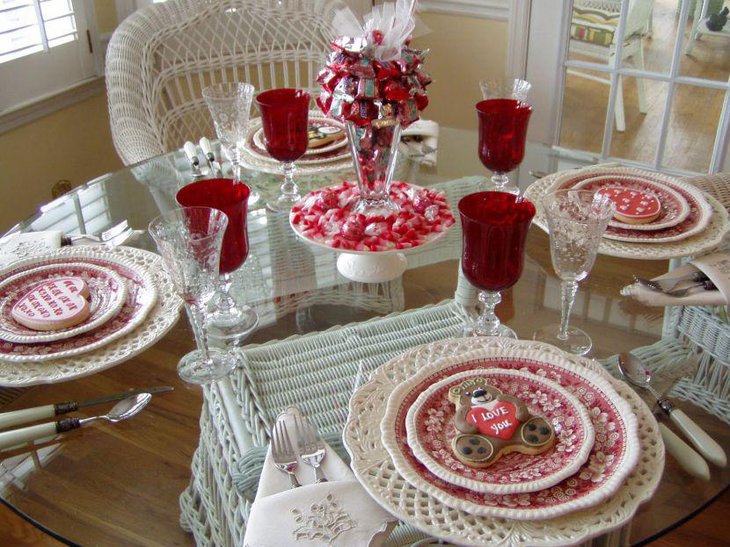 Pleasing Valentines table with red accents
Image Credit: betweennapsontheporch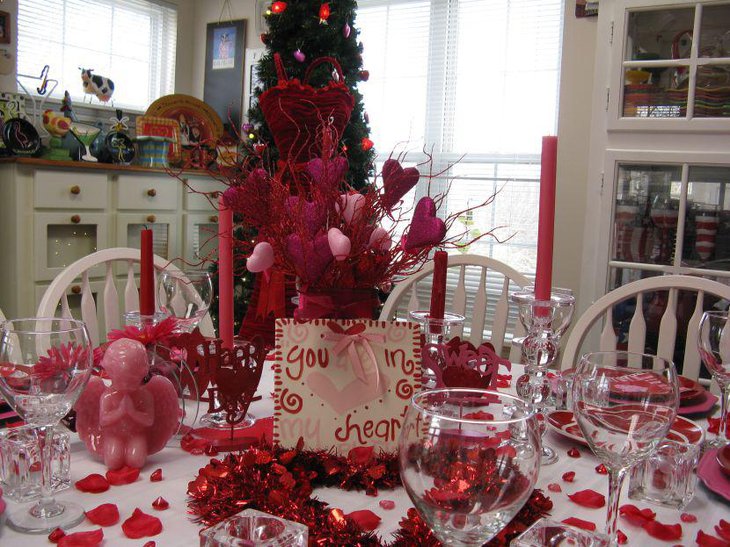 Amazing red decorations on Valentines table
Image Credit: girlsonit
Valentine Day table decorations in white
When using red, you cannot forget using white that is synonymous with Valentines as well. The color white stands out uniquely when your table decor is themed on red and it also lends an elegant touch to any decor. If your table has more of red, and you wish to break the monotony, include a few white candle decorations that are pleasing to the eyes. Similarly, use white floral vases with hints of red to create a smashing look. The plates and glasses can have white accents too. For a white tablecloth spread on a table, blend it with a red theme by using decorative candles and red rose petals. Include both these colors in ways that you think would look best for your table. Try one of these Valentine Day table decorations and see the difference!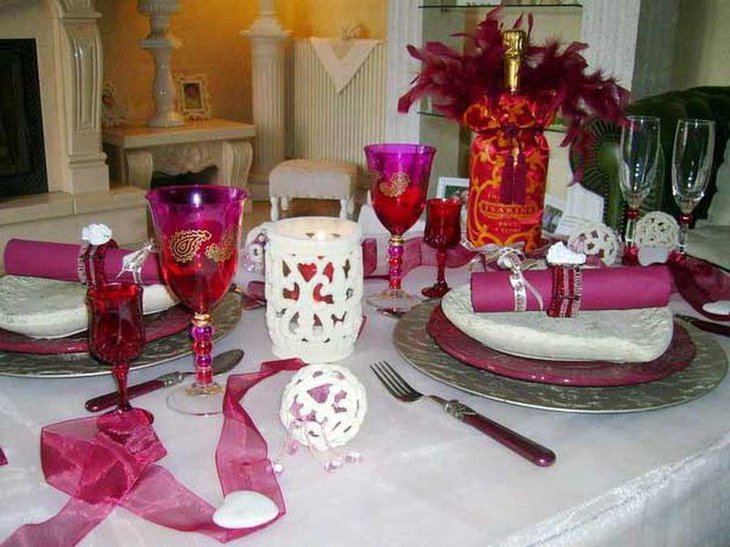 Valentines table decor with white ornamental pieces
Image Credit: bloombety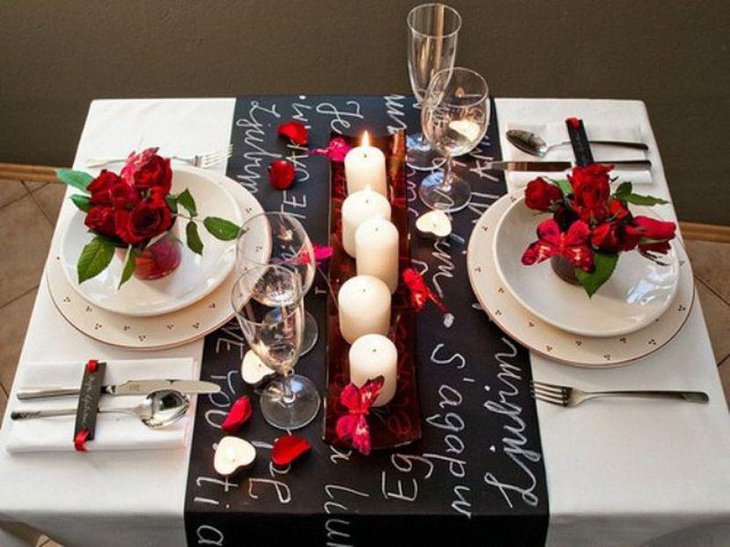 White candles and plates decor on Valentines table
Image Credit: claz
Valentines Day decorations with crystal
For a shimmering look, use all your crystal ware to decorate Valentines table. Crystal can be used in any form like glasses, plates, cups or spoons. Crystal tree centerpieces or table lamps with crystal dew drops too look stunning when placed on party tables. If you are hosting a classy shindig on Valentines and are looking for some stylish Valentines day decorations to add oodles of elegance to your tables, you could make use of these amazing crystal decor ideas. However, crystal ware is expensive, nevertheless, it can make you feel on top of the world!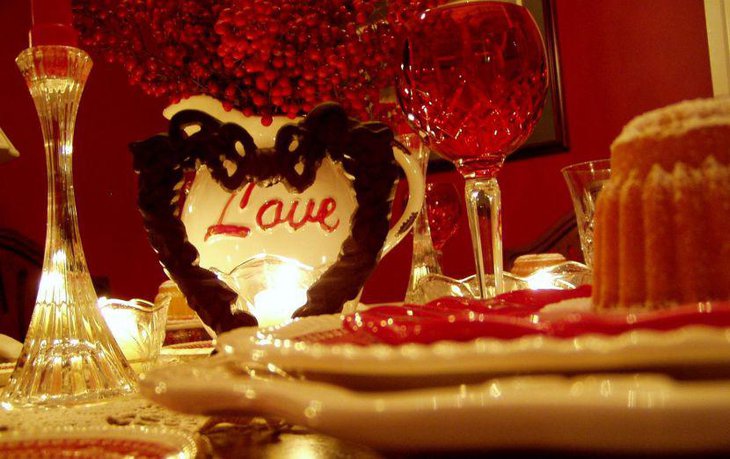 Romantic Valentines table with love decor and crystal glass
Image Credit: annsatic
Valentine table decor with crystal candle holder and glasses
Image Credit: groupleme
Valentine table decorations with gorgeous vignettes
Vignettes are a new age decor phenomenon where you collect all kinds of accessories and arrange them together to be used as decorative centerpieces on tables. For this Valentines, give your imagination a boost and make use of the below showcased ideas that can make any Valentine table look visually delightful. If you have wooden or silver trays, and have a collection of scented candles, try making a candle vignette that can have decorative flowers too. In case, you want to lend a lovey dovey feel to your tables, try to adorn them with cupid or cherub centerpieces arranged on a vignette, just like in one of the images shown below. Similarly, there are many different kinds of vignettes that you can place on your tables to celebrate your day of love.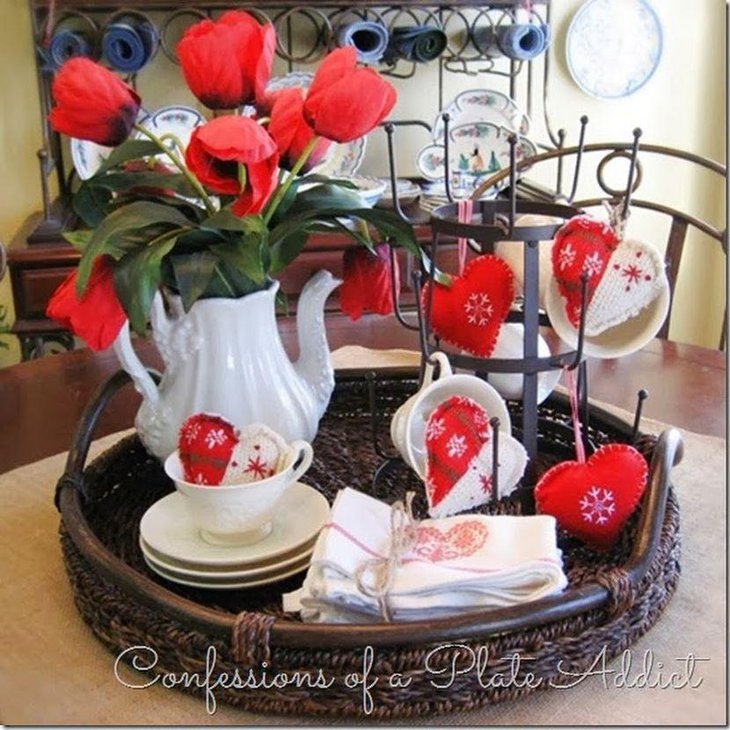 Red and white Valentines vignette decor
Image Credit: ggpht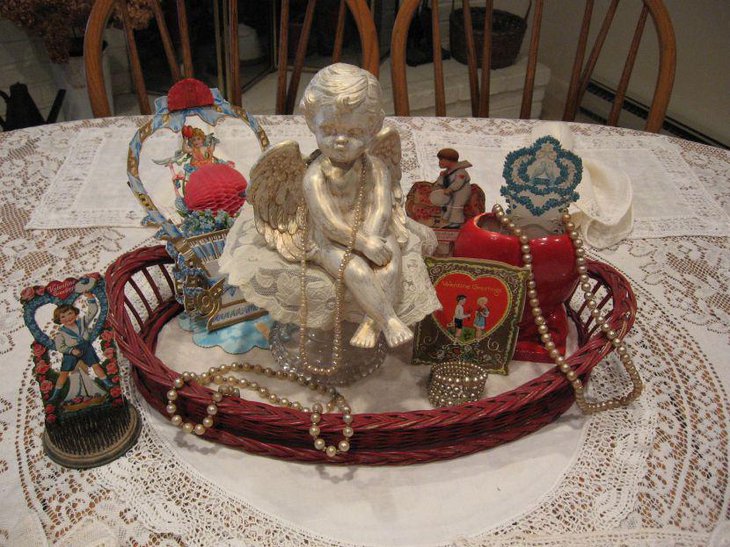 Antique vignette centerpiece on Valentines table
Image Credit: ning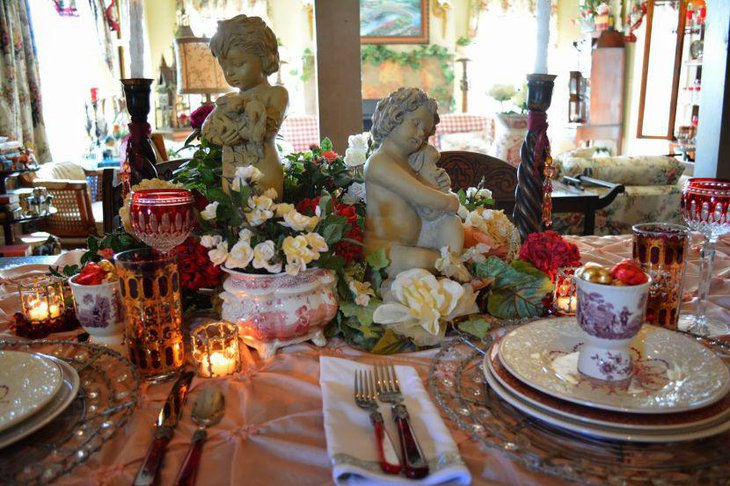 Romantic cherub with flower vignette setting on Valentines table
Image Credit: blogspot
Valentine Day table decorations with ornamental balls and lanterns
Ornamental glass balls that you generally buy on Christmas can be reserved for use on Valentine's day. Red and silver colored glass balls or baubles can be arranged in glass jars or vases to spread a cheerful vibe among guests. Lanterns too can be placed if you like a vintage feel. Chinese lamps and paper lanterns are very popular among people. Old lanterns can be painted fresh and arranged together with flowers, candles, or anything that comes to your mind.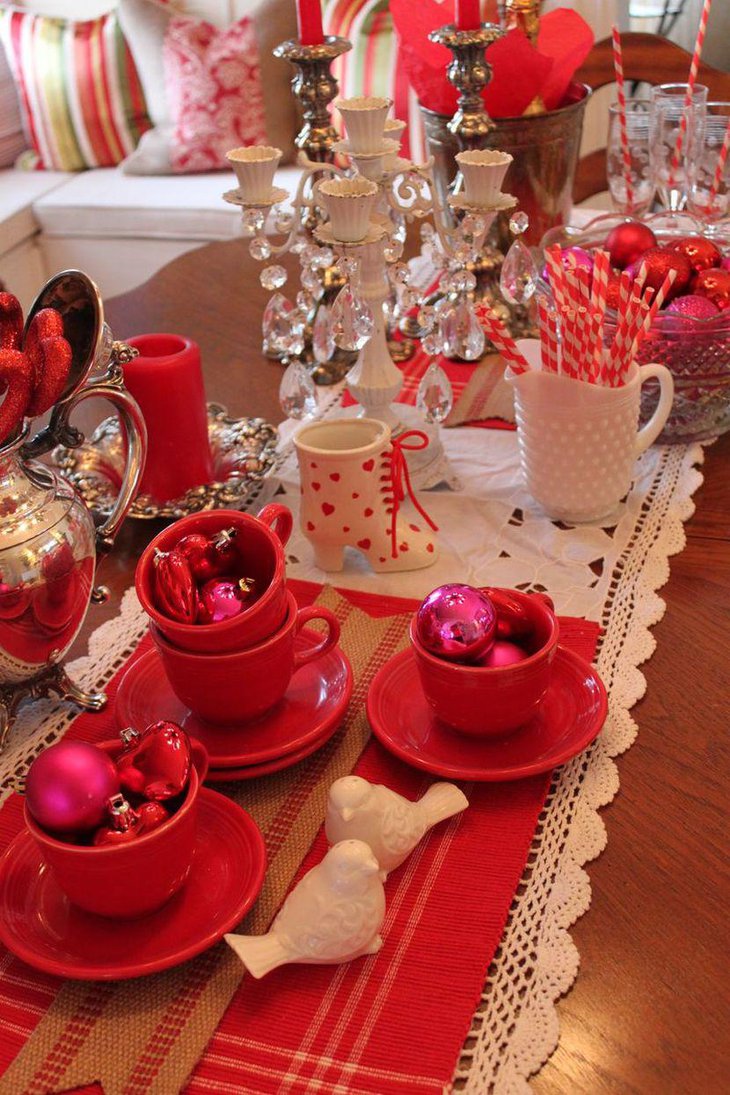 Red cups filled with shimmering balls on Valentines table
Image Credit: typepad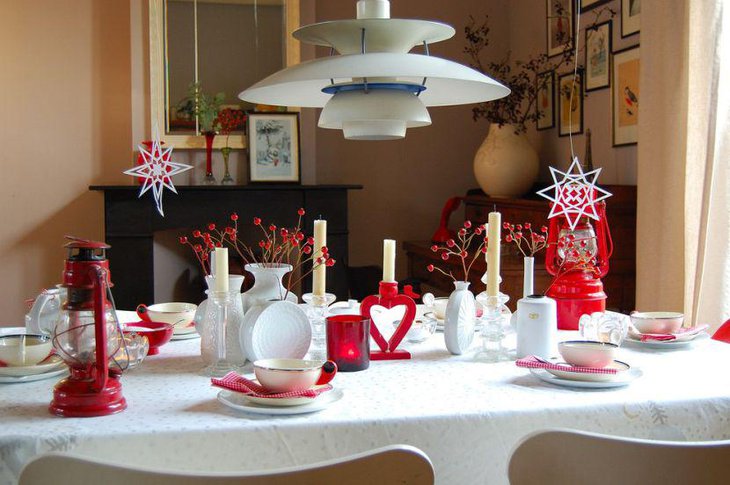 Red lanterns and candle decor for Valentines table
Image Credit: mydecorative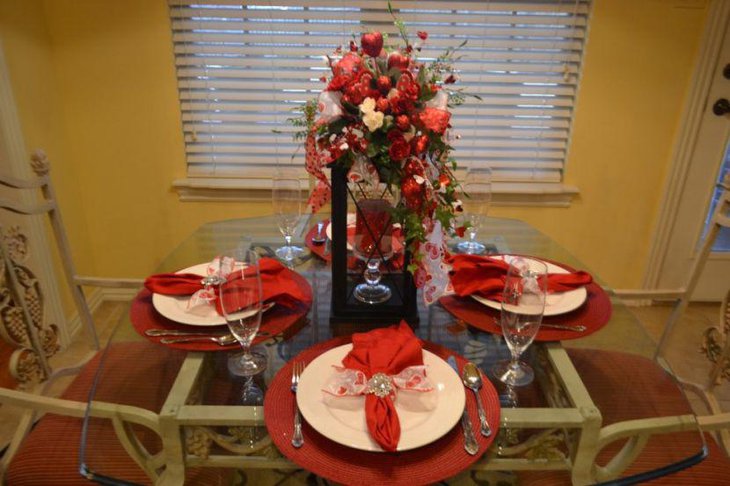 Shimmering lantern decor on Valentines table
Image Credit: halalek
Valentine table decorations with candies
What would happen if you were to decorate your Valentines tables with colorful candies? Well, it would definitely spread a lot of cheer and happiness among people that would dine with you on that special day, oh…not to forget mentioning the joy on your sweetheart's face! Yes, now a days, many table decorators are coming out with candy table ideas that make use of candy in every possible shape and size. For a red themed Valentines day, dedicate the table to candies by arranging candy bowls, jars or placing a candy centerpiece. Colorful paper wraps can be used for candy Valentine table decorations.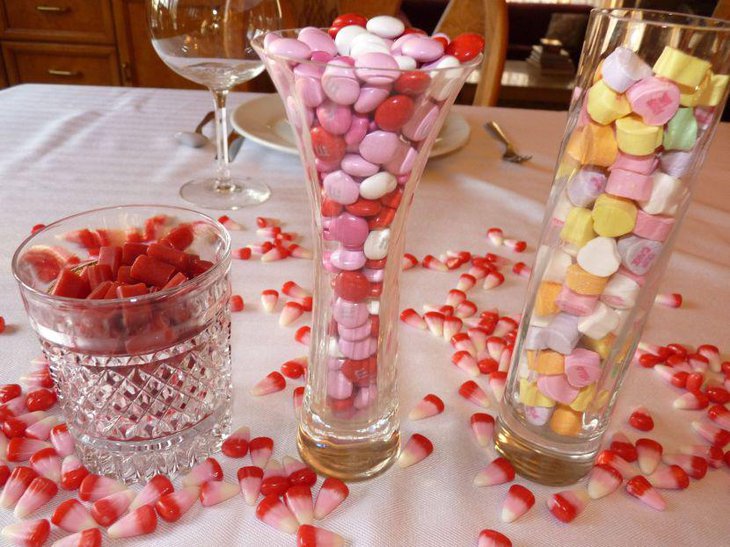 Easy Valentines table decor with candy in vases
Image Credit: wordpress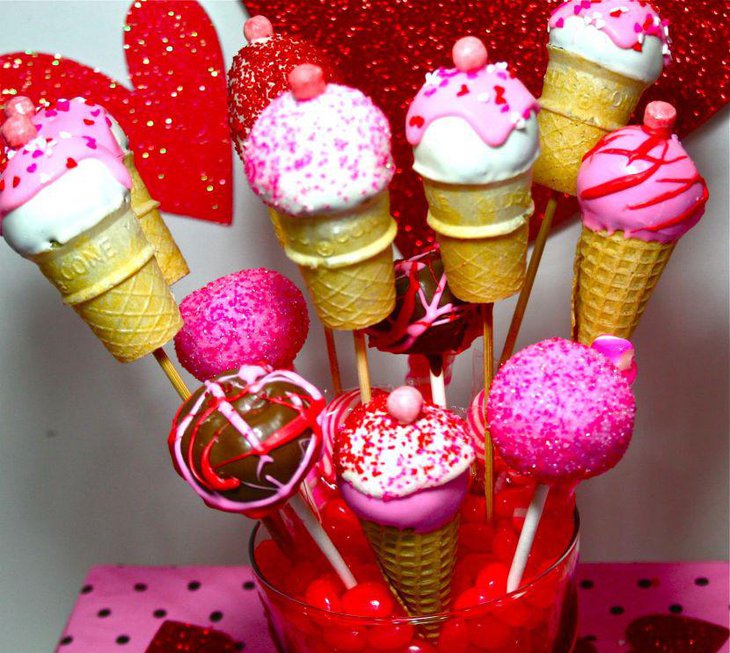 Valentines tablescape with candy and icecream pops bouquet
Image Credit: blogspot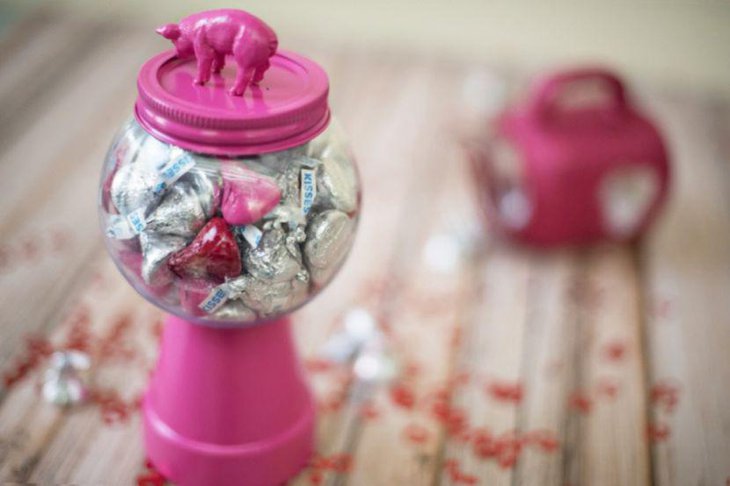 Cute pink Valentines table decor with candy jar
Image Credit: darbysmart
Feeling relaxed after looking at the super stylish Valentine decorations? Hey…all these decor ideas are pretty easy to try, though, a few could cost you a little bit more money than others. Since Valentines Day is just around the corner, we would suggest you select any one of these decor ideas or combine a few together to create your very own idea. A Valentines Day table must look glam from every angle. If you wish to make an impression on your sweetheart and also hope to get a bucket full of smooches, try any of these gorgeous *Valentine table decorations*!