Have you ever thought about using Hollywood themed table decorations ideas for birthdays or weddings? If not, we are here to help you host a Hollywood themed party. We are going to present stunning Hollywood theme party ideas ranging from opulent, vintage to DIY. A Hollywood themed table must look glam, and yes… over the top. For creating a bling effect, use lots of gold, red and silver accents like shown in the images. So, scroll down and enjoy!
Oscar Themed Table Decorations Ideas
Hollywood table decorations can also feature Oscar Award accessories to lend a dash of style and pizzazz. If you can buy or make glam looking golden male or female statues, then go for it. These can be displayed as Hollywood theme centerpieces on tables. A tabletop featuring Oscar theme mustn't look average. To add a super glam doze, you can team the decor with golden cutlery, classy crystal ware and flowers. Add glitter in any form as you like.
Golden accented Oscar themed party table decor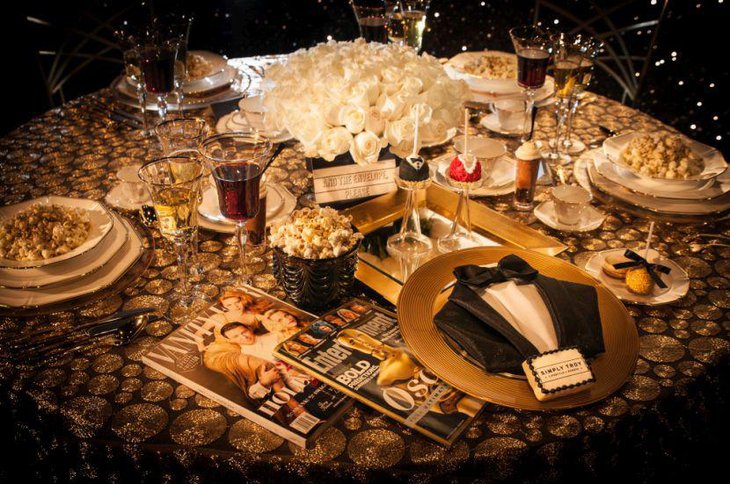 Image Credit: lacrema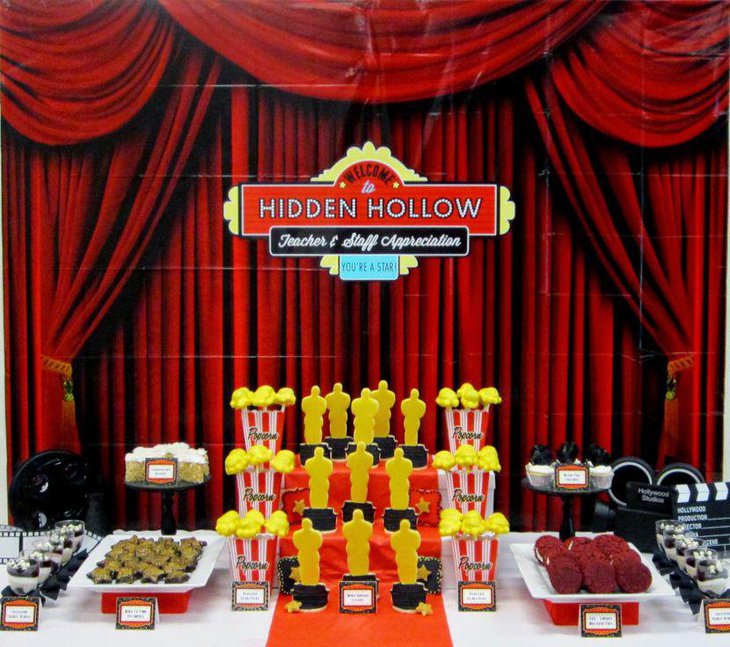 Adorable Oscar statue cutout decorations on party table
Image Credit: blogspot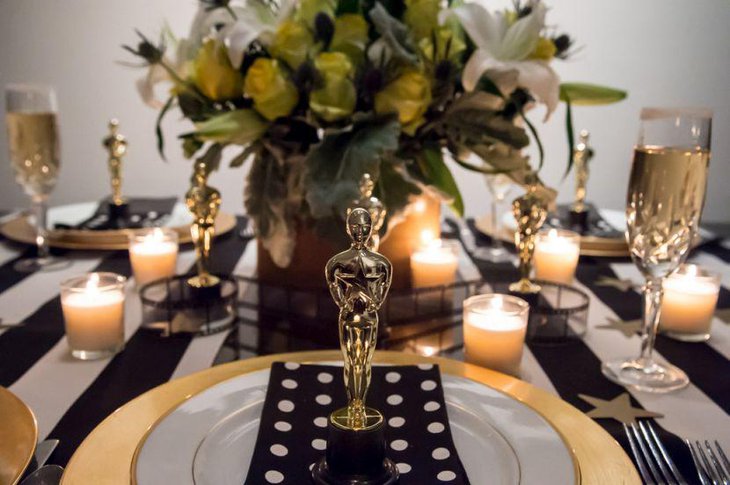 Golden Oscar statue seen decking up this dinner party table
Image Credit: sparkleanddine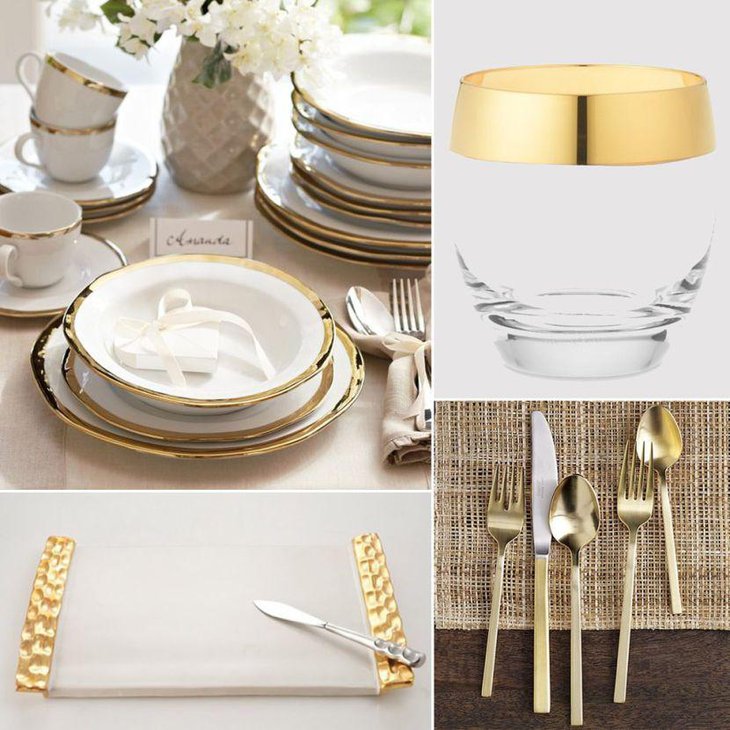 Oscar themed table decorations using golden rimmed accessories
Image Credit: popsugar-assets
Hollywood Theme Table Decorations Ideas With Cookies And Cupcakes
Table decorations ideas will always feature yummylicious cupcakes and cookies as these look cute. For a Hollywood themed table, you can deck cupcake stands wrapped in golden or silver hues. Team together accessories like flowers, pearls, crystals for a dazzling effect. Customized cupcakes with Hollywood prints or decorations look very trendy. For example – order cookies or cupcakes with imprints of clapboards, popcorn bags, or reels.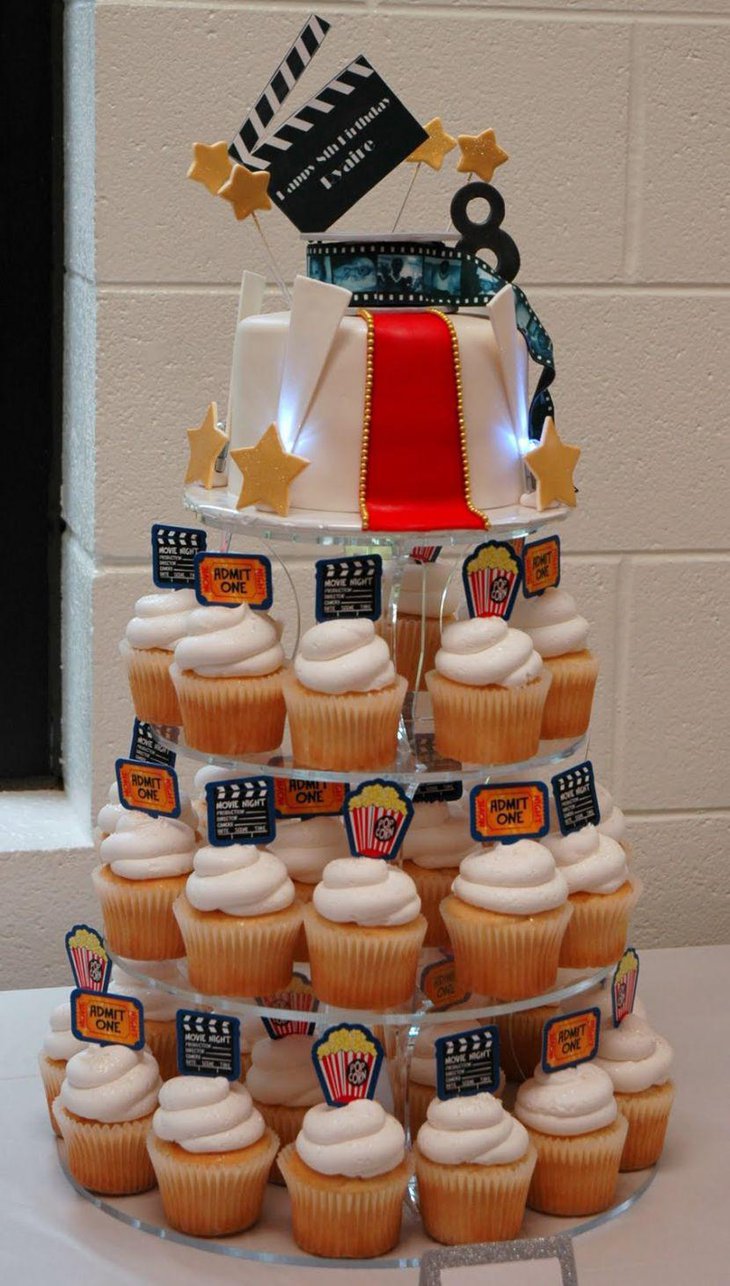 Cute Hollywood inspired cupcakes displayed on a cupcake stand
Image Credit: blogspot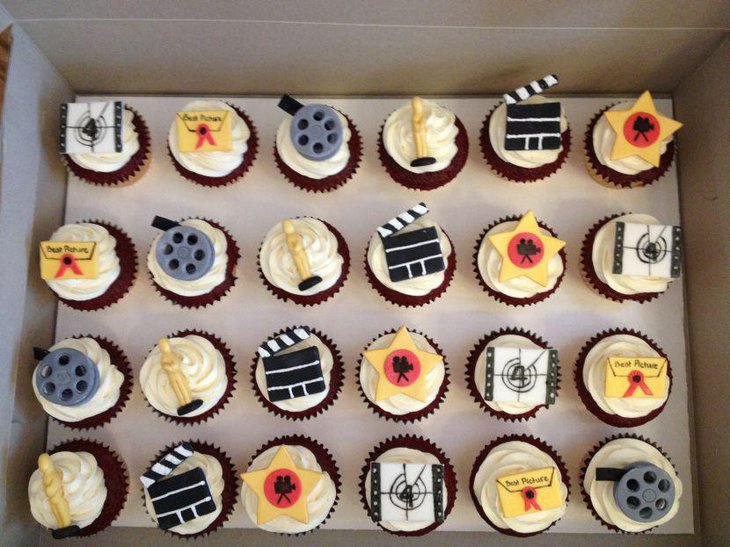 Oscar shaped cookies for party table decor
Image Credit: pinimg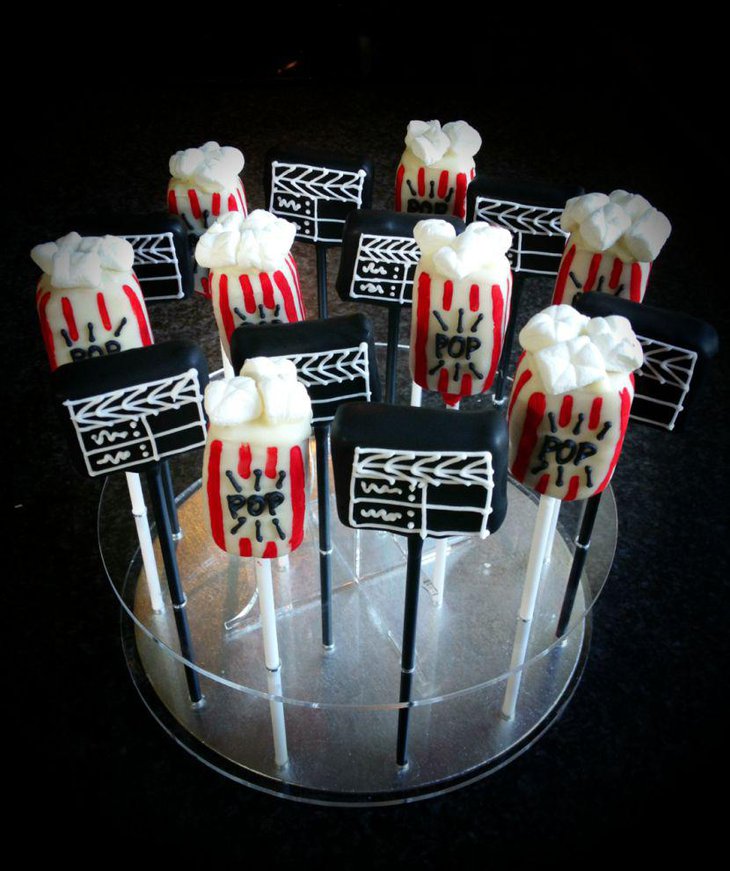 Hollywood themed cake pops for dessert tables
Image Credit: flossiepopscakery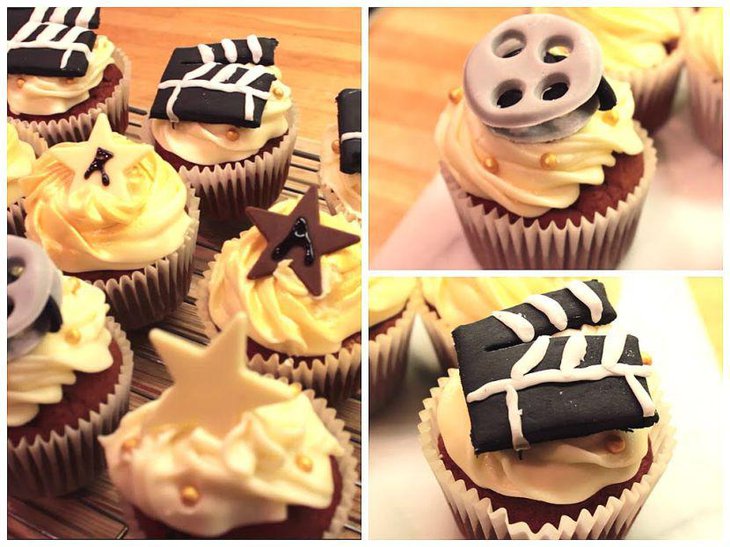 Red velvet Hollywood themed cupcake are displayed on this gorgeous table
Image Credit: ytimg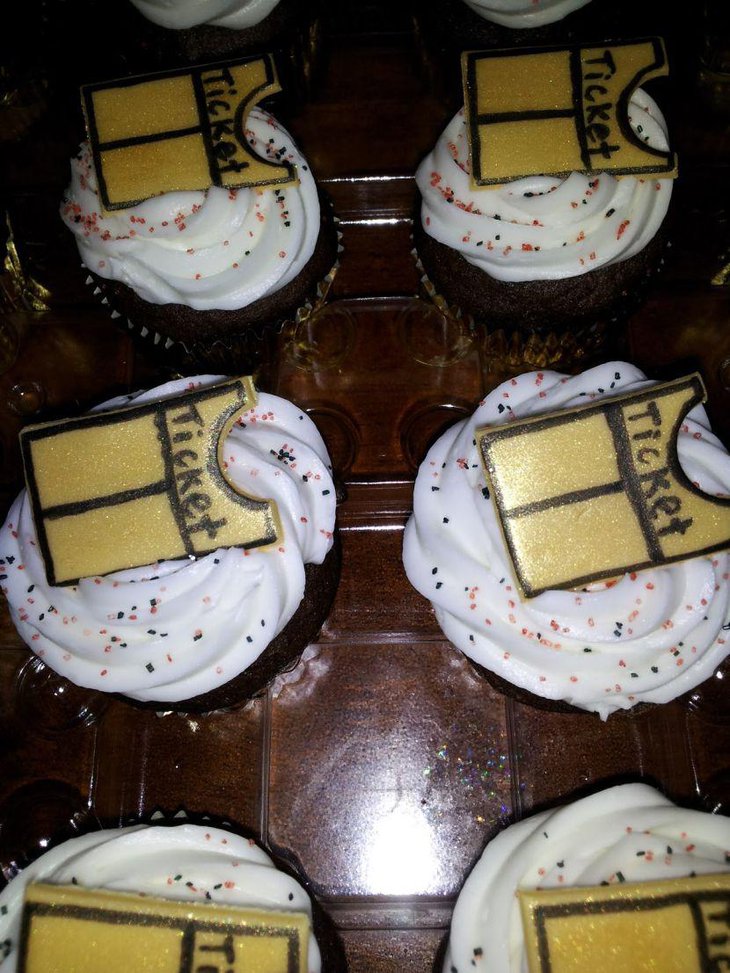 Cute Hollywood themed cupcakes on display
Image Credit: blogspot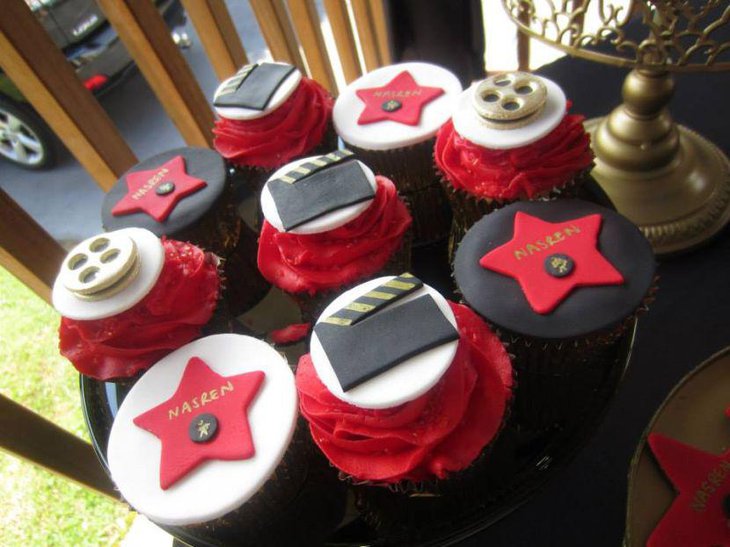 Hollywood themed cupcakes decking up a baby shower table
Image Credit: babyshowerideas4u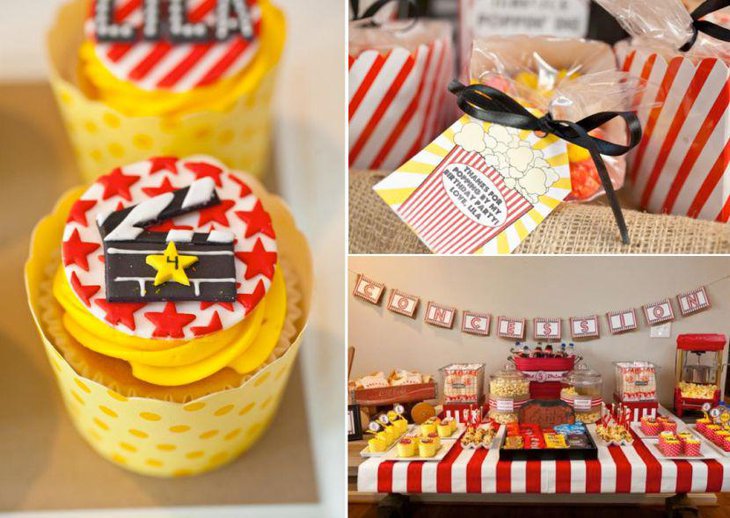 Vintage Hollywood themed table decor with yellow accented cupcakes
Image Credit: karaspartyideas
Table Decorations Ideas With Hollywood Themed Centerpieces
Hollywood table decorations will look bland and boring if you don't use glitzy accessories. A very commonly used accessory is the movie director's clapboard that you can place as the main centerpiece on table. Other popular Hollywood theme centerpieces include crystal vases, golden votives and candles, reels and showtime popcorn boxes in stripes.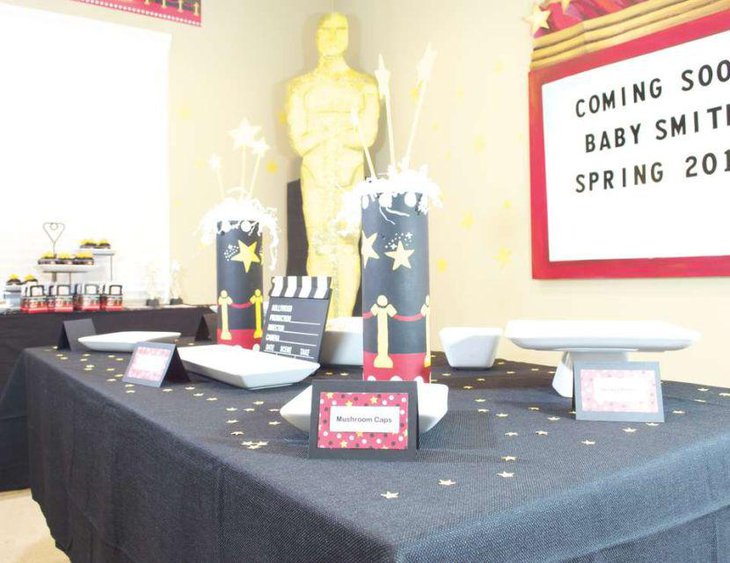 DIY Hollywood themed centerpiece on baby shower table
Image Credit: catchmyparty-cdn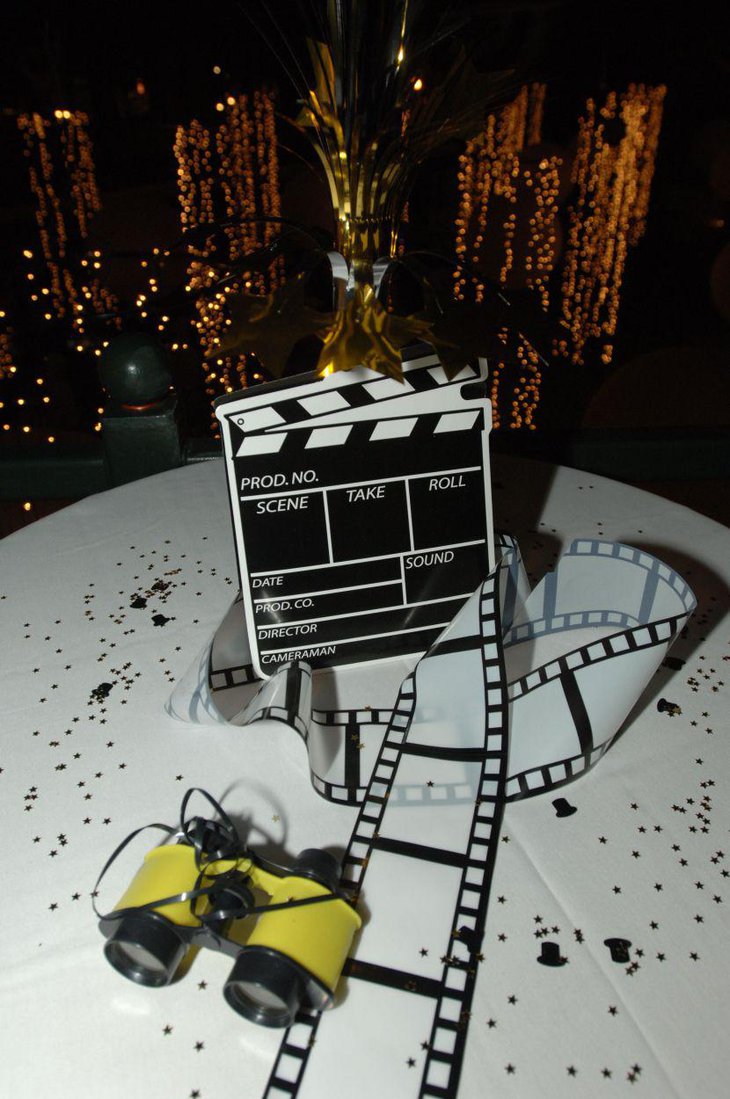 An oversized clapboard is placed on a party table as a main centerpiece
Image Credit: uniquehospitality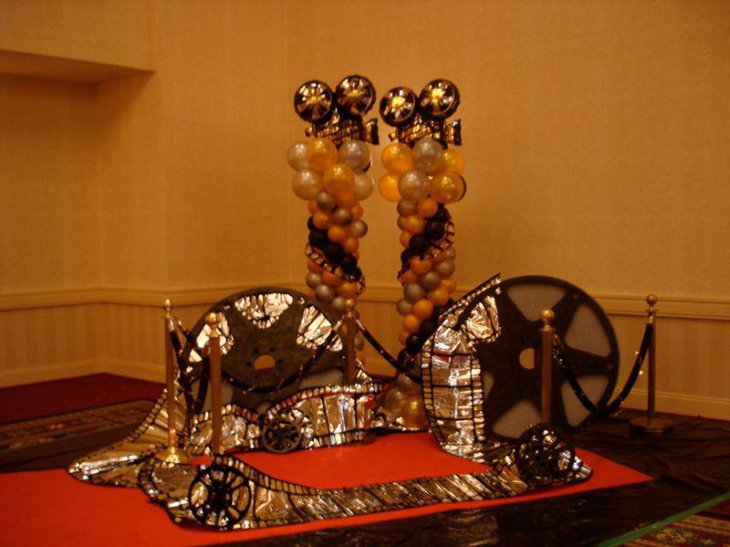 Stunning Hollywood themed table decor with silver tones
Image Credit: nanobuffet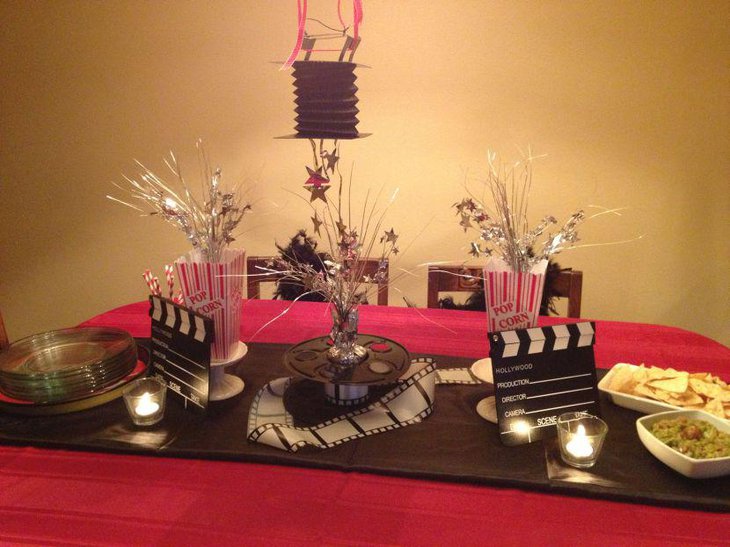 Clapboard and movie print reel displayed as party table centerpieces
Image Credit: kristinpotpie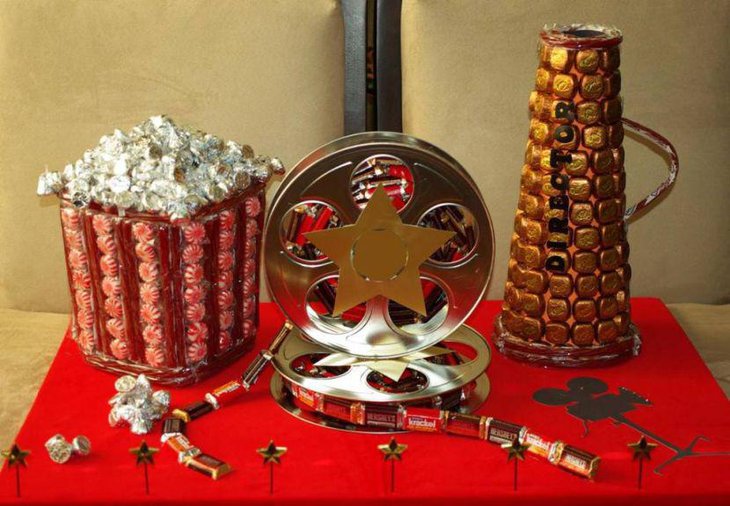 Hollywood themed candy centerpiece for Bar Mitzwah
Image Credit: noosies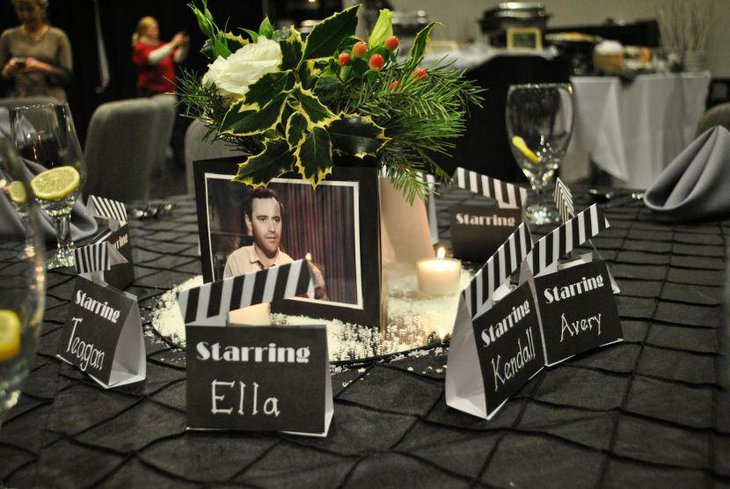 Beautiful Hollywood themed centerpiece
Image Credit: mytechref
DIY Hollywood Theme Centerpieces
Hollywood theme centerpieces can feature accessories that you can make yourself. DIY centerpieces have a charm unique than others. For example, craft out a thermocol clapboard, or make a cardboard movie reel. Place handmade popcorn boxes all around or keep floral arrangements to compliment the look. You can also make cardboard vases and wrap them up with pics of old movie stars.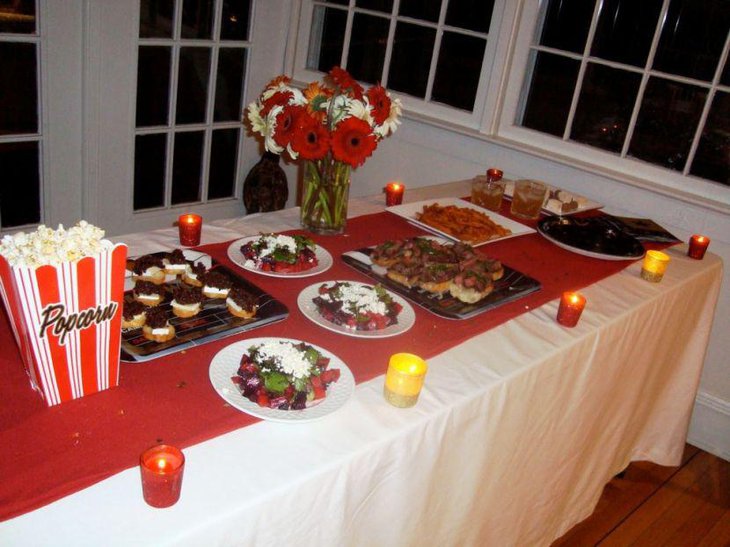 Cute DIY Hollywood themed centerpiece
Image Credit: happybeancoffee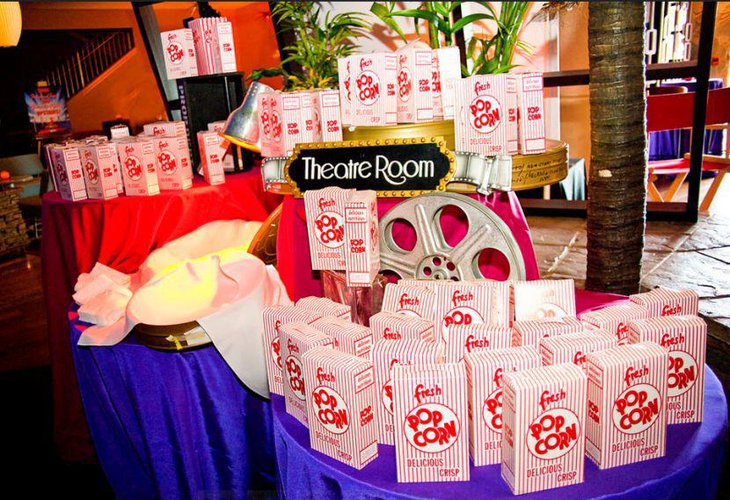 Appealing DIY Theater Room centerpiece on party table
Image Credit: cool-party-favors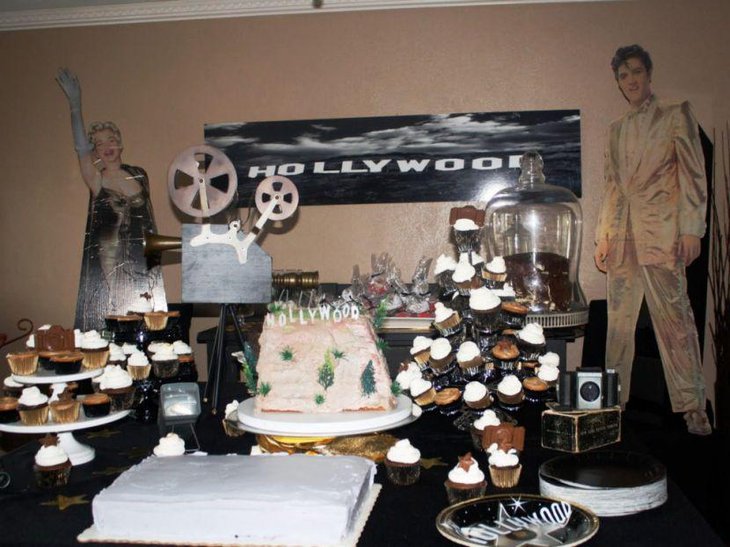 This DIY inspired Hollywood themed party table looks stunning
Image Credit: happybeancoffee
Hollywood Table Decorations To Try This Year
Try out these showcased table decorations ideas for these are gorgeous! All the Hollywood themed tables presented below look stylish and apt for having a glam party. The year 2016 is all about indulging in darker tones like reds and maroons. Spread tablecloths in these two shades and team up with golden hues. Black and white palette too looks very classy and can be given a shot. Food decor like the one below will add pizzazz for sure.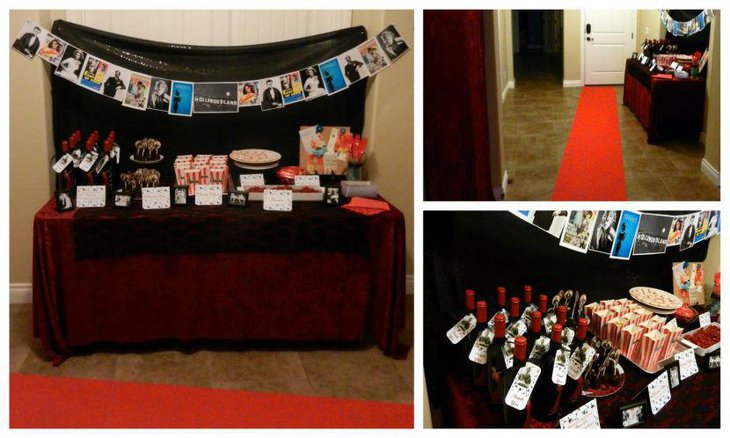 Vintage Hollywood themed party table decor
Image Credit: blogspot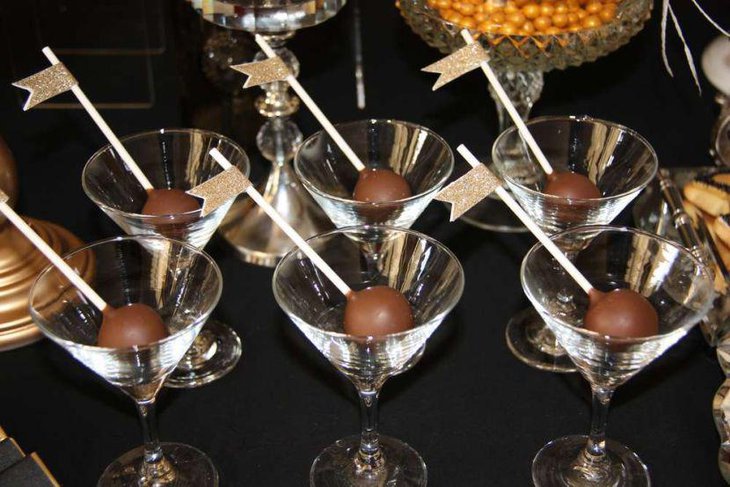 Old Hollywood glamour party table decorations
Image Credit: catchmyparty-cdn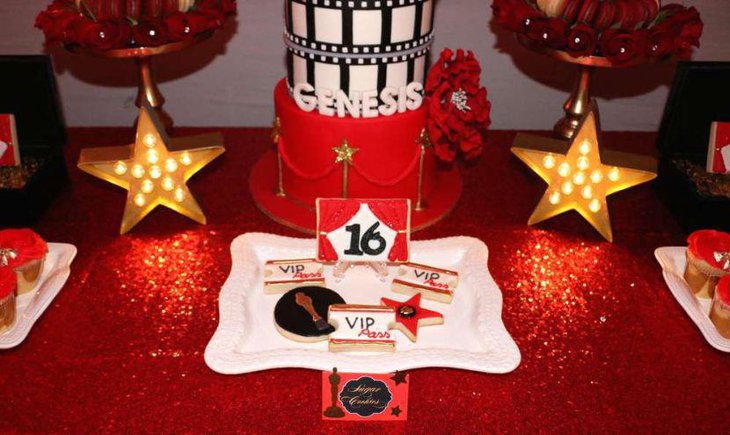 Attractive red and golden accented Hollywood party table
Image Credit: catchmyparty-cdn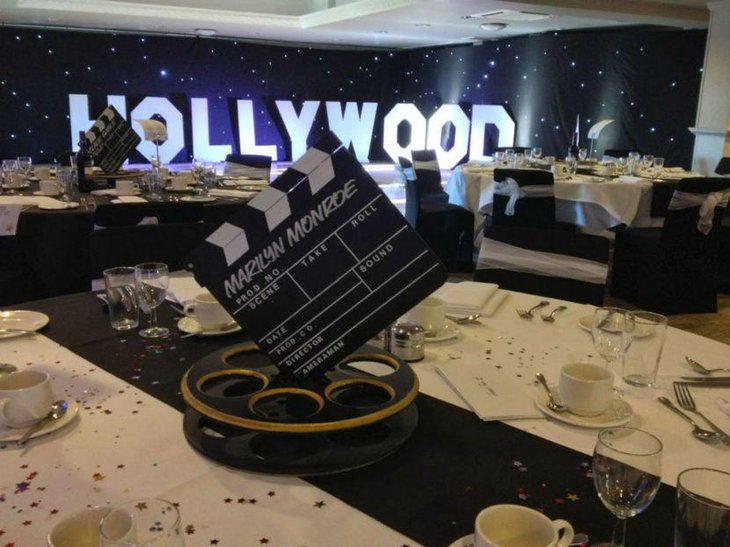 Glitzy Hollywood styled party table decor
Image Credit: chunkyonion
Hollywood Theme Party In Red And Gold
Table decorations ideas such as these presented below look grand with a display of red and gold accents. You can team these two shades together. Or, use these separately depending on your likes. Place a golden shimmering tablecloth over a black or red cloth to create a striking effect. Placing a golden toned centerpiece also adds up to the style. Golden statues can be put up for a dazzling impact on the tables.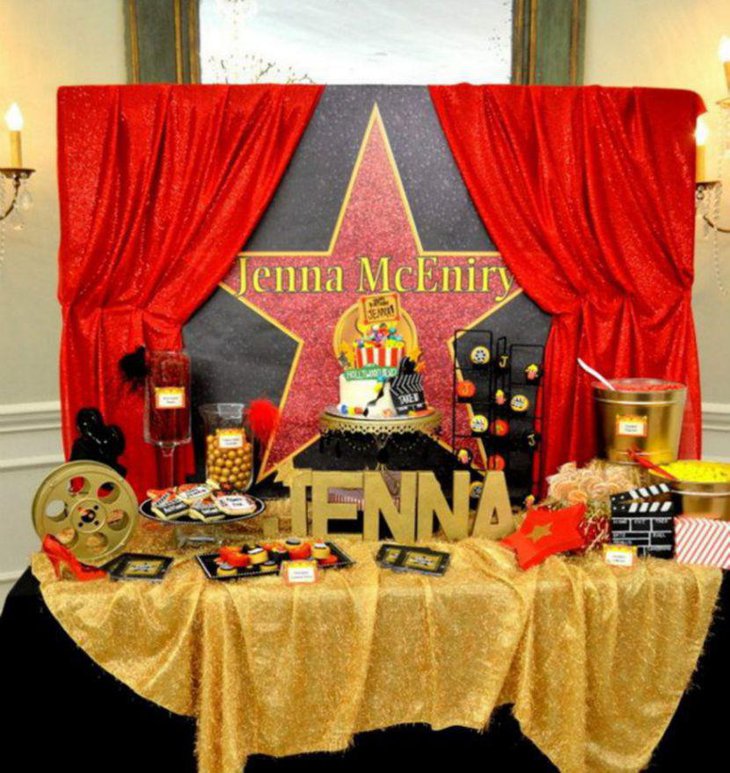 Beautiful Hollywood styled birthday table in red and golden tones
Image Credit: homede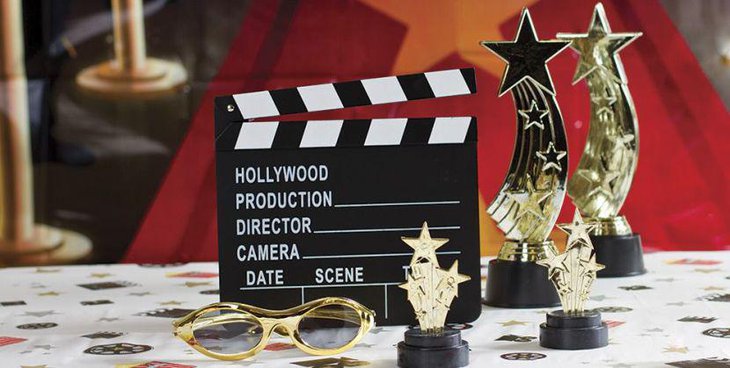 Amazing golden and red themed Hollywood party table
Image Credit: scene7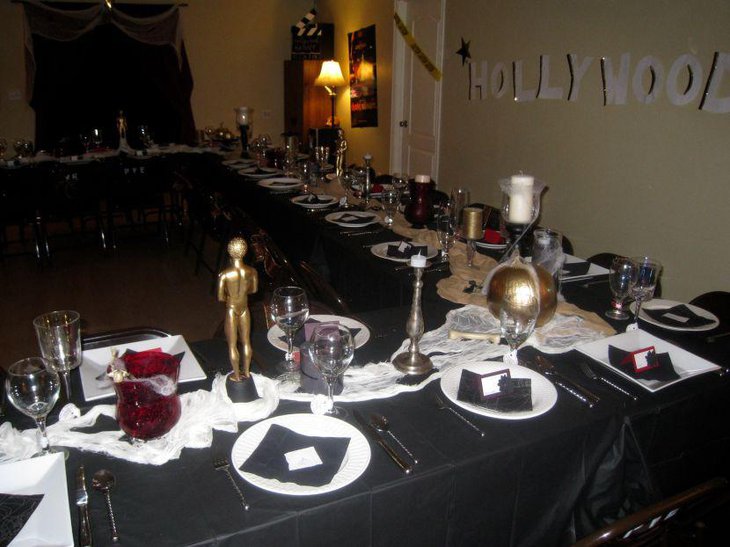 Halloween party table decor with Hollywood theme in golden accents
Image Credit: wordpress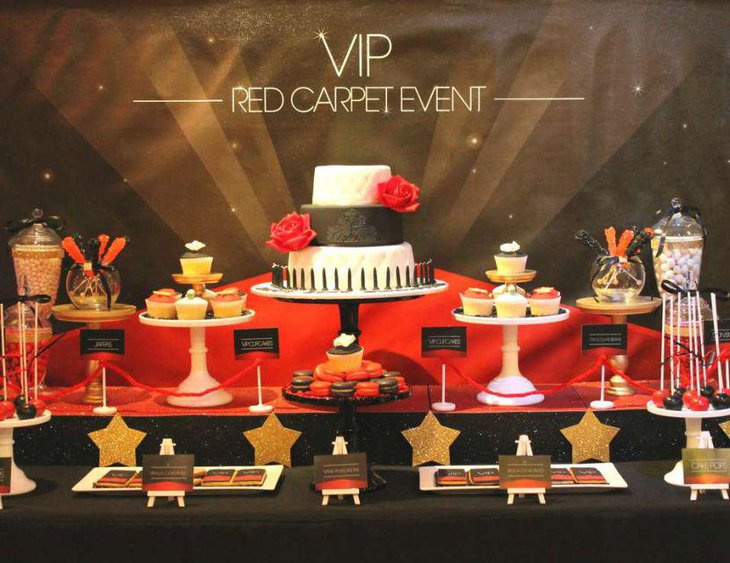 Red Carpet themed dessert table decked in tones of red and gold
Image Credit: catchmyparty-cdn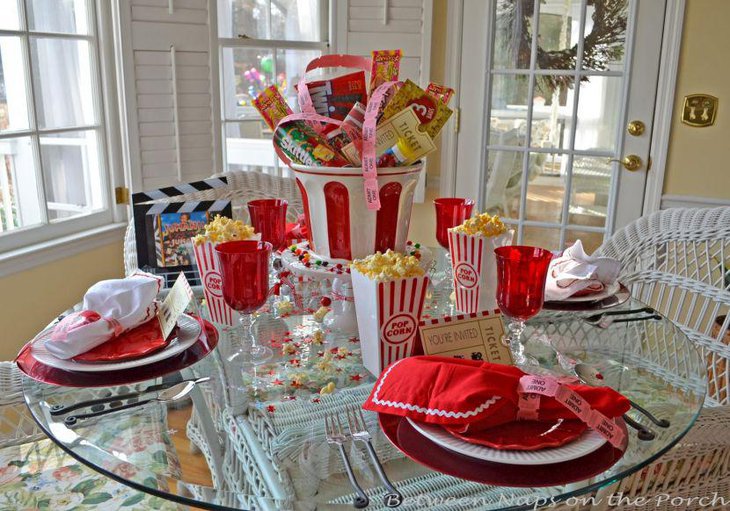 Kids Movie Night party table decorations using red and white color palette
Image Credit: betweennapsontheporch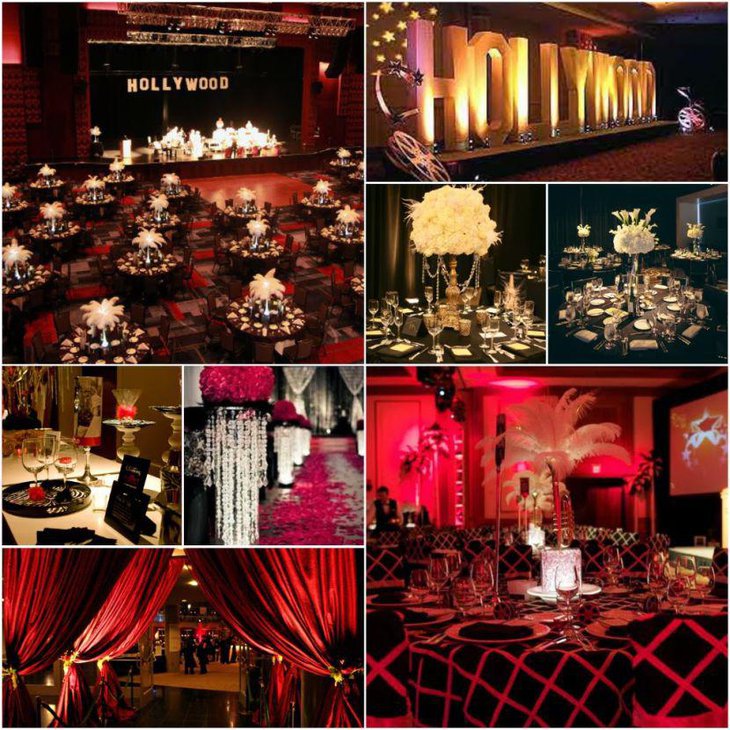 Stunning golden and red decorations seen on party tables themed on Hollywood
Image Credit: frexone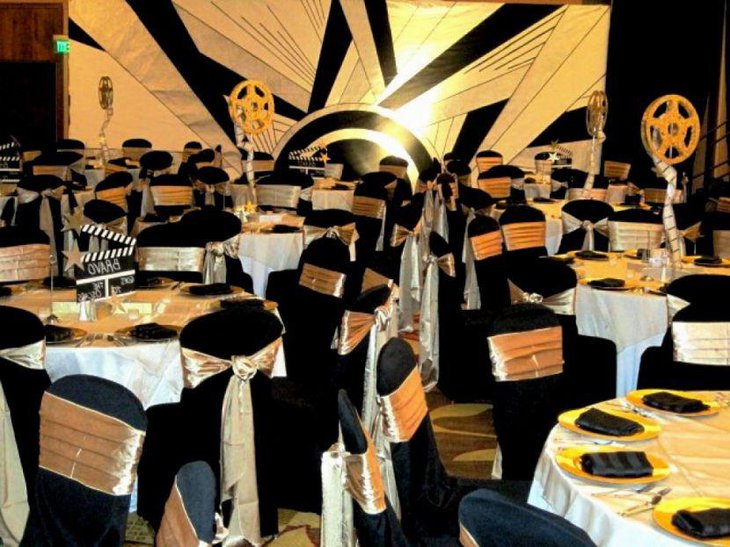 Golden themed Hollywood party table decor
Image Credit: decoratingparty
Gorgeous Hollywood Theme Party Ideas
A birthday or a Bar Mitzwah table can appear divine when you stylize it with Hollywood themed accessories. Ideas needn't be too expensive if you are hard pressed on cash. You can use lot of DIY stuff too for saving money. If you want a Hollywood theme on your table, try using chocolates wrapped with film posters or pics of film stars. You can also try creating a showtime theme on your table by taking help from these table decorations ideas shown below.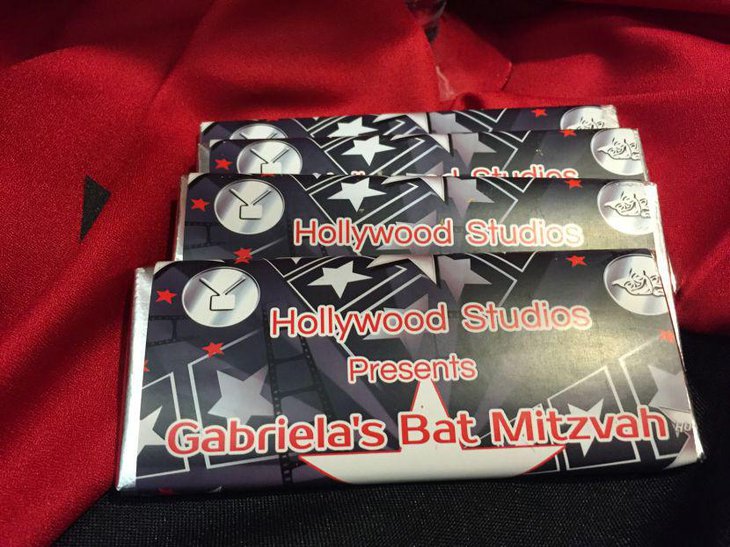 Hollywood themed chocolates for party table
Image Credit: blogspot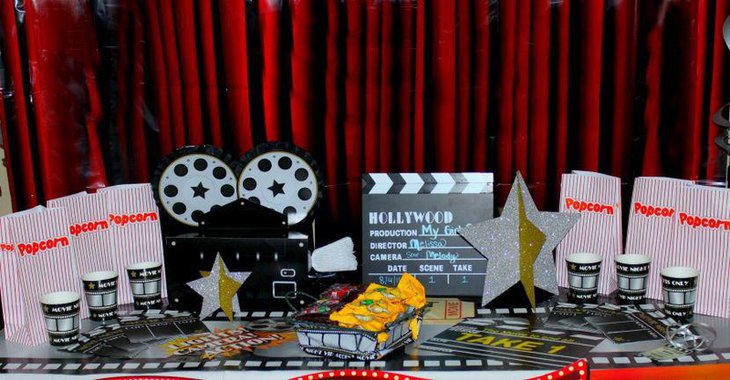 Awesome Hollywood themed party table decor
Image Credit: thirtysomethingsupermom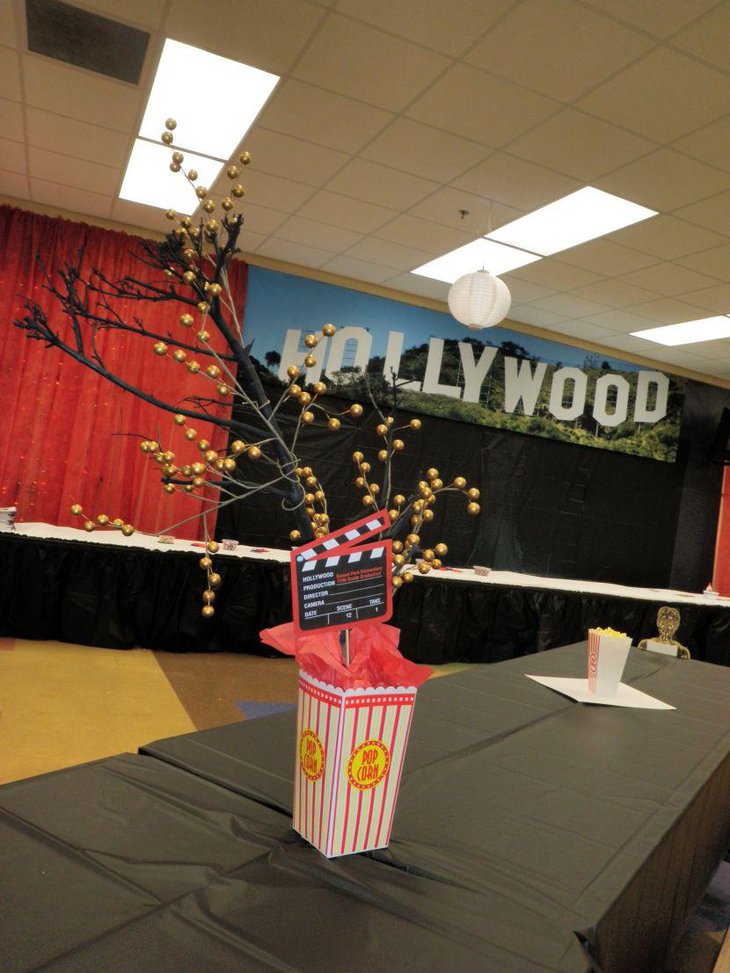 Stunning DIY Hollywood party table centerpiece