Add a personal touch to your special day with these creative, low-cost DIY wedding centerpieces. Your day is all about you and the unique relationship you have with your spouse-to-be. Showcase your bond's personality with charming, impressive centerpieces lovingly handcrafted by you or your family. The ideas we've curated below can be assembled or created with only a small investment and a little time and effort.
Colorful Rice Centerpieces
Rice is commonly showered onto the couple after the ceremony, but you can also use this inexpensive food as a creative decoration. Similar to laying colored sand, you can fill vases and goblets with rice dyed bright colors, such as red, blue, green, or silver. Place dried rice in votive holders to add different hues to your candle decorations. Colored rice evokes a sense of homey warmth and celebration.
Candle and Dyed Rice Patriotic Theme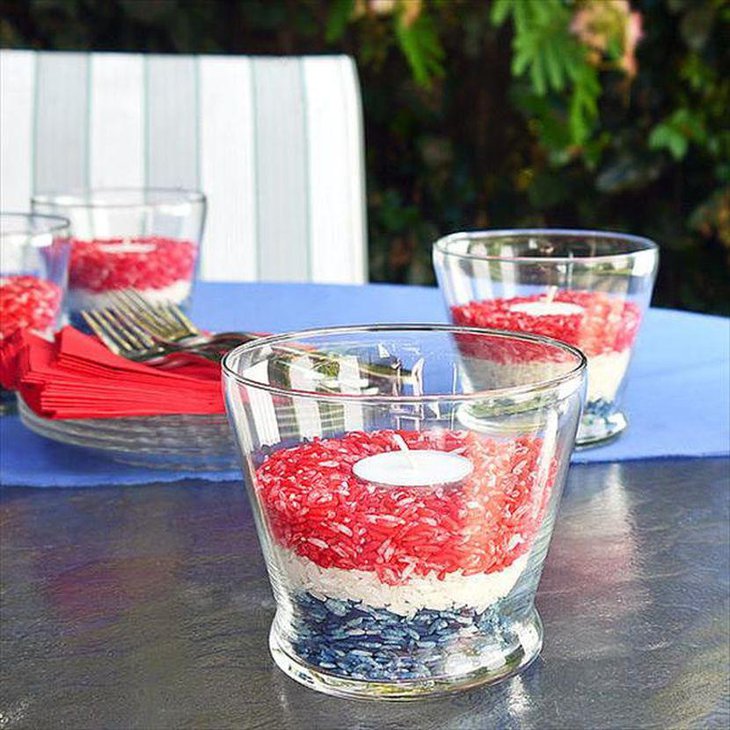 Image Credit: diyandcraftsideas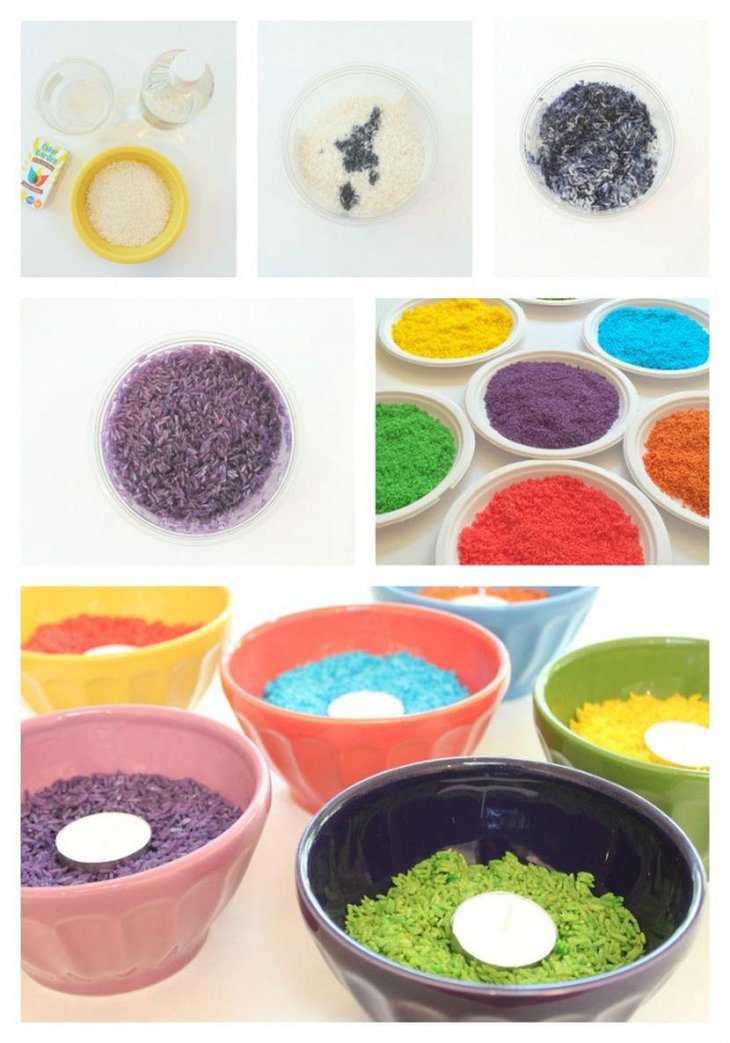 Rainbow Rice for Wedding Centerpieces
Image Credit: cpnscdn
Bucket Centerpiece Ideas
For rustic charm, use metal buckets of various sizes and textures as vases for your floral arrangements. You can also wrap the buckets with burlap or paper, spray paint them, or stencil messages on them. You can even create an icy champagne block using a bucket as the mold!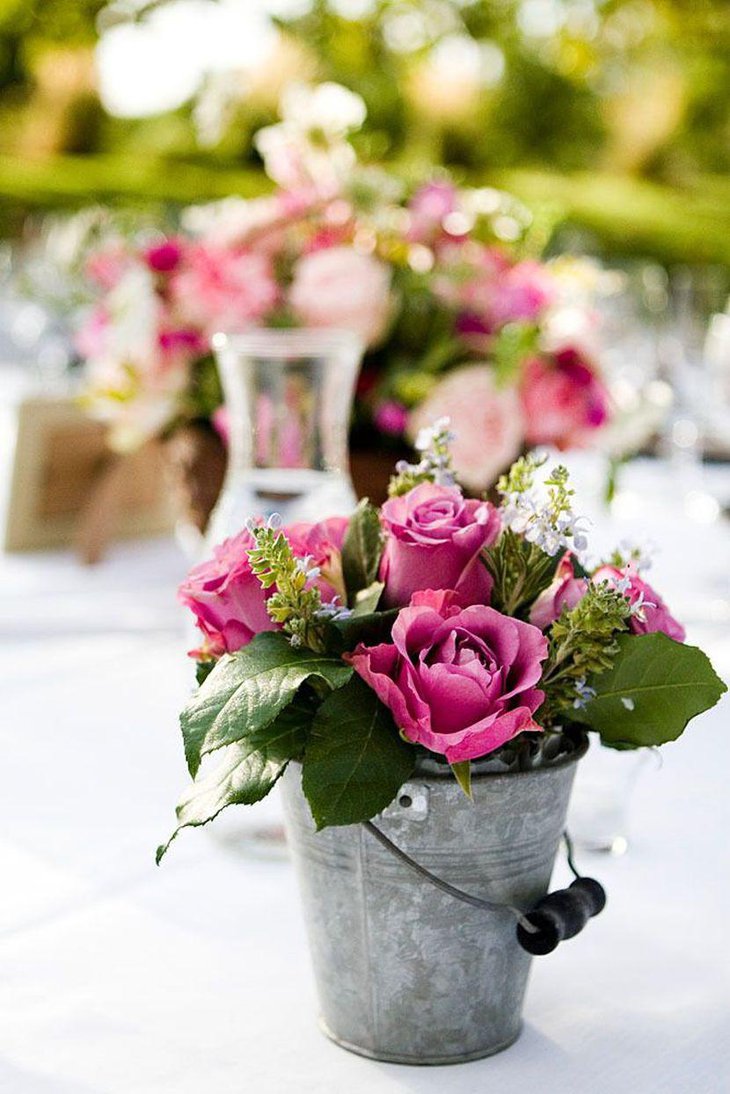 Floral Arrangement in Gardening Pail
Image Credit: decozilla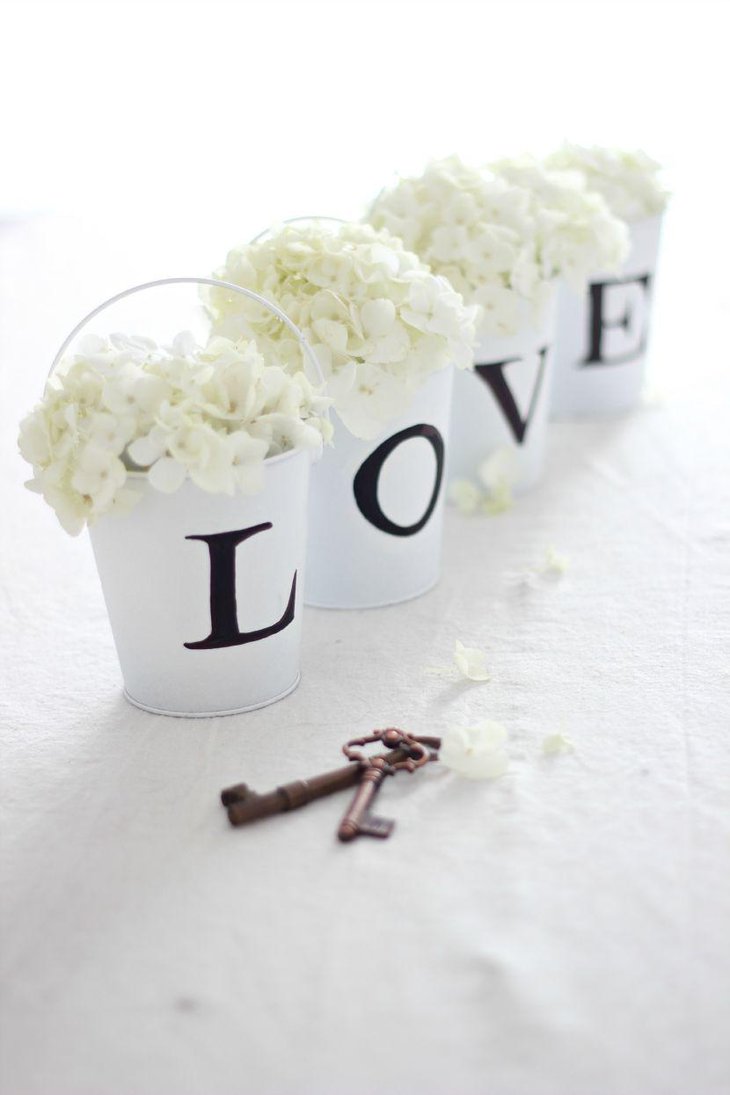 White Floral Buckets with Stenciled Letters
Image Credit: cpnscdn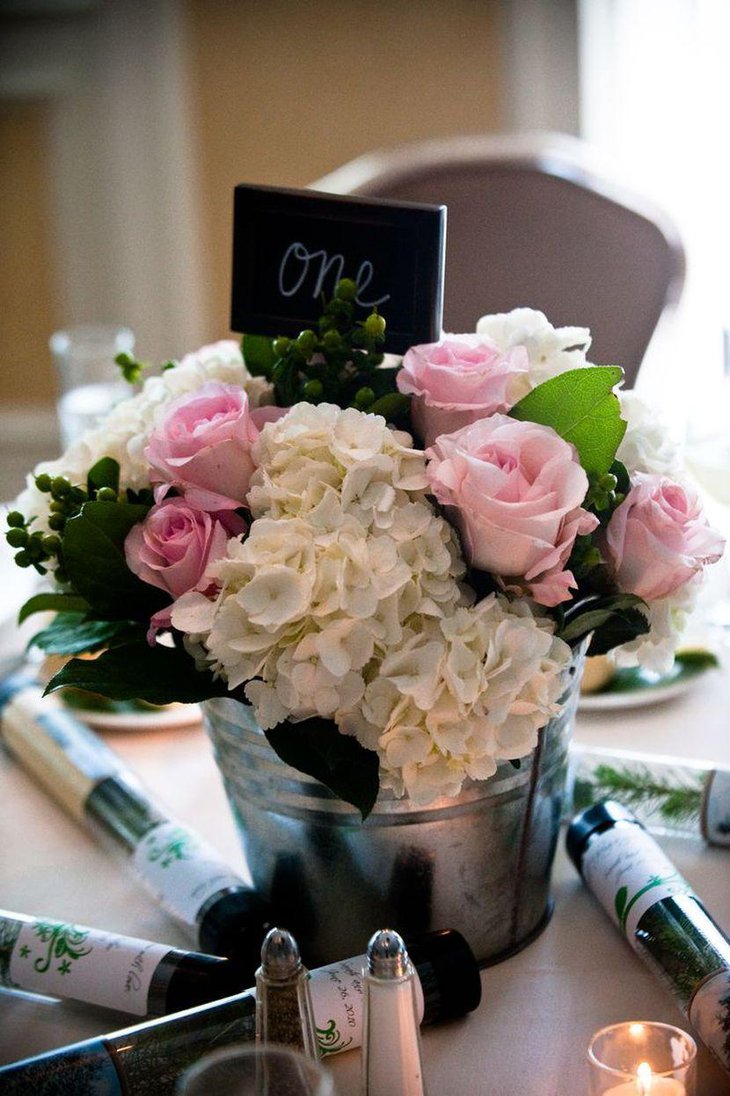 Floral Arrangement in Polished Metal Bucket
Image Credit: pinimg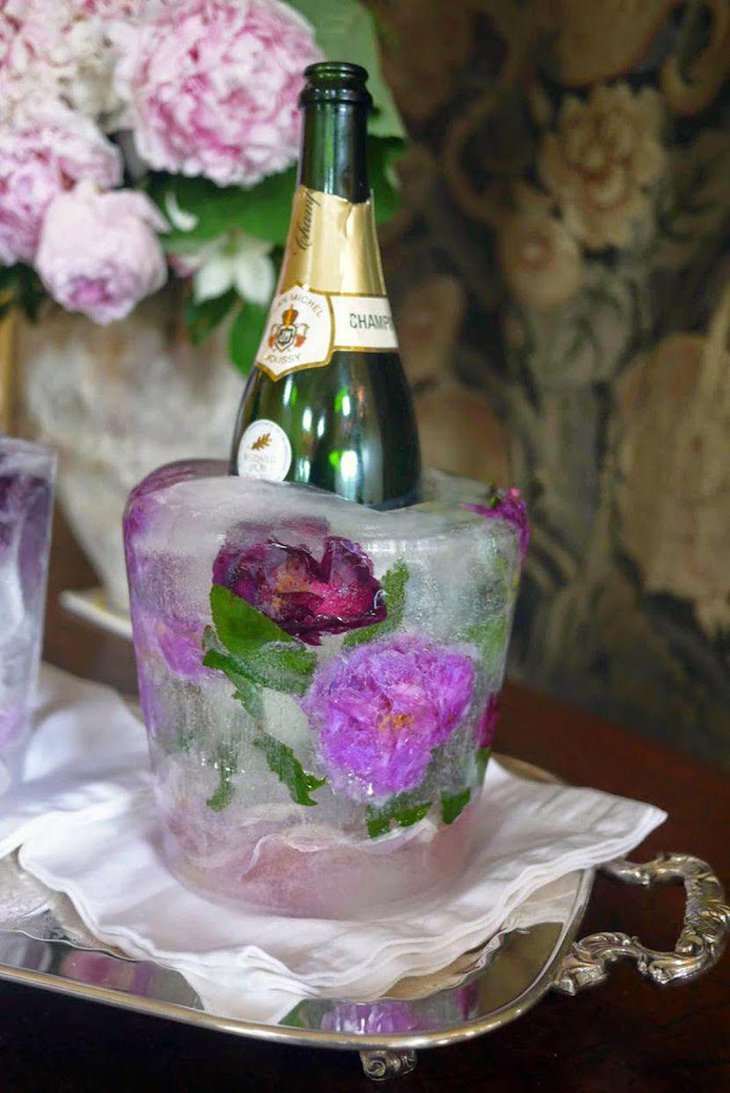 Flowers Frozen in Hollowed Ice Bucket Mold to Chill Champagne
Image Credit: moncheribridals
Birdcage Centerpiece Ideas
Now that you've captured your love's heart don't let it flutter away. Represent keeping your love's affections safe with birdcage centerpieces. Birdcages can be of various sizes, simple or ornate. Fill them with flowers or leave them on the gift table as a creative card holder. Embellish your birdcages with butterflies, birds, ribbons, or tags.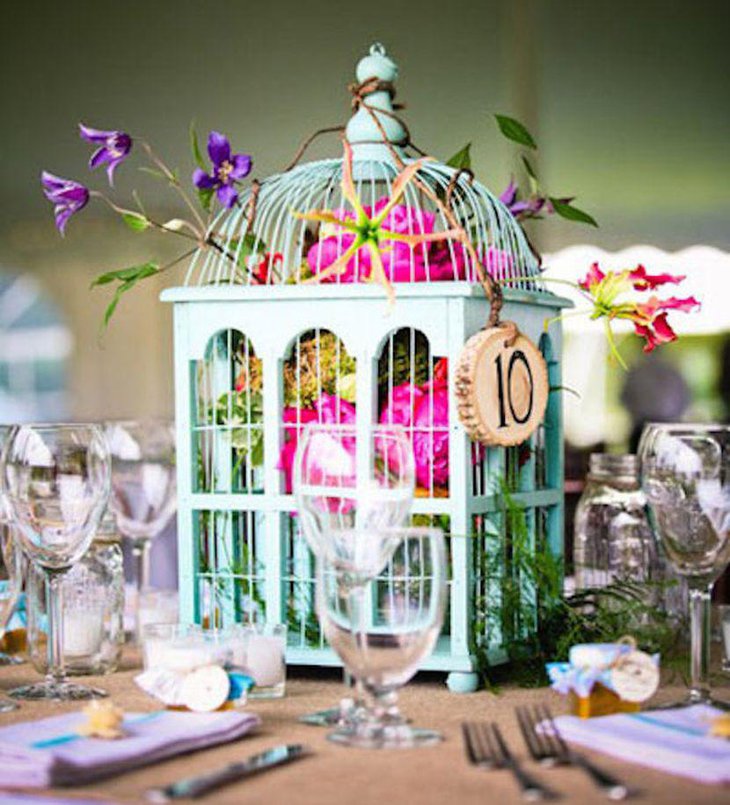 Painted Birdcage Stuffed with Flowers
Image Credit: cpnscdn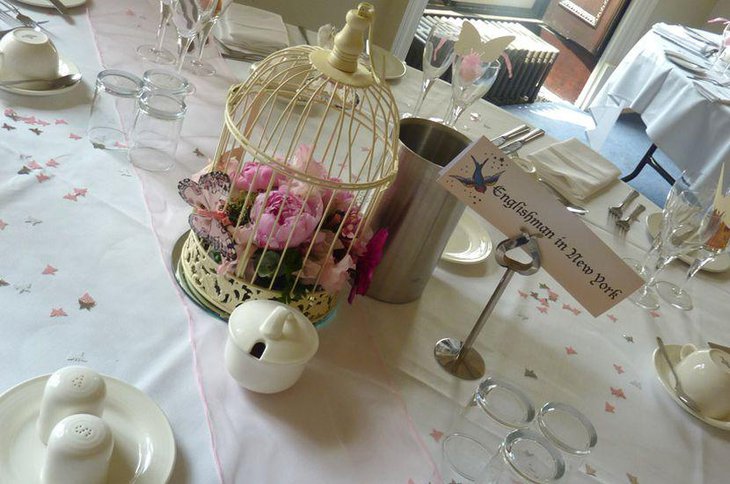 Golden Birdcage with Floral Arrangement and Butterfly Embellishment
Image Credit: designerchaircoverstogo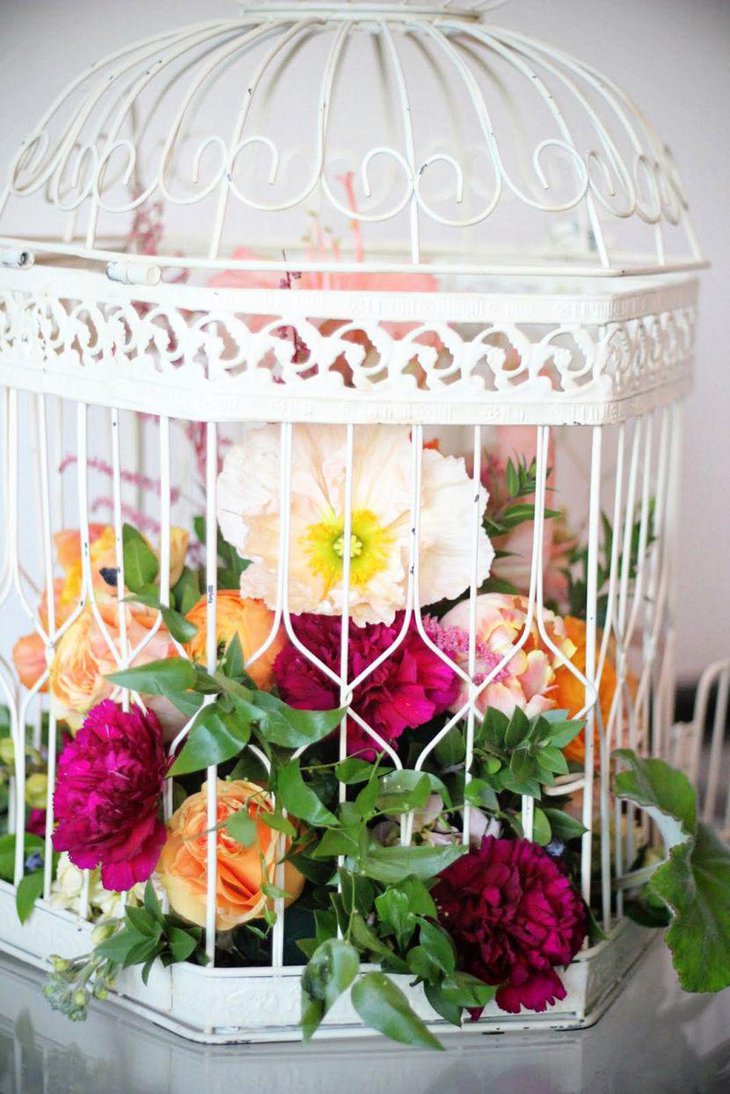 White Birdcage and Colorful Flowers
Image Credit: floretcadet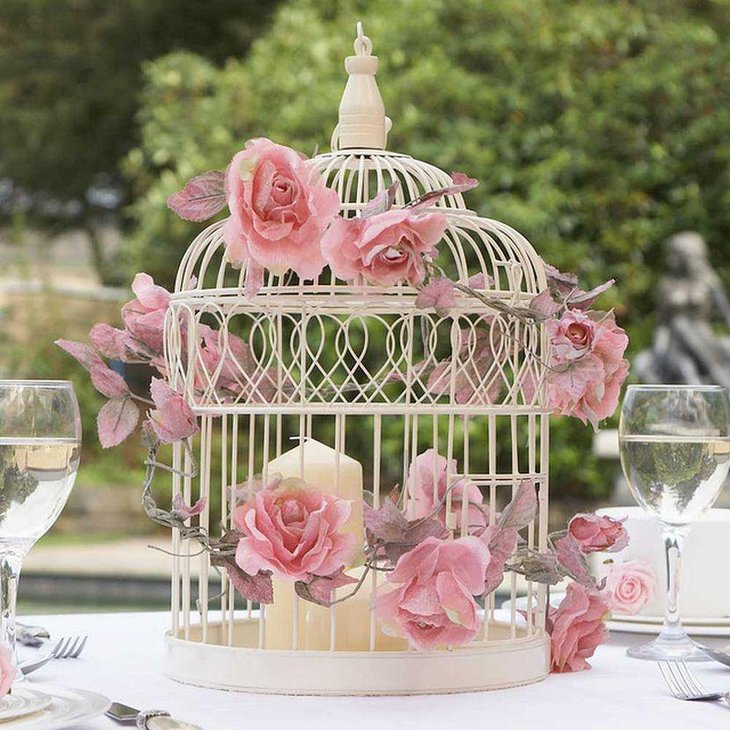 Floral Decorated Birdcage with White Candle
Image Credit: lanterncenterpiecesforweddings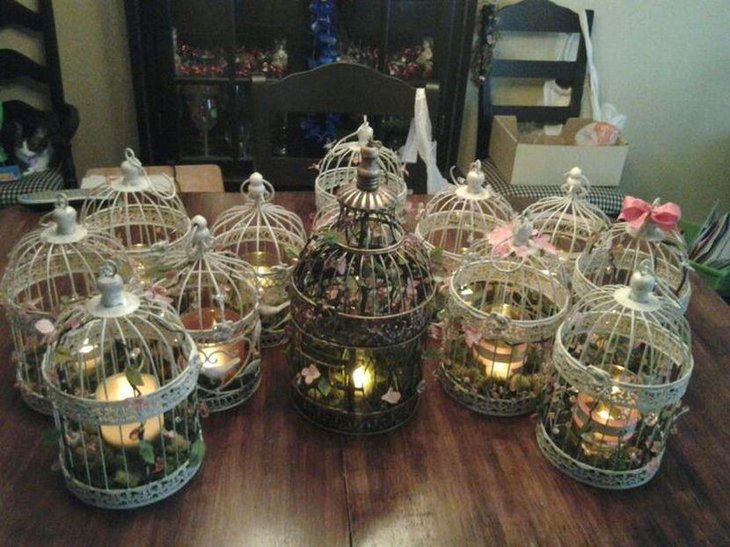 Modern Elegant Birdcages with Candles and Green Flora
Image Credit: pinimg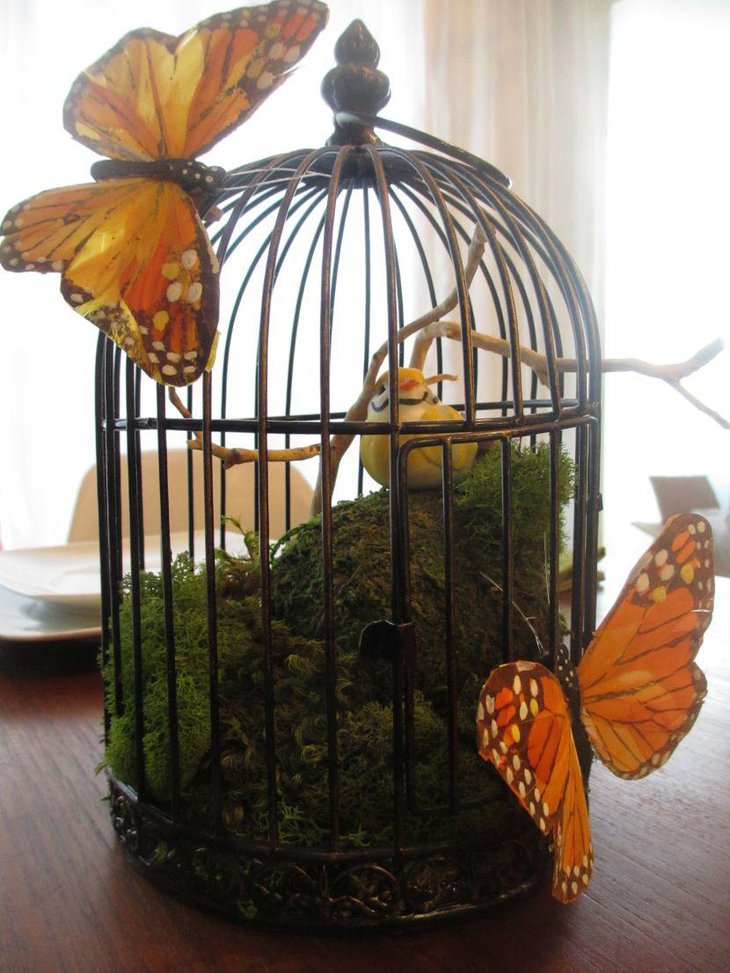 Birdcage Centerpiece with Butterflies and Bird
Image Credit: wordpress
Vase and Candle Centerpiece Ideas
Add class to your wedding table with candle and floating candle vases. Use tall vases or goblets for more elegance. Along with your candles, you can fill them with orchids, pebbles, beads, or rose petals.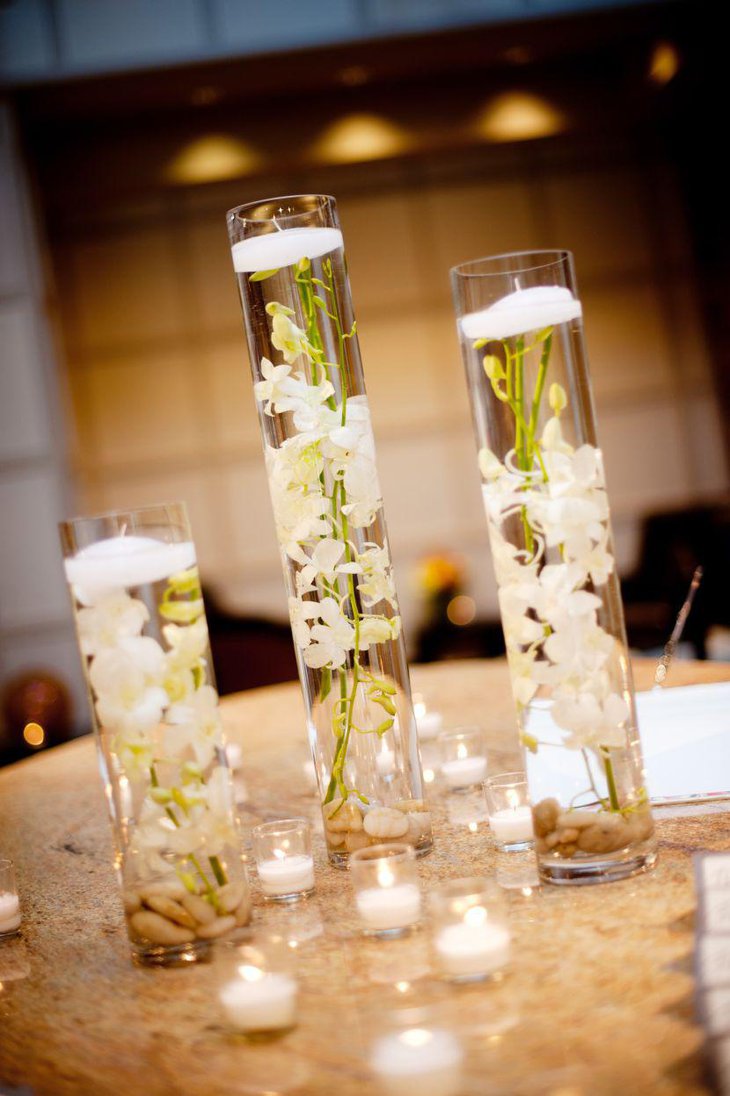 Orchids and Floating Candle in Tall Vase Arrangement
Image Credit: onewed
Rose Petals and White Candle in Vase
Image Credit: trusted-host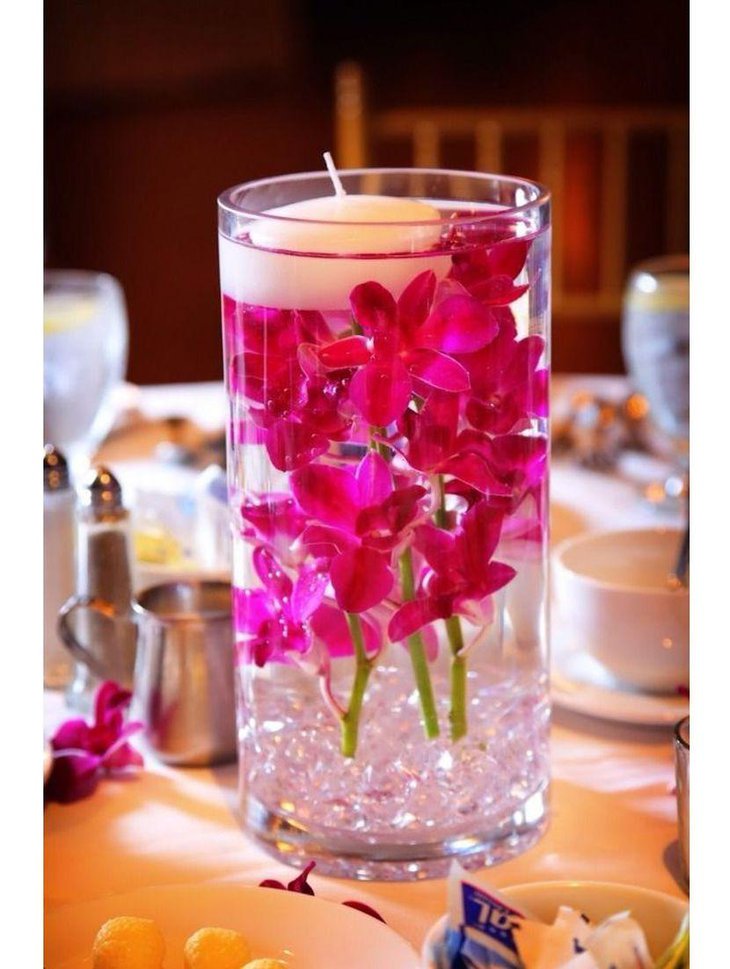 Glass Beads, Flowers, and Floating Candle in Clear Vase
Image Credit: traims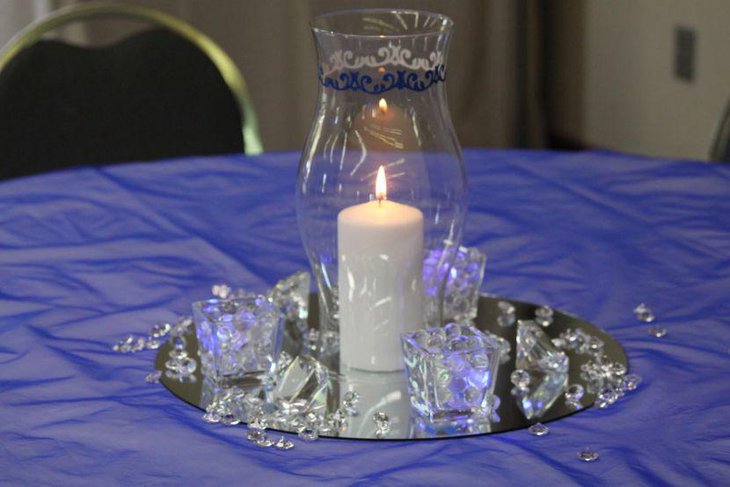 White Candle in Hand-decorated Vase
Image Credit: seatbolts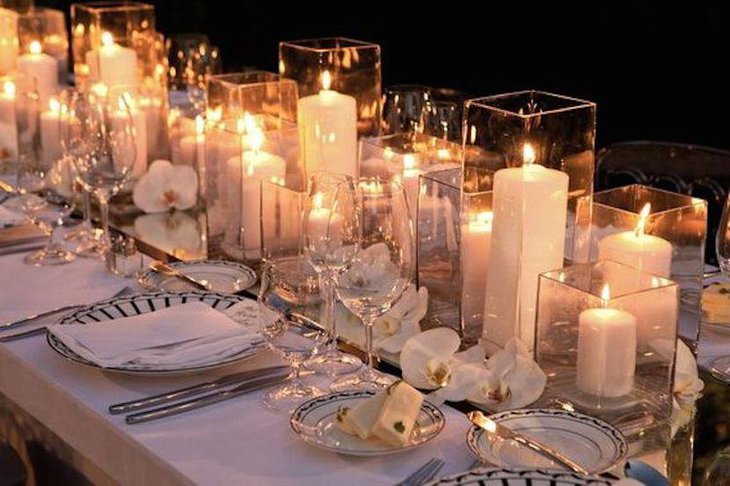 White Candles in Series of Varied Square Vases
Image Credit: onewed
Wooden Spool Centerpieces
For a craftily creative wedding table with a rustic touch, use wooden spools of yarn or thread. They will perfectly represent the life that you and your spouse are crafting together.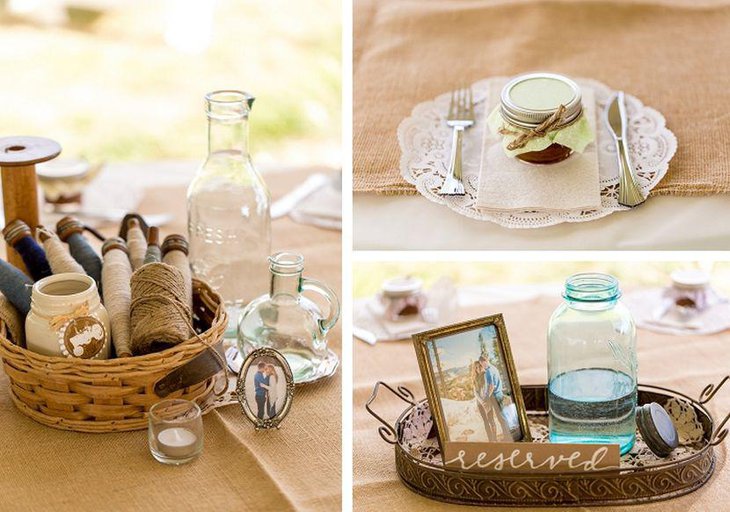 Yarn Spools with Accompanying Décor
Image Credit: acoloradocourtship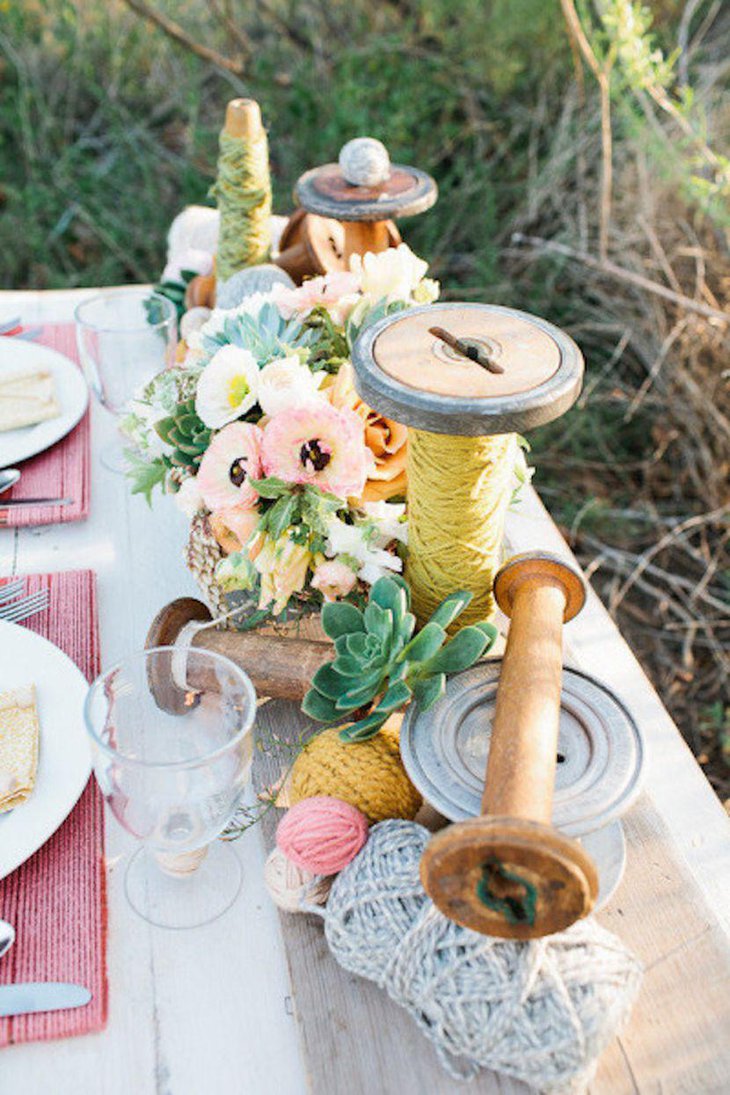 Large Craft Spools and Floral Arrangement
Image Credit: cpnscdn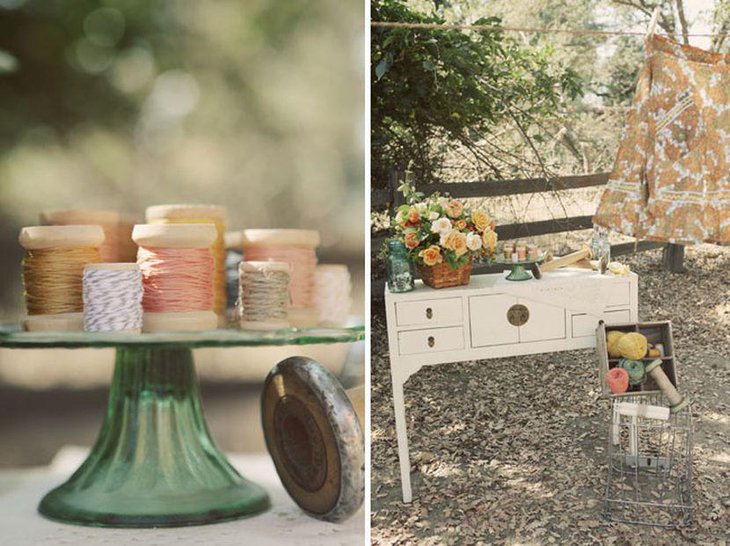 Colorful Thread and Yarn Decorations
Image Credit: greenweddingshoes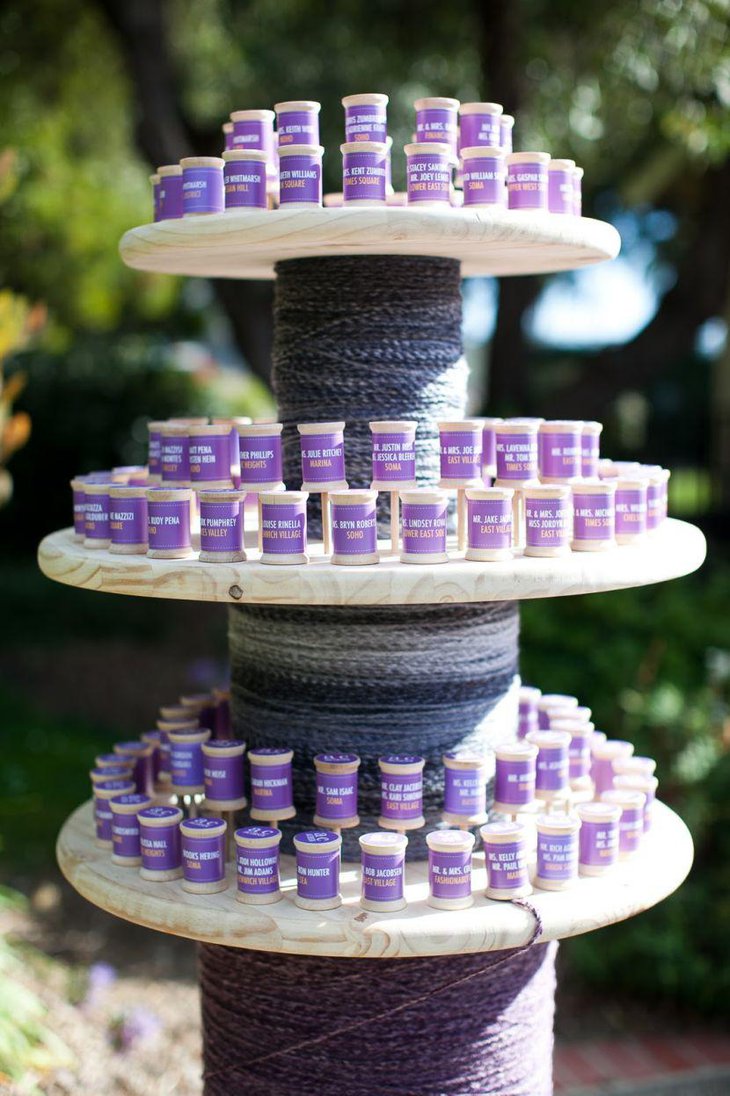 Spool Seat Assignments on Oversized Yarn Spool
Image Credit: blogspot
Vintage Tea Tin Centerpieces
A brilliant idea for adding vintage charm to your tables is using decorative tea tins for your floral arrangements. Decorations themselves, they will add beauty to your tables as they showcase your chosen floral varieties. Tea tins come in a variety of colors and patterns to suit your personality. You can also wrap them in tissue or patterned paper to better fit your needs.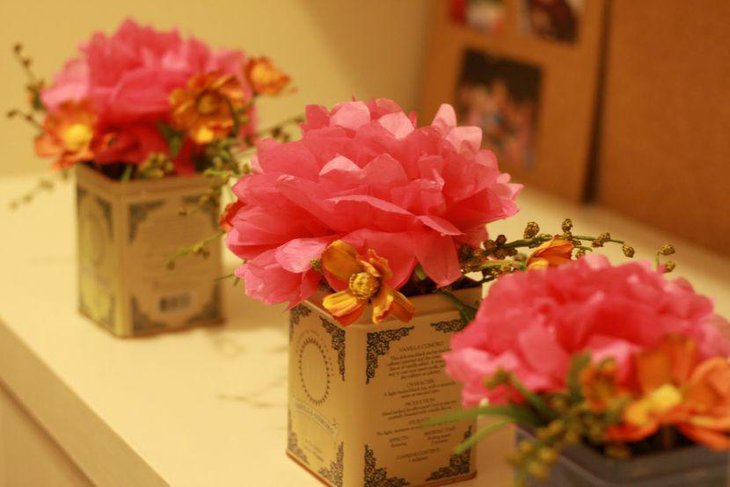 Elegant Tea Tin Flower Pots
Image Credit: wordpress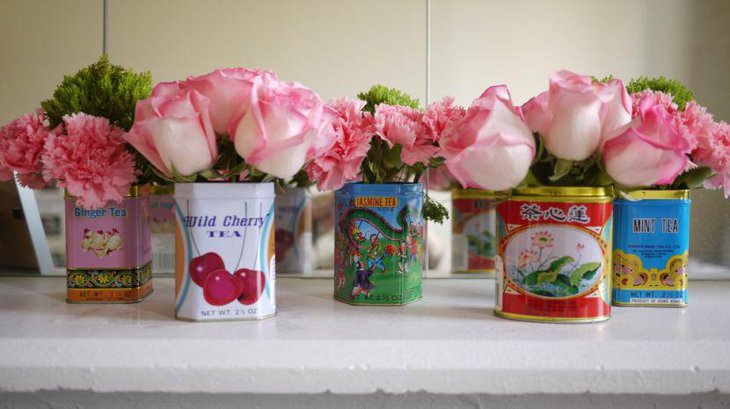 Colorful Vintage Tea Tin Assortment
Image Credit: blogspot
Creative Upside-down Wine Glass Centerpieces
Here's a classy idea; turn wine glasses upside down. Enclose flowers in the cups and place candles on the base. This type of centerpiece is chic and unique. You can even gift the glasses afterward or keep them for your next event.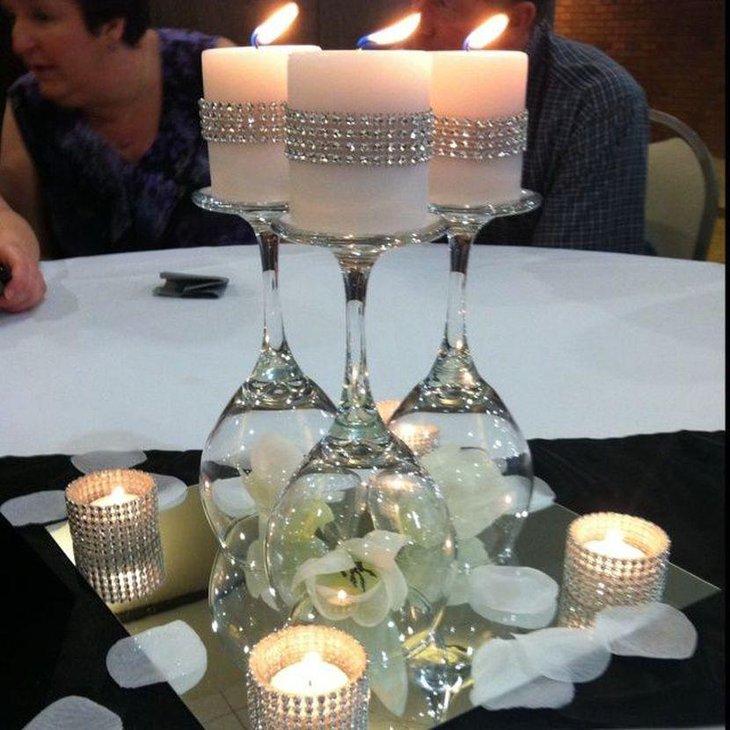 Upside-down Wine Glasses on a Mirror with Candles and White Flowers
Image Credit: pinimg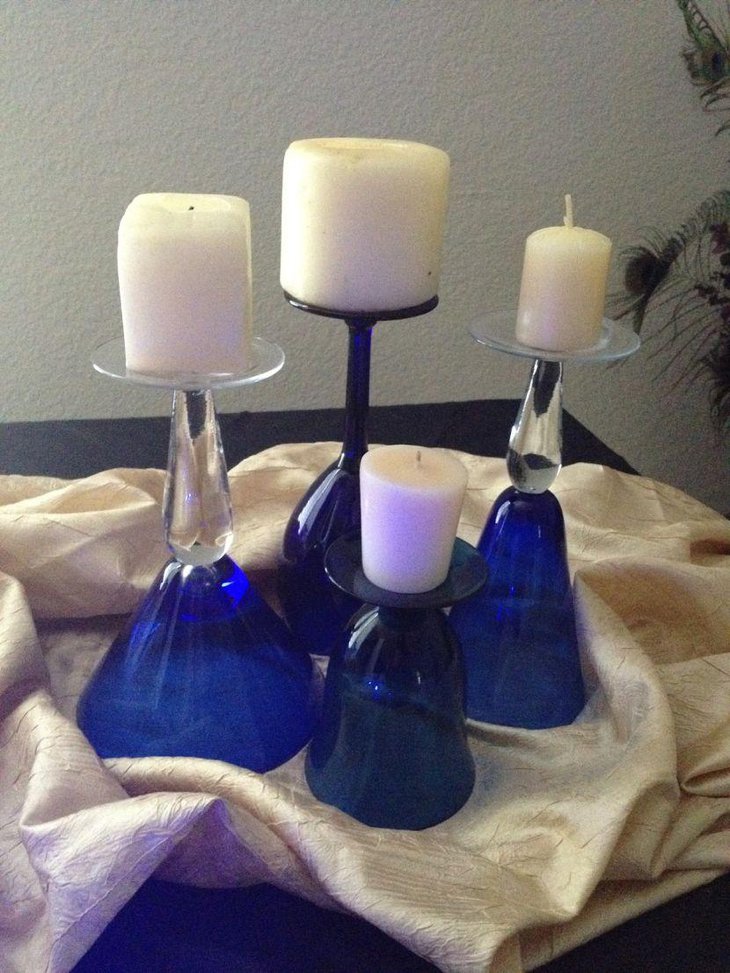 White Candles atop Blue Wine Glasses
Image Credit: blogspot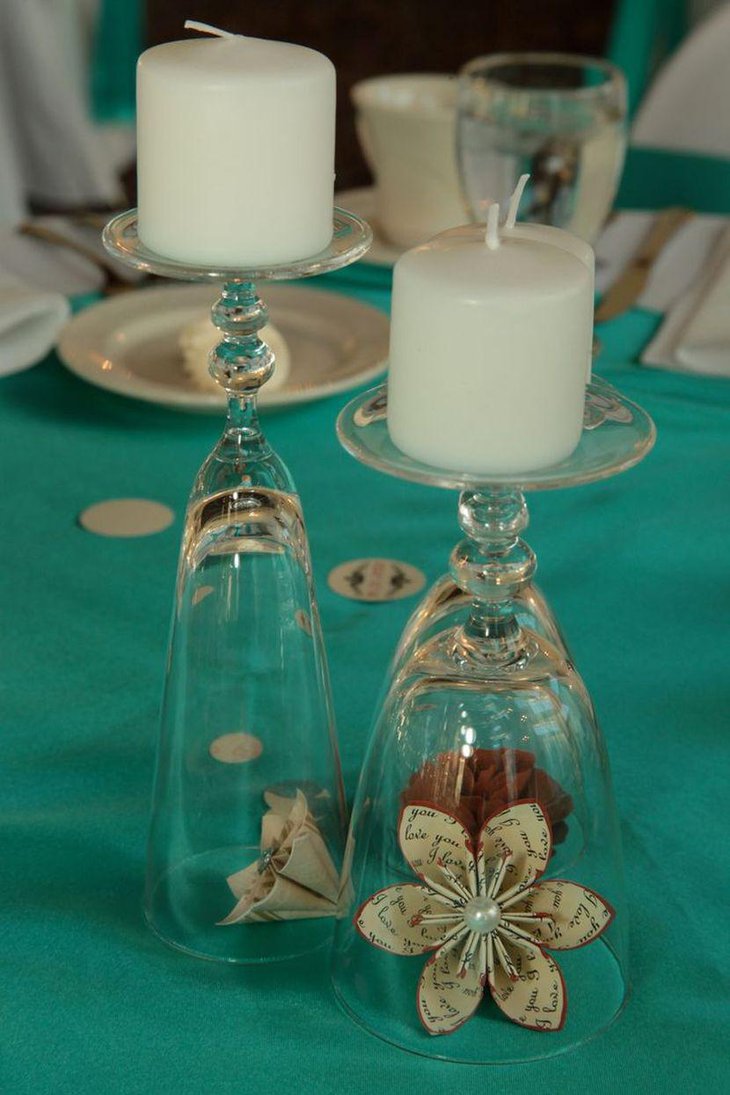 Paper Craft Flowers Enclosed by Wine Glasses with Candles on Top
Image Credit: pinimg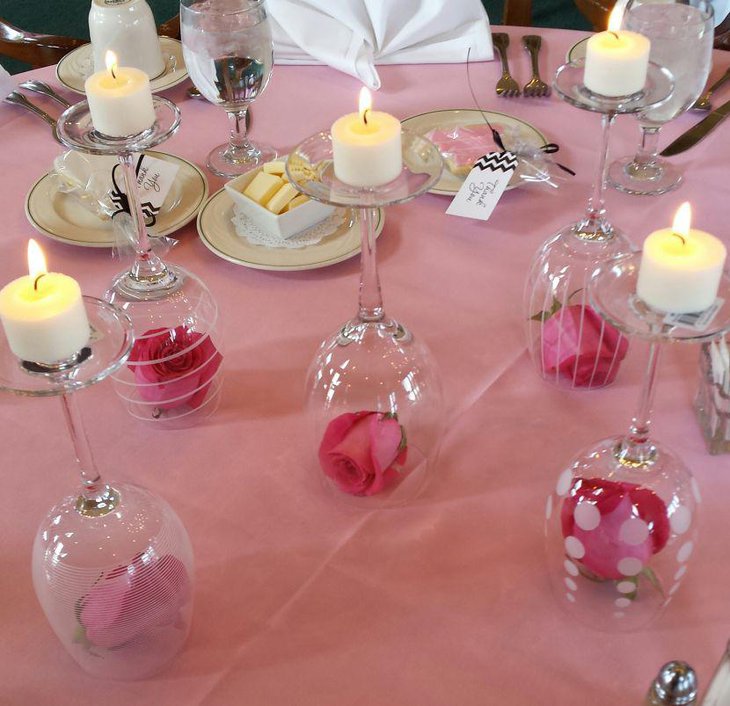 Assorted Wine Glasses, Rose Blooms, and Candles
Image Credit: weddingbee
Shimmery Wine Bottle Centerpieces
While you have the glasses, add the bottles too! Glitz up used wine bottles in shimmering gold, silver, red, blue, or green. Display them on their own or add sprouting flowers.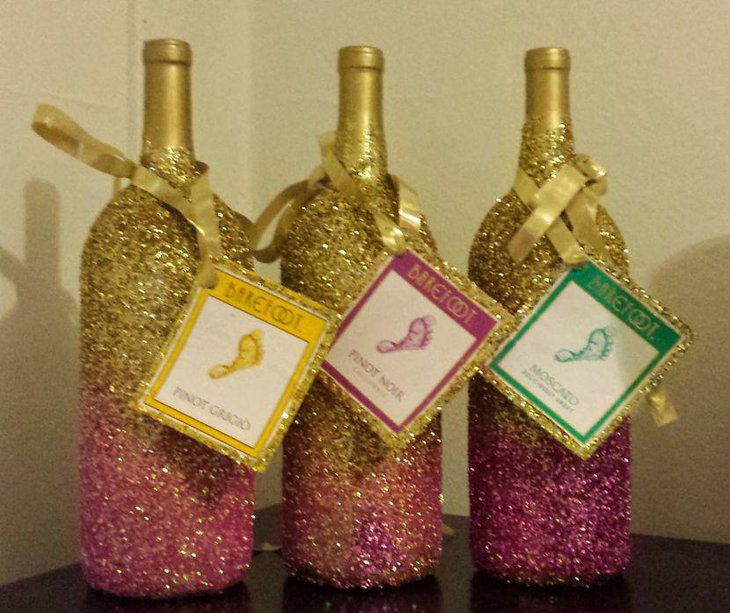 Glittery Wine Bottle Centerpieces
Image Credit: muirhannavineyards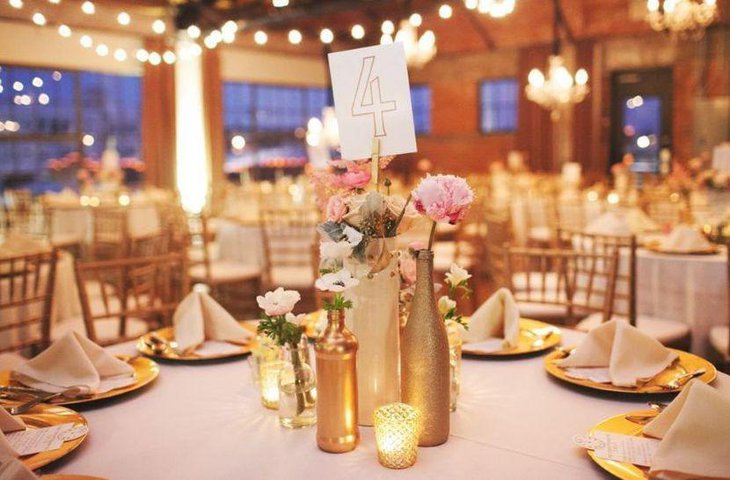 Gold Painted Wine Bottle Vase
Image Credit: homedit
Unique Fishbowl Centerpieces
Fishbowls make perfect display dishes. Add life to your table with a real fish or two in the bowls or fill them a colorful assortment of beads, floating candles, or flowers.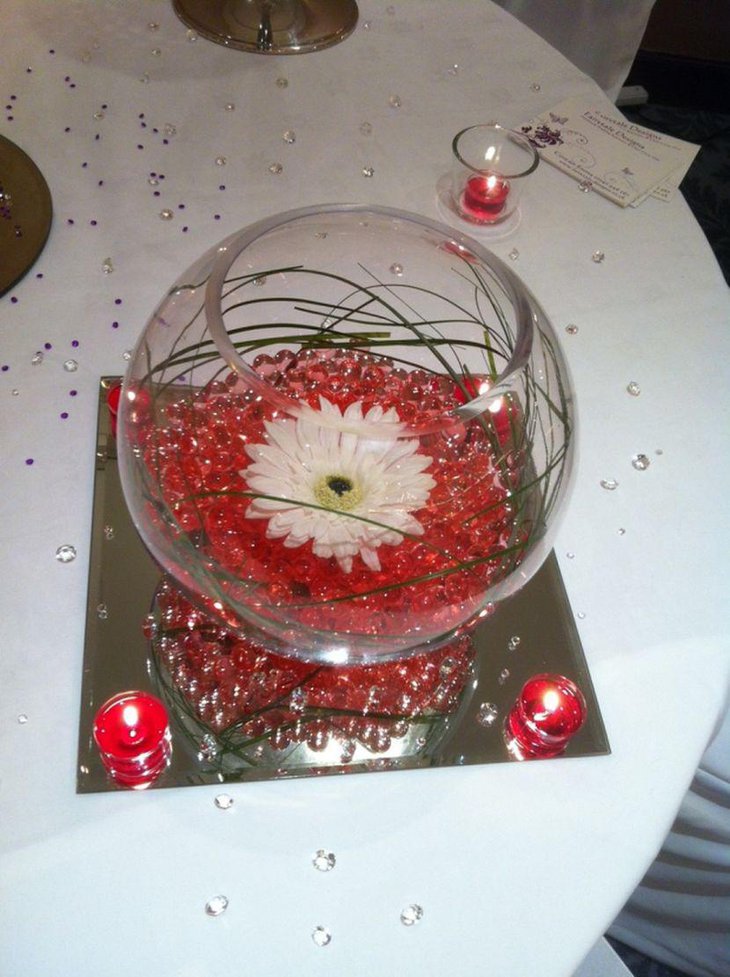 Decorative Fishbowl Filled with Colored Glass Stones and Flower Bloom
Image Credit: fairytale-designs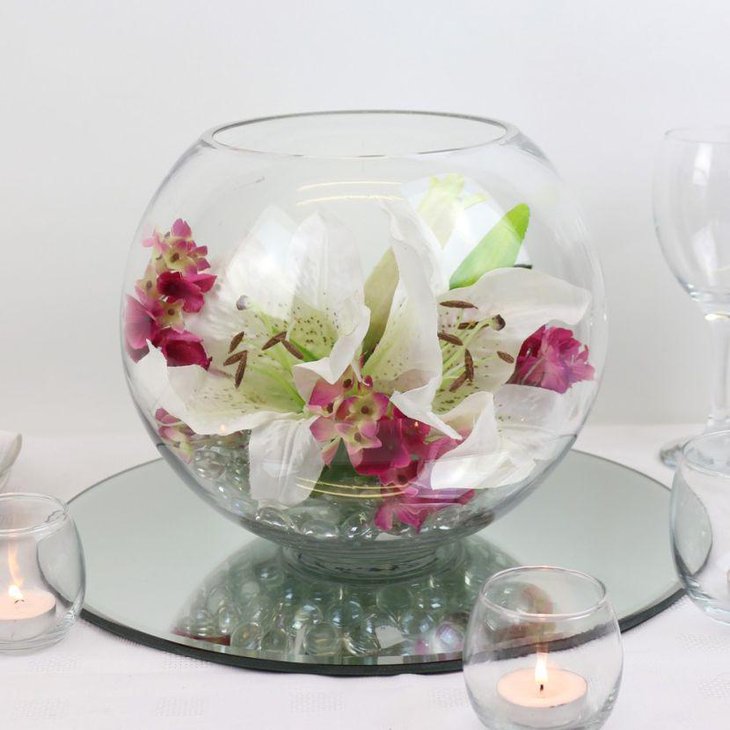 Clear Glass Stones and Lilies in Fishbowl Display
Image Credit: zogz
Log Centerpiece Ideas
Go natural with table centerpieces made from logs. If you love the woods or homesteading, this is a fitting idea. You can surround the logs with greens and flowers, paint the ends for a colorful display, or etch designs into the sides.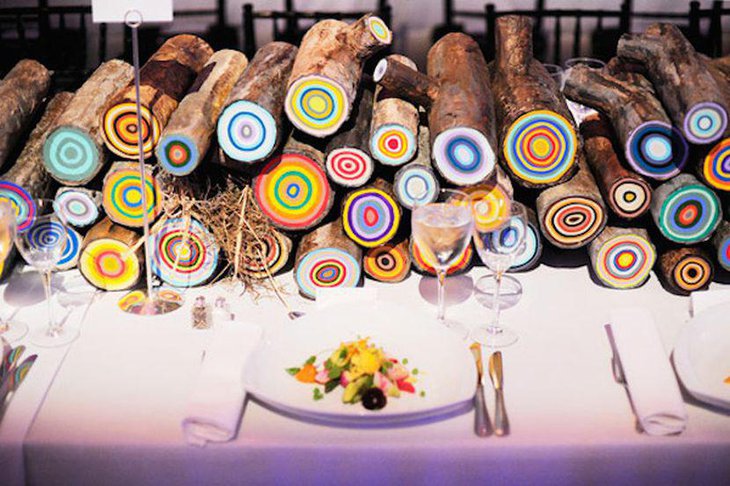 Small Burning Logs with Painted Designs on Ends and Branch Stubs
Image Credit: cpnscdn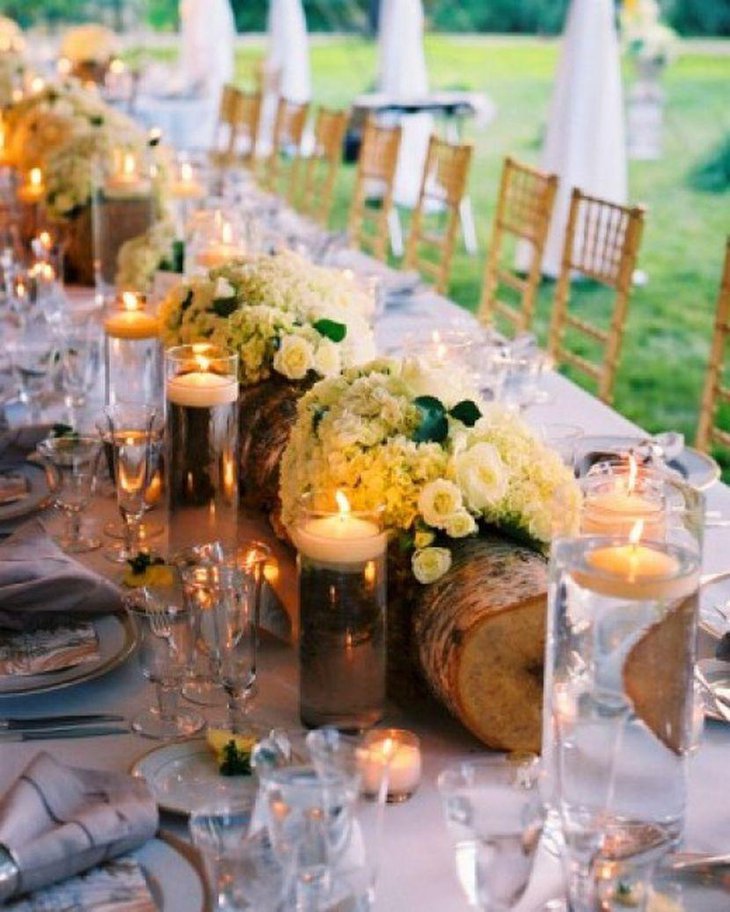 Floral Arrangements on Log
Image Credit: hubimg
Gumball Centerpieces
Make your wedding fun with some candy flair. Coordinate them by color or mix them for to add random pops of bright shades. It's a whimsical idea that shows the vibrant and joy-filled life you intend to have with your spouse.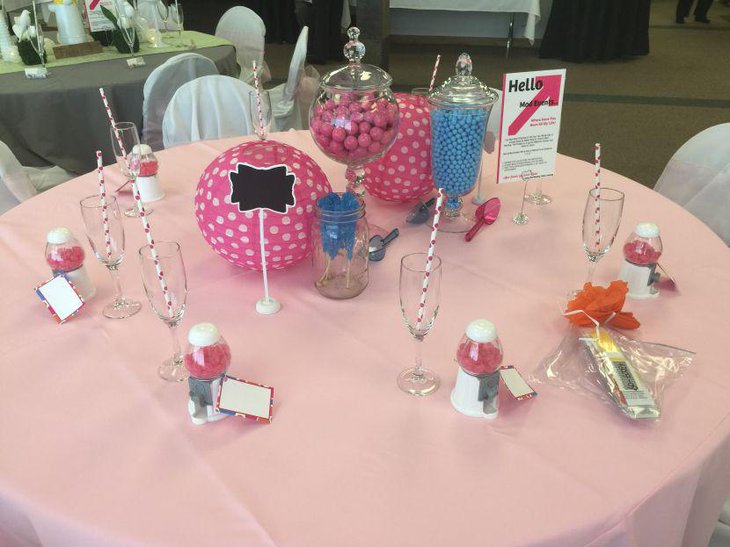 Gumball Jars with Festive Straws and Party Favors
Image Credit: alegrekreations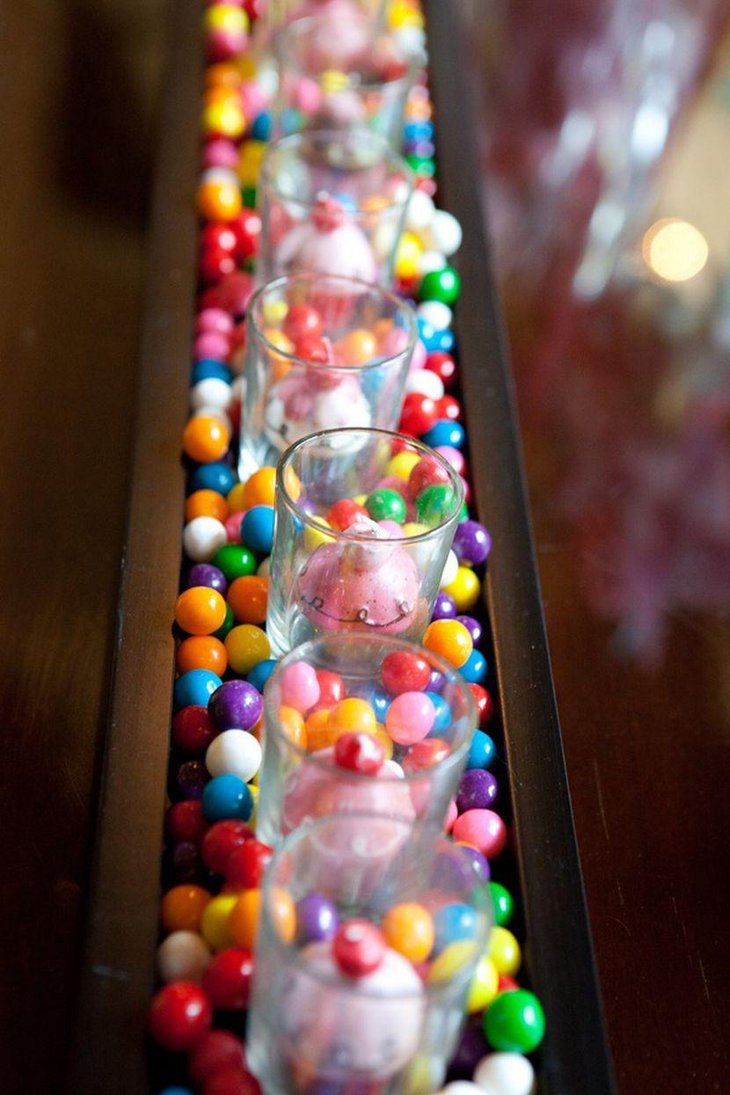 Gumball and Confectionary Dessert Centerpiece
Image Credit: cpnscdn
Elegant, rustic, or whimsical, these DIY wedding centerpieces each have a unique character but are all easy and economical to create. Browse back through them and pick your favorites!