Candy tables are becoming more popular at weddings. You can add candy displays to your dessert offerings inexpensively or substitute a decorative candy table for the traditional cake. You can also add your own style to a candy table with relatively little effort at a price you're comfortable with.
View these examples to get you started. They range from simple to extravagant in a wide variety of styles. Pick out your favorites and then adapt them to the theme and feel of your wedding.
DIY Candy Table Ideas with Glass Dishes
Most candy tables display the confections in clear jars or bowls so that the colorful candy can provide part of the decoration. You can use Mason jars, clear vases, or display bowls. Use variously sized jars and color coordinate the candy for the most stylish appeal. Gather glass containers around your home or purchase them cheaply from thrift or bargain stores.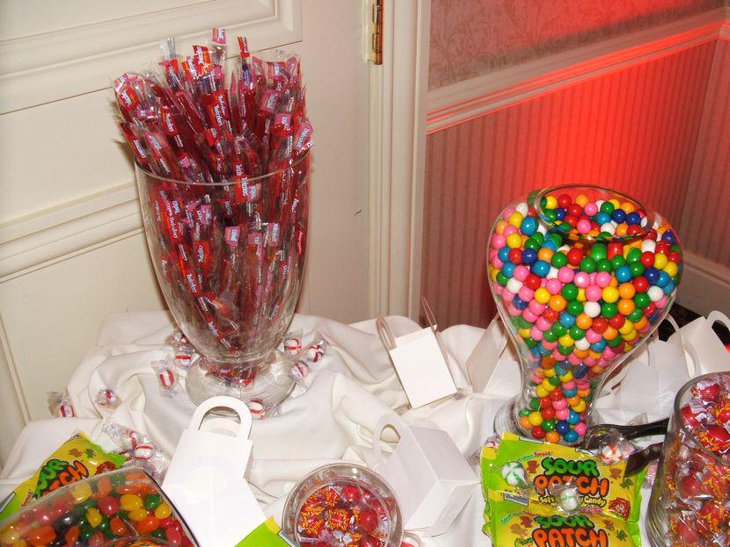 Brand Candy in Glass Vases
Image Credit: blogspot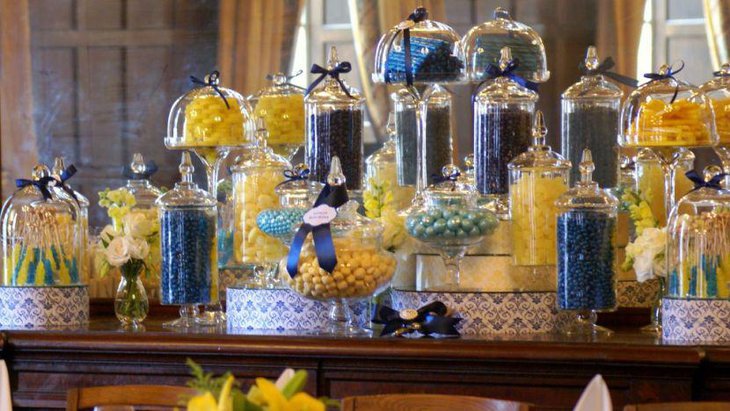 Color Coordinated Candy in Glass Dishes
Image Credit: mazelmoments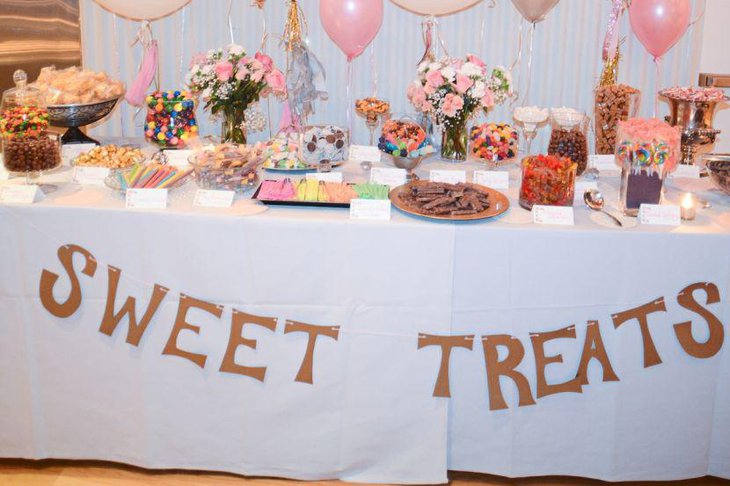 Candies in Display Dishes
Image Credit: runwaychef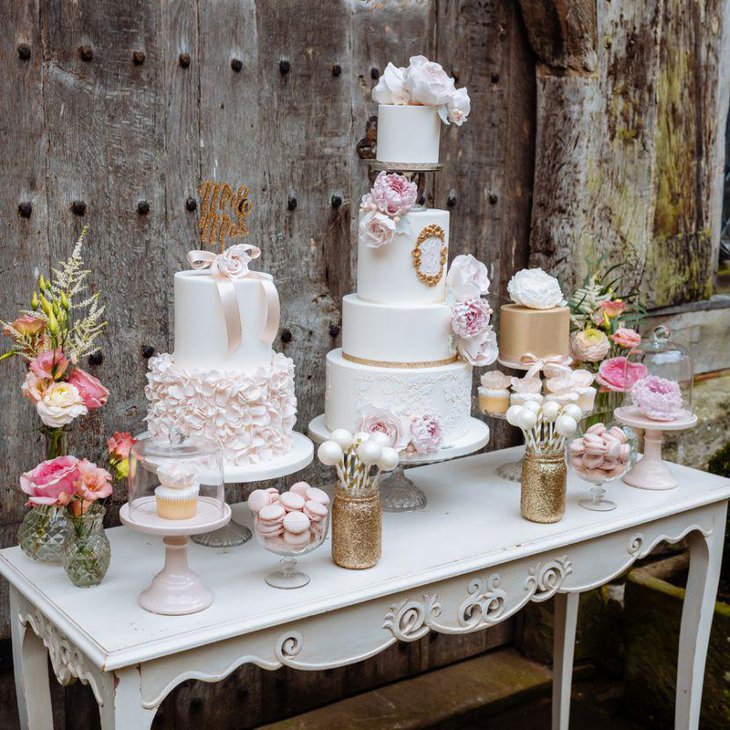 Fondant Cake Pops in Glittered Vases
Image Credit: shopify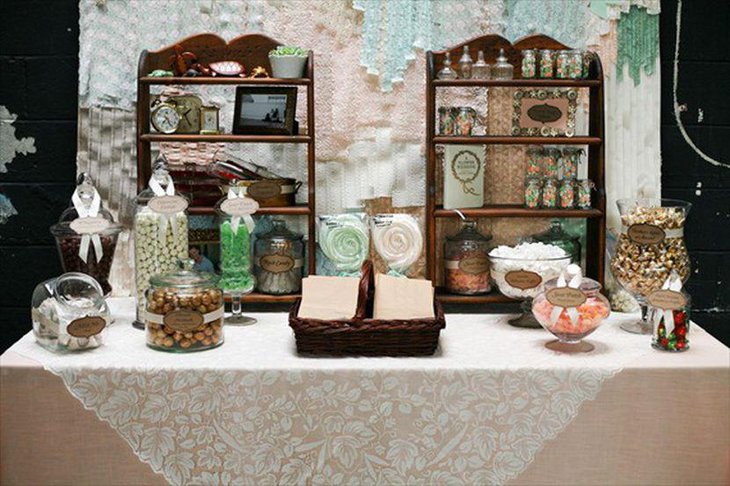 Nuts and Candy in Glass Jars and Bowls
Image Credit: emmalinebride
Paper Craft Décor
Homemade paper crafts add a unique charm to party tables. You can use paper or tissue paper to craft creative decorative pieces and embellishments, such as pinwheel or floral decorations for the table. Decorate your jars with tissue paper wrapping or tag the dishes with handmade labels in the shape of hearts or bride and grooms.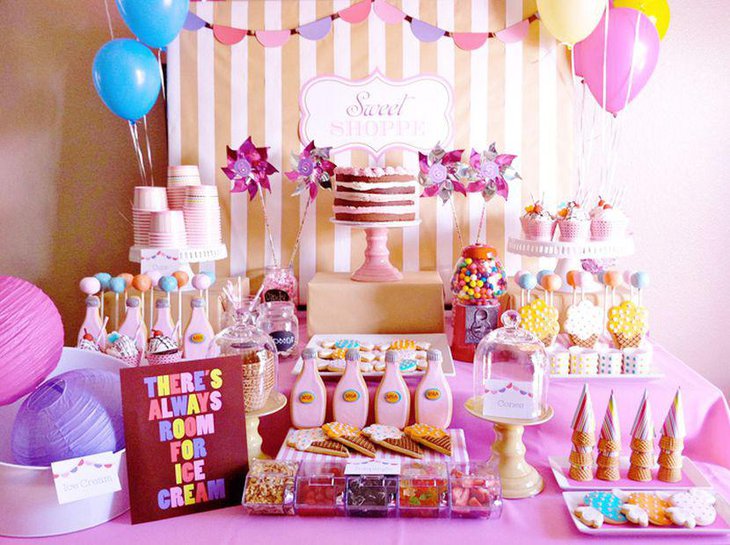 Paper Pinwheel Decorations
Image Credit: cake-geek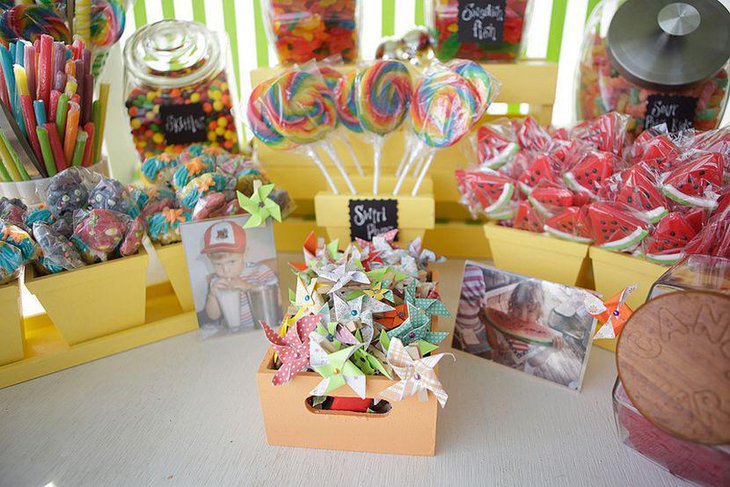 Pinwheel Decorations and Labels
Image Credit: staticflickr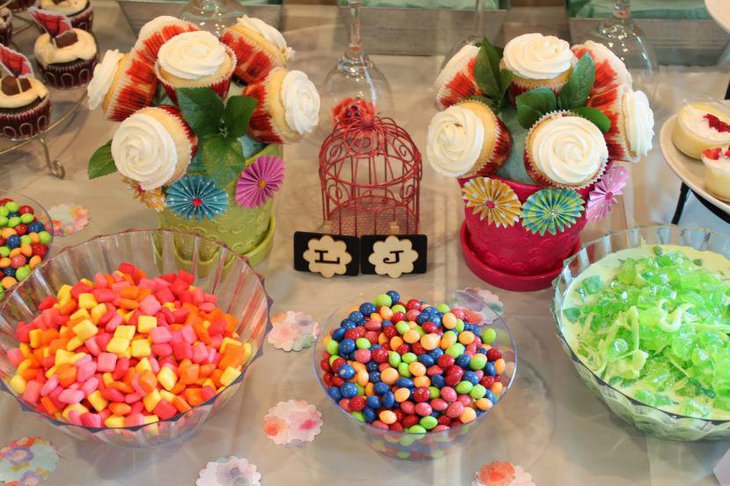 Homemade Labels and Pinwheels on Pots
Image Credit: blogspot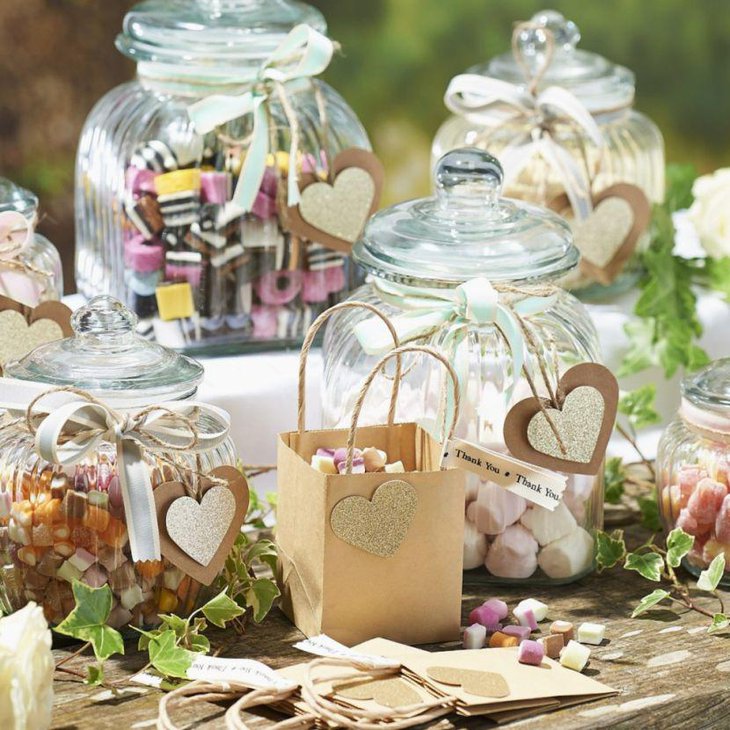 DIY Heart Tags
Image Credit: hobbycraft
Candy Tables with Messages
Along with your glass display dishes, continue the romantic theme of the wedding with letter-shaped bowls. Fill them with candy and arrange them with a simple word or spell out the couple's joint last name. The initials of the bride and groom or "Mr and Mrs" are also cute ideas.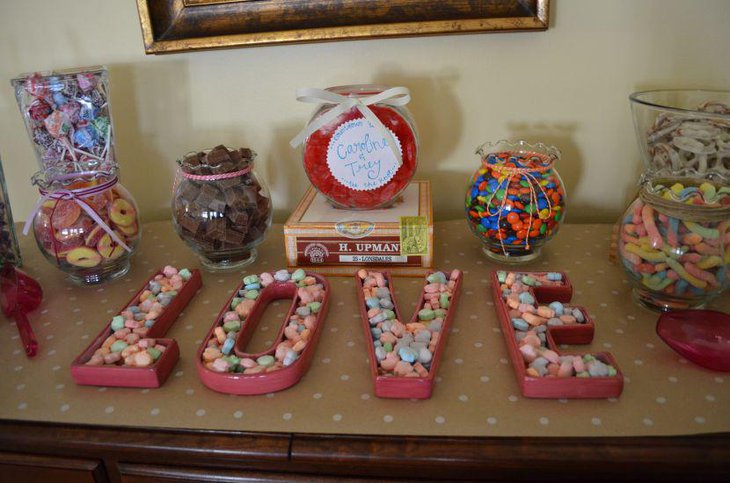 Letter Dishes on Candy Buffet Table
Image Credit: wordpress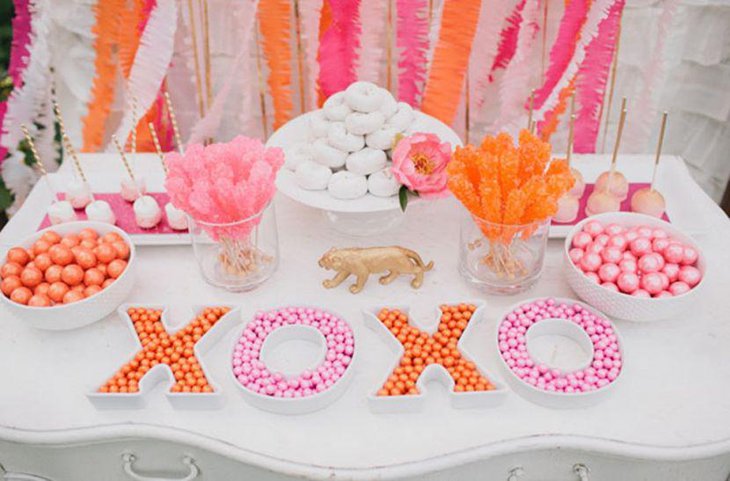 Kisses and Hugs Theme Letter Dishes
Image Credit: mazelmoments
Red-themed Candy Tables
Emphasize the passion of newlyweds with red candies, table runners, flowers, and backdrops. Wrap your candy jars with red ribbons or lace.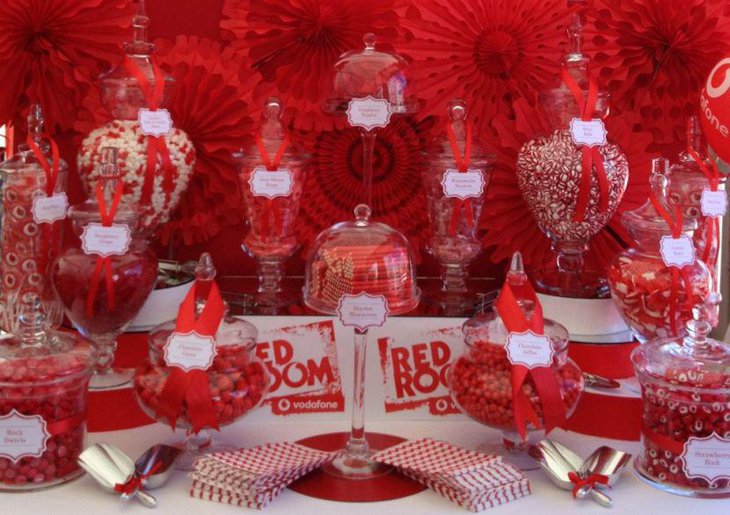 Red Candies and Ribbons against a Red Paper Floral Backdrop
Image Credit: mazelmoments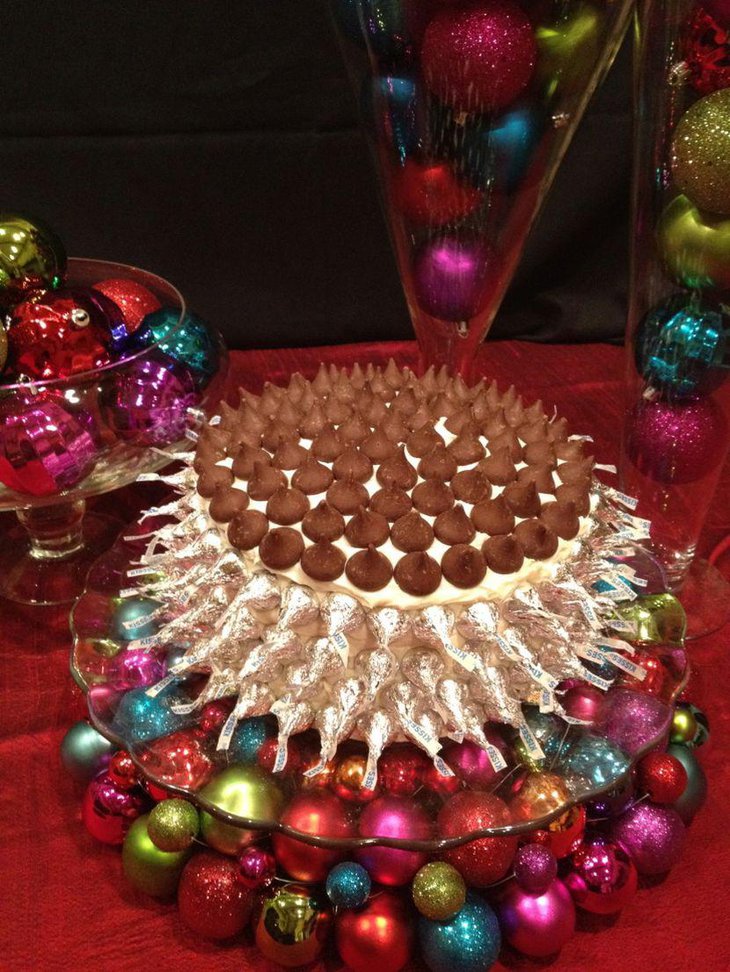 Christmas Wedding Dessert Table with Red Tablecloth and Ornaments
Image Credit: besidesign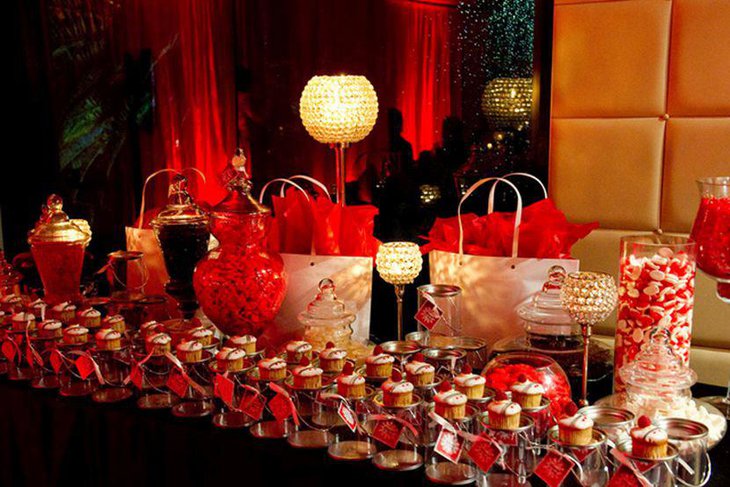 Red Candy Night on the Town Theme
Image Credit: doltonehouse
Floral Décor
Add floral décor to your candy table to incorporate it into your theme or accentuate the colors of the candy. Use real or paper flowers, depending on your style. Place flowers in vintage or rustic style vases and pots for unique charm. Mason jars, decorative tea tins, garden pails, and antique vases are all contenders.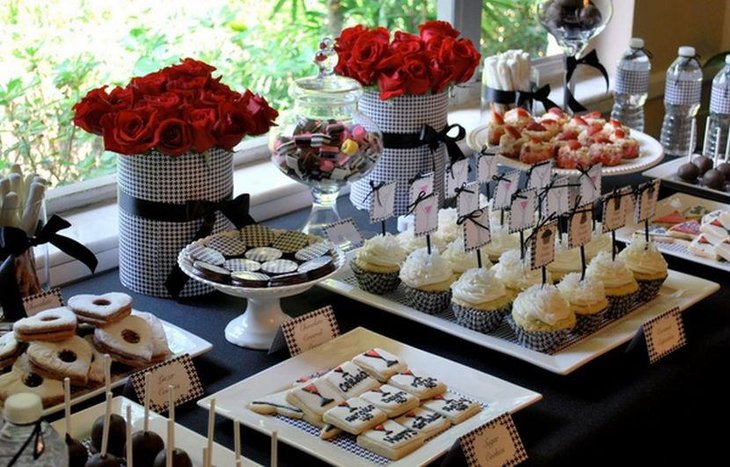 Candy Table with added Floral Color
Image Credit: minimalisti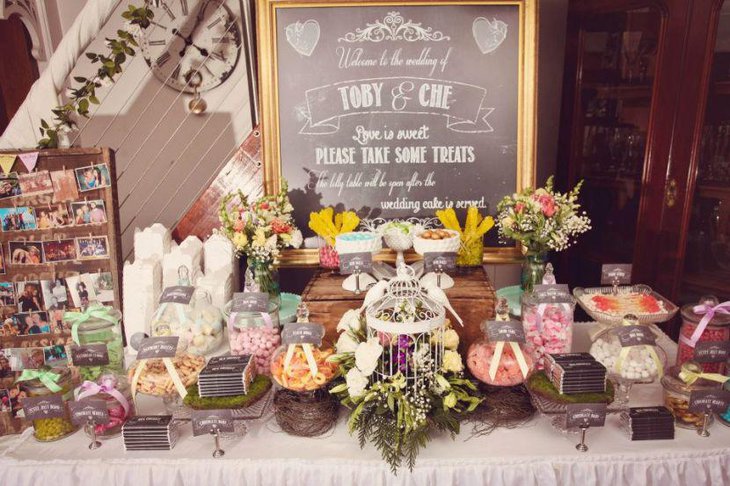 Floral Centerpieces for Added Charm
Image Credit: cloudfront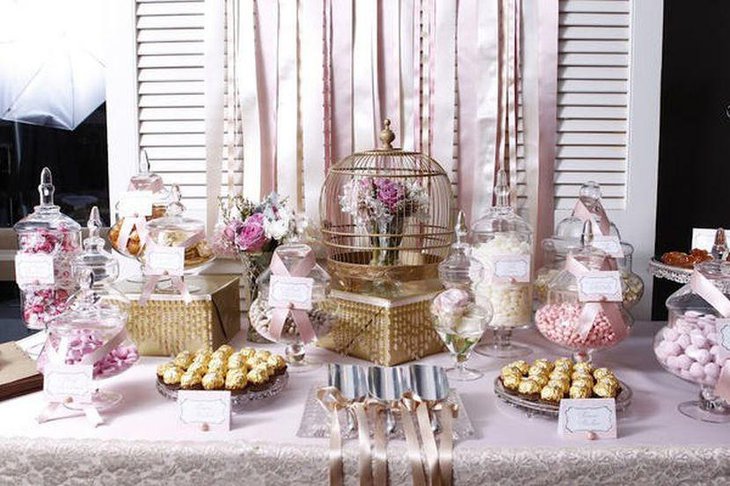 Vintage Table Display
Image Credit: kssm3
Lace and Burlap Candy Table Décor
Lace adds elegance but can fit just as well in a rustic setting. See these examples for how to your candy jars in burlap or line your table with burlap or lace tablecloths and runners.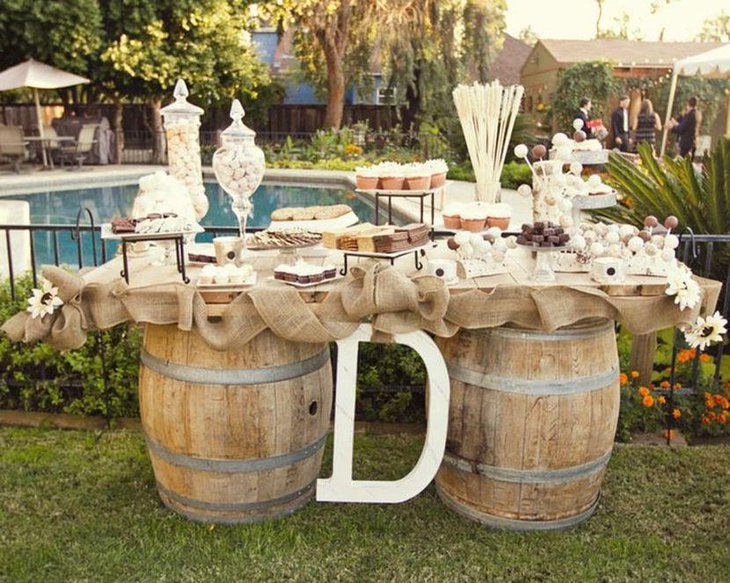 DIY Wedding Candy Table with Barrels and Burlap
Image Credit: pinimg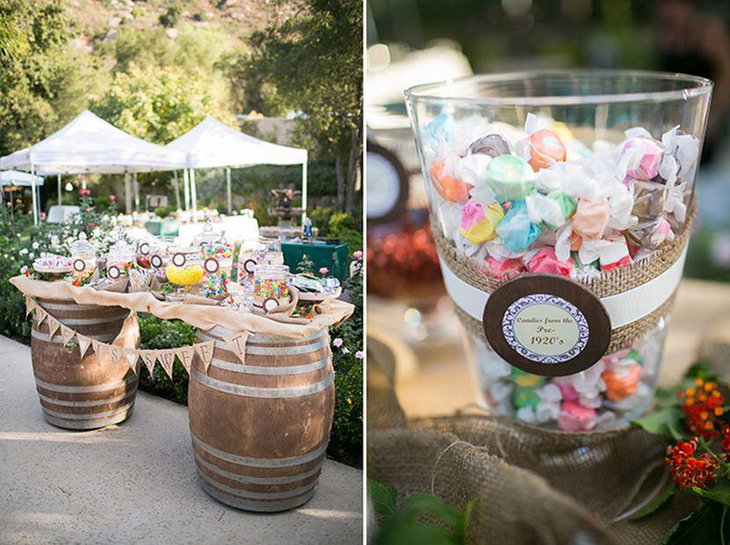 Burlap Wrapped Candy Jars
Image Credit: glamourandgraceblog
Burlap Table Cloth
Image Credit: catchmyparty-cdn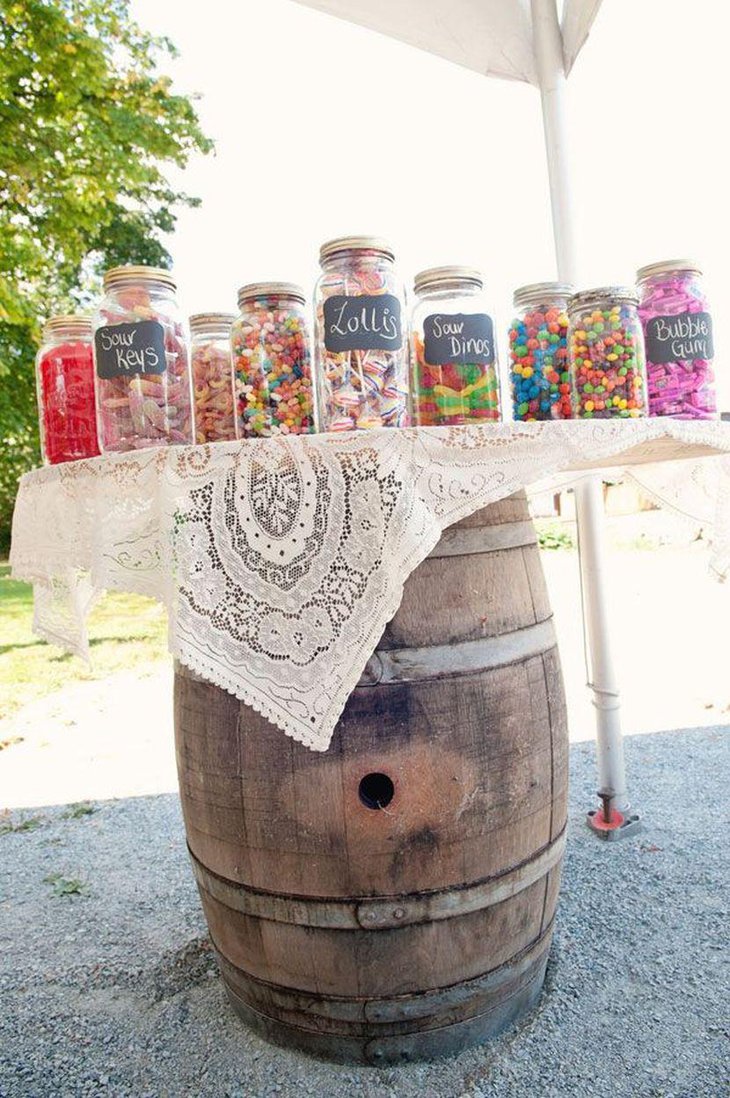 Lace Tablecloth in Rustic Setting
Image Credit: pinimg
Color Themed DIY Wedding Candy Table Ideas
Here are a few more of our favorite dessert table examples. They display a unique color scheme or use assorted colors with a primary base.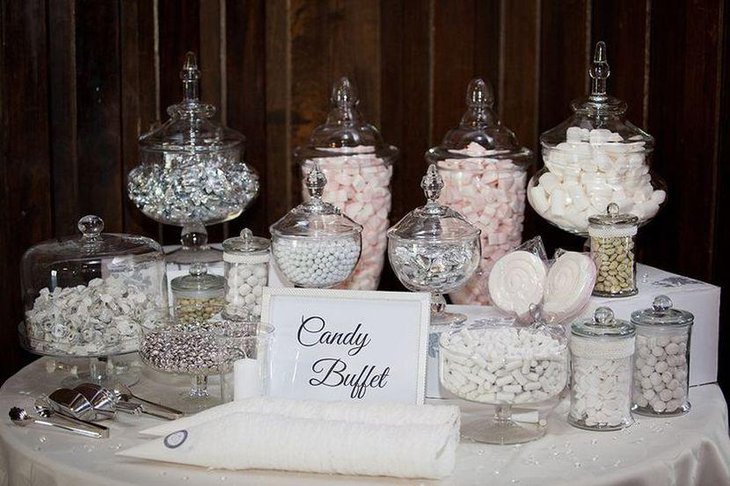 White Candy Table with Pink, Gold, and Silver Accents
Image Credit: pinimg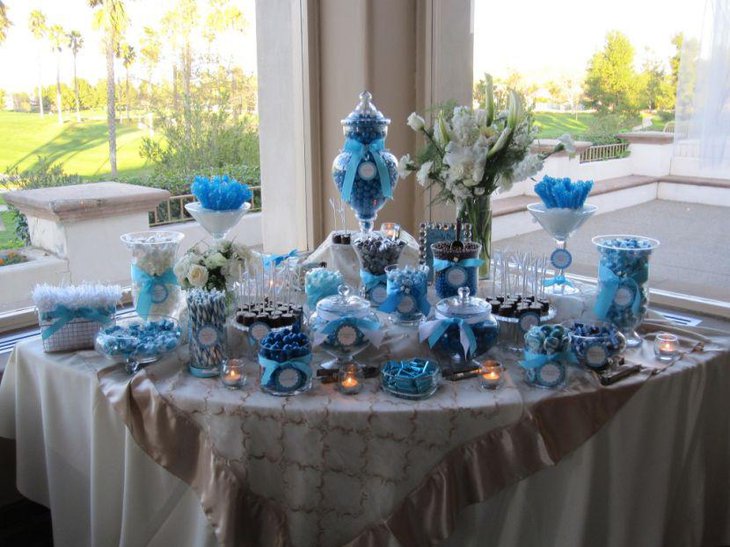 Blue-themed Candy Table
Image Credit: mazelmoments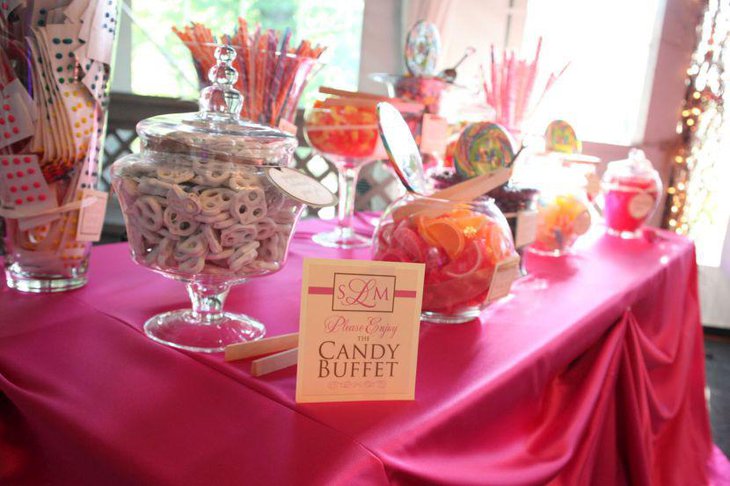 Rainbow Candy Table
Image Credit: philadelphiawedding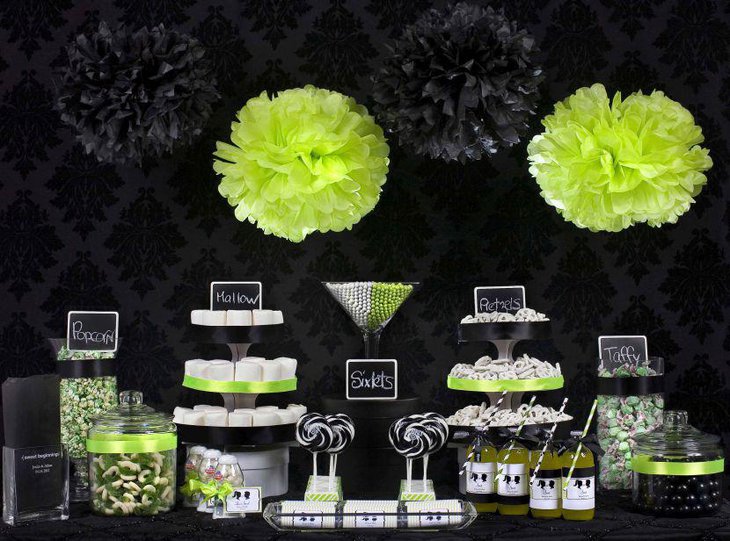 White, Black, and Neon Green Color Scheme
Image Credit: lolcandy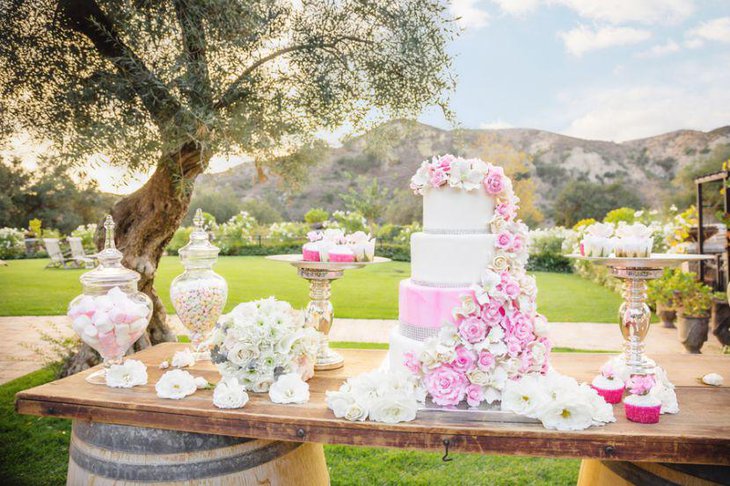 White and Pink Floral Dessert Table
Image Credit: blogspot
Assorted Candies with Purple Theme
Image Credit: photobucket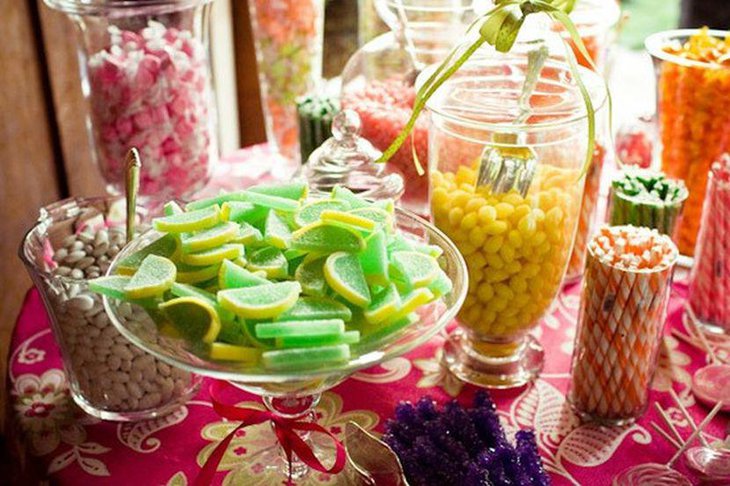 Colorful Candy Table
Image Credit: weddbook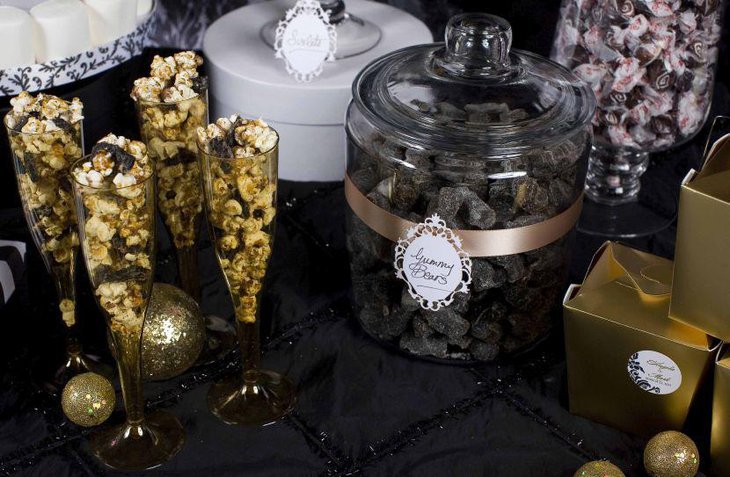 Black, White, and Gold Candy Display
Image Credit: lolcandy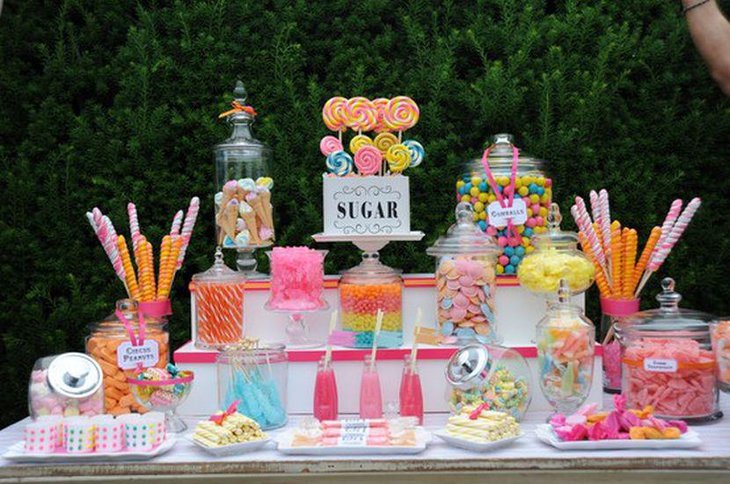 Pastel Candy Table
Image Credit: weddbook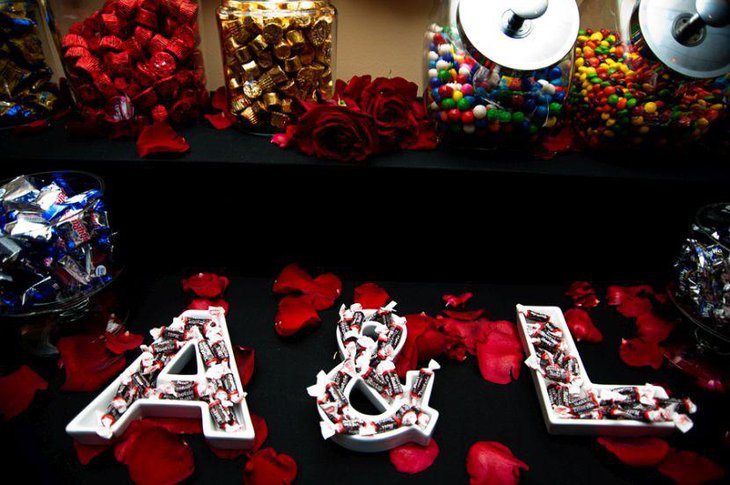 Red Rose with Couple Initials and Assorted Candies
Image Credit: unitedwithlove
Decorating the candy table at your wedding won't be difficult. Simply gather various jars, dishes, or bowls and choose candies that match your color scheme to fill them with. Refer back to these candy table ideas for adding flowers, labels, and tablecloths.