Hey friends!! The minutes are ticking away and soon it will be Christmas Day – a day to celebrate with near and dear ones. How about planning on decorating your tables uniquely this Christmas? Well, here are the top 37 silver and gold Christmas decorations that will add shimmering sparkles to your festive tables.
When it comes to decking up tables for Christmas, we often think the usual way, i.e., red and white. But there are other two equally elegant tones that can make the festive tables look grander than grand – silver and gold. Try out these silver and gold Christmas decorations this time and see the magic unfold!
Gorgeous silver and gold Christmas table decorations using baubles
Christmas is all about spreading laughter and love all around, and when this fever catches you, its only fun that you are looking for everywhere. Right from choosing the menu for Christmas, to dressing up, to deciding on the decor, there are a hundred things running on your mind. If you thought only red and white worked perfectly for a holiday decor, you are on the wrong track. Now a days, most festive decorations feature the elegant colors of gold and silver.
When it comes to decking up the festive tables, these two colors are the preferred choice for most. Below, we have presented quite a gorgeous collection of beautiful Christmas tables featuring decorative baubles in silver and gold. Golden Christmas tree decorations along with silver baubles lend a cheerful look. If you are planning for gold table decorations, use different shaped golden accented balls on vases or spread them across the table. Baubles are typical Christmas accessories and can be used for gussying tables elegantly.
Silver themed dinner table decorated with shimmering Christmas tree balls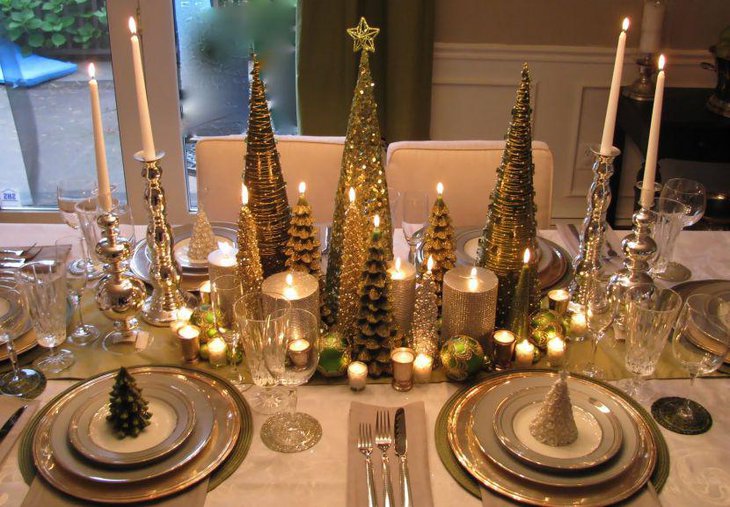 Image Credit: trusttown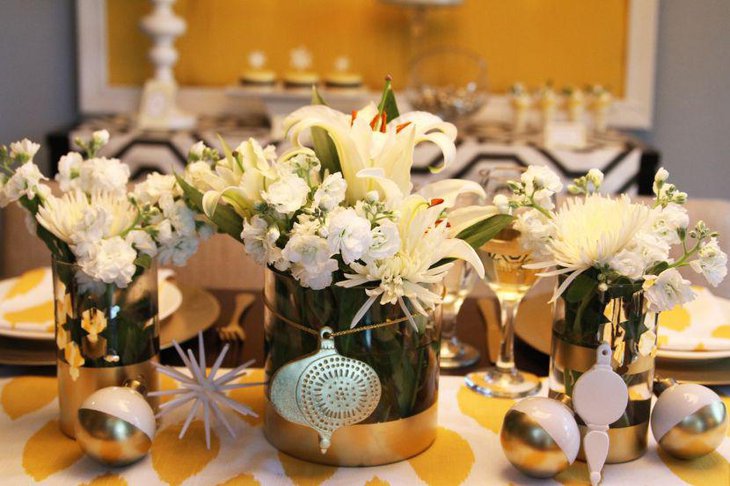 Golden accented table decor with flowers and Christmas baubles
Image Credit: partythemes101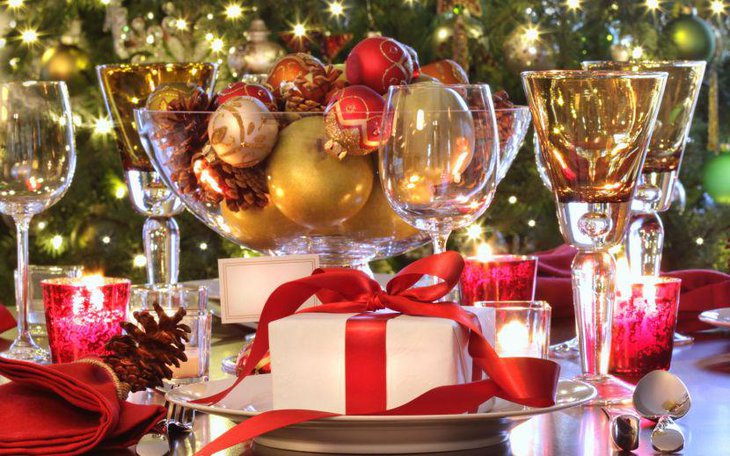 Shimmering golden and red Christmas bauble decoration
Image Credit: snydle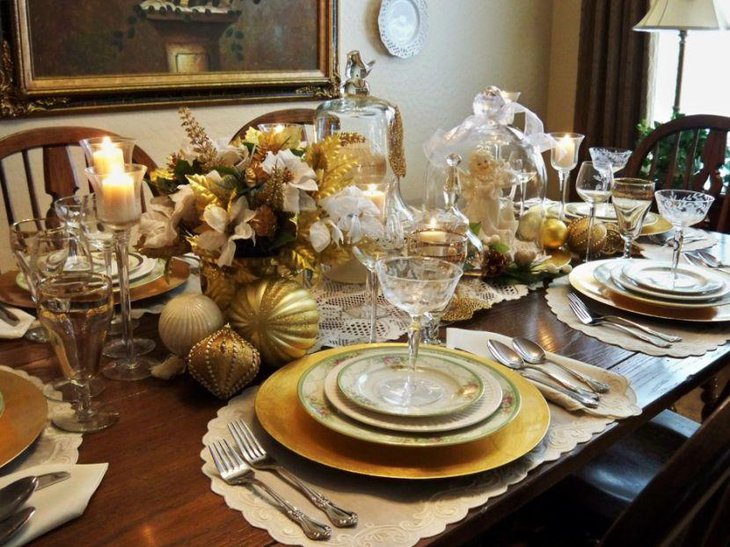 Golden themed Christmas table decorated with flowers and golden balls
Image Credit: foundedproject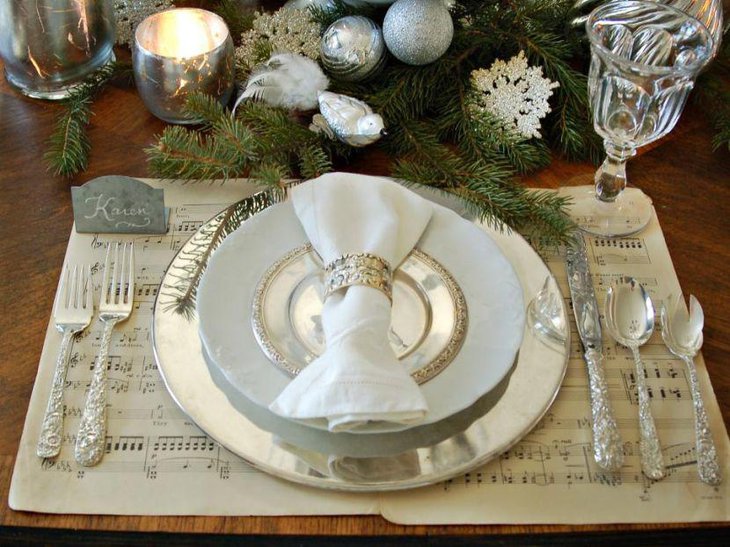 Stunning sillver cutlery and balls are decking up this Christmas table
Image Credit: sndimg
Stunning silver Christmas decorations using candle sconces
Geedee ya!! We are here to show you exactly how you can set the tone for decorating your festive tables with elegant silver Christmas decorations. Candles and sconces form an essential feature of any Christmas table decoration, and this is what we are showcasing in this fabulous roundup. Sconces in silver tones set the mood for ringing in festive spirits, and there are a number of styles to pick from.
If you have a white tablescape and are into flowers, then silver sconces can suit you well. You can have a crystal candle scone whose base is made of silver and then place white candles and floral arrangements for an elegant affair. Choosing thick or sleek sconces is entirely up to you and no matter what you pick, these will always help you get a 'wow' look.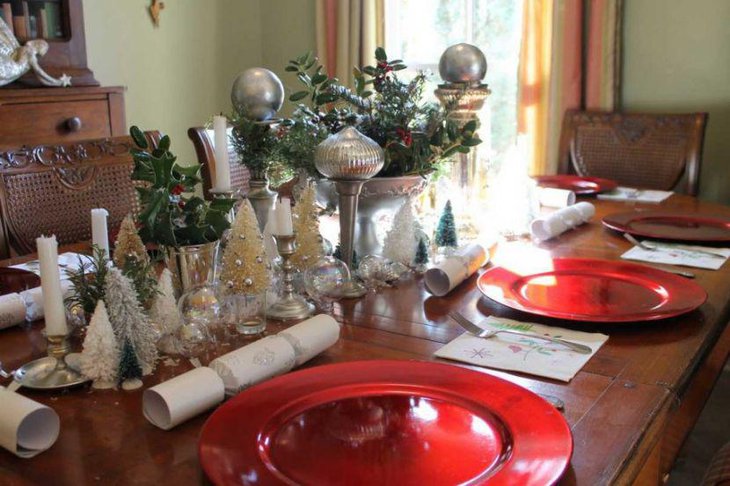 Silver balls and sconce decor on Christmas table
Image Credit: trusttown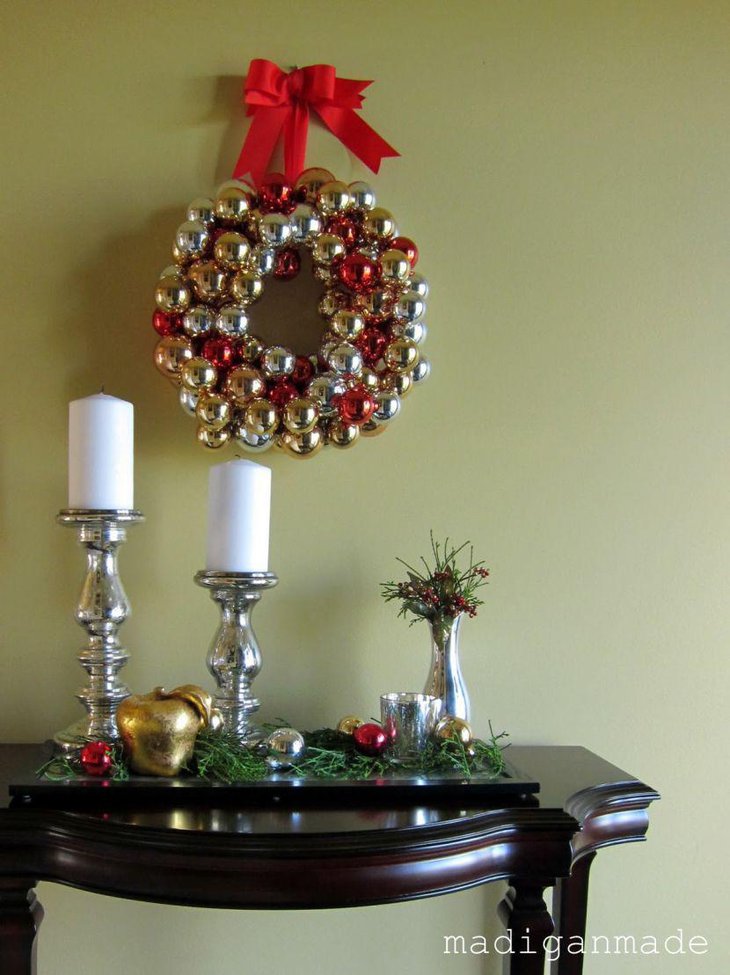 Spectacular silver sconces and white candles decorated on this table
Image Credit: tratone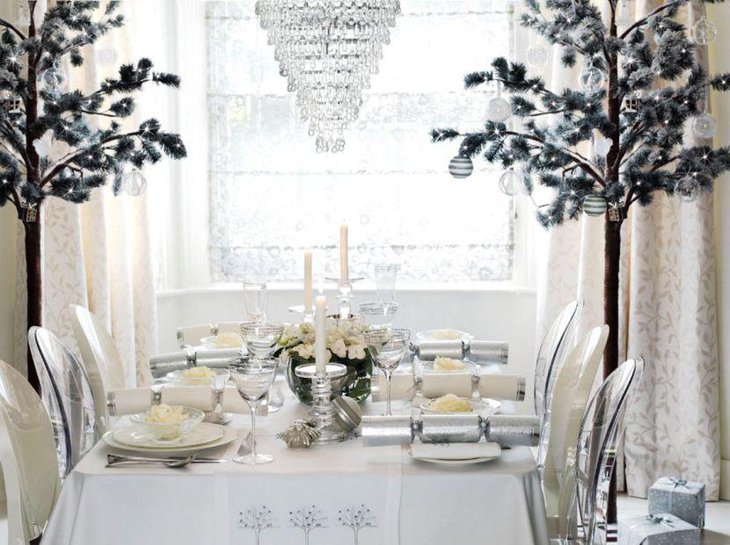 Gorgeous silver sconces with white candles on table
Image Credit: iwallfree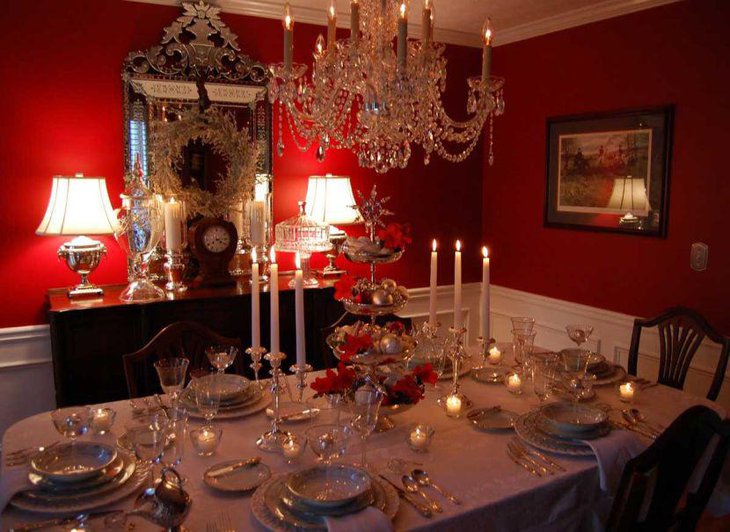 Astonishing Christmas tablescape with silver candle holders
Image Credit: pinimg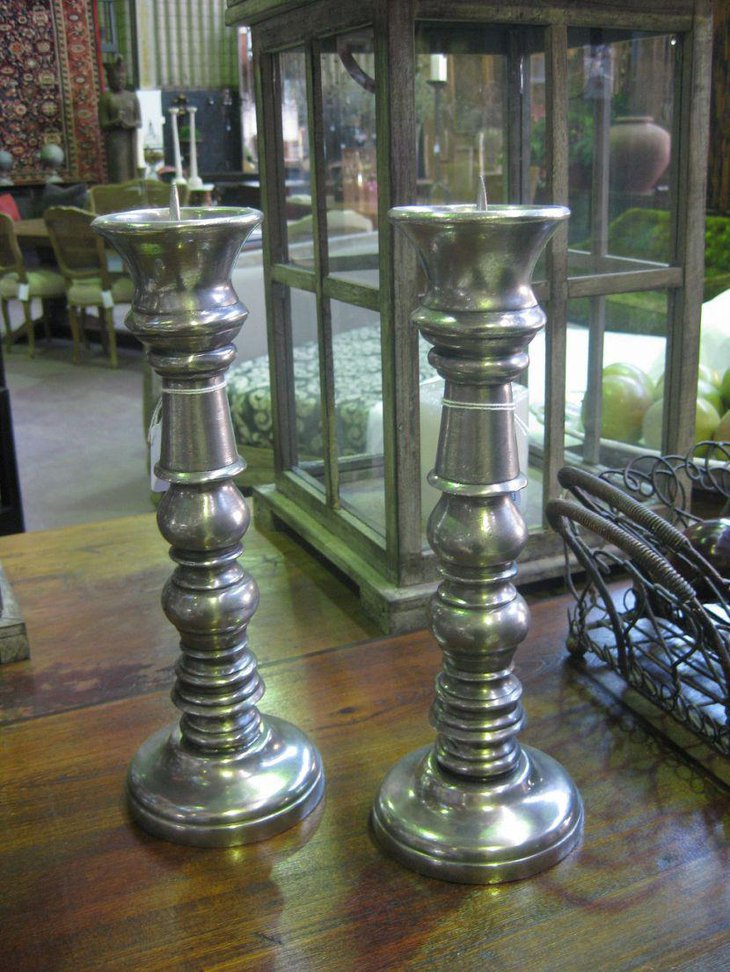 Alluring silver sconce decoration for Christmas table
Image Credit: blogspot
Alluring gold and silver Christmas Dessert Table
A Christmas dessert table with yummy treats and sweets is the honey pot of every party, and this is where all your guests and kids are likely to hover around for grabbing that one delicious bite into the mouthwatering crispies, macaroons and cupcakes. Come let's begin this festive cheer by showcasing you a few lovely looking Christmas dessert table decorations in stylish tones of gold and silver.
For a festive sweets table, you can serve hot cocoa in mugs embellished with silver or golden accented ribbons. You can also place small spoons dipped in white chocolate and sprinkle the tables with golden dust powder. A sumptuous spread of spicy gingerbread cookies featuring silver or golden sprinklers or swirls is another awesome idea, and we bet your kids will love these treats to the hilt. Oh before we forget, there is yet another fab idea to use this Christmas – place hot coco mugs on a tray decked up with sequin balls in gold. Awesome …right!!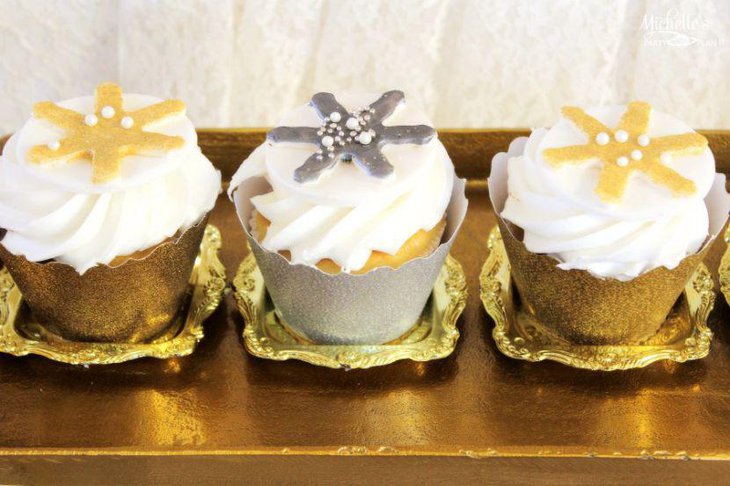 Gold and silver wrapped cupcakes for Christmas dessert table
Image Credit: michellespartyplanit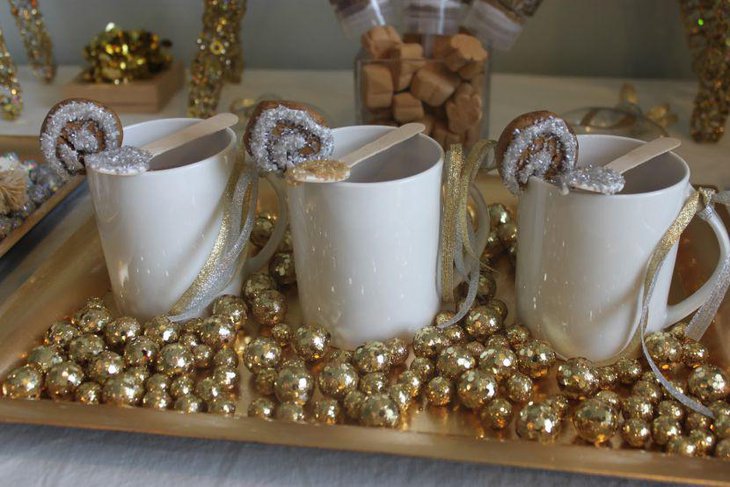 Pleasing dessert tablescape using golden and silver treats
Image Credit: blogspot
Stylish black and gold Christmas dessert table
Image Credit: lillianhopedesigns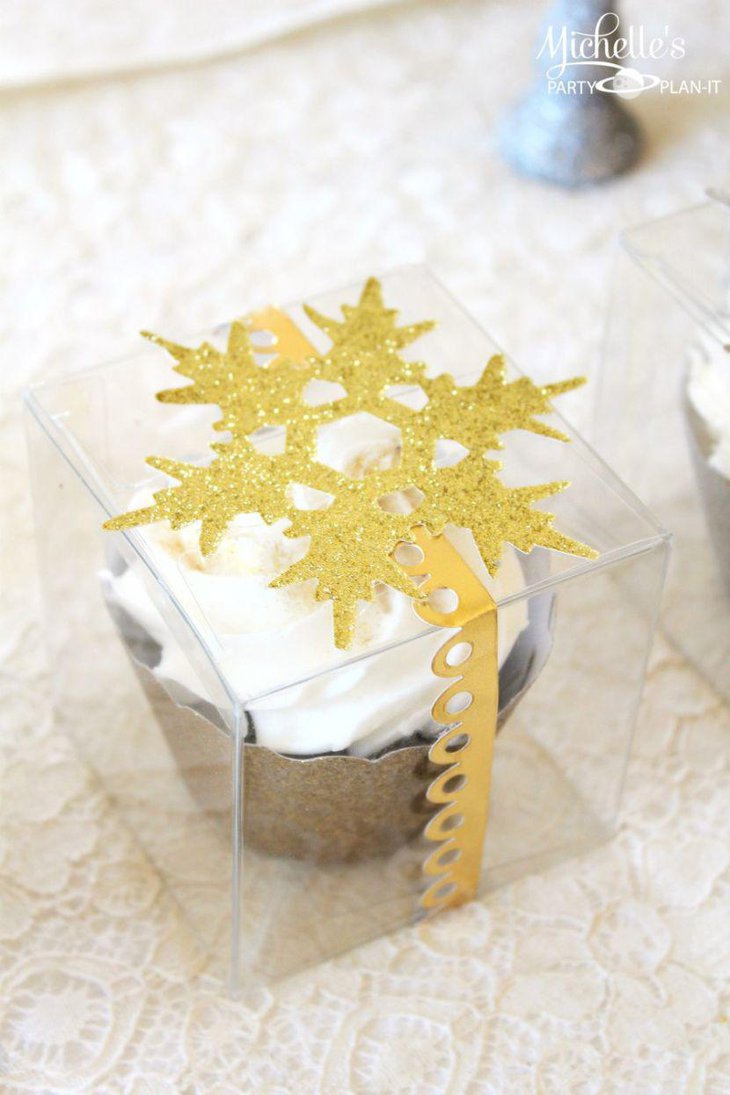 Alluring Christmas cupcake wrapped with golden snowflake
Image Credit: michellespartyplanit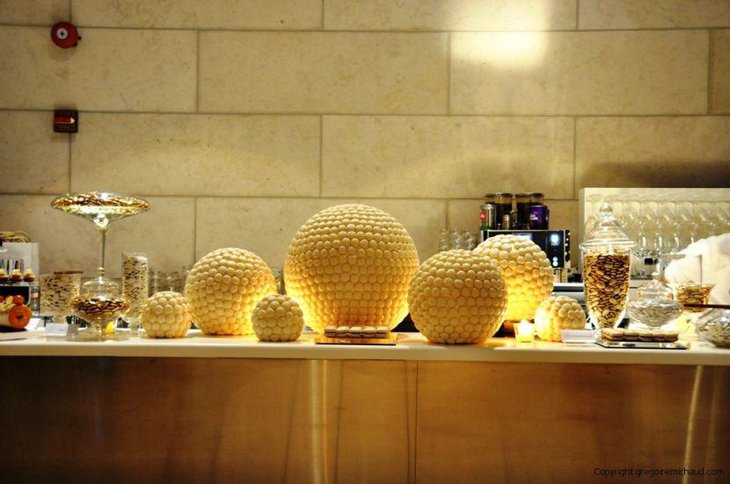 This Christmas dessert party table has been decked using golden and white treats
Image Credit: gregoiremichaud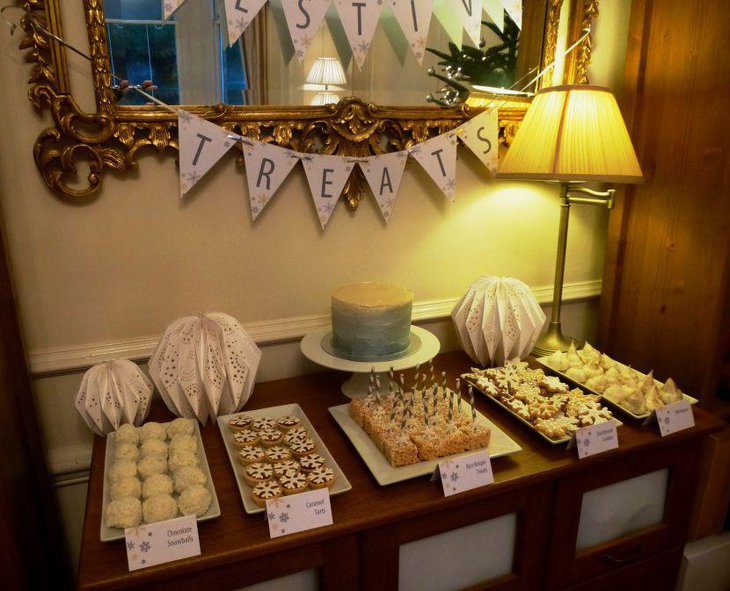 A silver and golden themed Christmas dessert table
Image Credit: wordpress
Mind blowing silver themed Christmas dessert ideas with cupcakes
What can taste as sumptuously delicious than good old creamy cupcakes on a Christmas eve! Cupcakes cannot be forgotten in any festive house and must find place in your holiday tablescape. Today, we are featuring top silver accented Christmas cupcakes that will not merely melt in your mouths but will also act as exotic decorations on a Christmas dessert table.
There are a whole lot of decoration ideas that you can try on your Christmas cupcakes like the ones shown here. For example – think of embellishing your white cupcakes with silver accented bows, ribbons or snowflake designs. You might get these custom made or can even bake yourself provided you are a pro. Adding silver snowflakes on top of cupcakes as accessories is another cool idea.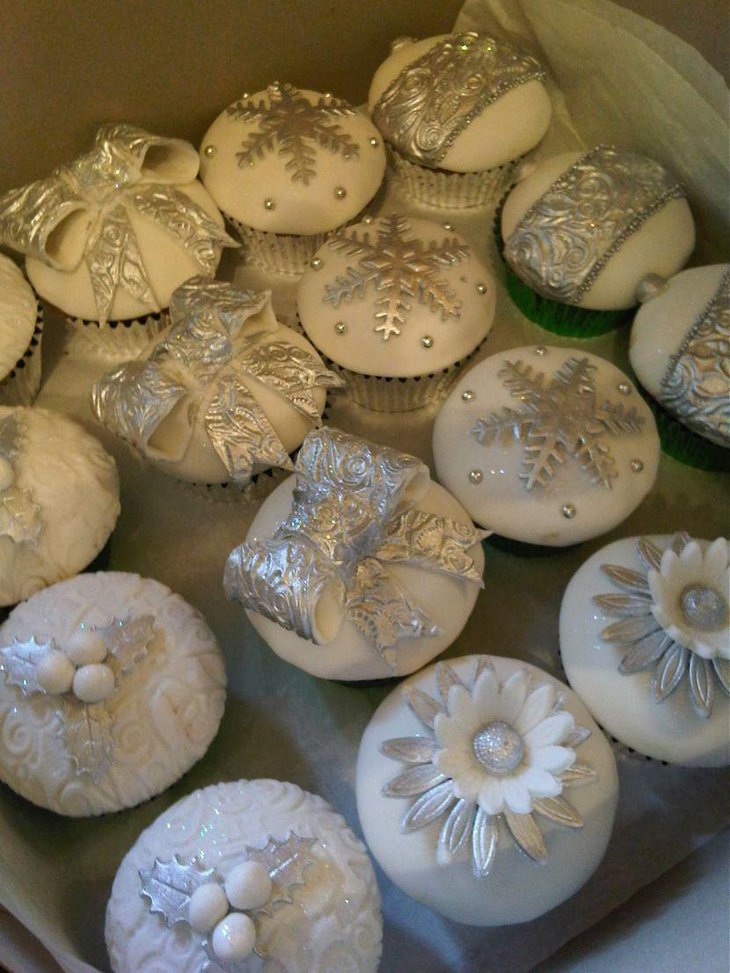 White and silver decorative cupcakes for Christmas
Image Credit: blogspot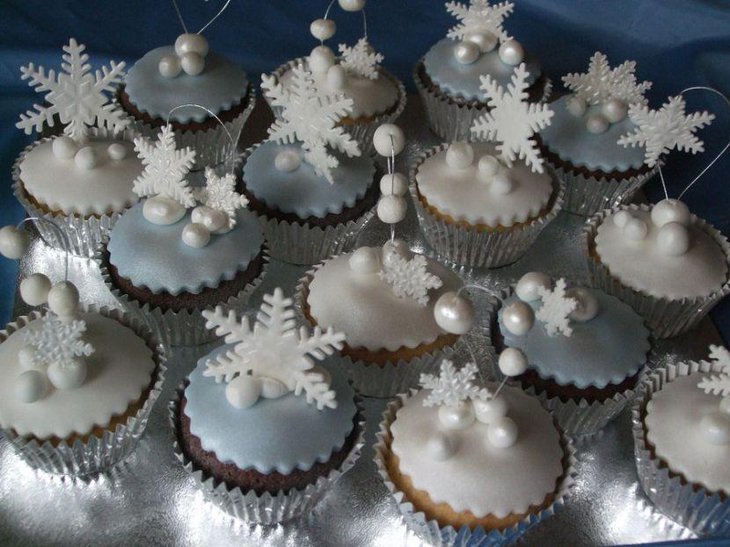 Stunning white and silver cupcakes with snowflake decor
Image Credit: whicdn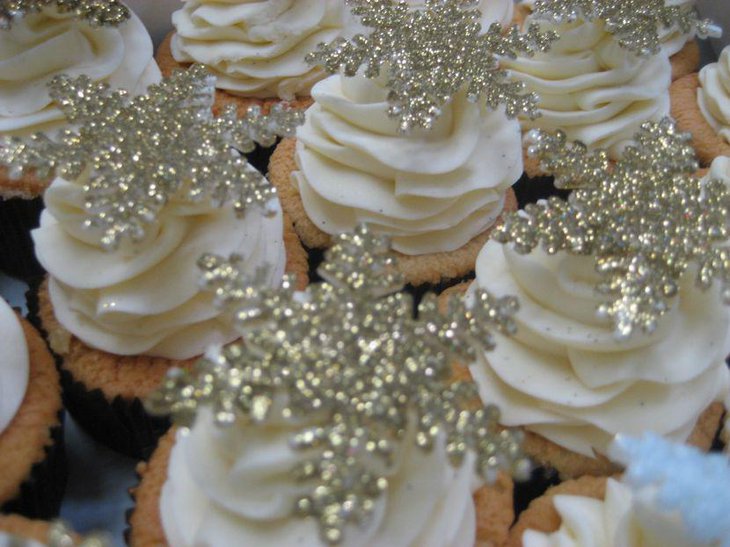 Silver glittery snowflakes decoration on cupcakes
Image Credit: vanillabakeshop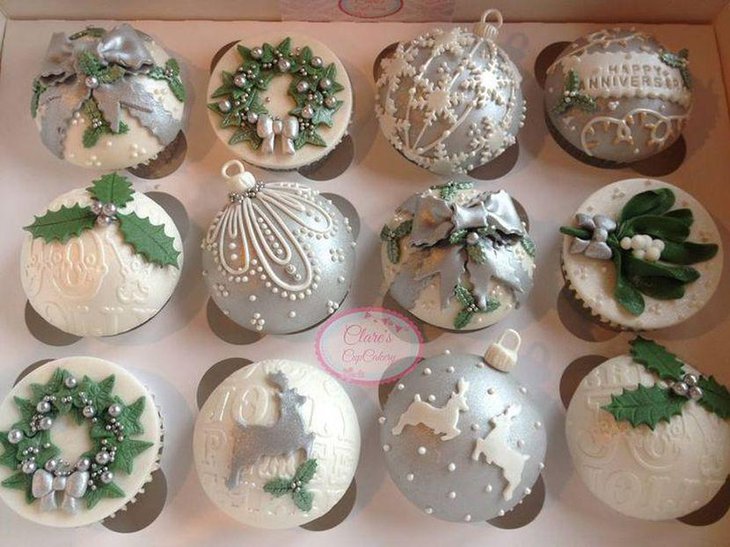 Ornamental silver Christmas cupcakes
Image Credit: pinimg
Fabulous silver and gold Christmas decorations on Christmas cakes
Silver and gold Christmas decorations such as the ones shown below will motivate you all to go for gorgeous Christmas cakes as decor pieces. A Christmas fiesta is incomplete without a cake, and if you look closely, there are hundreds of bakeries that bake specialized cakes for this festival. A cake, whether one or three tiered can be embellished with different designs like snowflakes, reindeer or ribbons.
You can chuck doing away with blues and whites and instead go for silver or golden accented decorations. For example – on a blue and golden cake, gussy up the top with a golden creamy ribbon. A white Christmas cake with silver decor on the body looks very elegant and it seems to go to another level altogether when you team it up with a silver Merry Christmas topping.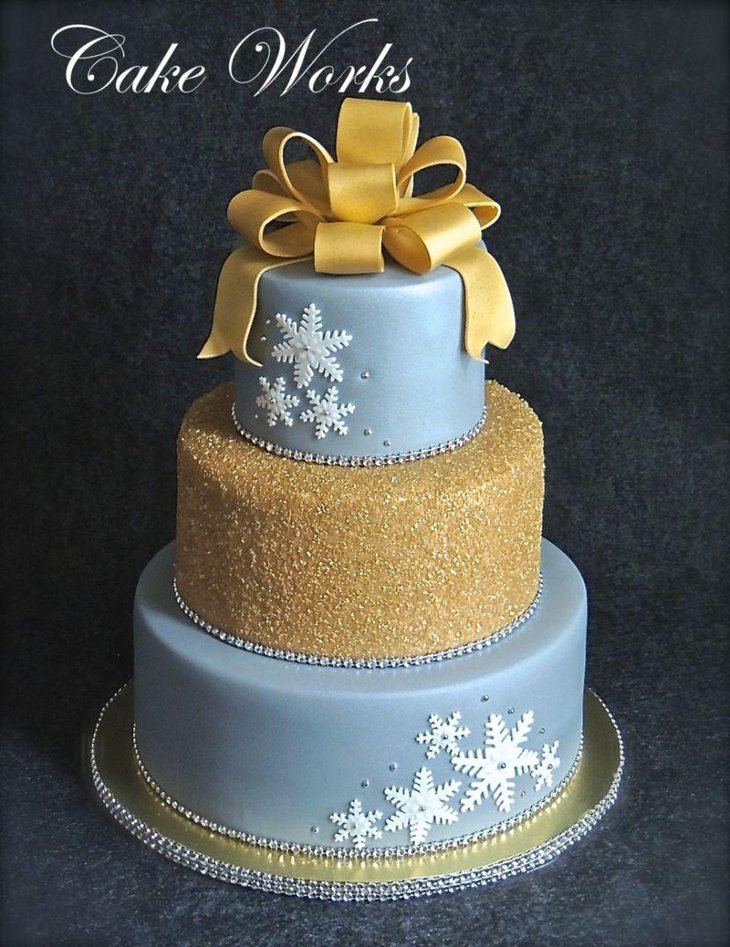 Golden ribbon decor on Christmas cake
Image Credit: cakecentral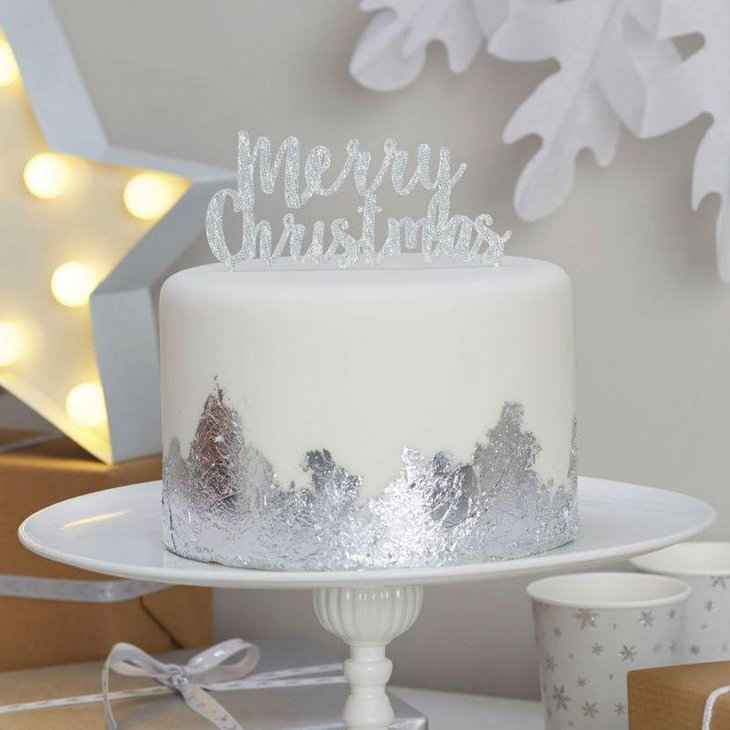 Silver Merry Christmas topped decorative cake
Image Credit: gingerray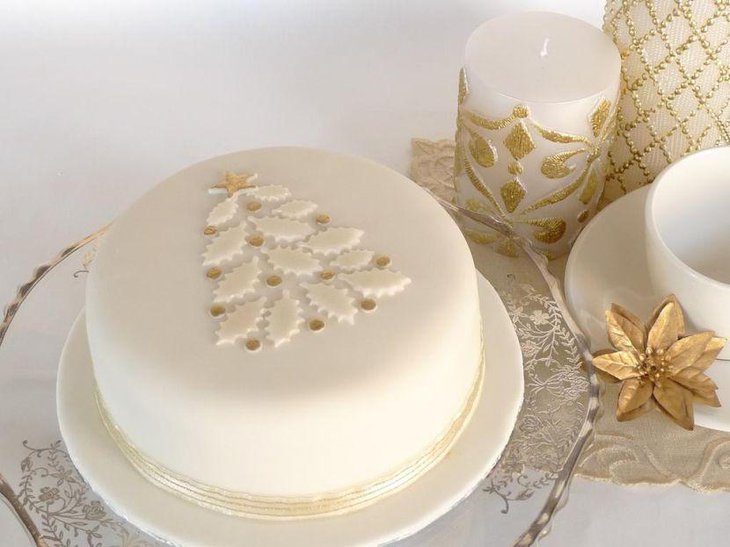 White Christmas cake decorated with golden star and dots
Image Credit: pinimg
Pleasing silver and gold Christmas decorations in the form of vignettes
How about embellishing Christmas tables with elegant and stylish looking vignettes this festive season? If you haven't already thought about placing these on tables, let us offer you cool vignette ideas to prep up your table decor. Vignettes are personalized decorations bearing accessories that are at times vintage, and include the use of personal pictures, photo frames, knitted stuff and practically anything that a person may love.
Since we are discussing about decorations in silver and gold, lets show you some great silver and gold Christmas decorations that have featured in beautiful vignettes for festive times. If you have an old silver tray, embellish it with personalized picture frames, or a floral vase and team it up with sequin balls. A floral vignette with golden reindeer and silver ornaments too will look cheerful.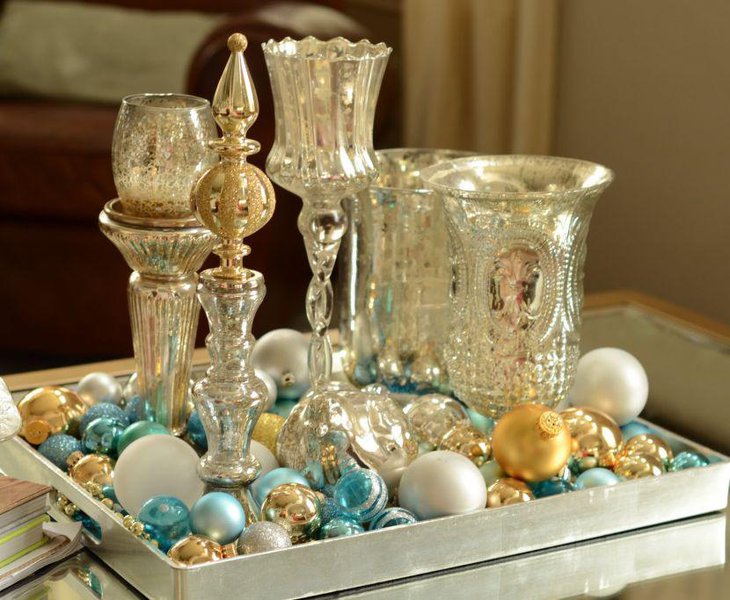 Decorative gold and silver accented vase votives holders with balls vignette
Image Credit: blogspot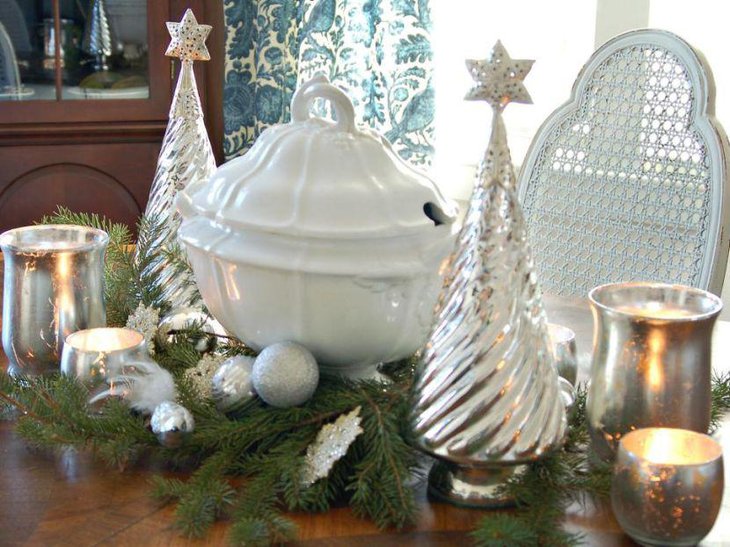 Silver Christmas trees votives and balls on greens vignette
Image Credit: sndimg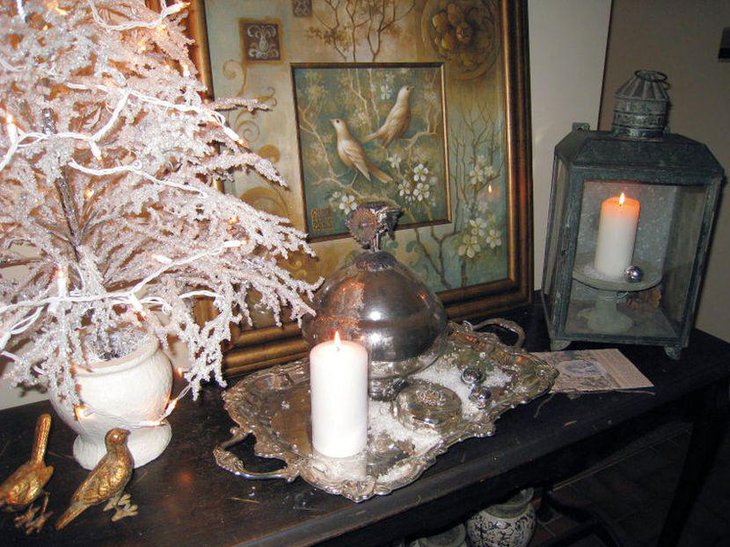 An old silver tray vignette with golden birds and candle
Image Credit: typepad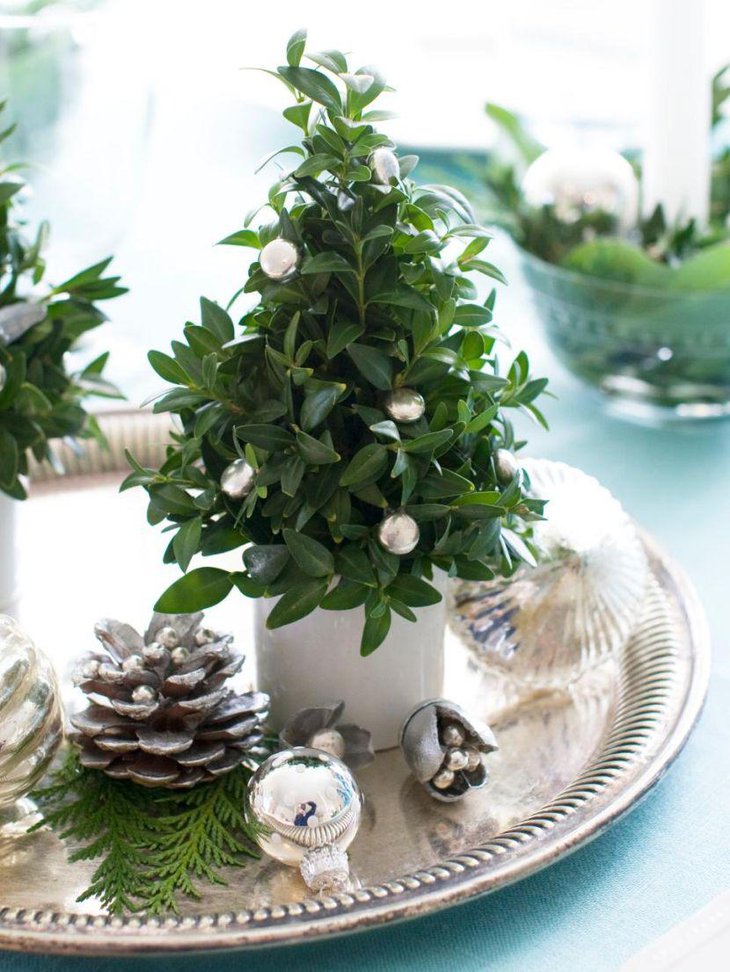 Beautiful Christmas vignette with silver pine cone and balls
Image Credit: sndimg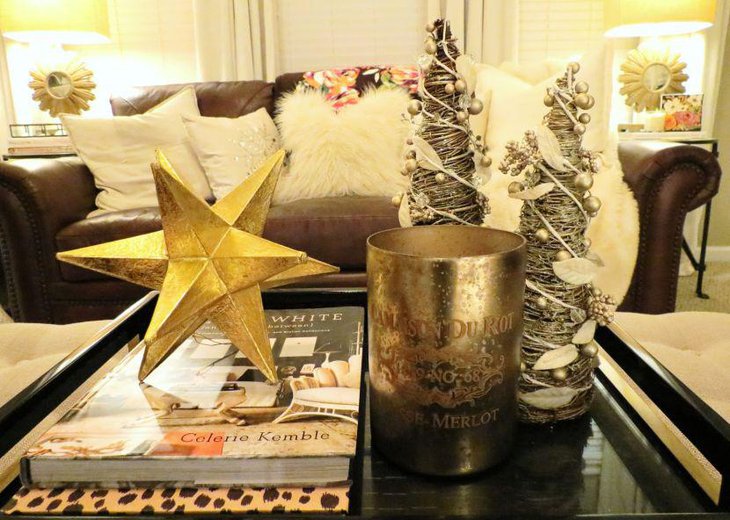 Golden star and silver conical trees vignette on a coffee table
Image Credit: annsatic
Charming silver Christmas decorations – centerpieces
Silver Christmas decorations can play wonderfully to set the tone for a cheerful Christmas. Either you can put up a spread of silver accented decorations all over the tables, or can arrange these as one main centerpiece on a Christmas table. Many thrift stores selling exquisite and antique silver centerpieces will be able to offer you good deals and you must grab any chance to buy them if you can.
The silver candle holder Christmas tree centerpiece in the first image looks more than just an eye candy for your coffee table. It can be used as a luminary when you need it plus offers you a classy ambiance. Likewise, there are different types of silver sconces, trays and vases that can serve as centerpieces. Pick any one of these cuties for a glam Christmas this year.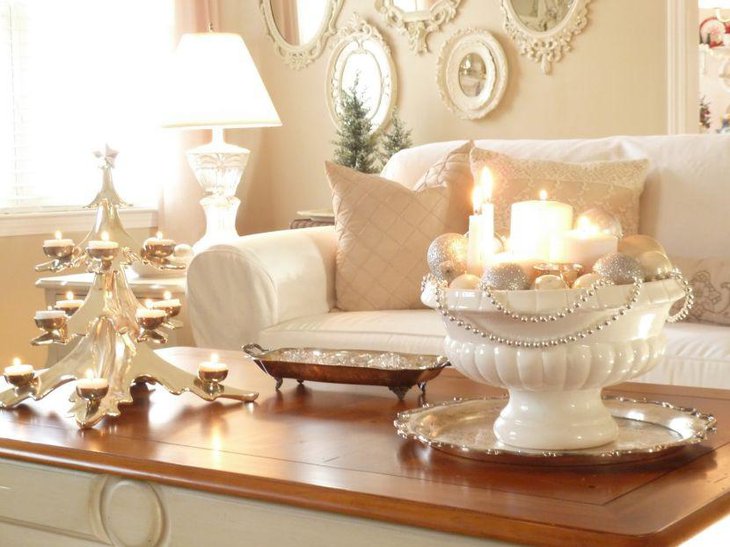 Gorgeous silver Christmas tree candle holder centerpiece
Image Credit: blogspot
Gorgeous silver candle holders centerpieces
Image Credit: sortra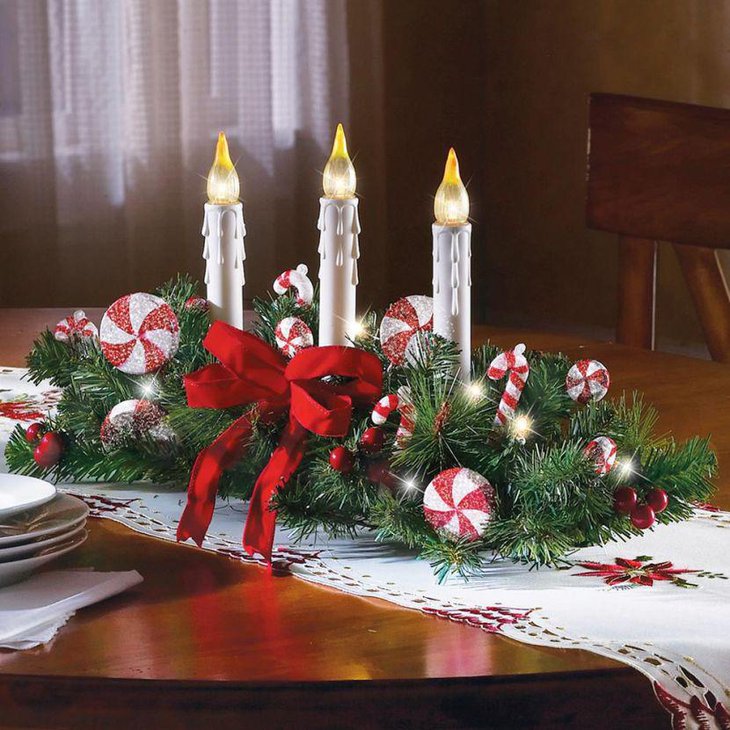 Beautiful silver LED candle holders and greens decorated on this Christmas table
Image Credit: homeozoic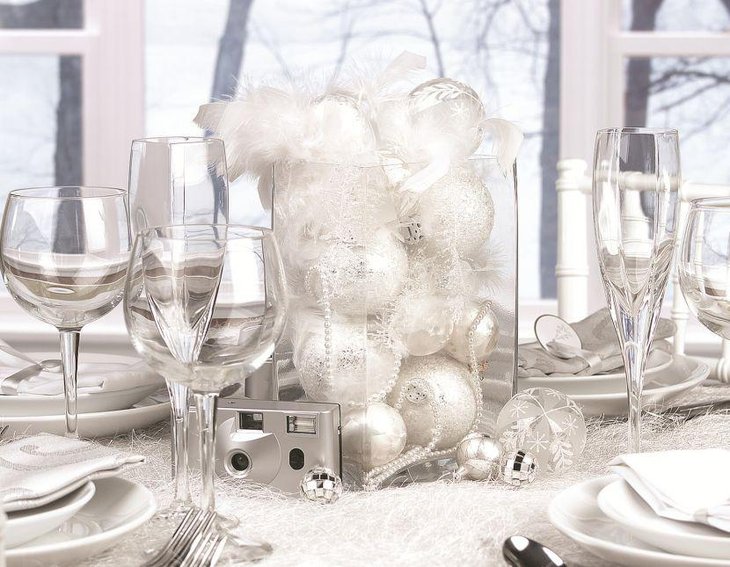 Stunning glass vase centerpiece filled with silver baubles and pearls
Image Credit: iranews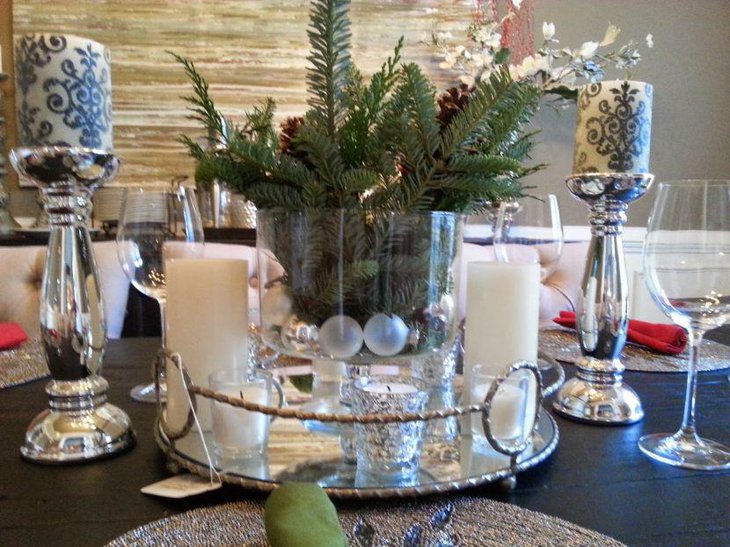 Eye grabbing silver tray centerpiece with vase filled with greens and votives
Image Credit: blogspot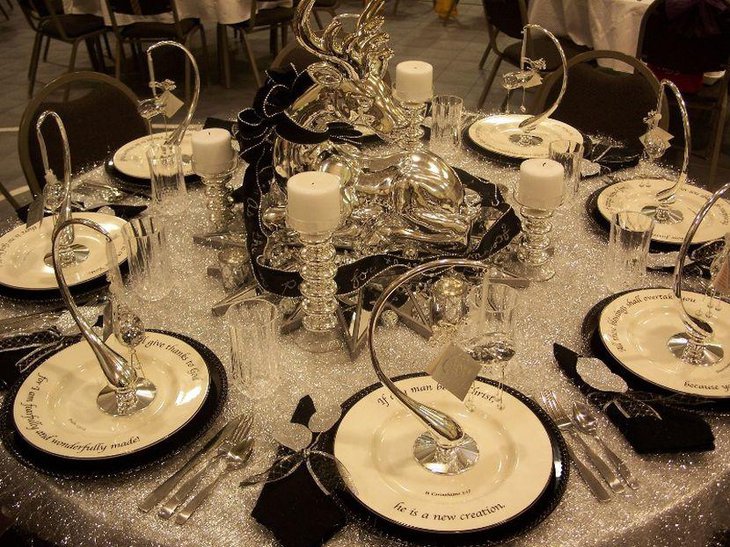 Mind blowing silver reindeer centerpiece
Image Credit: decorateyourtable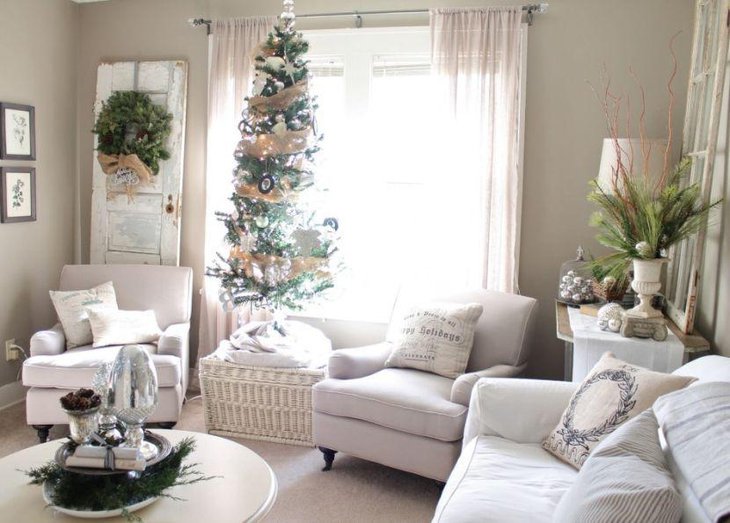 Unique silver centerpiece arranged on a tray for Christmas
Image Credit: girlsonit
Elegant gold Christmas decorations – centerpieces
Next comes the turn of gold Christmas decorations to feature on your festive tables. There are a few people that cannot think beyond gold and for such people, the golden centerpieces shown below are simply perfect. There are endless varieties to choose from but one must pick such pieces that compliment their home decor.
If your interior is embellished with golden and beige tones, its a must that you compliment it by embellishing the tables too in similar tones. Try placing an elegant golden reindeer centerpiece decked up with fresh or fake flowers and jewels. Golden chunky candles with a green base and Christmas baubles will add shimmers too.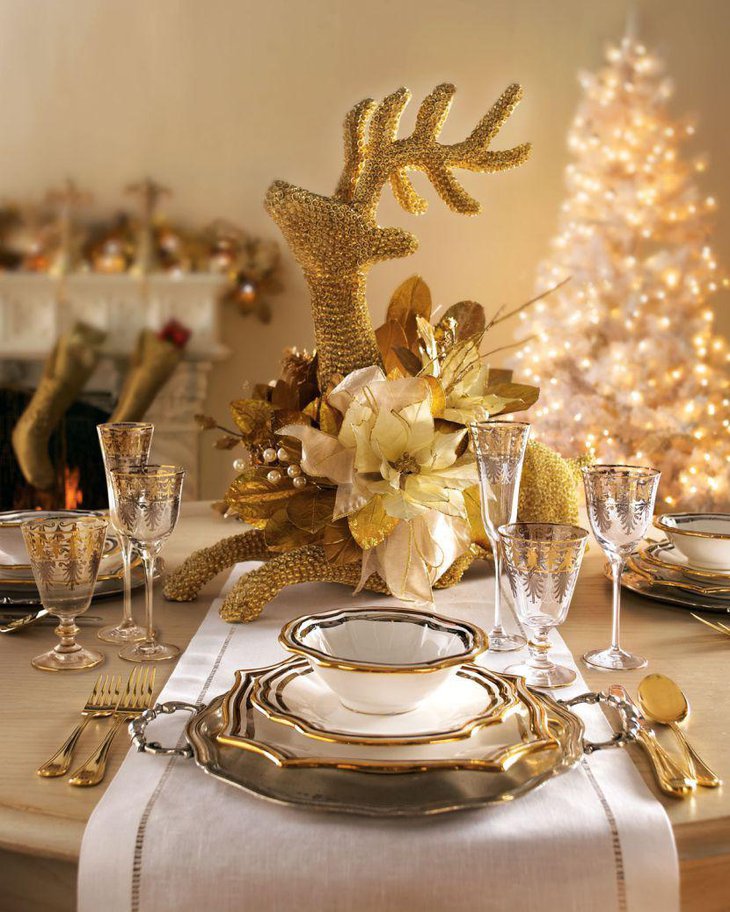 A golden reindeer with floral decor centerpiece
Image Credit: pinimg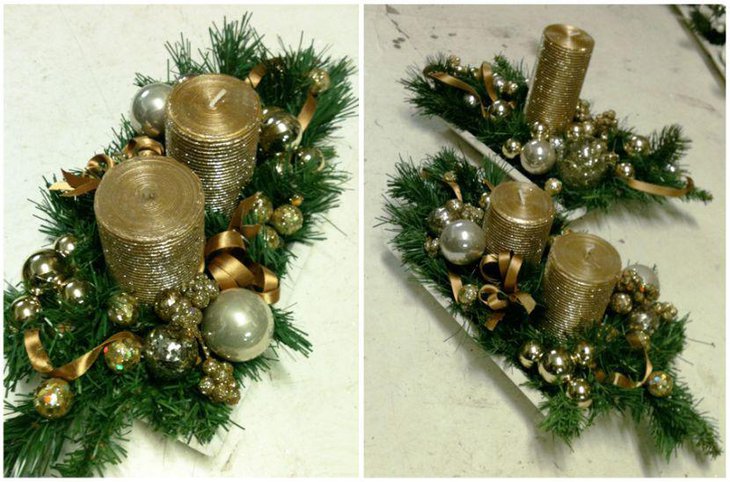 Astonishing golden candle floral centerpiece
Image Credit: blogspot
*Silver and gold Christmas decorations* are in vogue and must be tried for a stylish festive ambiance this Christmas. Ping back to let us know if you loved our post!