Ho! Ho! Ho! Here are 30 ideas for Christmas table centerpieces to enliven your merry-making gatherings. They're gorgeous appearance in and rich in style. With the season so filled with love and joy, it is only fitting that that your tables should be decorated with the choicest of centerpieces.
The warm atmosphere of Christmas can now become even rosier when you decorate your tables with these eye catching Christmas table decoration ideas using flowers, vases, faux snow, DIY lanterns, candles, wooden trays, and more. Browse through these Christmas table decorations photos for ideas on how to you bring more life and cheer to your settings.
Eye Catching Christmas Table Centerpieces with Candles
Christmas and candles blend perfectly, and below you will see some very creative Christmas table decorations with candles that can offer radiance and warmth to your gathering. Candles are an all-time popular decorative accessory and easily find their way onto festive tables paired with glass jars, vases, flowers, or all by themselves.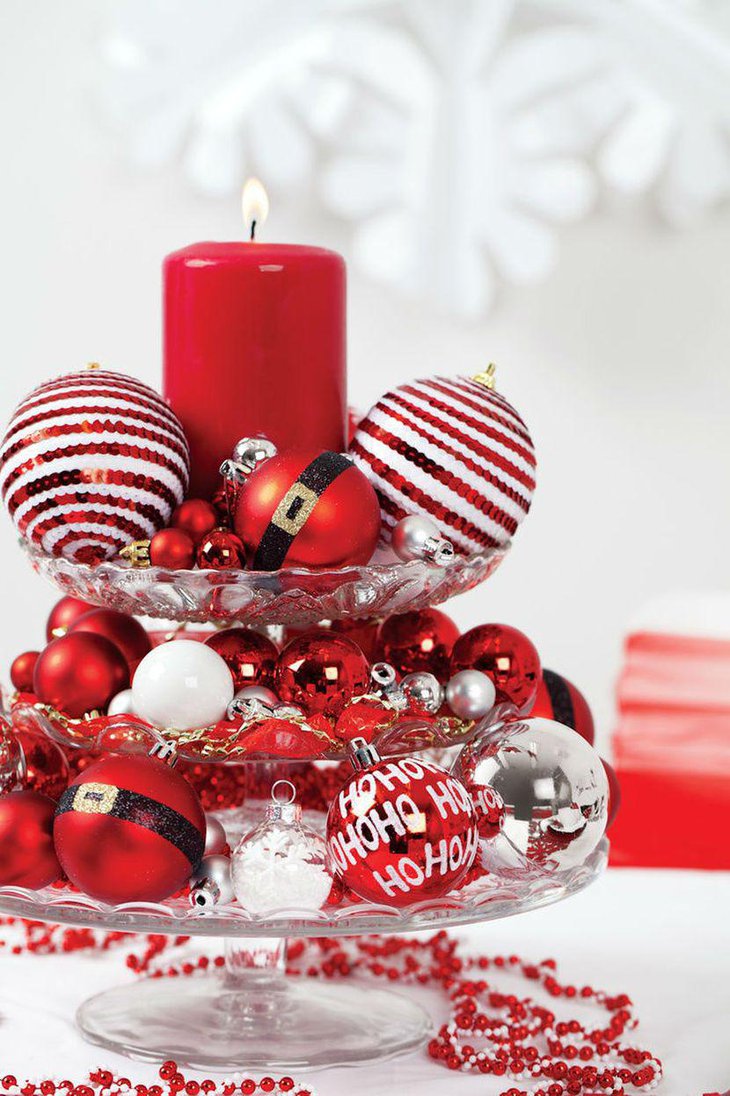 Decorative Red Candle and Ornaments Christmas Table Centerpiece
Image Credit: sortra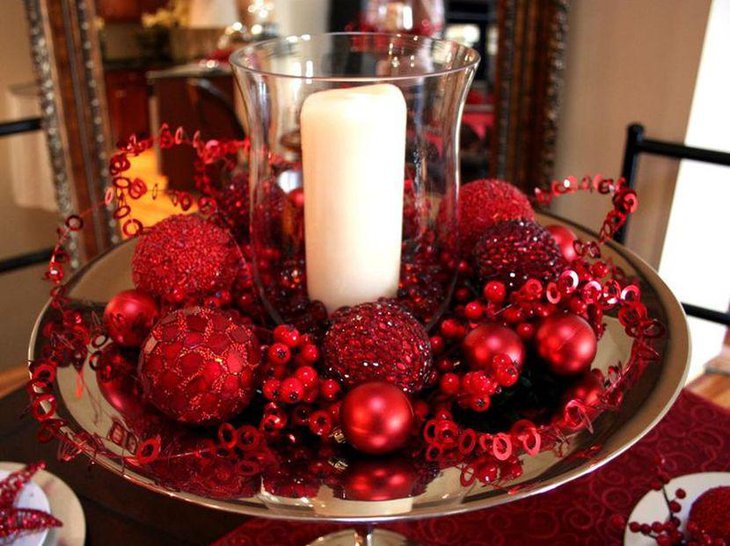 Christmas Table Centerpiece with White Candle and Red Ornaments
Image Credit: pinimg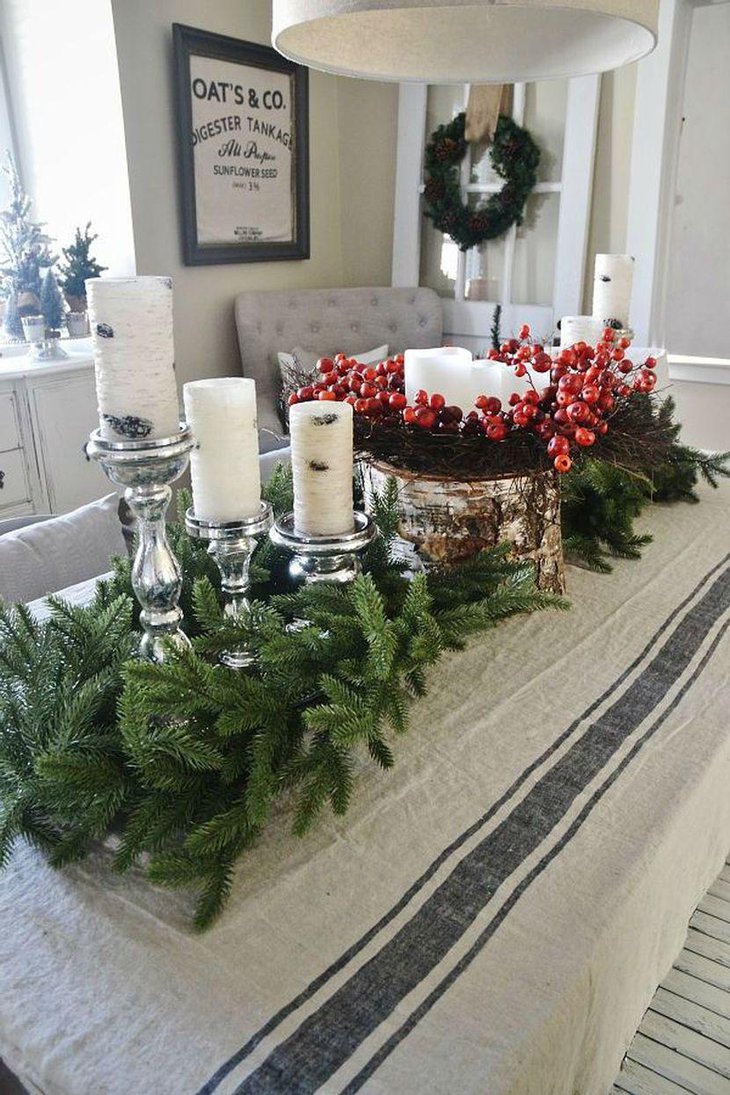 Rustic Candle Centerpiece with Greens
Image Credit: sortra
Attractive Gift Box Centerpieces
The Christmas table decorations seen below make use of festive gift boxes in various styles. Colorfully wrapped gift boxes or those that are in simple white wrap tied with ribbons add to the festive cheer of the (holy day) holiday. If you want to bring in a DIY feel to your Christmas décor, try adding a natural element to your gift box centerpieces, such as the first image below using moss and greens. Or you can also go in for the traditional white wrapped gift box, tied beautifully with a red ribbon. Both of these centerpieces add more excitement and substance to a table.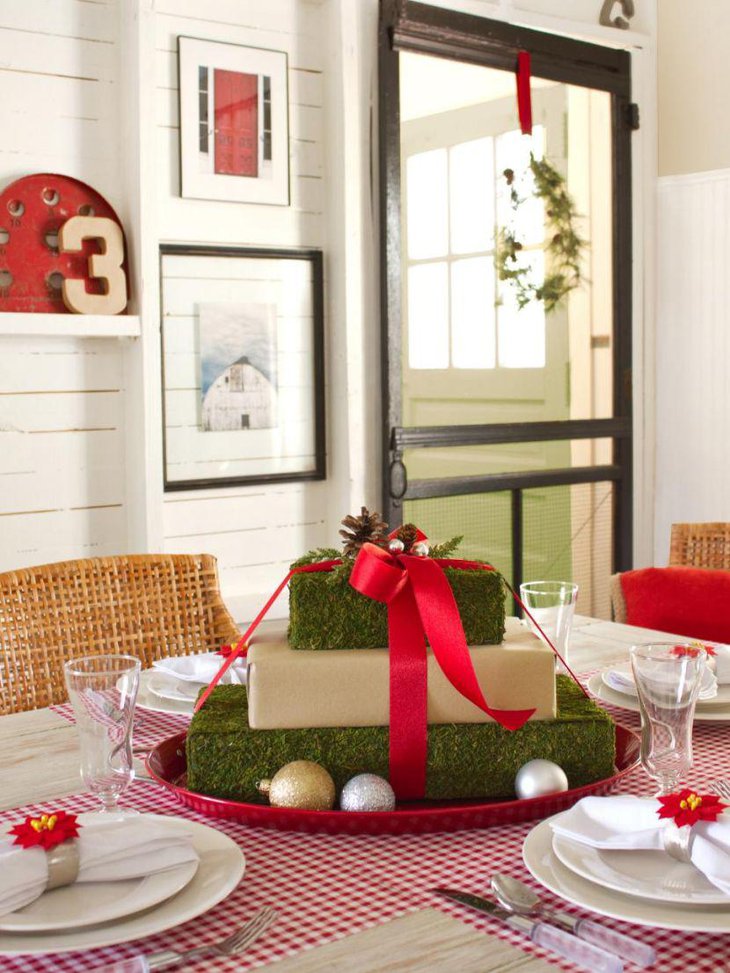 Attractive Moss Gift Box Centerpiece
Image Credit: sndimg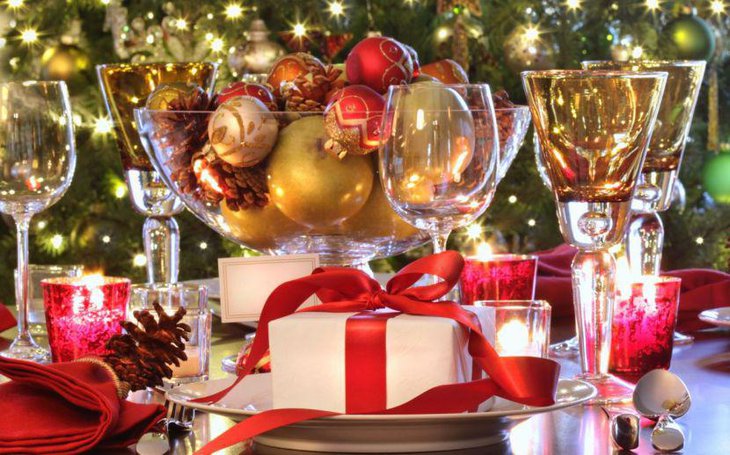 Elegant Gift Box Centerpiece with Ornaments in a Glass Bowl
Image Credit: shirtstock
Christmas Table Setting Ideas with Lanterns
Lanterns, like candles, are a very popular choice when setting holiday tables, especially around Thanksgiving and Christmas. You can place beautifully carved lanterns with candles inside, or together with floral arrangements. You can also opt for rustic lantern styles if you don't like going overboard with bright colors. Enhance your lantern's look with pine cones, ferns, and decorative ornaments as seen in the pictures below.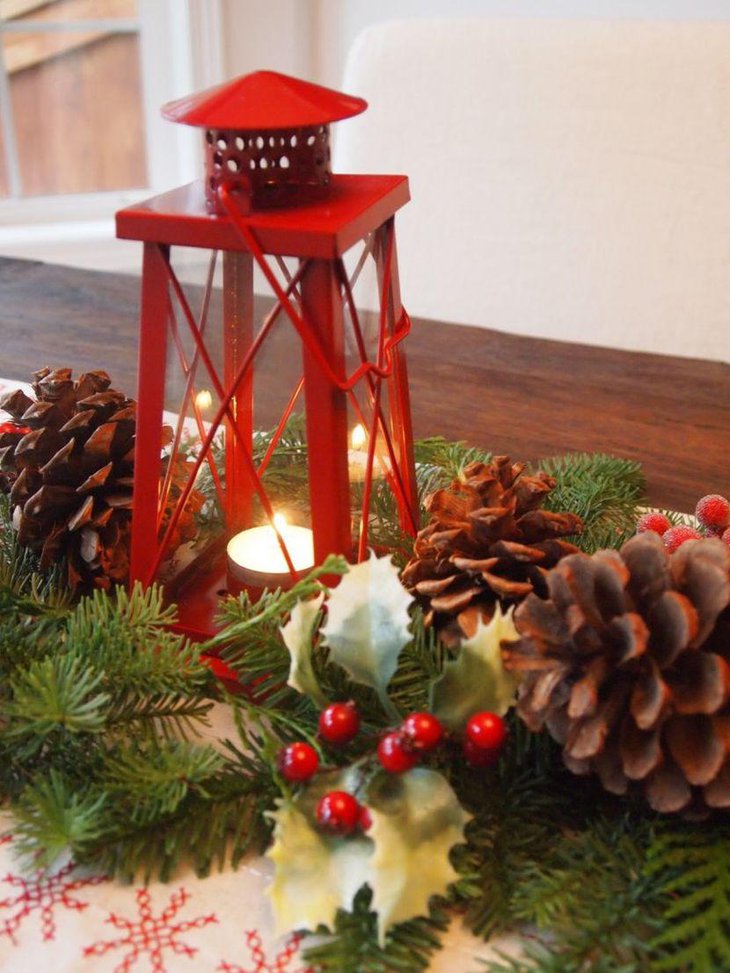 Christmas Table Centerpiece with Red Lantern and Candle, Greens and Pinecones
Image Credit: girlsonit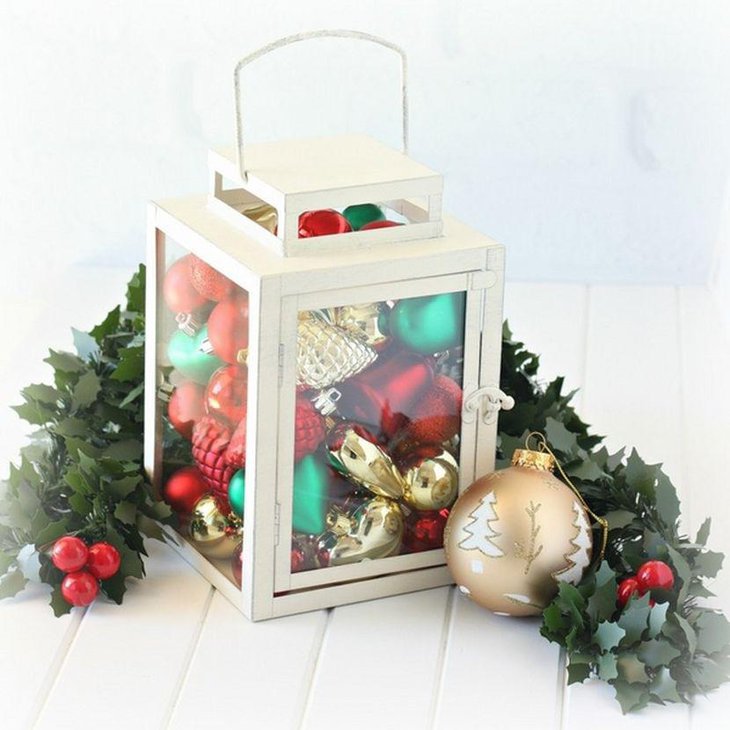 Beautiful White Lantern Filled with Ornaments
Image Credit: minimalisti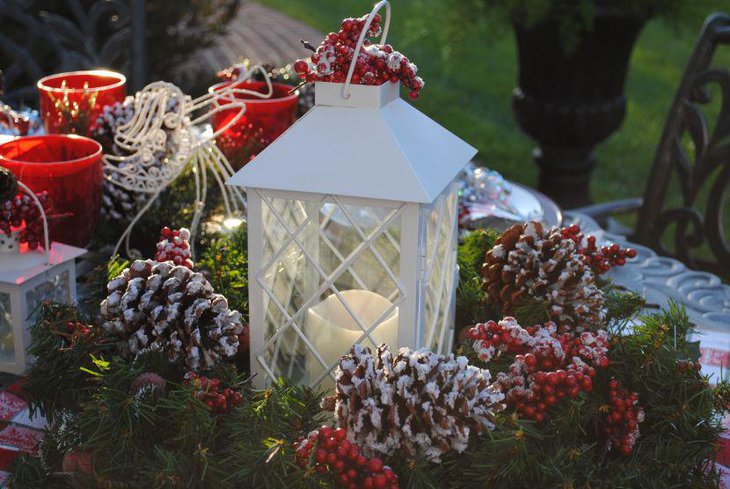 Classy Wreath and Lit Lantern Centerpiece for an Outdoor Christmas Table
Image Credit: blogspot
Christmas Table Setting Ideas with Cranberries
Cranberries, with their bright and attractive color, lend an alluring touch to any table décor. From being seen on wreaths to mantel decorations, you can use cranberries as embellishments on almost any decoration. Either place them in bowls with silver ornaments or use them to surround candles on trays. You could fill a jar with water and cranberries and drop a floating candle on top.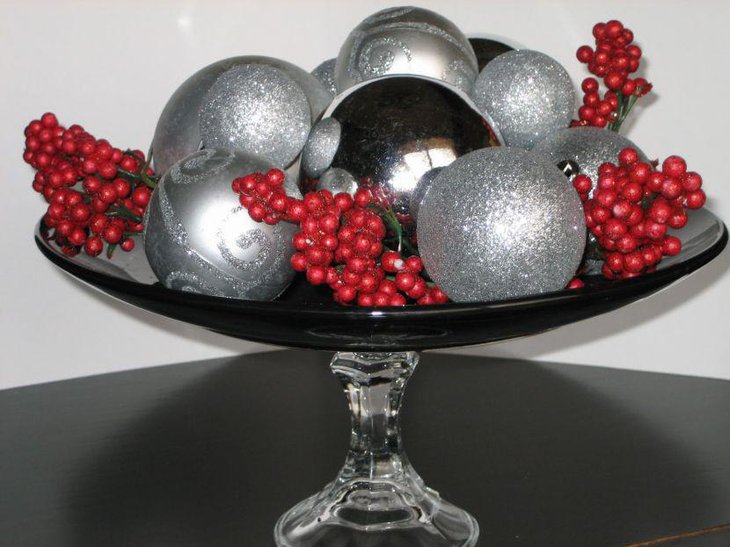 Black Bowl Filled with Cranberries and Silver Ornaments
Image Credit: nuhomeinterior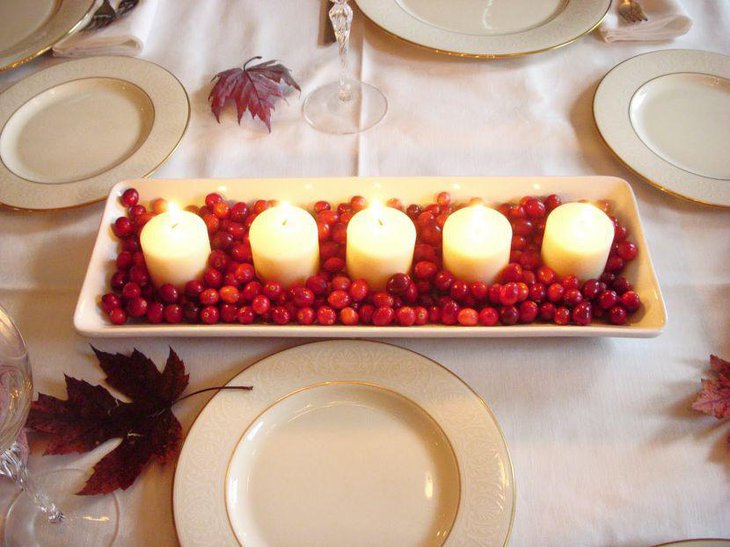 Cranberries and Candles Centerpiece Idea for Christmas
Image Credit: unitedlane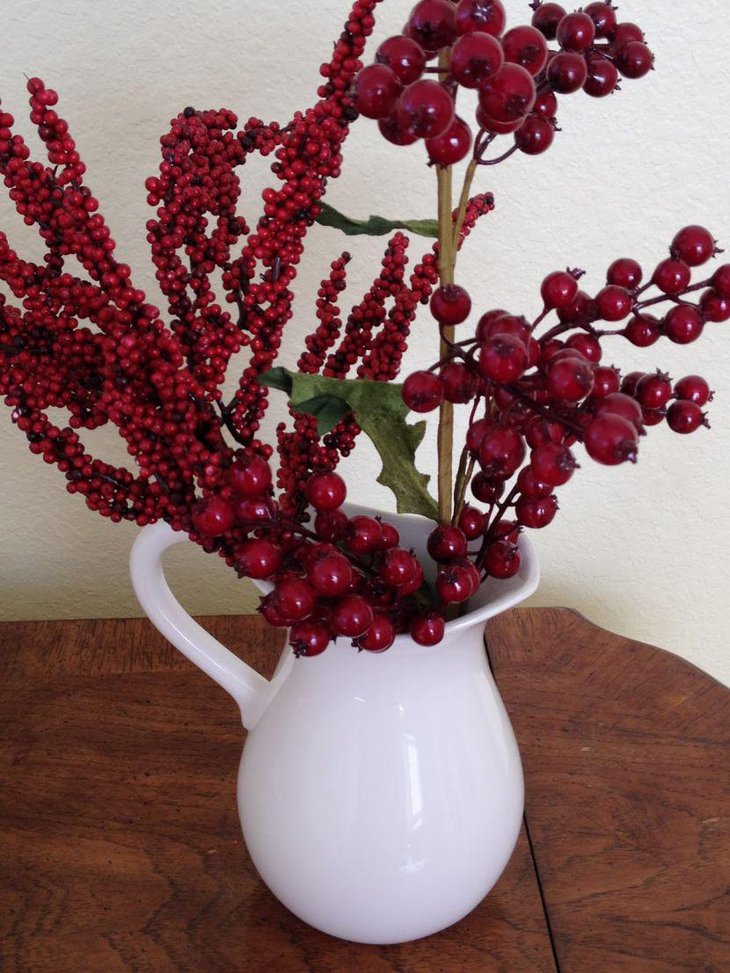 Beautiful White Vase with Cranberry Arrangement
Image Credit: blogspot
Christmas Table Decorations with Decorative Ornaments
Christmas décor is hardly complete without red, gold, and silver balls along with other ornaments that lend a cheery sparkle to Christmas trees and tables. You can place these ornaments either alone in bowls or can also adorn your tree and greenery centerpieces with these glittery accessories. Try out any of the below showcased Christmas table centerpieces with ornaments to bring a dash of glamor to your tables.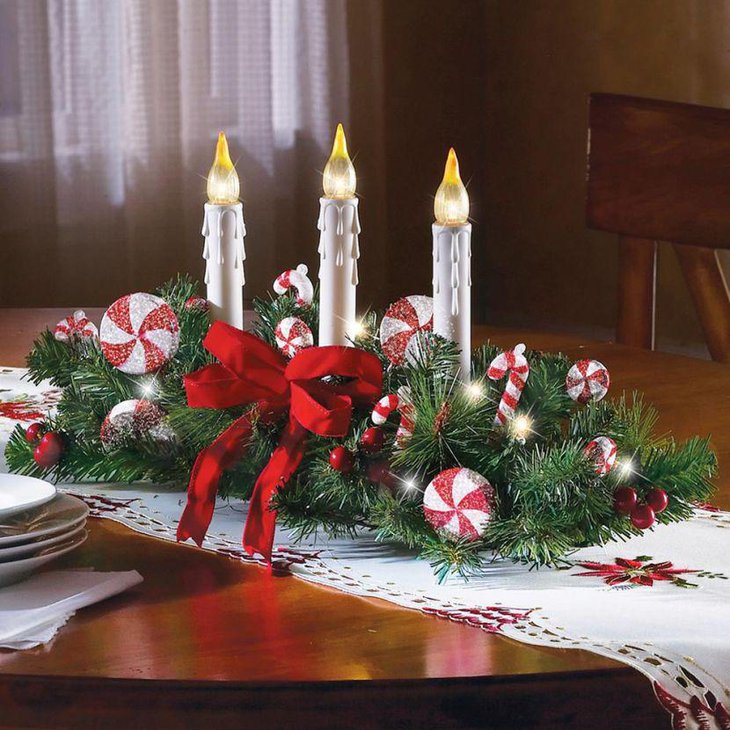 Christmas Table Décor with Ornamental Candles, Bow, and Candy Cane Ornaments
Image Credit: homedesignup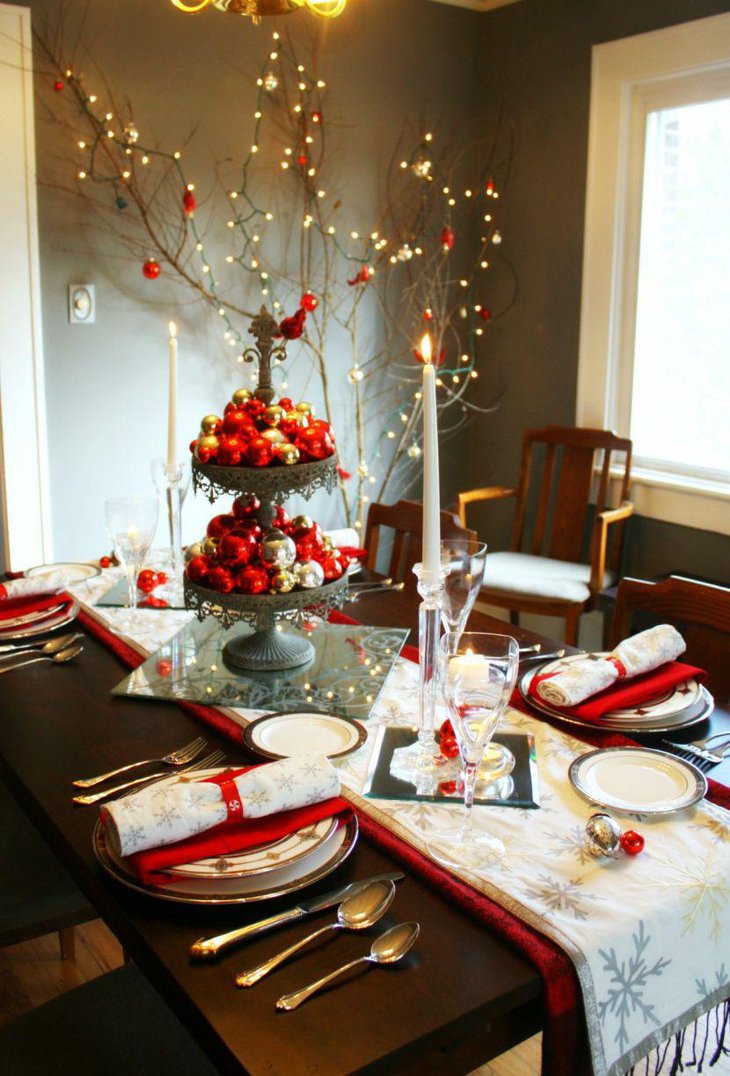 Red and Silver Ornaments on Tiered Stand
Image Credit: abate08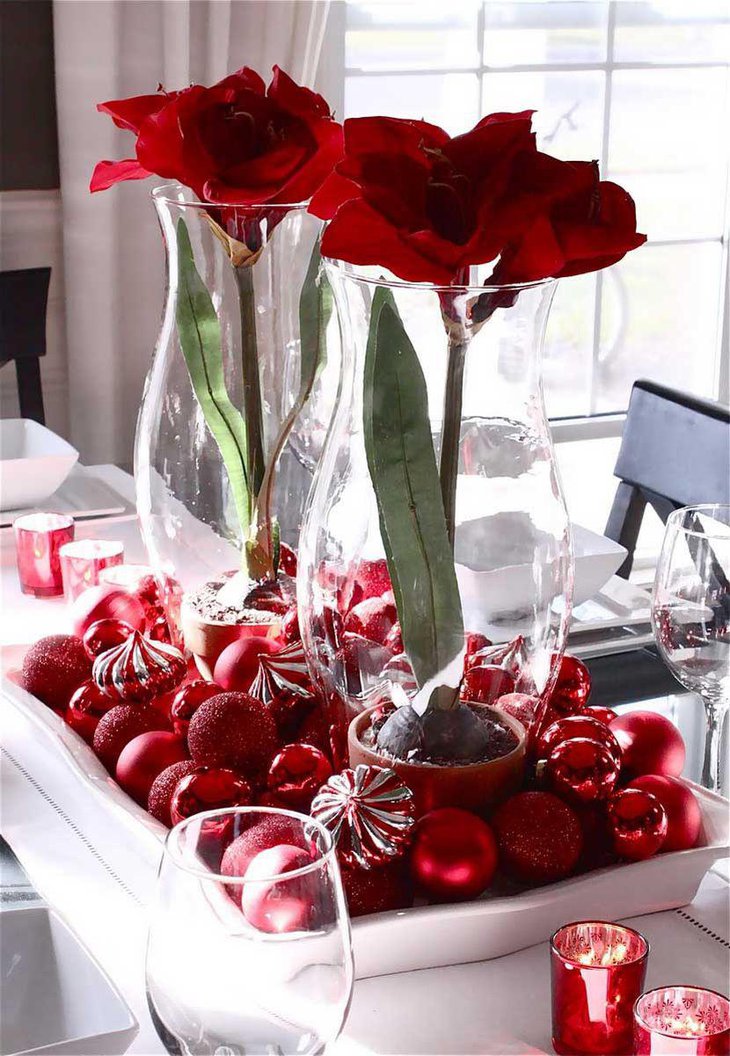 Glass Jar and White Tray Filled with Faux Flowers and Red Ornaments
Image Credit: ducrx
White Christmas Table Decoration Ideas
Having a white Christmas isn't just a dream when you can adorn your tables in a snowy theme. A pure white décor looks chic and marvelous. From having white gift boxes to white candles to having white floral arrangements, there are a hundred ways you can decorate your tables in white this Christmas.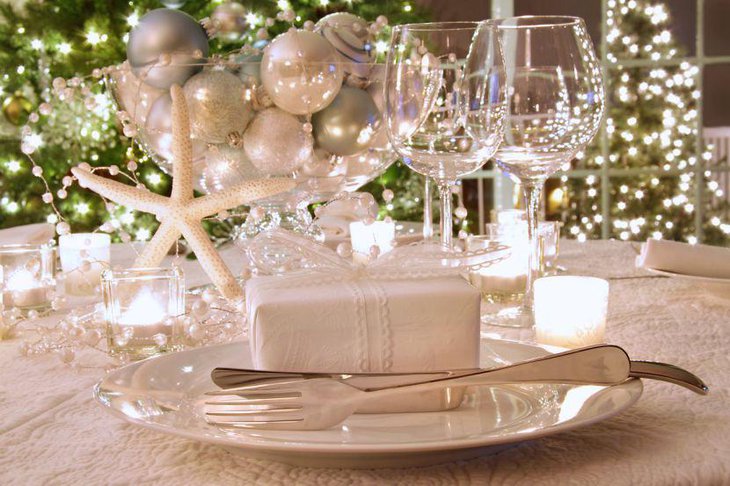 Graceful White Christmas Table Décor with Fondant Gift Cake and Ornament Centerpiece
Image Credit: punchbowl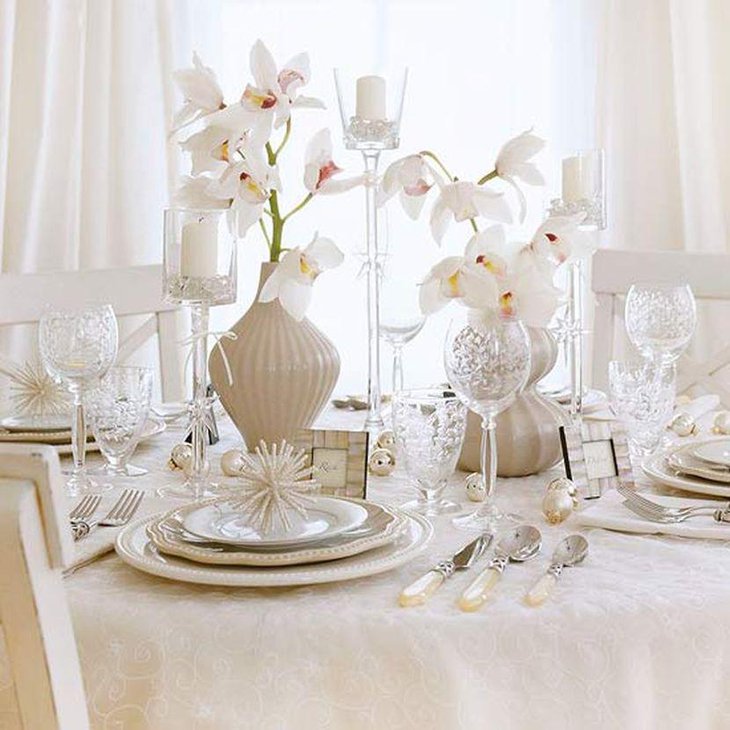 Magnificent White Floral Arrangements in Cream Vases with White Plates, Silverware, and Tablecloth
Image Credit: netnewengland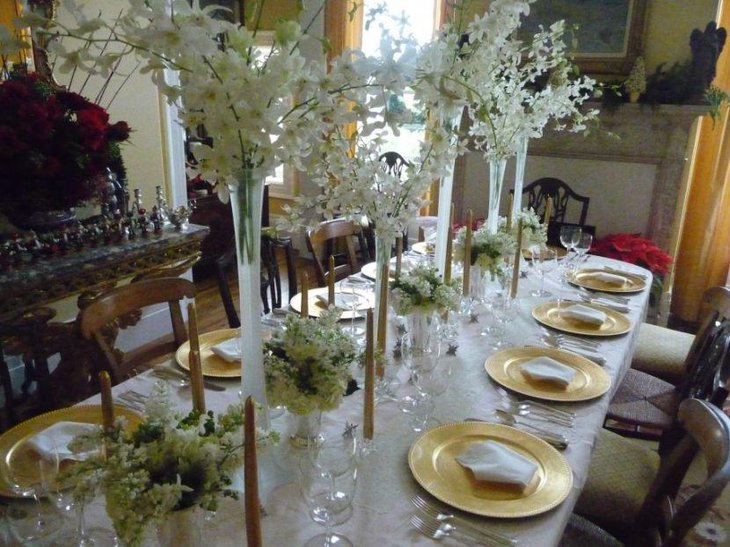 White Tablecloth and Napkinswith Tall White Floral Arrangements
Image Credit: woohomedesigns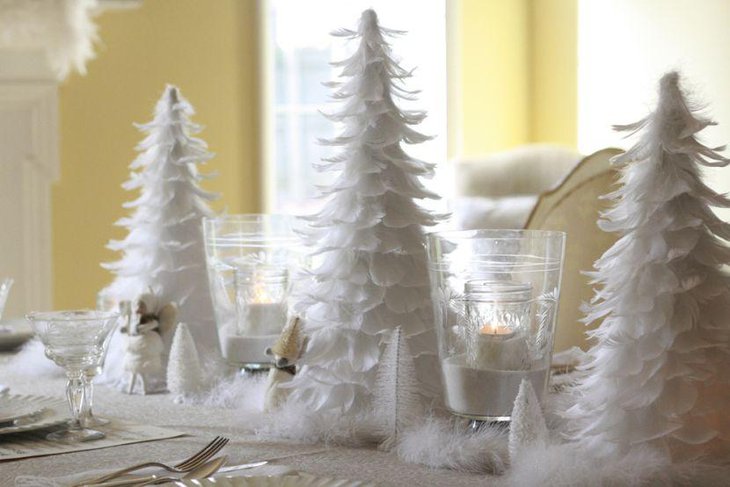 White Christmas Table Décor with Feathered Christmas Tree Centerpieces
Image Credit: wenderly
Christmas Table Centerpiece Ideas with Faux Snow
If you love the look of a snowy blanket outside, and want to bring it inside and onto your Christmas table, try using faux snow! The Christmas table centerpieces below have one very peculiar thing in common – the use of faux snow. To achieve the look you want, you can use snow sprays, cotton, or feathers. In one of the images below, there is a centerpiece with Santa getting snowed on in a faux snow fountain.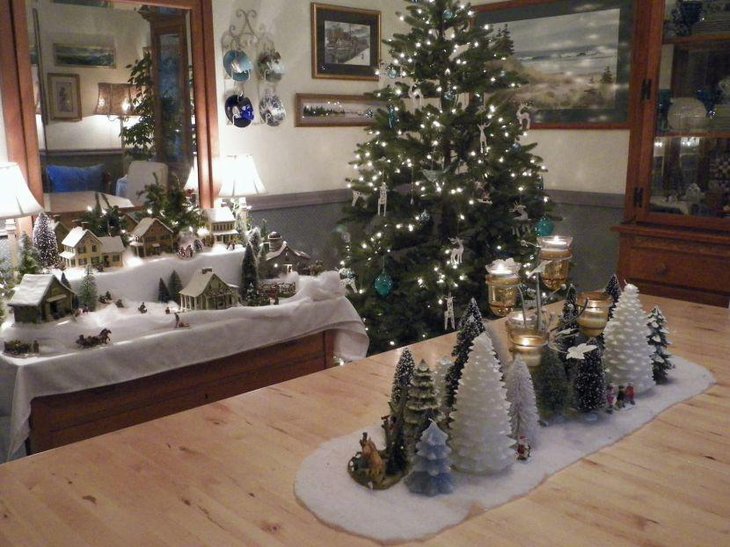 Christmas Tree Collection on a Blanket of Faux Snow
Image Credit: geriscamera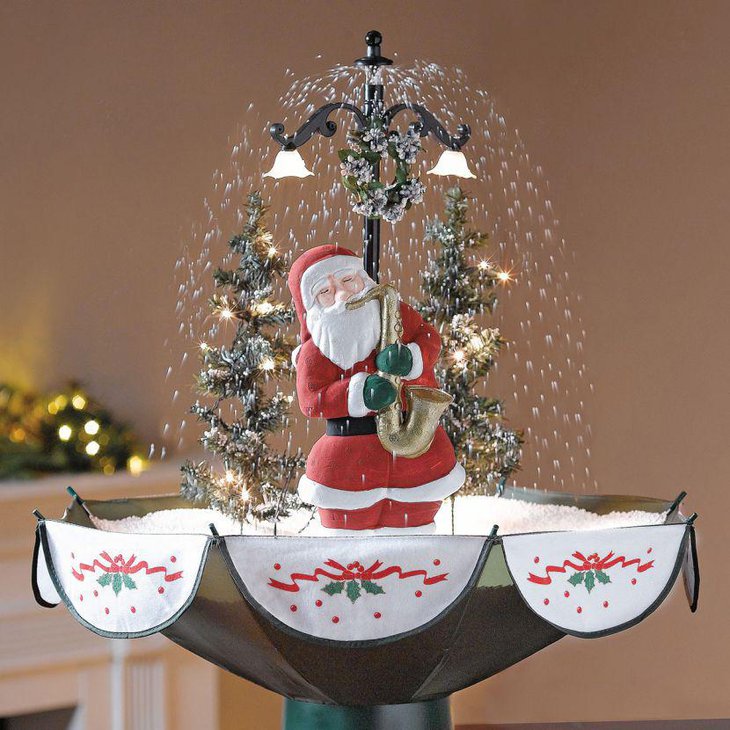 Santa Standing under a Fountain with Faux Snow
Image Credit: geriscamera
Christmas Centerpiece Ideas with Floral Arrangements
Christmas table setting ideas with flowers and vases always look beautiful. Fresh flowers especially contrast and brighten the season. From red rose arrangements to hydrangeas, to fake or dries flowers, there are many ways you can dress tables with matching vases. If you love a little bit of color and freshness, floral centerpieces are the way to go. Floral vase arrangements can be lent a whole new look when paired with other complementary accessories, such as fish bowls, candles, and rustic wooden slabs.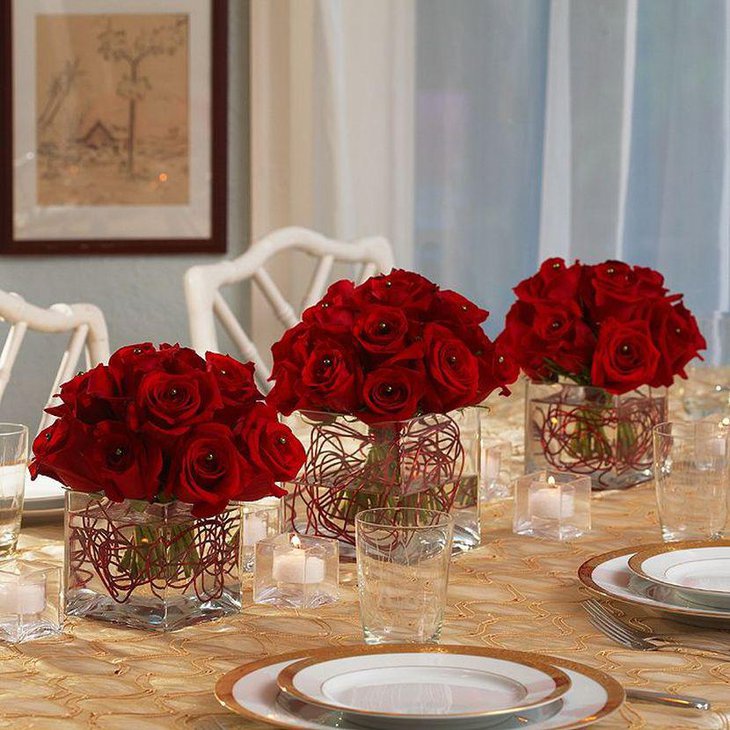 Red Rose Centerpieces in Clear Box Vases for a Christmas Party Table
Image Credit: pinimg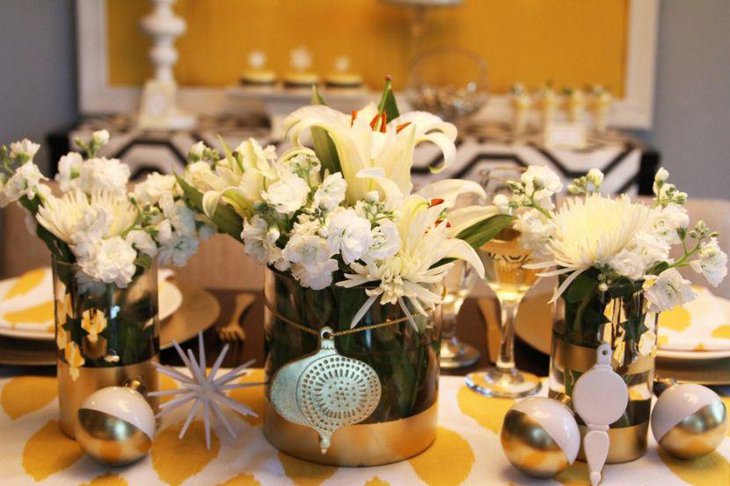 Gorgeous Floral Vase Centerpieces with Ornaments
Image Credit: kumfree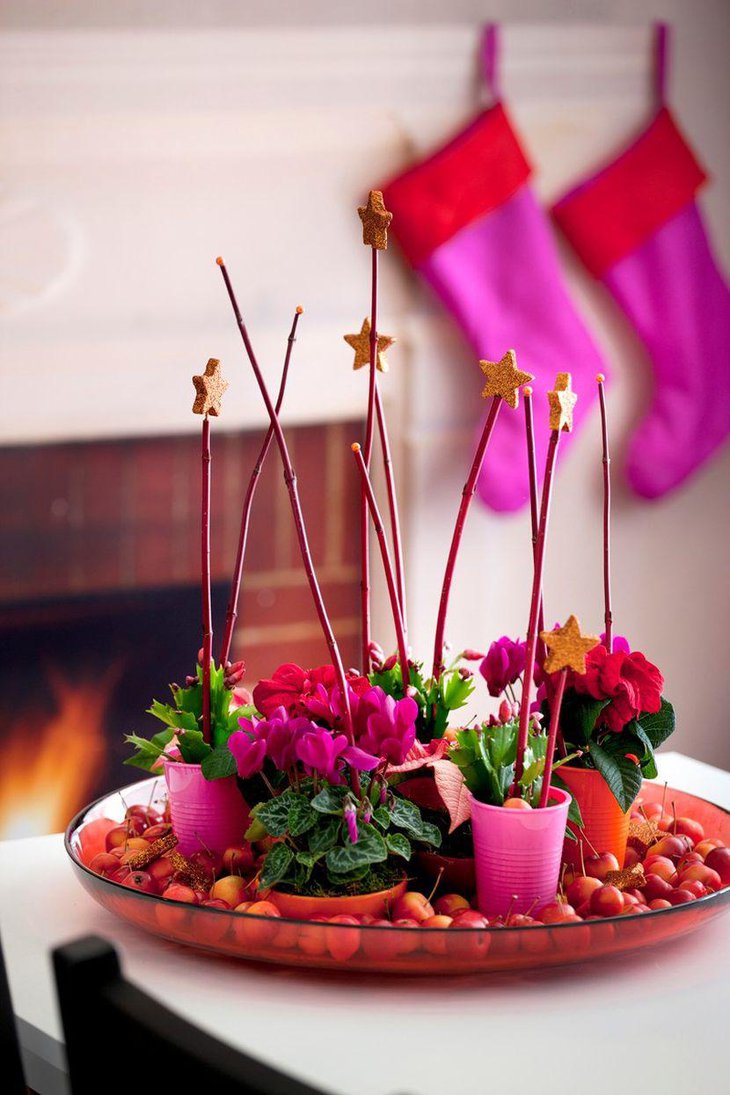 Creative Centerpiece Idea with Red and Pink Floral Arrangements on a Glass Dish
Image Credit: annsatic
Christmas Centerpieces with Reindeer
Santa's sleigh and reindeer are the most notorious mascots of the Christmas season. You don't need to use Santa if you don't want to, put you can decorate with a wintry wooden sled or reindeer.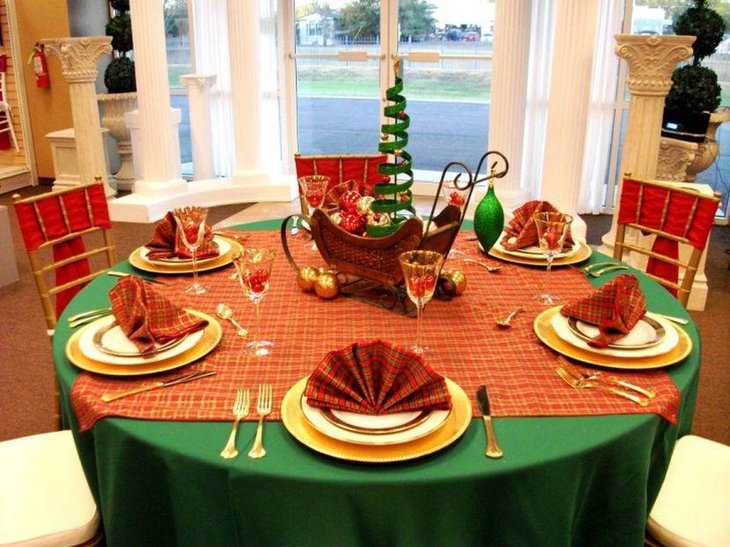 Christmas Centerpiece with Green Christmas Tree and Ornaments in Sleigh
Image Credit: kumfree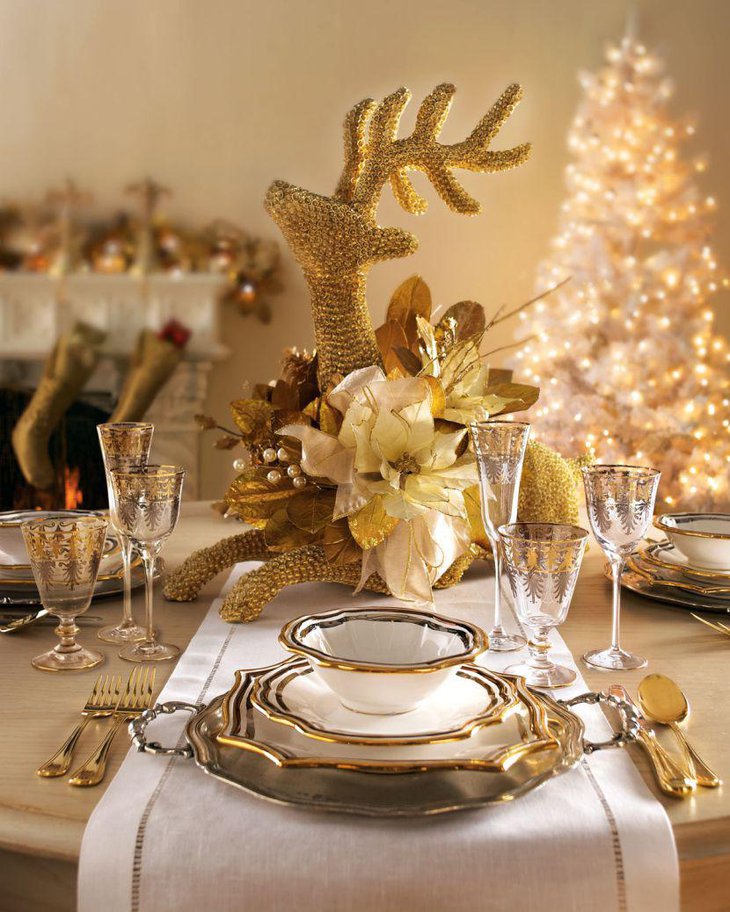 Golden Reindeer Centerpiece with Fake Floral Arrangement Complementing the Golden Settings
Image Credit: geriscamera
DIY Centerpiece Ideas
If you like to make centerpieces using your own creativity, here are some cool DIY ideas you can try out this Christmas. These are made of items that you can incorporate into your table centerpieces, such as wooden trays, candles, greens, flowers, mason jars, and fruit. Candies too can be used to create creative centerpieces like the candy Christmas tree centerpiece seen in one of the photos here. Try out these DIY Christmas table decorations and take pride in your craftiness.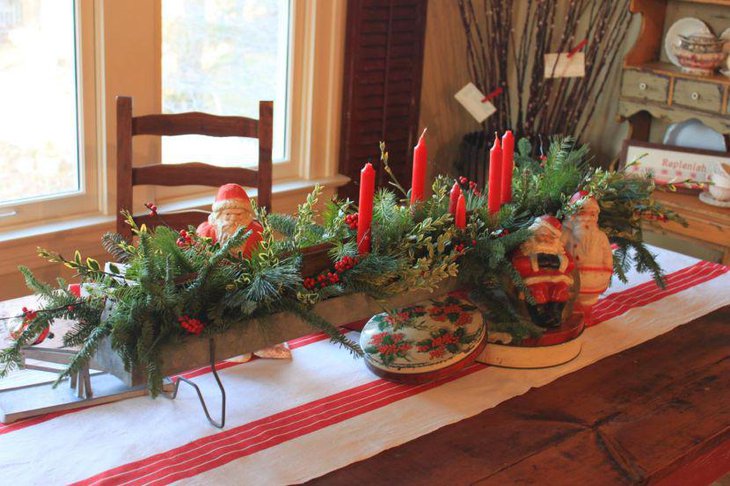 DIY Wooden Tray Centerpiece with Candles, Santa Figurines. and Greens
Image Credit: uniquedecorz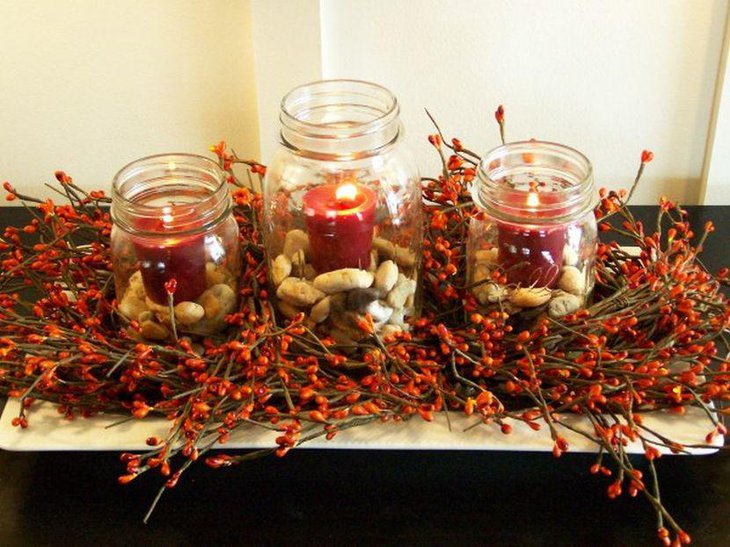 DIY Christmas Table Décor with Jars, Candles, Stones, and Faux Branches on a Tray
Image Credit: diplom35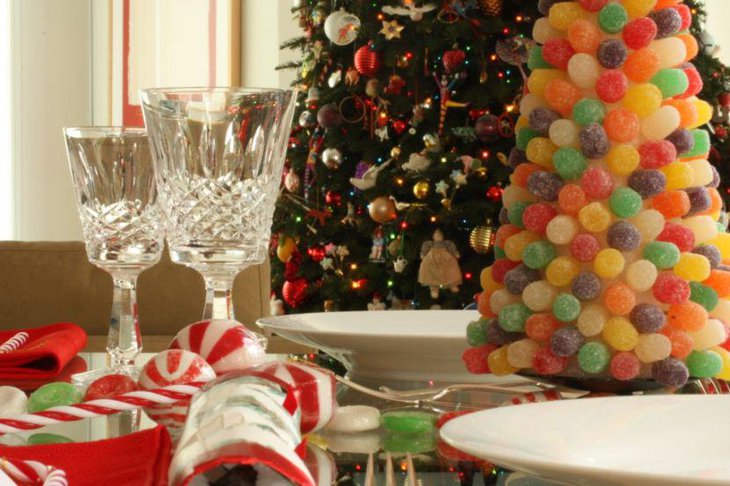 DIY Christmas Candy Tree Centerpiece
Image Credit: ducrx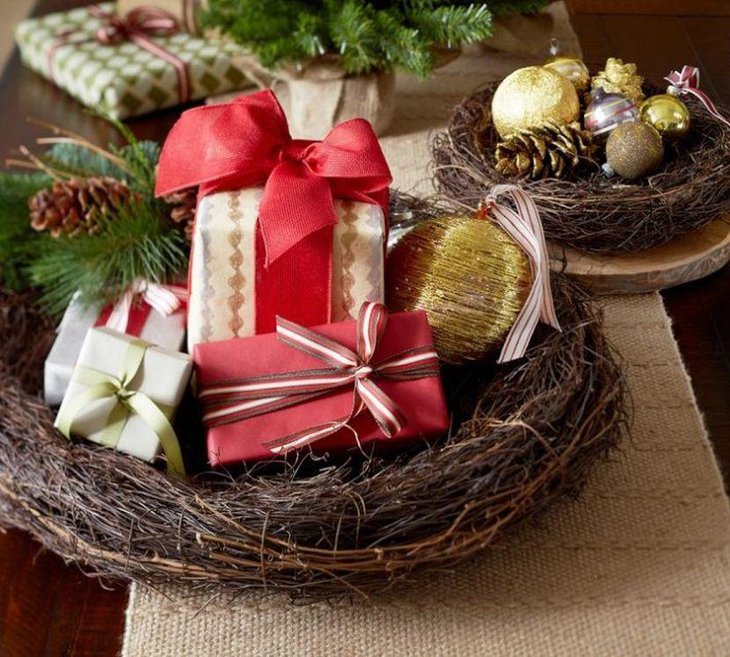 Gorgeous DIY Nest Christmas Table Centerpiece Filled with Gift Boxes, Ornaments, and Pinecones
Image Credit: home-designing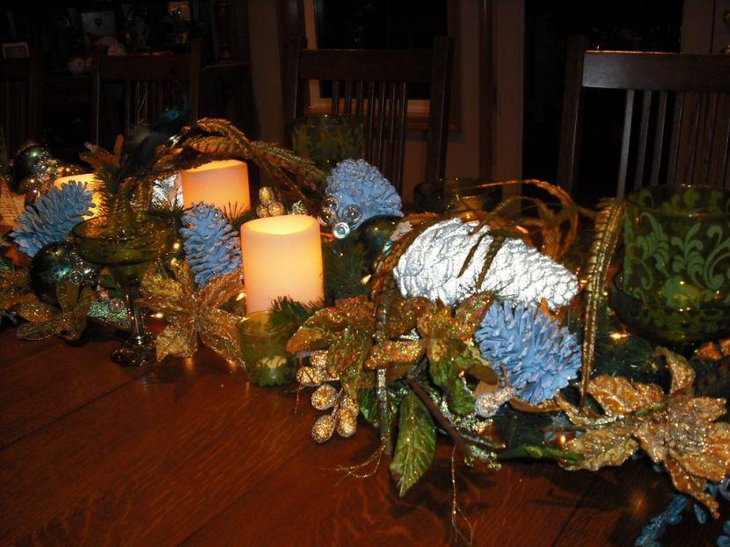 Ornamental Christmas Table Centerpiece with Spray Painted Pinecones and Greens
Image Credit: omniorion
Add a little more pizzazz or class to your tables this year one of these Christmas table centerpieces. Browse back through the list and think about you can adapt one or more of the ideas to your style!