Summer is a great time for a beach-themed wedding, even if you don't live anywhere near the ocean! It's even more fitting if the couple is going to a tropical location for their honeymoon as the wedding's theme will help excite them and allow their friends and family to share in the fun vacationing atmosphere. These wedding centerpieces feature starfish, coral, tropical flowers, sand, and seashells for beautiful, tasteful table décor.
Coral Centerpieces
Coral is a natural form of artwork with its unique shapes and colors. You don't need to style it or embellish it; simply pair it with complementary candles, flowers, or seashells. You can even print individual place settings for each table to match the featured coral centerpiece.
Red Coral, Rocks, and Place Setting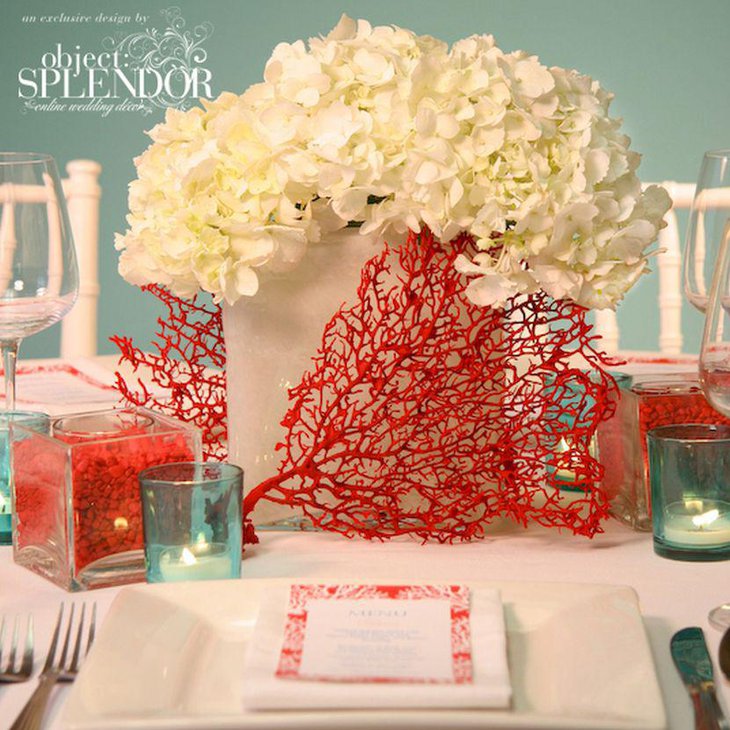 Image Credit: idoghana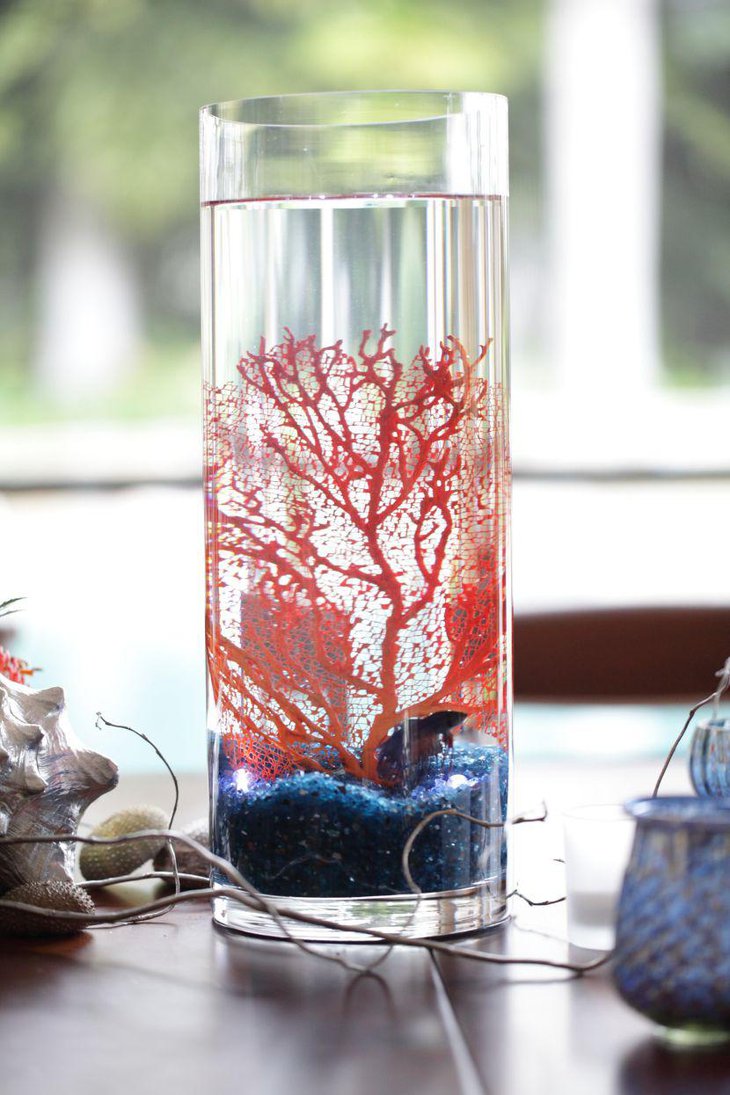 Coral in Tall Vase with Blue Rocks and Blue Accented Shells and Candle Holders
Image Credit: pinimg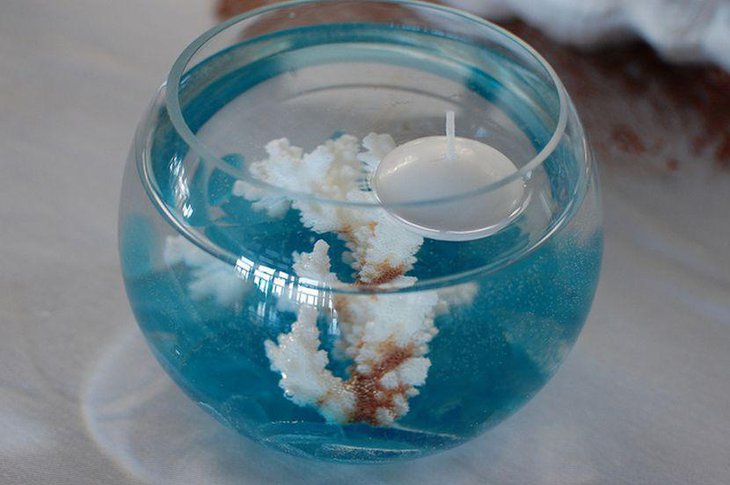 Coral and Floating Candle in Display Bowl
Image Credit: lanterncenterpiecesforweddings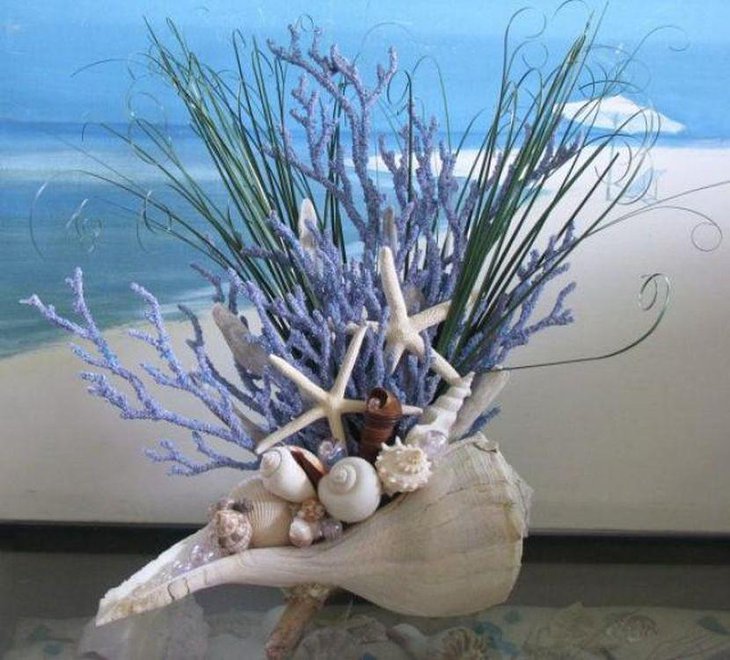 Coral and Seashell Arrangement
Image Credit: weddbook
Seashell Centerpieces
If coral is a little funky for you, try seashells. With their earthy tones and unique shapes and sizes, they make beautiful, serene centerpieces. Arrange them in a basket, vase, or Mason jar for a freshly-collected feel.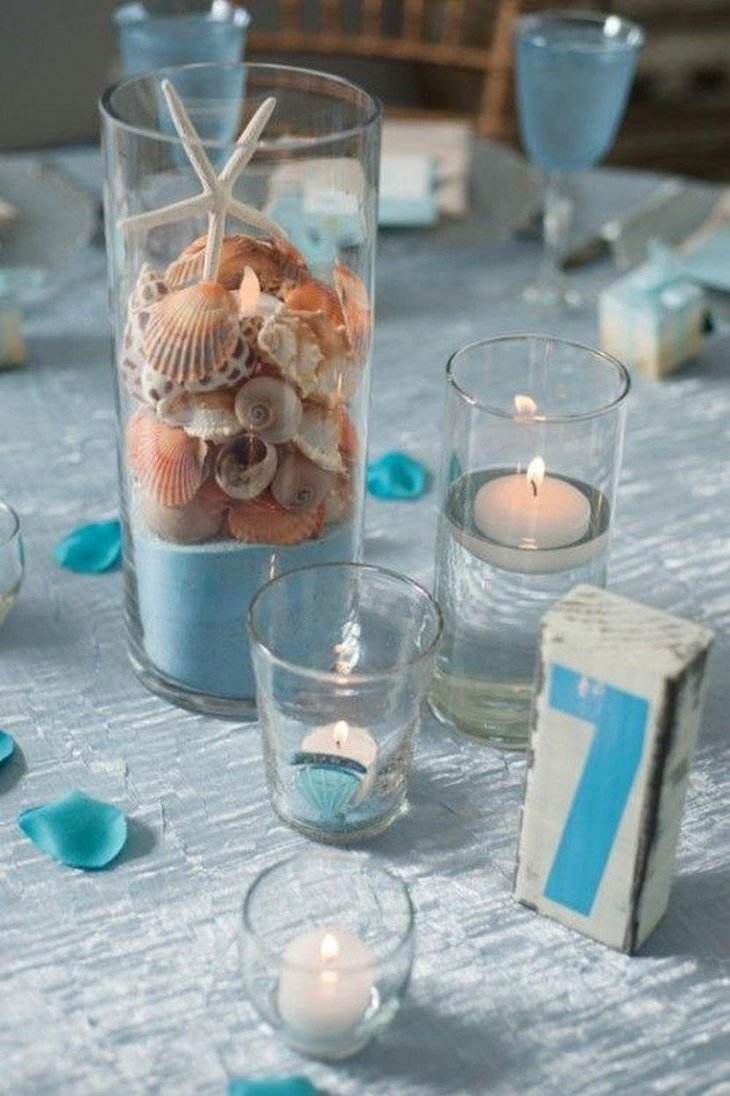 Seashells and Colored Sand in Tall Vase
Image Credit: pinimg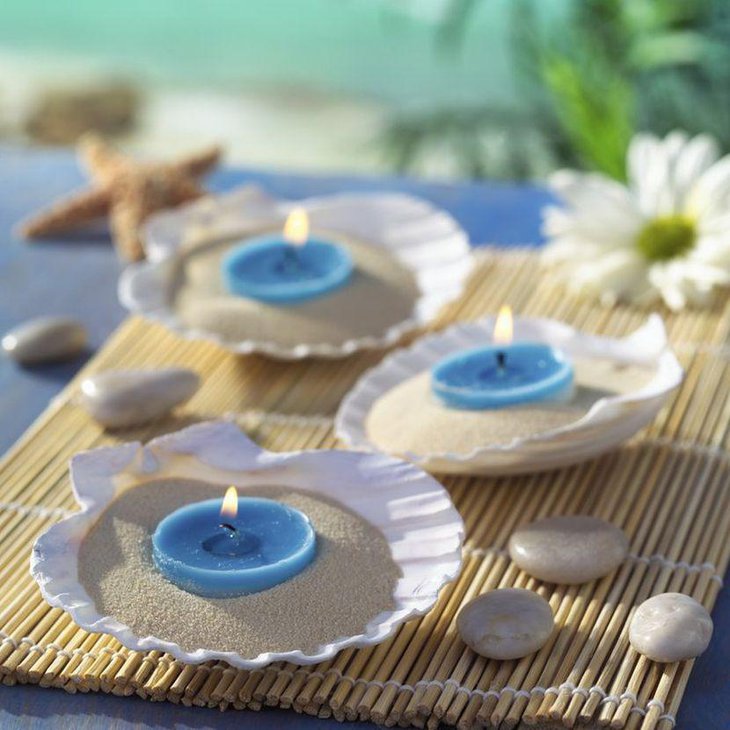 Oyster Shell Votive Holders
Image Credit: destinationweddingdetails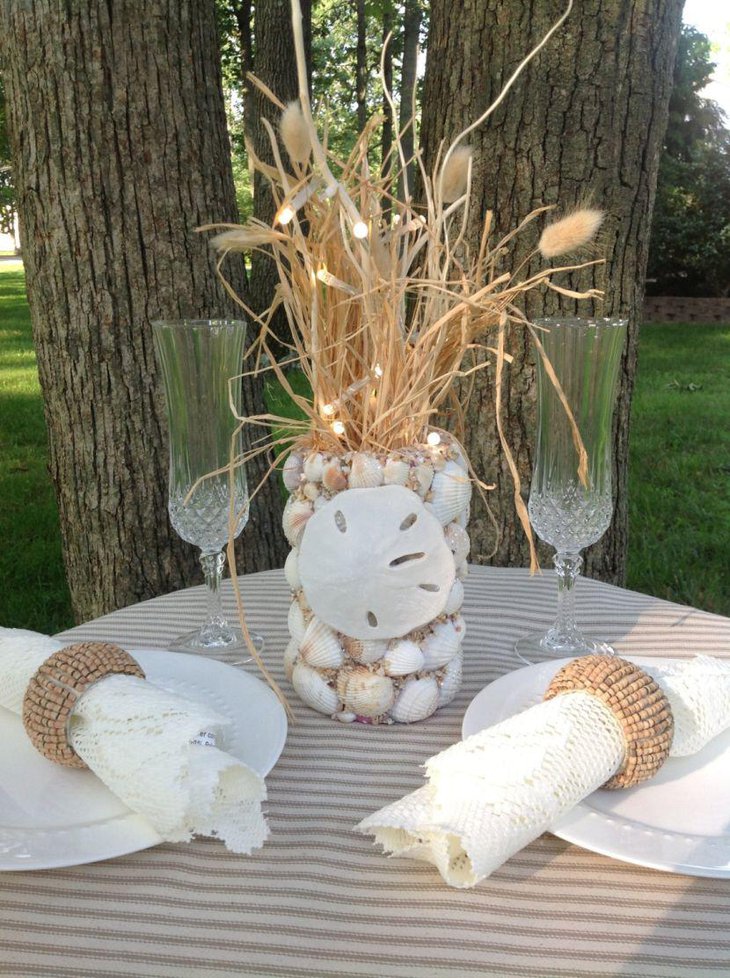 Seashells Pasted on Jar
Image Credit: etsystatic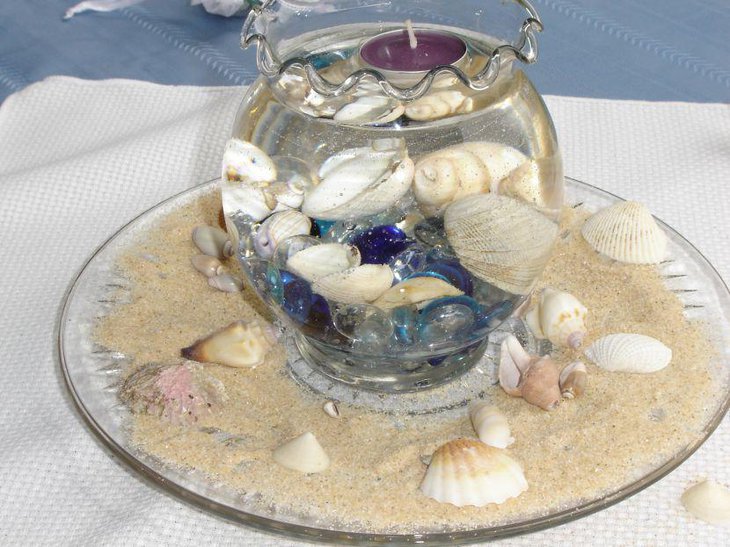 Seashells, Glass Stones, and Floating Candle in Display Bowl
Image Credit: wordpress
Floral Centerpieces
Tropical flowers or orchids lend an open-air, classy touch to any wedding. Pair them with seashells or driftwood to complete the breezy marine ambiance.
Floral and Starfish Centerpiece Arrangement
Image Credit: flowershopnetwork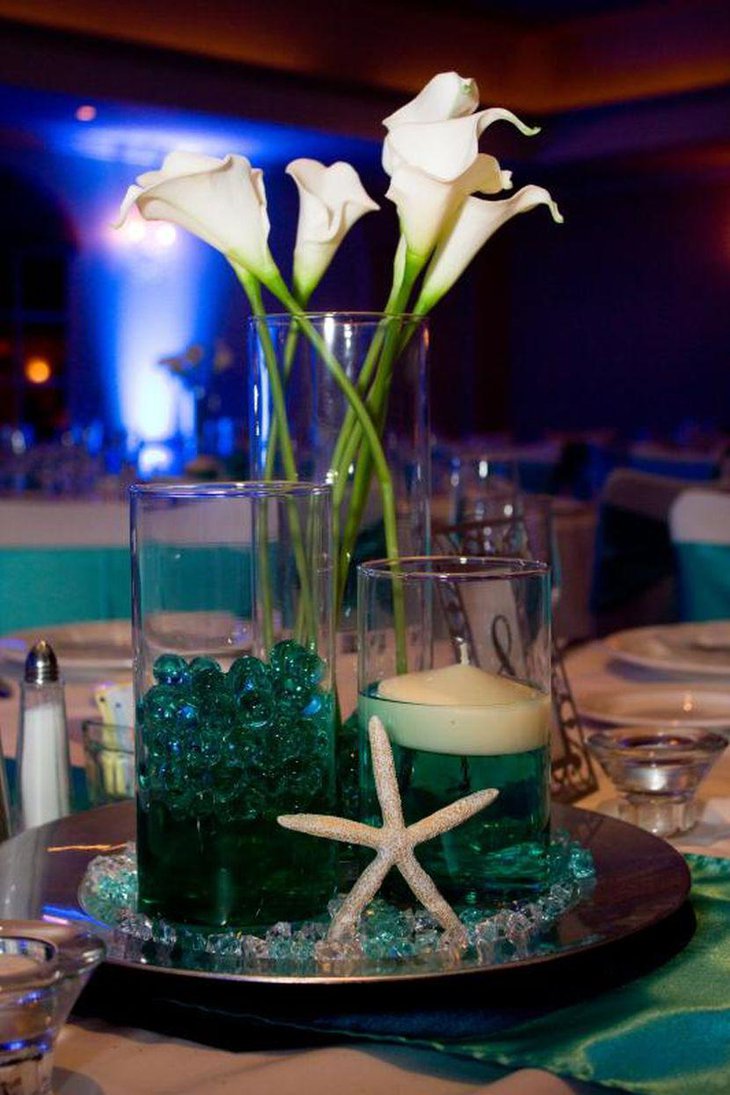 Lilies, Aqua Water and Stones, and Starfish Ensemble
Image Credit: wedding-theme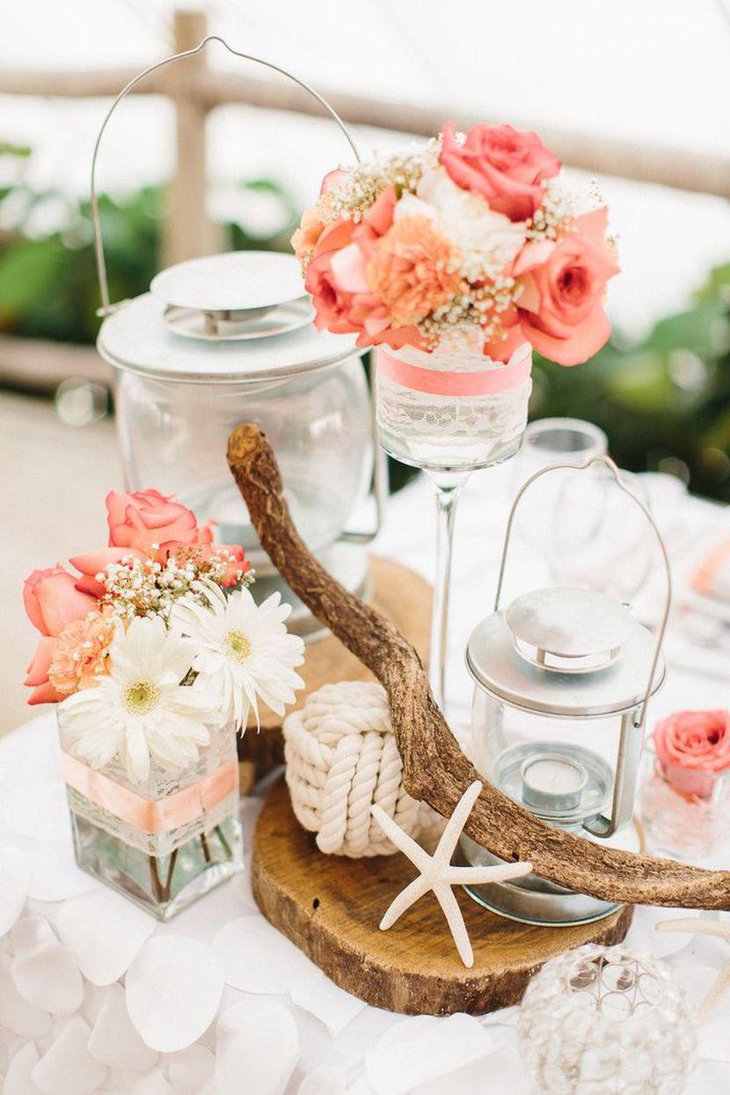 Floral Centerpiece with Driftwood and Starfish
Image Credit: deerpearlflowers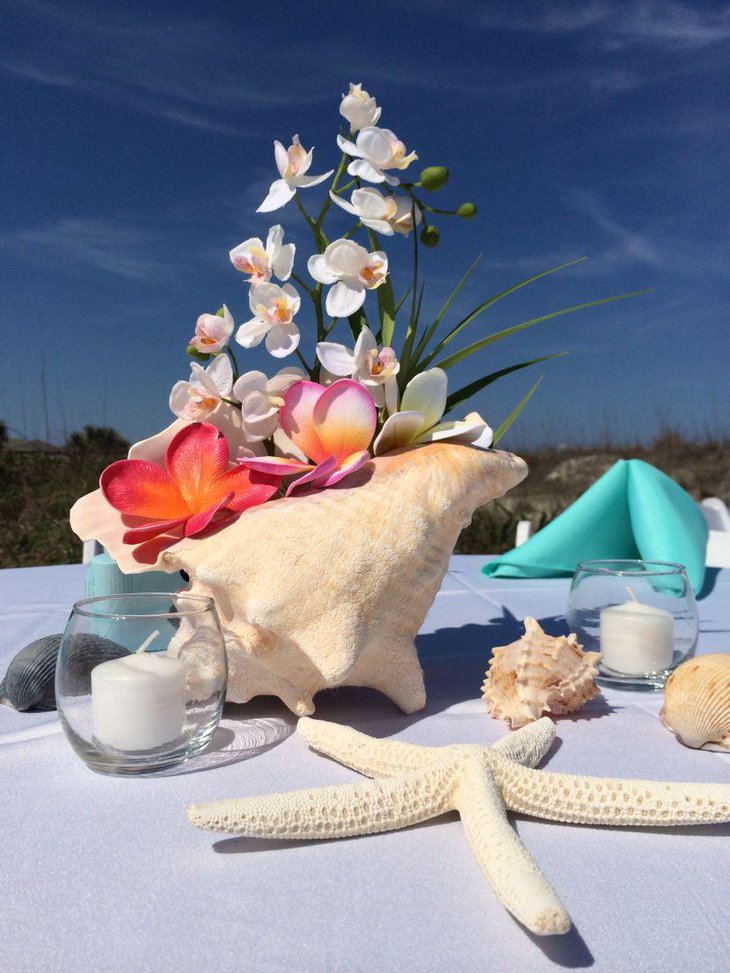 Floral Arrangement with Assorted Shells
Image Credit: weddingofficiantjacksonvillefl
Starfish Centerpieces
Starfish are the most interesting shells to look at. Draw your guests' attention with these distinctive creatures against a backdrop of sand, seaweed, or coral. Starfish and colored sand centerpieces will look especially tropical. When you get back from the honeymoon, you can even use these wedding centerpieces to decorate your home and remind you of your most special of days.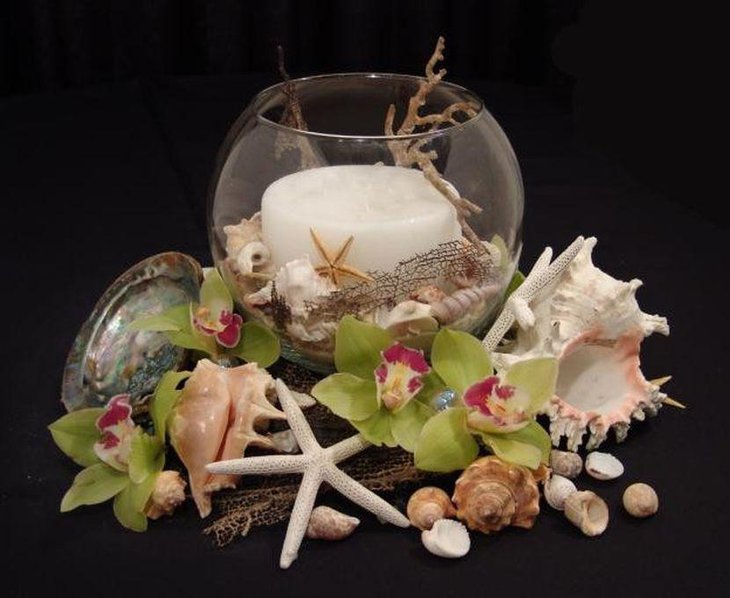 Starfish, Shells, Flora, and Candle
Image Credit: wordpress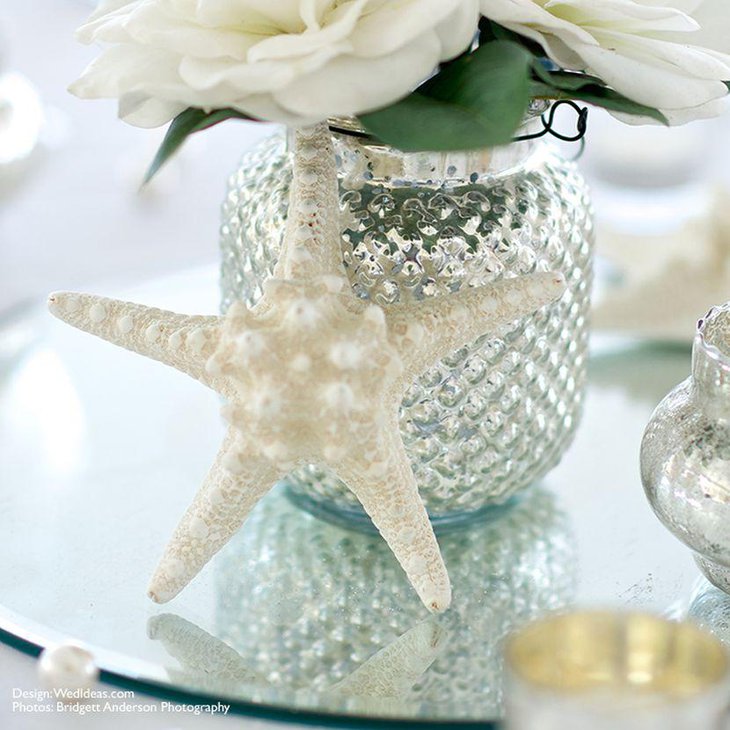 Starfish and Floral Centerpiece on Mirrored Tray
Image Credit: afloral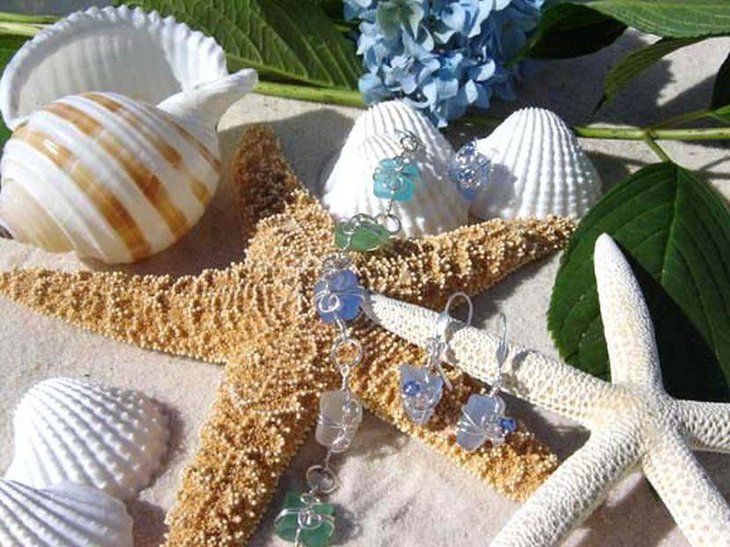 Starfish and Shells on Sand
Image Credit: tbdress
Seashell Arrangements
Why not gather all the sea elements together complete the scenery? Consider placing seashells, coral, and starfish in display bowls with a swimming fish or two to really enliven the tables! You can combine the fish into a larger aquarium later or send the bowls home with guests who might want them.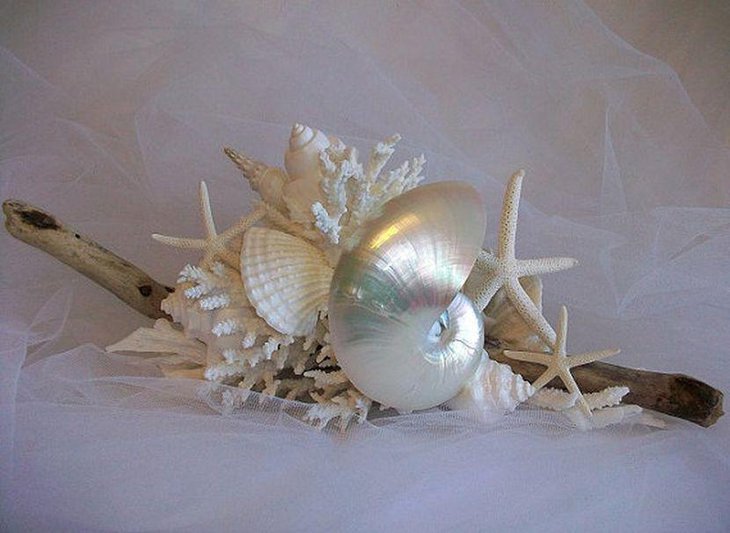 Seashell and Driftwood on White Tulle
Image Credit: etsystatic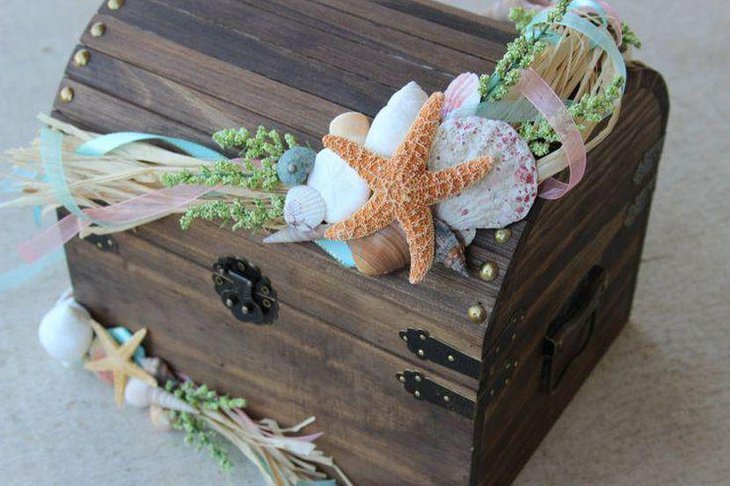 Treasure Chest with Seashell Décor
Image Credit: weddbook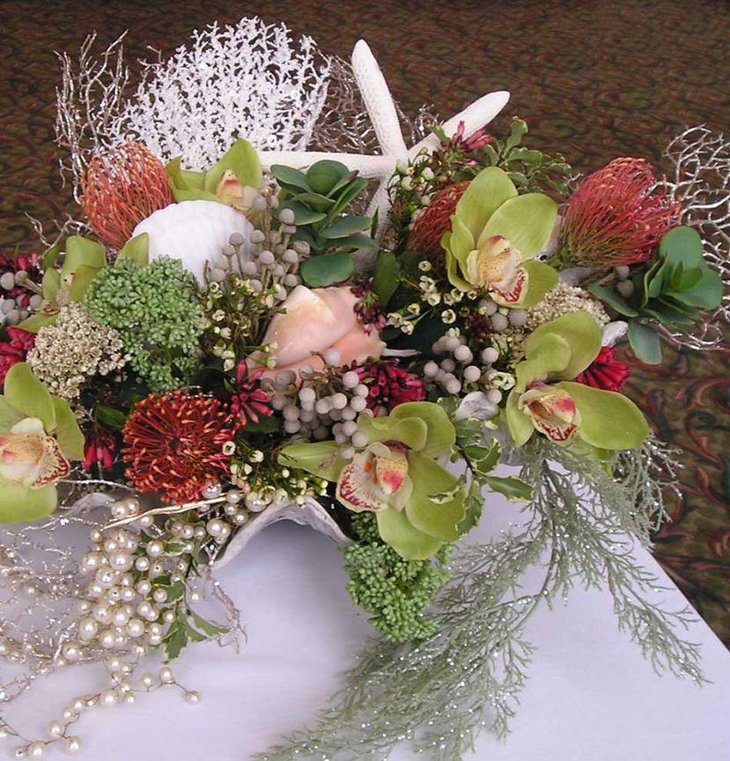 Floral Arrangement with Seashell Embellishments in Seashell Bowl
Image Credit: squarespace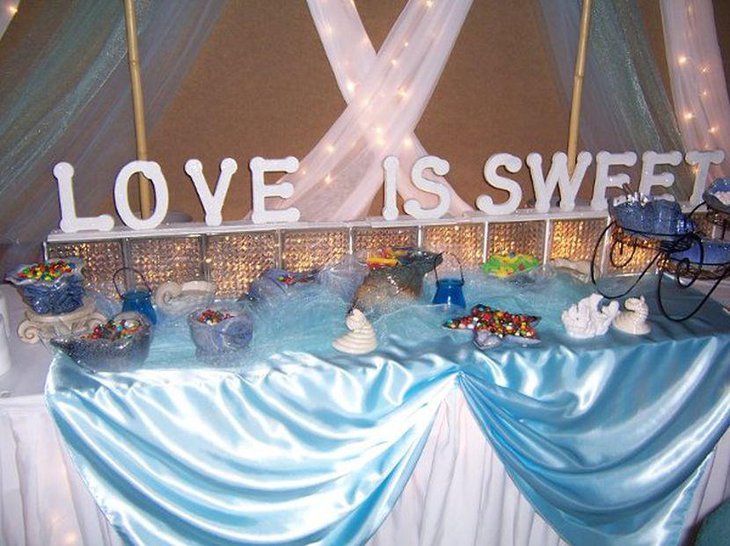 Seashell Table Decorations on Water-colored Table Runner
Image Credit: weddingwire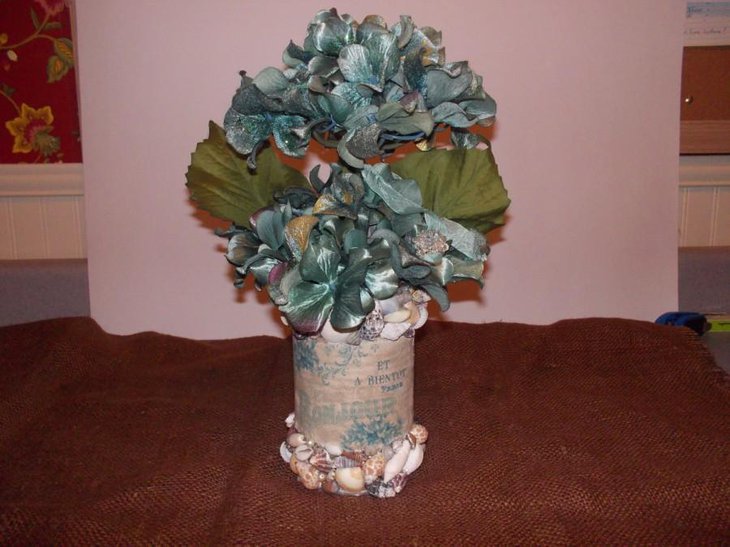 Floral Pot Decorated with Seashells
Image Credit: weddbook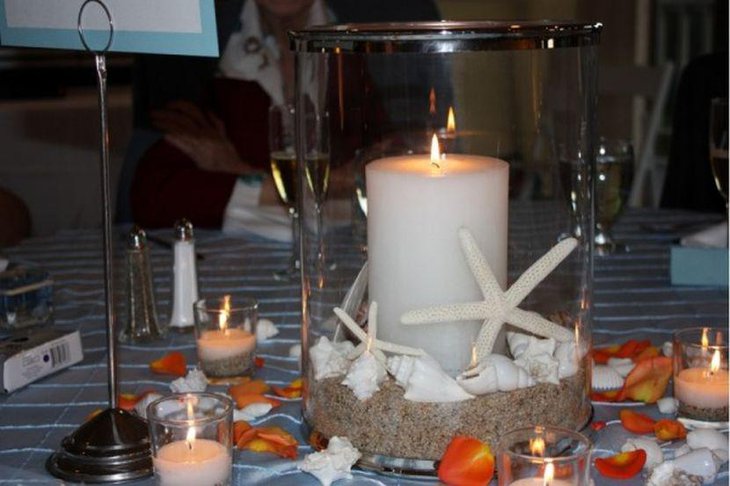 Shell and Candle Centerpiece
Image Credit: ruffled
Treasure!
Argh, matey! Celebrate the treasure of your love with undersea treasure chests. Worn or new, chest decorations will be an intriguing addition to your tables. Adorn them with pearls, shells, and seaweed or flowers. But keep them closed to maintain the mystery! Consider placing favors inside the centerpieces and allowing guests to unlock them when the time is right.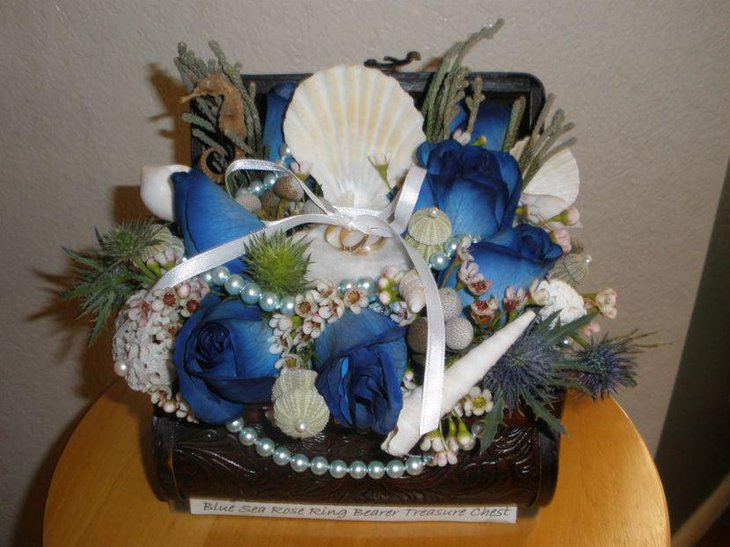 Ring Bearing Treasure Chest
Image Credit: seasonalweddingflowers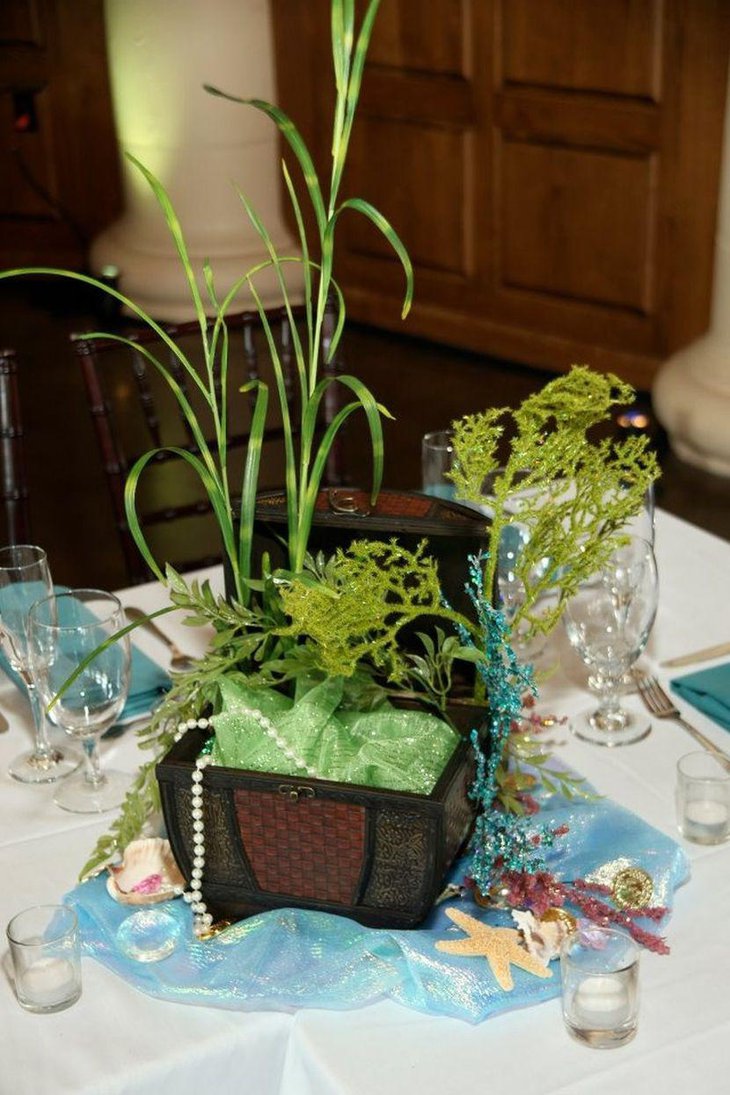 Open Treasure Chest Centerpiece
Image Credit: pinimg
Simple Treasure Chest with Silver Spray Painted Shells
Image Credit: beautifulweddings
Driftwood Centerpieces
Use driftwood for more rustic or authentic beach décor. Place it by itself for a stark appearance or arrange it with flowers, shells, and candles for balanced centerpiece idea. You can make your own driftwood by stripping the bark off a branch and soaking it in saltwater.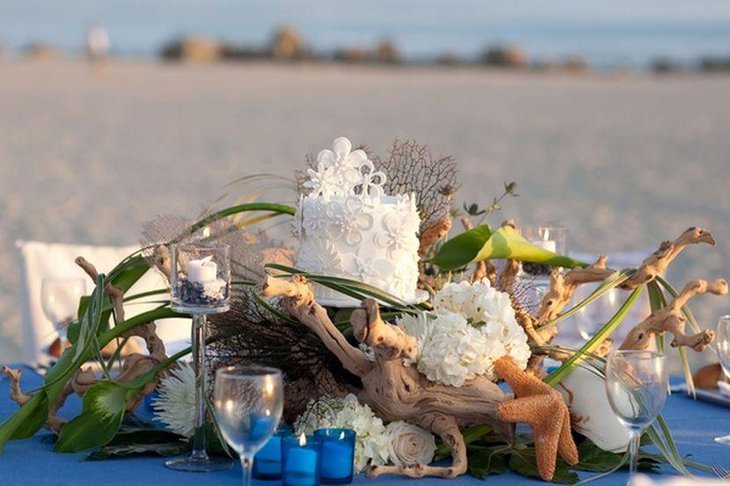 Driftwood, Floral, Seashell, and Candle Ensemble
Image Credit: farah-novias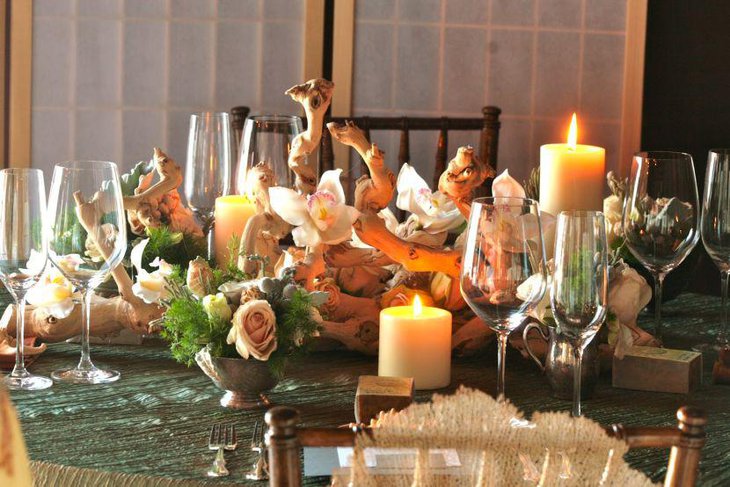 Driftwood, Flora, and Candles
Image Credit: blogspot
Sand and Pebble Centerpieces
Sand and pebbles make the perfect base for your beach-themed table centerpiece. Fill a tray or jar with sand or pebbles on the bottom and then create your beach scene on top using shells, driftwood, or flowers. Or you can make colored sand or pebbles the main attraction of your centerpiece. Simply fill decorative vases or Mason jars with colored layers of pebbles and sand. Gift the display to guests or place them around your home afterward.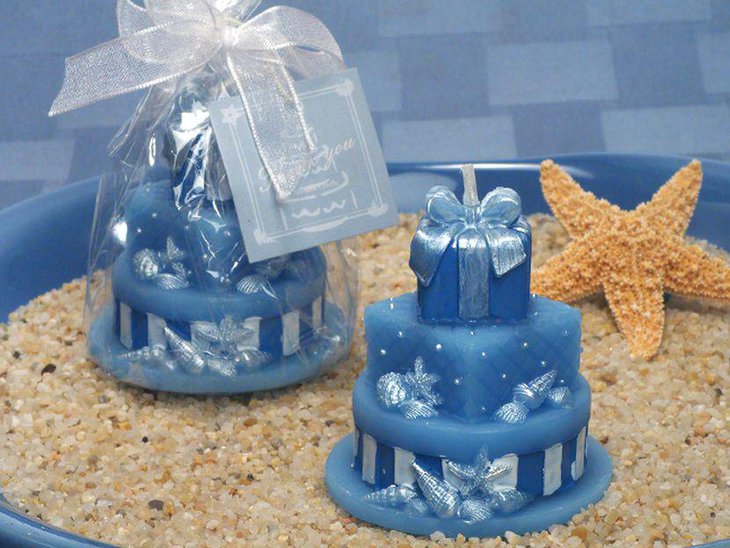 Pebble Base for Centerpiece
Image Credit: tbdress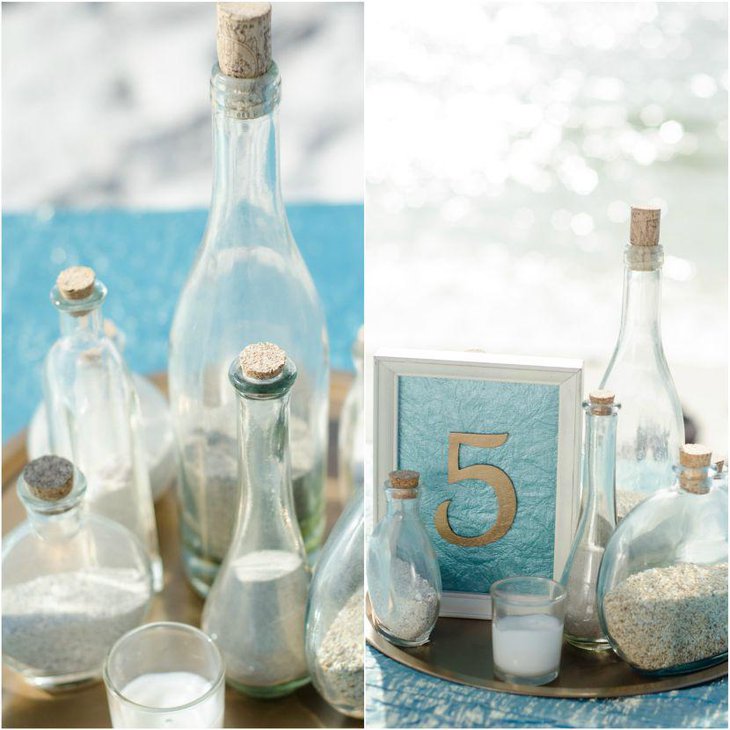 Decorative Bottles Half Filled with Sand and Pebbles
Image Credit: homeofour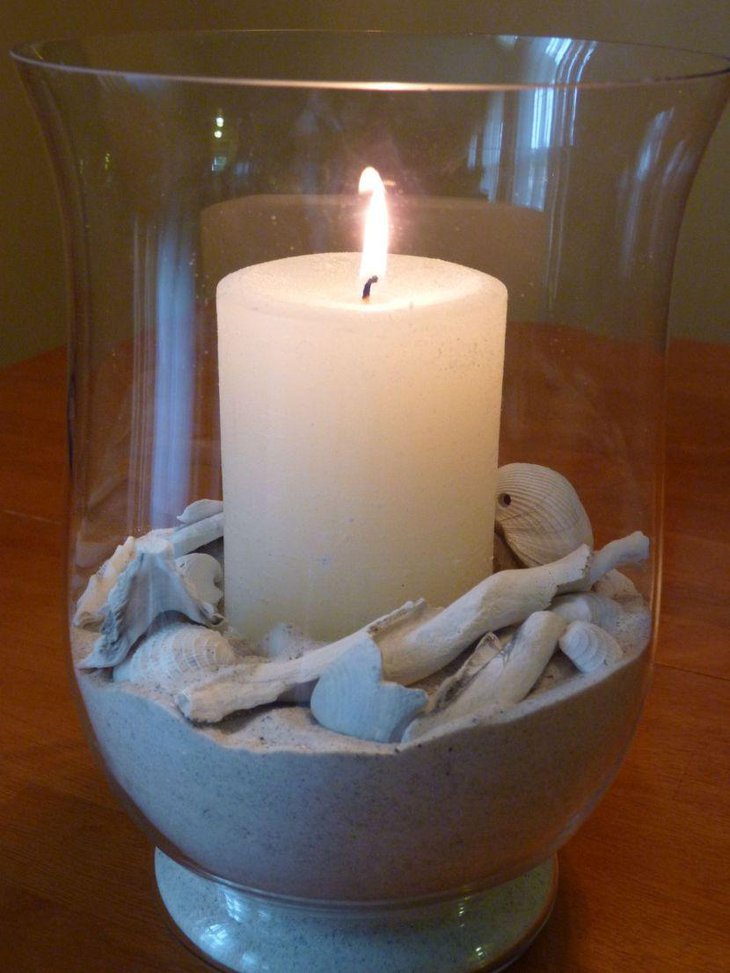 Sand and Shells in Candle Vase
Image Credit: wordpress
Burlap Centerpieces
Like driftwood, burlap is an ideal rustic addition to balance your more ornamental or colorful elements. Wrap your decorative pieces with bits of burlap and mesh or use burlap as your "sand" base for a cleaner display.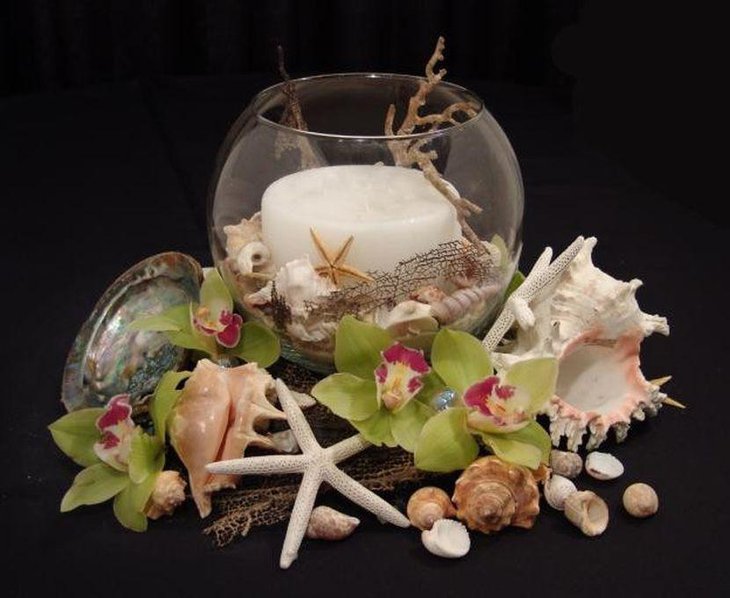 Centerpiece with Bits of Burlap and Mesh
Image Credit: wordpress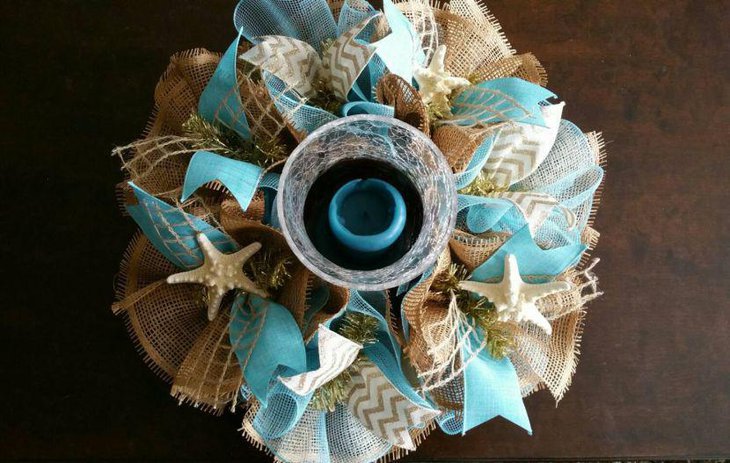 Deco Mesh and Burlap Candle Skirt
Image Credit: etsystatic
All of these beach-themed wedding centerpieces are easy and inexpensive to assemble. Use your imagination and designer's eye for the layout, but don't fret over the arrangement too much; because these are natural elements, they'll look great no matter what!