If you are searching for awesome Christmas tablescape ideas to brighten your (holy day) holiday tables, here we are with an exquisite collection of 35 charming tablescapes. Add to the Christmas celebration by decking up the tables? Table decoration forms an integral part of Christmas preparations and planning. A well laid out tablescape becomes the cynosure among all the features in a festive home. You can decorate both your coffee and dining tables tastefully. These gorgeous table setting ideas are perfect for helping to bring in the festive spirit of the season.
Exquisite Christmas Tablescape Ideas using Gorgeous Tablecloths
Christmas tablescapes can vary widely in style. To lend a unique touch to your celebrations, tablecloths in various hues and patterns can be laid out on the holiday tables. If you have a neutral dining area, there are a number of ways to stylize it, such as with a vintage looking Christmas tablecloth or tablecloths in red and white tones with motifs representing the wintry season or iconic Christmas characters.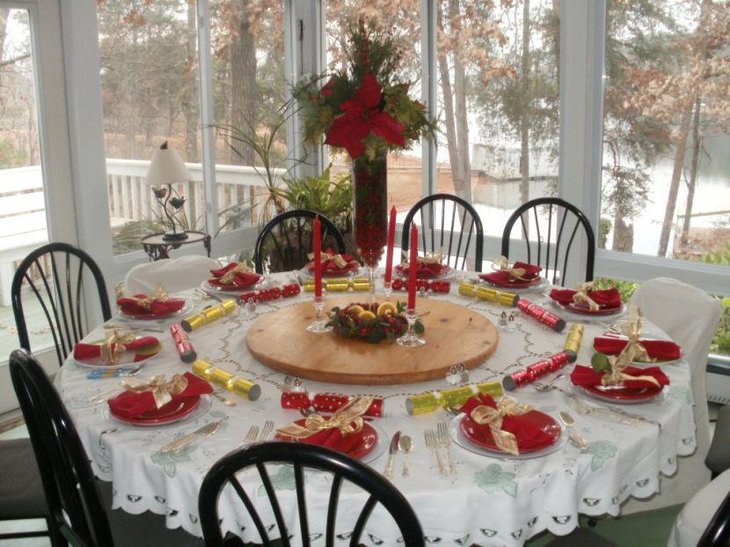 Vintage White Christmas Tablecloth
Image Credit: teamne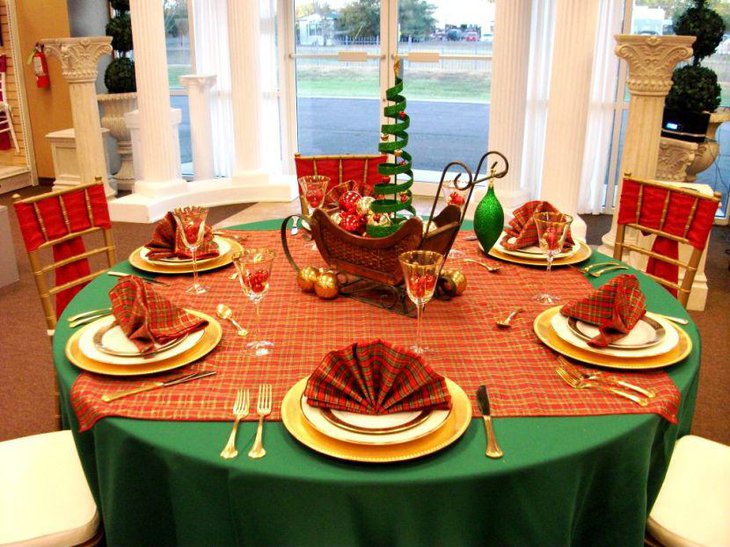 Green Tablecloth with Large Red Checkered Table Runner
Image Credit: teamne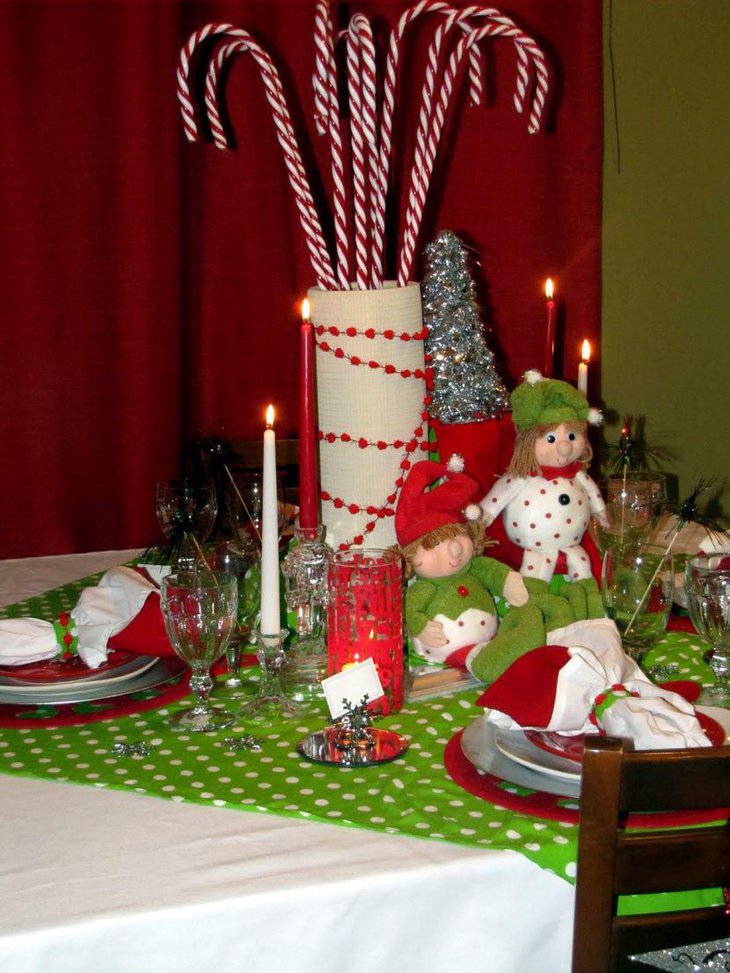 White Tablecloth with Green Polka Dot Table Runner
Image Credit: homegoid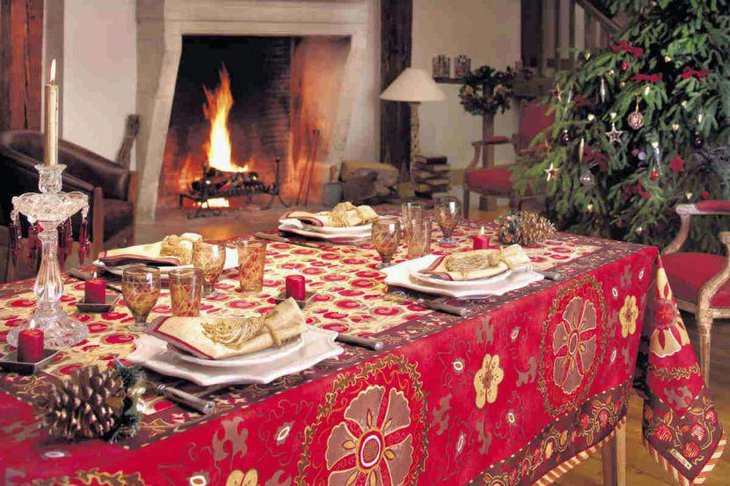 Exquisite Red Patterned Tablecloth
Image Credit: okmarkt
Gorgeous Christmas Tablescape Ideas using Lights
The Yuletide season is all about lighting up your part of the world to spread cheer and warmth. What can be better than having tables that are well lit and ready to begin the festivities? This season, it's all about 'lights… lights and lights'! Lighting up the tables using candles, luminaries, or lamps is the perfect way to add a glimmering touch to your holiday tables. From decking up candles in various styled votive candles to placing sconces to using gingerbread house lamps to embellishing the table with stars and illuminated trees, there are endless options you can try. Take a look at these awesome table setting ideas for a delightful tablescape.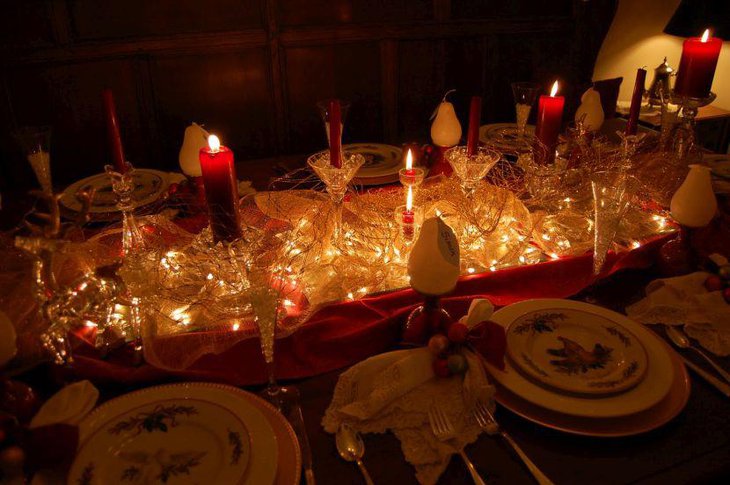 Stunning Christmas Table Décor Lit with String Lights and Candles
Image Credit: betweennapsontheporch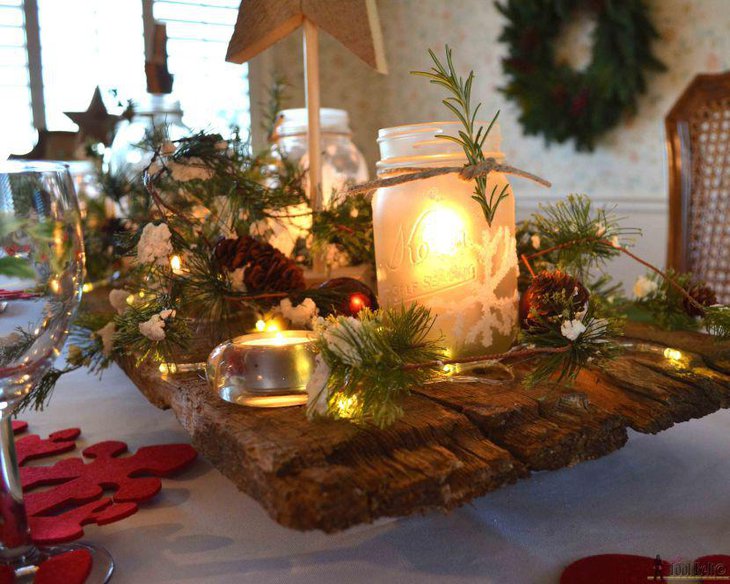 Frosted Mason Jar with Candle on a Natural Wooden Slab with Greenery
Image Credit: hertoolbelt
Lighted Village Models
Image Credit: betweennapsontheporch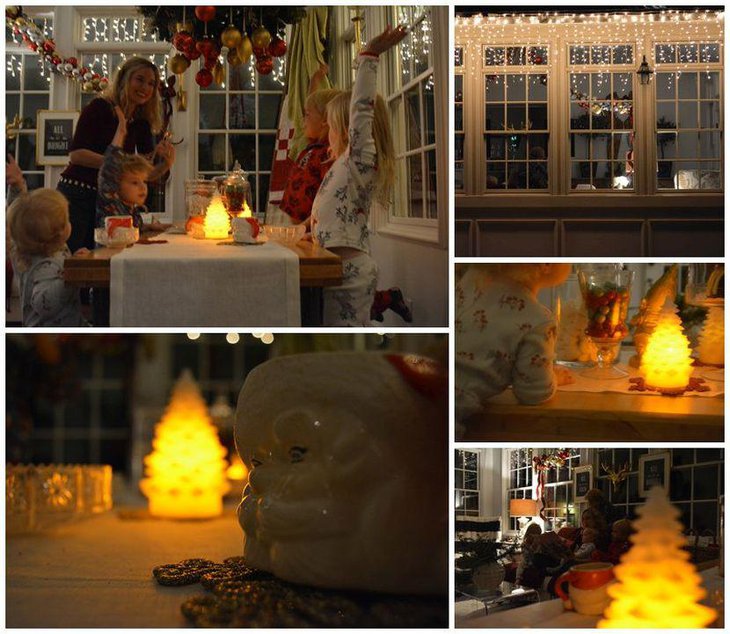 Christmas Tree Shaped Candle Lanterns
Image Credit: homedepot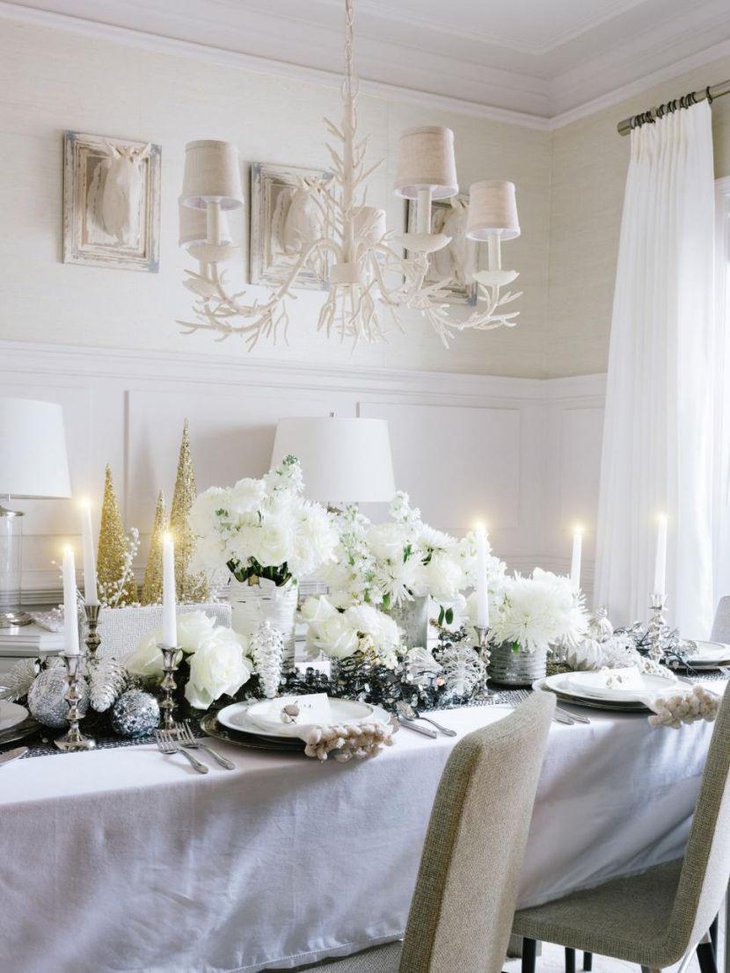 Elegant White Christmas Tablescape with Flowers and Candles
Image Credit: hgtvhome
Stunning White Christmas Tablescapes
Throughout ages, people celebrating the Yuletide season have always preferred using white accented tablescapes for a classier Christmas. Can you guess why? White signifies purity of soul. Christmas is a time for merrymaking and spreading love among friends and family, and there cannot be a better color than white to represent the feeling of innocence and being accepted. And, of course, white is associated with snow, a very iconic element of the season. White tablescapes lend an ethereal touch to your décor and can be used in different ways. A winter wonderland Christmas table with white as the predominant shade is always the queen of all decorations.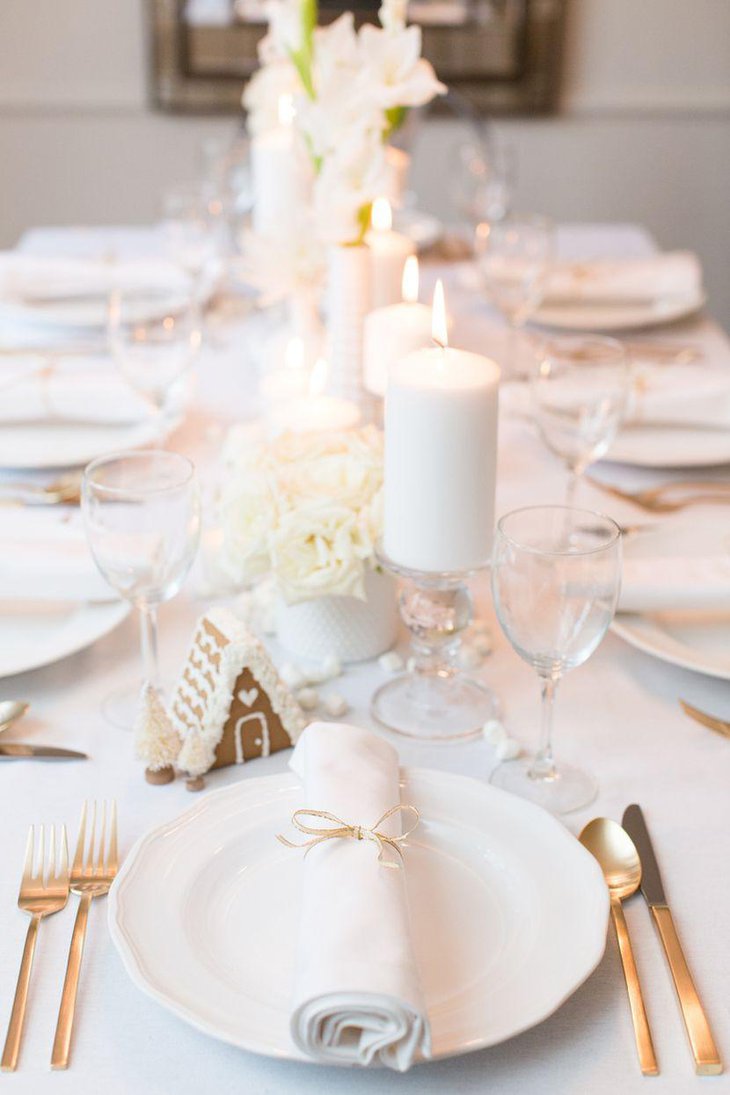 White Christmas Tablecloth, Plates, Napkins, Candles, and Flowers
Image Credit: h-cdn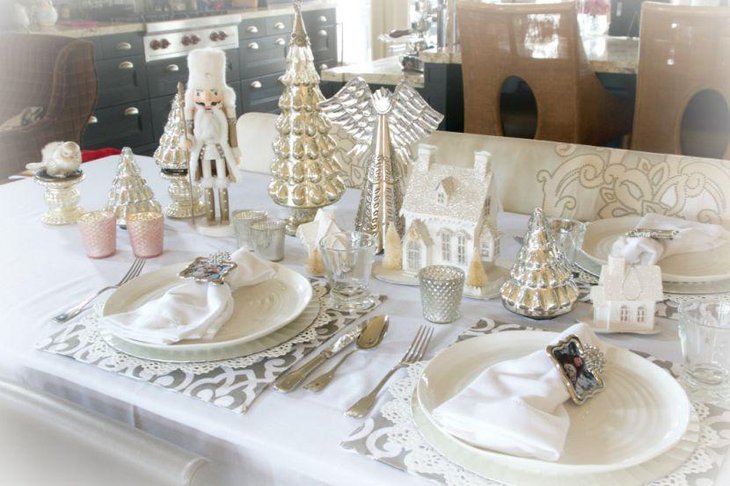 White Tablecloth, Plates, Napkins, Placemats, and Table Decorations
Image Credit: justasmidgen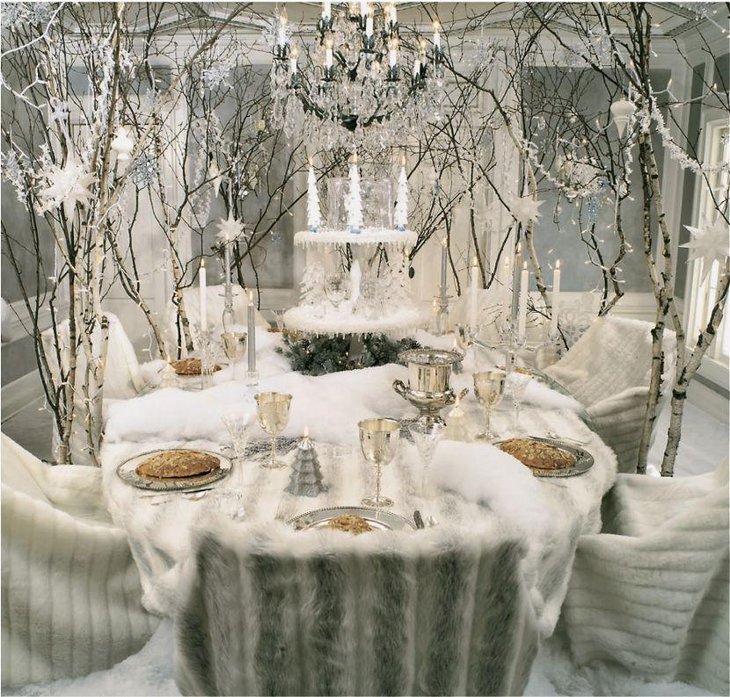 A White winter Wonderland Christmas Tablescape
Image Credit: blogspot
Glamorous DIY Christmas Tablescapes
How about trying DIY decorations this year? Home crafted items add charm to any table, and the ideas showcased below are all simple and quite easy to assemble! With these Christmas tablescapes, your family and guests are sure to be impressed. You can collect pinecones from your backyard and place them in a bowl or piled on a tray to create a centerpiece out of them. Or for another natural accent idea on your tables, use plenty of pine needles and place them as mats over which you can assemble ornaments of different colors. Likewise, your old Mason jars can be turned into lovely decorations in the form of luminaries or vases.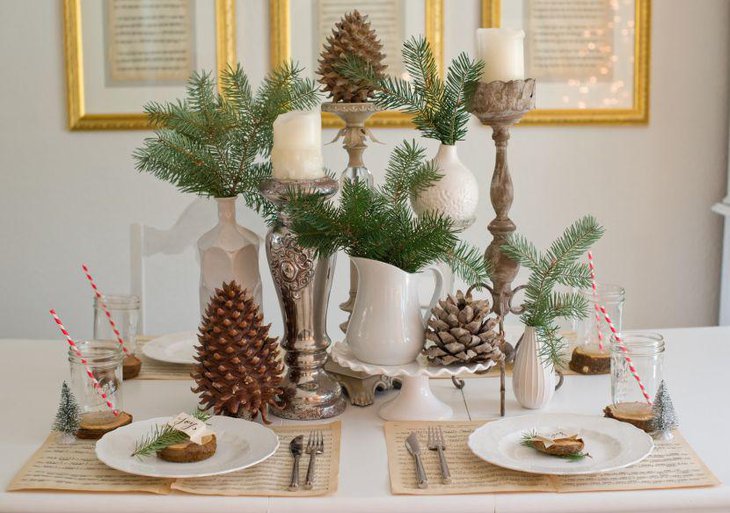 Natural Christmas Tablescape with Pinecones and Branches
Image Credit: diys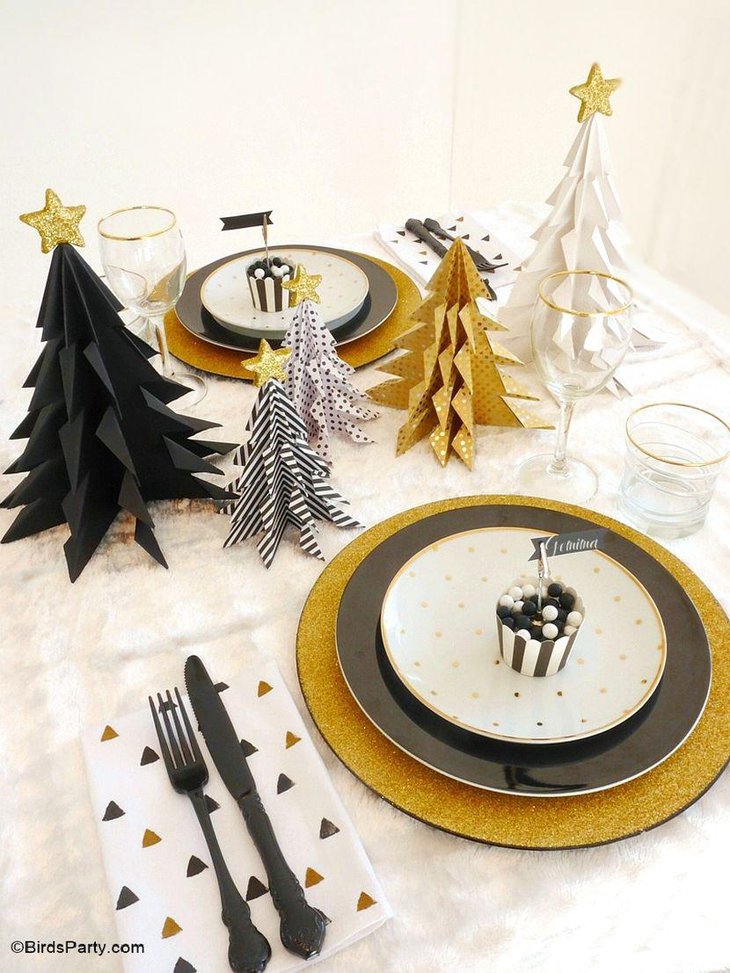 DIY Black, White, and Gold Origami Christmas Tree Decorations
Image Credit: blogspot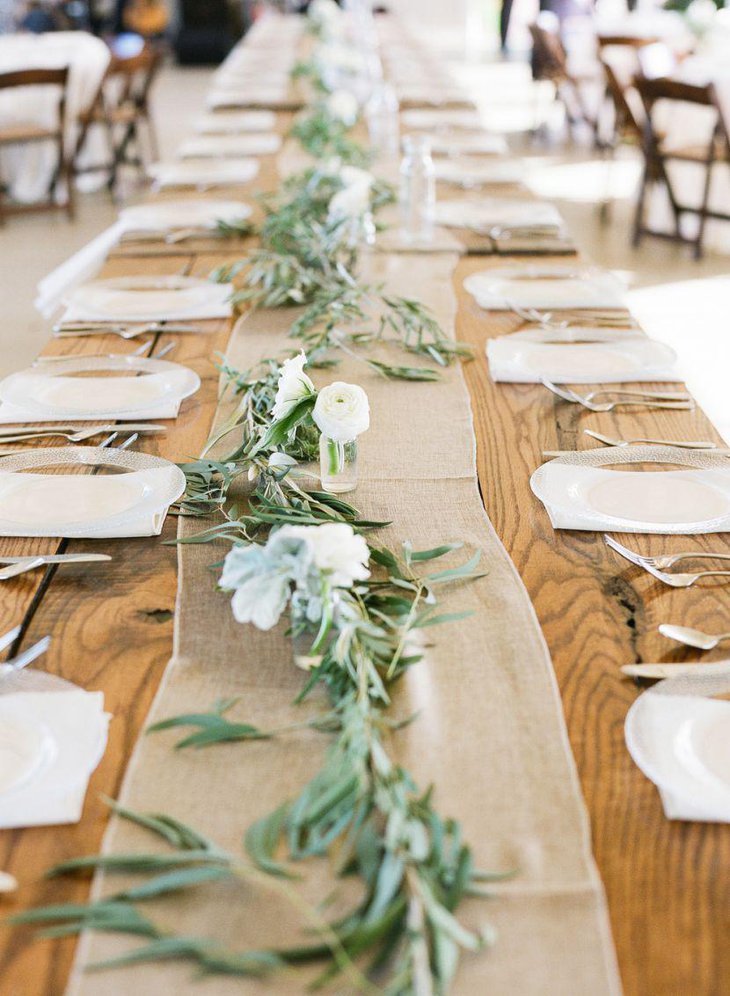 Burlap Table Runner with Natural Greens and Mini Flower Vase
Image Credit: diys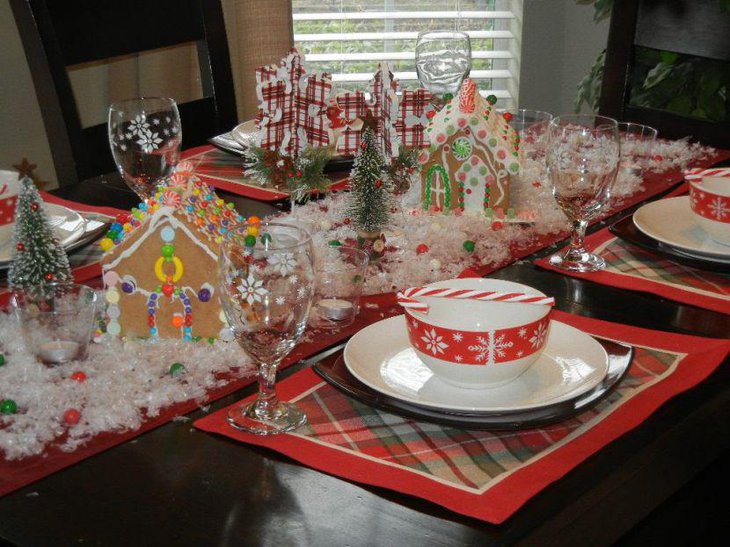 Homemade Gingerbread Houses with Faux Snow and Candies
Image Credit: ytimg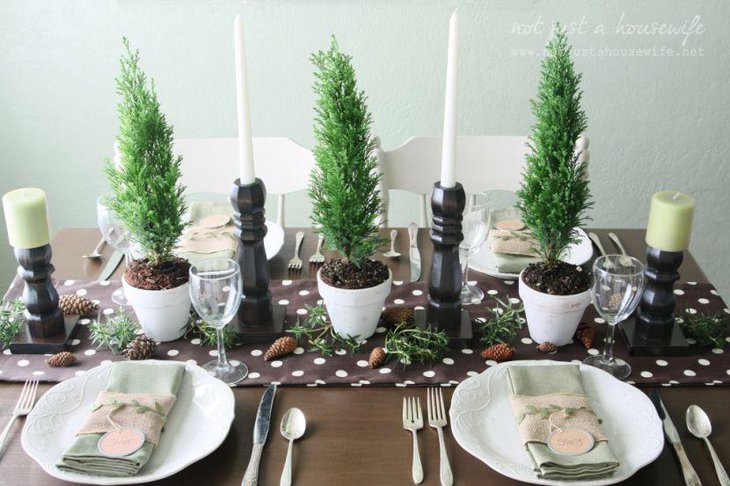 Chocolate Colored Christmas Table with Mini Pinecones, Sprigs, and Styrofoam Planters
Image Credit: diys
Pleasing Christmas Tablescapes with Figurines
If you want the Yuletide fever to spread to everyone in your home, then think about embellishing tables using the iconic Christmas figurines as centerpieces. You can use a Nativity set as your centerpiece, illustrating the birth and adoration of Christ, or you can use Santa, Rudolph, and Frosty the Snowman. Sacred or secular, these figurines can play a significant role in creating a rich and cozy ambiance. The Christmas tablescape ideas shown below are best suited for traditional tablescapes but look very artsy as well.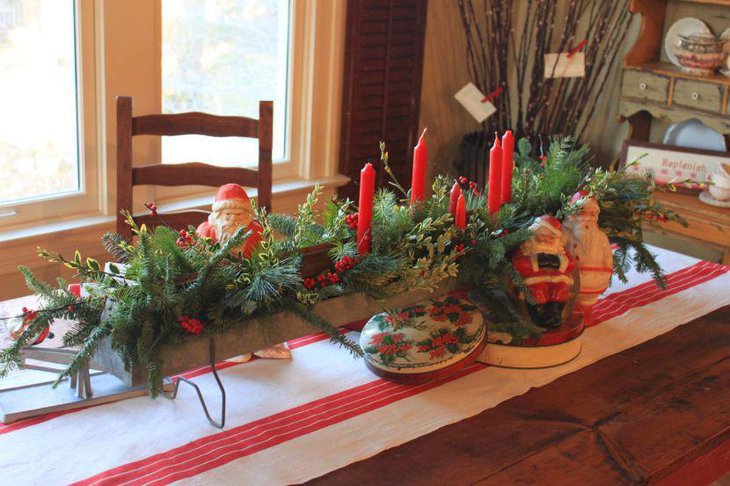 Cute Santa Figurines Embellishing the Table
Image Credit: homegoid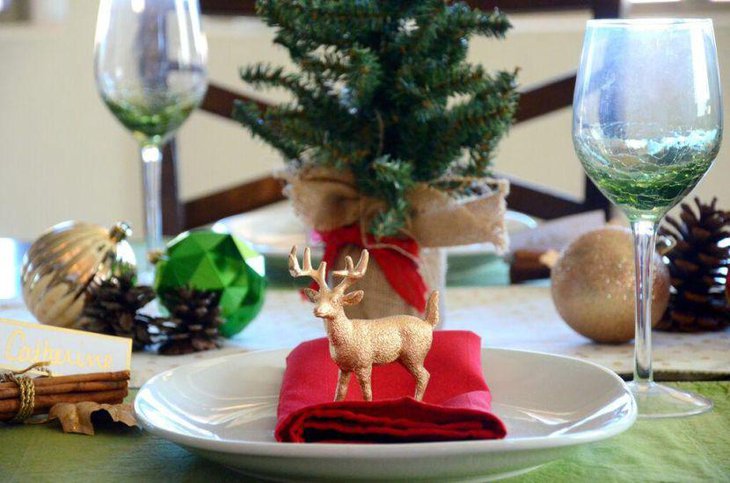 Miniature Reindeer Figurine Welcoming Guests to Their Place Setting
Image Credit: asmsrv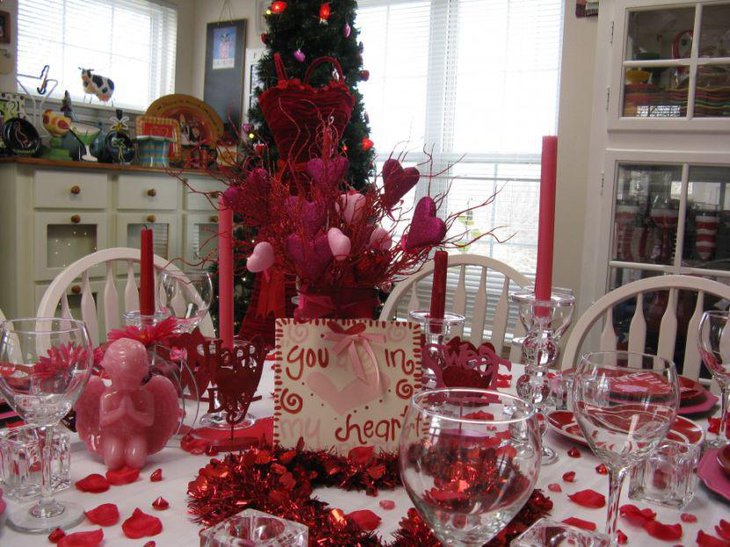 Cherub Figurine on a Romantic Christmas Table
Image Credit: homesfeed
Alluring Christmas Table Setting Ideas with Gift Boxes
You can use your holiday tablescapes to illustrate the spirit of the giving season with gift boxes. Apart from having a giant Christmas tree with an array of gifts underneath, you can also place full-sized or mini presents on your dining or coffee tables. They can be empty or contain actual gifts. Playing 'Secret Santa' is a favorite game associated with Christmas and with this idea, you can play the game sitting next to each other after dinner. Place beautifully wrapped presents on the table and your guests will never be happier when they open up their presents after tucking in a sumptuously made meal!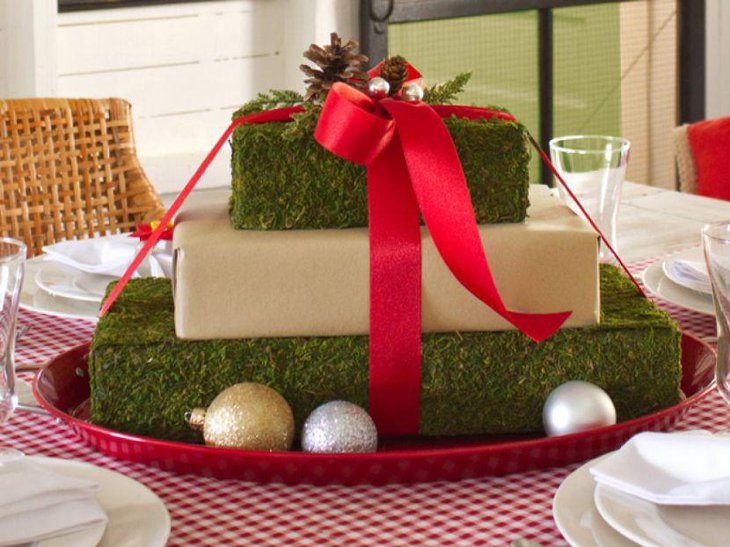 Natural Moss Covered Gift Box Centerpiece
Image Credit: hgtvhome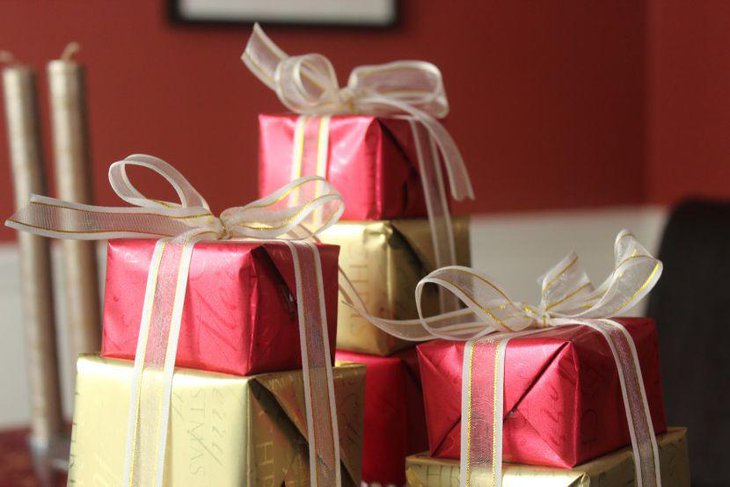 Elegant Red and Gold Gift Box Decorations
Image Credit: blogspot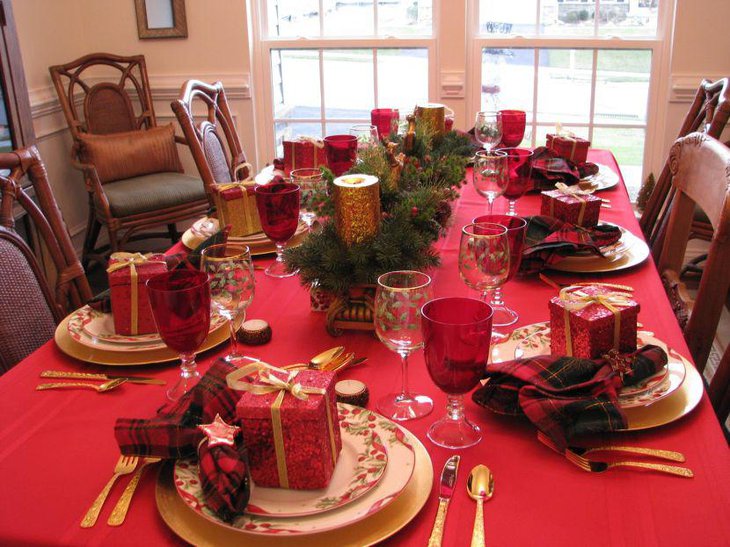 Table Settings with Gifts Awaiting Guests
Image Credit: hozamcentrum
Cute Christmas Tablescape Ideas using Natural Elements
The coziness that nature and its myriad elements bring to a décor is unparalleled by any other feature. Natural elements help add an earthy touch to your décor, and so are very popular. The tablescapes for Christmas shown below have utilized natural tones and accessories to bring in a sense of warmth and freshness. A woodland themed festive table serves best when you are a nature lover. For incorporating this theme, you must have natural accessories like twigs, pinecones, greens, and logs of wood. Many DIY crafts make use of natural accents as gathering these accessories are easy and obviously inexpensive. Placing warm-looking wooden mats or logs and lighting their tops with candles helps in chasing away the chills of winter.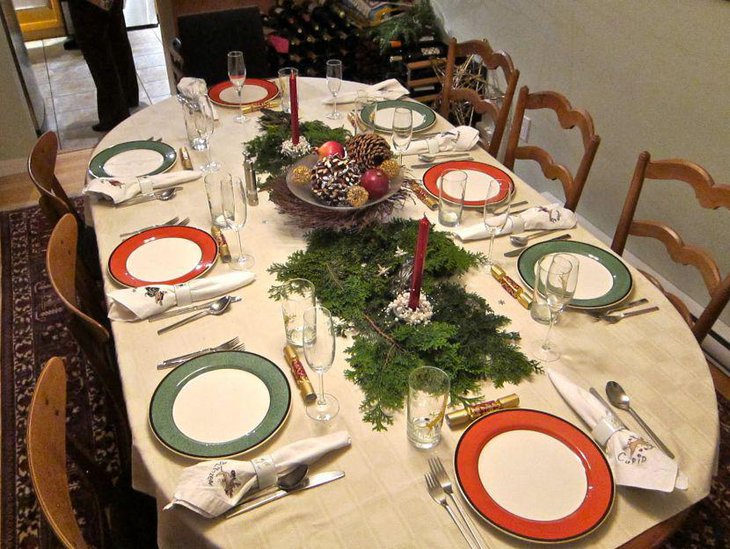 Inspiring Christmas Table Setting with Pinecones and a Bed of Greenery
Image Credit: rukle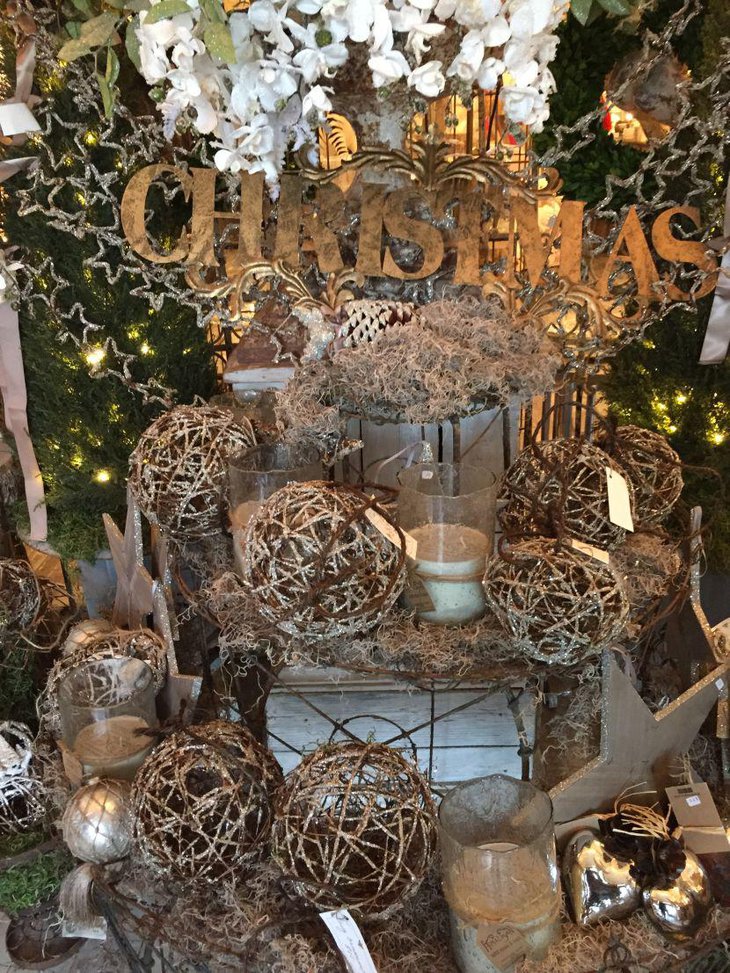 A Cozy Christmas Tablescape with Twig Balls and Ornaments
Image Credit: theartofdomesticitydotcom
Faux Wooden Planters with Growing Flowers
Image Credit: annsatic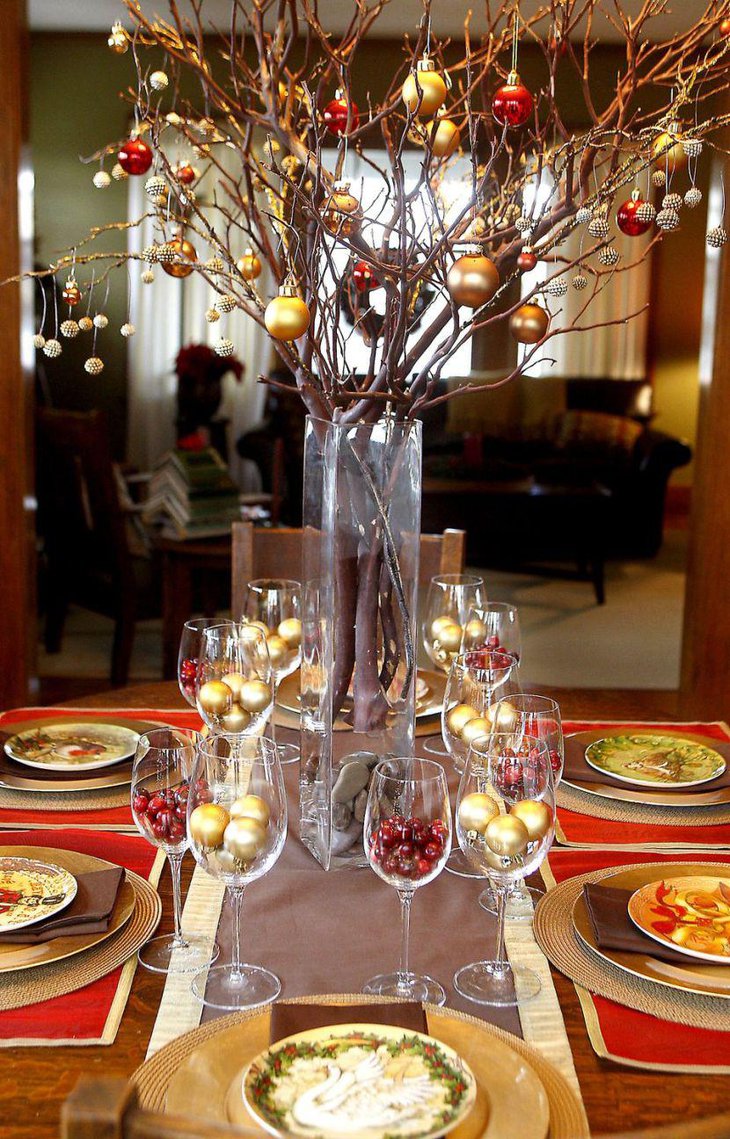 Natural Stick "Christmas Tree" with Ornaments
Image Credit: pinimg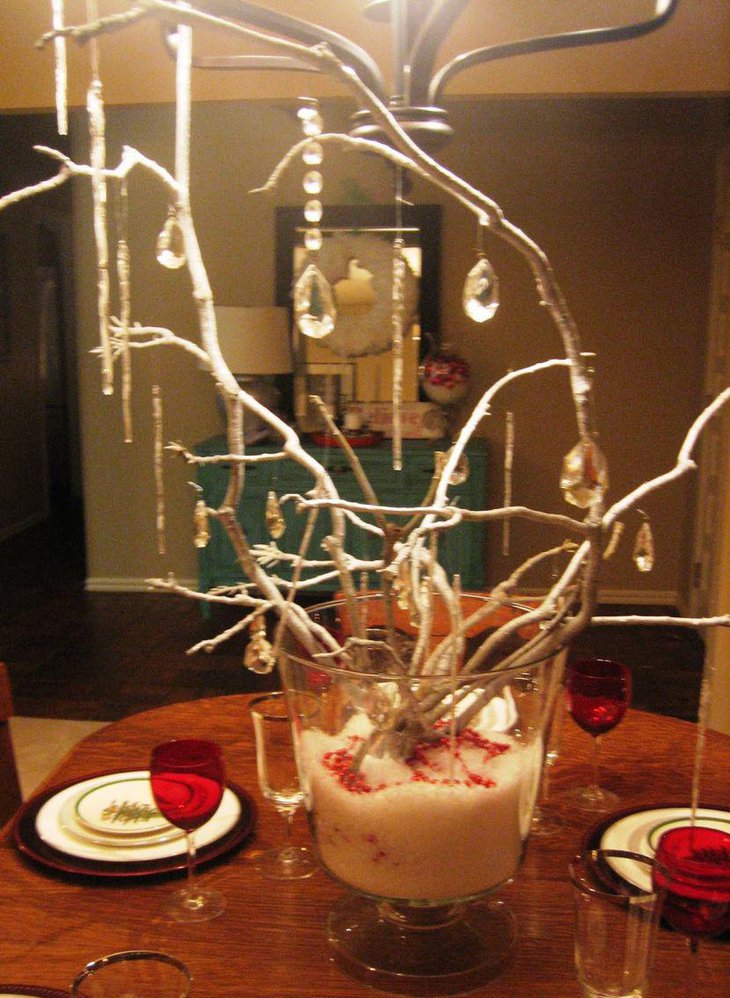 Branch Christmas Tree with Ornaments and Faux Snow
Image Credit: pennyroach
Charming Christmas Place Settings in Red and White
Christmas place settings in red and white tones have always been adored by people as these two shades are the most elegant associated with the season. Planning a décor based on red and white is easy as you can find many innovative ideas and creative materials for this color scheme. If it is opulence that's running high in your mind, try using a deeper shade of red or velvety maroon on your tables. Match the luxuriousness with softer shades of white.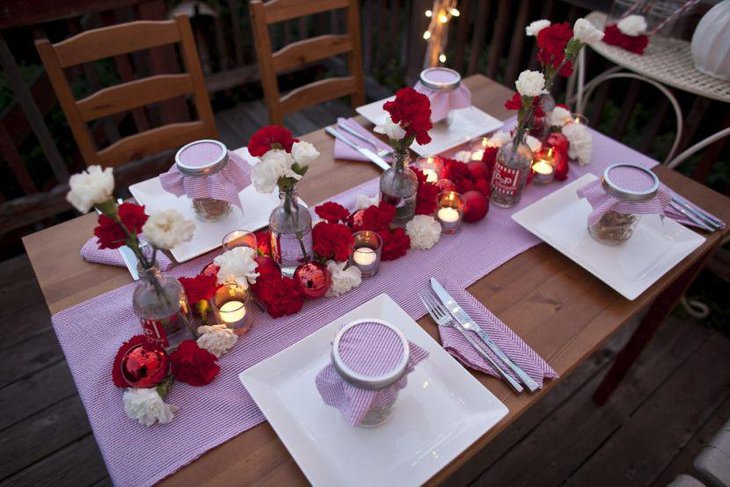 Red and White Floral Tablescape with Complementary Purple Table Runner, Napkins, and Jar Lids
Image Credit: onewed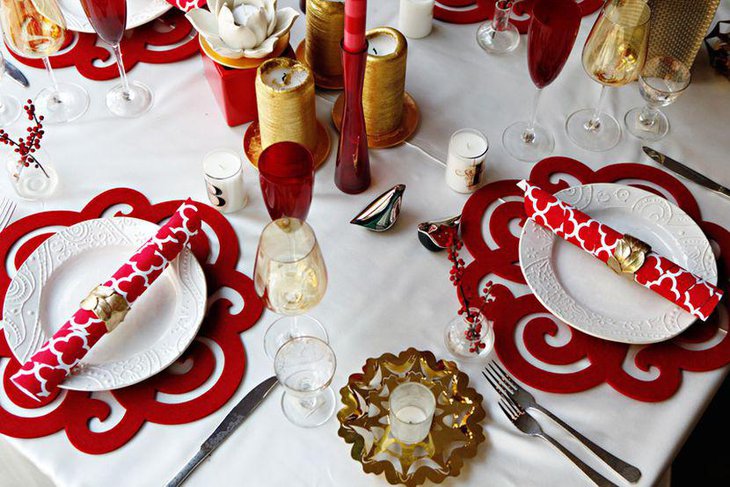 Red Decorative Placemats, Napkins, and Glasses on a White Tablecloth with Red and White Candles
Image Credit: thesweetestoccasion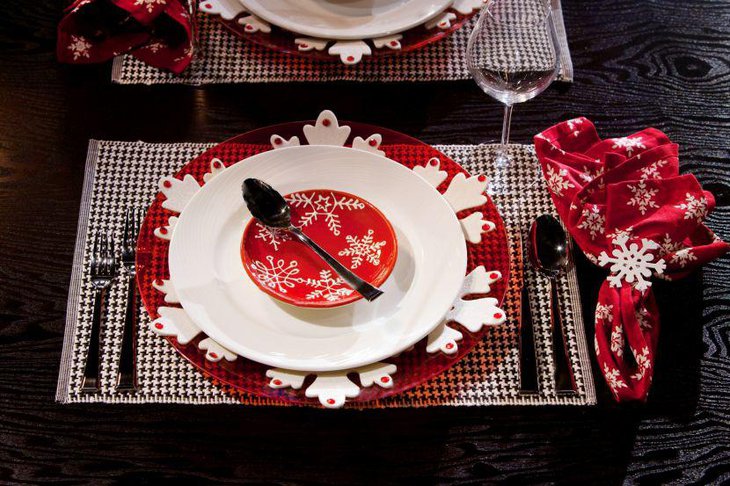 Beautiful Complete White and Red Place Setting
Image Credit: dinner4two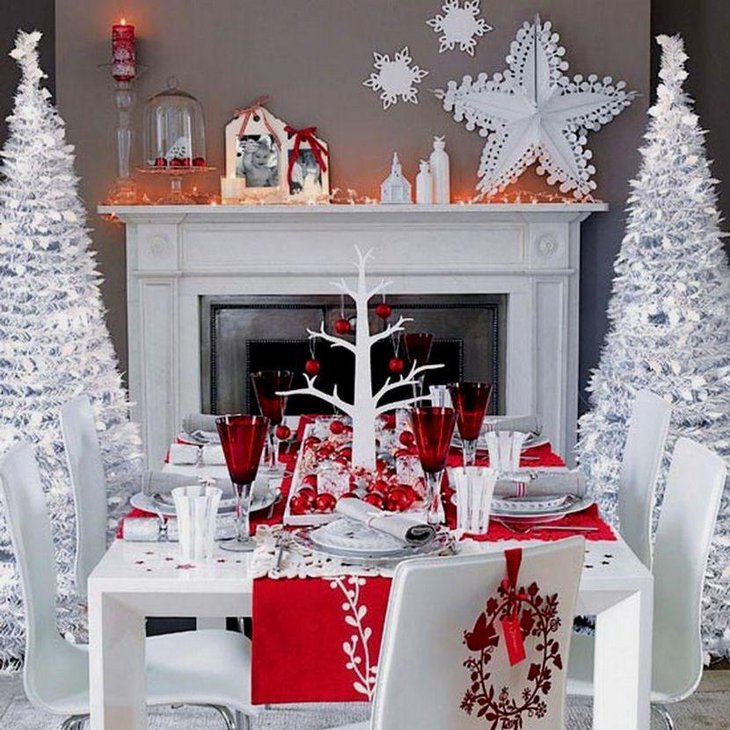 Snowy White Décor with Red Placemats, Glasses, and Ornaments
Image Credit: andreaashley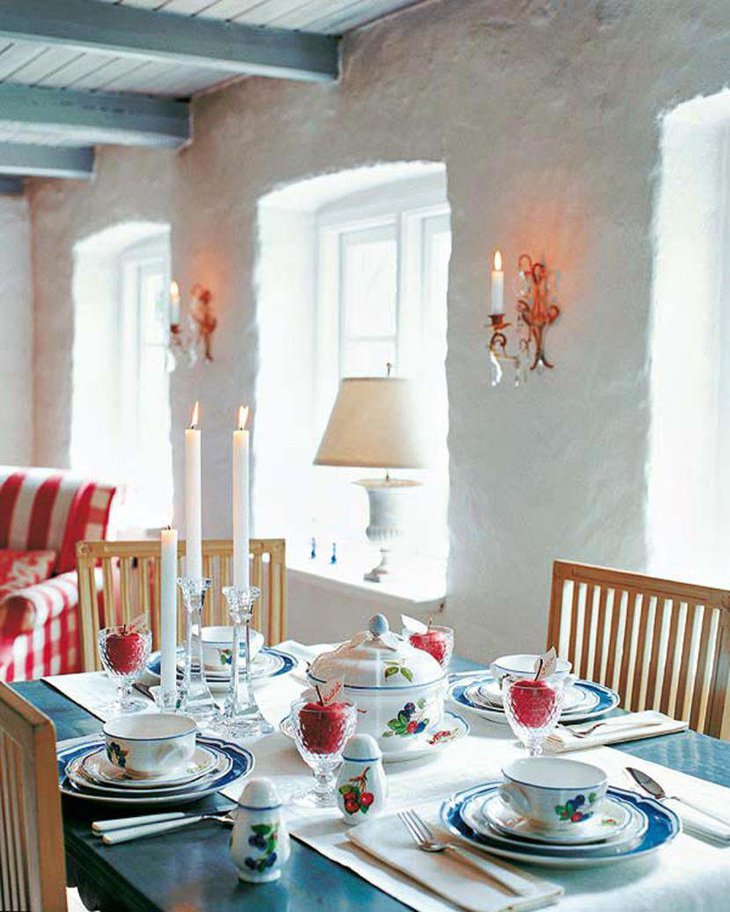 An Elegant Tablescape with White Table Runner and Red Accents
Image Credit: teamne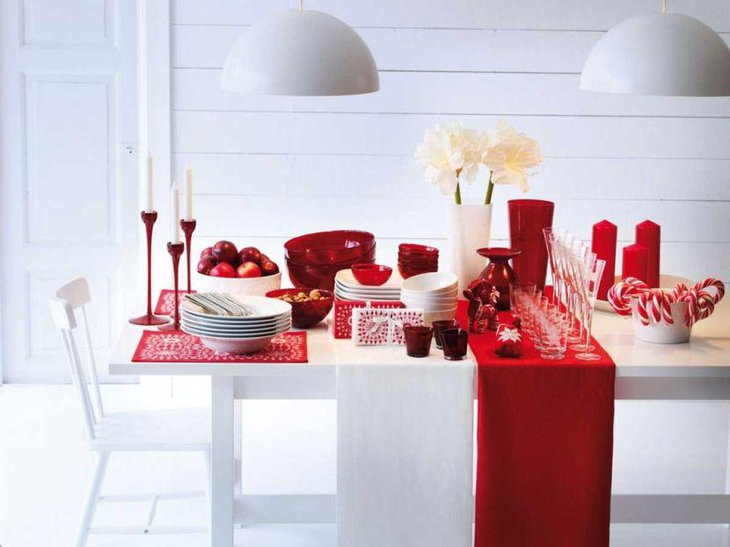 White Holiday Table with Red Runner, White Dishes, and Red and White Decorations
Image Credit: andreaashley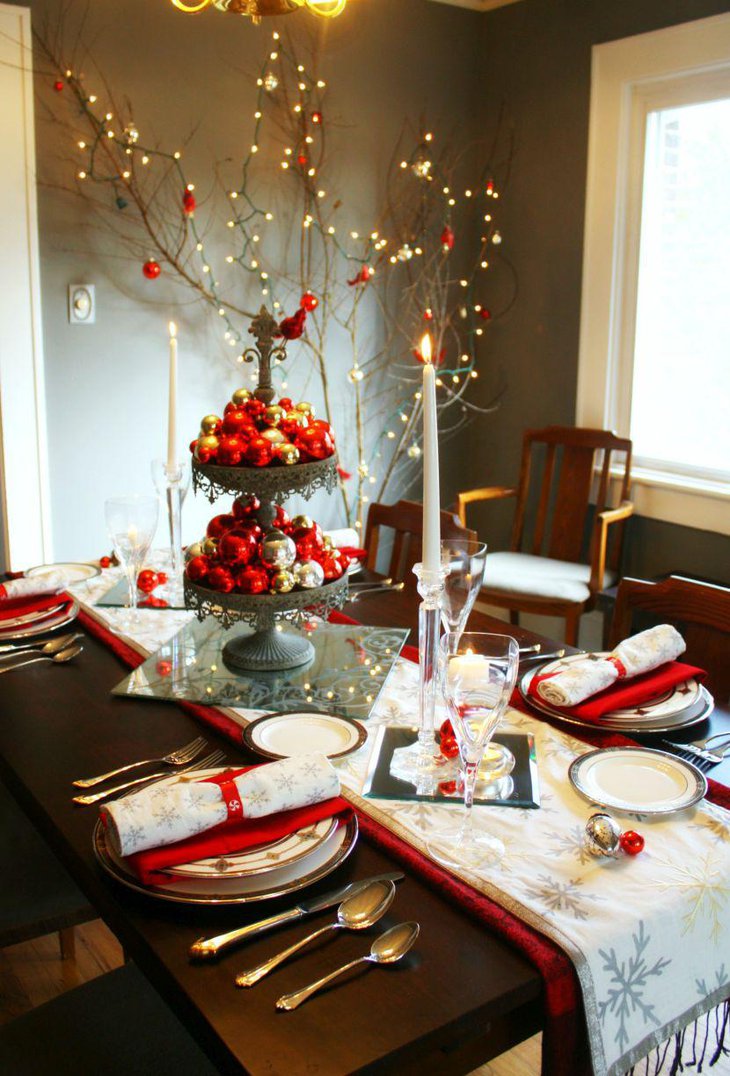 Gorgeous Red and White Tablescape with Runners, Napkins, Plates, Candles, and Ornaments
Image Credit: craftthyme
Use these Christmas tablescapes to chase away the winter blues and bring warmth to your festivities. Browse back through the above tablescape ideas and choose which one will work best on your table this year!