With these 30 inspirational table setting ideas showcased today, you will be successful in hosting a very chic and glamorous party that you are planning to throw in the near future.
The moment you finish hosting a party, you start planning for your next get together and this bring loads of worries to your head! Table setting is a tiring job if you do not have any idea about how to go the whole way. But, worry not as we are here to help you out with some exclusive table settings that will break the monotony that might have set in your party decor and make sure you are titled "The most sought after party hostess"!
From using tapers in crimson to layering your table with chic terrariums, to adding little small accessories like jewels and pearls to your table napkins, there are different creative ways you can decorate your party table. Take a look!
Inspirational contemporary table settings
If you plan to host a party that has a modern feel to it, you must learn ways to decorate your party tables with contemporary and chic table decor accessories that have a perfect blend of bright to neutral hues spread over the party table in the form of tablecloths, earthenware, flowers, and vases. From arranging different colored flowers inside a large glass bowl with various shades popping out beautifully, to using motives that can be arranged along with small glass goblets, to spray painted branch centerpieces, to having party table decorations with seductive silver ware, there are unlimited table setting ideas to suit contemporary times.
Elegant round vases with red roses and glass motives as party table centerpieces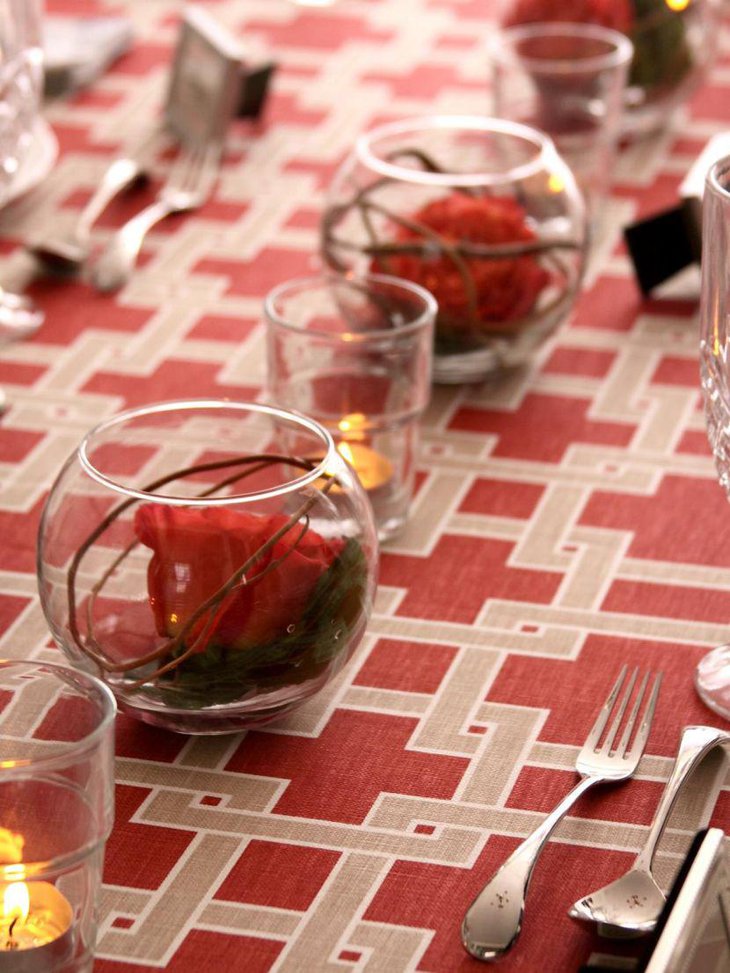 Image Credit: sndimg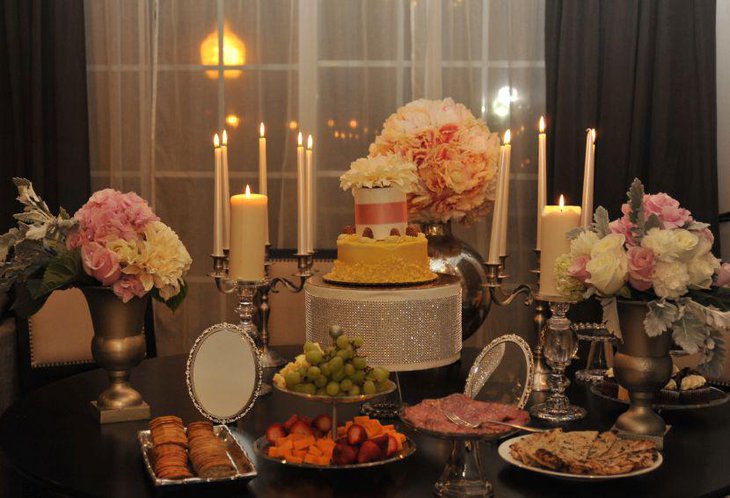 Brilliant Asian themed party table setting
Image Credit: fachrul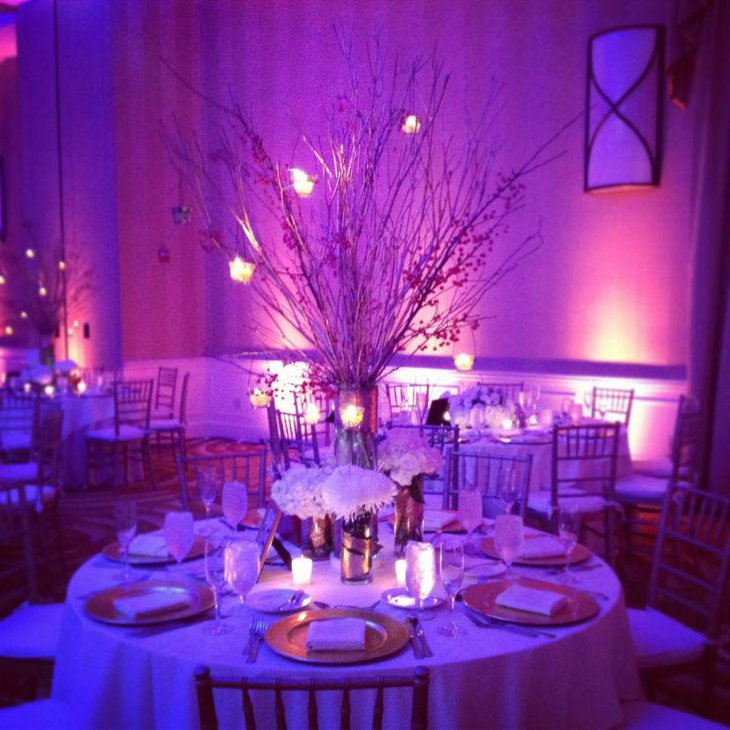 Beautiful spray painted branches with light bulbs as party table centerpiece
Image Credit: yelpcdn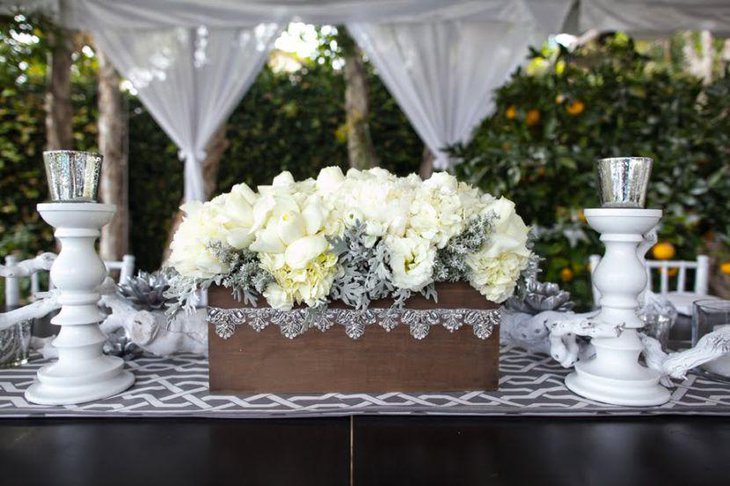 White and silver candle holders and roses for party table decor
Image Credit: blogspot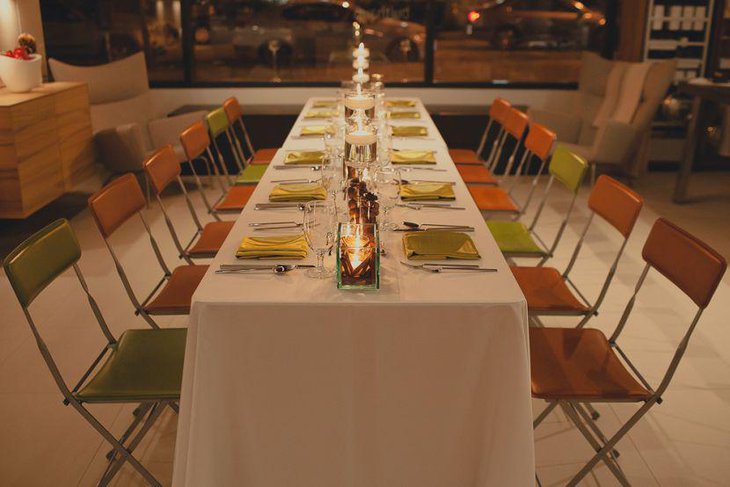 Holiday party table setting with glass holders, candles, chestnuts and pine cones
Image Credit: ajfevents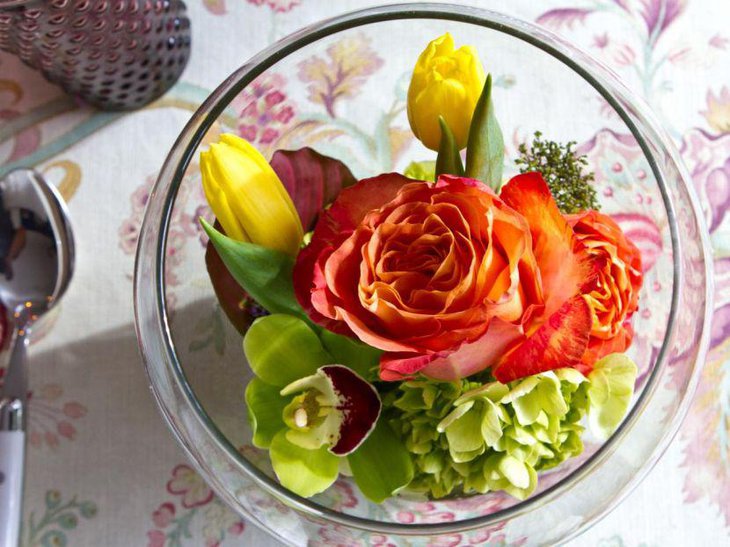 Exquisite terrarium centerpiece for a glamorous party table
Image Credit: sndimg
Stylish formal table setting
A formal party tends to be a little different in its table decor than informal occasions where every detail has to be planned well in advance by hosts. Formal table setting shouldn't be too stuffy for your guests and must incorporate such features that bring warmth and style to the table decor. Apart from placing cutlery in a systematic way like plates, bread plate, fork, knife, soup spoon, dessert spoon, and glasses for water and hard drinks, you must pay attention to arranging good quality napkins, place cards for seating and elegant accessories like candles, fresh floral bouquets or silver candelabras to add to the glamour. Setting a table on formal lines isn't that difficult when you follow these awesome table settings as shown!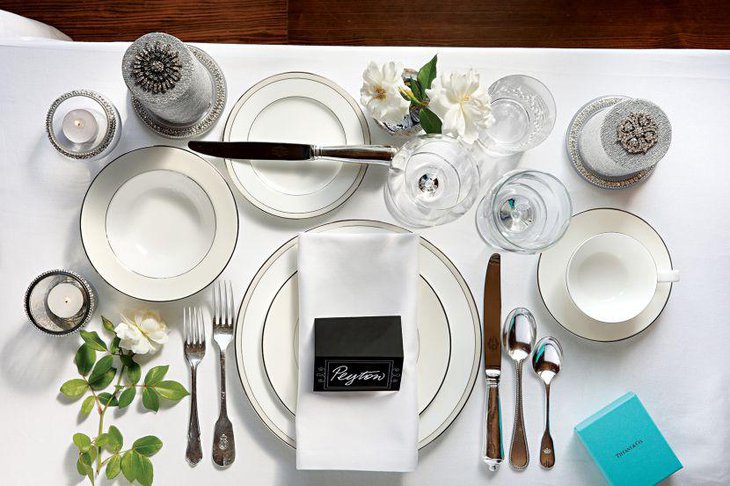 Formal white party table setting with silver candles and white rose
Image Credit: furniturerow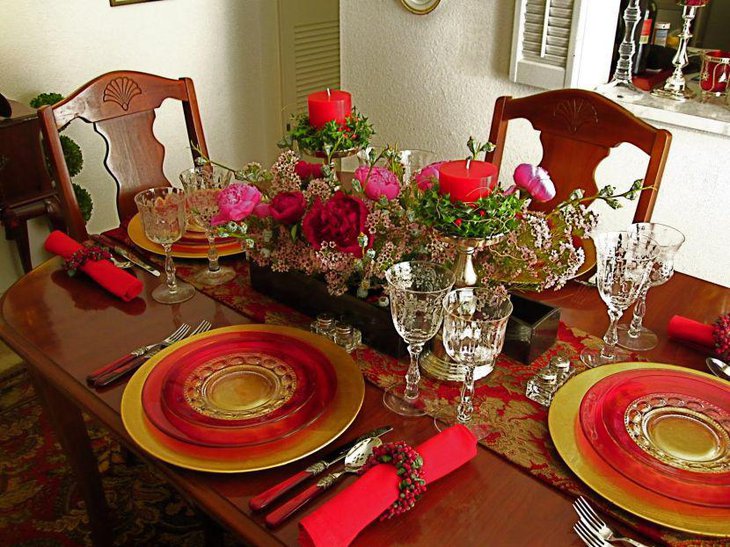 Inspirational formal dinner party table setting in red and golden tones
Image Credit: onestopcloser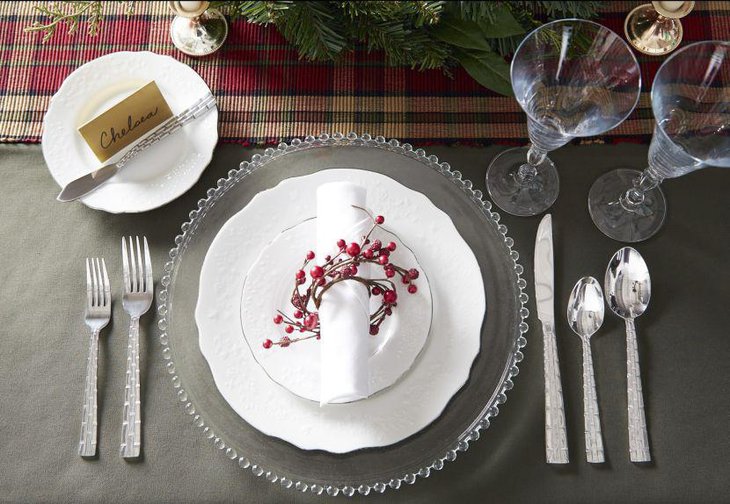 Elegant formal party table setting with crisp white napkin wrapped by a beaded twine thread and taper candles
Image Credit: jossandmain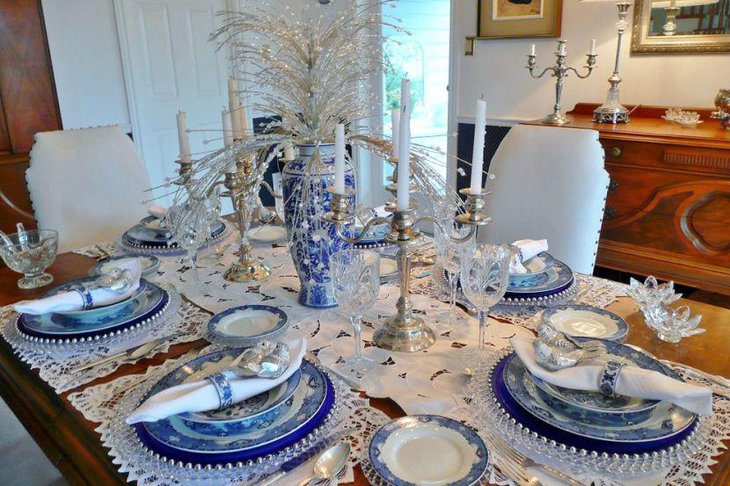 Decorative silver and blue formal party table setting
Image Credit: betterdecoratingbible
Informal Table setting ideas
As opposed to formal table setting at a party, informal parties are more casual and as such the tables are dressed with much more flamboyance just like the photos of the below showcased table setting ideas that look very glamorous as well as elegant. The decor of informal party tables need to be inviting to the guests with lots of fresh colors thrown in floral arrangements, colorful goblets, and other features. Seen below are some excellently dressed party tables that have been adorned with fresh floral terrariums, bubble tumblers in soothing color, candles, a giant Buddha head, and cane candle holder. From Thai to Mexican, you can imbibe the decor ideas of many a different cultures on your table decor.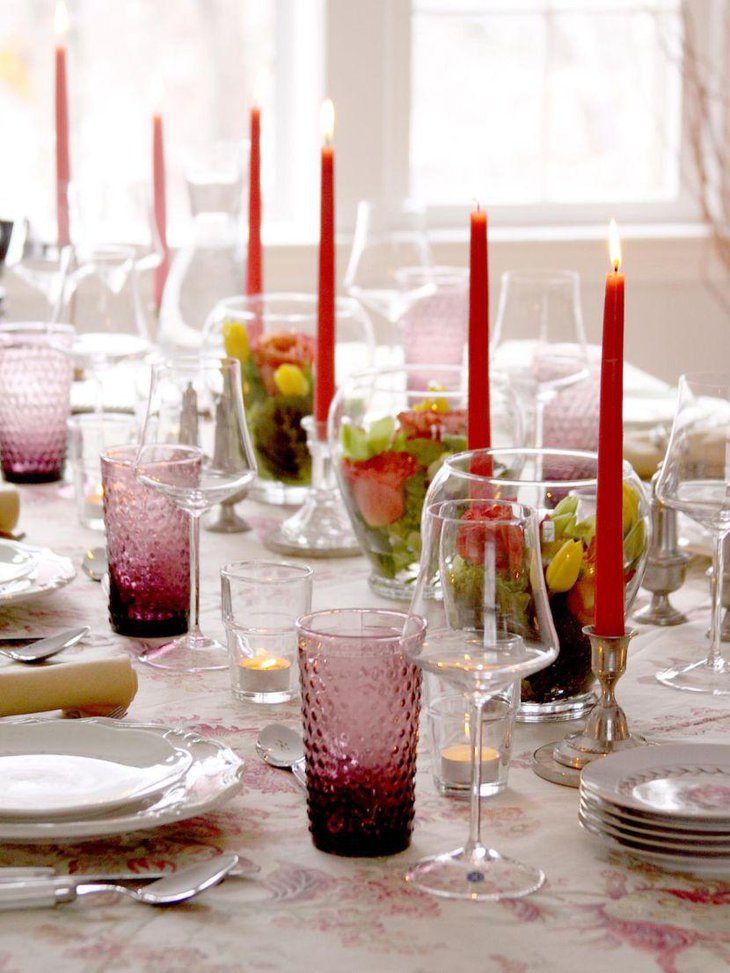 Inspirational party table setting with fresh bloom terrariums and amethyst bubble tumblers
Image Credit: sndimg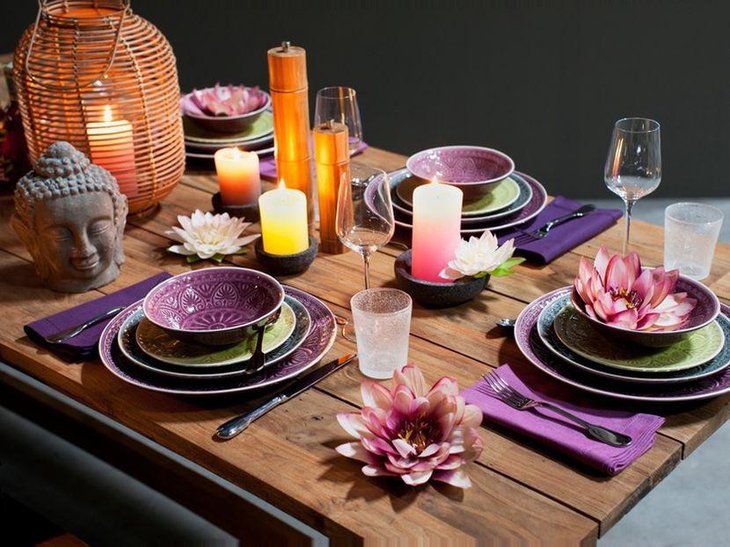 Amazing dinner party table setting with Thai theme
Image Credit: wangthai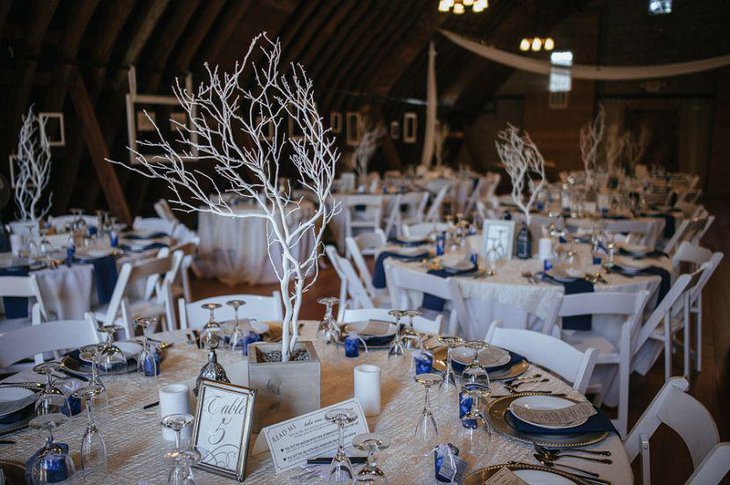 Unique spray painted branch centerpieces for party tables
Image Credit: mattshumate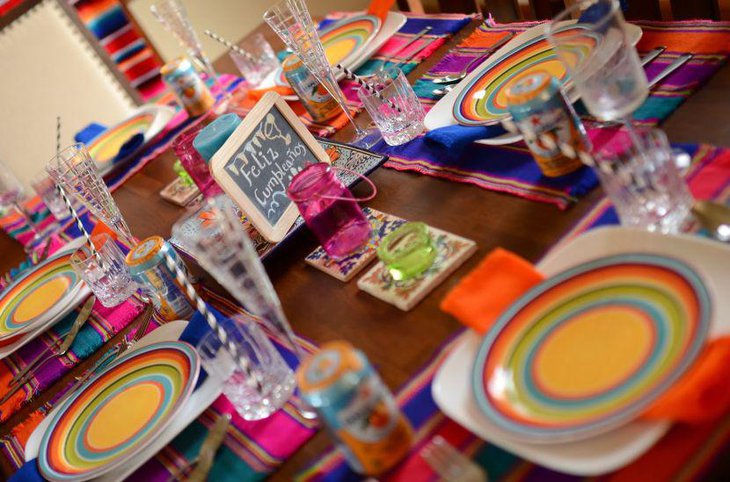 Colorful Mexican themed birthday party table setting
Image Credit: blogspot
DIY Table setting ideas
When you think of planning a party, you cannot ignore setting a table with DIY table setting ideas as these will ultimately enhance your table's beauty and also save you loads of money as well. Many hosts these days are choosing to make their own party table accessories like real vegetable and fruit props to be placed as party table centerpieces, or are making use of recycled paper to design creative things like birds, animals, flowers and cakes. If you are creative enough, you can make use of tin cans and paint them using various colors to be placed as party table centerpieces. These decor ideas fit both an informal as well as a formal table setting.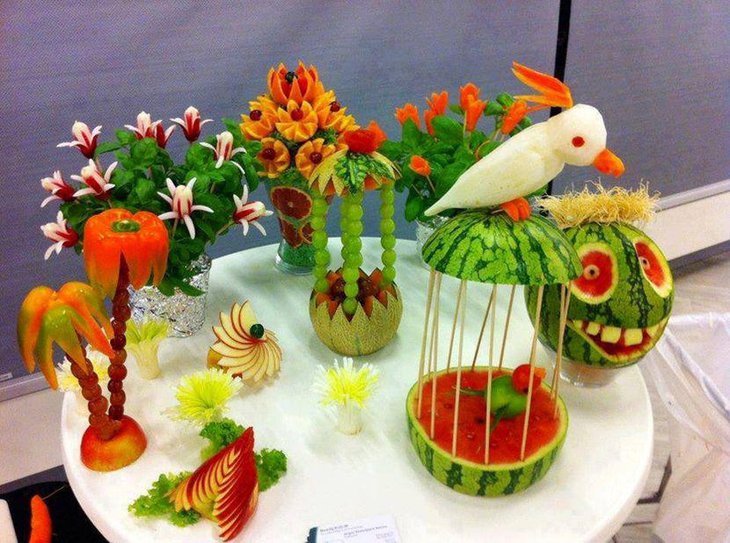 DIY party table setting with real cut veggie and fruit accessories
Image Credit: diyhomedecorguide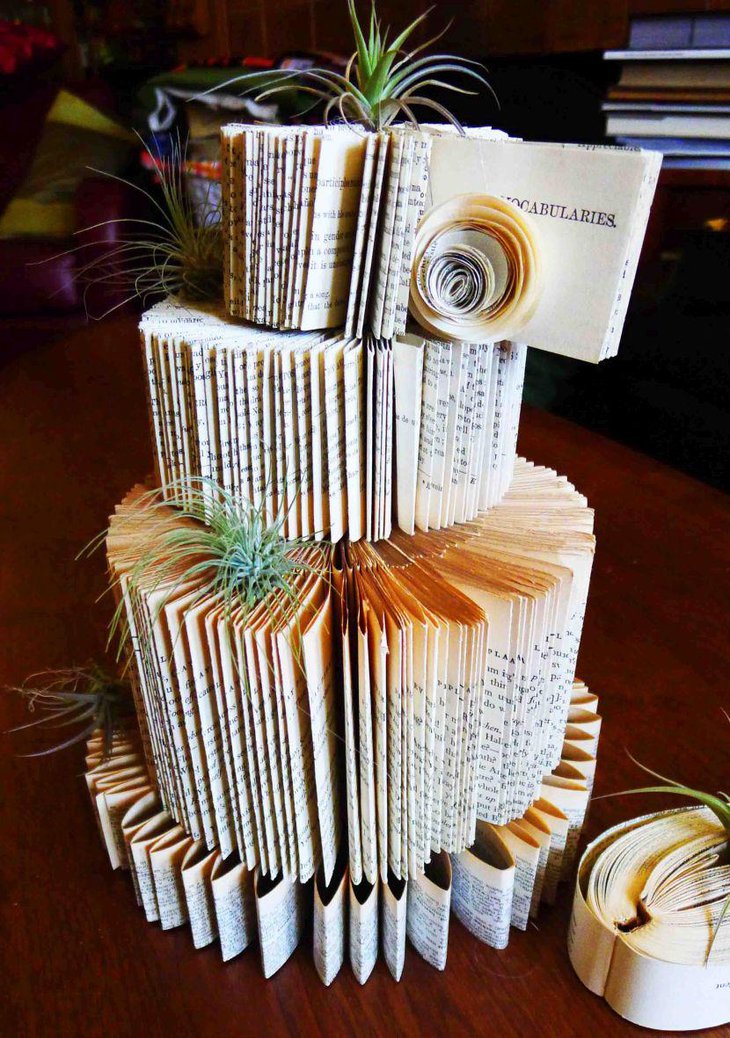 Inspirational giant paper cake centerpiece for party table setting
Image Credit: scrap-sf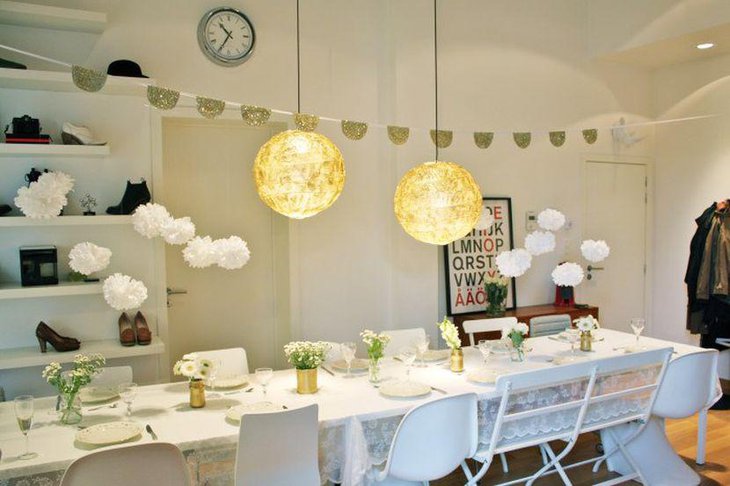 Stunning DIY party table setting with golden metal cans, glass jars and fresh flowers
Image Credit: wordpress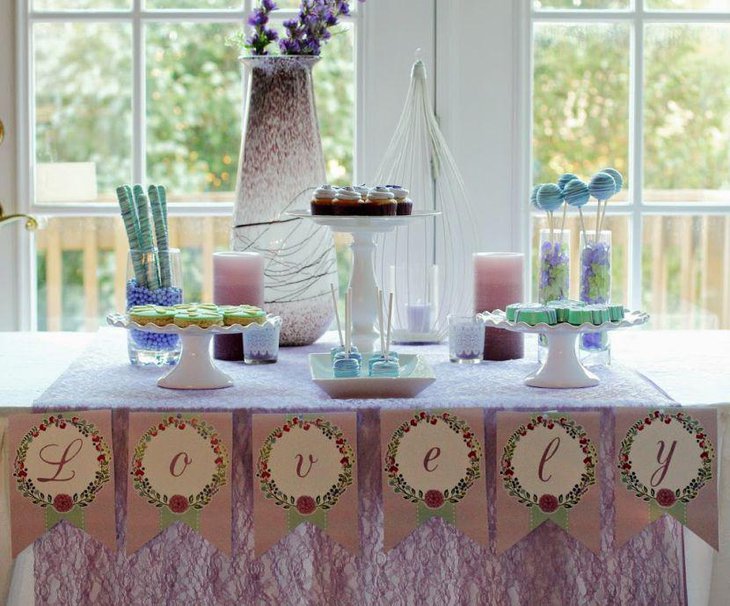 Lovely DIY spa party table setting in Lavender
Image Credit: playpartypin
Setting a table with exotic accessories
In case you get tired of making your own party table stuff and wish to upgrade the style of your table decor, you can try setting a table with the below mentioned table setting ideas that use a lot of accessories that look extravagant and accentuate the decor's glamour. Silver candelabras with flowing crystal garland looks spectacular on any party table. Those that love fresh flowers can always decorate their tables with exclusive lavender sticks or orchids in glass jars or goblets. Apart from these things, you can also try placing exotic tea pots and dry floral bouquets as centerpieces. Gold and silver tones add richness to any party table and there are hundreds of ways you can include these in your decor.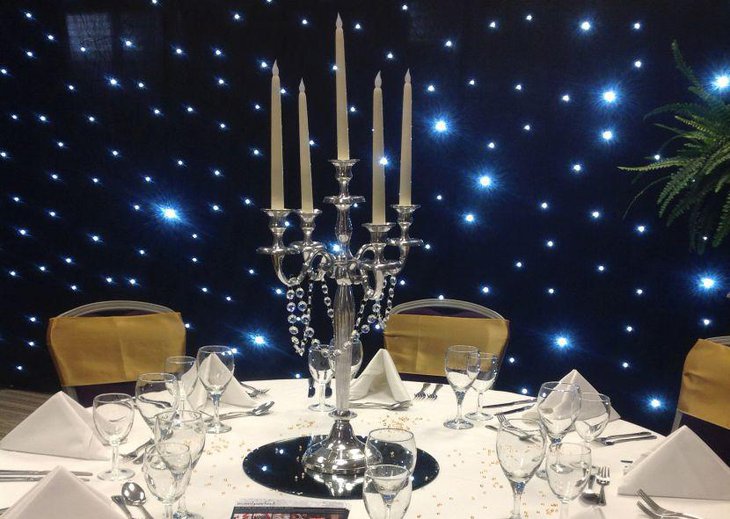 Exotic party table setting with a gorgeous candelabra with crystal garland
Image Credit: event-perfect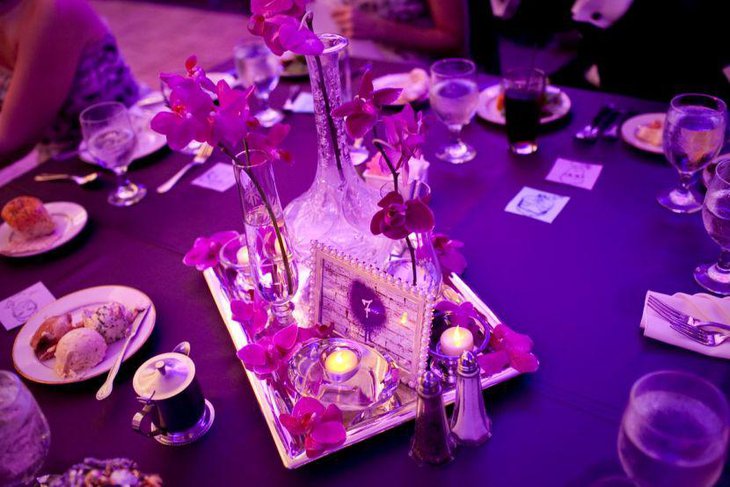 Purple themed party table setting with tall glass vase and lavender flower
Image Credit: seatbolts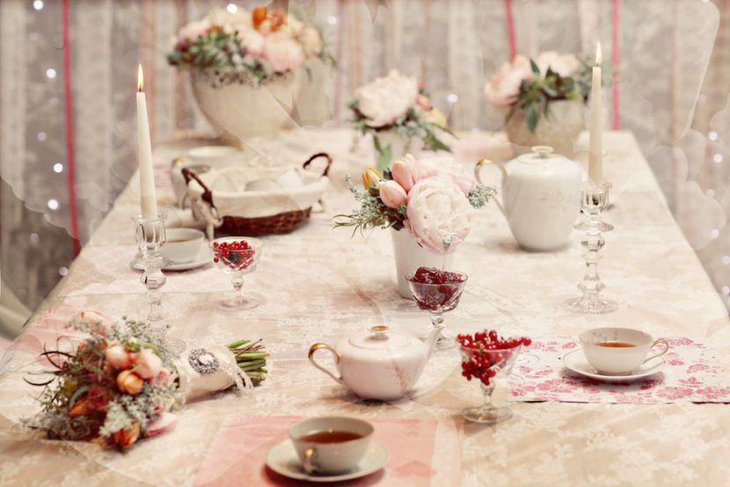 Vintage tea party table setting with decorative tea pots, dry flowers and crystal candle holders with candles
Image Credit: capricedesign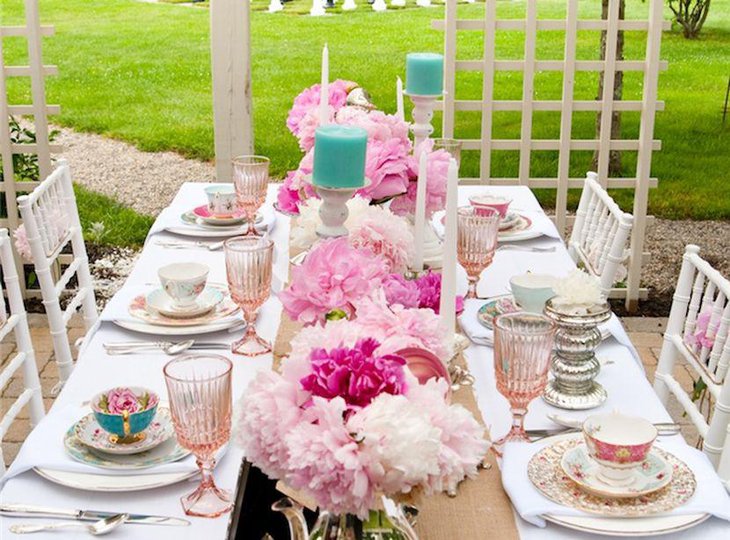 Astonishing party table setting with pink floral bunches and blue candles
Image Credit: pinimg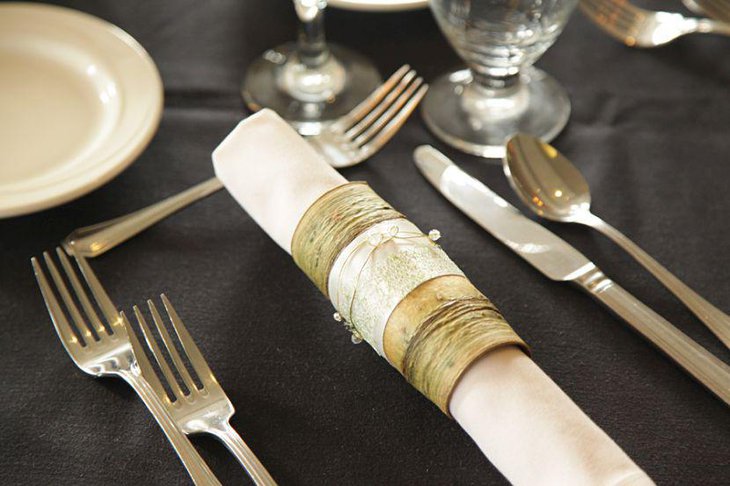 Glamorous table party setting with vintage napkins wrapped in bark, golden wire and ribbon
Image Credit: wordpress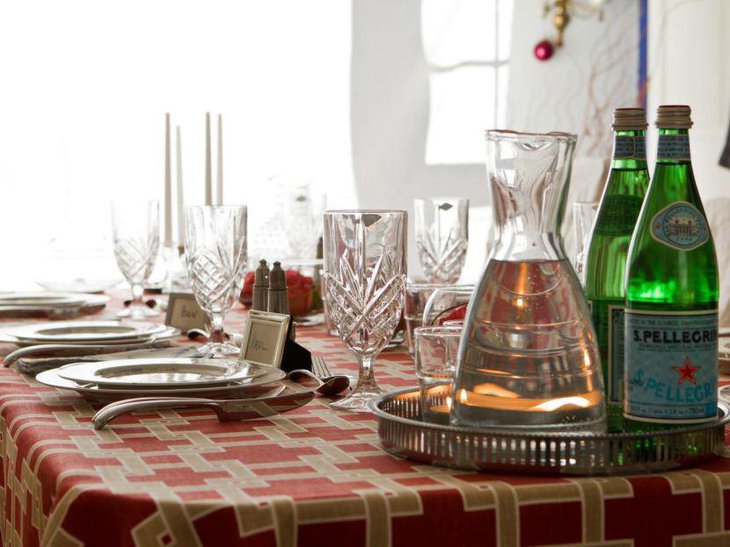 Beautiful party table setting with silver beverage tray
Image Credit: sndimg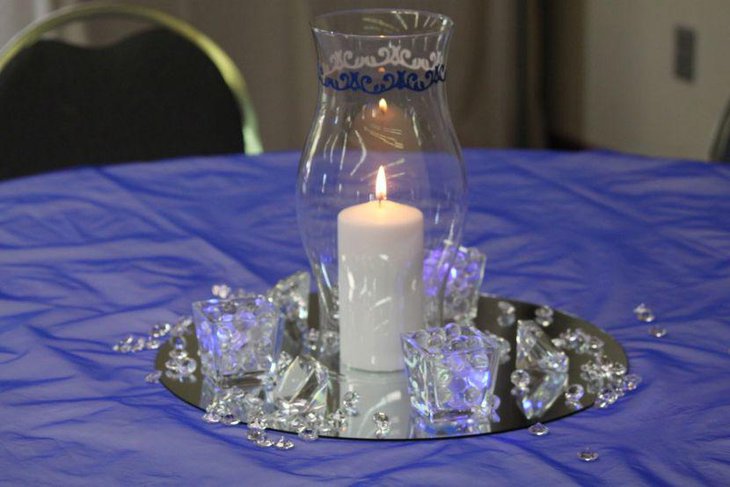 Impressive wedding party table setting with hurricane vase, candle and crystals
Image Credit: seatbolts
Rustic party table setting ideas
Outdoor parties needn't be always themed around vintage. You can also host a rustic themed party for which you need to include accessories and hues of colors that look more earthly. The following table setting ideas are all centered around rustic theme with presence of unvarnished wooden tables, rustic simple cutlery and flower vases that look less urban but are gorgeous no doubt.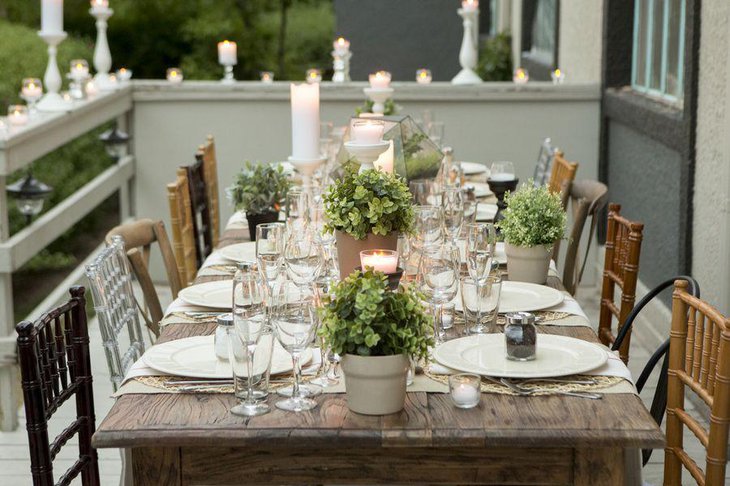 Beautiful outdoor dinner party table setting with rustic and natural elements
Image Credit: blovelyevents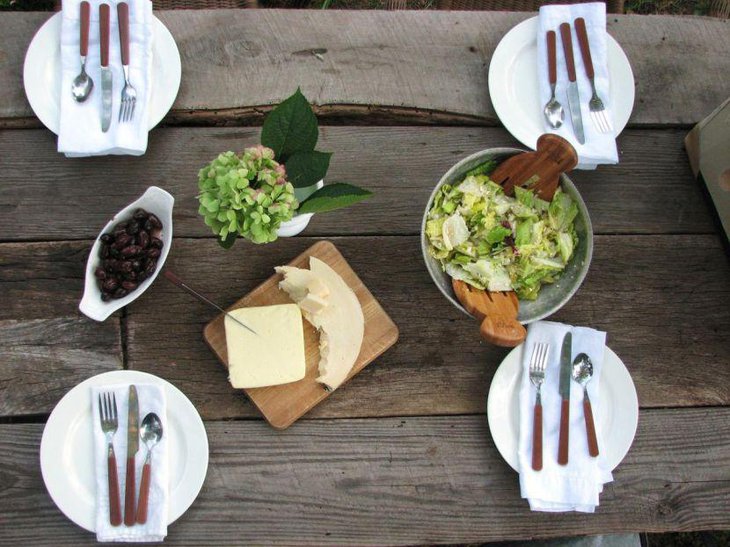 Rustic garden party table setting
Image Credit: sndimg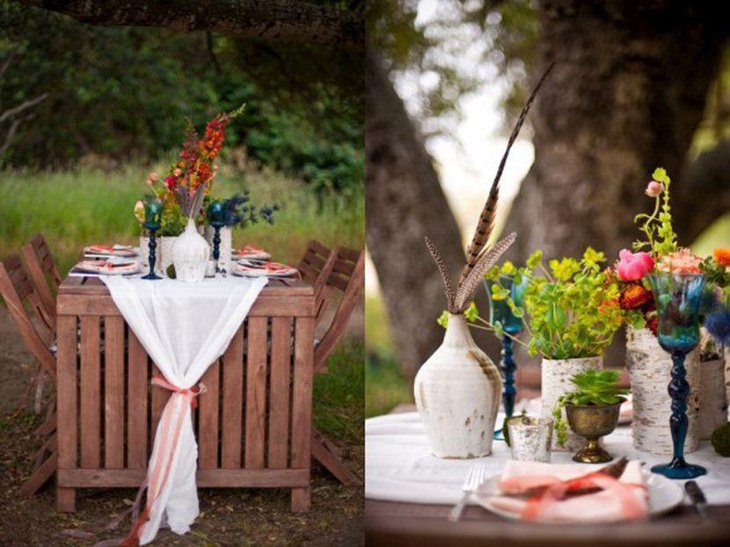 Rustic colorful outdoor party table setting with candlestands and flower vases
Image Credit: wordpress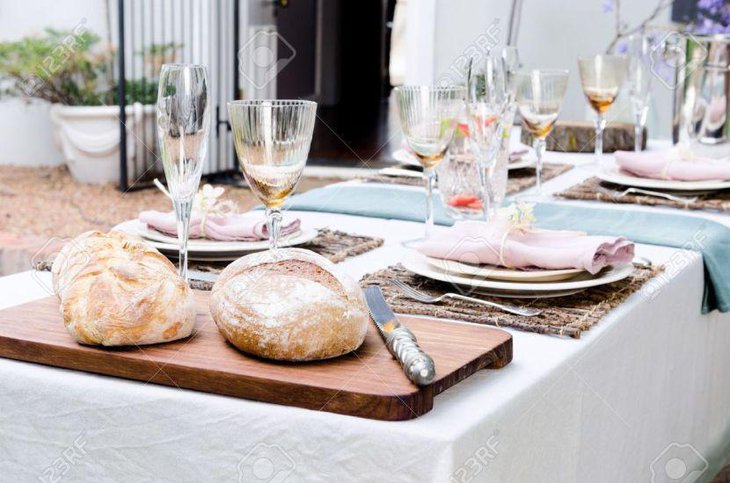 Simple rustic country style party table setting
Image Credit: 123rf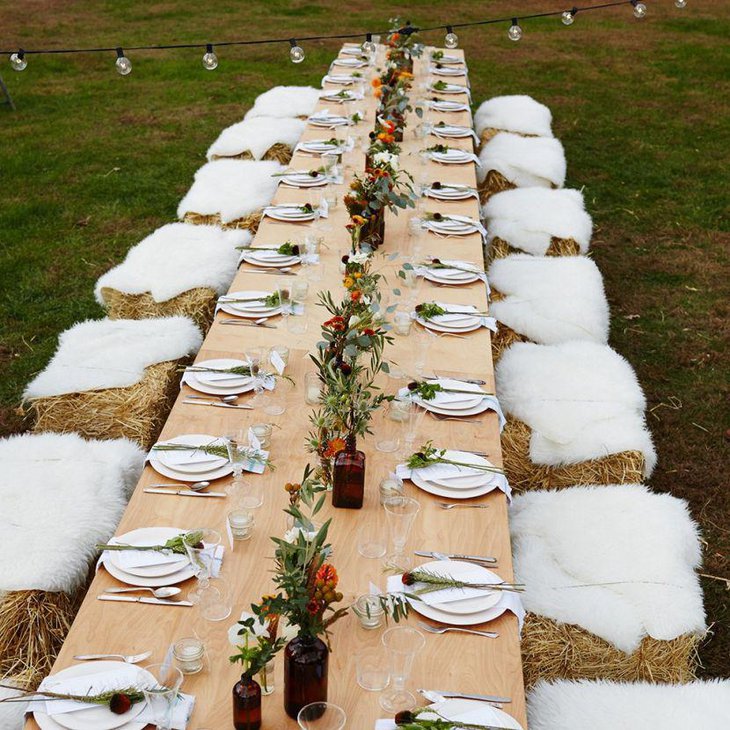 Outdoor rustic farm party table setting
Image Credit: foodandwine
Hosting a party can be a tedious job until you read the above presented *table setting ideas* that definitely look charismatic!