The trendy thanksgiving table decorations that we are going to present before you will help you prep up your dining tables for this amazing festival that celebrates togetherness with family members and friends. Yes, Thanksgiving is just about to knock your doors and we want our dear readers to present well decorated dining tables with amazing and chic thanksgiving decorating ideas that will make any person's jaws drop in amazement and awe!
Your dining table becomes the center of attraction specially during Thanksgiving when you want to showcase your inner creativity to your guests. From beautiful Thanksgiving centerpieces that can hook anyone, to fashionable Thanksgiving decor using a variety of materials like pumpkins, candle holders, pine cones and beads, today's post will enamor you with the top 25 Thanksgiving ideas that will do the rounds this festive season. Lets get started!
Dramatic thanksgiving ideas that you must try this season
For this Thanksgiving, you must try out such Thanksgiving ideas that are dramatic and rather flamboyant in nature. Drama can be bought to your dining tables when you try out rich palettes of colors like red, gold and silver. Burgundy floral arrangement can adorn the center of your table as a centerpiece while you can also try placing bowls that are filled with dried pine fruits, or hazelnuts and even dry leaves to add a feel of warmth and belonging. Some images seen below would give you an idea about how you can make use of vintage chinaware and couple it up with brass candlesticks. This amazing thanksgiving decor idea with brass has been invented by Sarah Richardson who surely knows her job well! You could also bring together elements that combine rustic and metallic like golden rimmed plates and cutlery.
Rich burgundy and chartreuse floral centerpiece table decoration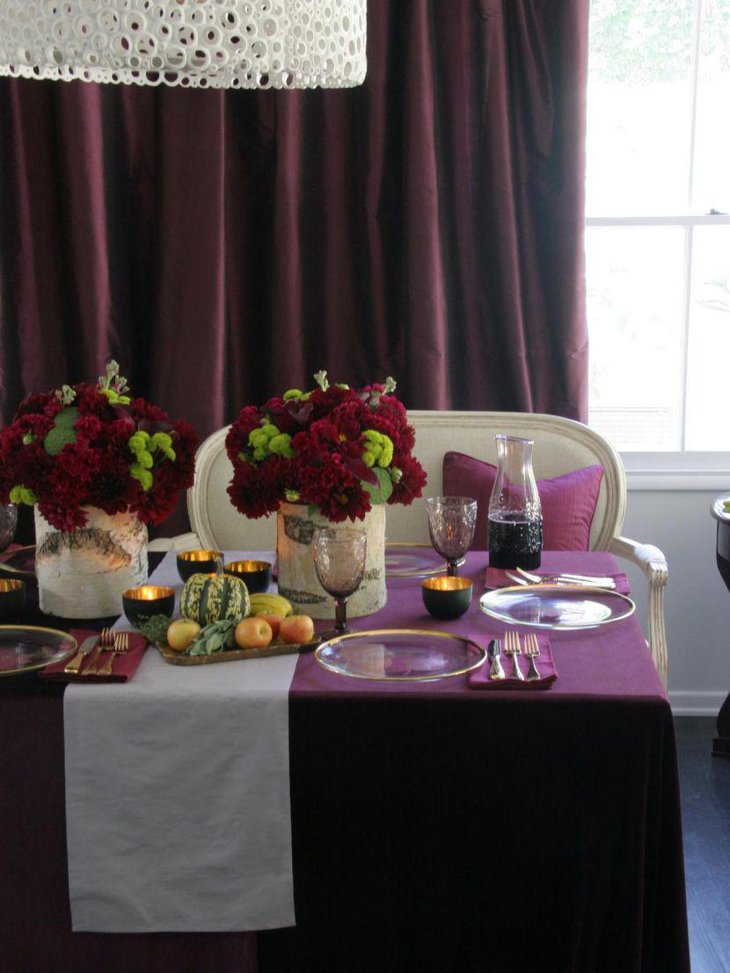 Image Credit: hgtvhome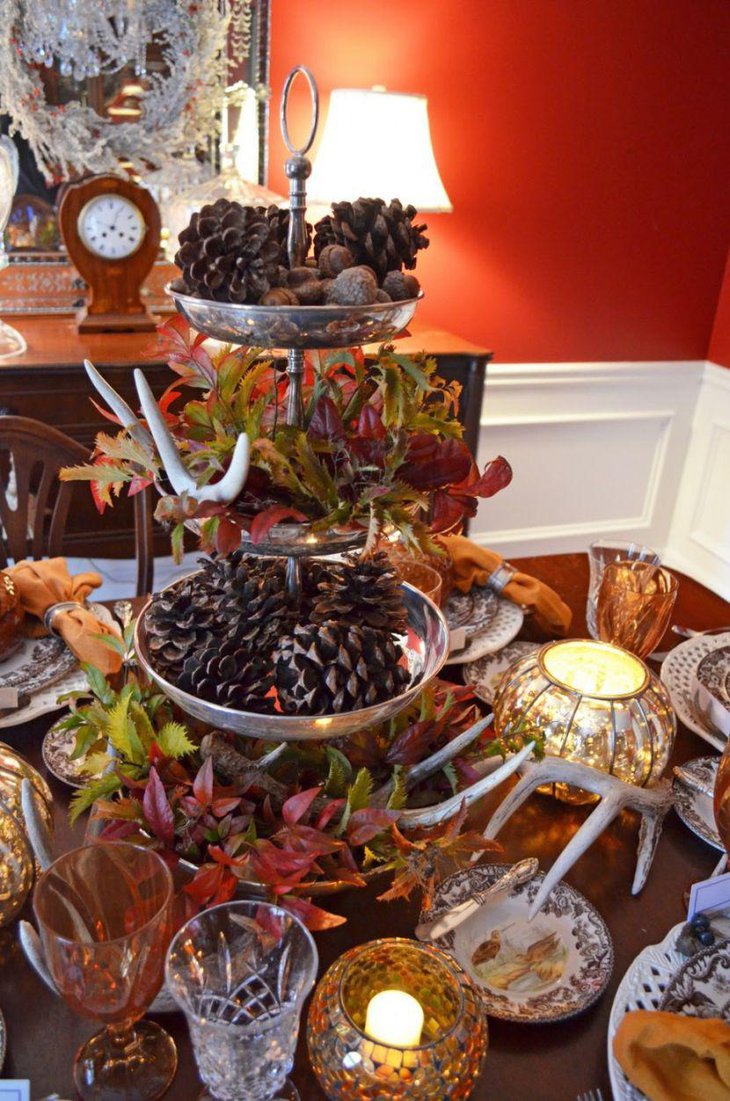 Thanksgiving table decor with Nickel Bowl, leaves and Hazelnut
Image Credit: meddiodesign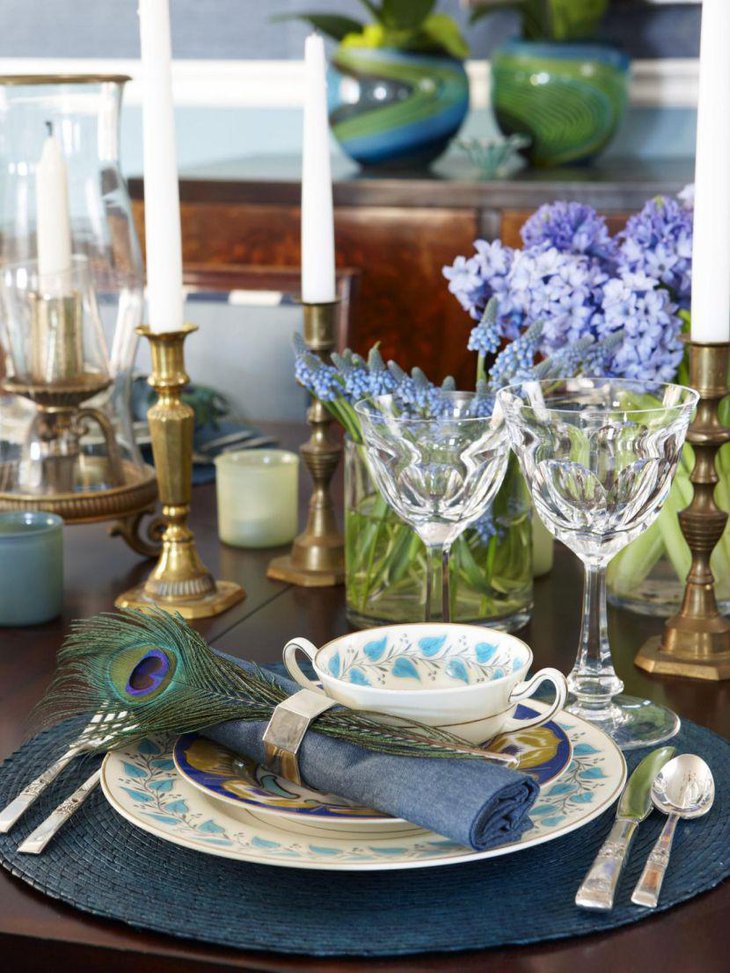 Dramatic Thanksgiving table decoration with Brass candlesticks and vintage China
Image Credit: hgtvhome
Thanksgiving ideas in black and white
Its not necessary that your dining table or for that matter the decor for Thanksgiving in your other rooms has to be centered around silvers and golden hues. A new trend this festive season is to use a combination of black and white tones when you decorate your thanksgiving table. There are no dearth of options that you can choose when you decide to style up your dining tables on this spectacular theme such as the use of black and white patterned table cloths that can have silver designs on them, or you can also try out table mats or napkins in jet black. In one of the images, the homemaker has decorated her table with black and white strip cloth flower pots or holders with colorful flowers that offer much delight.
If you are not into using too much of black, there are other pops of colors that can add a bit of fun to your thanksgiving decor like bright shades of red or oranges and even pops of peaches and creams.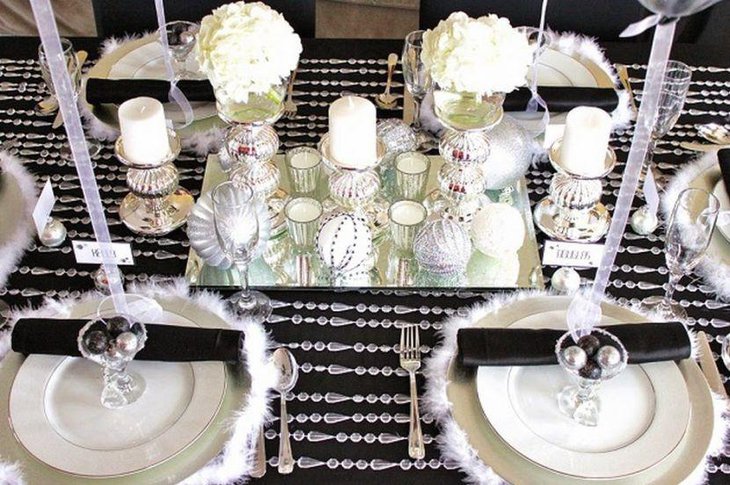 Thanksgiving table decor in black and white with hints of silver
Image Credit: blogspot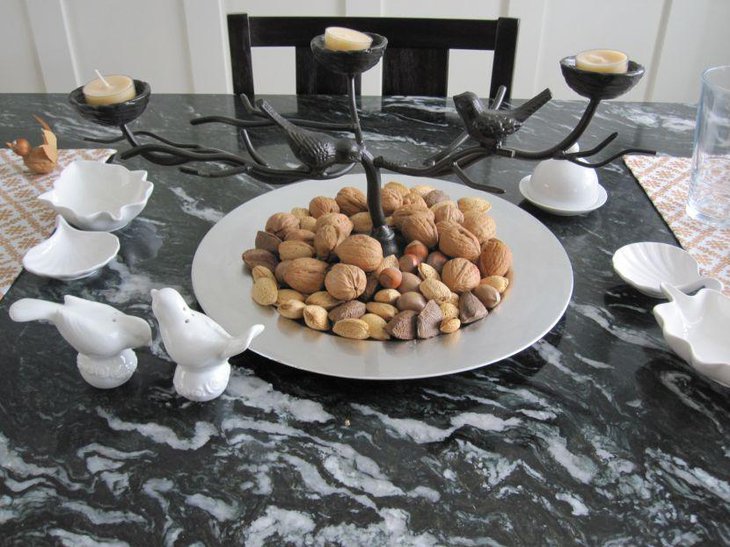 Beautiful black candleholder centerpiece idea for Thanksgiving
Image Credit: wordpress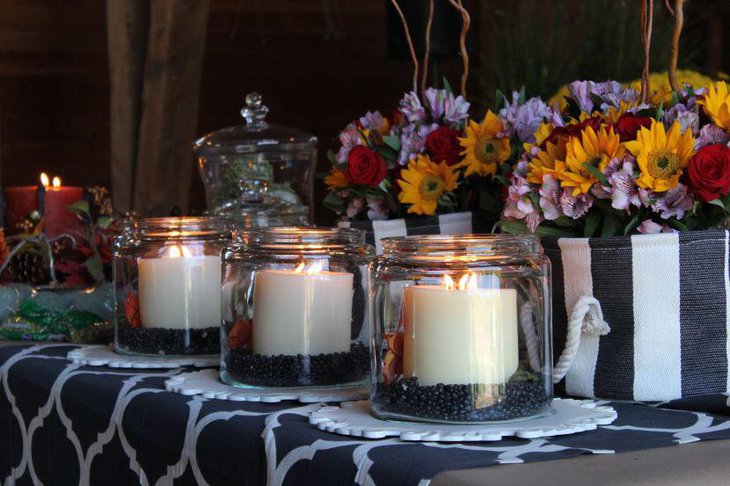 Thanksgiving table decor with black and white theme
Image Credit: blogspot
Vintage and chic thanksgiving centerpieces
Thanksgiving decorating ideas with vintage as the central theme are absolutely popular and add a dash of style and opulence to your home decor. Most people love to give a vintage touch to their Thanksgiving tables as it has a certain amount of old world charm to it. Vintage doesn't need to be dull, instead you can have a trendy Thanksgiving decor by infusing antique elements with silver and golden hues. For adding a feel of coziness, you can try playing with myriad pops of golden color on your tablecloth or napkins, or even place vintage dolls as centerpieces.
When speaking of thanksgiving centerpieces, we mustn't ignore our humble pumpkins that ought to be used as decorative pieces on the table. From using white pumpkins to adding some silver or golden hints to their round bodies, you can also add variations in the form of aromatic candles that can be fitted right inside a pumpkin to act as a candle holder or sconce. Take a look at this amazing collection of vintage thanksgiving centerpieces specially the thanksgiving decoration ideas with Honeycomb toys to add chicness to your decor!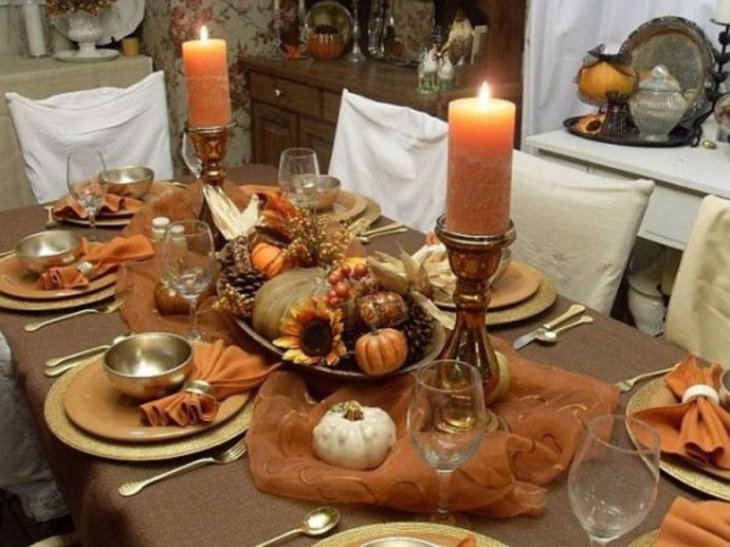 Vintage golden candleholder table centerpiece idea
Image Credit: ihomeids
Vintage white pumpkin and a pot centerpiece idea
Image Credit: ihomeids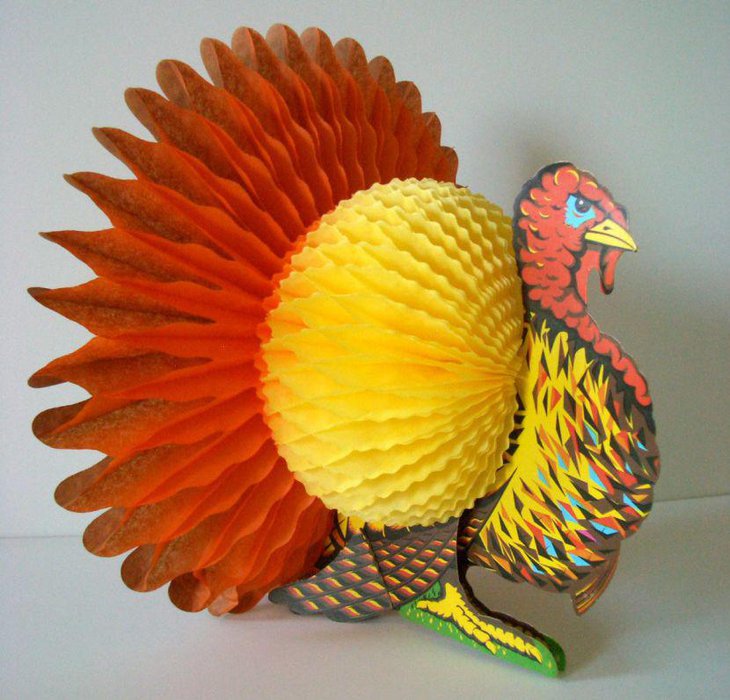 Vintage Turkey Honeycomb Thanksgiving Table Centerpiece
Image Credit: etsystatic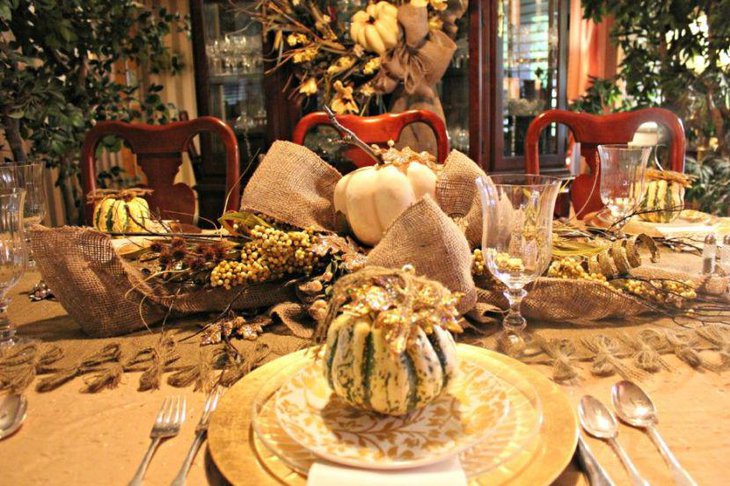 Gorgeous Thanksgiving Dining Table with Vintage Pumpkin And Dry Floral Centerpiece
Image Credit: chantiki
DIY thanksgiving decoration ideas
If you are not into spending big time on Thanksgiving table decorations but want to have a trendy decor that heats up the style quotient of your home, go the DIY way as you can get the very best of Thanksgiving table decorations that look easy breezy and bring in a whole lot of warmth too. The DIY Thanksgiving decorating ideas showcased below are quite easy and cheap to make or you can also get them at various DIY stores that deal exclusively in such products as are seen here that include feathers, real foliage and twigs, ribbons, silver balls, pumpkins of varying shapes and colors, dried sticks, pine cones and beads. If you like copper color to accentuate the charm of your festive table, try placing bottle stoppers made of copper and decorate them with real maple leaves.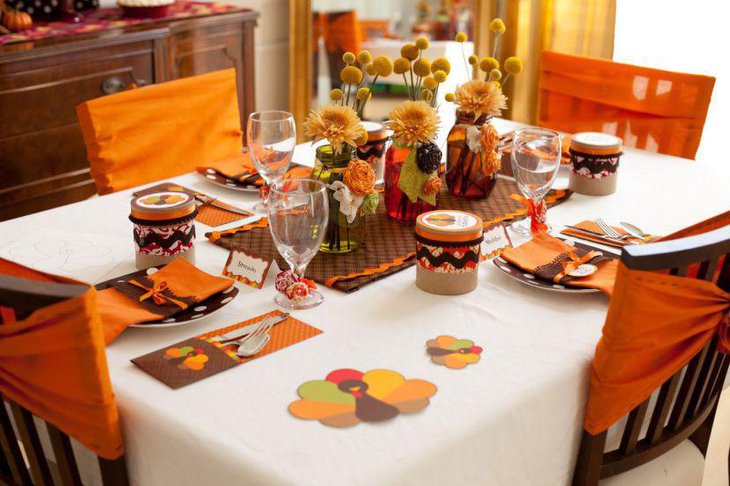 Engaging DIY Thanksgiving Table Decoration Idea With Colourful Mats, Coasters and Jars
Image Credit: hadleybaby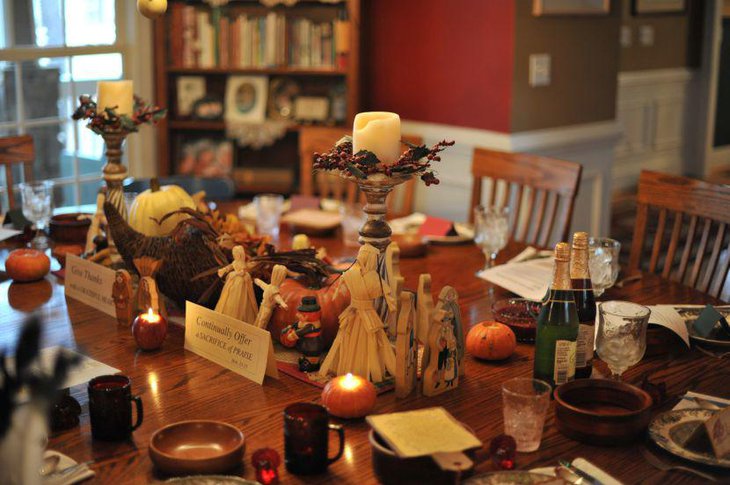 DIY Table Decor with pumpkins and cloth figurines
Image Credit: petwatchclub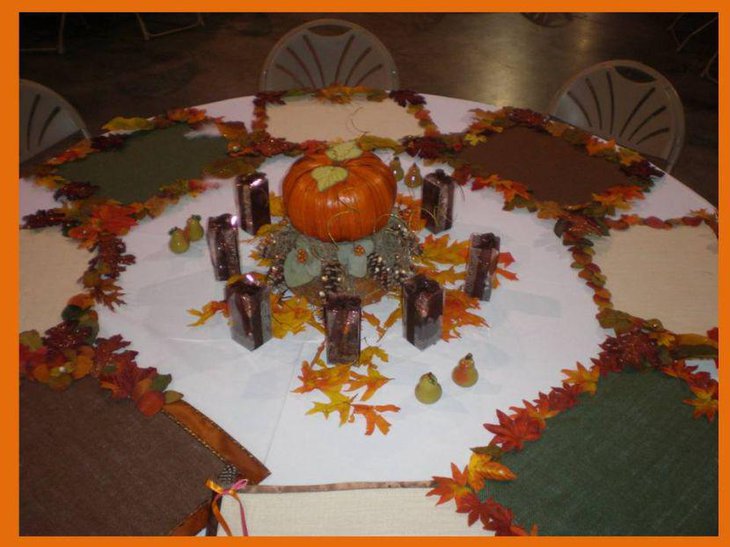 DIY table decoration with pumpkin and maple leaves
Image Credit: wordpress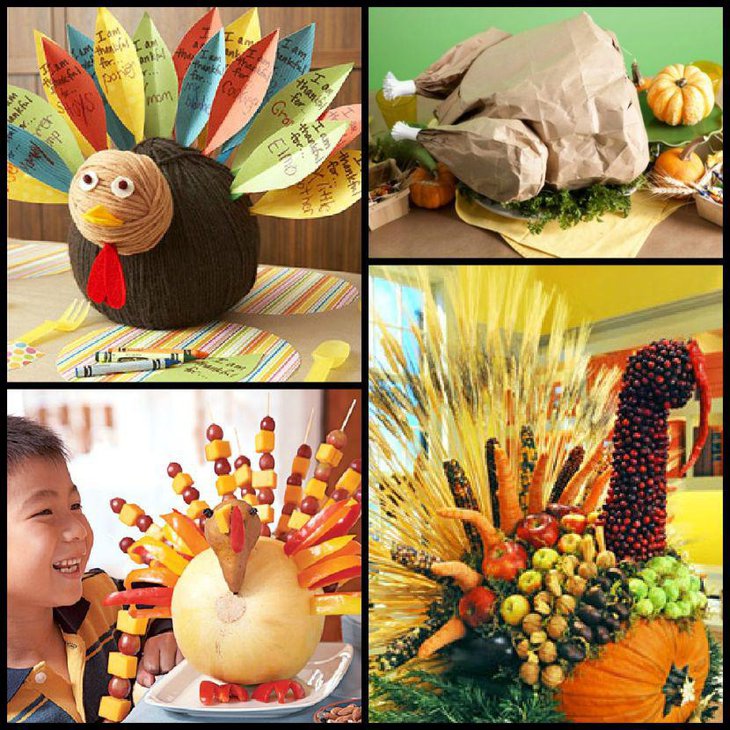 Easy DIY Thanksgiving Table Decoration
Image Credit: ribbons
Fun kid's thanksgiving decoration ideas
When celebrating the festival of Thanksgiving, you must give some consideration to your kid's likes and whims as well. Kids love such a festive decor that looks colorful and very warm. Hence, you can make use of various sundry materials to make cute figurines of cartoons in colored papers, paper rolls, and mats with cartoon imprints. The images seen below show how you can implement adorable thanksgiving decoration ideas easily using items that are readily available in your homes. One such item could be construction paper that can be used to make kid's crafts for the festival. There are innovative ways in which you can craft various shapes and designs using this useful paper like paper hands and leaves made in various colors.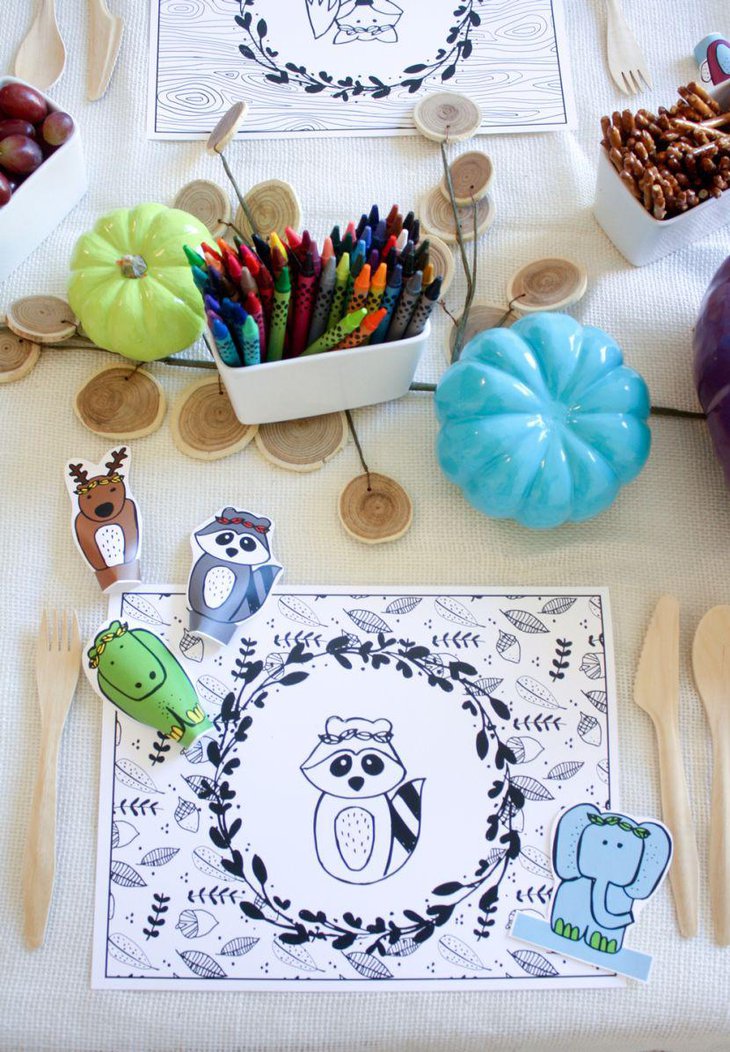 Cute Thanksgiving table decor for kids
Image Credit: thealisonshow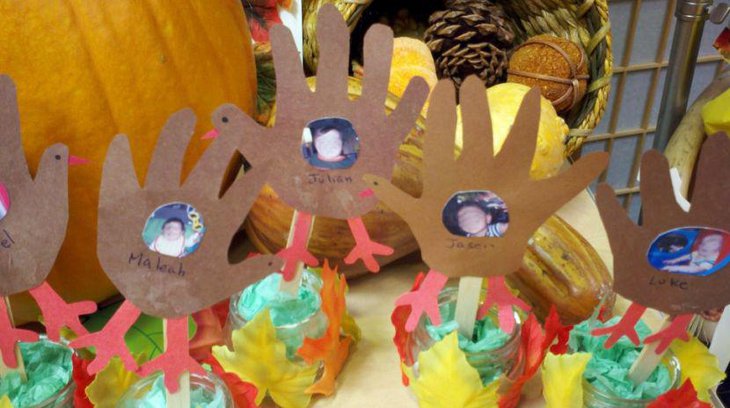 Thanksgiving decoration with Construction Paper for Kids
Image Credit: sikhco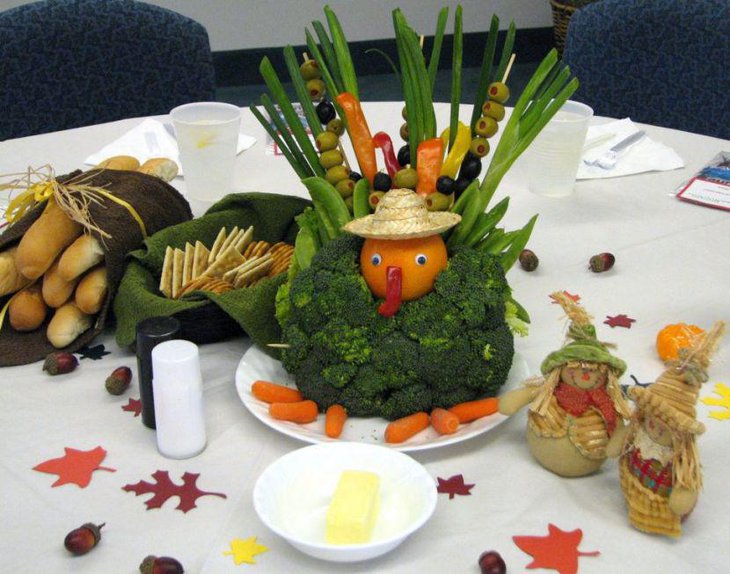 Thanksgiving table decor with real veggies for kids
Image Credit: sikhco
Thanksgiving decorating ideas in red
Thanksgiving is a warm occasion and hence, you cannot ignore red, often synonymous with this festival and Christmas. Red helps in spreading cheerfulness among people and thus is always popular around the globe. The following Thanksgiving table decorations seen below involve the use of this bright color in various shades and tones. There are plenty of ways you can bring the red element on your festive dining table such as red ornamental mats in any shape, red table cloth in silk and red runners with beautiful embroidery. You can adorn your tables with red candles or decorative glossy jars to enhance the style.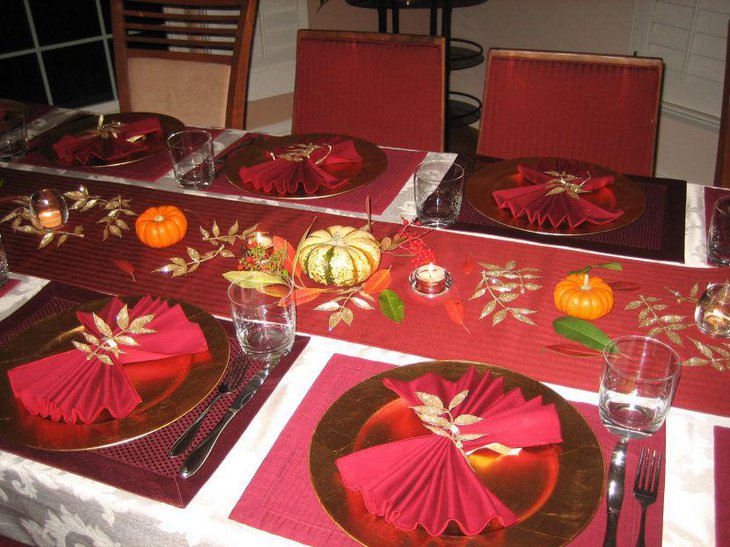 Colorful Thanksgiving Table Decorative Idea With Red Silken Runner and Pumpkins
Image Credit: gurukoala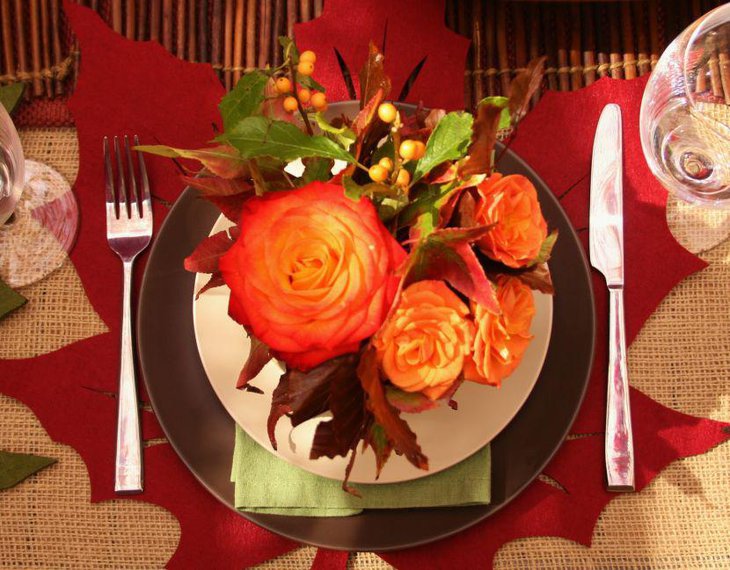 Trendy Thanksgiving Decor With Bright Red Maple Leaf Mat And Floral Arrangement
Image Credit: bedroomkitchen
Thanksgiving table decorations with candles
Candles are one of the most popular accessories when decorating tables for thanksgiving and why not? These come in myriad shapes and colors and add uniqueness to any table decor. From white to differently colored candles, the choice is endless as far as table decoration for the festival is concerned. Candles along with sconces or holders can become the center of all attention when placed as centerpiece such as the ones shown below. The illuminating effect created by candles helps add glow and charm to any festive occasion.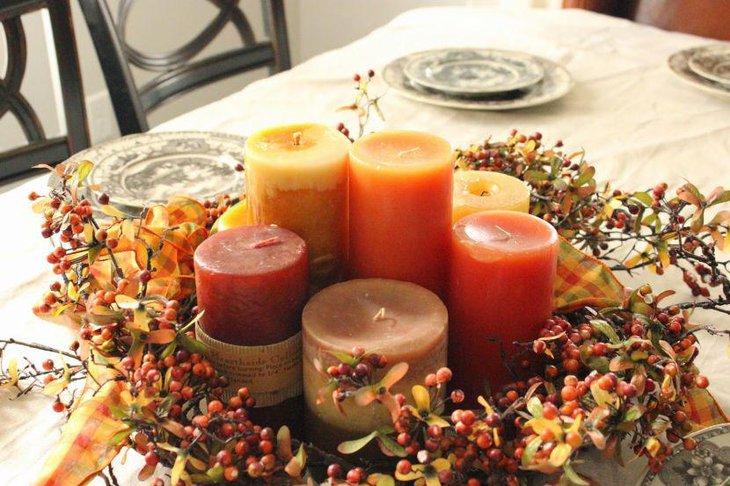 Trendy Thanksgiving Table Decor With Candles
Image Credit: blogspot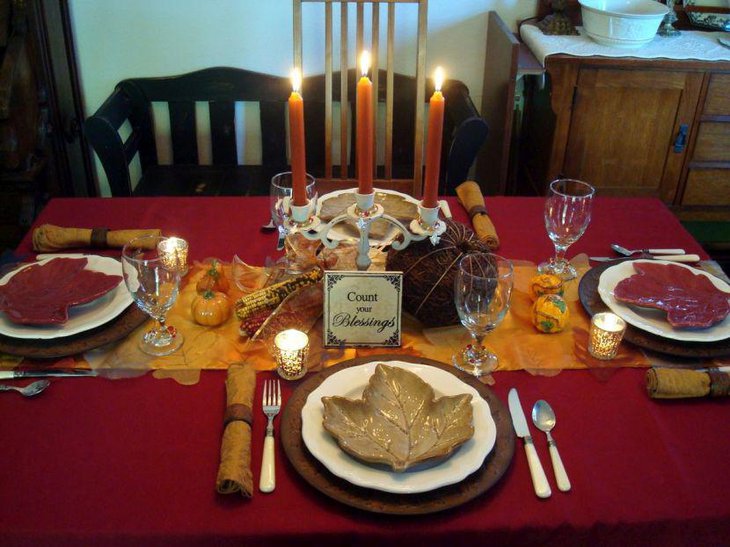 Thanksgiving table decor with Orange candles and white holder
Image Credit: ihisham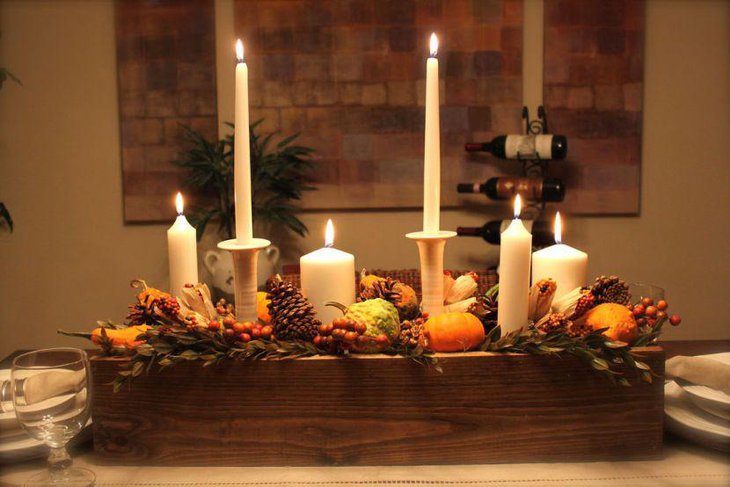 Inspiring Thanksgiving table decoration with wooden tray and candles
Image Credit: chantiki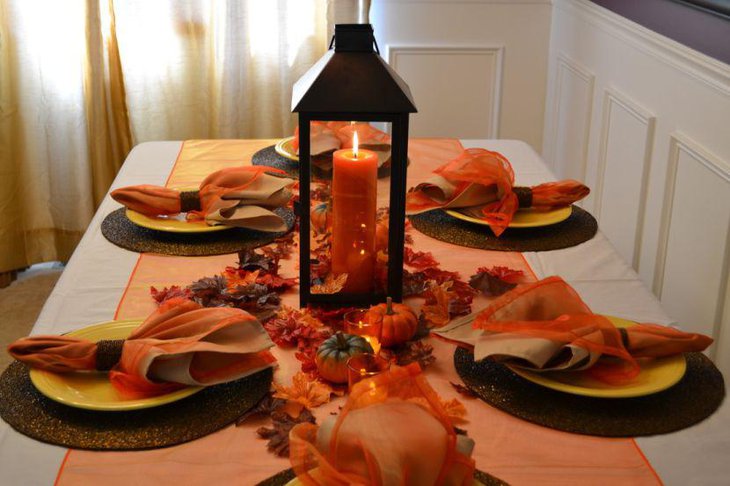 Charming Table Centerpiece Design Including Moroccan Lanterns With Orange Candle Plus Small Pumpkin
Image Credit: seatbolts
Trendy Thanksgiving table decoration with sunflower theme
Sunflowers aren't very usual to be spotted on a Thanksgiving table but are slowly making an entry into homes today. These flowers look bright and spread cheer and love. These can be placed in vases to be placed as centerpieces or can just compliment the rest of the decor such as the sunflower arrangement seen on the dark table and the pumpkin bowls that have sunflowers to enhance their beauty.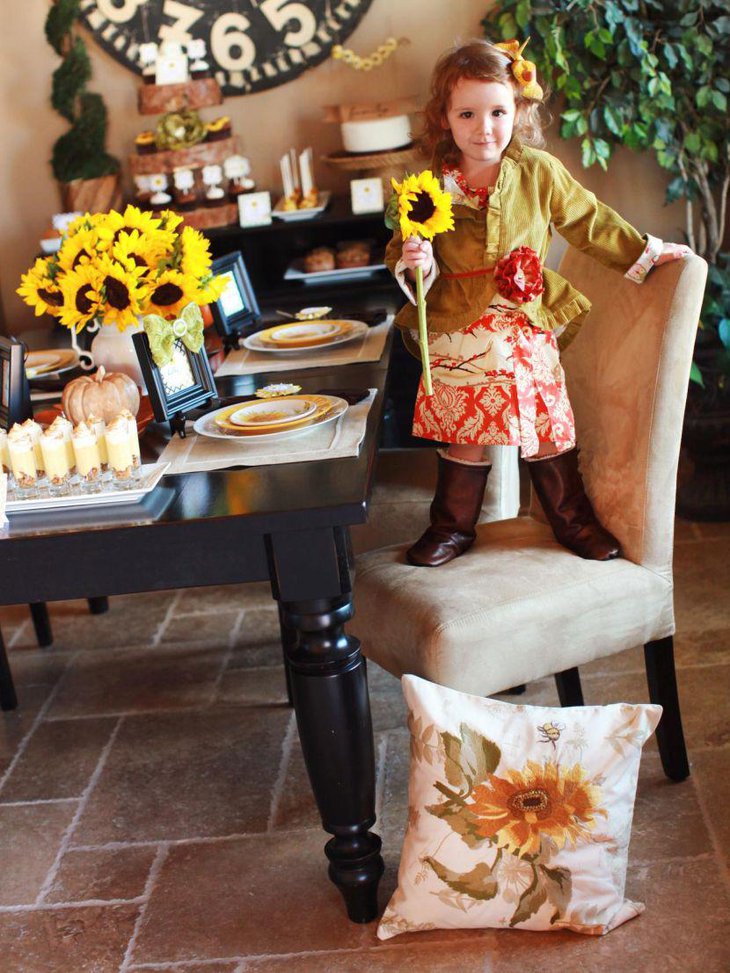 Amazing Thanksgiving table decor with sunflowers in vase
Image Credit: sndimg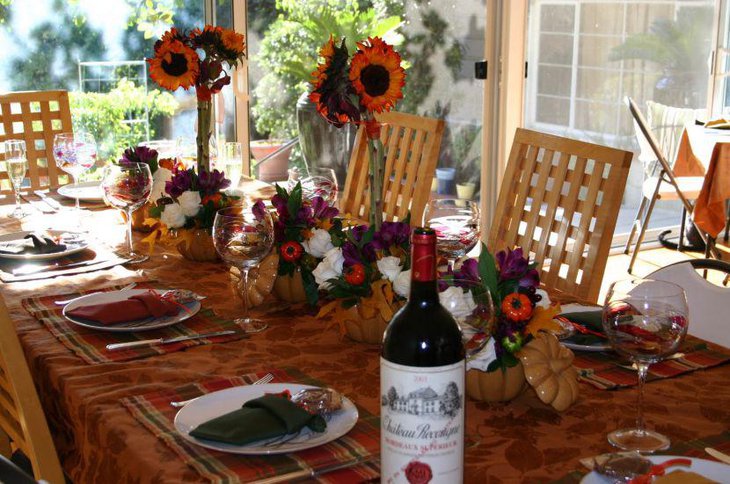 Outdoor Thanksgiving Table Decoration Alongside Pumpkin Bowl With Sunflower Arrangement Centerpiece
Image Credit: girlsonit
Thanksgiving is going to be here very soon and you must try these trendy *thanksgiving table decorations* this festive season if you need to impress all!