When it comes to the celebration of an event, be it a wedding or a birthday, an anniversary or a baby shower you simply cannot complete the menu without desserts. And talking of desserts, the arrangement of the dessert buffet is as important as choosing the fare. Everything depends on the color and style you choose to accentuate the mood of your event. But your décor doesn't need to cost a lot. You can create beautiful backdrops and table settings inexpensively with these dessert tables ideas.
Beautiful Rainbow Dessert Tables
Nothing can outshine the beauty of a rainbow themed dessert table. If the rainbow seems too bright and vivid for your party, soften the palette with pastel shades of the traditional colors. Include colorful tablecloths, streamers, balloons, or paper crafts. Decorate the desserts with a variety of icing colors and place color coordinated candies in jars or dishes.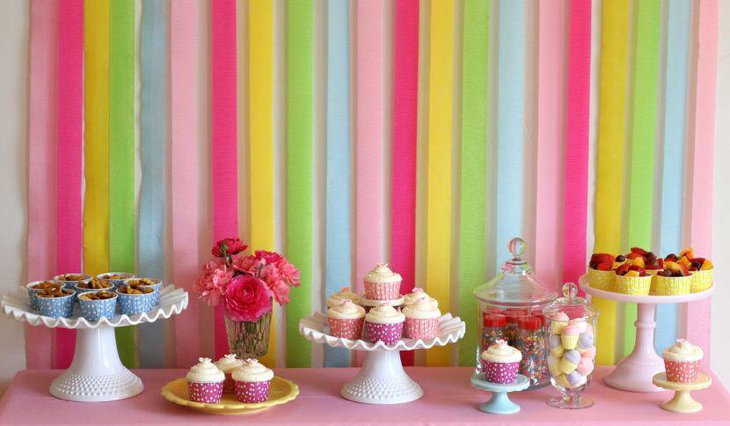 Rainbow Streamers, Colored Tablecloth, Cupcake Wrappers, and Candies
Image Credit: blogspot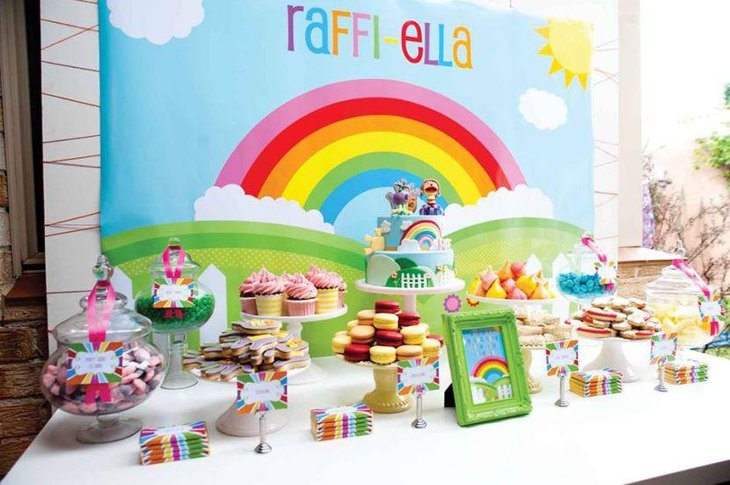 DIY Rainbow Backdrop, Labels, Coasters, and Artwork with Colorful Desserts
Image Credit: dimpleprints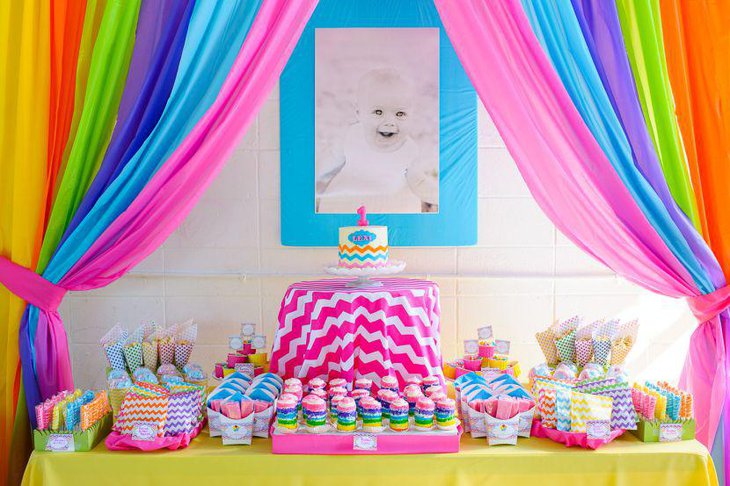 Rainbow Fabrics and Chevron Pattern Wrappers and Favors
Image Credit: andersruff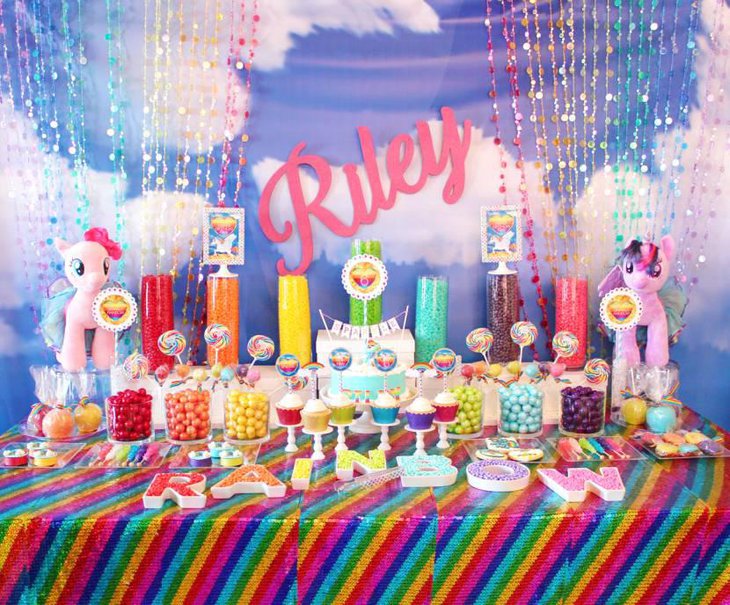 DIY Rainbow Candy Table
Image Credit: sweetcitycandy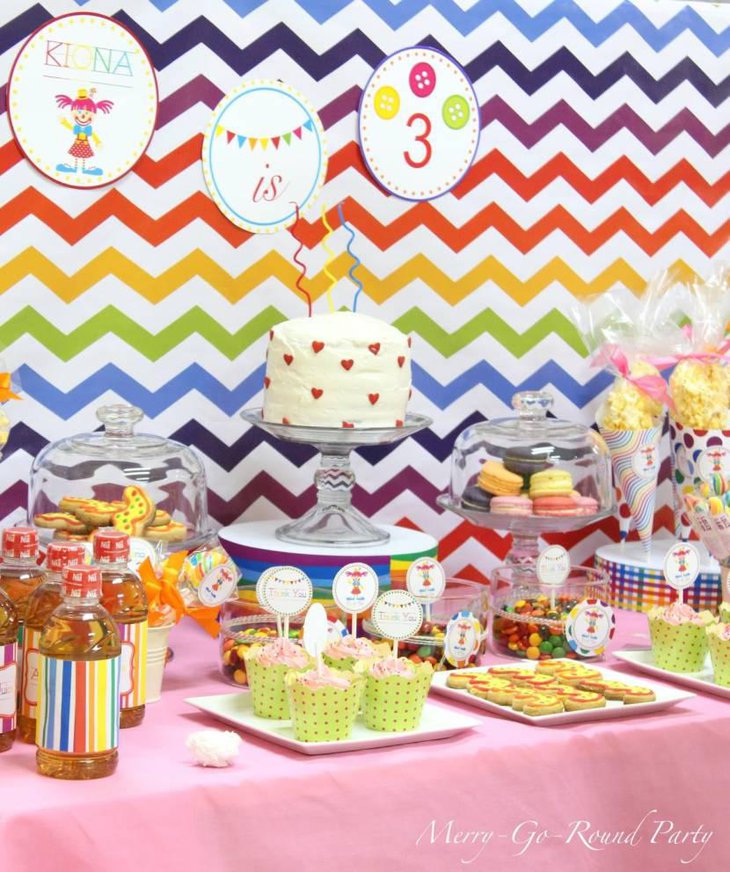 Assembled and Printed Rainbow Décor
Image Credit: blogspot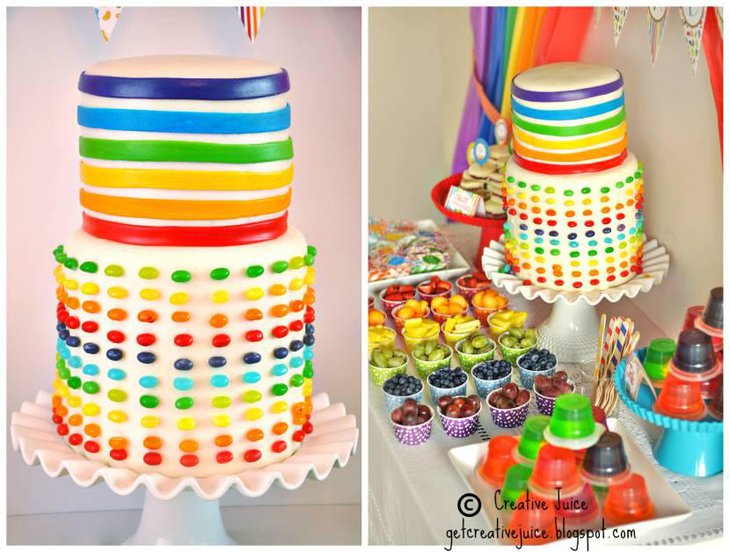 Homemade Rainbow Cake with Color Coordinated Desserts
Image Credit: blogspot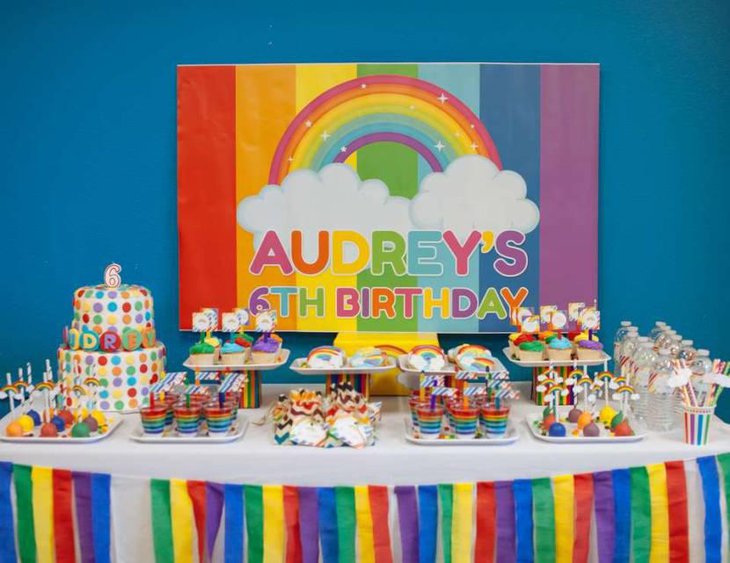 Colorful Rainbow Birthday Dessert Table
Image Credit: catchmyparty
Vintage Style Dessert Tables
Vintage dessert table ideas are not only for traditional affairs such as weddings, but can be chicly adapted to bridal shower, birthday, housewarming parties. Use lace and antique decorations that you might have. Decorate in white florals and serve desserts on white or silver trays.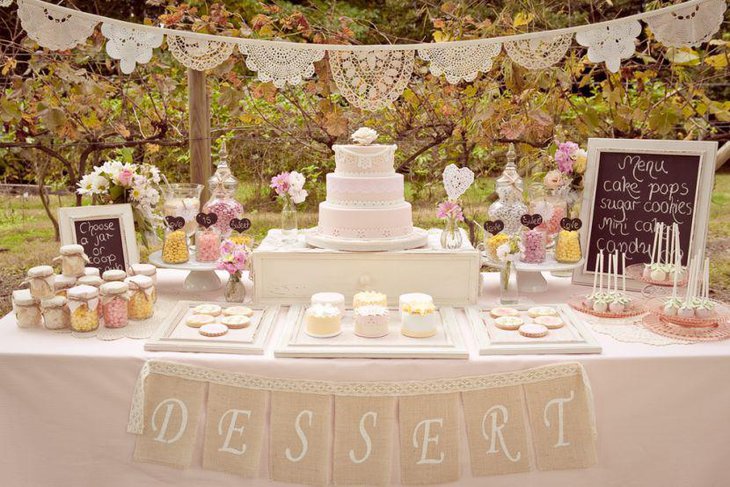 Vintage Dessert Fare with White Lace and Floral Décor
Image Credit: wordpress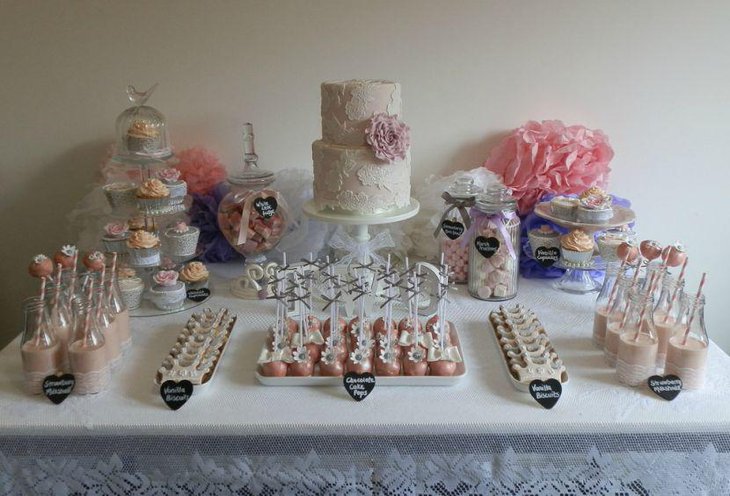 Lace and Handwritten Labels for a Vintage Appeal
Image Credit: staticflickr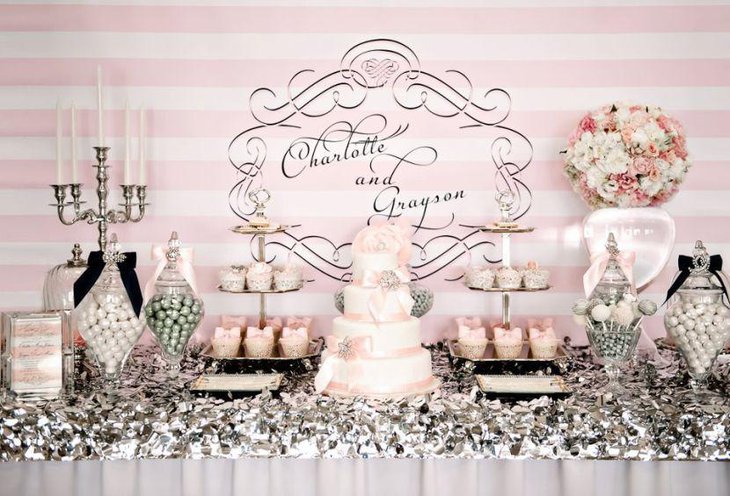 Vintage Style Tablecloth, Print, Candelabra, and Floral Decoration
Image Credit: prettymyparty
Vintage Dessert Displays, Artwork, and Floral Decoration
Image Credit: mydolcedesigns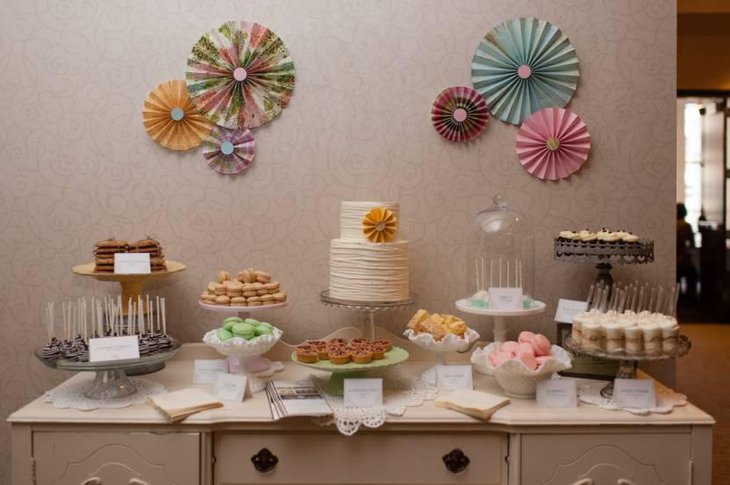 Paper Florals on Antique Buffet Table
Image Credit: dottyvintageweddings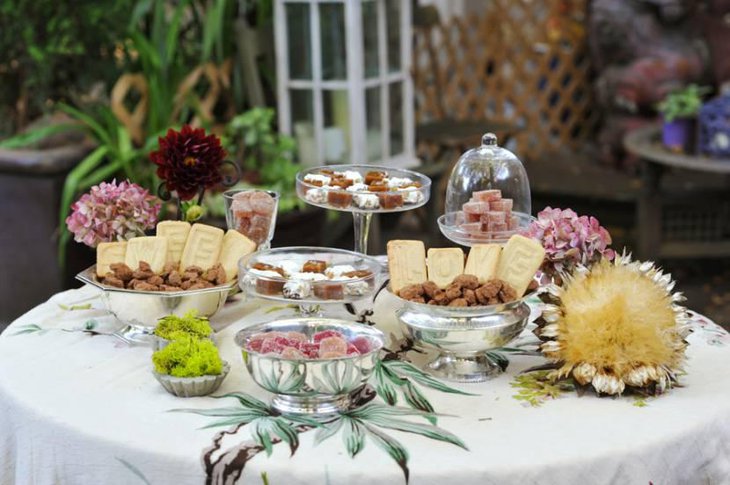 Printed Tablecloth and Vintage Floral Décor
Image Credit: squarespace
Lovely Dessert Tables with Glass Jars
Your dessert table could be as simple as filling variously sized jars with color-coordinated candies. The bright candies in clear glass displays will provide enough decoration on their own. Complete the effect with a colored backdrop, tablecloth, or banner.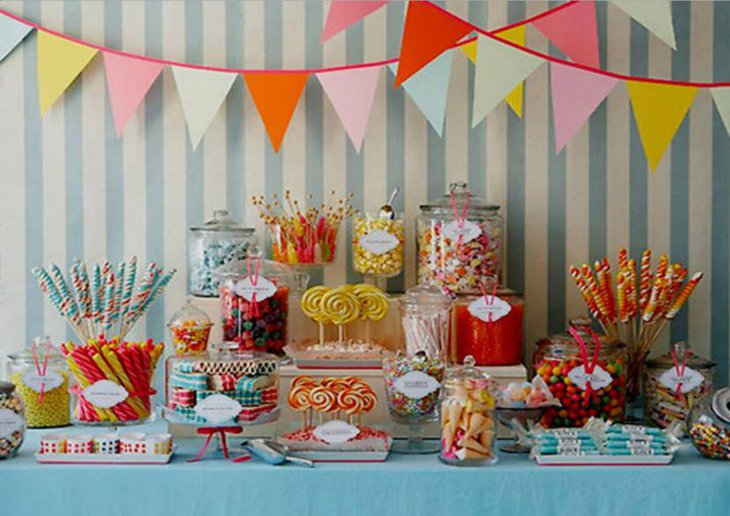 Attractive Dessert Table with Clear Candy Jars
Image Credit: wordpress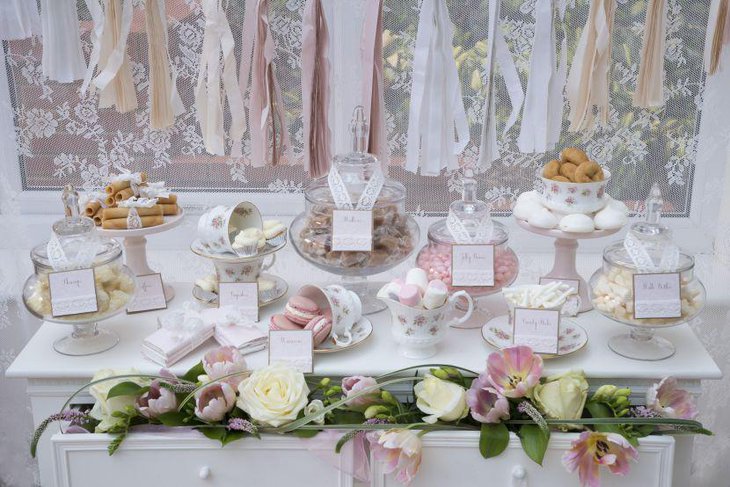 Candies and Desserts Arranged in Jars and on Stands
Image Credit: melissawoodlandcakes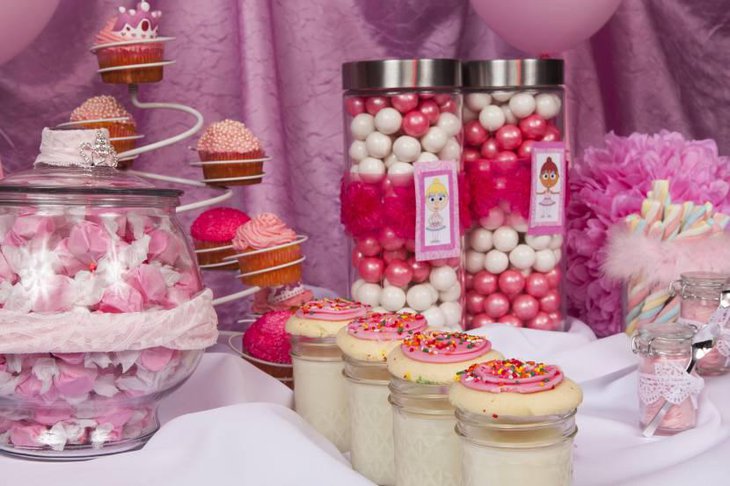 Colorful Dessert Table with Candy Jars
Image Credit: btseventmanagement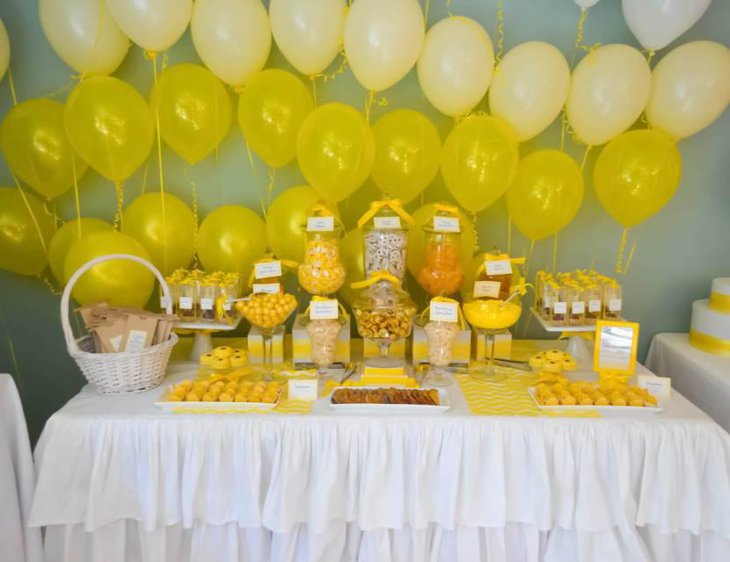 Color Coordinated Candies in Transparent Jars and Bowls
Image Credit: candybuffetsnj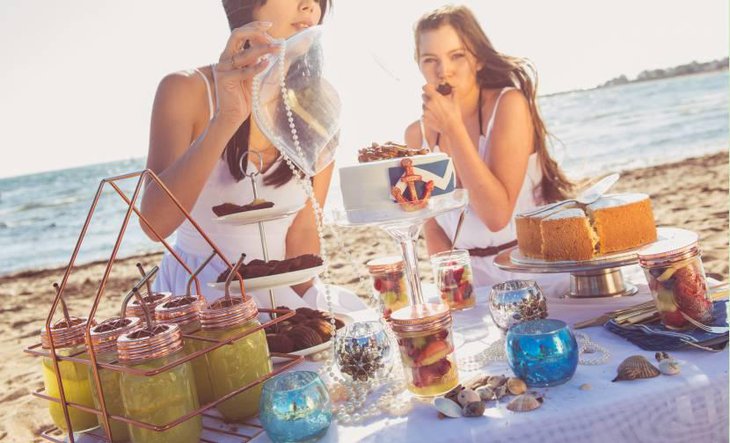 Fruit Salad in Mason Jars
Image Credit: hishersdessertstable
Green Dessert Table
Instead of a rainbow theme, go green! Dye your desserts green, use a green tablecloth, and include leaves, moss, frogs, leprechauns, or any other green embellishment. If you are celebrating nature, include grasses and recycled paper napkins or gift bags.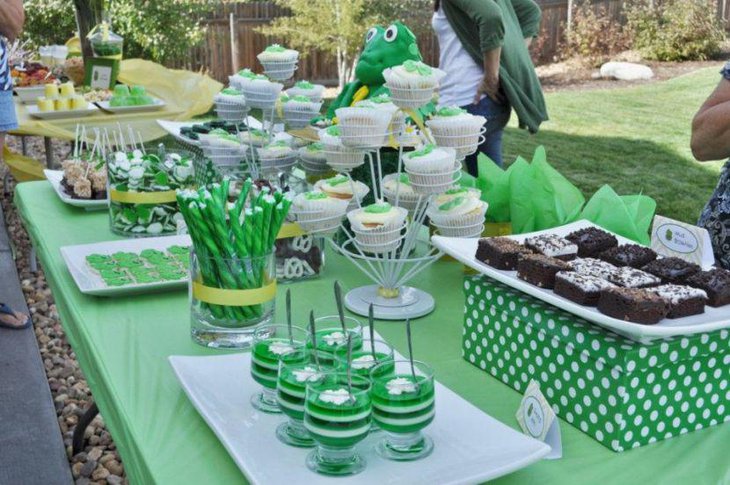 Green Décor with Frog Theme
Image Credit: joliejoliedesign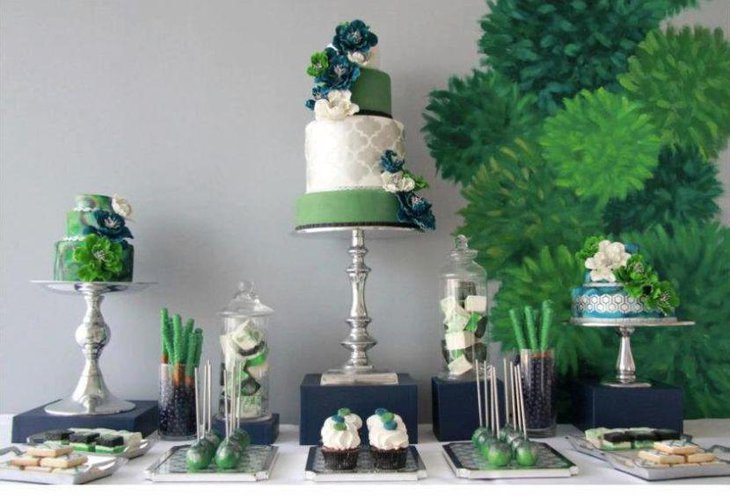 Elegant Green Dessert Table
Image Credit: wordpress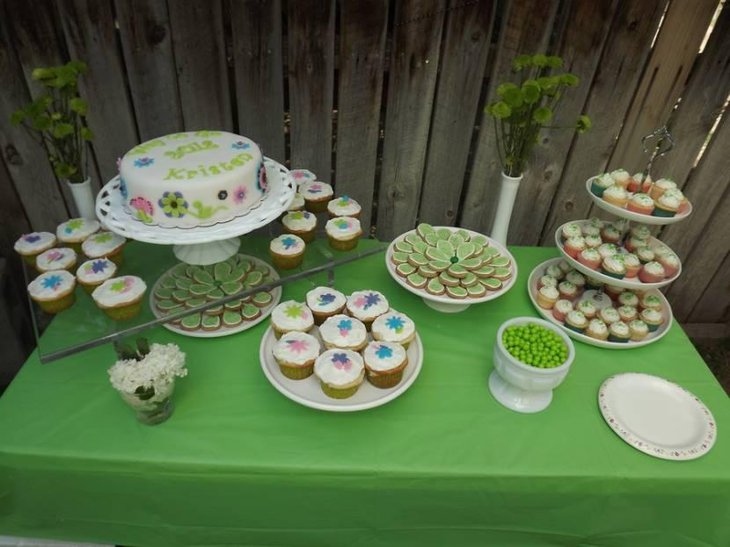 Lime Green Dessert Table with Floral Theme
Image Credit: cakecentral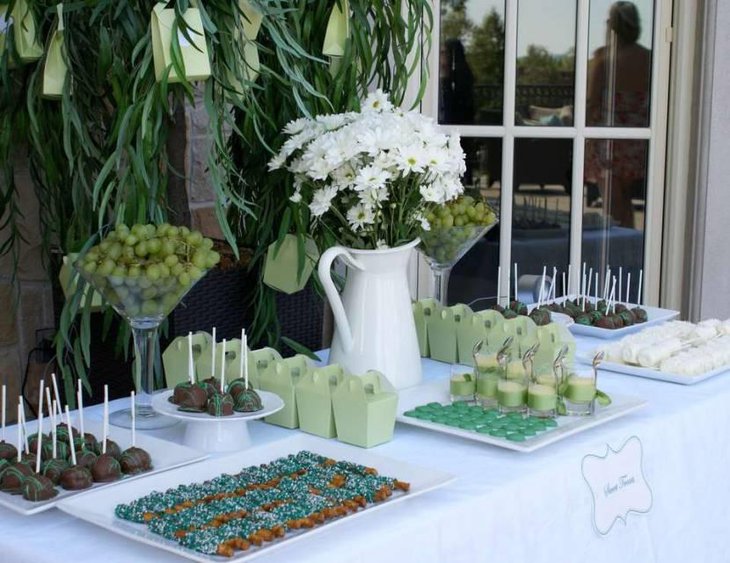 Beautiful Green Themed Dessert Buffet
Image Credit: catchmyparty
Cute Winnie the Pooh Dessert Tables
Aptly suited for birthday parties or baby showers, Winnie and friends are classic characters every child at heart can appreciate. Print cutouts of the characters or go subtle by simply decorating in the character colors and serving honey-flavored tea and desserts. Add blue balloons and play a game to make guests guess the inspiration.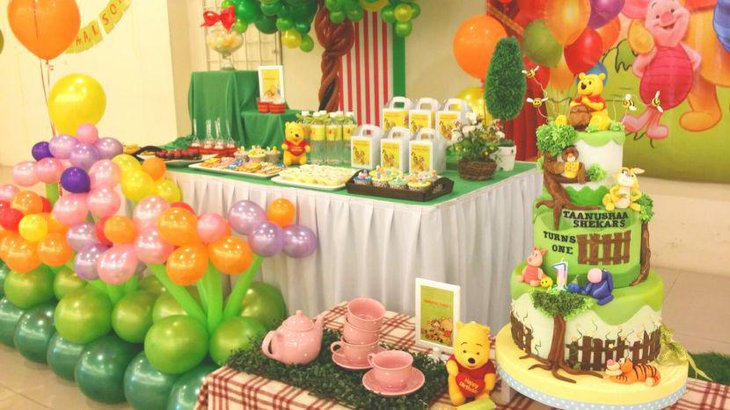 Adorable Winnie the Pooh Dessert Table
Image Credit: wordpress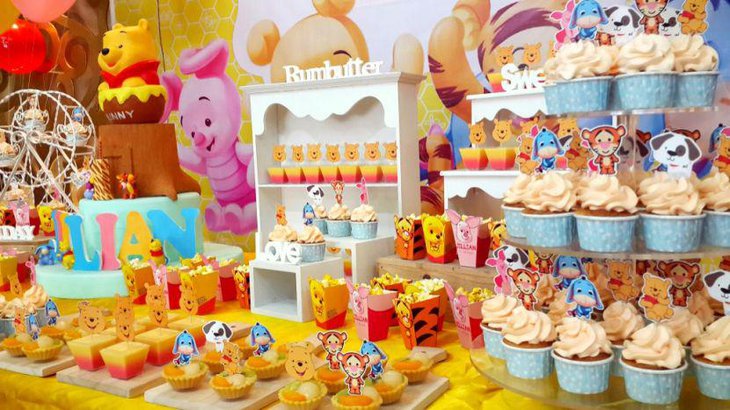 Printed Backdrop and Labels
Image Credit: blogspot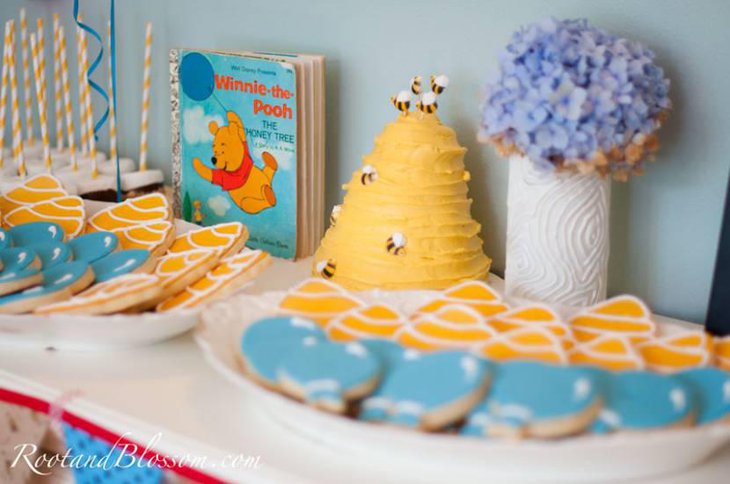 Beehive and Balloon Cookies with Beehive Décor and Winnie the Pooh Storybook
Image Credit: blogspot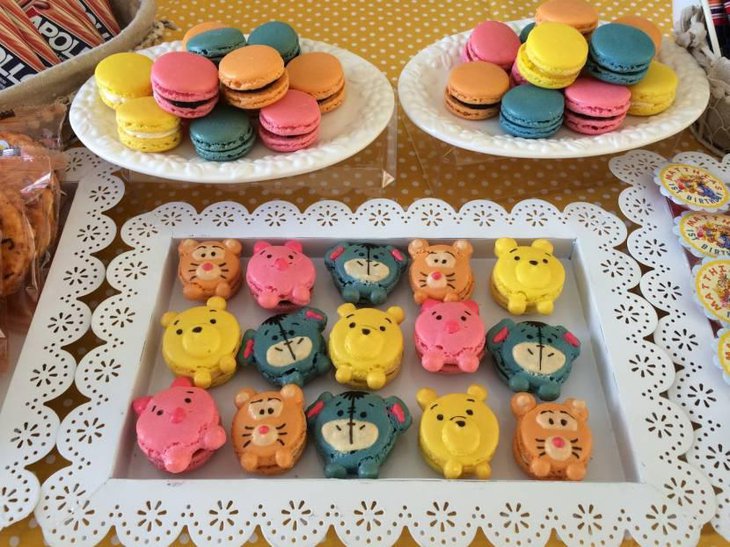 Hand-decorated Desserts
Image Credit: blogspot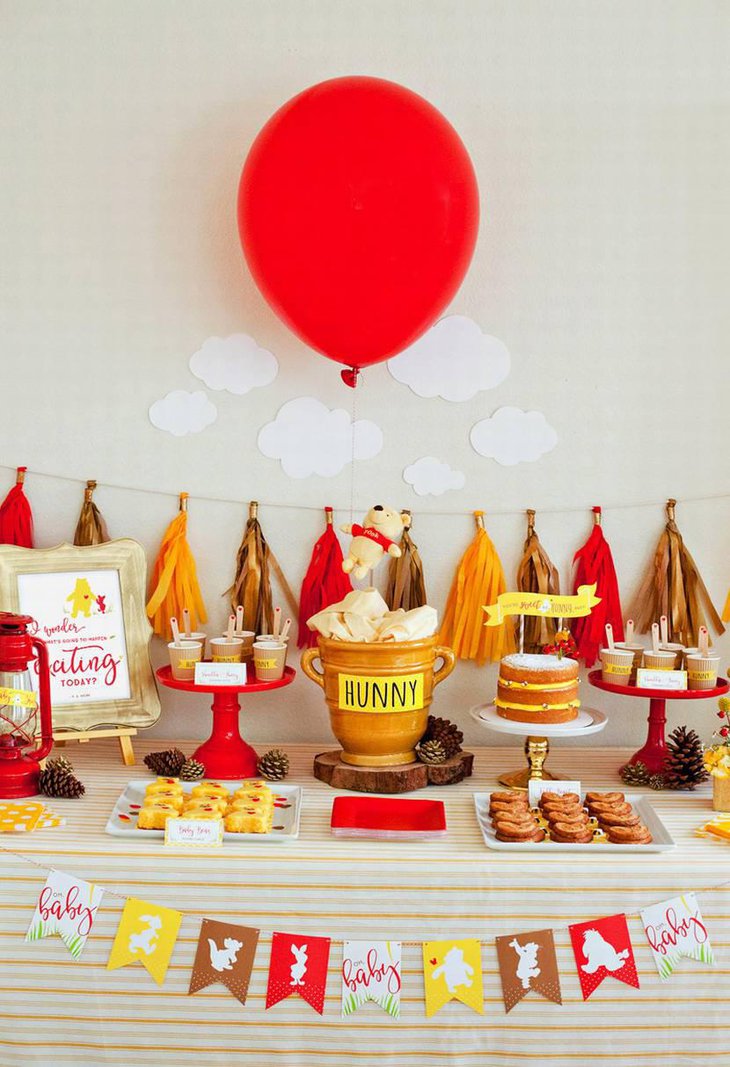 Honey Pot Winnie the Pooh Dessert Table
Image Credit: hwtm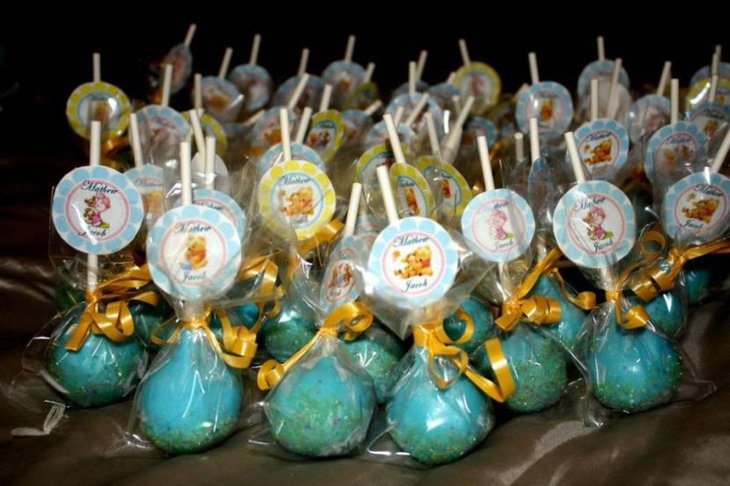 Blue Balloon Cake Pops and Printed Labels
Image Credit: cakepoppinparties
Rustic Dessert Table Ideas
If you're feeling more country than cutesy, try these rustic style dessert table ideas. Substitute pie for the cake and include wood décor or leave wooden tables naked. You can also use wrought iron or bronze dessert stands and decorations. If you use flowers, make them wild or long stem. Add femininity with lace on unfinished wood or floral vines woven through a distressed pallet.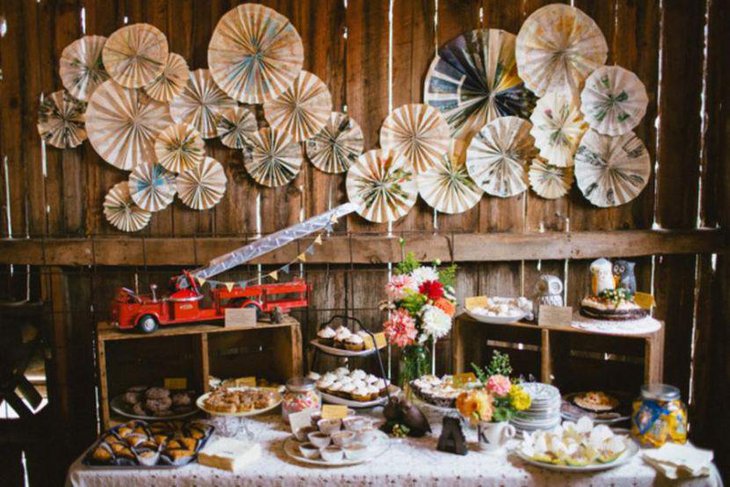 Rustic Dessert Table with Lace, Wood Crates, Wood Backdrop, and Paper Flowers
Image Credit: weddbook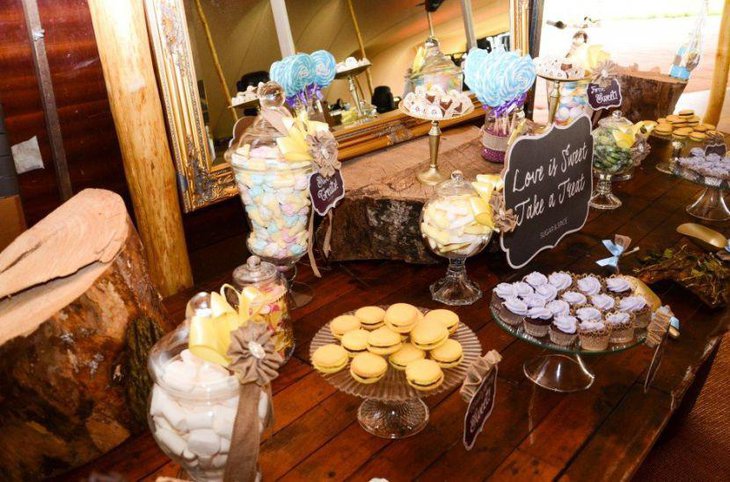 Dessert Table with Unfinished Wood Décor
Image Credit:  sugarspice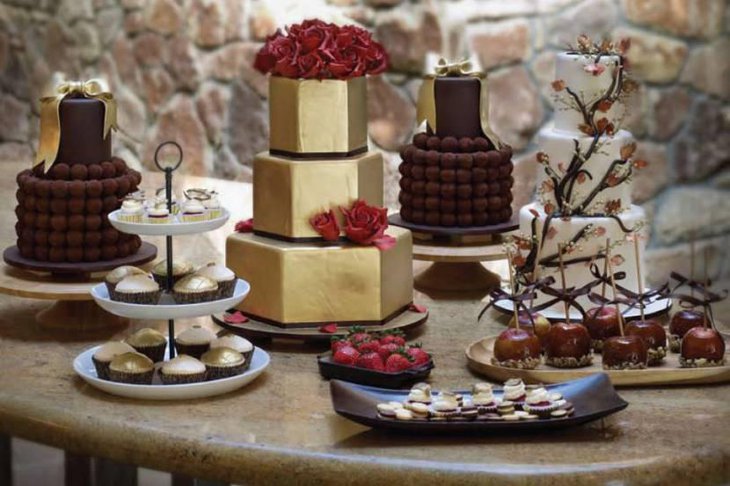 Metallic Table Display against Stone Wall
Image Credit: pinkcakebox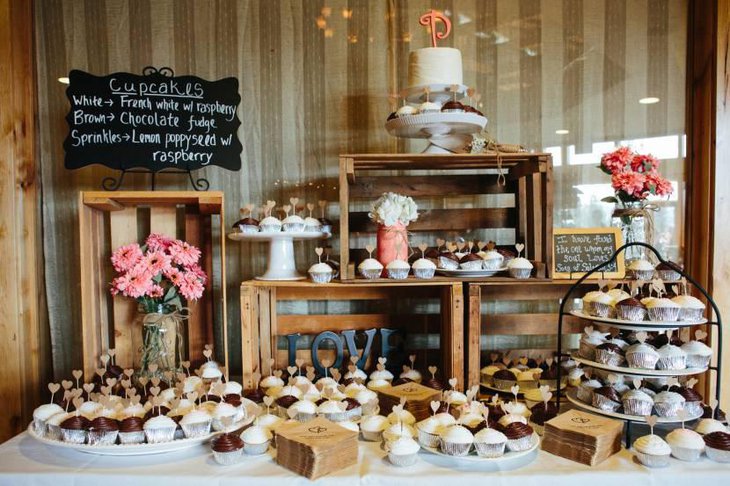 Sweets Table with Wood
Image Credit: xogrp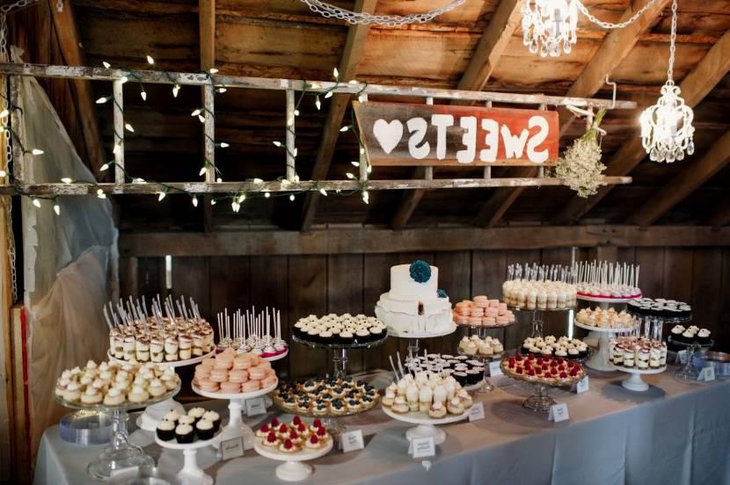 Elegant Dessert Table in Unfinished Room with Decorated Wooden Ladder Banner
Image Credit: weddingware
Rustic, Winnie, Vintage, Rainbow, or Monochromatic, we hope these dessert tables ideas have provided you with enough inspiration to start your own budget-friendly buffets. Remember that the most charming parties include your personal touch as much as possible. Leave yourself plenty of time to enjoy crafting the desserts and decorations yourself.