Want to see your little boy's face glow with happiness? Browse through these awesome Avengers theme party ideas. Marvel's Avengers is big, and your own little superhero will marvel at his party when he sees how you've done everything up for him. The examples below will help give you ideas for how to use the movies' favorite characters like Captain America, Hulk, and Thor for decorations, cake toppers, and party favors.
Marvelous Avengers Cakes
Cakes are an essential part of the fun for any boy's birthday party. And these cakes will definitely add to the fun as they prominently showcase your party's theme. Decorate the cake with the Avengers logo, the faces of a few favorites, or the weapons and accessories belong to each superhero.
Awesome Avengers Cake with Logo and Weapons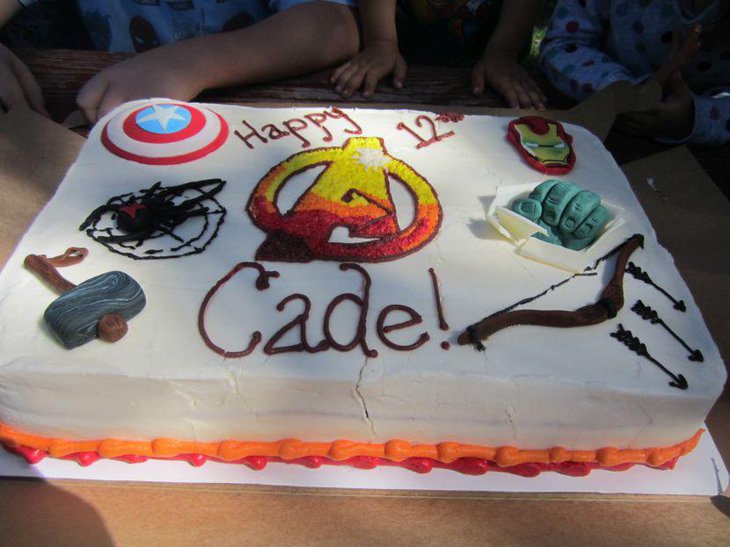 Image Credit: wordpress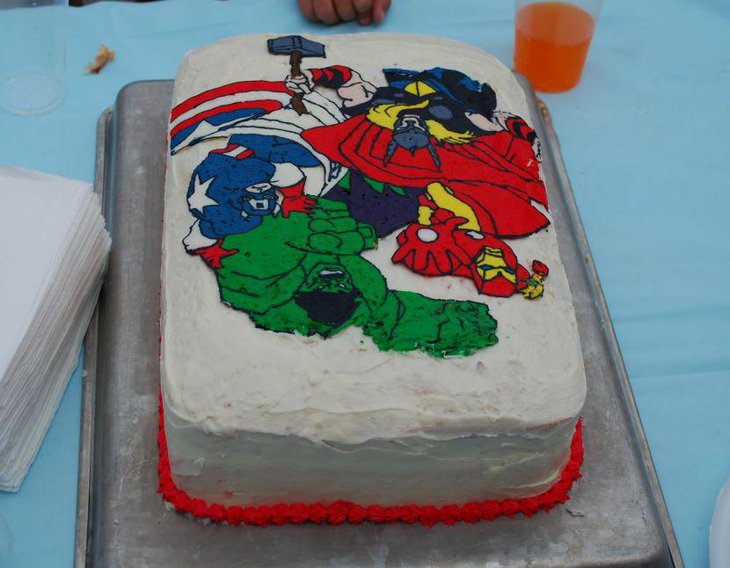 Amazing Action Artistry
Image Credit: blogspot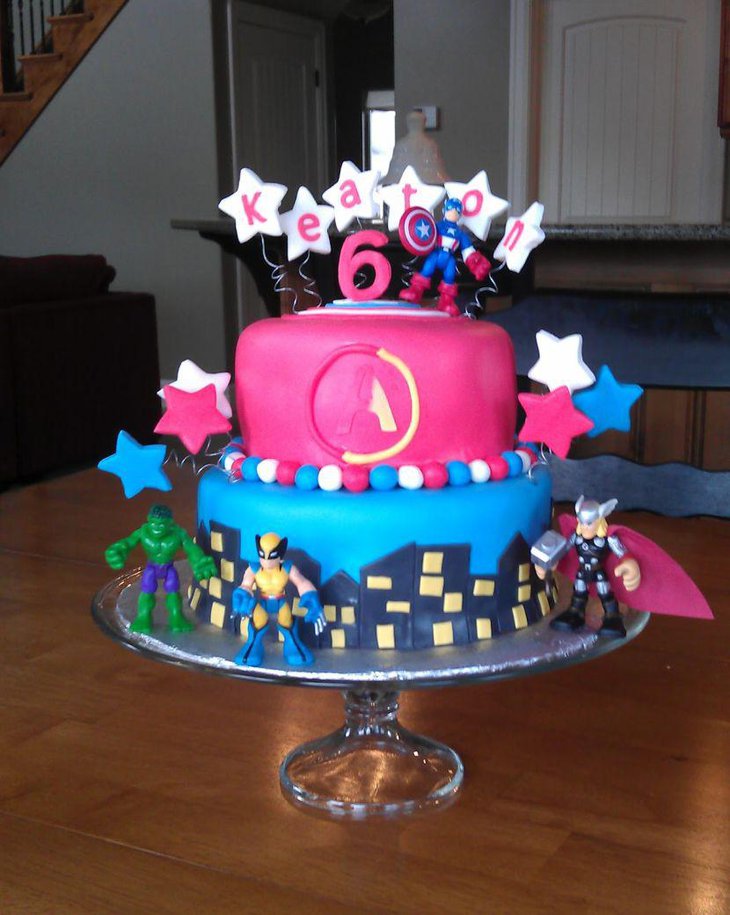 Action-packed Coloring, Embellishments, and Figurines
Image Credit: cherylthepiglady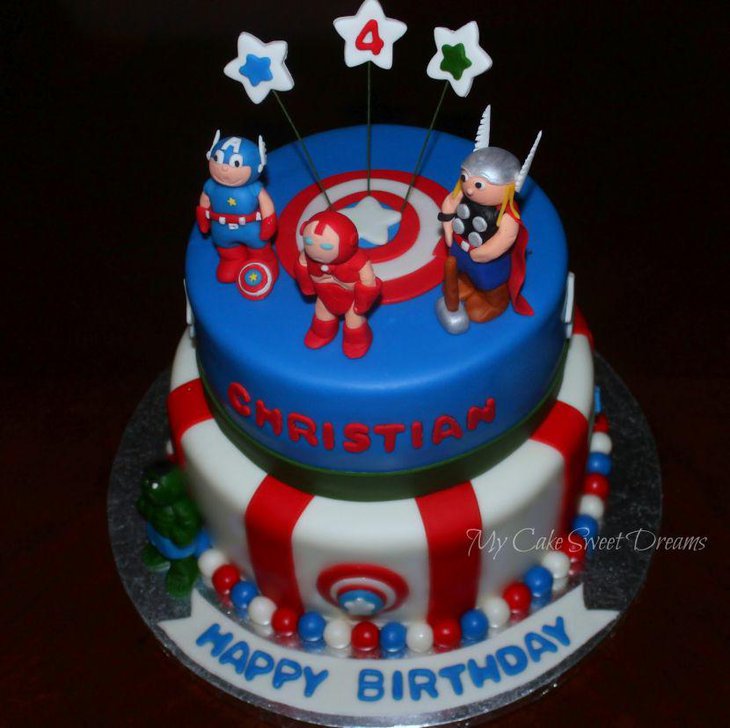 Adorable Avengers on Captain America- themed Cake
Image Credit: blogspot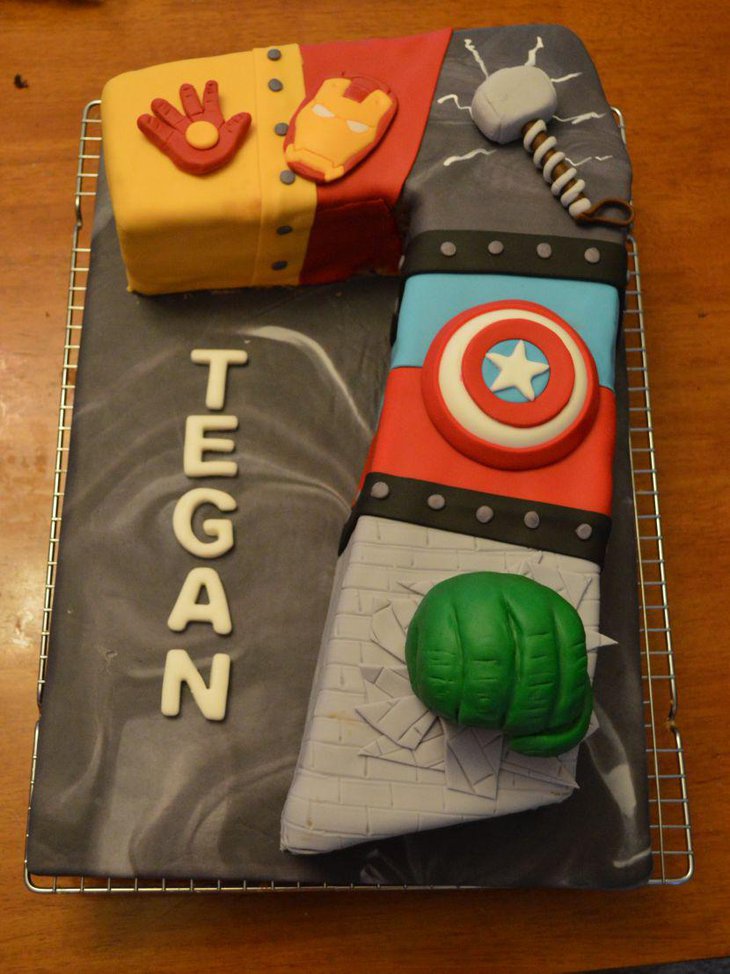 An Avengers Cake to be Marveled At
Image Credit: wordpress
Avengers Cupcakes
Add a punch of cuteness to the tables with yummy Avengers cupcakes. Cupcakes can be a little easier than full cakes… or not, depending on how elaborate you want to be and how many shortcuts you want to take. You can decorate them all individually with Avengers faces, print out labels to glue to toothpicks, or purchase plastic toppers. Use themed papers or color coordinating papers to bake them in. Display them in the shape of a large "A" for more themed fun.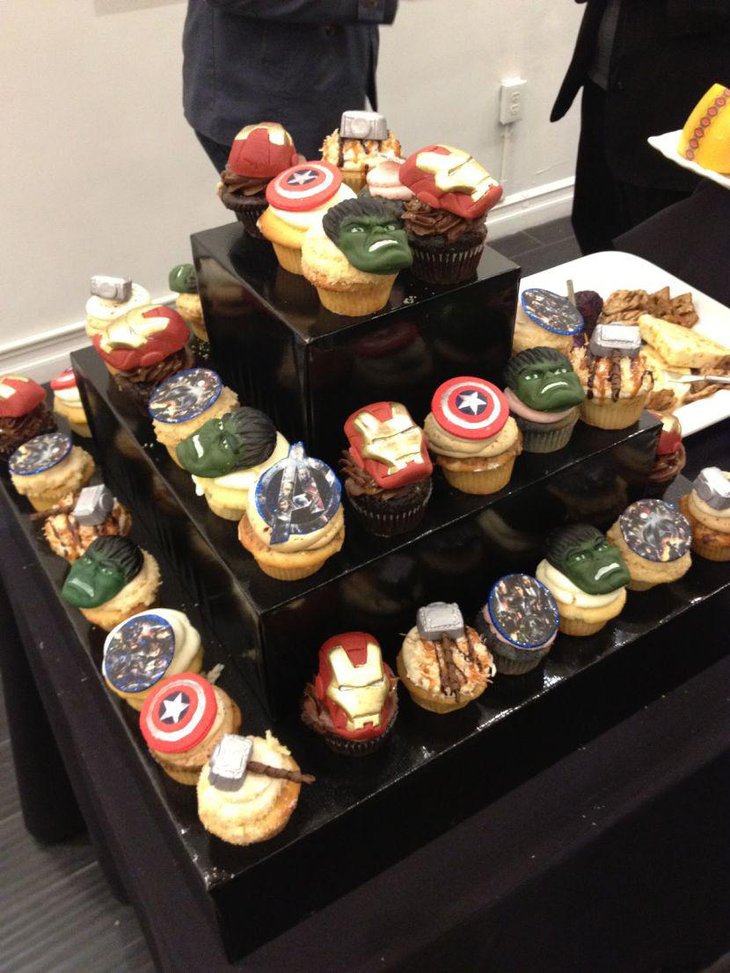 Avengers Disc Toppers
Image Credit: blogspot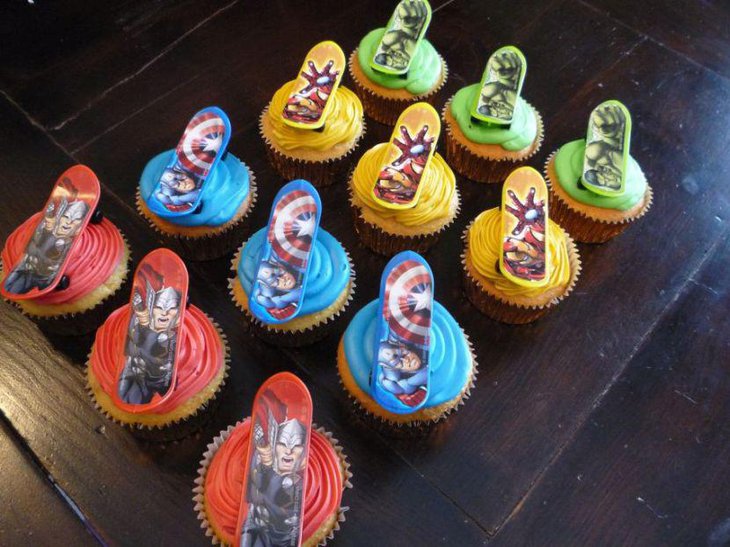 Skateboard Party Favor Toppers
Image Credit: shannonsdelights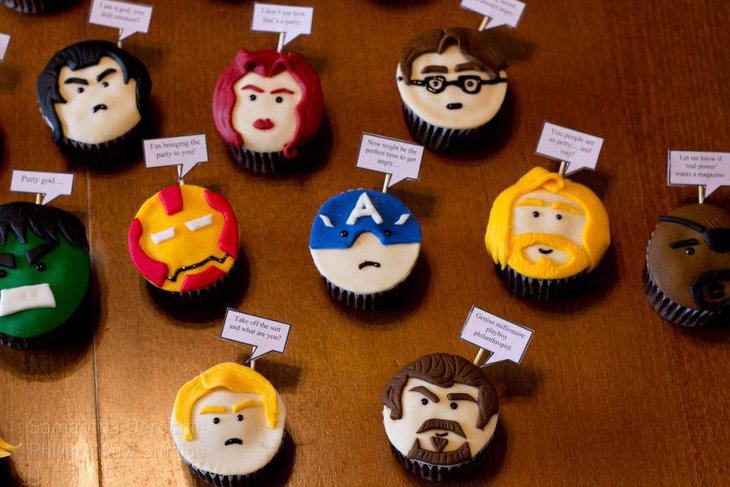 Impressive Individual Decorating with Character Quote Labels
Image Credit: foodblogs-sympledesignllc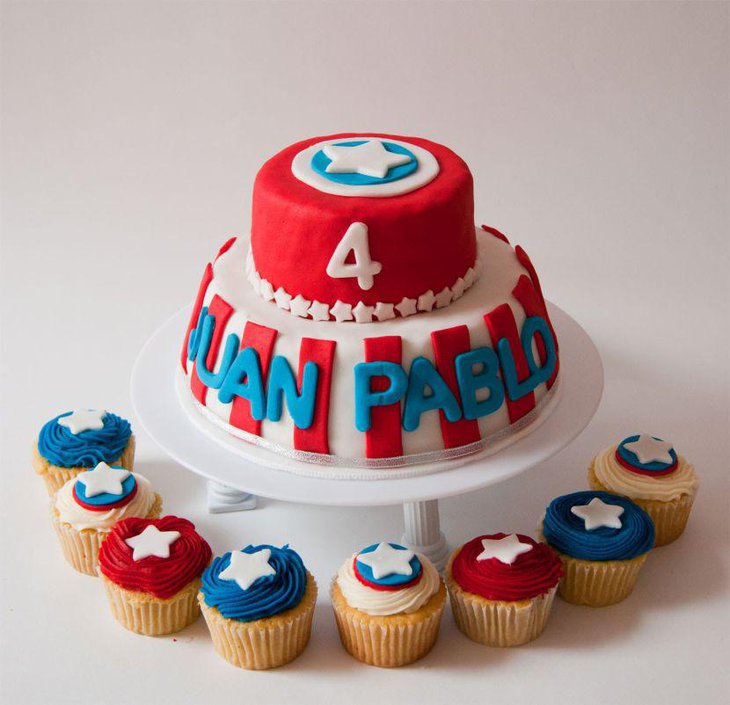 Easy Captain America Star Toppers
Image Credit: ytimg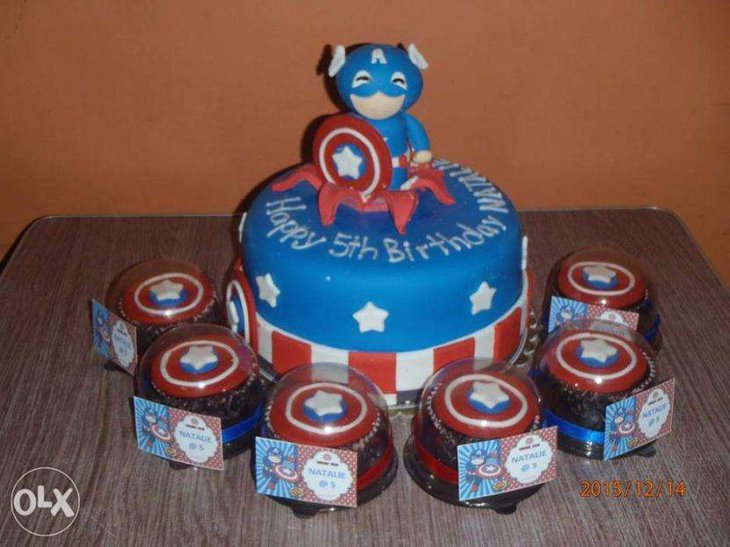 Sweet Avengers Cake and Cupcakes for Little Girl's Birthday
Image Credit: olx
Avengers Decorations
The cake or cupcakes are a great start, but you'll also want to decorate the tables the desserts sit on. Try a tablecloth in shimmering red and blue. Print out pictures of the characters or make a themed banner to string overhead. Blow up Avengers' color balloons or buy printed balloons. Place toys or props around the table. You can even put gift items out as part of the decorations and then give them to your child after the party.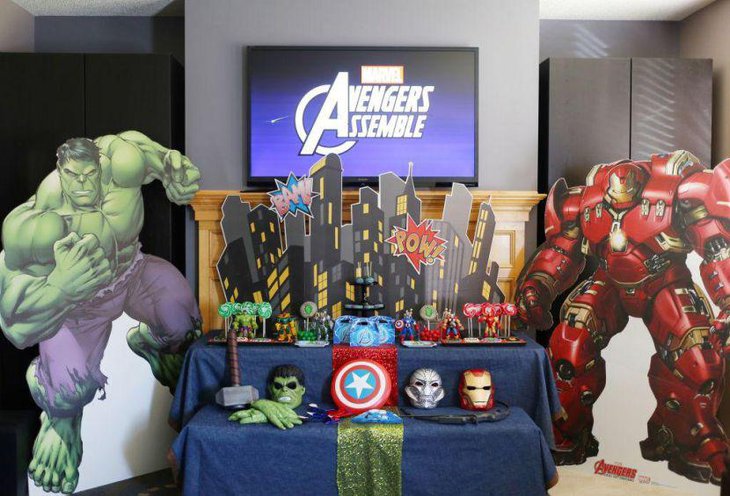 Dessert Table with Cutouts, Costume Props, Figurines, and Television Display
Image Credit: birthdayexpress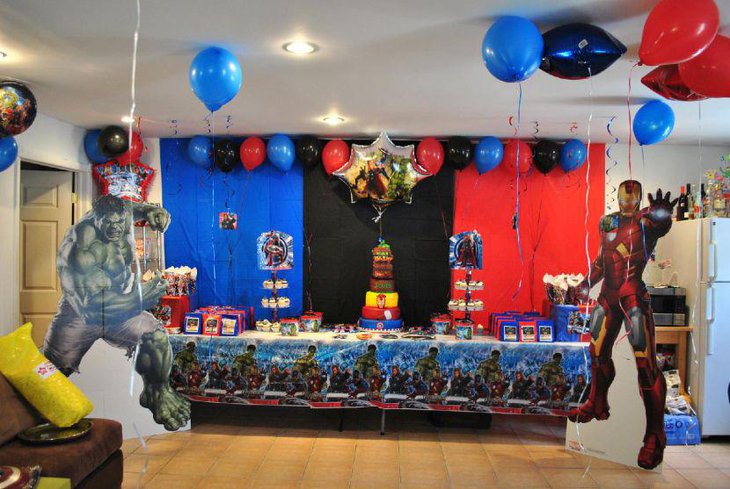 Cutouts, Printed Tablecloth, and Colored Balloons
Image Credit: wixstatic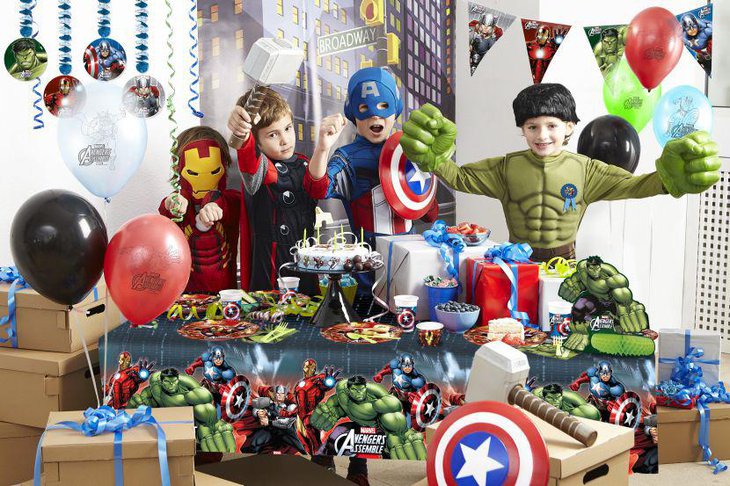 Banners, Backdrop, Printed Balloons and Tablecloth, and Toy Props
Image Credit: partypieces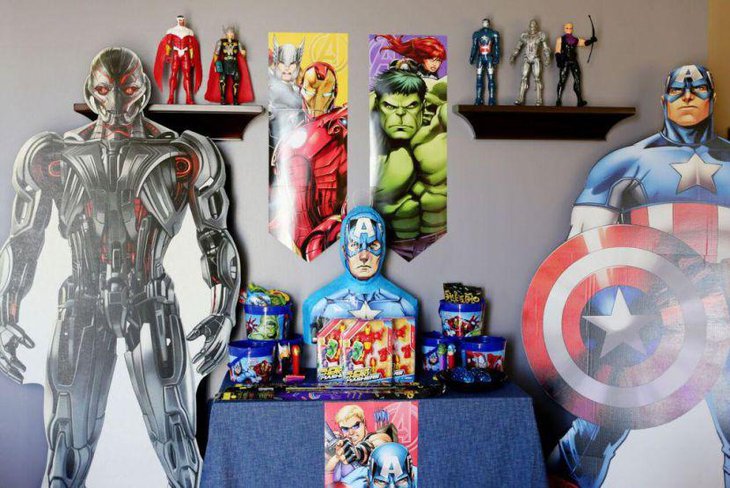 Cutouts, Figurines, Wall Art, and Gift Toys
Image Credit: birthdayexpress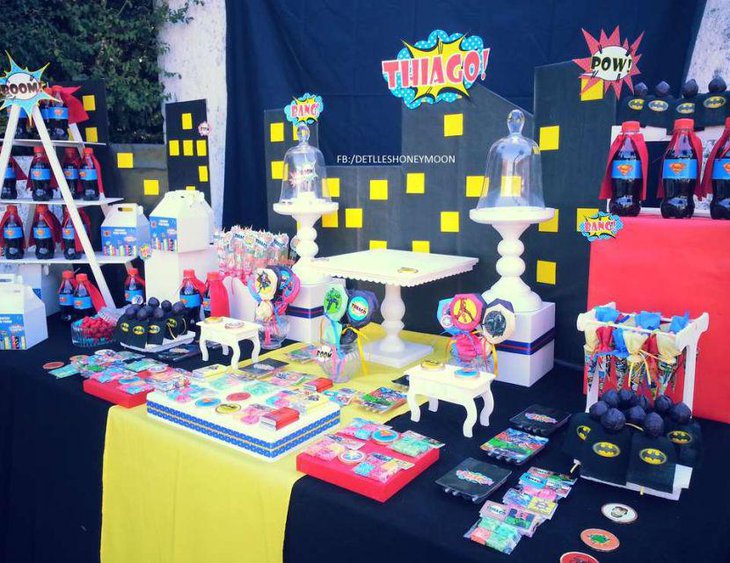 Superhero Party Favors
Image Credit: catchmyparty-cdn
Avengers Theme Sweets Table
Dessert and candy tables with a superhero or Avengers theme is especially important. Besides the cake or cupcakes, you can fill up candy jars with colorful candies, bake cookies with 'POW' or 'Bang' written on them, and label water bottles with paper printouts.
Homemade Backdrop, Superhero Cupcake Labels, Cookie Decorations, Colored Candy, Drink Labels, and Printed Plates and Napkins
Image Credit: lookatwhatimade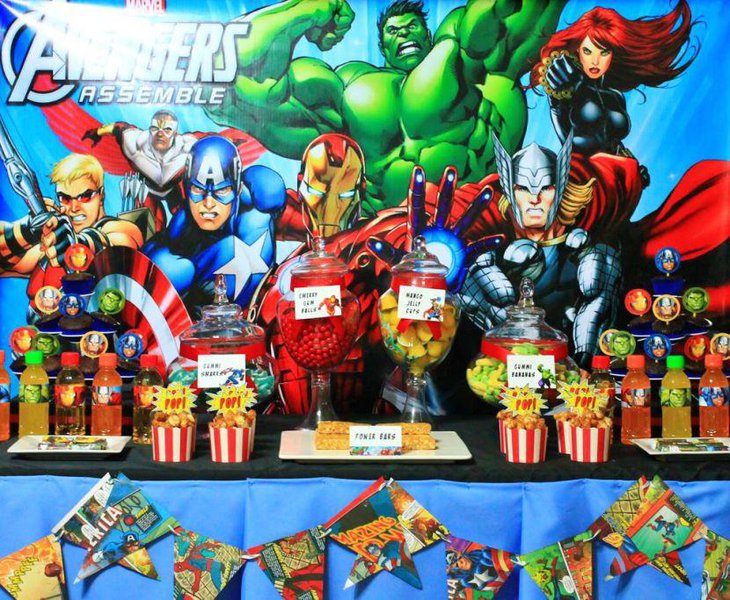 Printed Backdrop and Banner with Home-printed Food and Drink Labels and Colored Candies
Image Credit: kidspartyhubph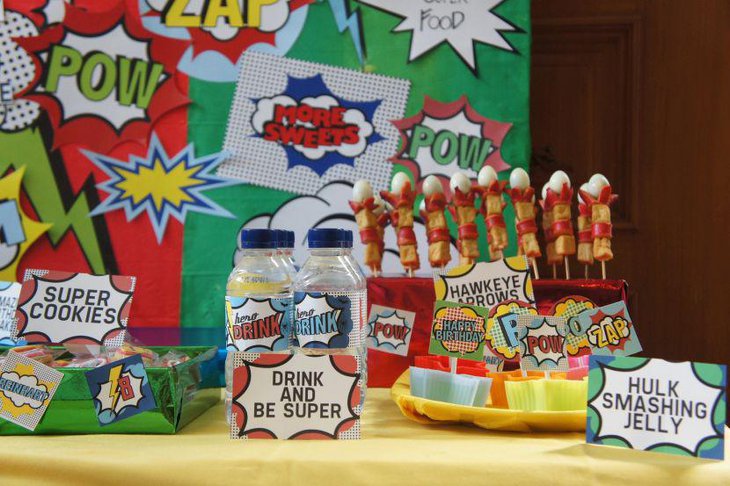 Superhero Labels on Themed Foods and Drinks, Homemade Backdrop
Image Credit: wordpress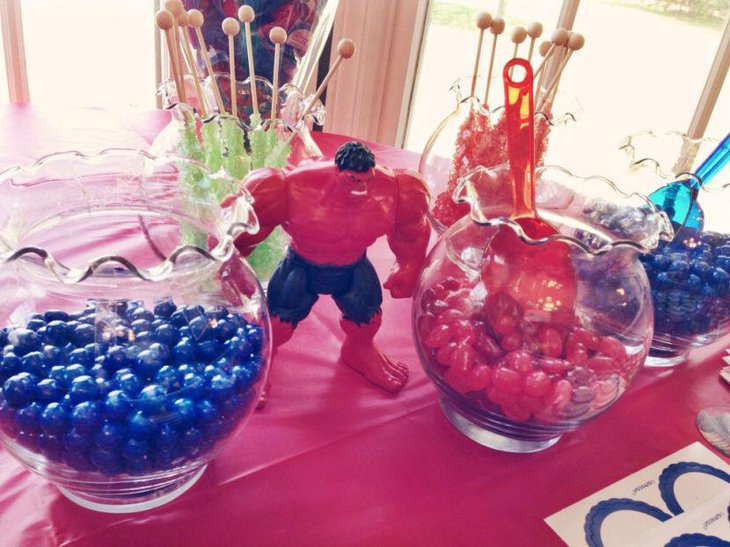 Colored Candies and Figurine
Image Credit: lifewithoutpink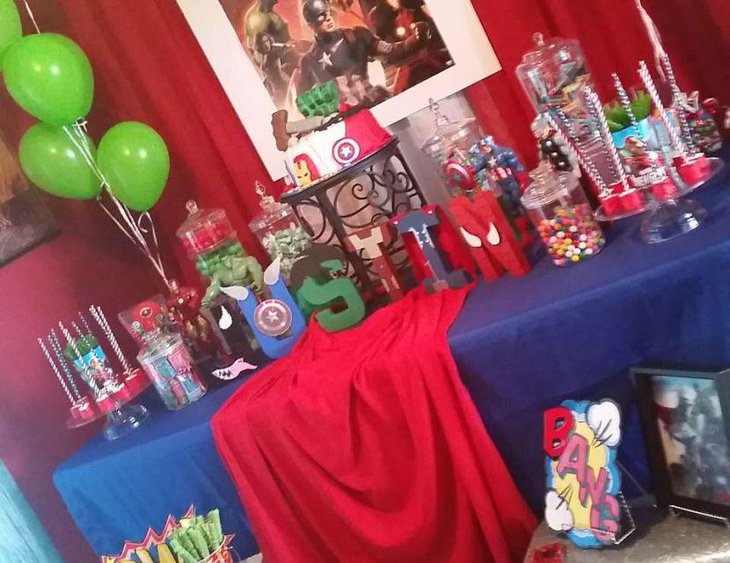 Avengers Wall Art, Figurines, Homemade Letters, and Themed Desserts
Image Credit: catchmyparty-cdn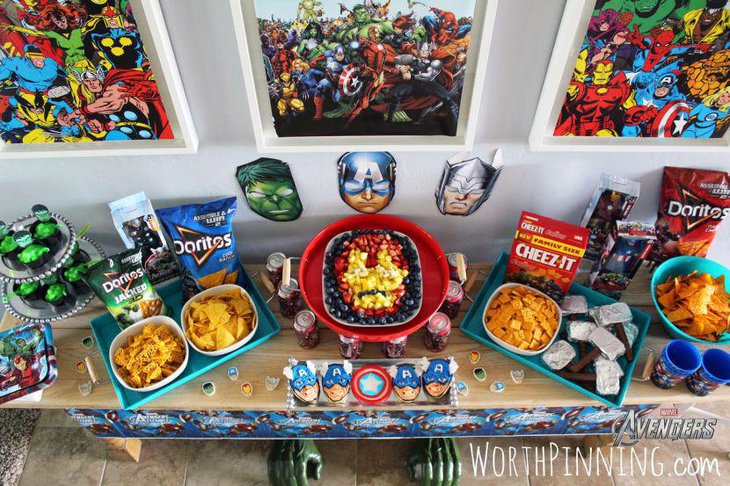 Avengers Wall Art, Masks, Banner, Plates, Gift Figurines, and Themed Desserts
Image Credit: blogspot
Hand-decorated Desserts with Printed Labels, Plates, Napkins, and Toys
Image Credit: wordpress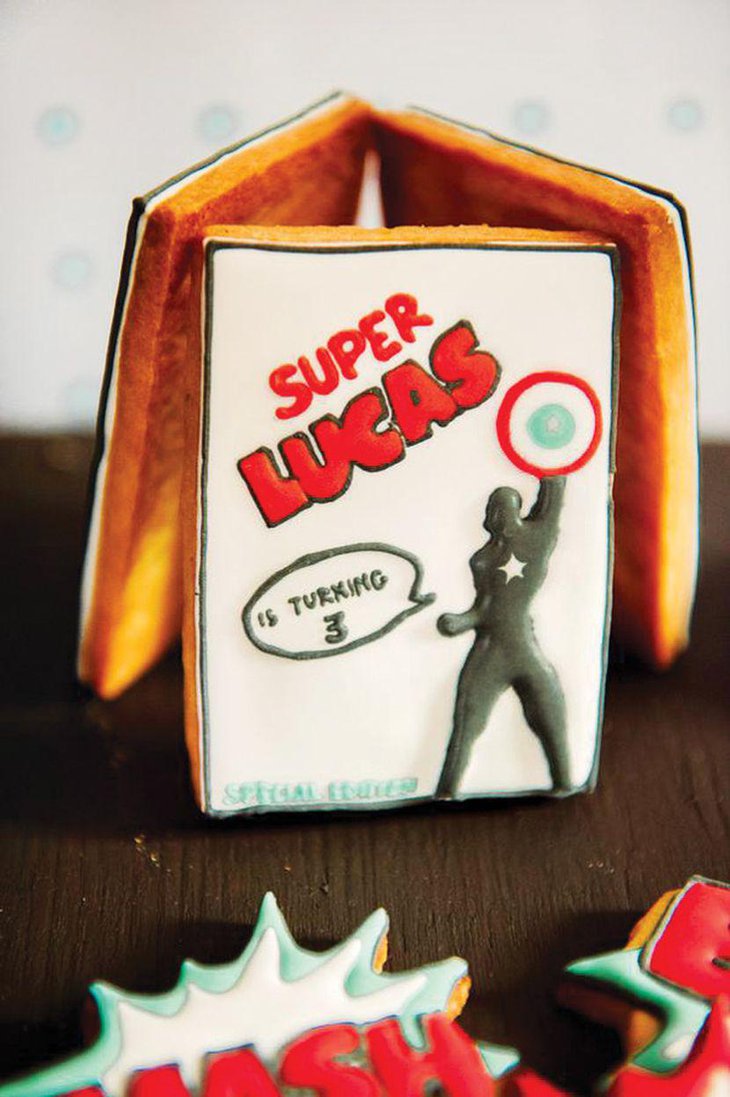 Homemade Captain America Cookies
Image Credit: hwtm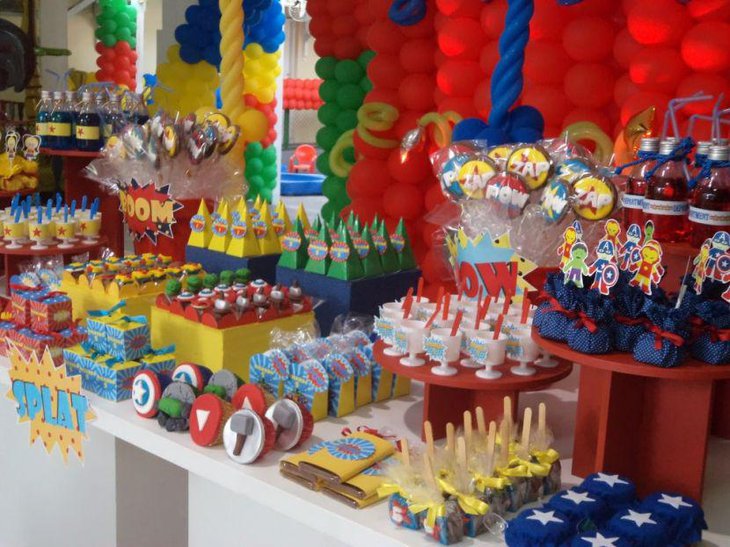 DIY Labels and Desserts with Balloon Backdrop
Image Credit: partybirthdayideas
Avengers Party Favors
And if you are inviting more little superheroes to your child's birthday party, don't forget to send them home with a little something so they don't feel left out of the gift-giving. And decorated gift bags or boxes complete the idea!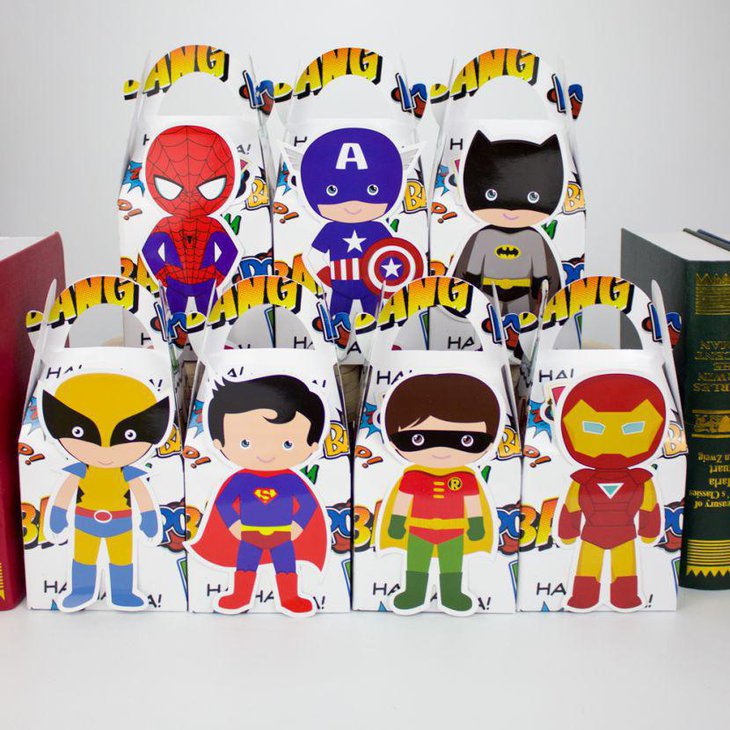 Superhero Favor Boxes
Image Credit: alicdn
Avengers Cupcake Toppers and Wrappers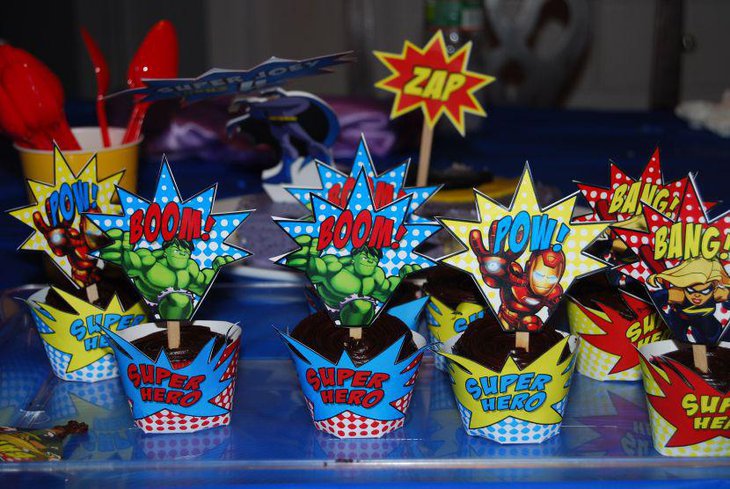 Image Credit: wordpress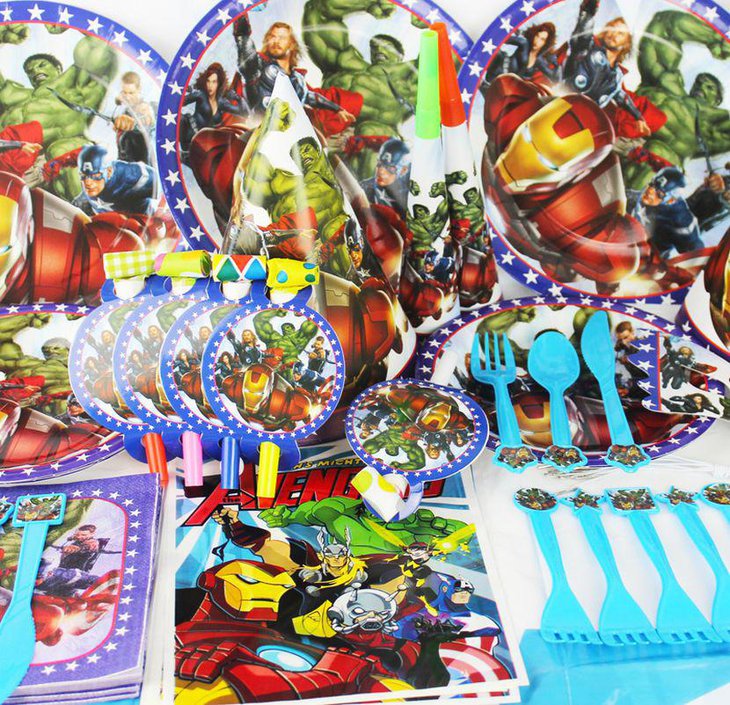 Avengers Party Blowers
Image Credit: alicdn
Party Blower Favors
Image Credit: alicdn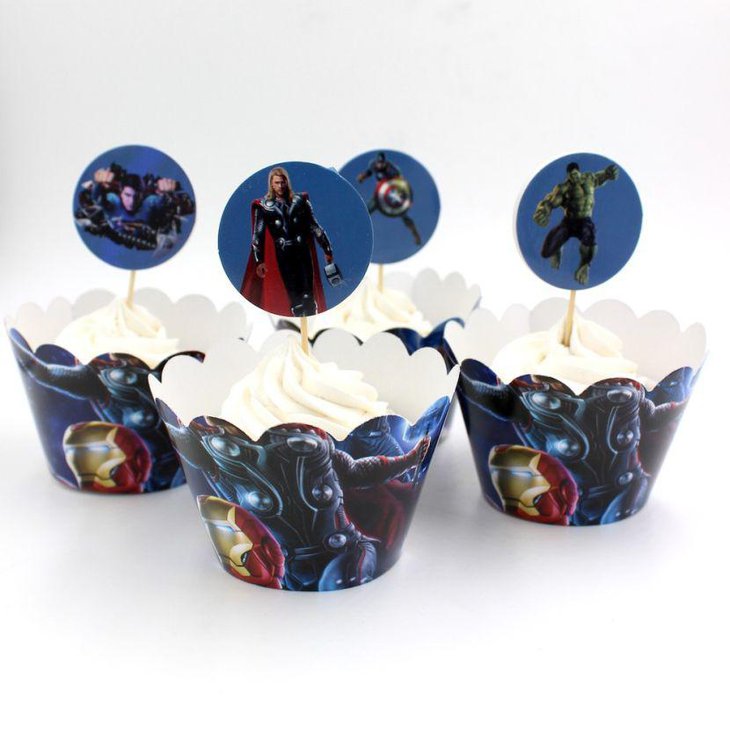 Cupcake Wrappers and Toppers
Image Credit: alicdn
Avengers Centerpieces
For the centerpiece, try setting up an action scene with figurines or use explosive cutouts.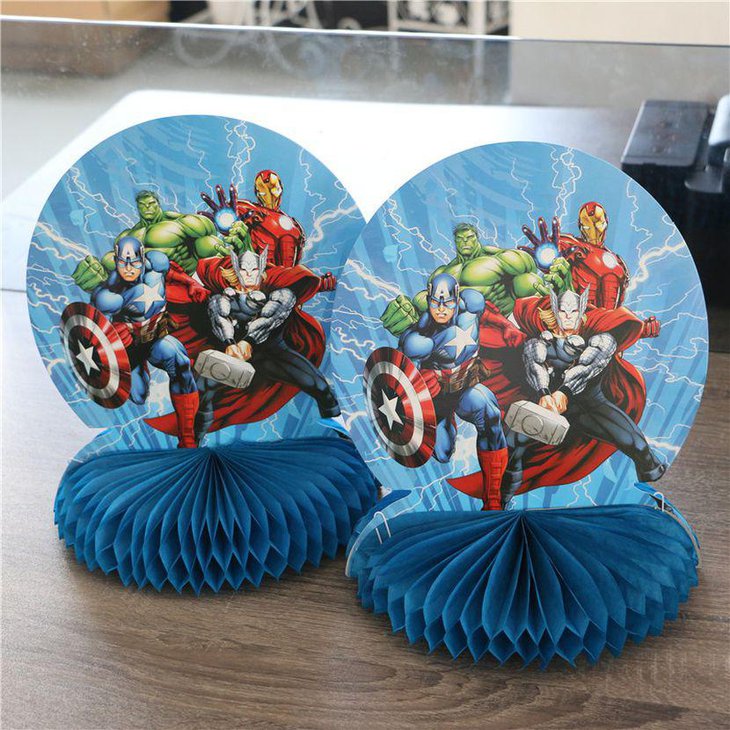 Foldout Honeycomb Centerpiece
Image Credit: alicdn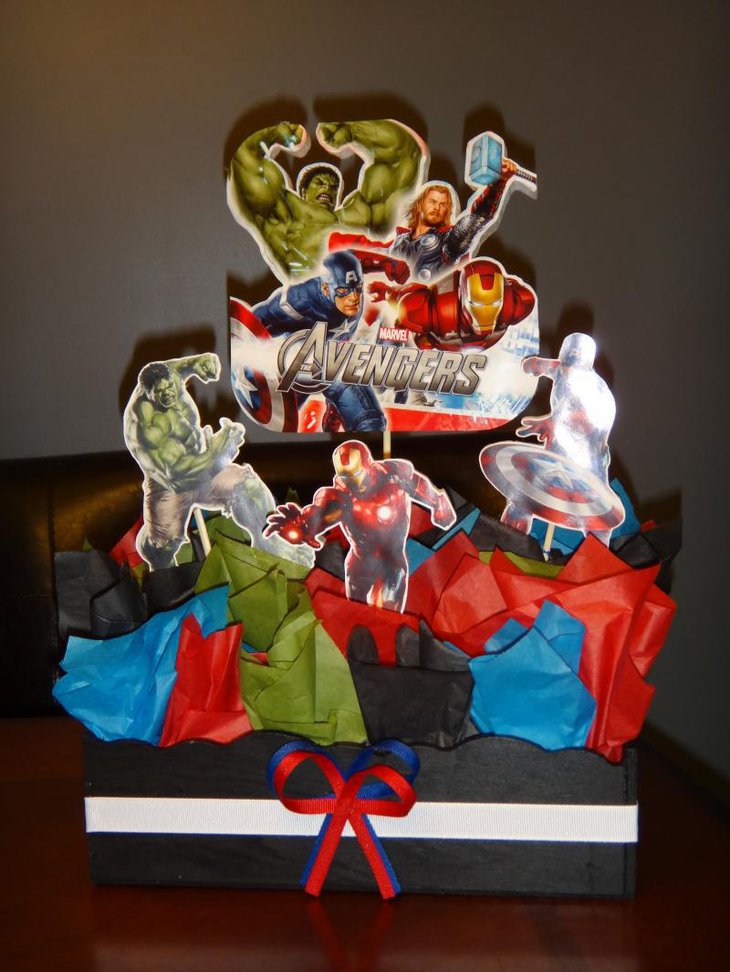 Printed Cutouts and Tissue Paper
Image Credit: kidsworldjumpers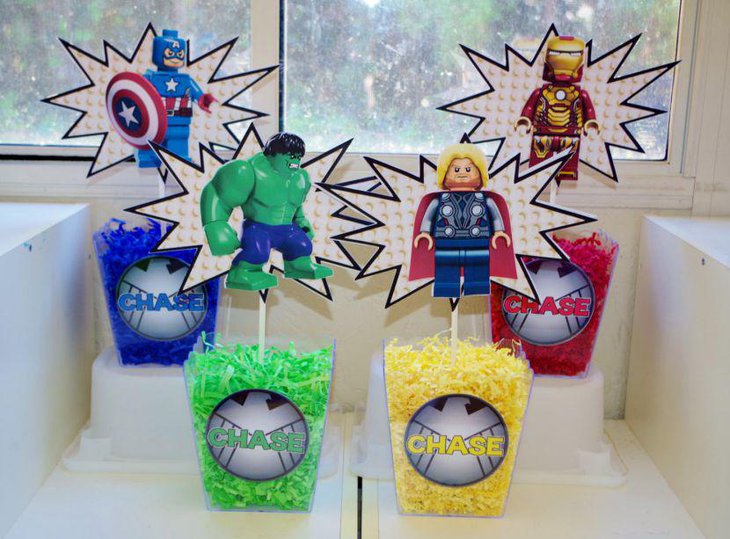 Lego Avengers Labels and Paper Confetti
Image Credit: etsystatic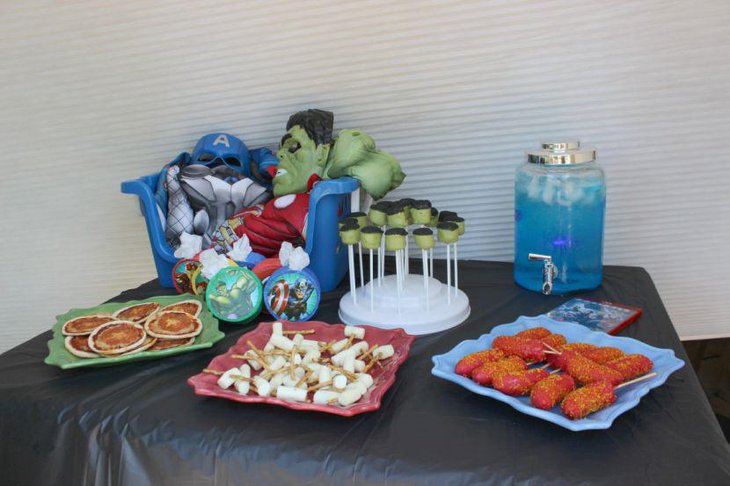 Costumes to Wear as Kids Eat
Image Credit: rockinboys
With these fun Avengers them kids' party ideas, you might get into it as much as your son! Do as much hand-decorating and budget printing as you like or visit any party store for superhero shortcuts. Either way, your son is sure to know what a super mom you are for putting together such a special birthday party.