The time is here for showing you awesome spring birthday party ideas! The spring season is knocking, and winter is saying say bye-bye… thankfully! Spring is the harbinger of hope and new beginnings. It's about celebrating greenery and nature. If you are planning to throw a birthday party soon and are looking for some unique spring party ideas, browse what we found below. We've curated everything you'll need for your table decorations: from floral centerpieces to DIY crafts to fairies to Mad Hatter to cute party favors!
Spring Birthday Party Ideas with Watercolor
Always remember that spring is a season of different colors, so your birthday party tables should be decorated using a colorful palette. Here are some awesome spring party decorations using watercolors in different ways and styles. A watercolor theme works best for a spring birthday table as it allows you to play with many bright shades and to craft unique decorations on your own. You can paint the tablecloths for your party in a variety of pink, blue, yellow, or orange watercolors. Spreading a watercolor tablecloth will make your table look cheerful from the start. You can also use watercolors on painted cups and saucers for party table centerpieces, colored napkins, and painted vases.
Mermaid Watercolor Décor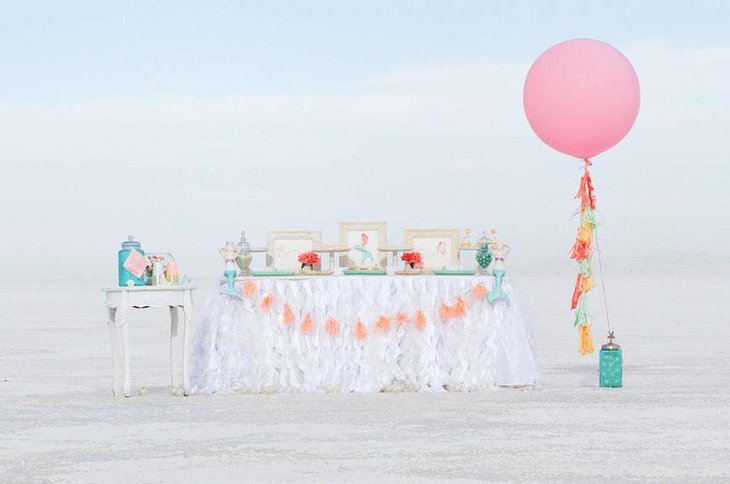 Image Credit: karaspartyideas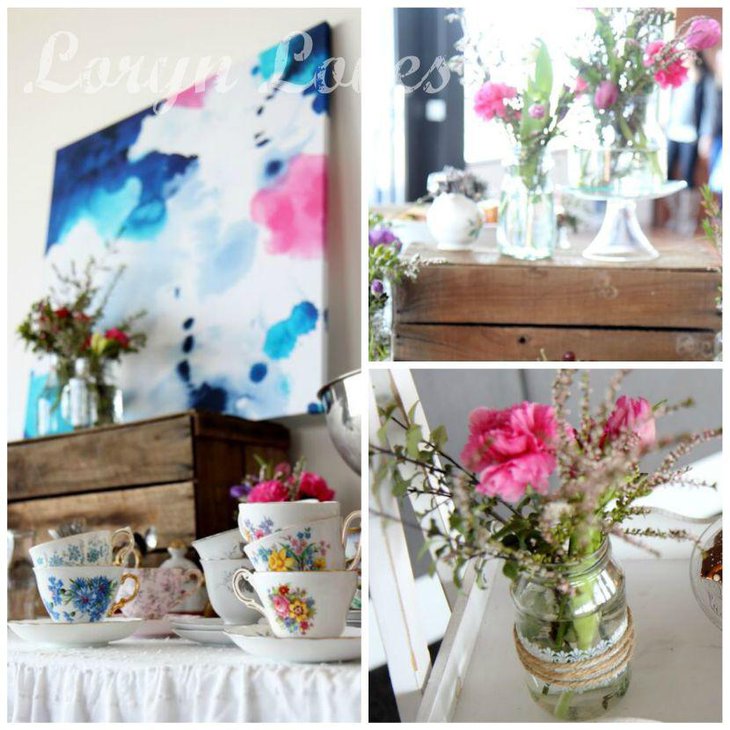 Watercolor and Floral Table Décor
Image Credit: blogspot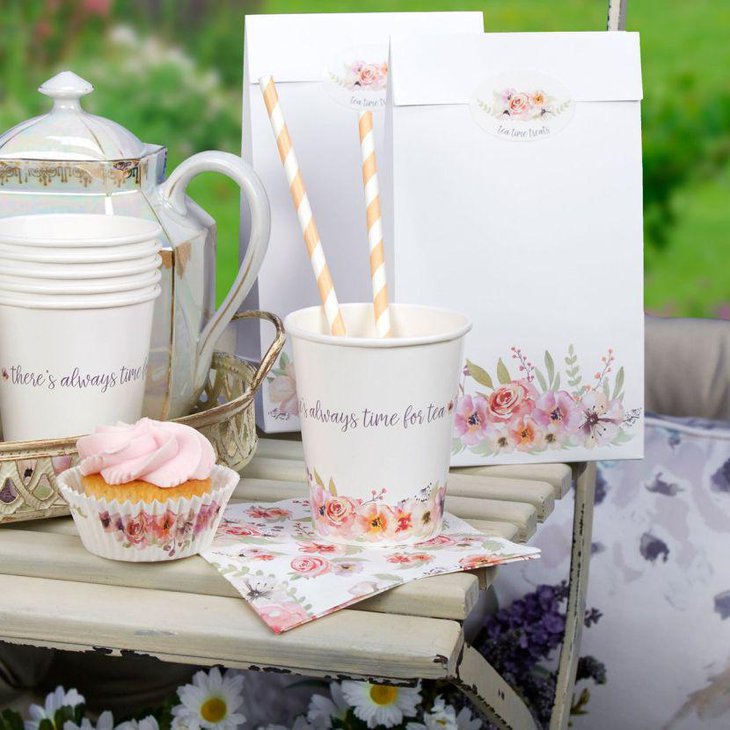 Watercolor Tableware and Gift Bags
Image Credit: twimg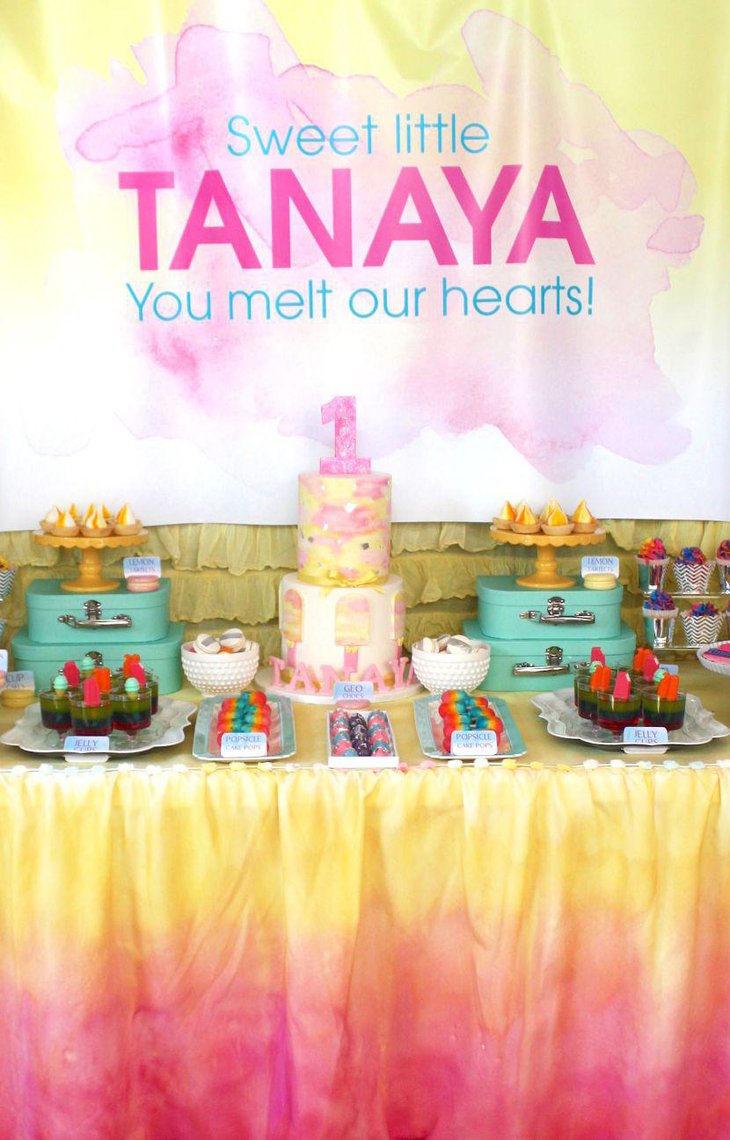 Watercolor Tablecloth, Décor, and Desserts
Image Credit: lifeslittlecelebrations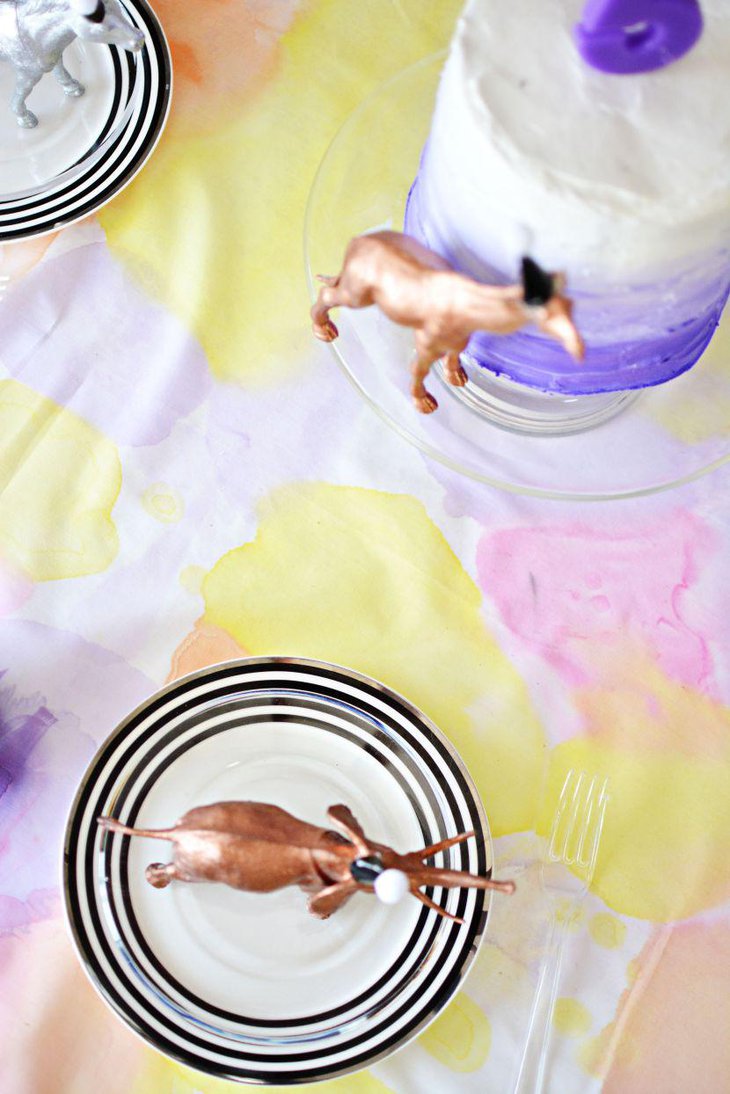 Watercolor Tablecloth and Cake
Image Credit: littleinspiration
Spring Flower Table Decorations
The spring is rich in themes for birthday parties. Choose from tea parties, vintage garden parties, Mad Hatter parties, or a simple pink and pastel color theme. Whatever theme you choose, you can find coordinating flowers to add to your party's mood. Use fresh blooms of roses, sunflowers, or peonies and arrange them in lovely white or watercolor vases. You can use floral bouquets as main centerpieces as well. Since spring is a celebration of life, flowers fit the décor perfectly. Try one of these gorgeous birthday party ideas with flowers and see how much your guest of honor loves it!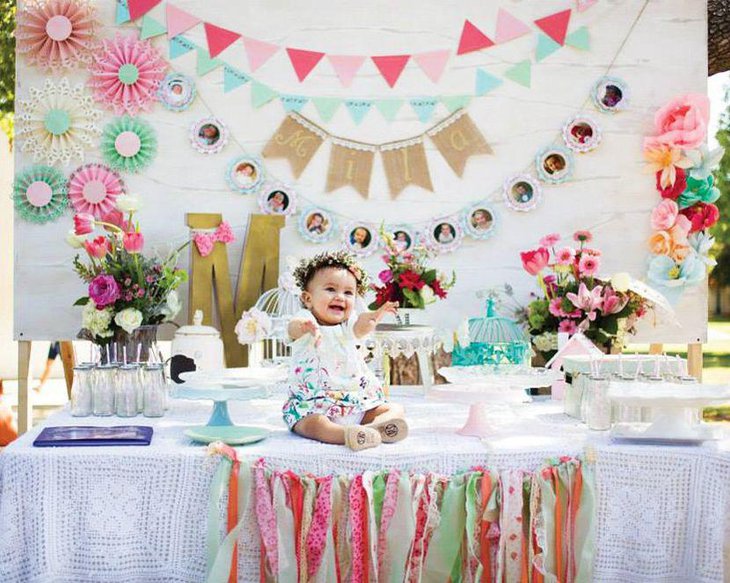 Colorful Floral Table Display
Image Credit: hwtm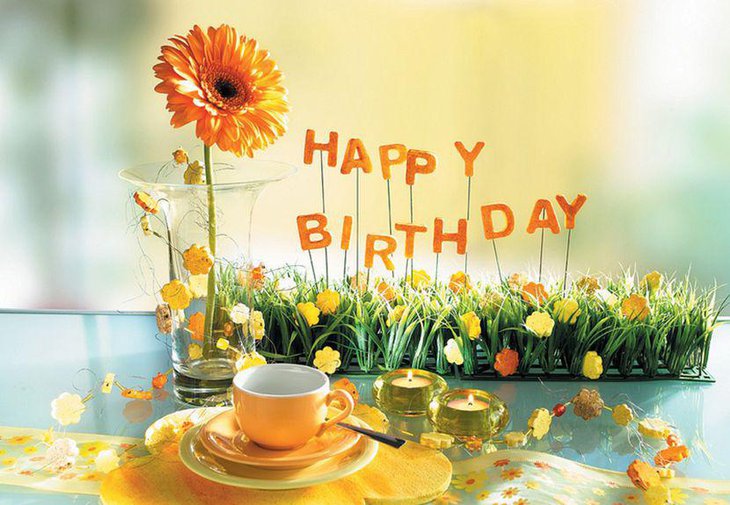 Coordinating Floral, Candle, and Tableware Setting
Image Credit: blogspot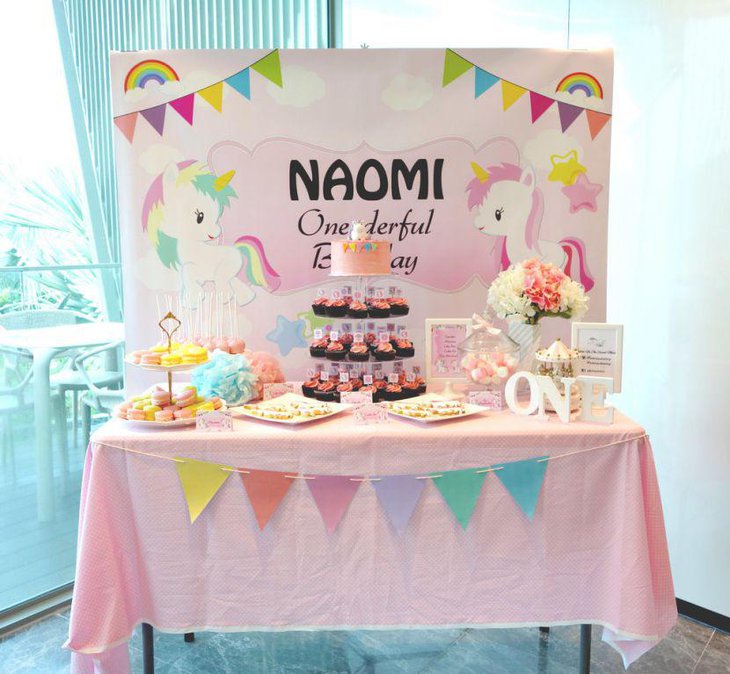 Pastel Dessert Table with Flower Décor
Image Credit: singaporemotherhood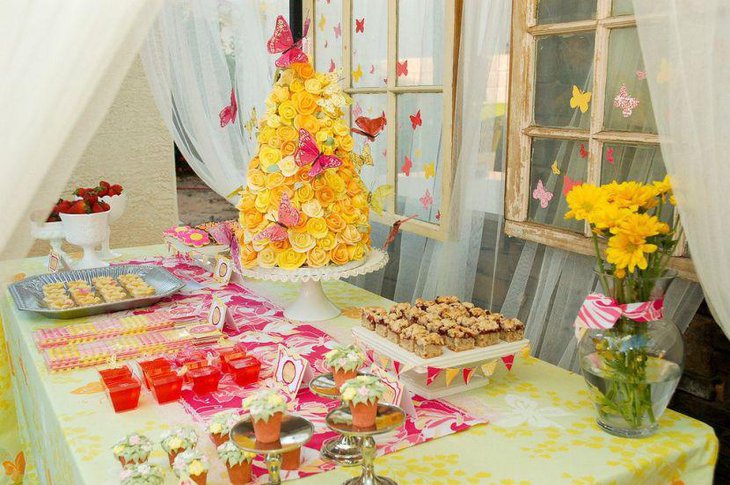 Impressive Flower and Butterfly Dessert Table with Coordinating Tablecloth
Image Credit: popsugar-assets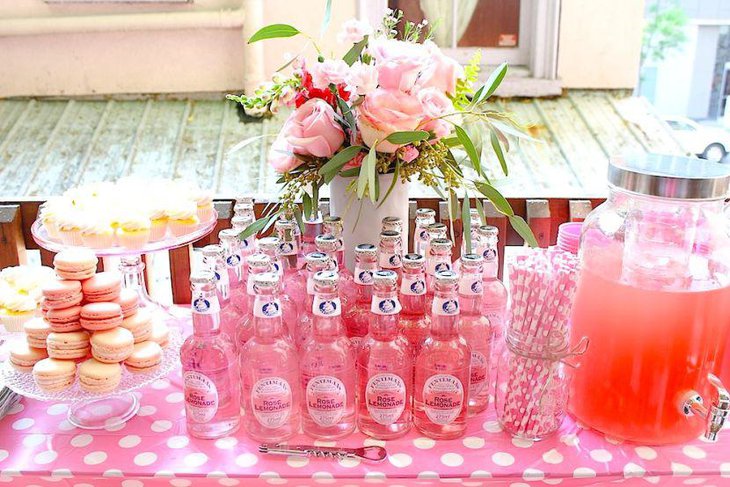 Complete Tablescape in Pink
Image Credit: pinkthetown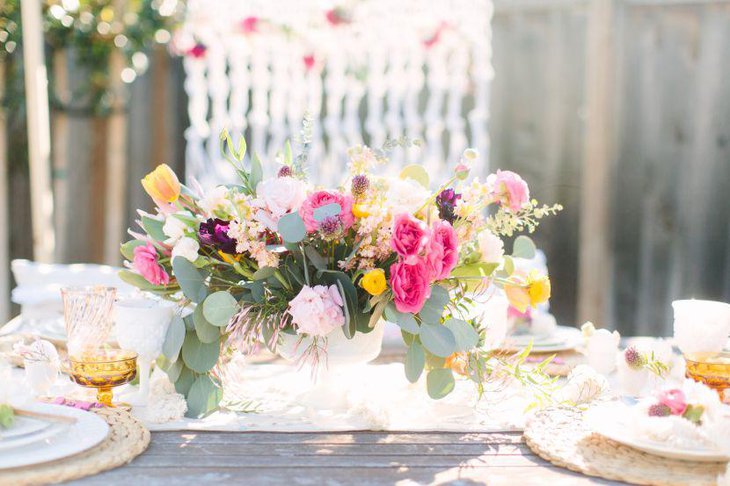 Colorful but Subtle Spring Flower Centerpiece
Image Credit: beijosevents
Sleeping Beauty Birthday Party Ideas
The Disney Princesses are always popular with little girls, and for a spring birthday, Sleeping Beauty is the most fitting story environment. Use the classic fairy tale, Disney's classic animated movie, or the new Maleficent live-action film for inspiration. Add Princess Aurora dolls or images, forest animal plushies or wall art, and plenty of flowers and greenery to create an unmistakable Sleeping Beauty theme.
Pink and Blue Sleeping Beauty Birthday Table
Image Credit: jenite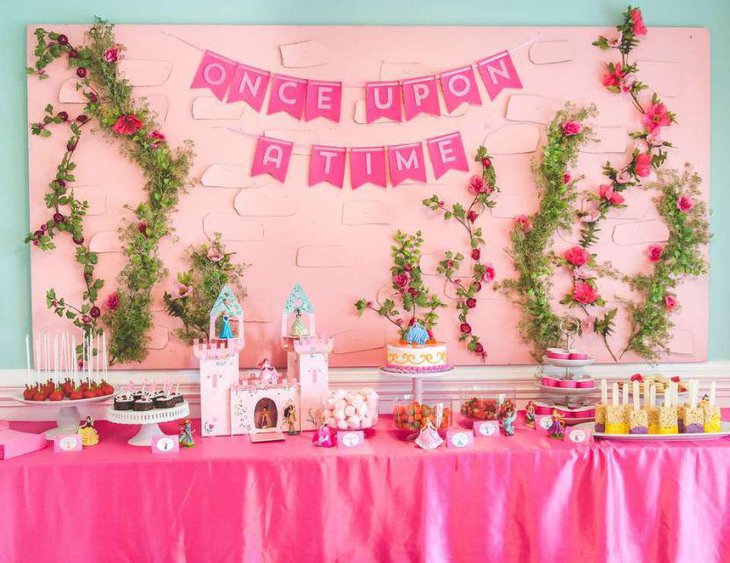 Floral and Paper Craft Sleeping Beauty Dessert Table
Image Credit: fashionztrend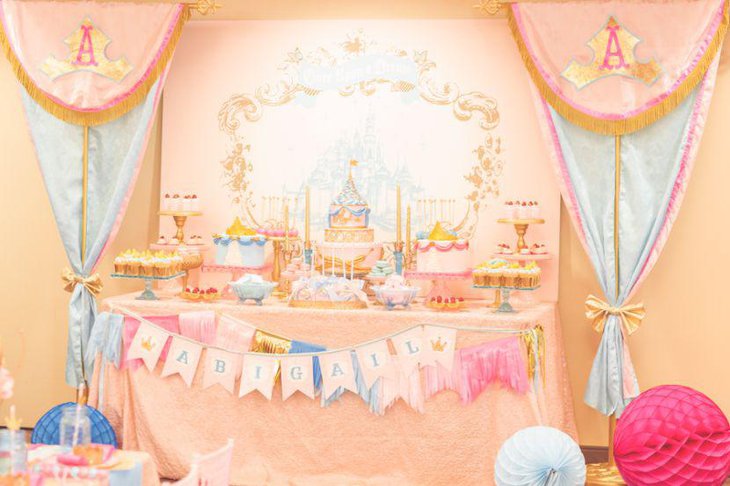 Vintage Sleeping Beauty Princess Dessert Table
Image Credit: mintedandvintage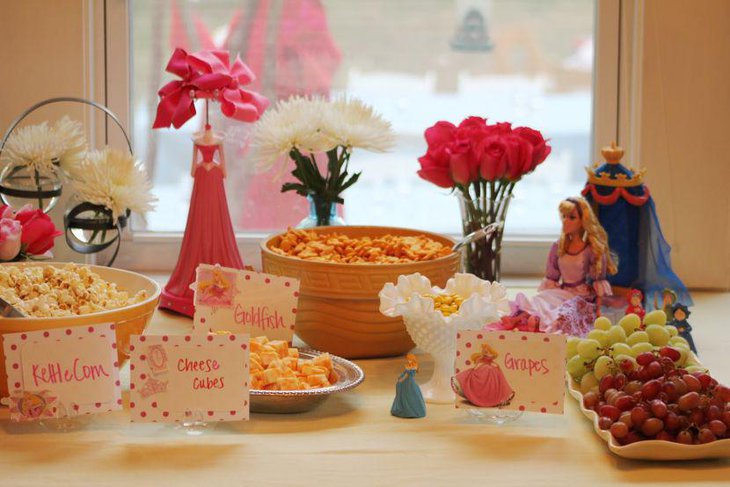 DIY Snack Table with Printed Labels and Sleeping Beauty Doll
Image Credit: blogspot
Fairy Themed Birthday Party Ideas
The spring party decorations below are sure to please your guests! These fairy inspired spring birthday table decor ideas are perfect for whimsical little girls. You can tailor your party to classic fairytales or emphasize a notable character like Tinkerbell. When you decide to adorn your tables with this theme, think of accessories that will exude nothing but cuteness from all angles. You can have Tinkerbell dolls or party favors for young guests or get a customized cake with floating fairy toppers. Add lots of sprinkles on the table along with flowers and greens for sparkling nature ambiance. You can also include miniature tree or floral centerpieces flanked by glittery fairies or pixies.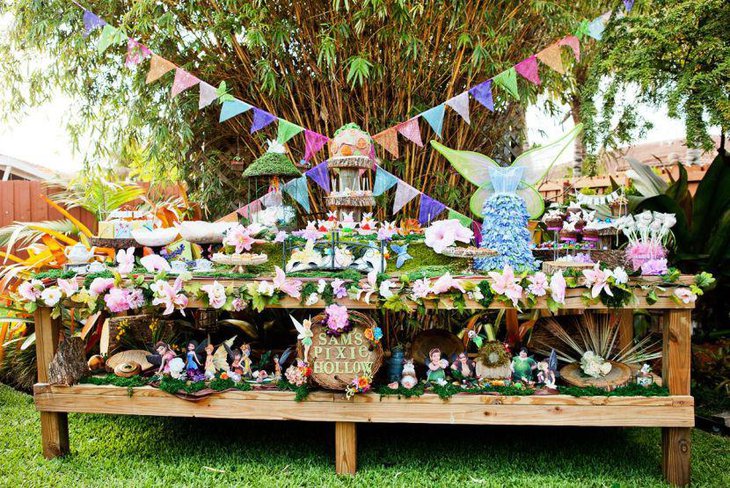 Tinkerbell and Fairy Outdoor Dessert Table
Image Credit: hwtm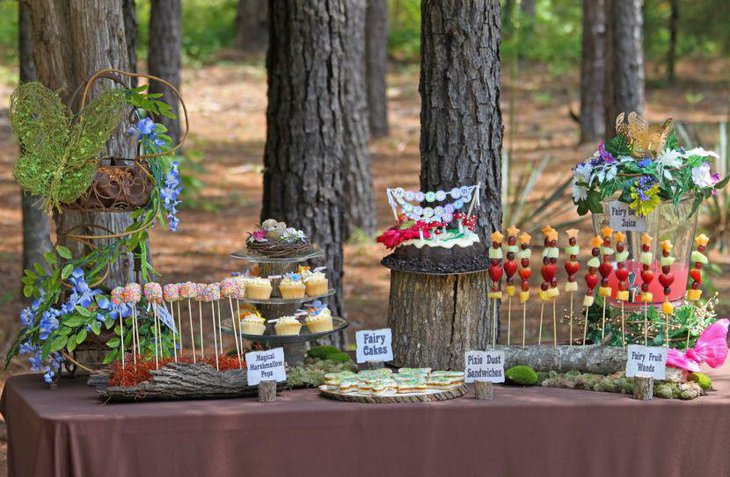 Enchanting Fairy Fare
Image Credit: blogspot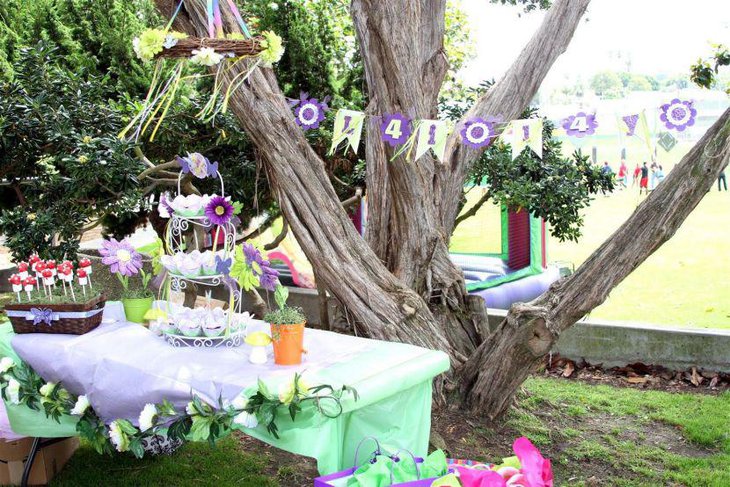 Tinkerbell Cupcake Stand and Natural Fairy Décor
Image Credit: blogspot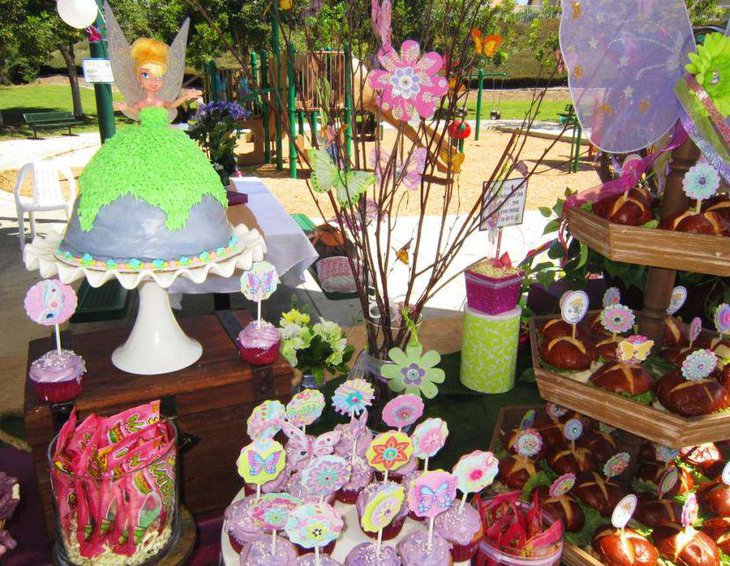 Tinkerbell and Fairy-themed Dessert Table
Image Credit: catchmyparty
Adorable Garden Themed Birthday Parties
Spring party themes, such as a garden inspired decor adds a lovely touch to any birthday celebration. Take advantage of the temperate weather and blooming flowers with this outdoors option. Adorn your tables with fresh blooms and crazy pinwheels, an idea that is very popular with spring parties. The best part about hosting a garden party is the minimal number of accessories you need to buy as your flower garden already takes care of the major necessities. With so much greenery and color around you, why would you need extra elements to take away the charm? Browse the ideas below to help inspire your ideas!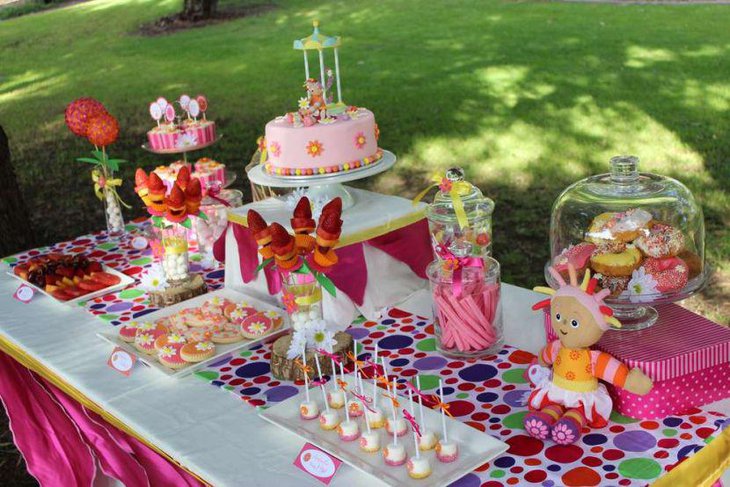 Outdoor Dessert Table with Colorful Embellishments
Image Credit: starwarsodyssey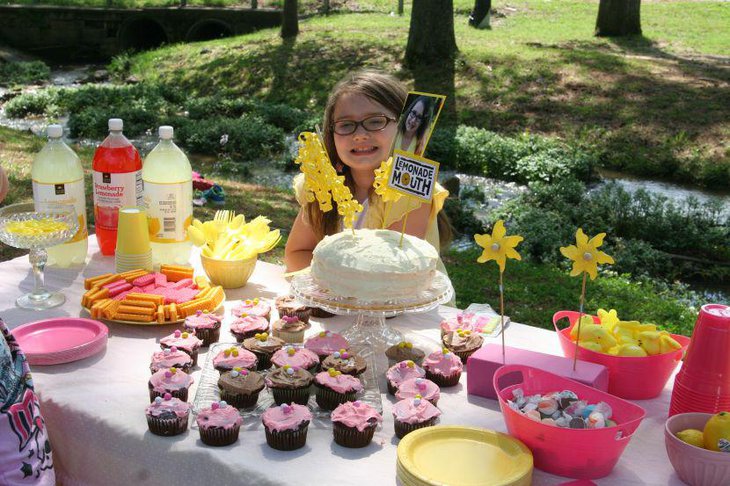 Pink and Yellow Garden Party
Image Credit: partychick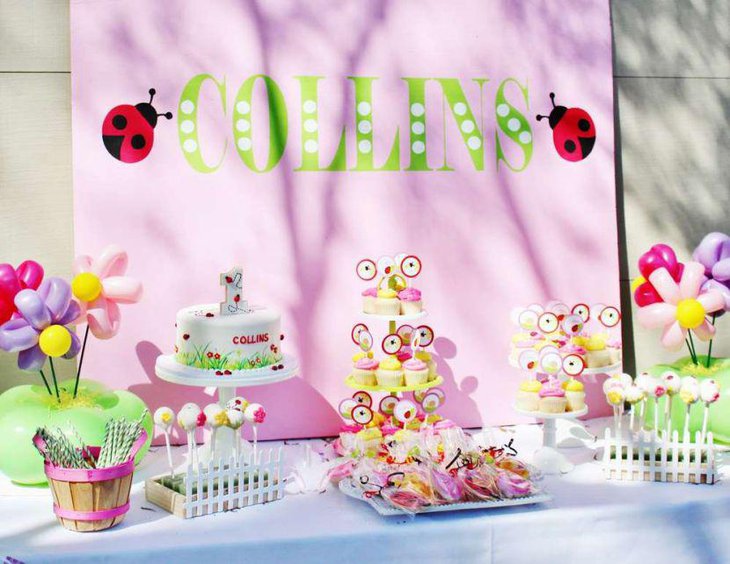 Ladybug Garden Party
Image Credit: catchmyparty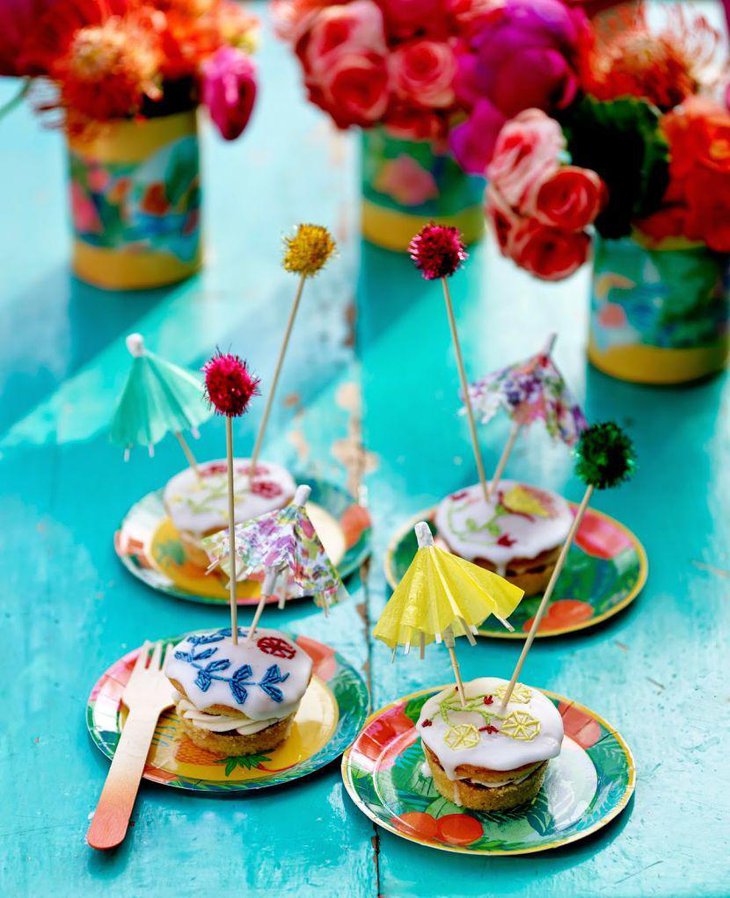 Outdoor Floral and Umbrella Desserts
Image Credit: studiolabdecor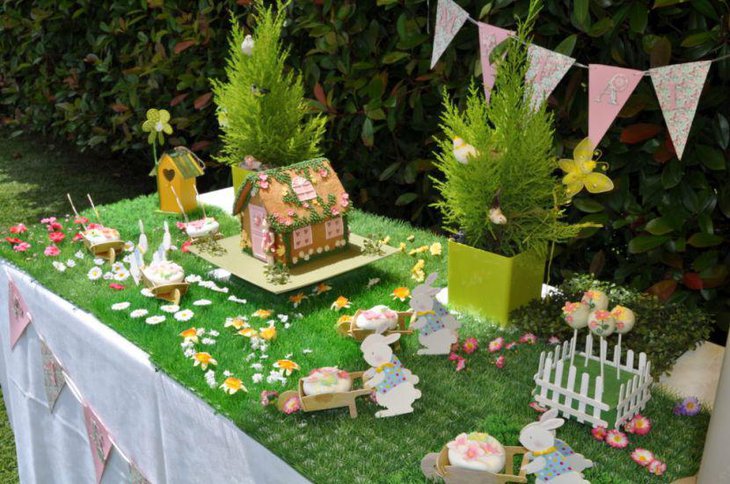 Garden Party Dessert Table with Greens and Gardening Rabbits
Image Credit: projectnursery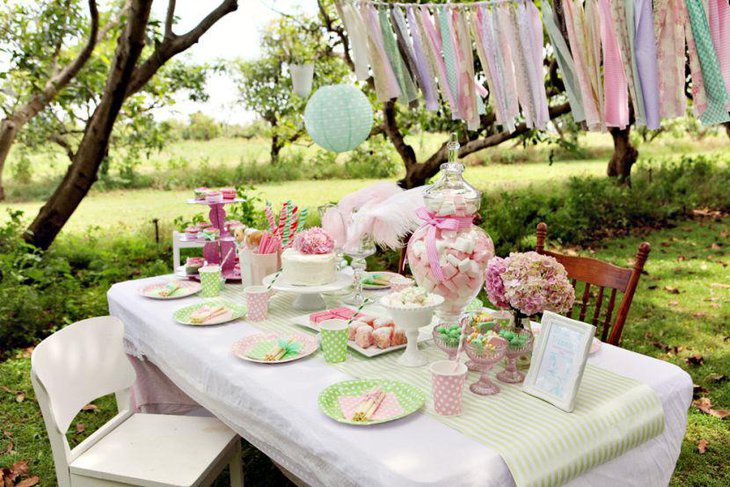 Pastel Garden Birthday Table
Image Credit: pinimg
Alice in Wonderland Spring Birthday Ideas
Are you planning to host a little 'mad and crazy' birthday party? An Alice in Wonderland theme is perfect for adding whimsical fun to an outdoor birthday party. Here are some cute and over the top birthday party ideas where you can have any and everything associated with the Mad Hatter, the Queen of Hearts, and all the strange creatures from the classic tale. For a lifelike feel of Alice and her friends, make the atmosphere on the table a little wild by placing flowers and greens in gigantic cups and saucers. Place figurines of the rabbit and the rest of the characters all over the table. The sweets table can add to the fun with a cake on an oversized stand.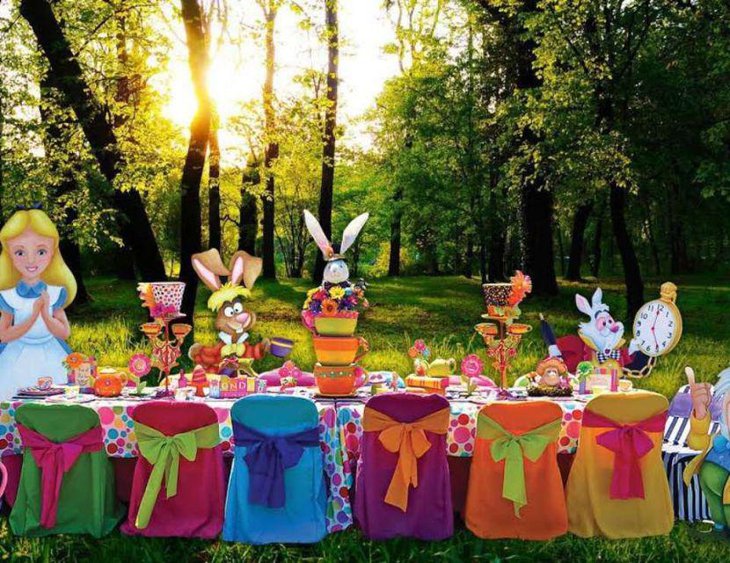 Colorful Alice in Wonderland Outdoor Tablescape
Image Credit: catchmyparty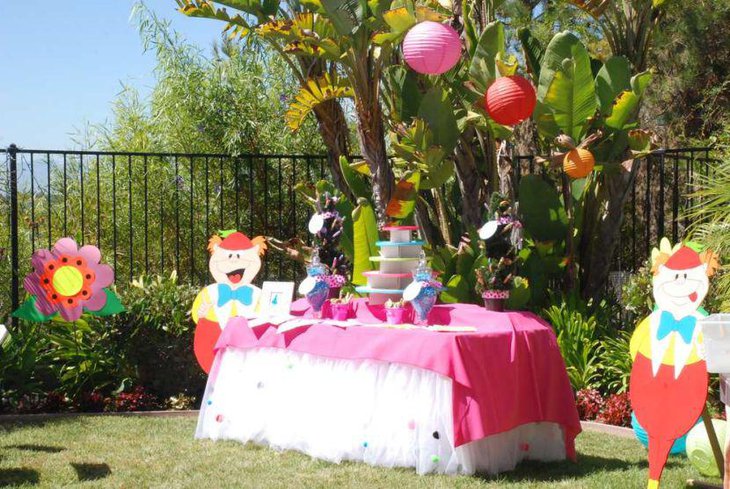 A Cute Mad Hatter Outdoor Dessert Table with Standing Decorations
Image Credit: catchmyparty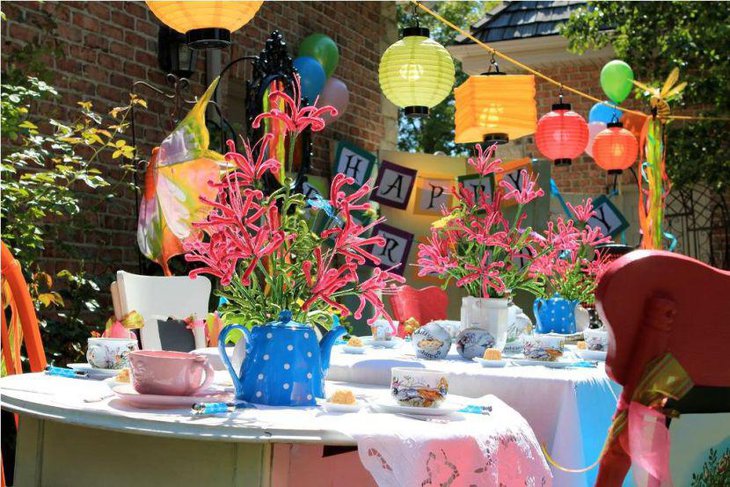 Wild Tea Party Settings
Image Credit: texasdinnercruise
Cool Spring Party Favors for Birthdays
Emphasize the spring season in your choice of party favors with floral favors in the form of tiny pots, artificial floral bouquets, candy-filled boxes colored in pastels, butterfly cupcake toppers, colorful Origami decorations, or hand-decorated teacups.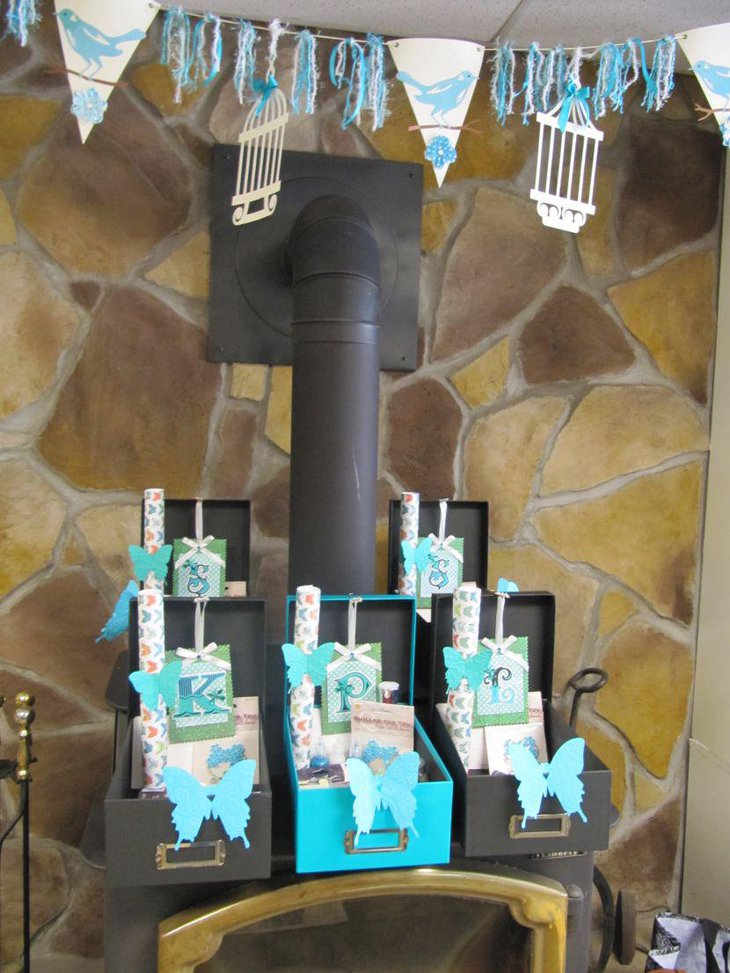 Decorated Stationary Gift Boxes
Image Credit: pinimg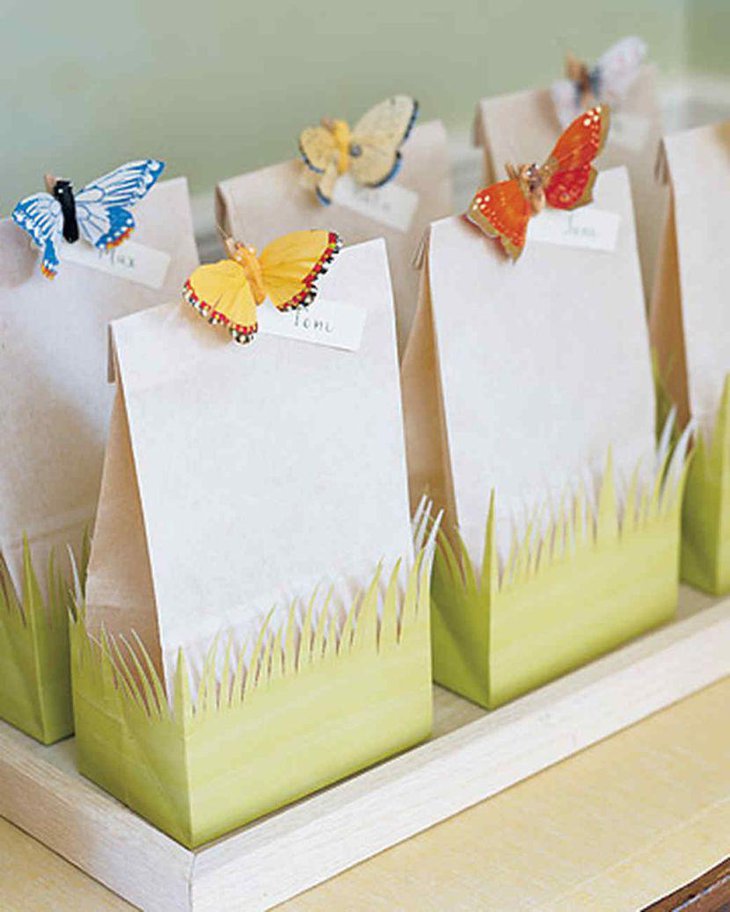 Butterfly Keepsakes on Hand-Decorated Gift Bags
Image Credit: marthastewart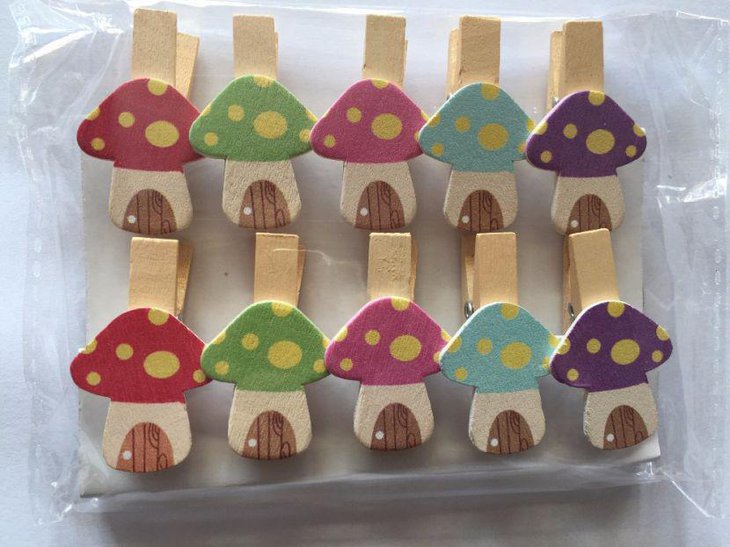 Home-made Pegboard Art on Clips
Image Credit: alicdn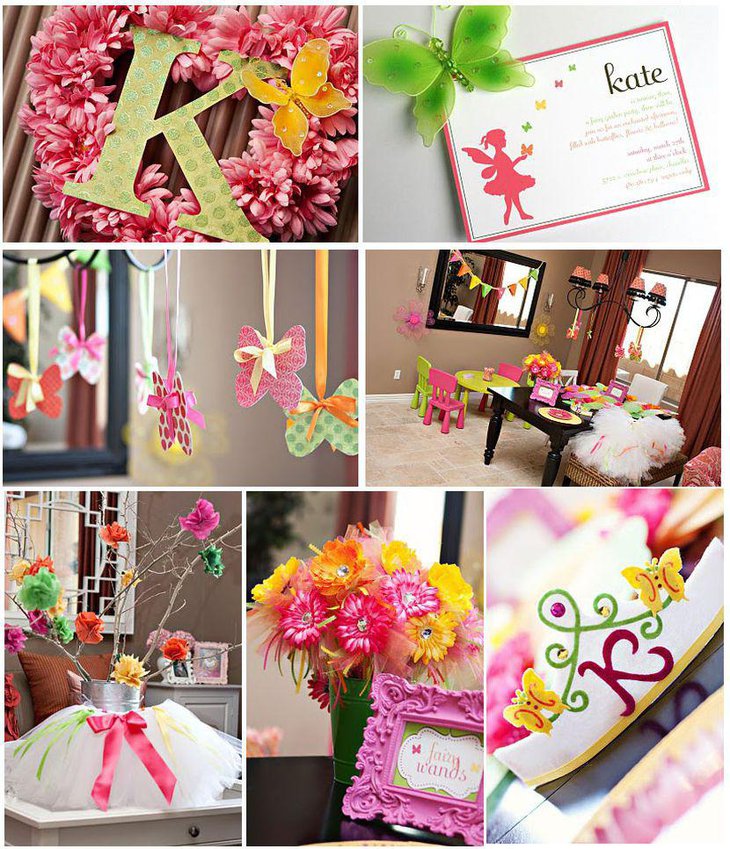 Butterfly and Floral Favors
Image Credit: designtos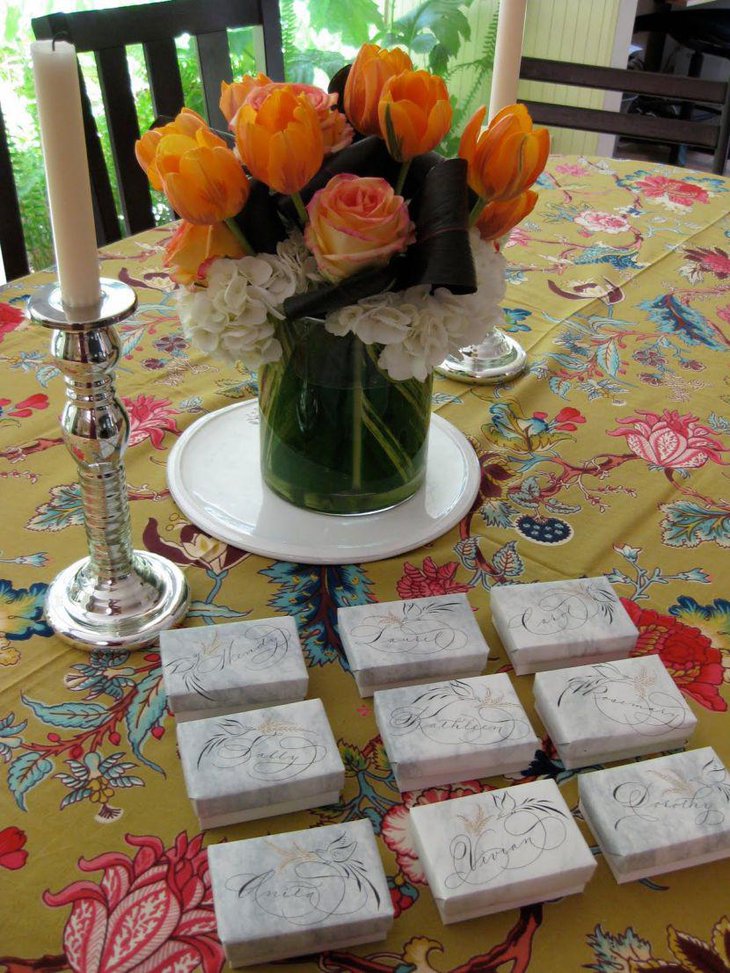 Hand-drawn Dove Gift Boxes
Image Credit: blogspot
Peg Doll Fairy Favors as Cupcake Toppers
Image Credit: blogspot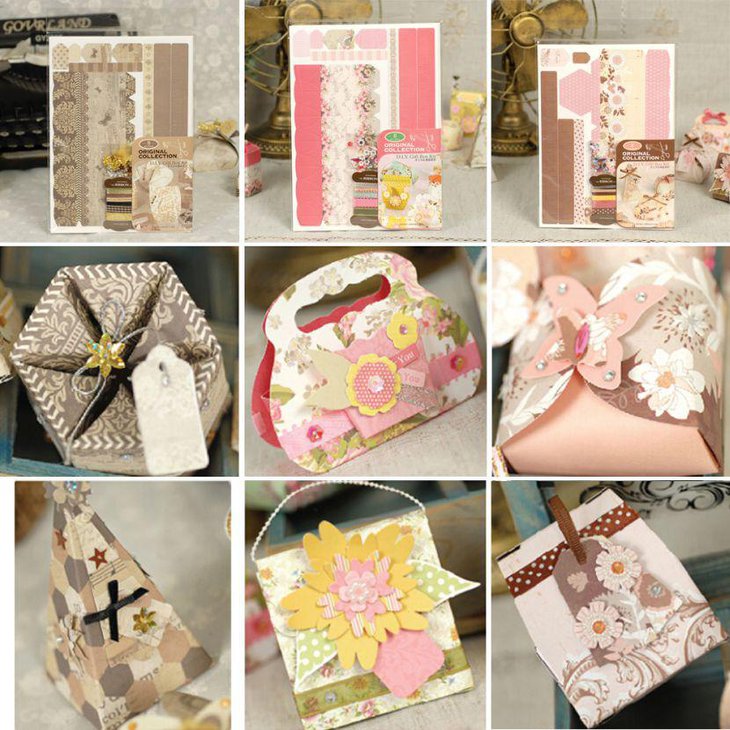 Exquisite Origami Crafts
Image Credit: alicdn
Spring is the perfect time to host an outdoor birthday party. It's neither too cold nor too hot. It's a season when you can use a variety of accessories and colors to dress your party up. From cute pastels to an enchanted forest or character theme, there are a plethora of ideas to pick from. We hope you've gained some inspiration from our collection of spring birthday party ideas to make your special day a memorable event.