If you have a little princess who loves to sing melodiously like Ariel, talk to animals like Snow White, dance beautifully like Cinderella, and seek adventure like Jasmine, then let these ideas help you plan a birthday party that is worthy of her Royal Highness. A Disney Princess birthday party can be the best theme for a girl's birthday bash. Here are our favorite examples of decorating schemes based on the animated heroines.
Enchanting Disney Princess Centerpieces
You can purchase a plethora of merchandise for your party, or you can use your imagination and crafty your own dainty centerpiece ideas. You can use anything from a flower vase with a bouquet that has a shimmering tiara on top of it (how can a princess themed party be complete without a tiara?) or a basket full of faux jewels. If your birthday girl is especially fond of a certain Princess, make cutouts or her and her supporting cast. From Princess Aurora to Belle to Rapunzel, any of these beauties will serve as a pretty party table centerpiece.
Beautiful Pearl Centerpiece in a Tiara-stenciled Silver Bucket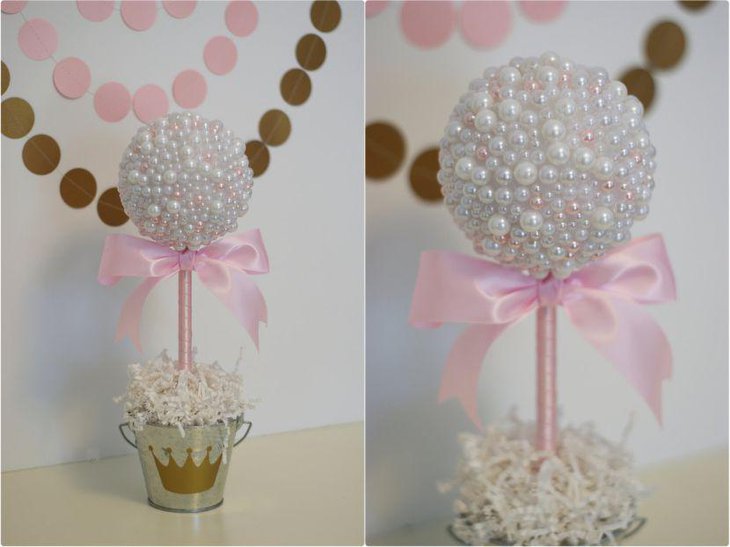 Image Credit: etsystatic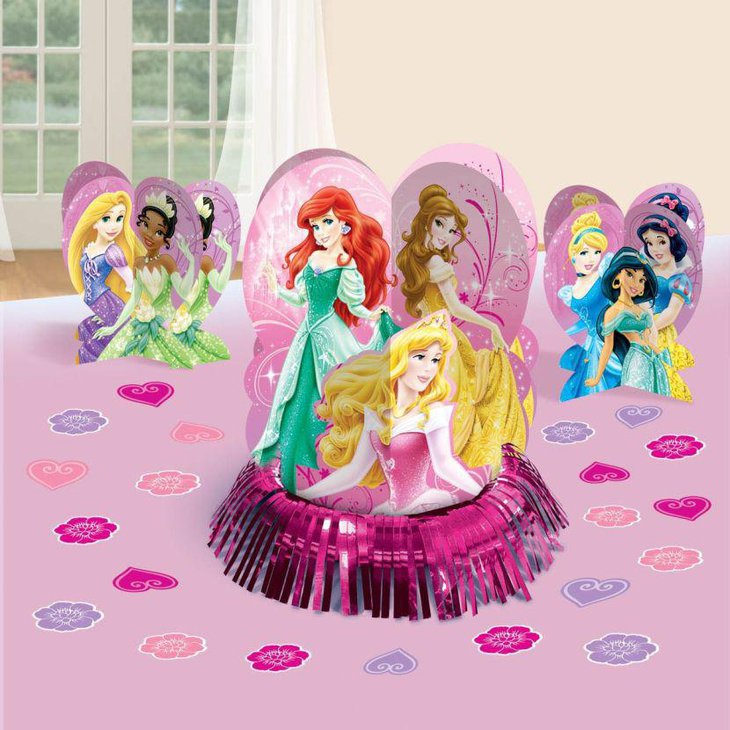 Foldout Princess Collection
Image Credit: amazon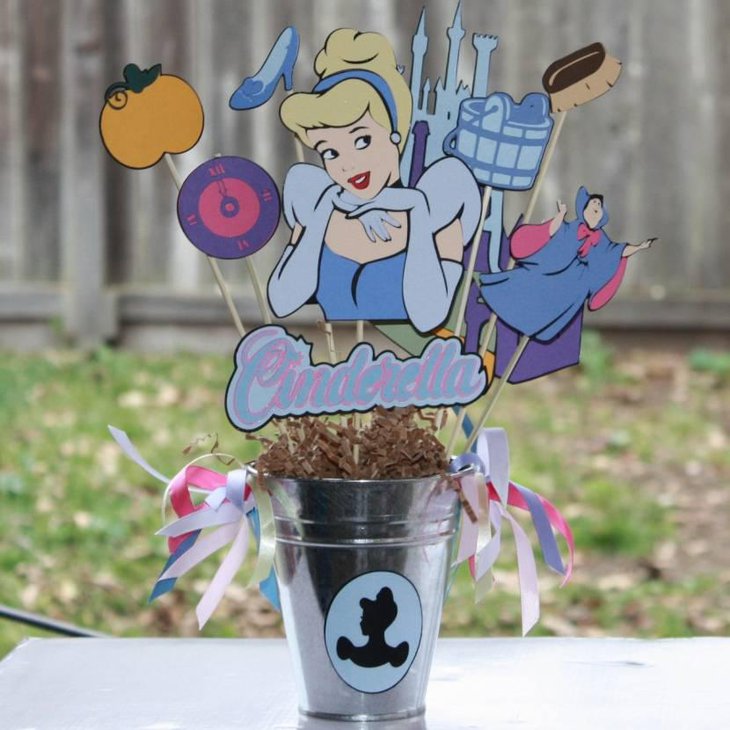 Cinderella Cutouts on Sticks in Bucket with Cinderella Sticker
Image Credit: pinimg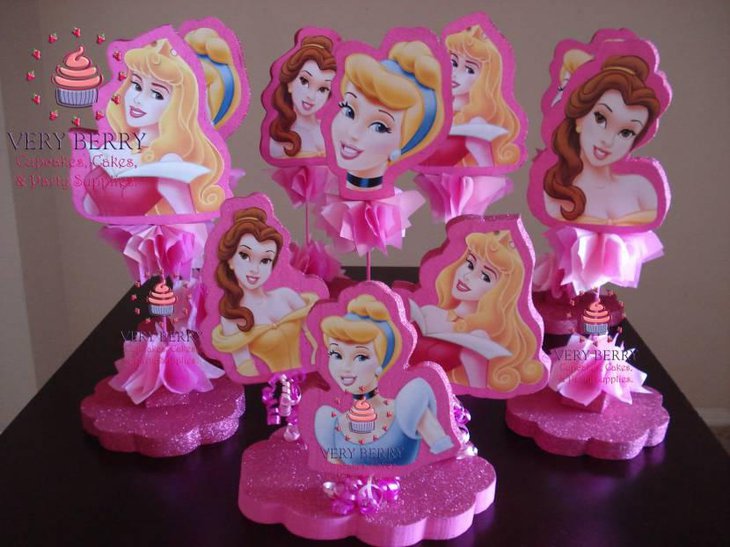 Princess Cast on Glitter Stands
Image Credit: blogspot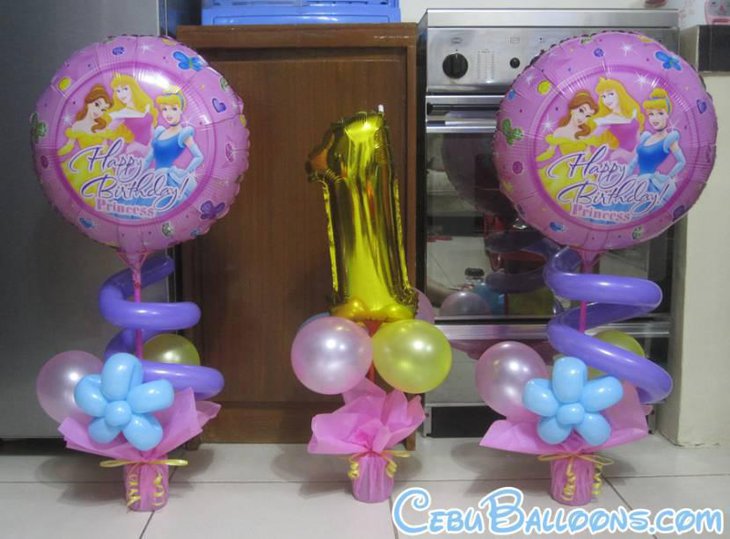 Princess Balloon Arrangements
Image Credit: cebuballoons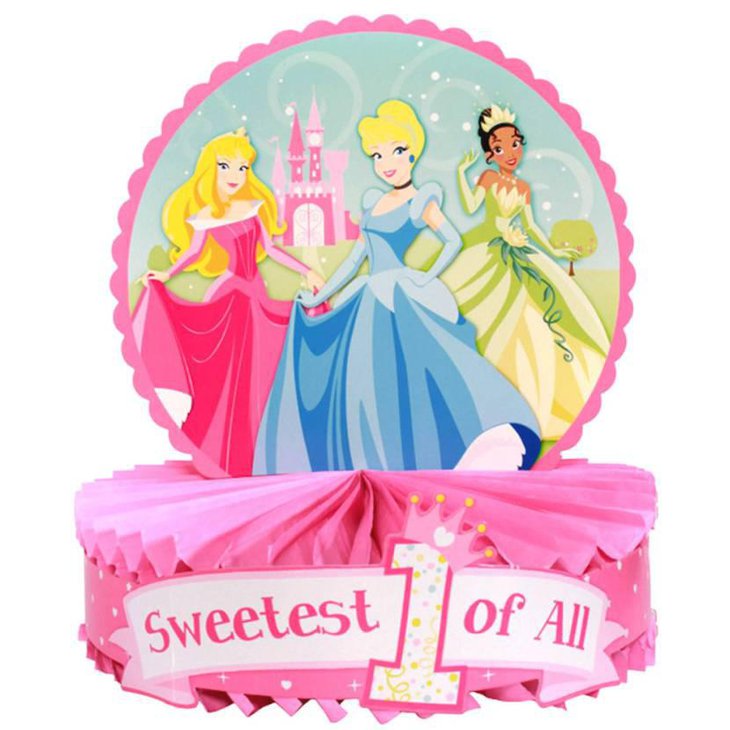 Foldout Princess Centerpiece
Image Credit: ebayimg
Exhilarating Party Favors
For the guests, you can whisk up favors as unique as your li'l princess. Offer your noble attendees wonderful treasures that will help them remember the royal celebration. You can decorate glitzy princess cups for holding dazzling party favors or use colored bags and printed Disney Princess images. Fill the cups or bags with candies, chocolates, lip gloss, fairy wands, stickers, rings, finger puppets, headbands, or tiaras.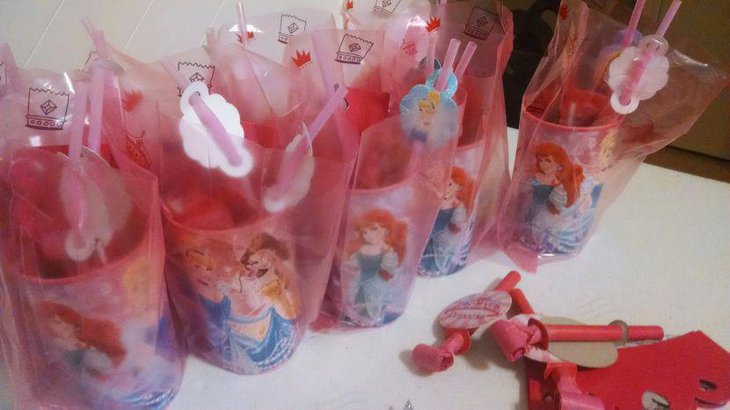 Disney Princess Favor Cups
Image Credit: ytimg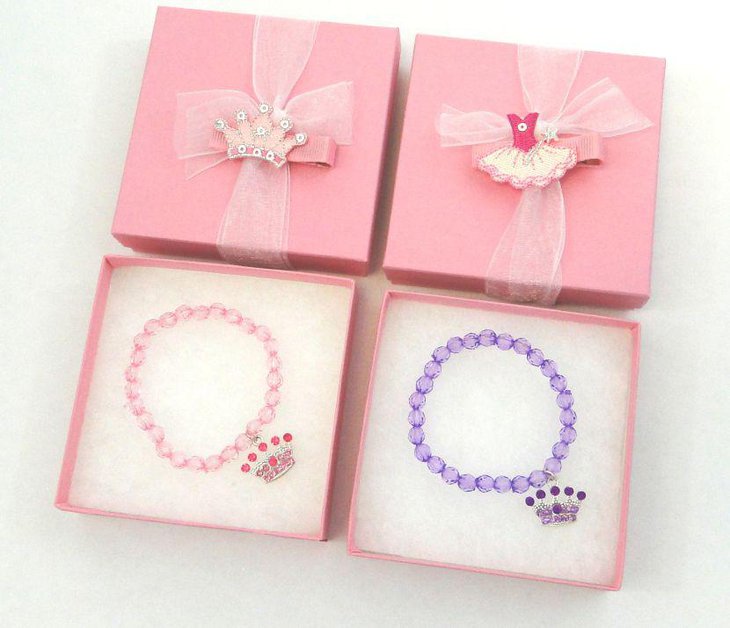 Gift Boxes with Homemade Faux Jewelry
Image Credit: everything-princesses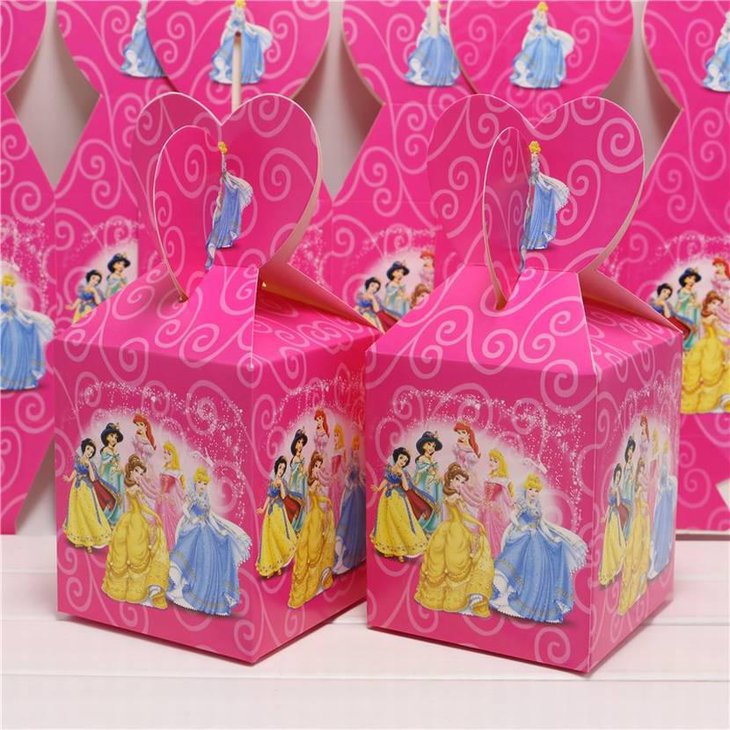 Printed Favor Boxes
Image Credit: alicdn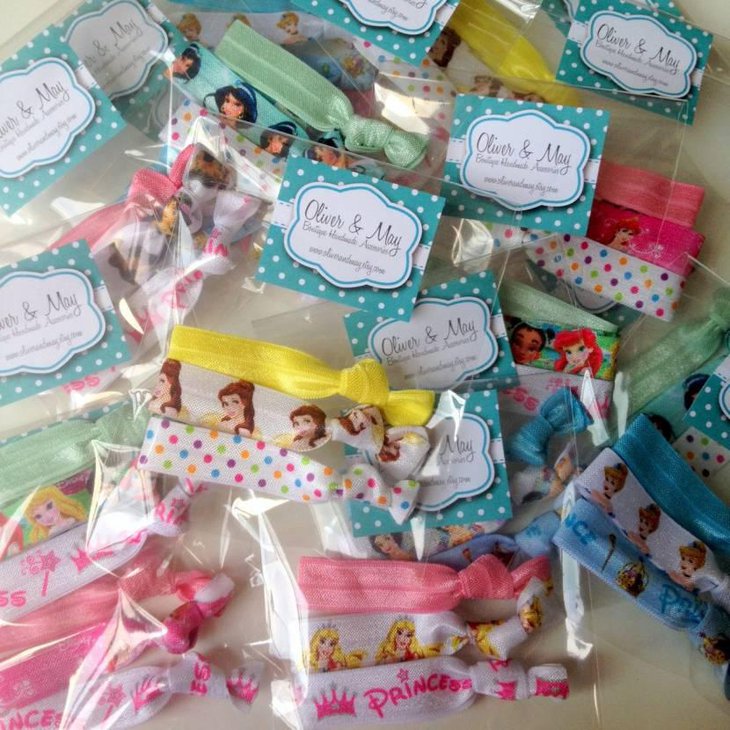 Hand-made Party Favors
Image Credit: etsystatic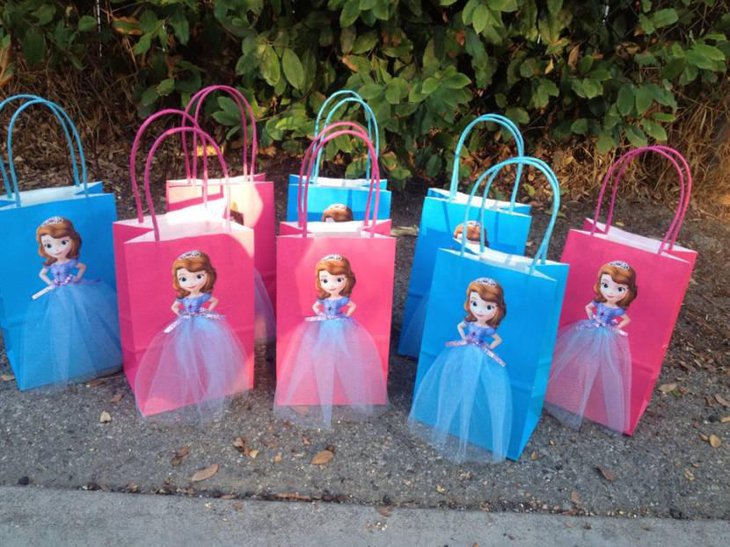 Printed Gift Bags with Tulle Gown Embellishments
Image Credit: etsystatic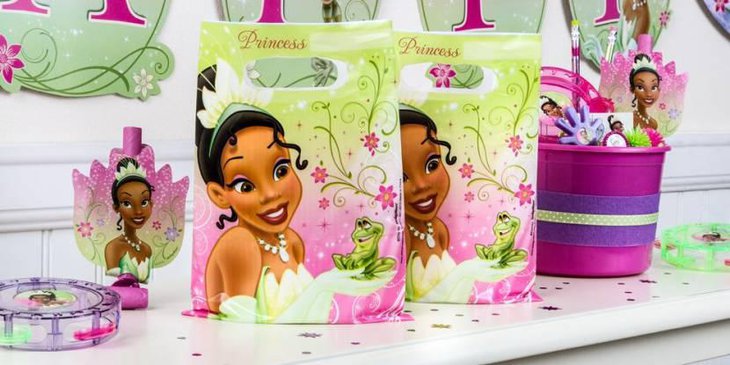 Plastic Printed Favor Bag and Assorted Party Favors
Image Credit: partycity
Beautiful Birthday Cakes
How can a Disney Princess birthday party be complete without the perfect cake? Do justice to Her Royal Highness' honor with a cake baked in the shape of a Disney Princess or a decked out cake with a Disney Princess topper. There is a rainbow of ideas when it comes to Disney cakes. From a castle to The Little Mermaid's underwater scenes to Snow White's forest to the Frozen winter land, you can feature almost anything on Disney Princess cakes. Or you could opt for iced cupcakes with a tiara or printed label on top.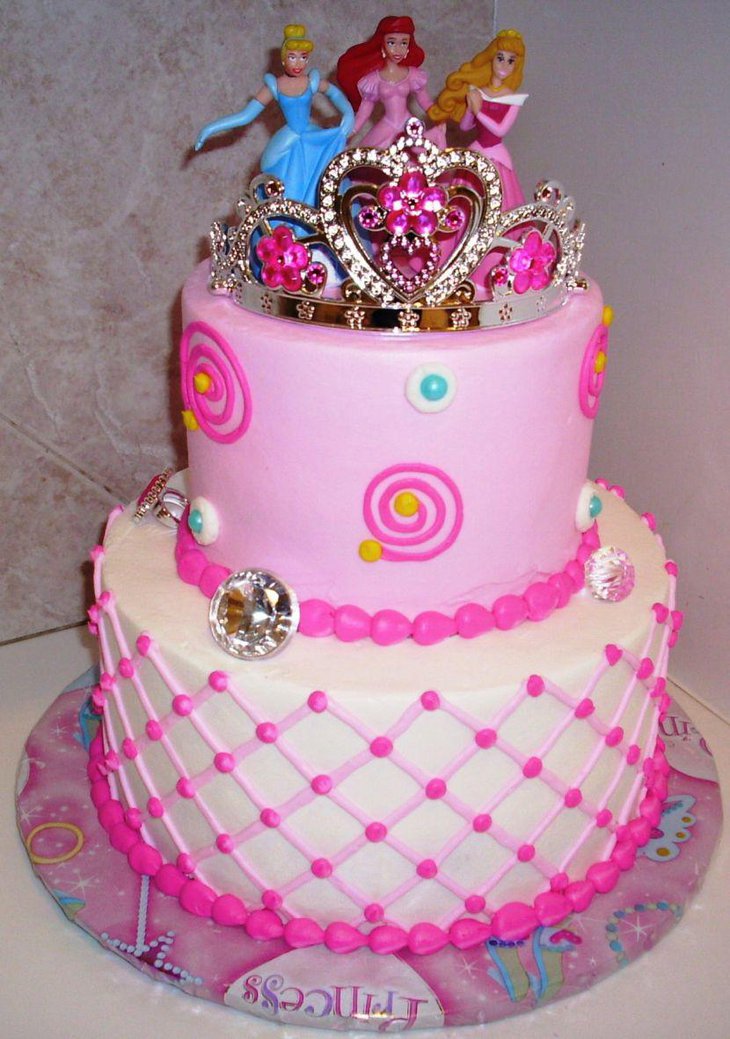 Gorgeously Designed Cake with Faux Jewelry, Figurines, and Tiara
Image Credit:  ewoodys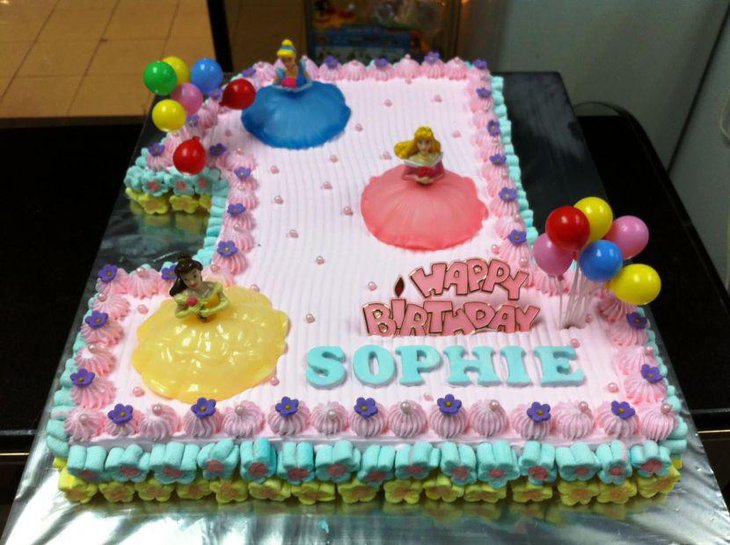 Shaped Cake with Figurines and Balloons
Image Credit:  ewoodys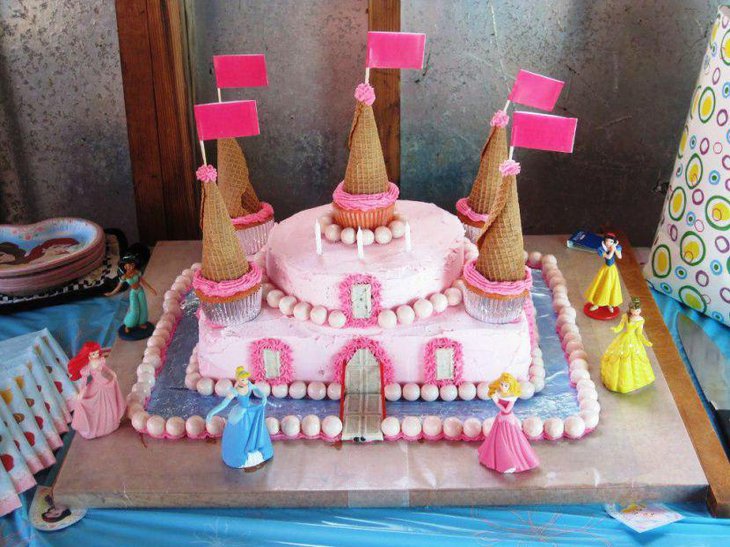 Amazing Castle Cake with Surrounding Princesses
Image Credit:  adkinsforsenate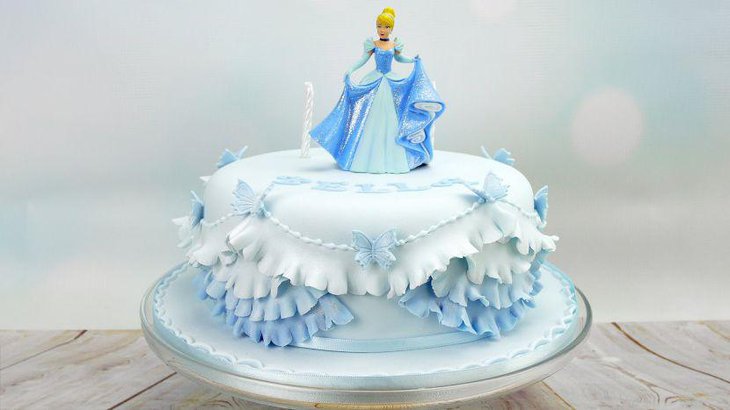 Elegant Cinderella Fondant Cake
Image Credit: ytimg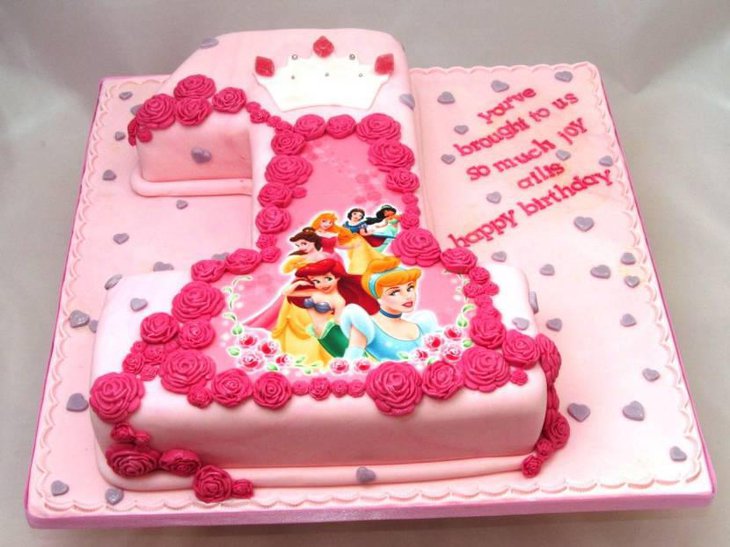 Shaped Photo Cake
Image Credit: ewoodys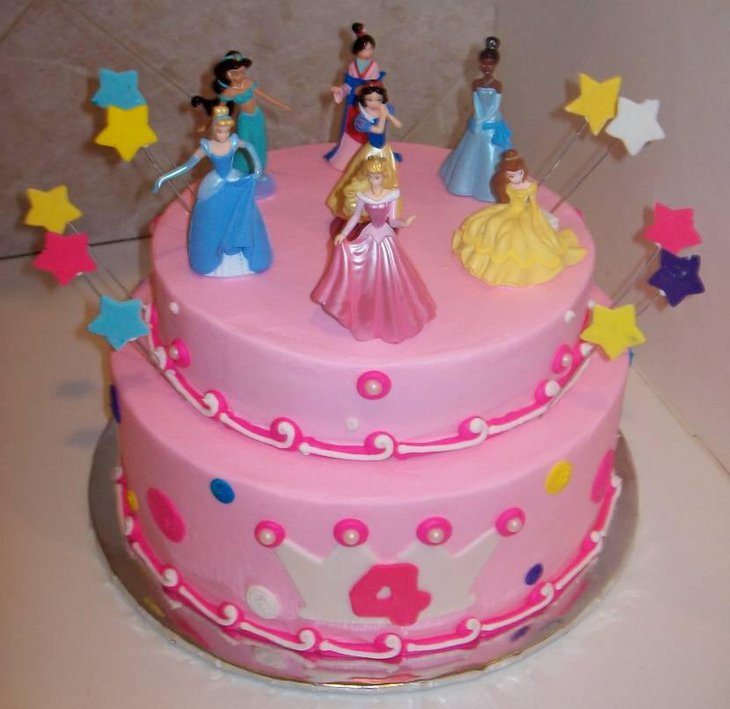 Decorated Cake with Candy Embellishments and Figurine Toppers
Image Credit: wiikends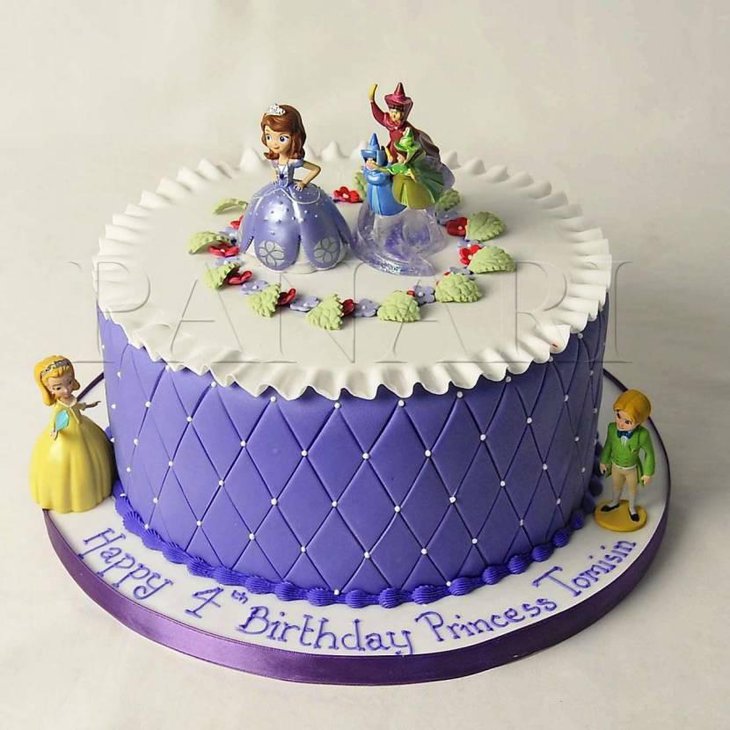 Lattice Design with Princess Sofia Character Figurines
Image Credit: ewoodys
Enthralling Guest Tables
A princess always dines in elegance, so if it is the royal birthday bash of your li'l princess, serve tantalizing tidbits and savories in a regal manner. Set up a majestic feast with plates and cups featuring Disney Princess prints. Arrange colorful forks, knives, and spoons along with decorative glasses. And how about placing a tiara for each girl to wear while she enjoys her royal meal? With these hospitable touches, it is sure to be an enthralling experience for every guest at your daughter's splendid party!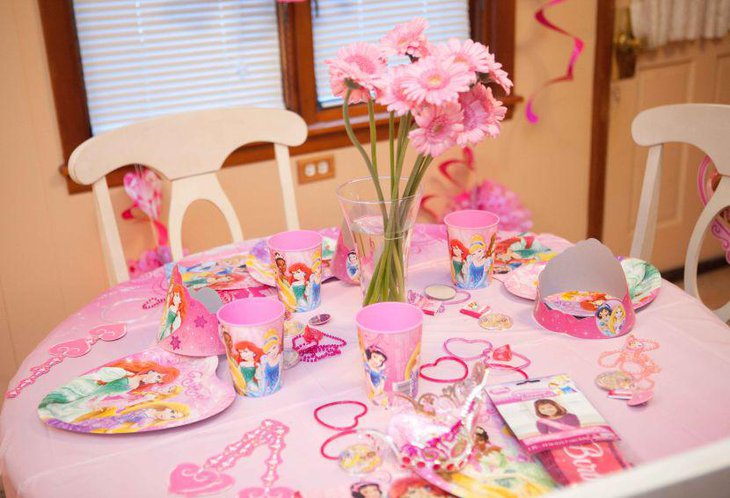 Themed Cups, Plates, and Cardboard Tiaras
Image Credit: parentpalace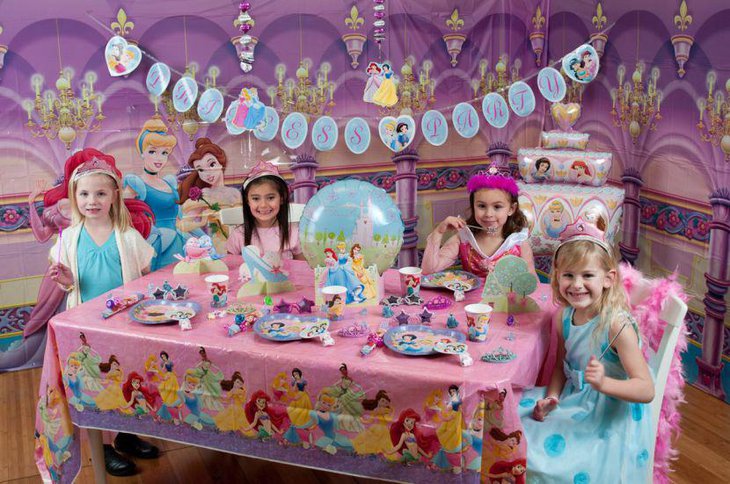 Printed Backdrop, Banner, Tablecloth, Centerpiece, Decorations, and Tableware with Tiaras
Image Credit: sandypartydecorations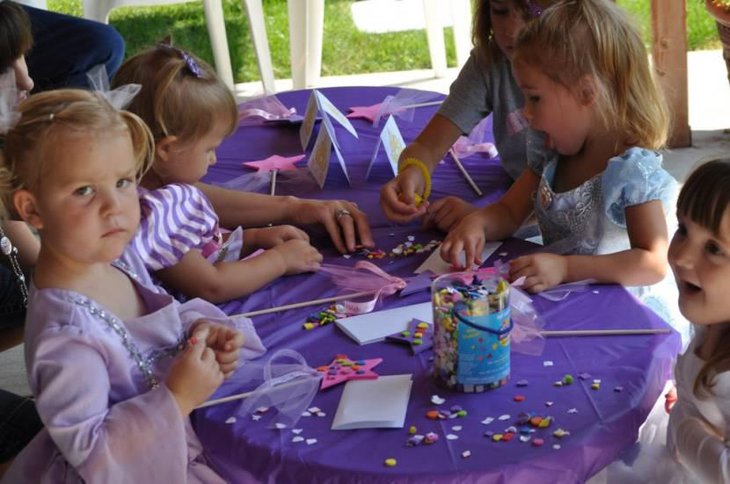 Princess Party Craft
Image Credit: eventstocelebrate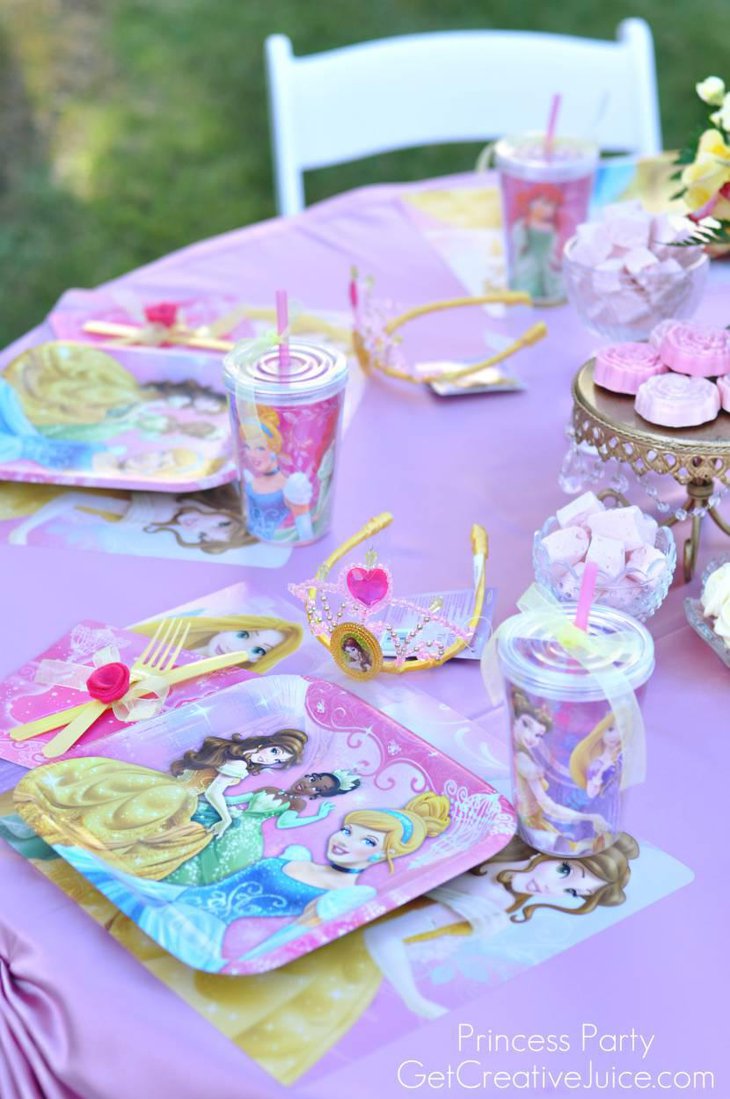 Printed Placemat, Plate, and Cup with Golden Silverware and Tiaras
Image Credit: getcreativejuice
Delightful Buffet Tables
Set up a lavish menu for your li'l one's Disney Princess birthday party. Arrange a magnificent buffet with savory snacks and desserts that kids are going to love to bits. Include yummy sandwiches and cookies cut in the shape of tiaras or stars. Prepare scrumptious pink ice cream floats that every princess across the land will adore. How about making a cupcake tower? Frost the cupcakes with pink frosting and a small jewel-shaped cookie on top for an elegant look. You can include other delicious fares like fruit salads, jellies, pizzas, and burgers for the ultimate fairytale feast.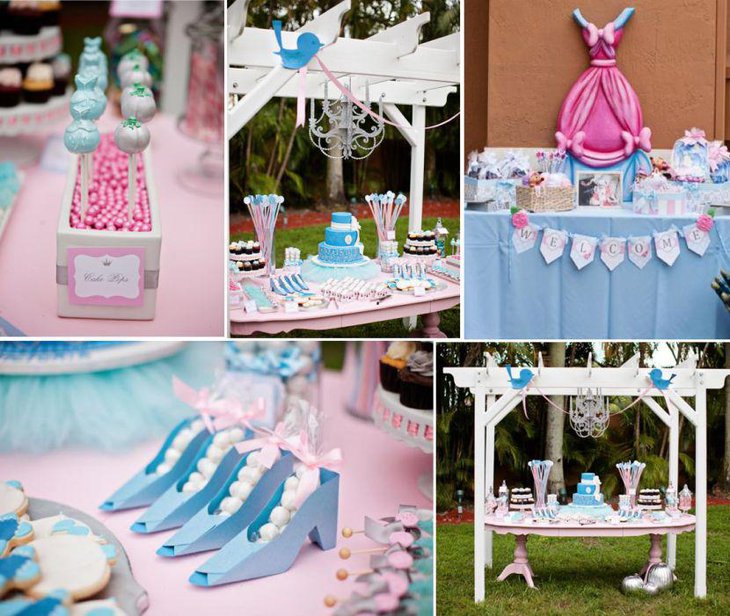 Dessert Table in Princess Blue and Pink with Silvery Cake Pops and Candy-filled Slippers
Image Credit: karaspartyideas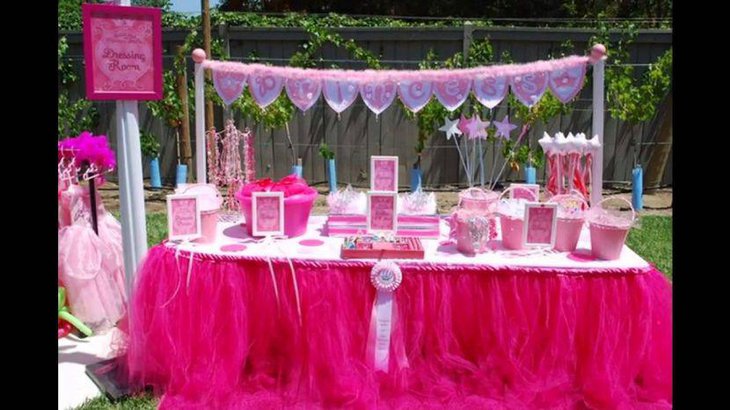 Themed Snacks and Party Favors
Image Credit:  ytimg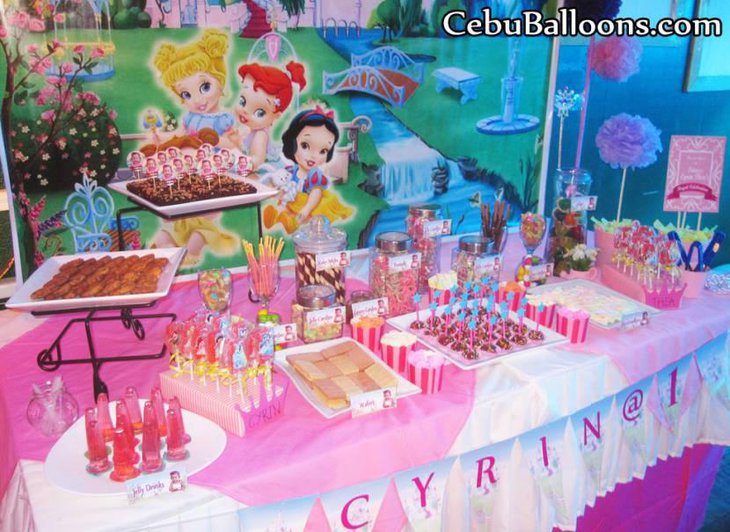 Printed Backdrop, Princess Pink Décor, and Themed Desserts
Image Credit: cebuballoons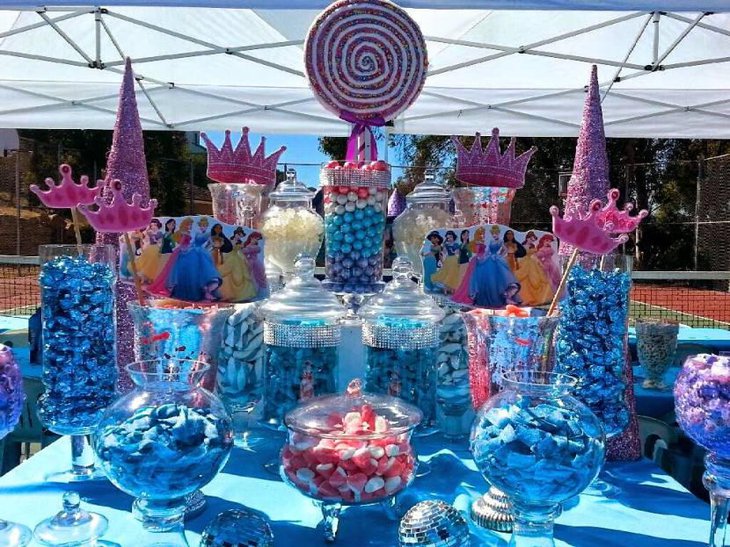 Royal Blue and Glittery Pink Candy Buffet with Princess Decoration Cutouts
Image Credit: blogspot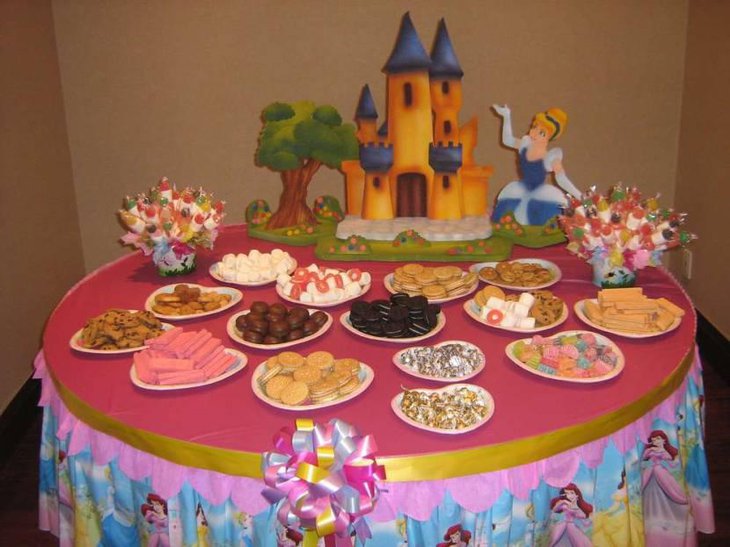 Printed Table Rim Cloth and Scene Prop
Image Credit: catchmyparty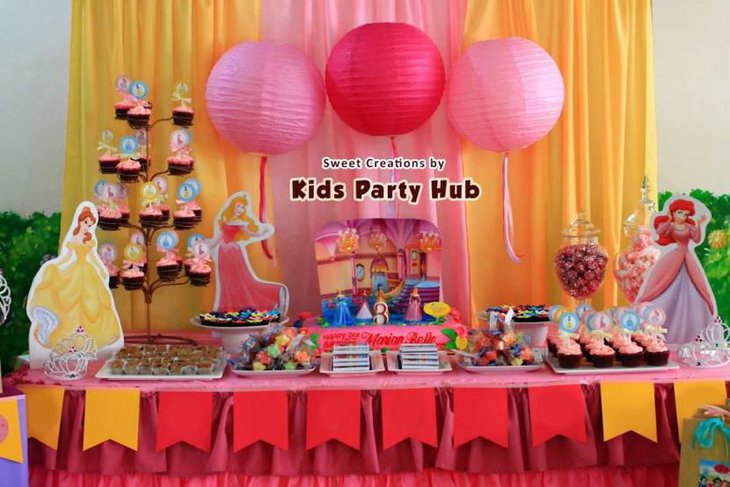 Large Cutout Decorations, Cupcake Labels, and Royal Table Rim
Image Credit: kidspartyhubph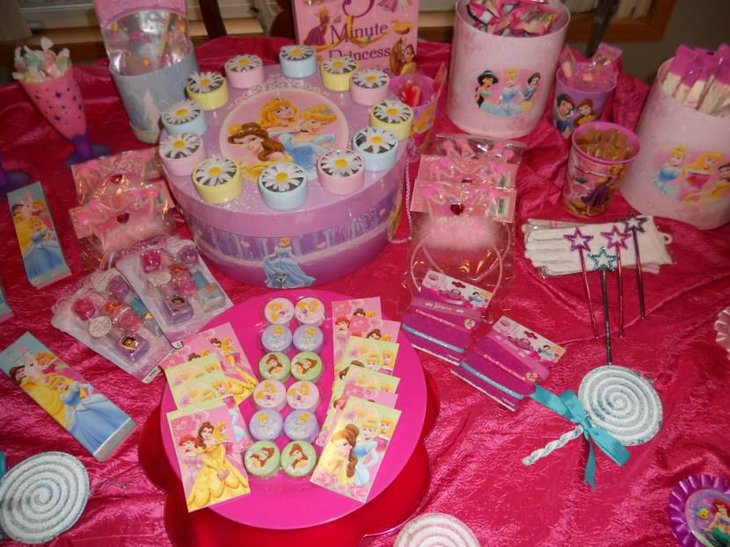 Disney Princess Party Favors and Candy
Image Credit: tinydivaprincessparty
Captivating Table Decorations
Make every little princess' fairy tale dream come true by setting the scene for a royal table with extravagant table decorations. You can use figurines, colorful cutouts, printed balloons, banners, streamers, ribbons, and flowers for your table decoration ideas. You can also place small jewels, bead necklaces, or rings on the table for all of the guests to try on.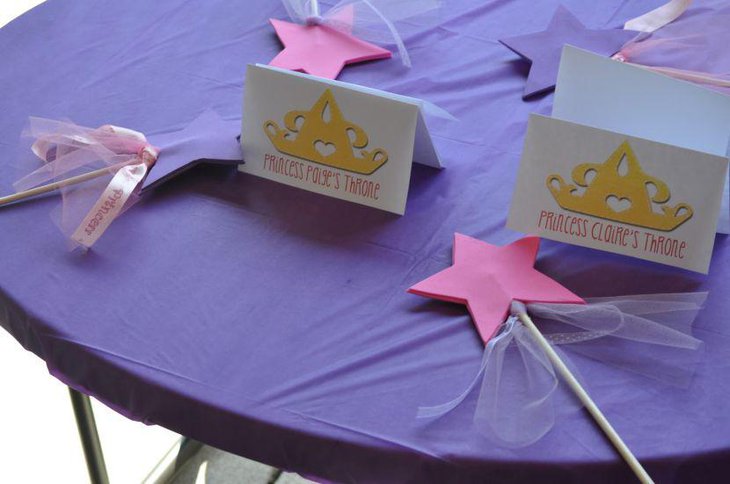 Foam Star Wands and Elegant Place Cards
Image Credit: eventstocelebrate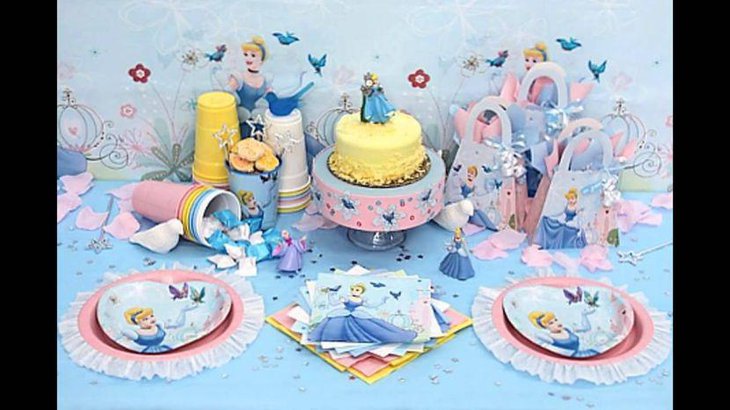 Printed Backdrop, Favor Bags, and Tableware with Cake and Toppers
Image Credit: ytimg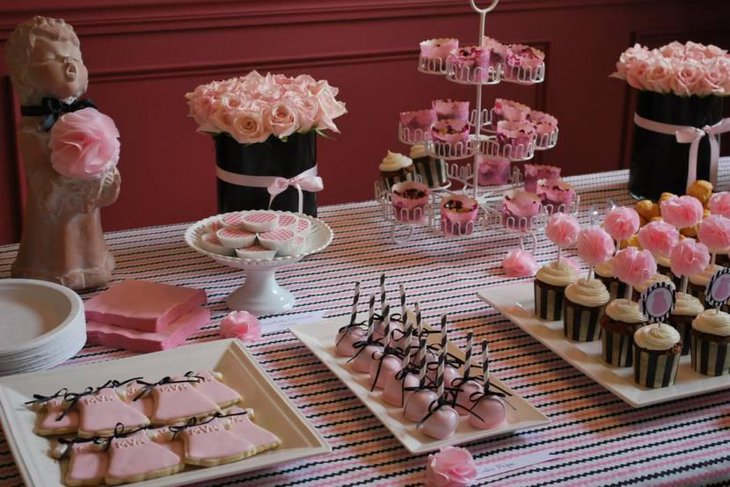 Princess Pink Flowers and Desserts
Image Credit: decoratethetable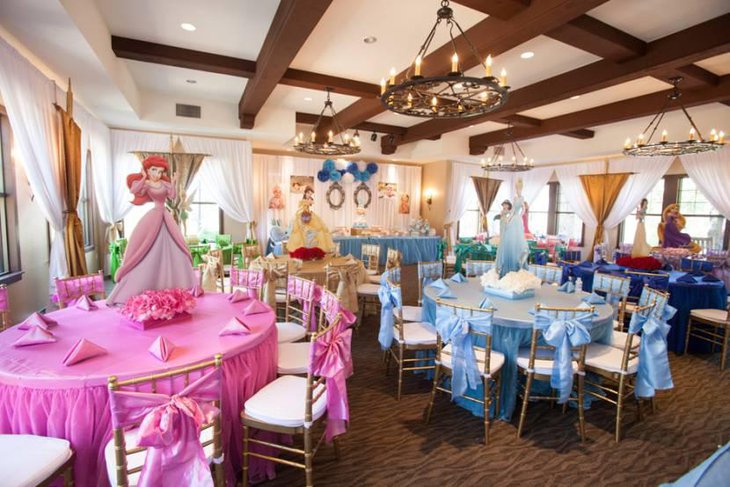 Life-size Cutouts and Coordinating Table Settings
Image Credit: beccarillo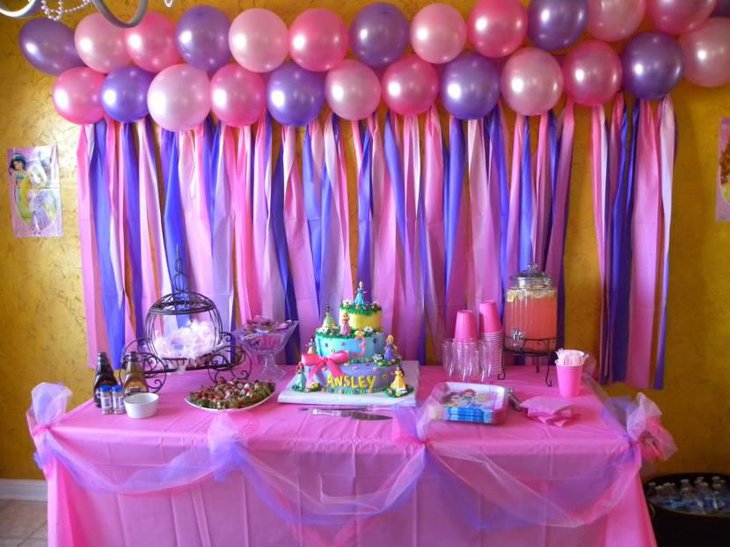 Balloons, Streams, Tablecloth, and Tulle Rim with Figurine Cake Toppers
Image Credit: pinimg
So, now that our magical journey through Idea Land is over, what are you waiting for? Plan the most regal Disney Princess birthday party ever and make your princess feel like her day came right out of a story!