Today, we are going to speak about winter table decorations as this cold weather is on and its time again for hosting cozy dinners on well decorated tables. A nicely adorned table is a prerequisite for hosting any winter dinner, either, a wedding or Christmas. The winter table decorations showcased below are not just visual eye candies but are also quite unique and innovative in style. If you are going to host a winter dinner party or a wedding, please make sure that you go through this post that lists down 35 winter table decorations of which some images would be of winter wedding table decorations as well.
Innovative Table Decorations With Twine
A very innovative table decorations idea for winter tables is to use natural materials for wrapping party favors like votives, mason jars and vases that can be given to guests as a token of appreciation. You can tie or wrap your votives with twine to lend a rustic look to your wedding table. Either wrap the votives completely or just tie a twine at the middle. The glass votives seen in the first image look very unique with twine wrapped around them, with a sprig of berries frosted with snow. Apart from votives, you can also decorate your winter tables with corks that can be used as place card holders and wrapped with twine and fresh flowers. The following table decorations look pretty chic and you must try them once.
Innovative winter table decor with votives tied with twine and sprig of berries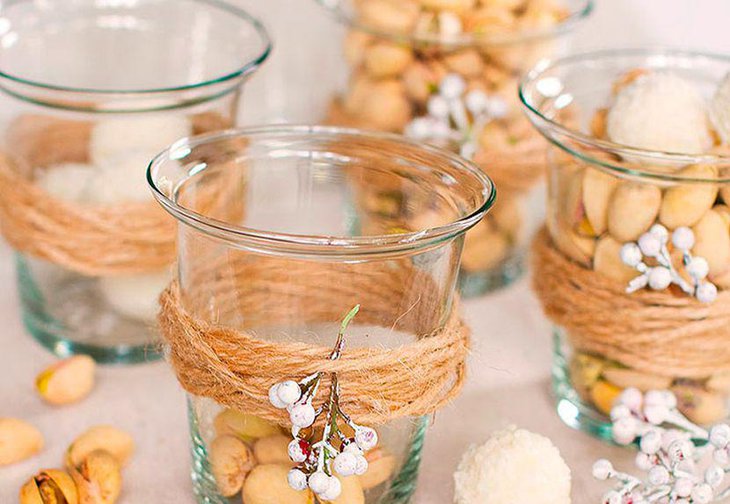 Image Credit: lowes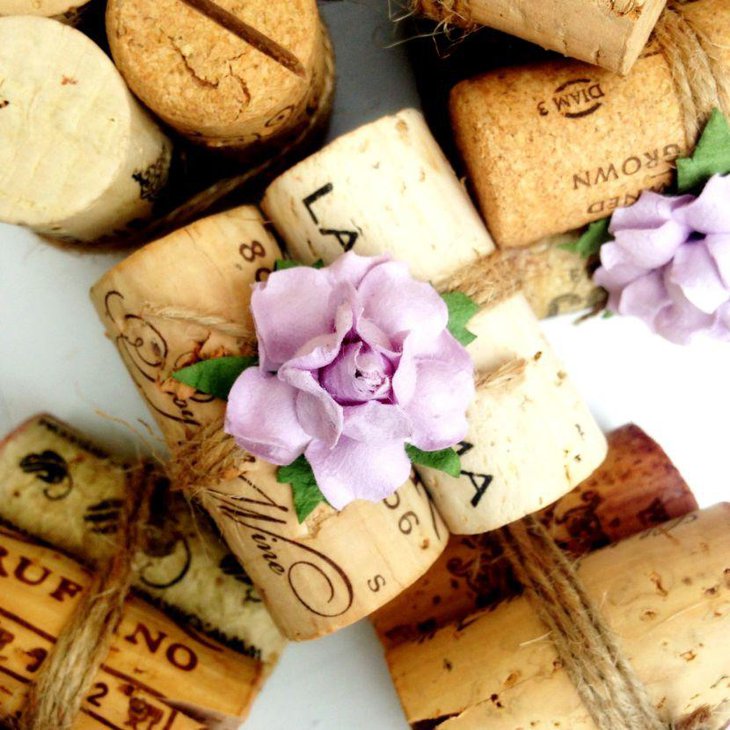 Unique winter table decor with wine cork place card holders wrapped with twine and flower
Image Credit: etsystatic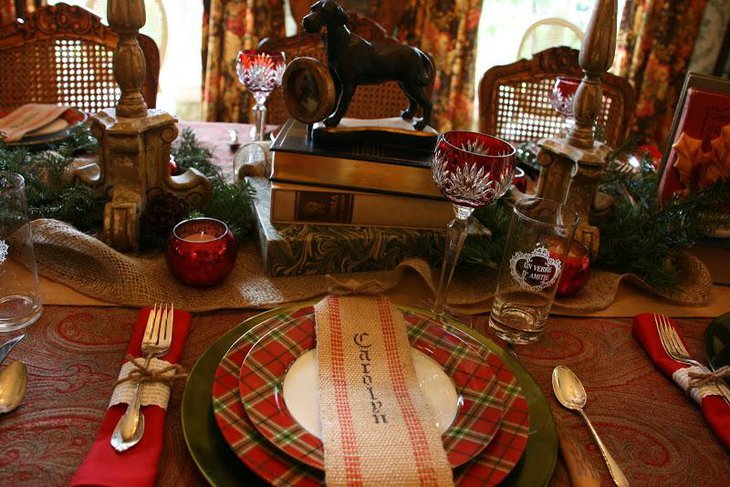 Cozy winter table decor with twine tied napkins and burlap place card holders
Image Credit: blogspot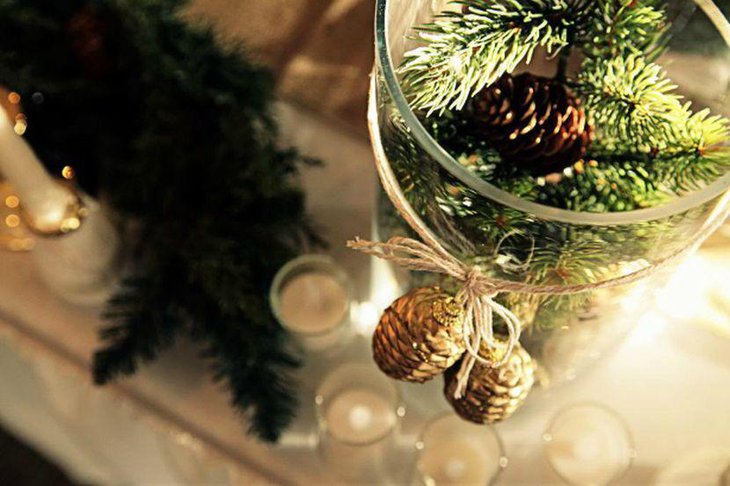 Winter forest table decor with greens and twine
Image Credit: confetti
Winter Table Decorations With Forest Elements
If you are looking for such ideas for winter wedding table decorations that are a tad different than others, look below as we have showcased some unique looking winter centerpieces that have taken inspiration from mother nature. Yes, winter is the perfect time when you can use a lot of forest elements in your table decorations like branches, berries, pine cones, fresh or dried flowers, wooden slabs and pieces. All these accessories can be paled anywhere on your table in the form of winter centerpieces, table runners, napkin holders and place card holders.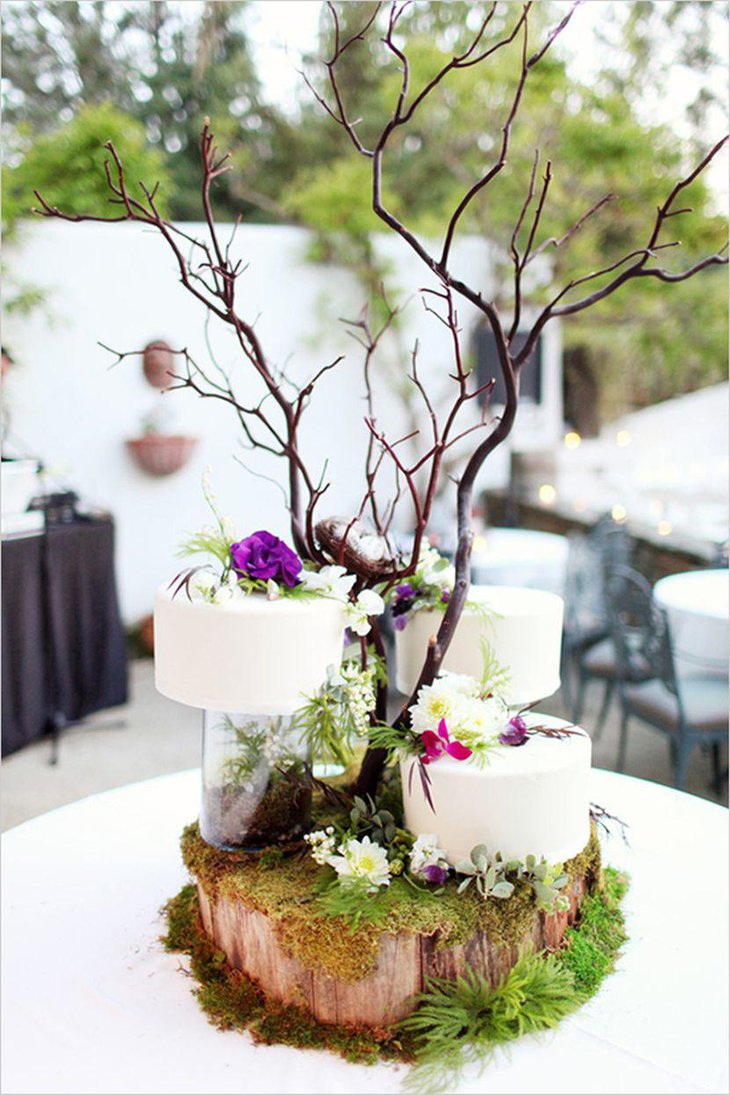 Amazing winter table decor with wooden piece and branches
Image Credit: weddingchicks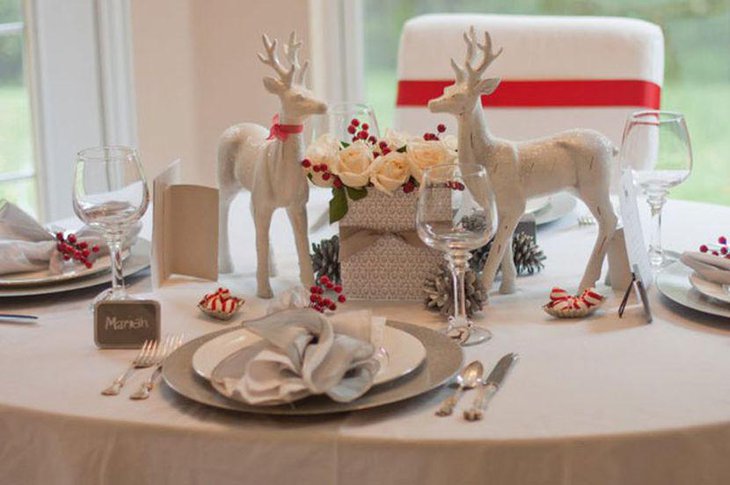 Winter table decor with red berries and pines
Image Credit: sheknows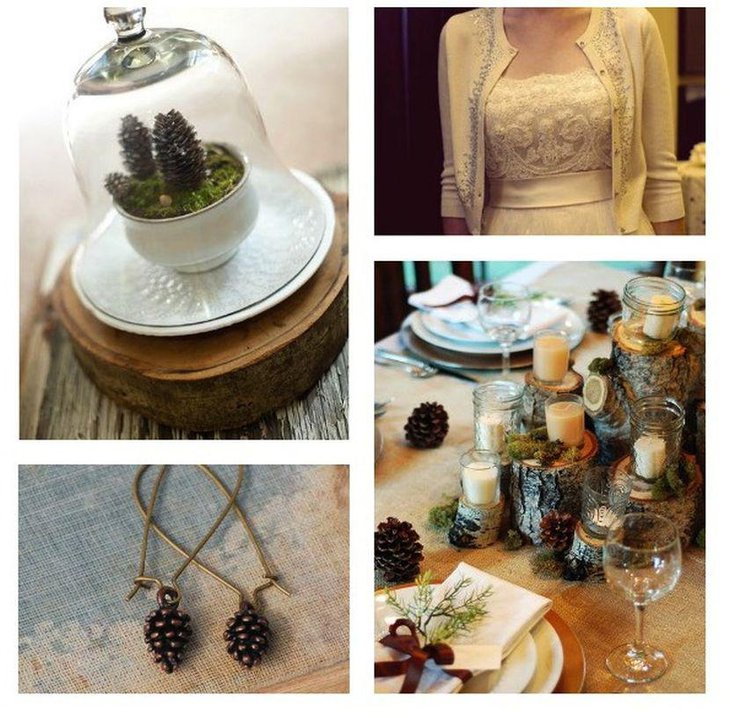 Winter table decor with pine cones and ferns
Image Credit: woodsyweddings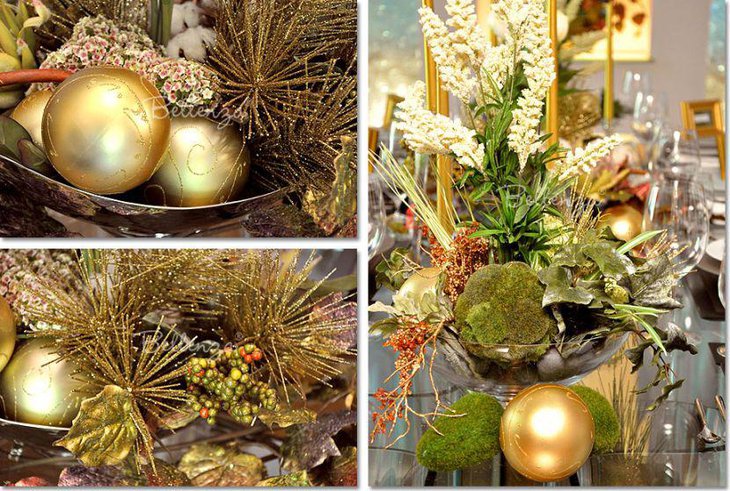 Winter table decor with Christmas balls and natural elements
Image Credit: bellenza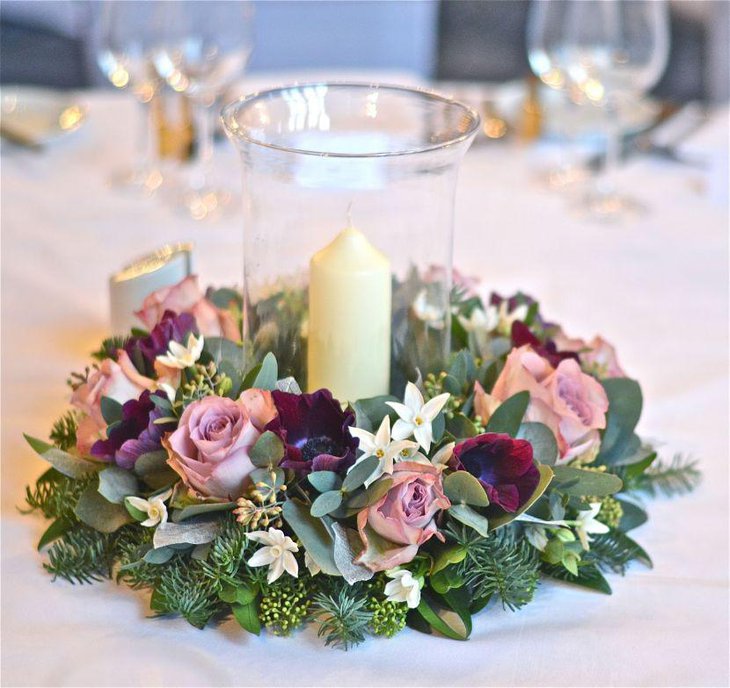 Winter table decor with wintery foliage and candle jar
Image Credit: blogspot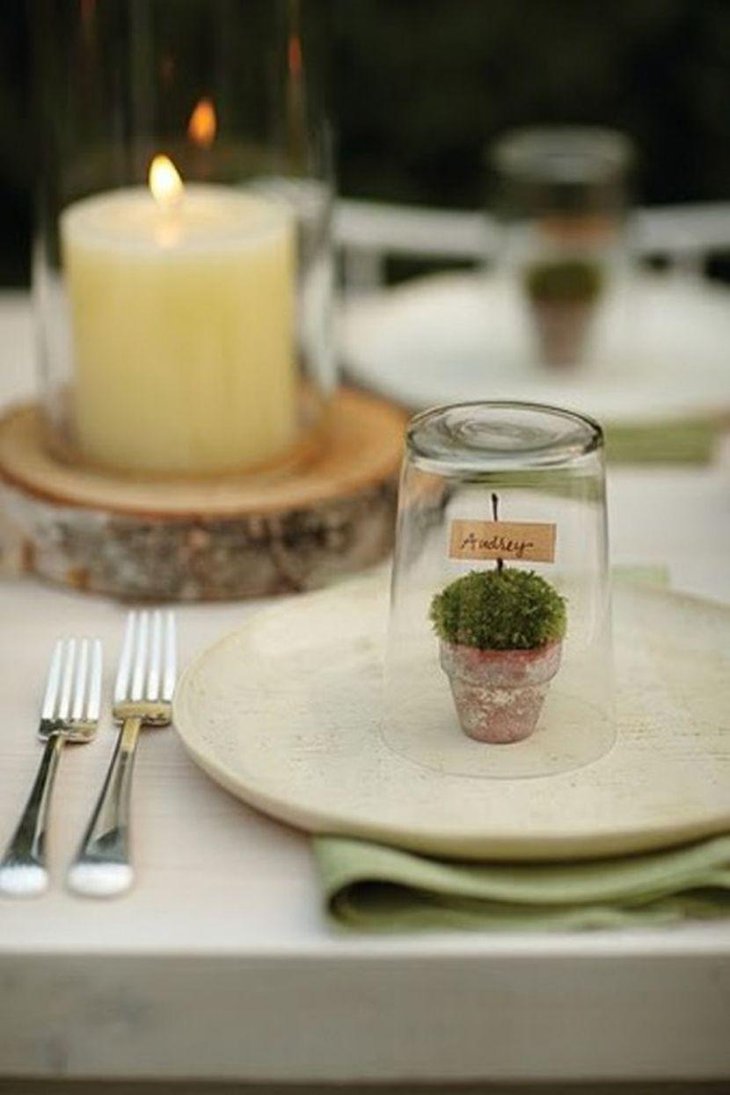 Winter table decor with potted plants and wooden slabs
Image Credit: weddingomania
Winter wedding table decorations in gold and silver
Winter wedding centerpieces and decorations need to look grand and just not what you see everyday. Yes, these ought to be opulent in style without being very garish. The images below are of such winter wedding table decorations that have two main tones of colors splashed all across, gold and silver. These two metallic colors can accentuate the beauty of any table and this is what you can witness below. The golden vase centerpiece looks grand and so do the ornamental votives in silver, seen adorning one of the wedding party tables. You can use golden tones in leaves as well.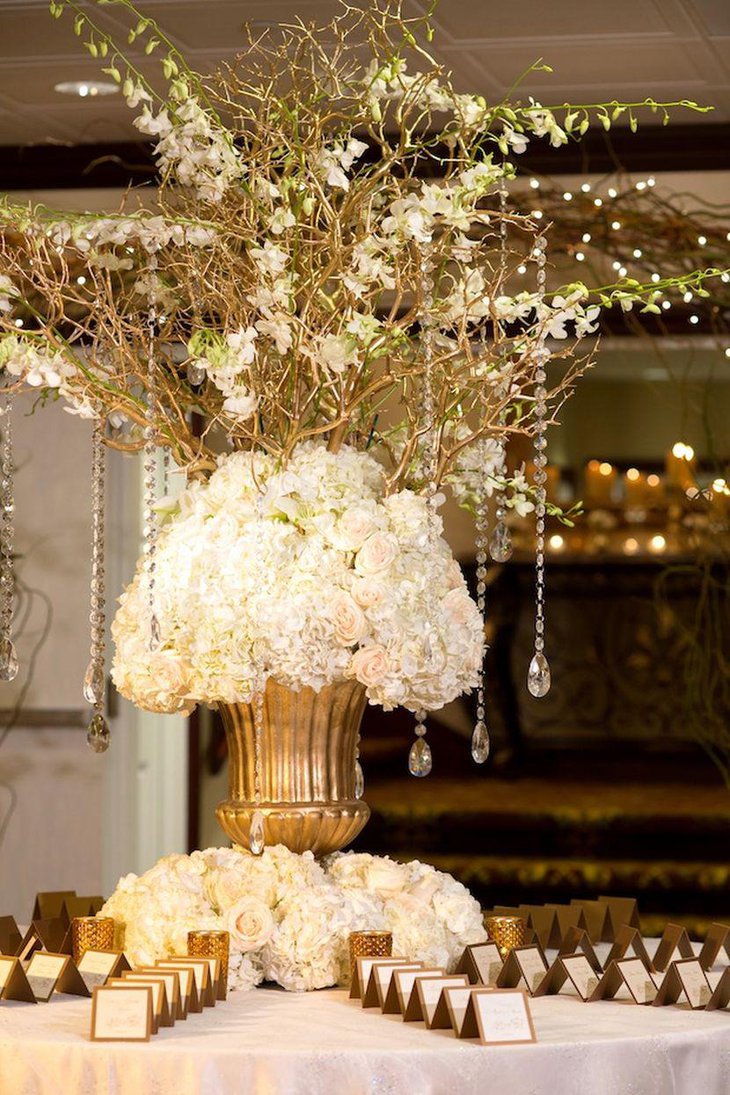 Winter wedding table decor with golden vase and place cards
Image Credit: pinimg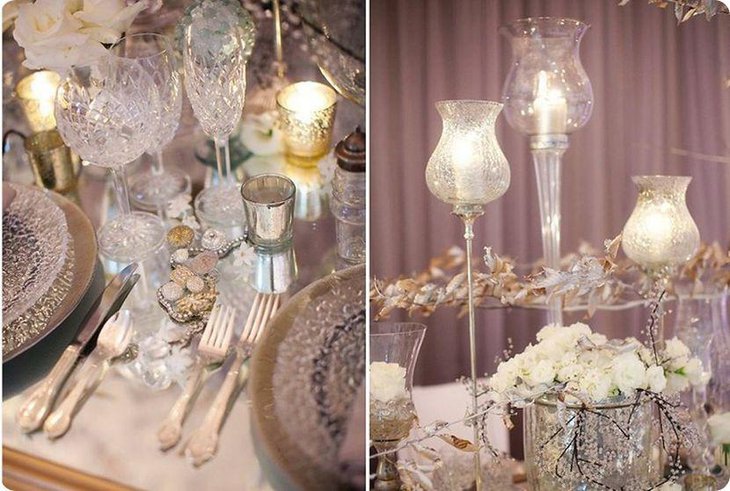 Winter wedding table decorations with silver votives and golden leaves
Image Credit: cocktailsdetails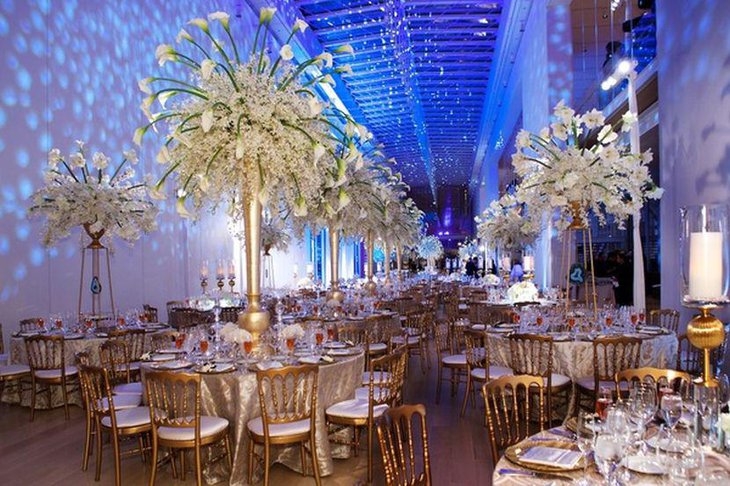 Winter wedding table decor with tall golden floral vases
Image Credit: cloudfront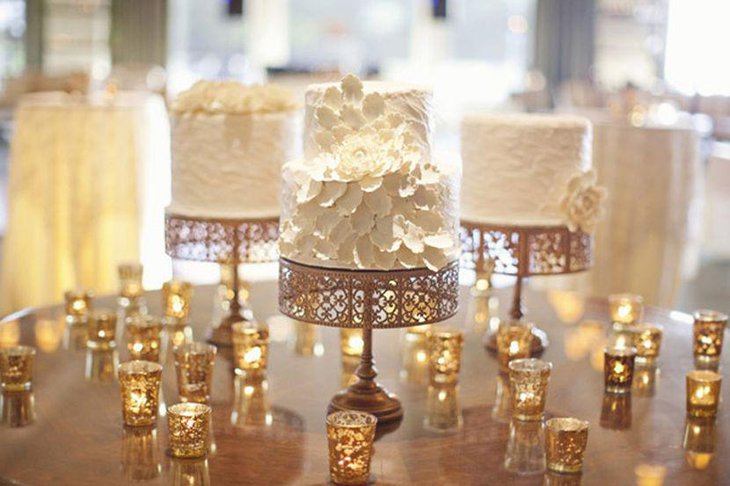 Innovative Winter wedding table setting with rich golden cakestands and mini lanterns
Image Credit: ecopartytime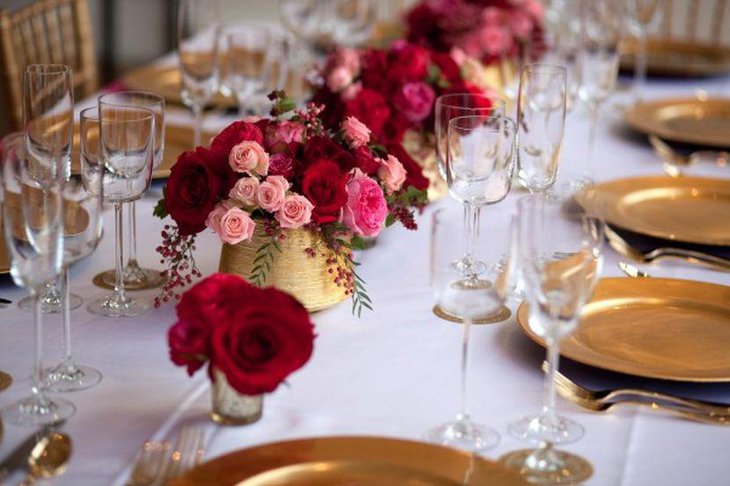 Golden floral vases and plates for winter wedding table
Image Credit: elizabethannedesigns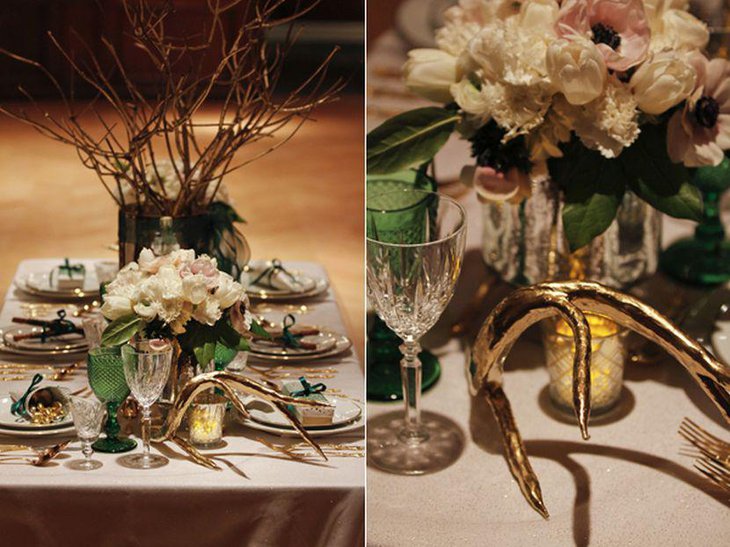 Golden antler and floral arrangement for winter wedding table
Image Credit: ruffled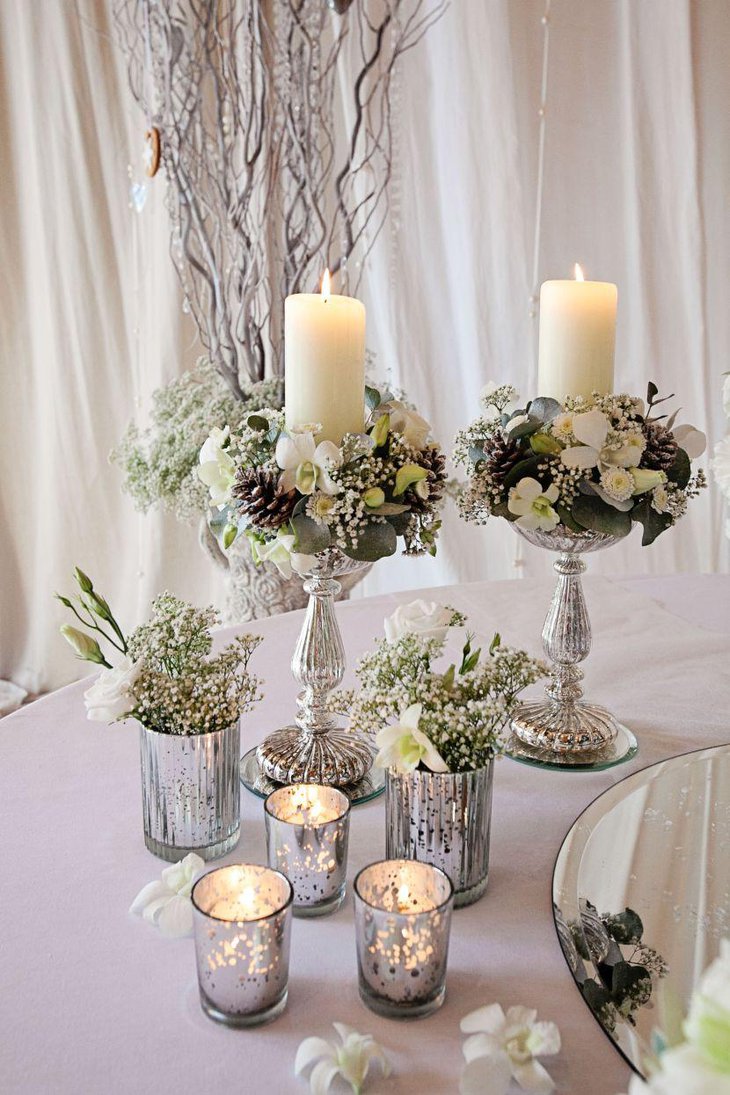 Exquisite winter wedding table decor with silver votives vases and candle holders
Image Credit: laurelweddings
Floral Winter Centerpieces
For any table adornment, floral centerpieces have become the norm, and winter too is a time when fresh floral arrangements on your tables can bring freshness and liveliness to the decor. Your floral centerpieces need not look run of the mill with only a few choices of flowers like roses. You can now couple flowers with pines, decorative candles or berries to add more glamour to your tables. A vase with branch and berries too can be called a floral centerpiece and definitely looks unique. For a white themed winter wedding, try contrasting with blue tones like the blue flowers seen arranged on one of the tables in the picture. You can also hang snowflakes or other ornaments on your vase to enhance the look.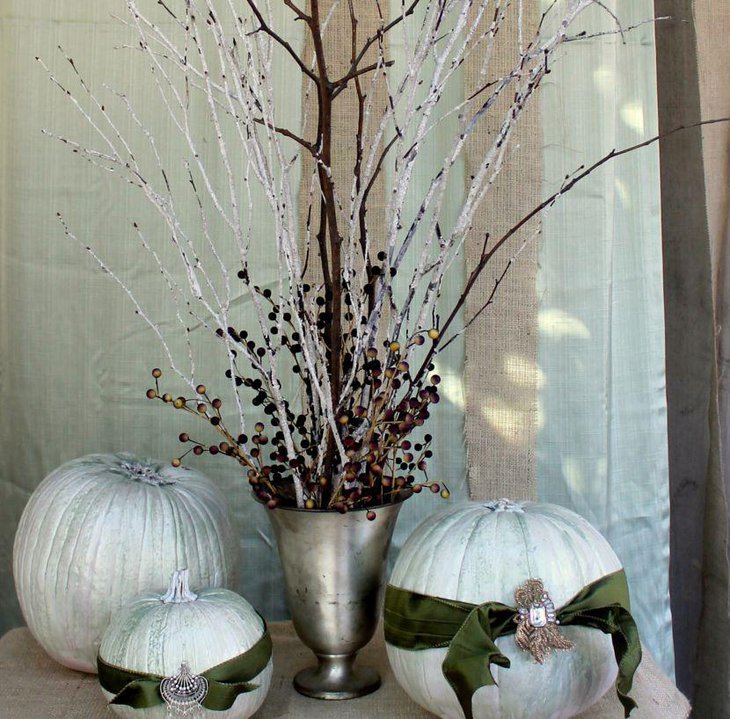 Innovative branch and berry floral winter table centerpiece
Image Credit: shailenefan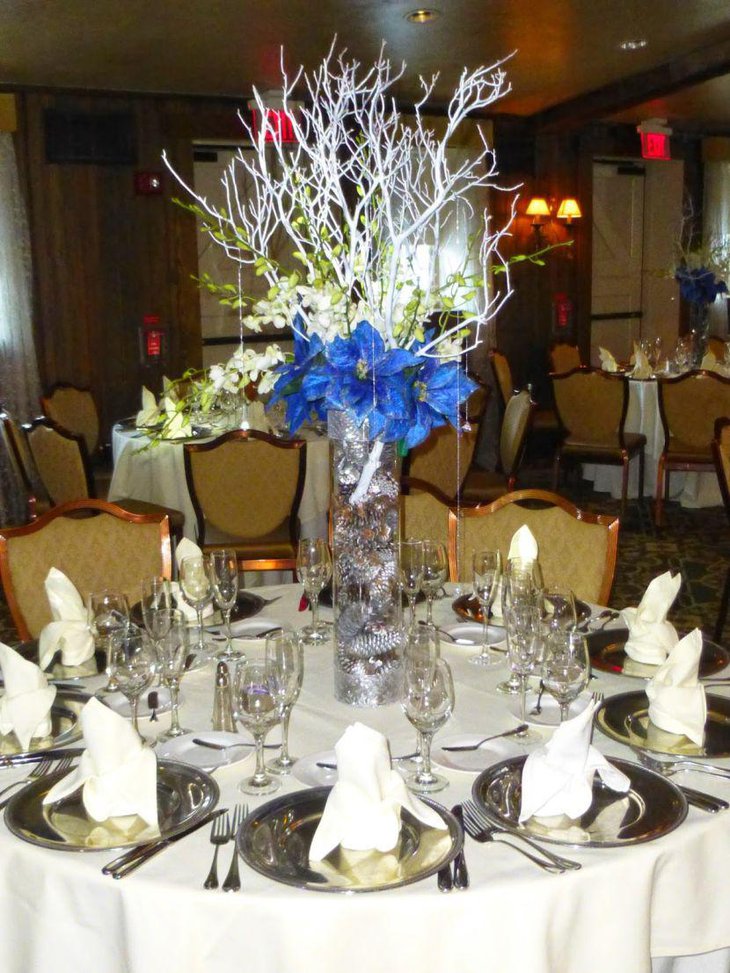 Gorgeous winter table decor with glass cylindrical vase with blue flowers
Image Credit: blogspot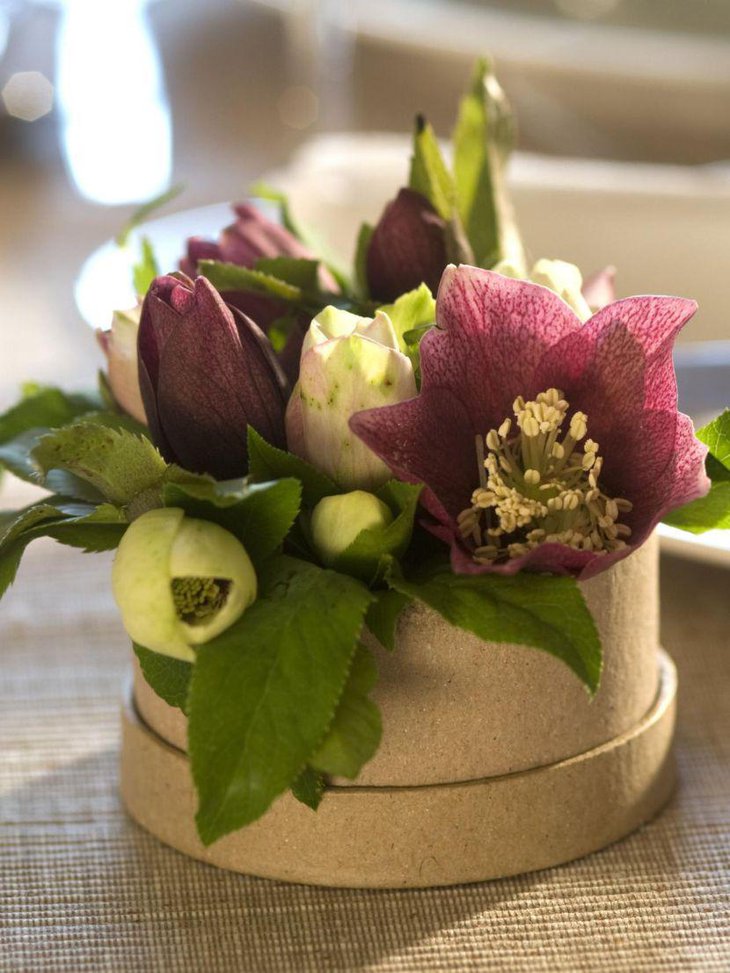 Unique winter table floral centerpiece
Image Credit: hgtvhome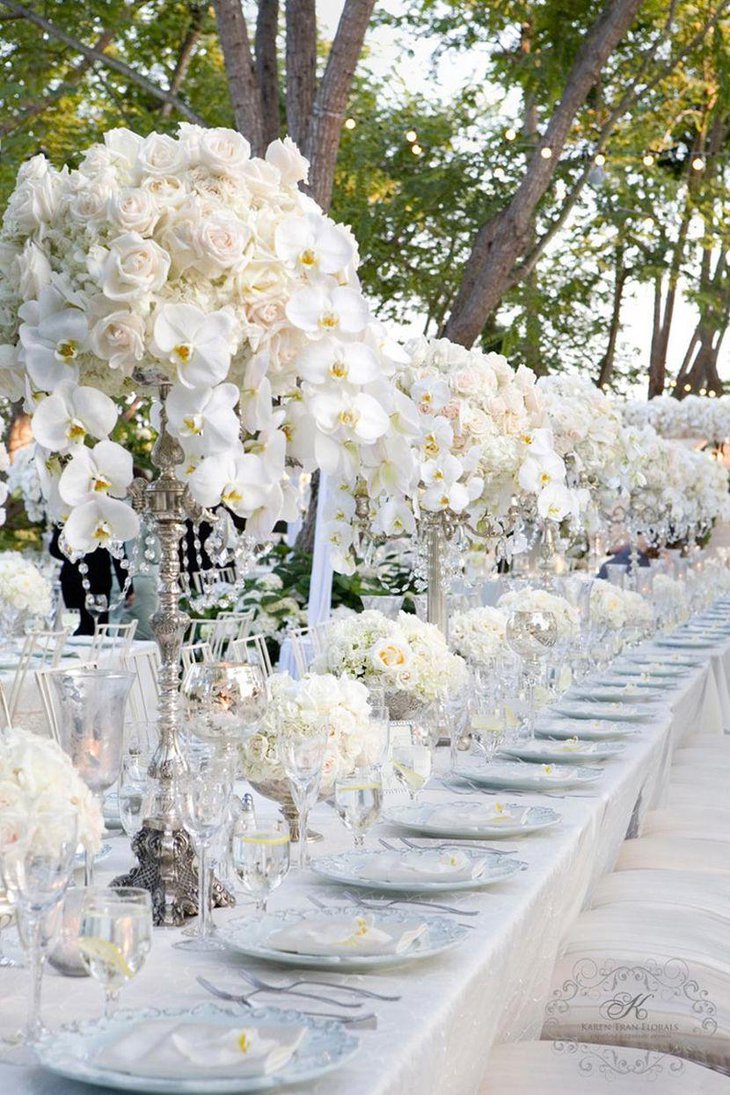 Winter wedding table decor with silver vases and white flower arrangements
Image Credit: shailenefan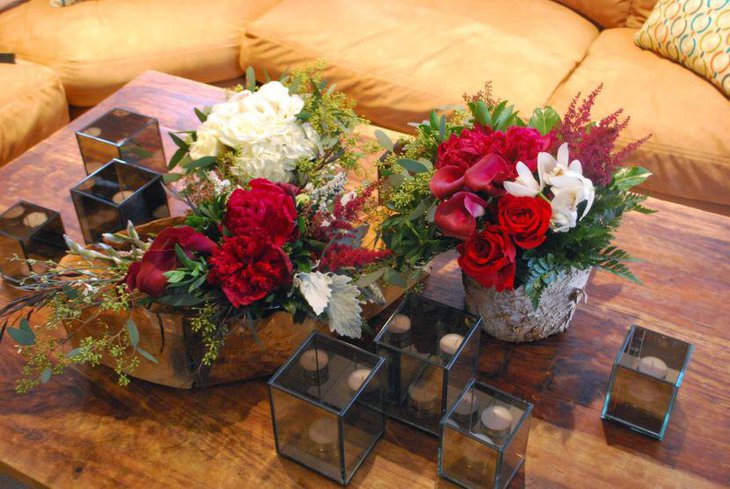 Winter table decor with colorful floral centerpiece
Image Credit: blogspot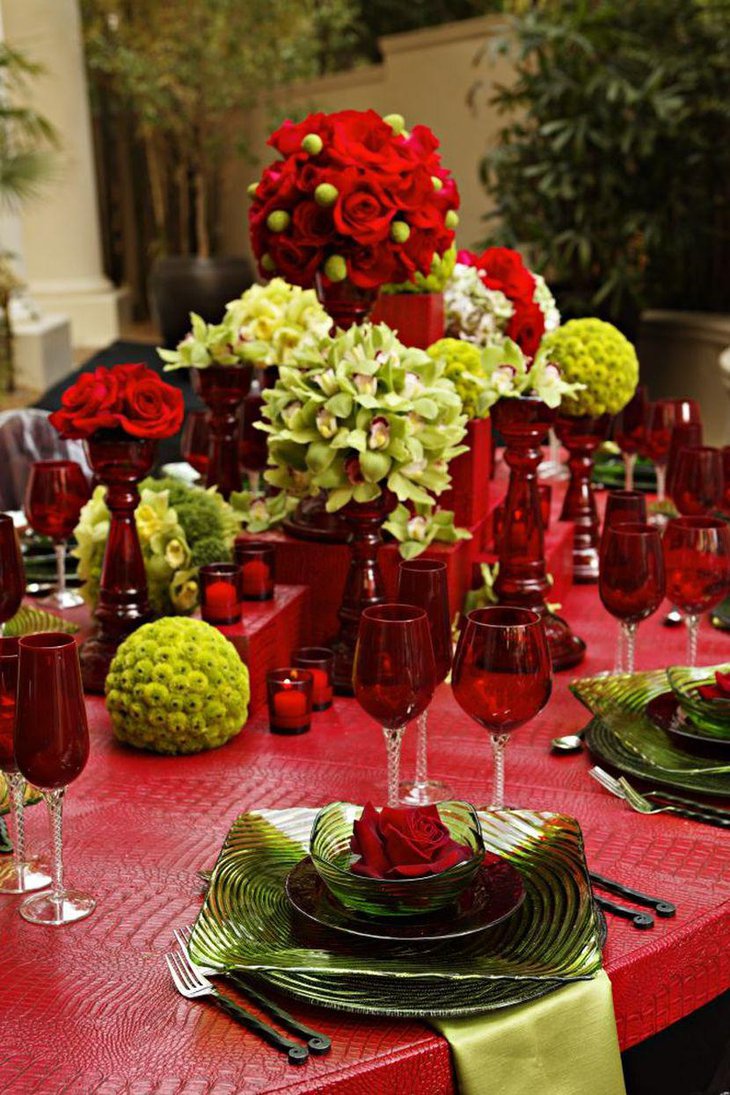 Red and green floral centerpiece for winter table decor
Image Credit: teagreenchandelier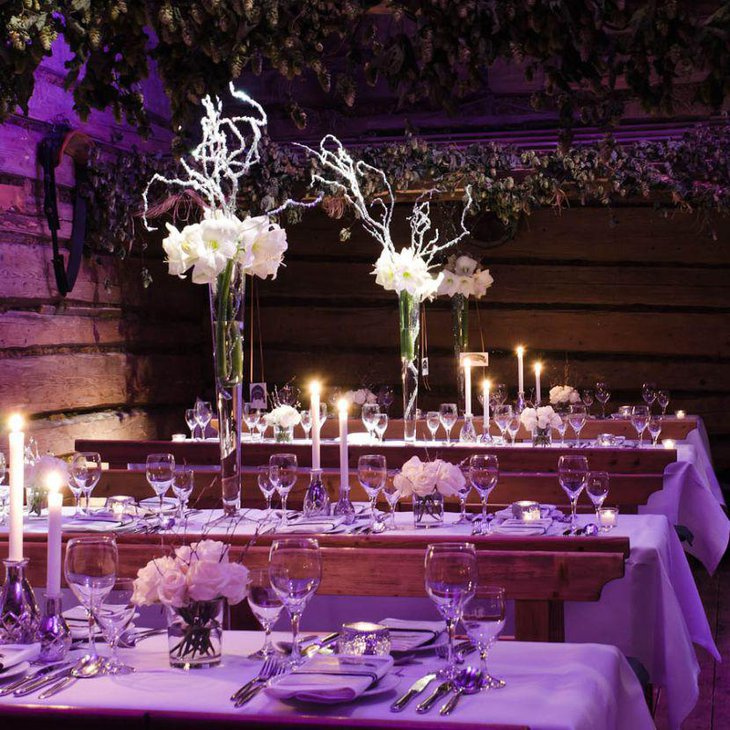 Winter wedding table setting with tall glass floral centerpiece
Image Credit: rocknrollbride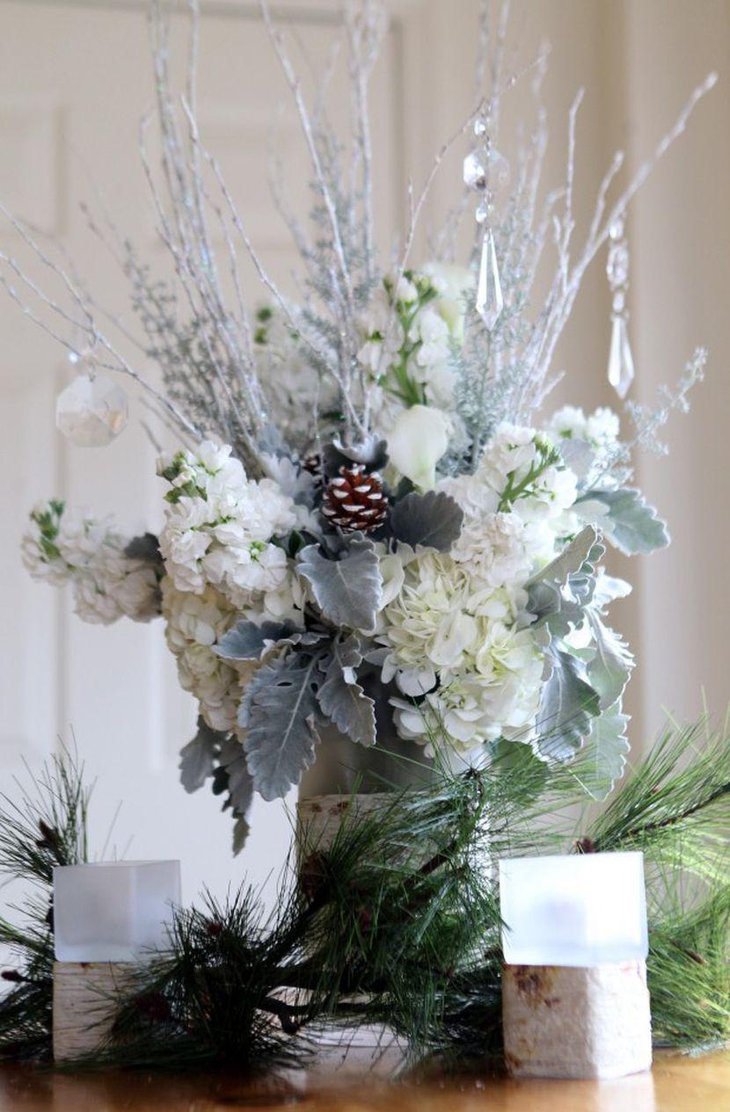 White and green floral centerpiece with hanging glass ornaments
Image Credit: townnews
Eye catching candle and candle holder table decorations for winter
We have said time and again that candles are an essential part of table decor, be it parties or weddings. Here too, you would find a number of pictures of winter wedding centerpieces that involve the use of decorative candles in various styles. Such candle centerpieces can be used for adorning your winter tables at home or at any party. You have the option to choose a large number of candle holders when decorating your tables like tall glass candle holders with floating candles, lanterns filled with flowers and candles, snowflake shaped candles and many more. Just sprinkle some fake snow and place some white frosty tress and candles to bring in festive cheer to your tables.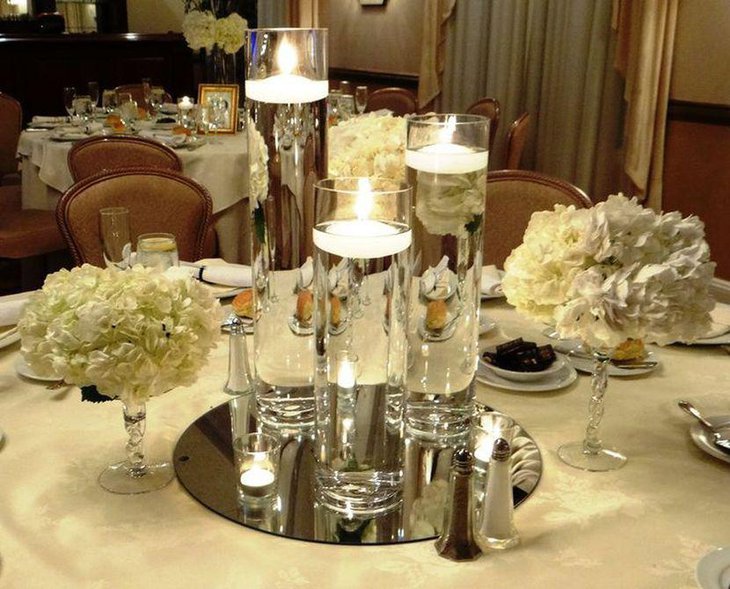 Unique winter party table decorations with floating candle centerpieces
Image Credit: pinimg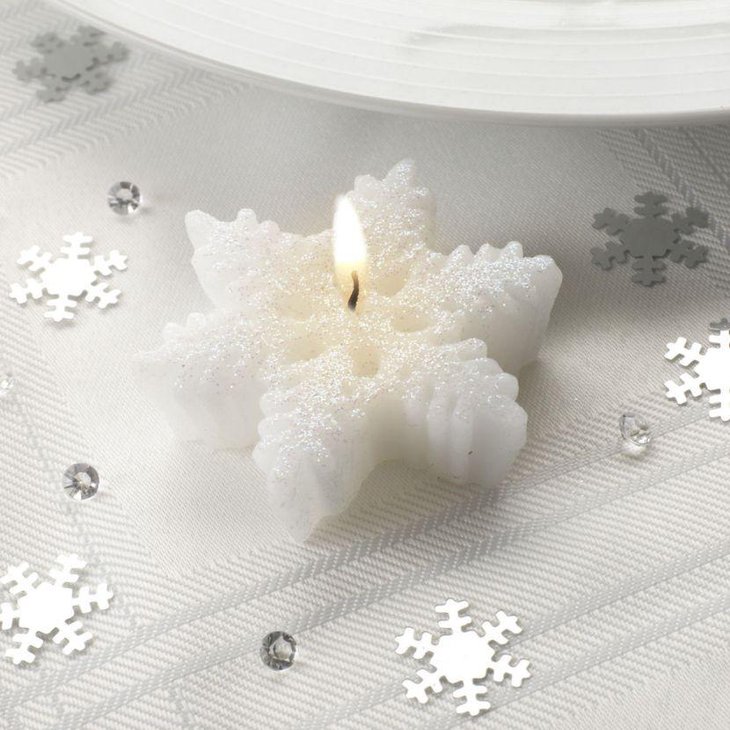 Stunning snowflake candle for winter table decor
Image Credit: ebayimg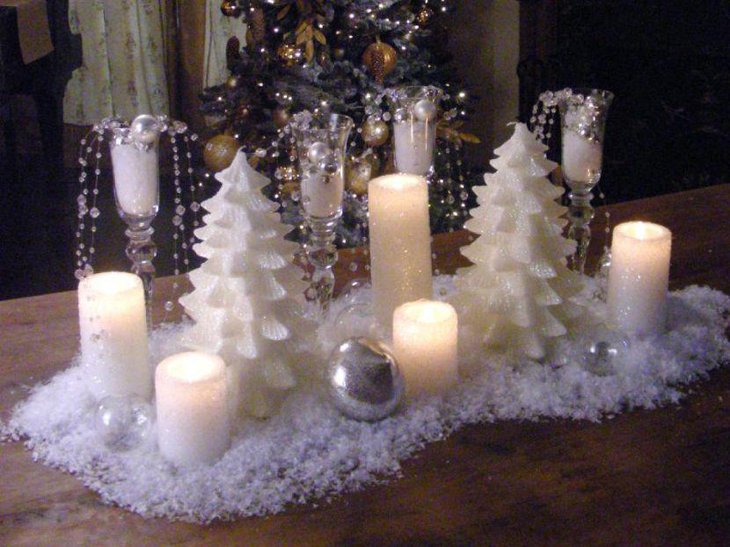 Astonishing snowy candle centerpiece for winter table
Image Credit: hgtvhome
Cute epsom salt candle centerpieces for winter table
Image Credit: theinspiredroom
Winter wedding centerpieces in red
When we speak of winter weddings, there is one color that comes to our minds instantly. Yes, red it is! Red table decor is most commonly seen in winter weddings but its also the most loved and in great demand. Red accents can be splashed anywhere on the tables like centerpieces, runners, table cloths, and other decorative accessories. Winter centerpieces like the red berry centerpiece with manzanita branch arrangement looks pretty chic and stylish. You can also include red tones in your centerpiece that is made of fruits and include berries, pomegranates and apples.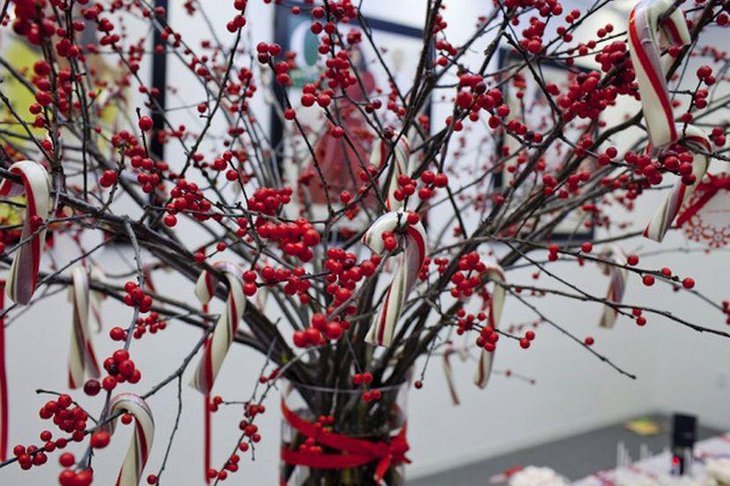 Gorgeous red winter table manzanita branch with berries centerpiece
Image Credit: onewed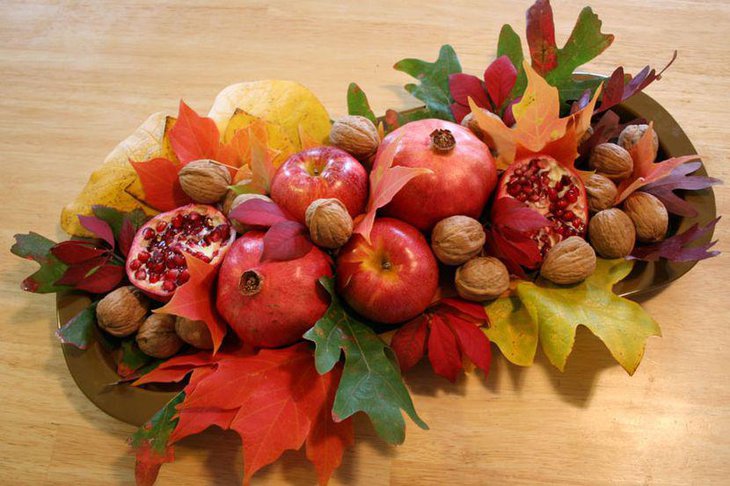 Unique winter table fruity centerpiece in red accents
Image Credit: chicaandjo
Winter table decorations with snowflakes
Snowflakes are synonymous with winter and all festivities associated with it. Your winter table can be embellished with snowflake theme like the image where the mats have been designed like snowflakes. Apart from mats and runners, you can also design place card holders keeping snowflake theme in mind. Your winter wedding centerpieces too can have this gorgeous feature like the floral centerpiece that is seen decorated with hanging snowflakes to add a cold frosty touch to the decor. Even the wedding cake can be beautified with frosty snowflakes to spread an 'icy' feel among your guests.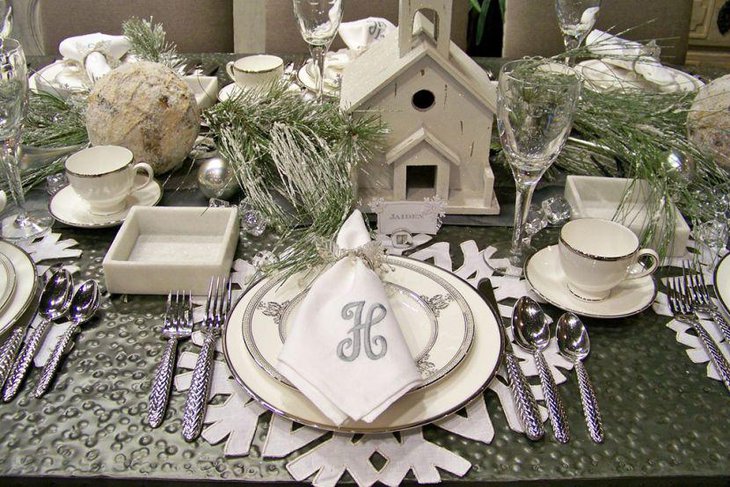 Unique winter table decoration with snowflake mats and place card holders
Image Credit: heatherscotthome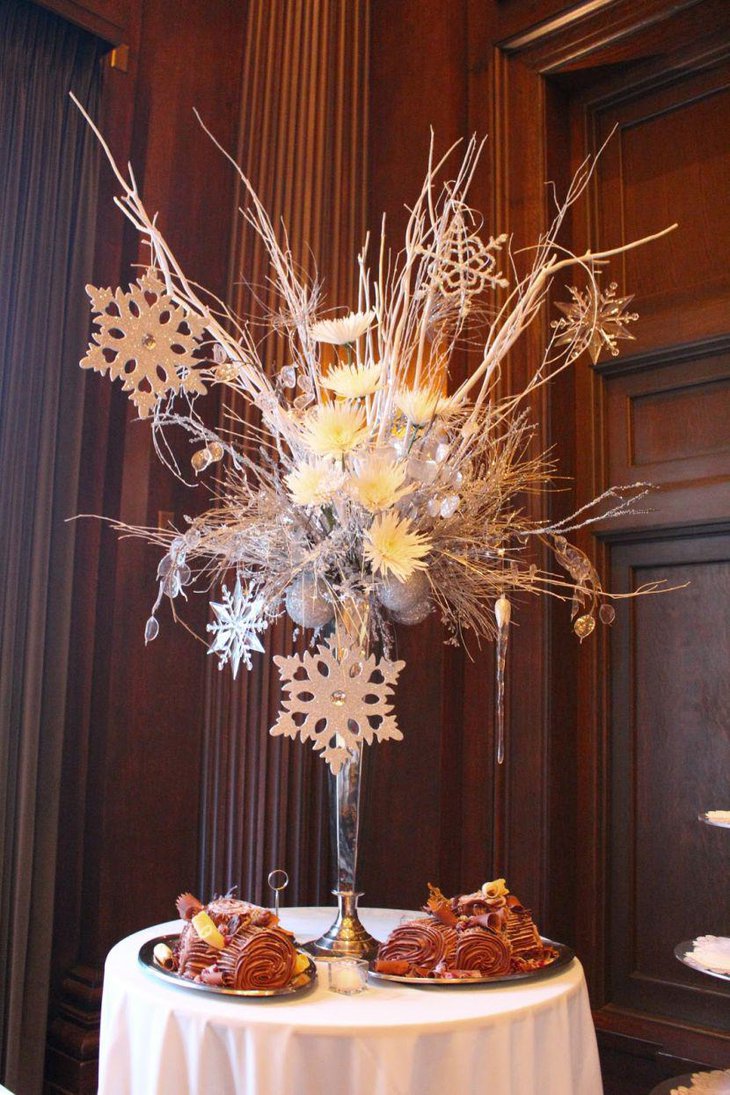 Winter table setting with tall vase filled with branches, flowers and hanging snowflakes
Image Credit: googleusercontent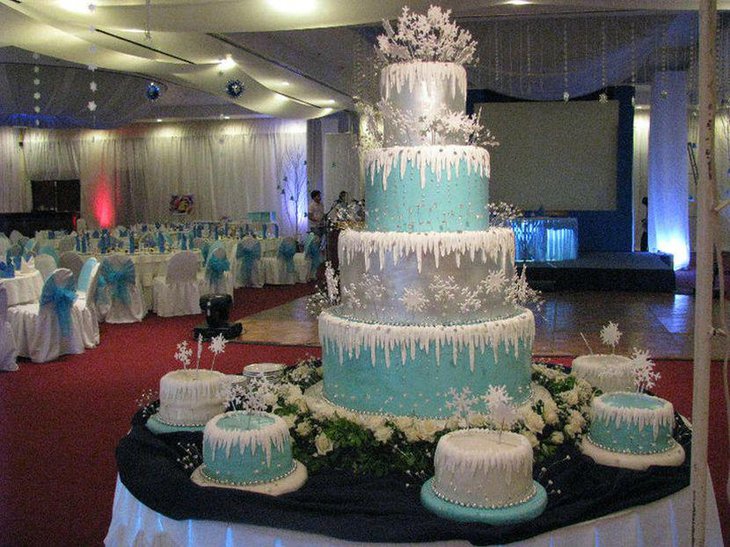 Stunning blue and silver cake decoration with snowflakes on winter table
Image Credit: pinimg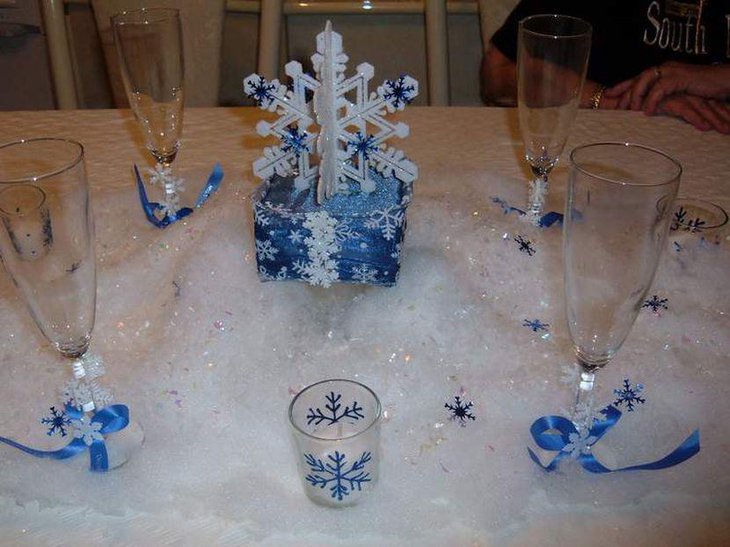 Blue and white snowflake centerpiece for winter party table
Image Credit: shailenefan
Your winter tables must look unique, and for achieving a dramatic effect, you must look at the above showcased *winter table decorations* without wasting any time! Do enjoy looking at these cool pictures and savor this cool season!