The arrival of guests is the best gift you would ever receive for your wedding. The ceremony wouldn't sound like one if none of the guests honored your invite. It is for this reason that you need to give the guests the attention they deserve. One of the sure ways of making them feel comfortable and appreciated is adoption of amazing table name ideas. When guests arrive at the reception, they will be directed towards escort cards or a seating chart to guide them to their seats. Well, you could simply have wedding table number holders with numbers 1-50. But this is quite standard and doesn't add any personality to the wedding. Why not take your time and do something stylish, fun or expensive? Here are some great wedding table name ideas that can help you show your creativity and make the wedding unique.
Table Decorations For Wedding That Tell A Story
The best wedding table number ideas will either fit in the theme or tell a story about the groom and his bride. The table decoration is one area that you should find some fun and bring out some creativity. Even if you do not consider yourself to be a creative person, you can always have some wedding table names or wedding table number ideas that bring out the best in you. This works perfectly even when doing a traditional wedding. If chosen well, the wedding table numbers will drive home the feeling you want to bring out with the table name ideas.
Cardstock and glued Swarovski crystals on them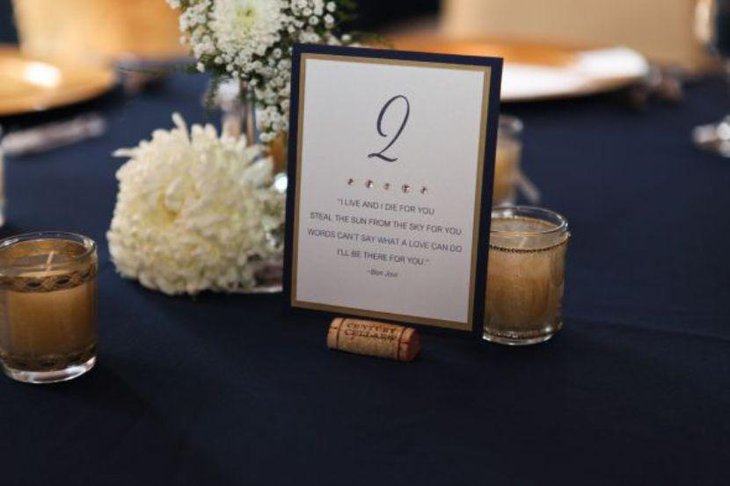 Image Credit: weddingbee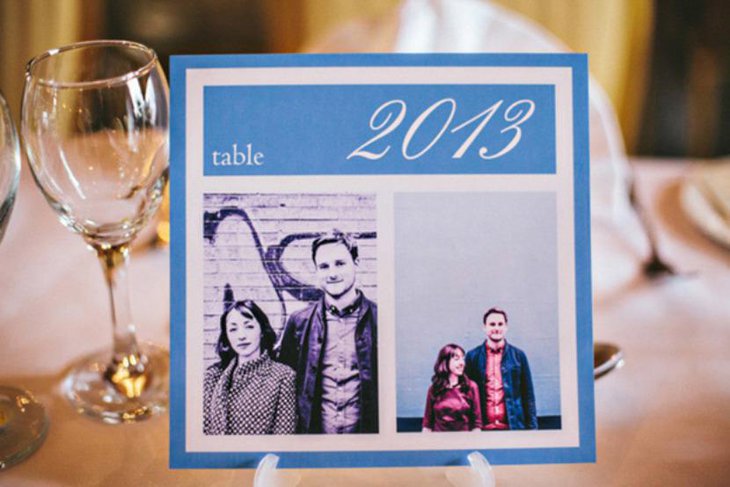 Date and Photograph Table Name
Image Credit: onefaday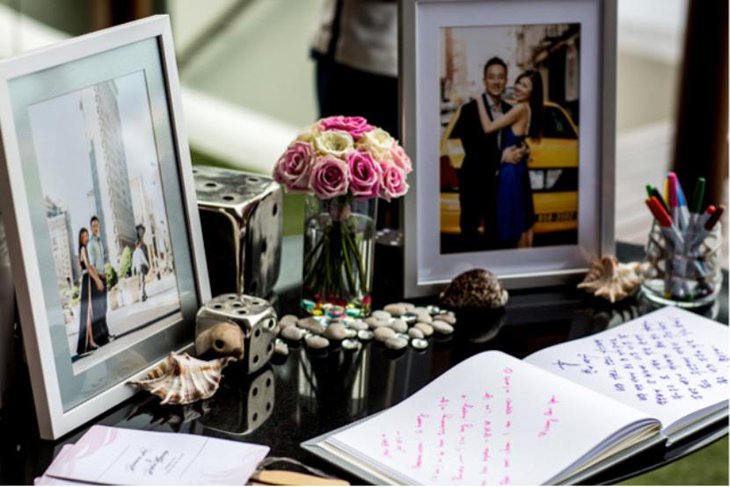 Stories about the couple used as table pieces
Image Credit: amazonaws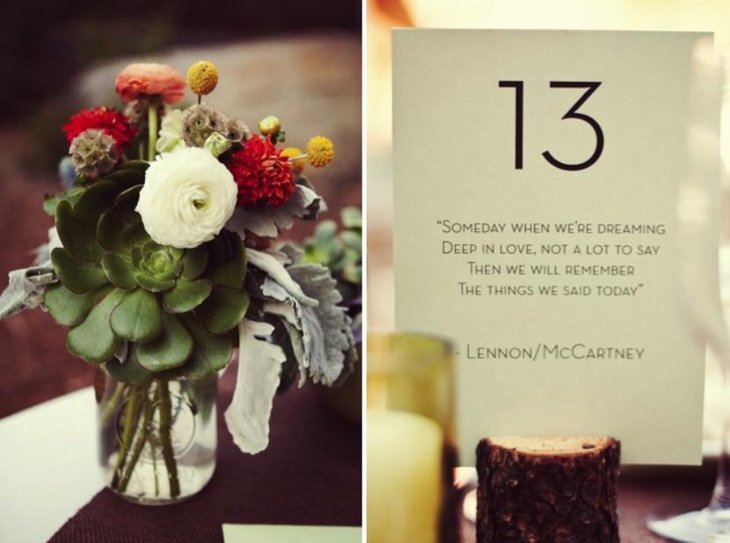 Tell a story about the past in an easy way
Image Credit: pinimg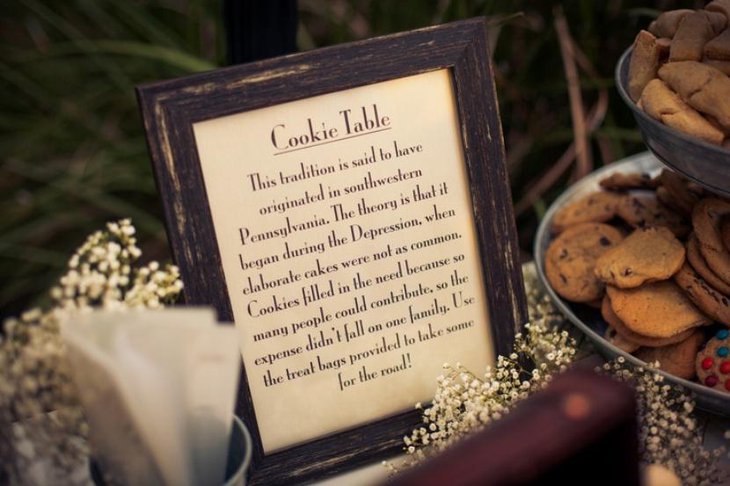 Telling a story about the foods served
Image Credit: pinimg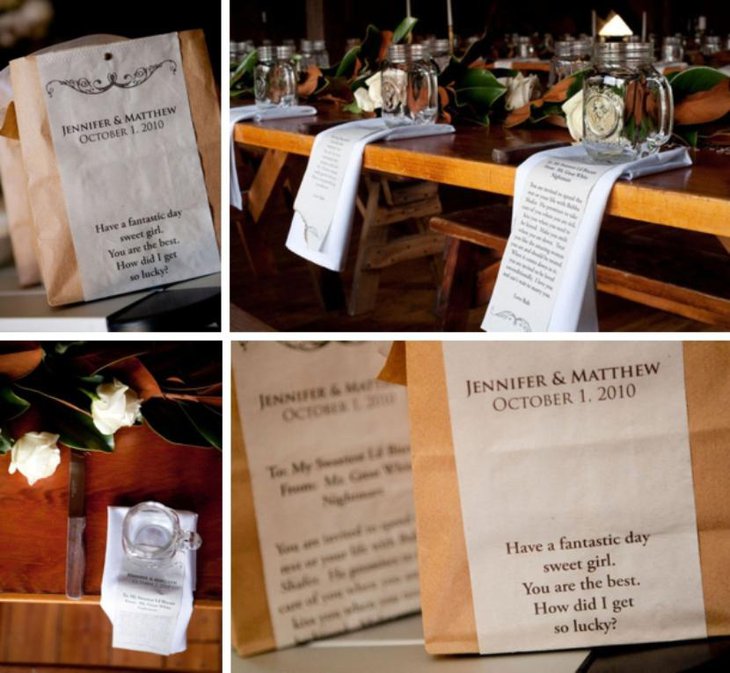 Wedding table decor with love words
Image Credit: southboundbride
Bring In Celebrities In Table Decorations For Wedding
If you have a particular theme for your wedding, choosing the wedding table names will be a snap. Let's assume that you are planning to have an old hollywood glamour wedding. If this wedding will be completed with a red carpet and bridal jewelry sets, the table decorations for weddings can have wedding table number holders with names of popular movie stars.
You can even be more creative with your wedding theme to bring out the best table name ideas. If you are having a tropical theme, you can choose wedding table names such as hibiscus, luau or pina colada. These table name ideas will fit in the theme and also bring out some creativity. It may seem hard to achieve but once you have set the ball rolling you will even have more wedding table names than the tables you have.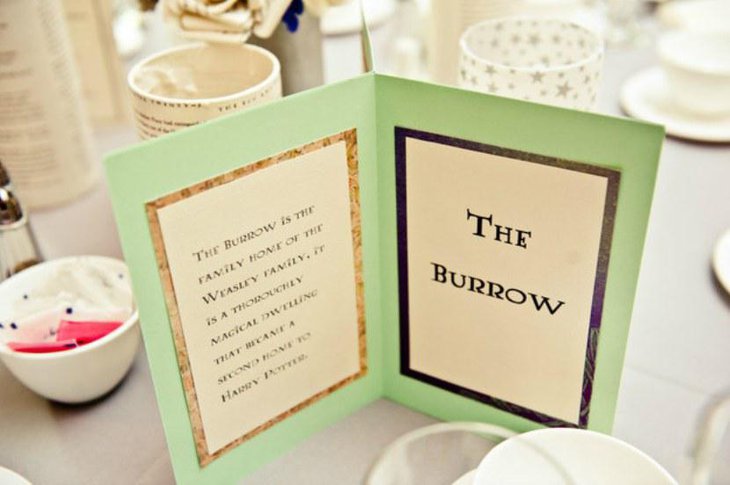 Name the tables after Harry Potter
Image Credit: Buzzfed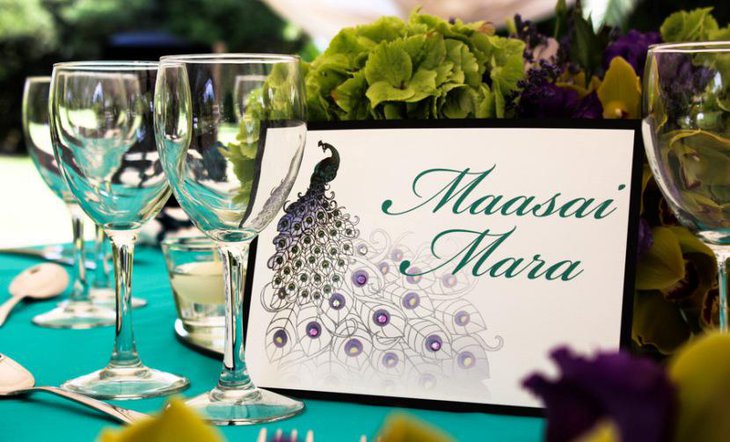 Peacock Wedding Theme Table Name
Image Credit: Nulkinulks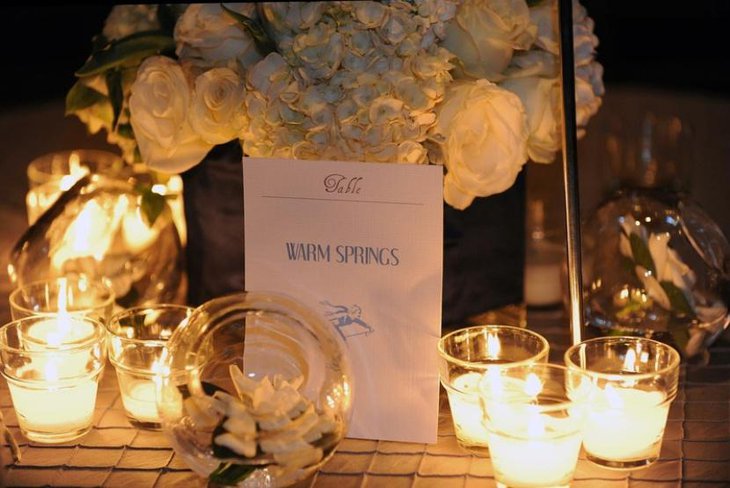 Snow related table name
Image Credit: Cloudfront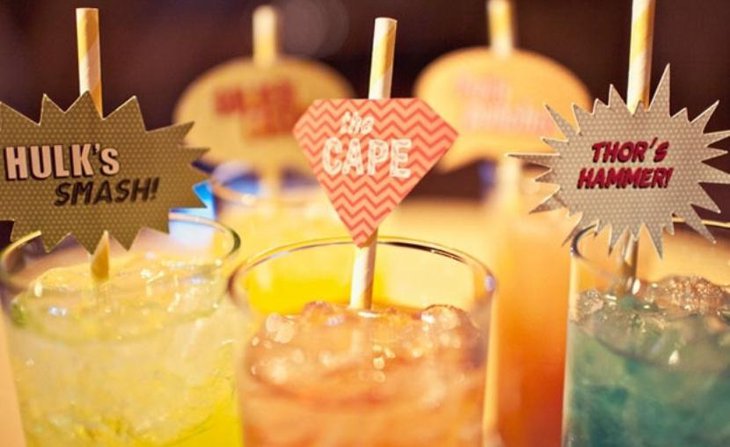 Superhero inspired names
Image Credit: Huffpost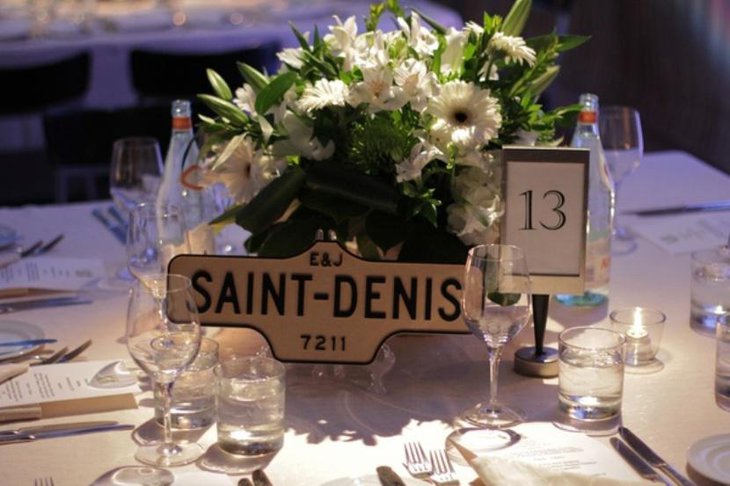 Toronto street sign as name of wedding reception table
Image Credit: Cloudfront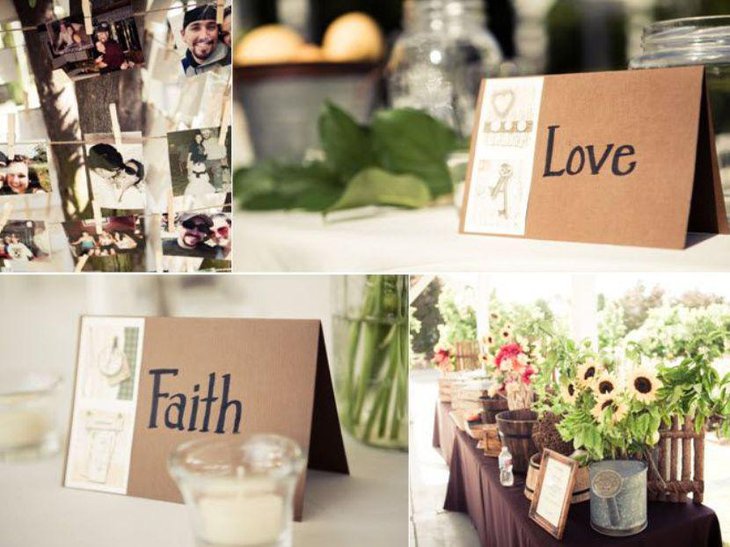 Country chic wedding flowers
Image Credit: Onewed
Chalkboard Wedding Table Ideas
Working with wedding table number ideas is a little different from working with words or names. Numbers limit your creativity as they remain the same, numbers. However, how you present these numbers makes all the difference. You can use chalkboards to number your tables. This is a trend that is gaining popularity all over the world. Chalkboards are great table decorations for weddings as they fit perfectly in casual weddings, country themed weddings and vintage weddings. Actually, they can fit in almost any wedding theme.
The ease of using chalkboards for table decorations for weddings makes them even friendlier. You just need to write the table numbers by hand. To make it more impressive, use colored chalks. Each table can have its unique color making it unique. You can use block numbers or fancy wedding table numbers for the table decor.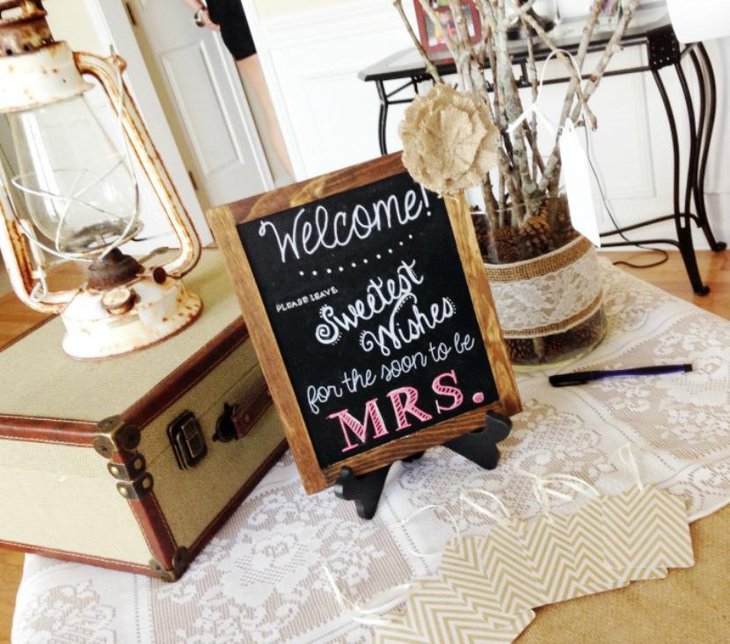 Amazing chalkboard wedding table names
Image Credit: Reasontocomehome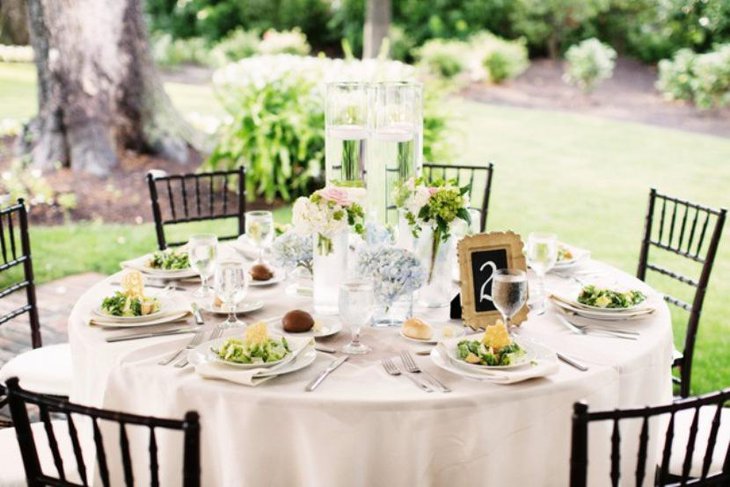 Bar Chalkboard
Image Credit: Bigflourish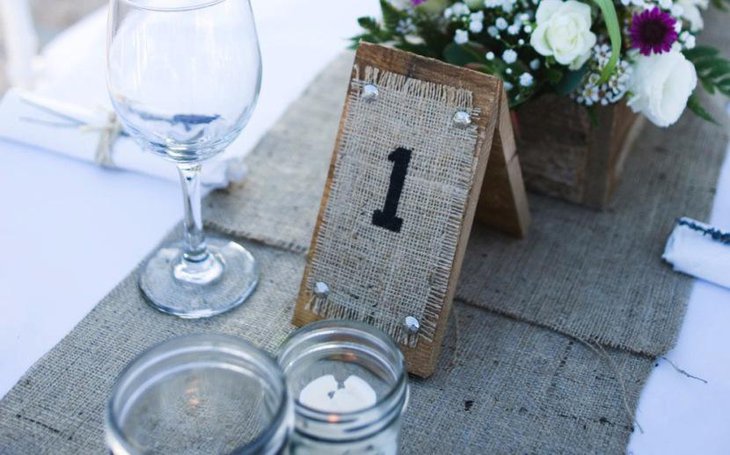 Rustic wood and burlap wedding table
Image Credit: Onewed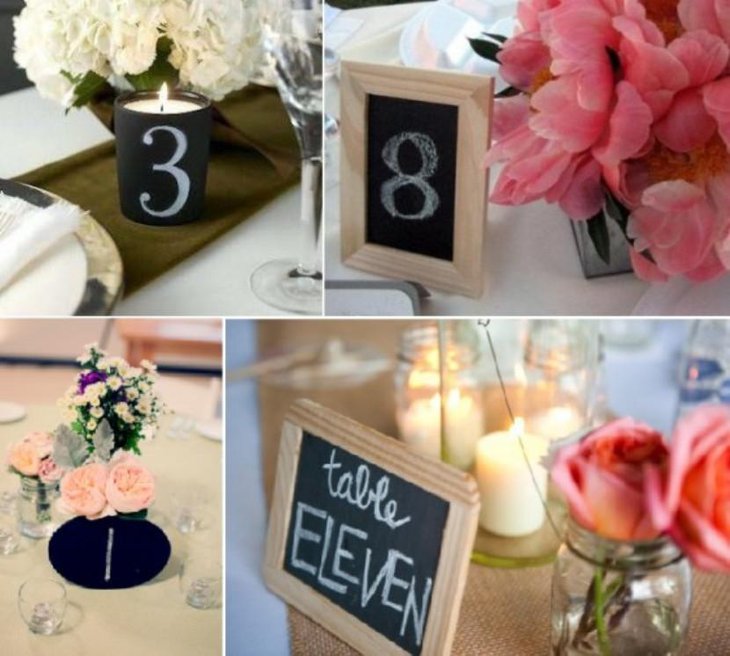 Chalkboard table numbers
Image Credit: Simplypeachy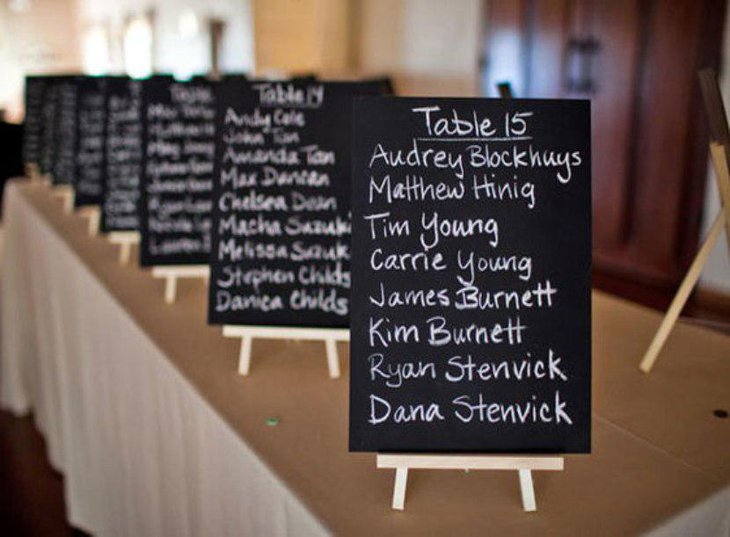 Outdoor Decor Ideas
Image Credit: Benessamy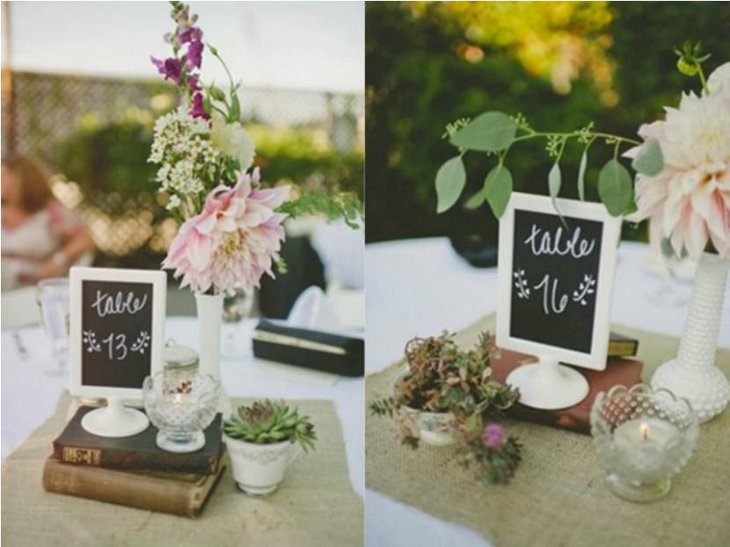 Wedding ceremony chalkboard table name ideas
Image Credit: loveandlavender
Placing Wedding Table Numbers On Folded Cardstock
Many people want to go for the simple yet elegant table decorations for weddings. The use of folded cardstocks is one of the simple and elegant table name ideas that can work for any wedding. If you are planning to have a black and white wedding, you can bring out your creativity by printing the wedding table numbers in the center with black borders. You can go a step further to alternate the color scheme. For instance, for the even numbered tables, you can have white numbers on black cards and black numbers on white cards for odd numbered wedding tables.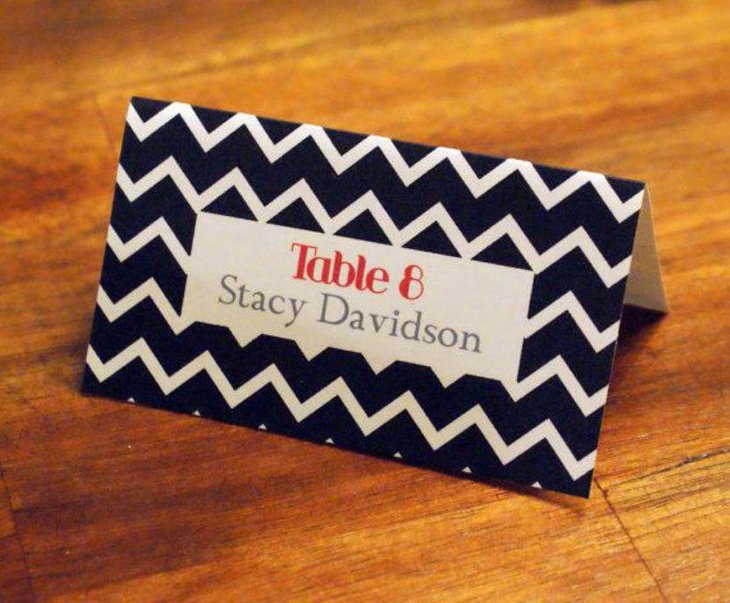 Chevron Place Cards
Image Credit: Pinimg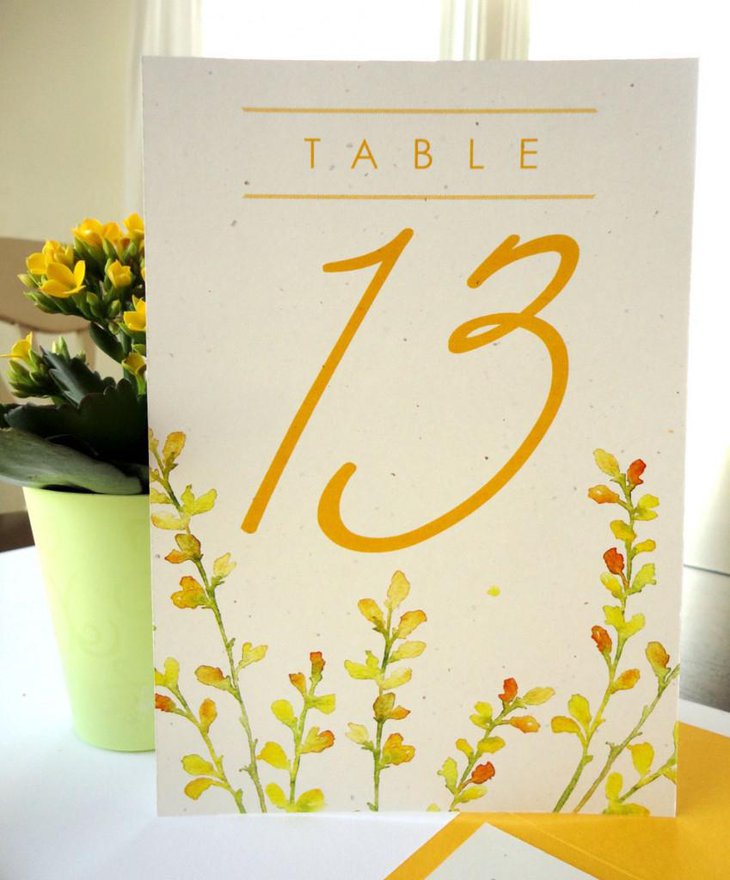 Eco-friendly yellow green baptisia table number
Image Credit: Nooneyart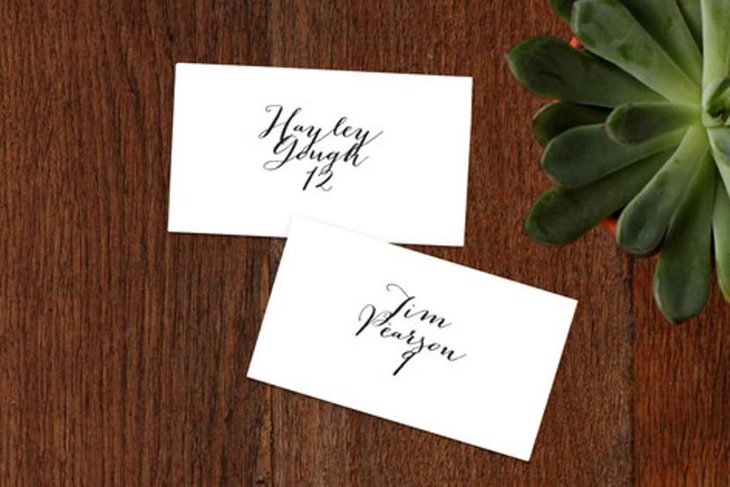 Modern Mint Wedding Place Cards
Image Credit: Minted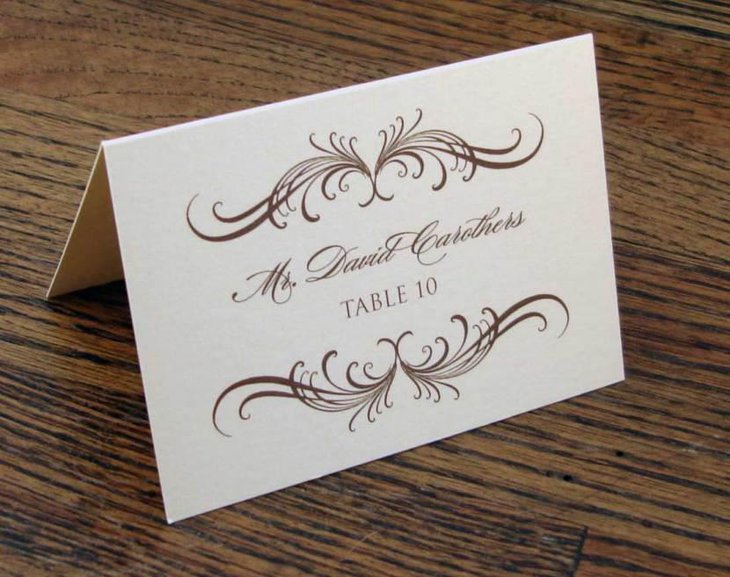 Place card with name and table number
Image Credit: Gentlemansgazette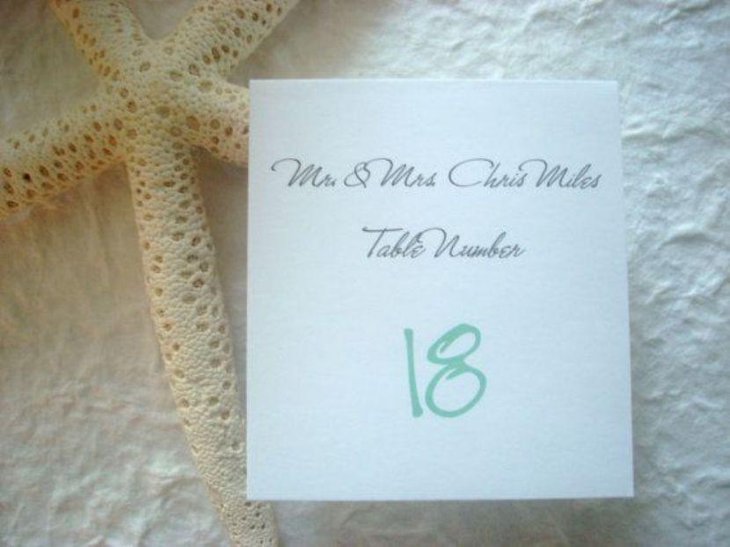 Weddings Place Card
Image Credit: Pinimg
Placing The Table Numbers Into Flower Pots
When working with table decorations for wedding, the wedding table number ideas will need techniques of holding the numbers in place. This can only be done with the use of wedding table number holders. Having flower pots as your wedding table number holder is a fun idea especially for casual and country weddings. You can make different colored flowers from cardstock or construction paper. After this, you can print the table numbers on the cut outs and attach them to a post which serves as the stem. Place the flower pot filled with brightly colored marbles or stones to complete the decor.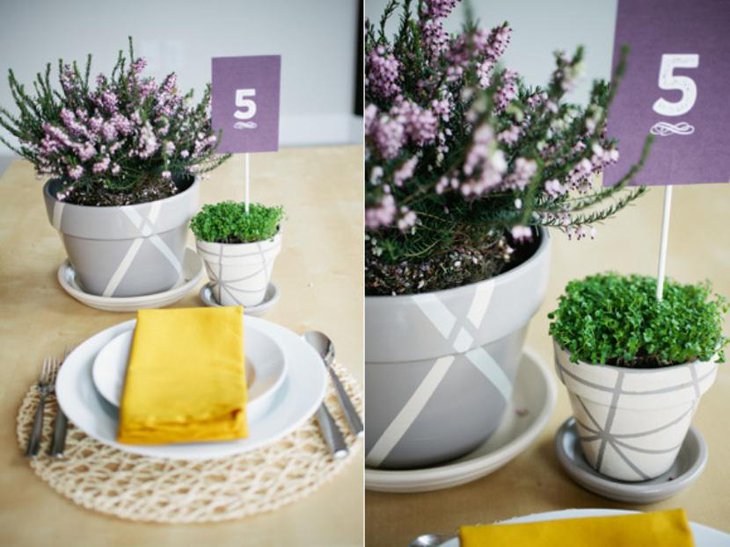 Flower pots paired with a pop of color in the napkins
Image Credit: Marrythis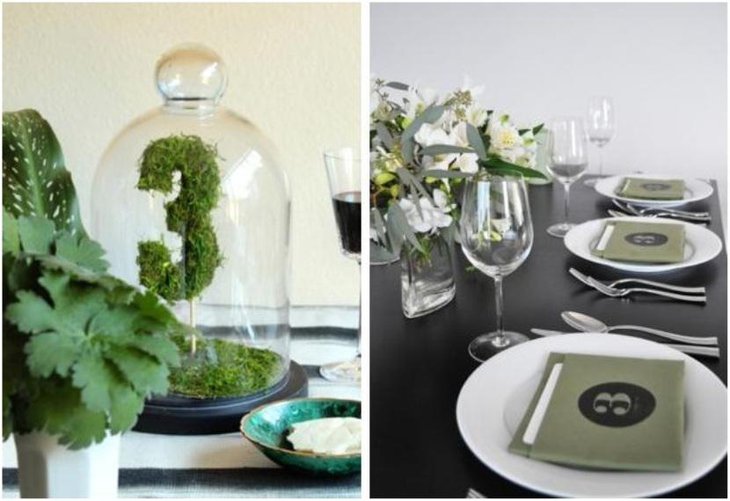 Table number potted in a unique way
Image Credit: Printmeposter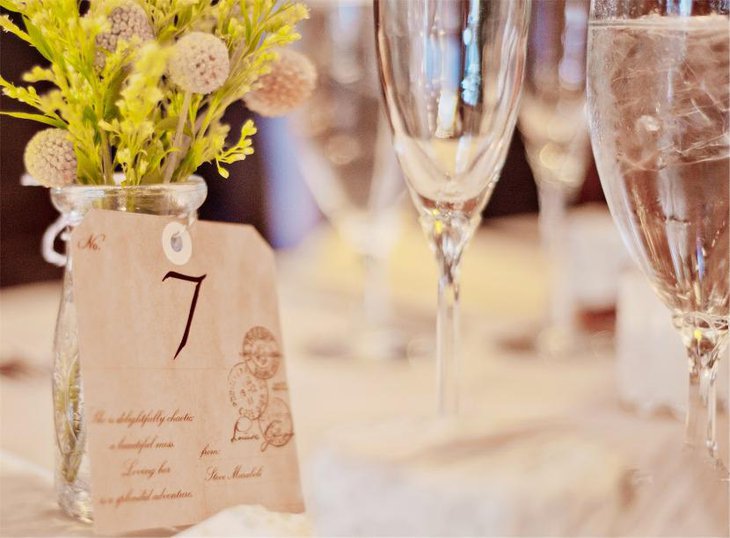 Glass flower pot with brightly colored flowers
Image Credit: Blogspot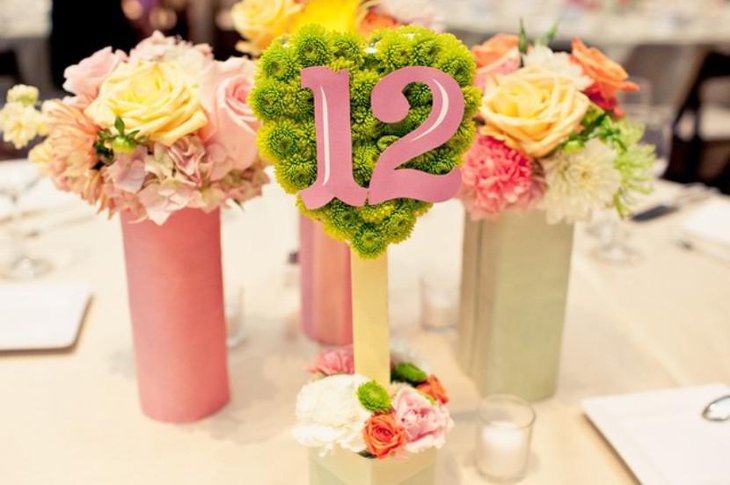 Beautiful wedding table number decor
Image Credit: Brocadenashville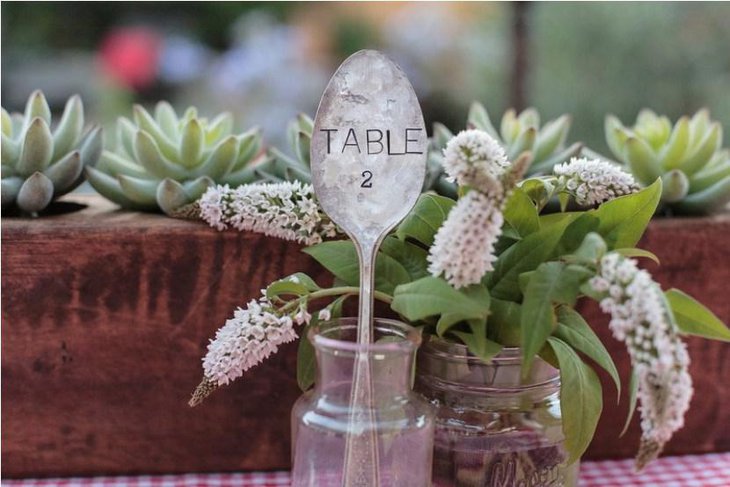 Vintage spoon table number idea
Image Credit: Emmalinebride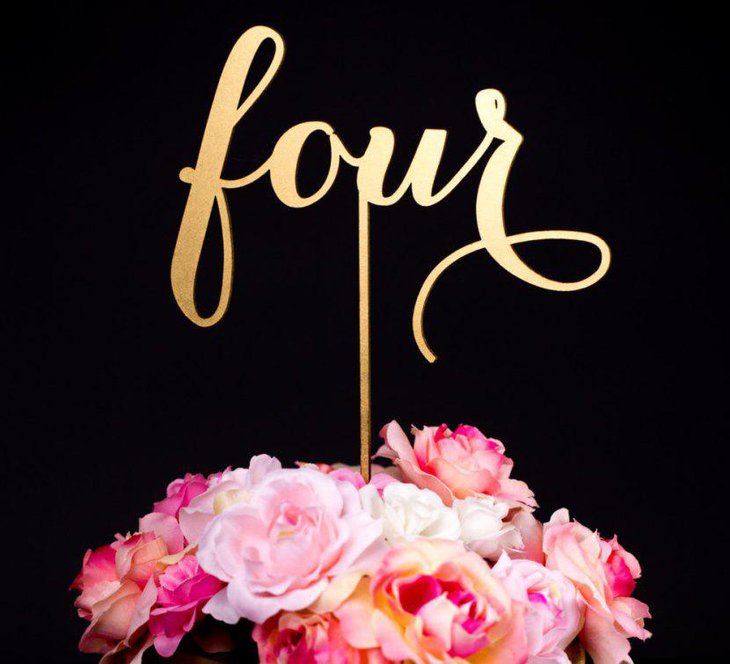 Wedding Table Numbers or Cake Toppers
Image Credit: Etsystatic
Use Small Easels As Your Wedding Table Number Holders
The use of easels is fun and can be adopted for any type of wedding. The beauty of using easels is that you can bring out your creativity in the table name ideas without much of a stretch. For musicians, easels are used to depict music sheet holders. You can print the table decorations for wedding inside the small easels and canvases. If you want to bring out your artistic side, you can paint colorful numerals on the easels.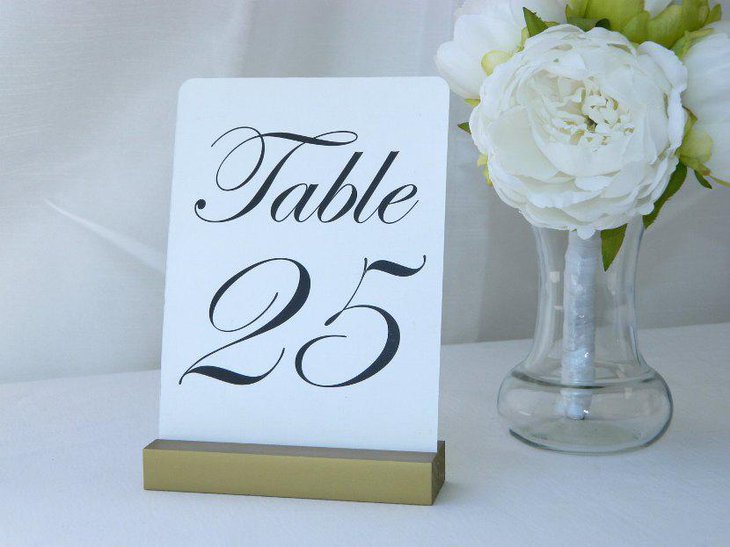 Antique Gold Wood Wedding number Holder
Image Credit: Etsystatic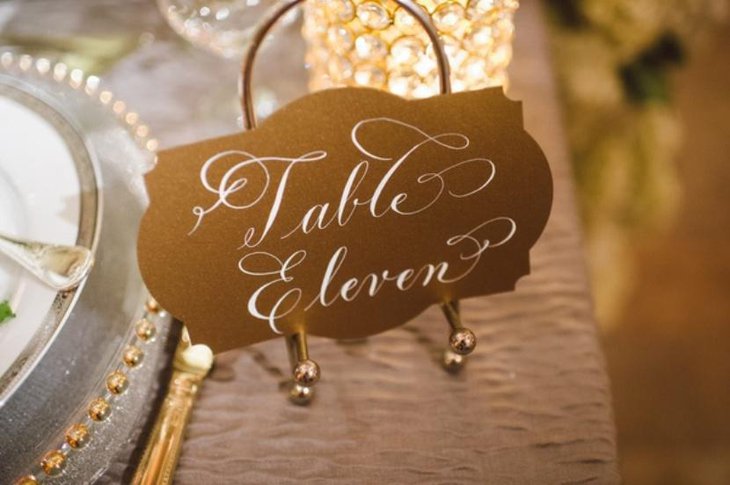 Art deco inspired table numbers on gold easels
Image Credit: Cloudfront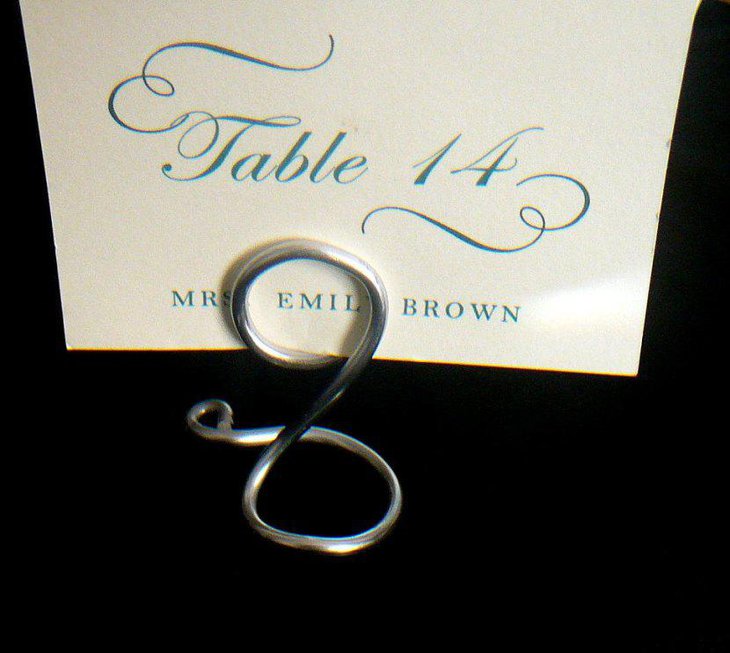 Small Silver Place Card Holders
Image Credit: Etsystatic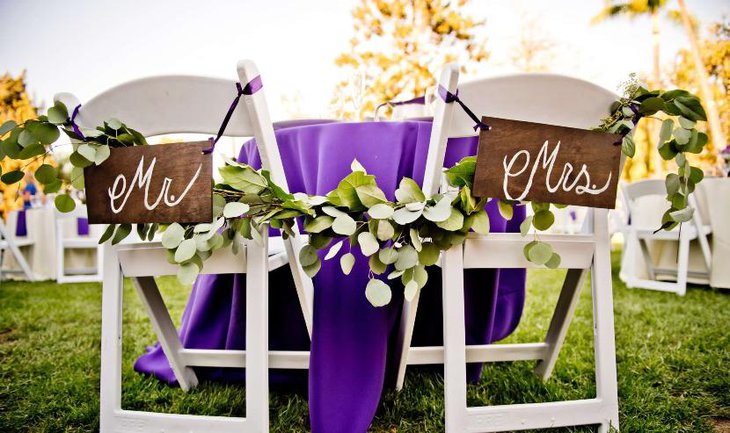 Table Numbers and Easels for the bride and groom
Image Credit: Mtwoodsoncastle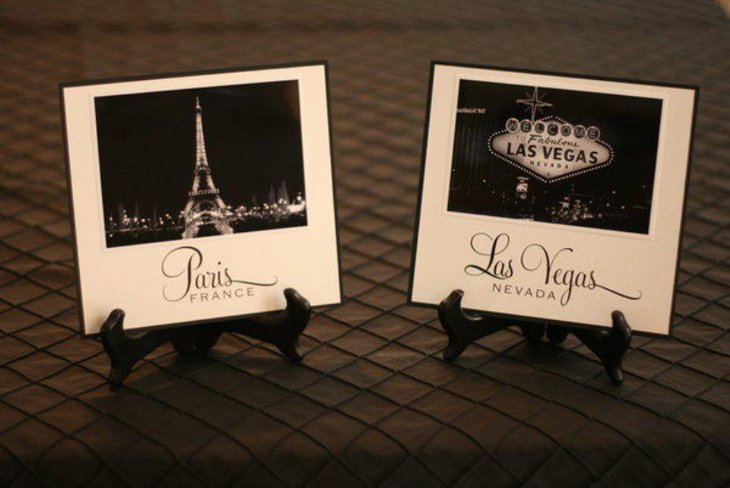 Table Numbers painted on a mini easel
Image Credit: Amazonaws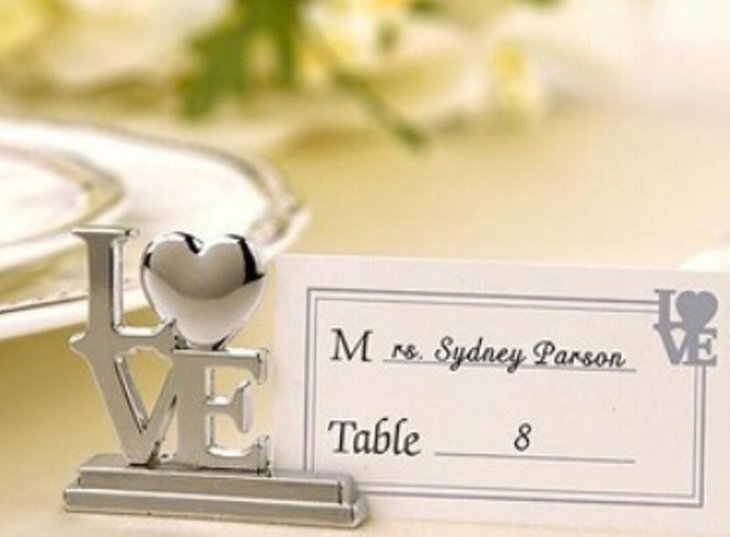 Wedding table number menu clip
Image Credit: Alicdn
With the above guidance, getting the best *table name ideas* shouldn't be a daunting task for you. Feel free to show your creativity in the ideas. This will make you feel proud of yourself and also bring some comfort knowing that you have what you always wanted.