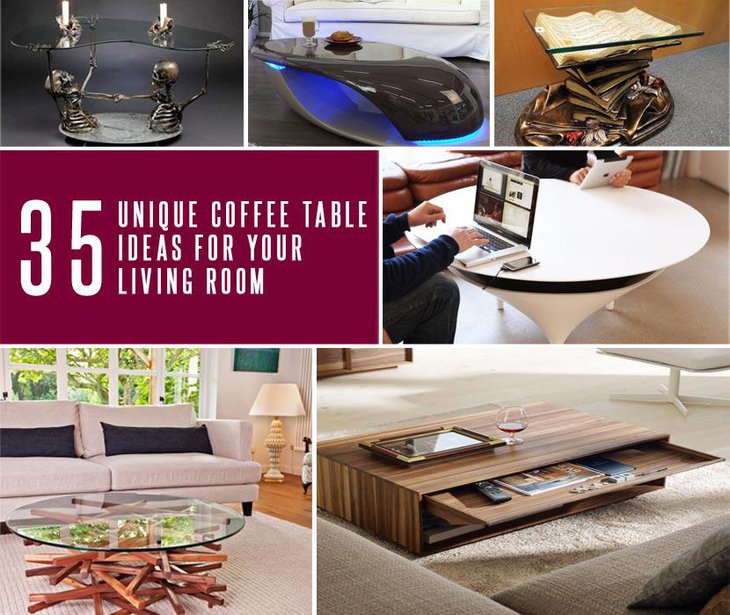 Compliment the style of your living rooms by incorporating any one of these 35 unique coffee table ideas that are about to be presented below. You must have visited homes of your friends or relatives, and may have been smitten with their unusual choice of decor elements used in living spaces. How about trying something new for yourself this time when you renovate?
Here, we are hinting towards placing unusual looking coffee tables to act as decorative accents in your living room. A coffee table, we all know is much more than a normal piece of furniture to keep your mug of coffee. It is also a place where you put away the worries of the day and relax.
The ideas showcased have been specially handpicked by our team and put forth in an amazing collection worth your read. These coffee tables can act as centerpieces by themselves as they are crafted by famous and artistic designers that think out of the box. These tables are unusually designed and can put even your Picasso to shame!
So, without wasting your time, lets get started and look at some of the most outstanding work of arts that will make you swoon!
Unique Coffee Table Ideas In Wood
Wood is one of the most popular choice when designing and crafting furniture like dining or coffee tables. We seldom find any home without a wooden accent. However, gone are the days when designers would simply put forth a few planks and pallets here and there, and then produce pieces that we usually term as mass products. The designers of today think out of the box and constantly search for innovative designs to satisfy the new age customer who wants uniqueness in every thing.
Here, you can all feast your eyes at some of the most stunning and unique wood coffee tables that are presented below. Some of these coffee tables are fit for modern living rooms while a few can also be featured in rustic settings. The wooden coffee table with a sliding shelf looks alluring and can be used for storage. You can also combine wood and metal to form into spectacular looking coffee tables.
Unique wooden coffee table with a slider for storage
Image Credit: pinimg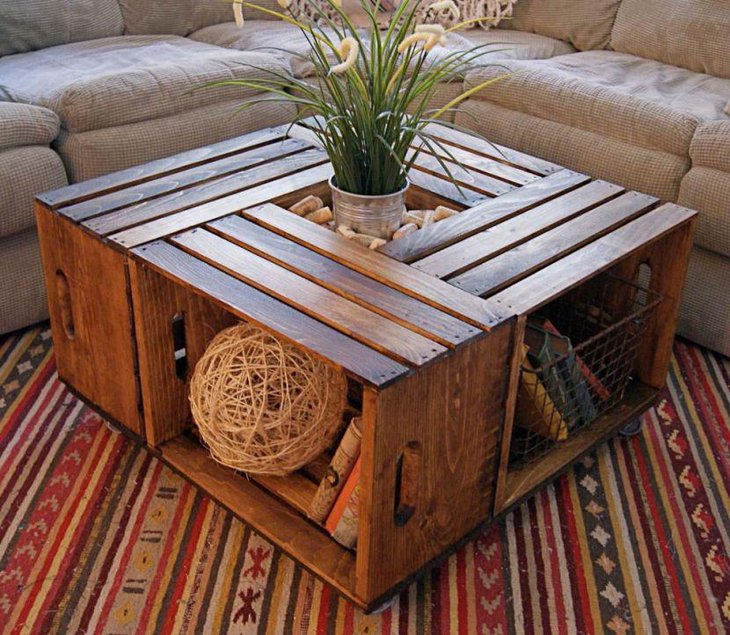 Rustic looking wooden coffee table with storage
Image Credit: cityuc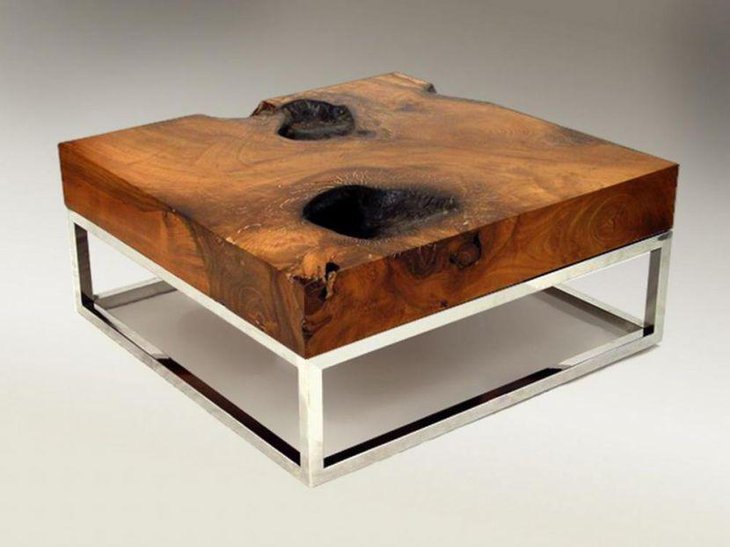 Unique coffee table idea with thick wooden top and metal base
Image Credit: bookofloob
Unusual river coffee table idea for living room
Image Credit: robertoboat
Unique Glass Coffee Tables
Take a look at these unique glass coffee tables and see how different each one of these pieces look. The roundel coffee table in glass looks chic with a different styled base made out of wood. Another design that is perhaps the best of the lot is Nils Finne's Sten Coffee Table that comes with an irregular shape. It surely looks unusual with every corner and contour attracting your attention. The glass top is crafted out of layered lamination of starphire glass while it's base is made out of iron. This eclectic mix of glass and metal lends it a totally different yet unique look.
Also Read: 39 Modern Glass Dining Room Table Ideas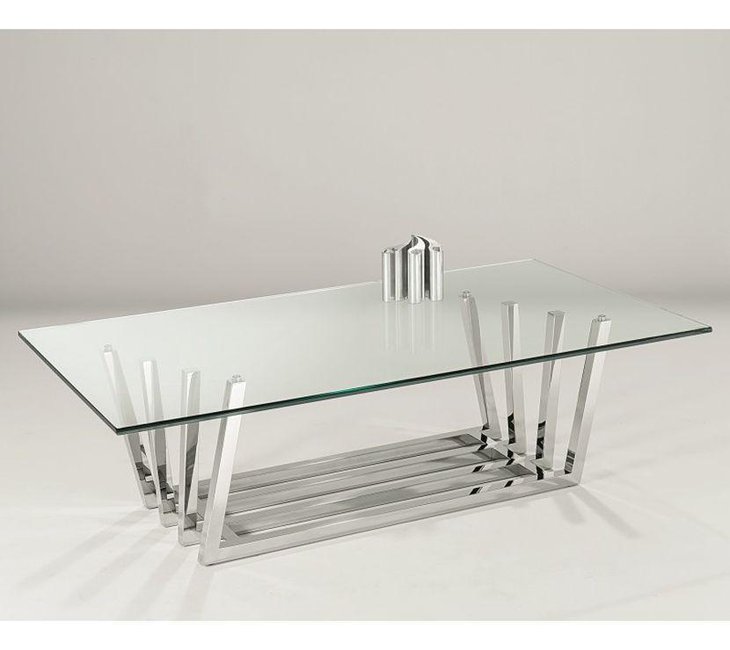 Unique Octad steel rectangular glass coffee table
Image Credit: styleourhome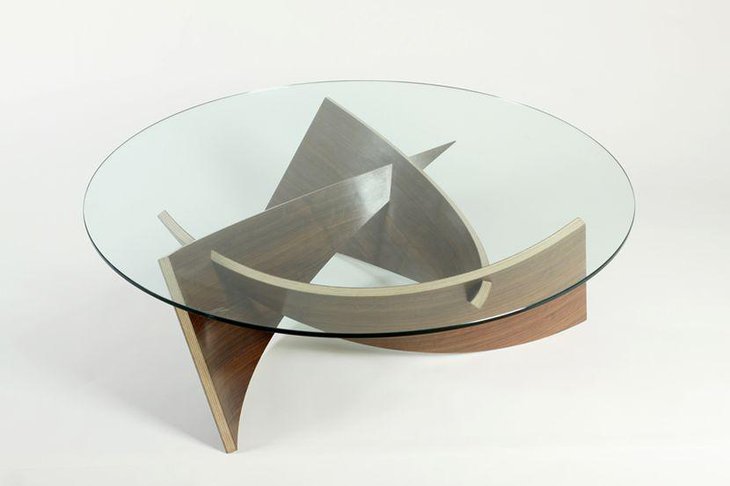 Unusual glass coffee table idea with a unique wooden base
Image Credit: teaone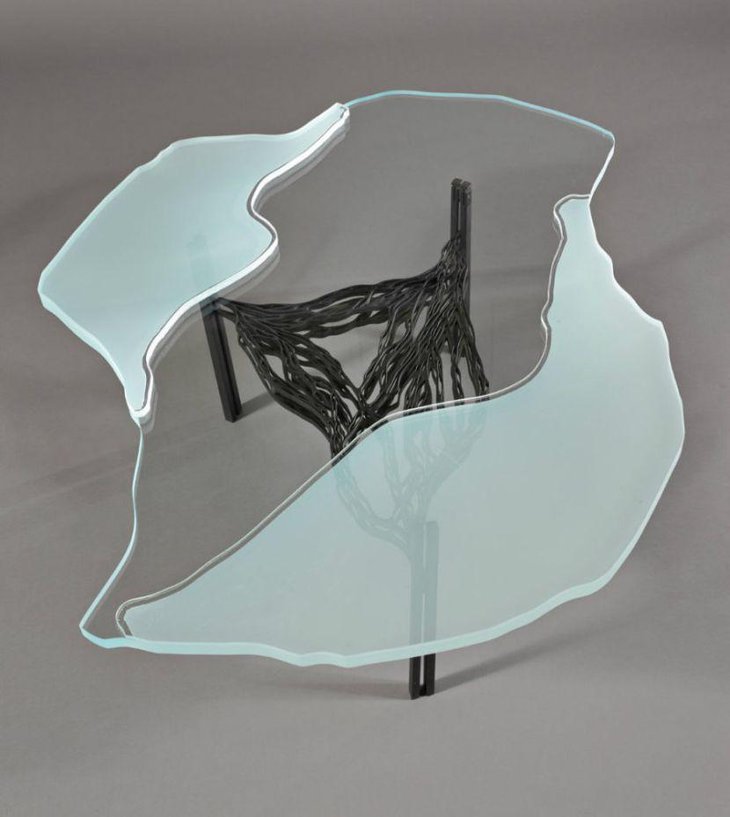 Irregular shaped coffee table with a glass top
Image Credit: mocosubmit
Unique Coffee Table Ideas With Skull
If you thought that skulls and skeletons were meant for decking up spooky corners in Halloween, you are quite wrong as these can definitely be used to beautify furniture pieces. Skull and skeleton coffee tables such as the ones shown below look impressive and creepy. Such tables can be placed not only for celebrating spooky festivals but also at other times in your living areas if you wish to do something unique about your decor.
You have a large number of options to choose here. For example, you can buy a wooden rectangular or round coffee table, the base of which can be supported by metallic skulls on both the sides. Or else, buy a coffee table in wood with a glass top, the corners of which are supported by small skulls on all the four corners. Even, a full grown skeleton body can become the pedestal or base for your coffee table.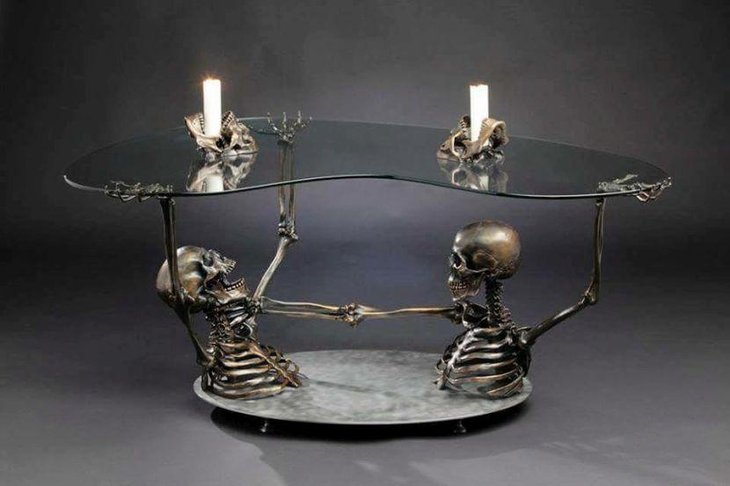 Creepy skeleton glass top coffee table
Image Credit: pinimg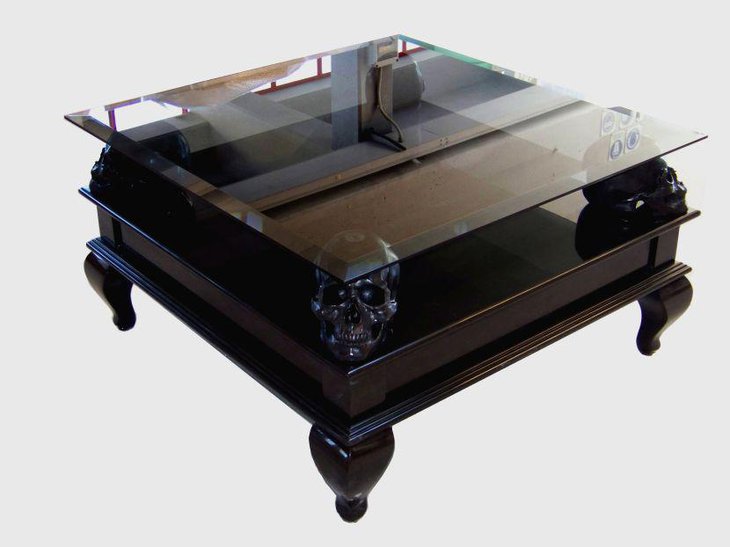 Unique wooden skull coffee table with glass top
Image Credit: pinimg
Unique Abyss Coffee Table Ideas For Living Room
Unusual coffee tables are the flavor of this year and you must deck up your living room with such cool coffee tables in order to create a distinct feel. The coffee table ideas that we are showing here is the famed Abyss that is designed by the world famous designer Christopher Duffy. The design of the coffee tables is such that you get a glimpse of the sea in 3D. The tables in this series are crafted keeping the ocean in mind and look mesmerizing.
The tables are made out of resin and sculpted glass and wood. There is another in this series called Abyss Horizon that also represents the map of the ocean in 3D. It is roundel in shape and is made out of the same materials. The whole design looks dreamy.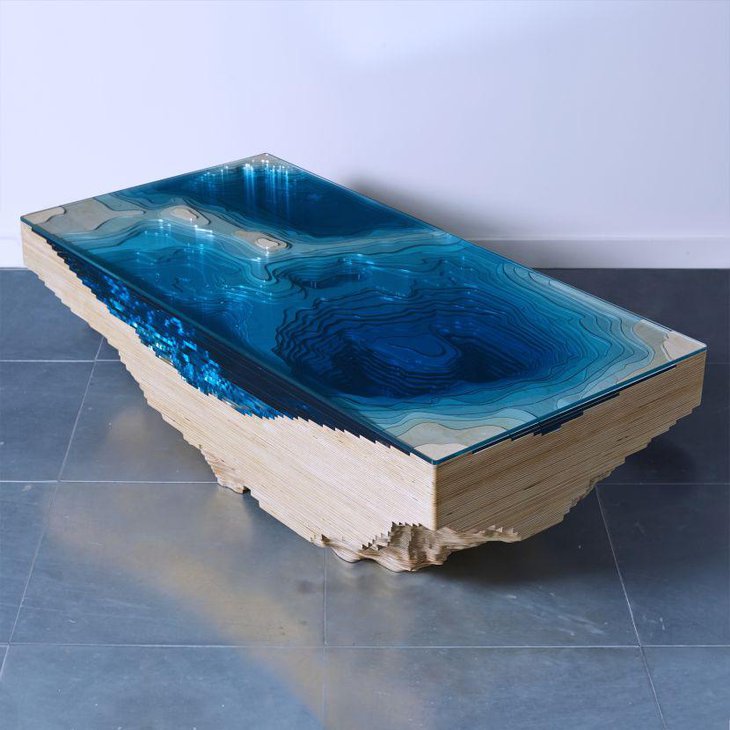 A stunning and very unique Abyss coffee table in rectangular shape
Image Credit: duffylondon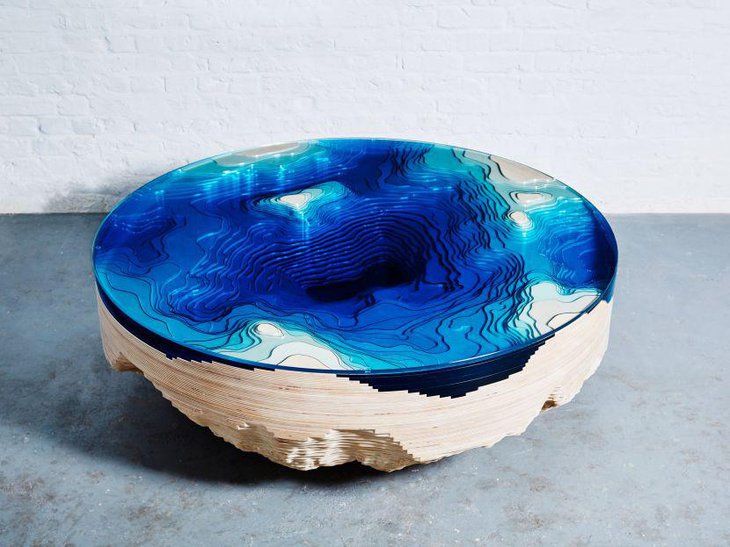 A unique round Abyss coffee table design
Image Credit: wired
Unique Round Coffee Tables For Living Rooms
Coffee tables are accent features to compliment your living room decor. They come in various shapes and round is one shape that is always loved by people. If you are bored with the ordinary round designs, then take a look at these awesome and unique round coffee tables that are showcased below. The first image is that of a designer coffee table called Void, a stunning round table that compliments the style of your living area. Its modern in built with glass top and a recessed shelf to store flat items like magazines and keys. The shelf is sturdy and solid with sleek base.
Next in this round up is the contemporary Acoustable Coffee Table made by the famous designer duo – Wolfgang Bregentzer and Jerome Spriet. Its a futuristic design and is crafted for music lovers that can listen to songs conveniently with the help of a speaker system that is inbuilt in the table's base which looks hollow. The coffee table looks chic and in no way one can imagine that it houses a speaker inside. One can carry the table to other rooms if need be.
The wooden log coffee table also looks pretty unique and is quite sturdy. It can be teamed up with rustic elements in your living rooms. Similarly, you can choose round coffee tables with metallic hints.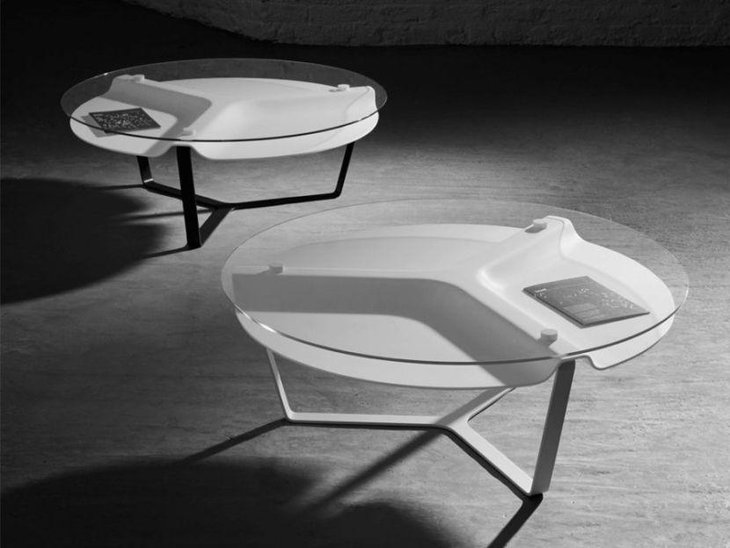 Round Void coffee table design for your living room
Image Credit: trendir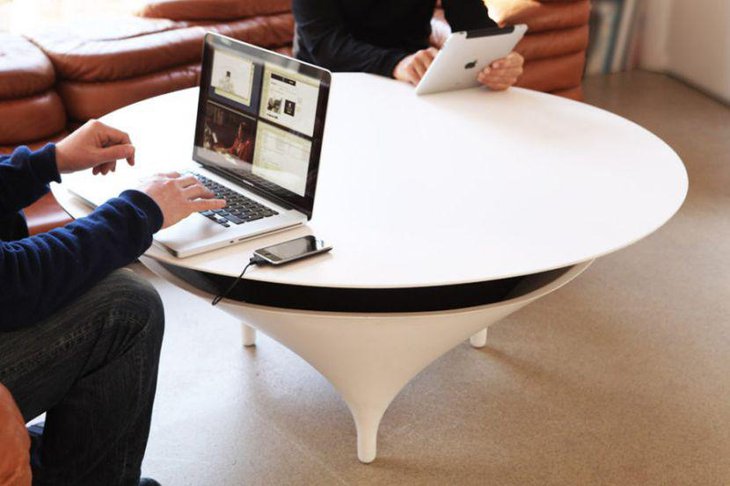 Round Acoustable coffee table design for modern living room
Image Credit: masculin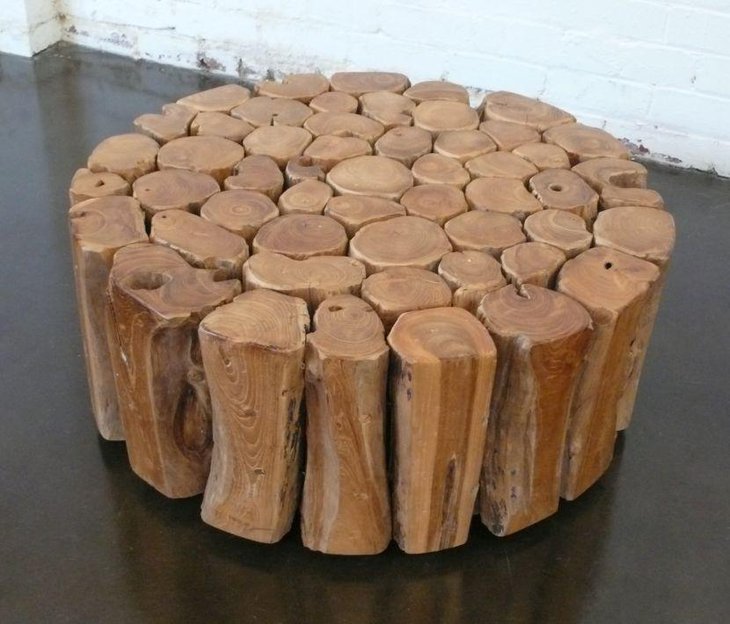 Unique round wooden log coffee table
Image Credit: tables4you
Captivating coffee table design in roundel shape
Image Credit: wegoracing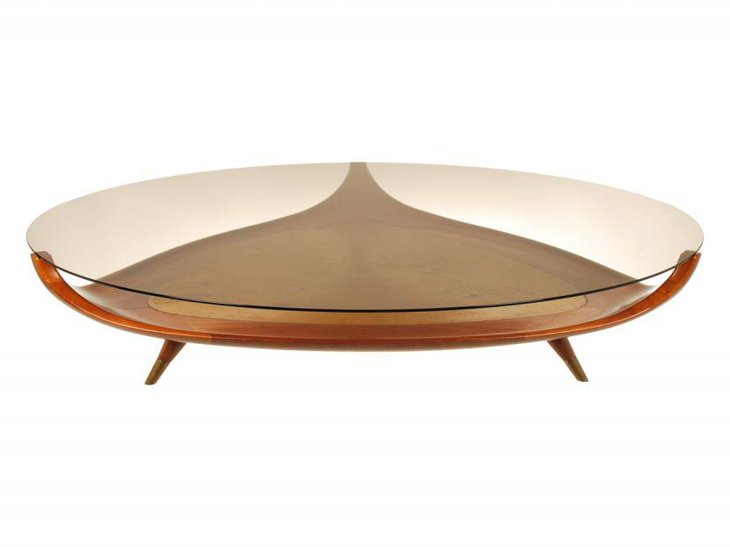 Unique wooden and glass coffee table design
Image Credit: artflyz
Unique Coffee Table Ideas With Designer Bases
The unique coffee table ideas showcased below are stunning pieces of art by famous designers. These coffee tables appear distinct because of their bases. A simple coffee table can look chic and trendy with a designer base or pedestal that could be crafted out of any material like wood, metal or concrete. If you love concrete, then you must choose Concreto, the first coffee table design showcased below. Its designed by Daniele Ragazzo who made the top with a fiber rein-enforced concrete while the base is built out of colored glass shards.
The pink glass topped coffee table looks astonishing with its gym inspired base resembling dumbbells. The color pink is unique and looks stylish with the metal base. The Nest Coffee Table with a round glass top and base made of solid timber looks unusual. It is pretty sturdy. Last in this roundup is the musical themed coffee table, the base of which resembles stacked up books.The base is made of metal while the top is made of glass.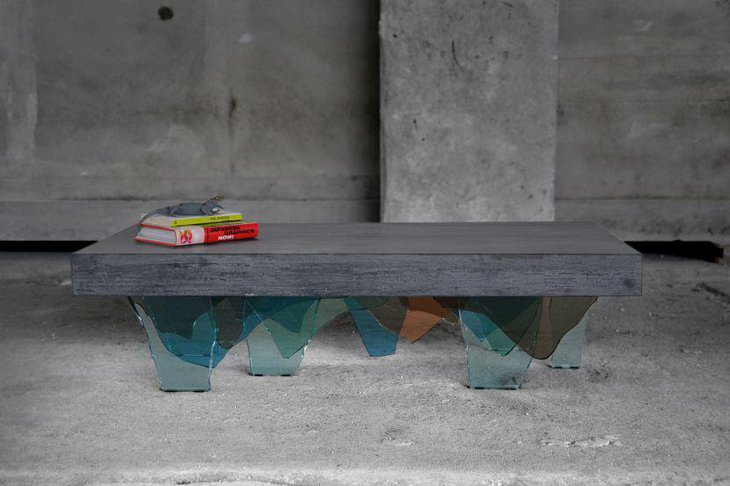 A concrete coffee table with a base made of colourful glass shards
Image Credit: danieleragazzo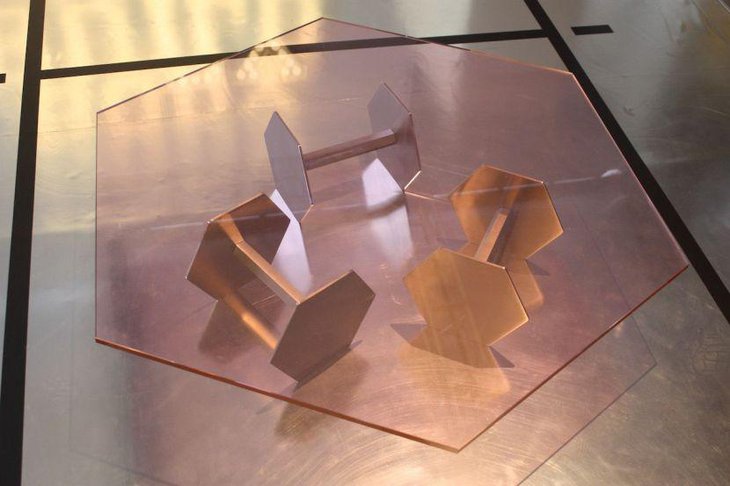 Unique pink glass top coffee table with gym inspired base
Image Credit: homedit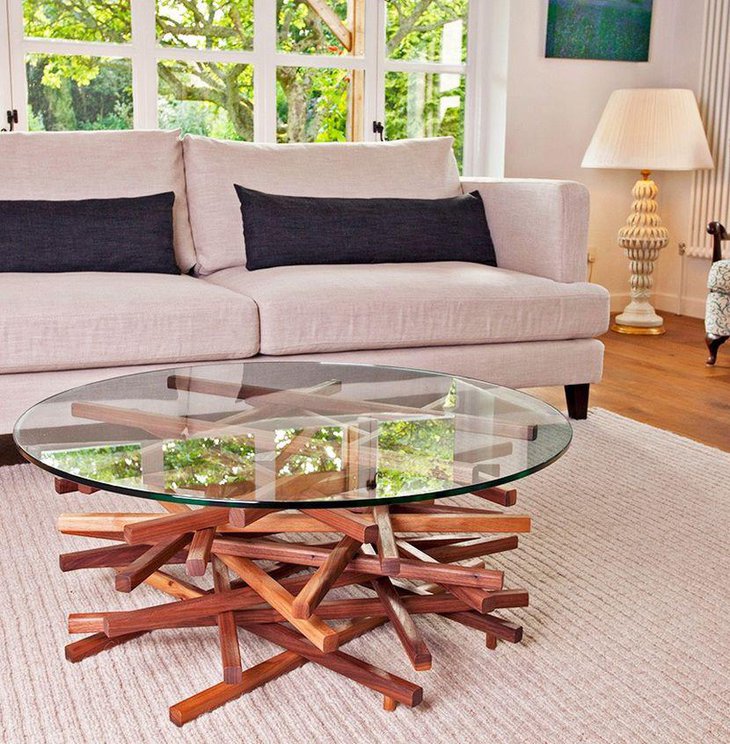 Nest coffee table with unique timber legs
Image Credit: britcdn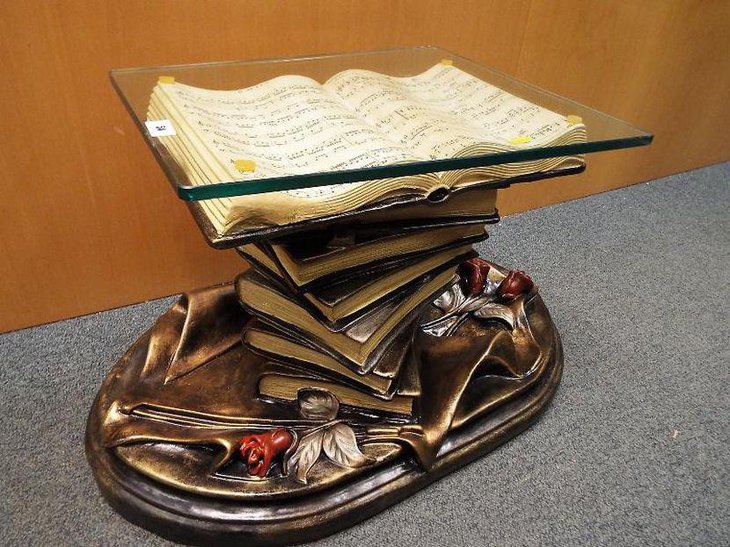 Musical themed coffee table with a base showing stacked up music books
Image Credit: globalauctionplatform
Unique Rustic Coffee Tables
Rustic always looks different and chic, but the ones that we are about to show you will take your style meter to another level. All these images are of unique rustic coffee tables, each unique and innovative in their own way. For example, the concrete top coffee table with driftwood base looks smart. Its the base that lends the whole table a rustic look. The uneven edges of the concrete table appear unique along with the thick wooden base.
The Rug Coffee Table crafted by Alessandro Isola is a stunning piece of design and lends a very peculiar look to this living area. The name of the table is 'Stumble Upon' as one can never imagine that the rug they are seeing spread out just before their eyes is actually a coffee table. The corner of the rug is folded to be used as a coffee table. It's look is rustic and this works wonders for the living room.
Natural wood is a much preferred choice with rustic themed coffee tables. It can come with non chiseled edges and can suit country themed living rooms perfectly.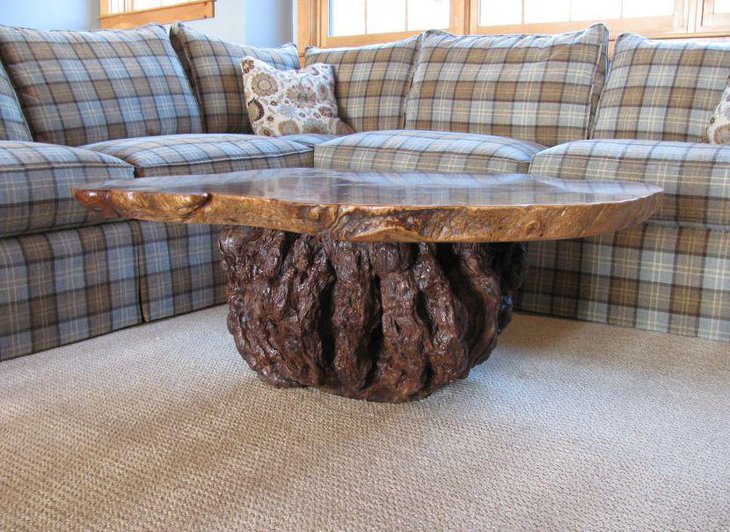 Modern rustic coffee table in stone
Image Credit: robertoboat
Unique rug coffee table design
Image Credit: fotky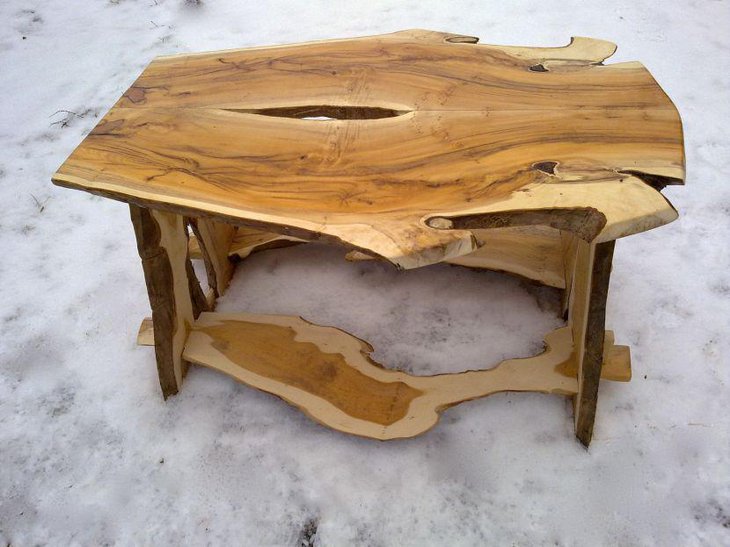 Rustic and unique natural wood coffee table
Image Credit: mostkshf
Unusual Coffee Tables With Futuristic Designs
Below are rounded up some unusual coffee tables with futuristic designs. Futuristic coffee tables are in vogue and are heavily demanded by people. As the name suggests, these coffee tables bear the look of the future and are functional to the core. The uniqueness lies in the concepts thought and imagined by designers that are just out of the box. For example, the black and grey coffee table with glassy interiors. Its oval look with polished exterior can add chicness to any living area.
The Wave City Coffee Table has been inspired by the movie 'Inception' and looks as if its a part that's come out of the film directly into your living room. Its designed in steel, and mixed wood and bears the look of the Wave City from the movie. The wave is built inside the table and not on the top. The whole look resembles an inverted city.
There is an equally appealing coffee table with inbuilt LED that can be used to add sparkles to your interiors. It looks sleek and seems as if you have obtained it from some spacecraft.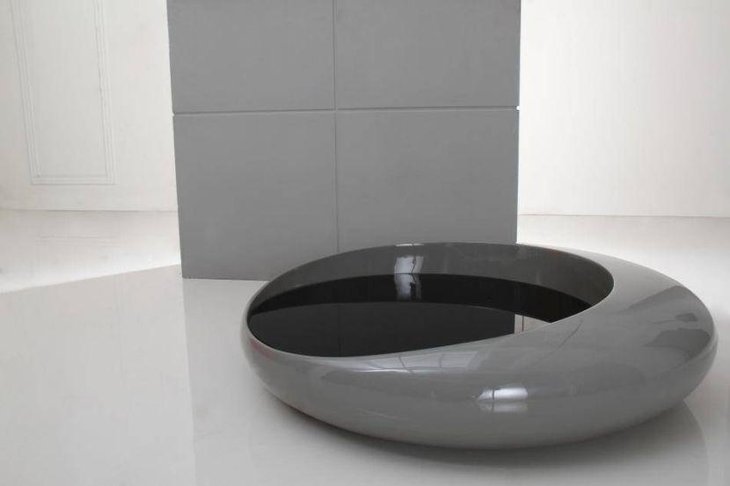 Futuristic glass interior coffee table
Image Credit: mostkshf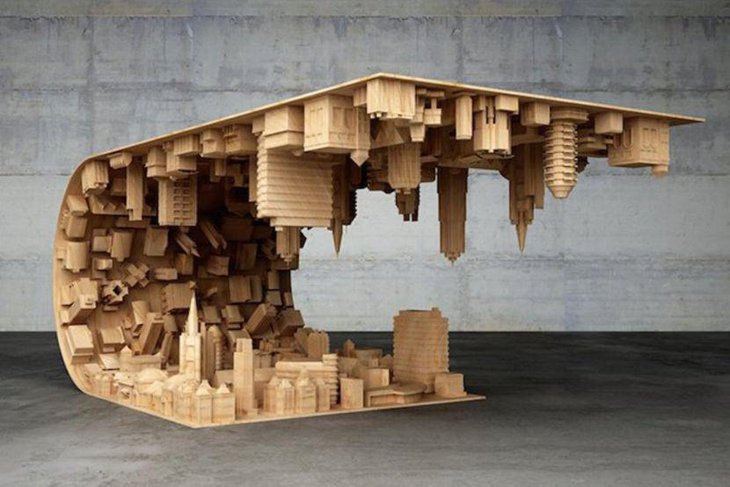 Wave City coffee table design
Image Credit: shortlist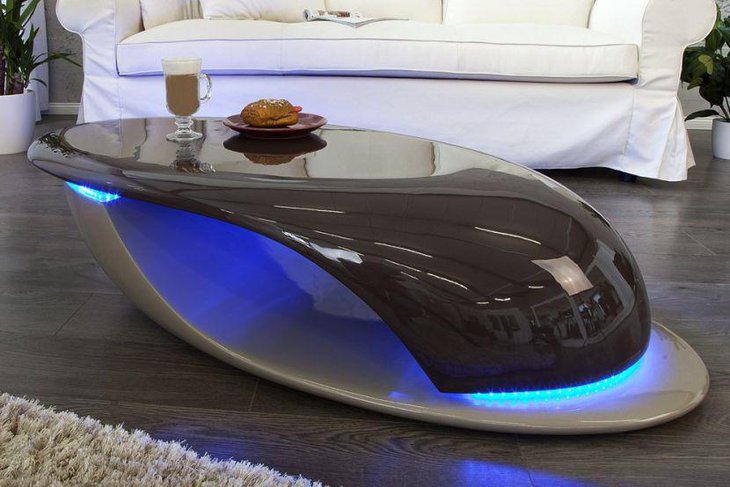 Unusual futuristic coffee table design with inbuilt LED
Image Credit: blogspot
Unique Coffee Tables With Storage
Here are some fabulous and unique coffee tables with storage that you will enjoy. These coffee tables, apart from looking stylish are also very functional. You can use these to store a variety of things, ranging from books, magazines, keys, remotes to wines and fruits. The designs are unique just like the first image of a coffee table in rectangle. It is very chic in appearance with an adjustable table top that can be opened to reveal a storage. You can easily store wines and bottles when you entertain. And when you are done socializing, close the top. Its designed by Lee Yongwoo.
The round coffee table in the second image is also innovative with a hidden storage place to keep a number of things. Similarly, the rectangular shaped coffee table with hidden spaces for storage looks alluring in black and yellow. It can be used for storing sleek items.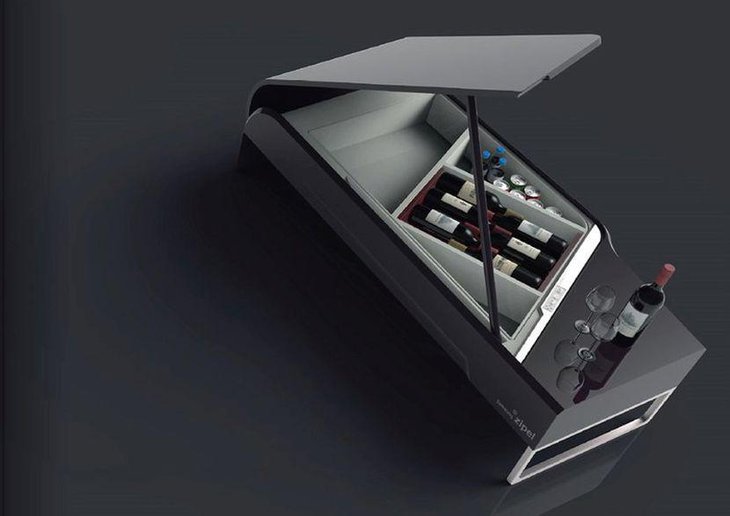 Unique coffee table design with inbuilt wine storage
Image Credit: marvelbuilding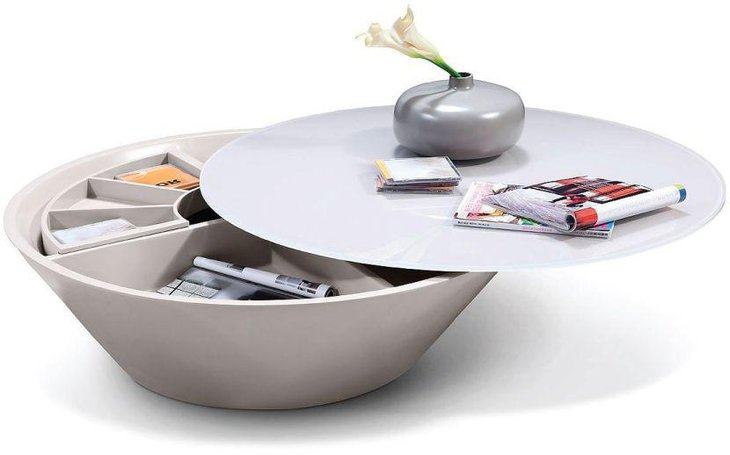 Unique round coffee table with hidden storage
Image Credit: losmanolo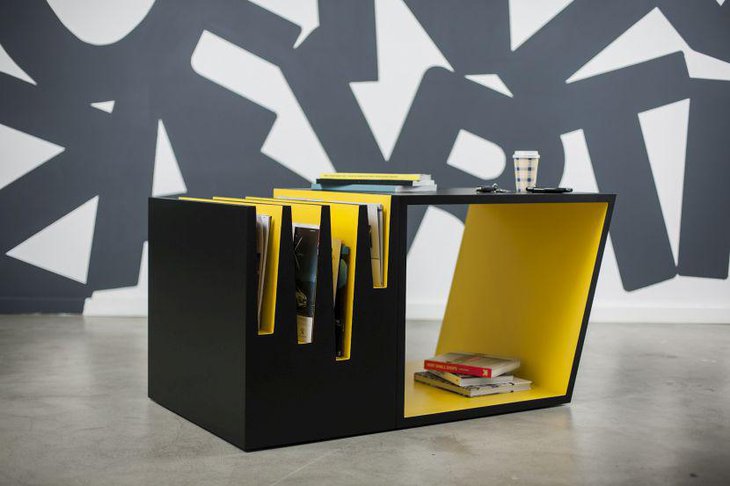 Black and yellow coffee table with storage
Image Credit: erahomedesign
Unique Coffee Table Ideas In Metal
Metallic coffee tables look not merely eye candies but are also easier to maintain than wooden or glass tables. Below, we have presented a cool collection of innovative coffee table designs that are crafted with metals like gold, silver and brass. The boat shaped metallic coffee table has a glass top which makes it appear very unique. The twin roundel coffee tables are sculpted in gold and suit modern living rooms. The last image shows a round coffee table with a glass top and a bunch of circular spirals forming into a base for the table.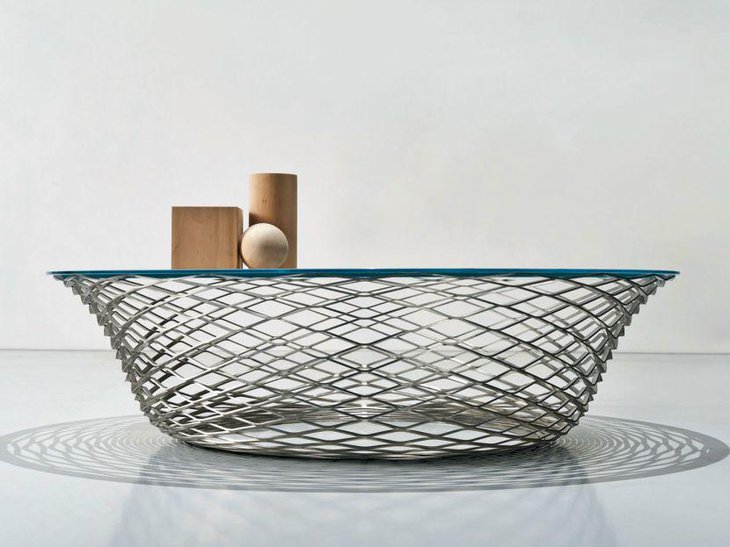 Unique boat shaped metallic coffee table design
Image Credit: blogspot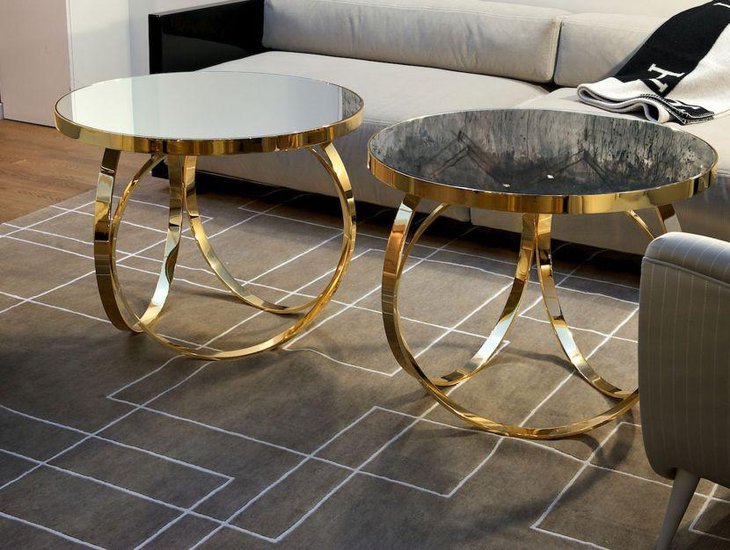 Unique coffee table design in gold
Image Credit: customcouturecakes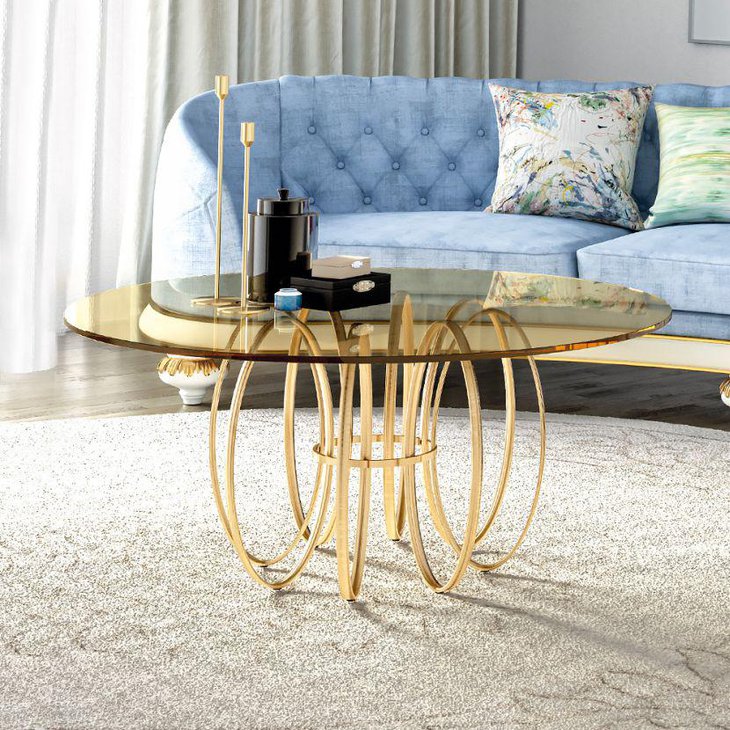 Unique brass round coffee table with glass top
Image Credit: juliettesinteriors
Unique Coffee Table Ideas To Try
If you want to add a signature style to your home, do try these innovative coffee tables with very different kind of designs. These pieces will make your interiors come alive and will also make your home the center of all attention. Try the fish tank coffee table made entirely of glass. It houses an aquarium inside with a glass top. Apart from this, there are others like the glass top coffee table with wooden log base. It looks very unique and so does the coffee table with geometric designed body.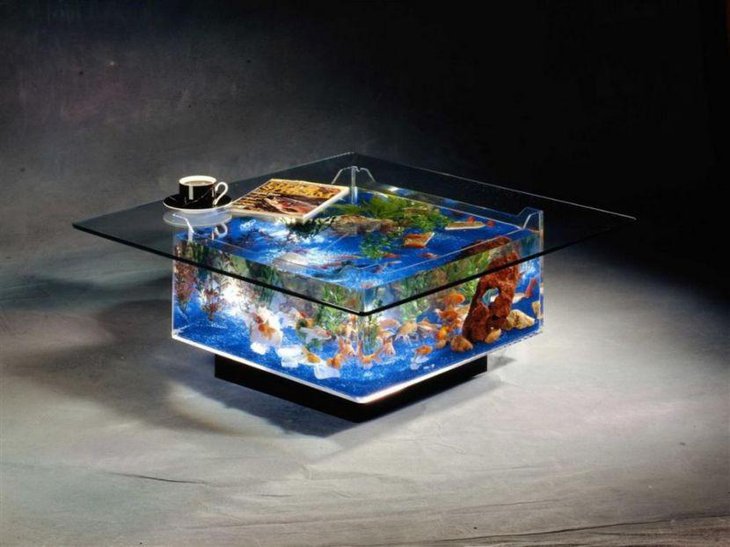 Unique fish tank coffee table design idea
Image Credit: clipgoo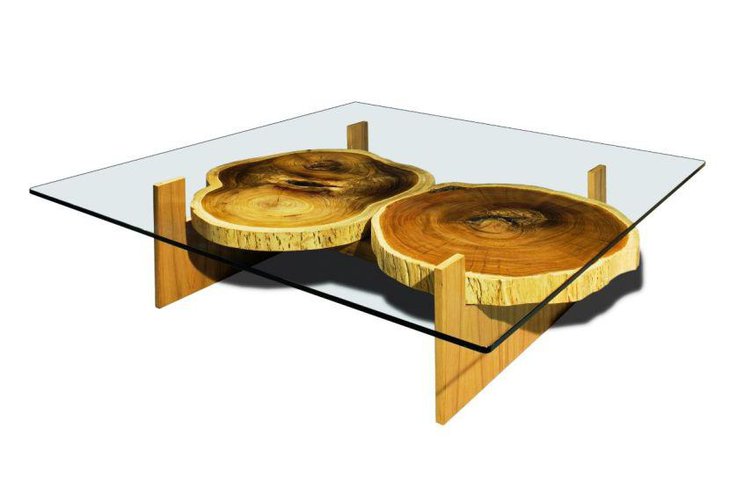 Unusual glass top coffee table with rustic log base
Image Credit: kekewyattsings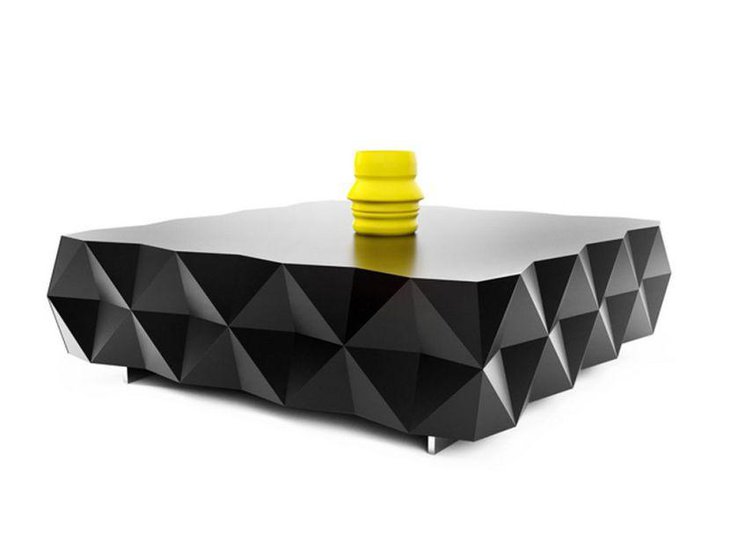 Unique geometric styled coffee table design
Image Credit: carehouse
No living room can look complete unless all the elements are combined properly. Apart from your sofas and corner tables, a living room must have a stylish coffee table to appear balanced. The above showcased table designs are not merely beautiful and stylish, but are also functional. The coffee table ideas shown today are innovative in their concept and structure. From geometric, to wooden or glass topped tables, the choices are tremendously huge. Do go through these *unique coffee table ideas* and pick ones that suit your taste.