Woohoo…time for some colorful Mexican table decorations today for all of you that want to throw fun parties for your dear amigos! A Mexican party table displays exotic cocktails, chilled margaritas, appetizers and desserts. Apart from the colorful food, a south of the border themed table also features bright serapes, sombreros and pinatas. Now its time to unfold the treasures today!
Mexican table decorations for a fiesta party
Mexican table decorations for a fiesta must look over the top literally! That's why we are presenting tables that are adorned with the coolest of cool accessories. For example – flower pots, serapes, pinatas and tissue paper crafts. When it's a fiesta party that you are planning, the tables in no way can look dull. It's very "Un-Mexican" to even think of going simple and plain! What you can do is grab some terracotta vases or pots, then, top these up with colorful fresh flowers, or artificial ones, and as a finishing touch, place a few gorgeously woven serape under as table mats or runners.
There are so many creative ways to add a party flavor to your fiesta tables. Laying out a colorful spread of food also helps in bringing a festive cheer to the décor. You can take the help of tissue paper flowers, glass votives with candles, pinatas or sombreros for making the tables become the focal points at your party.
Also Read: 30 Surprise Party Table Decorations
So grab some margaritas and say hello to your amigos with style!
Cute earthen vase centerpiece with flowers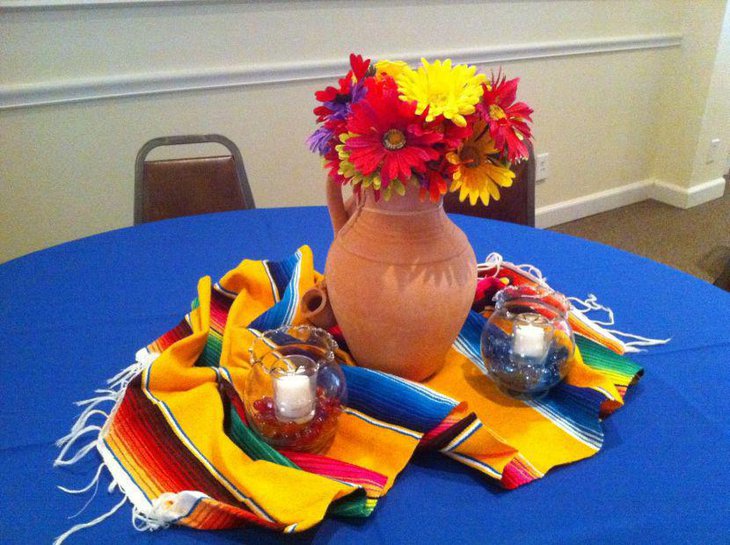 Image Credit: pinimg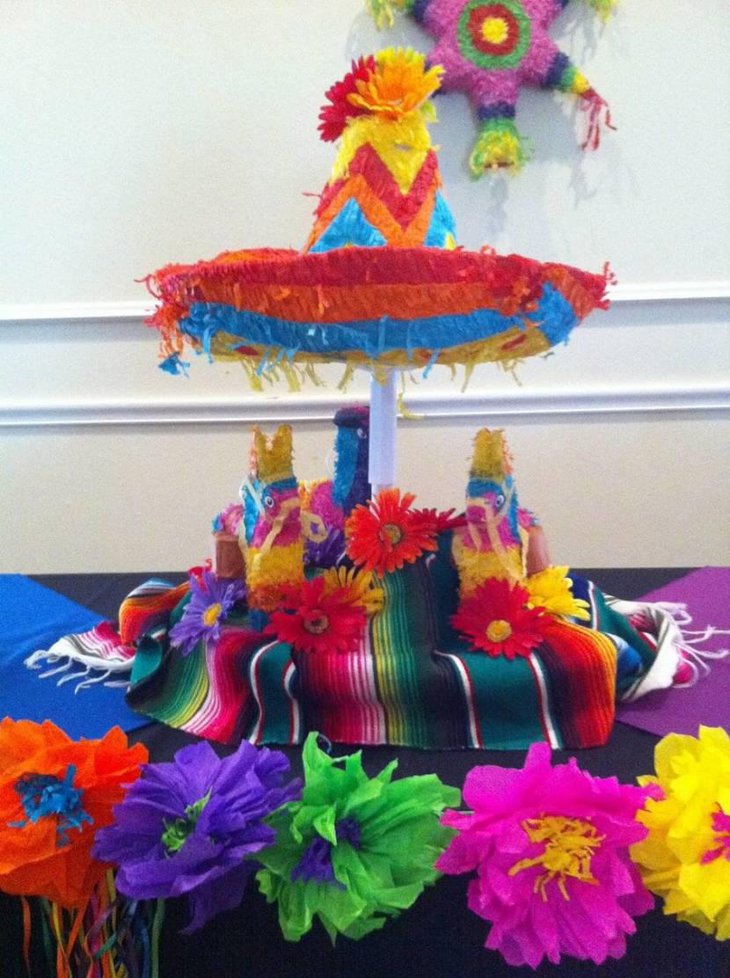 Gorgeous Mexican fiesta party centerpiece
Image Credit: bestdesignideas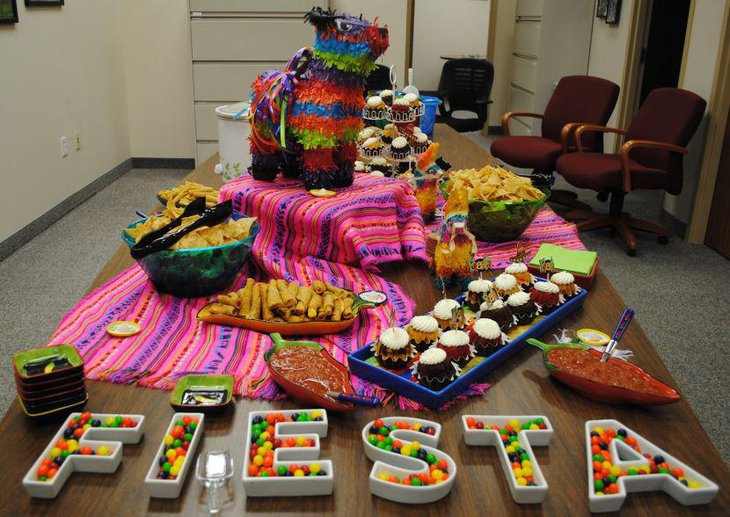 Traditional Mexican fiesta dinner party table decor
Image Credit: blogspot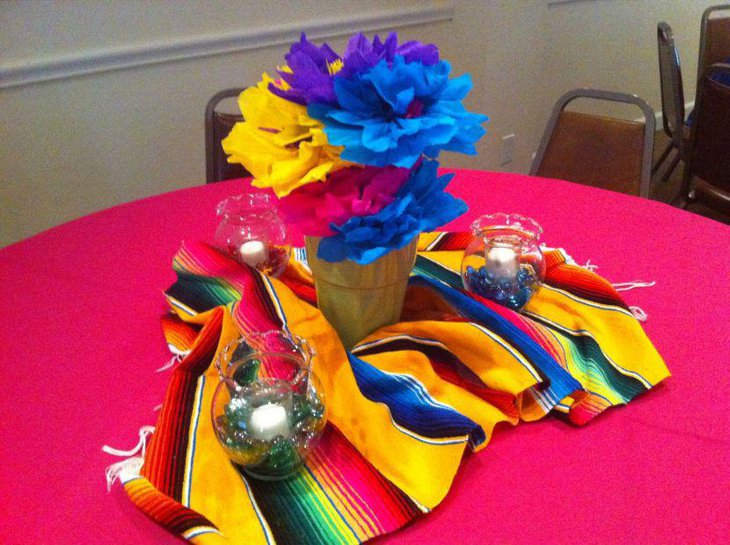 DIY colorful Mexican fiesta table decor
Image Credit: pinimg
Tissue paper Mexican table decorations
Mexican table decor will look bland if you do not put up tissue paper crafts. Flowers made of tissue papers in a variety of colors is an integral part of any fiesta. For a festive table décor, craft out tissue paper pinwheels or buntings and spread these over the table's railing, or cut out colorful flags and stick these inside glass filled with candies or other accessories.
Favor boxes too can bear tissue paper decorations when you embellish these with colorful paper designs. You can add other features like bright colored sombreros along with these paper crafts. A Mexican table can be adorned using a number of ideas and there are no hard and fast rules.
Unlike most Mexican fiesta tables where you usually see pinatas and serapes, the picture of a table shown has utilized a yellow lantern that's decorated using paper flower balls. So, get ready to pick some cool ideas we have shown under. From colorful flags, flowers, pinata decorations to paper crafts on sombreros, there is a lot to choose from.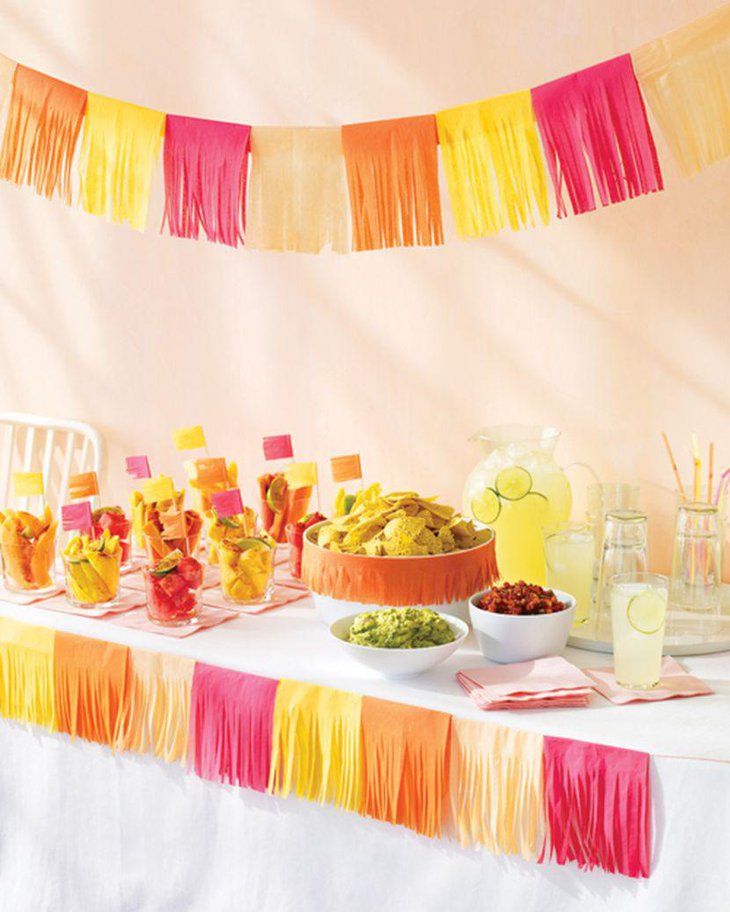 Yellow and pink themed Mexican table decor using tissue paper
Image Credit: marthastewart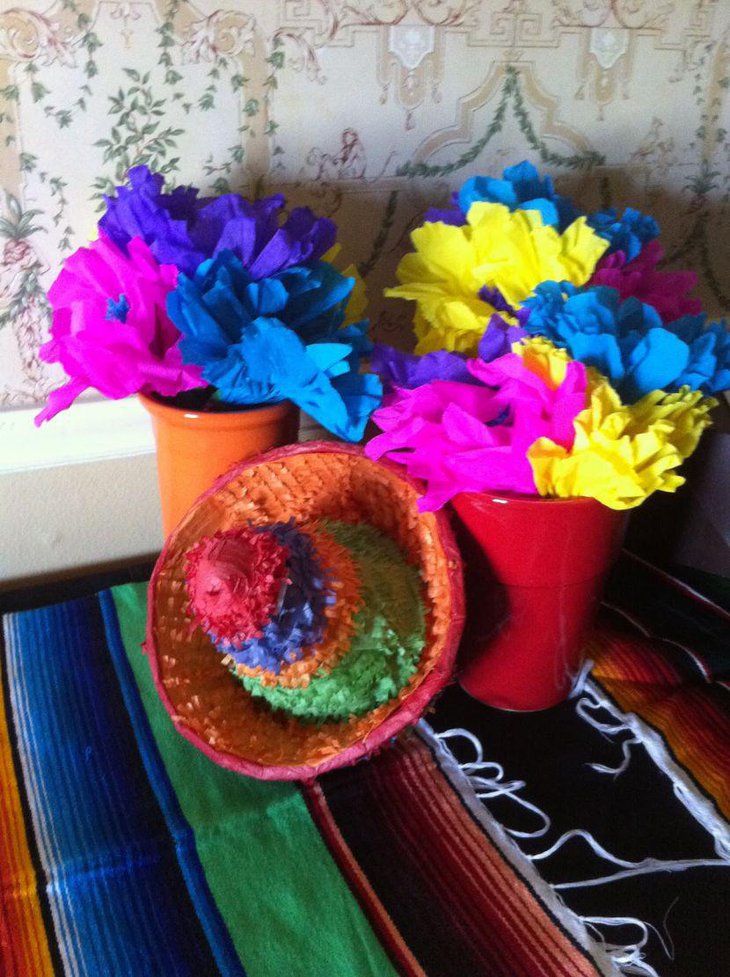 Mexican Table Decor
Image Credit: blogspot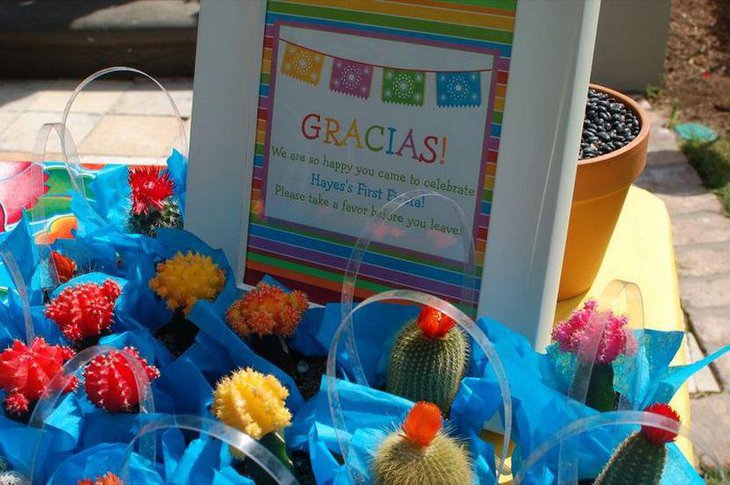 Plastic pots wrapped in tissue paper arranged on party table
Image Credit: erinakincarroll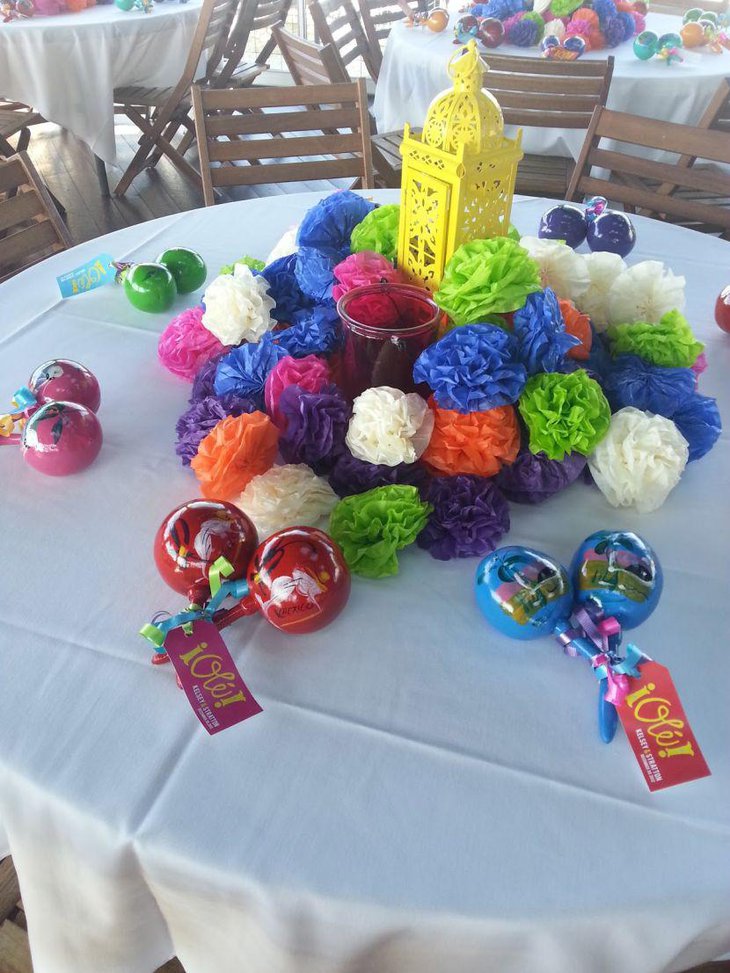 Colourful tissue paper flowers and yellow lantern decor
Image Credit: blogspot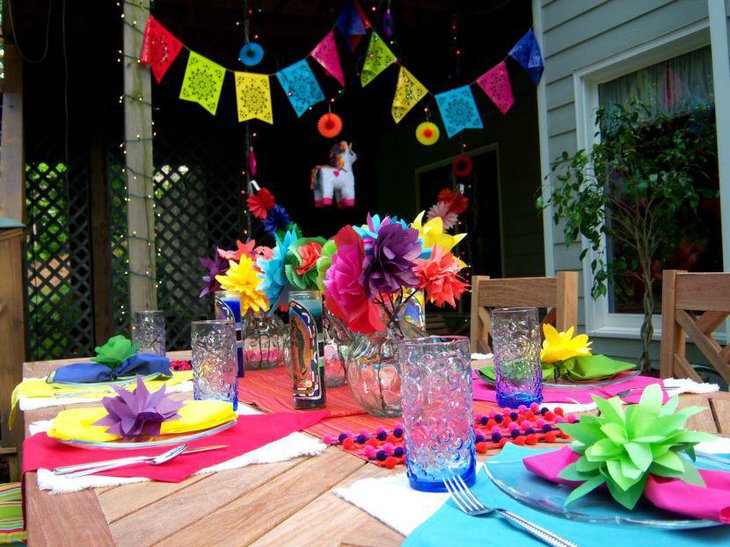 Tissue paper flower decor seen on the table
Image Credit: pinimg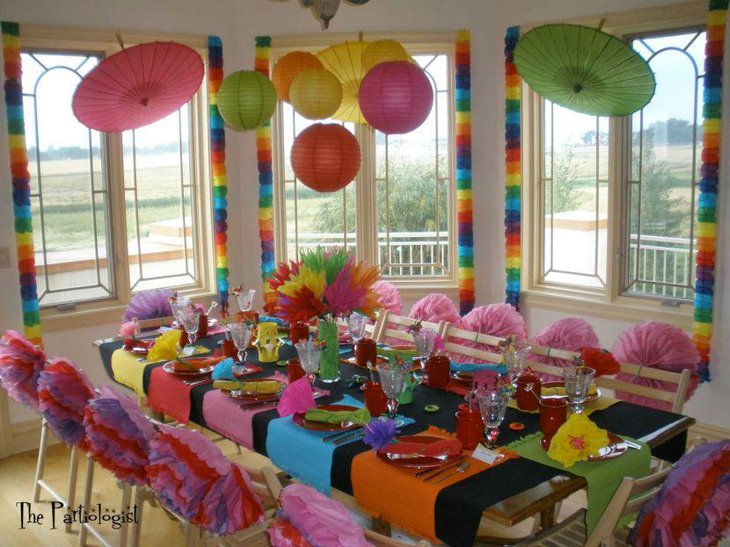 Colorful tissue paper flower centerpiece
Image Credit: catchmyparty
Gorgeous Mexican table decorations with serapes
How about adding an authentic touch to your fiesta party table? Well, try these gorgeous looking serapes. A serape is a traditional Mexican shawl woven in different bold colors. It can be used as a table runner. Or, you can also wrap it around your pinata centerpiece. We have tried collecting a few awesome serape décor ideas that will make your parties memorable. How about decorating cactus over brightly laid serapes? Well, this idea is simply very innovative and must be tried. If you aren't a cactus person, then try to embellish with colorful pinatas of donkeys, or any other animal that you like.
Also Read: 33 Creative DIY Table Runner Ideas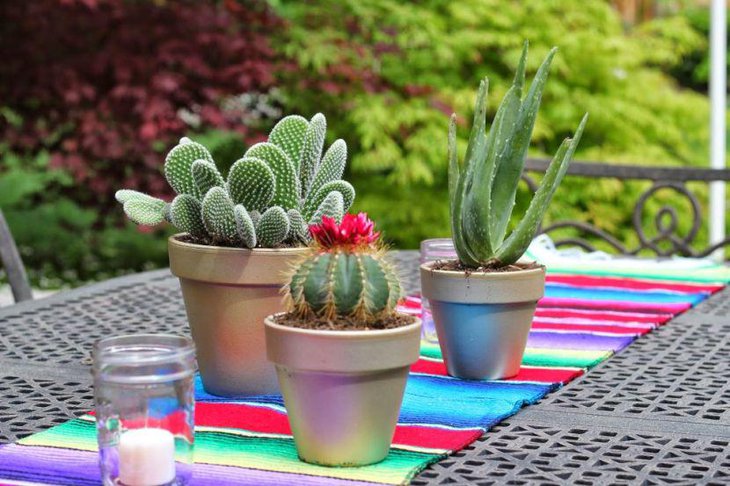 Mexican table decor with serape and cactus
Image Credit: adamguzman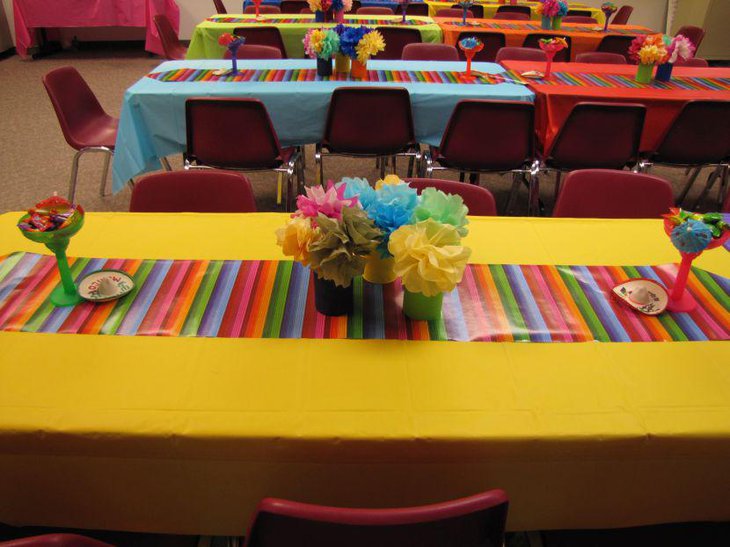 A colorful serape embellishes this Mexican party table
Image Credit: pinimg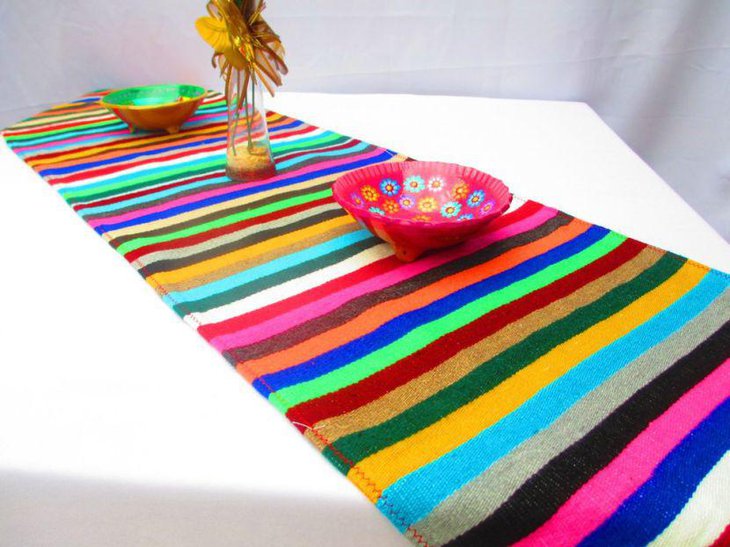 Multicolored serape decorated along with colorful bowls
Image Credit: shopify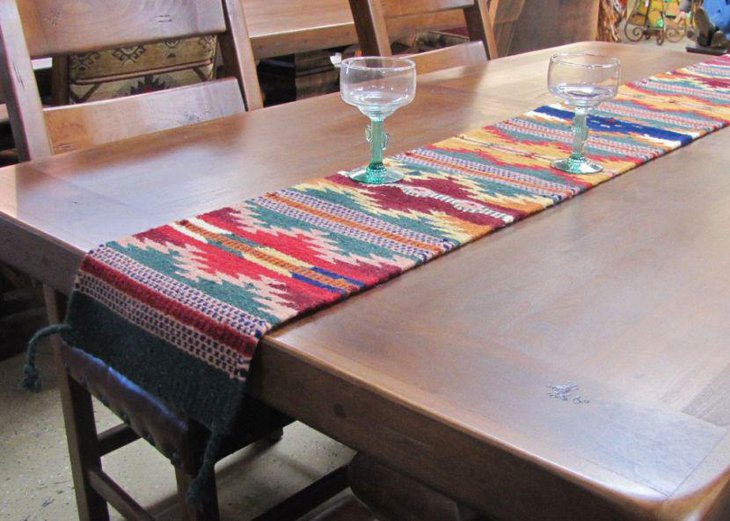 Adorable Mexican serape decor
Image Credit: adamguzman
Serape decor along with cactus and flowers
Image Credit: wordpress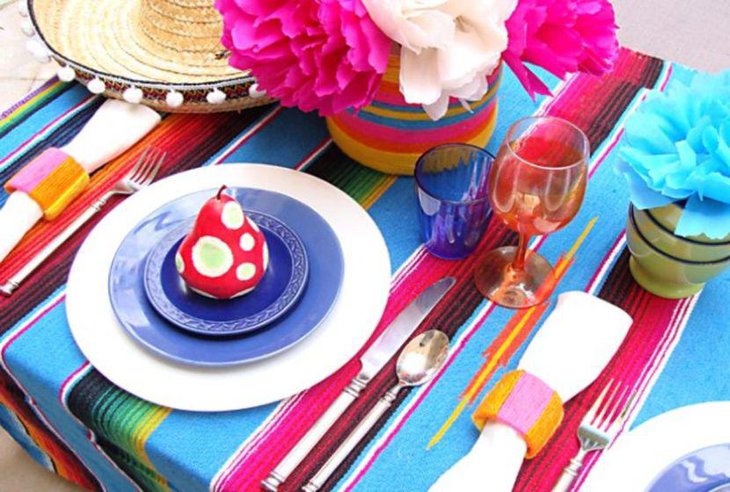 A fiesta table decorated with flowers and serape
Image Credit: joyofkosher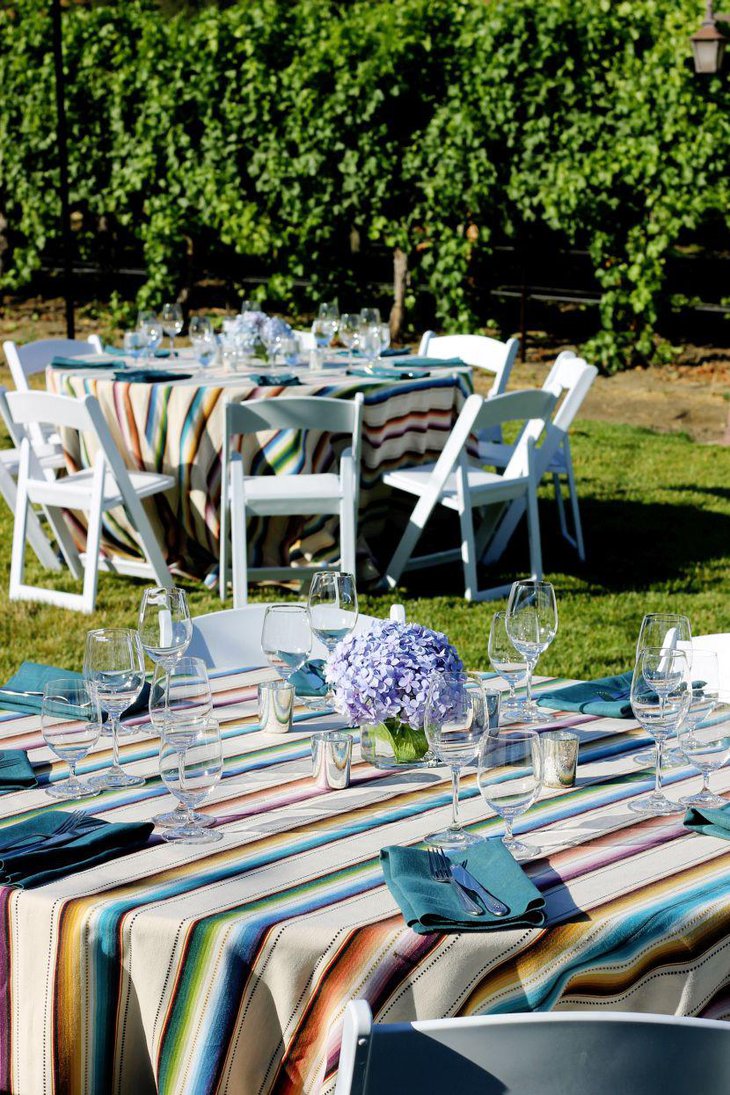 Mexican wedding table decorated with serapes and flowers
Image Credit: wordpress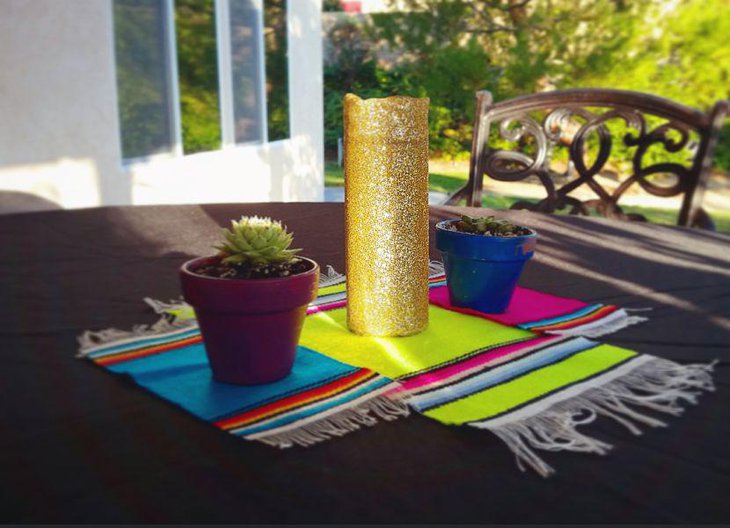 Golden candle succulent pots and mini serapes decorations
Image Credit: blogspot
Stunning Mexican table decorations with pinatas
A pinata is a typical Mexican festive accessory that's made of paper, cloth or paper mache. In most Mexican parties or festivals, pinatas are often broken. These contain sweets, candies or toys for kids. You can add a festive flair to your tables by adding pinata decor. Pinatas must look colorful and can be embellished with tissue flowers and ruffles. A piñata can be used as the main centerpiece or can be used along with serapes and sombreros. Look at the large donkey piñata centerpiece seen decking up the table. It sure looks fun and bright. Similarly, miniature pinatas can be placed along with cactus, or paper flower crafts.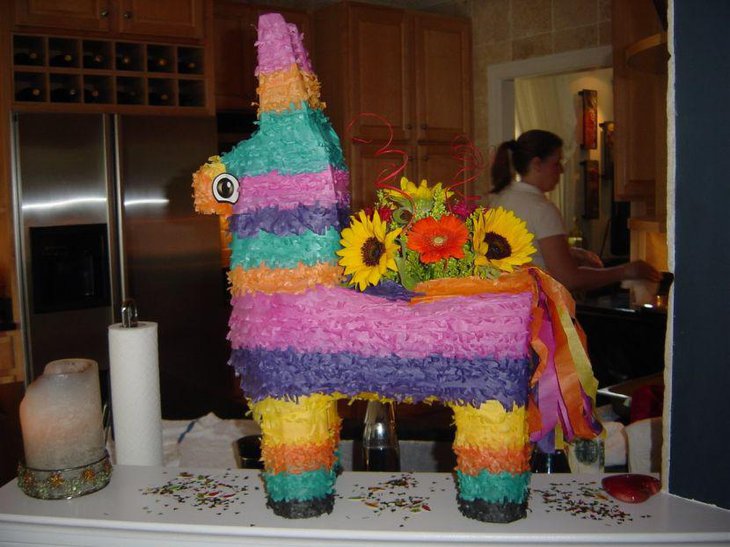 Gorgeous donkey pinata centerpiece
Image Credit: blovelyevents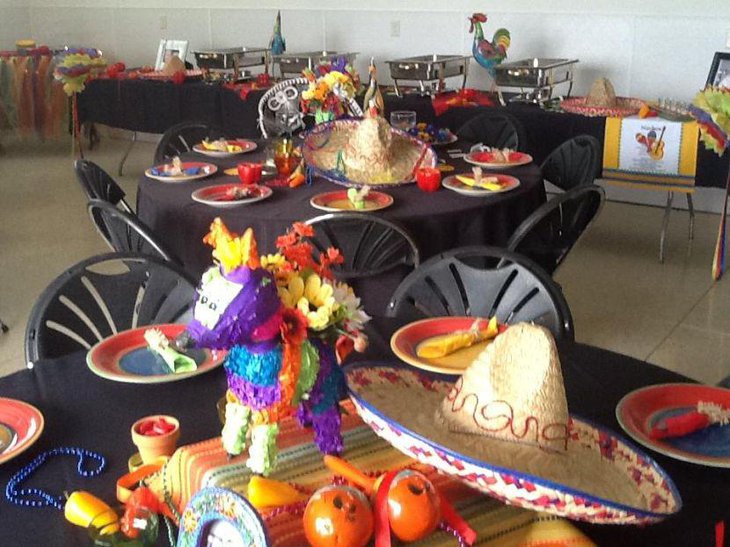 Cute Mexican fiesta table decor using pinata and sombrero
Image Credit: blogspot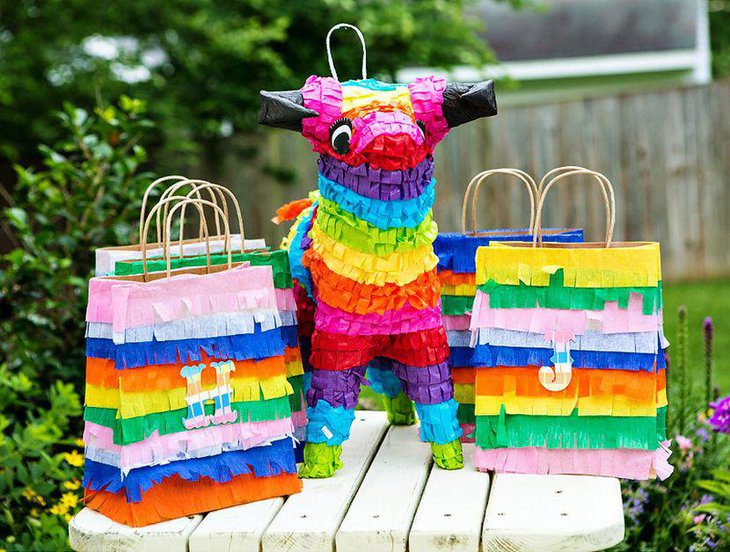 Cute and colorful pinata and bags
Image Credit: hwtm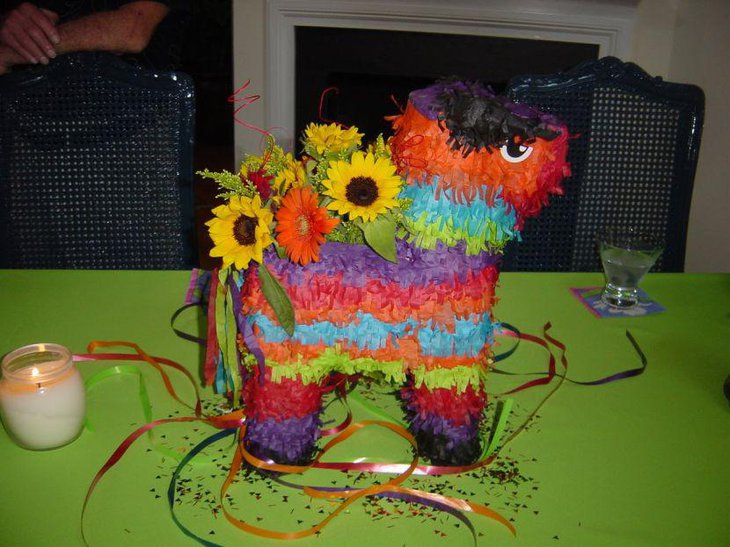 Adorable floral pinata centerpiece
Image Credit: blogspot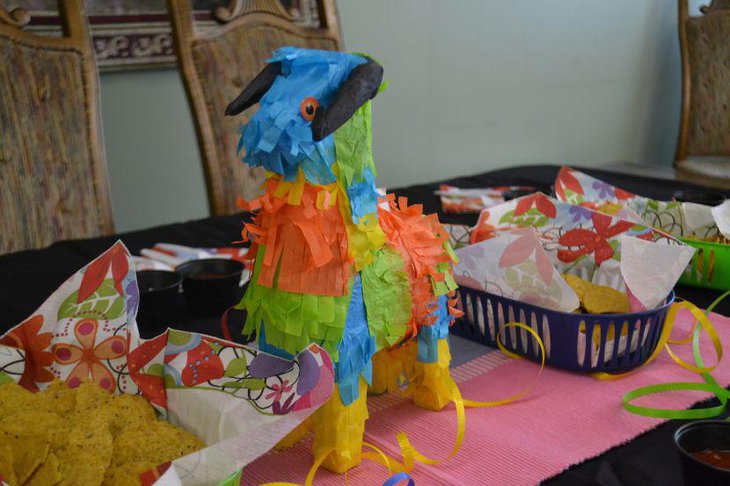 Gorgeous pinata centerpiece decking up this Mexican food table
Image Credit: lanabird
Awesome Mexican table decor with papel picado
Papel picado crafts are often associated with Mexican fiestas. It is a perforated paper that's used to make various festive motifs like mats and flags. Papel picado designs adorn Mexican themed party tables as papel picado is a typical Mexican folk art. These look decorative plus add a vibrant look to any table. Either use these crafts as table mats or runners, or create unique looking table number cards as shown in the pictures below. A papel picado art is a typical Mexican décor feature mostly seen on fiesta tables. You can use different colors here.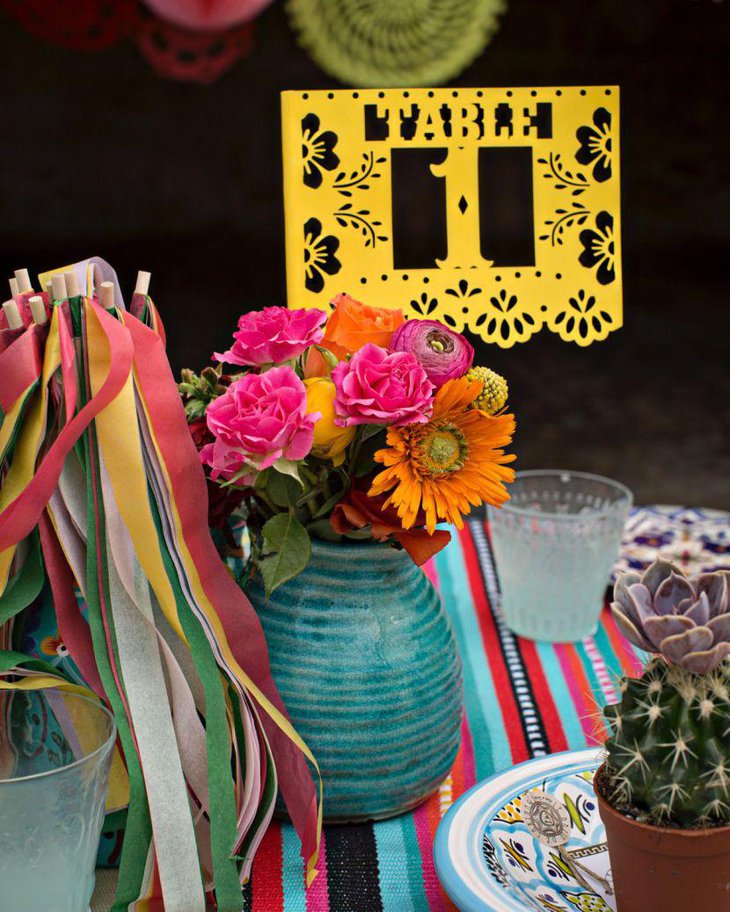 Yellow papel picado table number and floral decor
Image Credit: etsystatic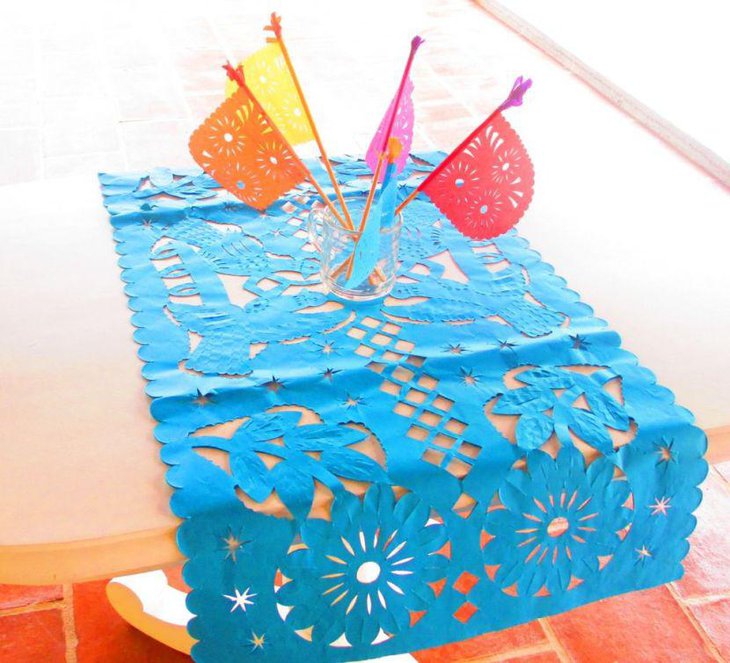 Papel picado table runner decor along with colorful flags
Image Credit: shopify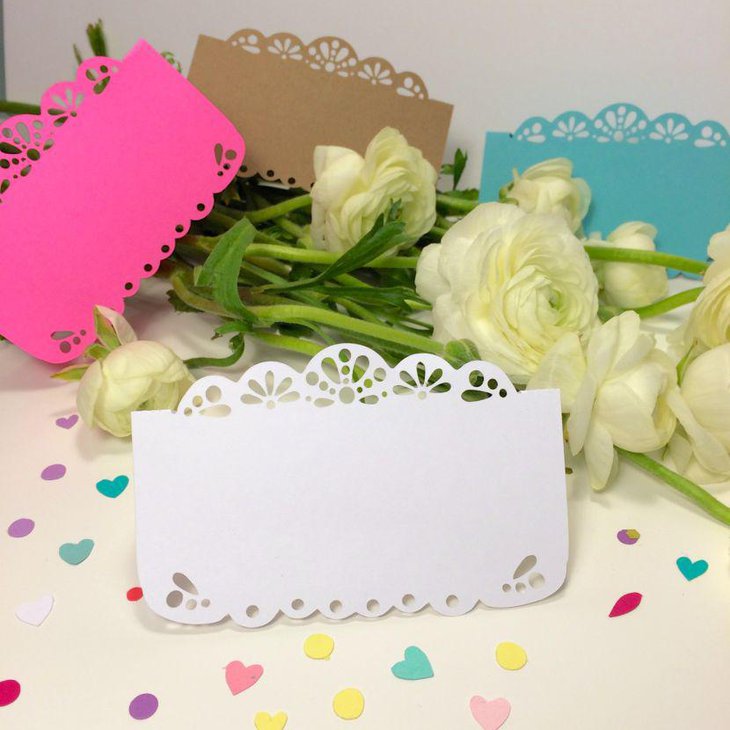 Papel picado escort cards decorated with flowers
Image Credit: etsystatic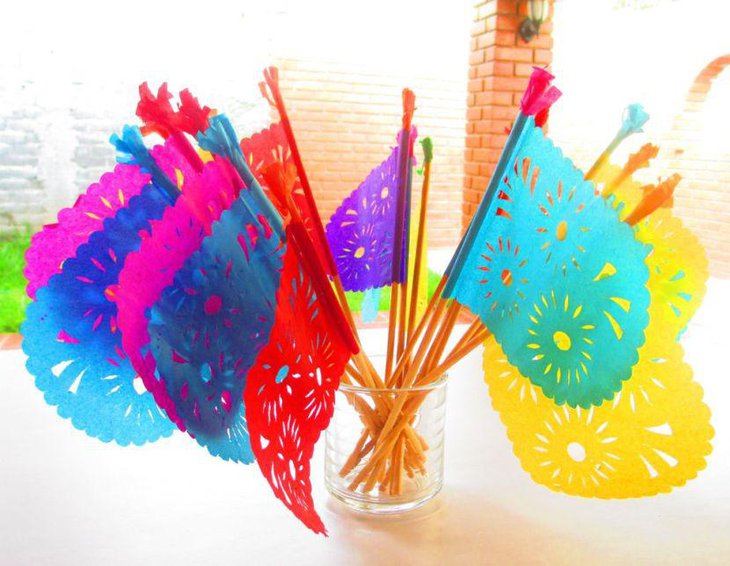 Stunning Mexican papel picado flag decorations
Image Credit: shopify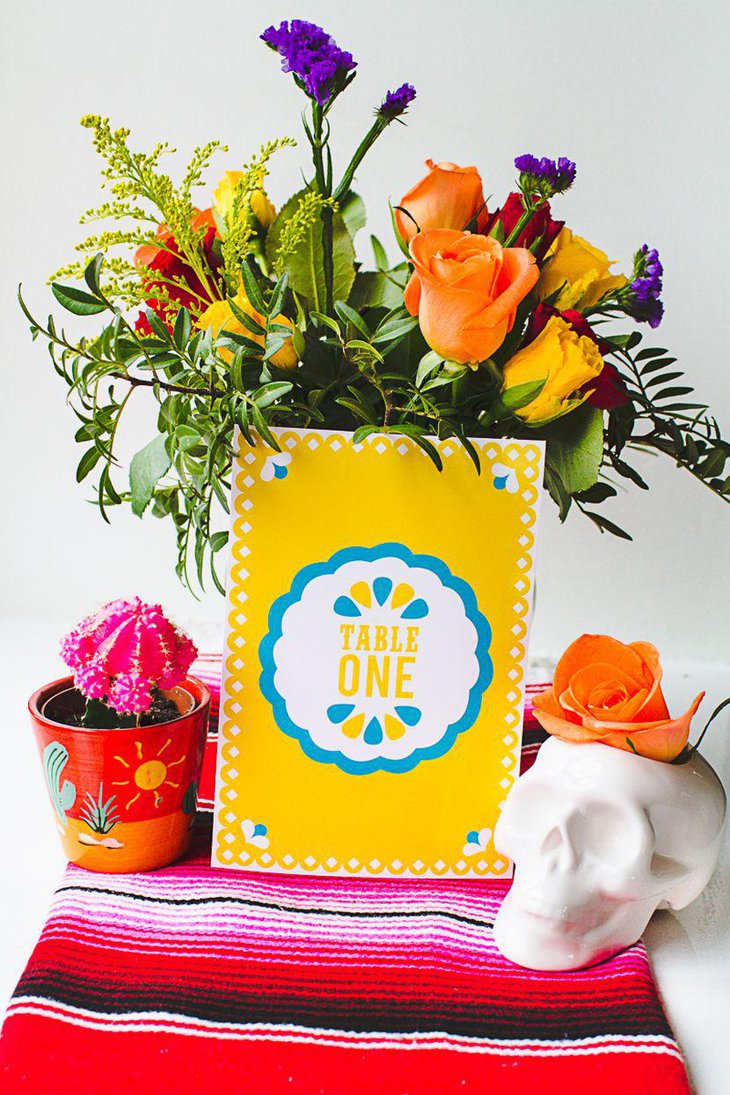 Flowers and papel picado table number decor on table
Image Credit: bespoke-bride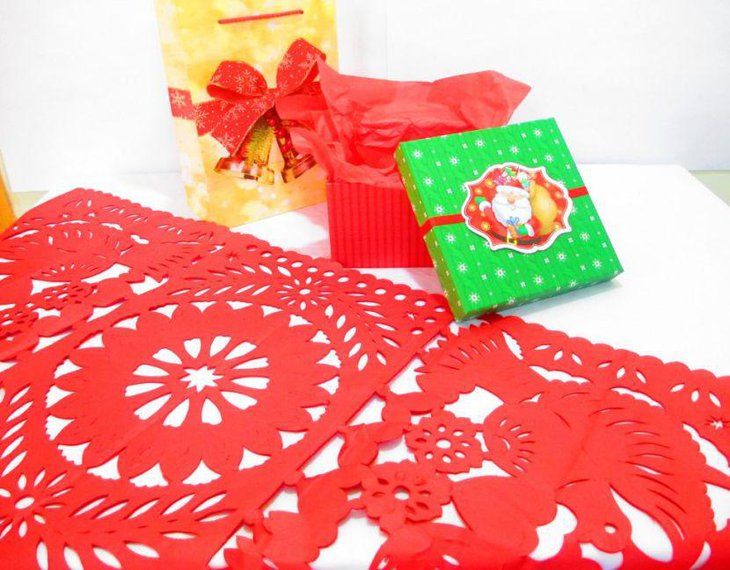 Red papel picado table runner decor
Image Credit: adamguzman
Stylish Mexican table decor with sombreros
Viva La Fiesta decorations cannot do without Sombreros! A sombrero is a Mexican hat with a wide brim worn often by Mexican men. It comes in various colors and patterns. Most festivities in Mexico will feature these wide brimmed hats around which tissue flowers and succulents will be decorated. Look at these beautiful Sombrero Mexican table decorations to get inspiration. We have gathered these ideas as these are popular all over with most festival tables, either Mexican or non-Mexican. Sombrero décor can be complimented with other ideas like fresh cactus pots, pinatas, serapes and gorgeous paper flowers.
Also Read: 33 Italian Table Decorations For Your Home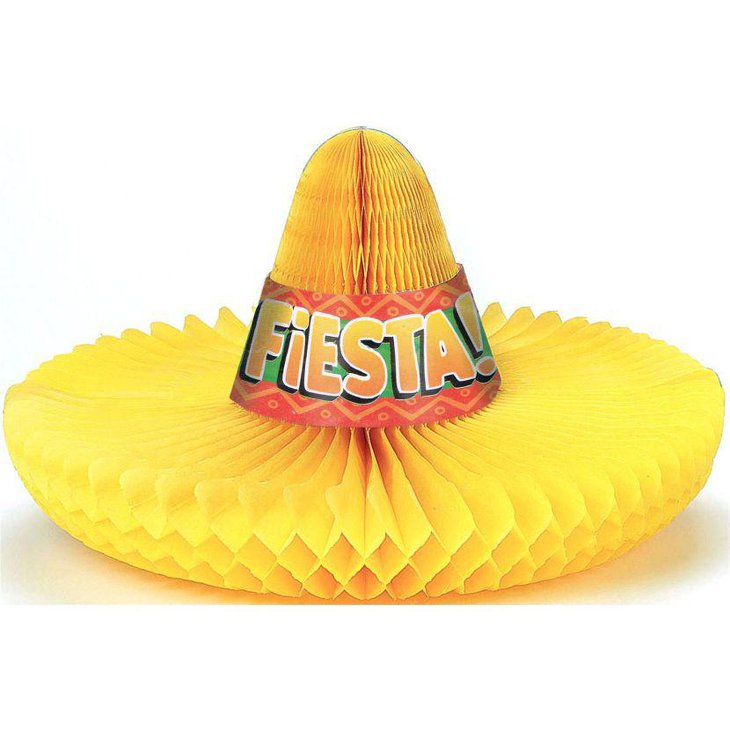 Awesome sombrero honeycomb centerpiece
Image Credit: discountpartysupplies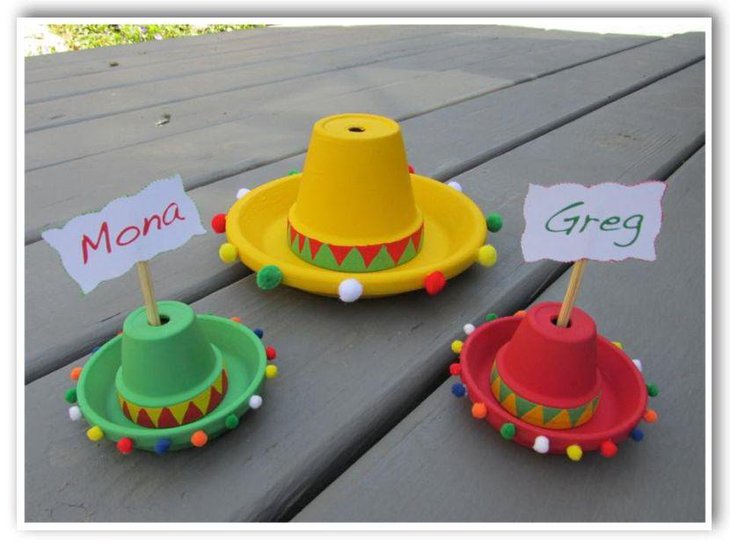 DIY candy filled sombreros place cards and centerpiece
Image Credit: ytimg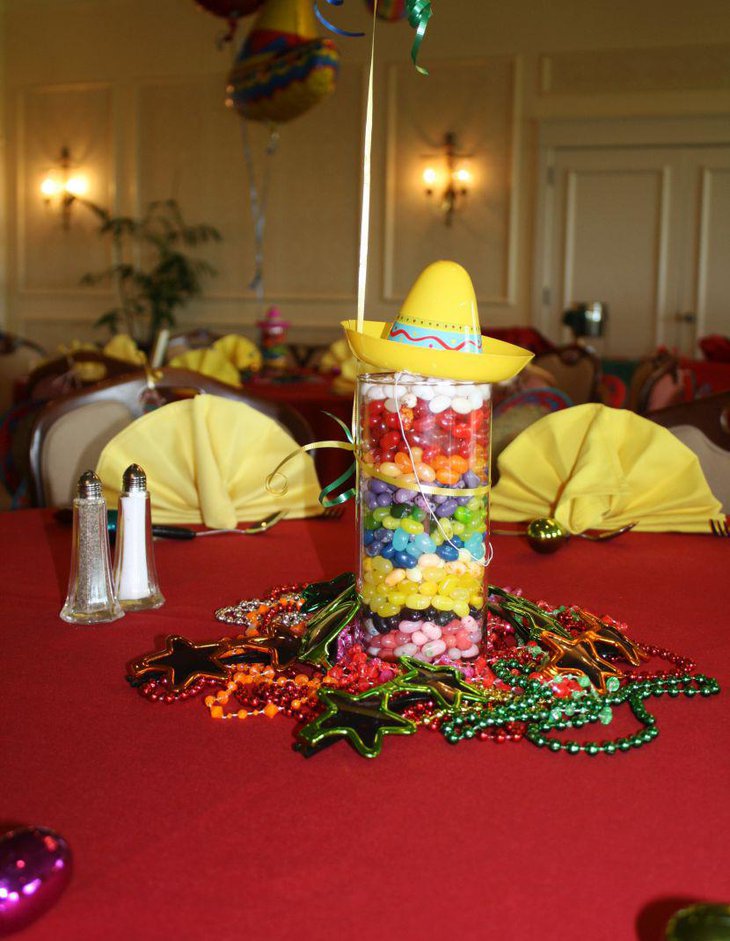 Adorable glass jar sombrero centerpiece
Image Credit: partywithmia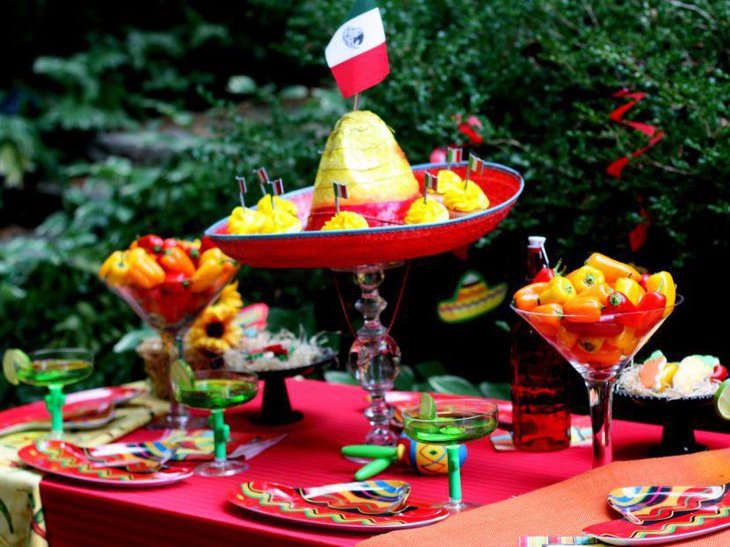 Awesome sombrero centerpiece
Image Credit: hgtvhome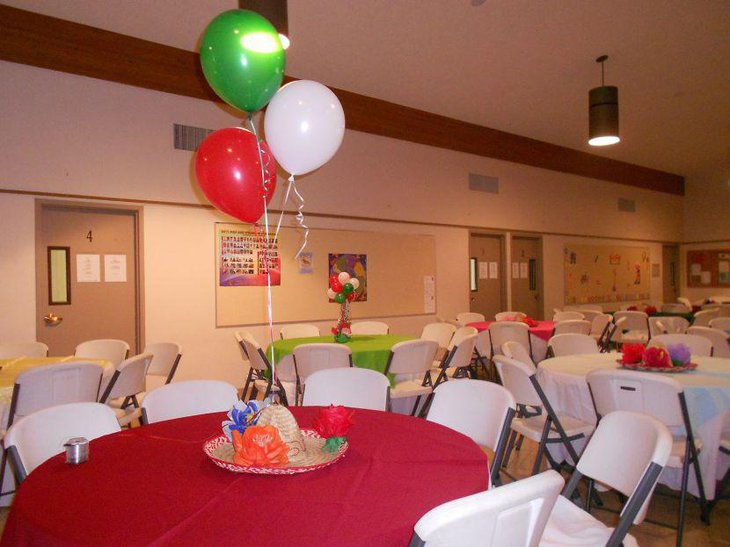 Balloon sombrero centerpiece on table
Image Credit: blogspot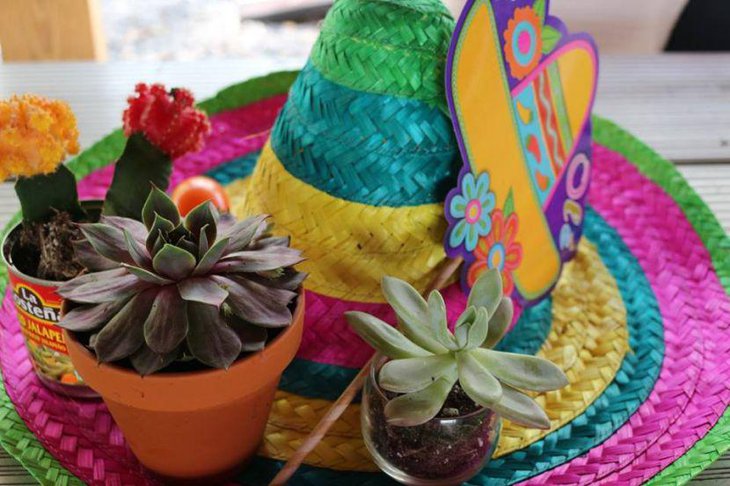 A sombrero centerpiece decked up with succulents
Image Credit: blogspot
Mexican table decor is famous for its folk art designs and brightness. Its not only for Cinco de Mayo celebrations that tables need to look festive. Other fiestas too must look fun and cheerful. Add some festive serapes, pinatas and succulents to your table. These *Mexican table decorations* are for every occasion and are quite attractive.