You would definitely need gold wedding decorations in case you are looking forward for a timeless wedding table that will become the cynosure of all eyes present on your big day! Yes, you have guessed right as we are about to showcase pretty gold table decorations that are being featured today in many glamorous avatars. Gold, we all know is a classic color that often finds itself getting highlighted on wedding tables and venues at large. Its timeless beauty and an elegant look makes gold a favorite chosen shade for weddings. There are different shades or textures of gold and you can choose whichever depending on your tastes, like sparkly gold, tinted or galvanized gold. Do scroll down to look at some of the best gold wedding decor ideas that will help you plan a dream wedding for sure!
Stunning gold wedding decorations with cakes
Who said that wedding cakes cannot be used as decorative pieces before they are actually gobbled up to their last bits? Well, well….think again as we are going to show how you can make use of ornamental cakes as embellishments on wedding tables! Golden embellished cakes in weddings lend an opulent touch to your decor, and since, we are talking about gold wedding theme ideas in today's post, we would focus all our attention to gold wedding decorations on cakes. If you look below, you would find a rather exclusive cornucopia of cakes that look luxurious to the core and appear divine like. Some of these can be ordered or custom delivered from online wedding planner companies or you could craft a few depending on what you like and want. You can decorate your wedding cake with gold encrusted floral motifs like in the first image that looks pretty alluring. With golden flowers that can be pasted on the rims bordering the cake, and spray of gold dust, the cake appears as the main centerpiece and looks fantastic. You can also embellish your cake partly with gold and partly with other pastels like pink or blush.
Gorgeous wedding cake decor with golden flowers and foliage
Image Credit: marthastewartweddings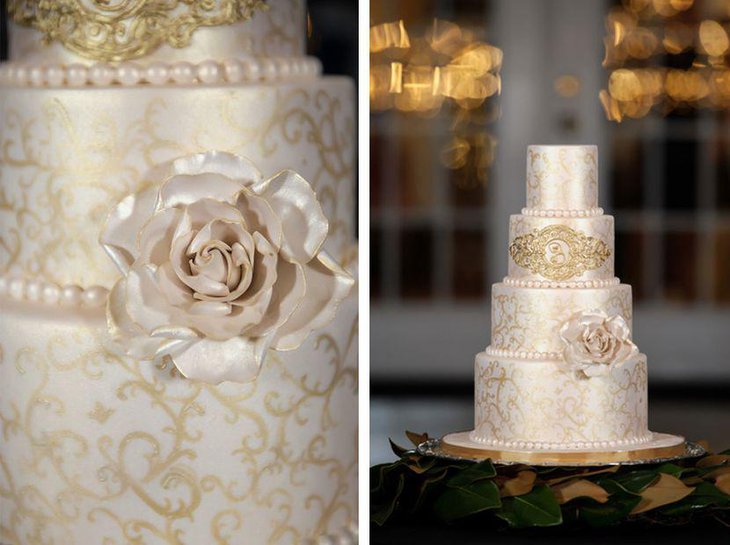 Ornamental pink and golden accented wedding cake decor
Image Credit: southernbrideandgroom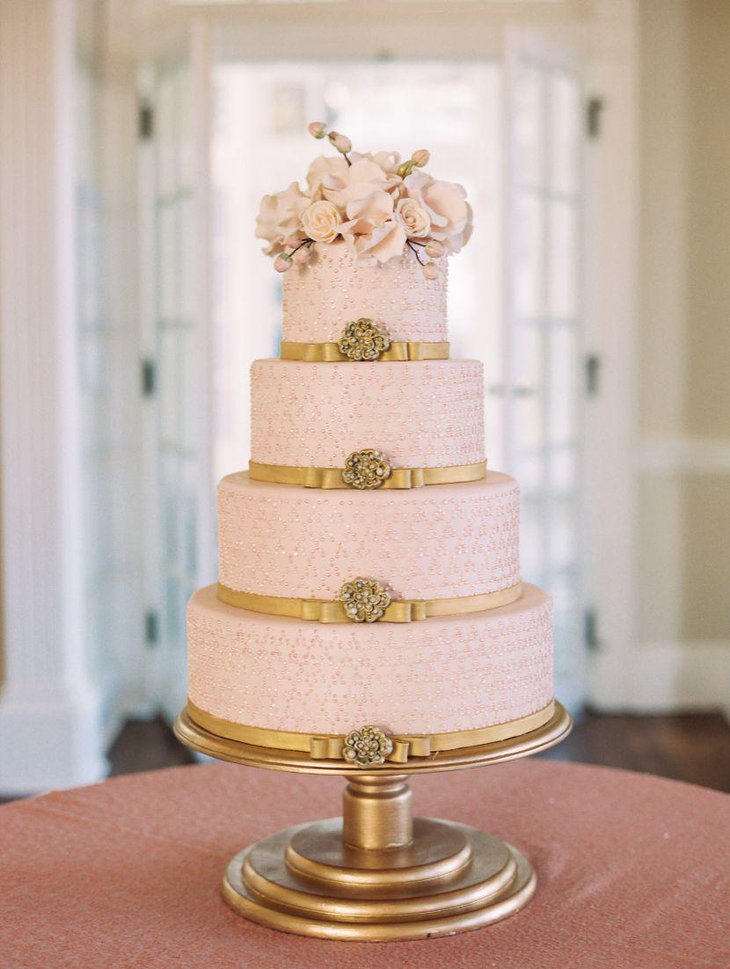 Beautiful wedding cake decoration in golden accents
Image Credit: charlotteweddingcakes
Gold wedding decor ideas with gold monograms
Monogrammed gold table decorations look impressive and create a very personalized and intimate decor at any wedding event. A monogram generally refers to a logo that comprises of a person's initials and can be utilized as decor element on wedding guest table, cards, menus and other places. The Monogrammed gold wedding theme ideas shown below are diverse in appearance, but they all look extremely stylish. Your wedding tables can have napkins or holders that can bear imprints of your monogram as well as your better half's to lend a personalized touch. Even the wedding cake too can have a topping of a monogram of both the partners. If you believe in showing a rather luxurious tablescape on your wedding, you can also go in for a table decor that has lots of jewels as decor elements like rhinestone studded hearts with a monogrammed letter or letters. Your wedding guest table can have golden monogrammed letters comprising the initials of both of you. All the pictures of golden monogram decorations look sassy and very alluring.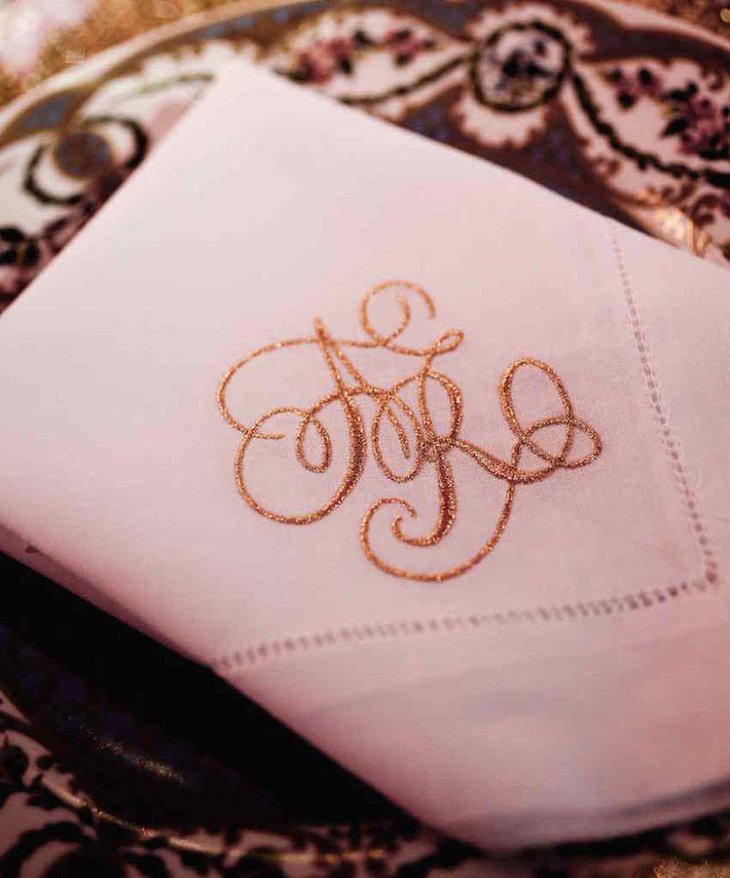 Golden monogram embroidered dinner napkin
Image Credit: cloudfront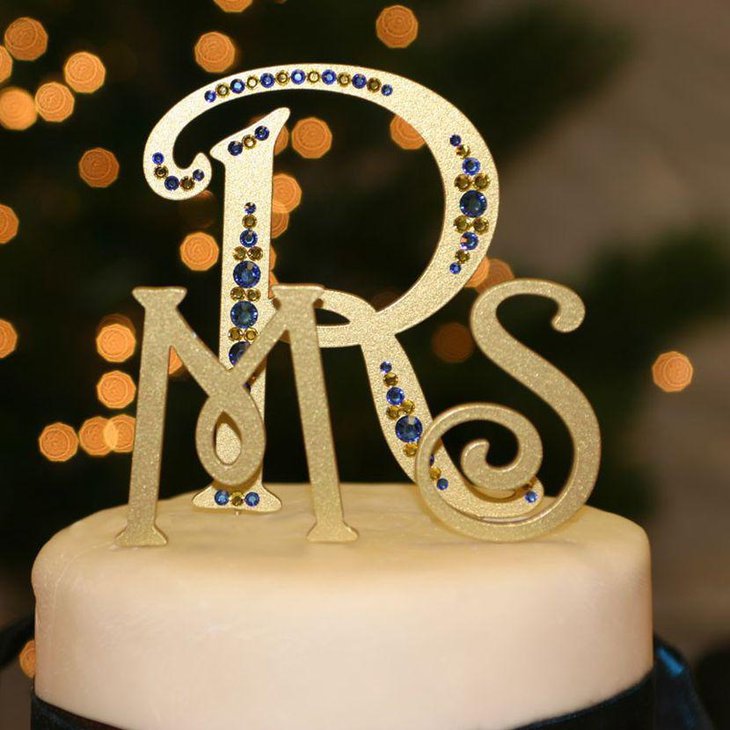 Awesome golden monogram cake topper decor
Image Credit: weddingcuts
Stunning wedding reception golden monogram decor with rhinestones
Image Credit: onewed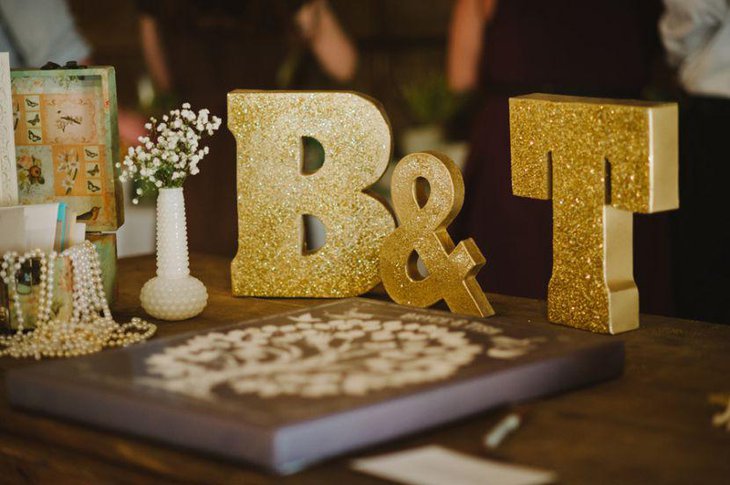 Golden glitter monogram decor on wedding sweetheart table
Image Credit: projectwedding
Amazing gold wedding decorations with menu cards
Gold wedding decorations with menu cards is not a new decor element that's showcased below. Menu card decorations on table are an old concept but you can add a more flamboyant touch to your menu cards with a golden palette. Your menu card can have a spray of gold dust, or the script can be written in solid gold, or even rose gold as in the first image. There are other ways to stylize menu cards with golden accents like tying these up with solid golden satiny ribbons or tiaras. The menu card can be framed inside a golden toned border with glittering speckles of gold on the sides. You can gussy up the wedding tables with golden sequinned table cloths to add more glamour to your menu card setting. If you want a signature touch on your wedding table, go in for a golden hand written calligraphy menu card. The gold wedding decor ideas with menu cards surely pack a powerful punch of style on your wedding table.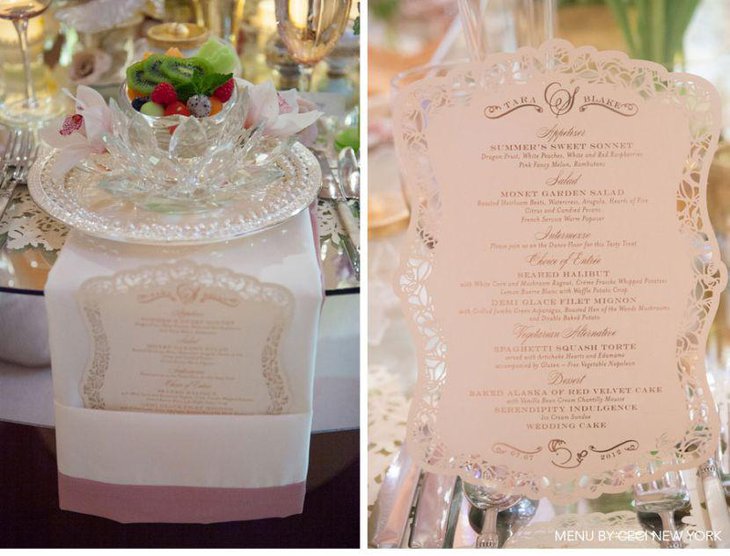 Stunning rose gold menu decor on wedding table
Image Credit: cecinewyork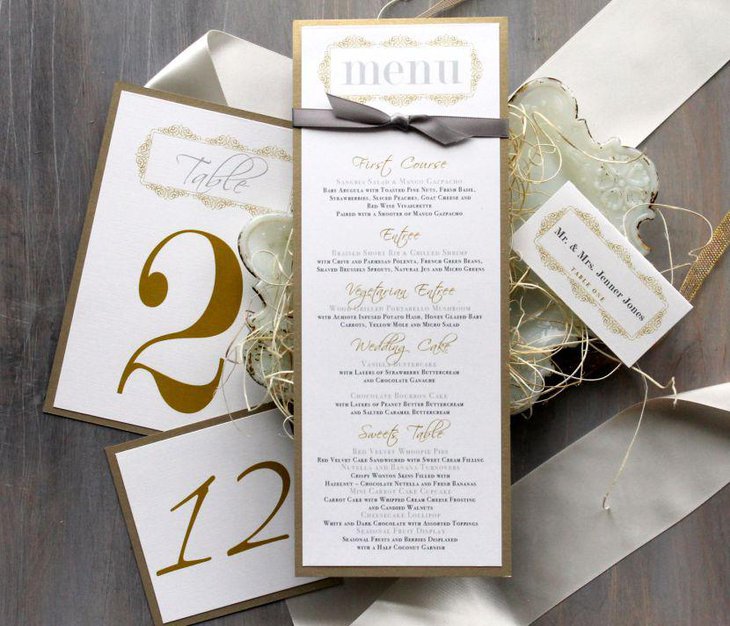 Golden accented wedding menu cards on table
Image Credit: etsystatic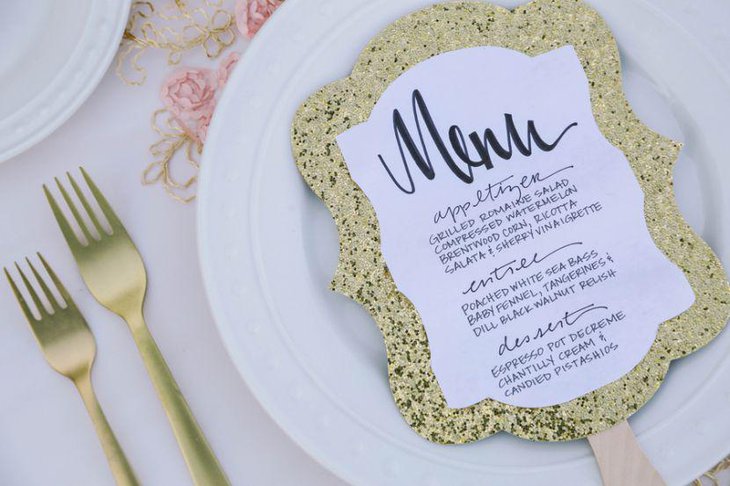 Glittery golden menu card decoration on wedding table
Image Credit: kateaspen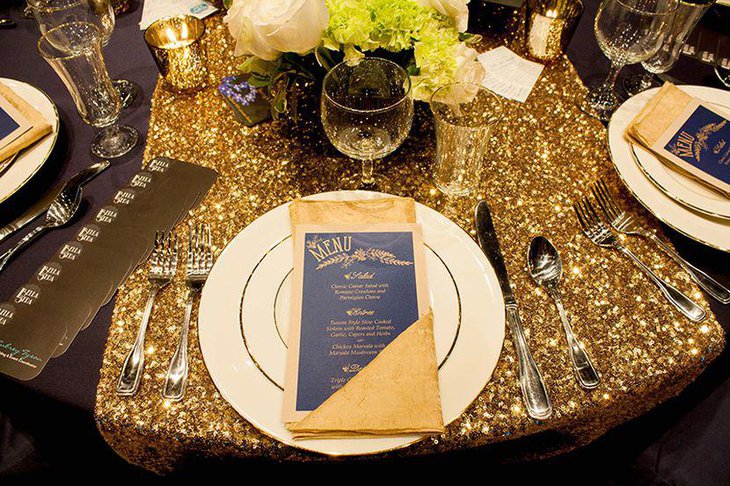 Gorgeous golden accented menu card on wedding table
Image Credit: hitchstudio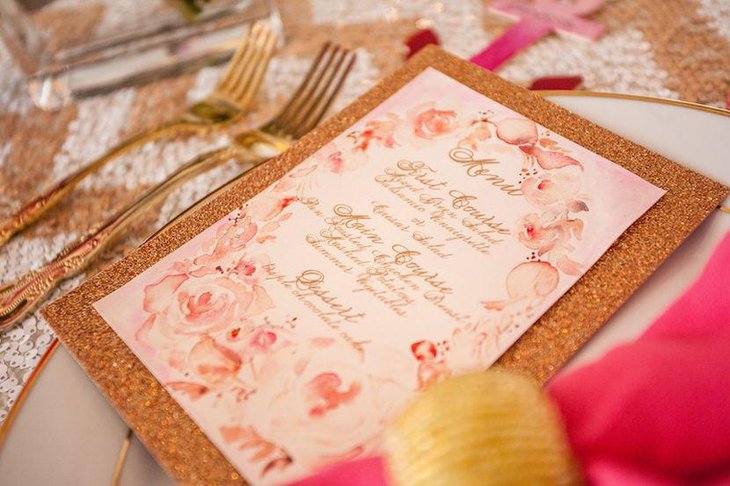 Amazing wedding table decor with golden accented menu card
Image Credit: thegartergirl
Alluring gold wedding decorations with favors
Wedding favors can be put to use in a number of ways. Apart from offering these to your guests as tokens of appreciation for their support and attendance at your wedding, favors can be utilized as decor elements as well. Wedding favors are tokens that are gifted to guests at a wedding, but now a days, most wedding planners are making use of these to be adorned on tables as decor elements. Gold table decorations with favors are being used by many couples these days as these look very pretty as tokens of gifts, and also stylize the decor instantly. Golden accented favors can become indispensable features of decor and after they have allured guests, you can gift these away to be remembered by all. Some glamorous gold wedding theme favors shown below have made use of satiny golden accented ribbons, pearls, birdcages, and chocolates, all of which are quite attractive in appearance and will bowl your guests over!
Beautiful Calla gold bomboniera wedding favor
Image Credit: staticflickr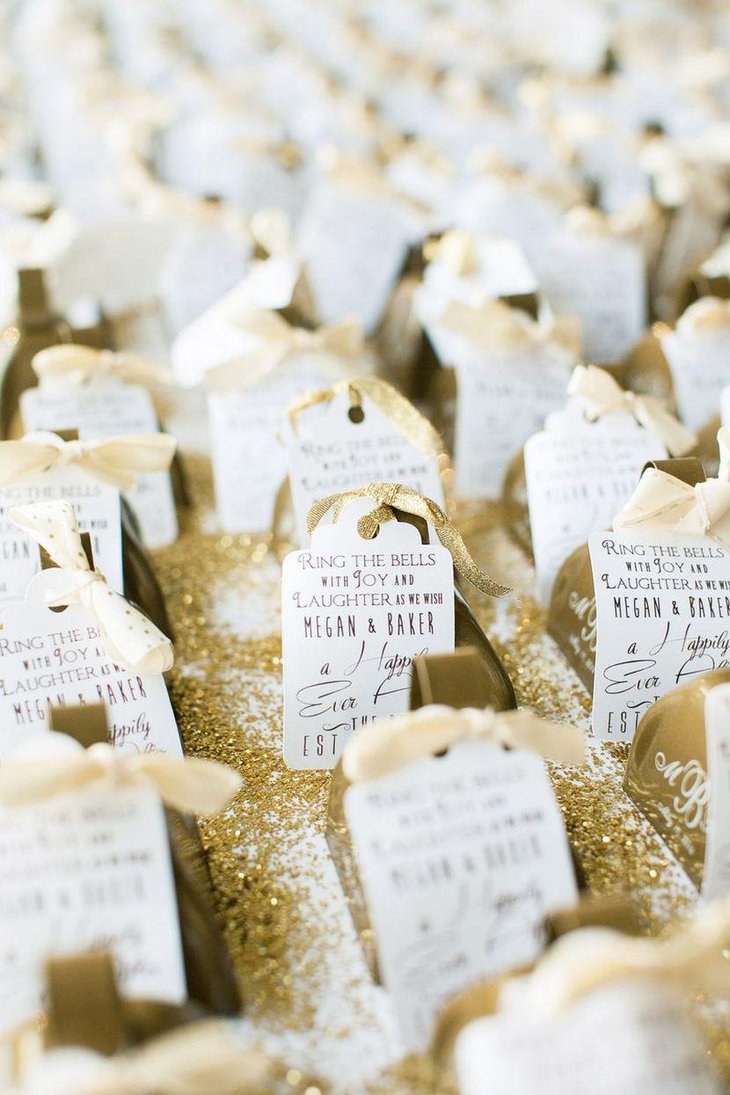 Golden glittery wedding favor decor
Image Credit: thelovelyfind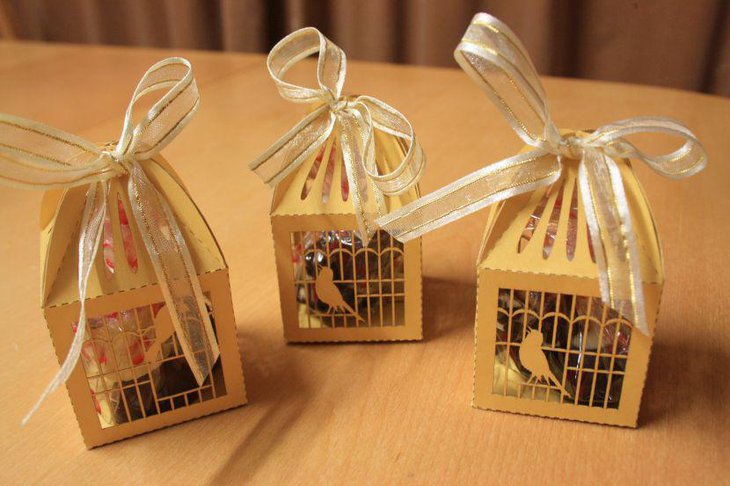 Amazing wedding table decor with golden birdcage favor
Image Credit: pinimg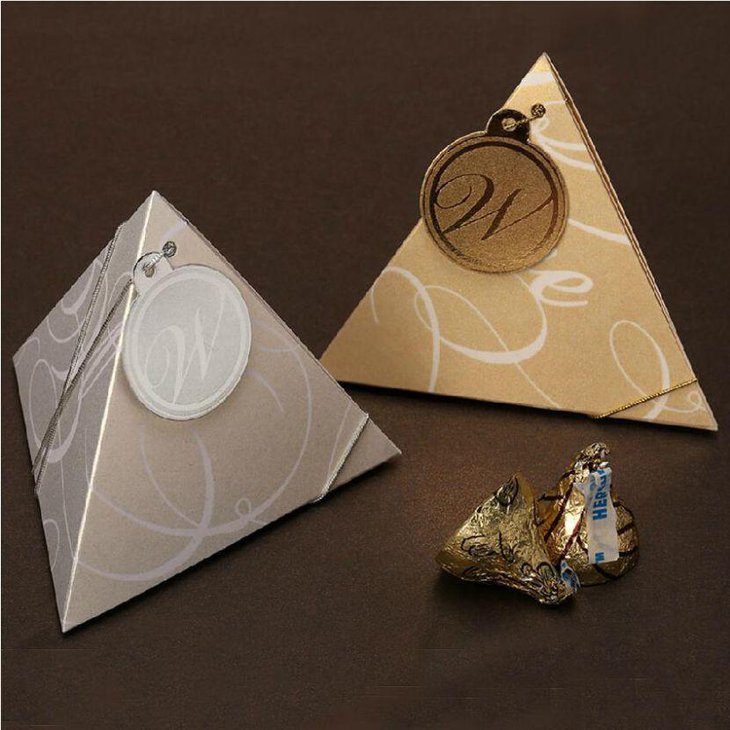 Golden chocolate wedding favor
Image Credit: dhresource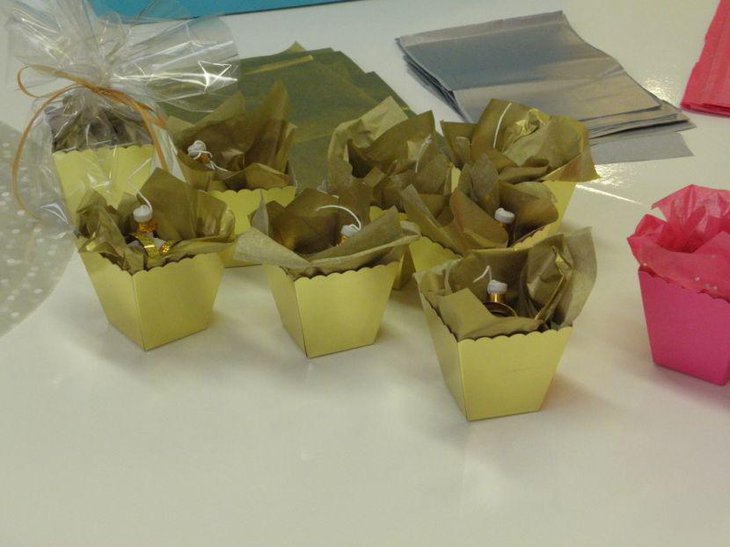 Wedding table decoration with golden accented chocolate favor boxes
Image Credit: stripeyfinds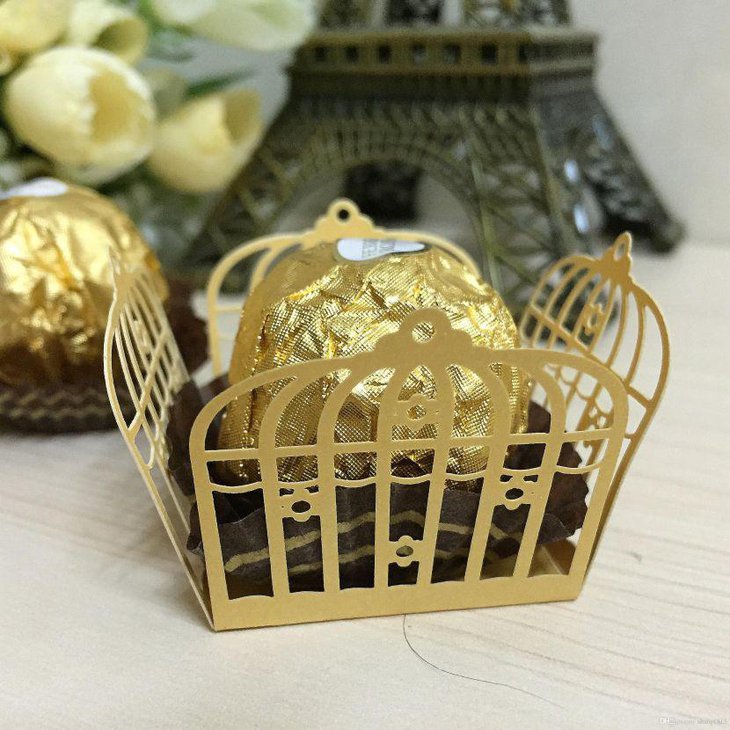 Gorgeous wedding table decor with golden birdcage chocolate favor
Image Credit: dhgate
Appealing gold wedding centerpieces
With these super alluring gold wedding centerpieces, we are sure, you will have a wedding decor that will be talked about for many years to come! The charm and beauty of a gold themed wedding centerpiece is unique as it helps in creating a timeless appeal on your wedding table, just like the golden flowers and foliage filled in the glass jar shown in the first image. For an elegant look, try setting your wedding guest tables with such gold wedding centerpieces that make use of golden accented candelabras or holders arranged together with floral accessories. Golden floral vases in any shape or size too look grand and very opulent. Placing table number frames in golden accents too works best for setting a stylish wedding table.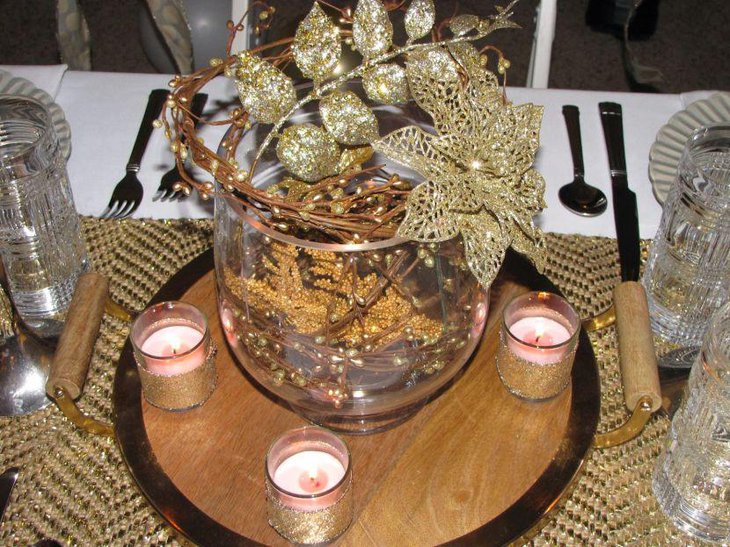 Shimmering golden wedding table centerpiece
Image Credit: blogspot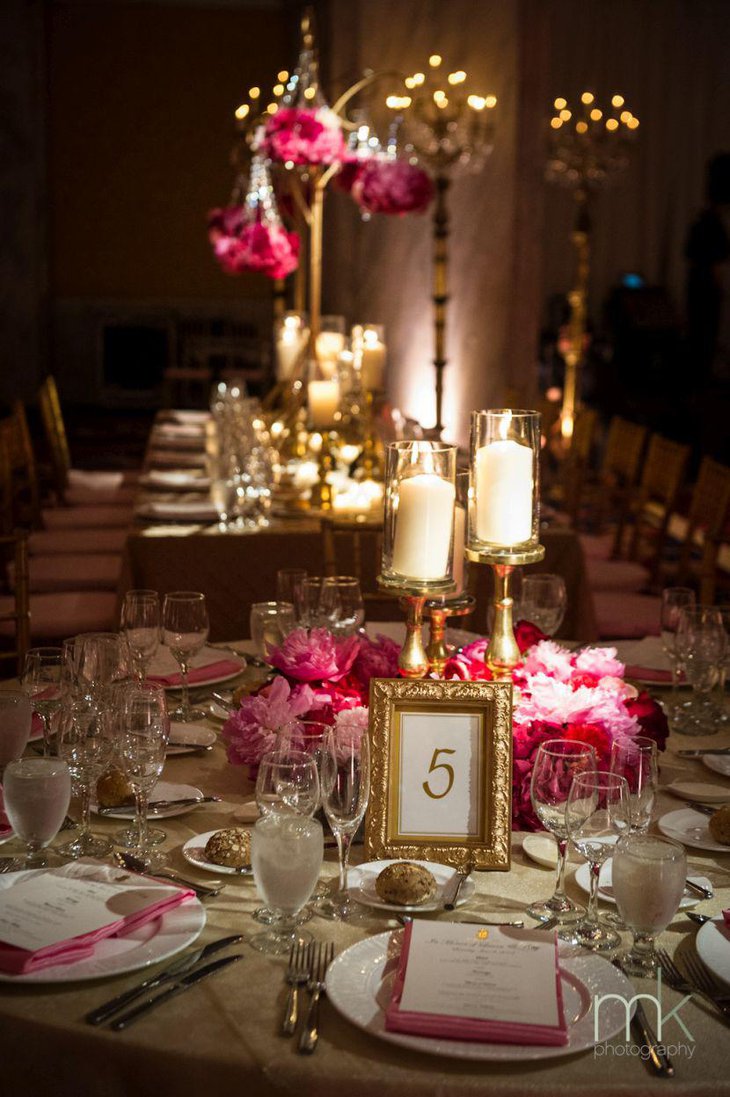 Awesome wedding table decor with golden accented candle holders and frame
Image Credit: beautifulblooms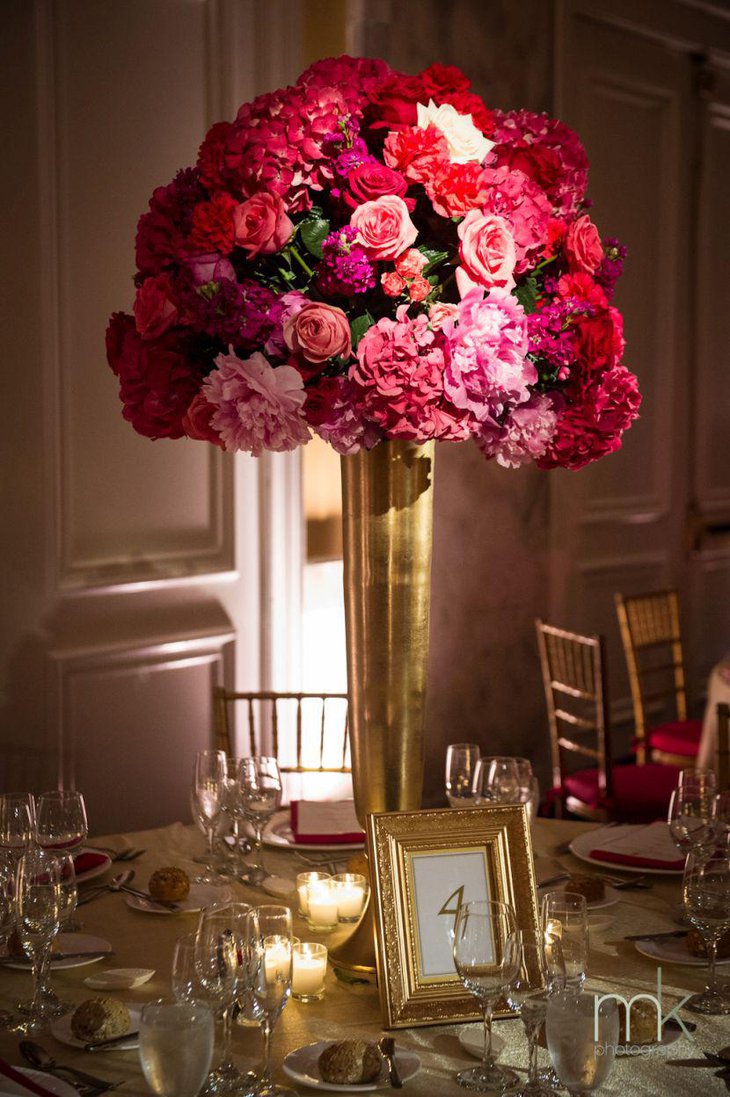 Alluring golden vase filled with flowers as wedding table centerpiece
Image Credit: beautifulblooms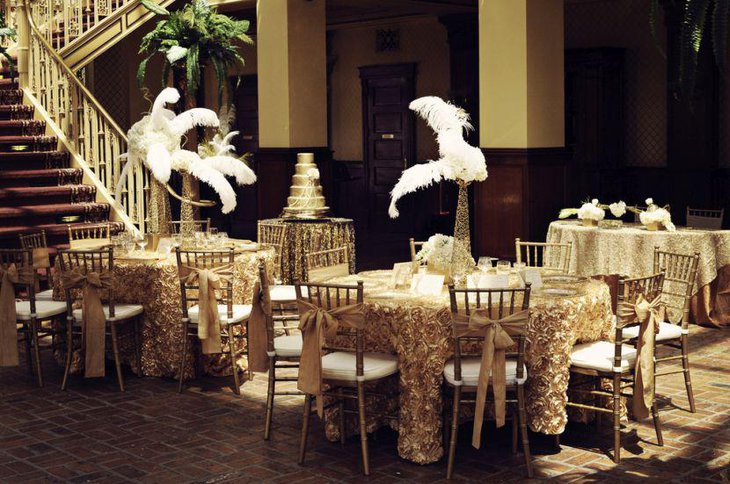 Golden wedding vase centerpiece with feathers
Image Credit: onewed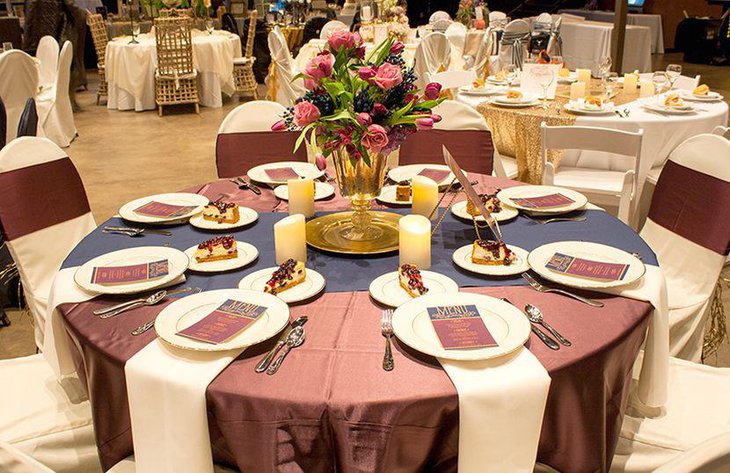 Astonishing golden vase floral wedding table centerpiece
Image Credit: hitchstudio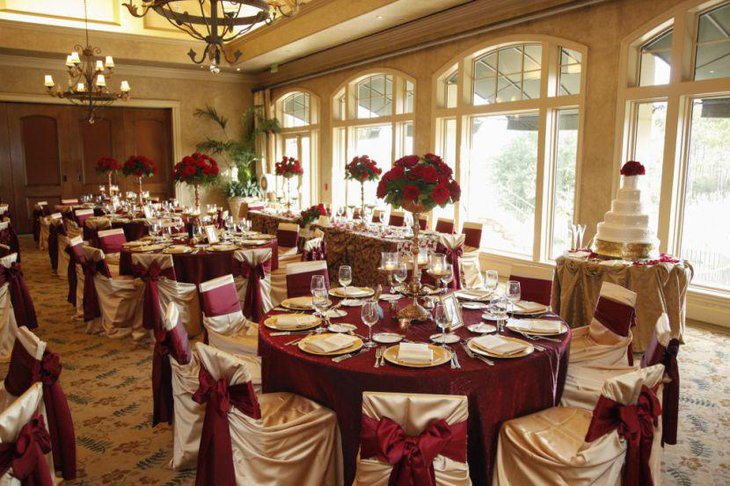 Golden candelabra wedding centerpiece with flowers
Image Credit: floralevents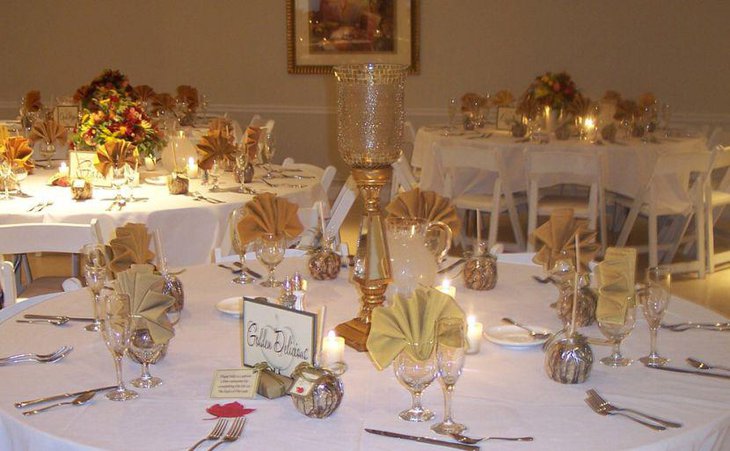 Eye catchy golden wedding centerpiece on table
Image Credit: theatriumonline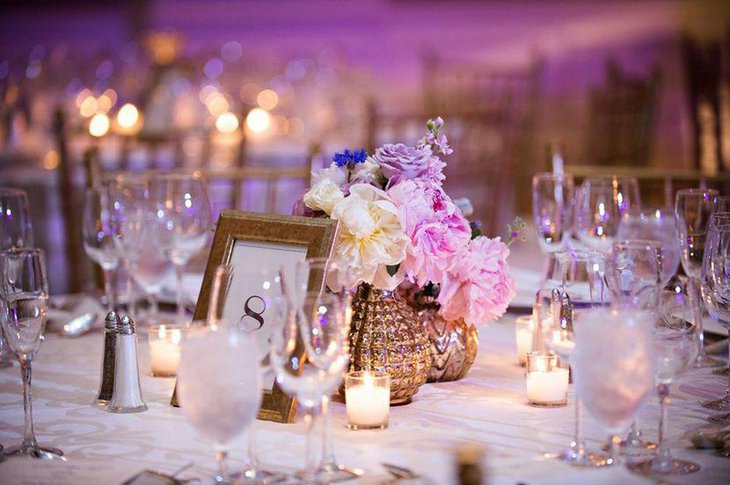 Stylish gold vase and flowers as wedding centerpiece on table
Image Credit: thelovelyfind
Elegant gold table decorations
Golden accented wedding table decor looks visually delightful and now you can have the chance to select a few for your own wedding as we are showcasing a cornucopia of alluring gold wedding theme ideas for wedding tables. Golden tones add style and have a charm of their own. There are plenty of ways to gussy up tables using a golden palette involving tones of rustic, copper, rose and shimmer. For a wedding table that has a tablescape of white and pink, arrange table numbers in gold while your napkins are wrapped with golden napkin holders. Tables can be gussied up with golden rimmed goblets or cutlery to add more punch. Tall golden toned candelabras with floral arrangements on top too look very creative and stylish. The below presented gold wedding decorations are a must to be tried!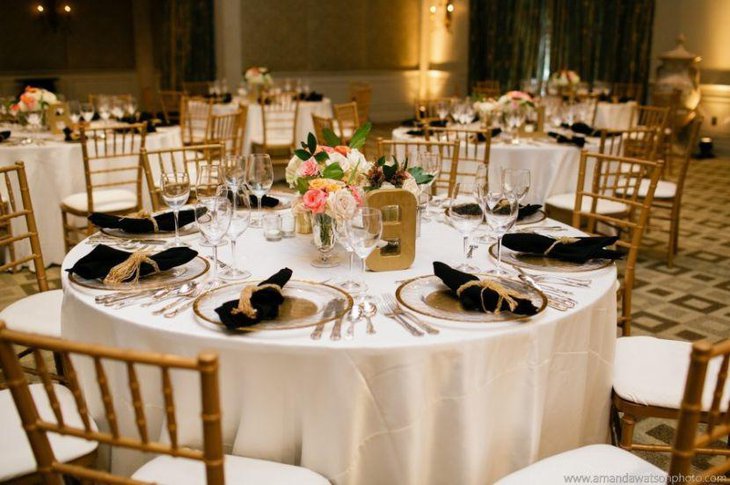 Amazing golden accented decorations on wedding table
Image Credit: thefrenchbouquettulsa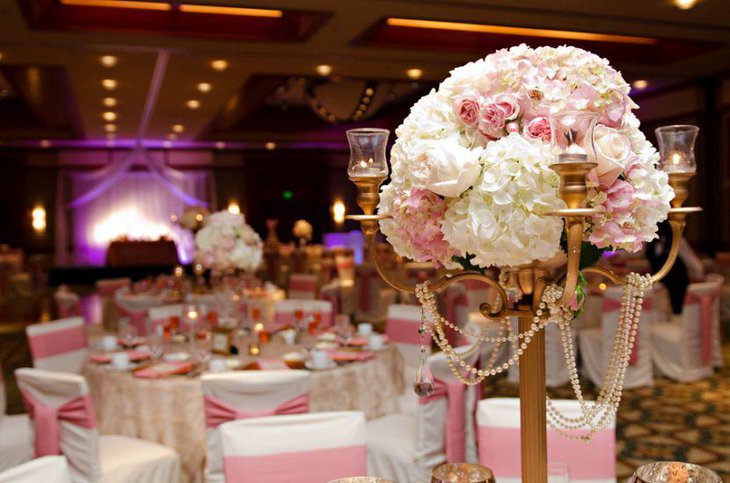 Elegant golden candelabra with flowers decor on wedding table
Image Credit: theeverylastdetail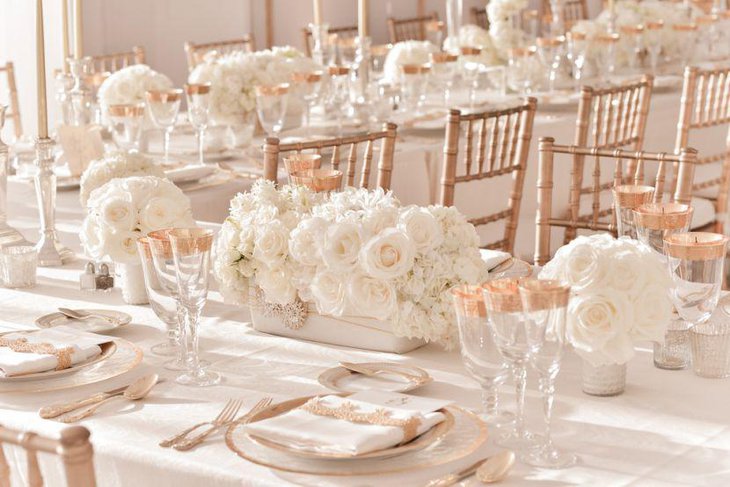 Elegant rose gold wedding table decor
Image Credit: onewed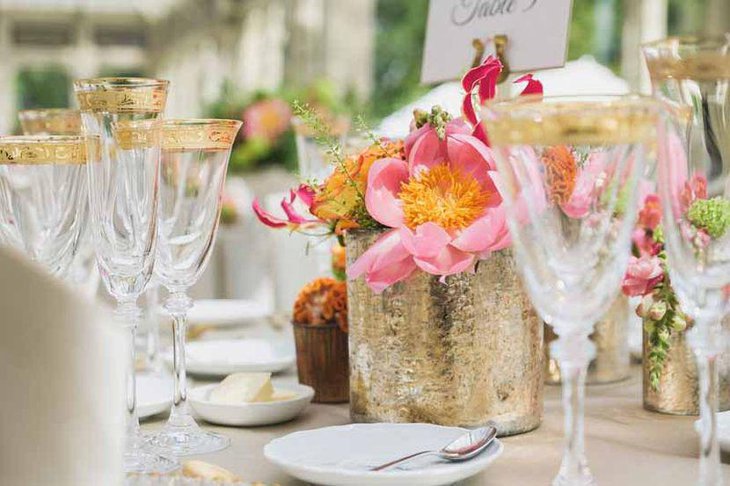 Golden themed floral vase decoration on wedding table
Image Credit: theweddingofmydreams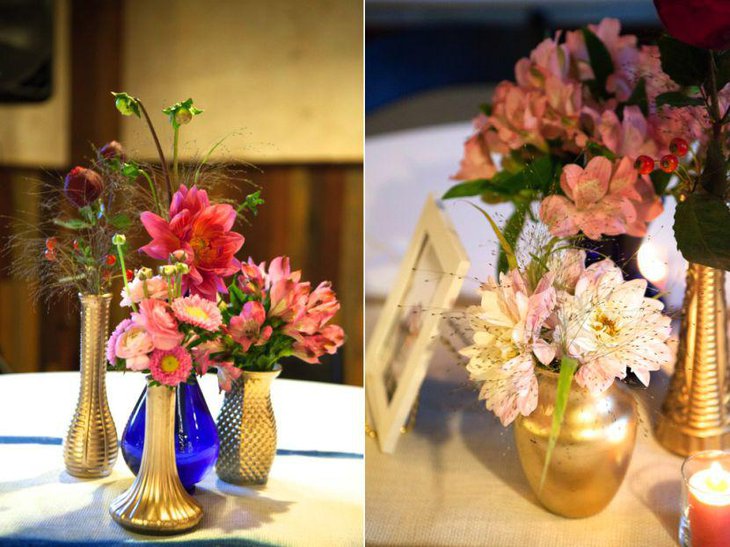 Golden themed floral vase decor on wedding table
Image Credit: calierose
Delightful DIY gold wedding decor ideas
DIY as we all know is the new decor mantra we all are chanting these days. Going your own way and crafting things at own will is something that gives rush to all of us. DIY ideas shown here allow you to take control of the decor whereby you are free to choose the type of settings you want on your wedding table. The golden themed DIY decor ideas of today enable you to make use of house items like bottles, crates, glass jars, ruffles, and mason jars. These things are readily available in your homes, and all you need is to spray some golden dust or glitter to add a shimmering touch. For an appealing wedding tablescape, place some gold sequined table runner in the middle while embellishing the rest of the table with golden sprayed bottles filled with flowers or candles. The same can be tried with mason jars and glasses. The best part about using these DIY gold wedding decorations is that you can play with myriad creative things and make your tables look visually delightful.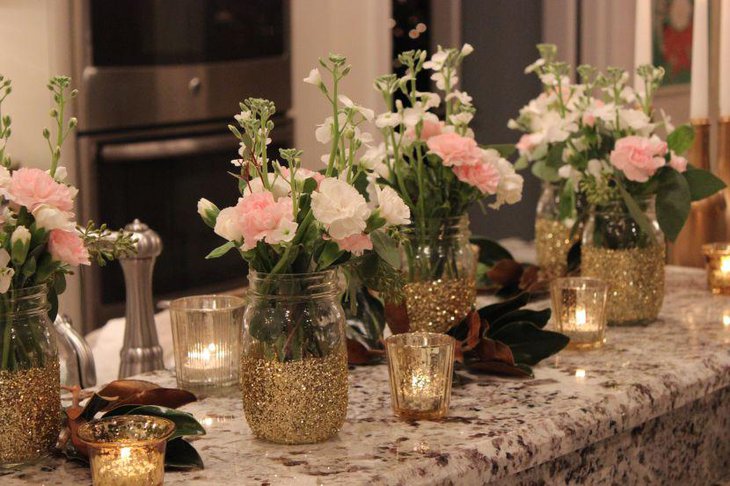 DIY gold mason jar wedding tablescape
Image Credit: wordpress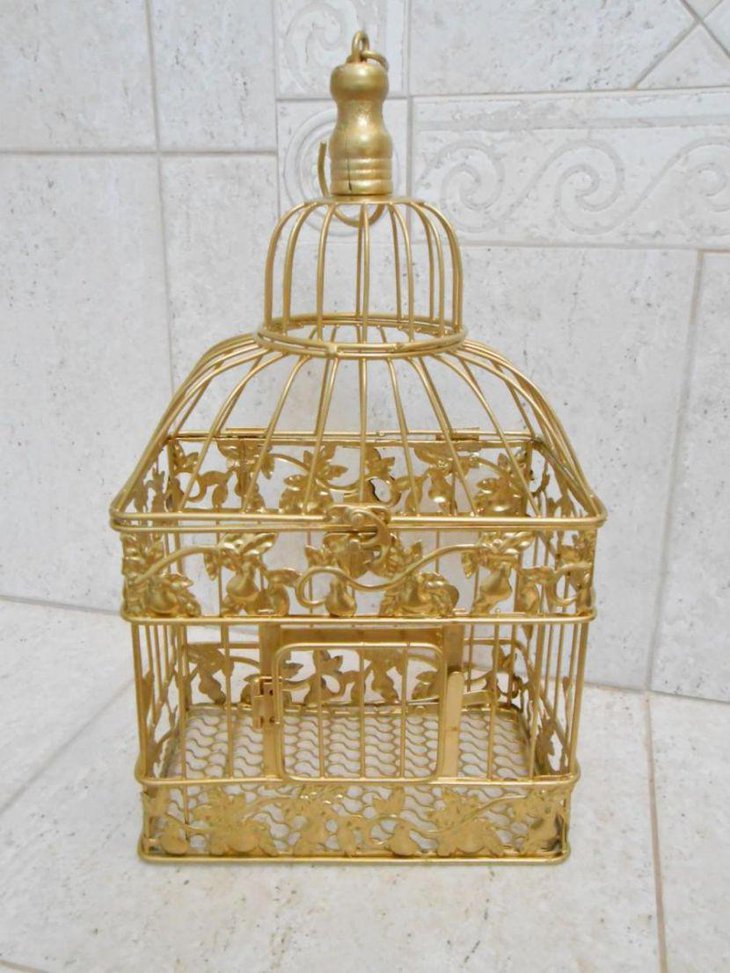 Exotic DIY golden wedding birdcage decoration
Image Credit: weddbook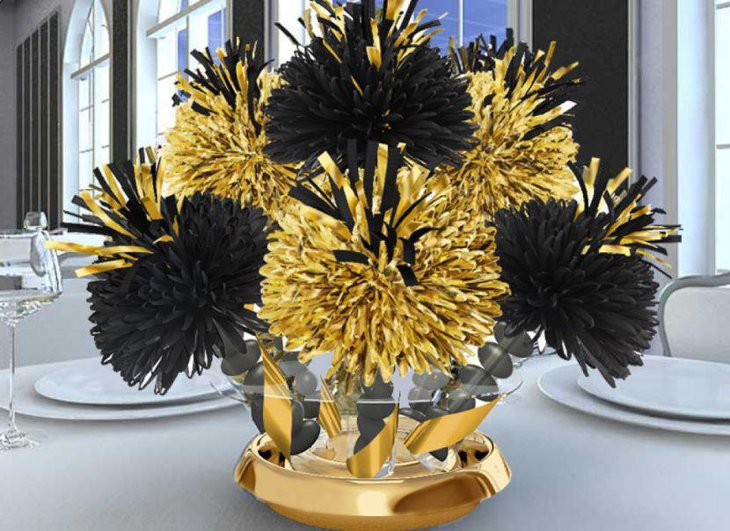 DIY black and gold wedding table centerpiece
Image Credit: weddingdecortheme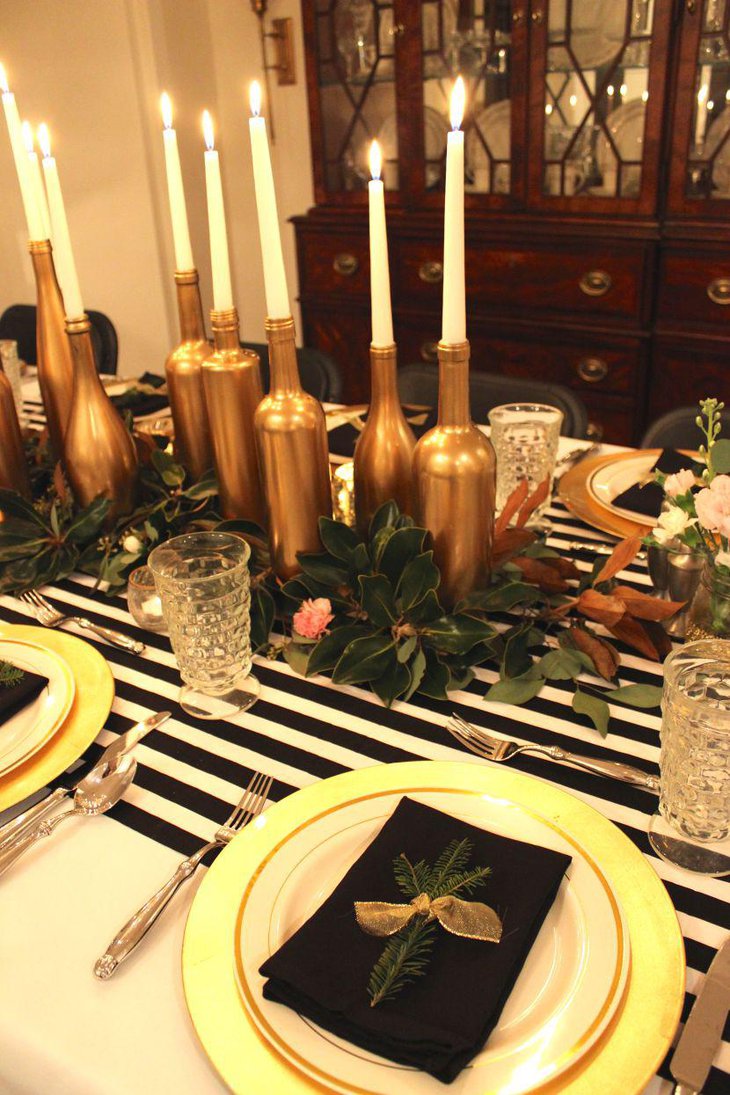 Golden DIY bottles with candles on wedding table
Image Credit: wordpress
With a timeless elegance and unique beauty, gold will always remain a favorite as far as wedding decor is concerned. The mere presence of golden tones at a wedding table is sure to make jaws drop as it is one color that blends and gels with any other color palette, and also looks diverse. You can play around with many textures of this flamboyant color and make awesome looking tablescapes to be remembered by one and all. For every soul that loves the touch of gold in his or her wedding decorations, here are the 35 gorgeous *gold wedding decorations* on display!