The dining room decorating ideas that we are about to bring below will enable you to accomplish such stunning table settings that you never thought were possible before. As we all know, setting a dining table for everyday use, or for any party or occasion varies. Your everyday dining tablescape will need much less preparation than when you are planning to embellish it for some special occasion like Christmas, Thanksgiving or New Years. Anyhow, your dining table needs to look great as its the focal point in your house where you spend intimate time with friends and family, and it becomes mandatory that your tablescape looks warm and welcoming. Some dining table decor ideas listed below follow formal settings while others are more informal and relaxed. You will also get many ideas to host rustic themed dinners at your table as well as those that use cheap and affordable centerpieces. The choice is vast. Scroll down to know more!
Dining Room Decorating Ideas With Golden Accents
Dining table decorations on a dinner table can be made to look opulent and grand when you add golden tones or accents in the form of accessories and table centerpieces. Golden metallic tones can be added to any type of table feature like plates, spoons, cups, or table centerpieces, all of which can enhance the luxuriousness of your dining experience. Below are showcased some awe inspiring golden toned dining table decor ideas that are simply gorgeous. There are many kinds of table centerpieces you can purchase involving golden accents like reindeer figurines that could be adorned on Christmas dining tables, or golden rimmed cutlery, or napkin holders with snowflakes crafted out of metallic gold. Even floral accents added onto your dining table can bear a golden palette.
Gorgeous dinner table decoration with golden deer centerpiece
Image Credit: frexone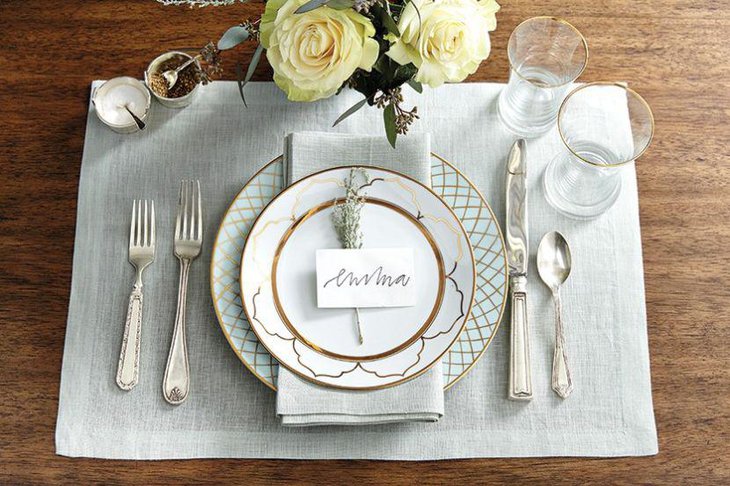 Holiday dinner table decor with golden rimmed plates and flowers
Image Credit: howtodecorate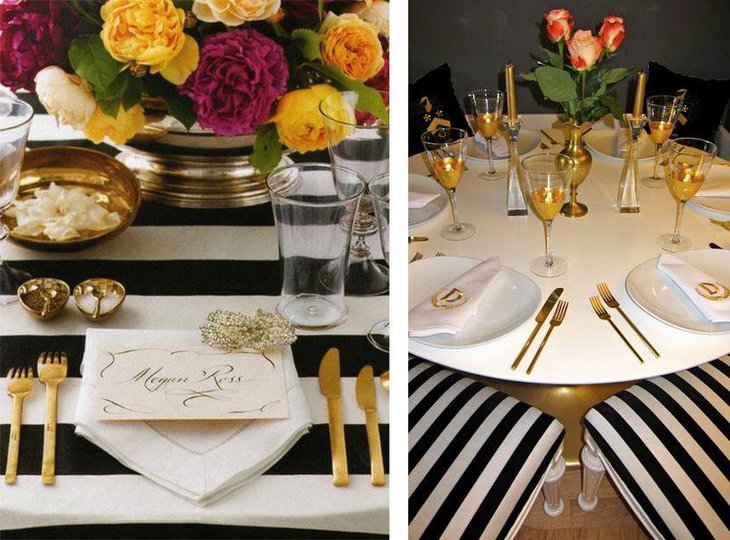 Gold flatware dinner table setting
Image Credit: breakfastwithaudrey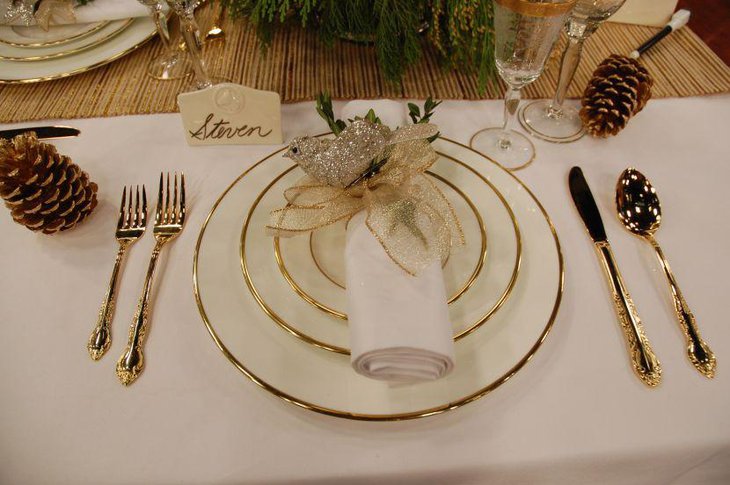 Gold cutlery decor on dinner table
Image Credit: cbc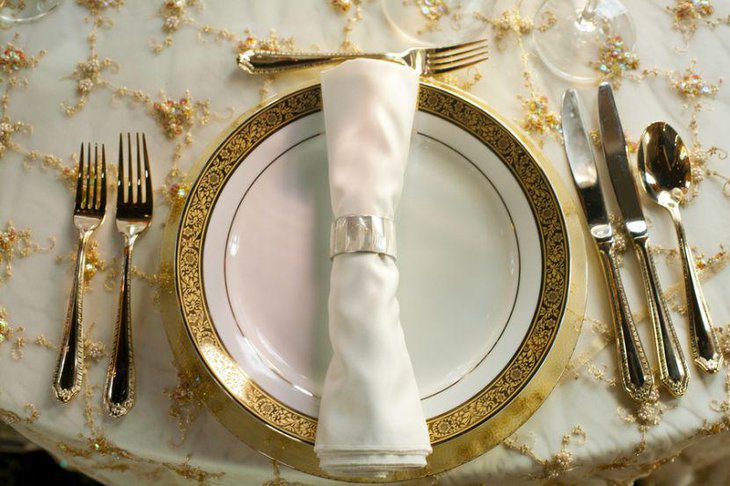 Dinner table setting with gold toned plates and tablecloth
Image Credit: fabyoubliss
Stunning Dining Room Decorating Ideas With Silver
If gold is the 'Queen' of table decor, then it has to be silver that can be termed as the 'King' of all dining table decorations. The silver look on tables adds to the decor's beauty and there are plenty number of ways you can add such tones to your decor like silver rimmed glasses, plates, or spoons, or decorative pieces that are designed with silver embossed patterns. If its Christmas that you are celebrating and are hosting a dinner, you can throw in tones of silver on accessories like candles or flowers. You can also have a Santa that's decorated with silver clothing and ornaments! Silver baubles and ornaments too look very adorable. You could also add oxidized silver accessories to your tablescape in the form of napkin holders and ties. Dining room decorating ideas with silver are always popular and can enhance the appearance of any dinner party!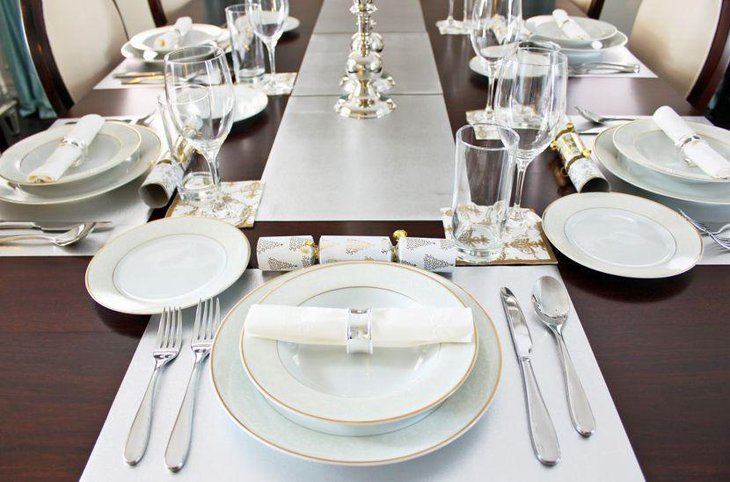 Gorgeous dinner tablescape with silver accents
Image Credit: blogspot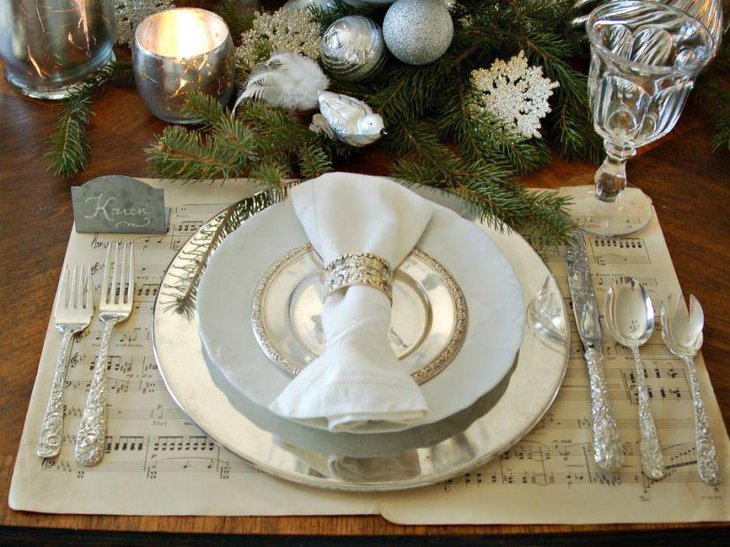 Festive dinner table setting with silverware
Image Credit: sndimg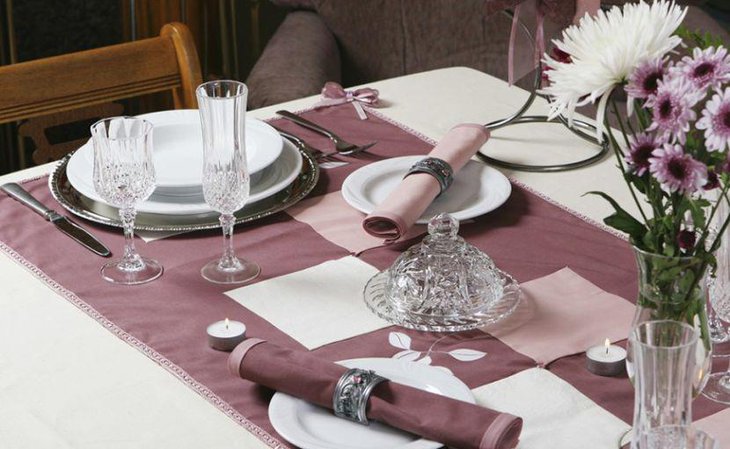 Elegant dinner table setting with silver napkin rings
Image Credit: cloudfront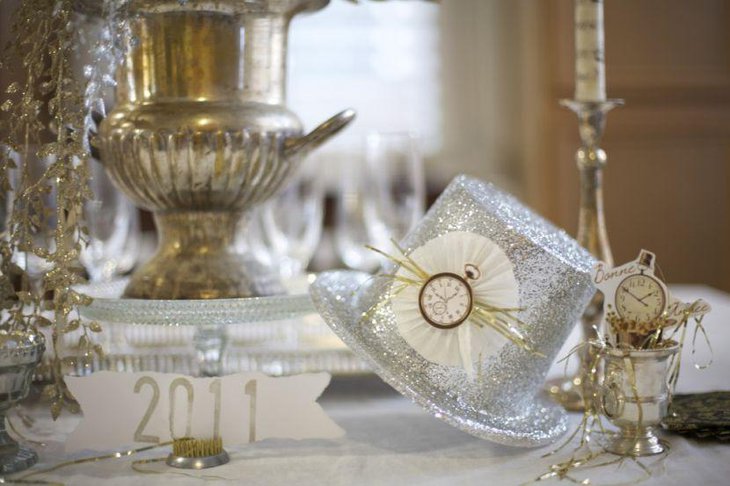 New years eve dinner table decor with silver accessories
Image Credit: newenglandfineliving
Gorgeous Dining Table Decorations With Flowers
A flower's tender beauty and serene look makes it a favorite party accessory, and your dining tables can become the 'hotpot' of everyone's attention when these are made to flaunt a floral look. Flowers lend a very sweet touch to a decor and can be decorated all over a table in the form of dining table centerpieces or as complimentary decorative pieces. Flowers like roses, lilies, sunflowers and hydrangeas are very popular choices as far as decorating dining tables is concerned, and there are umpteen number of combinations you can try with these beauties involving the use of glass jars, votives, candles and other accessories. For a better and a more 'flowery' inspiration, scroll down and get some cool floral dining table ideas that we have showcased below.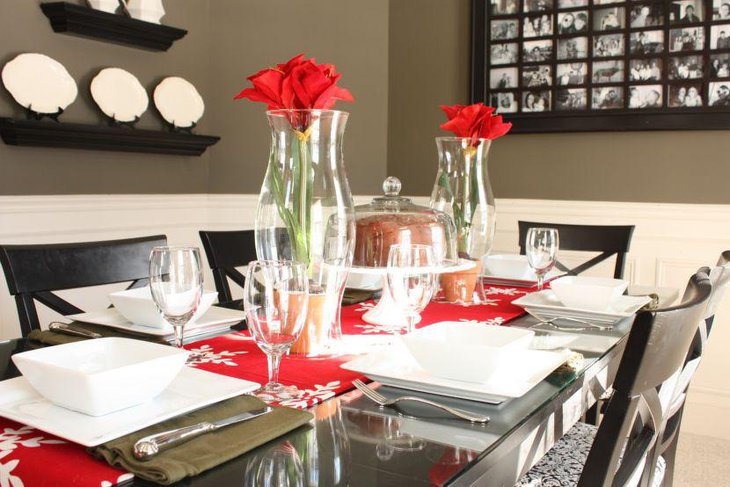 Beautiful dining table decor with red floral decorations
Image Credit: wakecares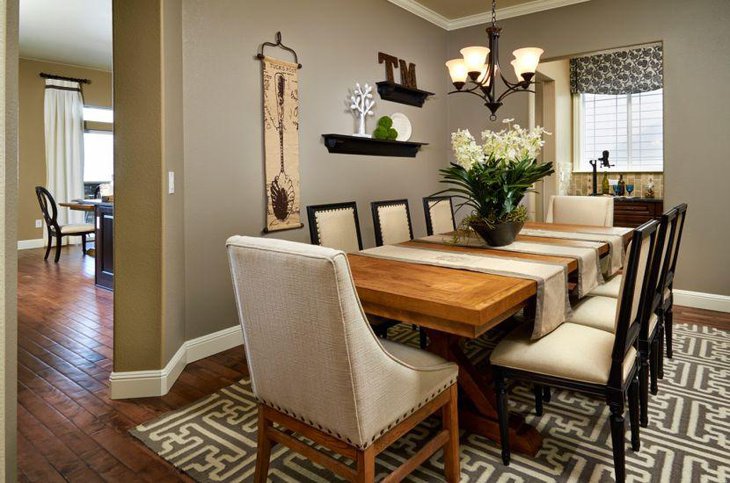 Simple dining table decor with floral centerpiece and metal chandelier
Image Credit: lindaberner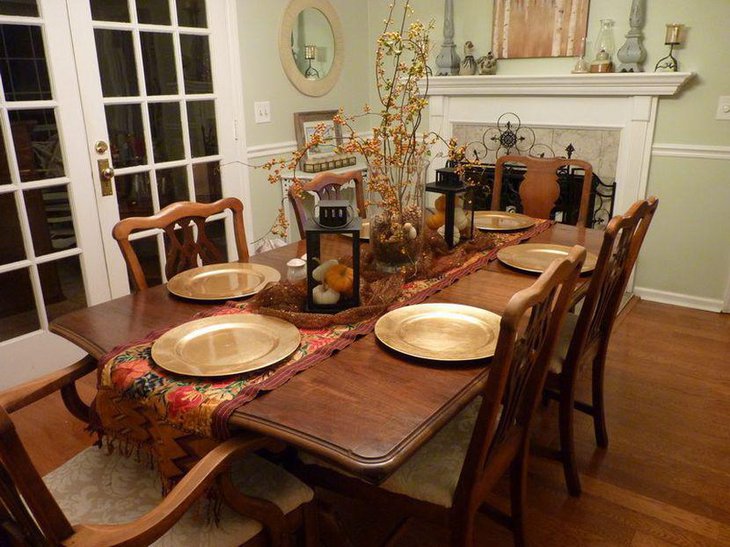 Dry floral centerpiece decor on dining table
Image Credit: hpbaa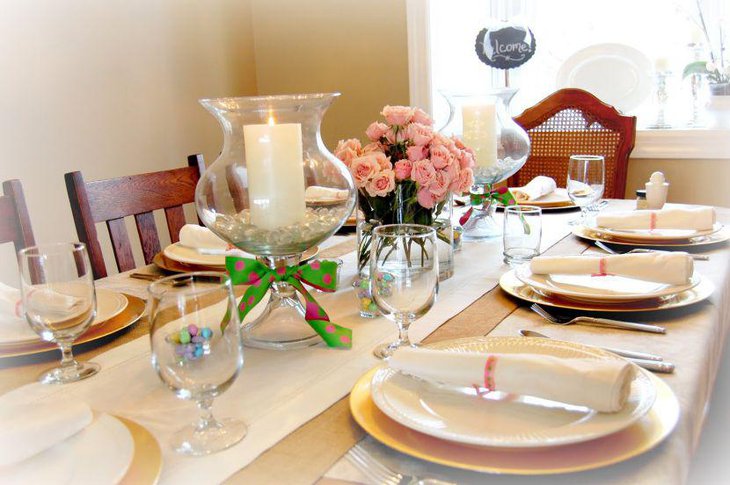 Adorable dining table setting with candle and floral centerpieces
Image Credit: mihome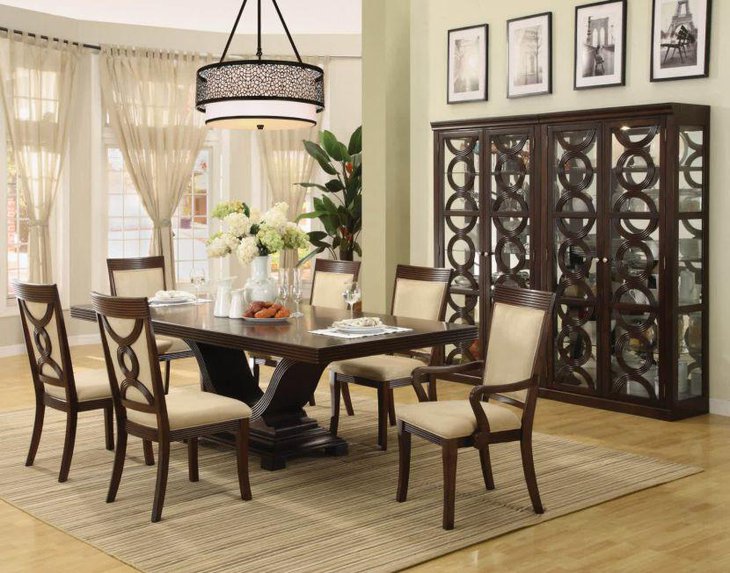 Elegant dining tablescape with floral vase
Image Credit: decowans
Inspiring Dining Table Decor With Candles
If adding a floral touch to your table decor isn't enough to bring freshness and zing, you can also go in for dining table decorations that involve the use of candles in pretty colors. A candle is a typical decor accessory that's used by decorators when adorning venues or dining tables. Be it any occasion or gathering, embellishing your dinner tables with candles has always been a hit with folks. Candles bring an illuminating effect to a table and make dining a special event. You can try placing candle centerpieces all by themselves, or can also mix and match with flowers and other types of accessories. Below, you can get some awe inspiring dining room decorating ideas with beautiful candles that can lend a classy feel to your tables. You can either go in for large white candles filled in huge glass goblets or jars, or can also choose tea light candles placed inside votives. Chrome candle sconces or holders too look grand and can blend very well in a modern dining room. From simple candle decor on your tables, to elaborate settings involving flowers, or birdcages, or lanterns, the choice is vast.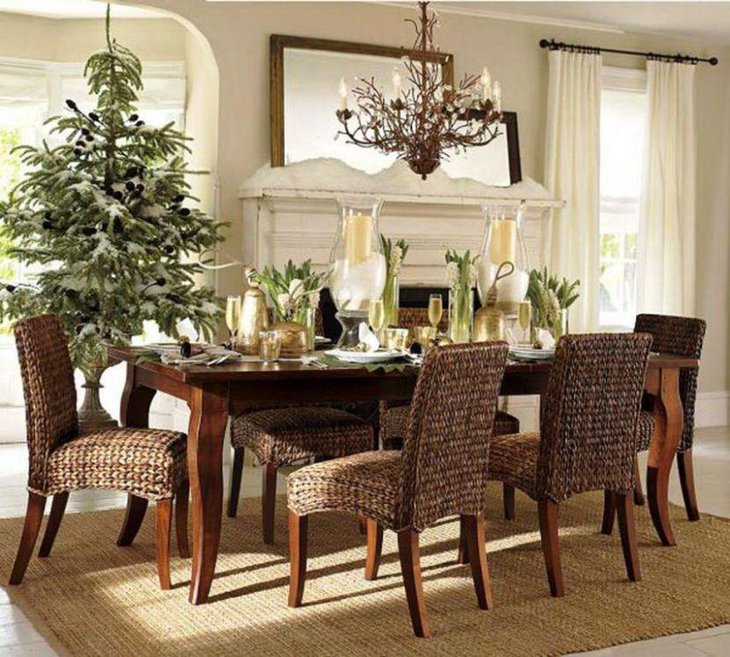 Formal dining table decor with candle centerpieces
Image Credit: arunahotel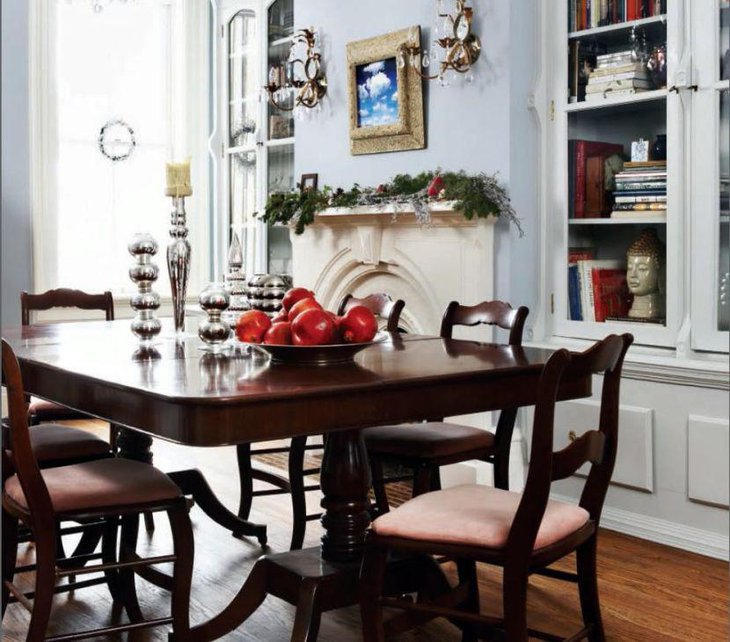 Gorgeous dining table setting with chrome candle sconce
Image Credit: wakecares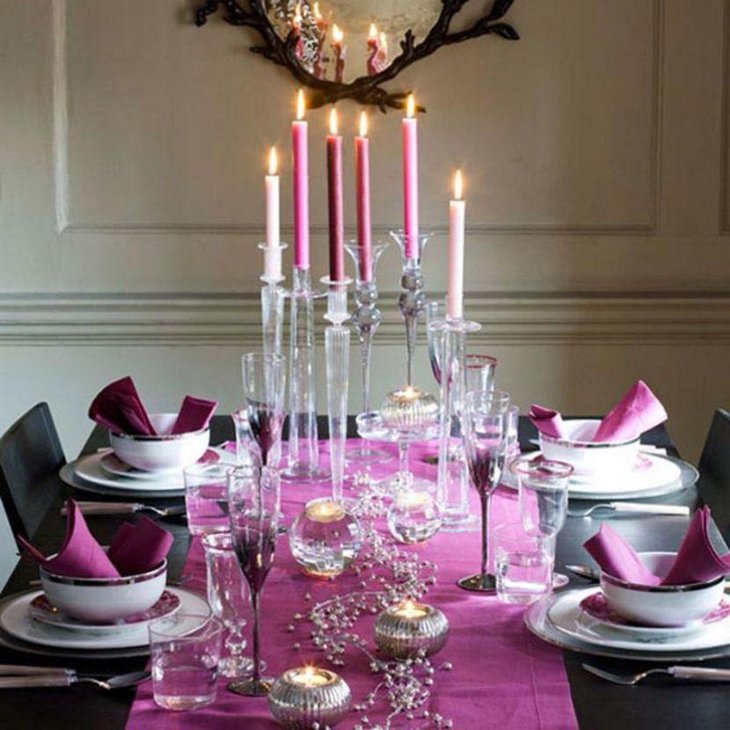 Impressive dining table decor with candle decoration
Image Credit: wakecares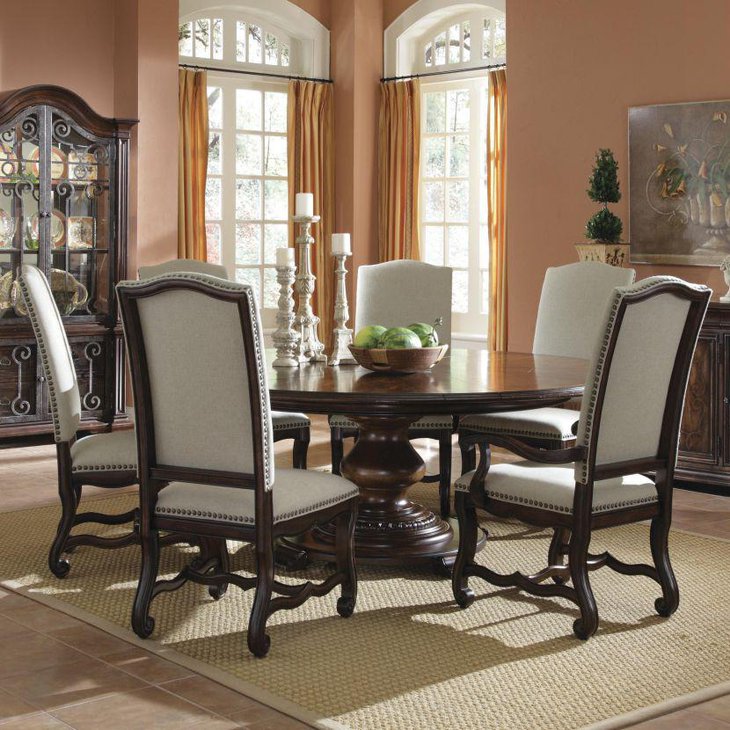 Alluring dining table decor with candle sconce and fruit bowl
Image Credit: zoomtm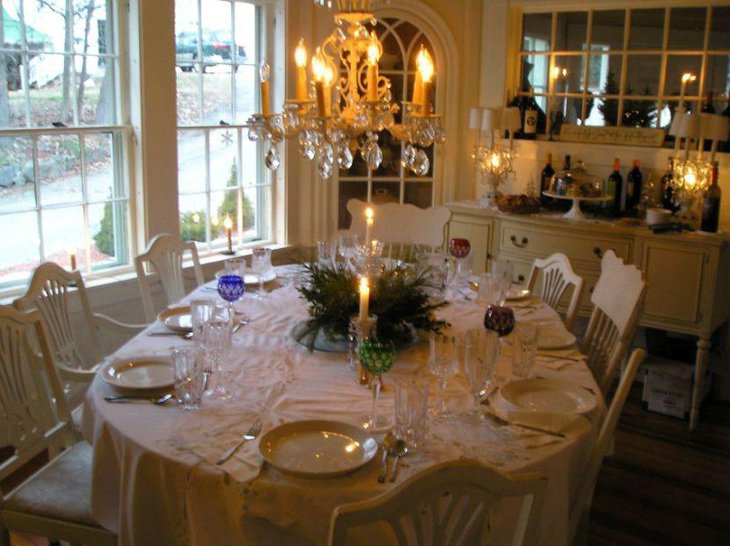 Stunning dining table decor with plants and candles
Image Credit: wakecares
Small dining table decor with black candle holder and candles
Image Credit: toobe8
Stylish Dining Room Decorating Ideas With DIY
Your dining table decor can be taken to the next level with cute and crafty DIY dining table centerpieces or accompanying decorations. Do it yourself is the new age phenomenon as far as interior decoration is concerned. Its getting more and more popular as folks want to craft new and creative decor ideas that have their own personalized touch. Moreover, DIY allows you to mix and match ideas that can be easily accomplished at affordable rates. There is absolutely no dearth of ideas when you go the DIY way. For an everyday dining table setting, you can place ornamental glass jars that can be bought from thrift stores at reasonable prices, or can place fresh or seasonal flowers that you can pluck straight from your backyard garden. If you have plain napkins but want to enhance their look, try wrapping these with burlap, lace or twigs or simple cherry branches that are really awesome to look. Similarly, placing a green inspired terrarium as the main centerpiece on your table can transform the look and make your dining area become the most loved place! Below, we have presented a few decor ideas involving DIY that will blow your senses!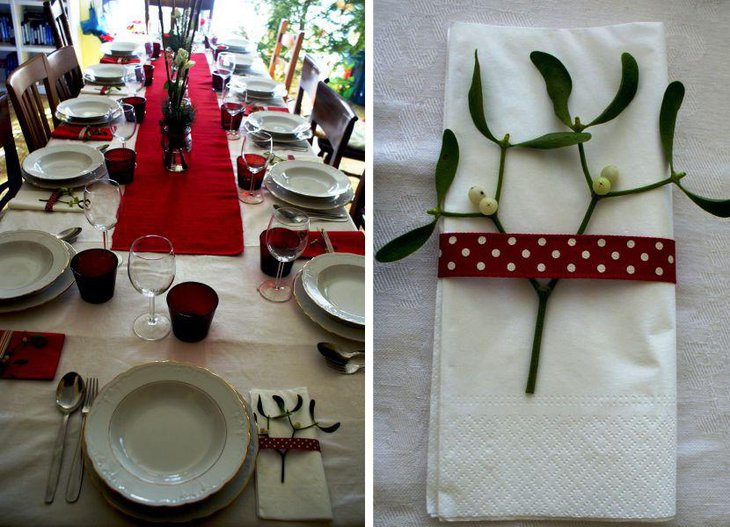 Cute red and white dining table decor with DIY decorations
Image Credit: luxurybusla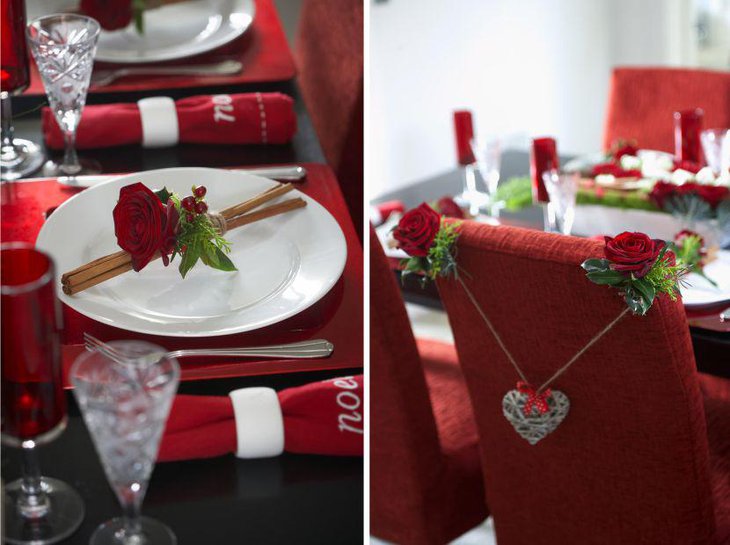 Astonishing DIY decor on dining table
Image Credit: virtuvesmenas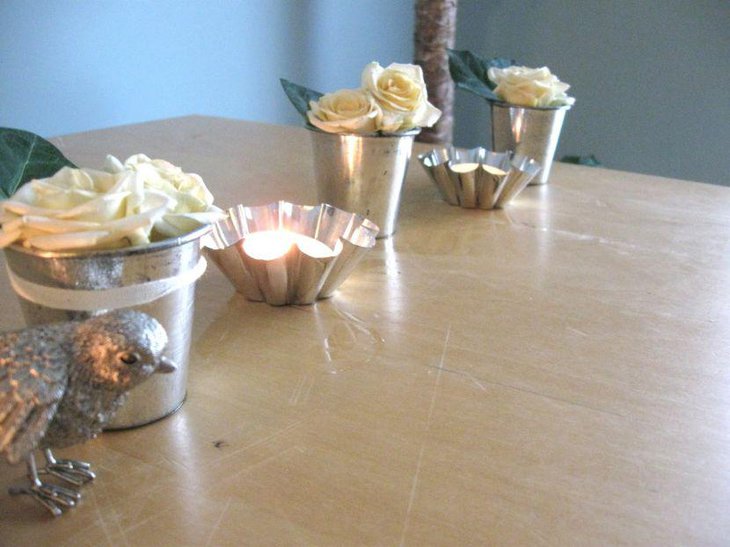 Silver DIY accessories decor on dining table
Image Credit: luxurybusla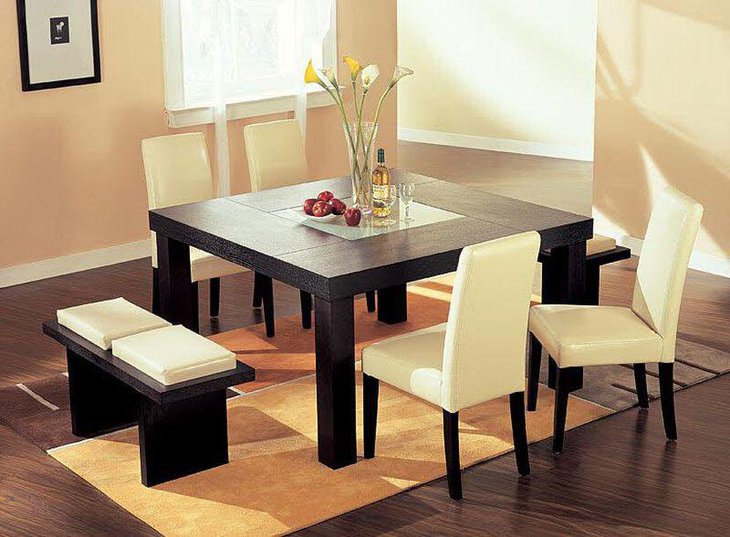 Stylish DIY dining table centerpiece decor
Image Credit: allsiteslike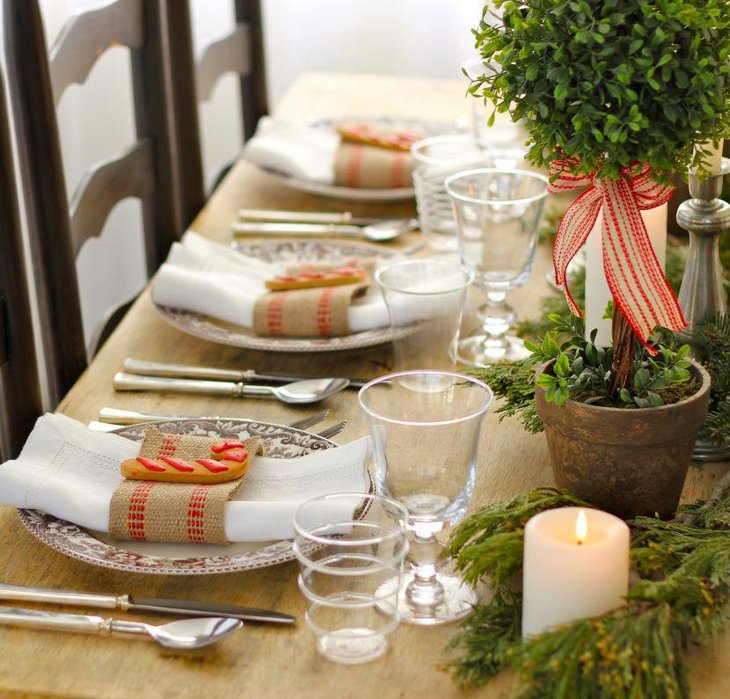 Beautiful DIY decorations on dining table
Image Credit: colorfulhouse
Cheap Dining Table Centerpieces For Smart Dining Tables
Dining has to be a special occasion even if its a day to day affair as a dining room hosts families and friends that gather together and spend quality time with one another. Dinner tables need not always feature exquisite or over the top dining table ideas to draw attention from everyone. These can be made to look handsome and beautiful even with cheap decor ideas that make use of easily available accessories that can be crafted using your own imagination and without spending huge amounts. Looking at the vast demand for cheap decor ideas, we have handpicked a few very cool looking dining table centerpieces, all of which can add surreal touches to your table decor. These accessories are easy to find and are cheaply available. In the pictures shown below, you can spot gorgeous table decor ideas that have made use of seasonal flowers, pine cones, glass jars, and candles. All of these bring an element of freshness and you can get the look easily at cost effective prices.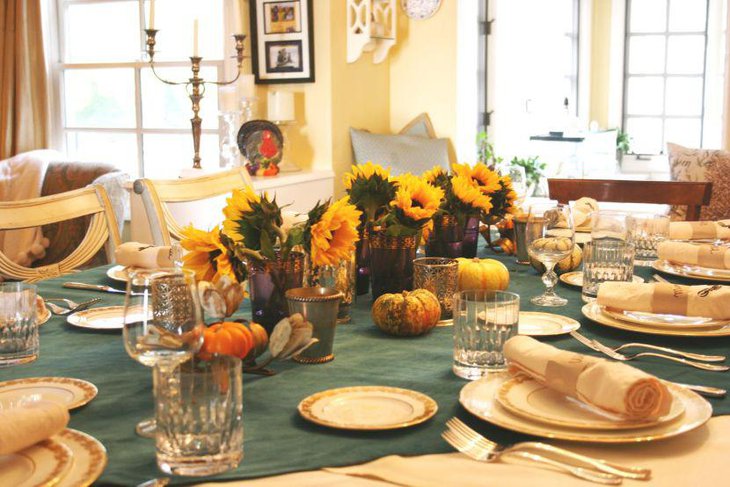 Colorful sunflower decor on dining table
Image Credit: homedecor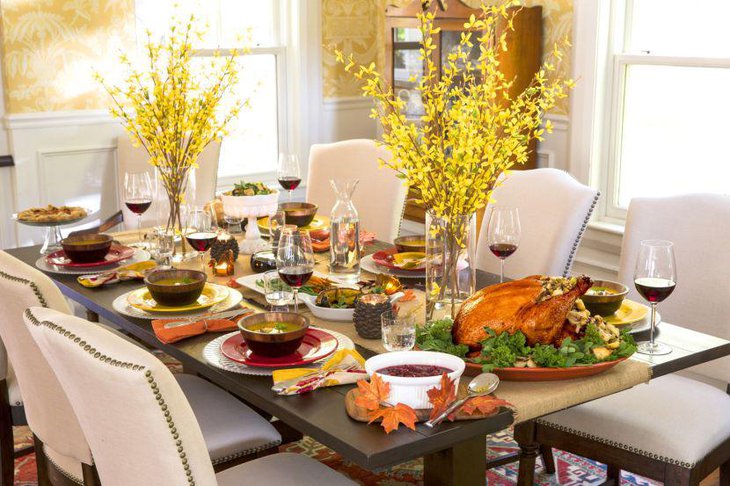 Easy to find accessories placed as decorations on dining table
Image Credit: huffingtonpost
Inspiring White Dining Table Ideas
Dining room decorating ideas in white, just like the ones we have shown below, are enough to inspire you to embellish your tables with white decorations as these look quite chic and very elegant for anybody's tastes. White table decor has its own signature style that suits every modern home or even a space that's more traditional in appearance. If you have a white dining table and want to add more white tones to it, you can couple together white and black toned decorative items, or for a dining table that is accented in wooden or glass tones, try placing white centerpieces like pots, pans, trays, or abstract figurines to lend a dash of uniqueness.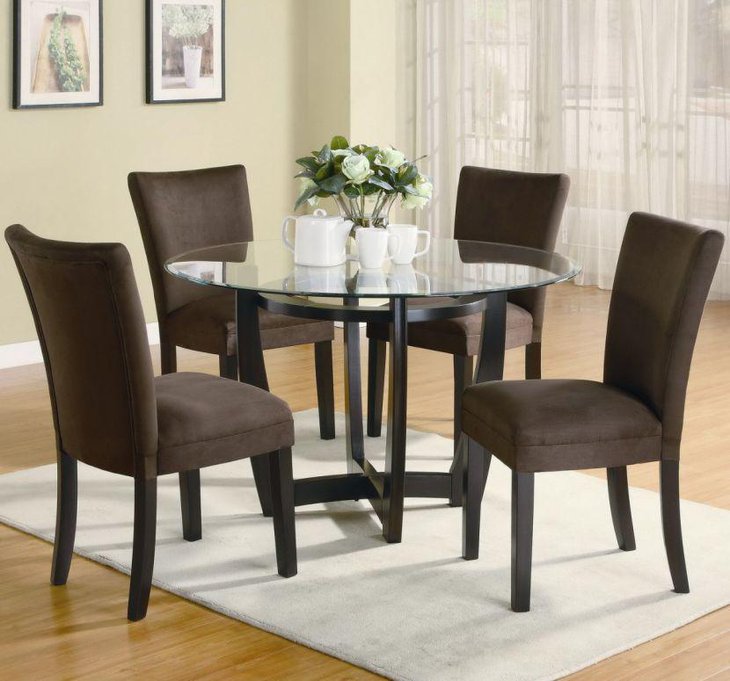 White dining table decor with teaset and flowers
Image Credit: orai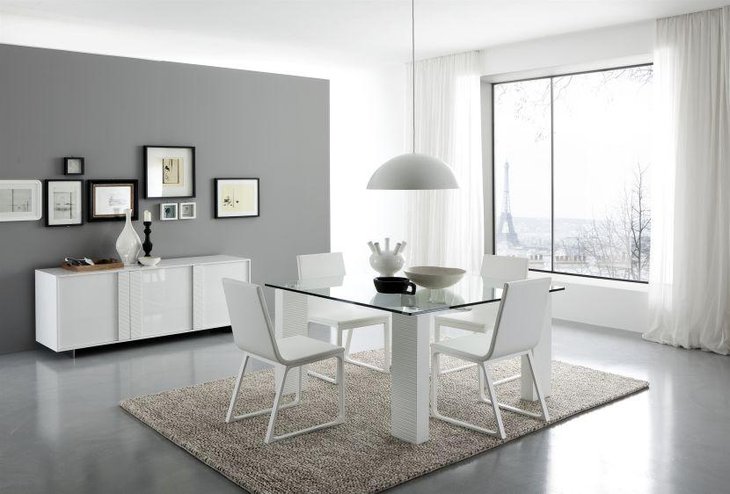 Trendy white dining table decor idea
Image Credit: tisns
Stylish dining table decor with white table centerpiece
Image Credit: luxurybusla
Delightful Rustic Dining Table Decorations
A rustic styled dining table decoration will always focus more on natural textures and rugged looks that look masculine and very stylish. The very mention of rustic brings glimpses of earthy tones of brown and textures that surface on organic lines. When you are planning to adorn your dinner table with rustic settings, be prepared to do away with pastels and pretty pinks, and anything that looks over the top. Instead, choose such earthy tones and warm textures that lend a feeling of coziness and the vibe that you get when you are living in the countryside. Rustic themed dining table ideas will always feature natural decorative pieces like driftwood centerpieces, industrial accessories like metal hardware and leather and will never make use of feminine pieces like flowers or crystal ware. For a dramatic and warm look in your dining room, select rustic themed table decor.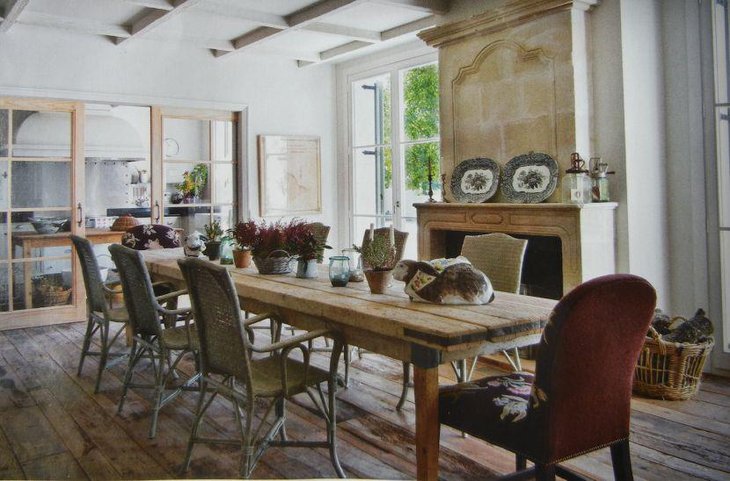 Eye grabbing rustic dining table setting
Image Credit: qnud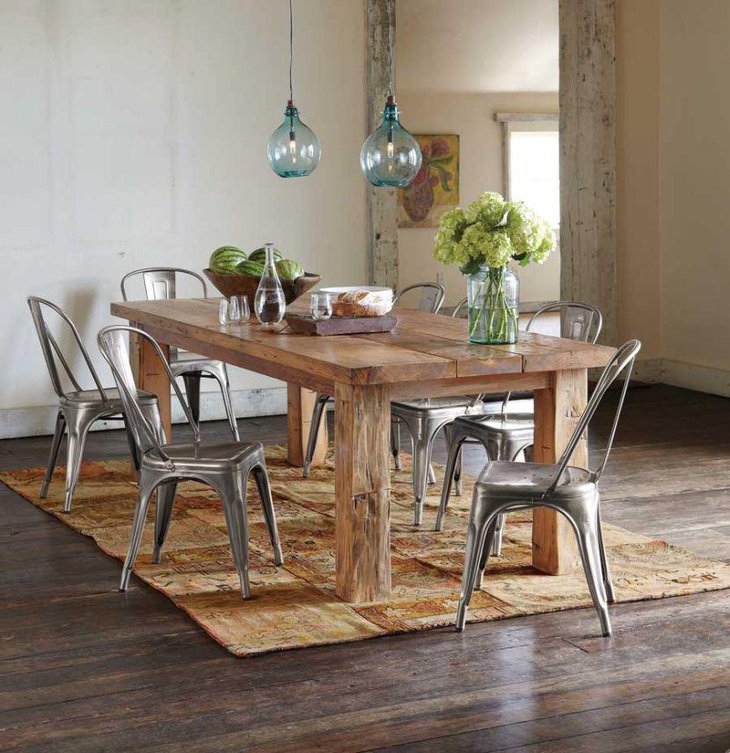 Rustic dining table decoration with wooden tray and fruit bowl
Image Credit: homexdecor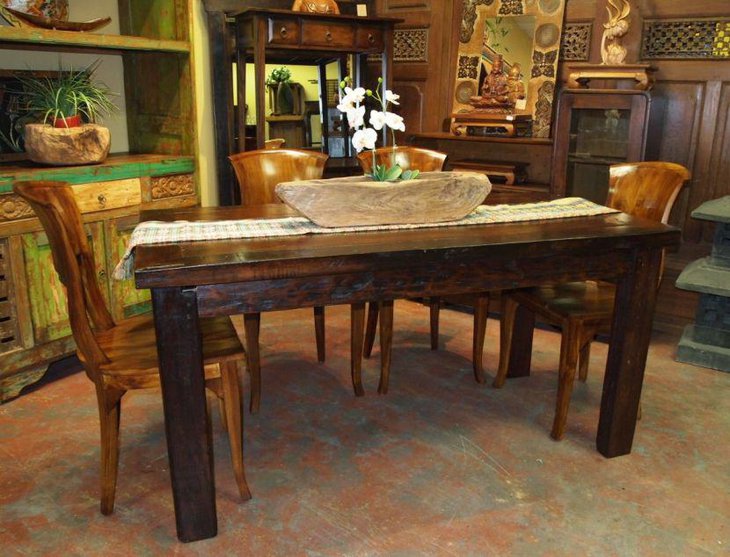 Stunning dining table decor with rustic floral table centerpiece
Image Credit: wapphouse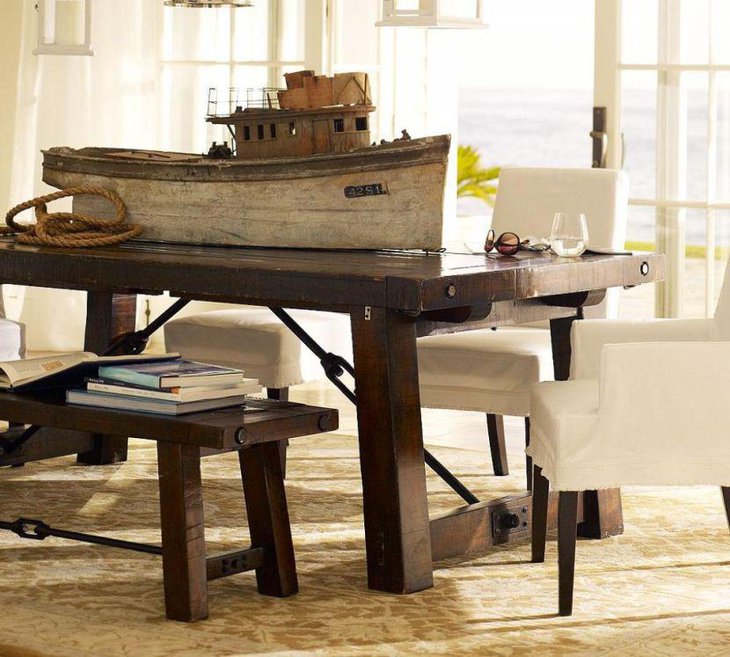 Dining table setting with rustic looking wooden boat centerpiece
Image Credit: simpty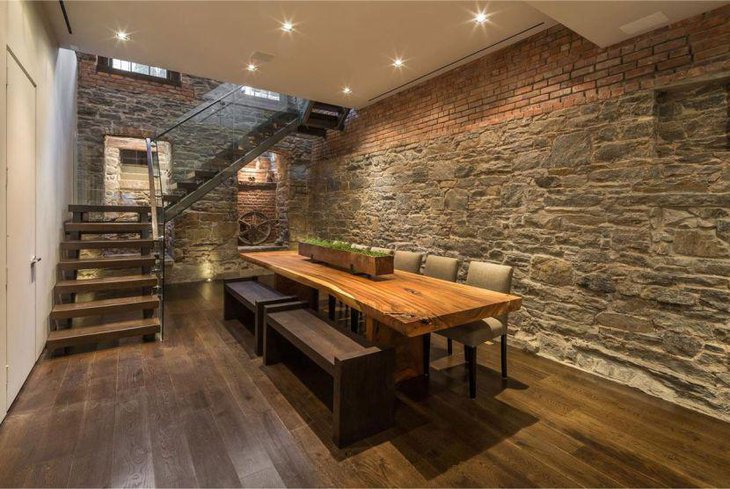 Wooden floral centerpiece on rustic themed dining table
Image Credit: mazungo
The dining tablescape must wear a smart and classy look if you are someone that loves to eat and dine in style. For some cool ideas on decorating your dinner tables, you must keep looking out for posts featured on various decor websites like ours as these will offer you the latest trends on decor. From simple, rustic, modern, white, to floral to candle decorations, there are many types of *dining room decorating ideas* that are mentioned above. Enjoy reading!