Looking for innovative ideas to stylize your bedside tables? These creative bedside table décor ideas will awaken you to the possible rustic, glam, and modern chic tables and décor that you can have. From DIY to designer furniture and accessories, these examples will inspire you to give your bedside table a completely new look.
Crate Tables
Put your old crates to use and create unique nightstands and décor for your bedroom. Old apple or wine crate ideas are hot trends. If you want to go minimal, use old unfinished crates. Or paint them and add your own stenciled or hand-drawn designs.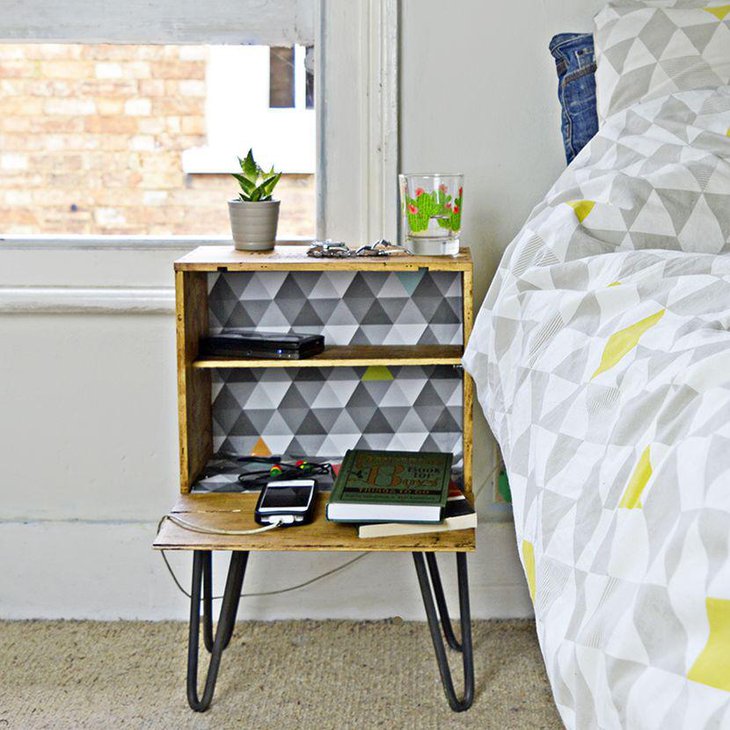 Creative DIY Nightstand from Unfinished Wine Crate and Patterned Paper
Image Credit: pillarboxblue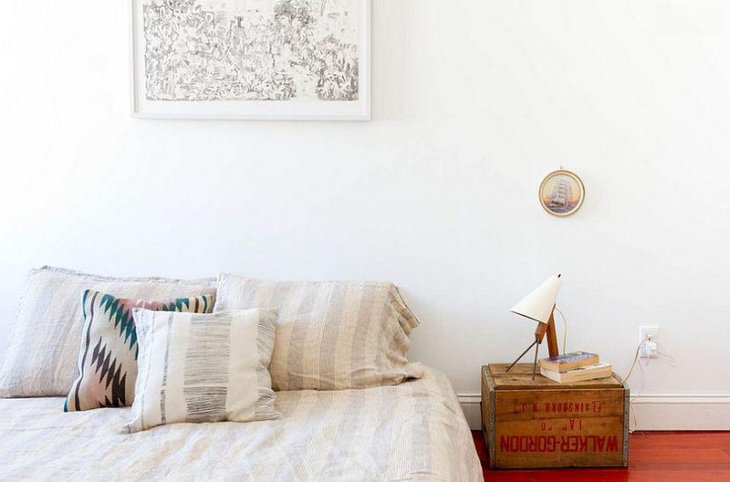 Easy Upside Down Crate
Image Credit: decoist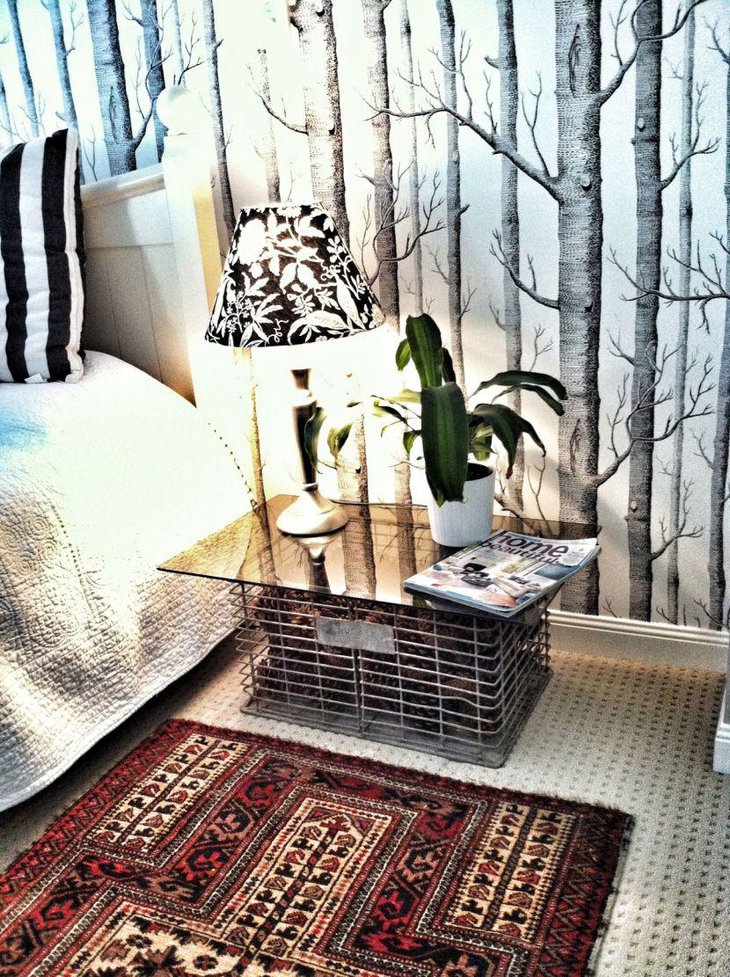 Used Wire Animal Crate with Added Glass Top
Image Credit: blogspot
Ladder Tables
Don't feel safe using your old wooden ladder? Repurpose it into a decoration! Lean it against the wall encompassing your nightstand. Or fold it out and place wood or glass shelves across the rungs. Hang pictures and artwork from the sides for an incredibly charming décor. Paint it to add an accent color to your room.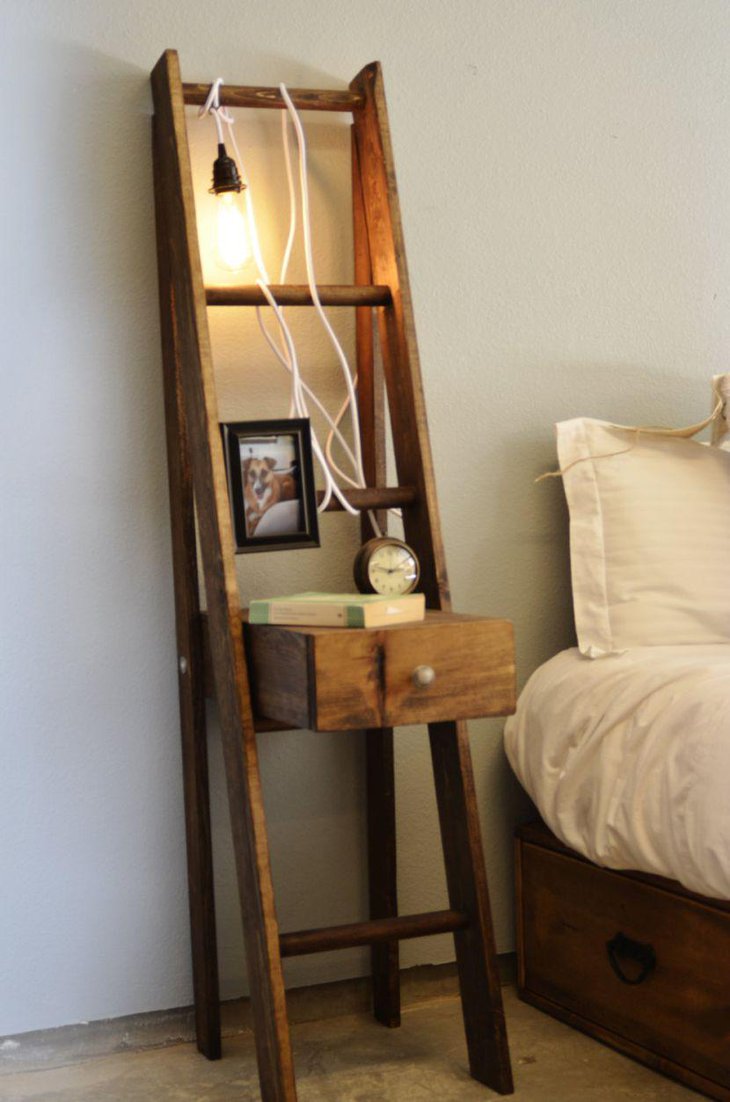 Ladder with Added Box Drawer across Rungs
Image Credit: etsystatic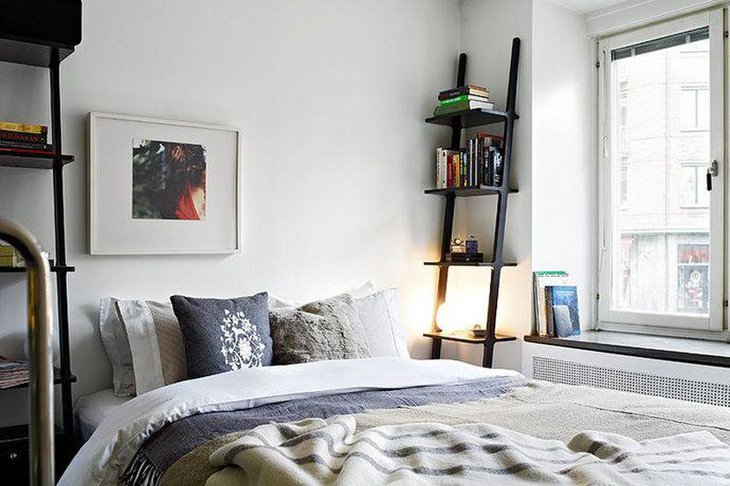 Ladder-shaped Shelving
Image Credit: pinimg
Glam Table Décor
The sight and scent of fresh flowers are perfect for helping you awaken to a new day. Plant them in pots in front of a window to keep them growing all year long. Add a romantic ambiance by coupling your floral arrangement with votive candles.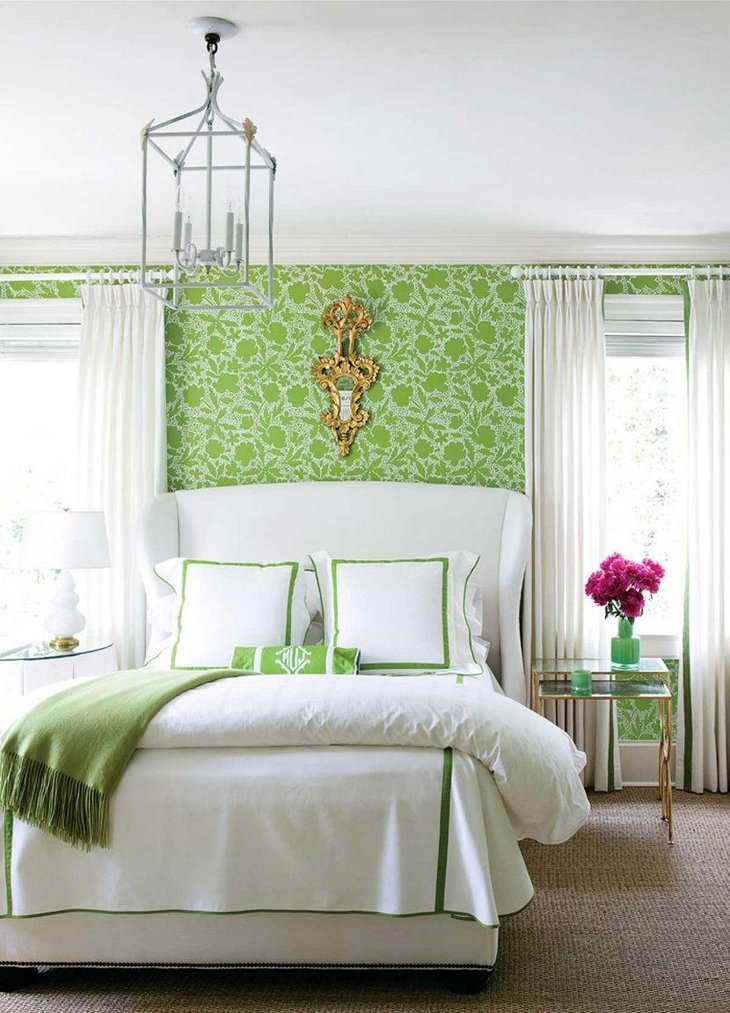 Bright Accent Flower with Décor Matching Vase
Image Credit: iqinterior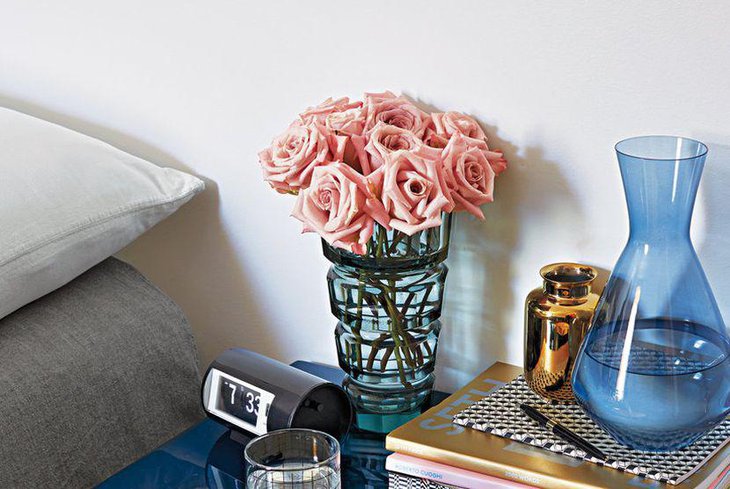 Paper Craft Flowers in Vase
Image Credit: realsimple
Pink Roses on Lady's Nightstand
Image Credit: photobucket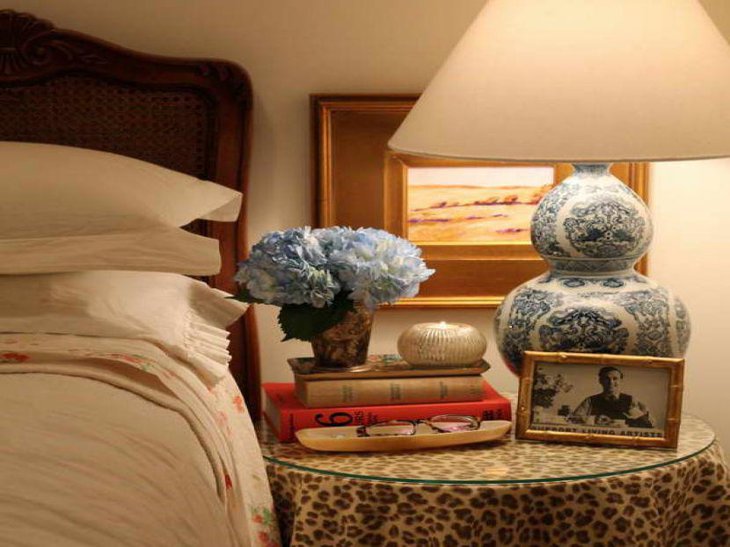 Floral Arrangement and Complementary Lamp
Image Credit: dentalroseville
Lamp Décor
A bedside table lamp offers the right amount of ambient lighting for reading or cuddling in bed and can be very stylized to become a highlight of your room's décor. Let it be a colorful accent or a decorative piece that exemplifies your room's theme.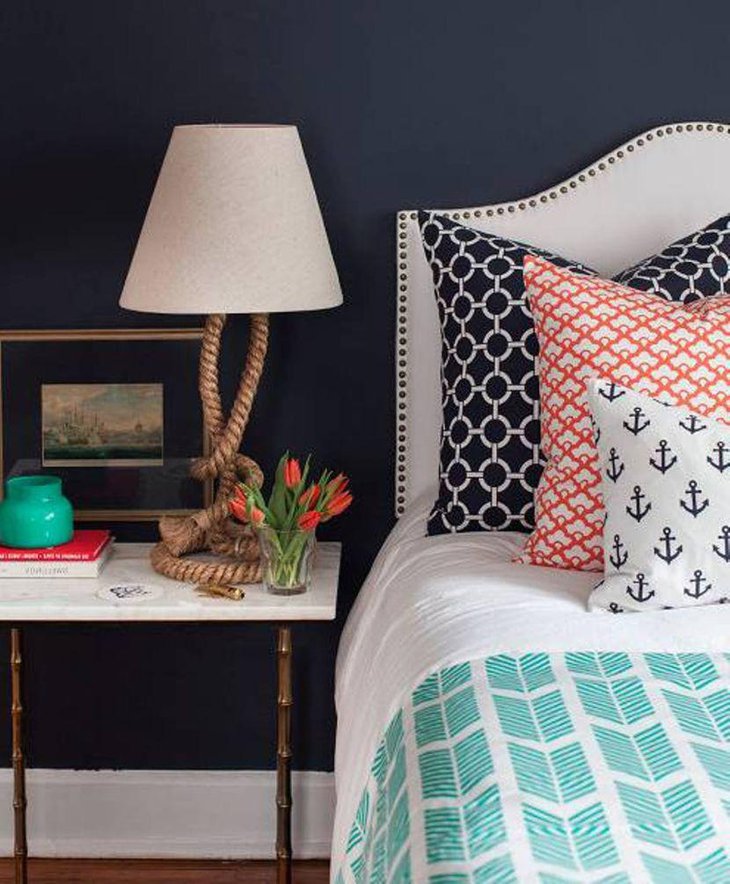 Rope Lamp for Nautical Décor
Image Credit: dylangallery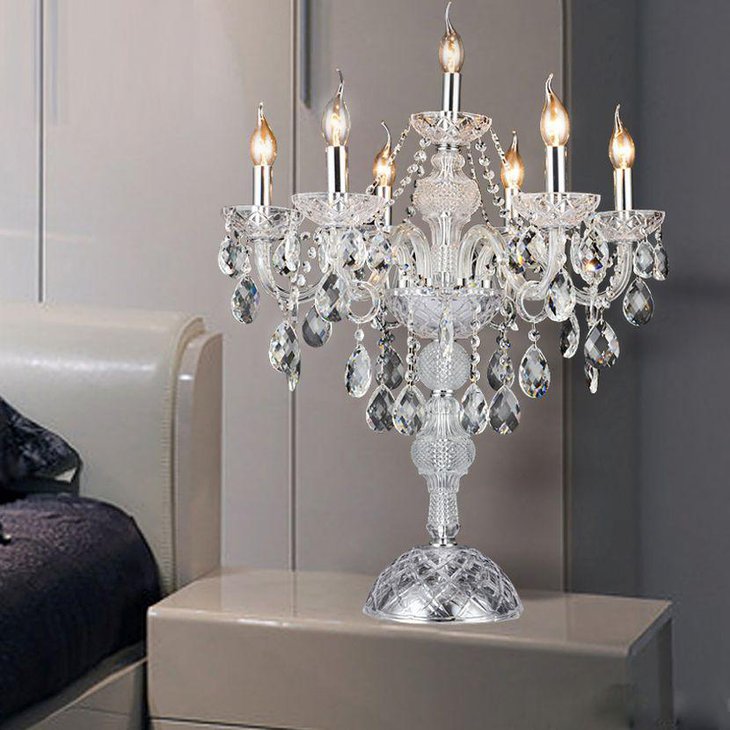 Crystalline Candelabra Lamp
Image Credit: hardware-online-stores
DIY Bedside Table Decorations
Want a stylish surface for your bedtime needs? How about a decorative log? Or a stylish suitcase? Decorate a vintage chair or worn wooden ladder with string lights. Here's another example of an old ladder with simple board shelves.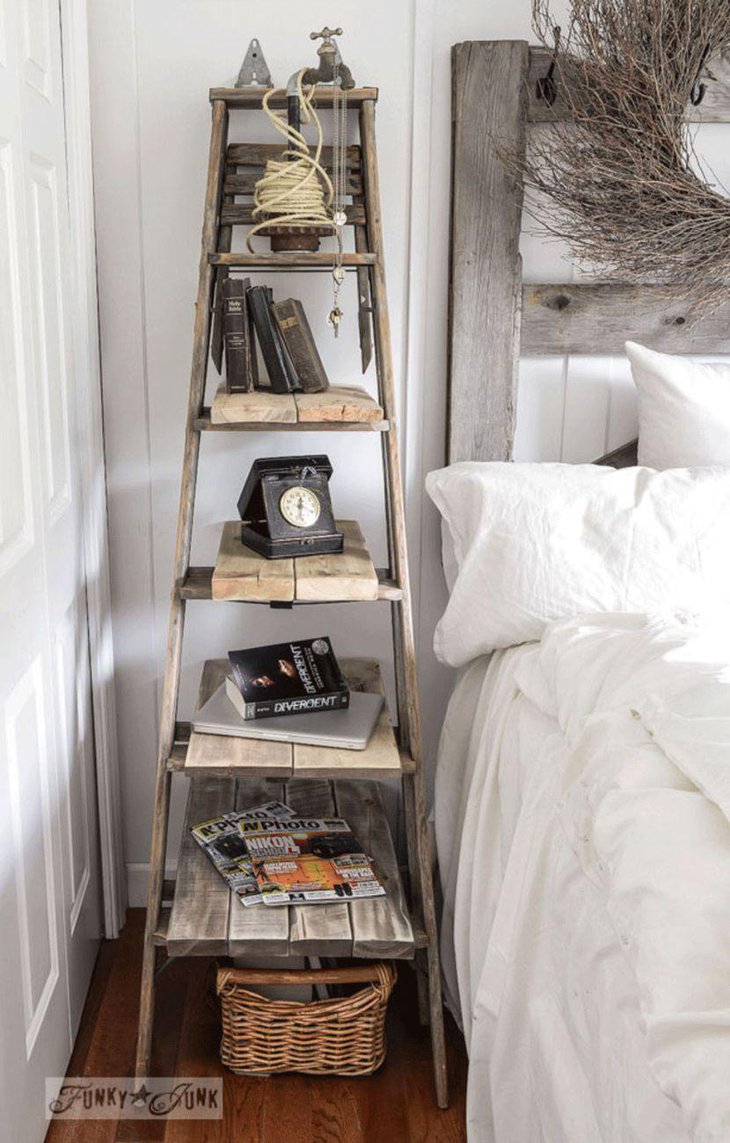 Reclaimed Wood Ladder with Board Shelves for a Vintage Rustic Appeal
Image Credit: countryliving
Artwork Décor
When you want to make a unique style statement without being too loud about it, simply place a painting or a vintage photo in an old picture frame leaning against the wall on your bedside table. Leaning artwork is an informal decorating style that showcases your tastes. Display abstract art for color and shapes, a painting of a favorite location, or a representation of something meaningful to you. If you have your own artwork or photo, even better! Add to the effect with antique editions of your favorite books or magazines fanned out showcasing your interests.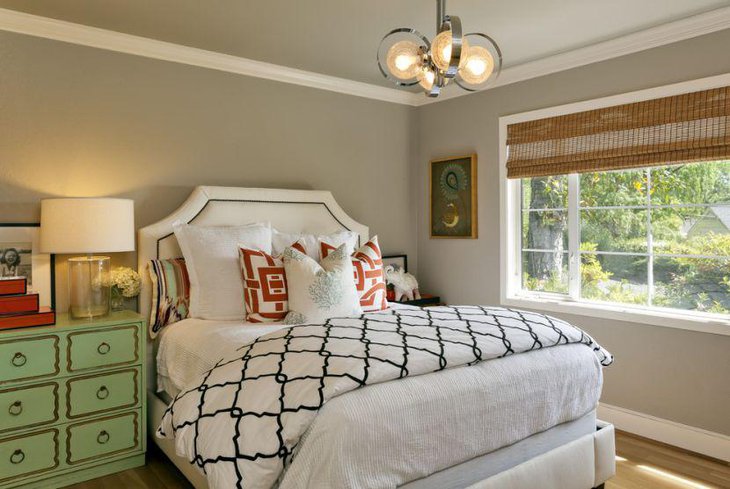 Bedside Table with Artwork, Books, Decorative Lamp, and Floral Arrangement
Image Credit: irastar
Stylish Clock Décor
We all need to wake up some time, so why not turn your alarm clocks into part of the décor? Try a vintage wind-up clock or a chic modern computerized timepiece. Alarm clocks are available in a wide variety of colors and melodies to add fun to your wake-up time rather than annoyance.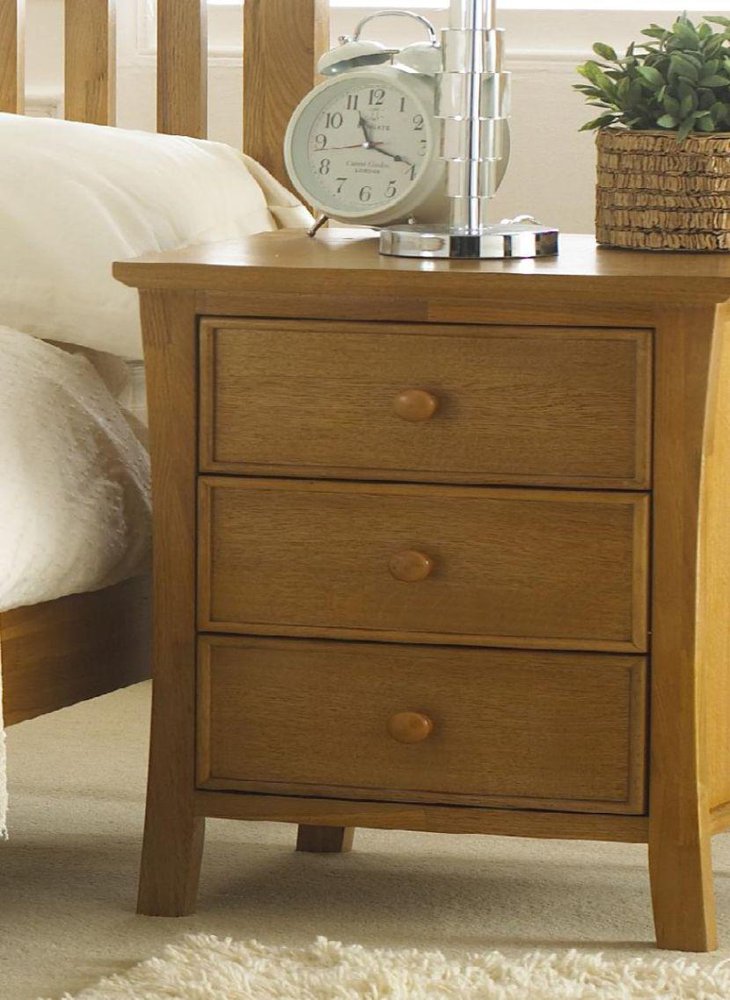 Vintage Nightstand and Alarm Clock
Image Credit: manthoor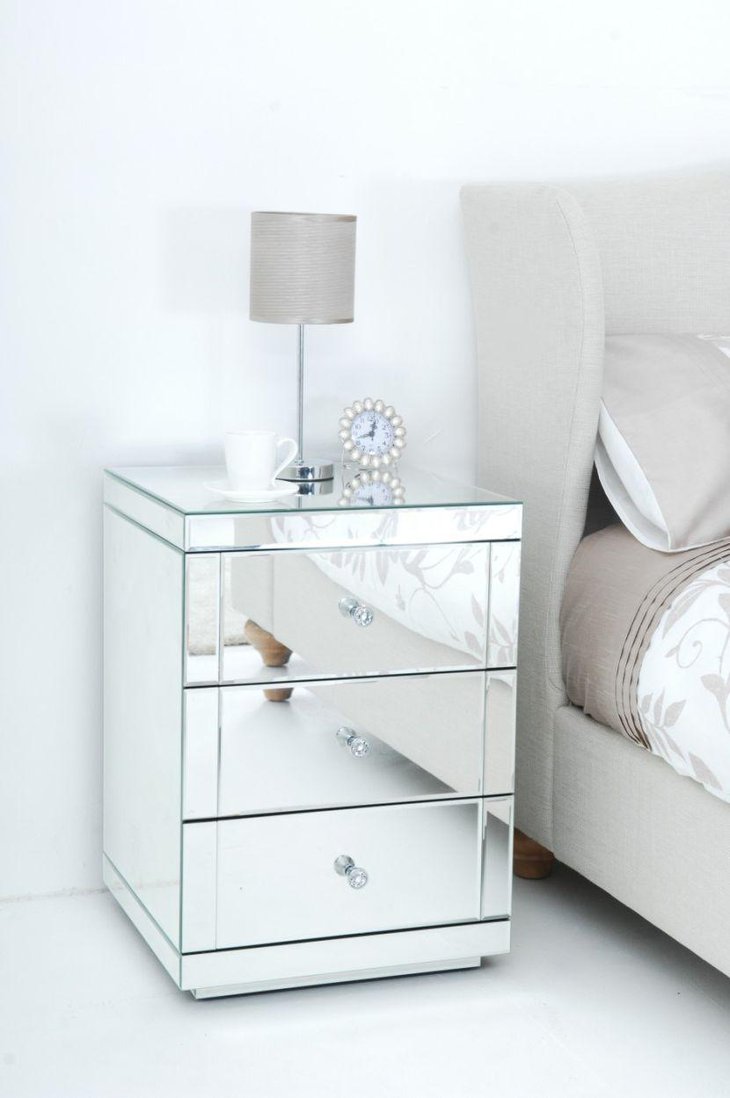 Mirrored Bedside Table with Crystalline Alarm Clock
Image Credit: foundedproject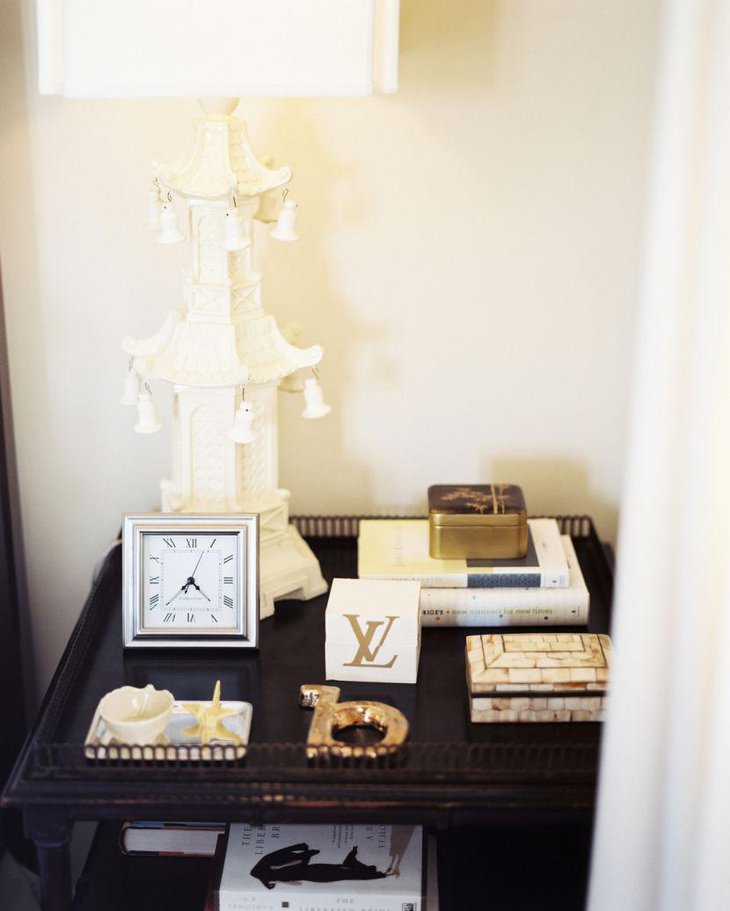 Elegant Bedside Table Décor with Tasteful Alarm Clock
Image Credit: lonny
Complementary Blue Alarm Clock Matching Bed Décor
Image Credit: pixabay
Bedside Table Ideas with Figurines and Statues
Do you enjoy decorating your dining tables, console tables, or curio cabinets with little figurines and statues? Bring a couple of pieces into the bedroom to add cheer to your bedtime and waking moments. From sexy mermaids to Precious Moments sleeping cherubs, a small statuette can enhance the mood of your entire room. If you are a faith-filled person, display a statue of Mary or Christ and say a short prayer before bed. If you want to remind yourself to de-stress, try a mold of Buddha.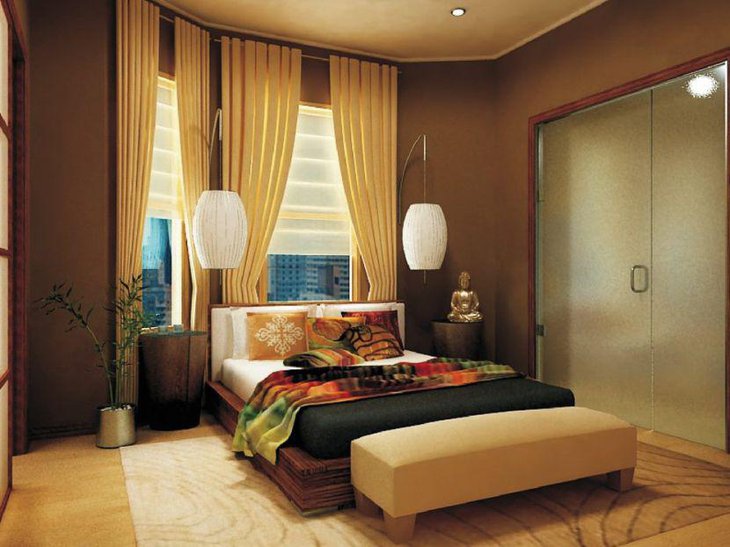 Buddha Statue in Asian-inspired Bedroom
Image Credit: pin-insta-decor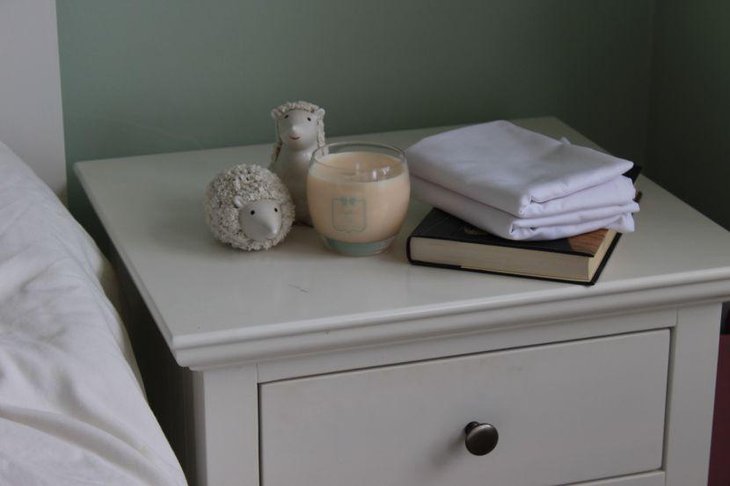 Lamb Figurines as Spiritual Reminder
Image Credit: sophiecolecandles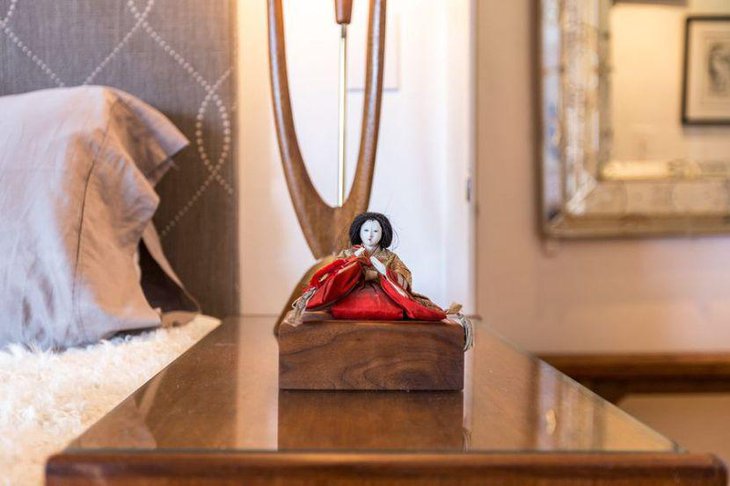 Alluring Japanese Geisha Figurine
Image Credit: vox
Jewelry Table Décor
Jewelry is as much of an adornment on the table as it is on you. Keeping a porcelain dish with pearls or a pearl necklace draped around a lamp on your bedside table add class and femininity to your room. Couple one or two pieces with flowers, votive candles, or colored glass stones in a tall vase.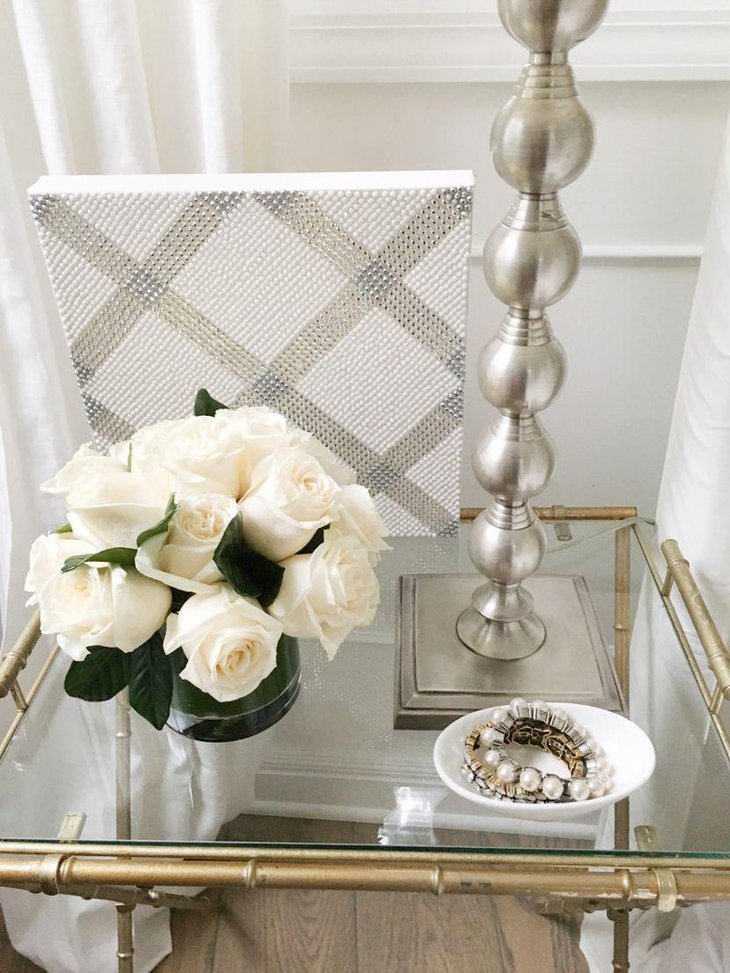 Bedside Table with Classy Jewelry, Floral Arrangement, and Lamp
Image Credit: cococozy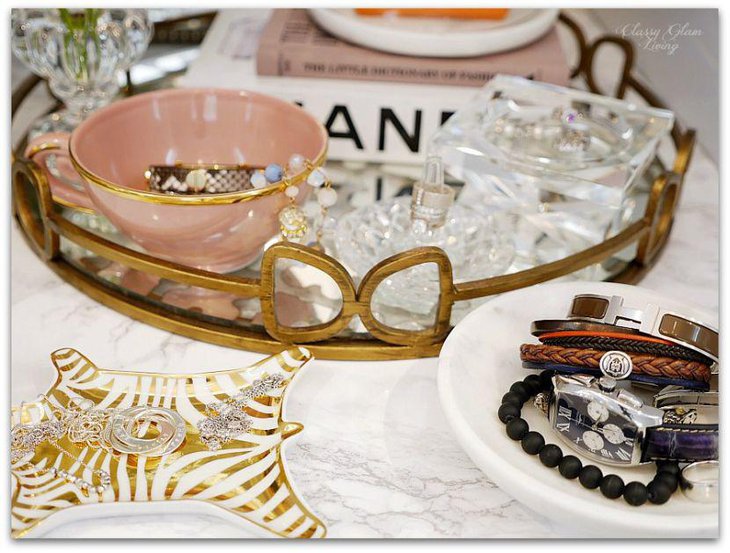 Jewelry Pieces and Reading Material
Image Credit: classyglamliving
Candle Décor
Candles deserve mention. By themselves or paired with any other accessory, candles make a simple or ornate display. Go vintage with a single tall candle in an antique holder, rustic with a squat candle in a metal holder, or romantic with votive candles or tea lights. In any style, candles will provide a warm, welcoming feeling to your bedroom.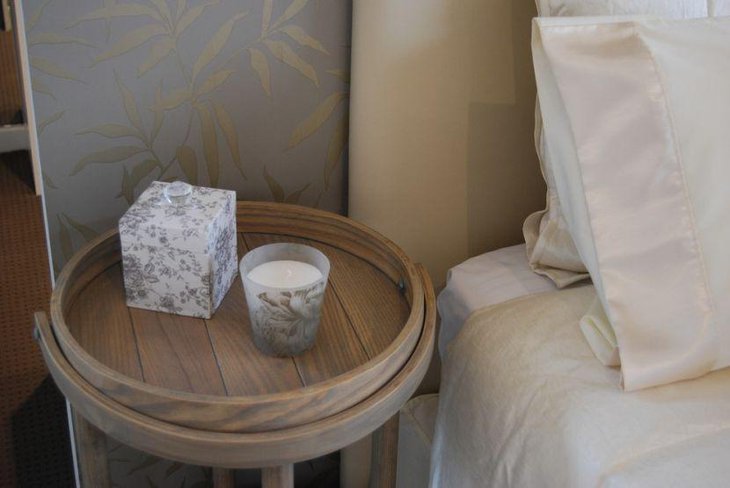 Ornamental Candles on Rustic Roundel Nightstand
Image Credit: beeyoutifullife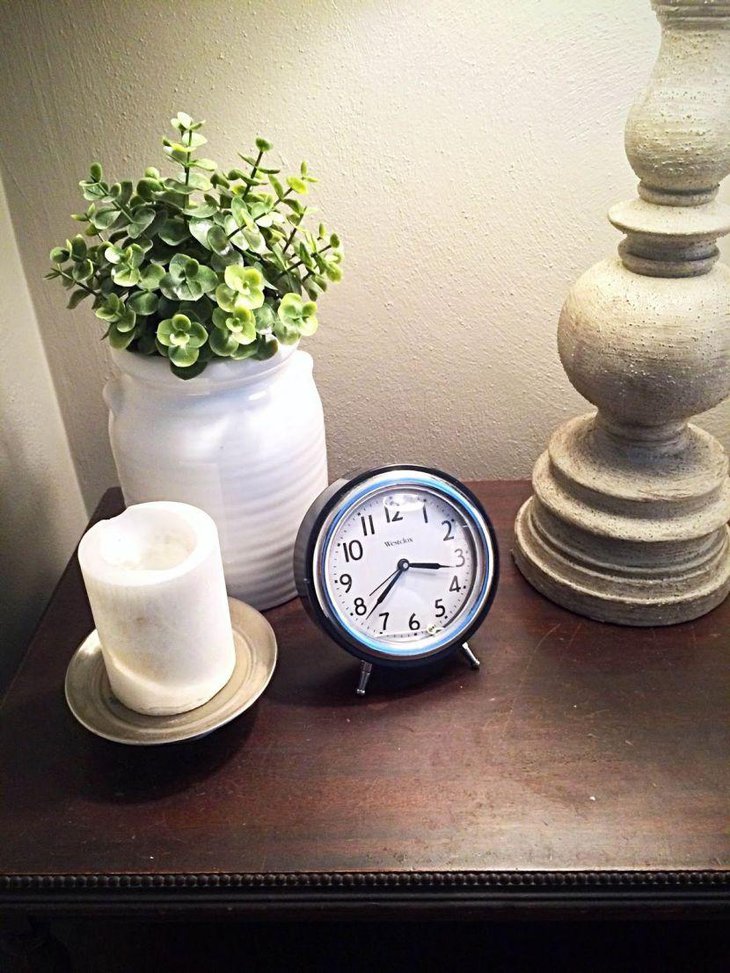 Wide Candle on Metal Tray with Cute Alarm Clock, Floral Display, and Decorative Lamp
Image Credit: blogspot
You spend a lot of time in your bedroom! Design your décor to help you wind down at bedtime and wake up in the morning. Let your bedroom display the most intimate side of your personality with romantic statues, artwork, and jewelry. Or show your style with rustic crates and reclaimed ladders or decorative lamps and reading material. Anyone can adapt these bedside table décor ideas to their style, so enjoy making your nightstand over the way you want it to be!