Hosting a baby shower soon? Don't forget to thank the guests for their attendance with a little remembrance of the occasion. These 41 exquisite baby shower favor ideas should help give you some ideas. Party favors are best when they are personalized and follow the same theme as the baby shower.
A baby shower is a show of support for the soon-to-be mother, where her family and friends help her prepare for her expected one with gifts. The host of the party doesn't need to reciprocate the value of the gifts back to the guests, so party favors should not be overly expensive. With some imagination and creativity, you can craft or assemble unique and stunning baby shower favors with very little money spent on supplies. See the examples below and think about how you can adapt these ideas to your party and theme.
Cute Baby Shower Favor Ideas with Candles
Candles are decorative and useful. If you enjoy molding your own candles, there's no limit to what you can design for your shower! Or buy inexpensive candles and wrap them in lace or tulle and handwrite or print a tag to attach to each one. Personalize the tag with the guest's name and the name of the mother and/or baby. You can also decorate votive holders using gemstones or confetti and gift candles in complete packages.
Your baby shower candle favors can also vary depending on the gender of the soon-to-be-born baby. If there's going to be a new girl, decorate the candles with pink or yellow footprints and wrap it in silver tulle and ribbon. If there's going to be a boy, choose blue or gray. Nautical themed candles too can work well for either girl or boy baby showers.
Beautiful Blue and White Candle Favor with Transparent Printed Sticker, Tulle, Ribbon, and Pacifier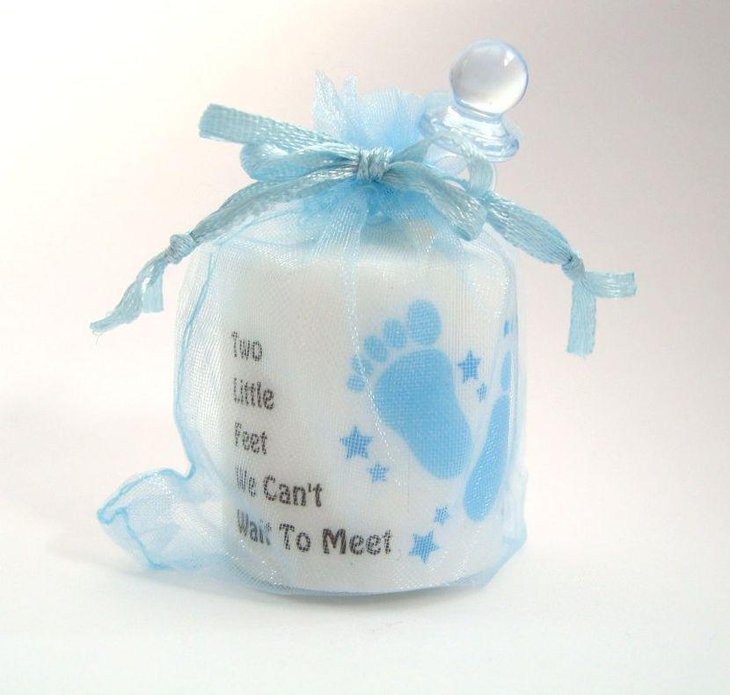 Image Credit: babyideas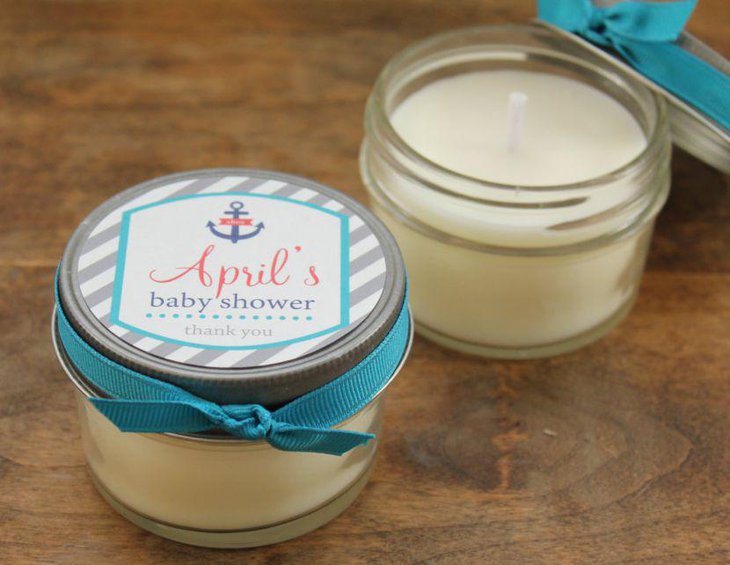 Nautical-themed Mason Jar Candle with Personalized Label
Image Credit: etsystatic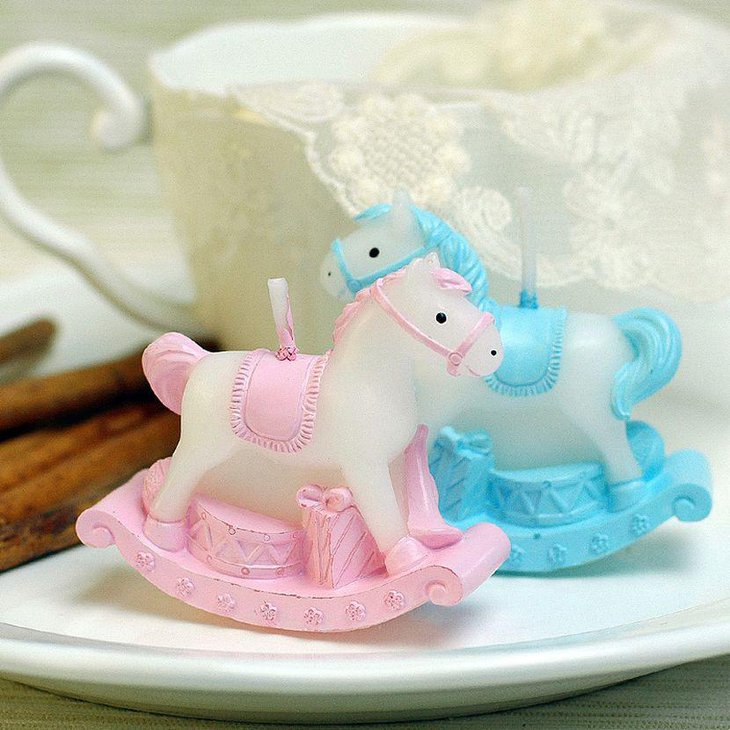 Adorable Rocking Horse Candle Favors
Image Credit: alicdn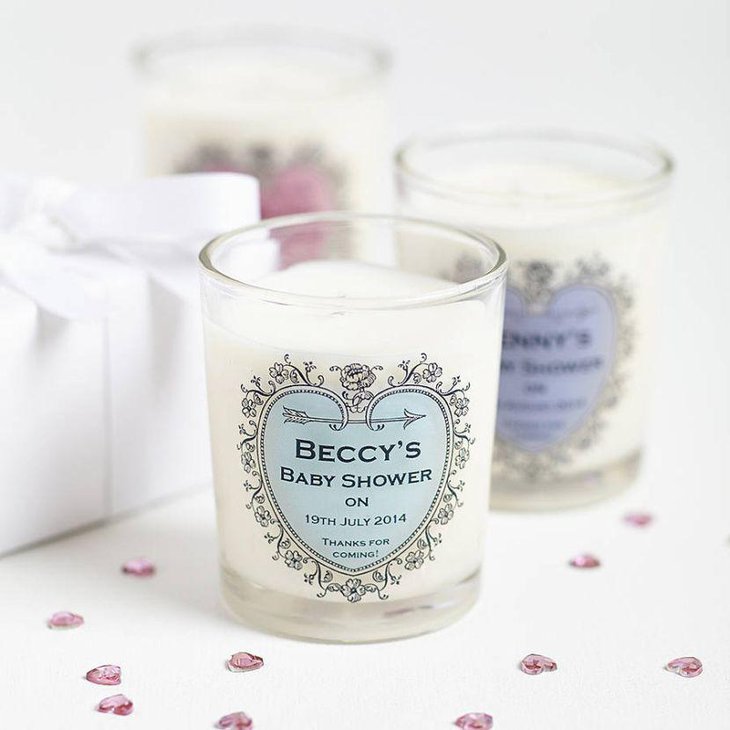 Simple Candle and Votive with Personalized Label
Image Credit: notonthehighstreet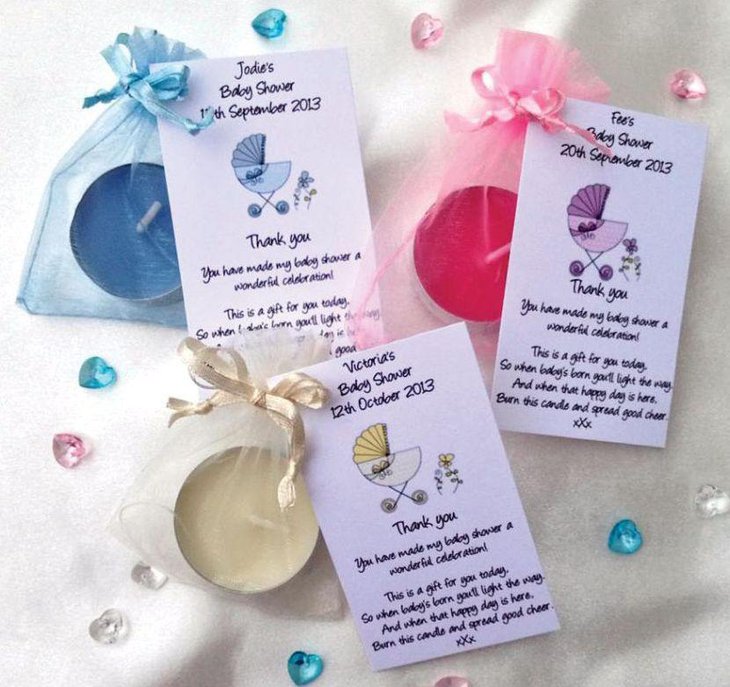 Tea Lights in Tulle and Ribbon with Personalized Message Tag
Image Credit: pinimg
Thoughtful Bath and Pedicure Favors
Here's a unique and thoughtful idea that can range in price depending on how much you want to lavish your gifts. Since the baby shower is a time to pamper the mother, why not return the favor by sending your lady guests home with their own pampering kit? You can include lotions, soaps, nail polishes, masques, cotton balls, files, and more. Purchase travel sizes or make your own molded soaps for less expensive gifts.
Place your items in a decorative gift bag or Mason jar. Decorate the jar with twine or ribbon. If you want something more classy, use wine glasses or goblets. Personalize the gifts with different lotions or polishes if you know the guests well or if you want to invite them to trade for their favorite scents and colors.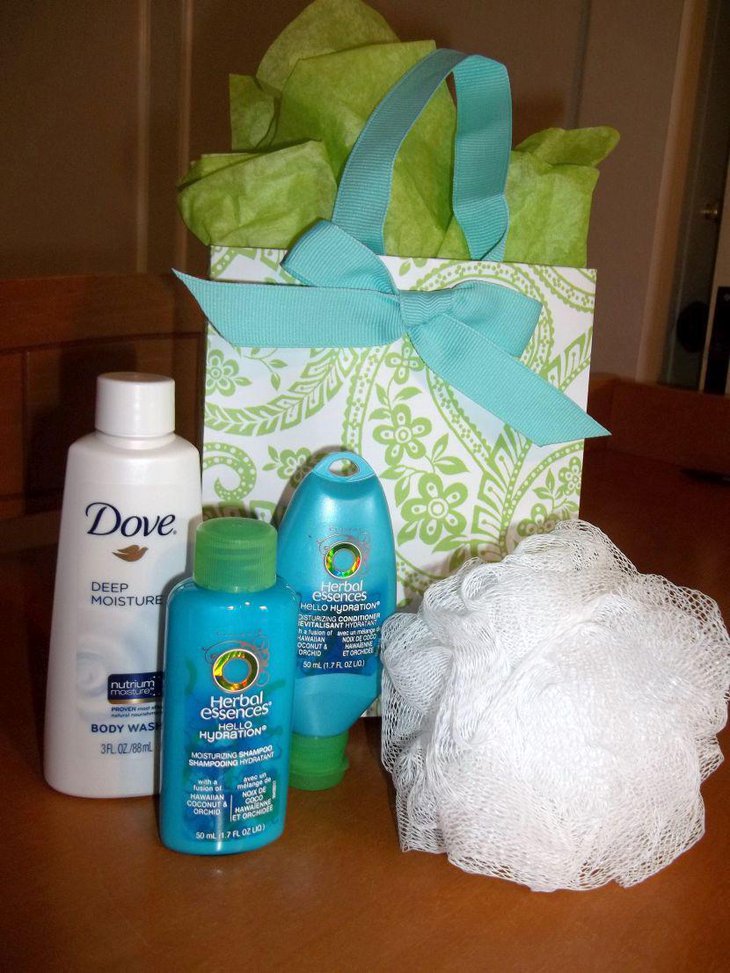 Bath Party Favor
Image Credit: carpny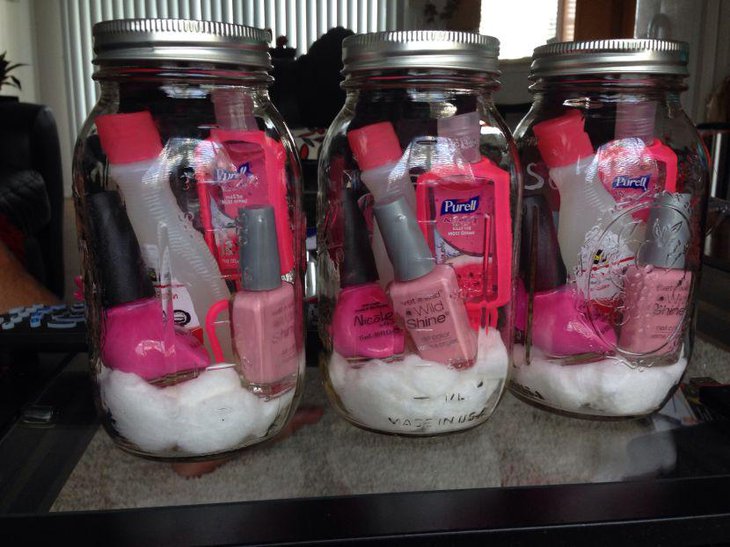 Mani/Pedi in a Jar
Image Credit: awalkinhell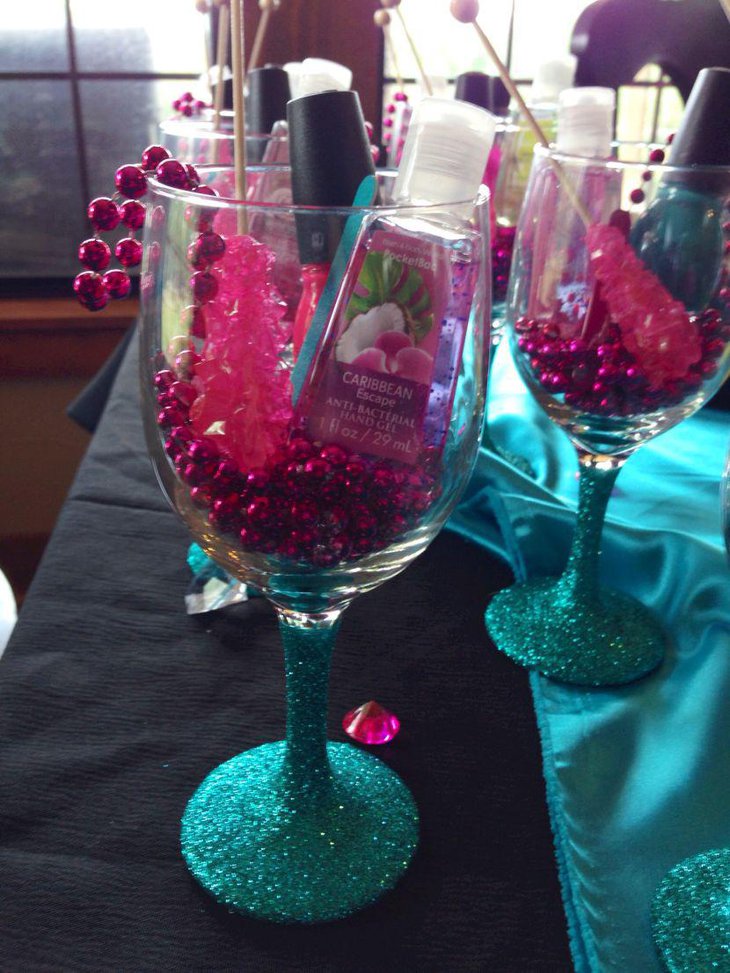 Hand-decorated Wine Glass Manicure Favors
Image Credit: doorkanpic
Adorable Owl Candy Box Favors
"Look Whooooooo's Having a Baby" owl themes are popular for baby showers when the parents have chosen to leave the gender of the child a surprise. You can decorate owls with a mixture of pink and blue feathers or use completely gender neutral colors. If you are using the owl theme, then think owl candy favors.
With a few craft supplies, you can decorate almost anything to look like an owl: plastic balls, paper bags, Mason jars, tea tins, coffee cans, garden pails… Fill them with candy color coordinated to your party and personalize them with a printed or hand-drawn owl card.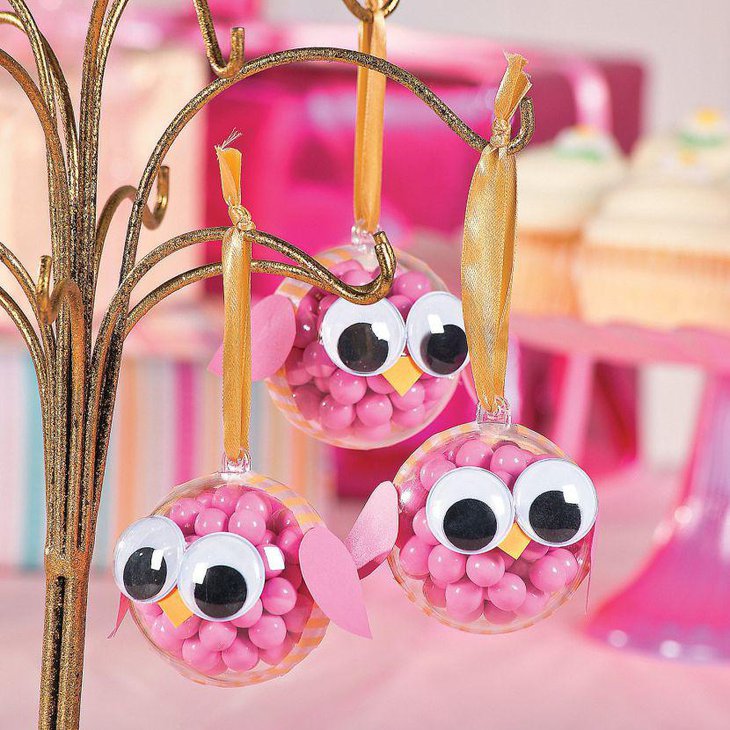 Hand-decorated Owl Candy Ornaments
Image Credit: amazonaws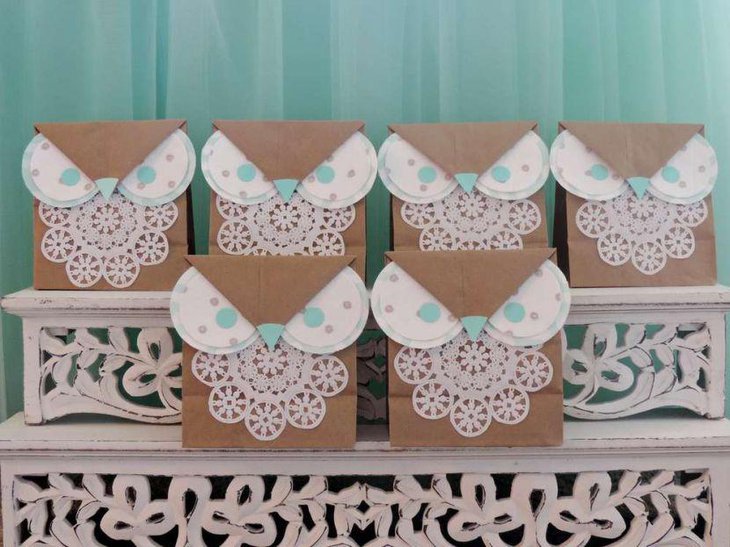 Homemade Owl Gift Bags
Image Credit: babyshowerideas4u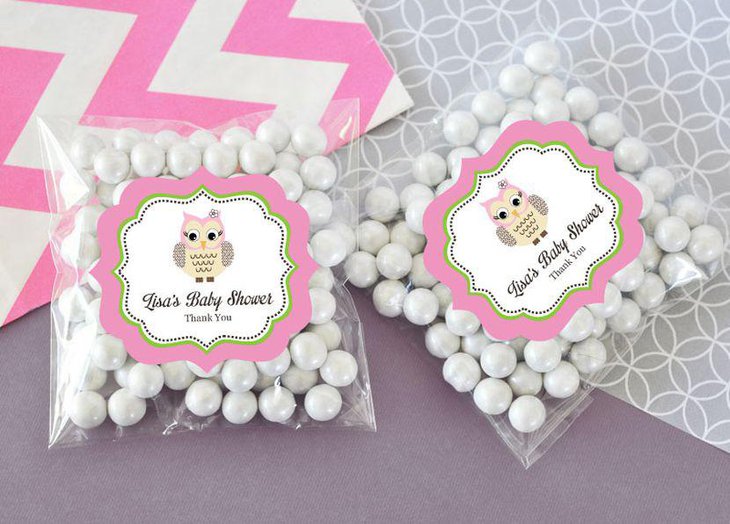 Candy Bag with Personalized Owl Label
Image Credit: hotref
Owl Favor Box with Owl Cutout Handle
Image Credit: alicdn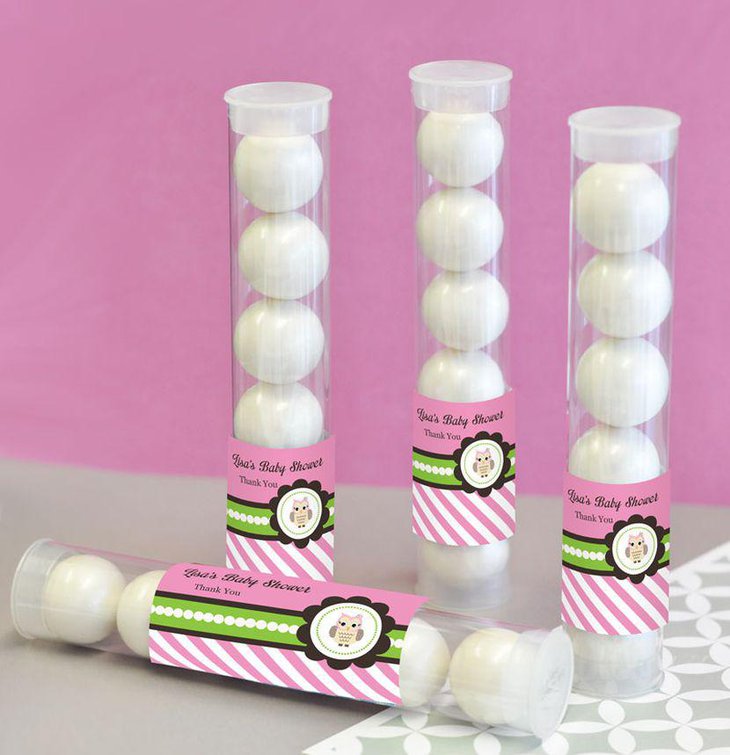 Candy Tubes with Printed Owl Label
Image Credit: hotref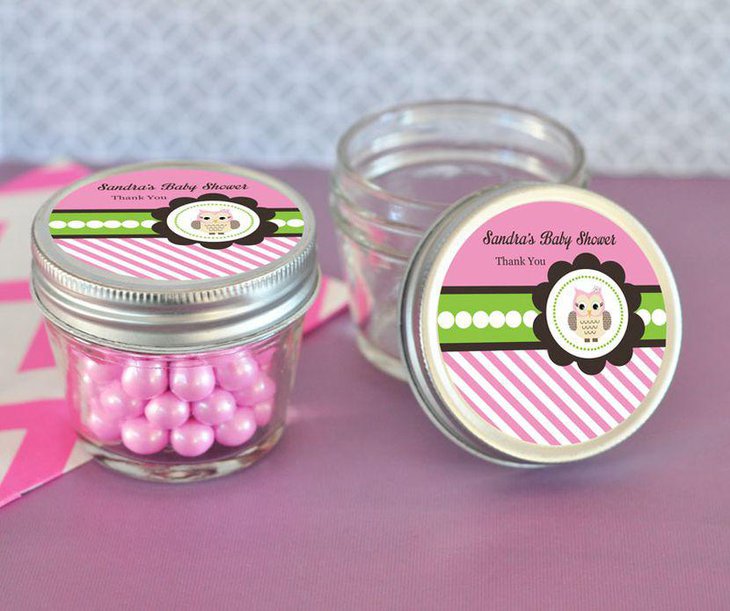 Candy Jar with Personalized Label
Image Credit: hotref
More Candy Favor Ideas
Besides owls, you can fill baby bottles with candy, origami booties, candy boxes shaped like carriages, Nautical-themed paper boxes with anchors and sailboats, or felt baby blanket candy pouches.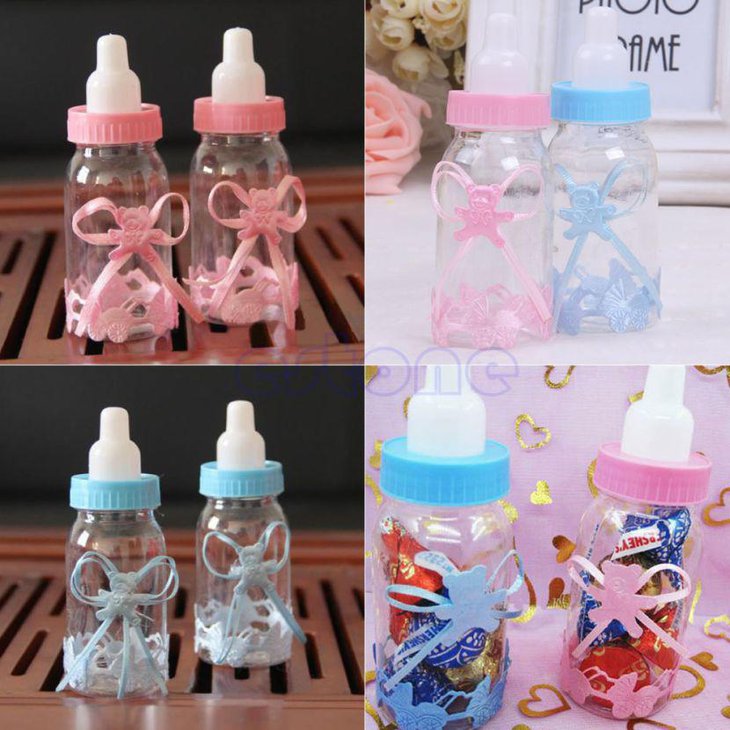 Baby Bottle Candy Favors
Image Credit: winddeal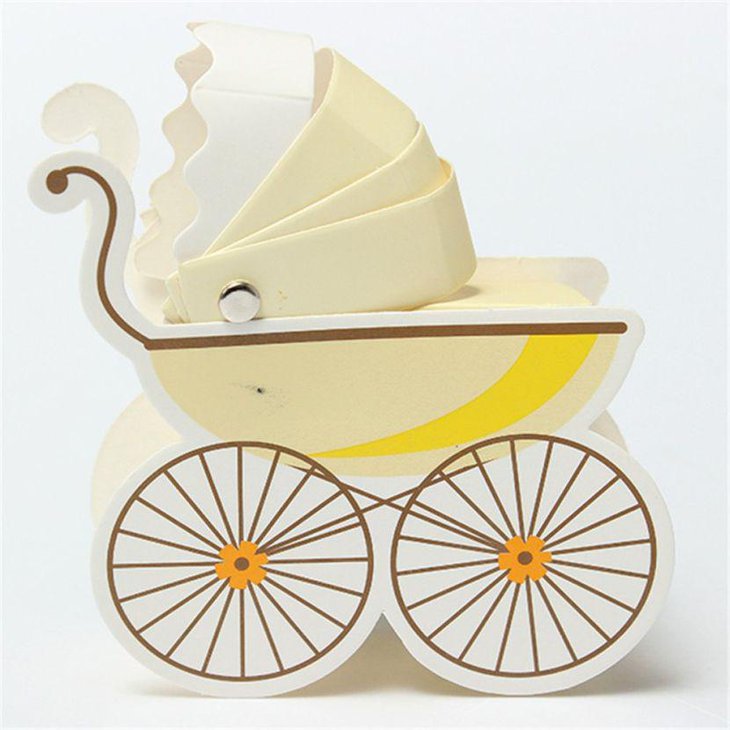 Stroller Candy Box
Image Credit: slatic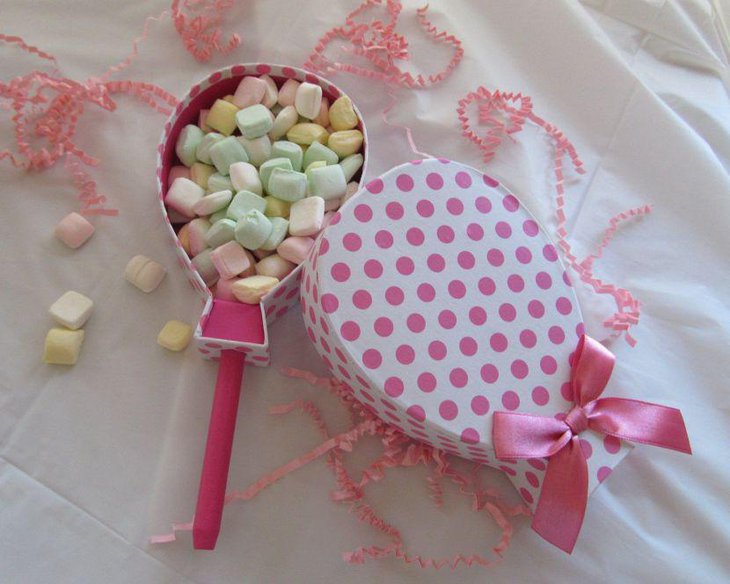 Baby Rattle Box
Image Credit: perfect-babyshower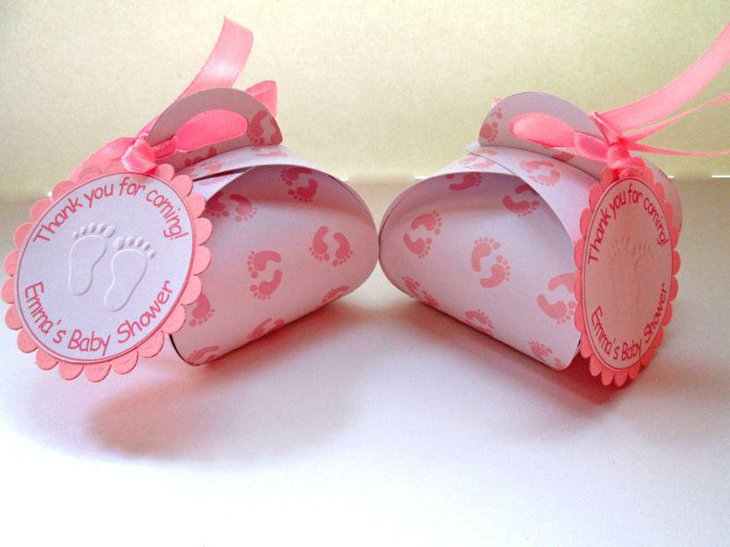 Cardboard Purse Candy Box with Personalized Label
Image Credit: etsystatic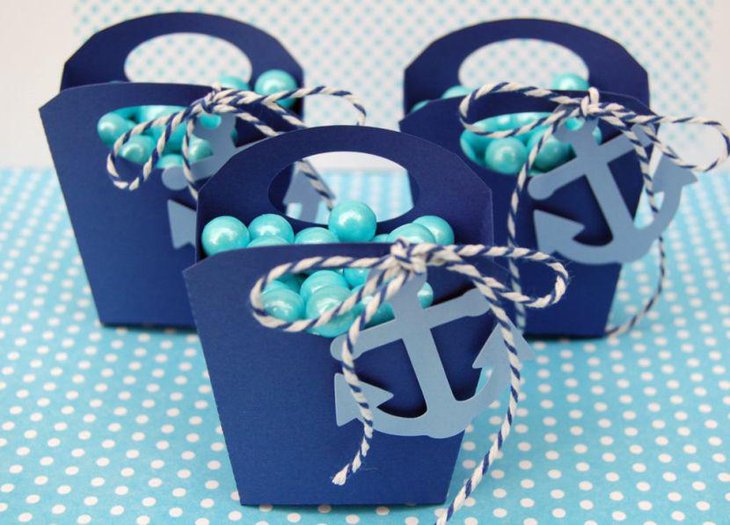 Nautical Candy Box with Foam Anchor and String
Image Credit: etsystatic
Cookie Favors
Cookies! Everyone loves the crunchy sweetness of a cookie, and they will be a special hit if they're decorated or presented according to your party's theme. Bake and decorate them yourself and then tie them up in plastic bags for an easy party favor that your guests are sure to enjoy. And with cookie favors, you can serve snacks at the shower instead of cake and let your favors be the dessert.
Tea Party Cookie Favor Box
Image Credit: marthastewart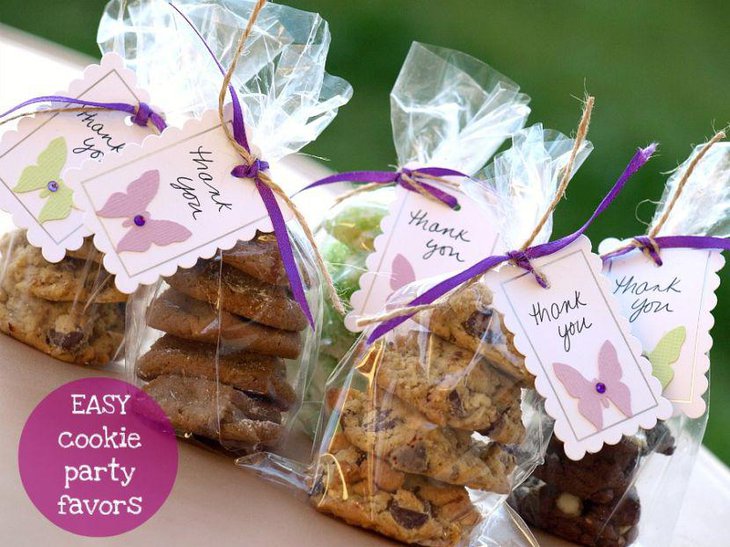 Homemade Cookies in Plastic with Hand-decorated Tag
Image Credit: babycross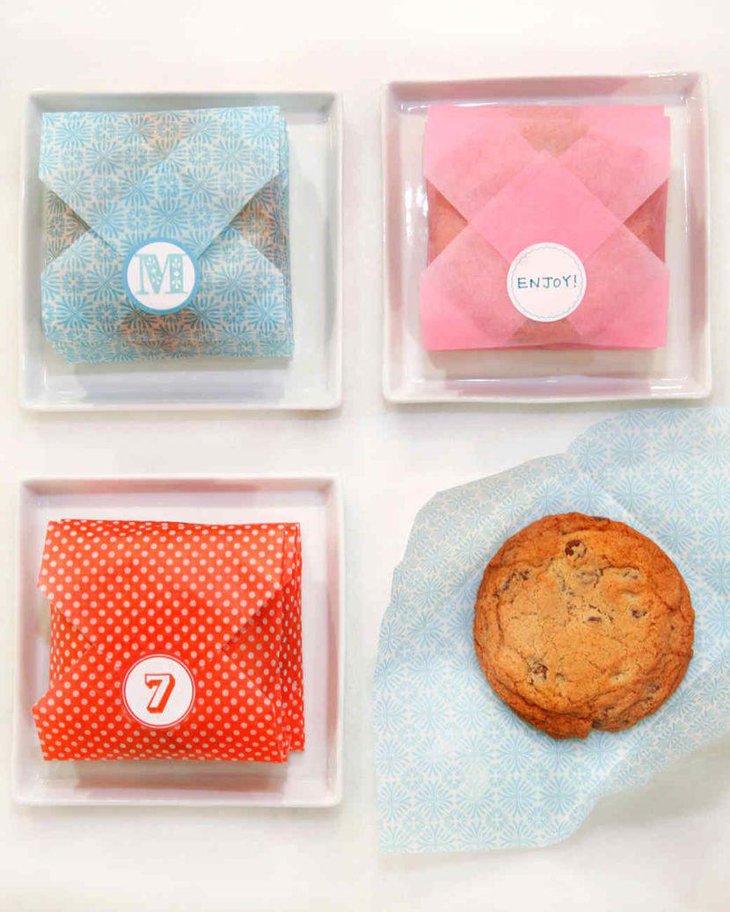 Personalized Cookie Envelope
Image Credit: marthastewart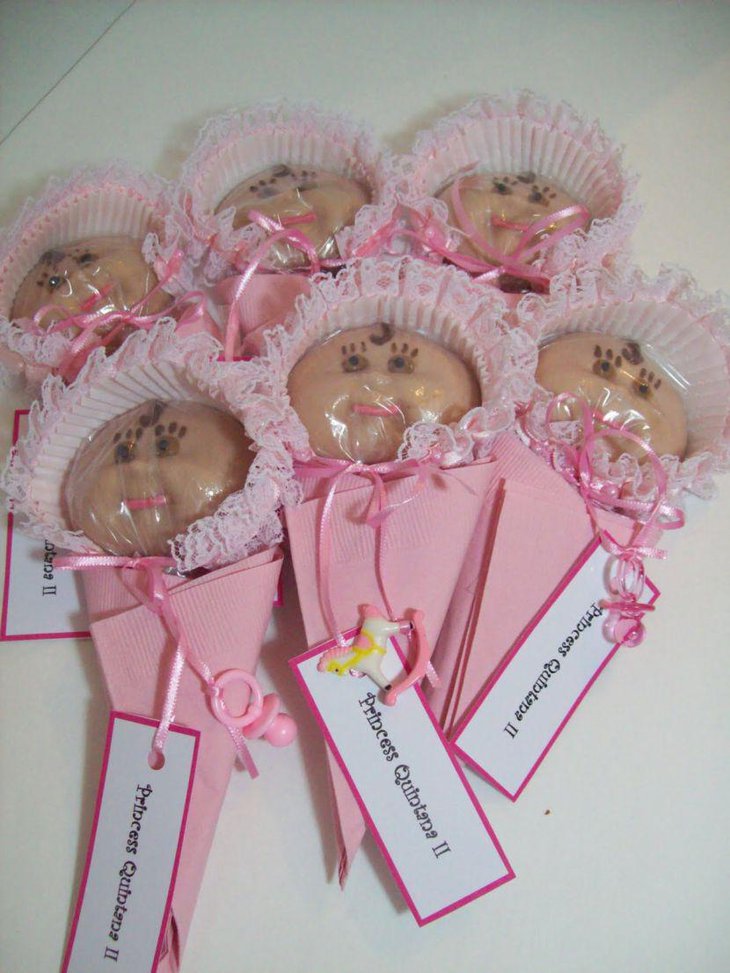 Decorated Cupcake Cookie with Printed Tag and Embellishments
Image Credit: awalkinhell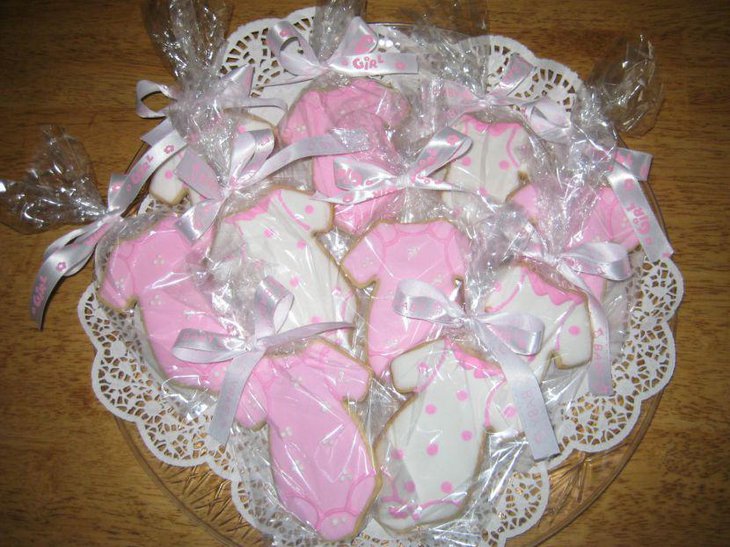 Decorated Baby Romper Cookies
Image Credit: babyshowersideas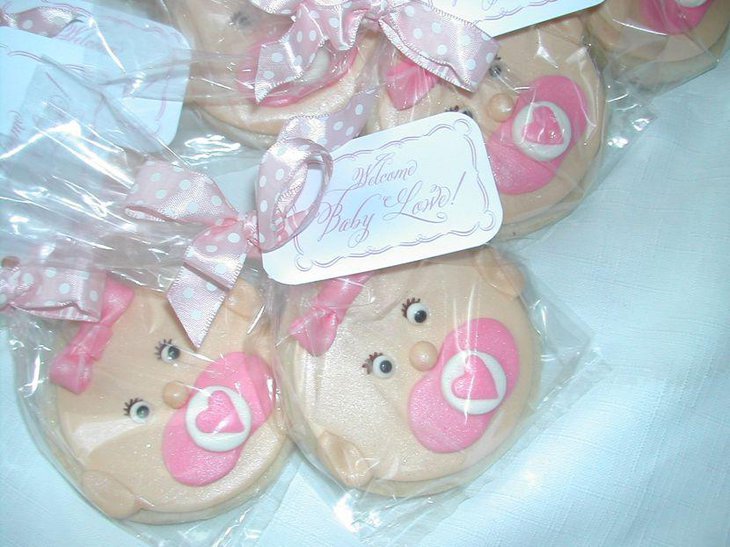 Iced Baby Face Cookies and Tag
Image Credit: pennyandrio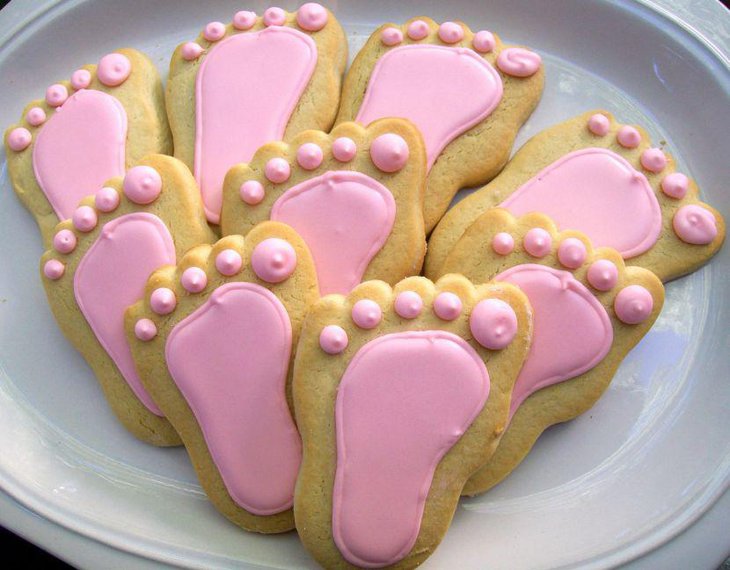 Baby Footprint Cookies
Image Credit: blogspot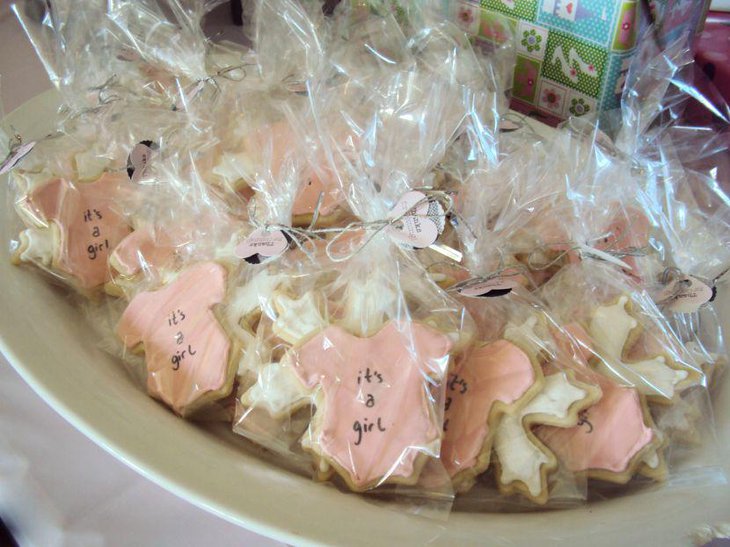 Onesie and Cross Cookies
Image Credit: doodledog
Baby Rattle Marshmallow and Cake Pops
This cute and unique idea has a lot of potential. You can show your artistry by decorating baby rattle cake pops and marshmallow pops in a variety of patterns and materials. Try using flavored marshmallows (pineapple or citrus flavors) for an extra special treat. Go simple with candy-dipped marshmallows or create elaborate icing and embellishment designs on your cake and mallow pops.
With not many people using this idea yet, this could be the perfect baby shower favor for your party.
Candy-dipped Marshmallow Pop
Image Credit: awalkinhell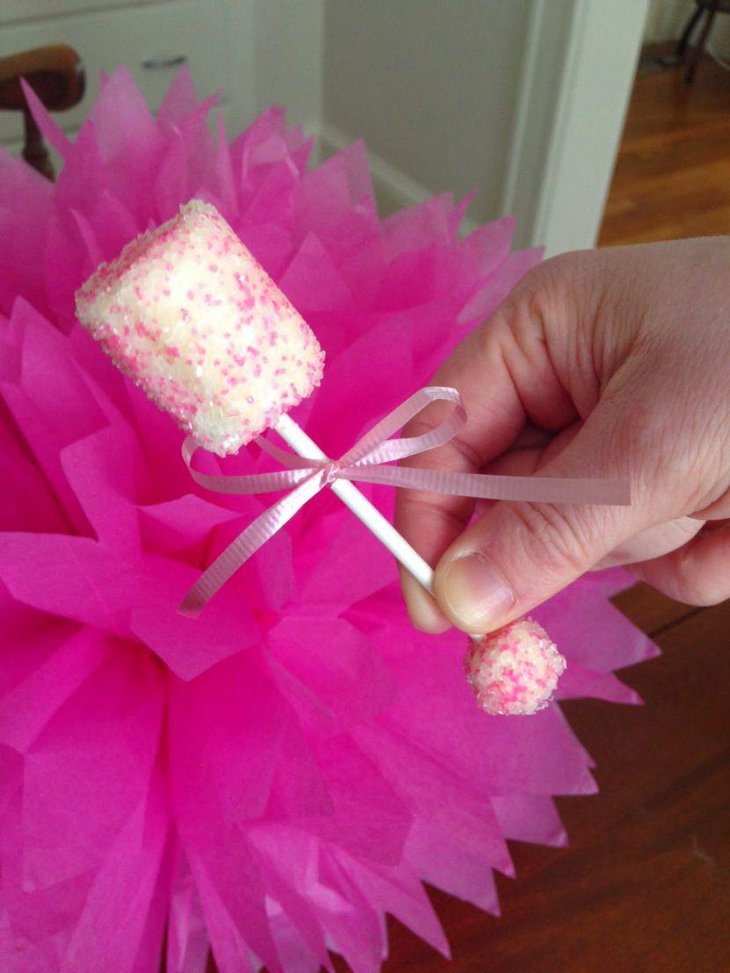 Iced and Candied Marshmallow Pop
Image Credit: blogspot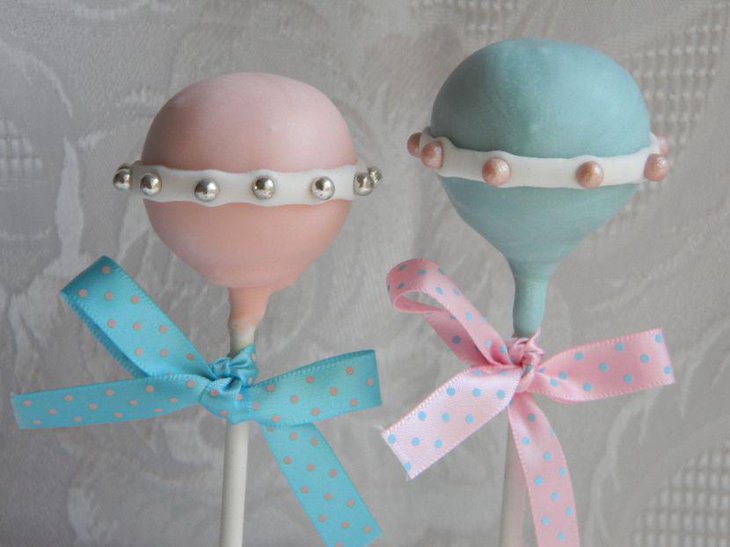 Candy-decorated Fondant Cake Pop
Image Credit: blogspot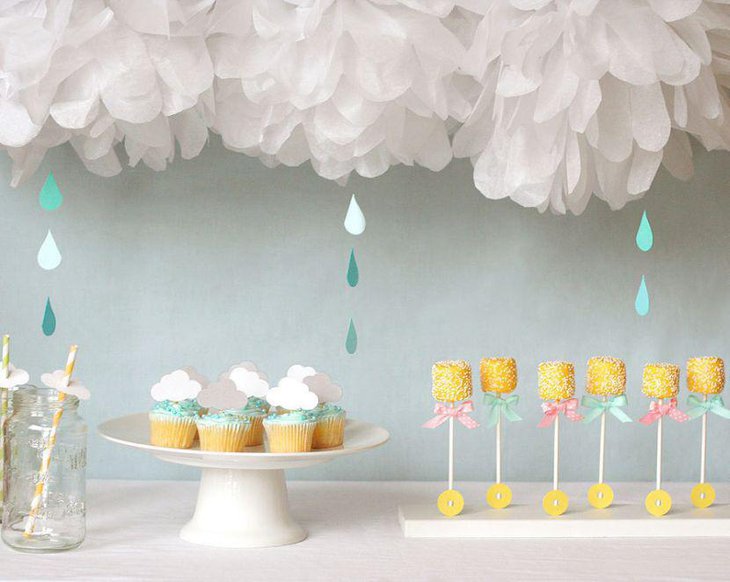 Flavored Marshmallow Pop with Sprinkles
Image Credit: fiskars
Unique DIY Baby Shower Favors
Show your creativity by turning small, normal gift items into decorative party favors. The examples here show lip balm decorated as balloons with a clever slogan and nail polish in the guise of a ballerina. For your favors, try to think of normal items whose shapes you can use as the basis for a decoration.
Or take the time to learn how to make bath salts in rainbow shades at home following a simple recipe. If you already craft homemade jewelry, lotions, or soaps, give a free item to each of your guests.
DIY Eos Lip Balm Favor
Image Credit: diys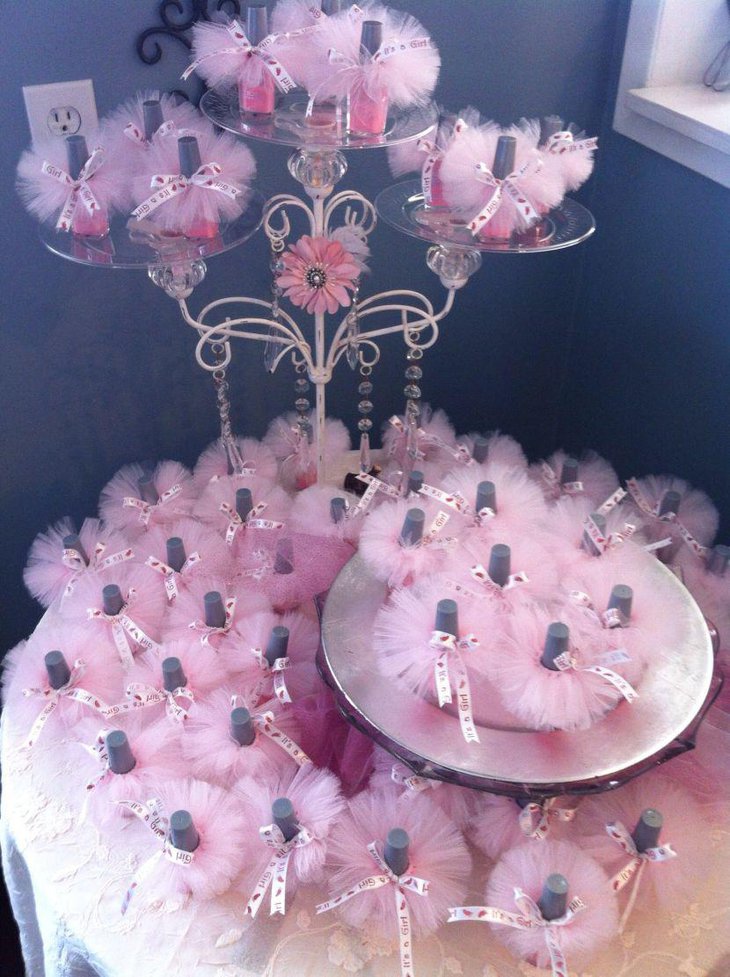 Pink Tutu Nail Polish Favor
Image Credit: rebecaking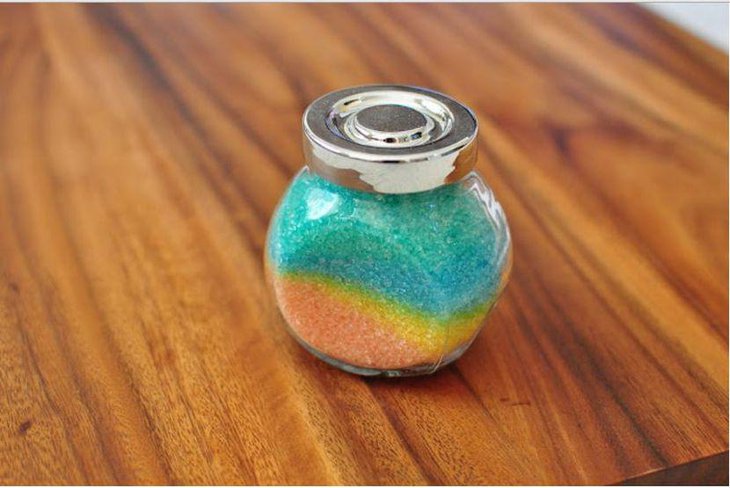 Homemade Rainbow Bath Salt Favor
Image Credit: skim
Charming Honey Pot or Jam Favors
Do you keep bees or make homemade jams and apple butter? Do you know someone who does? Giving away samples can make great party favors when you tag or decorate the jars for your theme.
If you're having a garden party bee-themed baby shower, fresh honey is an obvious choice. If you want to use jam, decorate the jar in your theme colors and make a tag saying, "Thanks for sticking by me!"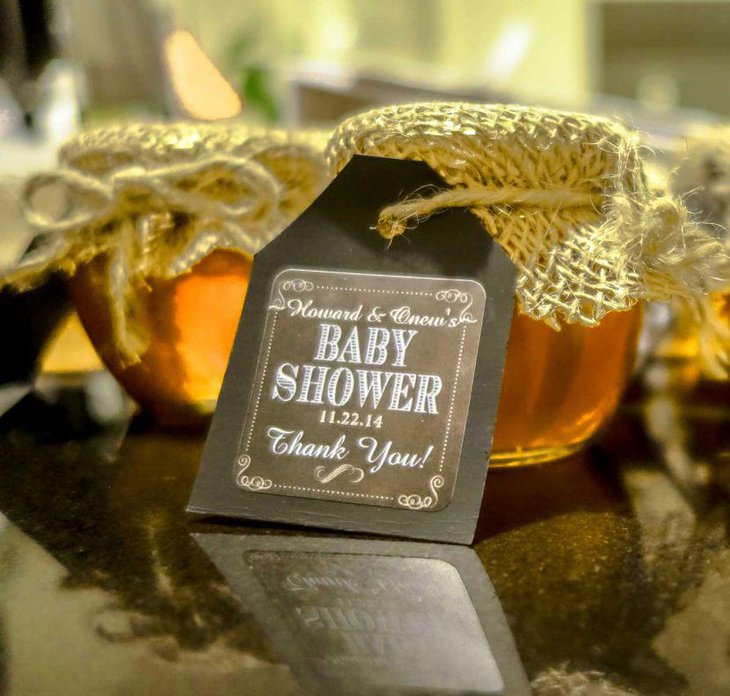 Honey Jar with Personalized Tage
Image Credit: emweddingfavors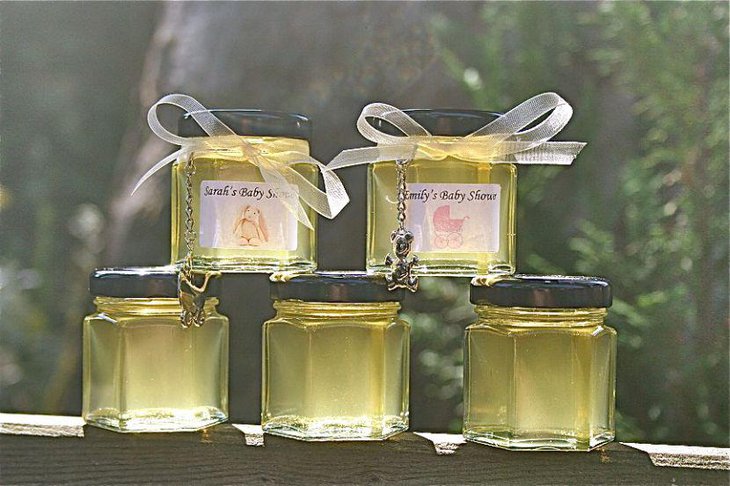 Honey Jar with Personalized Labels
Image Credit: theultimatebabyshower
Soap Favors
Decorative soaps are always a hit, especially if you make them yourself. Mold the bars into themed shapes or package them in decorated boxes or plastic wraps. If you make liquid soap instead of cakes, order decorative hand pumps for your concoction and tie a personalized tag around the spout or bottle.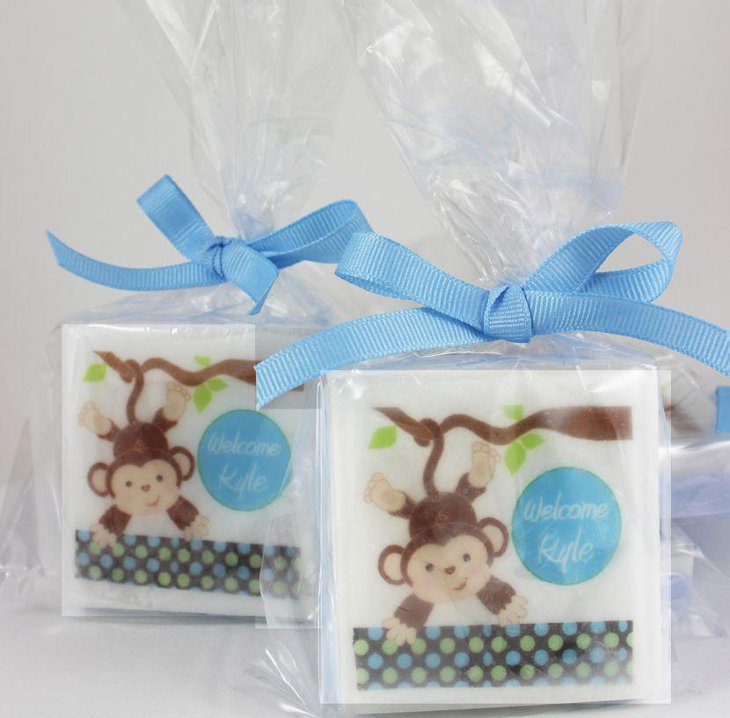 Bar Soap with Label in Plastic Tie
Image Credit: soapaucity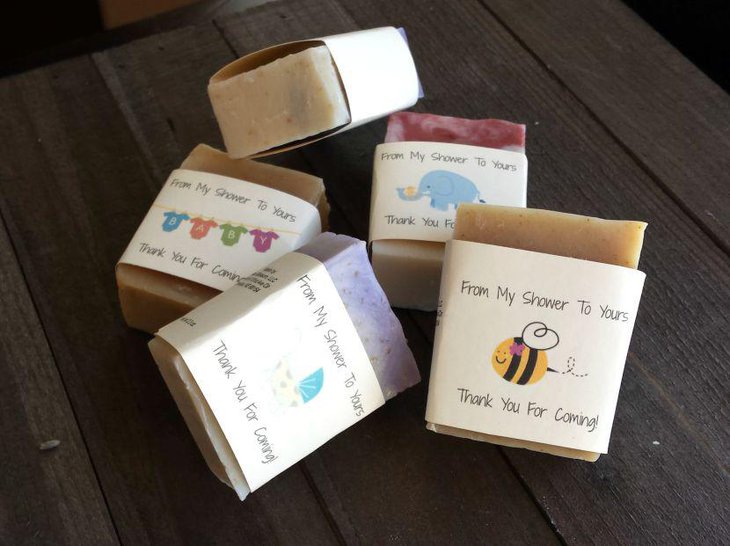 Colored Soaps with Personalized Labels
Image Credit: shopify
Jungle Safari Party Favors
Are you having a baby animal or Jungle Safari theme baby shower? If so, you can play with a lot of animal prints, colors, and fabrics when crafting favors. From "Born to be Wild" themed candy boxes to monkey printed candy tubes and tea bags to animal print fleece and sewing projects, you have a jungle of ideas to choose from. Wrap tins in animal print paper and fill them with popcorn, candy, tea, or cookies. Design an animal with the baby's name printed on its shirt and order small stationary pads for the mother and guests.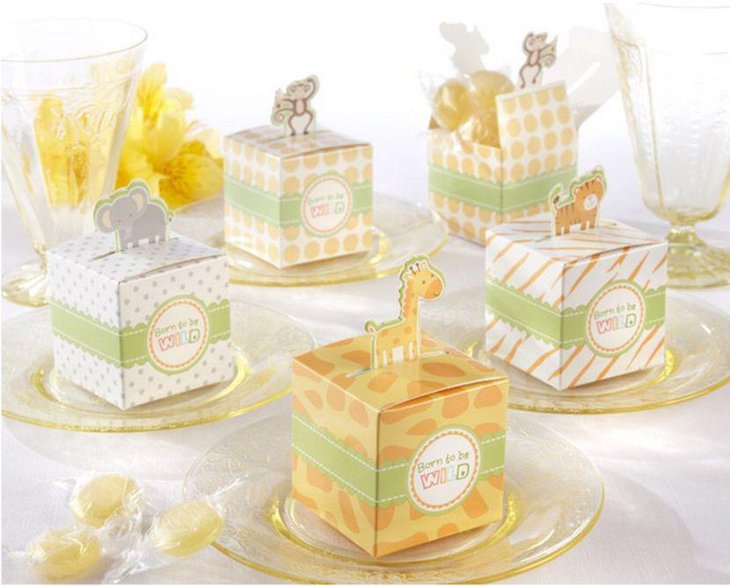 Born to be Wild Gift Boxes
Image Credit: australianfavors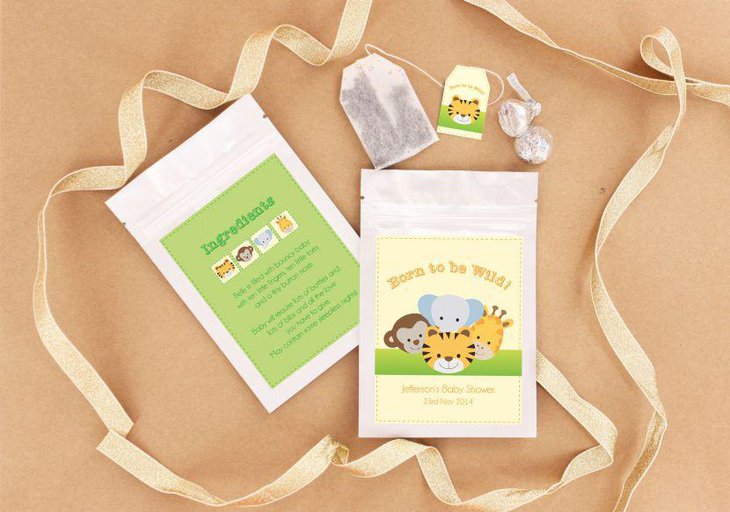 Tea and Candy Pouches
Image Credit: australianfavors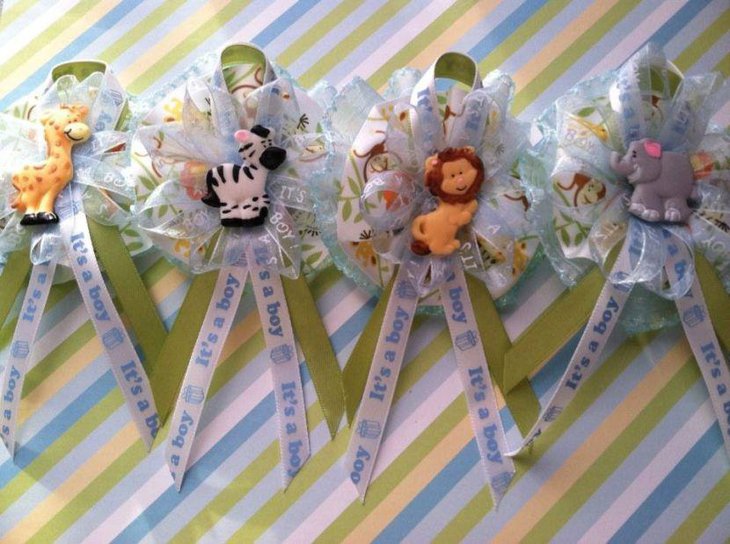 Decorative Bows to Hang at Home
Image Credit: etsystatic
So which of these baby shower favor ideas was your favorite? Baby rattle candy pops? Mason Jar candles? Manicure wine glasses? Baby bottle candy favors? Look back through and narrow down which one will best the theme of your party!