These baby shower themes for girls are cute and unique. Ranging from color schemes to baby animals to ballerinas to pure floral to chic garden, you're sure to find the perfect theme for mother and soon-arriving daughter.
Purple-themed Baby Showers
Choose royal purple purple to make the mother-to-be feel like the queen that she is. Use subtler shades and pastels to highlight the mother and daughter's femininity or stress opulence with deeper shades. If you want to celebrate the arrival of the new baby girl, choosing a 'Life is a gift' theme with ornamental paper crafts and gift boxes is a perfect choice. From spreading the tables with purple runners and tablecloths to choosing purple floral varieties to decorating party favors and desserts in purple accents, you can adopt the purple theme in innumerable ways. Here are some examples.
Rich Purple Backdrop, Paper Pompoms, Cupcake Icing, Candy, Snack Boxes, and Party Favors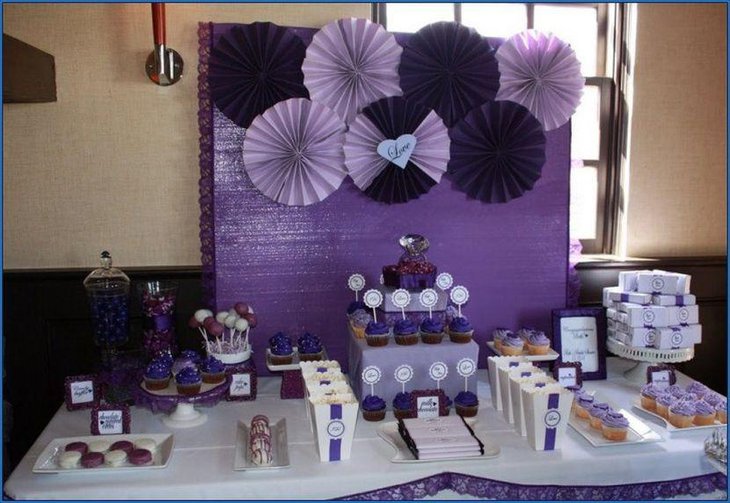 Image Credit: lilipip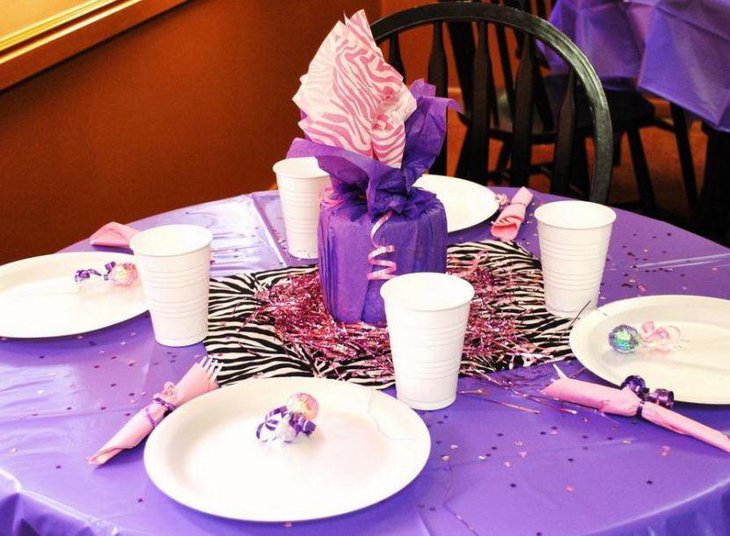 Exciting Purple Tablecloth, Napkins with Ribbons, Dessert Bows, and Centerpiece
Image Credit: revauap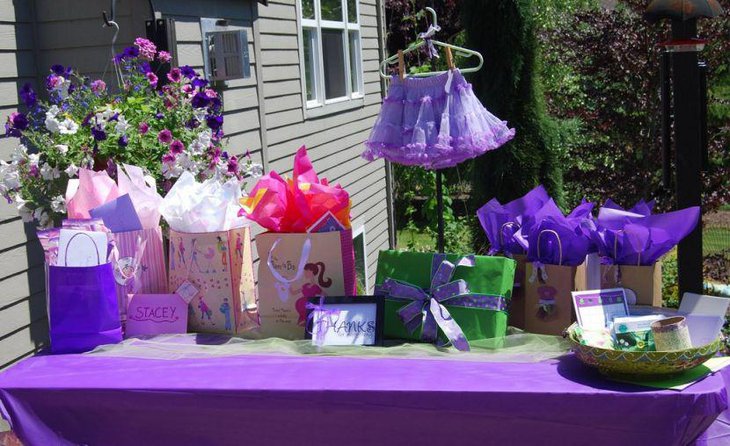 Soft Feminine Purple Tablecloth, Stationary, Gift Bag Tissue Paper, Baby Outfit, and Floral Arrangement
Image Credit: saturdayhouse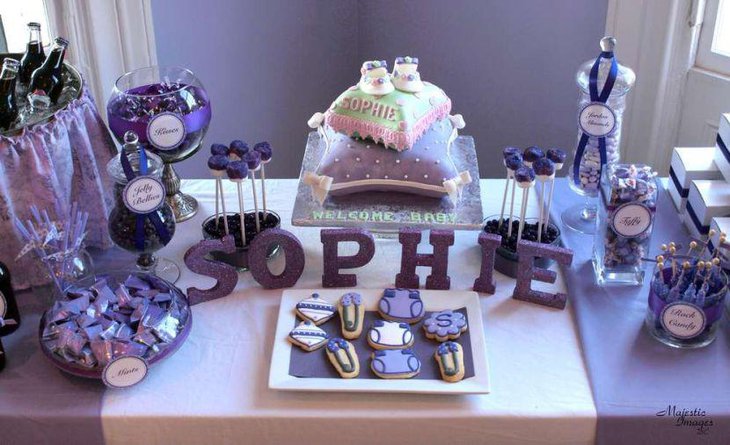 Impressive Spread of Table Runner, Iced Desserts and Candy, and Personalized Sign and Pillows
Image Credit: catchmyparty-cdn
Garden Party
Take your party outside or bring the outside inside with a chic garden party. Decorate with pink, peach, and other pastels. Stylize your party for a vintage or modern open-air charm. Include casual outdoor games appropriate for gentleladies and serve tea with snacks or dessert. If that idea doesn't catch your fancy, make the party a little more groovy with tie-dyed tablecloths and provide headbands and shades to your guests. Either way, you'll have a blast with all of your girlfriends as you celebrate the coming of a new girl into your lives.
Outdoor Garden Party in Colorful Pastels
Image Credit: catchmyparty-cdn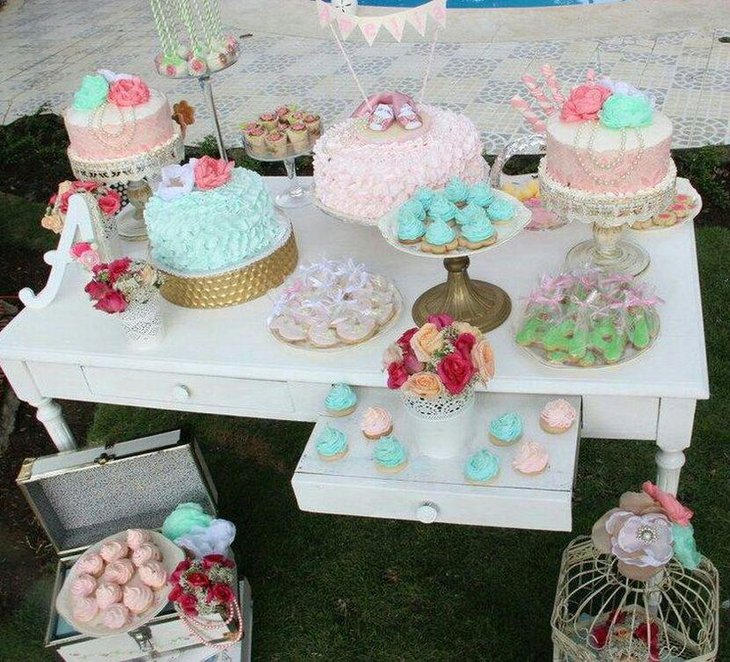 Vintage-themed Dessert Table in Pastels
Image Credit: pinimg
Indoor Gentlewoman's Party with Garden Florals and Pastel Delicacies
Image Credit: goldvote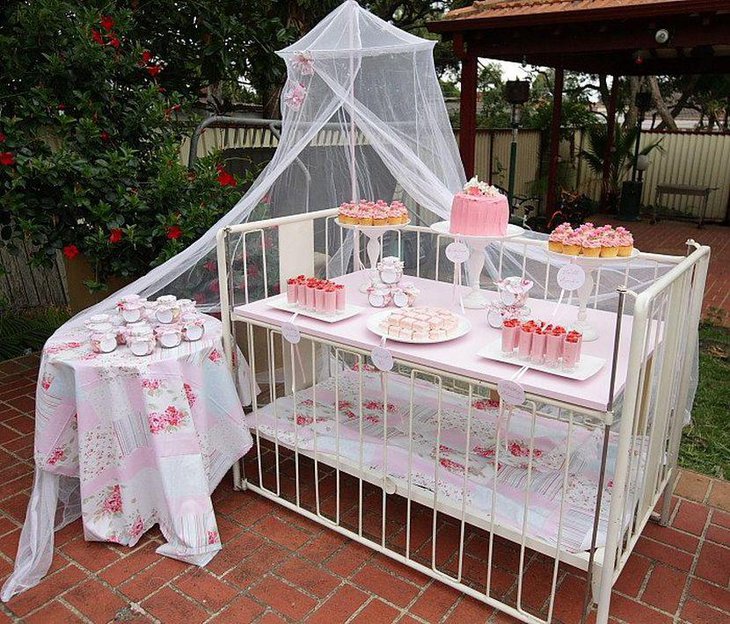 Cute Rose-themed Garden Party with Creative Crib Décor
Image Credit: lepetit
Animal-themed Baby Showers
There's nothing cuter than baby animals. When you're preparing to welcome your new one, celebrate the energy of new life with a zoo or jungle theme. You can include plenty of creatures, greens, waterfalls, and themed foods.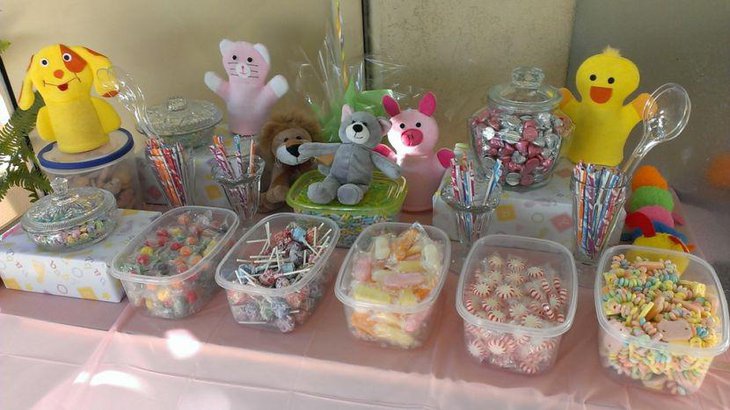 Assorted Candies and Baby Animal Décor
Image Credit: runeatrepeat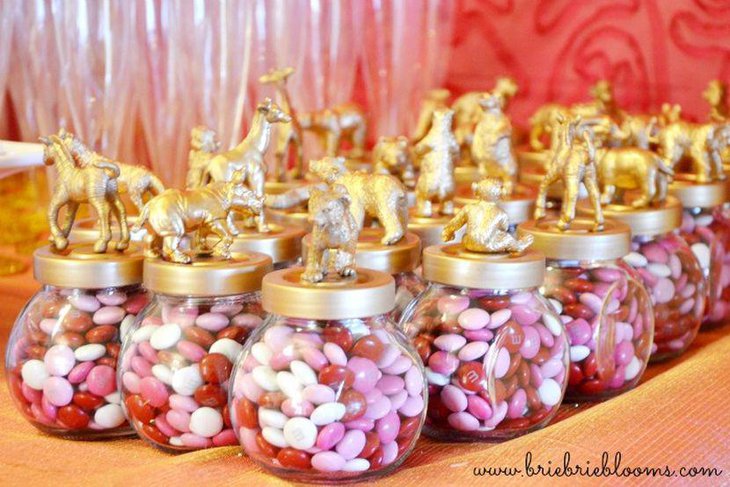 Candy Jar Favors with Detailed Golden Animal Toppers
Image Credit: briebrieblooms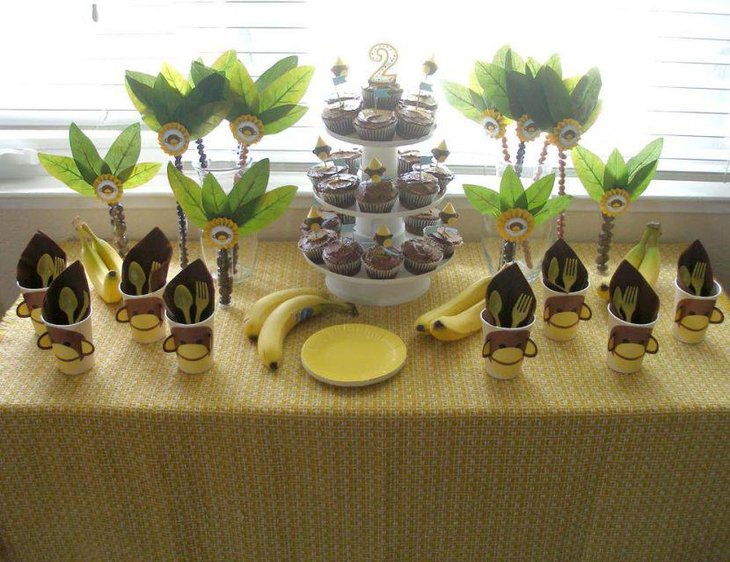 Monkey and Banana Dessert Table
Image Credit: beeshower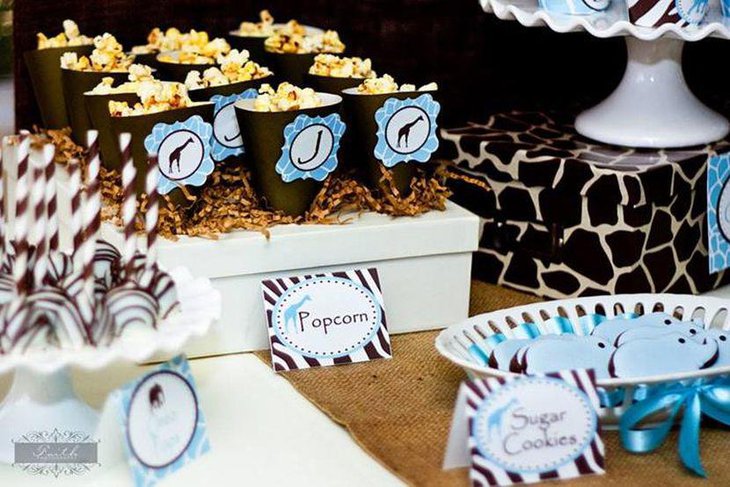 Giraffe and Zebra Patterns with Blue Accents
Image Credit: karaspartyideas
Pure Floral
You usually go wrong using flowers at your baby shower. Even if the mother is not a lover of flowers, she'll appreciate the beautiful arrangements for this special occasion. For winter babies, vibrant flowers can show the life that is about to be brought into the world. You can also substitute real flowers for paper craft designs for a more personalized touch.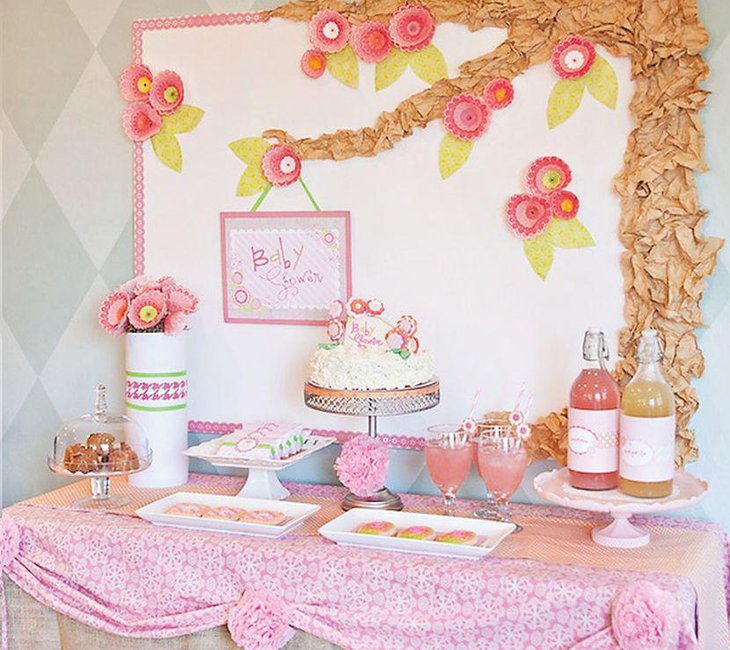 Appealing Floral and Pastel Dessert Table
Image Credit: beeshower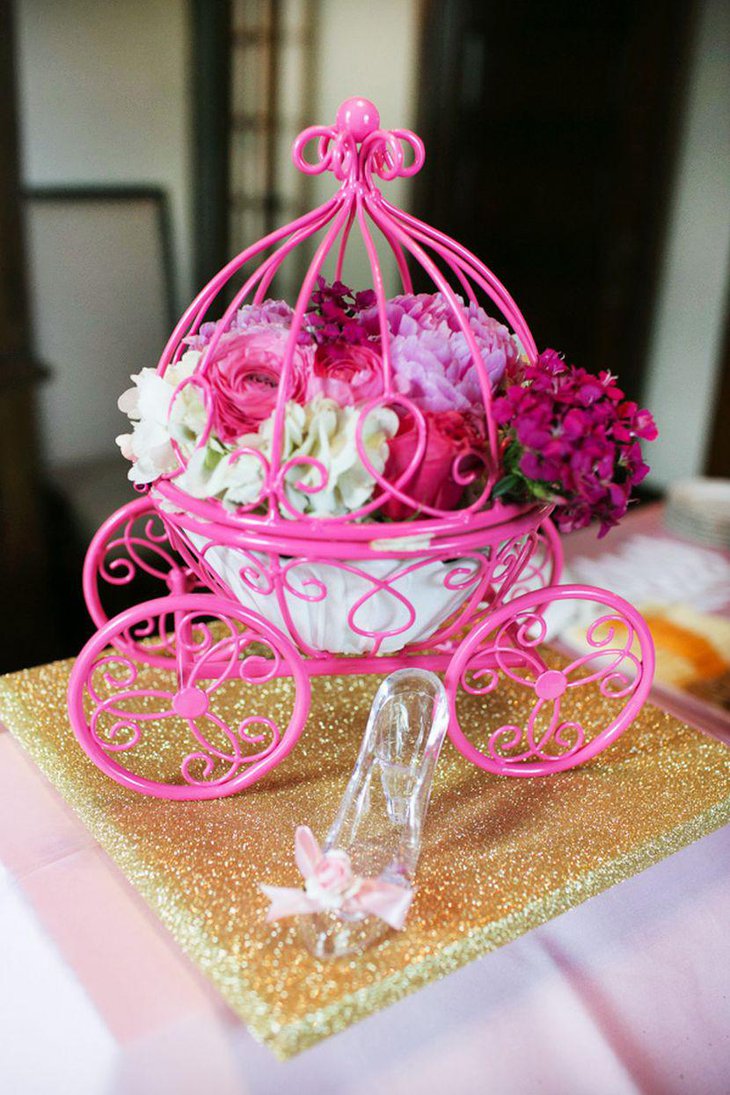 Adorable Flower Stroller
Image Credit: beeshower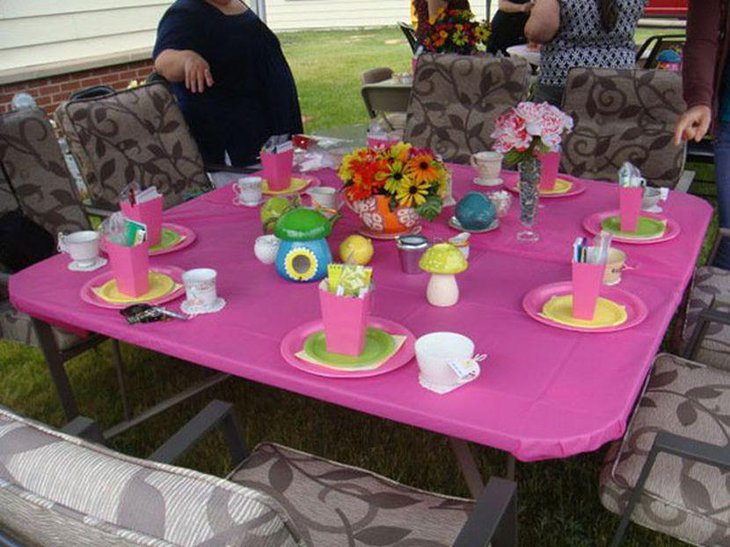 Outdoor Floral Party
Image Credit: slodive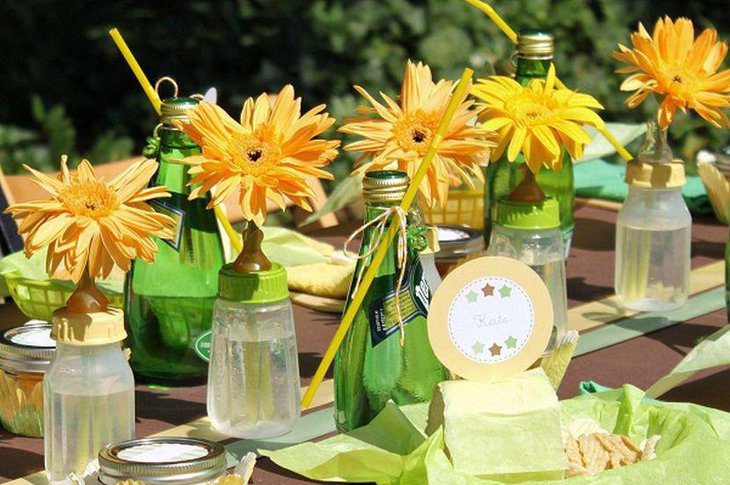 Baby Bottle and Blooms Centerpieces
Image Credit: lilipip
Spring-themed Baby Shower Decorations
If the stork is coming to visit you this spring, celebrate the season with a fresh and vibrant theme. Use bright yellows and white, budding branches, and growing greens. Include juices or lemonade and fresh fruit slices.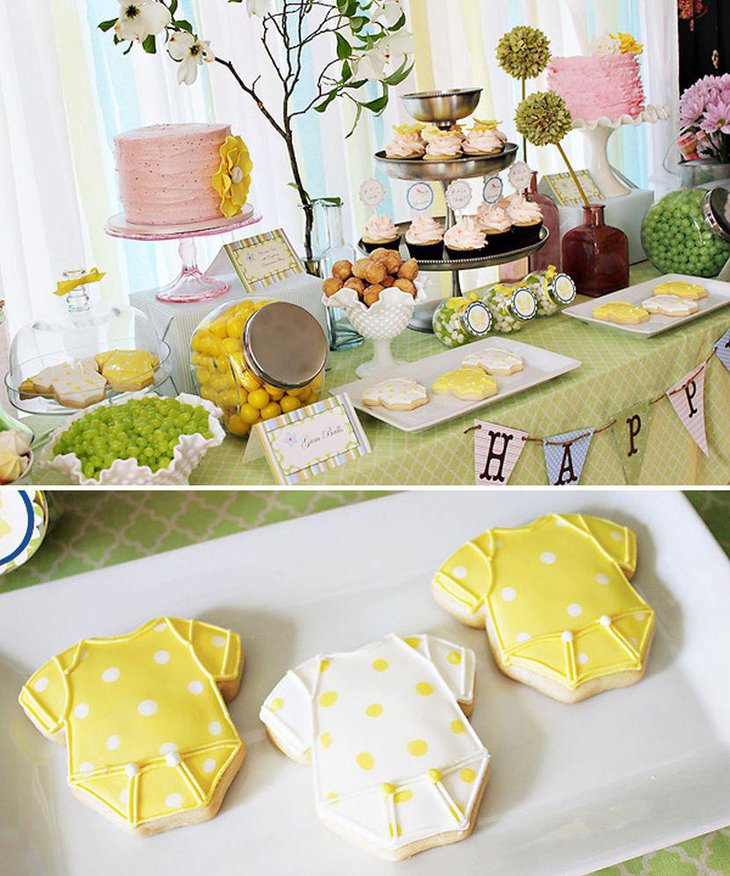 Spring Baby Shower Featuring Yellow, Green, and White
Image Credit: dilcdn
Fresh Greens and Flower Pots, Juices and Fruits
Image Credit: thesweetestoccasion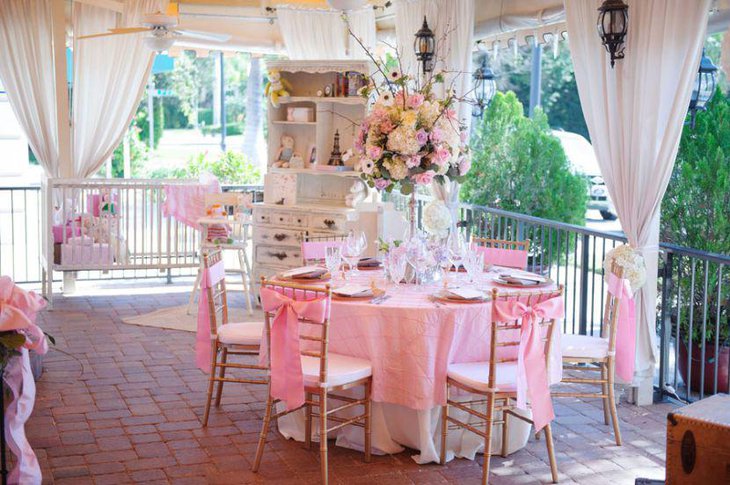 Fresh Air with Explosive Bouquet Centerpiece and Nearby Greens
Image Credit: occasionsonline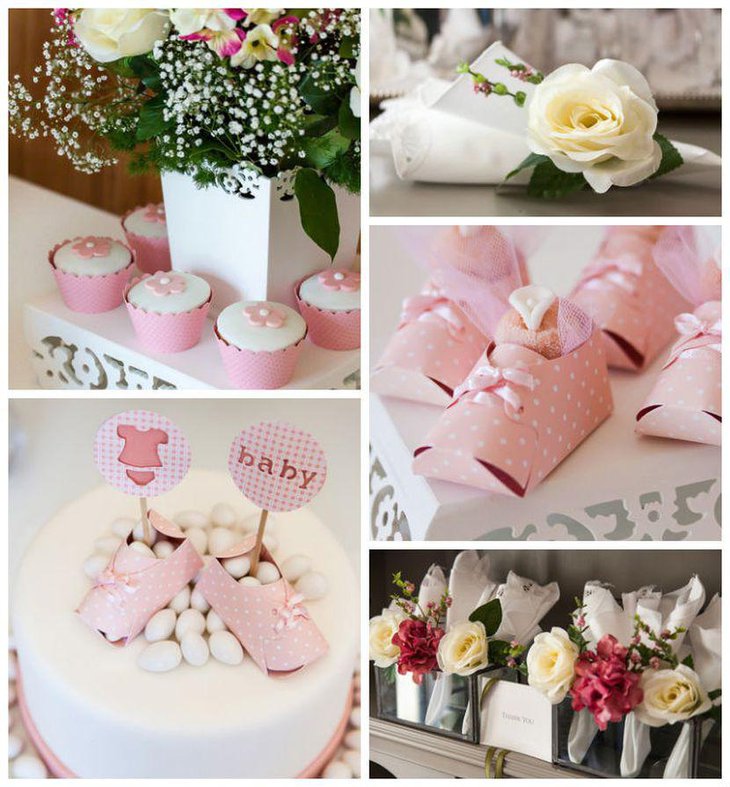 Spring Florals and Booties
Image Credit: karaspartyideas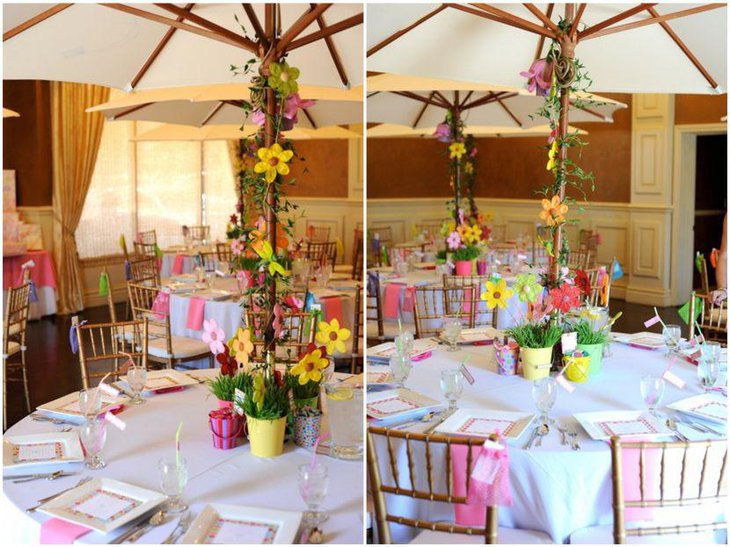 Growing Greens and Vining Flowers with Pastel Table Setting
Image Credit: aiceca
Butterfly and Cherub Themes
Do you imagine your baby girl being like a sweet, loving cherub or a peacefully fluttering butterfly? Celebrate her lively innocence cherub figures or butterfly decorations. Stylize your desserts in silhouettes of one of these themes or use them as the theme for your party favors.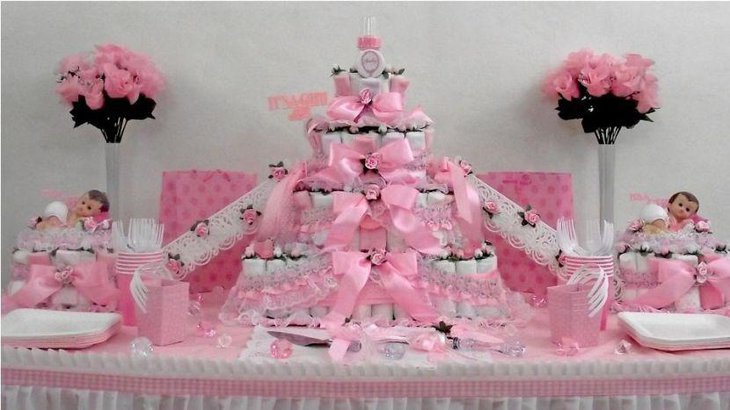 Rose and Cherub Dessert Table with Decorated Diaper Cake
Image Credit: jpaice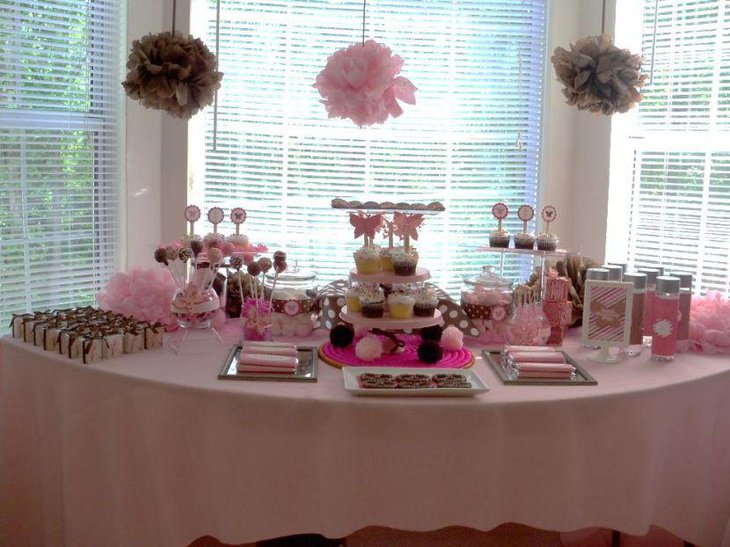 Butterfly Cupcake Toppers and Candy Jar Labels
Image Credit: mygrafico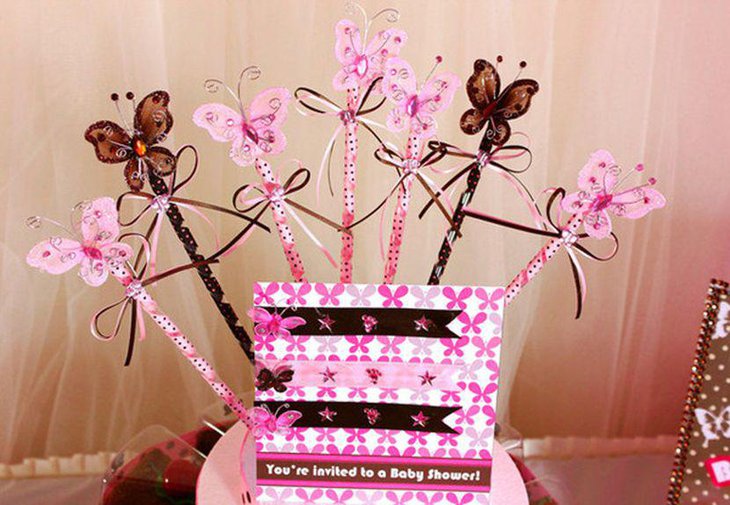 Butterfly Wand Party Favors
Image Credit: invitesbaby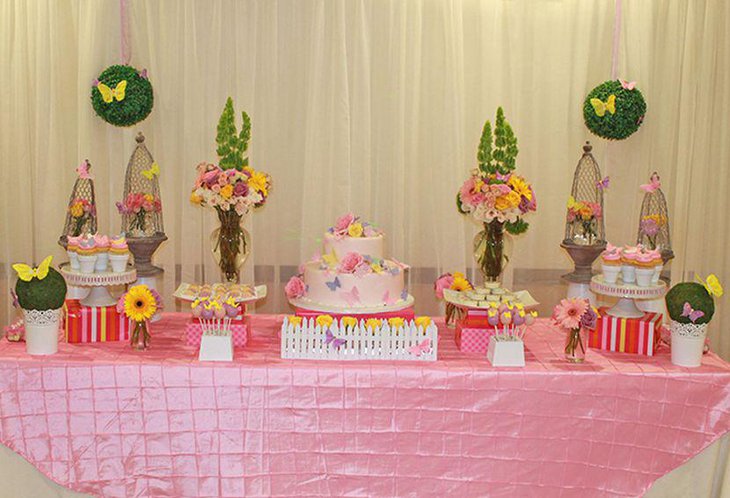 Butterfly and Floral Décor
Image Credit: chickabug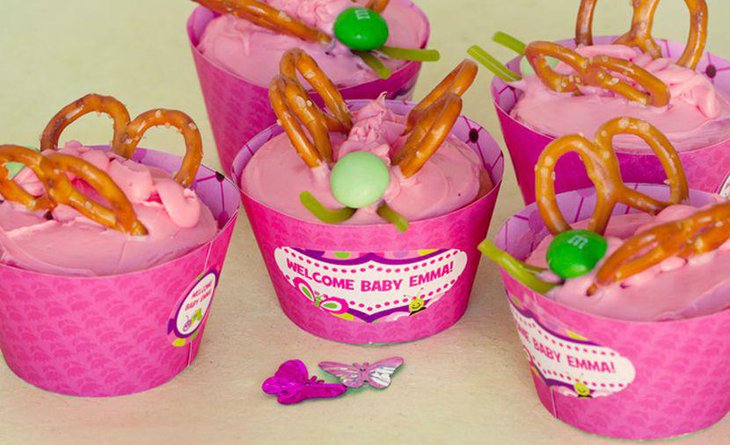 Butterfly Cupcakes
Image Credit: evermine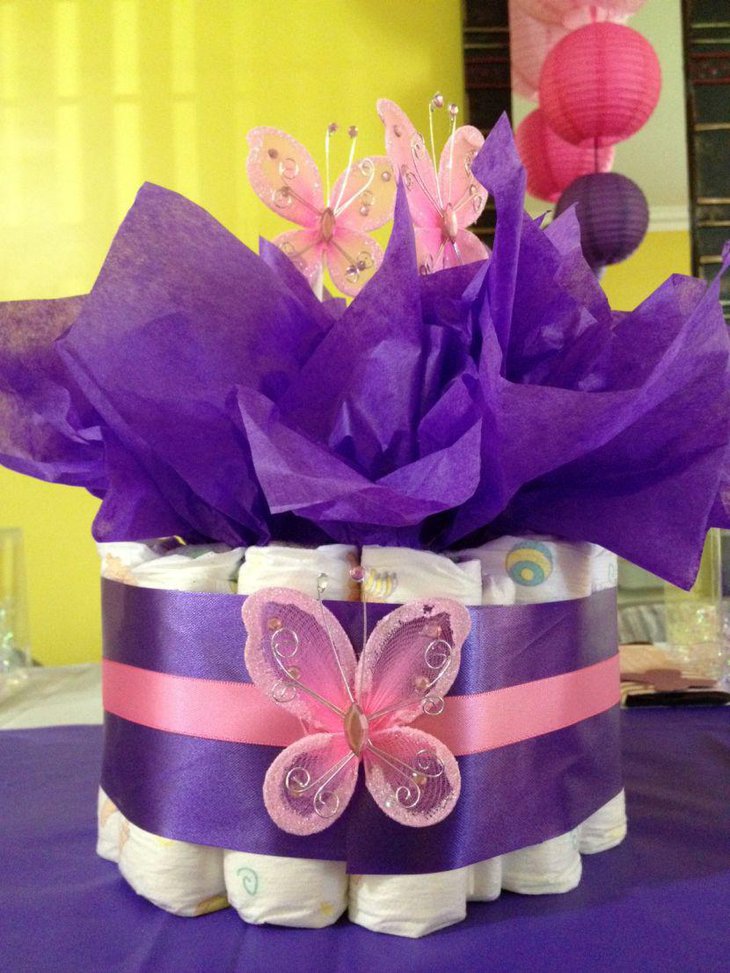 Butterfly Embellishments
Image Credit: wordpress
Butterfly Adornment on Vase
Image Credit: aiceca
Ballerina Baby Shower Ideas
Will your baby daughter grow into a graceful little girl? Decorate your centerpieces as tutus and your tablecloths in tulle ruffles. Crown your cake with a tiara or hand them out to each lady when they arrive.
Ballerina and Feathered Flower Centerpiece
Image Credit: pinimg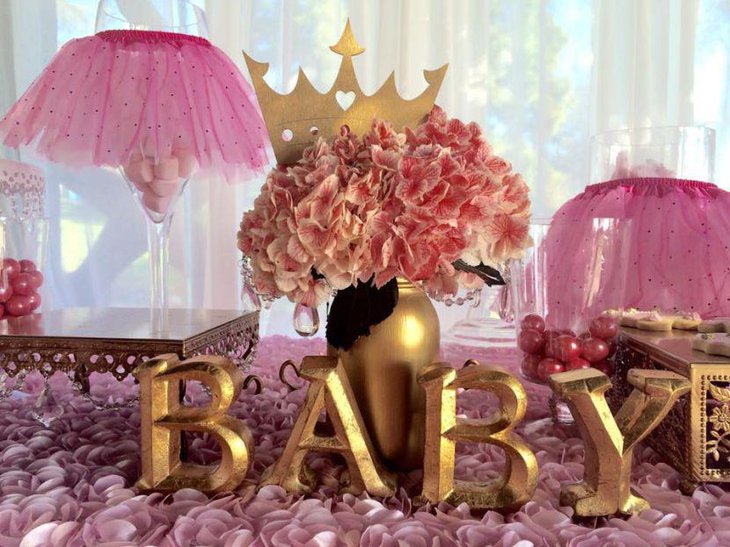 Tutus and Tiaras for a Ballerina Princess
Image Credit: babyshowerideas4u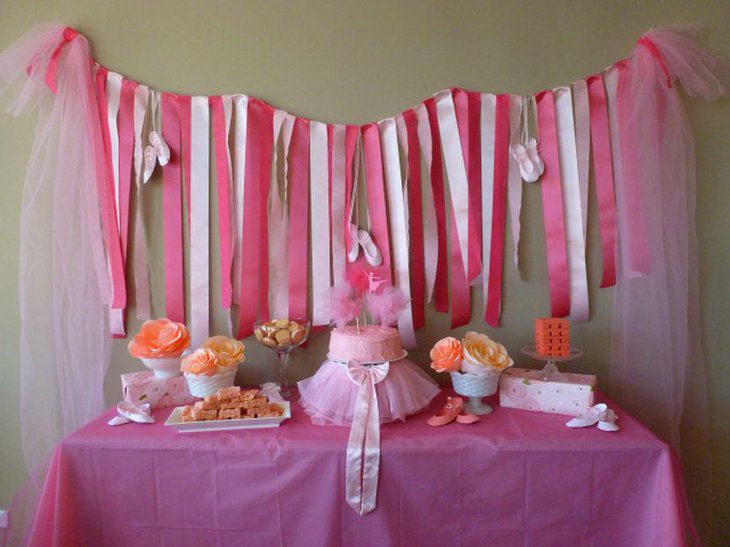 Ballerina Tutu around Feathered Flower Topped Cake with Hanging Slippers and Tulle
Image Credit: wordpress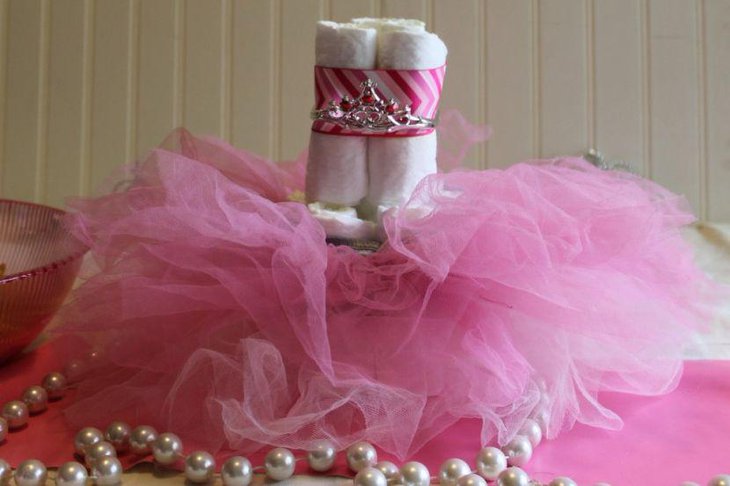 Ballerina Diaper Centerpiece
Image Credit: frugalfanatic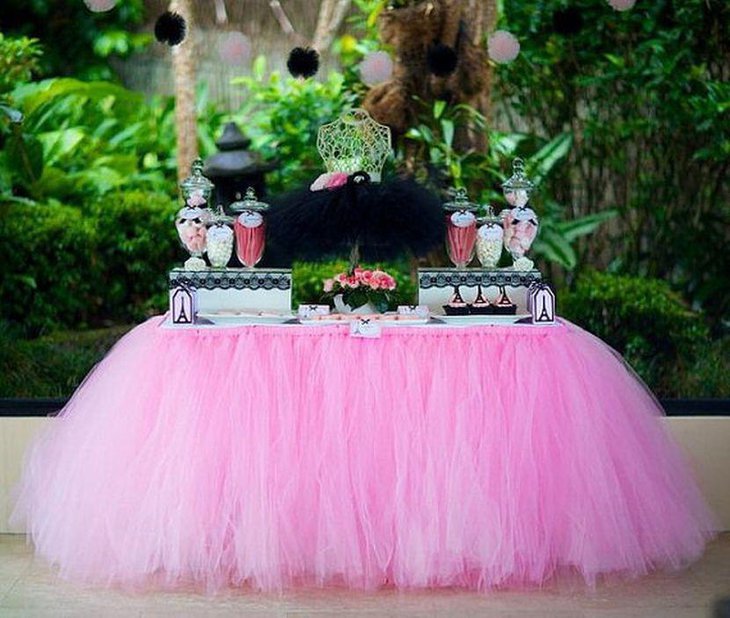 Tutu Table Trim
Image Credit: alicdn
Princess Baby Showers
Treat mommy like a princess for the day and celebrate the coming of a new little princess with pearls, vintage jewelry, and decorations in gold, pink, peach, purple, lavender, or pastels.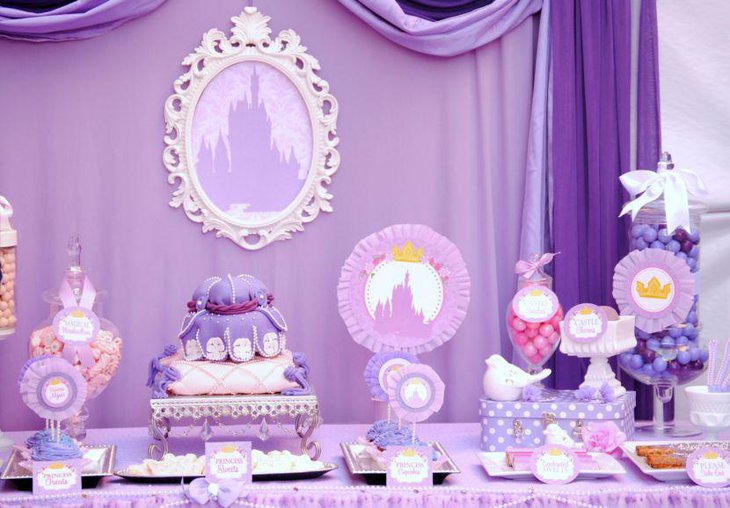 Magical Princess Dessert Table
Image Credit: beeshower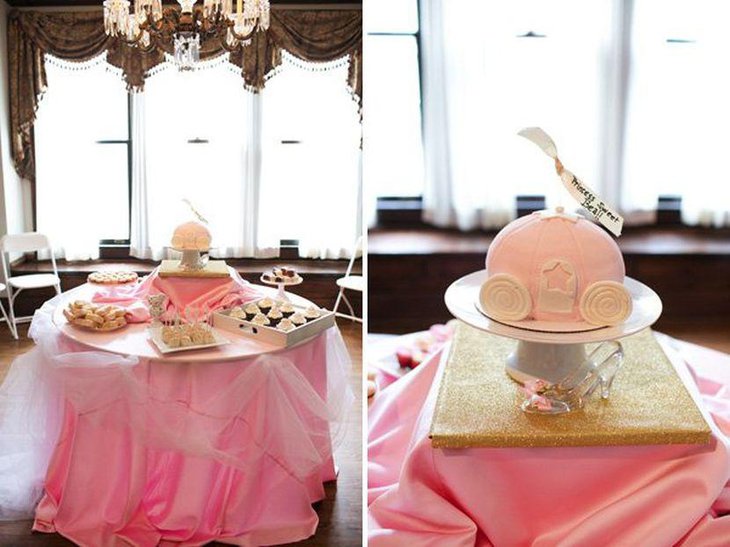 Cinderella Coach and Gown
Image Credit: hwtm
All of these cute baby shower themes for girls are easy to adapt to fit your guest of honor's personality. And with such a range of ideas, you don't need to look far for the decorations you need. You probably already have much of what you need. Get creative and crafty as you prepare for this fun-filled day of friends and festivity.