Do you have a small dining area and are looking for dining room tables that look compact and stylish? If yes, you have pretty much arrived at the right spot as we are going to showcase 25 dining room table designs that look awesome and imaginative.
Yes, we all have faced space issues sometime or the other in our lives, and believe me, designing a small dining room table is a daunting task for designers, though not an impossible job! The things that one needs is a little bit of creativity and loads of imaginative ideas.
The market today is filled with designer shops that sell many innovative kitchen tables for small spaces and buyers simply need to go out, make that purchase and bring the furniture home. Easy! But, the problem arises when all of a sudden you realize that the furniture you selected doesn't fit as awesomely as you thought it would!
Hence, it is here we come into the picture to help you choose the best dining room tables that are not just stylish in look but also suit all kinds of homes, especially small spaces. Do take a look at these cool dining room table designs for small spaces.
Dining room table ideas for a studio apartment
Studio apartments are cute but they definitely are pressed for space. How do you then have a cute dining area that suits such a small space easily? Well, try placing a compact table that is fashioned with a sleek looking wooden dining table with black metal chairs for a comfy seating. A small space can be metamorphosed into a style den with a modern six seater dining table with beige upholstery and wooden finish if you have a taste for elegance. The roundel shaped dining tables suit small spaces. The dining table in white in the image can seat 4 people and looks compact as well as can be counted among the best dining room tables shown today.
Sleek dining table design for a studio apartment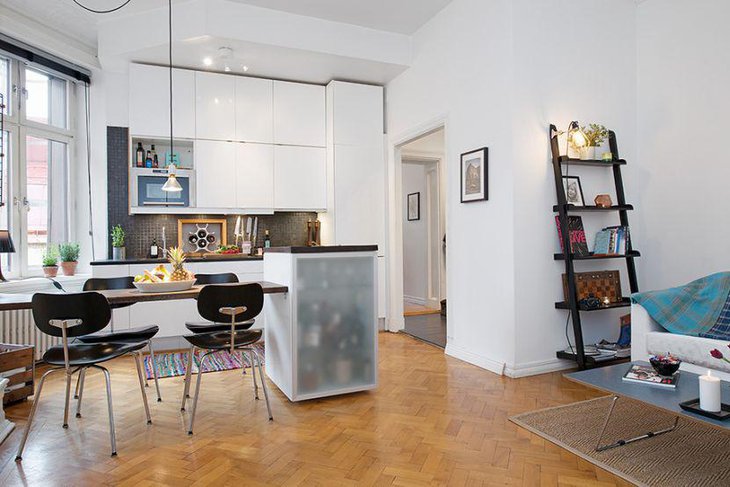 Image Credit: aquispain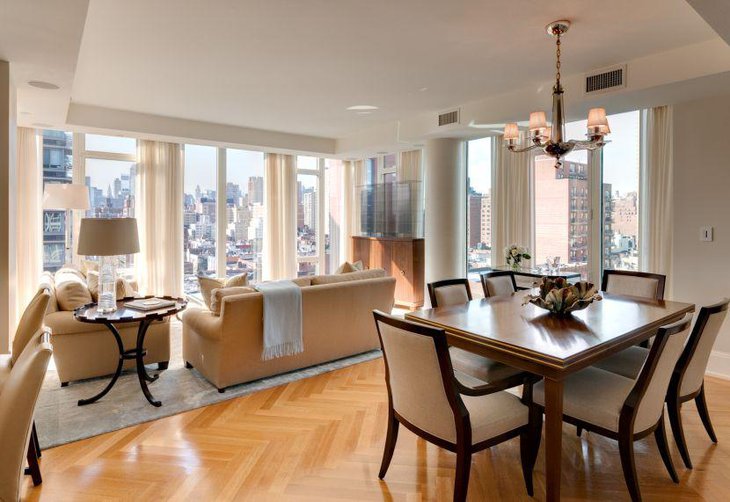 Modern wooden beige dining table for a studio apartment
Image Credit: trastus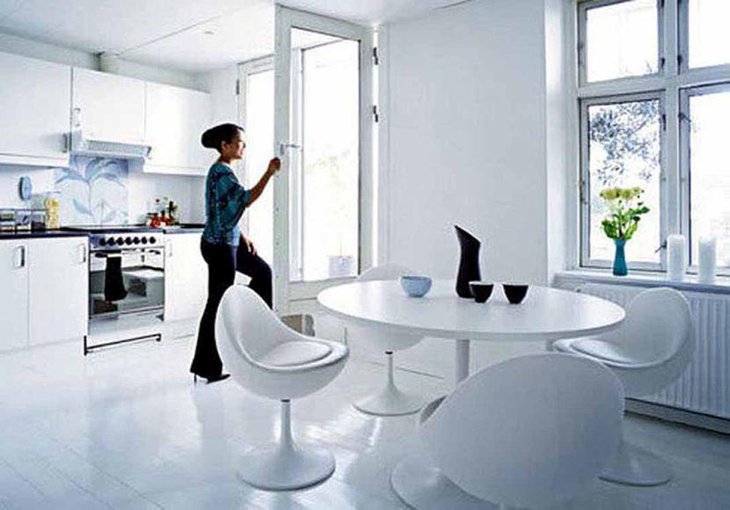 Elegant round dining table design in white
Image Credit: nohomedesign
Small dining room with gorgeous dining room tables
Many homemakers living in small houses or apartments are now looking for buying elegantly designed dining room tables that add panache to their home decor. No longer are they just satisfied adorning their dining spaces with boring looking furniture. Gorgeous furniture pieces are in demand these days. Seen below are a few classic examples of vintage dining room tables for small rooms and sleek furniture that saves space in smaller dining rooms such as the dining table set in wood seen here that comes equipped with a rectangular wooden table, two rust colored leather chairs and one sleek bench to accommodate more guests if you have some. Multifunctional furniture is the need of the hour and comes in a number of modern designs as showcased. You could have a roundel table top that's made of wood with comfy chairs fitted under it to save space. Must say, a brilliant idea to save some precious space!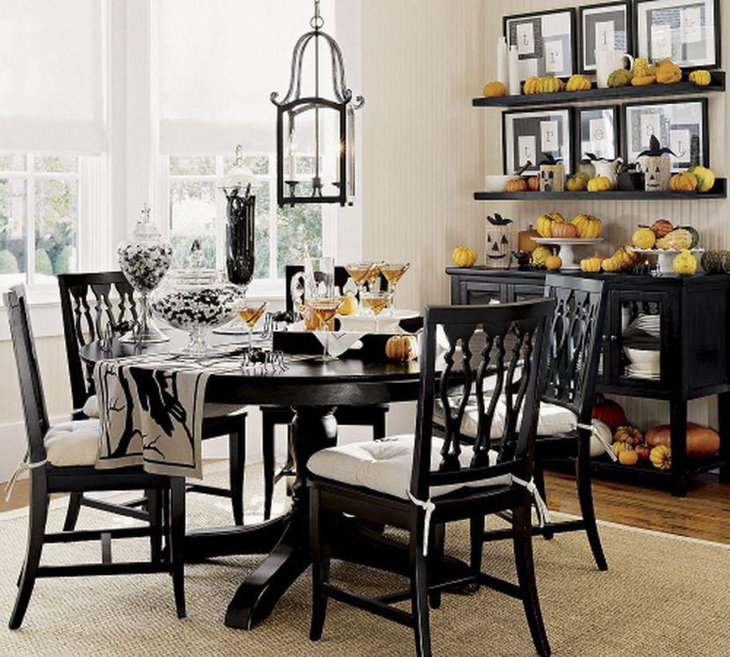 Marvelous vintage black small round dining table with claw padestal
Image Credit: oaktreelife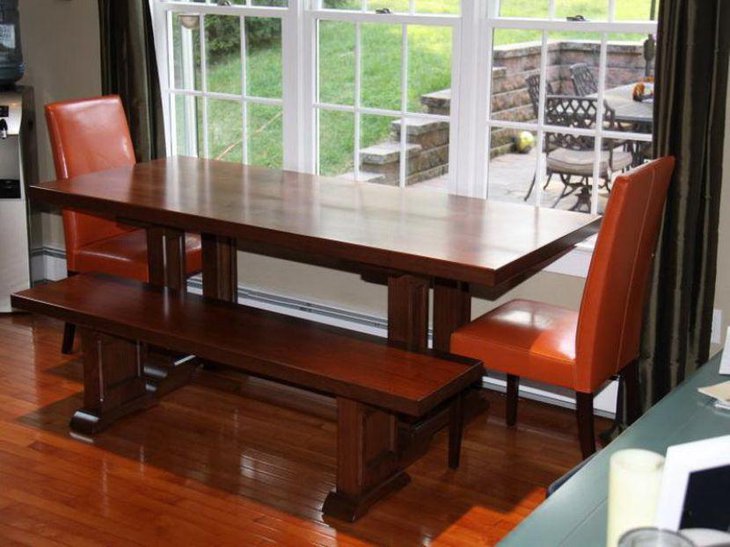 Dining room design idea with wooden furniture
Image Credit: homedesignv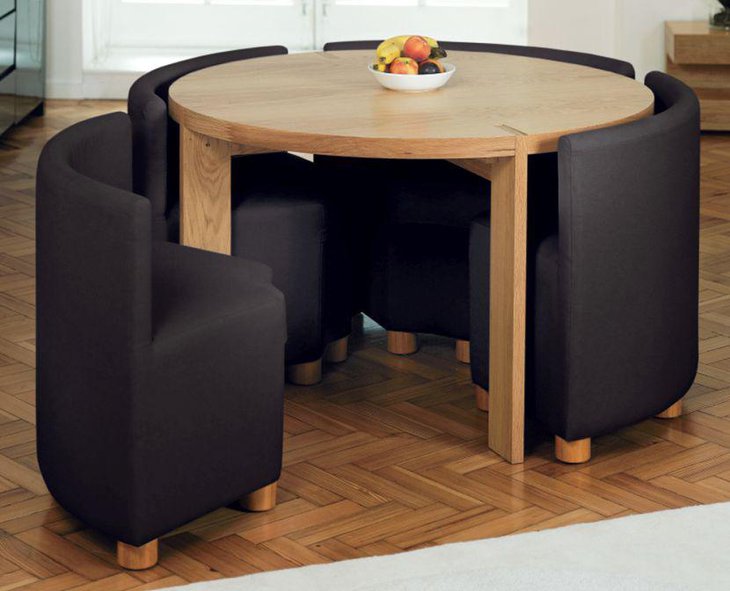 Small round dining table in brown and black
Image Credit: mineo
Rustic dining room tables for small rooms
Rustic dining room tables are in vogue and we can see many homes housing such smart pieces of furniture now a days. From unpolished oak dining tables that look fashionable with pedestal bases and round shapes, to rustic looking rectangular tables, your eating area can have a revamped look when you team such furniture with elegant cream upholstery. Rustic is the way to lend a sassy feel to your dining table!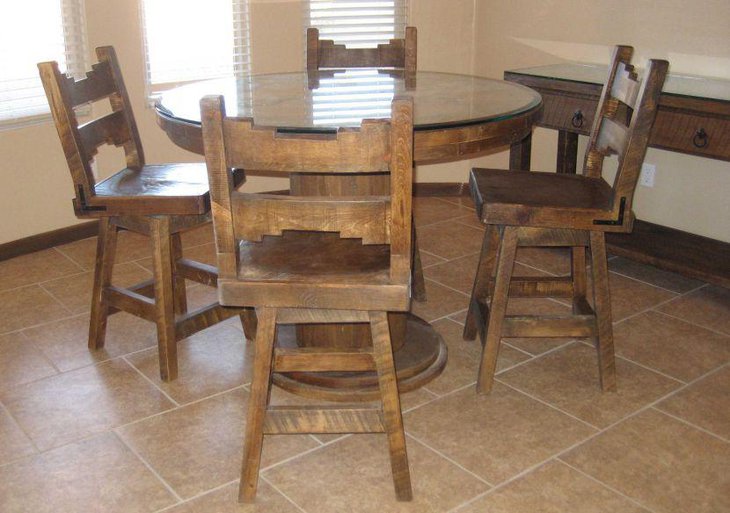 Brown rustic dining table design
Image Credit: furnizzy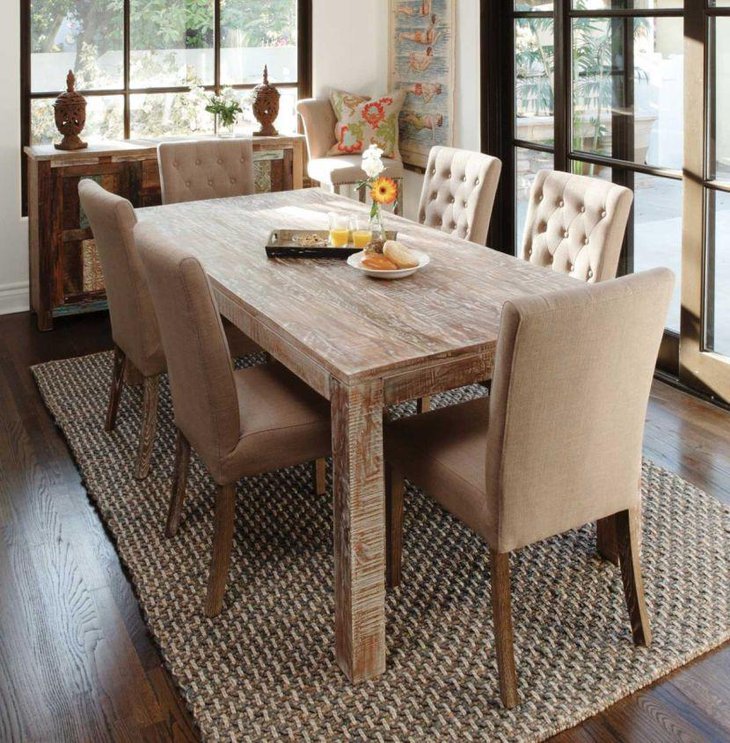 Rustic dining table with cream chairs
Image Credit: eledzeppelin
Contemporary dining room tables for small rooms
Dining room tables with contemporary suits such dining spaces that have interiors where every nook and corner is adorned with modern furnishings and pieces. For a small dining room, stylish dining tables in black look spectacular and pretty chic
Contemporary glass top dining table
Image Credit: imageion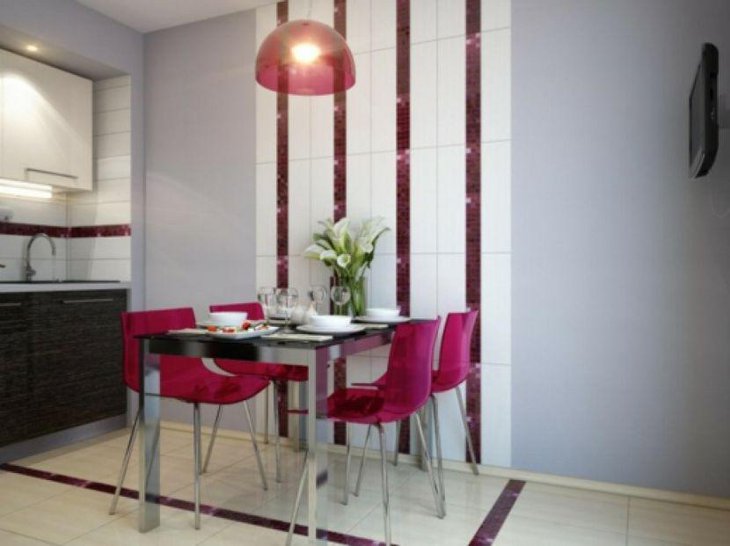 Stylish modern dining table in black with pink chairs
Image Credit: duoatl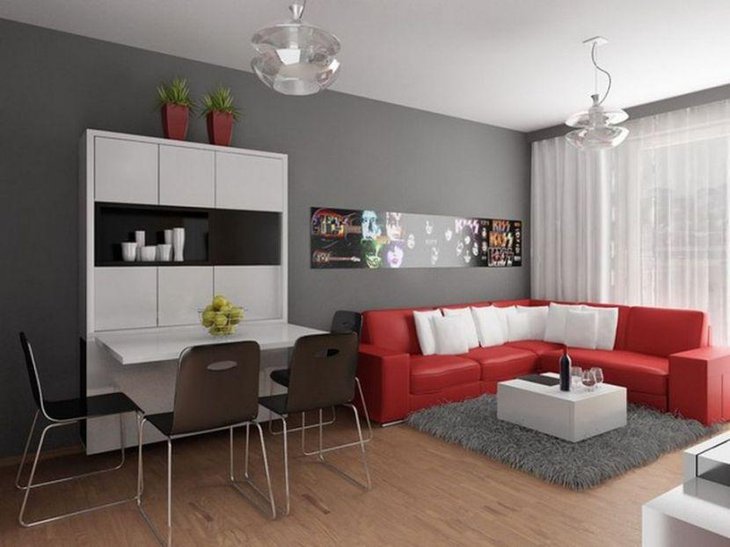 Amazing modern contemporary small apartment dining table
Image Credit: architect-wiki
Multipurpose dining room tables for small rooms
For such small dining rooms that have less space, you can install such dining table pieces that can be used in a number of ways like the dark brown wooden dining table seen here. Most multifunctional tables have racks to store bottles under them that help eliminate clutter as well.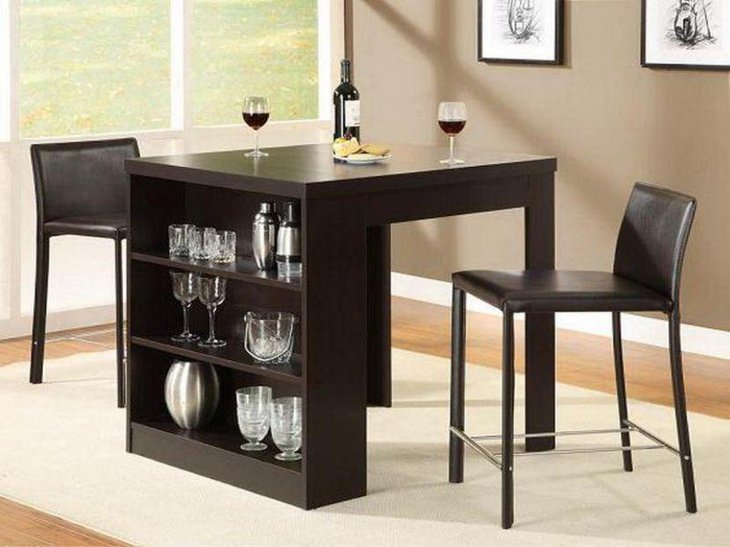 Dark brown varnished wooden dining table with racks and black chair
Image Credit: signahome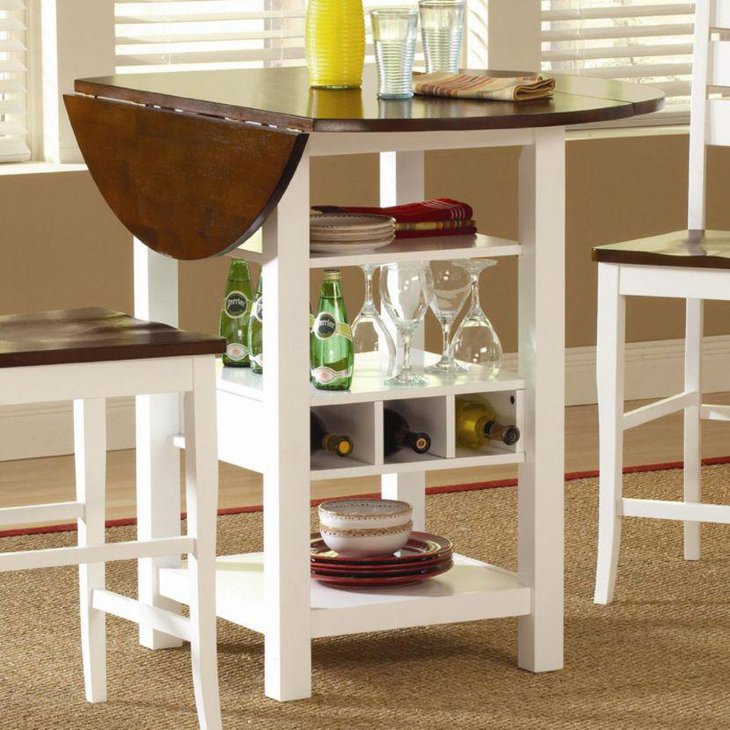 Counter height dining tables for small spaces
Image Credit: duoatl
Small rooms with best dining room tables that rock!
Here is showing you some of our specially handpicked best dining room tables to accentuate your room's decor like the white dining set as well as the two seater table that saves a lot of space. These tables look trendy for a small dining room and are available in numerous designs and shapes.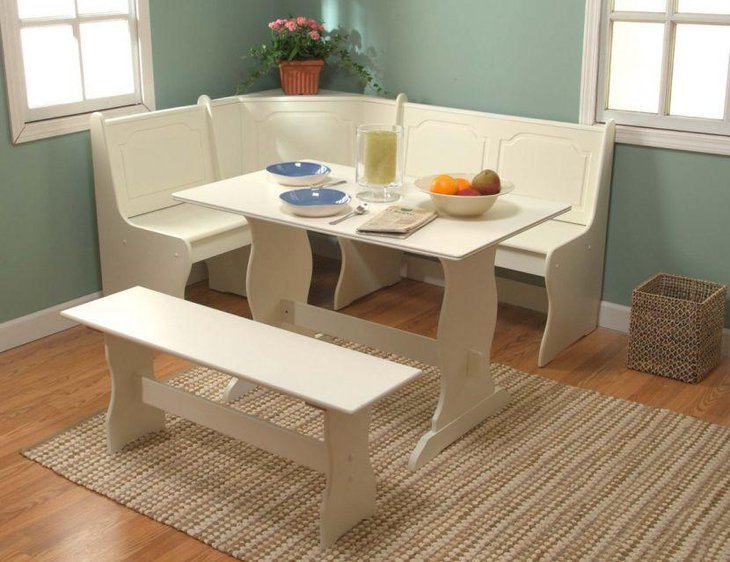 Unique dining tables for small spaces
Image Credit: duoatl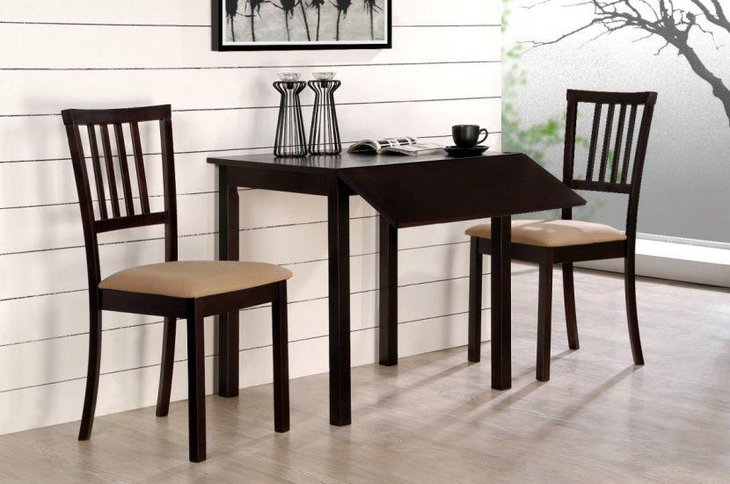 A smart wooden table for two
Image Credit: bersosbok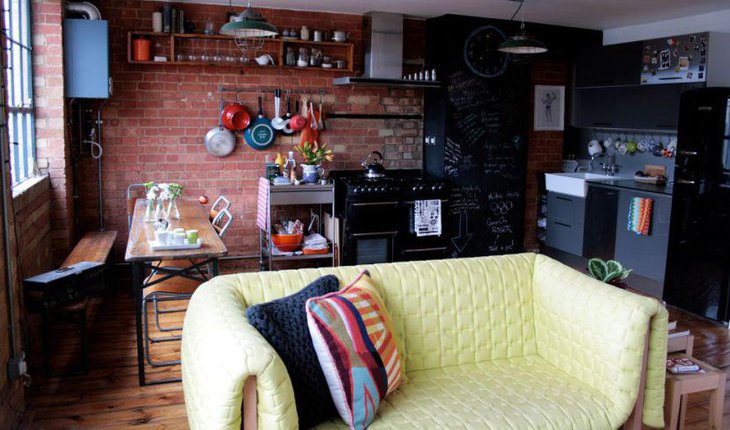 Long wooden dining table with bench and chairs
Image Credit: memorabledecor
Chic kitchen tables for small spaces
Any nook or space of your dining room can be beautified with smart looking kitchen tables as seen in the images below. Be it the place just next to your kitchen, or inside it, there are ample kitchen tables for small spaces that make use of wood or are blends of glass or metal like steel.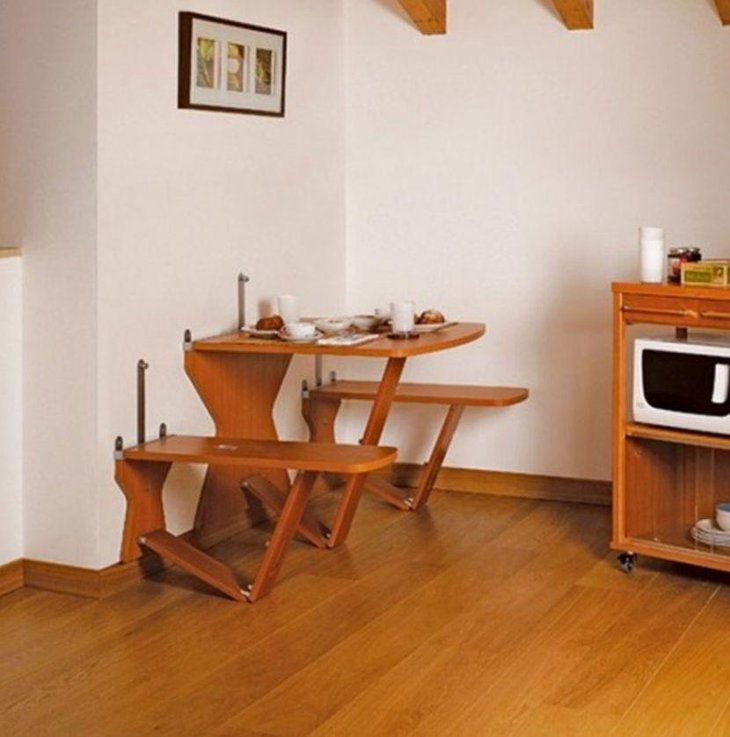 Tiny wooden kitchen table for small space
Image Credit: catlamb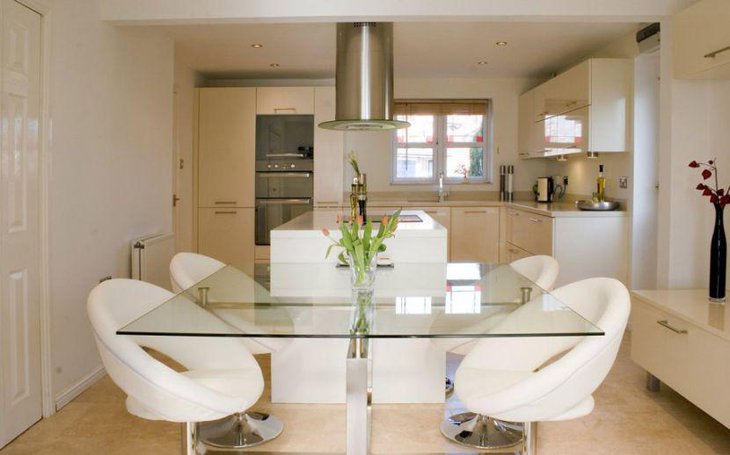 Minimalist design for kitchens in small spaces
Image Credit: interiordesignsuggestions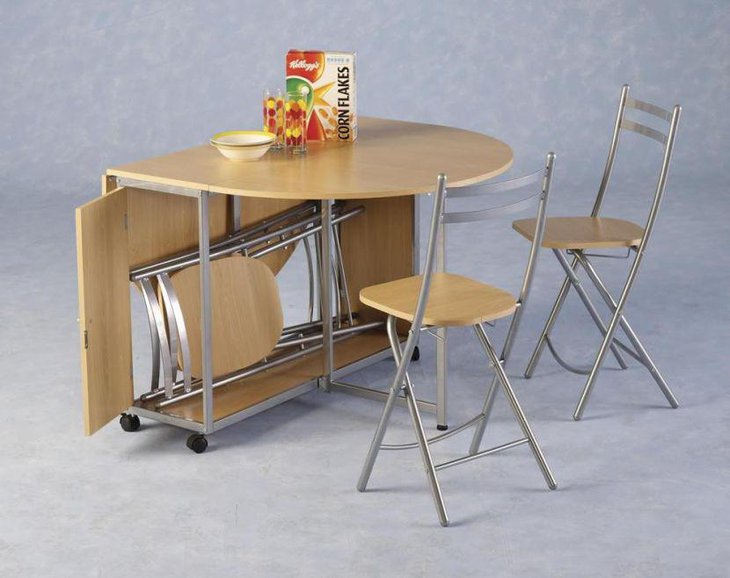 Portable oval kitchen table for small spaces with wheels and folding chairs
Image Credit: 800afaucet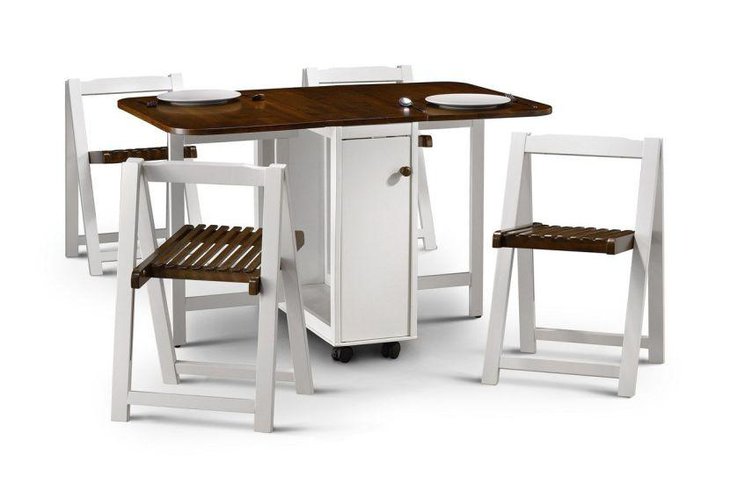 Modern white and brown kitchen tables and chairs
Image Credit: interiordecornow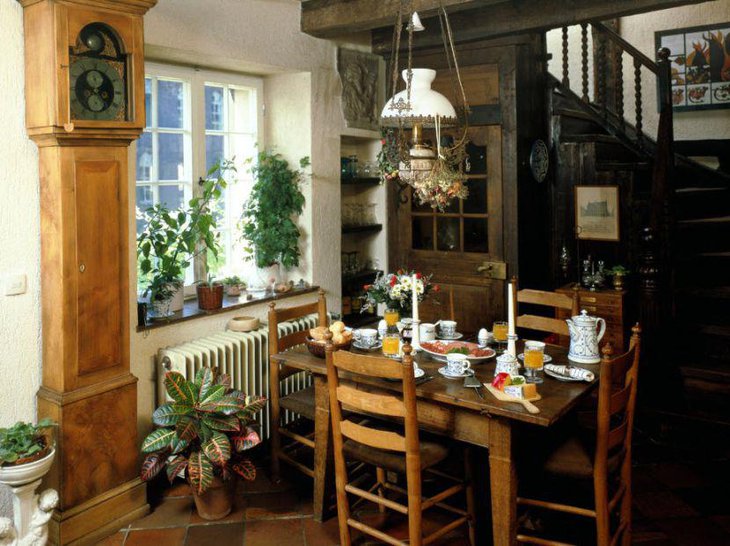 Small wooden dining table
Image Credit: trendecoration
Narrow dining tables for small rooms
A narrow dining table fits every corner of your small room and the chairs or stools can easily be carried elsewhere as needed, like the wooden stools seen in one of the images. There is other advantage of installing a narrow built dining table and that is the ease with which you can remove a dining area when you are not in the mood to have one!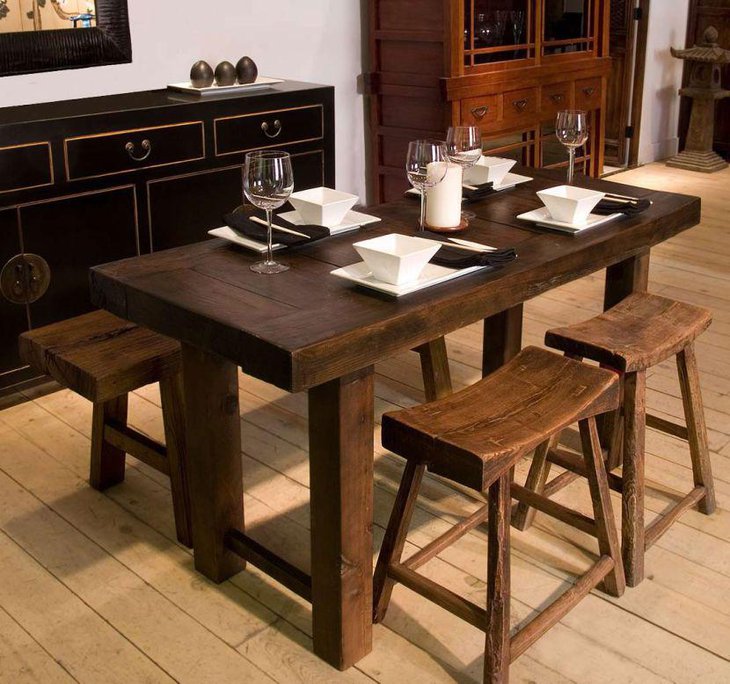 Narrow dining table in wood
Image Credit: rhoadsclarke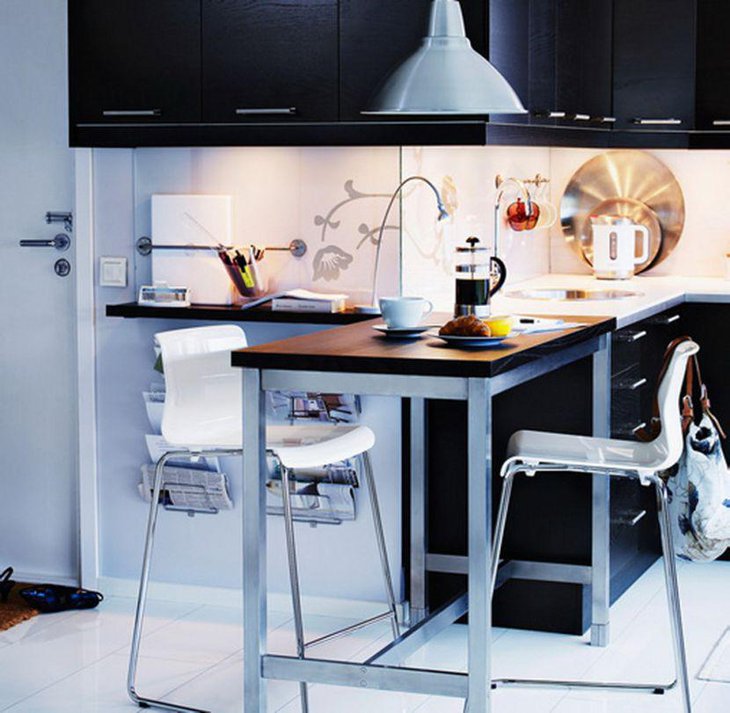 Brown and metallic narrow kitchen table
Image Credit: catchwild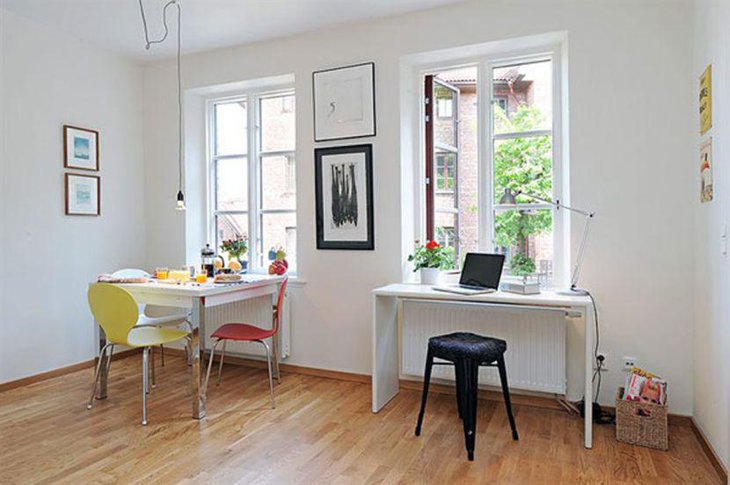 White narrow dining table for small spaces
Image Credit: meddiodesign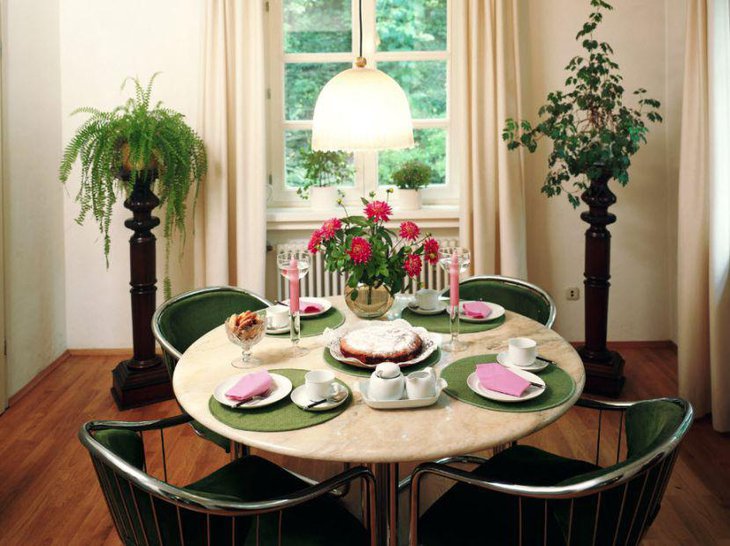 Retro dining room narrow space design
Image Credit: iseecubed
With these amazing kitchen tables for small spaces on display above, we are sure you would have no problems decorating your small dining areas with some gorgeous and trendsetter *dining room tables*. Have a hearty read!