Coffee tables are an important feature of any living room, and there are hundreds of options readily available to you. But you need one that fits your unique décor. Today, we will focus on rustic coffee tables for rustic styled homes. A rustic coffee table looks attractively masculine. Some common features of this style table include ruggedness, the use of reclaimed logs, sticks, or driftwood, and often an unpolished appearance at edges and holders. From contemporary styled rustic coffee table ideas to coffee tables with storage and trunks to wheeled tables, we have covered a wide selection of coffee tables to help you decide which style you prefer!
Modern Rustic Coffee Tables
Rustic coffee tables with contemporary or modern tones fit homes decorated with other modern elements. These coffee tables are more in line with modern tastes that reflect chicness and so are not quite 'over the top' rugged. You can select any design, and they are available in square, rectangle, or roundel shapes as well as in light or dark wood.
Browse through these pictures of modern rustic styled coffee tables and see how beautifully their respective designers have crafted each one of these pieces. For example, the first coffee table looks chic with a lighter toned thick wooden top while its legs are darker with a contemporary design. The second coffee table with rustic wooden planks and metal base looks very trendy too. The other two coffee tables with rugged edges and reclaimed wooden block are popular choices for modern style coffee tables in rustic tones.
Rectangular Table with Tiled Accents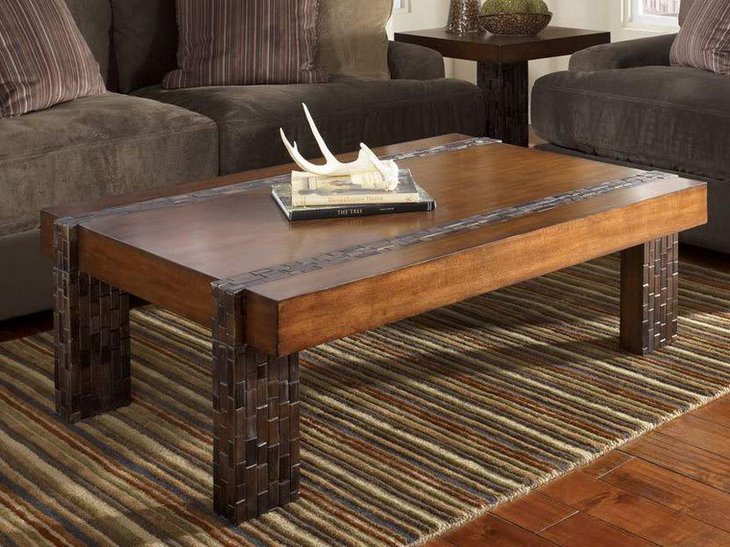 Image Credit:nationalfurnituresupply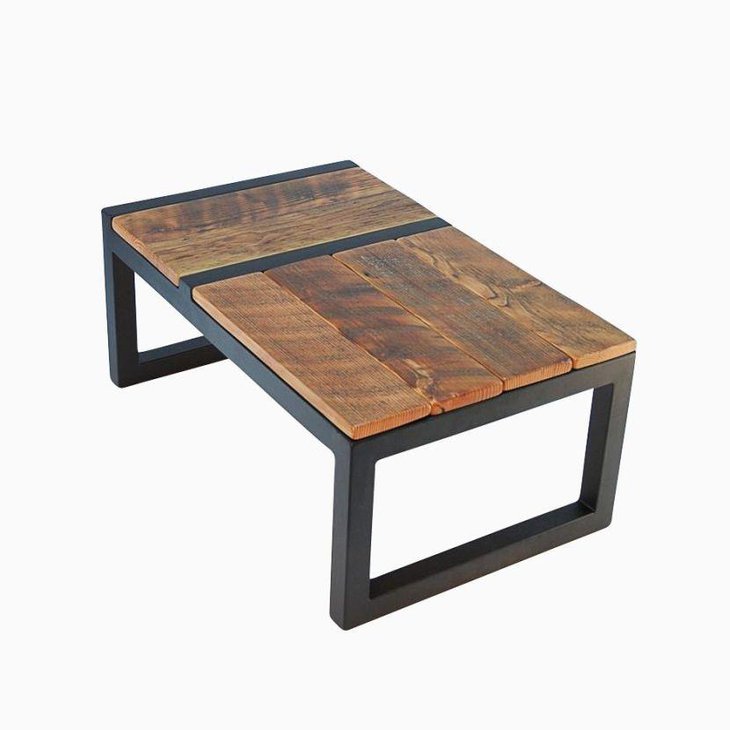 Wood Plank and Metal Frame
Image Credit:custommade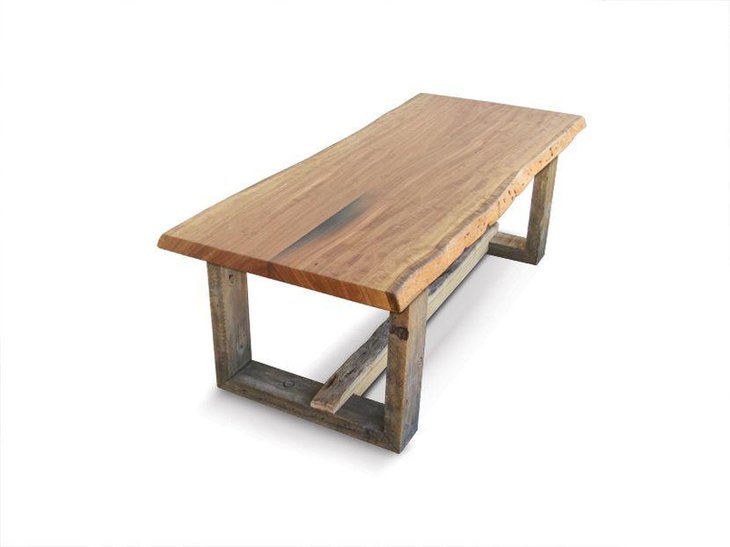 Smooth but Unfinished Edges and Frame
Image Credit:pinimg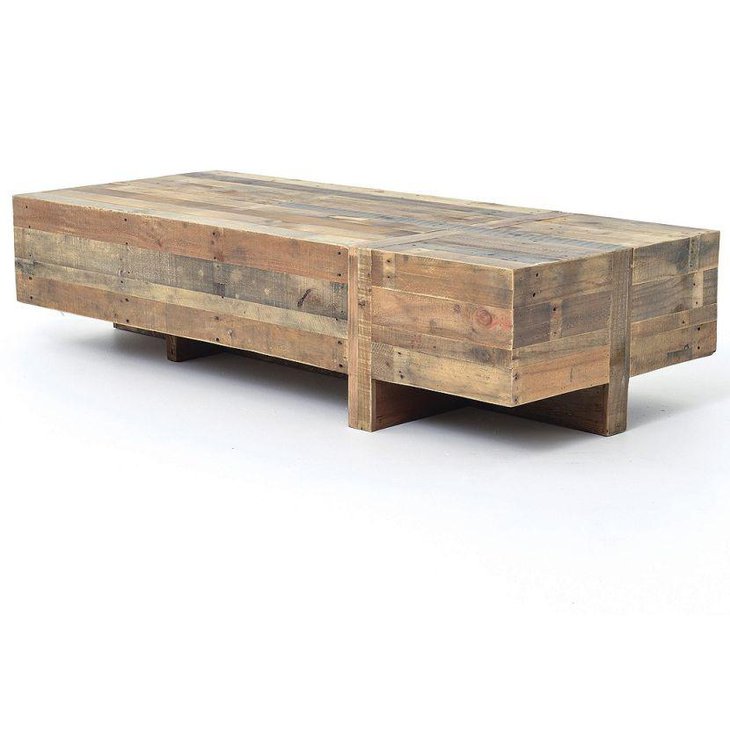 Reclaimed Low Block Table
Image Credit:losmanolo
Trunk Coffee Tables
Rustic trunk coffee table ideas are very popular worldwide because they not only look great but also offer functionality. These trendy and stylish tables offer a solution for removing clutter by providing an extra storage option. Below, we have showcased an awesome collection of trunk coffee tables in rustic tones you're sure to love. These coffee tables are made out of old trunks or chests and come with storage in the form of under the shelf storage and drawers. You can use them hide away kid's toys, linen, pillows, or your current reading and craft materials.
You can opt for a light shaded trunk table or a darker variant for a classier appeal. For a more rustic feel, buy a trunk coffee table made out of unpolished wooden planks or an industrial themed table. All trunk coffee tables have storage options and are quite easy to build if you are going DIY.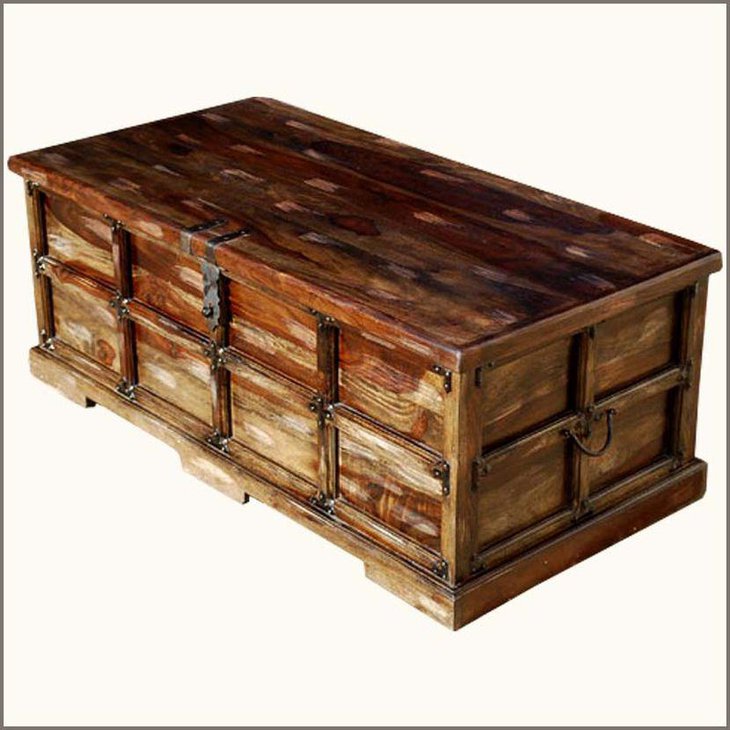 Vintage Trunk Coffee Table
Image Credit:jyrkifagerstrom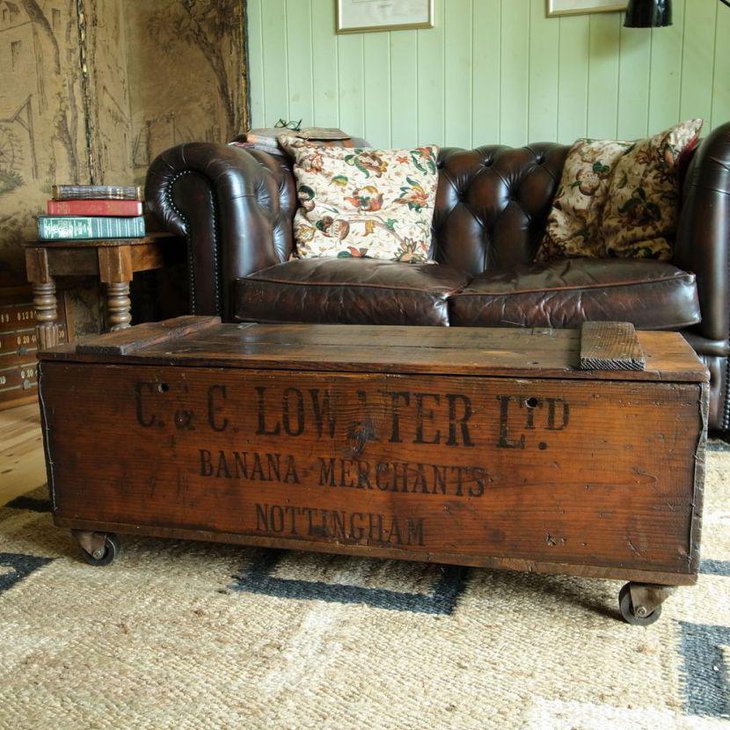 Reclaimed Shipping Container
Image Credit:pinimg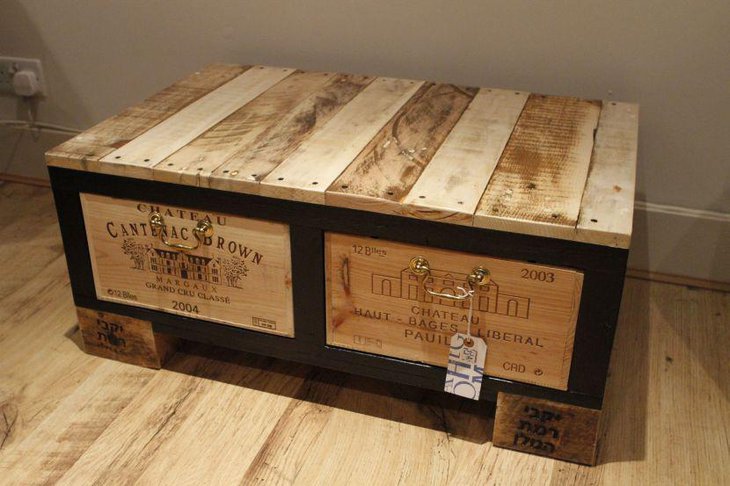 Natural Unfinished Wood with Reclaimed Accent Panels
Image Credit: wzchutian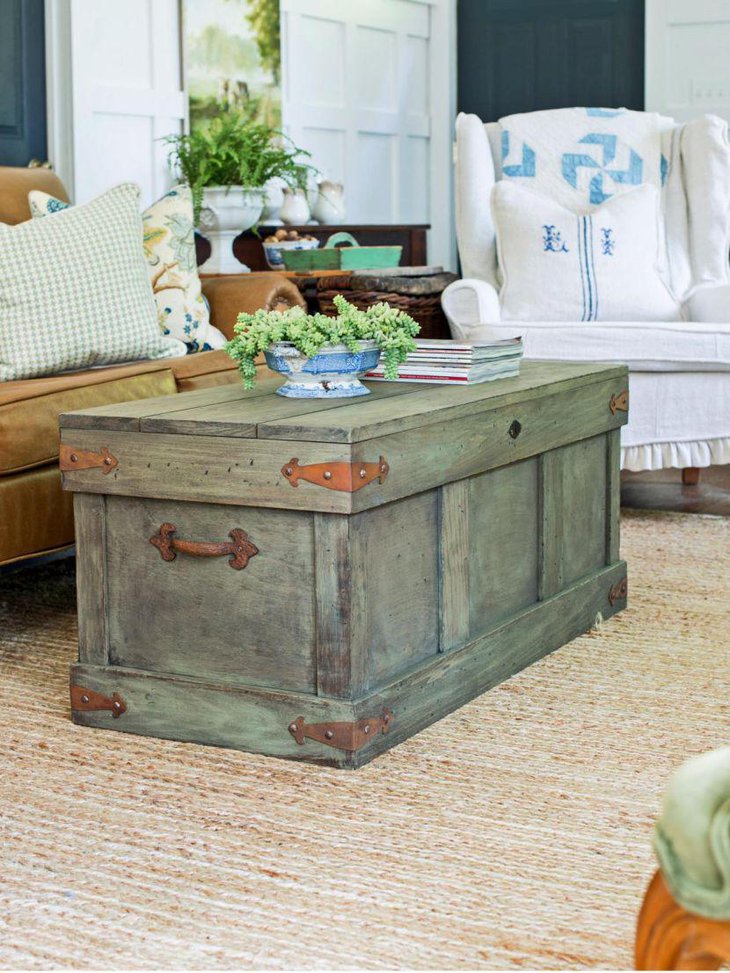 Distressed Wood Trunk
Image Credit:sndimg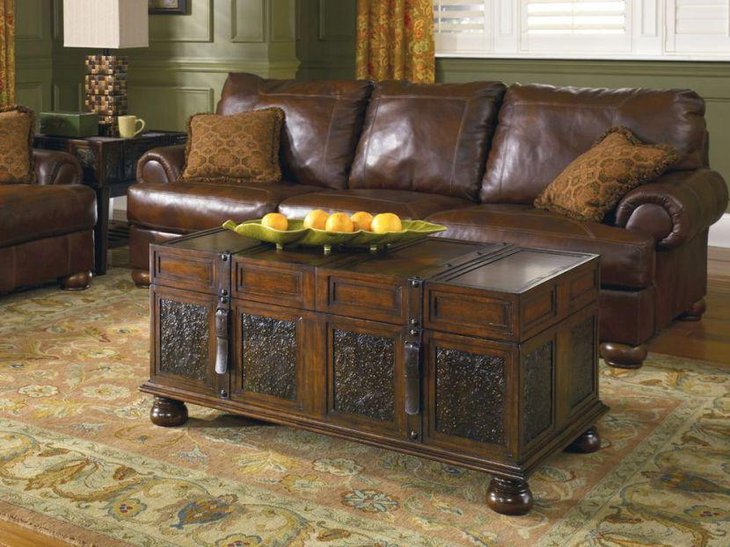 Vintage Style Masculine Storage Table
Image Credit: abelhomedesign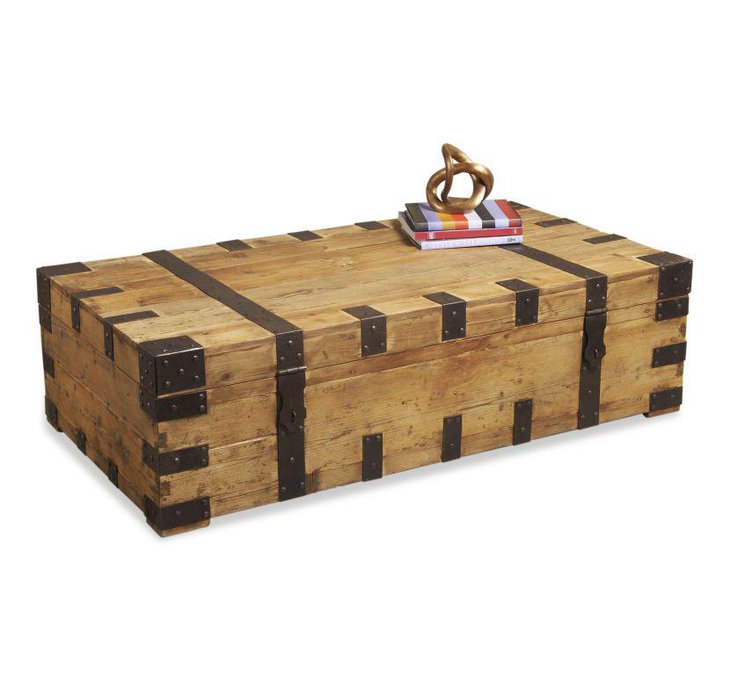 Unfinished Wood Trunk with Accent Hardware
Image Credit:decofurnish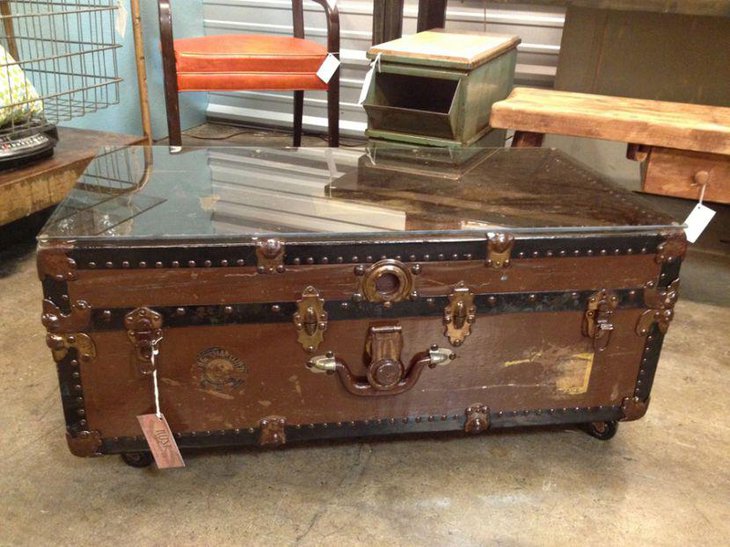 Worn Trunk Table with Added Glass Top
Image Credit:ruchidesigns
Stylish Coffee Table Sets
Instead of simply investing in a coffee table piece, you might want to buy or craft an entire table set to match one another and coordinate with the rest of your décor.
Coffee table sets usually come in three pieces, each having a particular use in the home. This includes the coffee table, end tables, and an entertainment stand.
Pottery Barn, a high-end furniture store, sells stylish rustic table sets that you might enjoy. The tables are of high quality and come in a variety of light and dark shades, or a combo of both. Here, the first image is that of a Pottery Barn coffee table set that would fit well in small spaces. The coffee table is sleek and comes with variously sized end tables and a small TV stand. You can also find metallic coffee table sets with glass tops.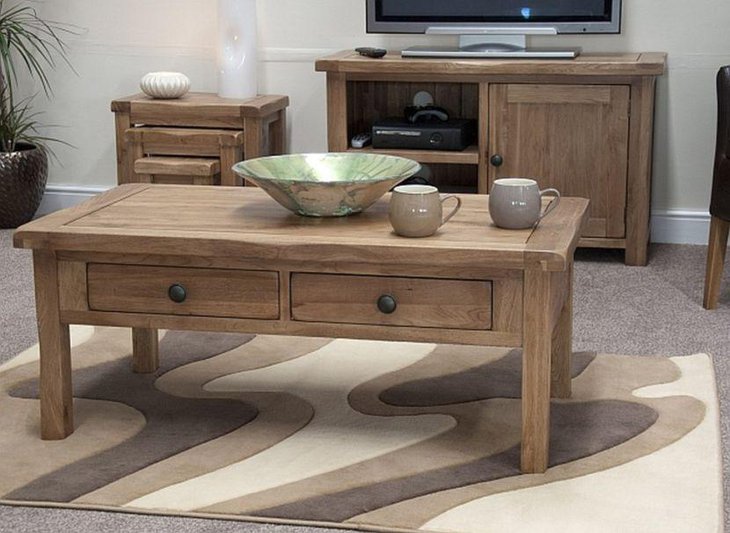 Pottery Barn Rustic Coffee Table Set with Drawers
Image Credit: atxglass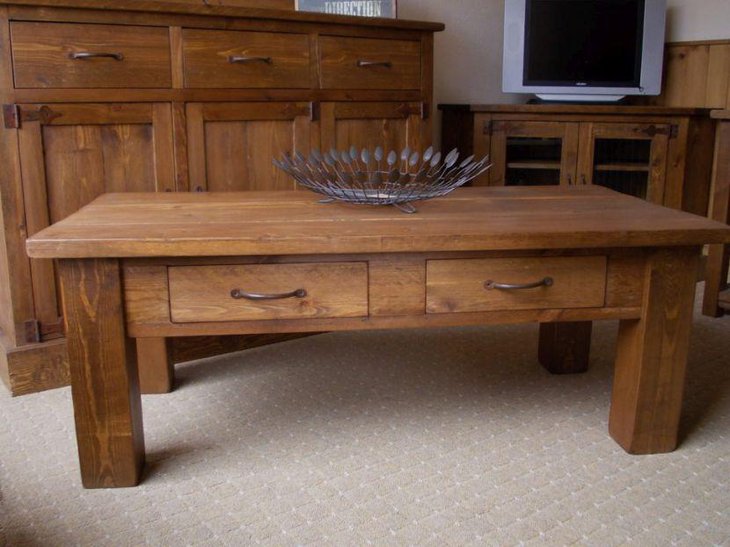 Refinished Table, Cabinets, and TV Stand
Image Credit:zandart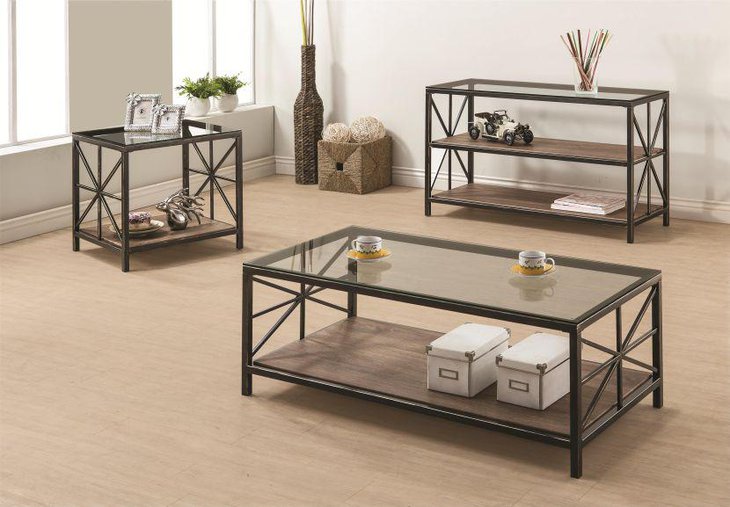 Black Metal and Glass Top Table Set with Wood Display Shelves
Image Credit:furnituredealer
Rustic White Coffee Tables
Rustic coffee tables need not always be brown or dark toned. Try white or semi-white shades for a unique rustic appearance. White provides the additional benefit of making your room seem larger than it is.
Here, the white tables are stylish and perfectly in tune with the rest of the décor. The white coffee table with an X on the side looks modern but fits well in a rustic ambiance. The roundel rustic coffee table in the second image also looks rustic but elegant with a designer base. You can utilize old windows and door frames to carve your rustic styled coffee tables as the last image shows.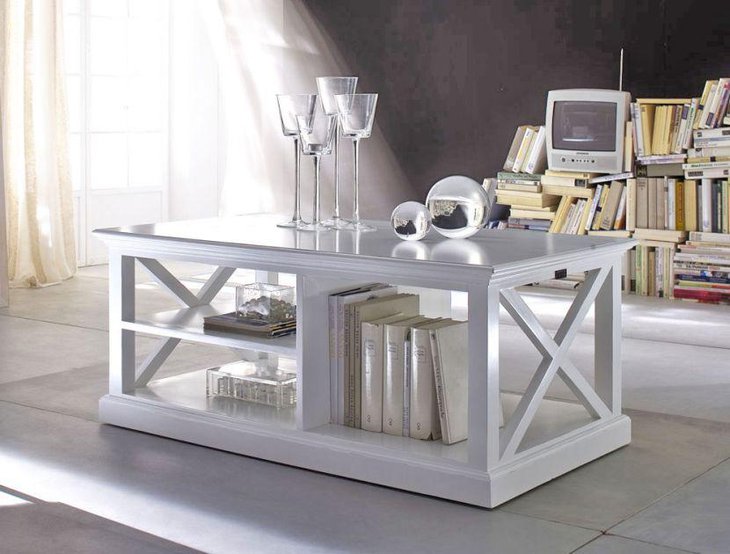 White Rustic
Image Credit:jyrkifagerstrom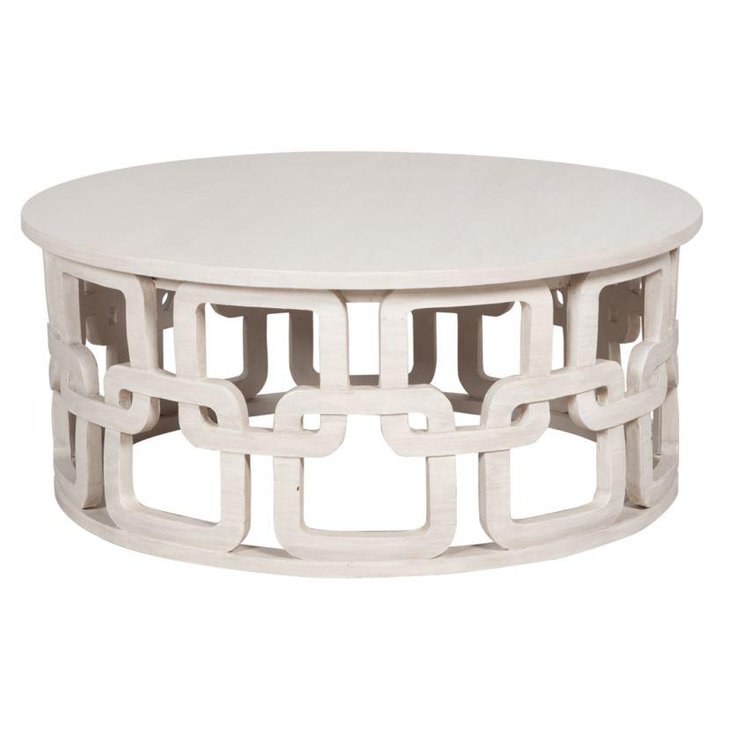 Cream Modern Rustic
Image Credit:sselidbebeograd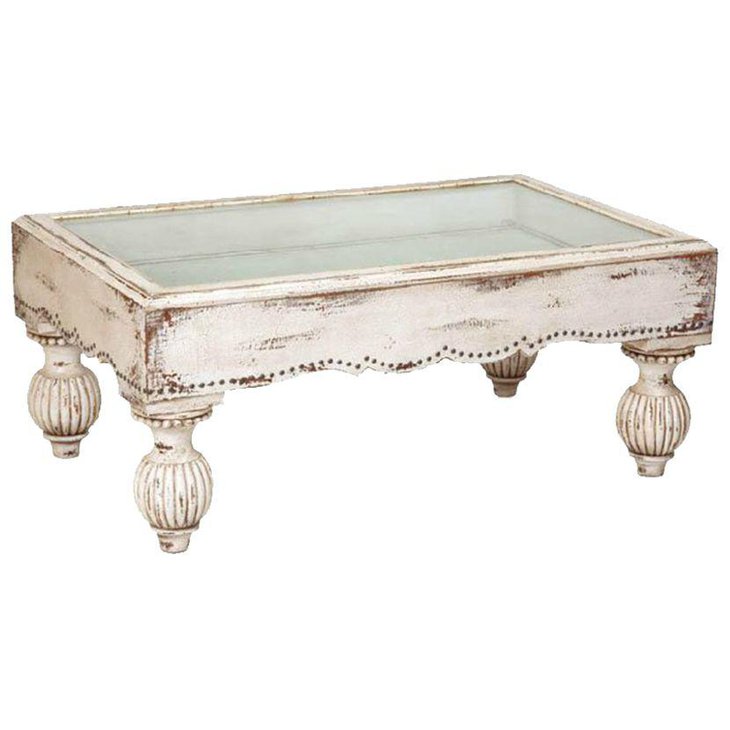 Distressed White Vintage Table with Glass Top
Image Credit:ppinet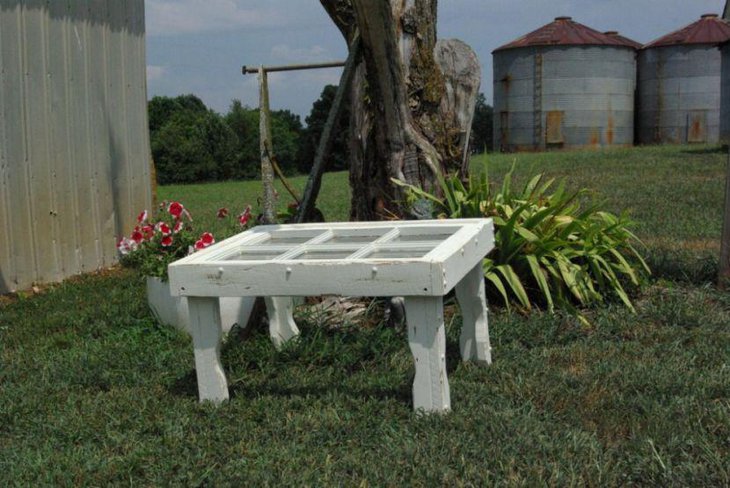 Reclaimed Plank and Window Table
Image Credit: esquirol
Wheeled Tables
Wheeled coffee tables are perfect for homes with limited space where you frequently need to move furniture. Use it where you want it and then get it out of the way!
A rustic style coffee table with wheels is not your usual type of coffee table. It is a versatile tool that you can use for various purposes. When you're not using it as a coffee table, it can be moved to a different setting or room and used as a television table, a corner table, or a surface to lay out the mail or your clothes. View these wheeled coffee tables and think about how you could use them!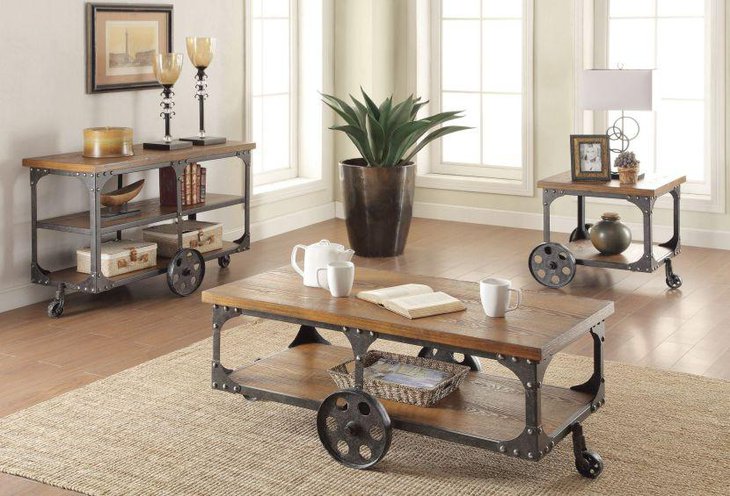 Norland Coffee Table Set
Image Credit:googleusercontent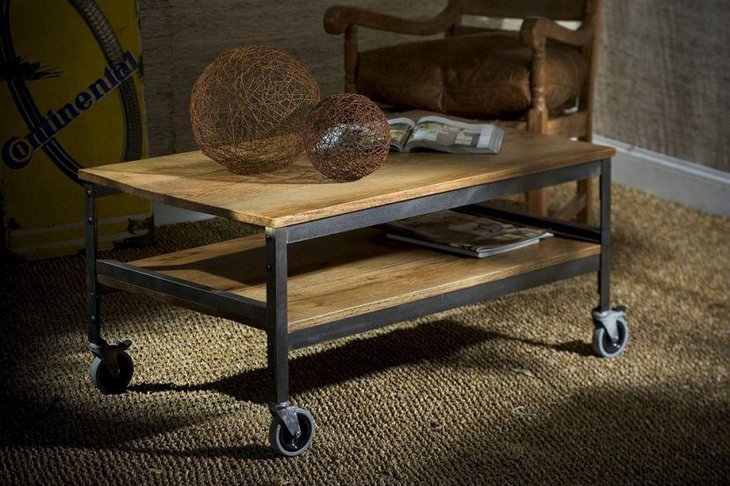 Small Wooden Two-shelf Table
Image Credit:grounddancer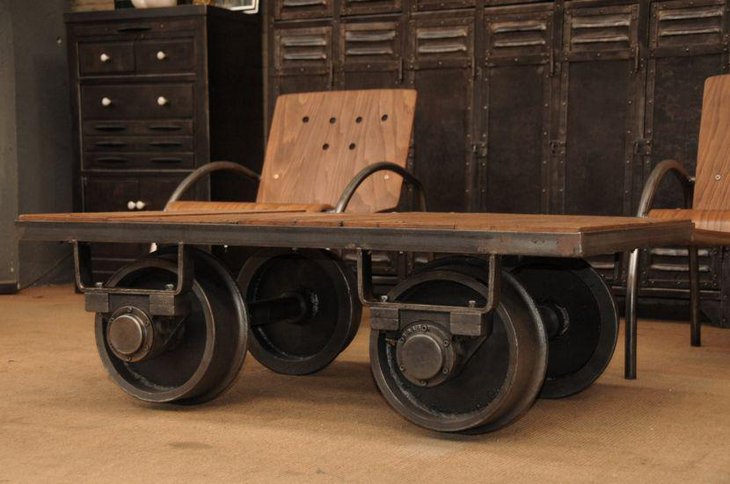 Industrial Cart Table
Image Credit:iconhomedesign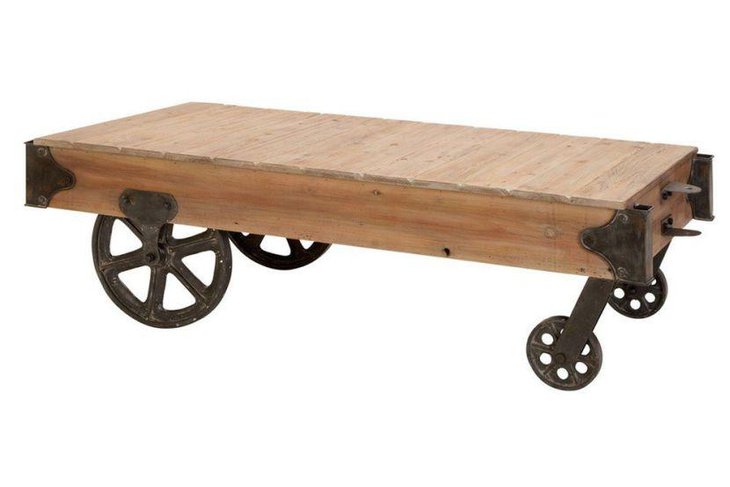 Stylish Wagon Cart Table
Image Credit:robertoboat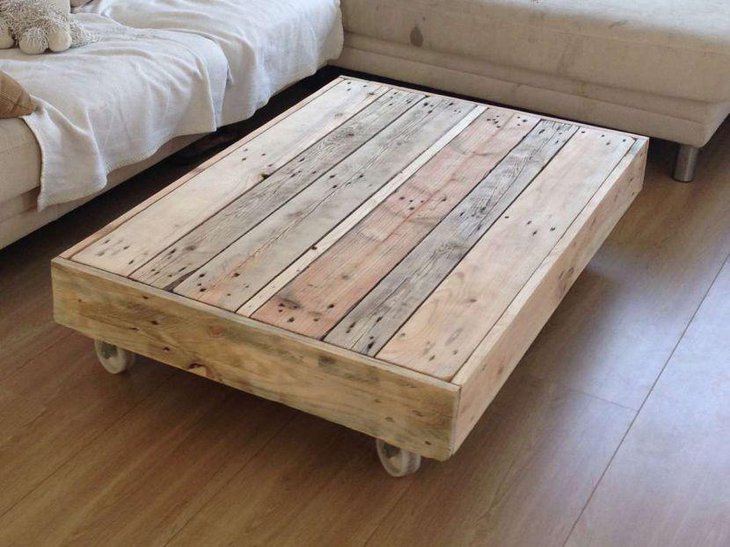 Moveable Pallet Table
Image Credit: bookofloob
Wheeled Tree Trunk Tables
Image Credit:architizer-prod
Round Coffee Tables
Rustic coffee tables come in plenty of shapes and designs. One shape that is most suited for smaller places is roundel. These tables are available in different textures. If you want a round coffee table in tune with a farmhouse themed interior, buy or make one fashioned out of unpolished wooden planks or barrels. The first picture below is that of a pallet rustic coffee table in roundel shape. It looks stylish with a low base.
You can also cut a barrel down to size and affix an unfinished wooden top to it. Or place a polished surface on top of an unfinished base for a contrasting appeal.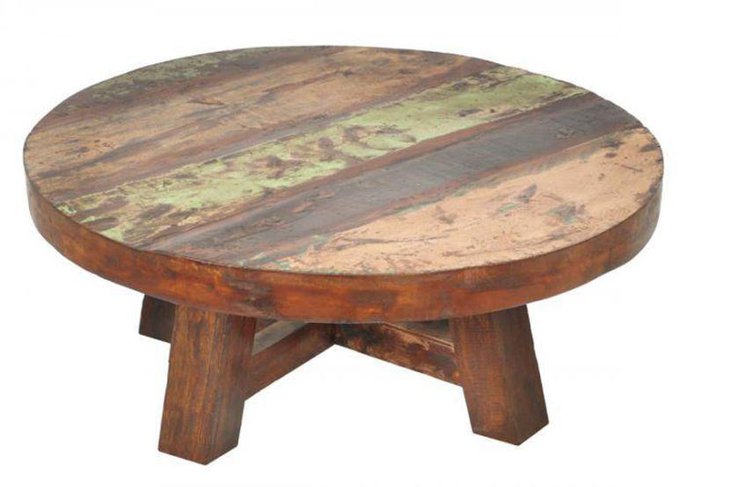 Round Pallet Coffee Table
Image Credit: mostkshf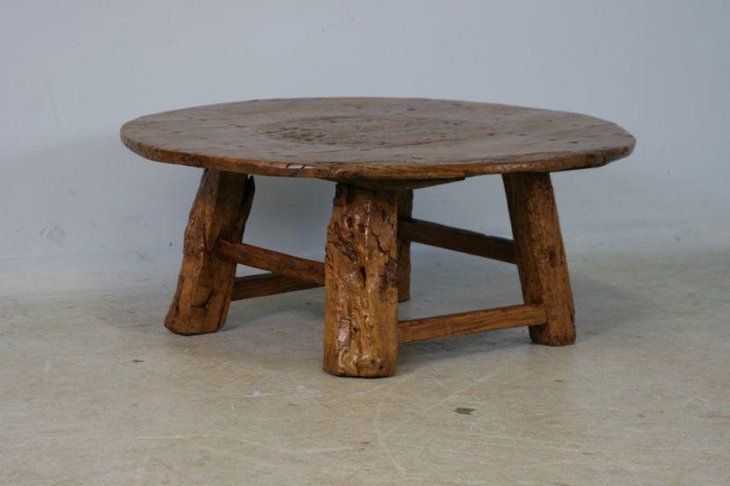 Stylishly Imperfect Table Top and Base
Image Credit: thegoodsontap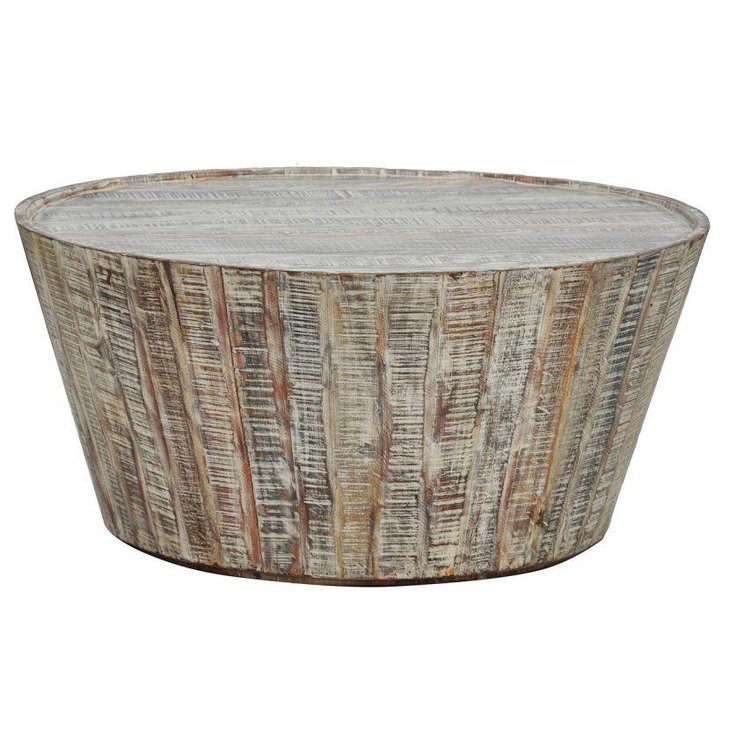 Tree Trunk "Barrel" Style Coffee Table
Image Credit:warehousedirectusa
Storage Coffee Tables
Make your coffee tables not only attractive but functional with hidden drawers or shelves! These rustic storage tables will help you remove clutter or provide easy access to frequently used items.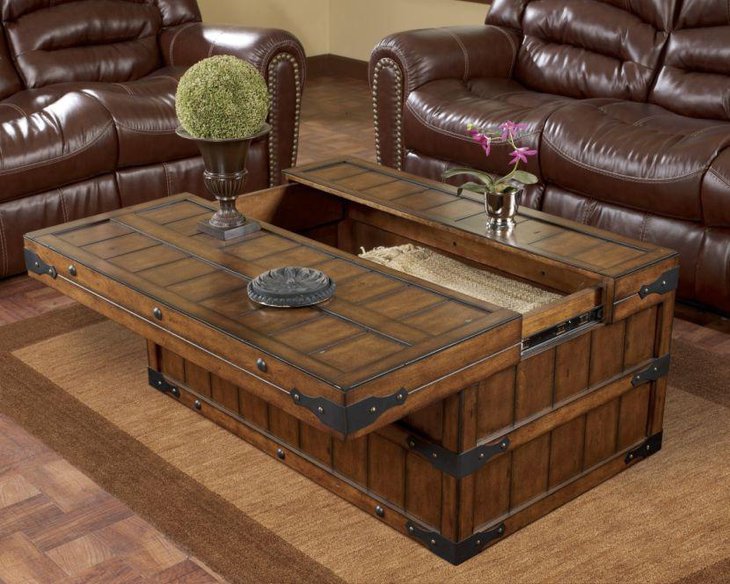 Rustic Coffee Table with Hidden Storage
Image Credit:casualhomefurnishings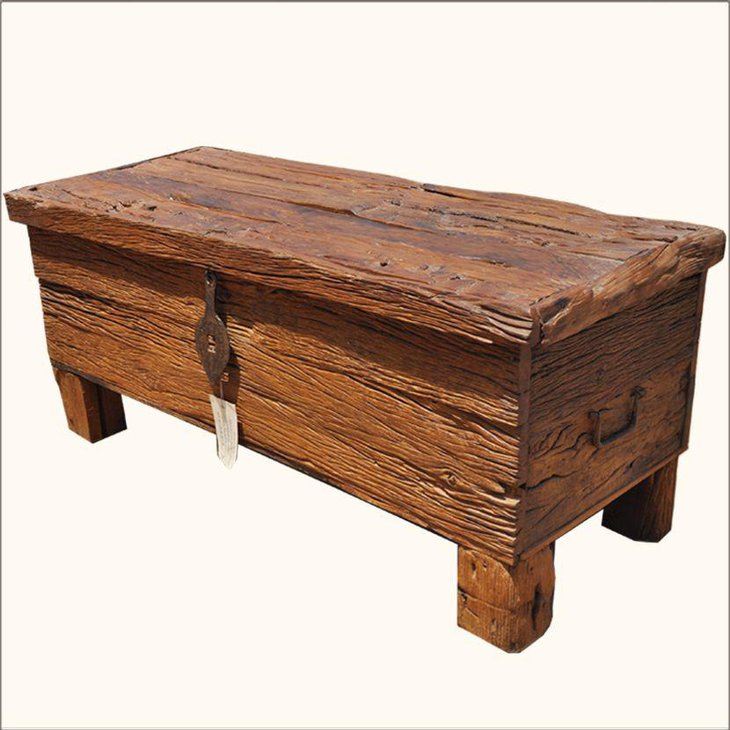 "Worn" Trunk Table
Image Credit:jyrkifagerstrom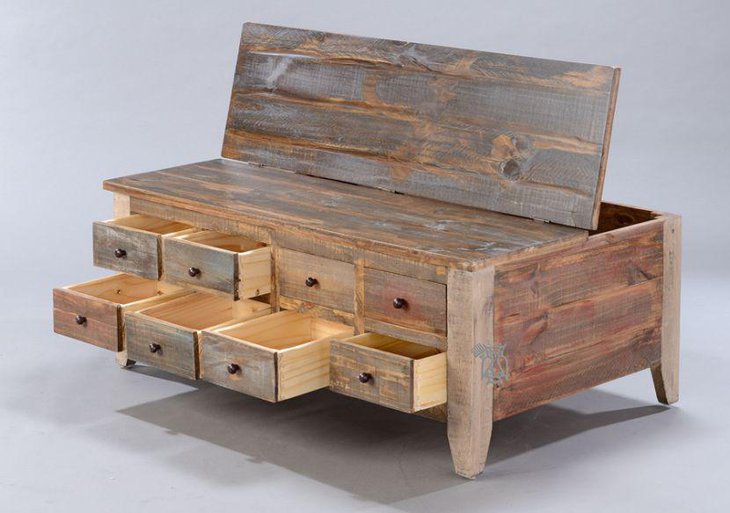 Unfinished Trunk Table with Multiple Drawers
Image Credit:hootjudkins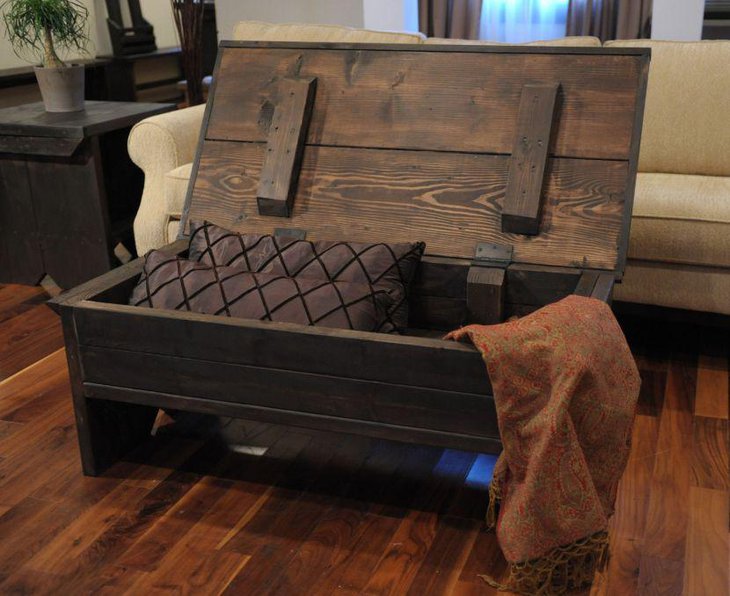 Shallow Trunk Table
Image Credit:cothia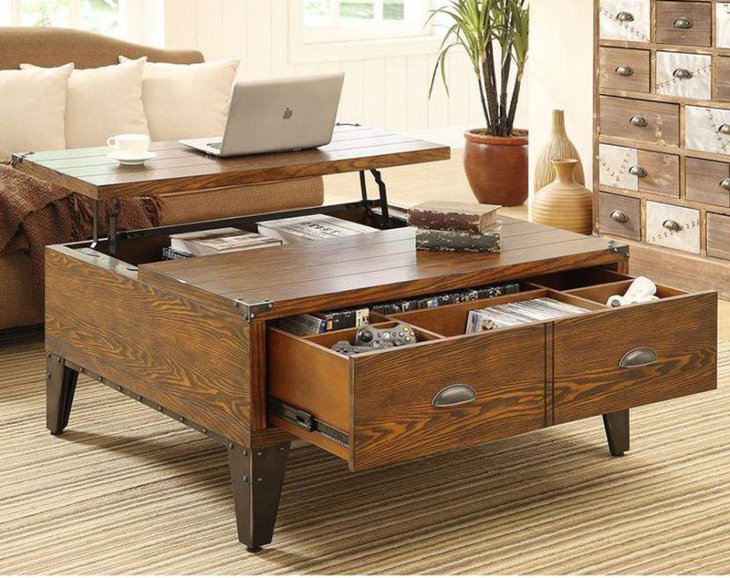 Storage Table with Raised Shelf and Drawers
Image Credit: highfxmedia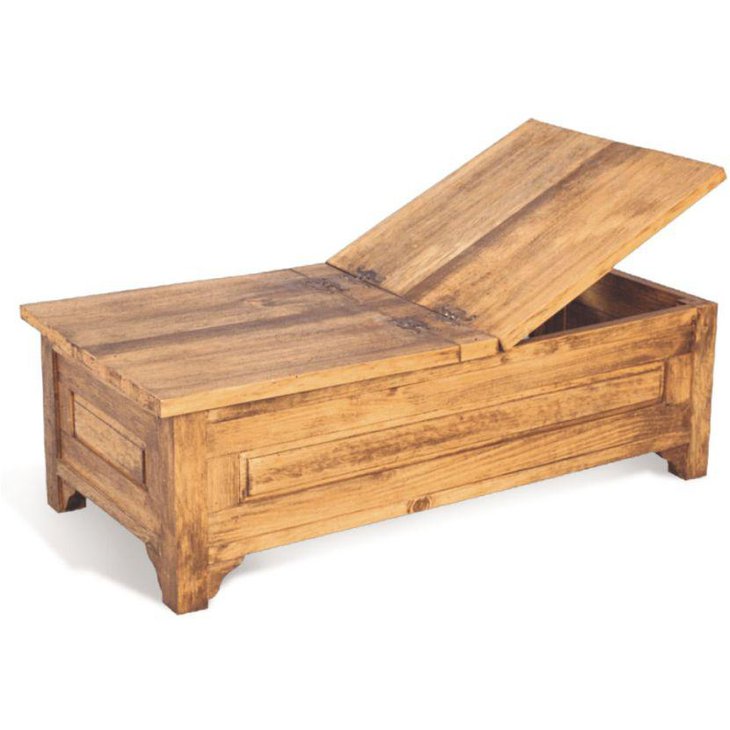 Rustic Hardwood Coffee Table with Storage
Image Credit:cothia
DIY Coffee Tables
You've probably gathered some inspiration for your ideal table from the examples above, and their owners built many of them. Additionally, here are some specific examples of DIY rustic coffee tables.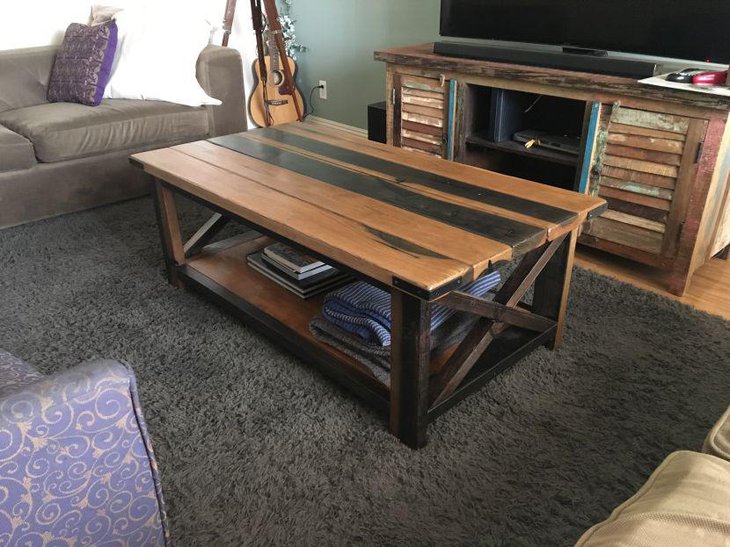 DIY Polished Coffee Table
Image Credit:imgur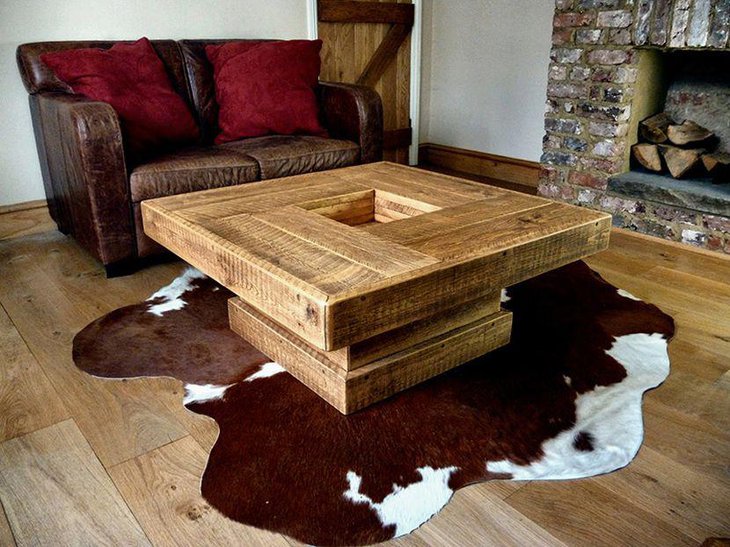 Elegant DIY Design
Image Credit: thegoodsontap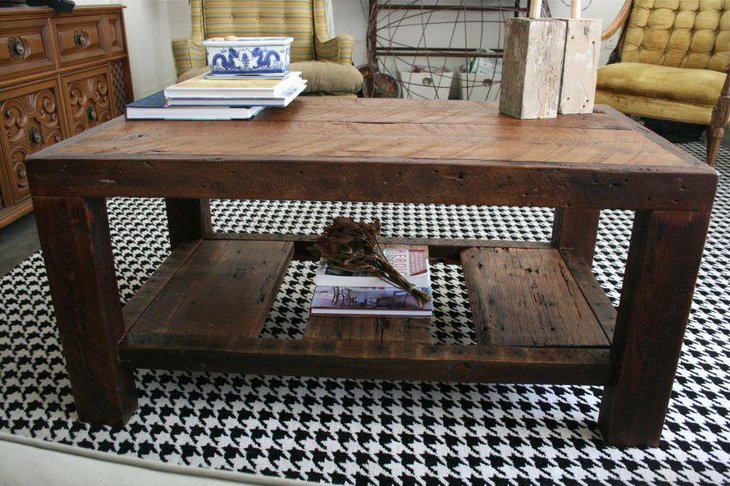 Sturdy and Stylish
Image Credit:robertoboat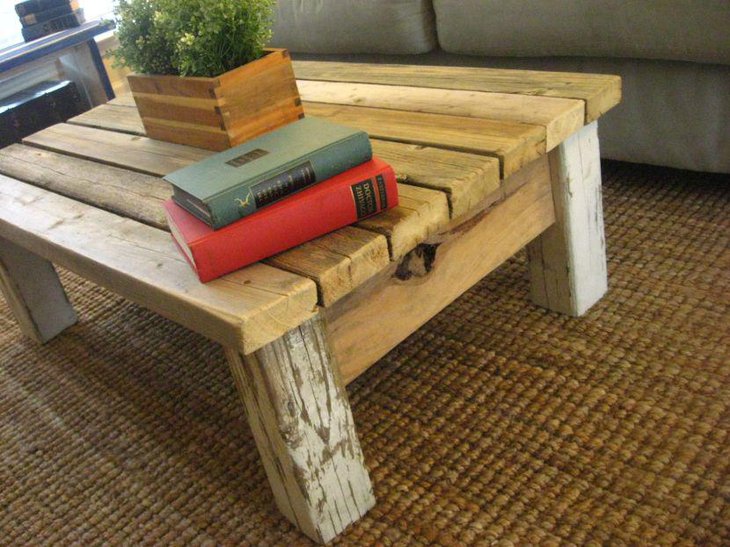 Simple and Attractive
Image Credit:xboxhut
Don't settle for placing ordinary tables in the middle of your living room! Show your taste and talent with one of these unique coffee table designs. Purchase one and refinish it if you like, or gather some used wood and see what you can come up with on your own. You'll love seeing your new table displayed prominently.