Complement the perfect madcap baby shower with the use of a Mason jar theme. Think outside the box with this unusual décor element. Below are some of the most creative baby shower ideas utilizing Mason jars that we could find.
Endearing Baby Shower Favors
There is absolutely no dearth of brilliant ideas when it comes to Mason jar baby shower favors. You can be the most thoughtful host by gifting wonderful party favors to your guests in the most unusual way. Set your jars out on a table and see how pleased your guests are when they see them full of jams, jellies, cookies, soaps, candles, or anything else you can think of. You can spruce up the appearance of your party favors by decorating the jars in an extra special, personalized manner. Wrap them with colorful paper or tie a ribbon across them. Personalize your favors by hanging a name tag for each guest at the neck of the jar. For more inspiration, view these creative ideas!
Soup Mix and Recipe Thank You Gift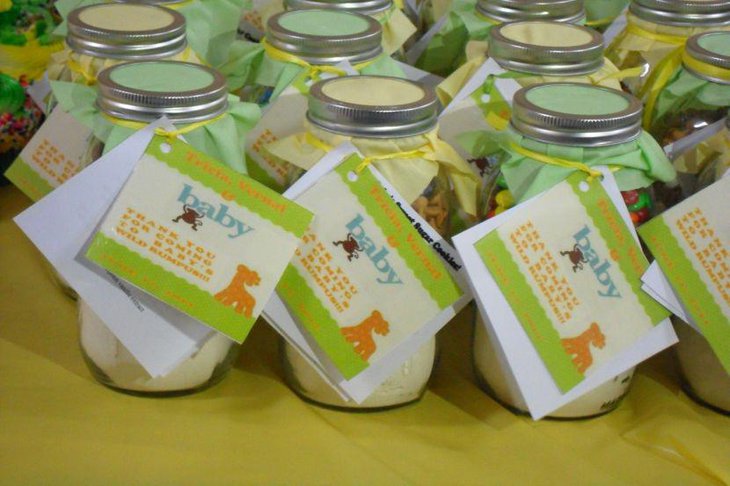 Image Credit: creatividualworkshops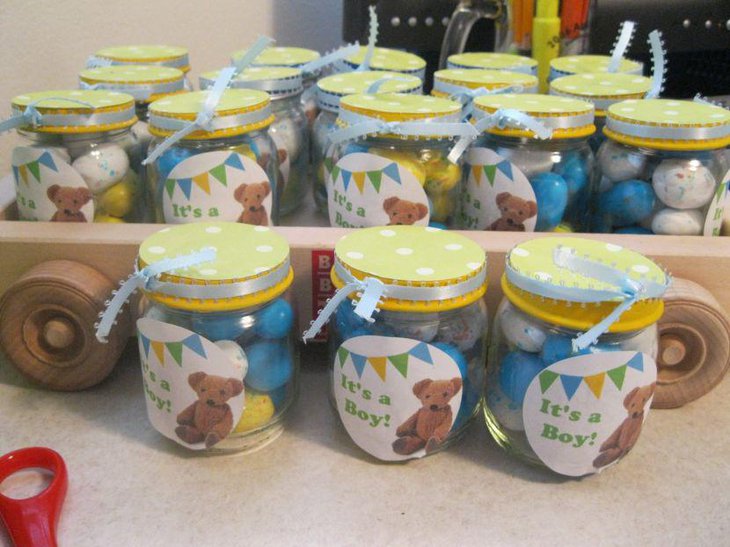 Decorated Candy-filled Favor
Image Credit: blogspot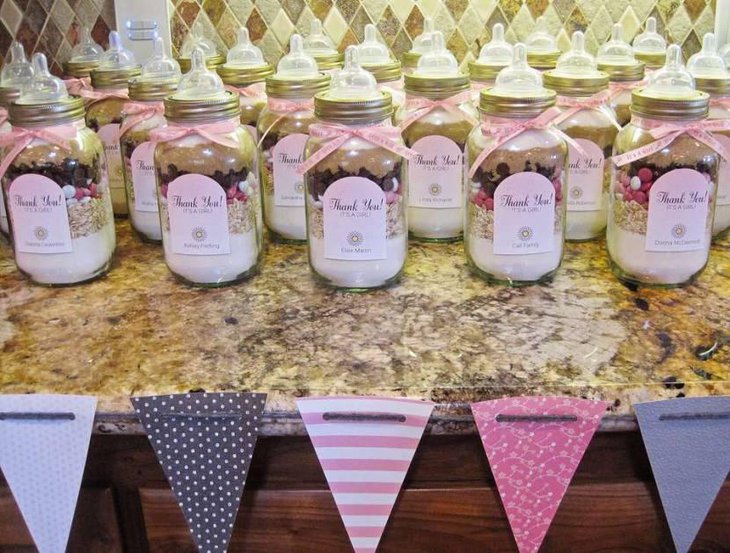 Creative Milk Bottle-themed Dessert Mix
Image Credit: catchmyparty-cdn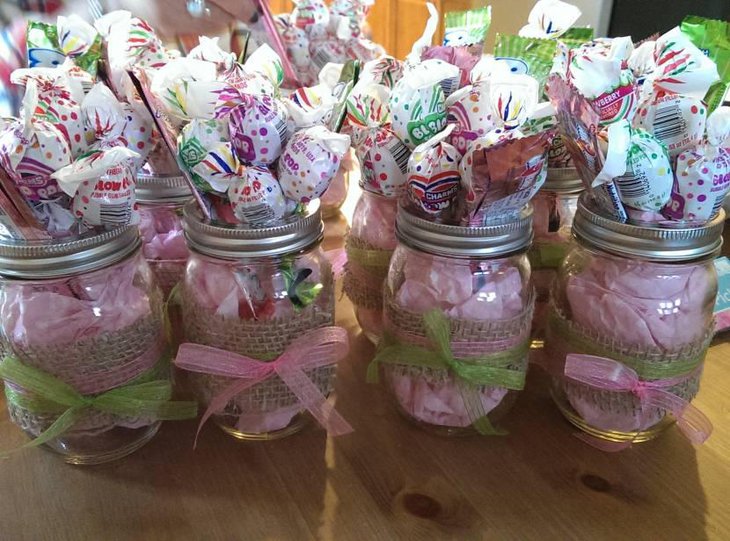 Decorated Candy Jar
Image Credit: pinimg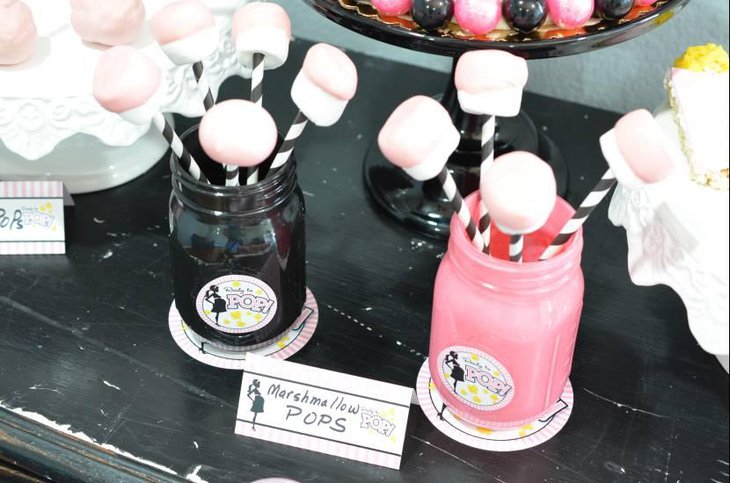 Clever Dessert Holder
Image Credit: candlesandfavors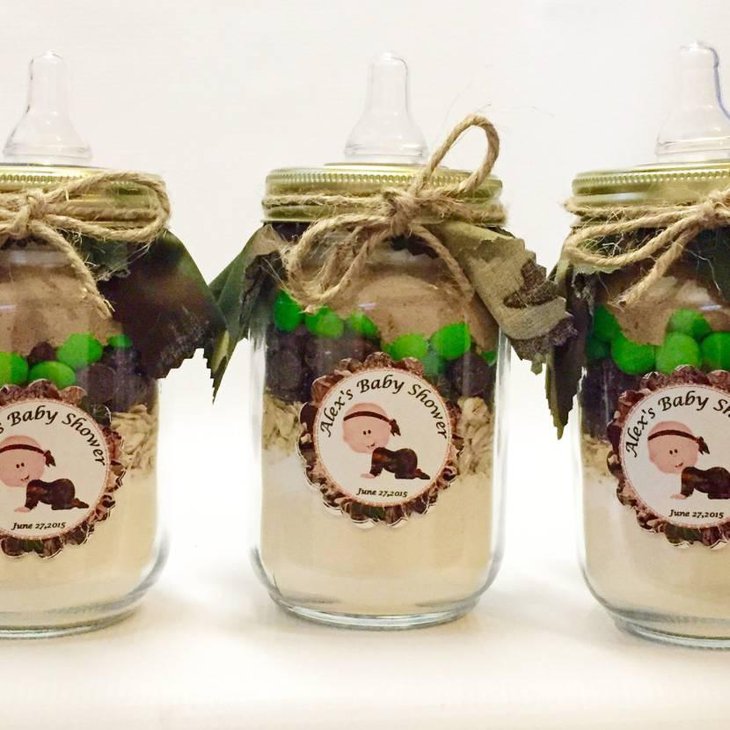 Cookie Mix with Themed Topper
Image Credit: etsystatic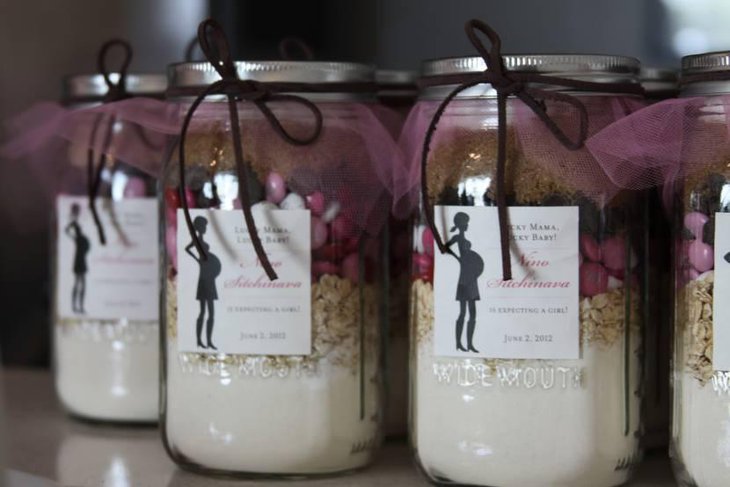 Dessert Mix
Image Credit: blogspot
Adorable Centerpieces
Mason jars are widely used but still unique decorating elements. And with the many ways you can paint or decorate them, they are sure to grab the attention of your guests. You can use them as undecorated vases for a simple but stylish centerpiece, or you can create breathtaking centerpieces with the right kind of paints and sealers. Fill them with lights or candles and embellish them with beads, paper crafts, ribbons, or any other adornments you choose.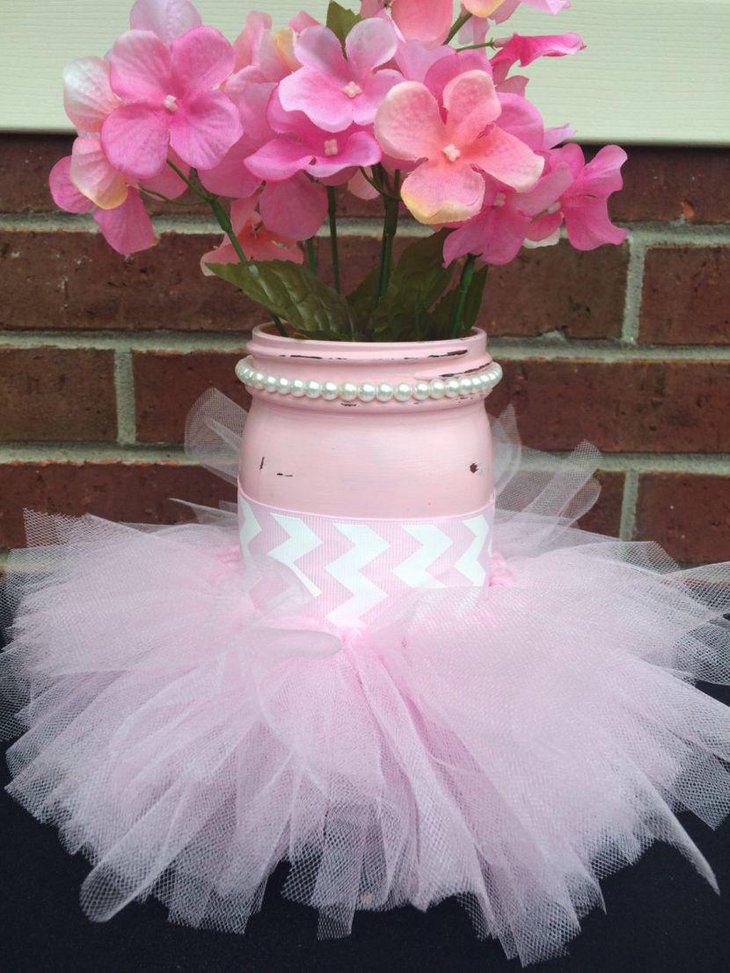 Pretty in Pink Floral Centerpiece
Image Credit: etsystatic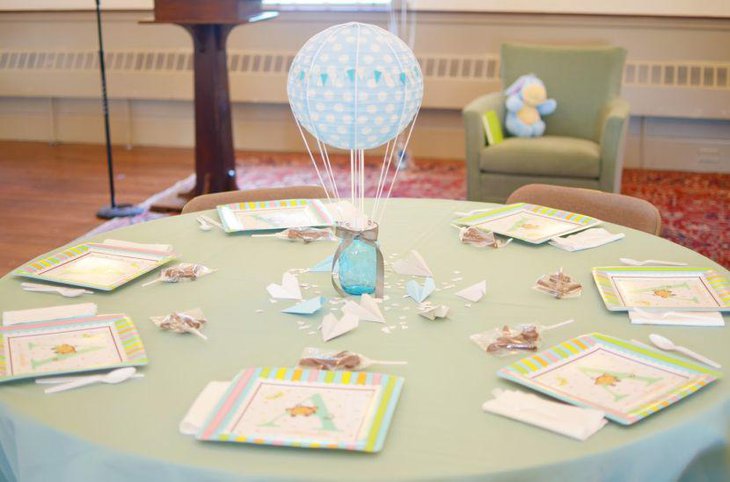 Decorative "Baby Delivery" Centerpiece
Image Credit: blogspot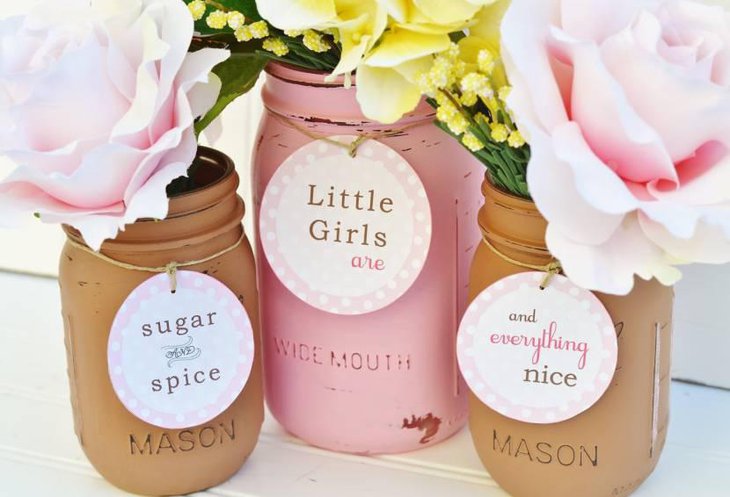 Coordinating Mason Jar Floral and Tag Centerpiece
Image Credit: babyshowerly
Milk-themed Painted Centerpiece and Tableware Holders
Image Credit: etsystatic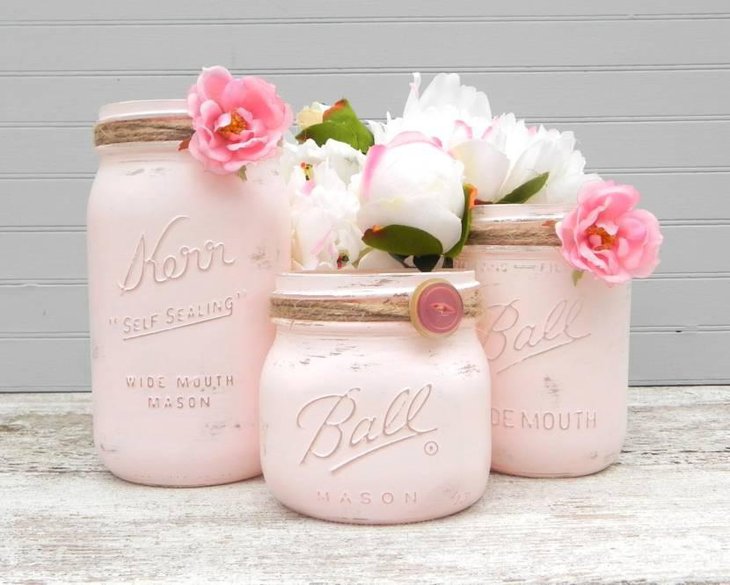 Painted and Adorned Flower Vases
Image Credit: Masonjarcraftsblog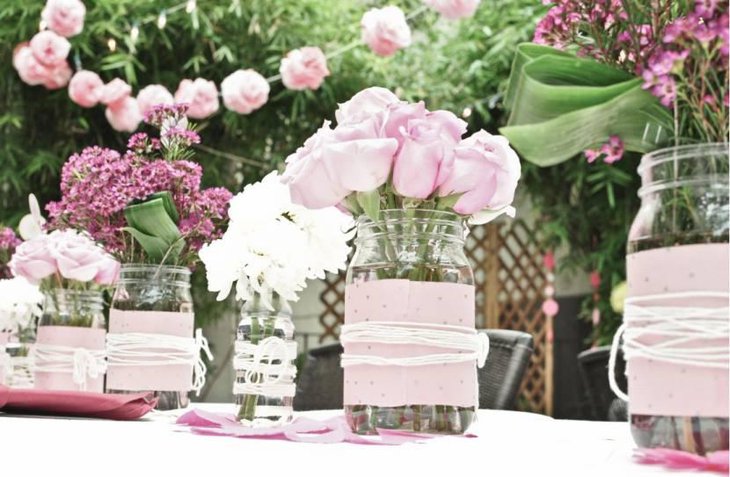 Simply Wrapped Jars for Flower Arrangements
Image Credit: partythemes101
Creative Mason Jar Table Decorations
If you have a creative or crafty mind, you can rustle up an endless array of table decorations for your baby shower event. You can play with different sized Mason jars and fill them up with flowers or candles and decorate them to exhibit your party's theme. Mason jars can also serve as decorative holders for your cutlery and napkins. This curious kind of a table setup can be an atypical way to amaze your guests. Here are some of the most extraordinary Mason jar baby shower ideas for table decorations.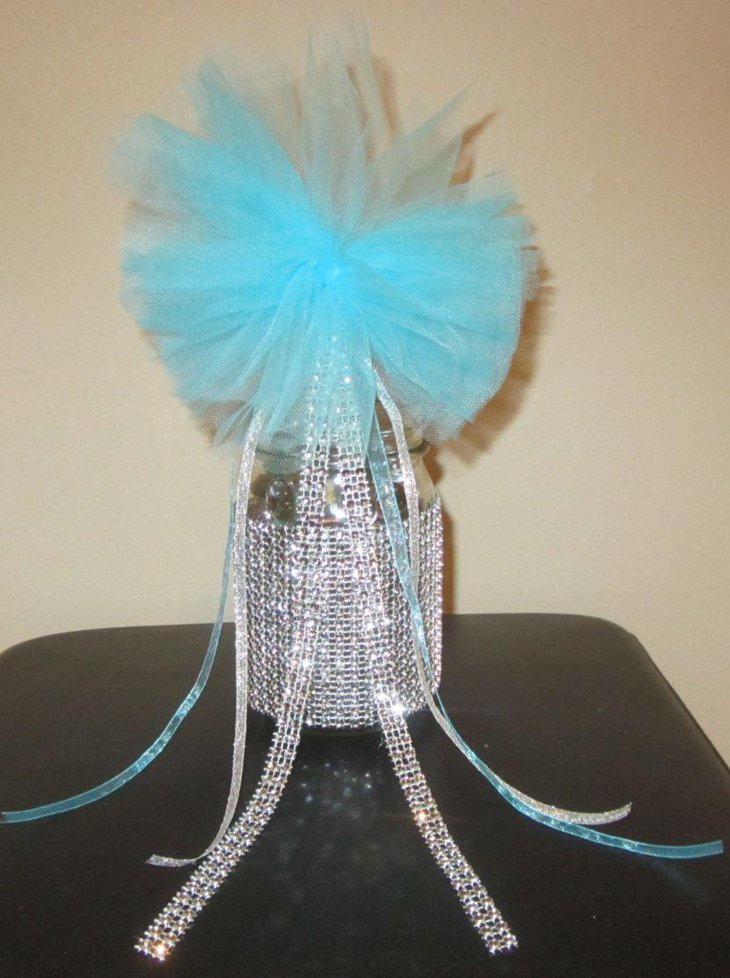 Ribbon and Lace Adorned Mason Jar
Image Credit: etsystatic
Painted Mermaid and Others
Image Credit: etsystatic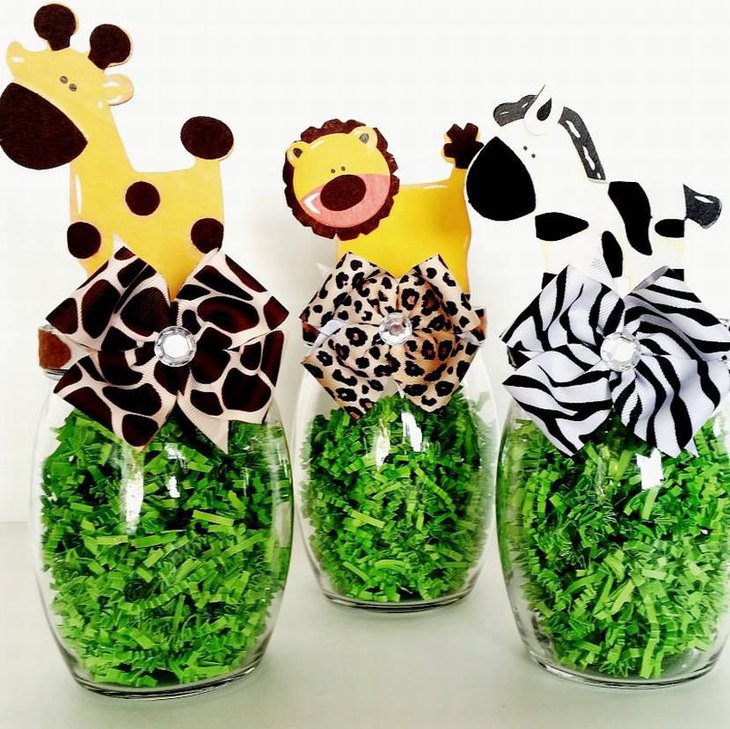 Animal Cutouts, Bows, and Paper Shreds
Image Credit: etsystatic
Chalkboard Table Numbers and Tasteful Floral Arrangements
Image Credit: weddingware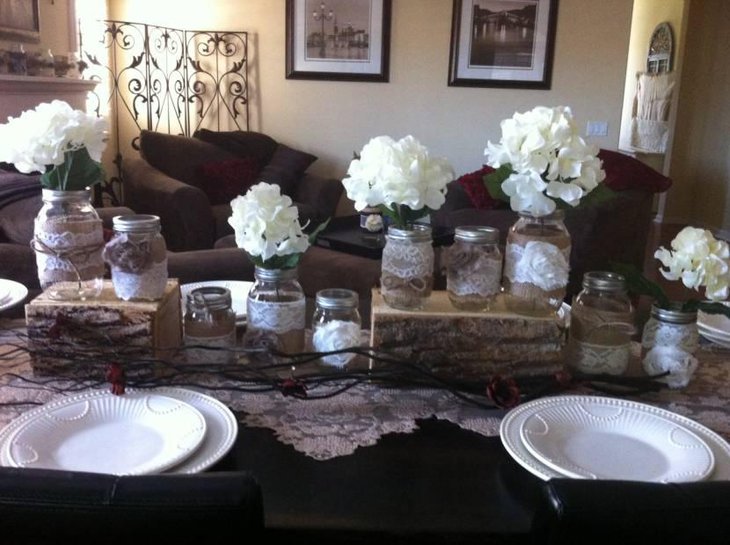 Jar Vases with Burlap, Lace, and Bows
Image Credit: ipunya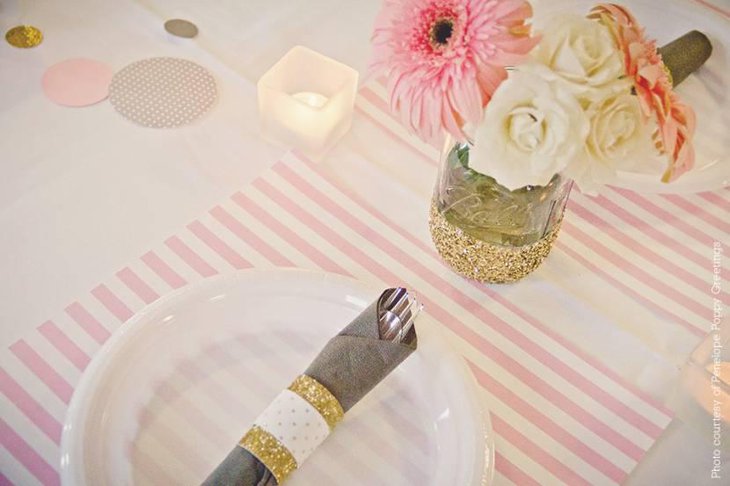 Coordinating Glitter and Floral Varieties
Image Credit: projectnursery
Whimsical Buffet Table Ideas
Serve food in the most bizarre yet elegant fashion for your baby shower! Make use of Mason jars to serve your delicious food fares. You can use jars of different sizes for the different foods on your buffet table. Use them as containers for your beverages. Present soothing lemonades and iced tea in these humble Mason jars to add an aura of quaint simplicity to the buffet table. Fill your delicious desserts in jars and watch your guests race to the bottom. You can also use them to serve your main course and sides, such as noodles, pasta, fruit salads, cooked vegetables and meat dishes. Tie a spoon or a fork at the neck of each jar so that they are all-in-one portable portions.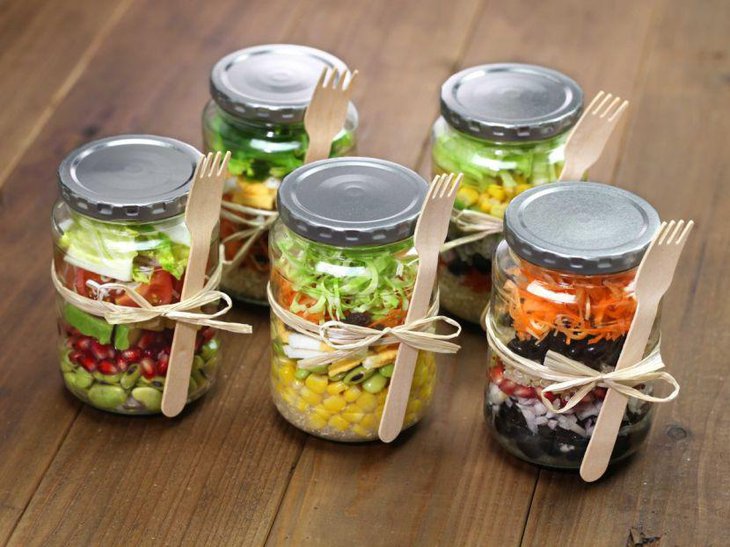 Mason Jar Salads
Image Credit: businessinsider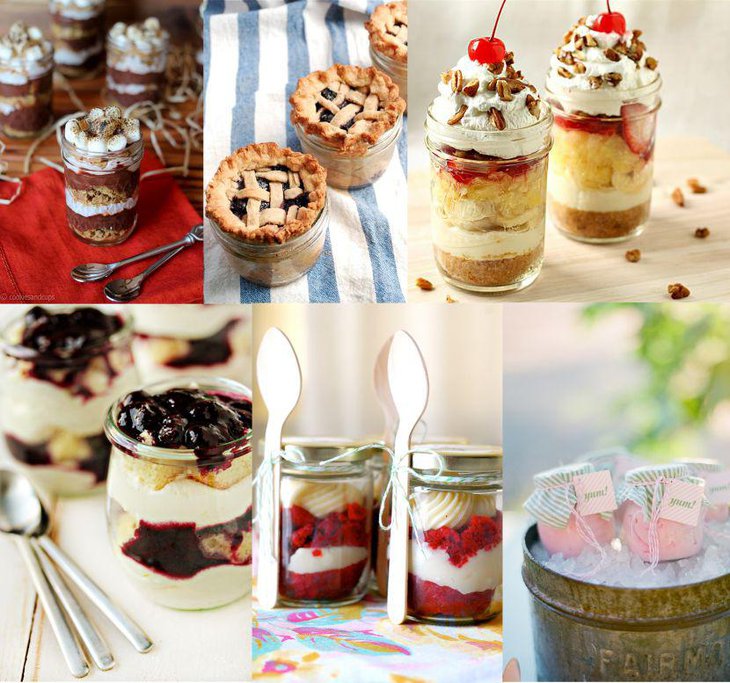 Delicious Desserts
Image Credit: flatbrokebride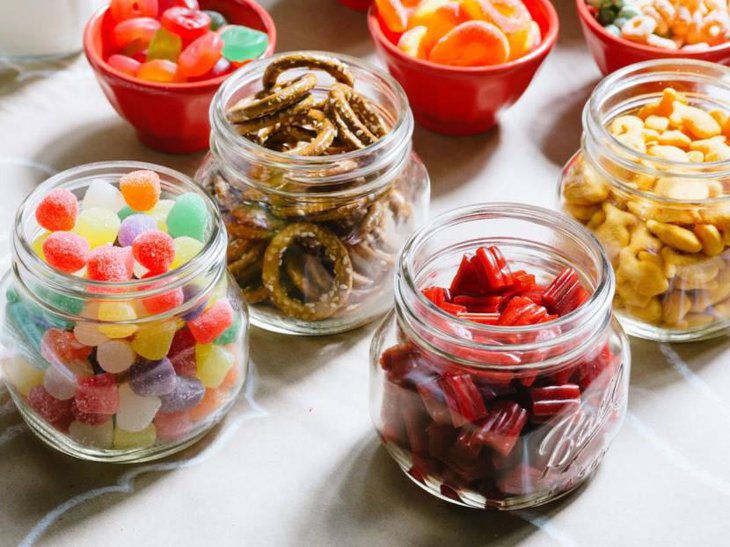 Candies and Snacks
Image Credit: hgtvhome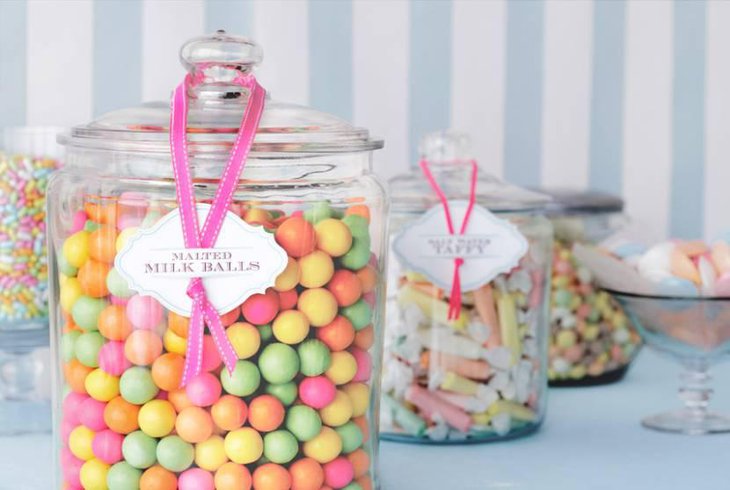 Candy Jars
Image Credit: clv.h-cdn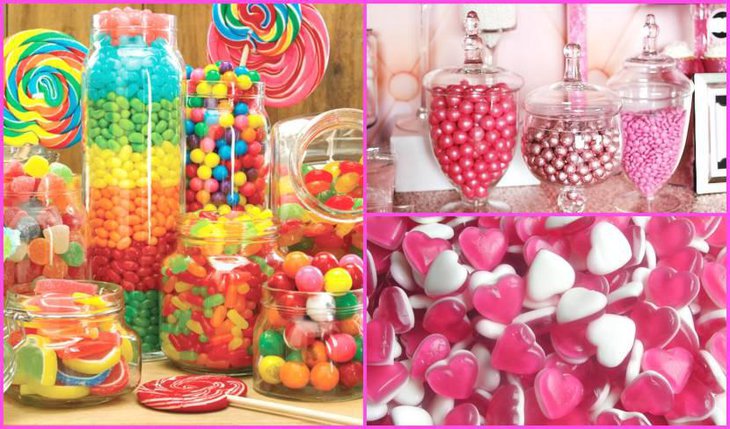 Confectioner Candy
Image Credit: ytimg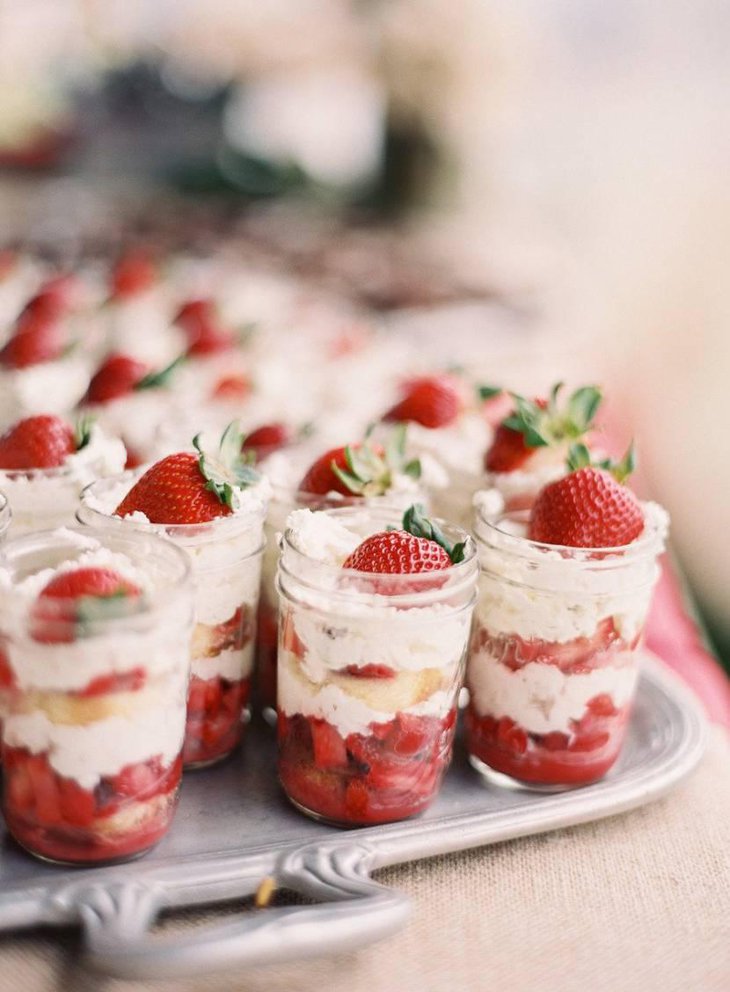 Strawberry Shortcake Jars
Image Credit: popsugar
Beautiful Flower Decorations
Flower arrangements can be presented in the fanciest and quirkiest ways depending on your use of containers. For fun, try skipping conventional vases and opting for Mason jars instead. All kinds of colorful blossoms will look marvelous in a Mason jar. You can use one or more different sized jars and mixed flower varieties for a unique ensemble. Even a single rose or tulip will look divine in a petite Mason jar. You can use anything from chrysanthemums to wildflowers and lotuses to lilies. These simple vases will contrast wonderfully with your colorful flowers.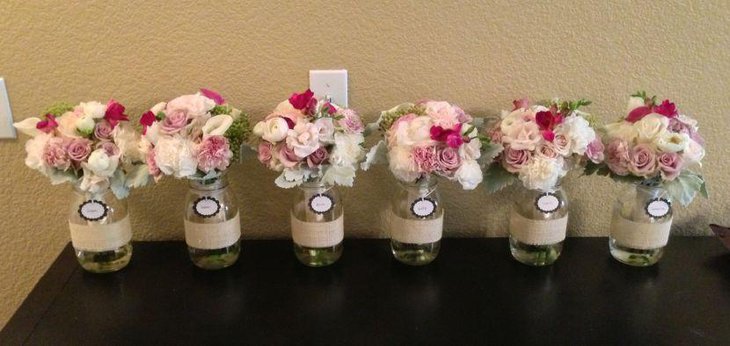 Unified Floral Arrangements in Decorated Mason Jars
Image Credit: mstapioca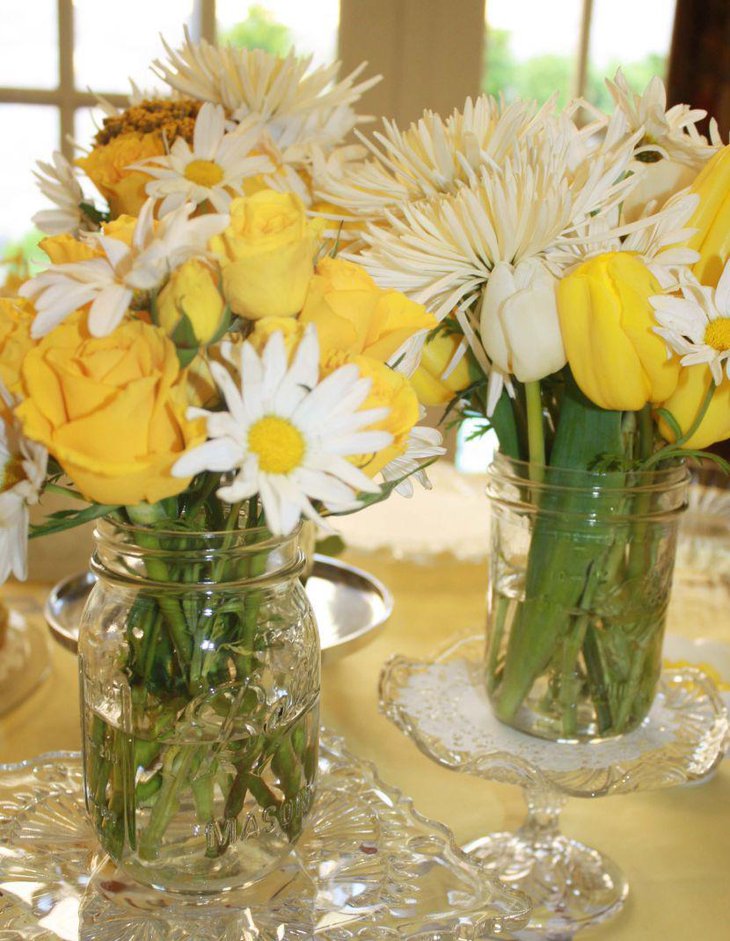 Yellow and White Varieties in Naked Jars
Image Credit: laurenwsmith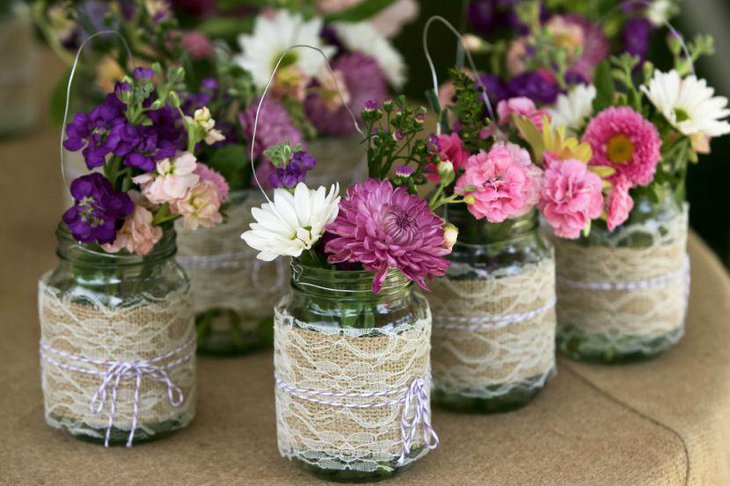 Mixed Varieties in Lace Wrapped Jars
Image Credit: wedwebtalks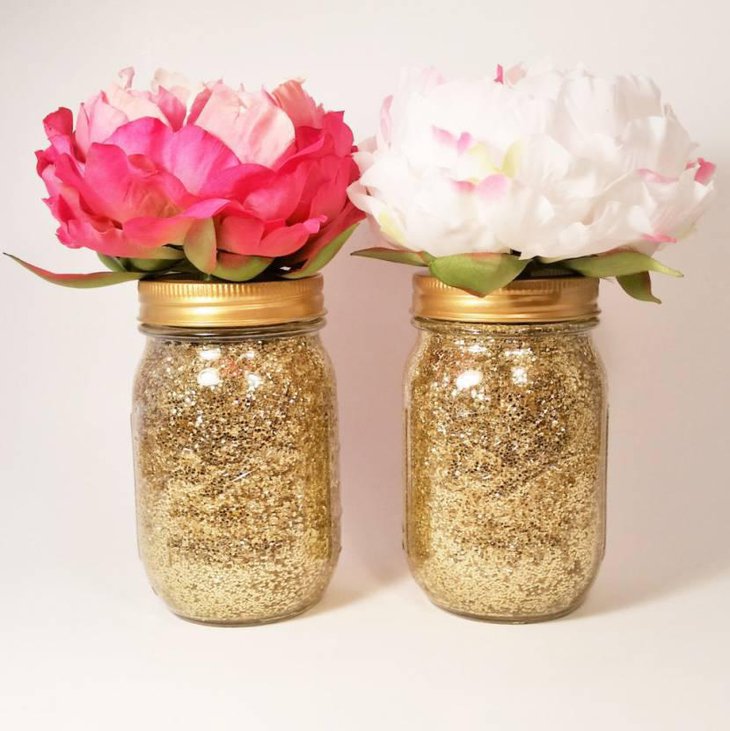 Inside Glitter with Flowers Blooming from Top
Image Credit: etsystatic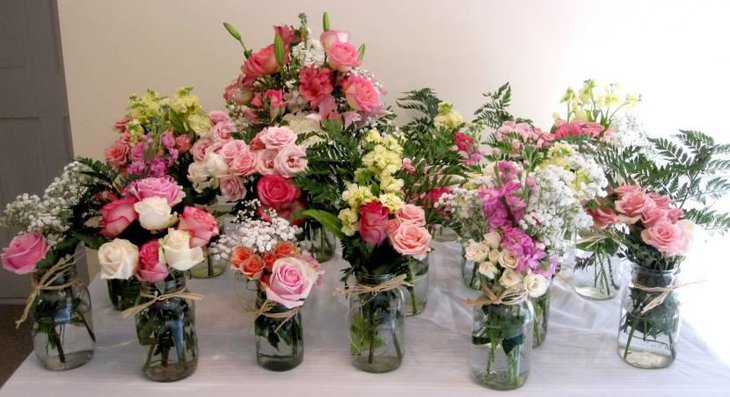 Flower Arrangements in Lightly Decorated Jars
Image Credit: bigcommerce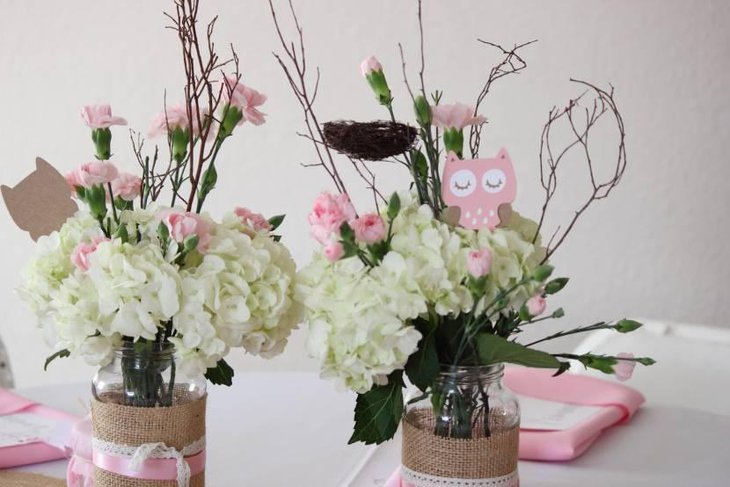 Burlap and Ribbon Adorned Jar with Embellished Floral Bouquet
Image Credit: cool-party-favors
Shimmering Light and Candle Decorations
Add a fun, unique ambiance to your party with lighted Mason jars. You can fill naked Mason jars with rice lights and place them on each table or in a row on your buffet table for a radiant atmosphere. Or you can place candles of different shapes and sizes inside the jars for a tasteful appeal. Here are some sensational baby shower ideas you can use!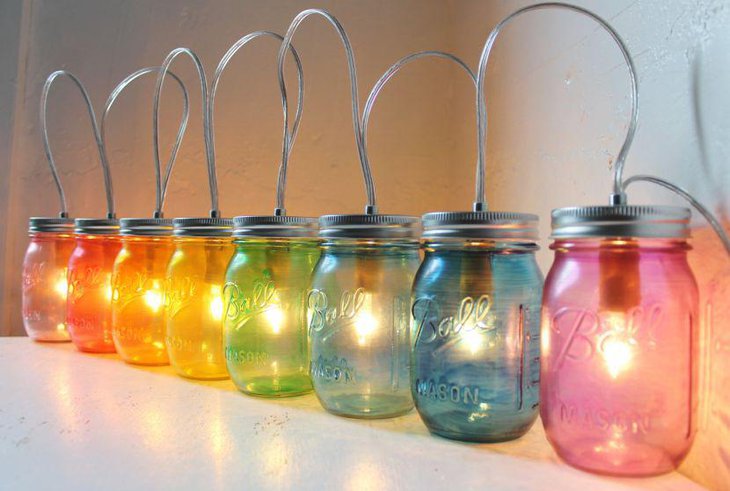 Colored Mason Jar Lanterns
Image Credit: decorating-hq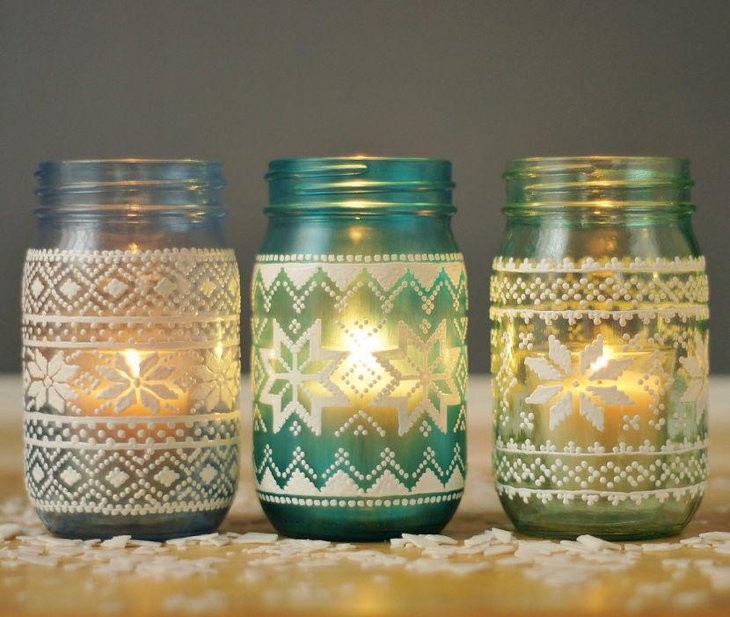 Glowing Candles in Lace-wrapped Jars
Image Credit: tumblr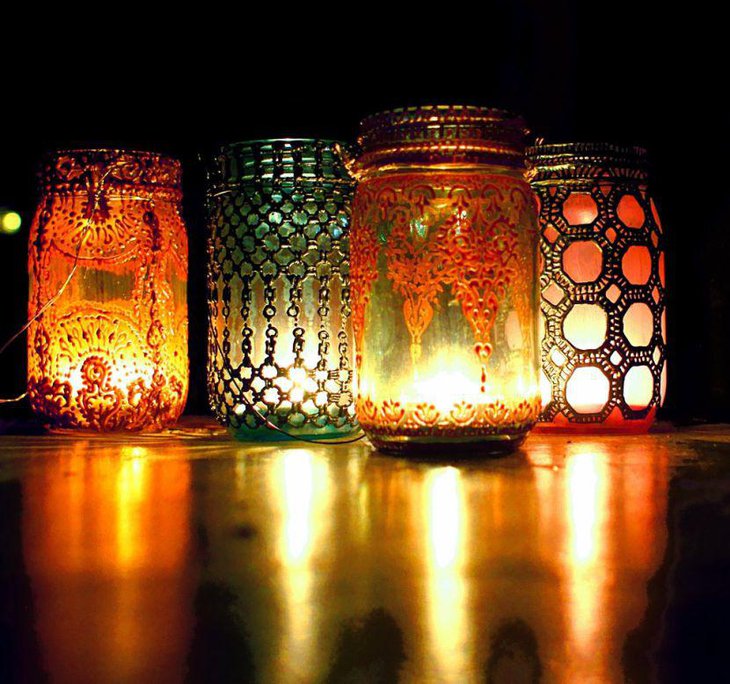 Candles and Lace Patterns
Image Credit: etsystatic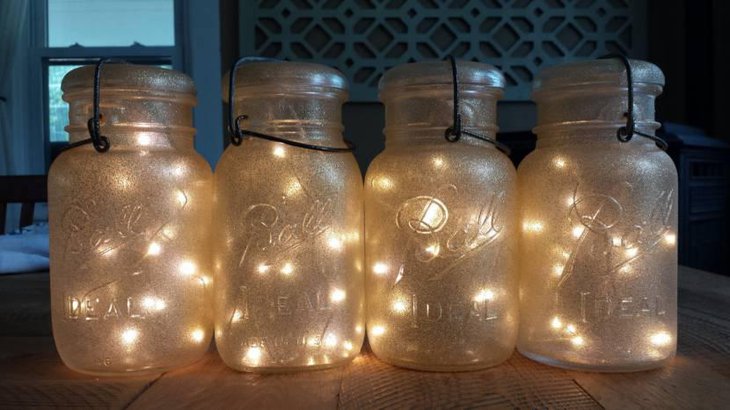 Battery-powered Lights in Painted Jars
Image Credit: etsystatic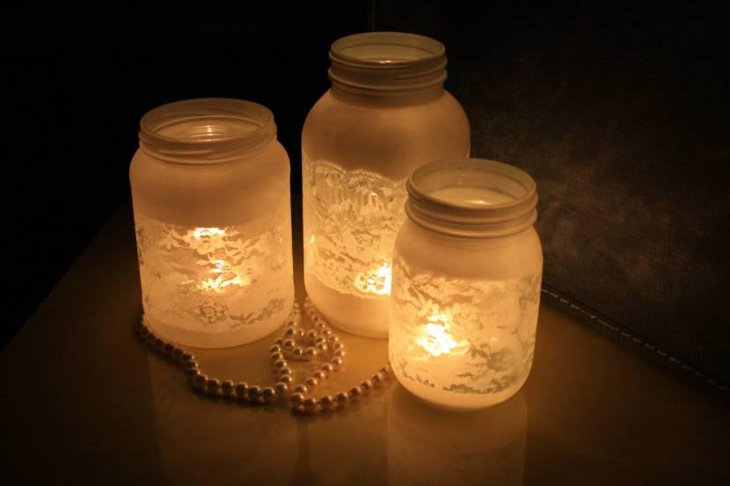 Frosted Glass Designs with Candles
Image Credit: akrondmc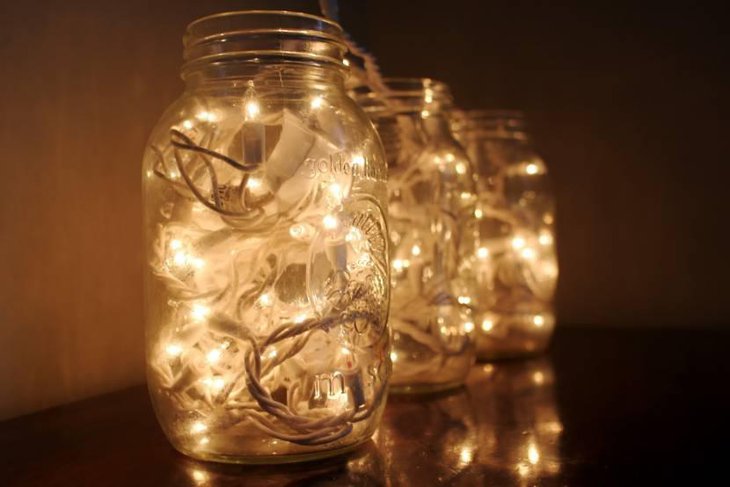 String Lights Nestled in Jars
Image Credit: snydle
For your baby shower, show your guest of honor how much you care by using a creative Mason jar idea for party favors, table decorations, centerpieces, or serving ware. No matter which idea you adapt for your party, your guests are sure to appreciate your capricious thinking. Try out these lovely Mason jar baby shower ideas and have a one-of-kind party!