The 33 DIY dining room tables shown today will help you make your own tables for less. Whether you want a rustic, traditional, or modern décor, we have the inspiration for you. Apart from being affordable, these tables reflect your style and taste.
Easy Pallet Dining Room Tables
The DIY dining table ideas showcased below are built of wooden pallets. They look unique, are extremely affordable (some companies will give you their used pallets!), and require very little craftsmanship.
DIY Pallet Dining Table with Matching Bench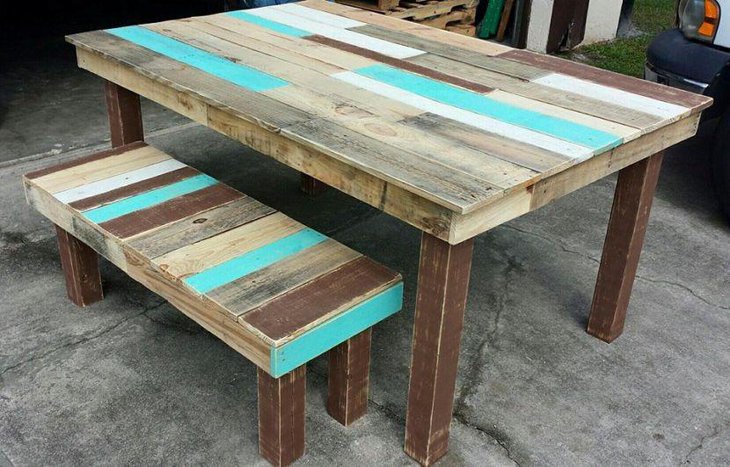 Image Credit: palletfurniturediy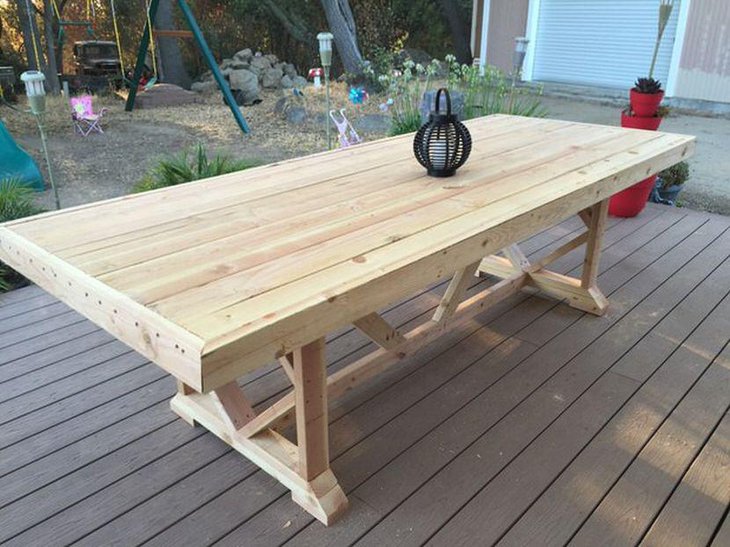 Outdoor Pallet Table with Stylish, Unfinished Base
Image Credit: thegardenglove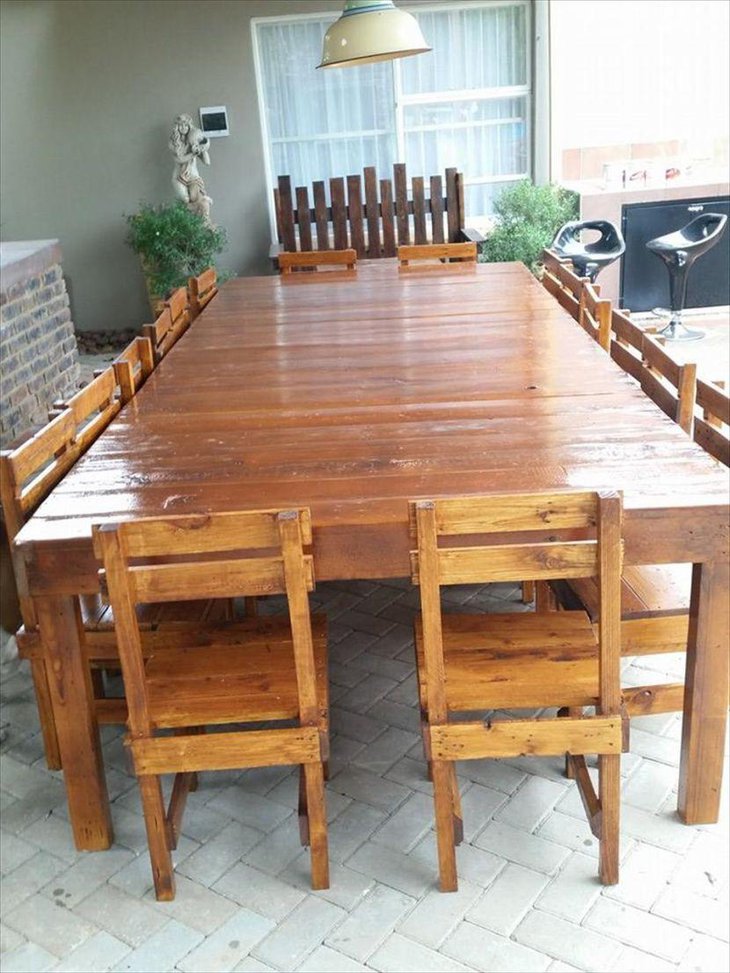 Sixteen Seat Polished Pallet Table and Chairs
Image Credit: 101palletfurnitur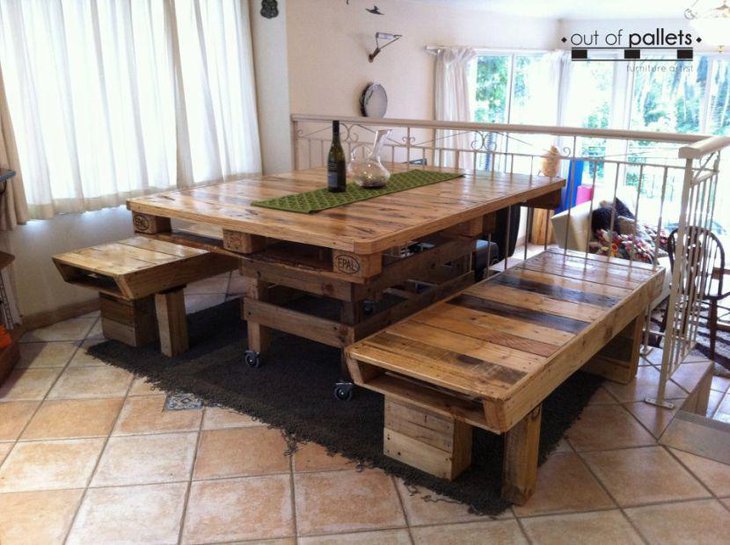 Beautiful Reclaimed Pallet Table and Benches
Image Credit: palletsideas
DIY Door Dining Room Tables
Old doors can be recycled to build unique dining tables. Keep your old doors as part of your décor or salvage antique doors for your project. You can finish them to fit a rustic, farmhouse, or modern chic decorating style.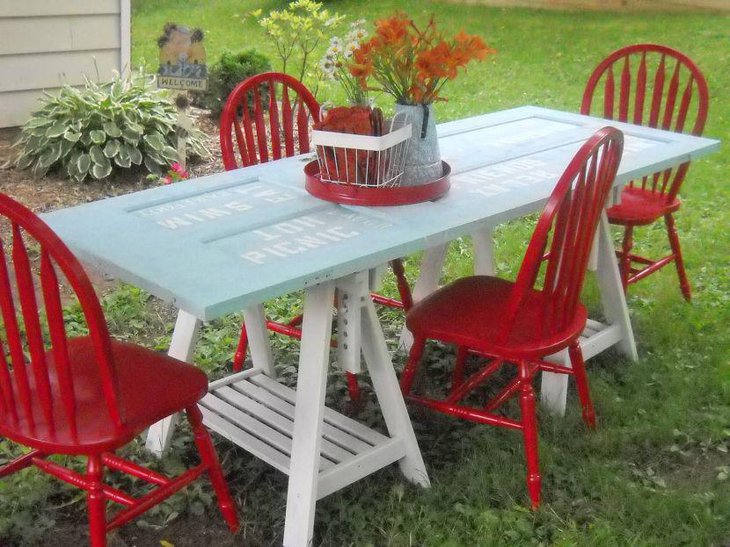 Door and Sawhorse Table
Image Credit: diyhomedecorblogs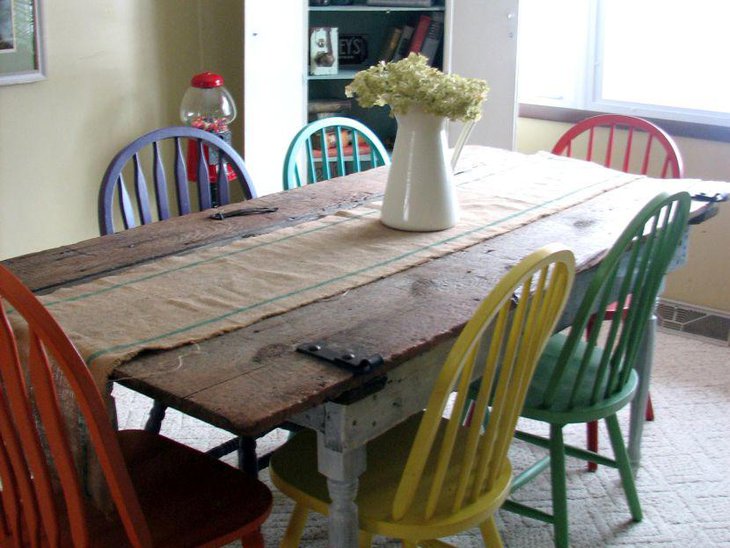 Reclaimed Barn Door
Image Credit: remodelaholic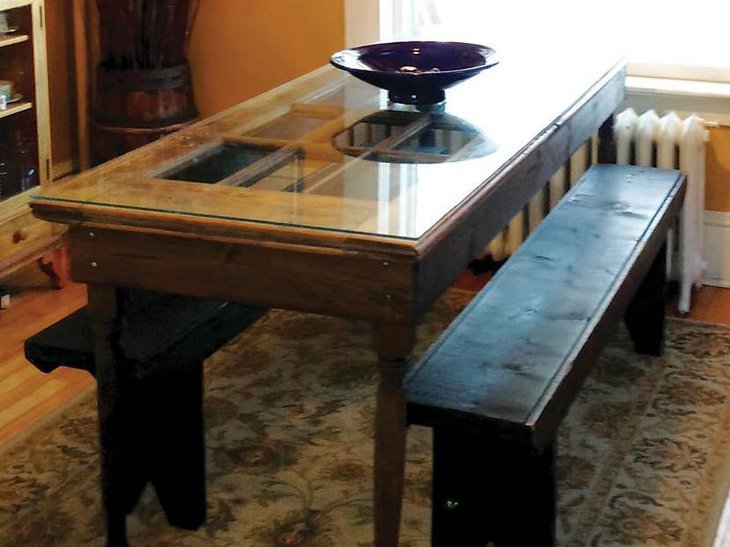 Window Door with Added Glass Top
Image Credit: eastcoastliving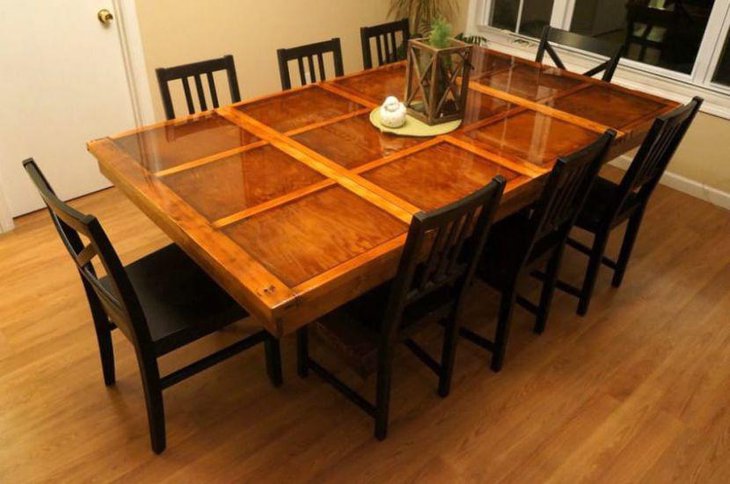 Sectioned Garage Door with Glass Top
Image Credit: goingviralposts
Pipe and Plumbing Tables
Iron, steel, PVC! You can construct these pipes into table legs and frames for a unique look. Clean up old pipes for a rustic, industrial look, or buy new pipes for a modern appeal. Make artistic designs with branching pipes or add wheels for easy movement.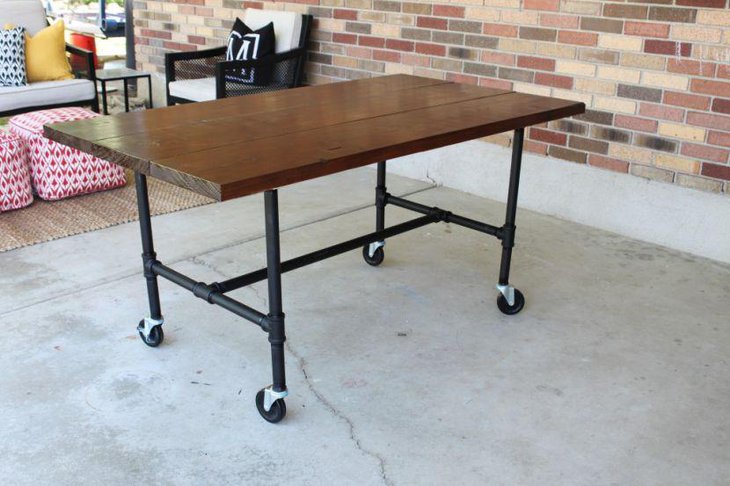 Wood Top with Pipe Frame and Casters
Image Credit: 4men1lady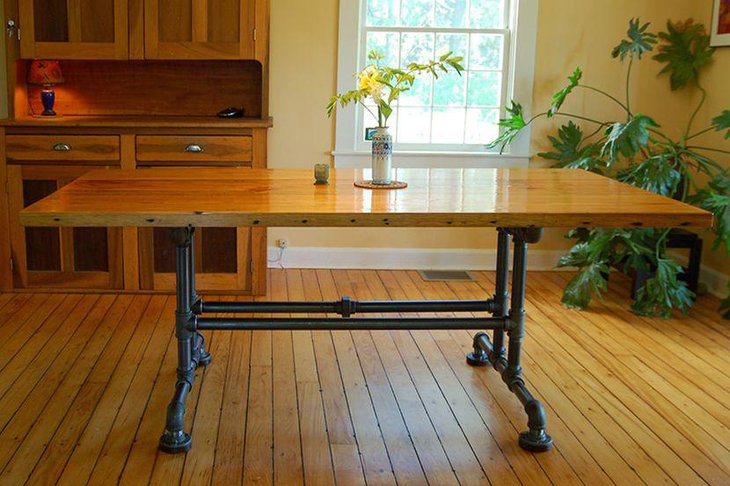 Stylish Pipe Frame and Legs
Image Credit: vermontfurnituremakers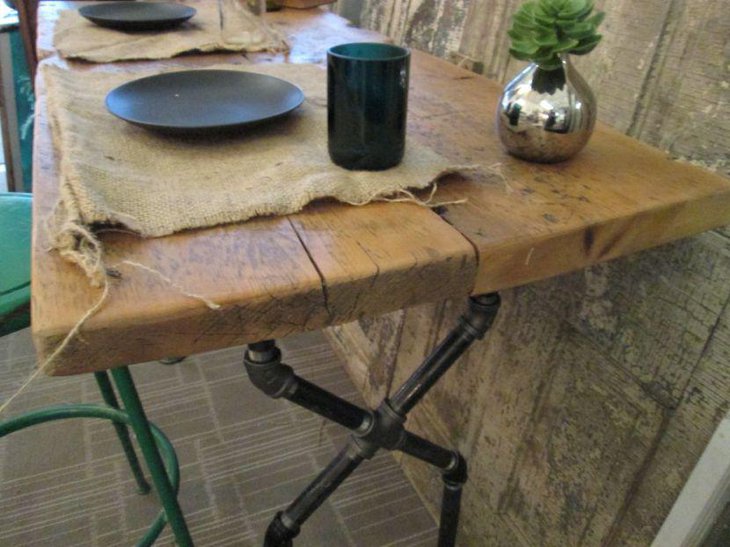 Rustic Wood and Pipe Table
Image Credit: yelpcdn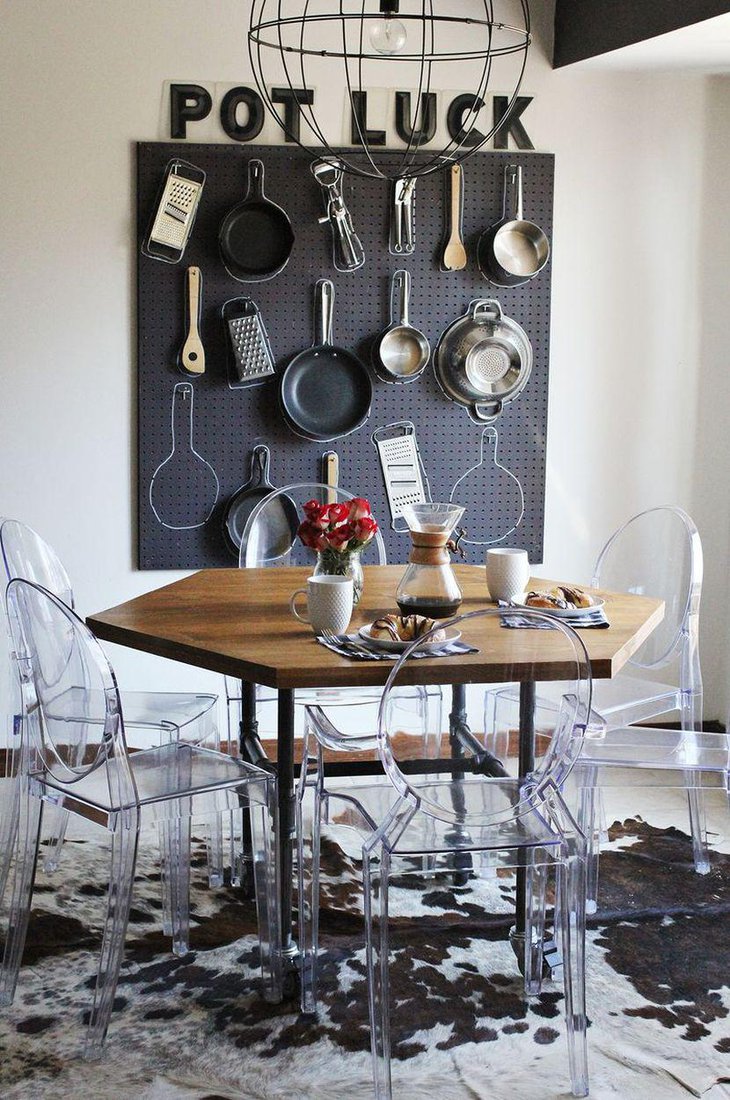 DIY Honeycomb Table with Pipe Legs
Image Credit: typepad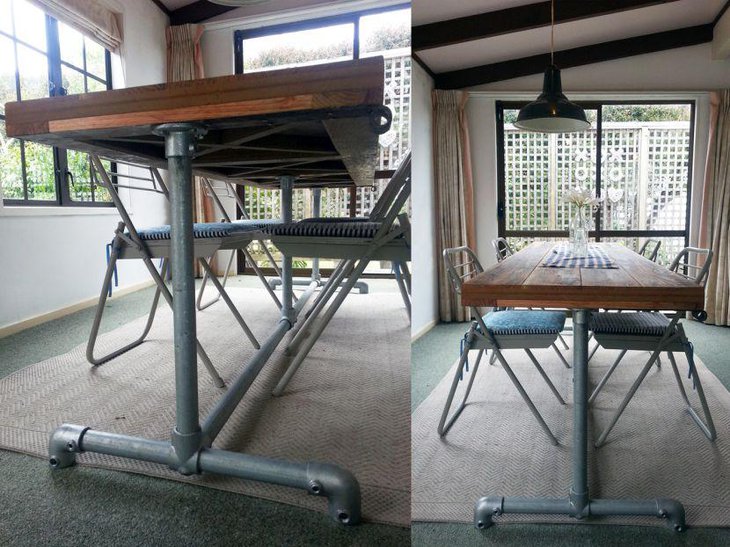 Industrial Style DIY Table Made of Timber and Pipe
Image Credit: felt
DIY dining table ideas – live edge tables
DIY dining room tables with live (natural) edges are easier to make than more refined tables, and they look striking. Section your wood as thick as you like and then use a hammer and sandpaper to smooth the natural edges for comfort and safety.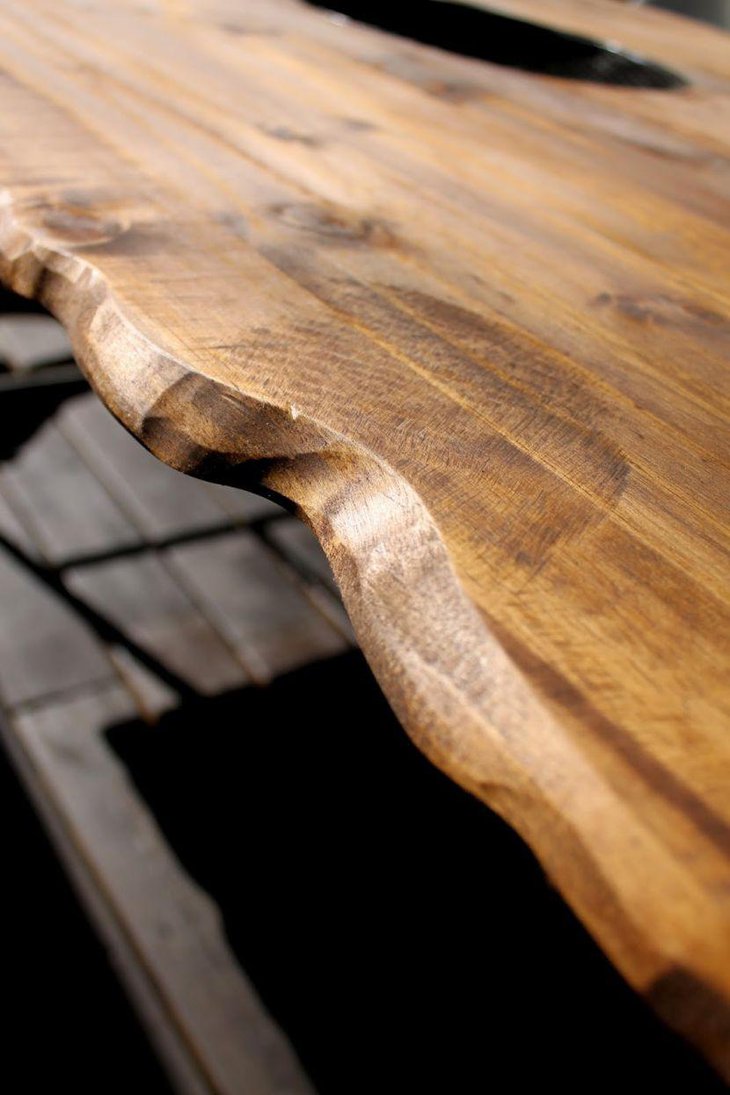 DIY Live Edge Dining Table
Image Credit: blogspot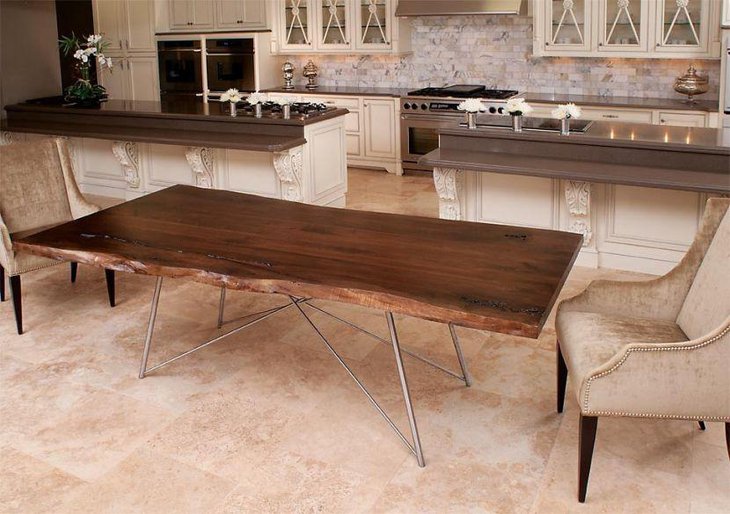 Dining Table with One Live Edge
Image Credit: julianmilesdavis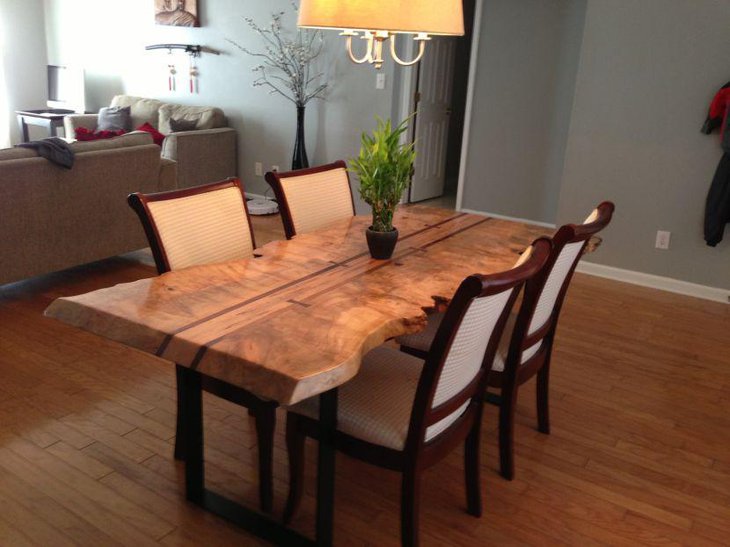 Beautifully Chosen and Polished Live Edge Table Section
Image Credit: luolik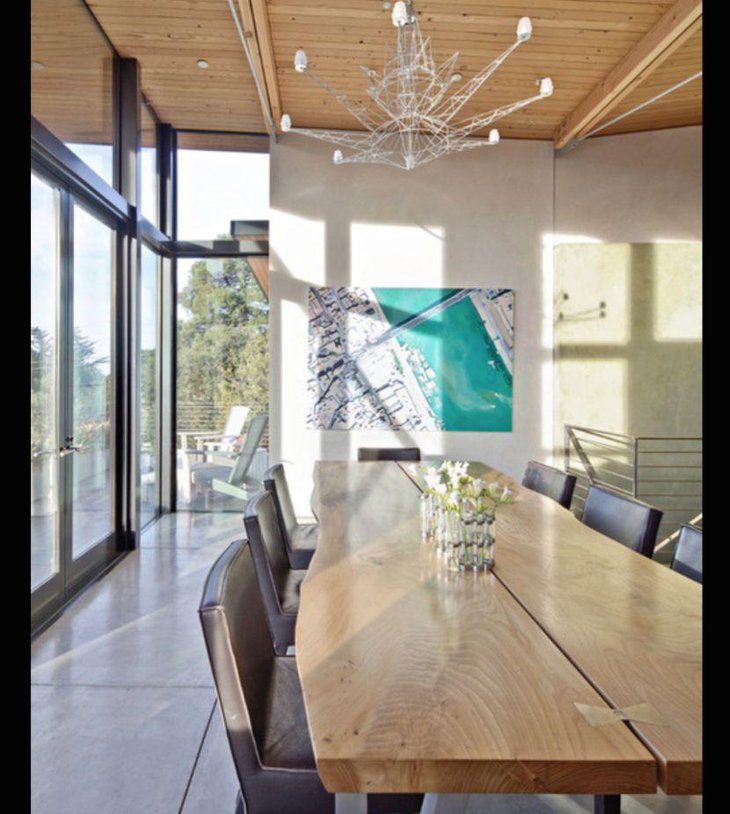 Two-panel Long Live Edge Table
Image Credit: windgatelane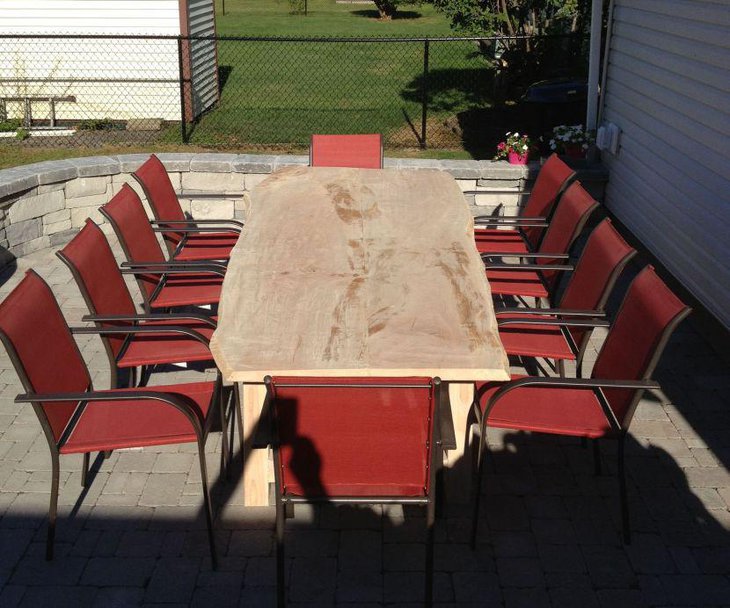 Outdoor Board and Live Edge Table
Image Credit: instructables
Cross Legged Tables
Another option for customizing your table legs is attaching them to the frame or tabletop in a cross pattern. The DIY dining table ideas shown are designed with X or cross-shaped legs. Use wooden legs and shape their surfaces for extra design features.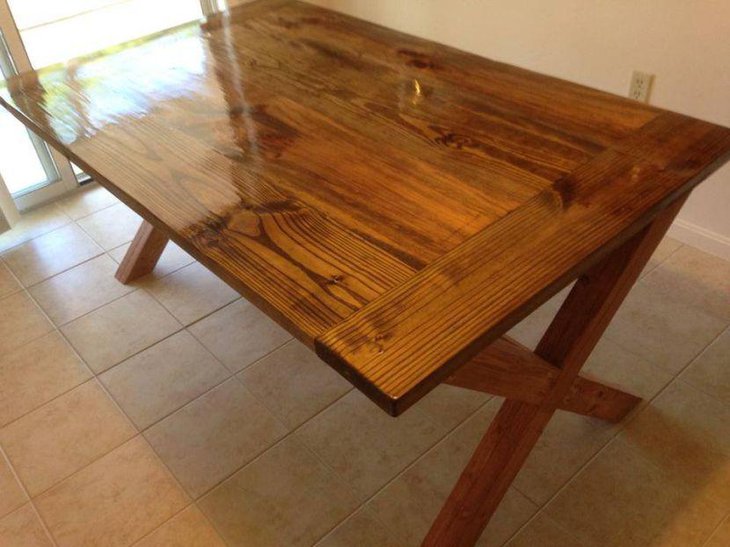 Simple, Polished Cross-legged Table
Image Credit: ana-white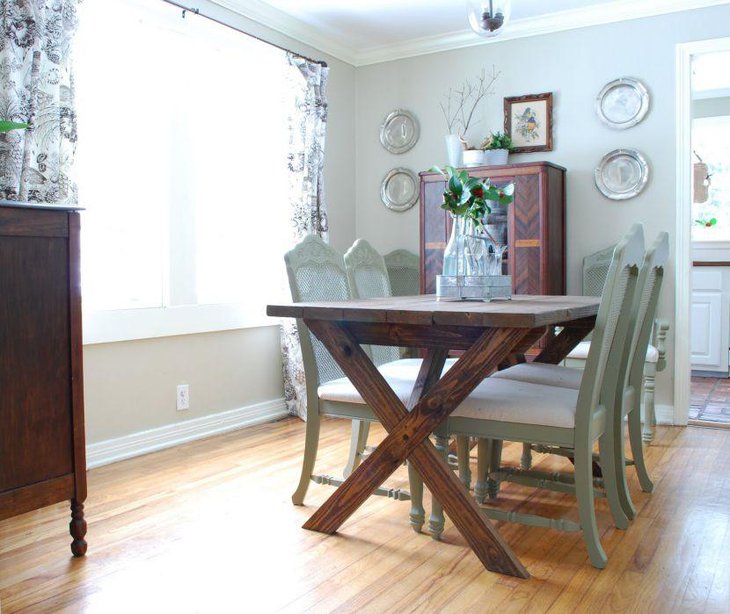 Rustic Wood Top and Crossed Legs
Image Credit: ana-white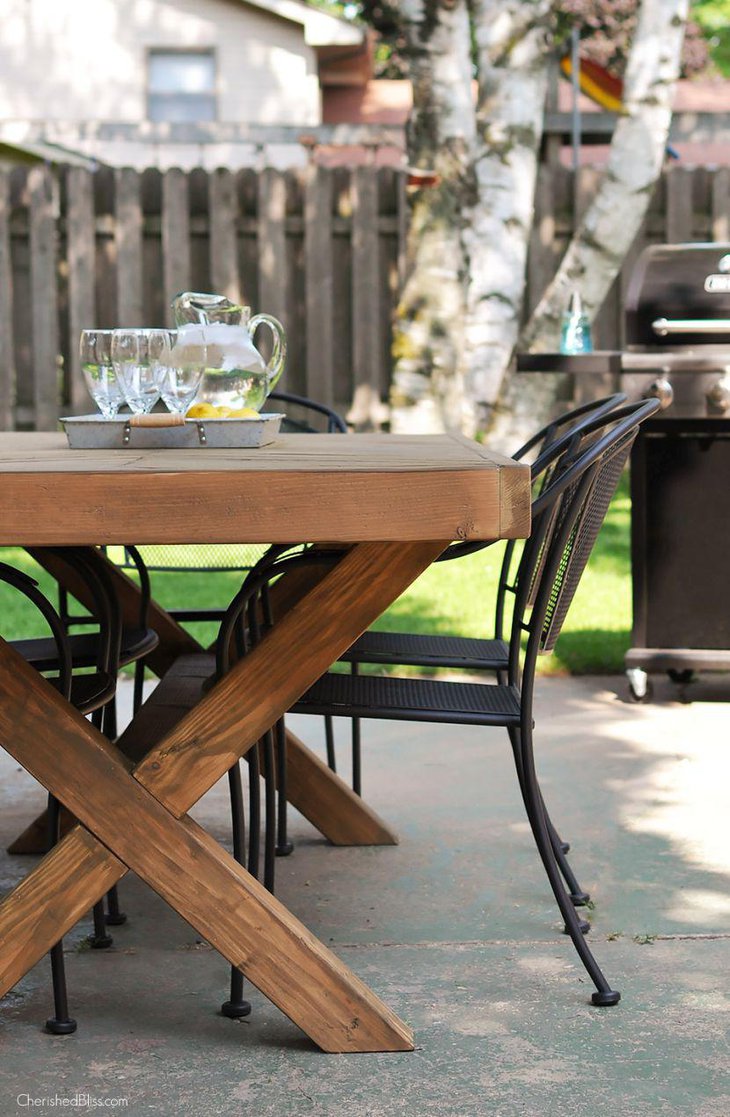 Crossed-leg Patio Table
Image Credit: cherishedbliss
Farmhouse Tables
If you want to DIY your dining room table, try these homey farmhouse-styled dining tables. A farmhouse-themed dining table will suit country houses or a rustic themed décor. For building such tables, you can use boards, planks, or posts. Most of these tables feature large beams for a solid appeal.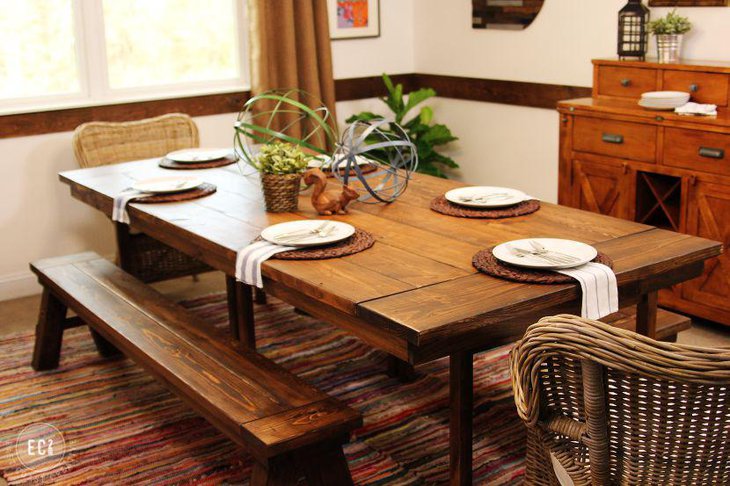 Finished Wood Farmhouse Table and Benches
Image Credit: eastcoastcreativeblog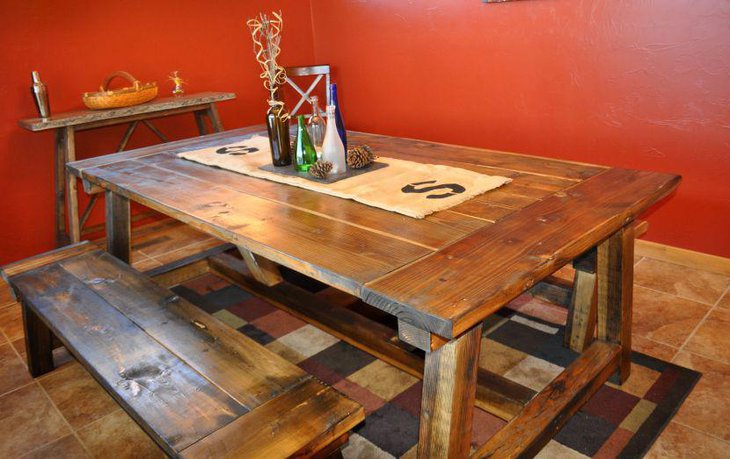 Reclaimed Plank and Beam Table and Benches
Image Credit: diypete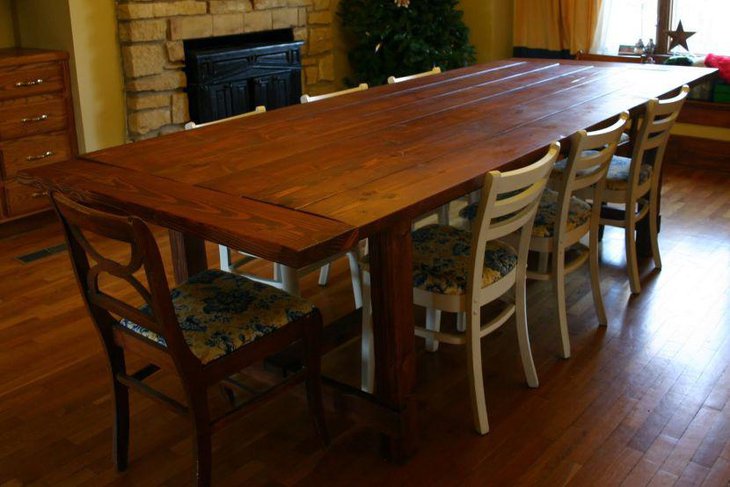 Large Plank and Beam Farmhouse Table
Image Credit: kitchentoday
Triple Pedestal Tables
These tables stand on three legs, each uniform in look and angle. They can be simple, designed for stability only, or you can shape them into featured design works. Arch the feet or design the pedestals with symmetrical legs for added opulence.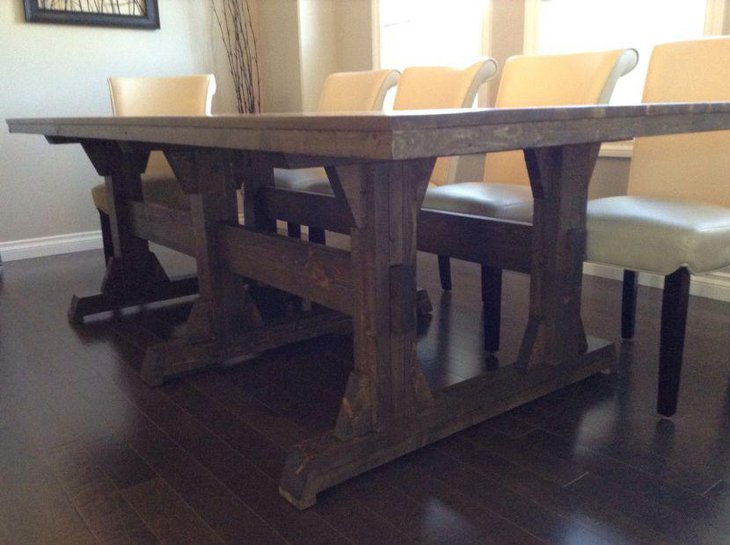 Gorgeous Rustic Triple Pedestal Table with Symmetrical Legs and Inserted Cross Slats
Image Credit: ana-white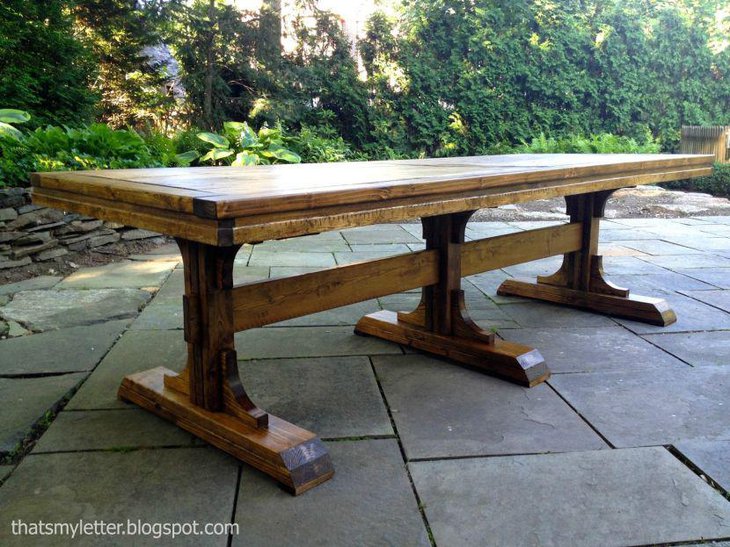 Attractive Pedestals with Cross Slat
Image Credit: blogspot
Reclaimed Wood Tables
Many homeowners choose reclaimed wood for the DIY projects. This is because reclaimed wood is eco-friendly. It is less expensive and breathes new life into your home décor. Old pallets, wine crates, or used planks can be used effectively to build DIY dining tables. Most of the above examples were crafted with reclaimed materials. Here are a few more examples to fuel your creativity.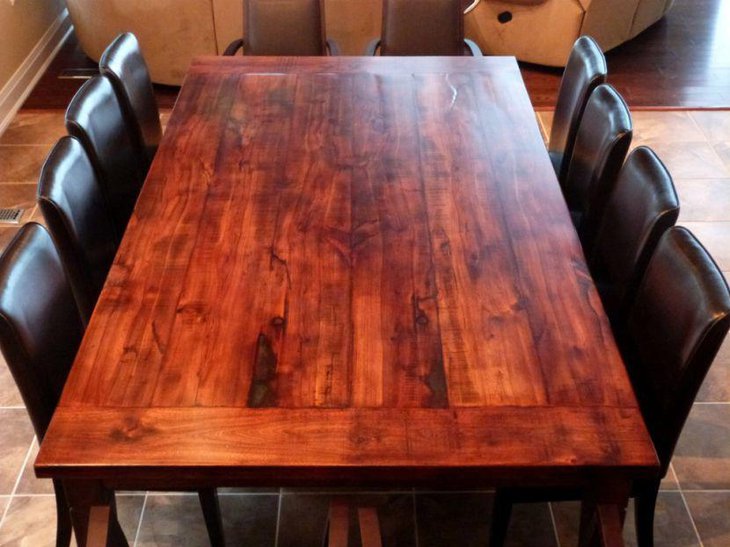 Simple Reclaimed Wood Table with Cross Piece Ends
Image Credit: guidepatterns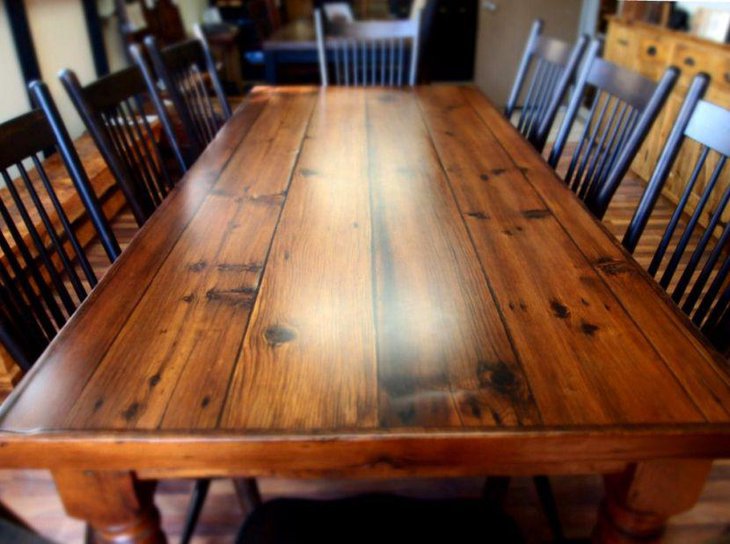 Reclaimed Barn Door Top and Rail Legs
Image Credit: eefurnish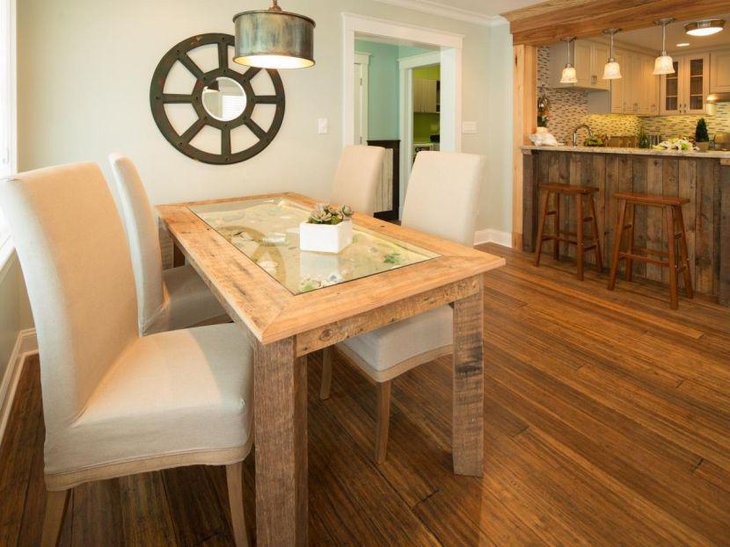 Raw Wood Table with Inserted Glass Surface
Image Credit: sndimg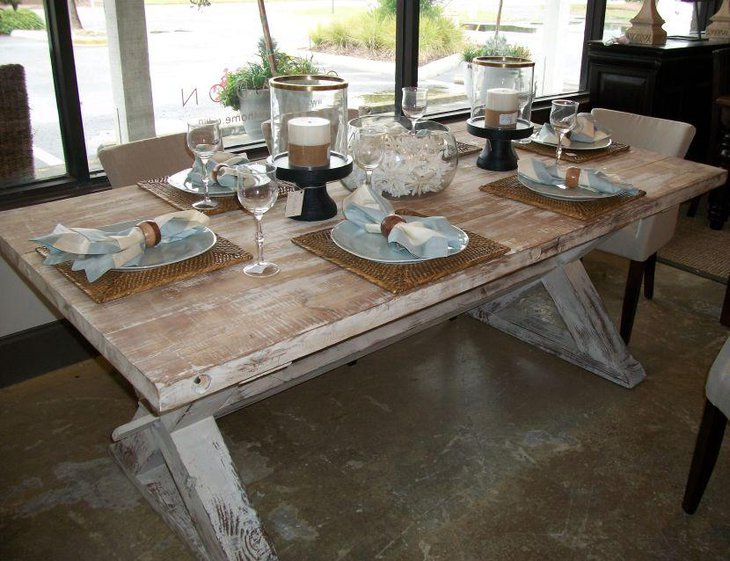 Rustic Cross-legged Table Used Wooden Boards
Image Credit: lindaberner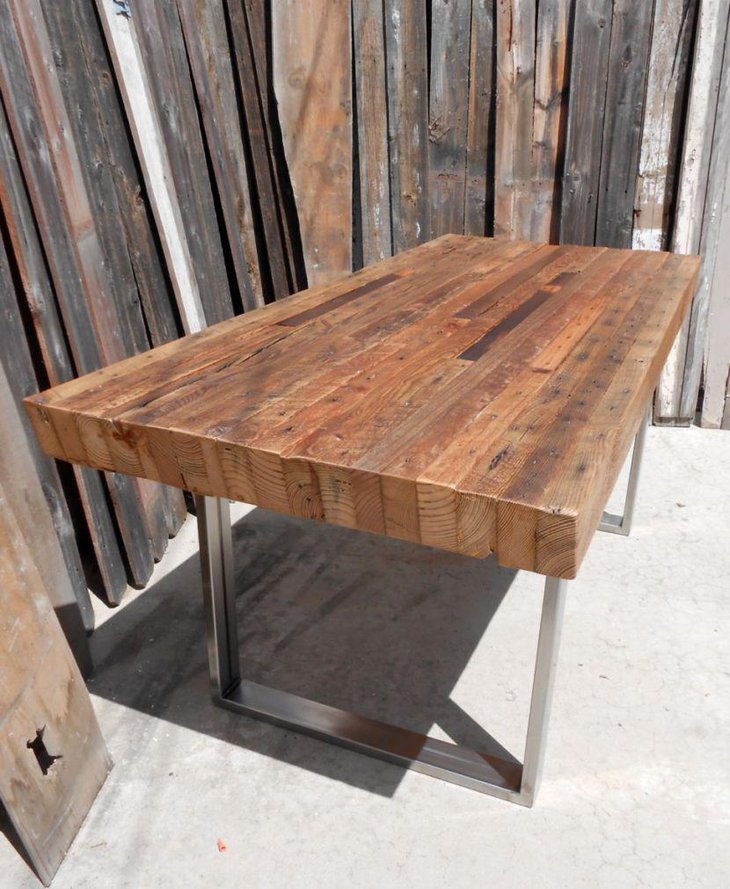 Unique Vertically Lain Boards and Metal Frame
Image Credit: onyapan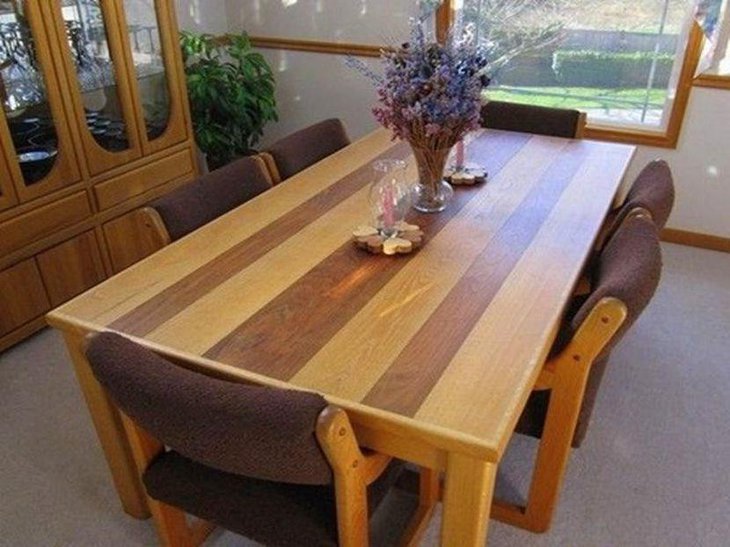 Stylish Mix of Reclaimed Wood
Image Credit: julianmilesdavis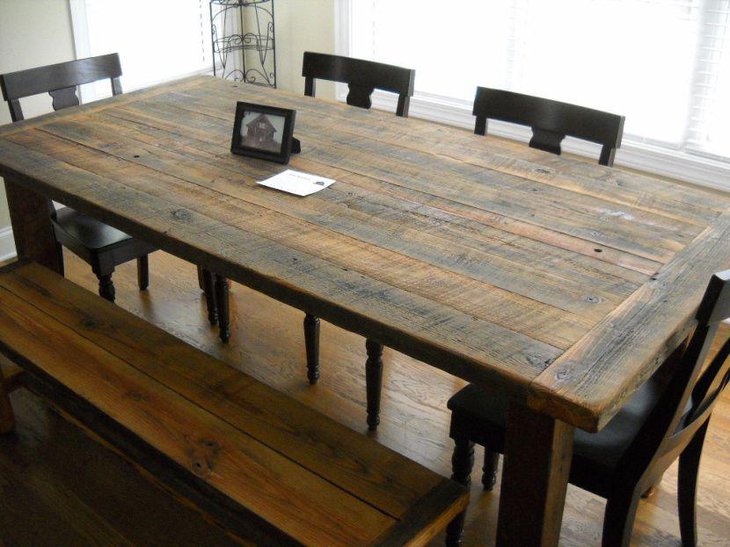 Farmhouse Table and Bench from Reclaimed Wood
Image Credit: lindaberner
Ready to take on your next DIY project building one of these dining tables? You'll breathe new life into your eating area and experience the pride of your handiwork every time you take a meal!